When we decided to head west to Vancouver for a few months the first word that came to my mind was 'SPRING!'. In the east Spring usually takes its sweet time getting to us, often only making an appearance by May, but over here the first blossoms are already starting to pop. After a lifetime of winter endurance training, feeling the sun's warmth and seeing petals at the start of March almost feels like cheating, but I'm all for it!
The second word that came to mind was, 'STYLE!' and I immediately knew I'd be packing my favourite pieces to wear in warmer temps. First on that list were the two Power Of My People linen shirts I'd been missing all winter. Serendipitously, my friends Jessica and Kyle, brand founders and shirting experts, have just launched their SS18 collection, Les Sœrs, this morning and if you're in need of any warm weather inspiration, the latest look book is absolutely stunning in the most relaxed and refined way possible. Think cloud whites, indigo blues, pale pastels, woven prints and sculptural shapes all crafted in Vancouver from the finest materials.
As tempted as I was to share new pieces from the collection (there are SO many good ones!), I felt it was the perfect opportunity to reinvest in the two Power Of My People shirts I've already had in my closet for a year now by showing how I'll be styling them this Spring and Summer season. Putting these looks together gave me such a creative boost and was the perfect reminder that a good closet staple can do so much!
Today's post will start with a brief run-down of size, fabric and fit facts and then we'll look at how I'm styling The Friend and The Philosopher for both cool and warm Spring days.
---
WANT TO KNOW THE BEST PART?

---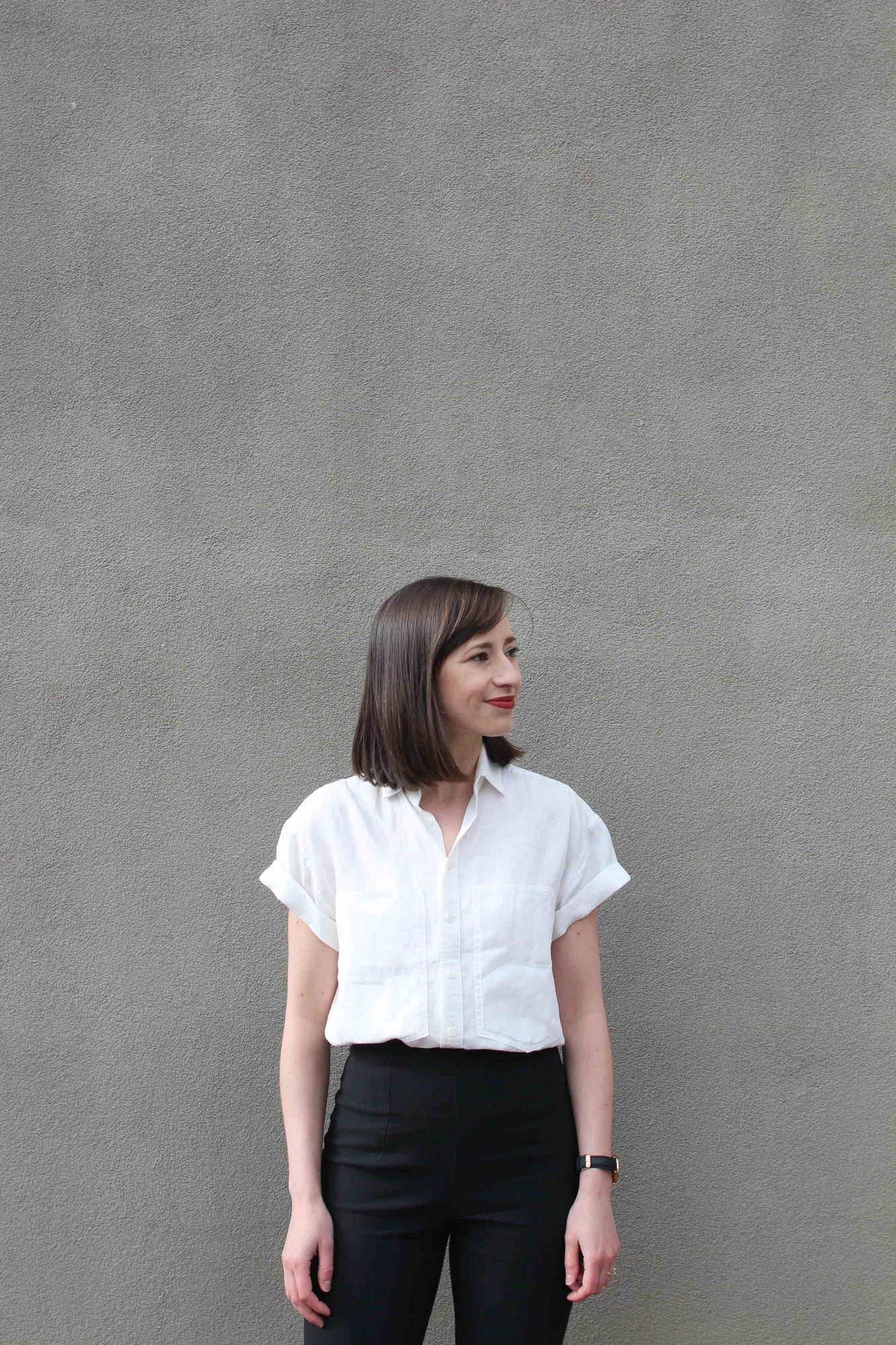 ---
FIT + FABRIC FACTS
---
Long story short, The Friend (in Wayward Fit) had been on my closet staples wish list for a long time by the start of 2017. When I finally got to test one out last Spring I quickly learned what all the fuss was about. At the time my husband Dave had three Power of My People shirts, which were (and remain) without a doubt his favourite. He's also not one to go easy on his clothes so I knew if they could handle his use they're seriously well made. Once I'd spent a few months with The Friend and couldn't get enough of it, I decided to pull the trigger on The Philosopher (also in Wayward Fit) and used my own discount code to do it. That's how big a fan I am you guys!
So let's briefly get into why I, like most who try them, love these shirts:
Button-downs are a pretty universal closet staple but the right one can be tricky to find. I often feel they're too short or too conventional in shape and fit but the Wayward Fit really stood out to me for a number of reasons:
Short Sleeves 
Big Front Pockets
Long Length
Smooth Lightweight Linen
Not Too Sheer
Classic but-not-too-classic
ABOUT THE BRAND: Jessica Matthews and Kyle Kozma co-founded Power of My People in 2015 with a serious passion for the perfect shirt and a whole lot of elbow grease. They spent over 6-months developing, testing and refining their 3 signature fits, The Women's Proper, The Men's Proper and the Wayward and have stayed true to them ever since. The duo used to cut and sew every shirt in their apartment (spending no less than 18 hours on each one) but have since expanded their shop to a beautiful studio space and have moved production to a local set of skilled craftsmen in Vancouver, BC, where they can ensure every shirt created meets the highest standards. The line has earned a cult following across North America and once you've seen their work in person it's easy to understand why. These folks really, really know their shirts.
SIZE + FIT: I'm wearing an XS and it's perfectly roomy and just a little bit oversize on me. The Friend and The Philosopher are offered in The Wayward Fit, which is intended to be relaxed and roomy. If you prefer a slimmer fit you should consider sizing down or check out The Proper Fit styles. I love the length and how the flattering curved hem falls about an inch past my butt when worn loose. I also like that the short sleeves tuck into all my jackets and blazers no problem! My measurements are 32C/26W/37H for reference. Petite ladies! All Wayward Fit shirts now come in XXS so you can get the oversize but not gigantic look you're after. 
FABRIC: Both shirts are 100% linen, with yarns sourced from France and milled in Portugal. This linen is not quite like any of the linens I've worn before. It feels very fine and smooth, not as nubbly or fibrous as other options in my closet. When it first arrived it was a bit stiff but at Jessica's suggestion I washed it and let it air dry before wearing it and it softened up a lot right away. The more you wear them the more they move with you and feel less boxy or stiff.
SHEER FACTOR: This lightweight linen is slightly sheer but thanks to the big front pockets and a relaxed fit, it's not a problem. I'm wearing a light nude bra in these shots and you can't see through at all.
CREASING: These shirts are indeed 100% Linen, which means they'll crease but the worn in look is part of their charm! They also iron up nice and smooth, if you want to get that sharper look to begin with, which I usually do.
8 FRONT BUTTONS: All Power of My People shirts have 8 buttons, which means no boob gap, yay! This one is a relaxed fit anyway so it wouldn't be an issue but in case you decided to size down or try another style like The Pillar in a Proper Fit.
COLOURS: You know I'm a sucker for classic black and white or earthy neutrals but there are so many great colours and pattern options available this season. Take a gander at some of the new shirts and don't miss the brilliant persona descriptions behind each one, which totally brings them to life; The Mystic | The Muse | The Femme | The Sister | The Poet | The Pillar | See all the styles here.
FADING NOTE: My black Philosopher shirt has been washed and ironed several times (5+) and has barely faded at all. I wash it on delicate with only black items and let it air dry before ironing/steaming.
VERSATILITY: You can really do so much with this shirt. Wear it tucked into a cute skirt or vintage jeans for a chic vibe, tied at the front with wide-leg pants for a flirty 70's feel, wear it loose over a slim black pant or unbuttoned over a silk tank or simple dress for an easy breezy look. The options are pretty much infinite as far as I'm concerned!
FOR THE FELLAS: Dave now has five (yes five!) Power of My People shirts and they're the only button-downs he brought out west with us. He's definitely a loyal fan and usually picks one or two up each year. So if you're husband or fella is picky about shirts these are worth a look for sure. Dave is 6'4 with a lean build and long torso and the L fits him very well (most shirts are too short). Just air dry to avoid any shrinking in the length. Check out the men's collection and you bet the discount applies!
---
(No expiry)
---
Shipping is free on orders over $200 CAD and returns/exchanges are free across Canada (so rare for us!) which makes getting the right size super easy and stress free.
PARTNERSHIP DISCLOSURE: This post is not sponsored and I didn't receive any new product in exchange for this coverage but I do earn a commission on sales made using the Style Bee discount code. Thanks for supporting the independent brands that support Style Bee too! 
---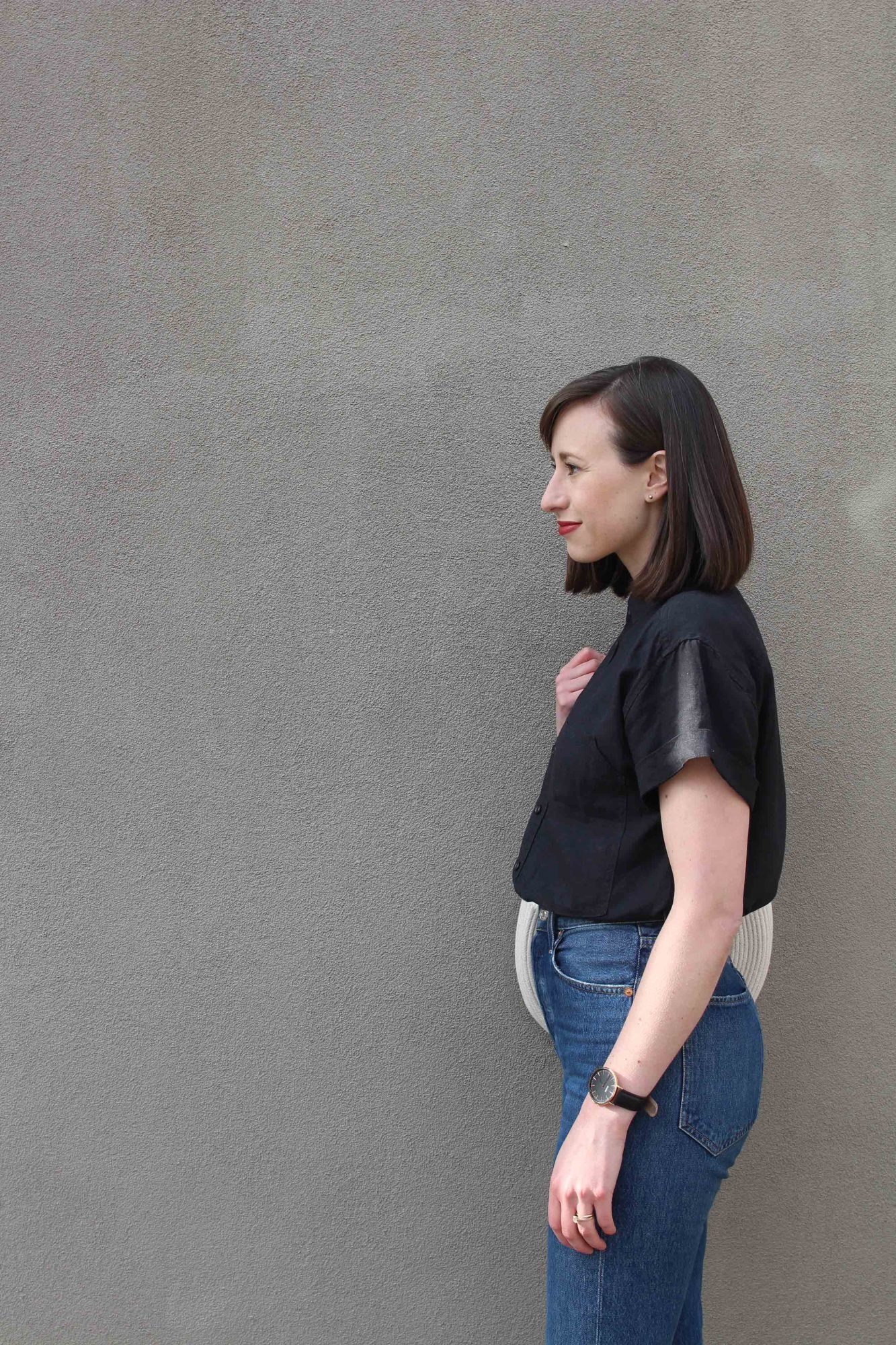 ---
LOOK 1 – THE FRIEND – NOW
---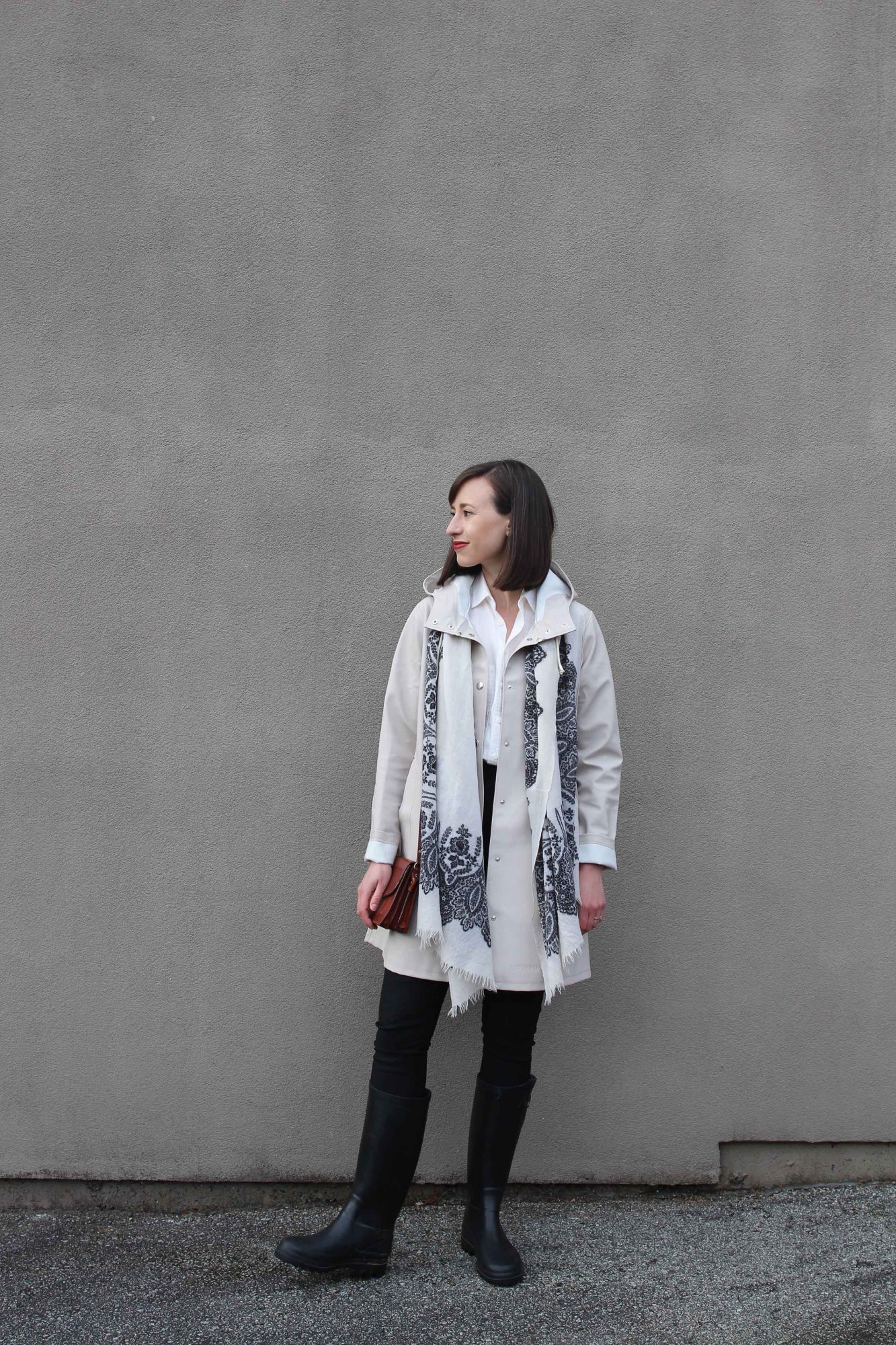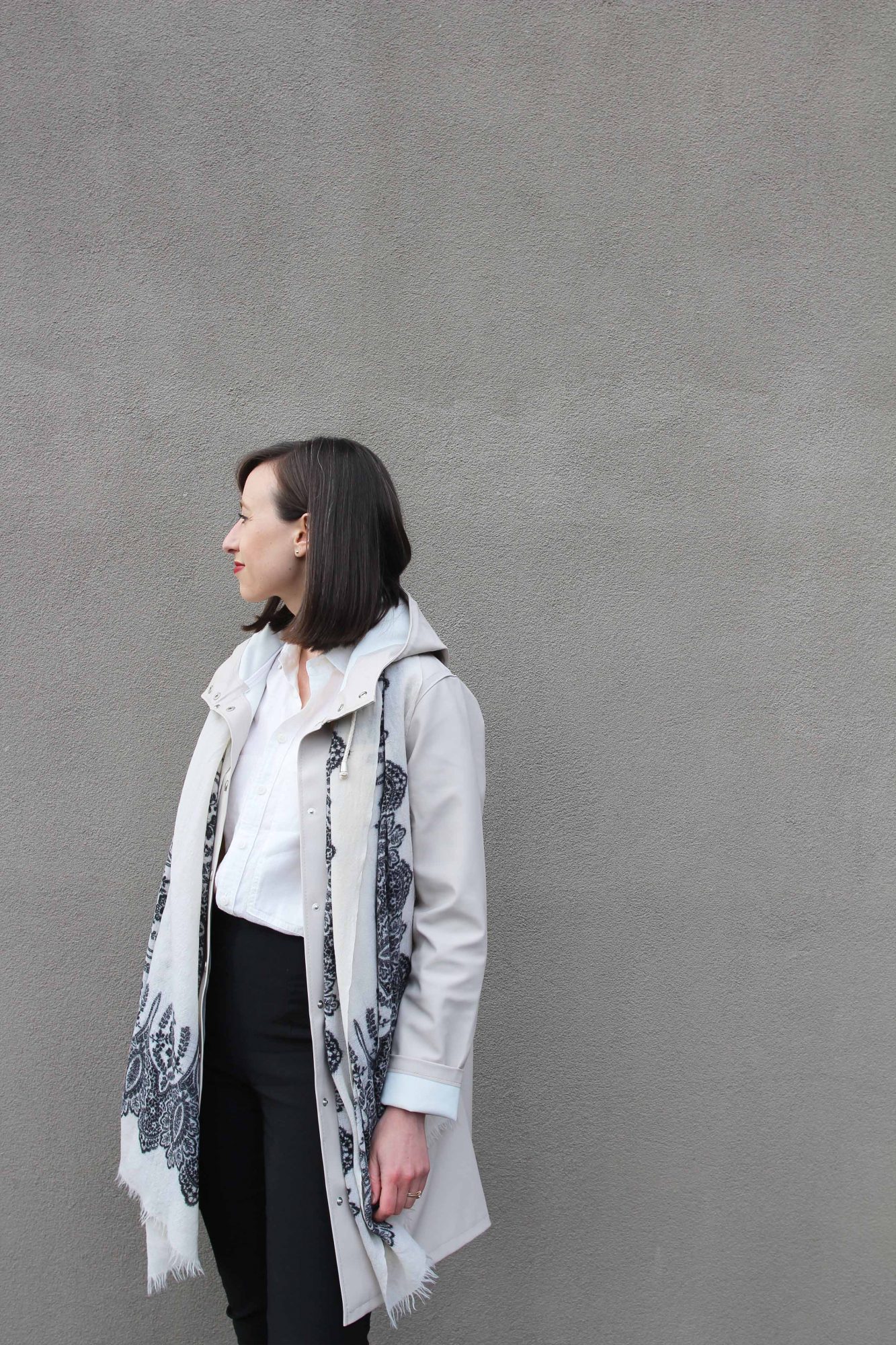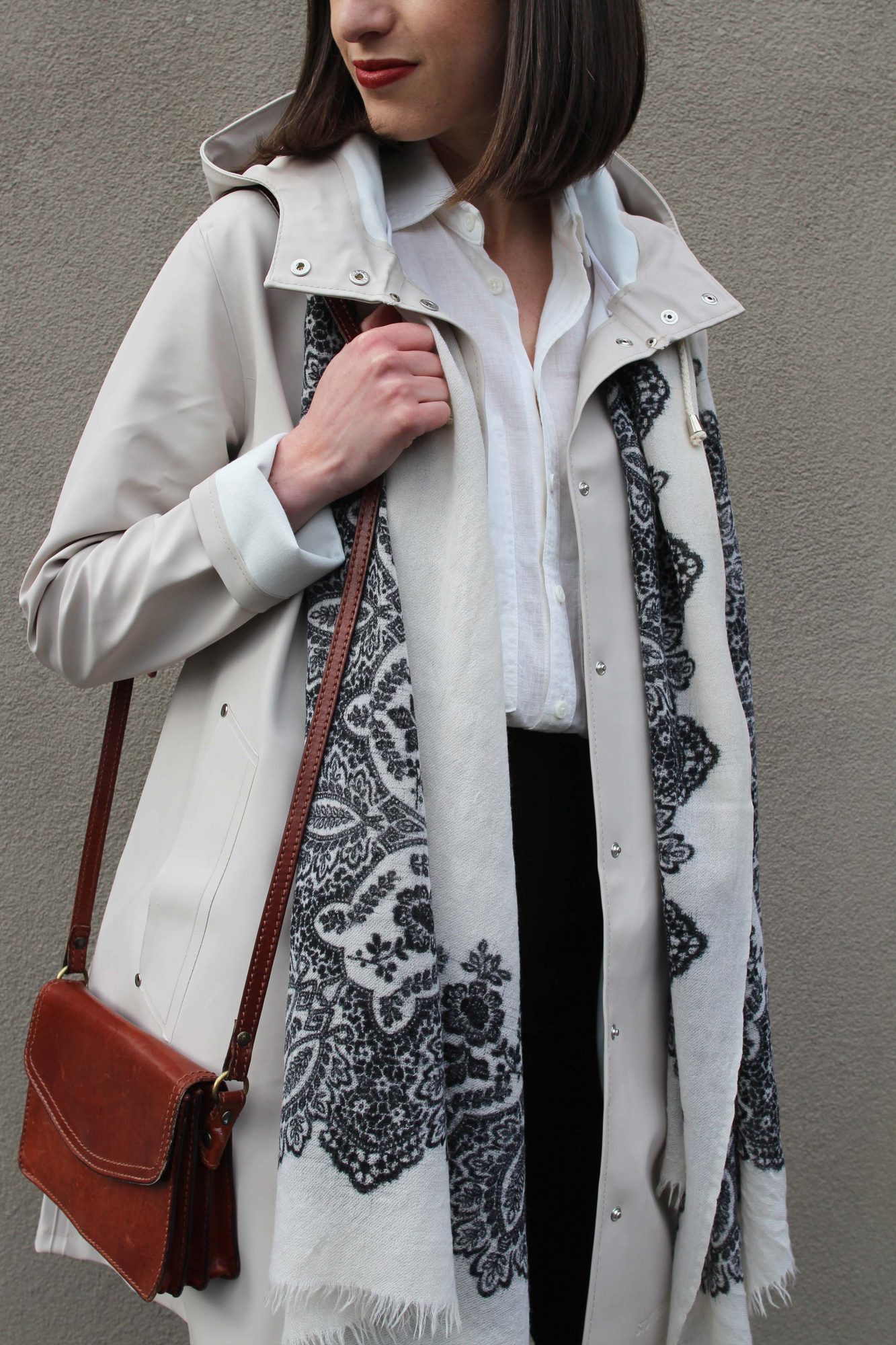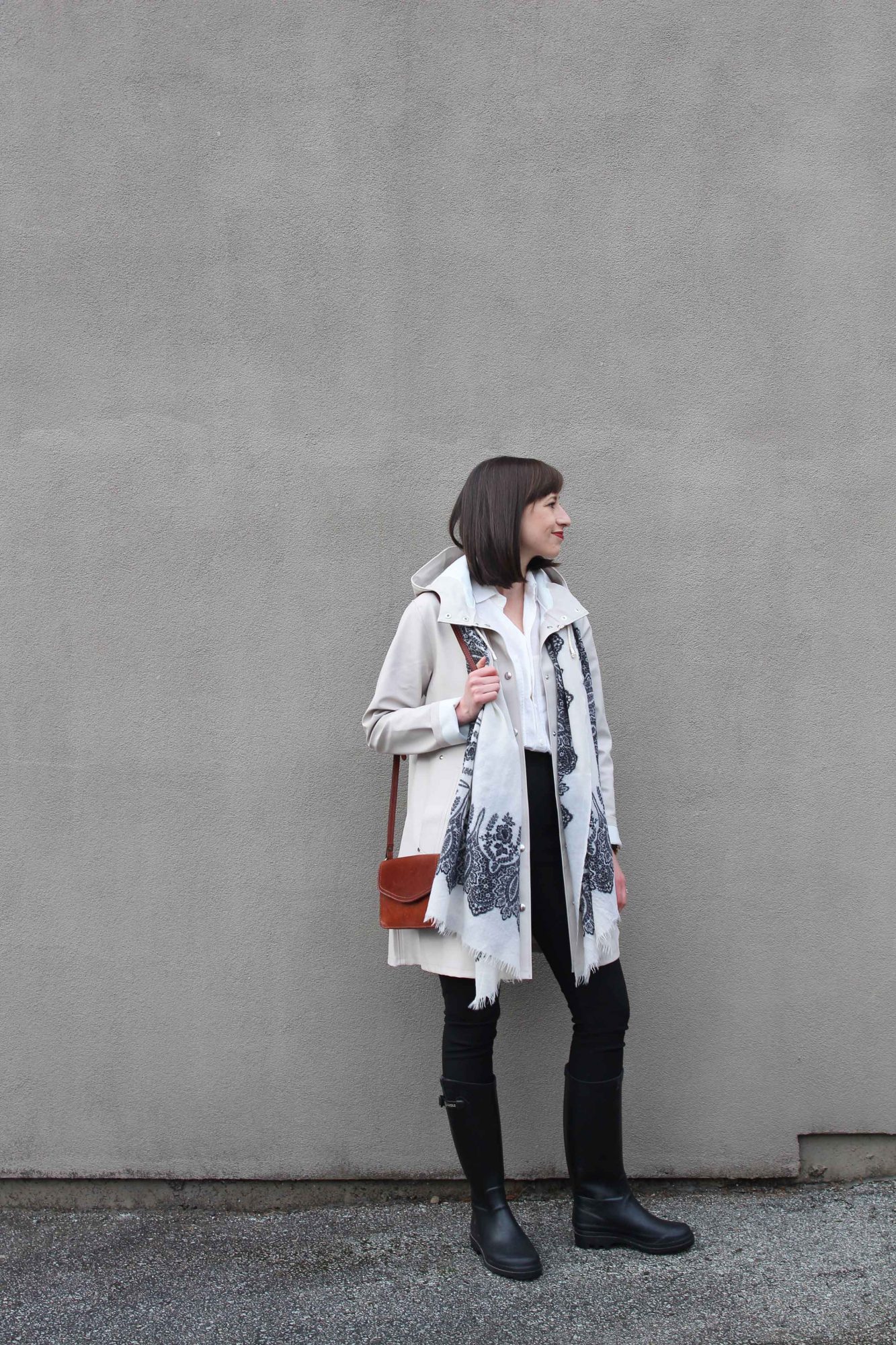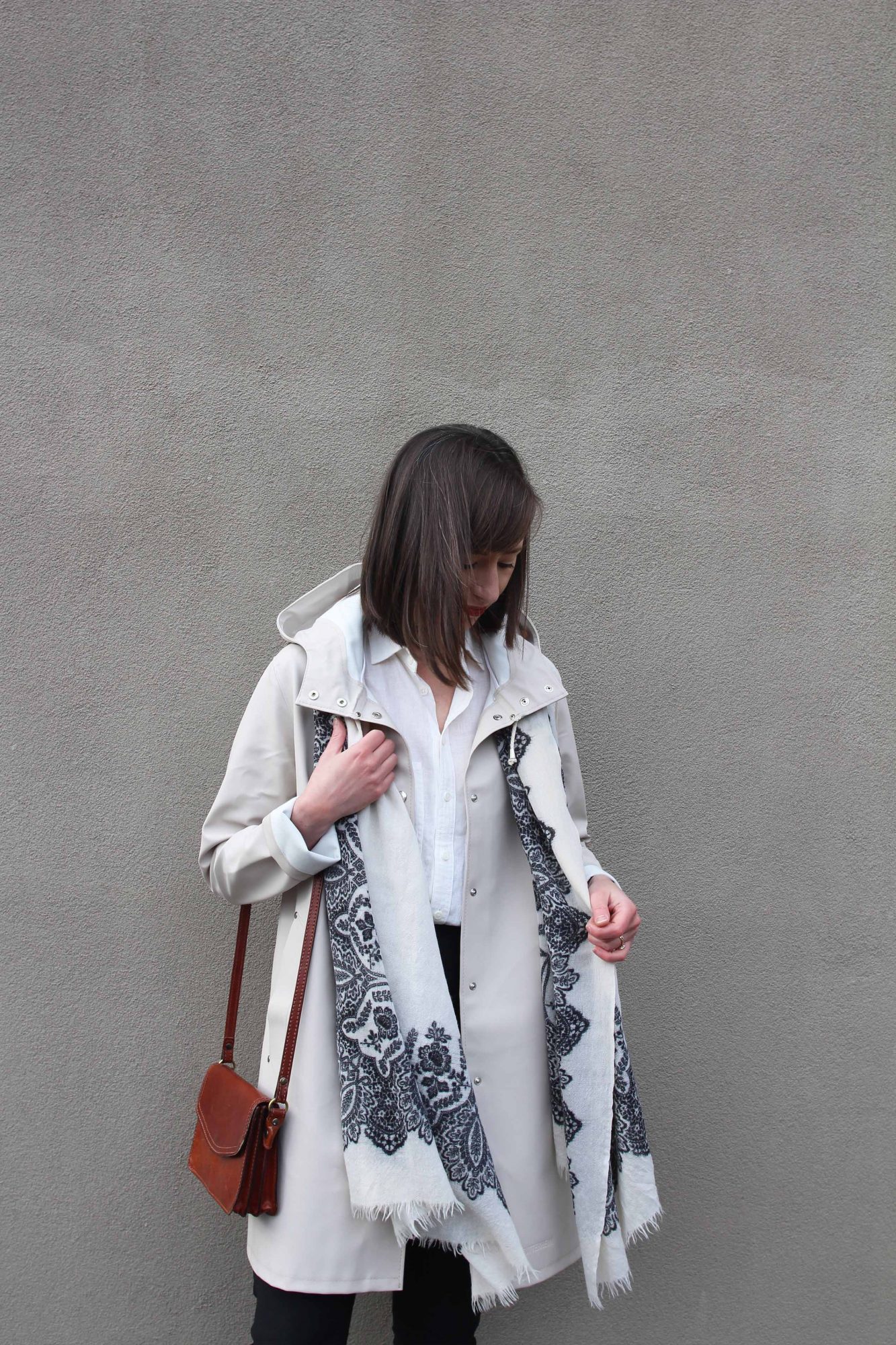 ---
I'm calling this look west-coast meets Copenhagen because it's ready for any wet day the Spring is sure to send our way, without sacrificing a clean, minimal vibe.
I always love a simple, neutral colour palette but the pop of floral pattern, vintage oxblood leather and some contrast keep it from feeling bland. For this one I tucked The Friend into my Cecilia pant fully but a front tuck would have worked just as well. Surprisingly lightweight linen makes these shirts very comfortable to wear tucked into jeans and pants, which at the moment is my favourite way to style them.
For additional warmth I could layer a simple cardigan like this under my jacket and I would of course wrap the scarf around my neck for coziness!
STYLE TIPS: 
ROLL 'EM UP! | I cuffed my raincoat sleeves, not just so I could collect rain water (ha!), but so I could expose the white lining that matches the white shirt and adds that oh-so-subtle bit of continuity I love.
LEGS FOR DAYS, EVEN IN RAIN BOOTS | By tucking this shirt into my high-waist pants I'm creating a high visual midpoint right off the bat. This is a trick I use all the time! But then I take it up a notch by wearing a black rain boot over the black pants I'm creating the illusion of an even longer leg. Rain wear need not be unflattering!
OPPOSITES ATTRACT | I love how this relaxed linen shirt can be made to feel sharp and refined simply by pairing it with a sleek black pant. Under a structured jacket or boyfriend blazer this look would be totally office appropriate if you trade your rain boots for a modern loafer or block heel.
---
---

---
LOOK 2 – THE FRIEND – LATER
---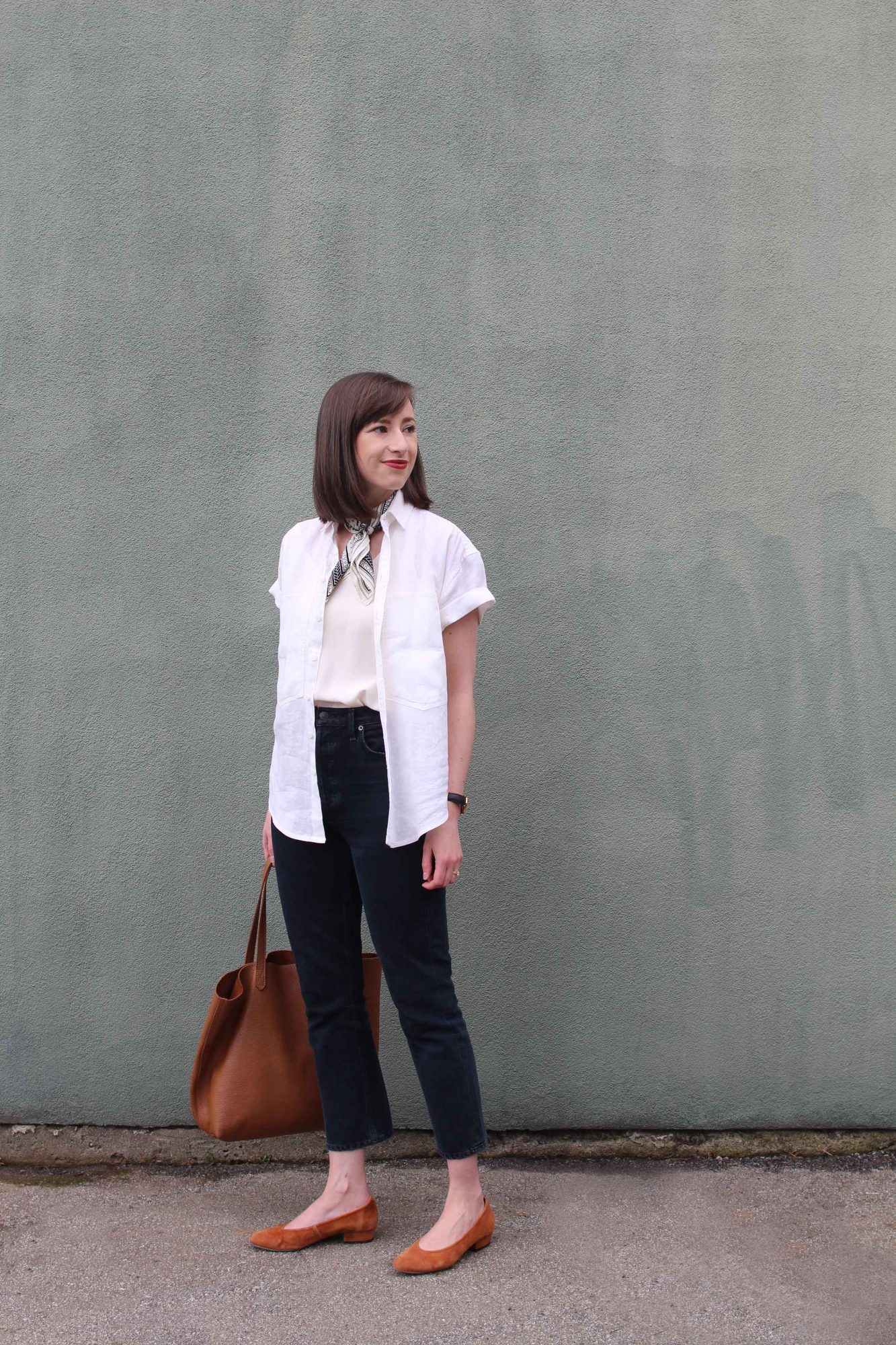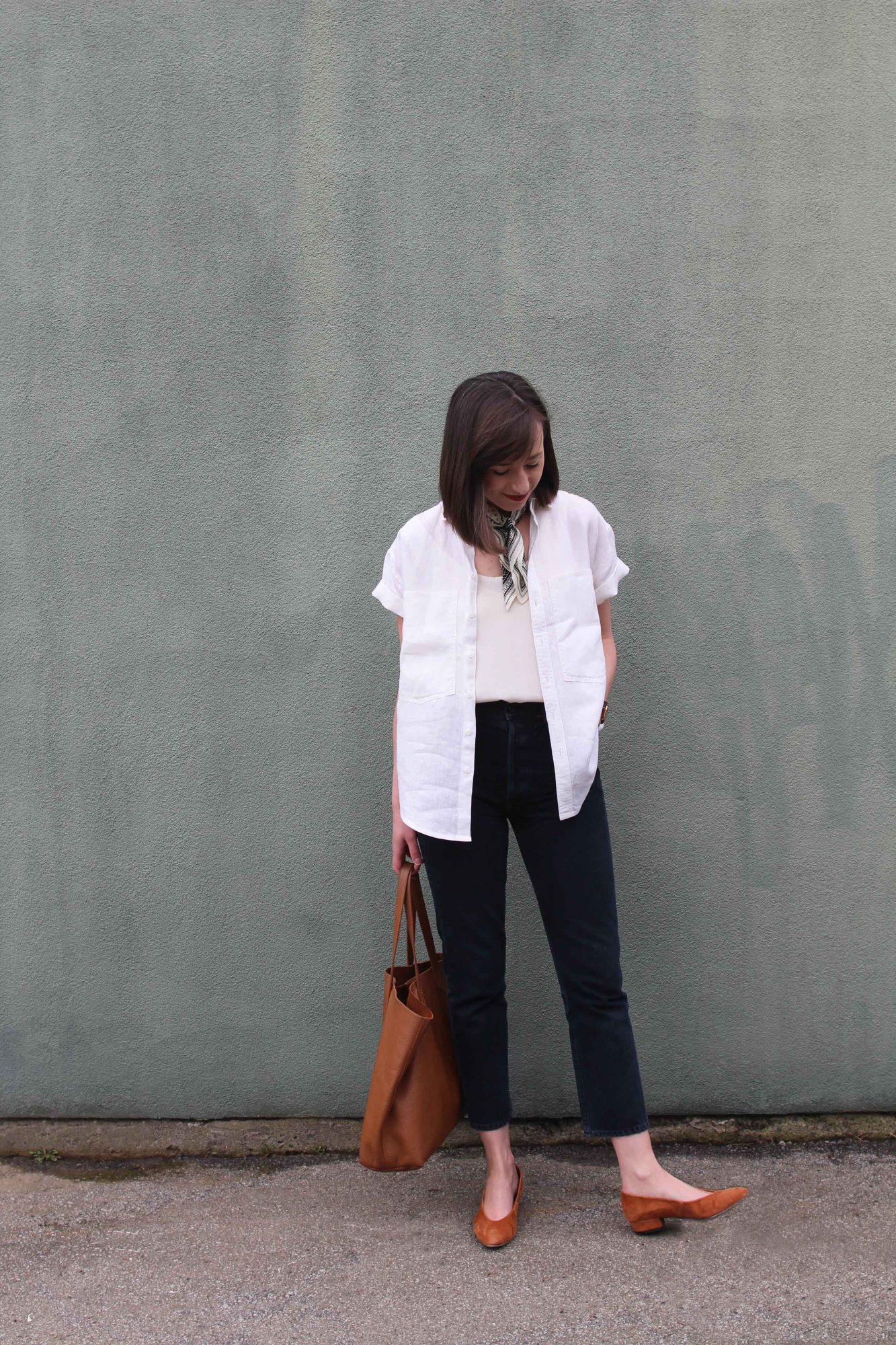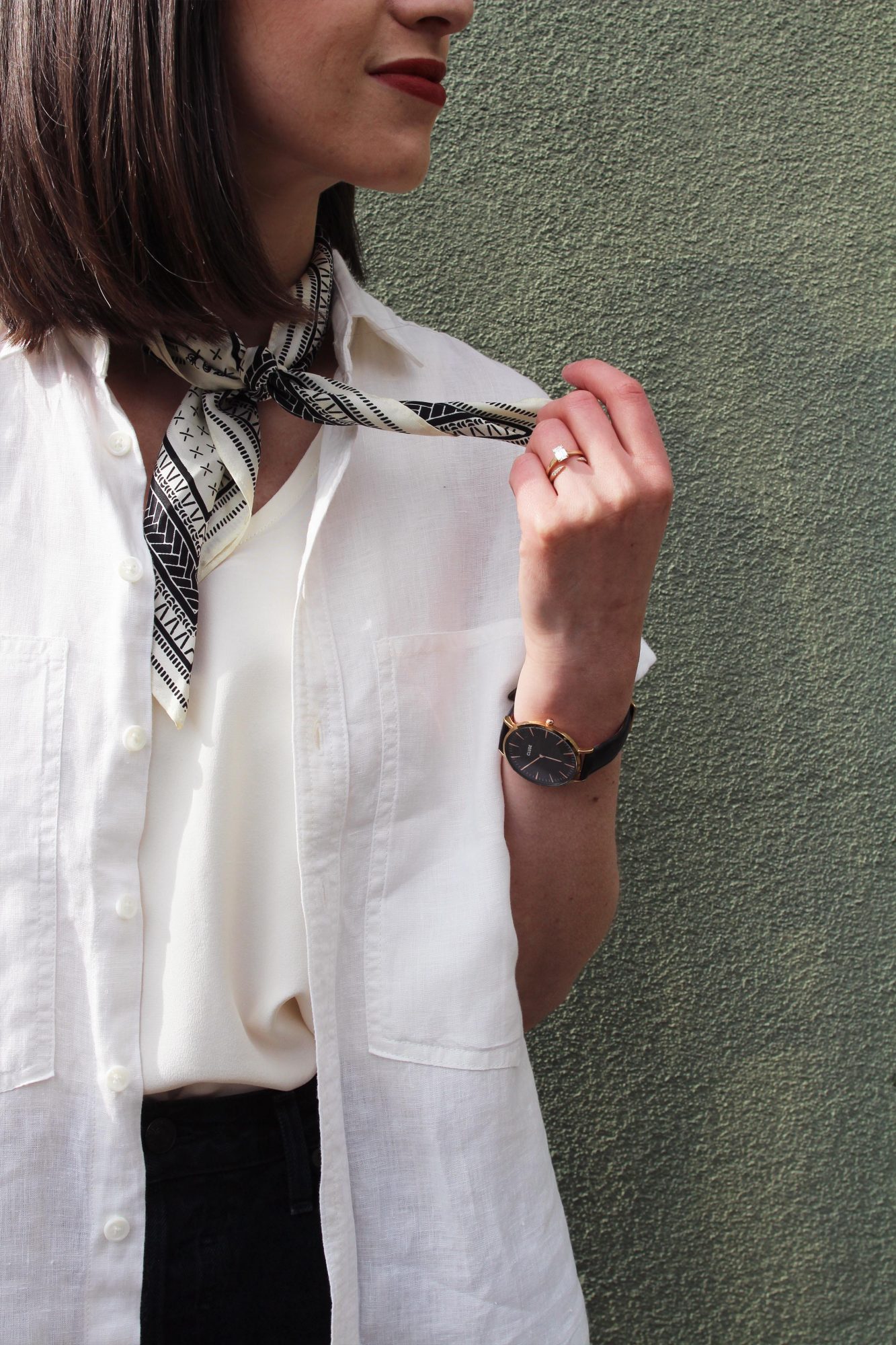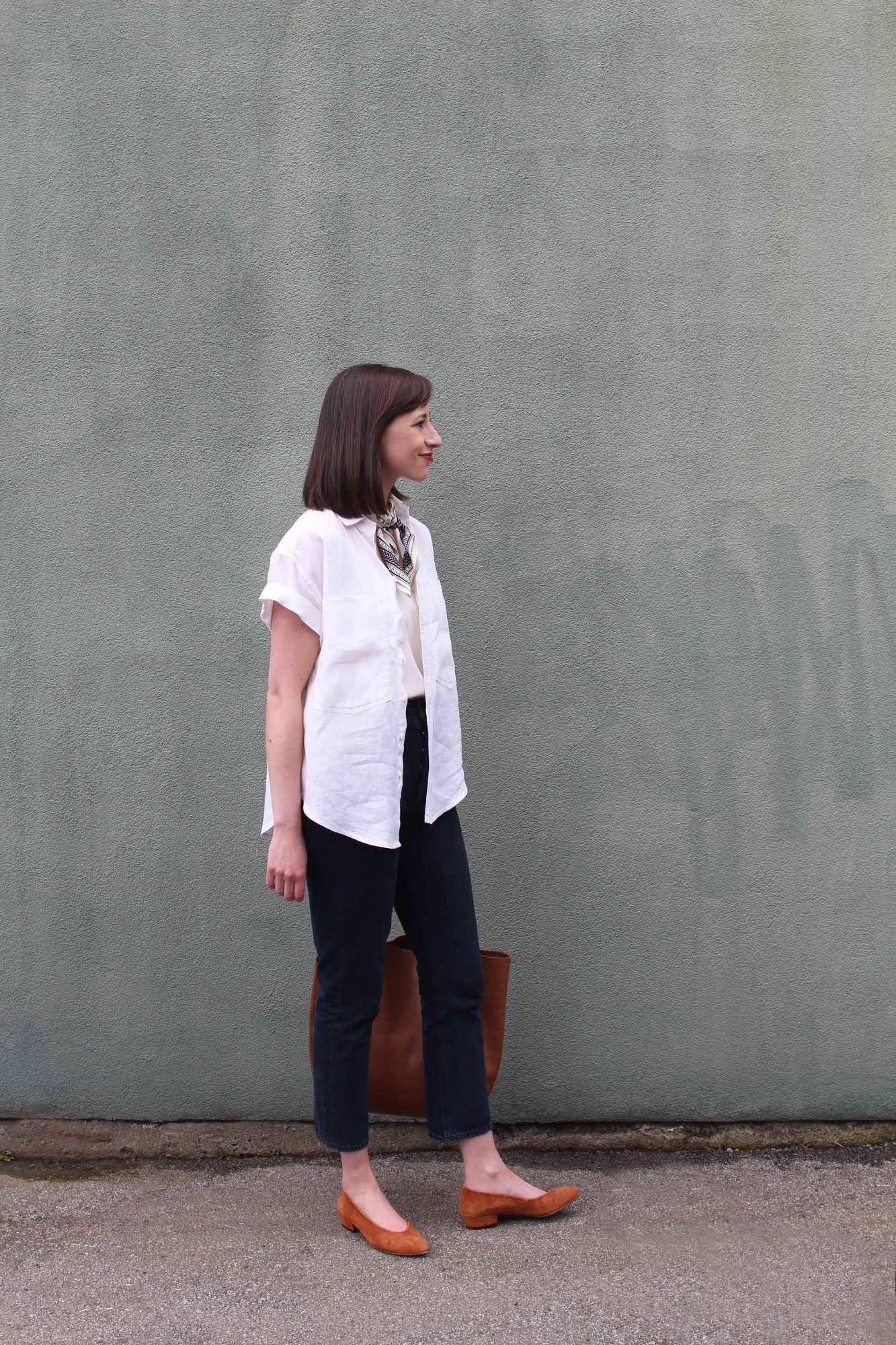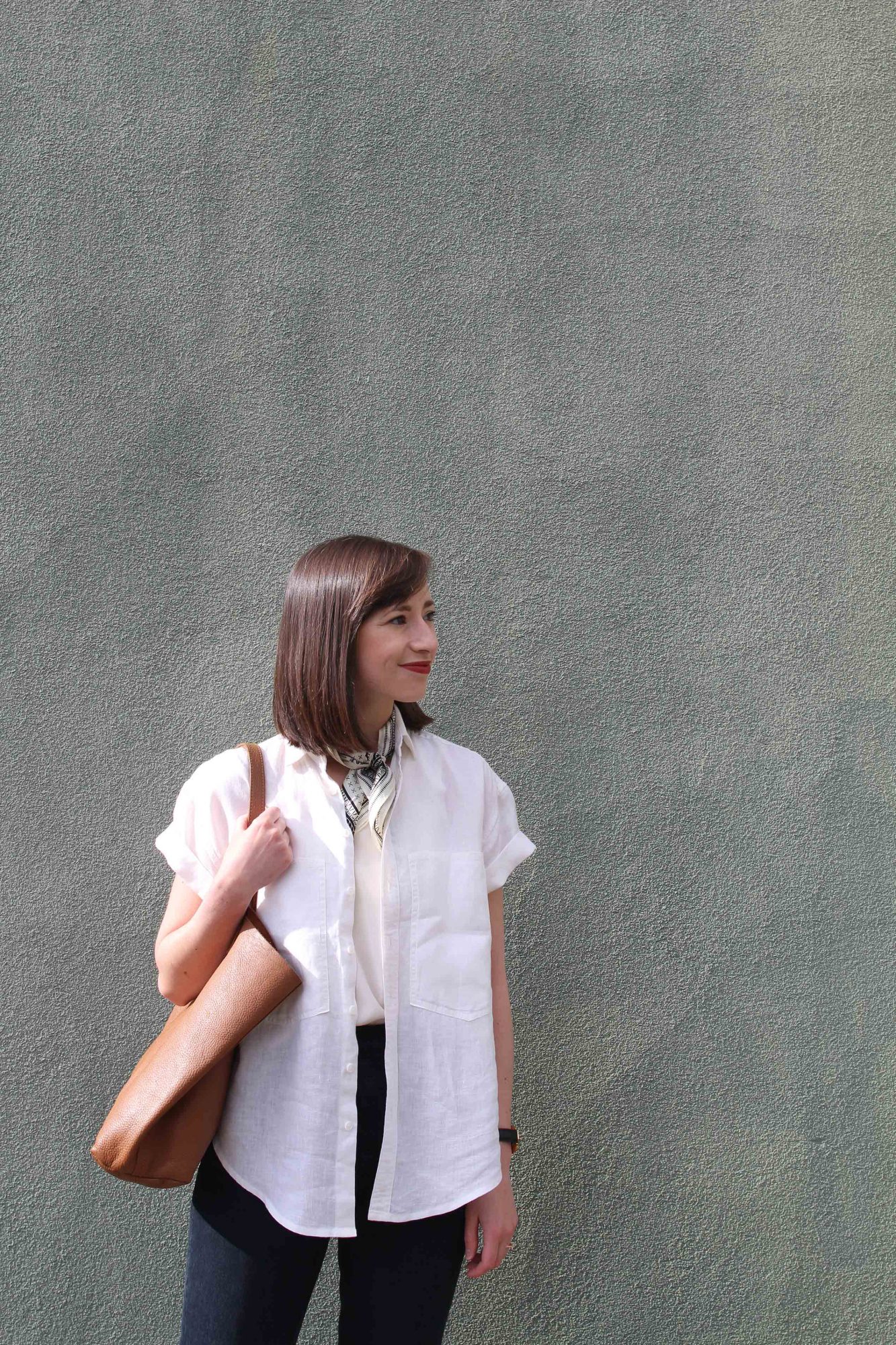 ---
This look was inspired by my latest Netflix obsession, Queer Eye. Jonathan Van Ness (who kills me with his quips and charm) wore an open button down over a basic tee in the same tone and I knew I had to try it out. Alas, we have this look!
It's carefree, comfortable and a little whimsical thanks to a cute bandana and a fun pair of almost flats. I can't wait to wear this one to brunch and farmer's market shopping or exploring Victoria and other places on our list. Or I might keep it in mind for a little European adventure we've got planned in June!
STYLE TIPS:
IT'S OK TO MATCH YOUR BAG + SHOES | I feel as though I once read this was a style faux pas and it has always lingered in my mind but screw it! I love how these two caramel tones add warmth to the look and since they're different textures it doesn't feel too matchy-matchy to me.
IT'S OK TO PAIR OFF-WHITE AND WHITE | Lots of permission being given today! This is another pairing I used to avoid but now I'm all for it. If the pieces are simple and classic I say layer them up! Bring in warm neutral accessories and keeping the bottom element a soft black helps tie in the white tones better. Plus, adding a little scarf with a black and ivory pattern adds an extra touch of tonal interest.
LONG TOP + PANT CROP | Something about a long top paired with a straight cropped jean feels very fresh at the moment. Wearing the shirt open and front-tucking the tank into my jeans creates that high visual mid-point I mentioned earlier but still keeps the look low-key.
---
---

---
LOOK 3 – THE PHILOSOPHER – NOW
---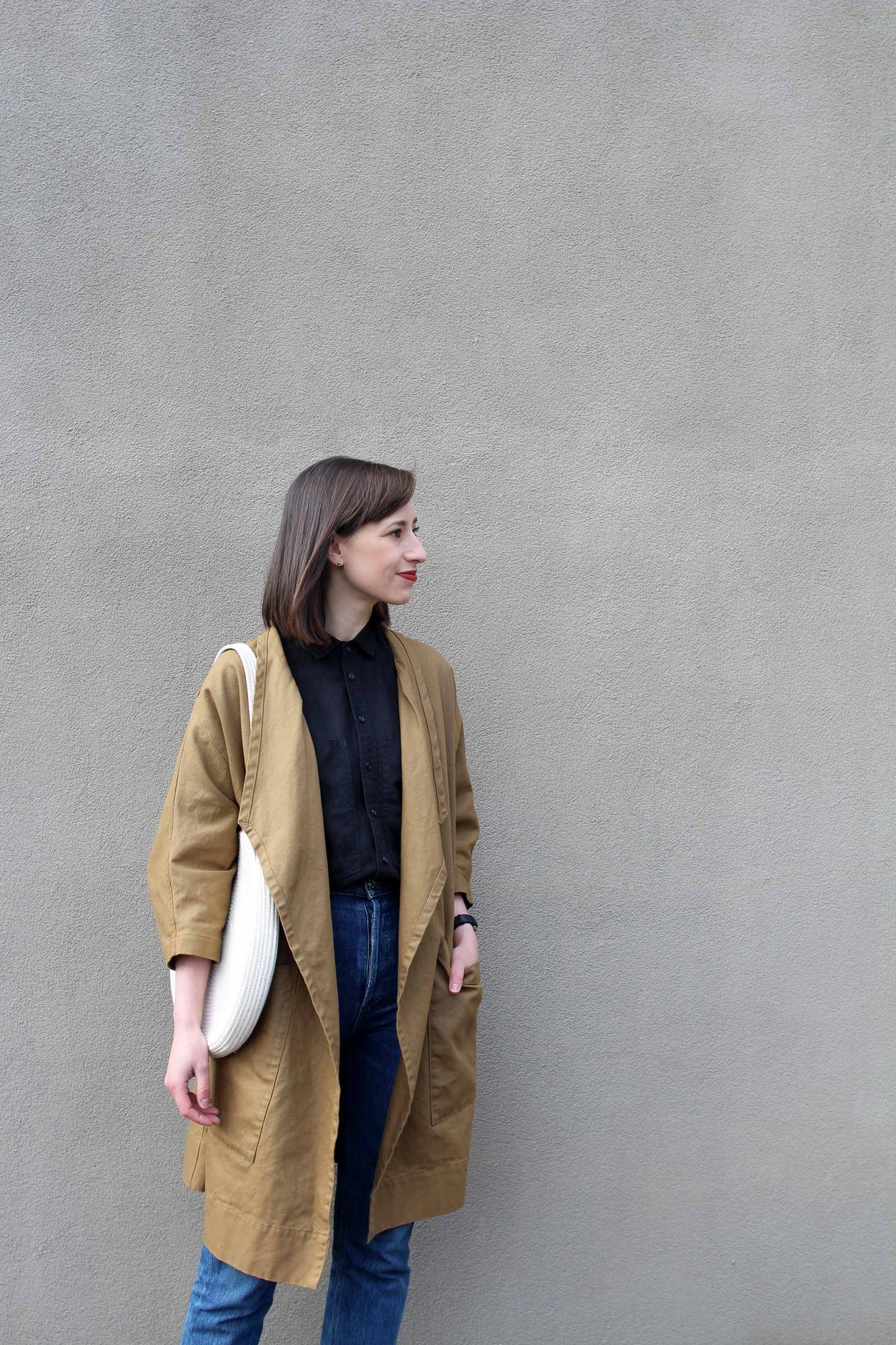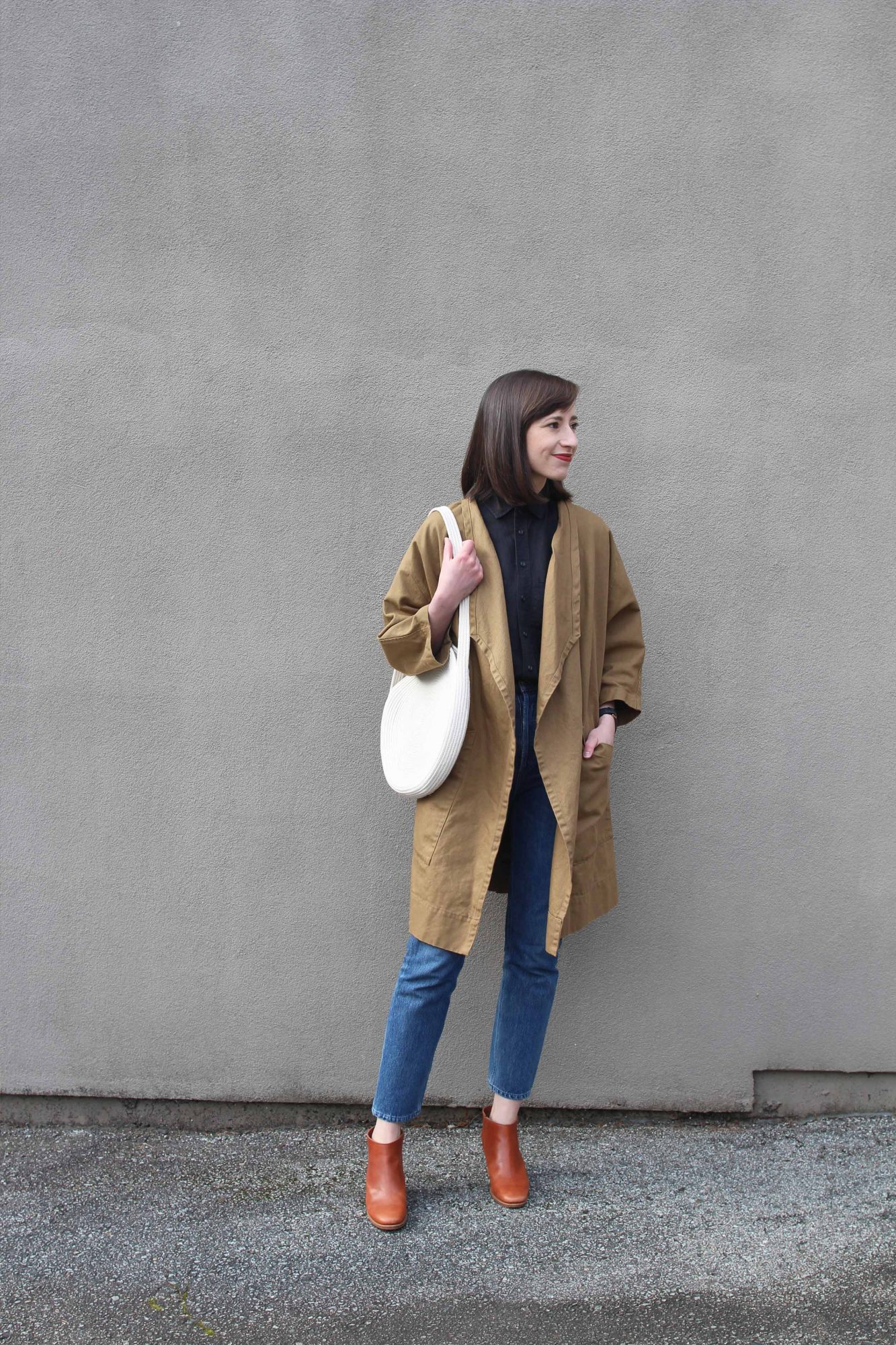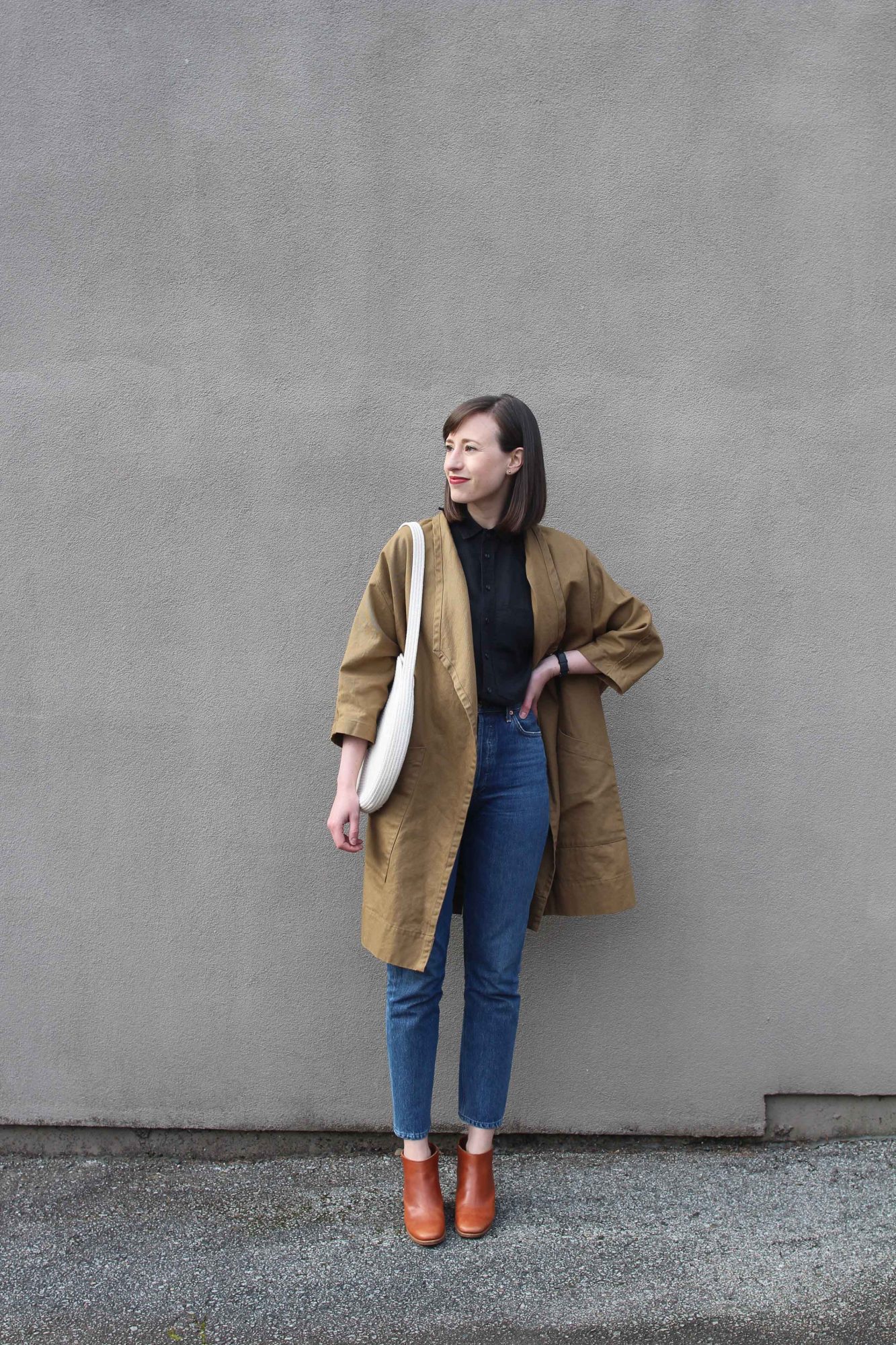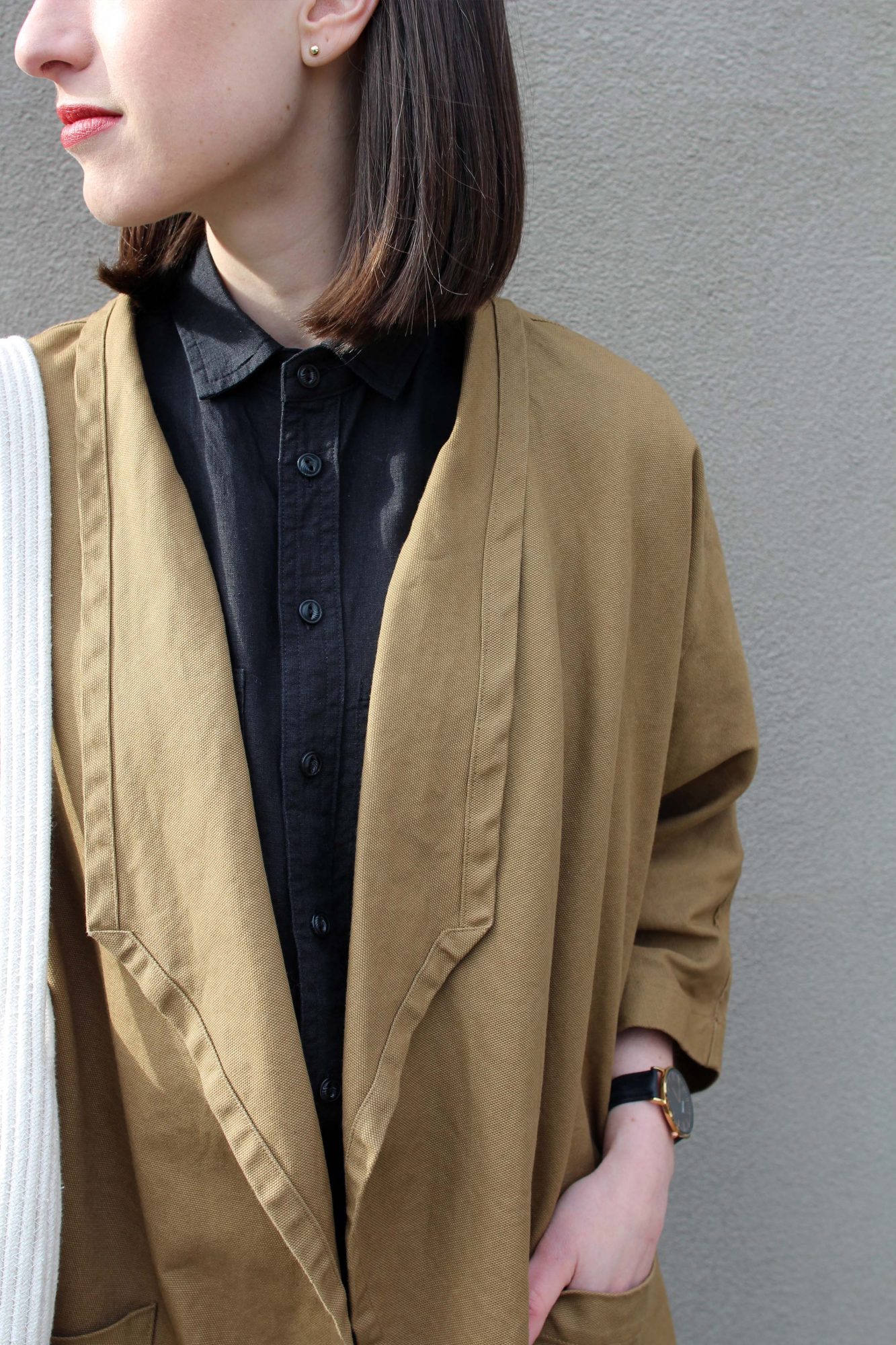 ---
I feel like I could actually be a philosophy major in this outfit! Pondering life's meaning and studying the great theorists in effortless style.
I think this might be my favourite look in a while too. It's the last one we shot on the weekend and I literally said, 'I'm so glad I don't have to take this off!'. I then convinced Dave to join me for a fancy peaberry coffee to celebrate our first west-coast shoot (and one of very few that didn't end in a fight haha) and this was a great look to explore the Kerrisdale neighbourhood in. We grabbed a treat each from the bakery and made plans for the week ahead as we wandered.
STYLE TIPS:
ALL BUTTONED-UP | I love the fully buttoned-up look when I see it on men and I decided to give it a go myself. Usually, I don't like how it feels on my neck but the collar on this shirt is relaxed enough that it really wasn't too tight. I love how it adds a touch of quirkiness without detracting from the sophisticated vibe. Try it next time you want to give your basic button-up a new feel!
BIG ROPE BAG | Before I added this natural rope bag I was concerned this look was leaning a little too dark for Spring but with the big pop of a fun shape and a light neutral it instantly felt fresh. A little bare ankle helps keep it light too!
LINE 'EM UP | A little detail I always check for when I tuck a button down into denim is that the buttons on the shirt line up with the button and fly on the pants. This just adds a tiny bit of visual length to your upper half and keeps things looking crisp and tidy.
---
---

---
LOOK 4 – THE PHILOSOPHER – LATER
---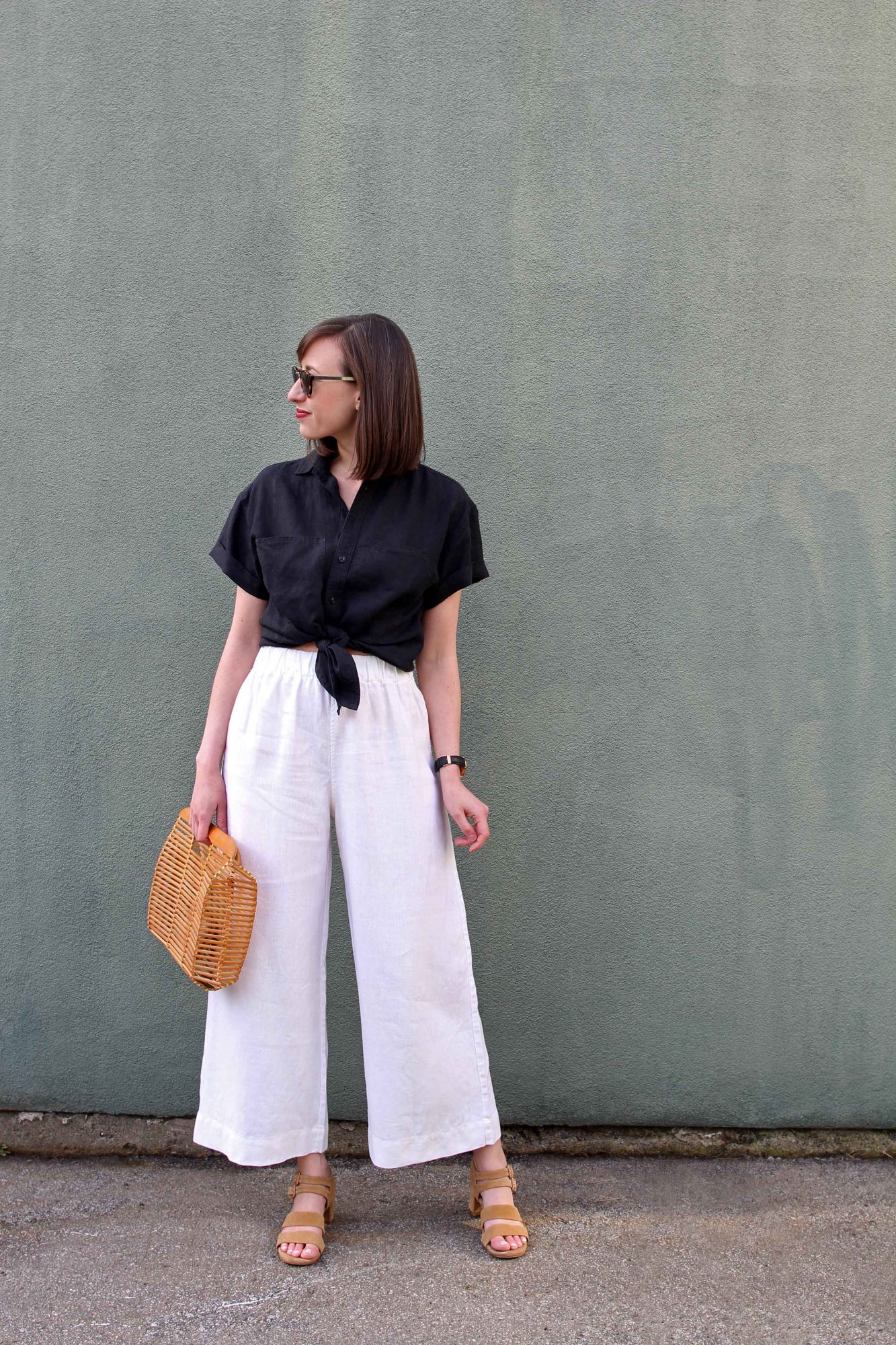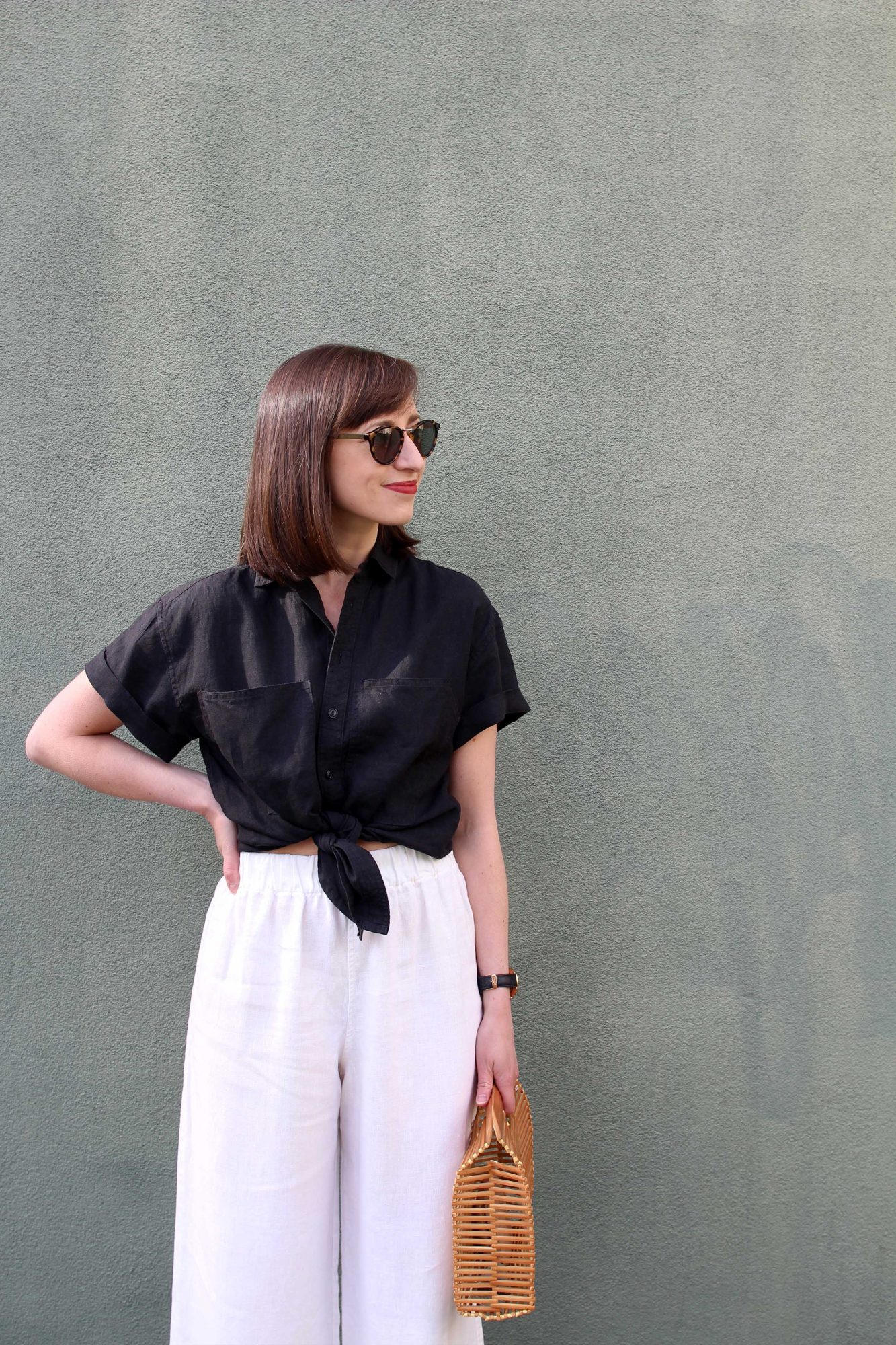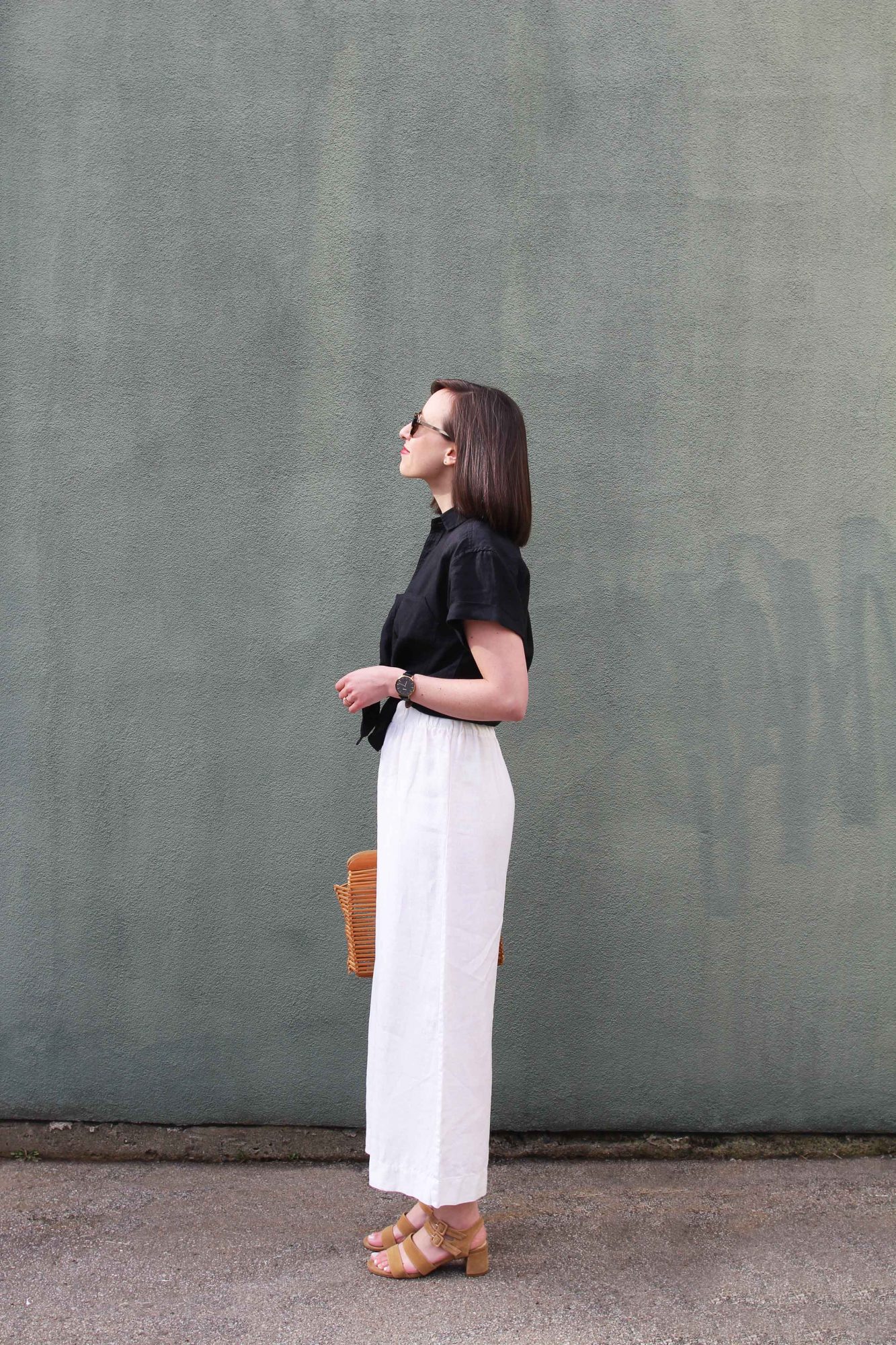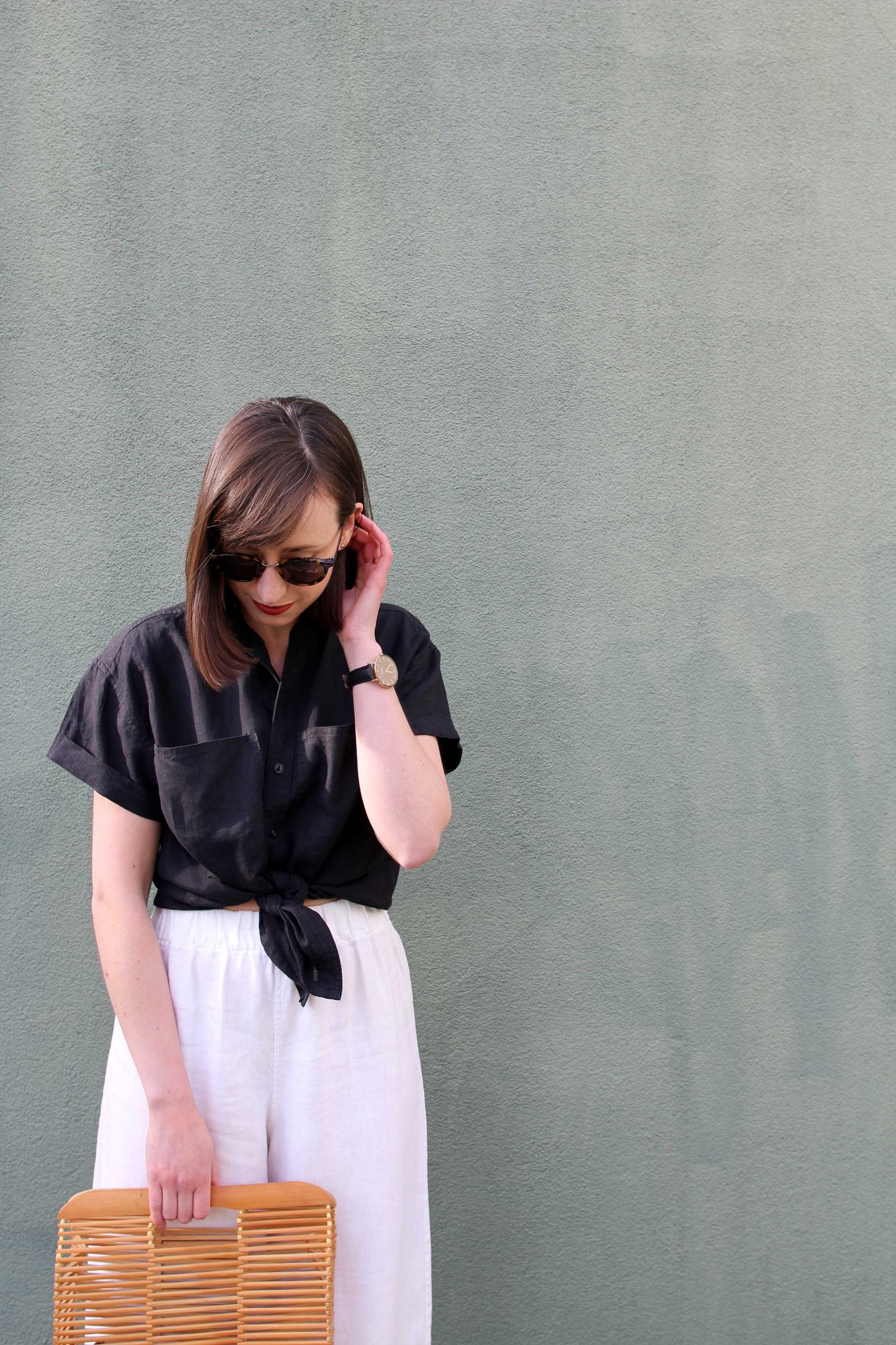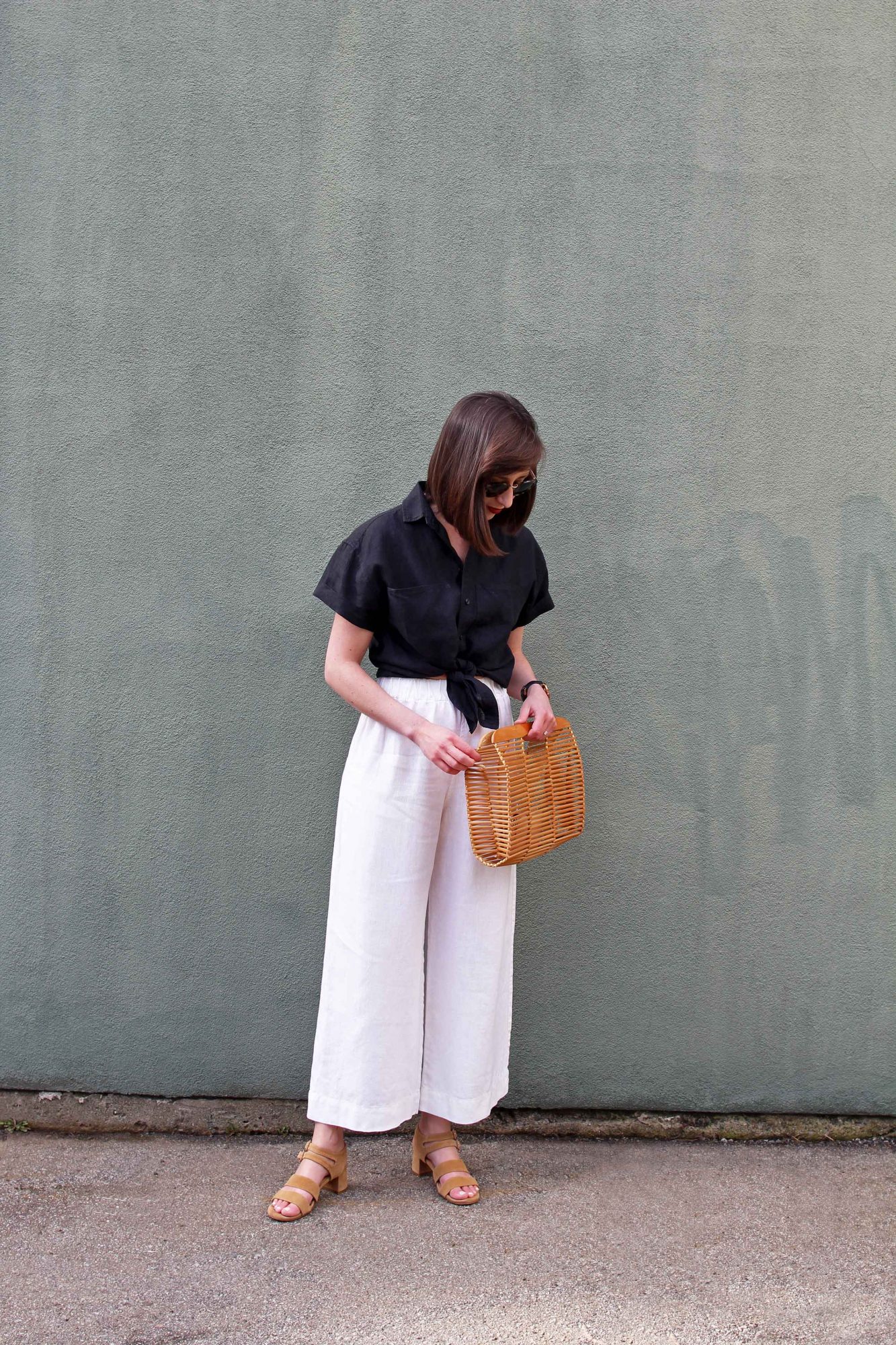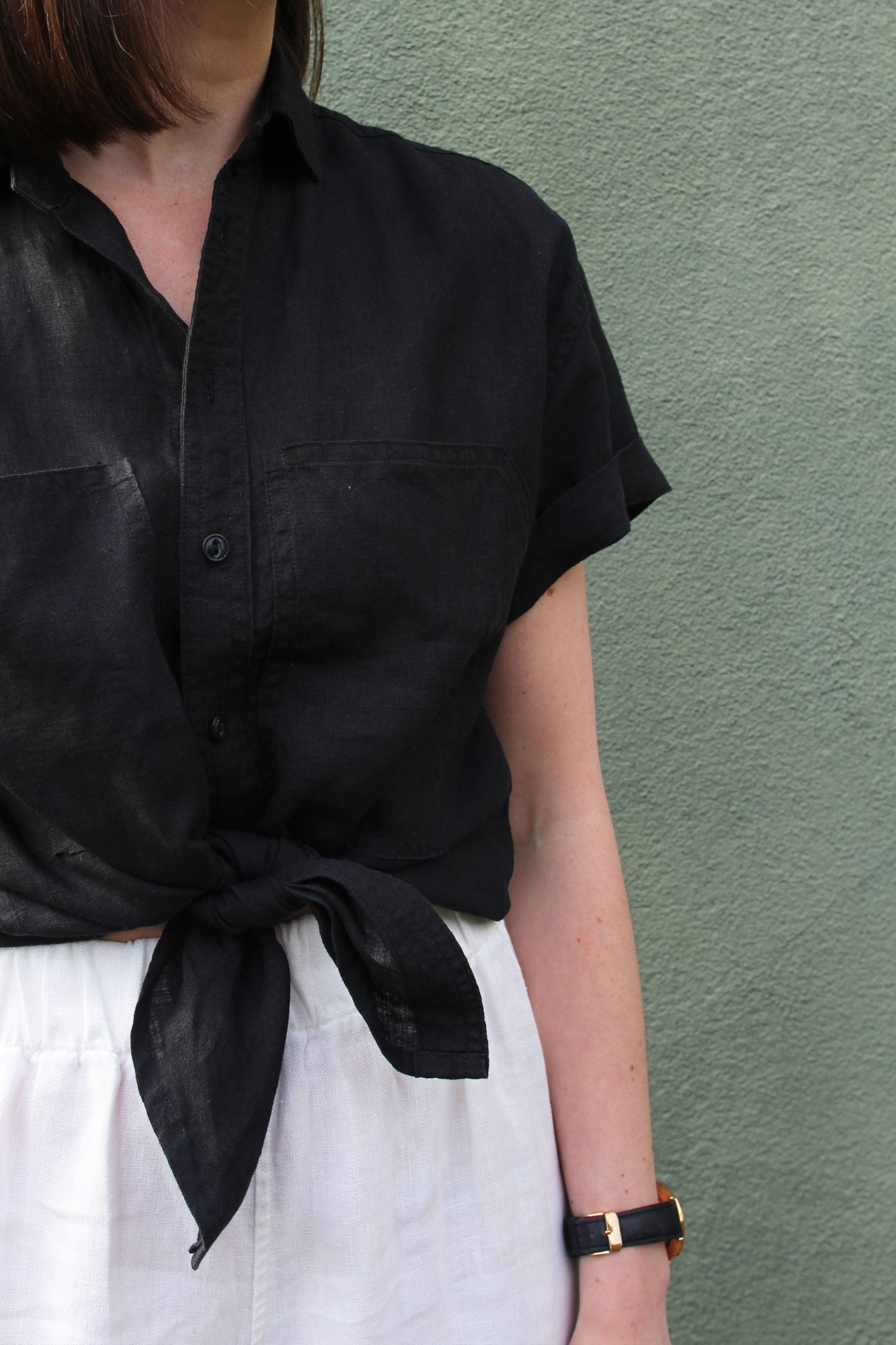 ---
I saved this fun, flirty one for last because it's possibly my favourite way to style these shirts (although the jury is still out on that!). The long length of the Wayward Fit (found on both The Friend and The Philosopher) makes this shirt ideal for the front tie trick. It stays nicely relaxed through the body but can be tied to any length around the waist. I also love how the extra fabric falls once knotted. With shorter/tighter shirts this styling trick can feel confining and you might not have enough shirt to work with forcing the crop to fall a little too high.
I'm also a big fan of this shirt styling with my wide leg linen pants. To me this is the ultimate vacation look that's feminine and chic but still totally wearable for exploring on foot, eating, drinking, shopping, beaching, museum strolling or you name it!
STYLE TIPS:
KNOT RIGHT | I've shared tips on how to get the perfect front knot before and this one is no different. I simply did up the only two buttons that fall over my chest (4th and 5th from the top) and then I rolled up the back of the shirt towards the inside from the bottom until it was hitting the waist on my pants. From there I pulled the two front 'tails' forward and tied them firmly into a single knot. I adjusted the tightness until I was happy and tied a double knot to secure it.
REPEAT OFFENDER | I find I can get away with wearing The Philosopher more than once or twice because it hides any flecks of dirt. To skip ironing I like to use this styling trick. If I wear my shirt knotted like this one day, the next day I can wear it fully tucked into a pair of pants and no one is the wiser about how wrinkled the bottom is! In fact, that's exactly what I did for this shoot!
YIN-YANG | So this one is a packing tip more than a styling tip. I happen to have both this shirt and these pants in black and white. So I'm making a mental note to pack both sets next time I travel somewhere warm. This way I can go black shirt on top, white pants on bottom and then switch it up to go for a white top and black bottom look. I could even go monochrome and get 4 comfy looks out of the deal! The same bags and shoes would work with all 4 looks too. Anything to keep packing simple, right?
---
---

---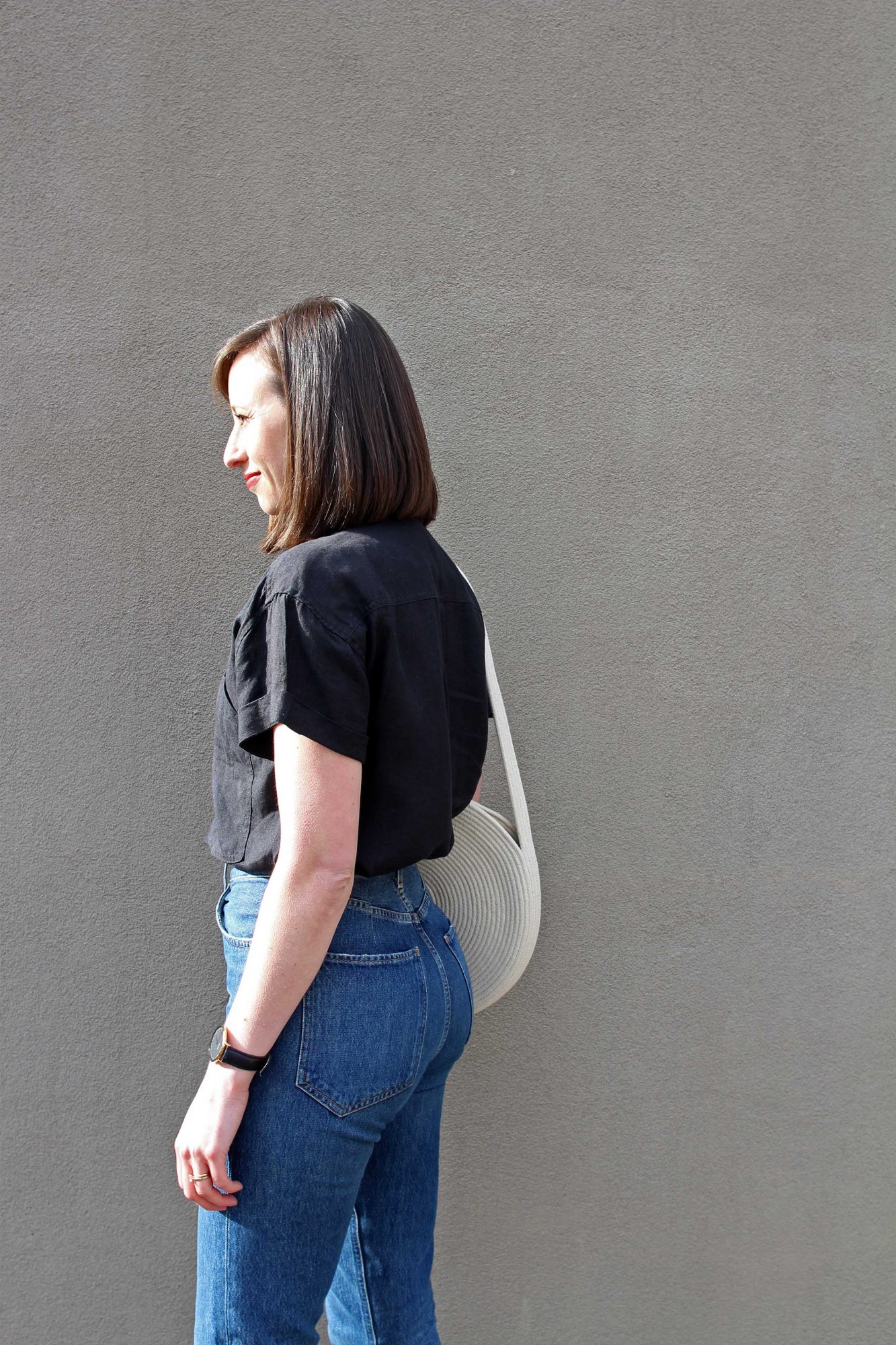 ---
Want even MORE STYLING IDEAS? 
No prob! Here are 4 other ways I've styled The Friend!
---
---
I hope this post has given you lots of Spring outfit ideas!
---
---
POWER OF MY PEOPLE IS GIVING STYLE BEE READERS 10% OFF ANY ORDER WITH 'STYLEBEE10'!
(No expiry) 
---
This post is not sponsored and I didn't receive any new product in exchange for this coverage but I do receive a commission on sales made using the Style Bee discount code. Thanks for supporting the independent brands that support Style Bee too!