Today we'll be taking a look at a capsule collection that I've been wearing and testing out for a few weeks! When my friend and fellow sustainable style enthusiast Cara Bartlett, the designer and CEO behind VETTA, shared her plans for the Relaxed Capsule, I was totally blown away. I mean, I knew it would be great, because her collections always manage to seamlessly blend versatility with function and style, but this one felt so perfectly aligned with my own taste and where I've been heading with my closet. This is, towards eco-friendly materials, soft tones, ageless silhouettes, gentle tailoring and everyday elegance. So I decided to test out the whole capsule and see which pieces would really integrate well into my life.
Overall to me the Relaxed Capsule, combines, comfort, ease, clever detailing, on-point fabric choices and fabulous fits in ways that are refined but still so fun to wear! Not every piece is 100% right for me but I'll be honest, this time I couldn't bring myself to keep just one item. A couple of them fit the bill for wish list items and well, there are limits to my willpower!
So let's dig in and take a look at all 5 items, their pros & cons (in my opinion) and 8 outfits I've put together! Plus, the collection has been restocked today so there should be lots of sizes available in every style and fabric.
---
(Simply enter the code at checkout now through May 31)
---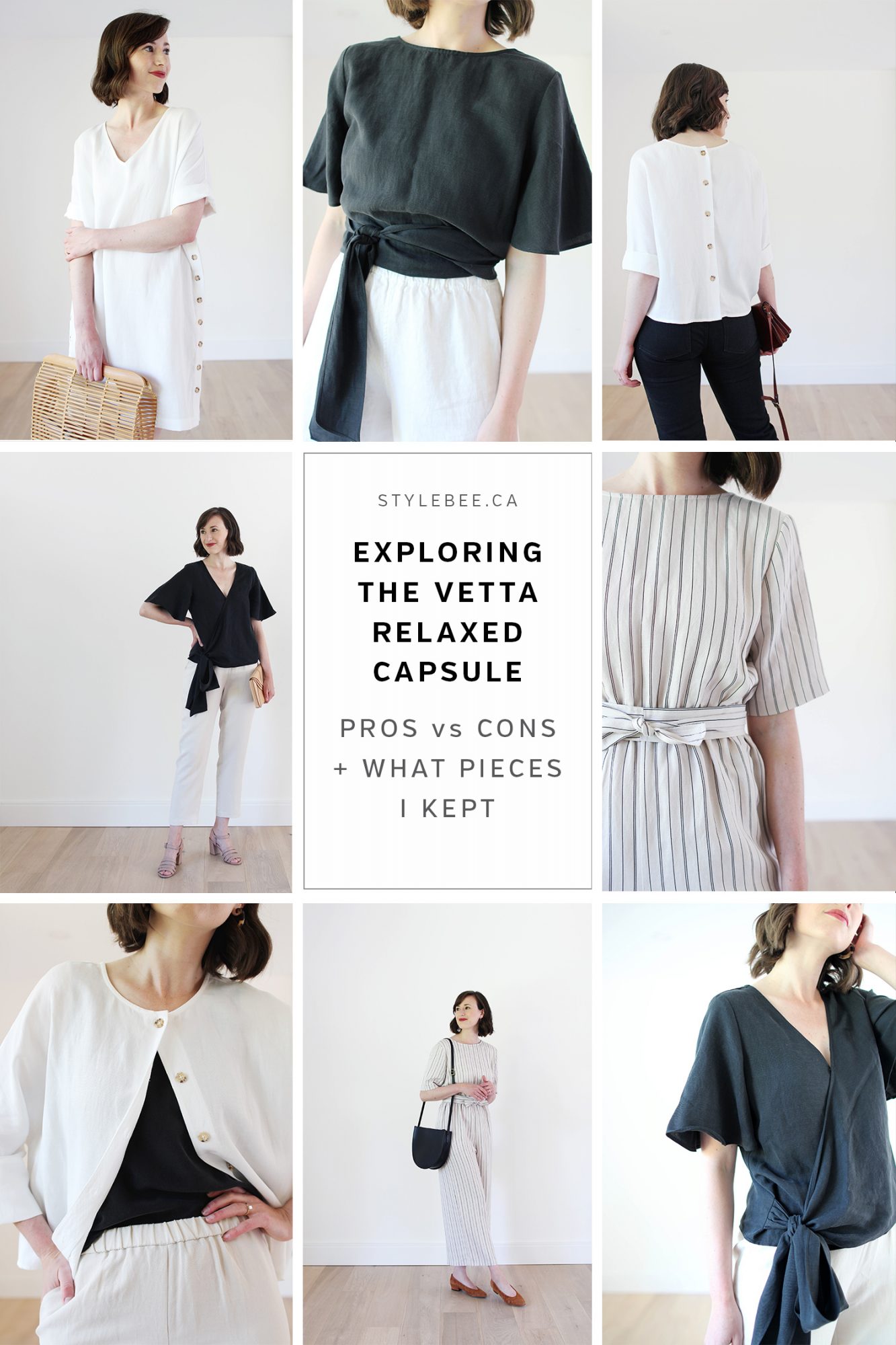 ---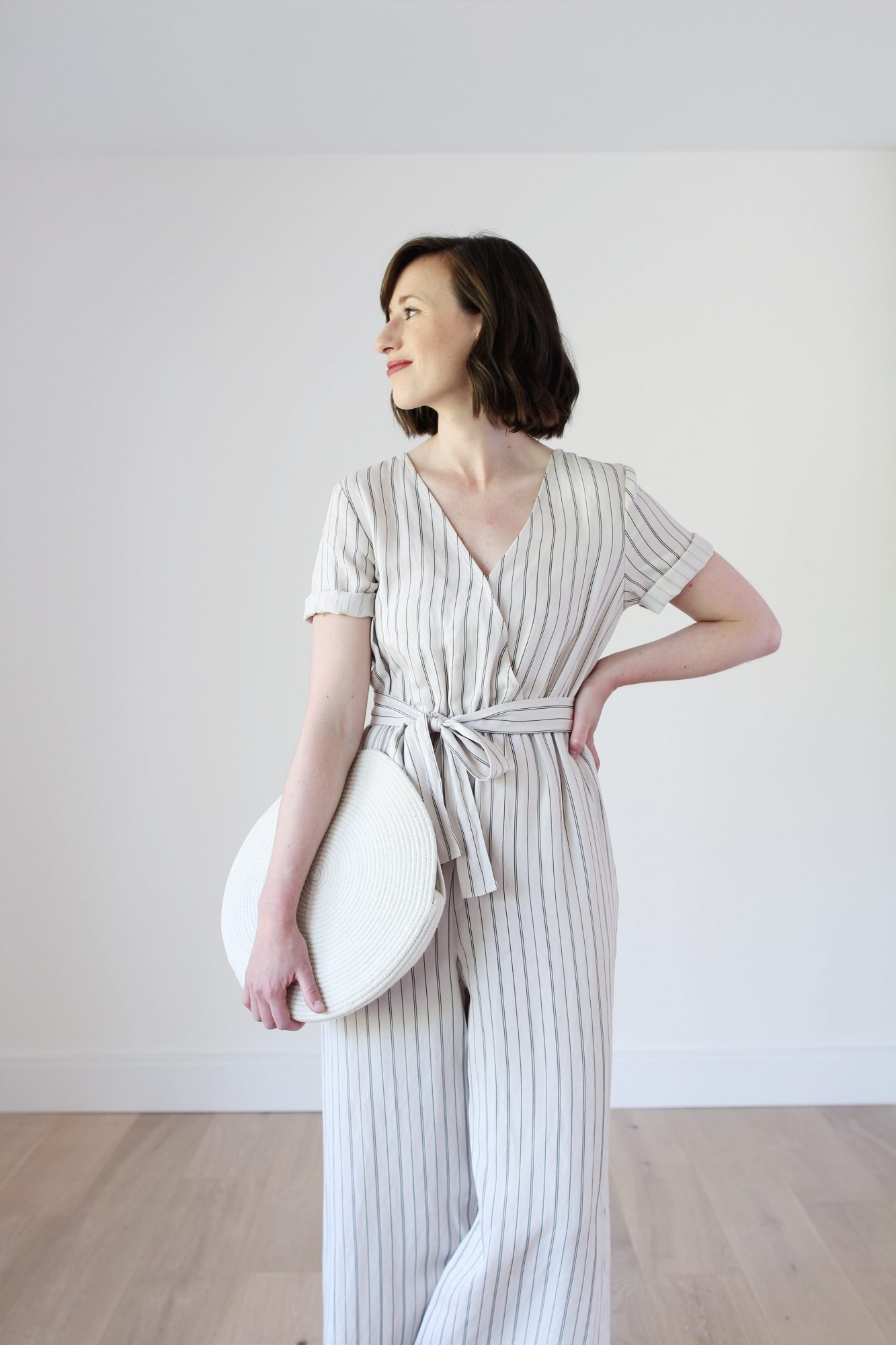 ---
---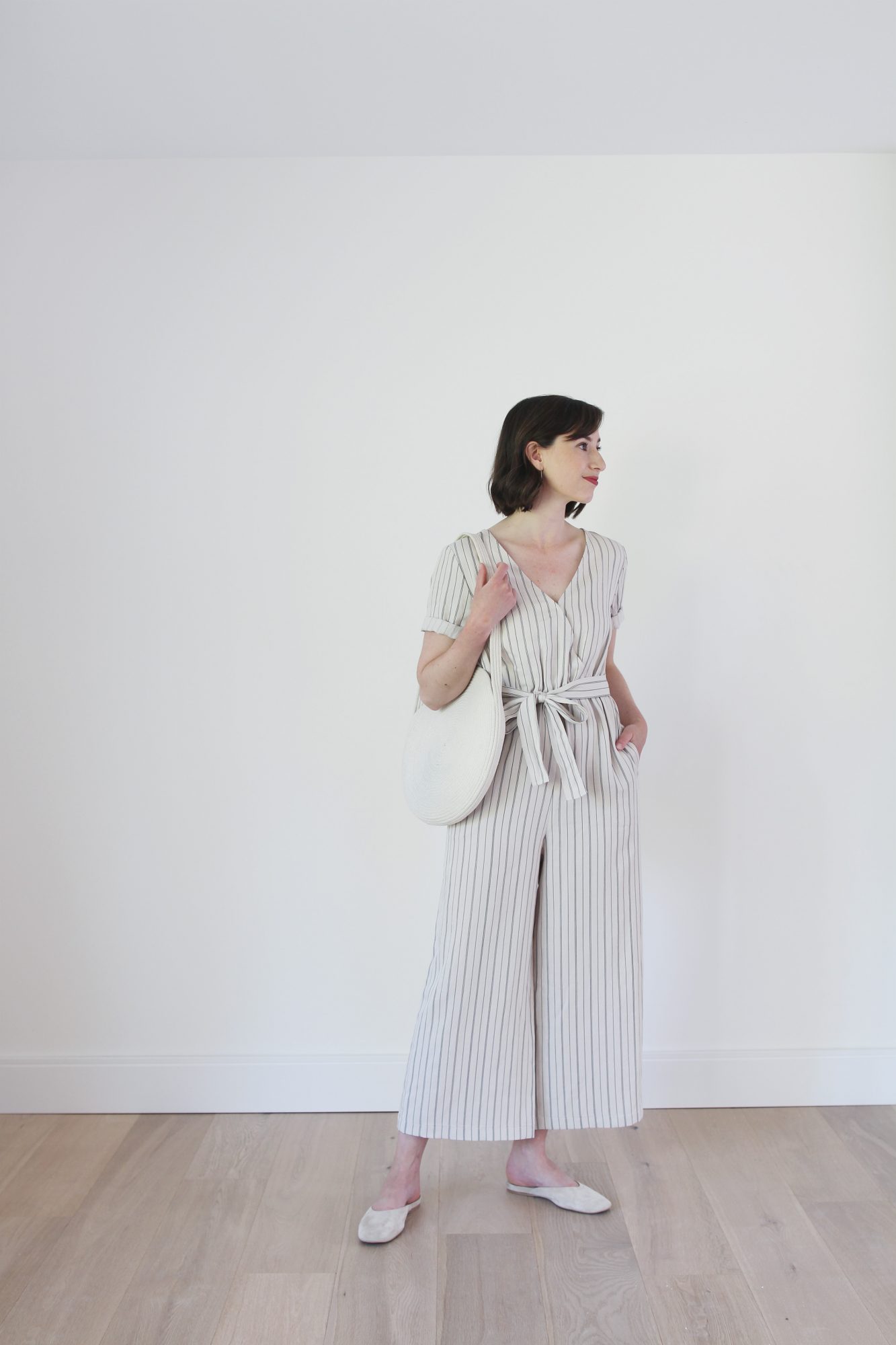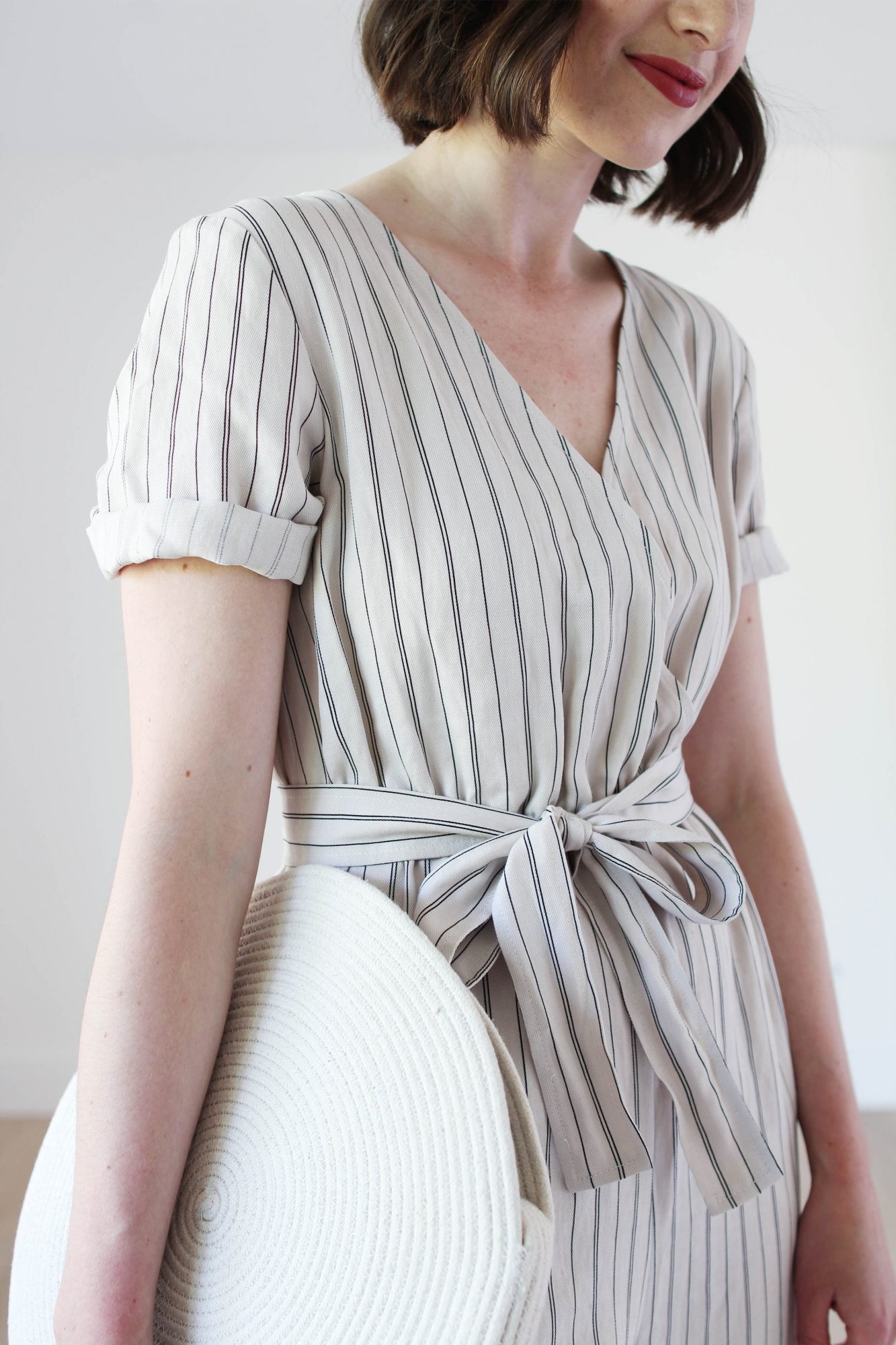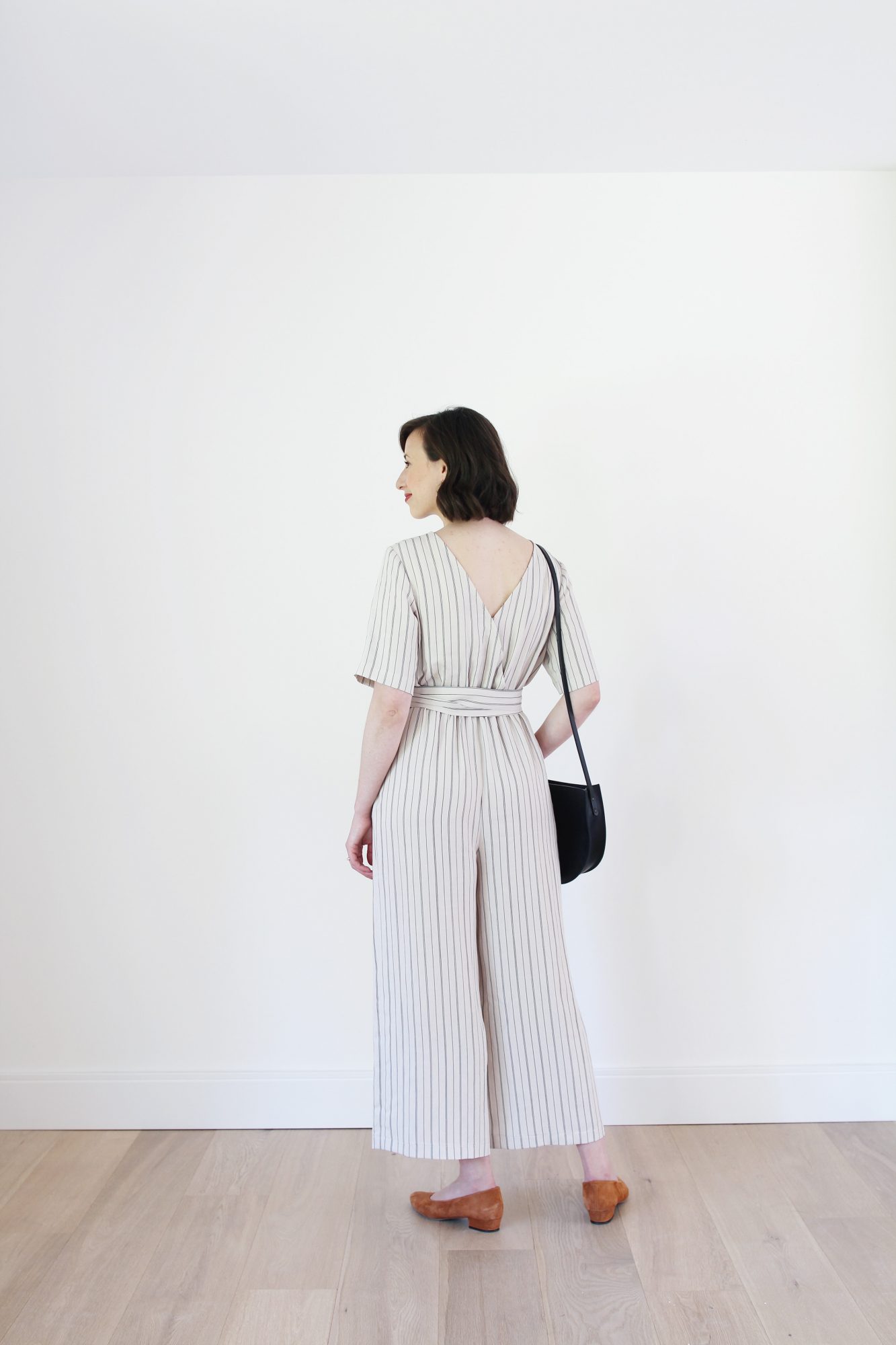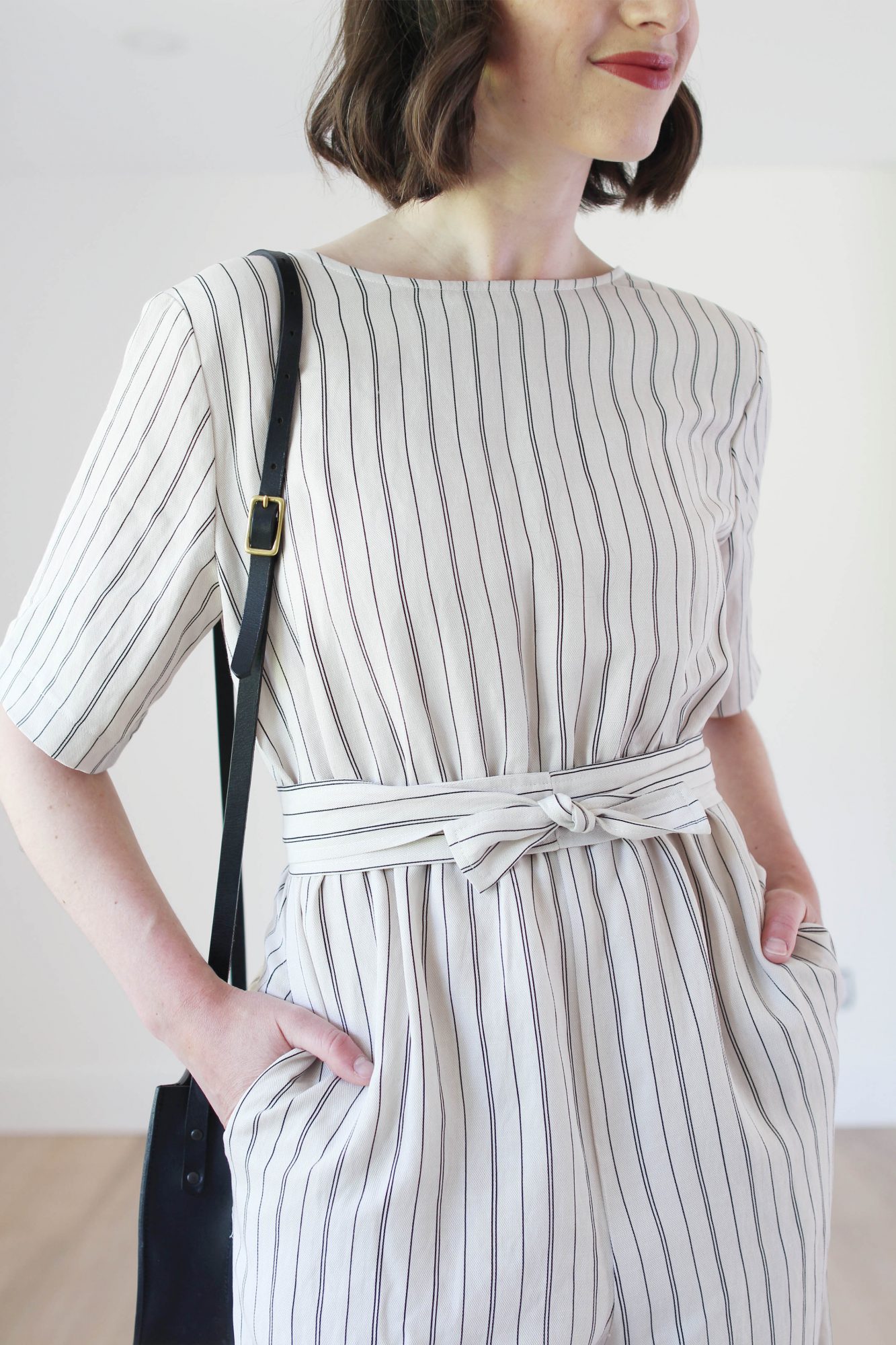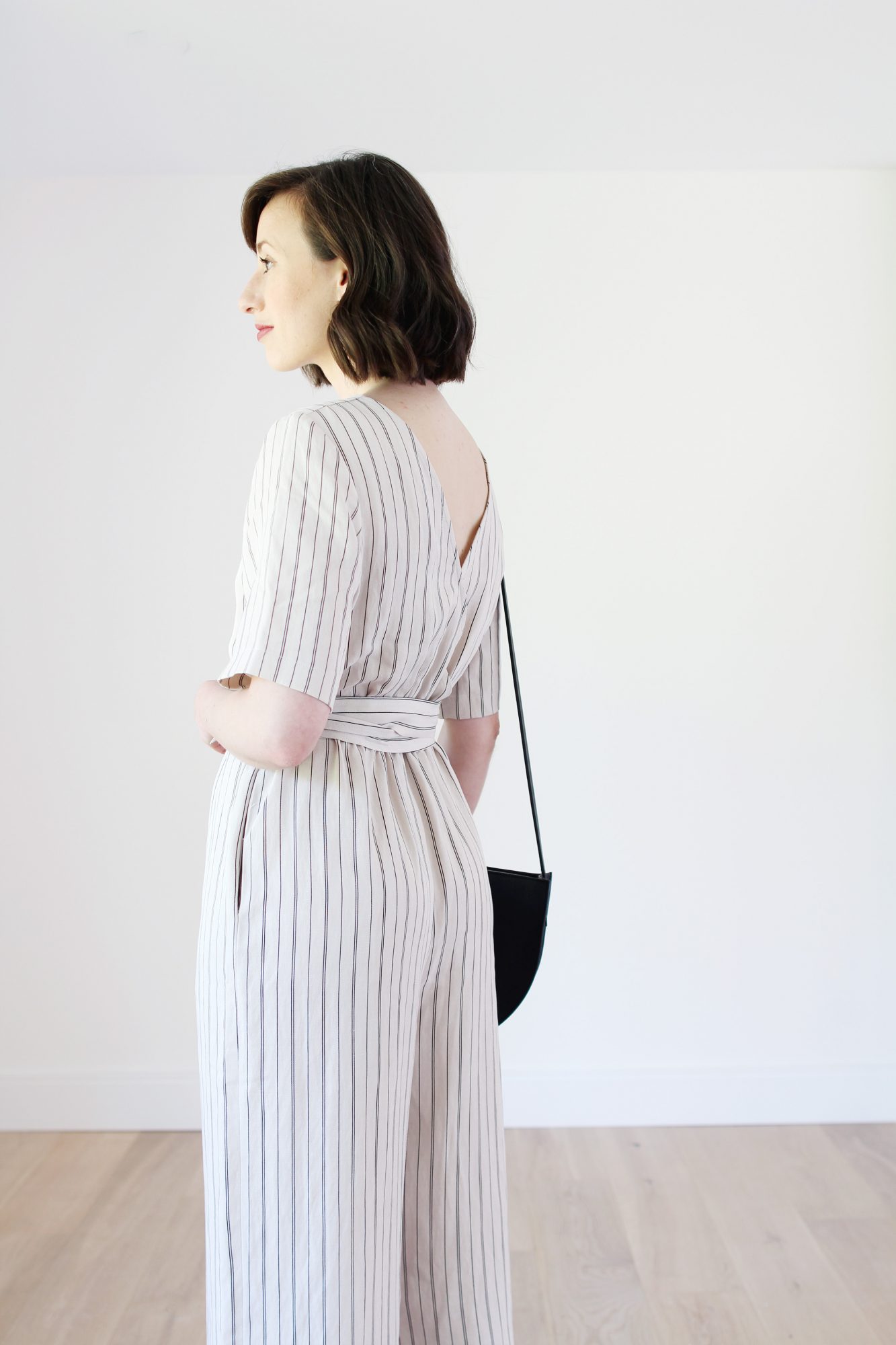 ---
Usually I like to 'save the best for last' but this time I'm starting with my favourite piece from the collection, the Wrap Jumpsuit in Sand Stripe. As soon as I saw this one in the preview I knew it was going to be a huge hit for me. I'm on a major jumpsuit kick this Spring and it's because they're just such an easy way to look effortlessly pulled together, with actually no effort required! I went for the Sand Stripe because it was a unique print and I will admit I was worried the sand tone would wash me out, but I the stripe helps a lot. Honestly, when I pull this piece on I feel instantly fabulous and ready for anything, whether that's a family BBQ, concert, meeting, Netflix binge or walk with Dobby.
JUMPSUIT DETAILS:
---
PROS
FIT: This one has lots of pros for me but I've got to say fit is #1. This jumper truly fits like a dream. I'm wearing a small in this one which is exactly what the size chart indicates and I adore the relaxed but still tailored fit of this piece. The torso length is great on me (I'm 5'7.5) because it's not halfway down my leg nor is it riding up and it's very comfortable to sit in. The elastic waste makes it easy to pull on and very flattering. The sleeve length is perfect worn long or rolled, the pockets are sleek but functional and the wide leg is, as you know, my favourite silhouette. I really cannot rave enough about how well this one worked out in the fit department.
FABRIC: YOU GUYS! This fabric is so good and it's used in every piece from the Relaxed Capsule. It combines my two favourite fibres, linen and tencel, making it eco-friendly, cruelty free and incredibly soft on the skin. The linen keeps it nice and breathable while the tencel keeps it more resistant to creasing and gives it lots of movement. I didn't iron any of these pieces before shooting them!
VERSATILITY: I have already worn this one with both the v-neck and high neck and both really do feel great. I've gone belt, on, off, tied in a bow (as shown) and knotted (as shown). I love it with a suede flat (as shown) but it's also great with a white sneaker or a simple slide sandal. I can see this jumpsuit working great for travel, dressier events (like a shower or wedding) but honestly I just want to wear it everyday.
CONS
BACK CLASP: I think the design of this piece is genius in that it can be pulled on and still worn either with a v-neck or high neck. That is amazing! The only thing I noticed was that when wearing the jumpsuit with the v-neck to the back, the snap clasp can pop open pretty easy if you reach forward or bend to put on shoes etc. It doesn't happen when worn the other way and it's easy enough to snap back but it's something to consider if you plan to wear it that way a lot.
---
KEEP OR SEND BACK? HONESTLY, I KNEW THIS ONE WAS A KEEPER BEFORE IT GOT HERE!
---
SHOP THESE OUTFITS: JUMPSUIT | SHOES: Suede Pump or Suede Mule (similar) | BAGS: Rope Circle or Half Moon | LIP COLOUR: KOSÅS Undone
---
---
---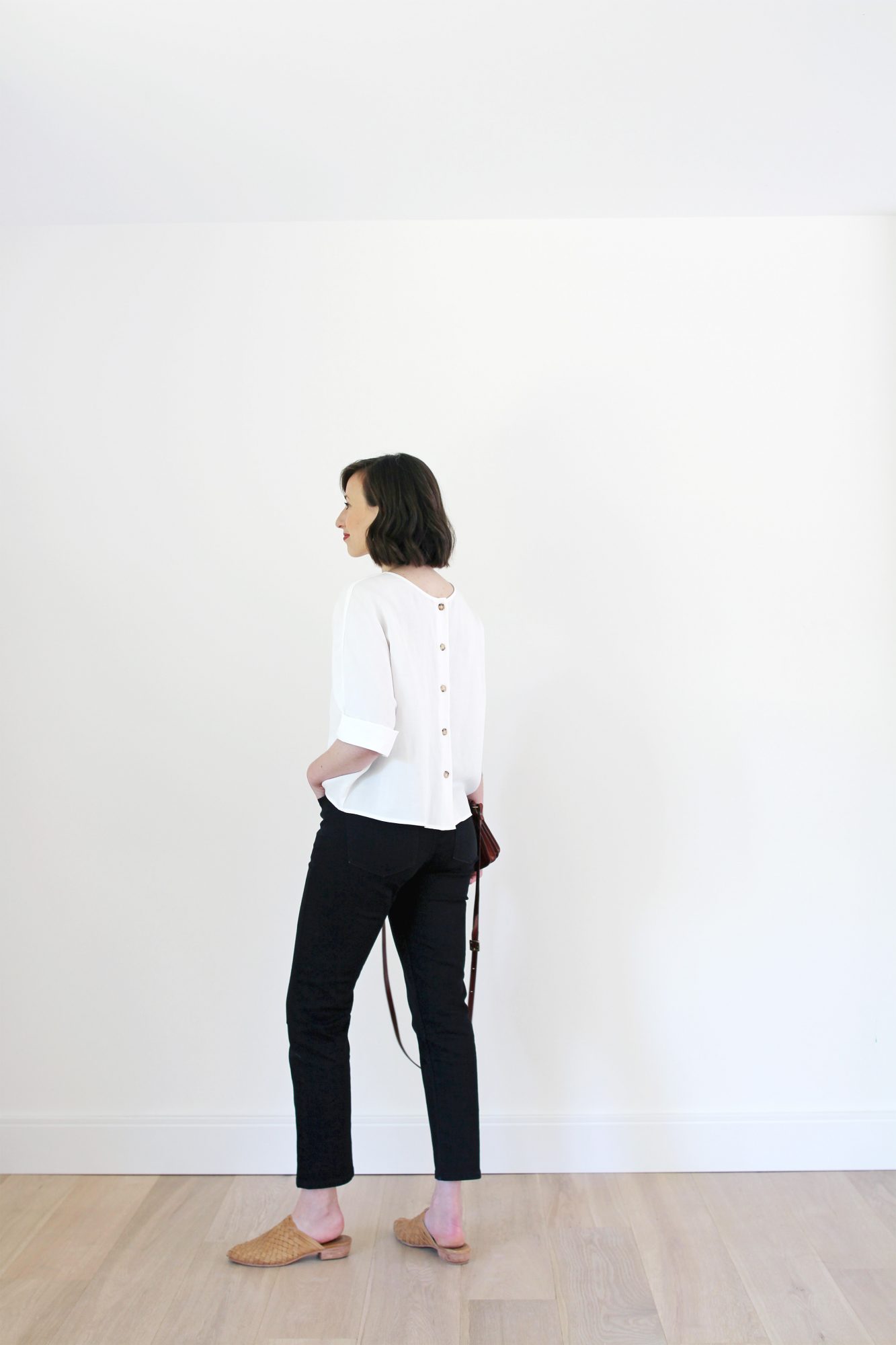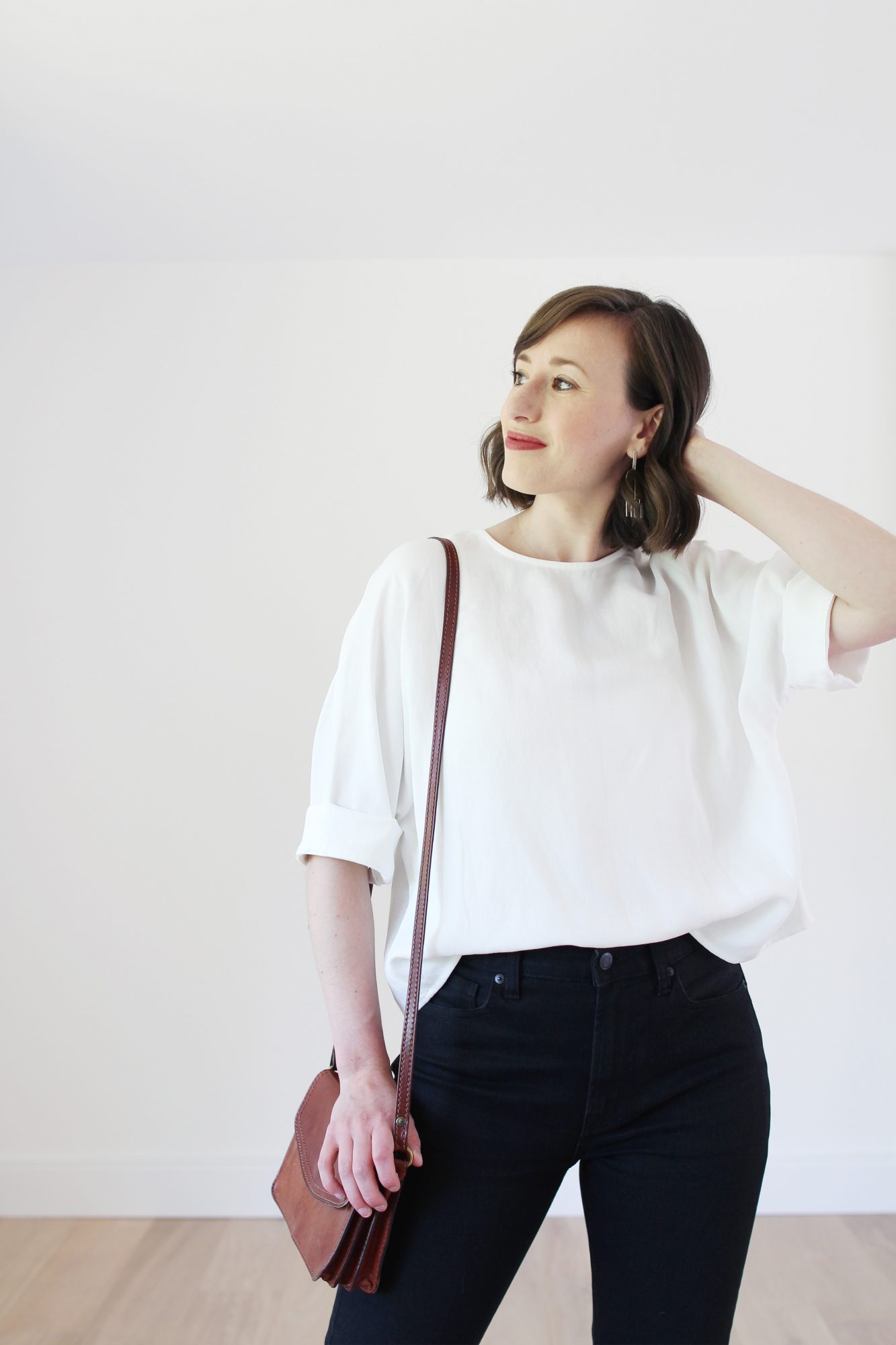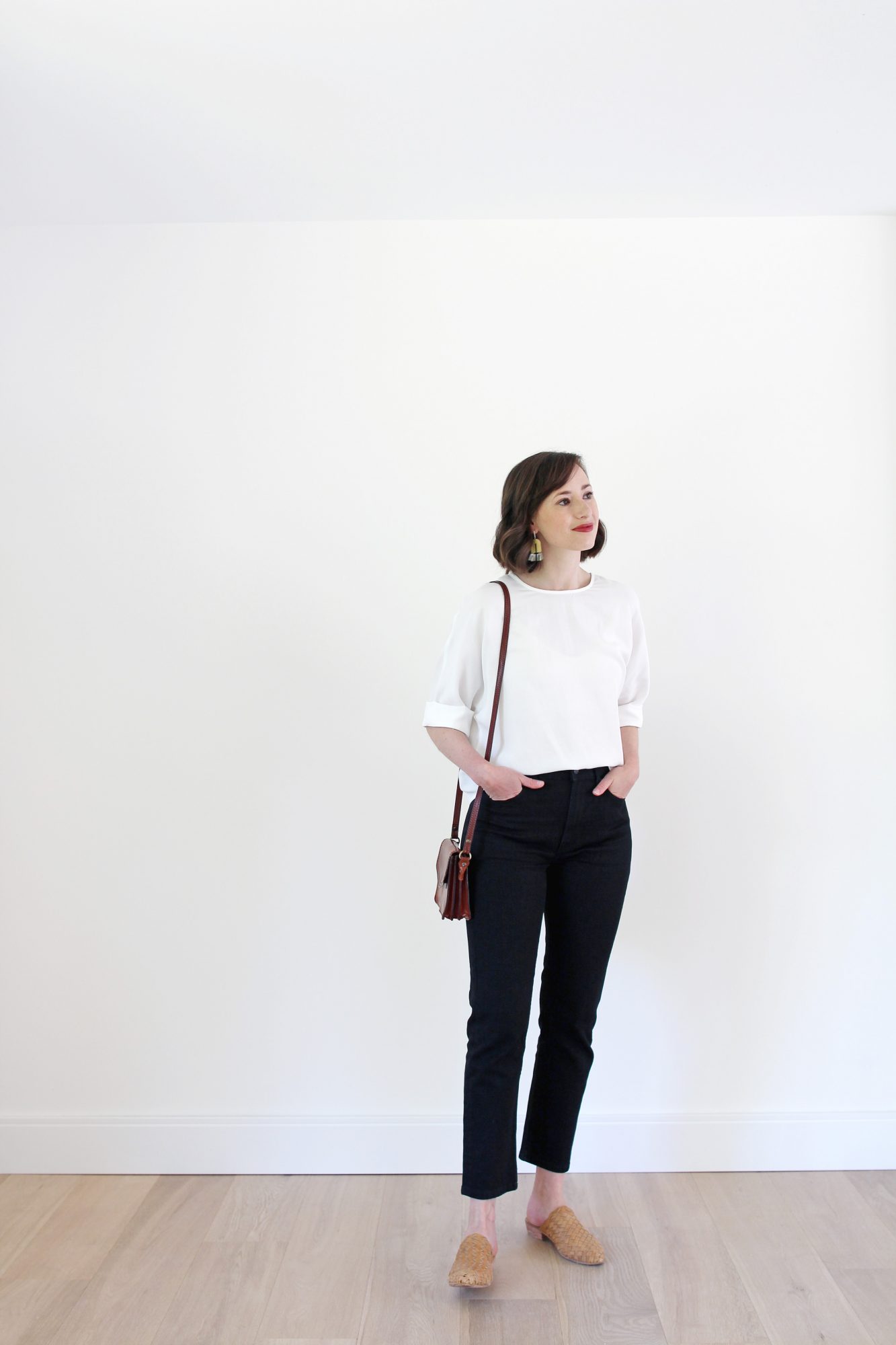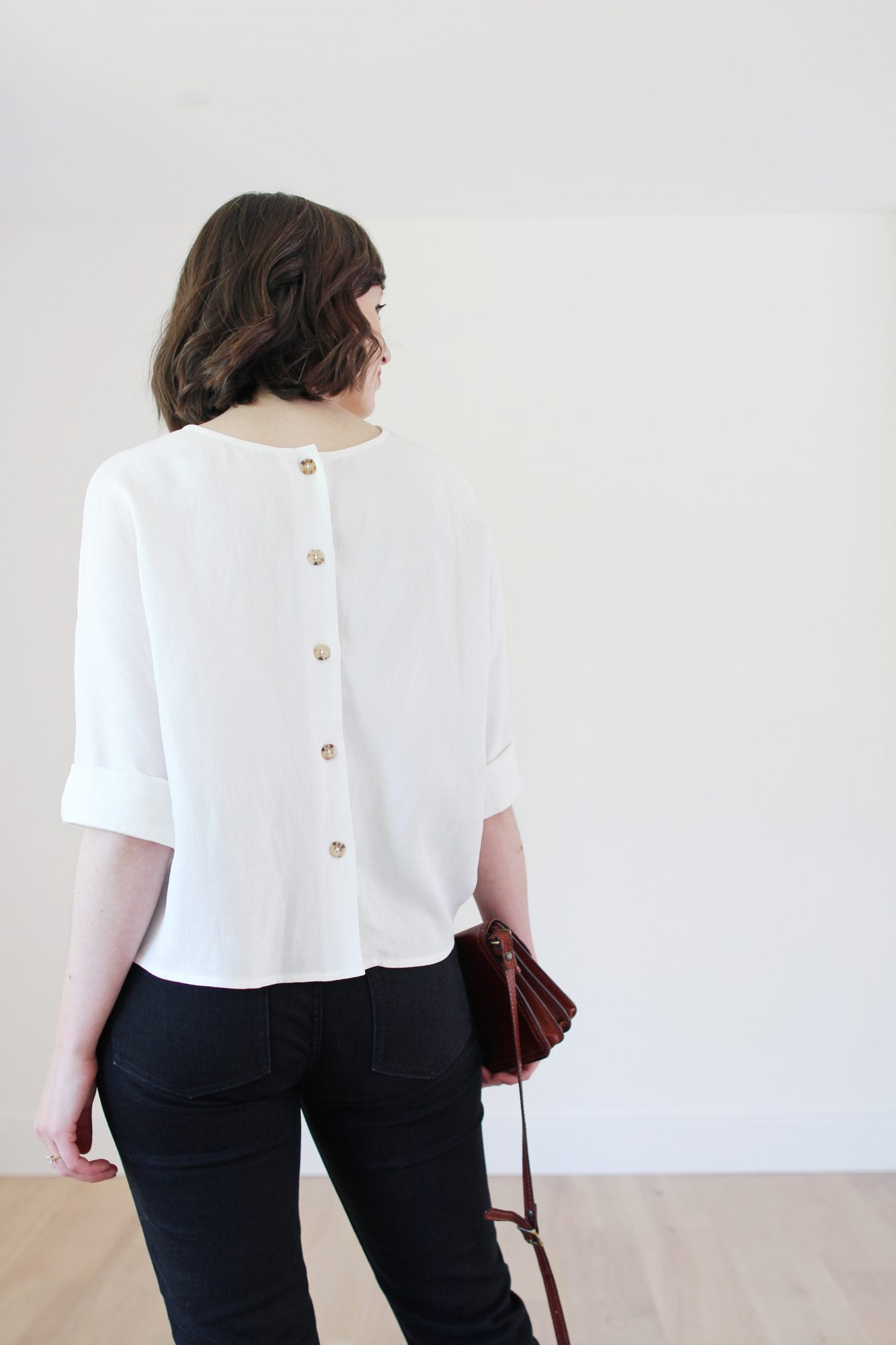 ---
Next up we've got the Boxy Blouse. I was immediately drawn to this one because I've been looking for a simple, crisp white top that's easy to throw on and go. I have allllmost ordered another T-Top in raw silk many times but ultimately wanted something in a fresh, bright white, rather than ivory. This delivers in that department (although it also comes in Sand) and the cut throughout is slightly slimmer than the T Top, which in this linen/tencel blend is great for the fit and how it falls on the body. I also love the versatility and interest the buttons offer!
I love this top tied over my Florence pants and with other high-waisted bottoms but for day-to-day I found myself styling it super simply with a rolled cuff and front tucked into a pair of jeans.
BOXY BLOUSE DETAILS:
---
PROS
BUTTONS: I LOVE the buttons on this piece and the fact that they can be worn to the front or back. I like them worn to the back for a fun surprise detail or to the front with just the top one done up and worn open over a silk tank (shown later with the tapered pant).
CUFFS: The cuff design on this piece is also a clever detail. They have a deep 3.25 inch, double layered cuff that looks great worn out (shown below) or rolled (shown above). This detail keeps the piece feeling fresh and contemporary while still very simple and timeless.
CONS
DOLMAN SLEEVES: Ok, so while I really like this sleeve cut and style but it's not the easiest to layer under things. If you plan to wear this one under more fitted cardigans, jackets or blazers definitely consider a size down and the length doesn't change much but it's slimmer through the body and will fit easier under jackets.
More photos of the Boxy Blouse below.
---
KEEP OR SEND BACK? THIS ONE'S NOT GOING ANYWHERE EITHER!
---
SHOP THIS OUTFIT: BOXY BLOUSE | Black Denim (linked to a close fit) | Vintage Bag | Earrings | LIP COLOUR: KOSÅS Undone
---
(Simply enter the code at checkout now through May 31)
---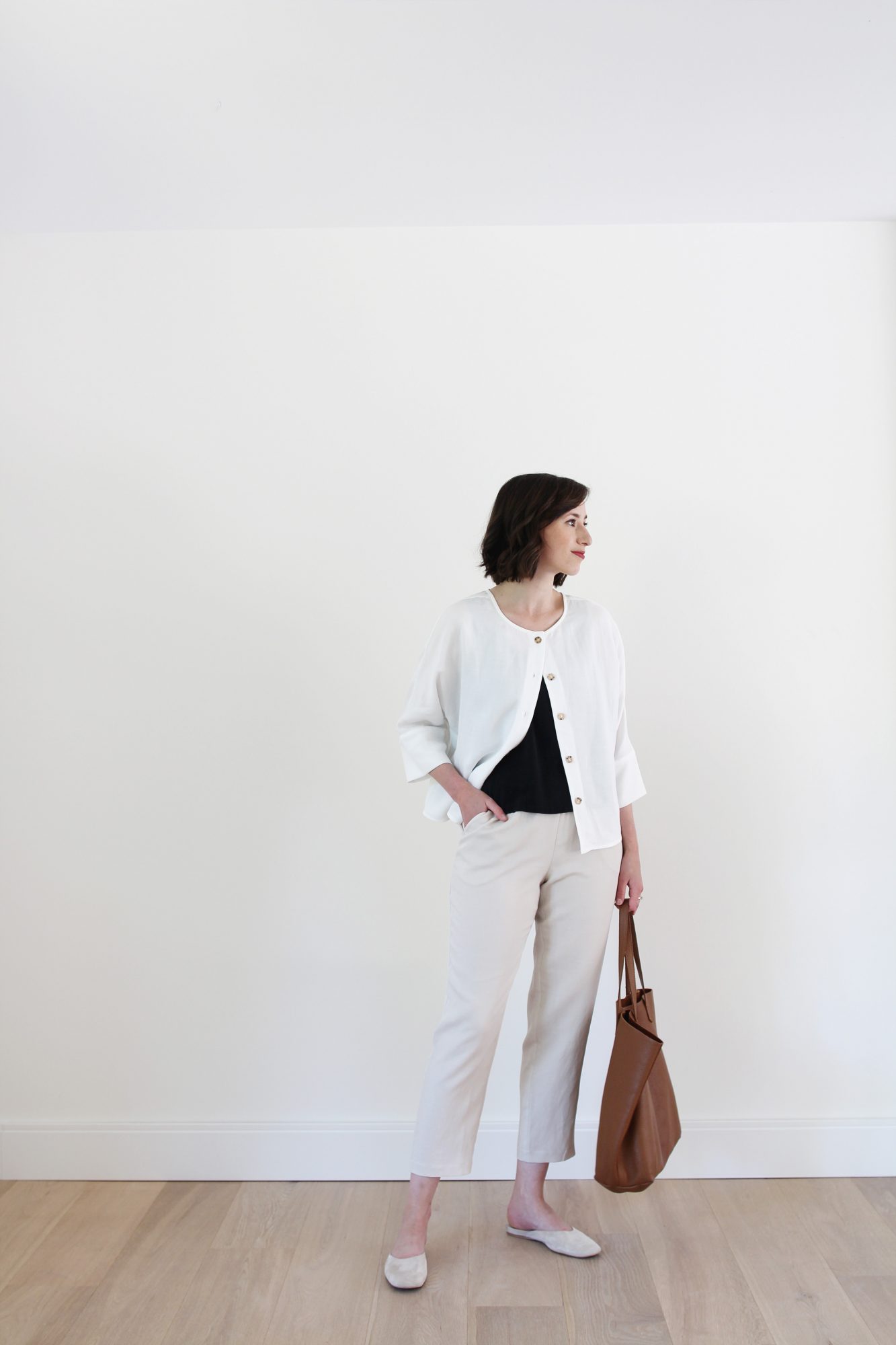 ---
---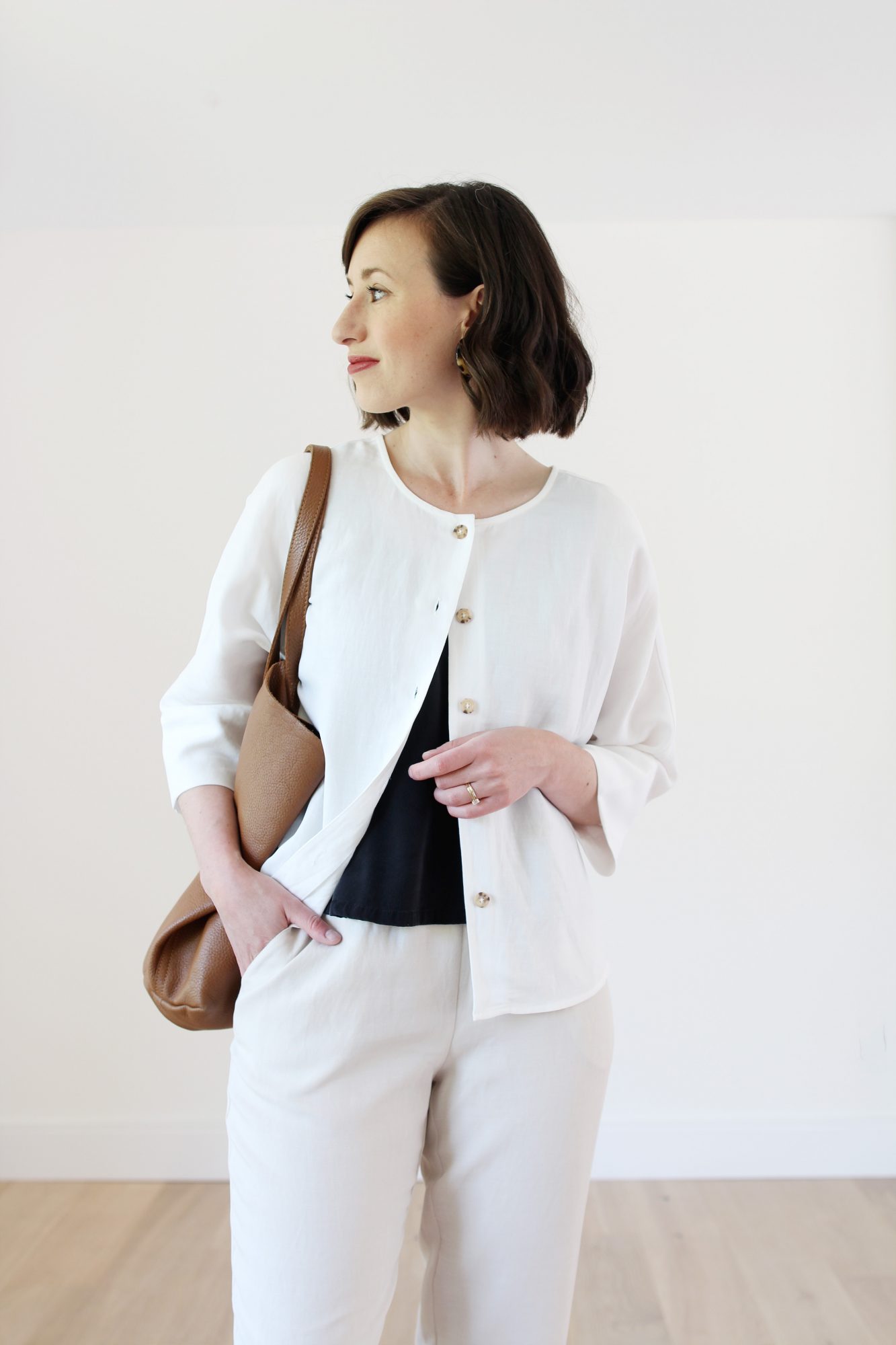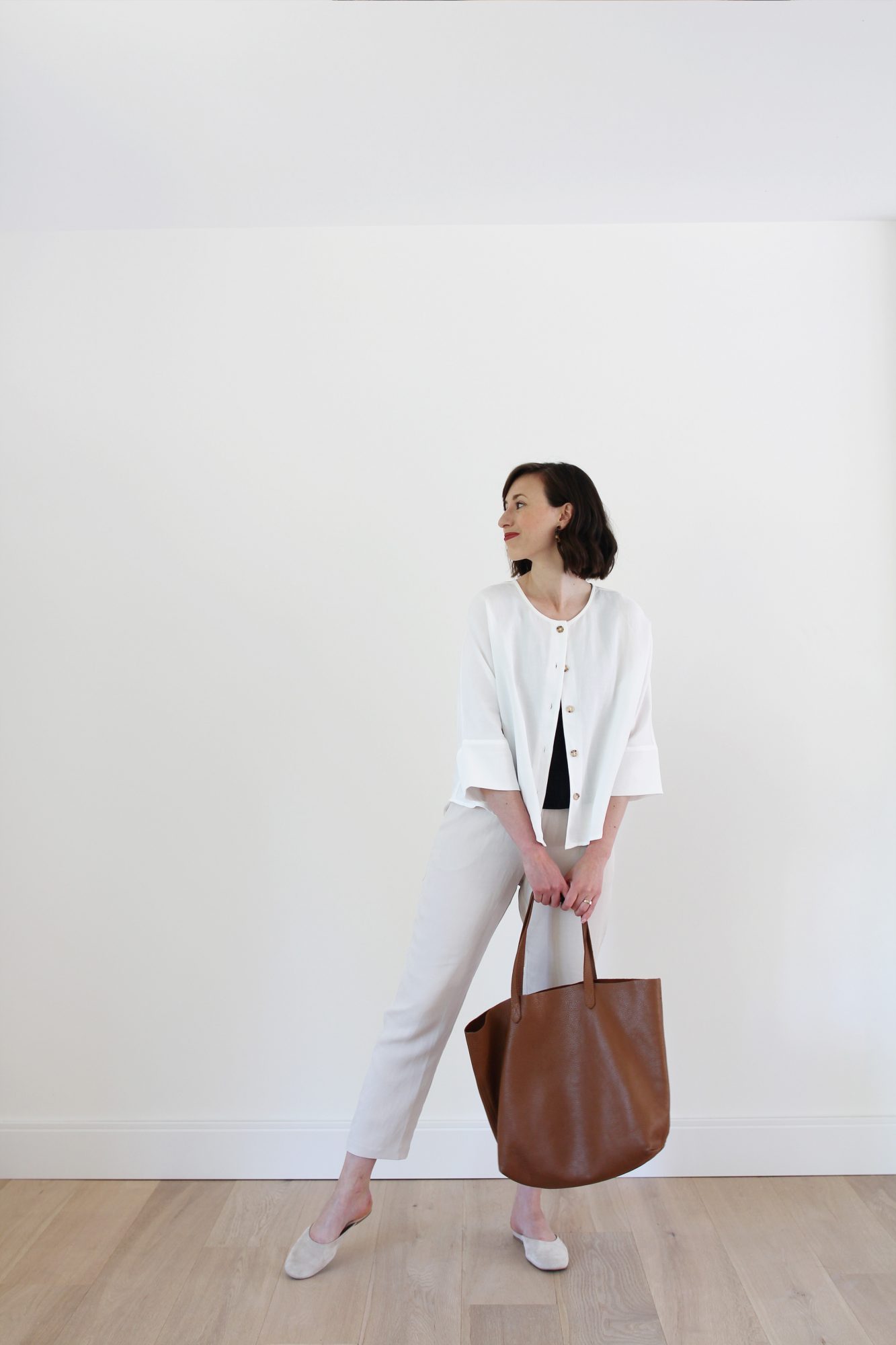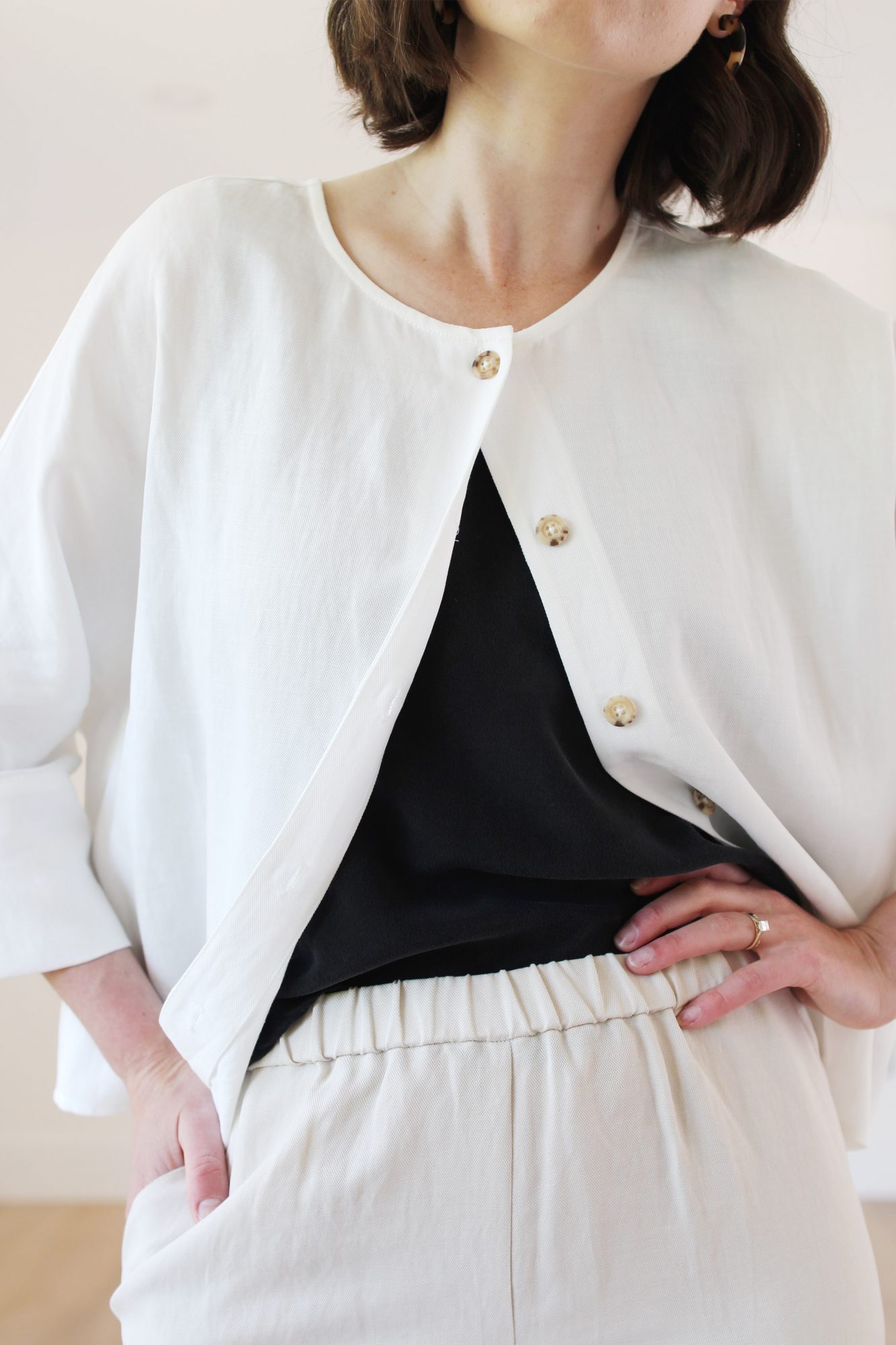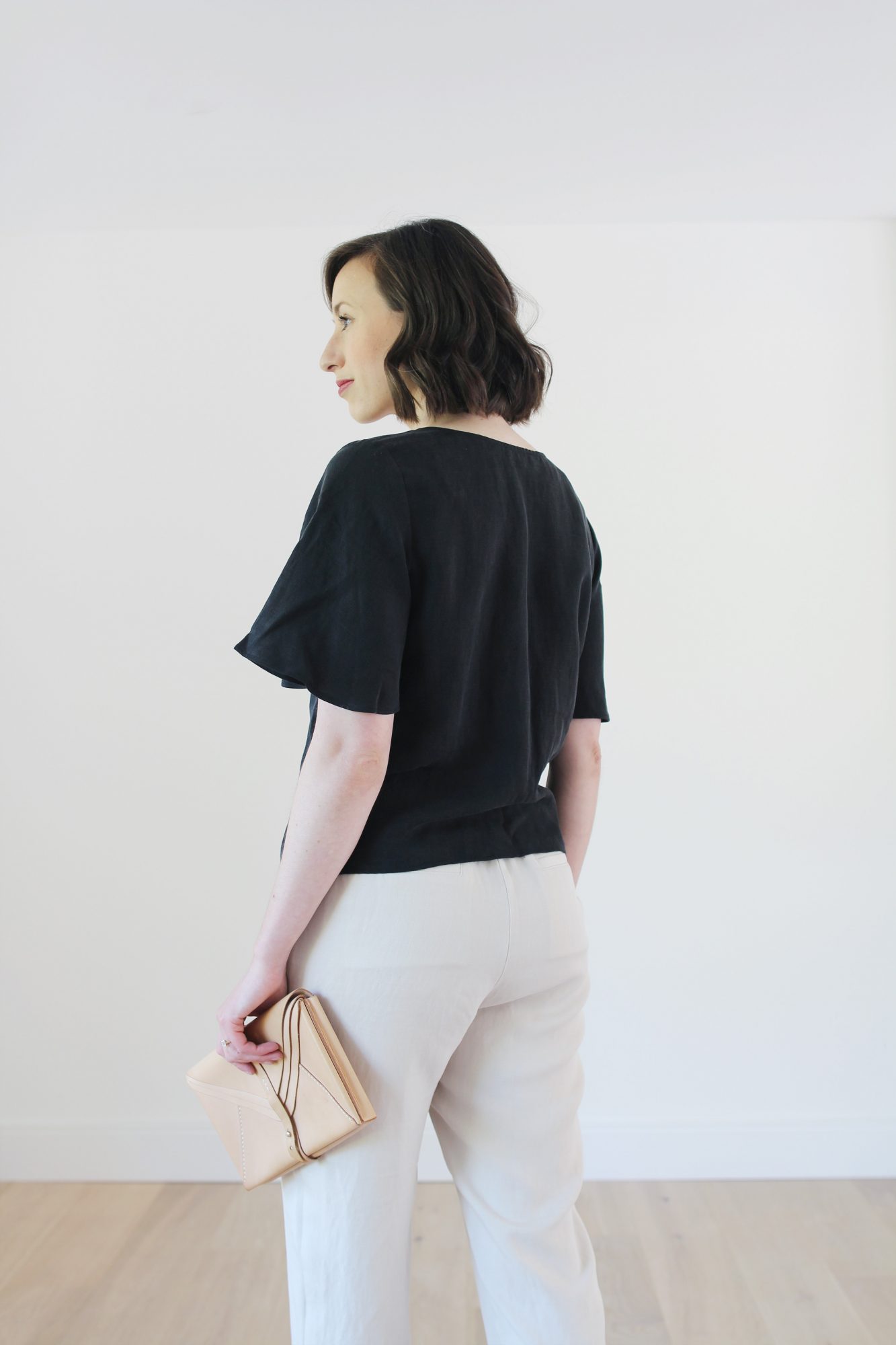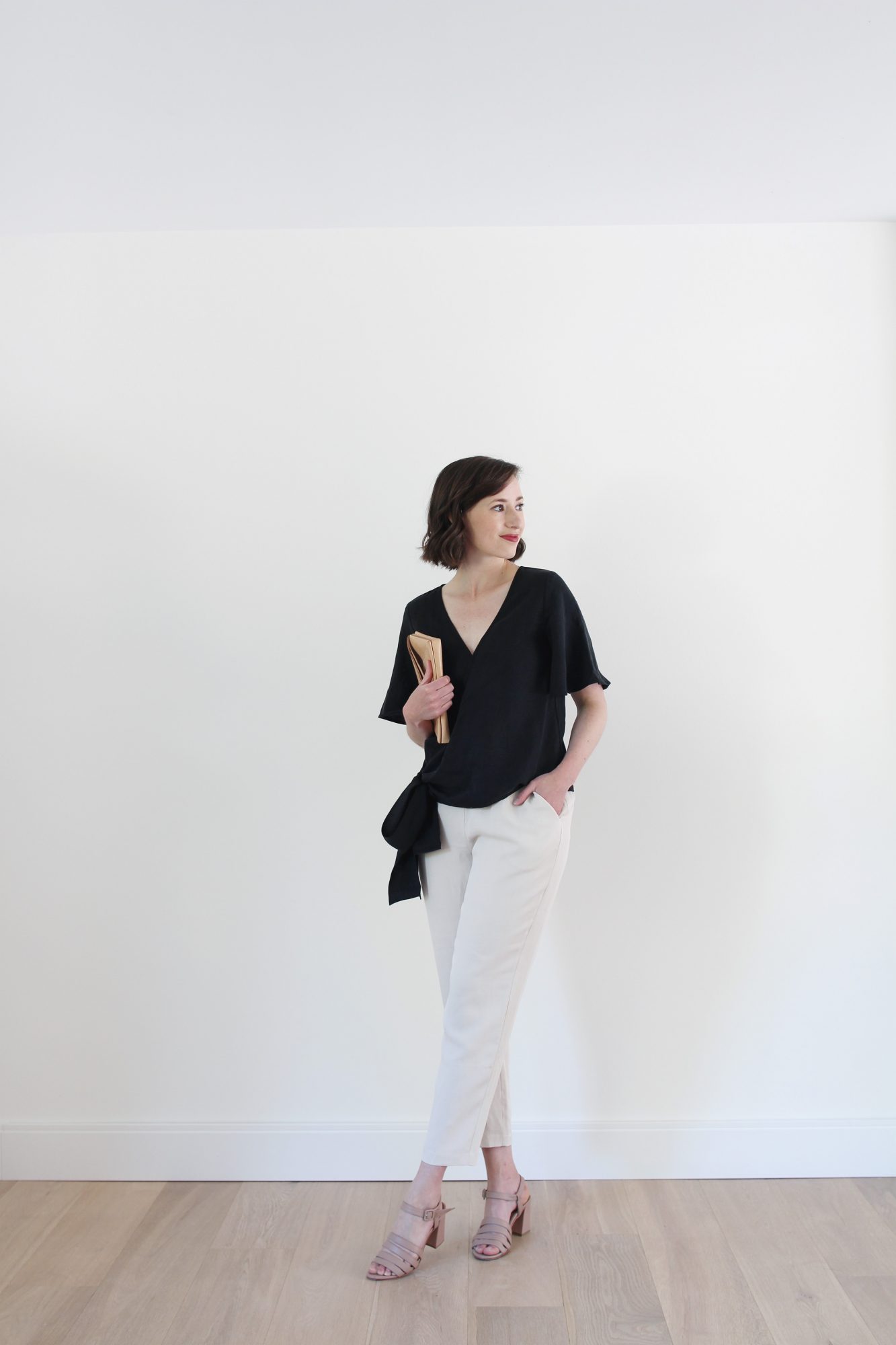 ---
Now onto the Tapered Pant! This one definitely surprised me because as you probably know, I love me a good wide leg pant or a good vintage straight leg but 'tapered' is not a style I would usually pick for myself. But I gave these a shot and as it turns out I really like them. They're super wearable and resilient for a light colour and lightweight pant. I also love the fit! Even though there's a bit of gather from the elastic waist, they're still sleek through the waist and hip and the fabric falls so nicely. The slinky fabric gives them lots of nice drape and movement so they just glide over you as you move. You could definitely wear these to work with a blazer and some chic flats or just as easily style them down with slides and a boxy tee.
TAPERED PANT DETAILS:
---
PROS
COMFORT: These pants are extremely comfy. Like, sweat pant comfy. This is largely thanks to the super soft, silky fabric and the elastic waist band, which is the perfect thickness and wrapped in the same fabric.
QUALITY: This goes for all the VETTA capsule pieces I've received to date, the quality is very good, for any price point, but especially for under $120! These could easily be from Eileen Fisher, yet, honestly, they feel better on than the tapered pants I have from the System.
CONS
BACK POCKETS: I do understand why they're there as the pockets help keep the pant style more versatile for work rather than steering too far into the 'jogger' department, but if I kept these pants I'd have my tailor (or myself) snip out the additional material (especially because they're not functional pockets). You can see in the second to last photo above that they make a square outline on the butt and I don't like that. It's probably much less visible in the black version though!
More photos of the Tapered Pant below.
---
KEEP OR SEND BACK? AFTER LOTS OF HUMMING AND HAWING, I'VE DECIDED TO SEND THESE BACK AND STICK TO MY LOVE OF WIDE LEG PANTS.
---
SHOP THIS OUTFIT: TAPERED PANT | BOXY BLOUSE | WRAP TOP | TOTE BAG | CLUTCH | EARRINGS | Suede Mule (similar) | MNZ High Heel (sold out) | LIP COLOUR: KOSÅS Undone
---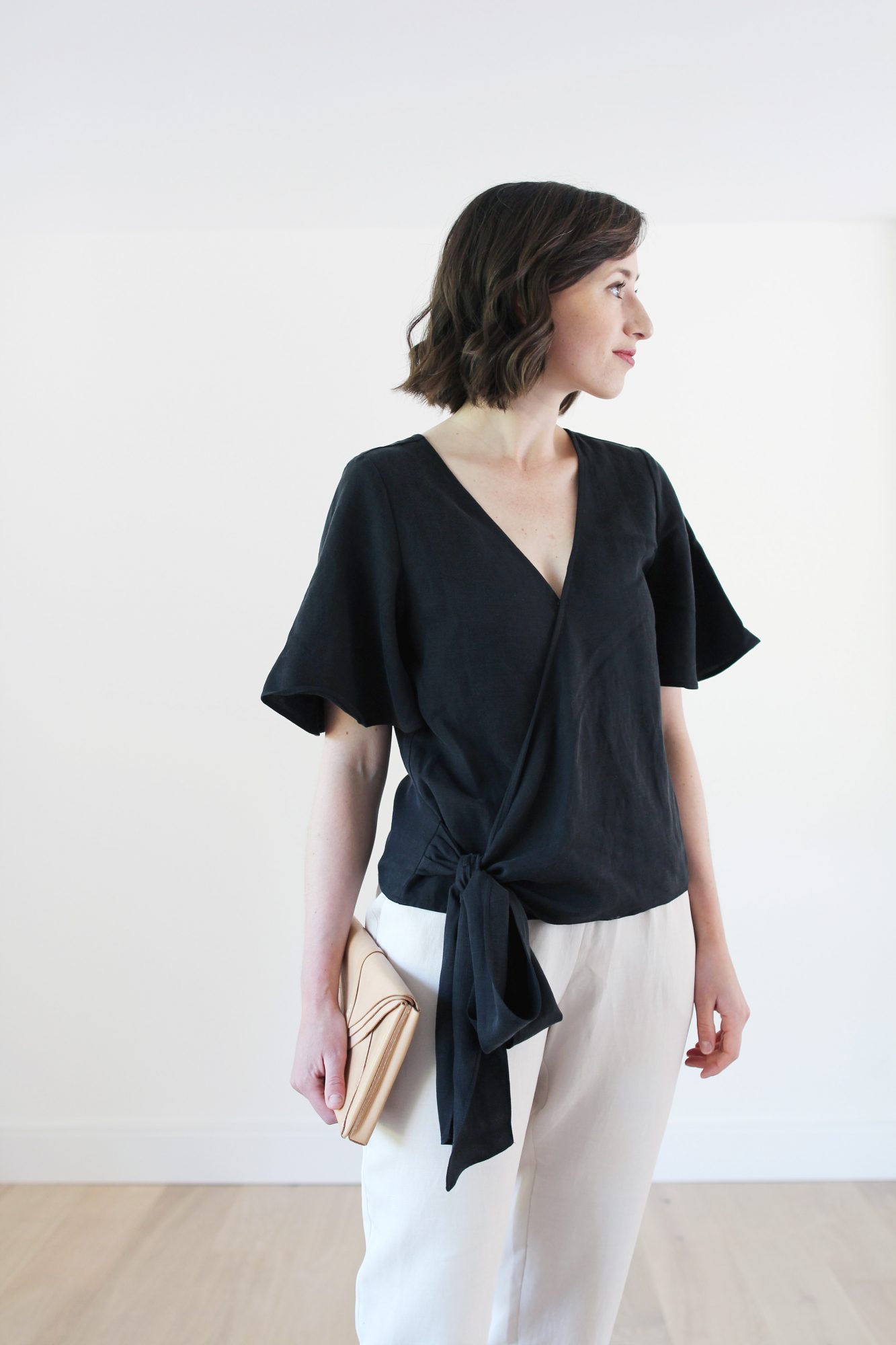 ---
---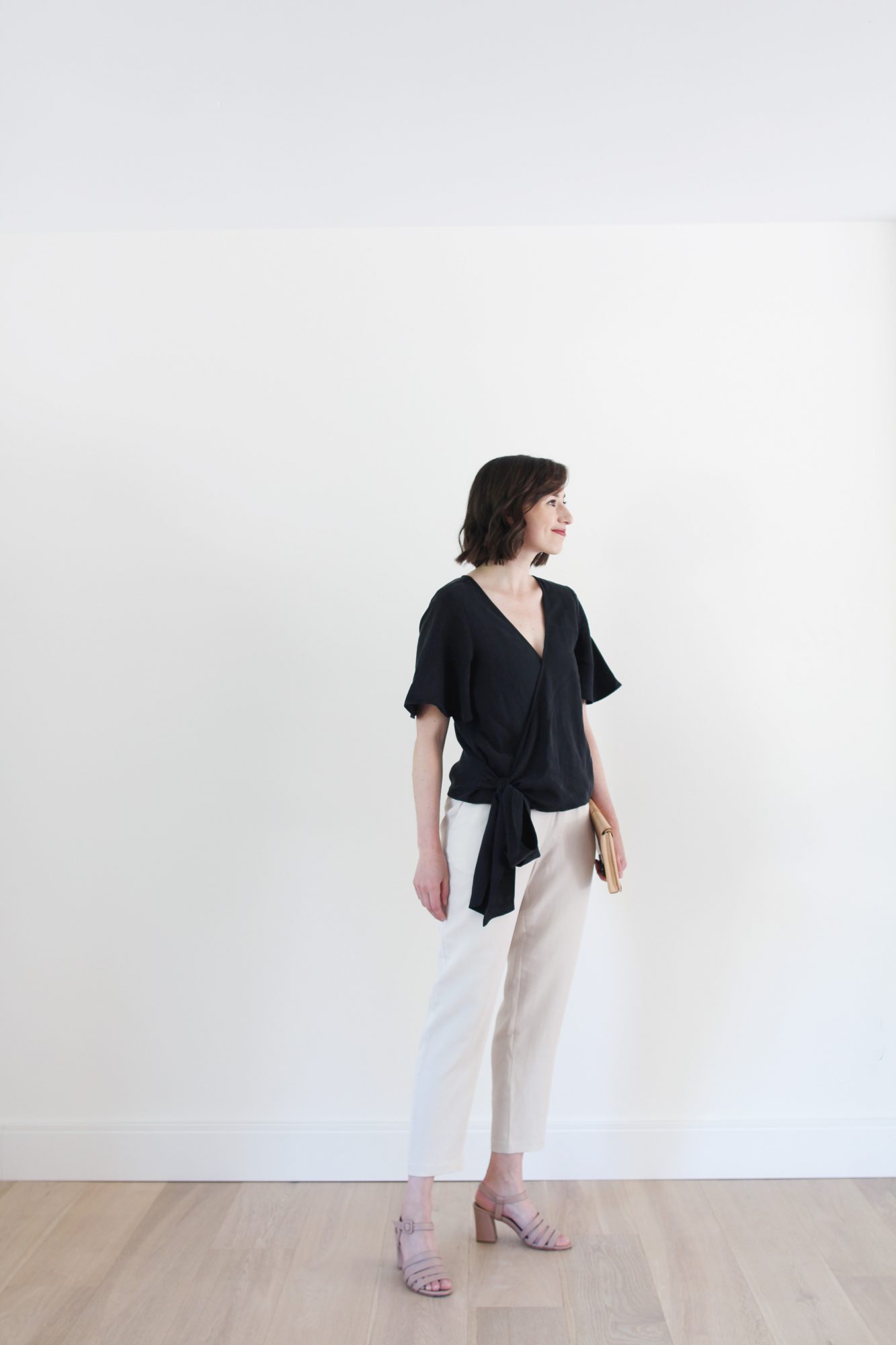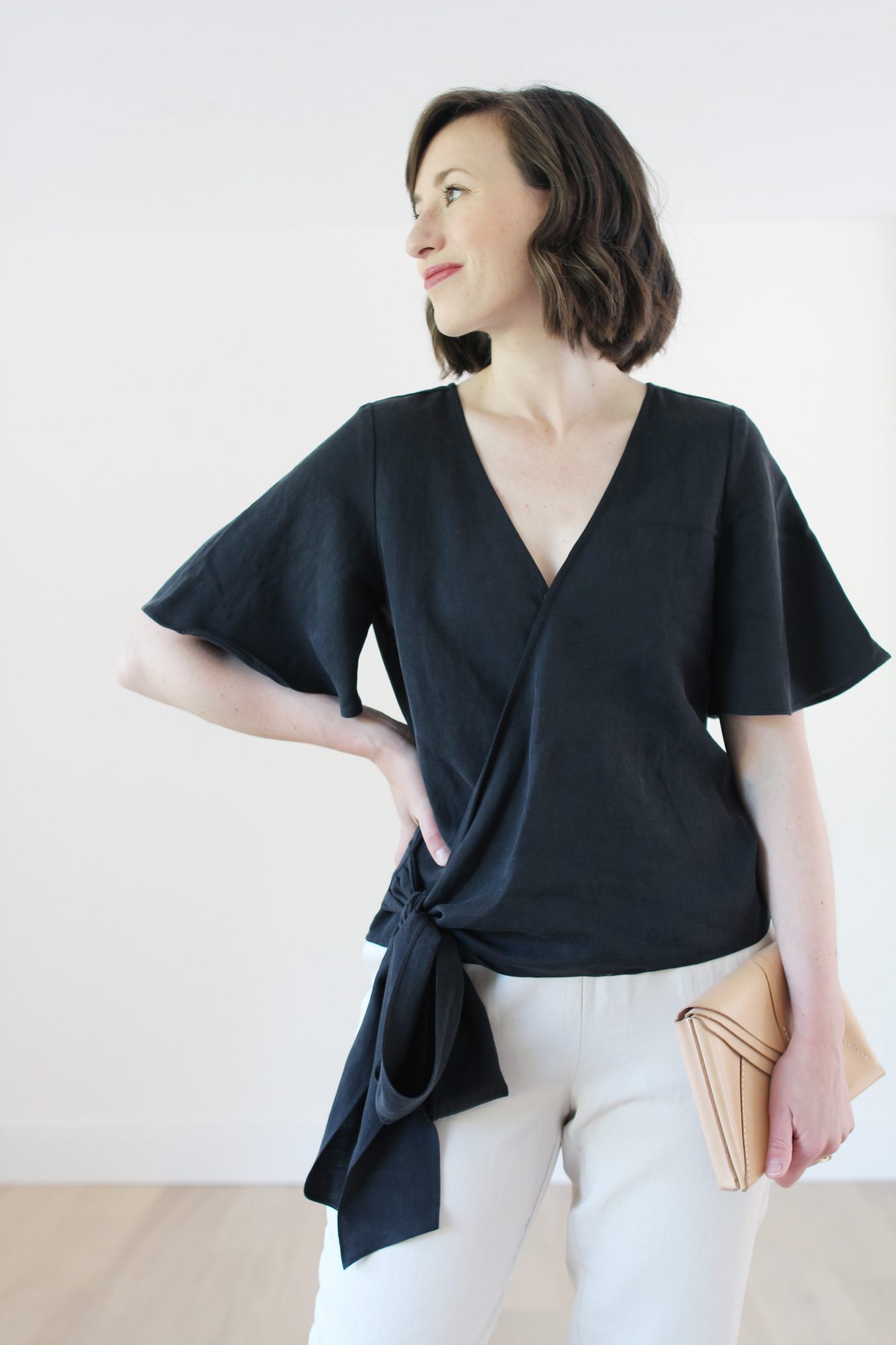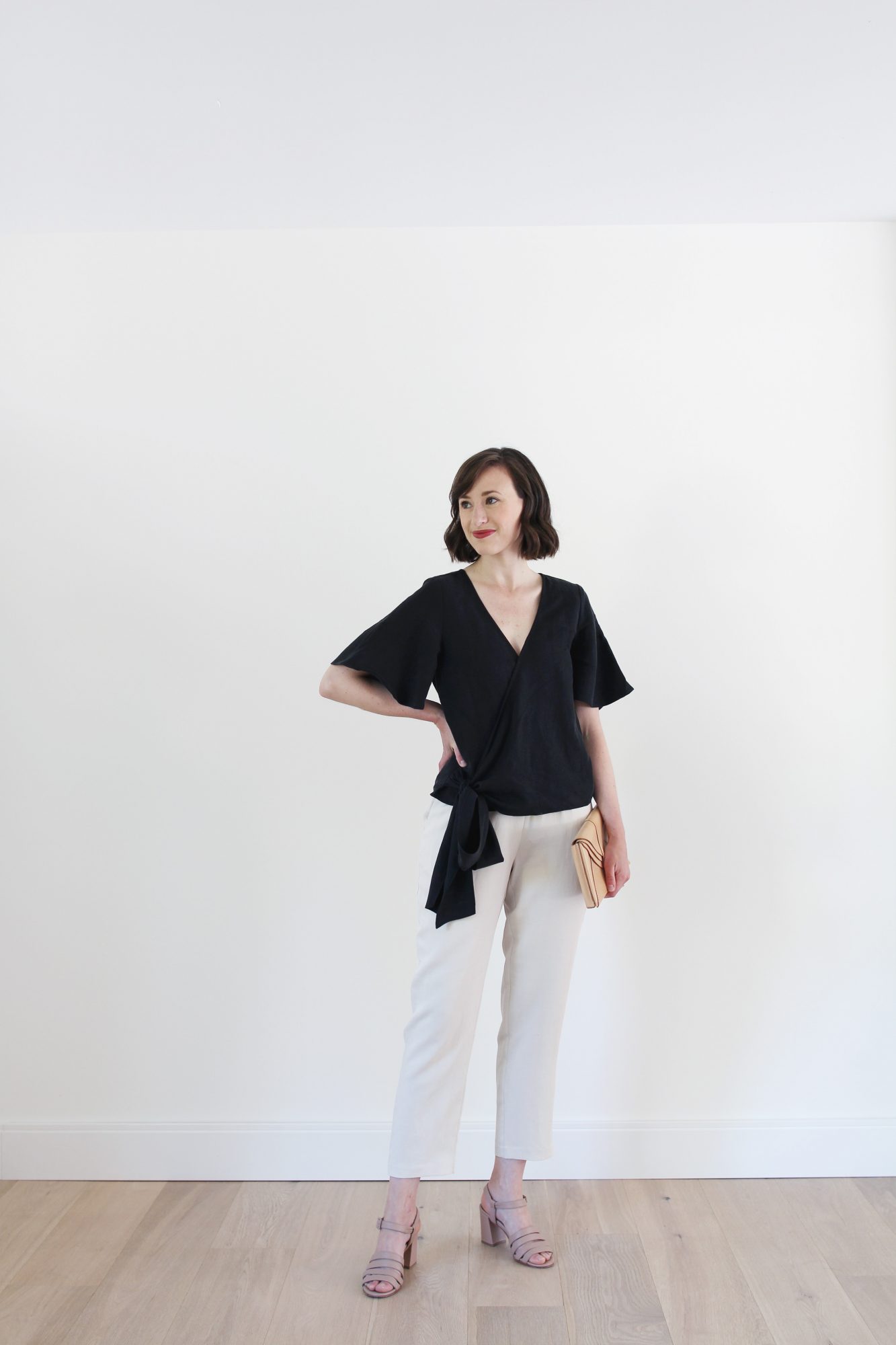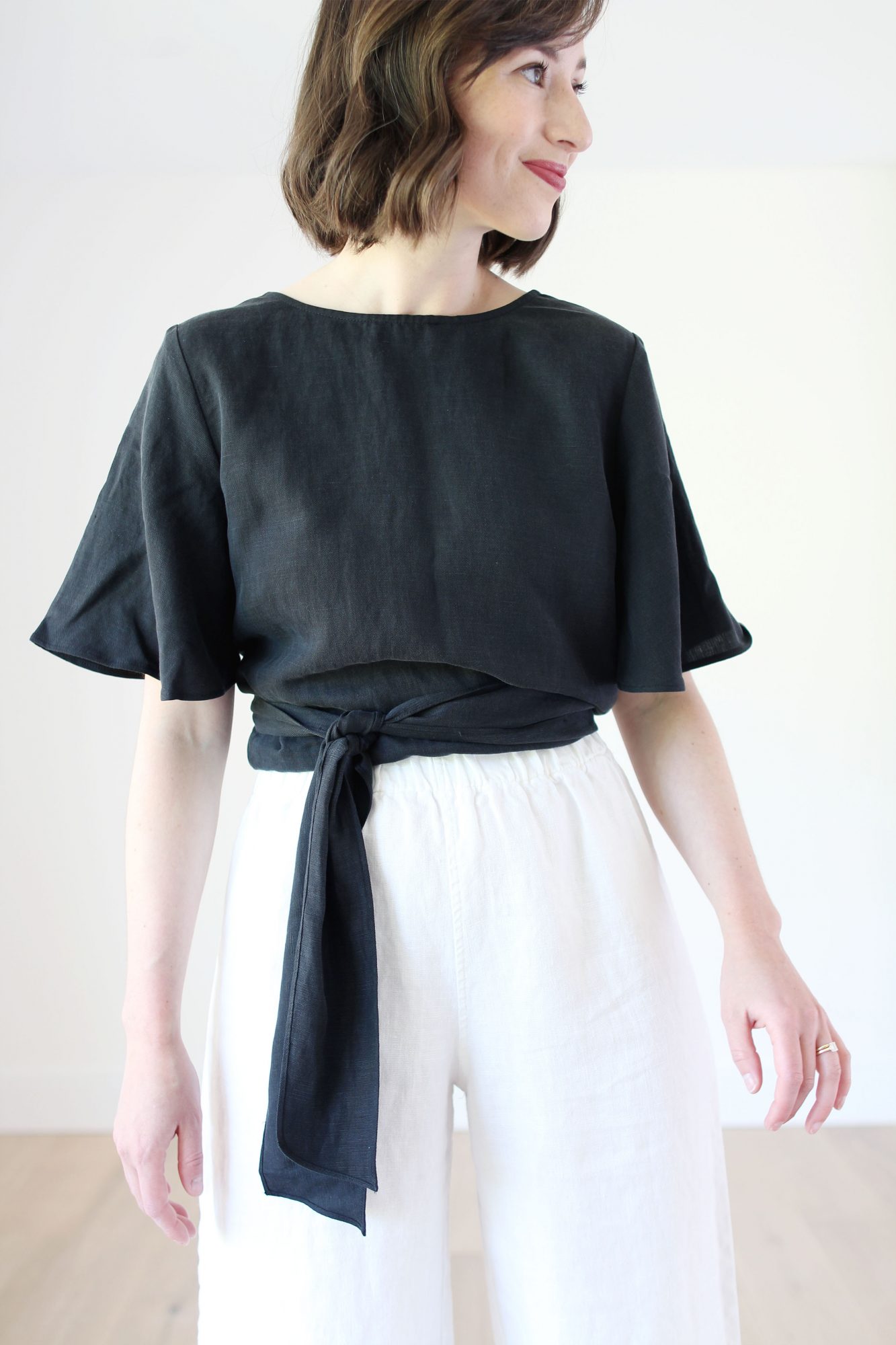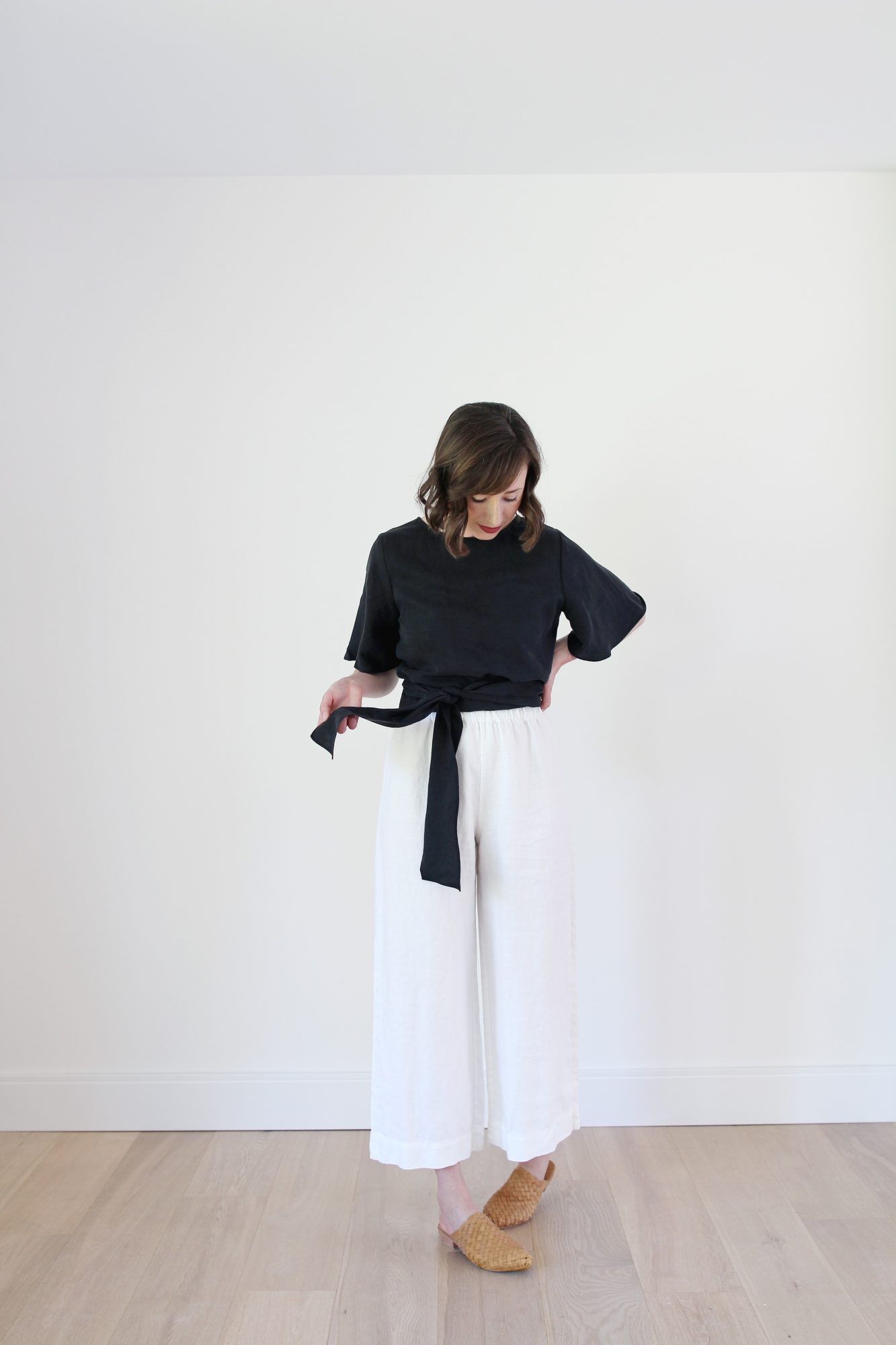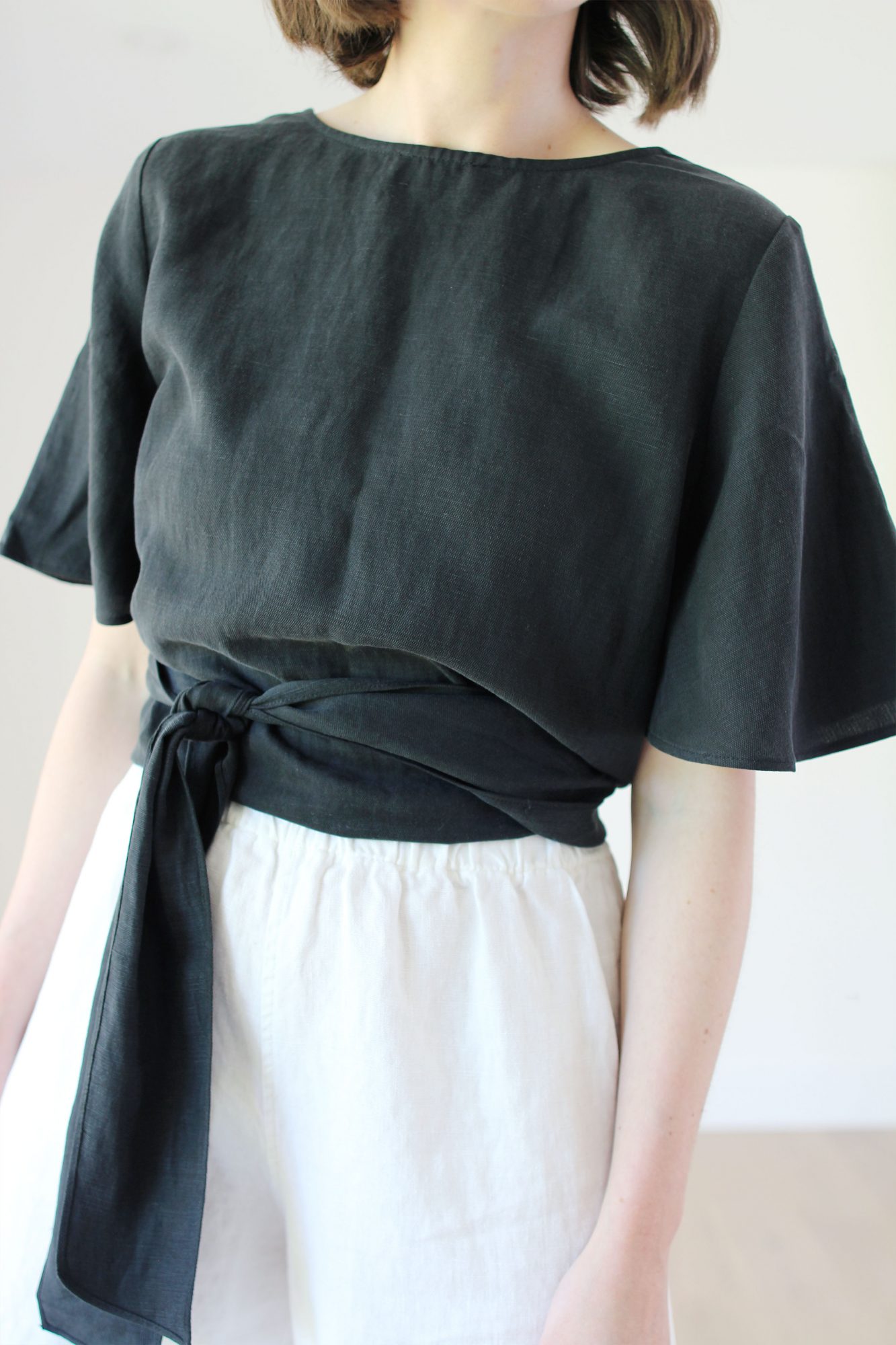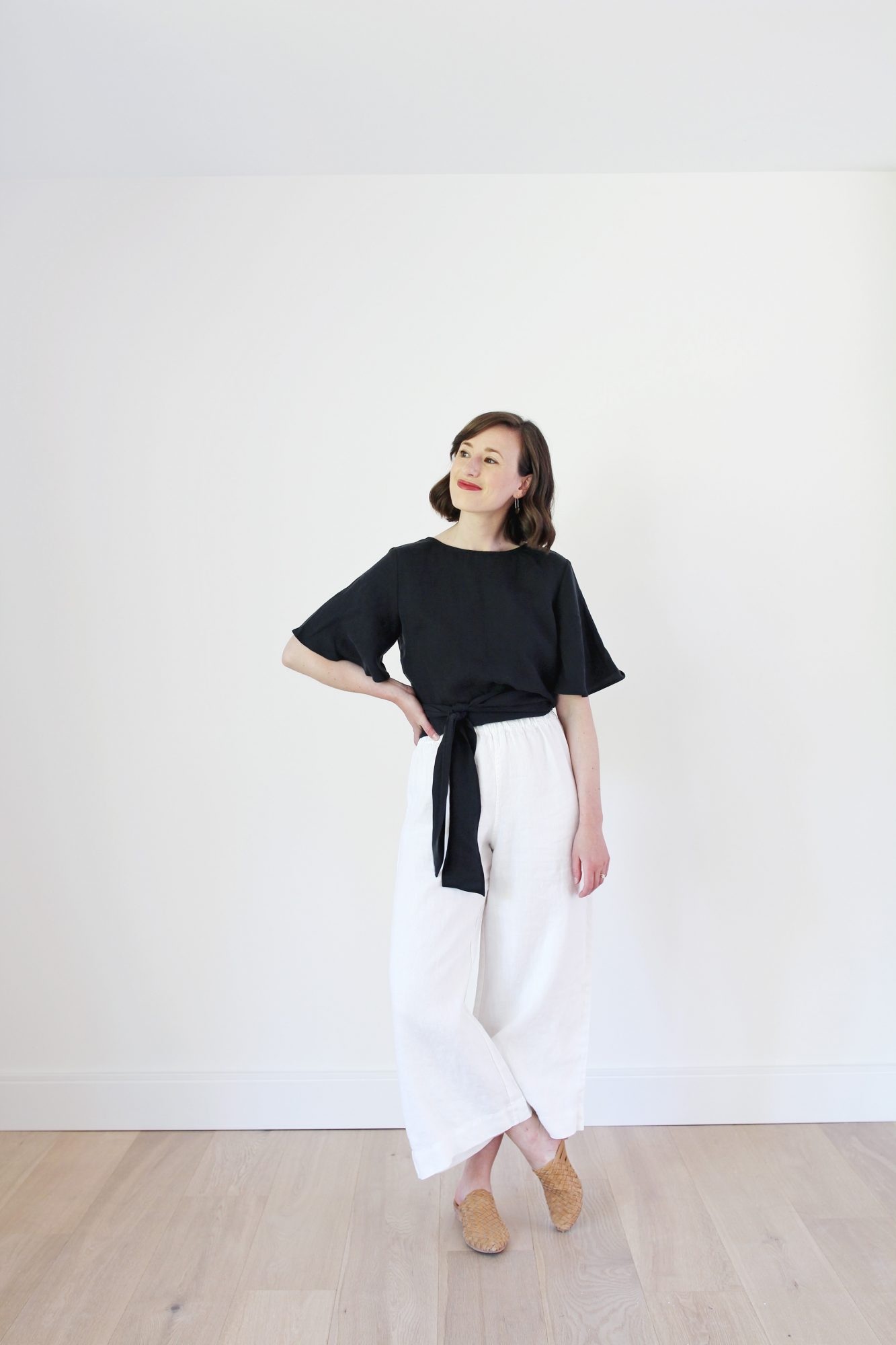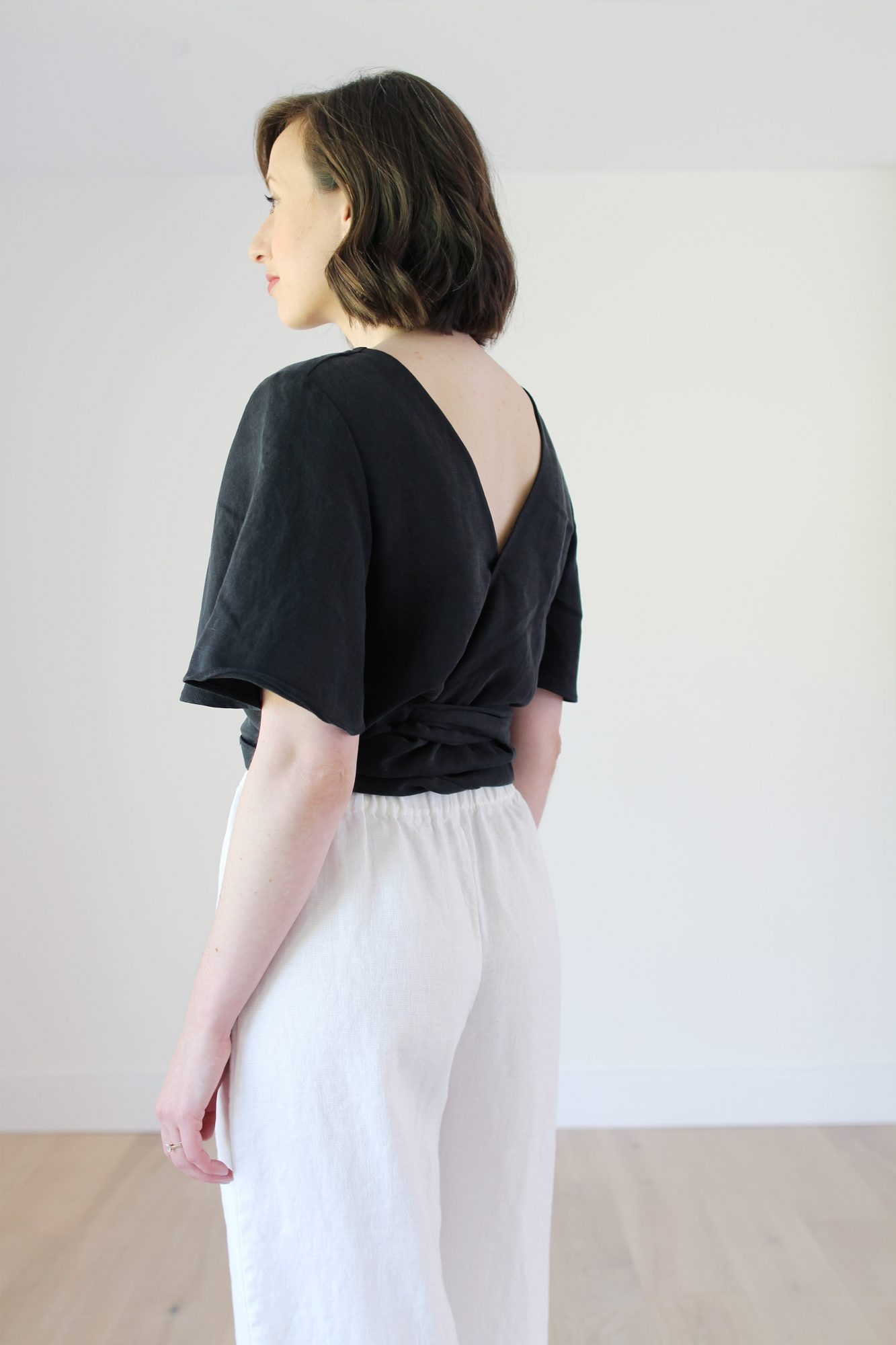 ---
The Wrap Top 2.0 is one of VETTA's original capsule pieces, which has been updated for this collection. It's definitely a cult favourite and sells out with every release so I was very excited to try it out. Having found a love for wrap tops thanks to my HDH one last Fall I thought this would be a hit. But, just as surprisingly as the pants were great, this top was not. At least not for me. I'll share more in the Pros and Cons section but I found this one was trying to do too many things and resulted in extra fabric and bulk I didn't love.
That being said, even if I could have figured out how to wear it more simply I don't think it would get enough use to justify a second wrap top in my closet. It's definitely a fun piece and if you're not into cropped lengths this one is great for the 'wrap top' vibe without needing to pair it with high-rise pants.
WRAP TOP DETAILS:
---
PROS
STATEMENT: I love the statement this top makes. It's flouncy and flirty and just begging for a good time. The neckline (worn either way) and the shape of the sleeves is very flattering too. It's also got a fabulous feminine feel to it without being too revealing. You could wear it with the tapered pant and heels to an event or the office or pair it with raw edge denim and a white leather flat for a more low-key brunch or day trip look.
CONS
COMPLICATED: Okay, call me wrap top challenged but I just found that there's just too much fabric to deal with on this one. I would prefer a classic wrap top that has two long ties that could wrap around and be tied front or back. Instead, this one has a panel that buttons inside the left side seam and falls under the top panel that has a long tie. So where does the other tie come from? It comes out of the right side. This way you can tie a bow to the to the side (shown in first look above) without any need to wrap around the back. I thought it would be easier if worn in reverse and simply tied up but I was still struggling to make it work. It probably sounds more complicated than it is but for me, simplicity usually wins.
---
KEEP OR SEND BACK? THIS ONE'S HEADED BACK TO FIND A NEW HOME.
---
SHOP THIS OUTFIT: TAPERED PANT | WRAP TOP | FLORENCE PANT | TOTE BAG | CLUTCH | EARRINGS | WOVEN MULE | MNZ High Heel (sold out) | LIP COLOUR: KOSÅS Undone
---
(Simply enter the code at checkout now through May 31)
---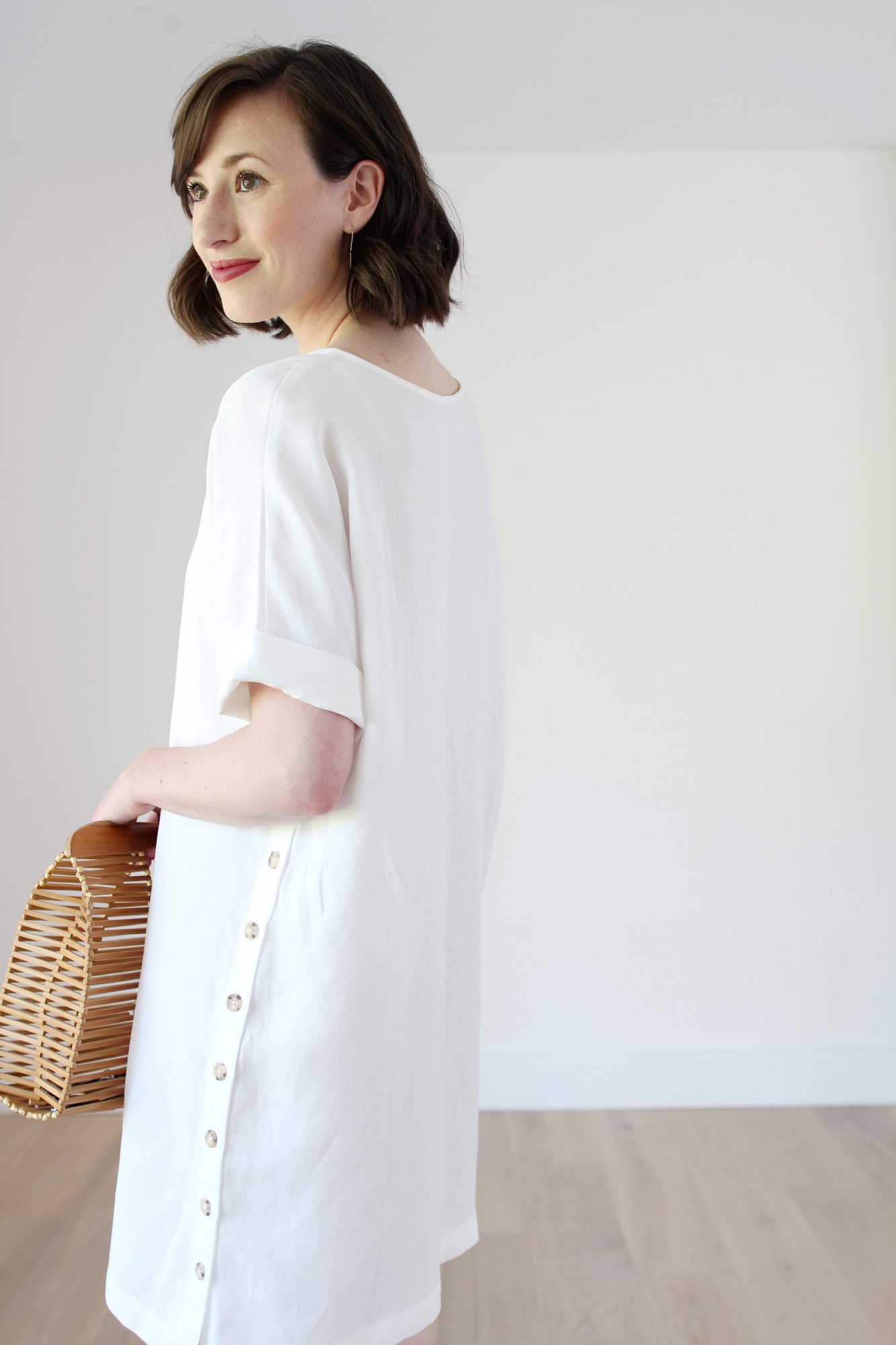 ---
---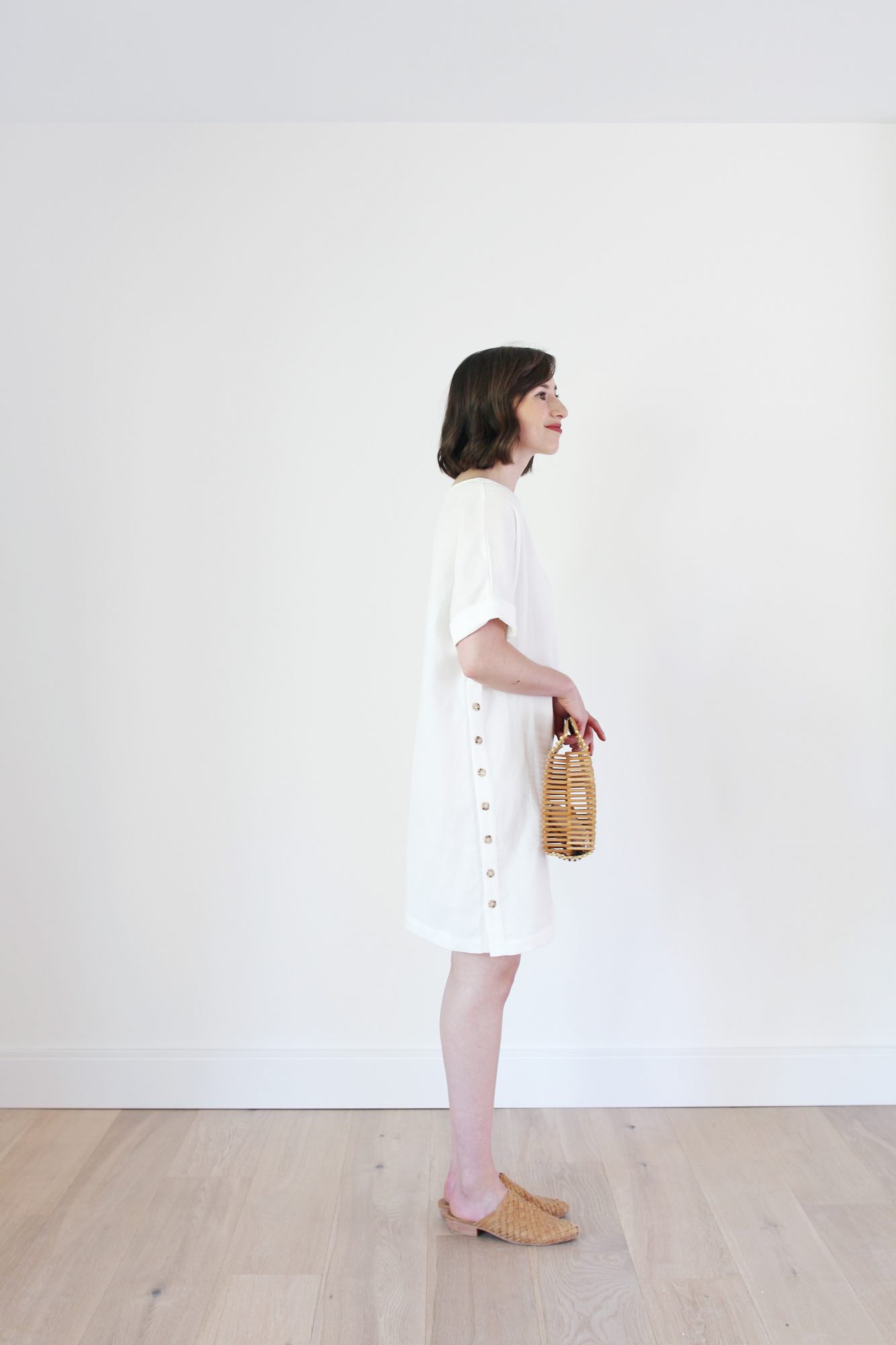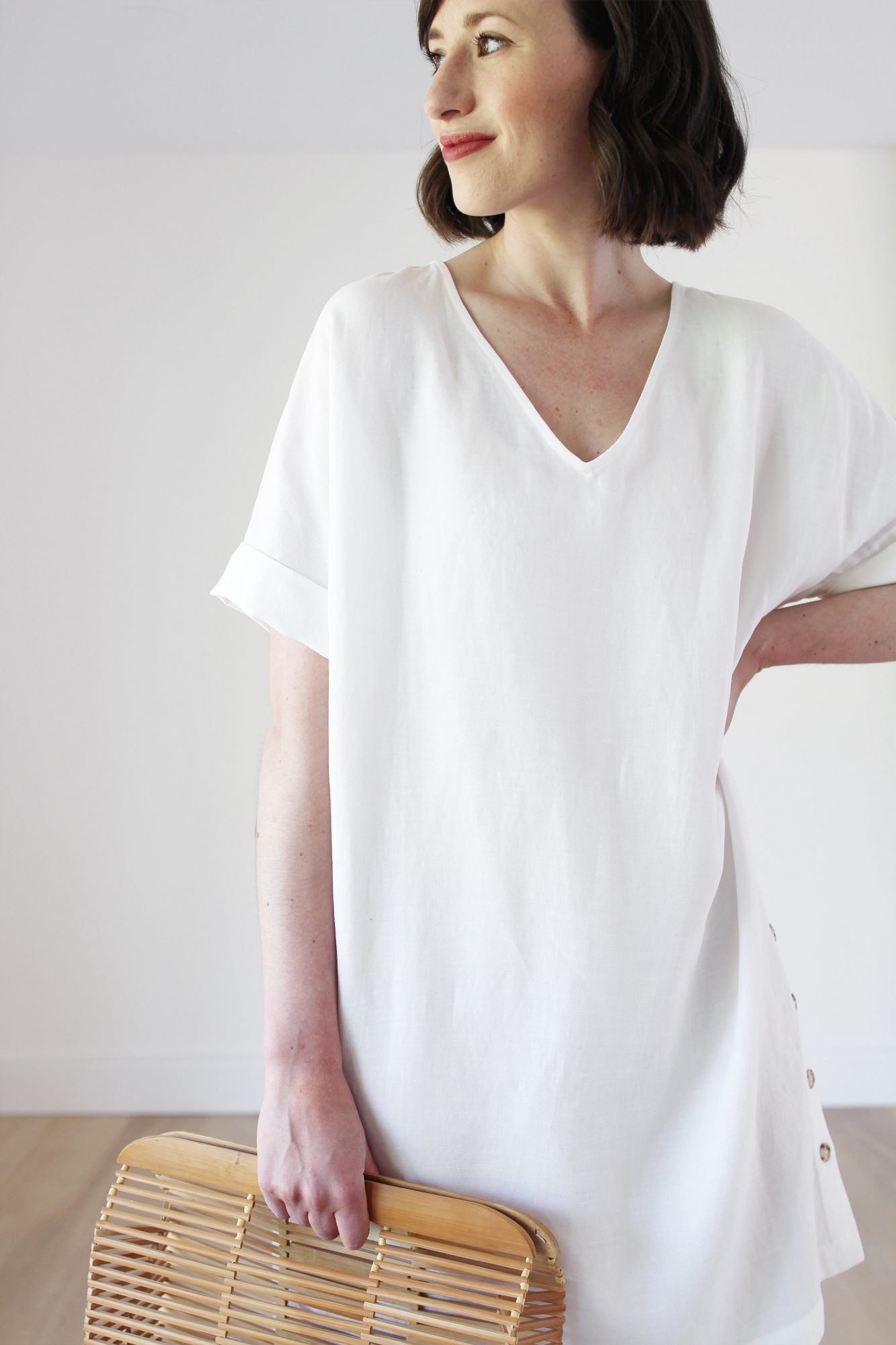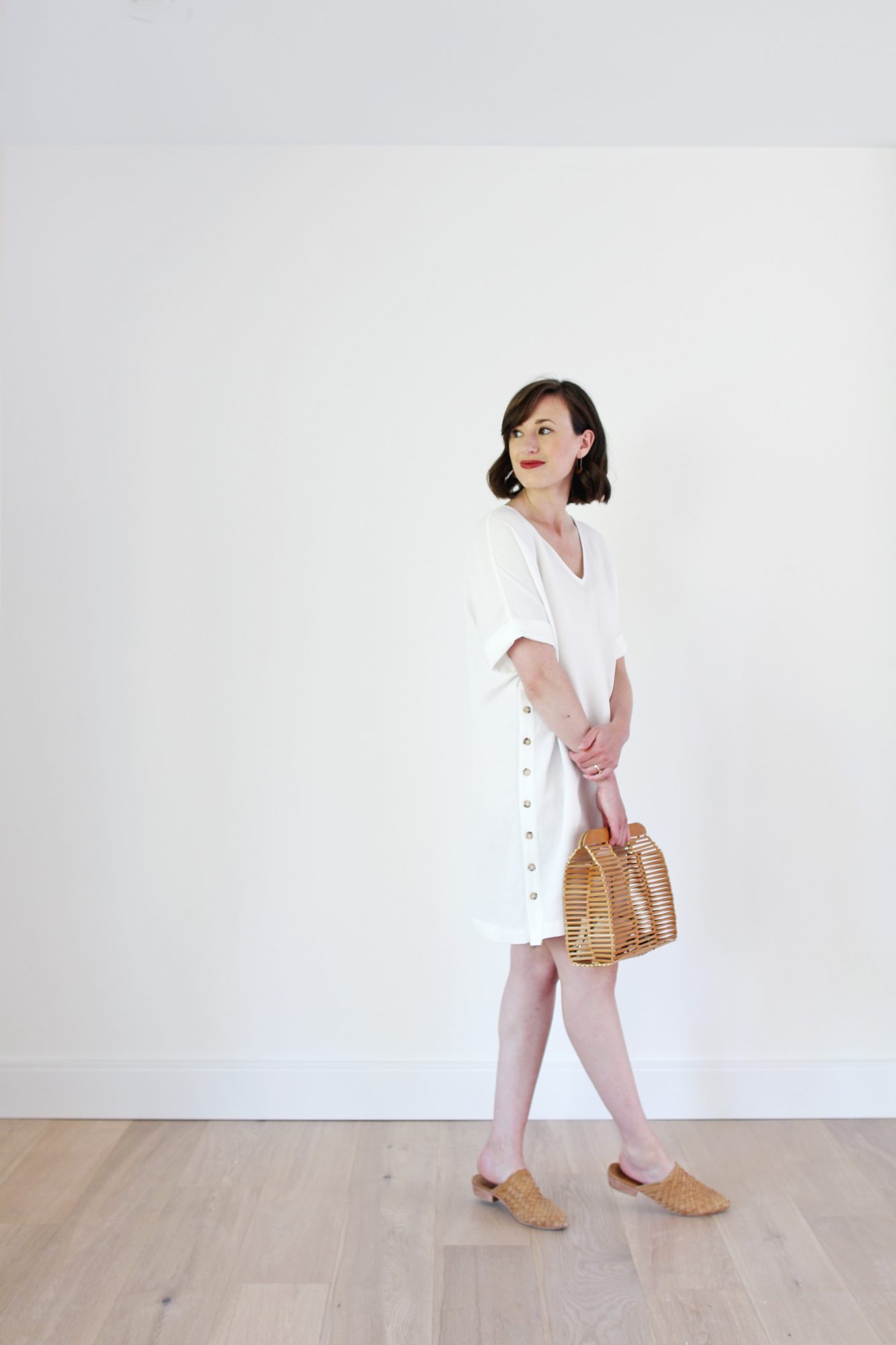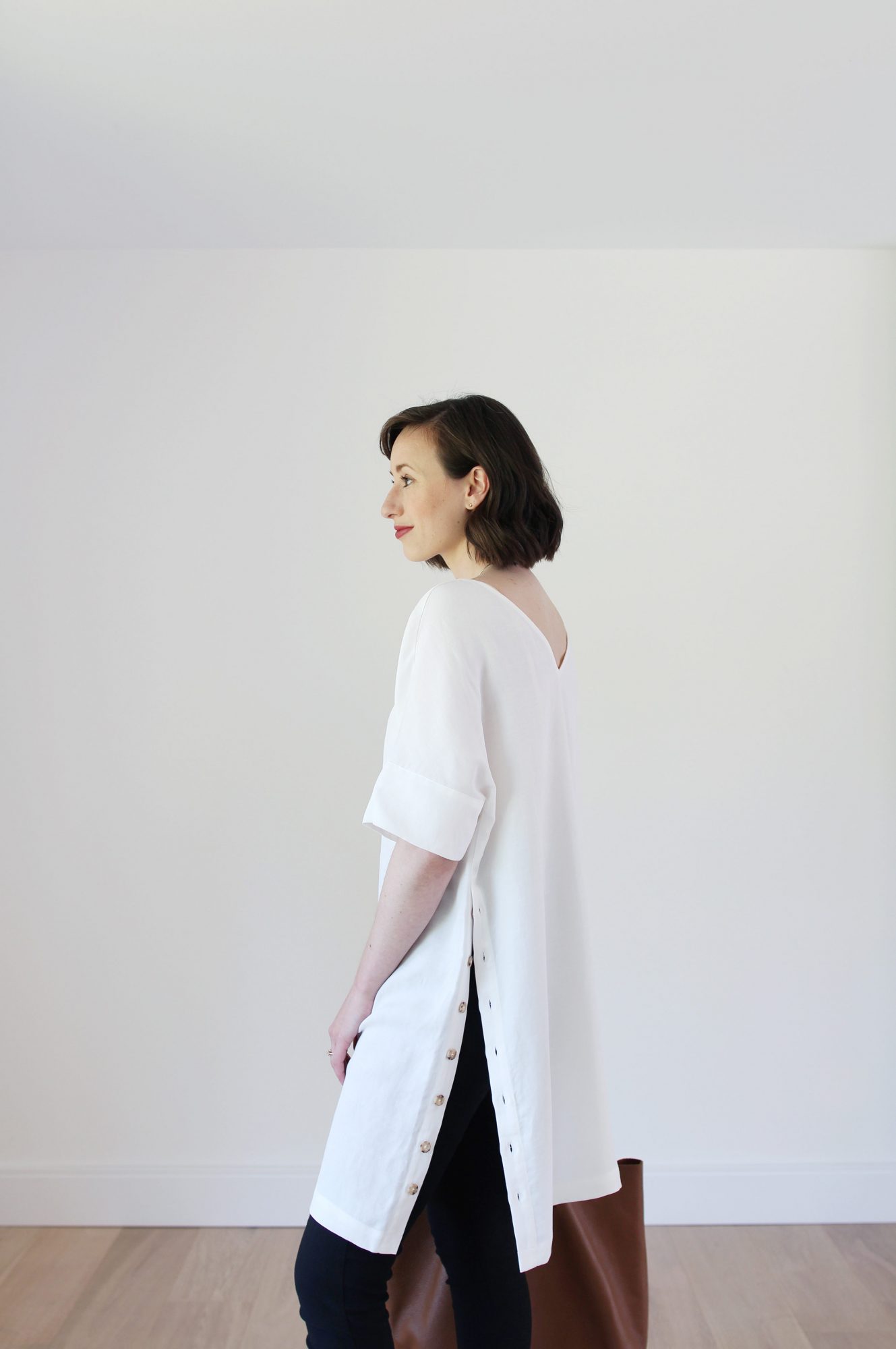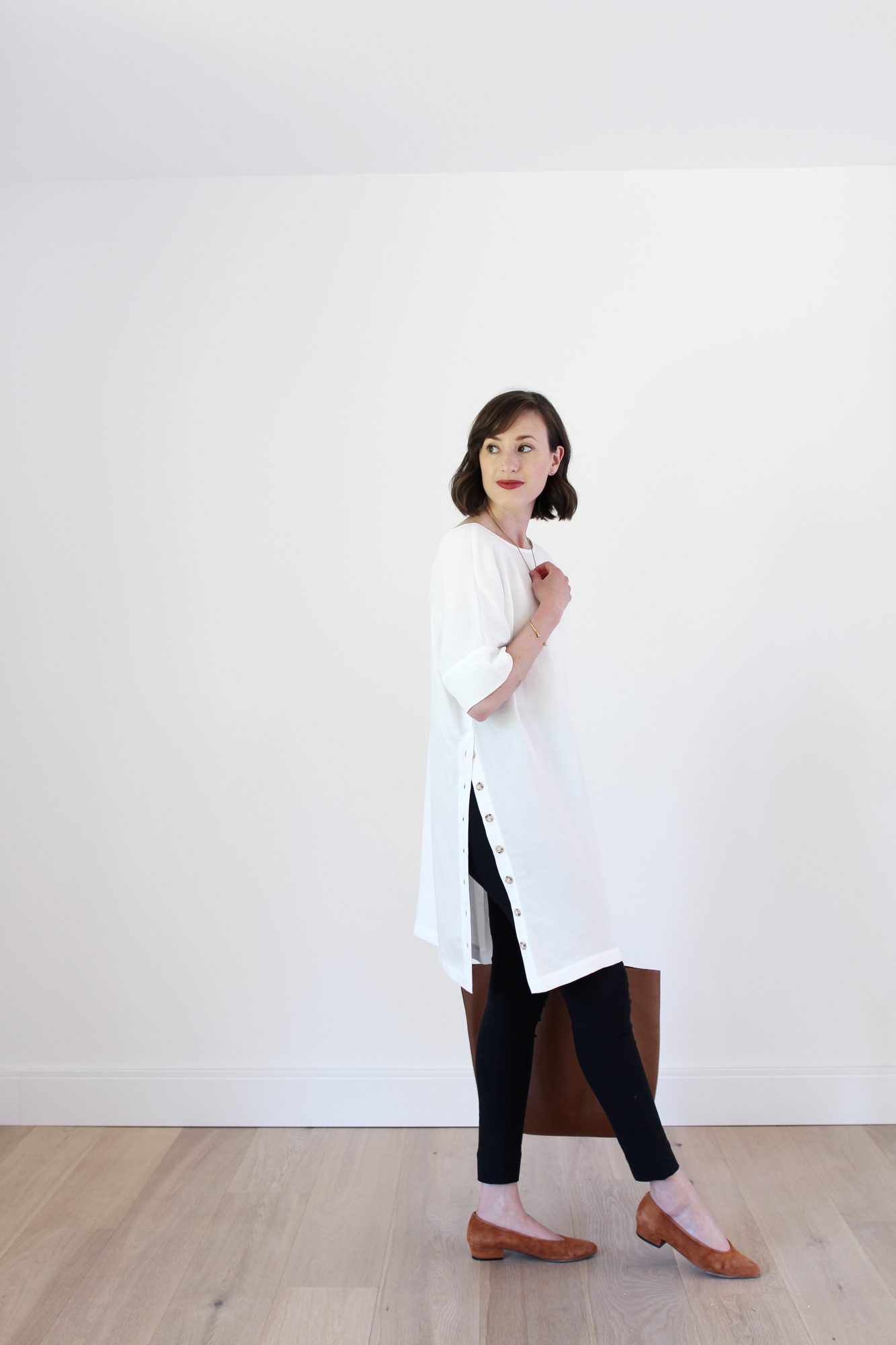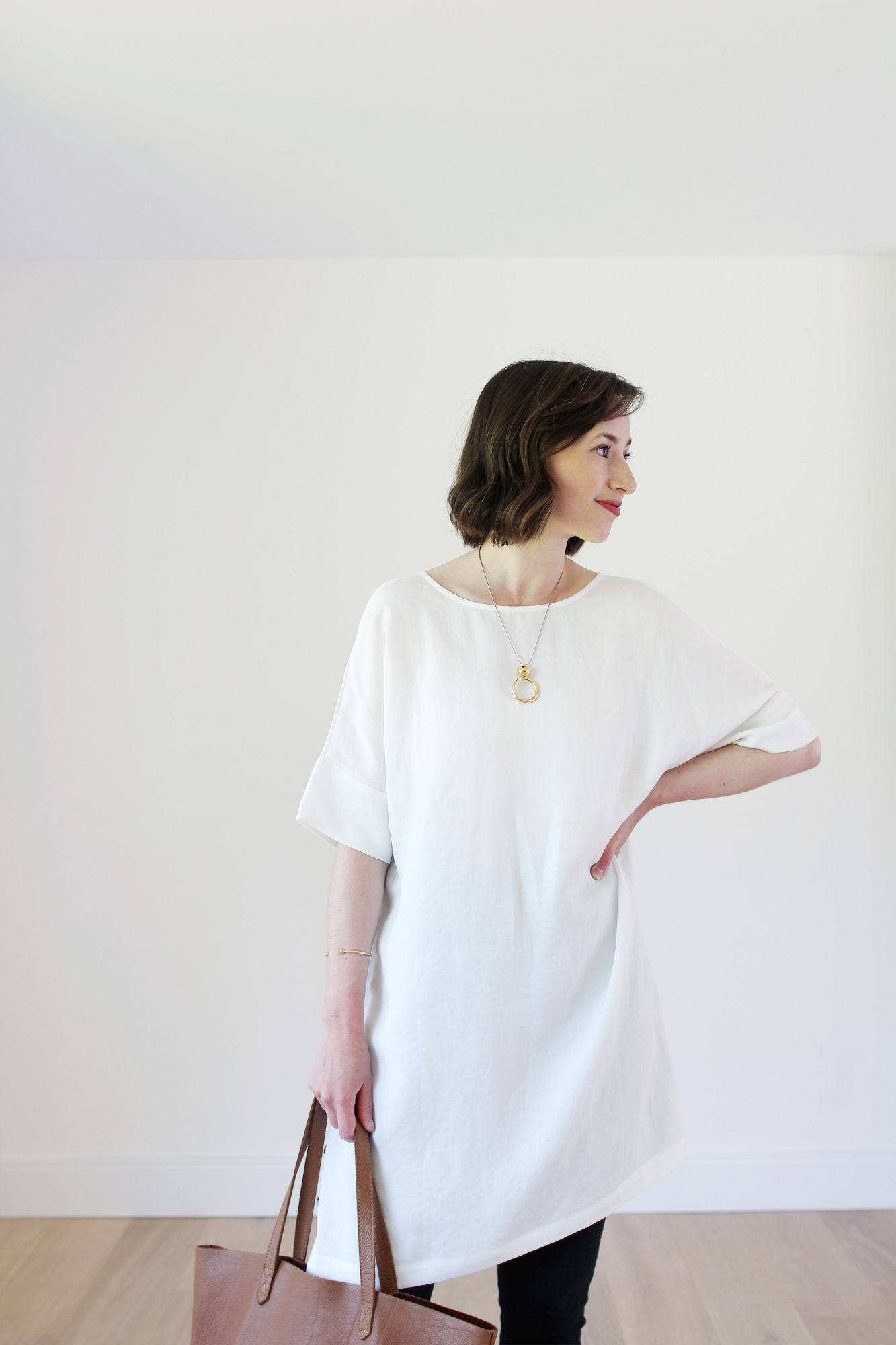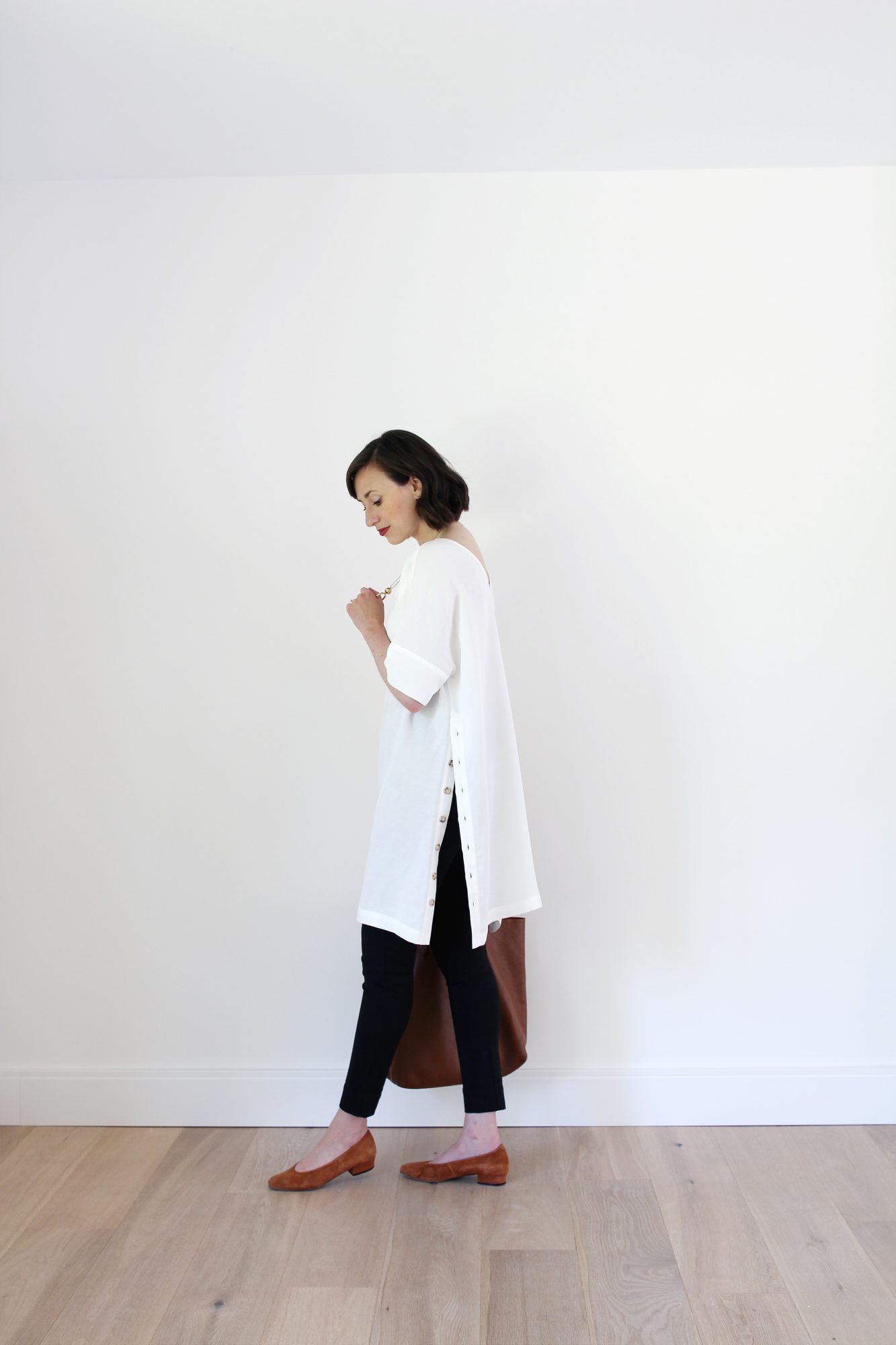 ---
Last but certainly not least, we've got the Relaxed Tunic! I love a simple tunic and came very close to ordering one like this last summer but it wasn't exactly what I was after. This one though, checks a lot of boxes for me. The fabric is floaty and light and totally ready for the hot summer days ahead. The shape is relaxed and minimal with a straight hem (not so into curved hems anymore). It's convertible from a dress to a side split tunic, which makes it great for travel since it can be worn a few ways. The v-neck option is a lovely detail that ups the elegance factor.
It's just one of those pieces you can throw on over black skinnies for a last-minute look or you can dress it up with heels and a clutch for a night out. I even think it makes for a lovely cover-up at the beach. The last look here (just above), might actually be my favourite of the bunch!
RELAXED TUNIC DETAILS:
---
PROS
SIDE BUTTONS: I think this design detail is brilliant. It adds extra functionality to the piece because you can wear it as a dress or open, plus it adds visual interest in a simple, clean way and breaks up the white. I love how it moves to give glimpses at what's going on underneath so it doesn't feel too heavy or boxy.
OPACITY: This fabric has enough opacity that I'm not worried about show through. Of course, I'll still wear nude underwear but as you can see from the shots above, even over black pants there's not a lot of show through.
CONS
CAN'T THINK OF ANY: I really racked my brain for cons on this piece or things I would want to change but I couldn't really come up with any. Sure it's not the most slimming or form flattering piece but that's OK by me!
---
KEEP OR SEND BACK? MADE A GAME TIME DECISION TO KEEP WHILE WRITING THIS POST!
---
SHOP THIS OUTFIT: RELAXED TUNIC | CECILIA PANT (sold out) | Suede Pump | TOTE BAG | WOVEN MULE | Bamboo Bag (vintage) | LIP COLOUR: KOSÅS Undone
---
WOW! You made it to the end this mega post, thanks so much for reading!
Be sure to tune into my stories today for all these looks in action too.
---
What VETTA Relaxed Capsule pieces are you loving?
Do you have a favourite outfit from the ones above?
If you've tried any items out, I'd love to hear your thoughts!
---
DISCLOSURE: Big thanks to VETTA for partnering on this post. All opinions are entirely my own, as always! When you shop via the links above or use the Style Bee discount code, I make a commission on the sale. Thanks for supporting the responsible brands that support Style Bee!