I'll be the first to admit that I'm a shoe girl. In fact, 'SHOES' remains one of my favourite YouTube videos of all time. While I don't quite know why this is, they're probably my biggest weakness when it comes to adding to my closet. Yet, finding a pair that perfectly combines form and function is not always easy. Luckily, this spring I managed to find some that do just that and after about 150,000 steps in them I'm excited to share my thoughts.
This particular pair happens to be the cult favourite Paris Woven Mules by the Australian based label St. Agni. These beauties had been on my wish list since last year and I finally decided to order them for my birthday at the start of May. They arrived after making their way (pretty darn fast) from down under have since been pretty much the only shoes I've worn.
I'm so happy I invested in them but I was really nervous about sizing since I ordered online and had heard a lot of mixed sizing reviews. It's become clear that I'm not the only one with sizing reservations since I've had lots of DM's asking about fit. So I thought I should share my findings and how they've broken in so far. Plus, we all love a good product review, right?
---
DISCLOSURE: This post isn't sponsored or affiliated with St. Agni and I bought the shoes myself. 
---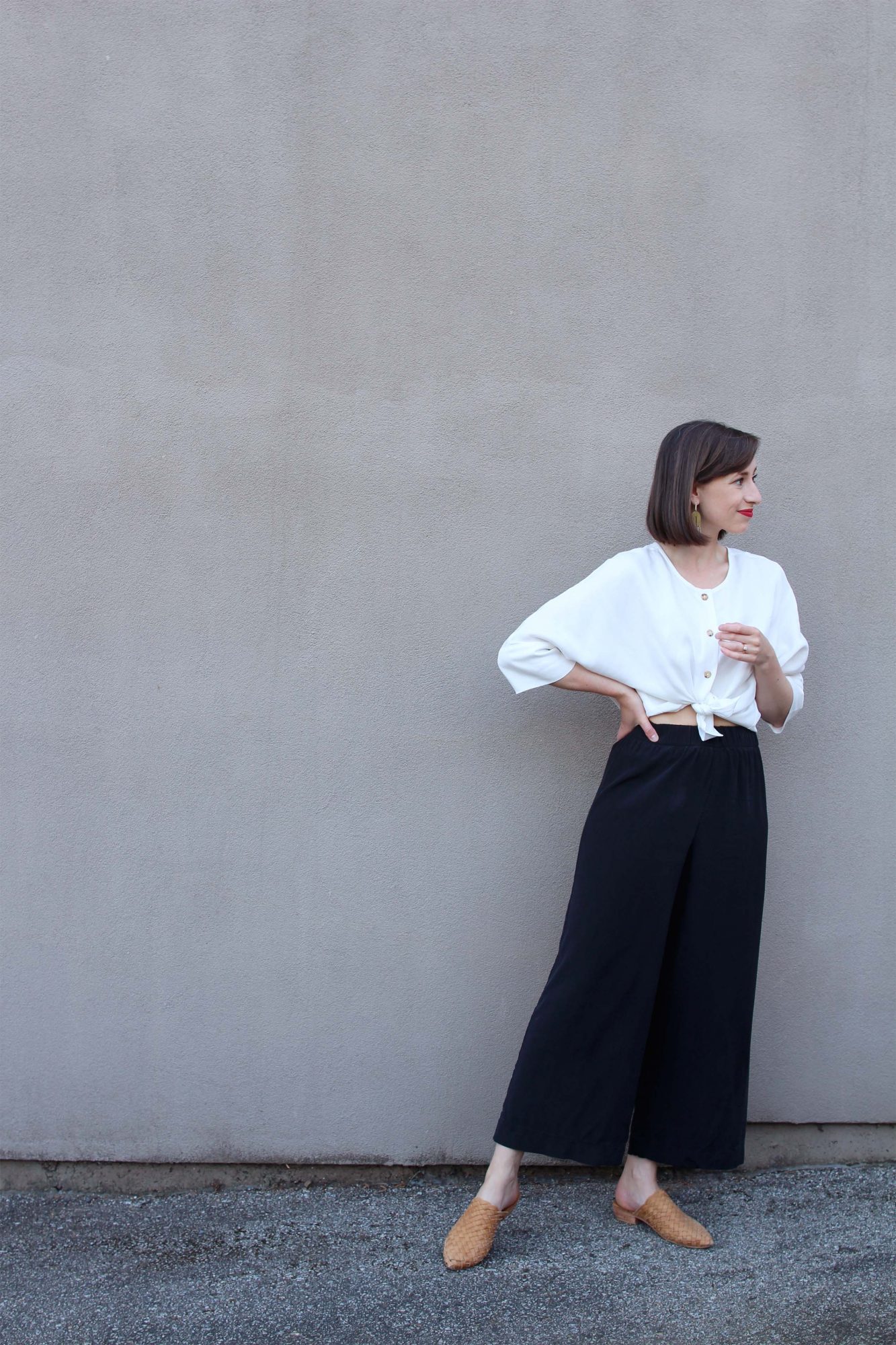 ---
A FEW ST. AGNI FACTS
---
ABOUT THE BRAND | St. Agni is a footwear, accessories and clothing line founded by Lara & Matt Fells in their iconic coastal hometown of Byron Bay in 2014. The couple set out to create simple luxurious pieces that reflect the beauty and freedom of the Australian lifestyle, using quality leather and fabrics. Think wearability, easy shapes, earthy tones and natural textures. Or simply check out the collection!
MADE IN INDONESIA | The St. Agni footwear line is handmade in a small leather factory in Java, Indonesia that consists of approximately 50 staff members. Lara & Matt take pride in the close working relationships they have with the people and factories they choose. Working directly with the artisans helps to ensure the quality of the St. Agni product.
SUSTAINABILITY EFFORTS | St. Agni says:
As a company we recognise our responsibility to minimise our impact on the environment. We constantly strive to reduce our waste and our carbon footprint. The cows used to produce our leather are sourced from a selection of local farms, raised purely for consumption and leather. The use of plastic is minimised in our packaging process and all of our products are shipped in re-usable dust bags. We source as many materials as possible from Indonesia and importantly we are careful to only produce to meet demand.
---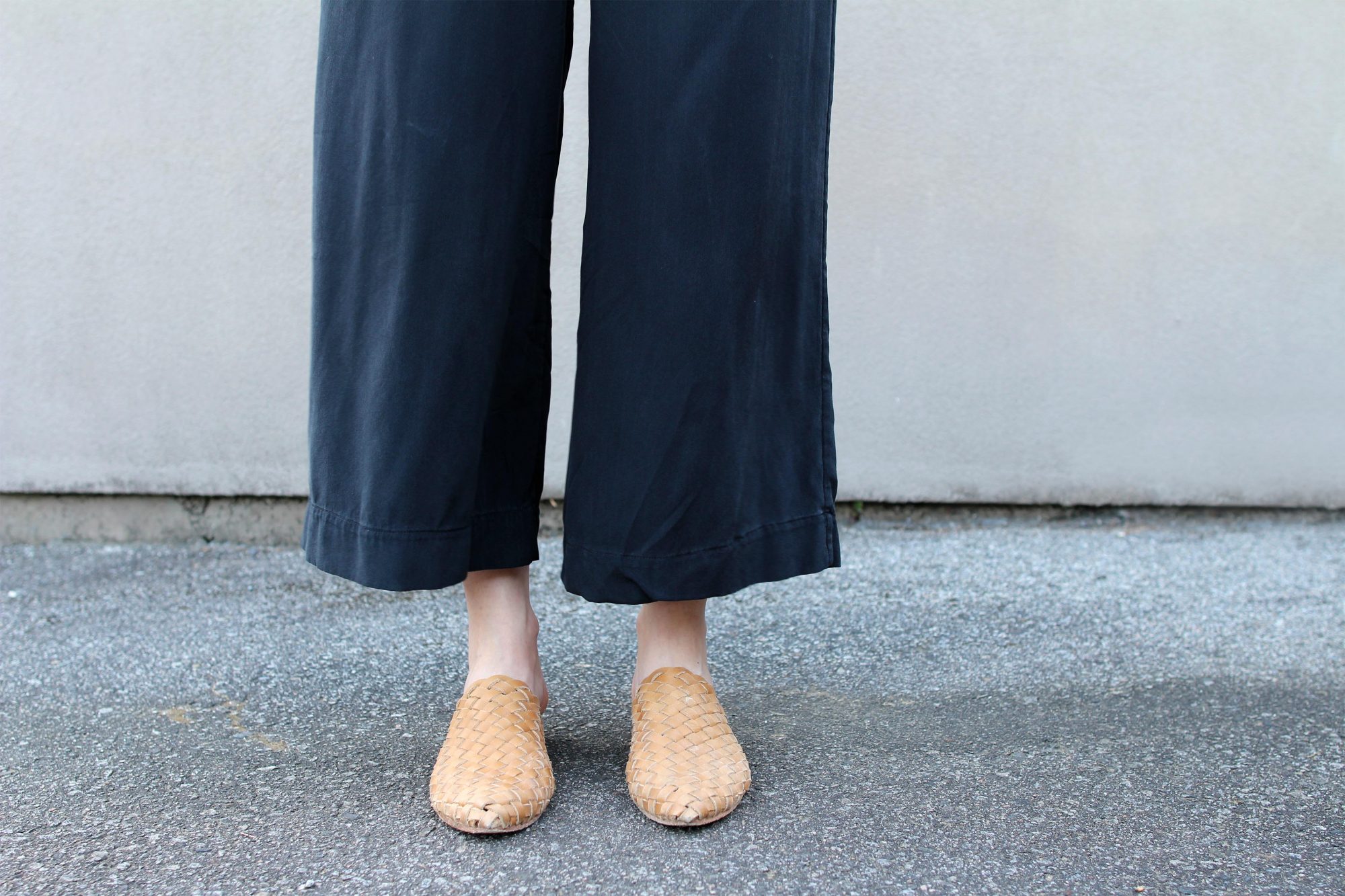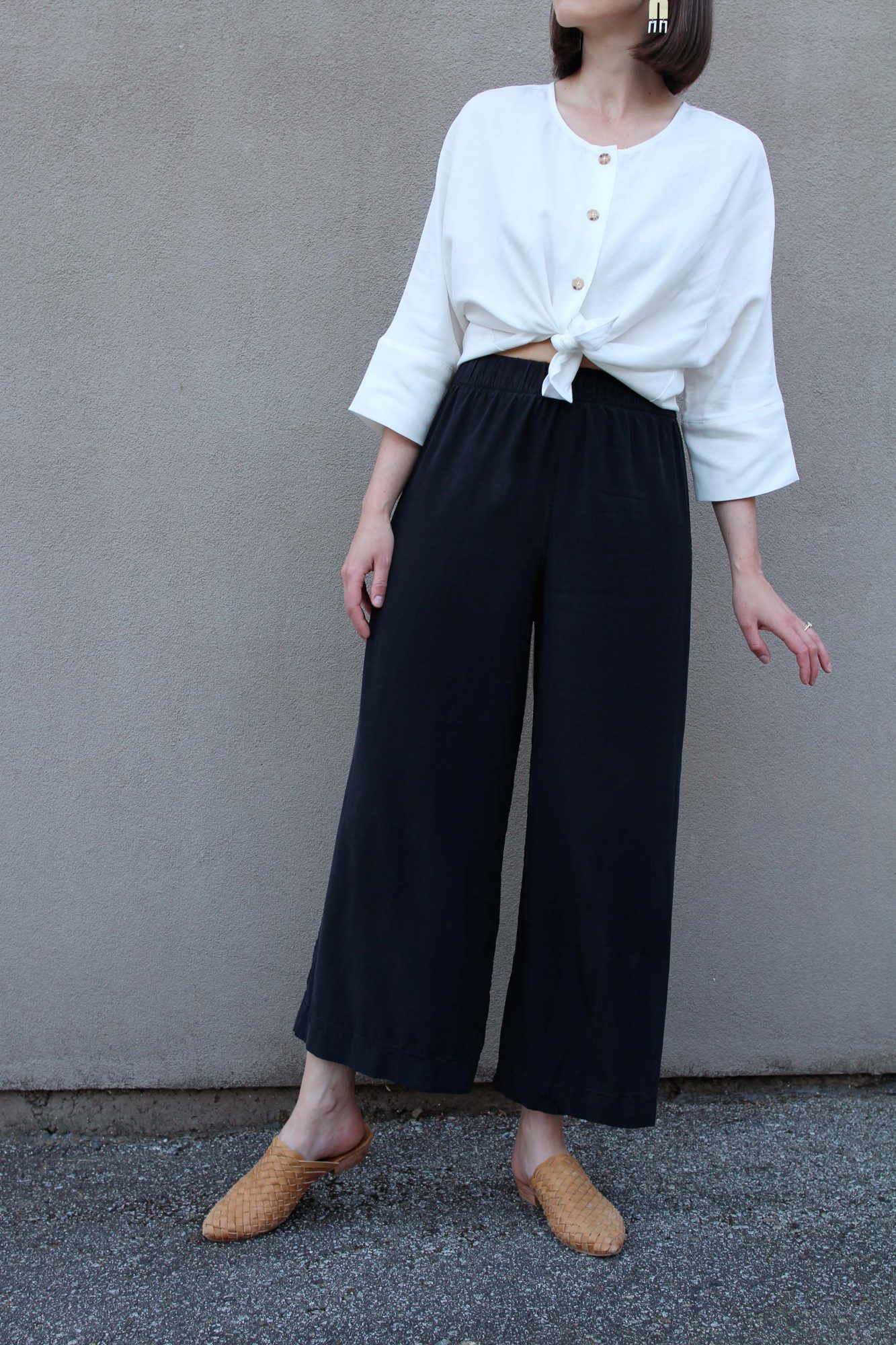 ---
ABOUT THE WOVEN PARIS MULE
---
After about a year on my wish list, I've now had the Paris Woven Mule in Almond in my closet for about one month and have been wearing them almost every single day. I'm not even exaggerating when I say I've clocked something like 150,000 steps in them so far and they only seem to get comfier! So let's go over some of the details shall we?
SIZE: I'd be lying if I said the fit on these wasn't tricky but here goes! I wear a US 7 (usually) and a 7.5 (sometimes) and have a narrow foot. I got these in the 38. The brand recommended a 37 while a lot of other people recommended a 39. I think the 37 could have worked but they would have been very tight at first and taken longer to break in. The 39 would have been too wide and too long. The 38 was snug at first but relaxed exactly as much as needed after about a week of daily wear. The foot bed is a touch long at the back (which perhaps you can tell in photos below) but it doesn't bother me and feels totally fine.
If you're between sizes and/or have a wide foot I would definitely size up. Lots of people go up two sizes as they do run very narrow but I think the woven leather will give a lot if you give it time to warm up and stretch out.
Sidenote: I had tried the 38 on in the Olive Suede Paris Mule and they were loose but the woven leather runs narrower for sure. I would probably order a 37 in other styles.
PRICE: $259 AUD + $35 AUD for INTL Shipping and I was charged customs and duties (approx 30% which hurt a bit but at least the AUD is on par with the CAD).
COMFORT: After a few hot spots during break-in, these have become some of the comfiest shoes in my closet and have not given me any blisters. I used to slip on Birkenstocks to walk Dobby but now these are what I slide into in the morning. I don't even really notice the low wood heel but I really like the silhouette it gives and just that little bit of added height. Not a heel gal? Go for the Bunto Woven Loafer.
The woven leather gives these some stretch and really adds to how wearable these are as they  move with your foot. The footbed is slightly padded and the inside of the woven leather is very soft. The more I wear these, the better they mold to my foot and the comfier they are.
COLOURS: You can find the Woven Paris Mule in Almond (which I have), Vintage Tan and Black. The Paris Mule style also comes in a smooth leather if that's more your thing.
MAINTENANCE: I spray these with a standard leather protector and any time they've gotten dirty I use a Boot Rescue wipe to clean them up. The toe has gotten a bit scuffed but I think that's just part of the patina they'll get over time. I also plan to one day replace the leather sole once I've worn them into the ground.
WHY I CHOOSE THESE: I was looking for a light neutral shoe that would be super easy to slip in and out of for the Spring and Summer season (I love a good buckle but I'm lazy too!). I wanted something that was a contemporary shape but still a timeless style. Something between a flat and a sandal and versatile enough to be dressed up and down for everyday wear. I wear mostly neutrals now and also wanted a little bit of texture to add interest without feeling busy. These checked all the boxes!
---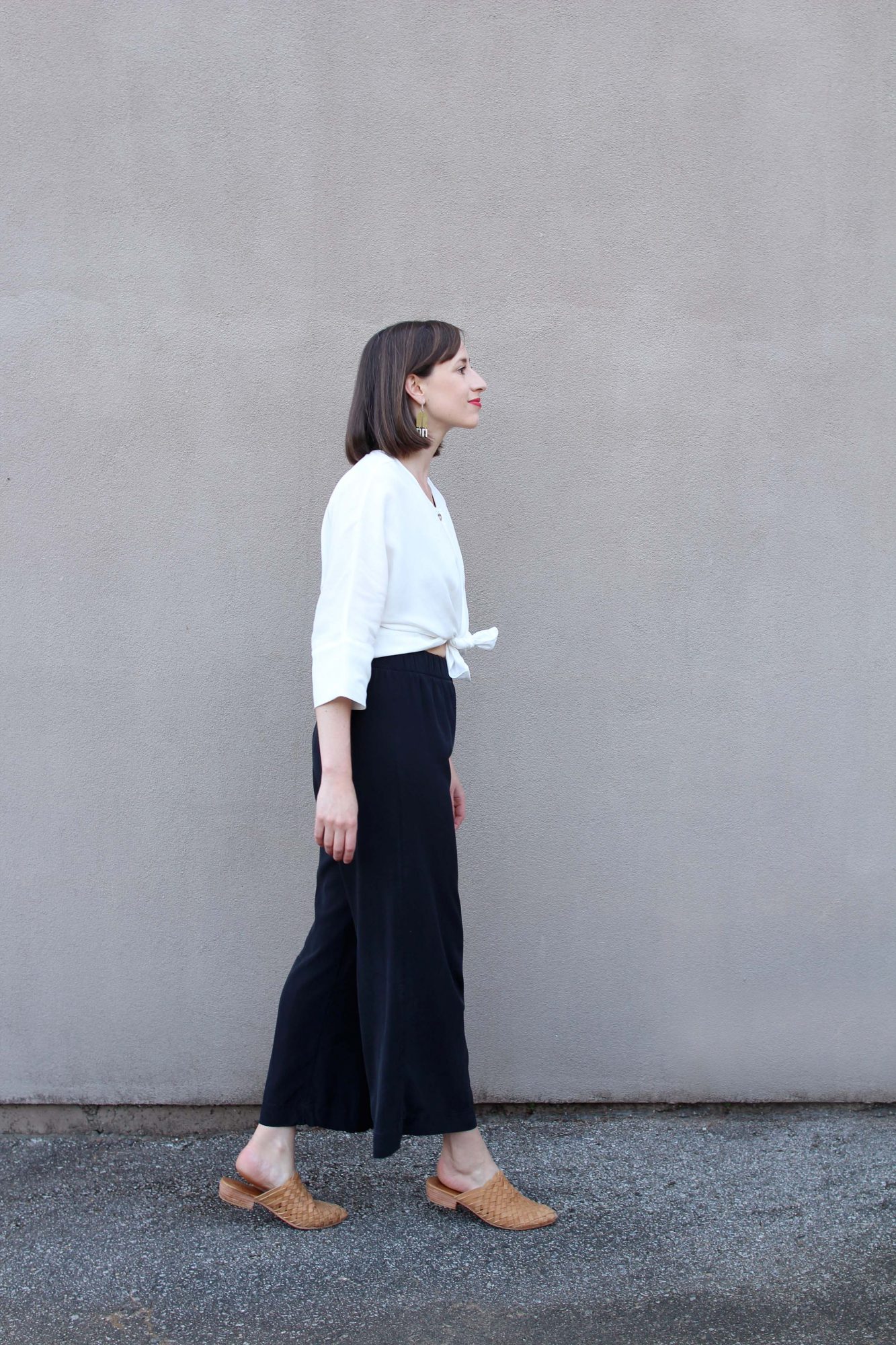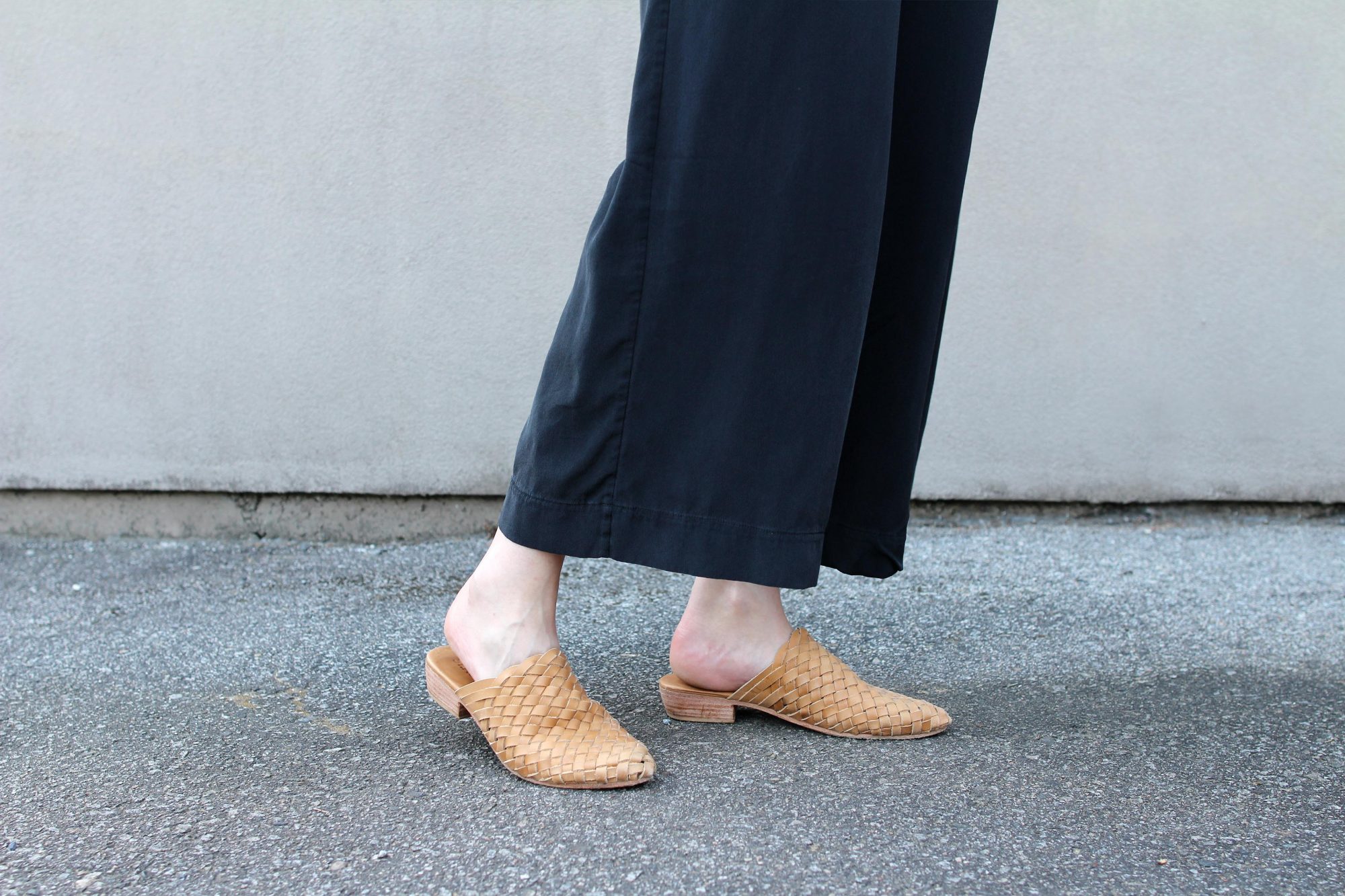 ---
FAQS
---
Here are a few more of the most frequently asked questions I've received. 
Are they breathable? Yes! Because the leather is woven, little holes let air in. That said, I won't be grabbing these on a super humid summer day, I'll opt for open toes instead.
Do they stay on? Yes! FINALLY! I've struggled to find mules that worked for my feet in the past, ie: those that wouldn't fly off, but these stay on very well and I rarely ever have to think about it. I think this is partly because of the slender fit and design of the shoe as the woven top comes up high on the arch of the foot. It's also partly because of the way the leather softens and molds to the shape of your foot creating very subtle dips and ridges that your foot fits into perfectly. When I first put these on and my feet are cool and dry they can be a bit slippery but it only takes a few minutes to warm up the leather.
Is there a budget friendly option? I think these are worth every penny and would buy them again in a heartbeat. Save up, you won't regret it! Of course, for those on a tighter budget, Paloma Wool ($133 USD on sale) and Nisolo ($178 USD) make a woven mule. However, with the exchange they're not actually all that much cheaper for us in Canada. I've also tried both and neither were nearly as comfortable or flattering on the foot.
Can you dress them up? Totally! I love them for everyday but you can absolutely dress them up for a nice dinner or night out. I've worn them with my HDH Jumper and a bold lip for a night out with Dave and just this weekend I wore them with wide leg pants and a silk tank to dance the night away with my girlfriends. They also look super cute with a feminine dress or a full skirt! The shape really ups the elegance factor.
Where can I get them? I ordered directly from St. Agni (the style/colour I wanted was sold out everywhere else) and the shipping was very quick. But you can also find them at:
---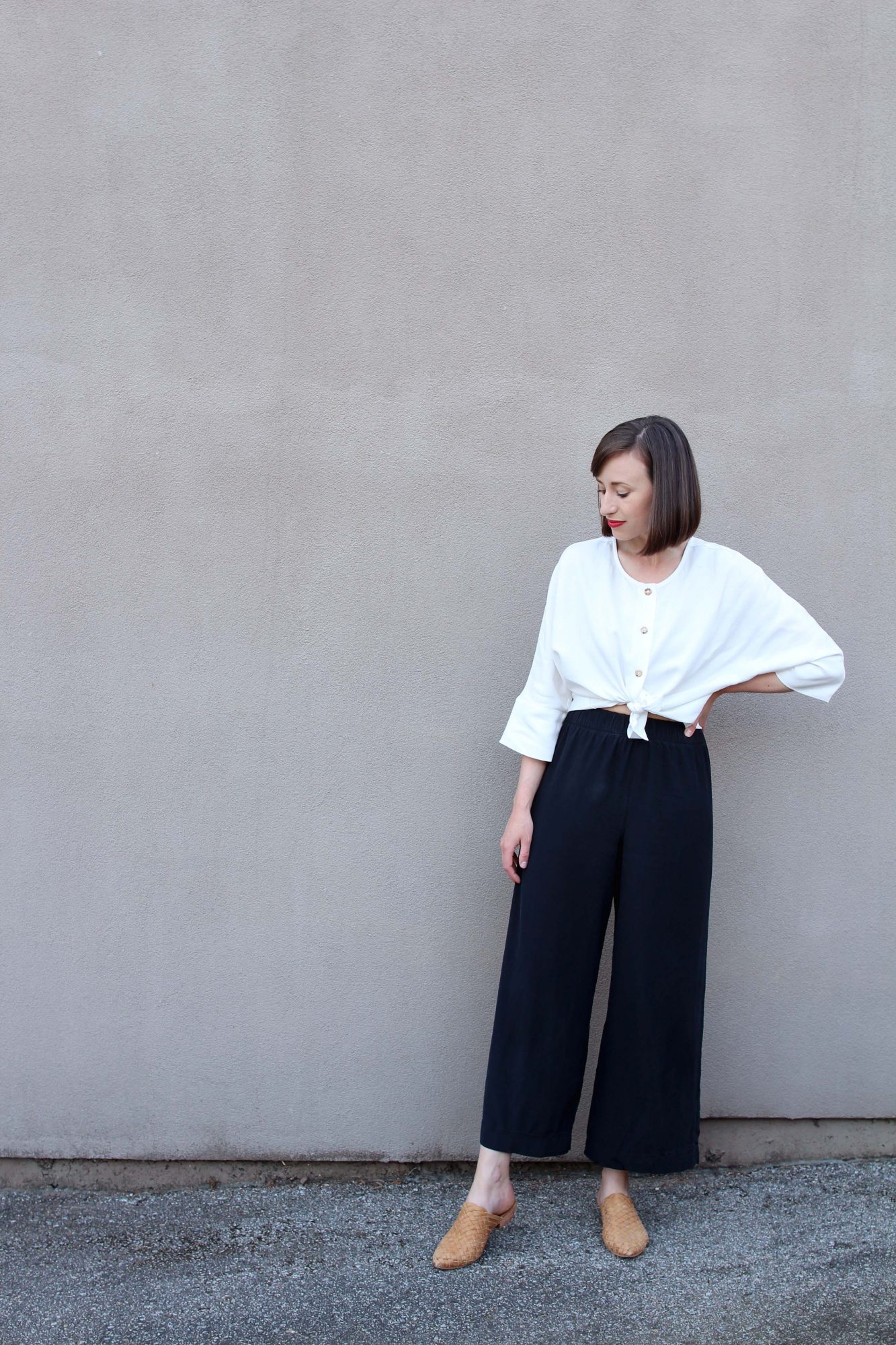 ---
SHOP THIS LOOK
---
BOXY BLOUSE | gifted | VETTA | $80.10 USD when you use the code: 'BEE10' at checkout | Made in NYC | Save 10% on any VETTA order with 'BEE10' through Thursday May 31. Catch my Casual Capsule review here.
FLORENCE PANT | ELIZABETH SUZANN | $235 USD | Made in Nashville, TN
ARC + LINE | gifted | NATALIE JOY | $100 USD | Portland, OR
THRILLEST | KOSÅS via LYNN STEVEN | $28 USD | See my KOSÅS lipstick review here.
---

---
I hope this review is helpful for anyone interested in the St. Agni Paris Mule! 
Please feel free to share your size + fit insights or any other questions in the comments.
---
DISCLOSURE: This post is not sponsored or produced in partnership with any of the aforementioned brands but it contains affiliate links. When you shop using the links above I may make a small portion of the sale. Thanks for supporting the brands that support Style Bee.