Is it just me or do Fridays roll around even faster in the summer? Well, even if I'm imagining it, I'm glad this one is here! It's also time for another honest review of an item I've added to my closet for the summer. That is the Everlane Day Glove, which has just come back in stock with certain colours available for pre-order. I know there are lots of reviews out there already on this particular product but after the results of Wednesday's poll (a landslide 96% 'yes') it sure seems like you folks might be up for one more. This is great because I've wanted to share my thoughts on these shoes for a little while now.
Today I'll be going over:
My initial experience. Spoiler alert, it sucked.
A full review of the Everlane Day Glove.
How they compare to the iconic Martiniano Glove Shoe, which I'd originally planned to get instead.
So without further adieu let's talk about this much-hyped, well-loved, 'shoe of the summer', shall we?
---
PS. I purchased the Day Glove myself so there's no strings attached, just my genuine opinions and experience, which you'll always get regardless!
---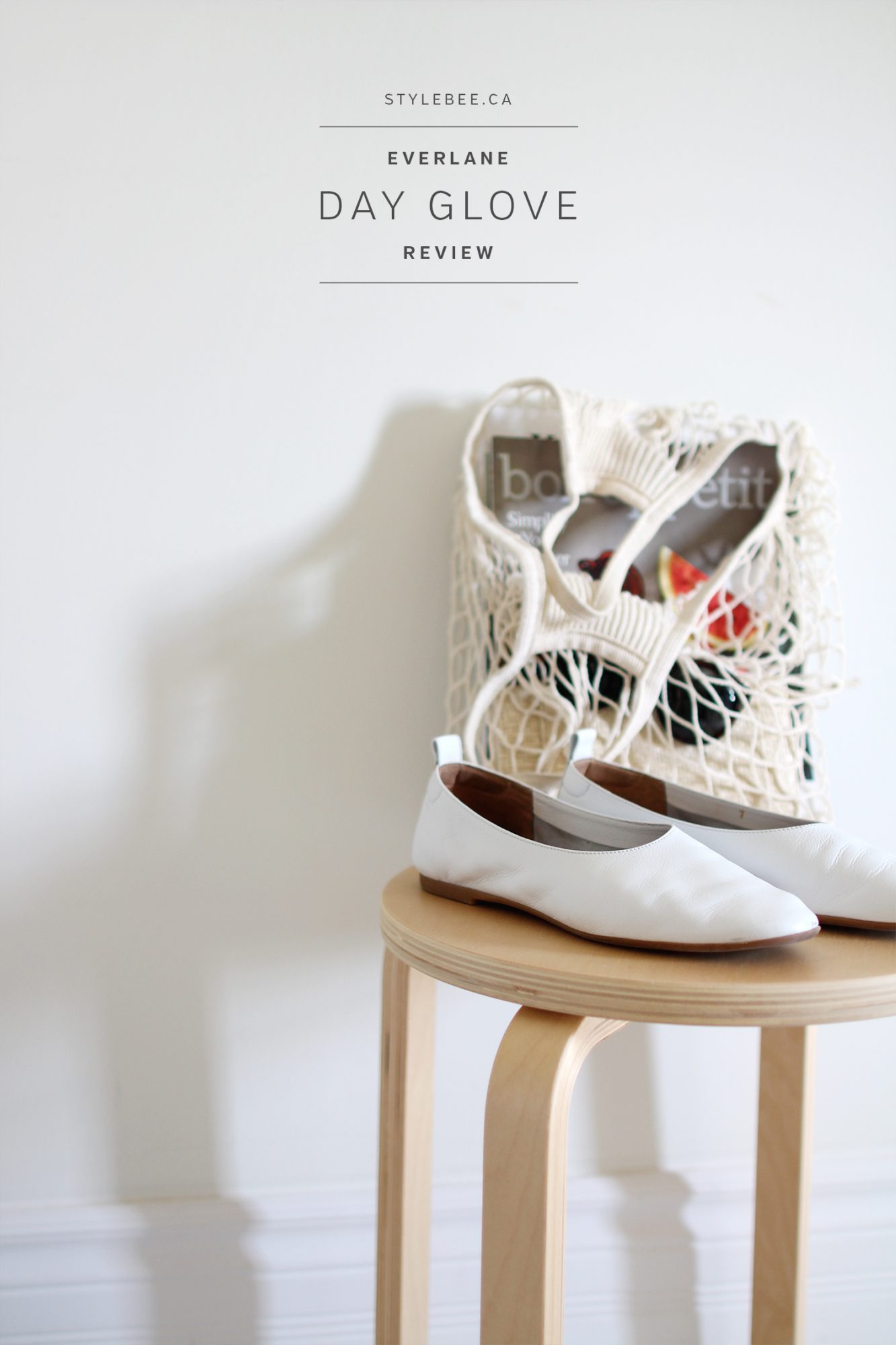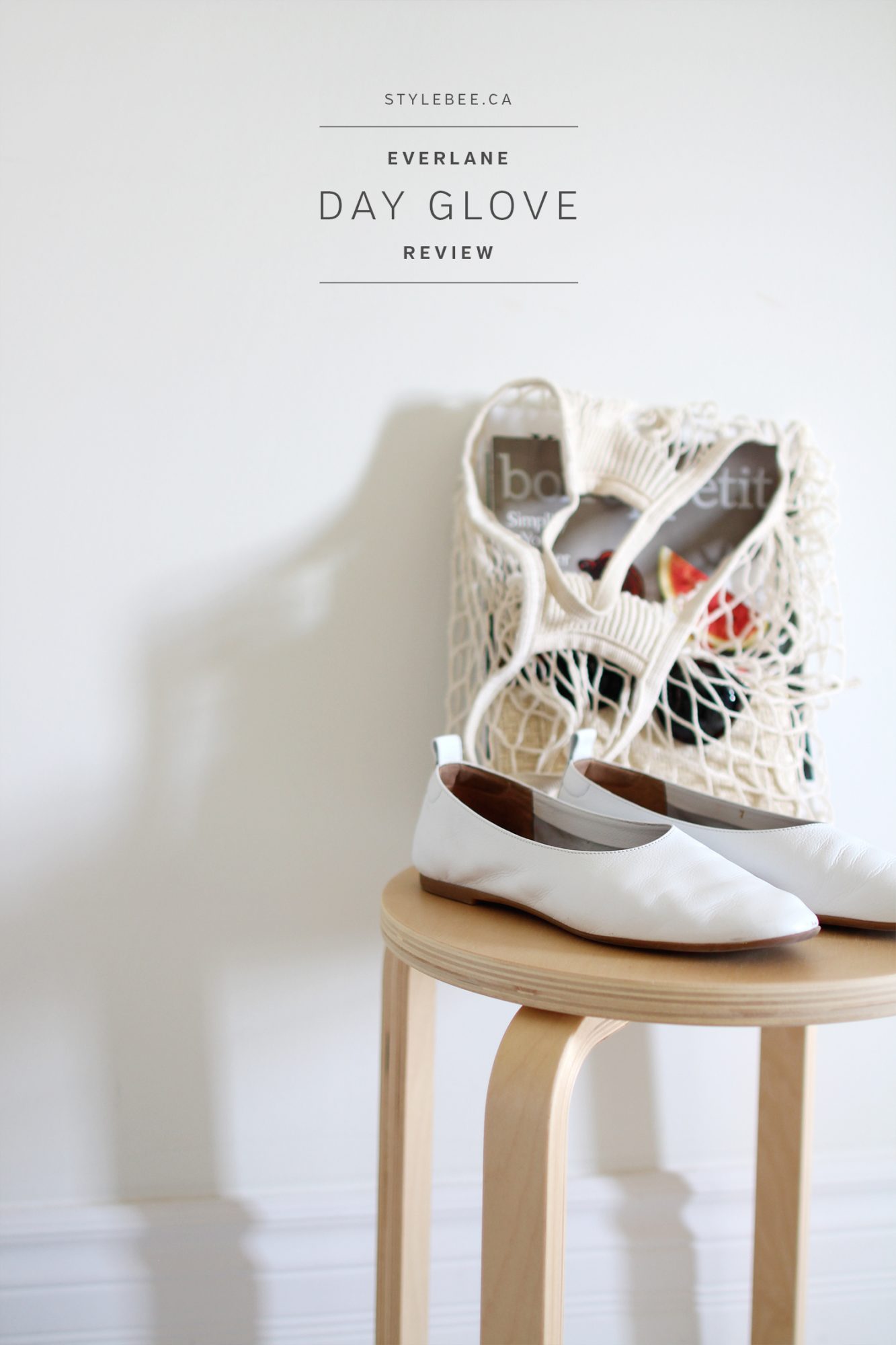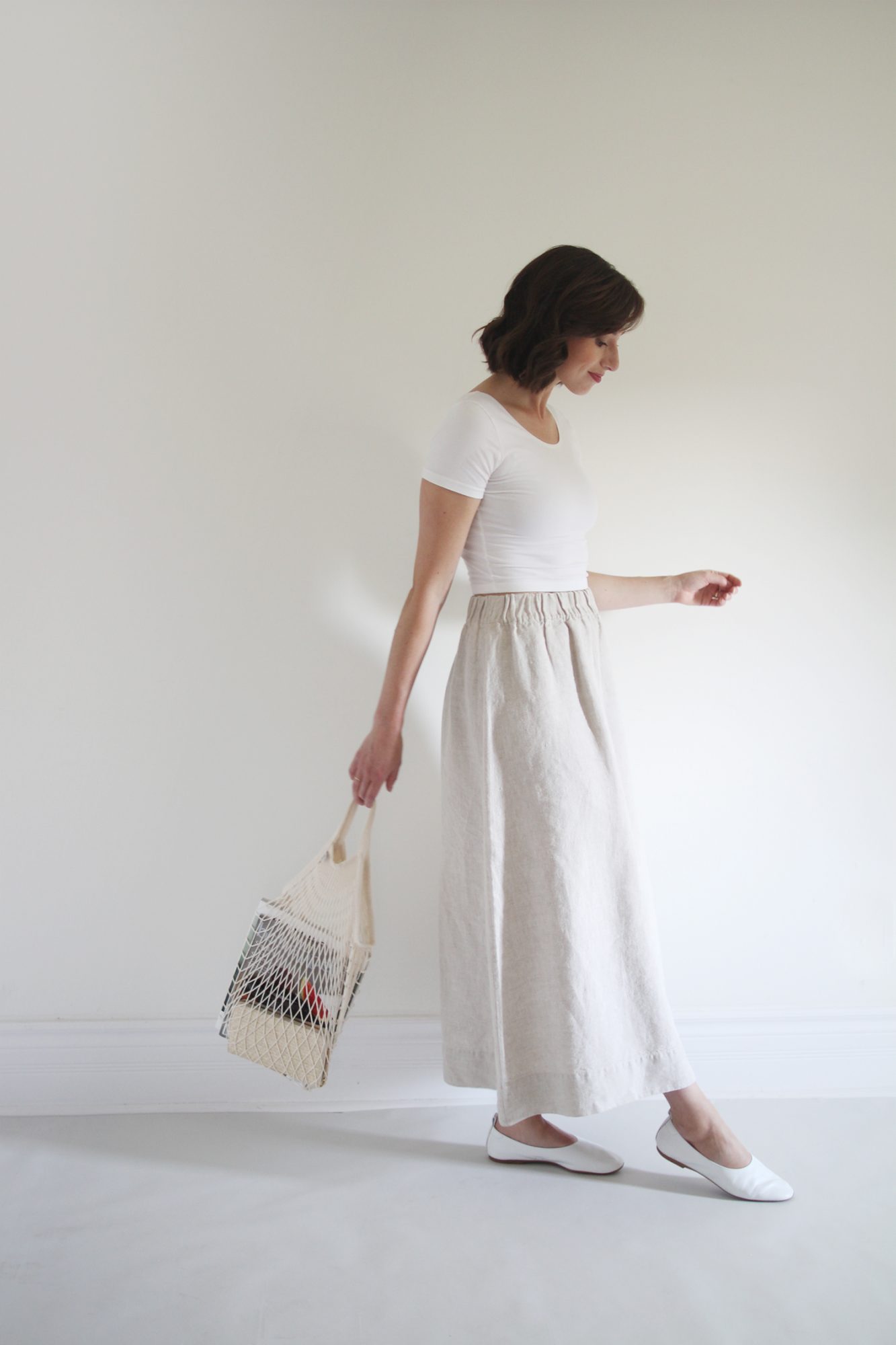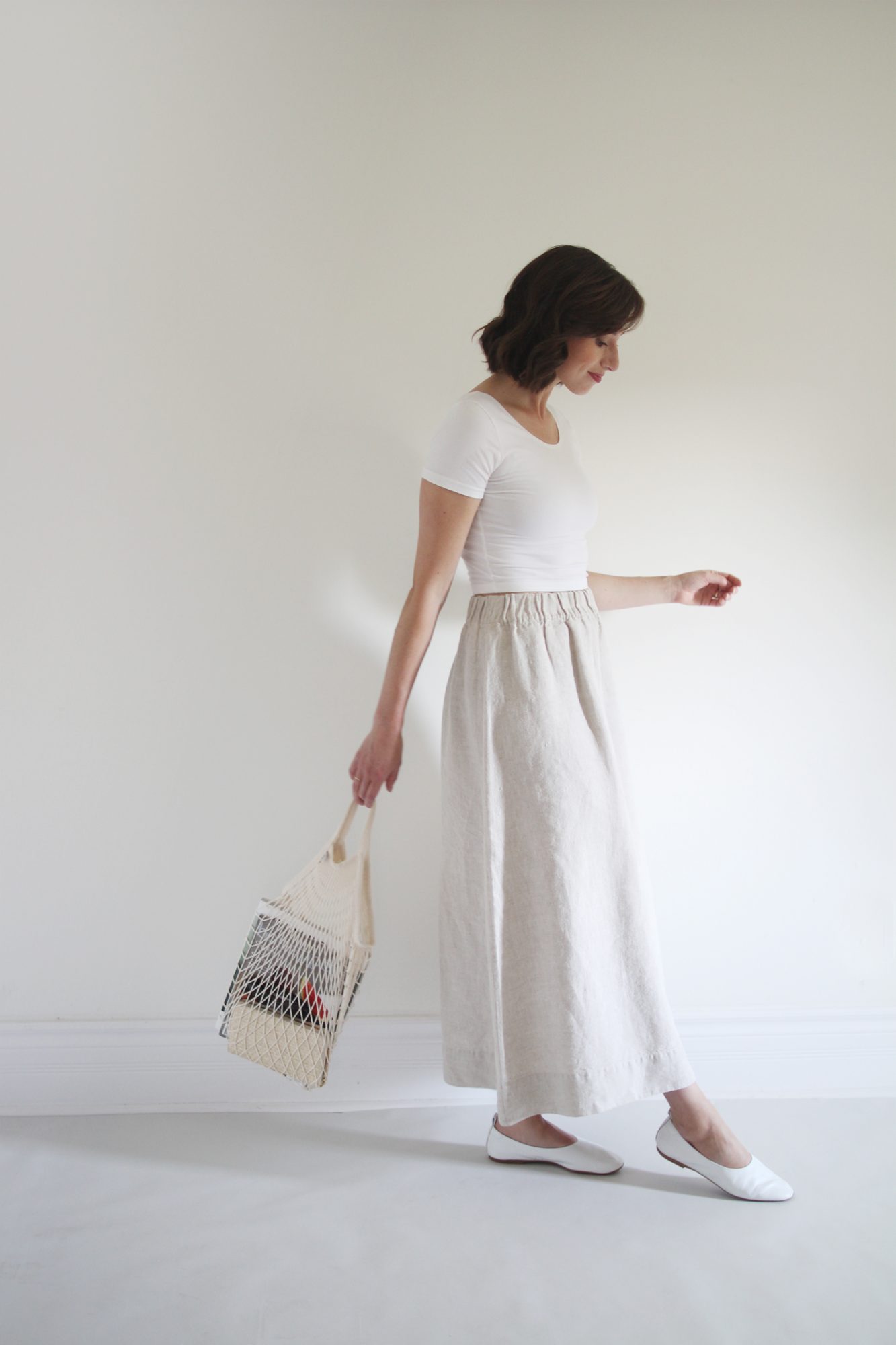 ---
INITIAL EXPERIENCE
---
After seeing all my blogger buds rocking them and reading 100s of rave reviews I was experiencing a bit of (ok a lot of) FOMO and decided to give the Day Glove a try myself. I waffled for days on which colour to get (it was between cream and white) and ultimately decided on the white. I felt that they'd be a great option for my summer travels and perhaps an everyday alternative to a white sneaker (which they are). Plus I think they're a tri-seasonal option for us here in Ontario, which means they'll be viable for Spring, Summer and Fall.
So I ordered them before we left on our drive from BC and got home to find them patiently waiting for me. I flung open the parcel in excitement, ripped the tissue out from inside, could not get my feet in fast enough and…they were snug. That's ok though, they're supposed to be snug right? Yes, according to the product page and what others had said, so I figured all good, packed them in my bag for Europe and off we flew.
When we had a morning of walking in Amsterdam I thought, 'What a nice time to wear these delightfully comfy flats!', and away we went for the day. Well, it wasn't more than a few blocks before my heels started yarping. I figured, stay strong, they'll be fine, you've broken in much stiffer shoes before. Then a km later there was no ignoring it. I needed band-aids STAT! Luckily those are a staple in my travel bag so I put them on and all was well, or rather, well enough to tough it out.
Flash forward, like, 6 more occasions and the same thing continued happening. They'd stretch out a little more each time but the major hot spot right at the back of my heel continued to be terrorized any time I dared to go without band-aids. I was starting to get a little bummed at this point, knowing there was no returning them and fearing that this might never resolve, when one day I decided to triple up my band-aids and walk to and from my in-laws to see if I couldn't break them in once and for all.
It was a balmy night, I was walking super fast and lo and behold, that did the trick! The next day I put them on to walk Dobby and they finally fit as advertised, like a glove! Now that my heels are all back to normal and the trauma has subsided they're actually some of the comfiest flats I've ever had. I also feel like I wear them more now because I earned that level of comfort. Through literal blood, sweat and maybe one tear, I made them work out and we have a special bond from all the trials and tribulations. I'm telling you I am a shoe girl to the core!
Anyway, excuse the saga but I could not go into this review without first sharing my harrowing initial experience!
---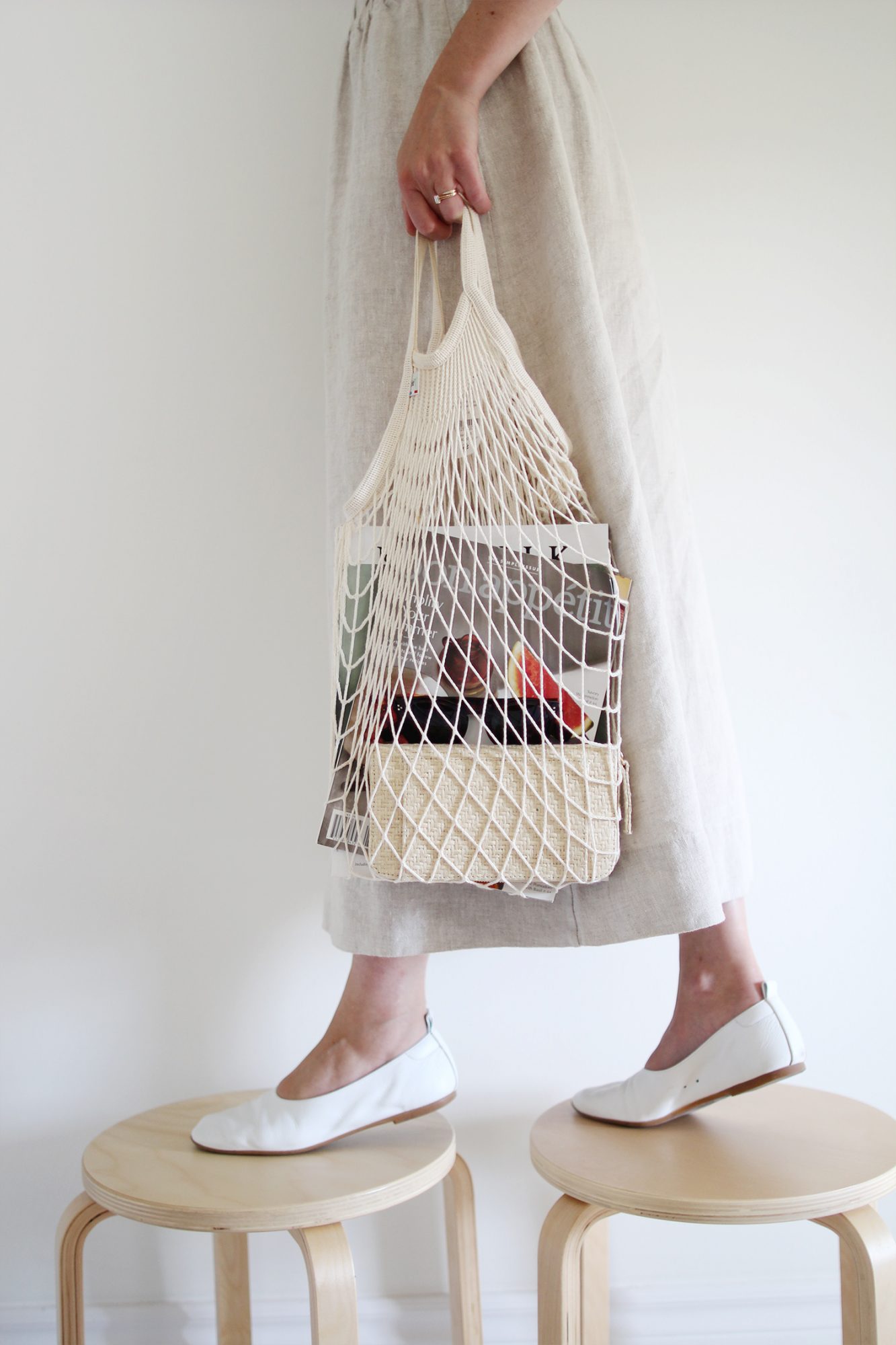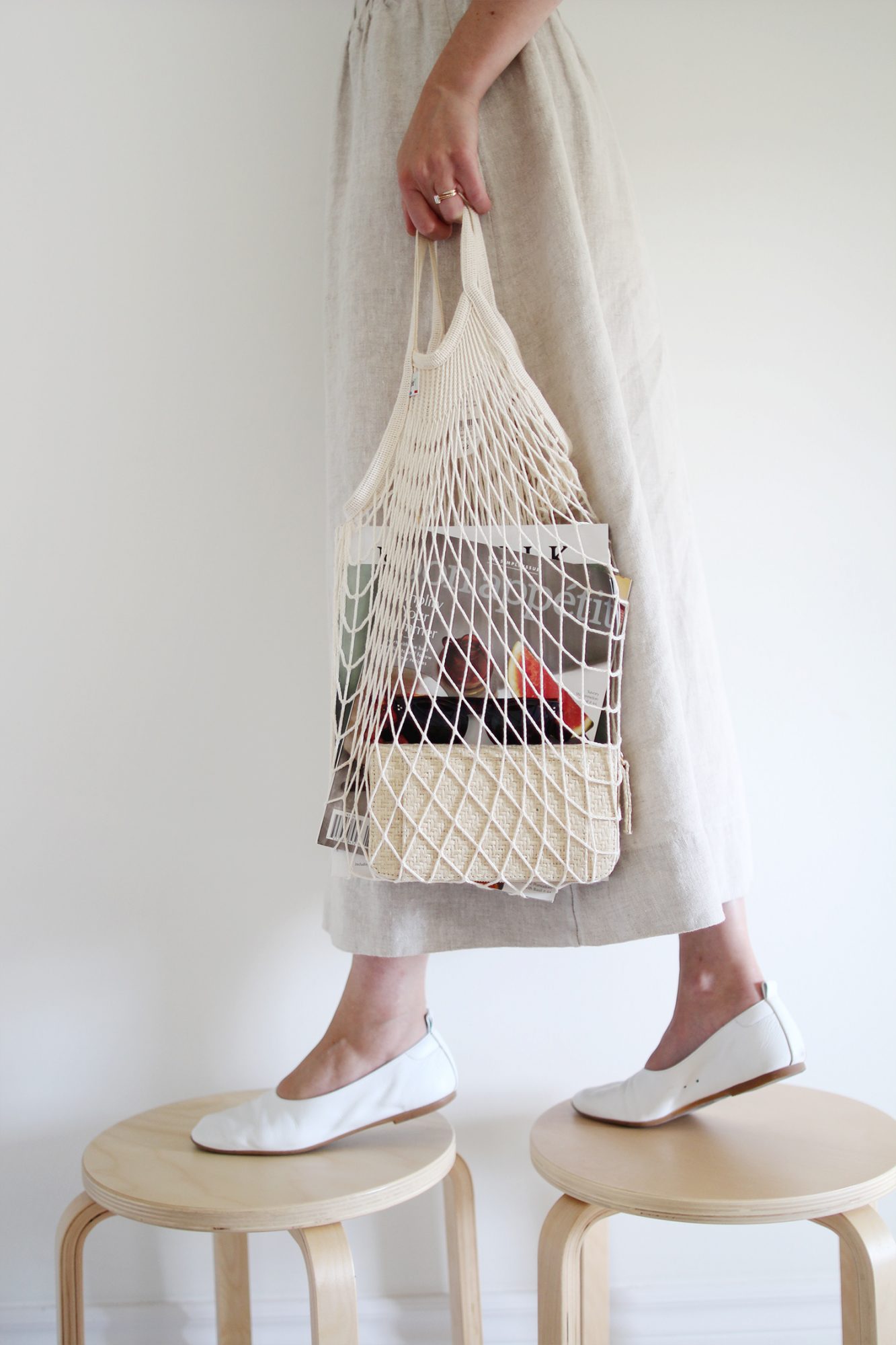 ---
---
So here we have the Everlane Day Glove Shoe in White, all broken in and ready for a summer of cute looks!
1 | FACTS |
Prices at $115 USD
Available in 6 colours: BLACK, WHITE, ROSE, CREAM + MOCHA (with a few left in Light Blue and more colours on the way)
Available sizing: 5, 5.5, 6, 6.5, 7, 7.5, 8, 8.5, 9, 9.5, 10, 10.5, 11
Made in Santa Maria a Monte, Italy (see the factory)
100% Italian Leather (with a rubber sole)
Treat with protectant. Spot clean with a cloth.
2 | FIT |
I ordered a 7 which is my usual size in Everlane footwear (and most footwear). Typically I'm either a 7 or 7.5 in shoes depending on the fit and if I intend to wear socks or not. In these I do not.
I have a narrow foot, which could be partly why I experienced heel slippage/rubbing initially.
They were quite snug throughout the toe and top of the foot at first but have stretched to fit very comfortably with time.
I worried they might be a touch short initially but now that the leather has expanded that's not an issue.
In case you skipped the novel above, they gave me major blisters on my heels at first but everywhere else has been fine. I wore band aids until the leather stretched and softened and now there are no hot spots.
The sides fall about 1/2 an inch below the ankle and the top hits about an inch or more from the base of my toes.
3 | MATERIALS + CARE |
100% Italian Leather.
The texture is slightly pebbled which gives it a natural feel and makes it extra resistant to stains and easy to wipe off.
The leather is very soft but I really think it would take a lot to rip it or break through. See below for wear and tear notes.
The rubber sole is extremely flexible and easily bends and moves with your foot. It's also nice and grippy which makes them great on any surface and for leisurely biking.
The white is a true bright white.
4 | DETAILS |
Side vents allow some air flow
Pull tab, which I'd just as soon omit from the design
Reinforcement strip at heel, which killed my heels at first but will be good in the long run for durability.
Cushioned insole and back panel
The shoe is unlined meaning the soft (suede-like) backside of the pebbled leather is what will be right against your foot. This gives them their ultra low-profile fit.
Like all Everlane footwear (that I've received) these come with a dust cover which is great for traveling!
5 | SUPPORT |
These have a cushioned insole which is a welcome barrier between your foot and the pavement and definitely helps with some shock absorption.
However, there is no instep support or considerable padding. If you need that these aren't for you.
That said, I've walked dozens of kilometres in these on pavement (and I have lower back issues) and haven't noticed any negative side-effects.
6 | VALUE | HIGH. These shoes are made beautifully, the leather seems to be excellent quality, the fit is great (now that I've broken them in, really drilling that point home I know) and the design is timeless, which means I'll want to wear them for many seasons to come.
FAVOURITE PART | They go with literally everything. I love how I can wear these shoes with damn near everything in my closet, feel comfortable and still look chic and put together thanks to the bright white and contemporary cut.
LEAST FAVOURITE PART | Other than the break-in trauma, they're not a breathable as I'd hoped. Yes they have little side vents, which I'm sure help a bit, but my feet still end up slightly sweaty in them after any considerable length of time. Could this be solved with a sock? Maybe, but that takes away from the intended look and fit experience, in my opinion anyway. I also wish the sole was replaceable but it doesn't appear to be so once the rubber wears down, that's it.
---
Overall I'd have to give the Day Glove a 7 out of 10 because while I love them now, I definitely had to be persistent!
---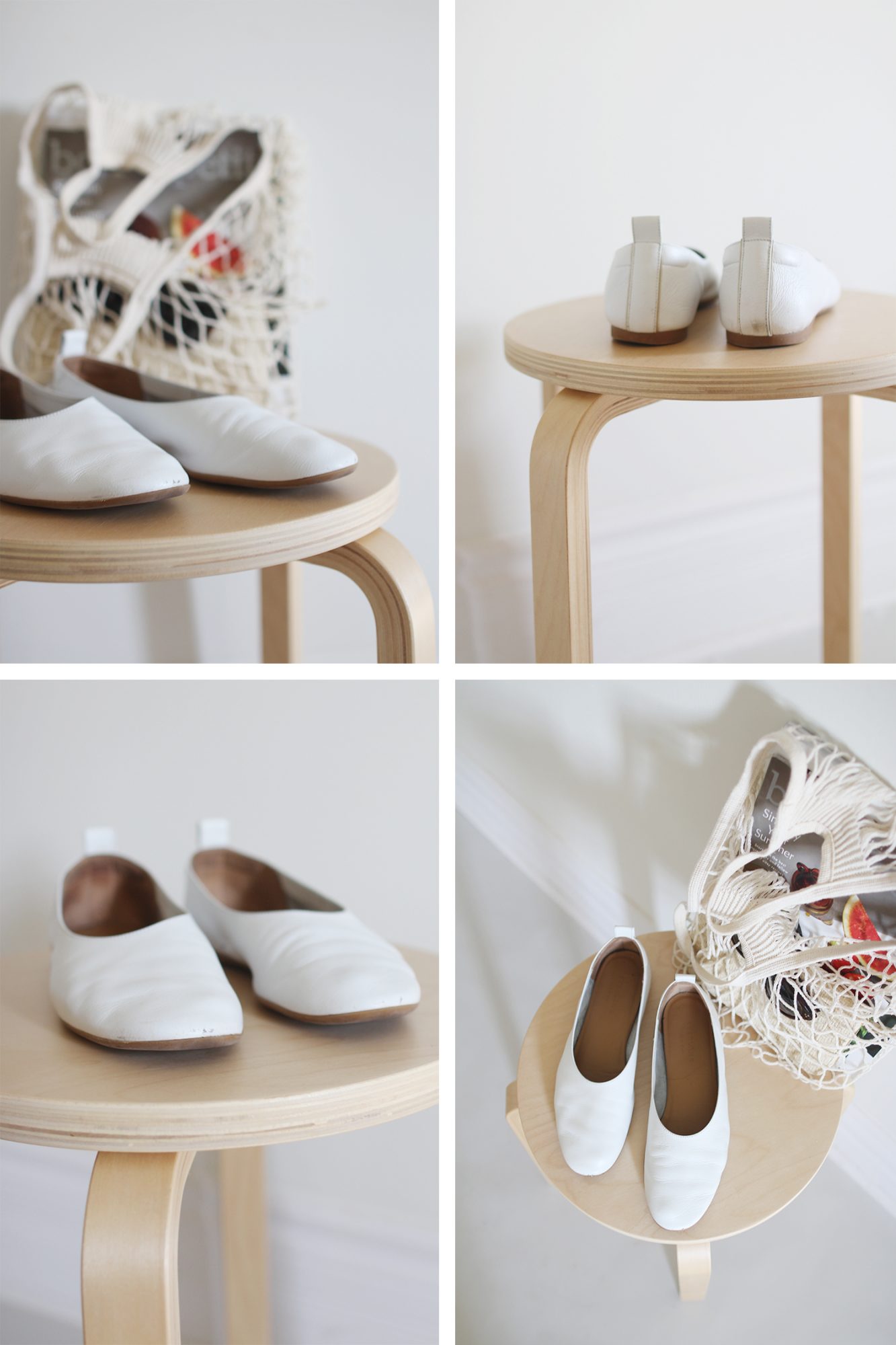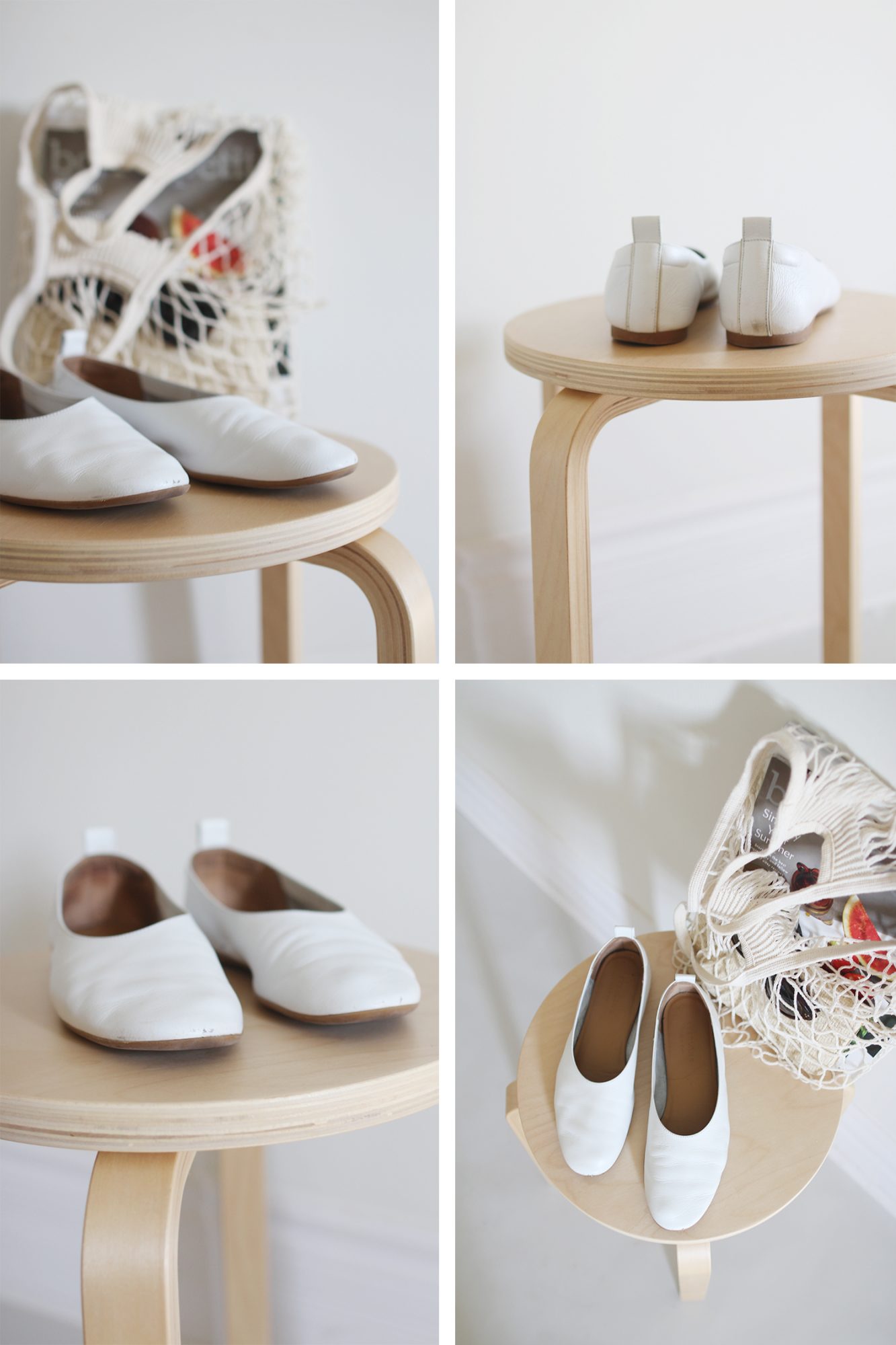 ---
WEAR AND TEAR
---
I was expecting a lot more scuffs, stains, tears etc. on these by this point (especially being white!) but they've held up remarkably well considering how much I've worn them. I haven't even bothered to spray them with any protectant yet and they've been in the rain more than once too.
The photos above on the left show the toes, which have met a few unfortunate curbs and bumps in the sidewalk but they're certainly in decent shape considering. Sadly, these can't be buffed our conditioned out because they're actual gauges in the leather but it's less fragile than I'd expected. It would take a major assault to break through this leather.
The top right photo shows that the rubber sole is also holding up well except for the far back edges where I drag my heels slightly. That happens with all my shoes to be fair though. There are also a few smudges on the heel (from who knows what) but those wiped off with a Boot Rescue wipe real easy.
The lower right image above shows how the leather has stretched and melded to my feet and the creases that have formed with use. Of course, I'd love for them to have stayed perfectly smooth but the reality is that with such soft leather a natural shape will evolve with time.
I've got to say, these puppies put up a good fight and have not let me down in the resilience department!
---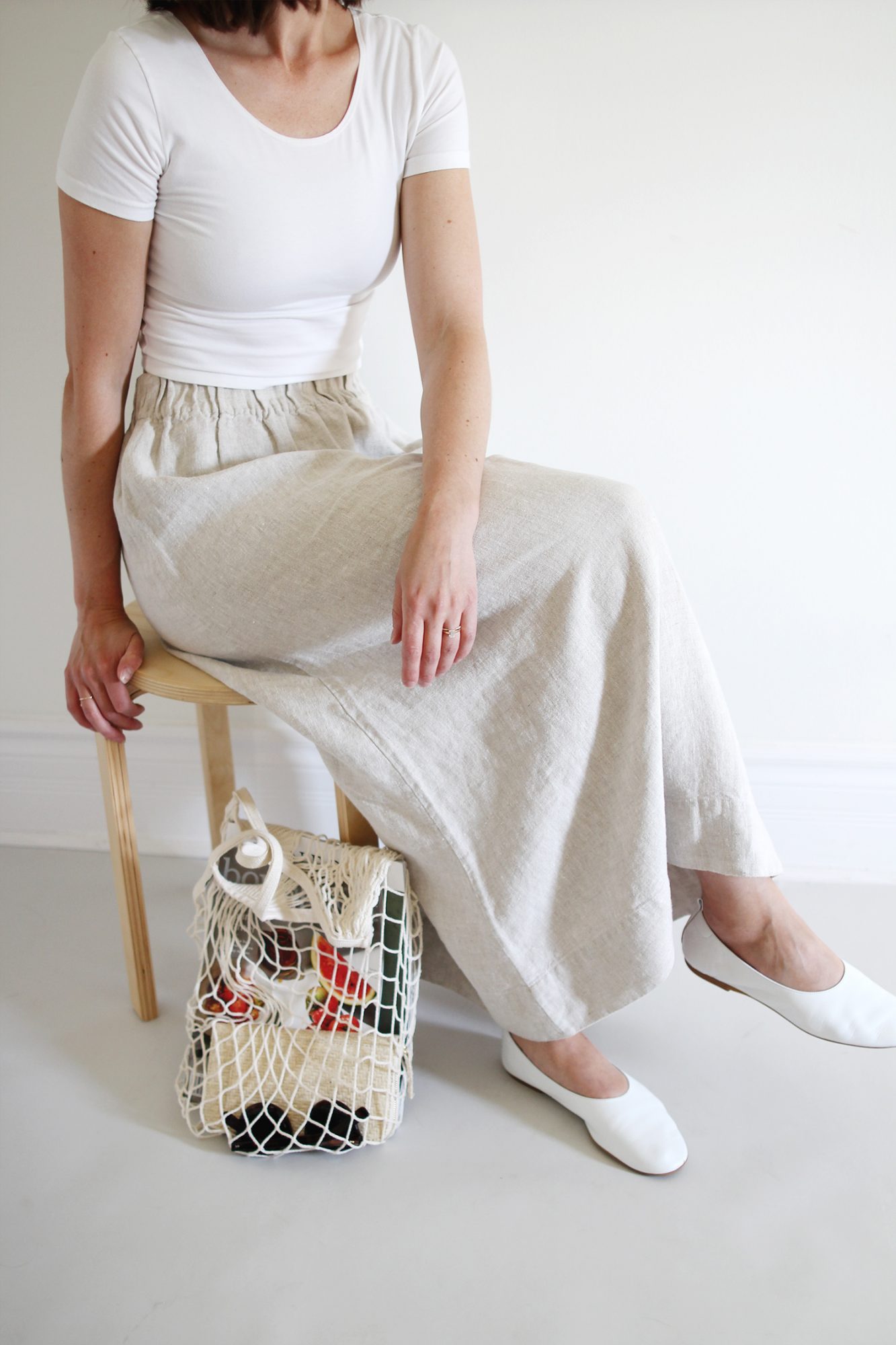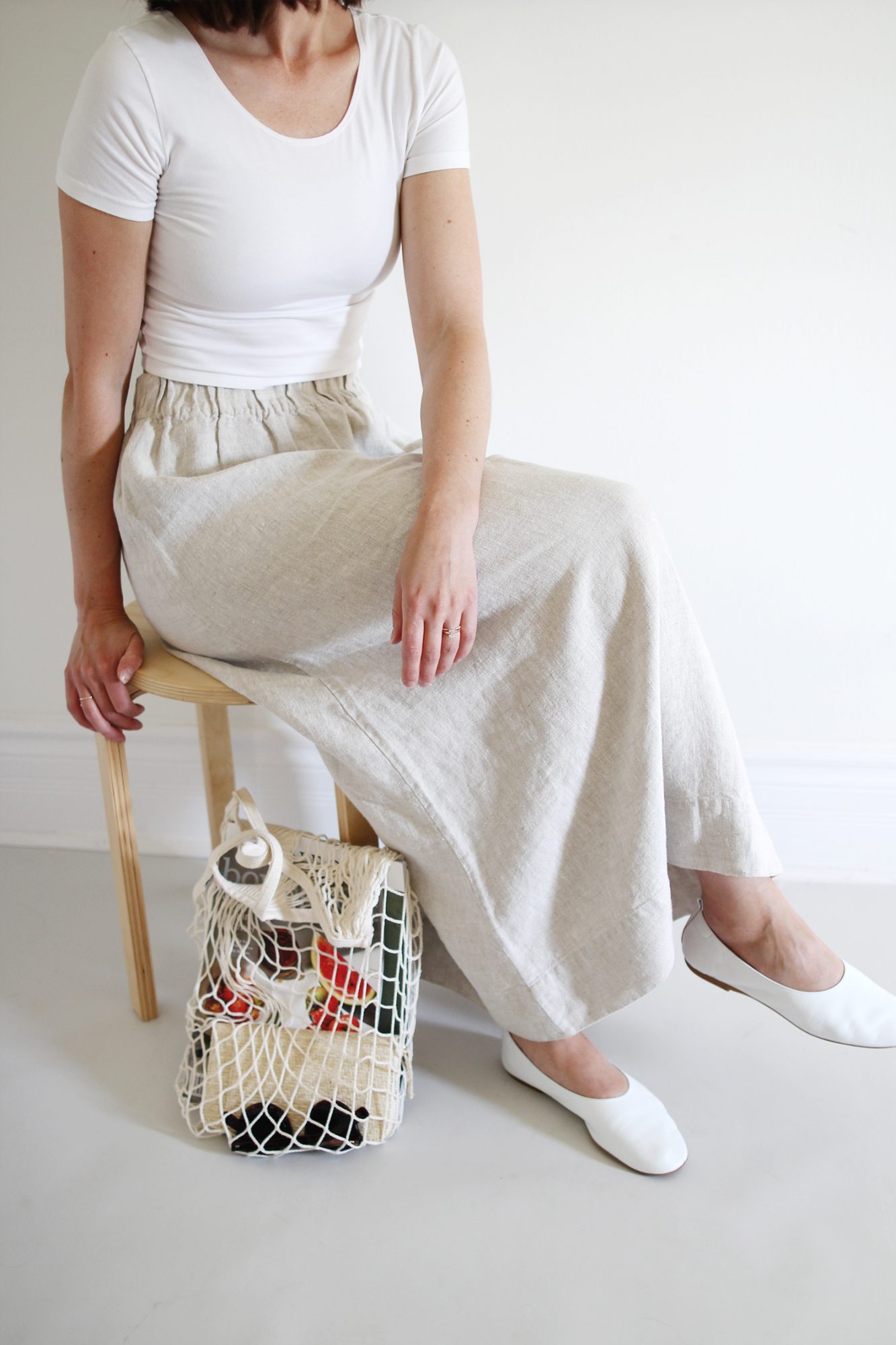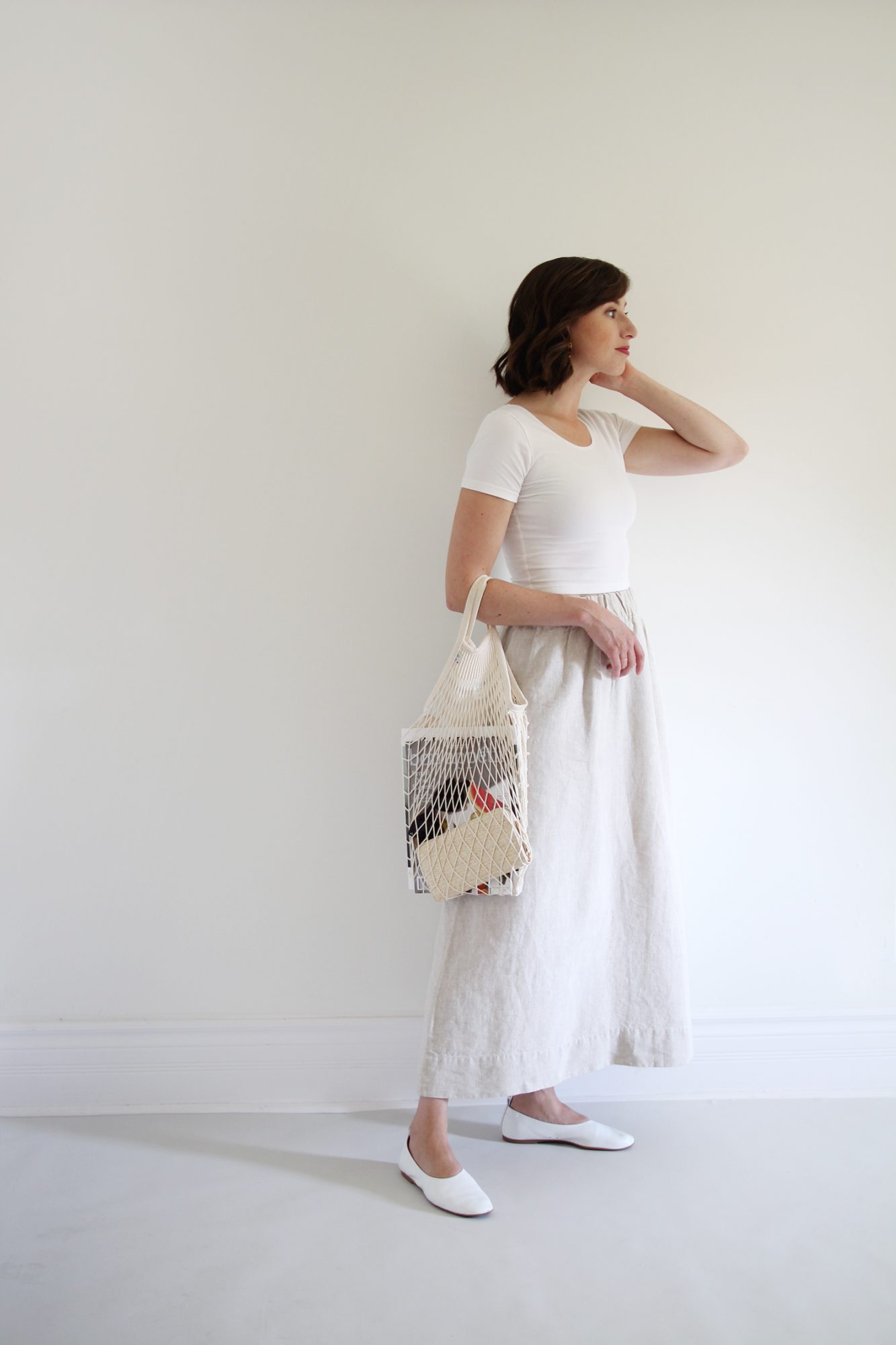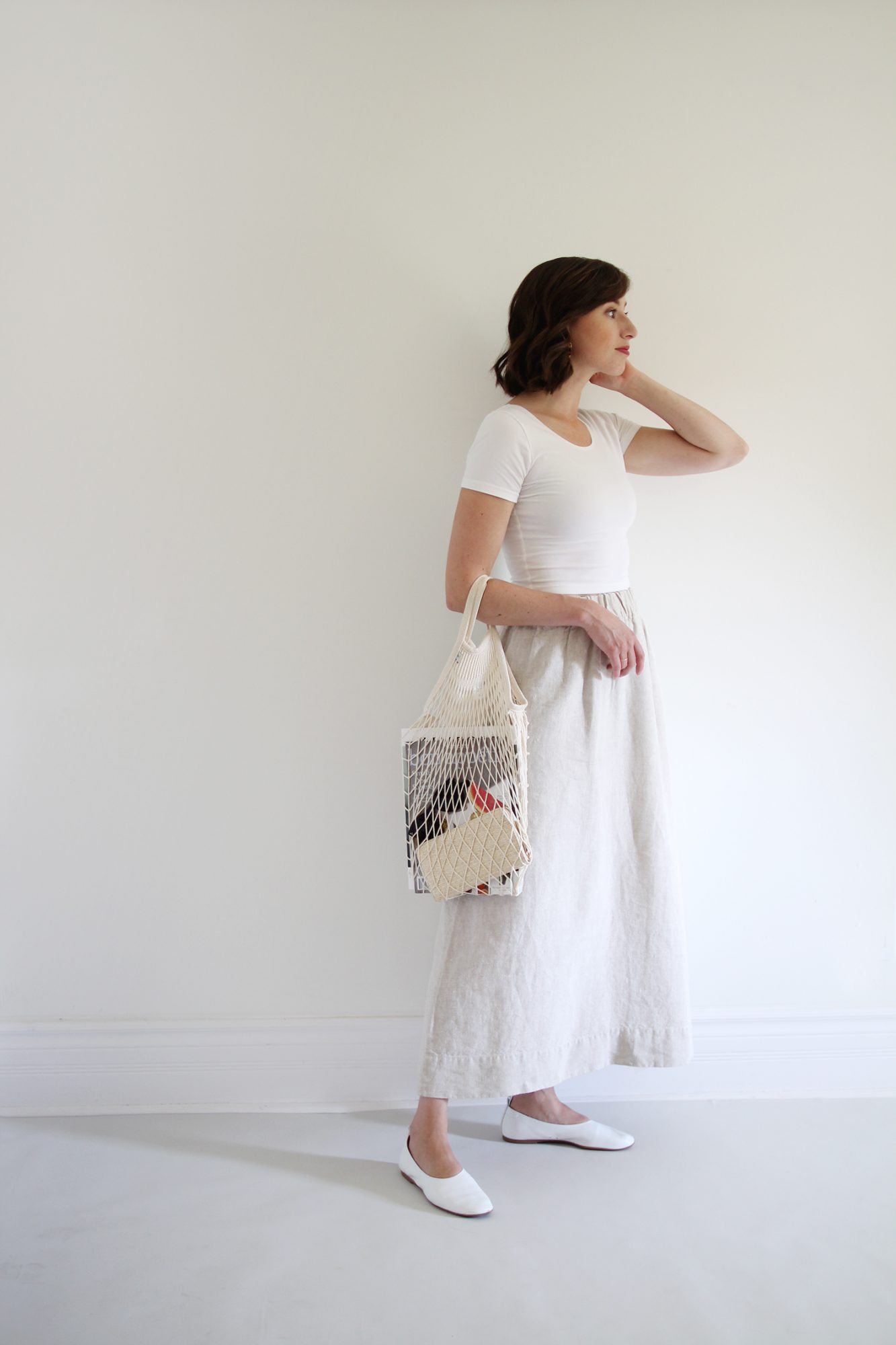 ---
COMPARING THE DAY GLOVE WITH THE GLOVE SHOE
---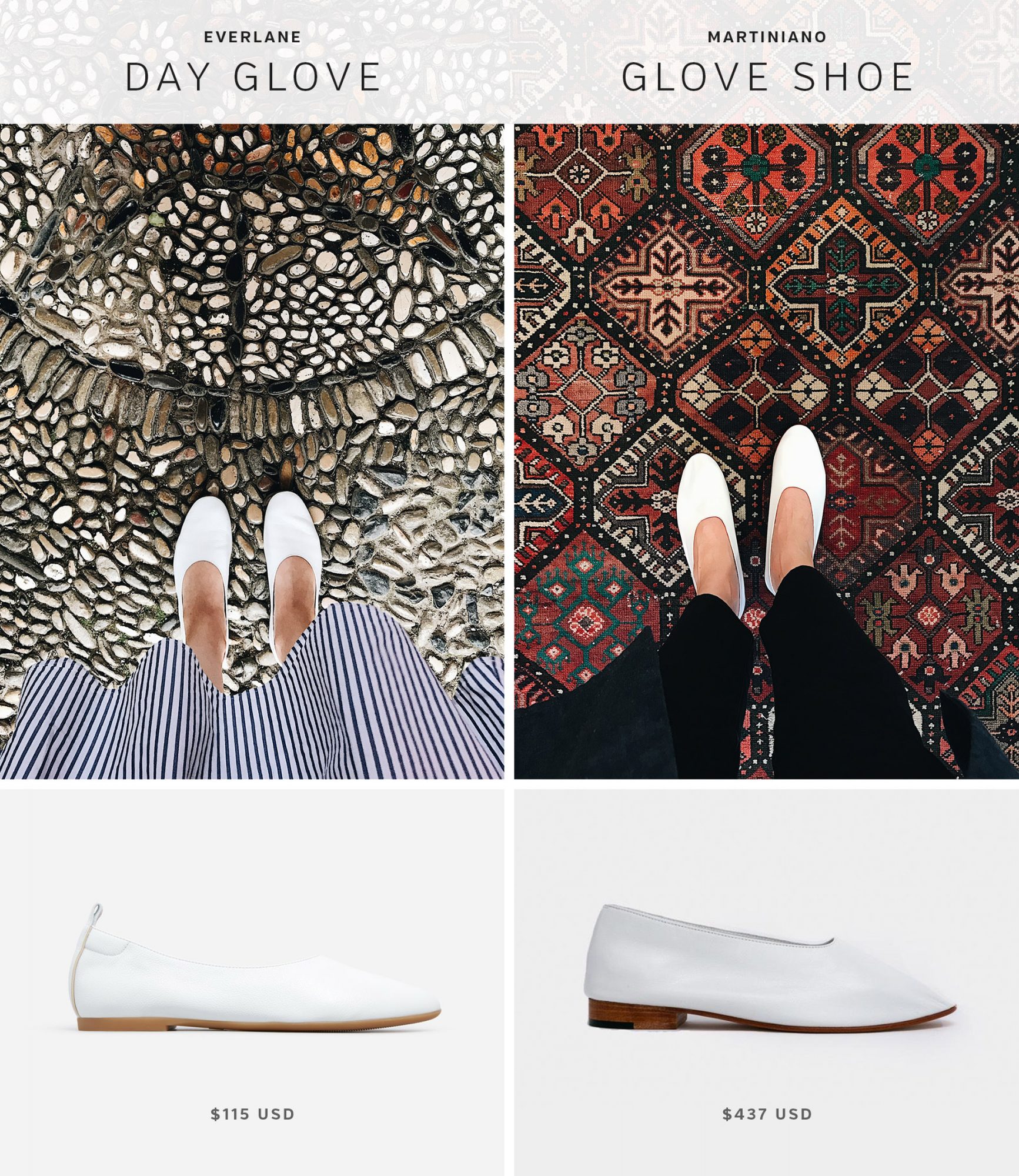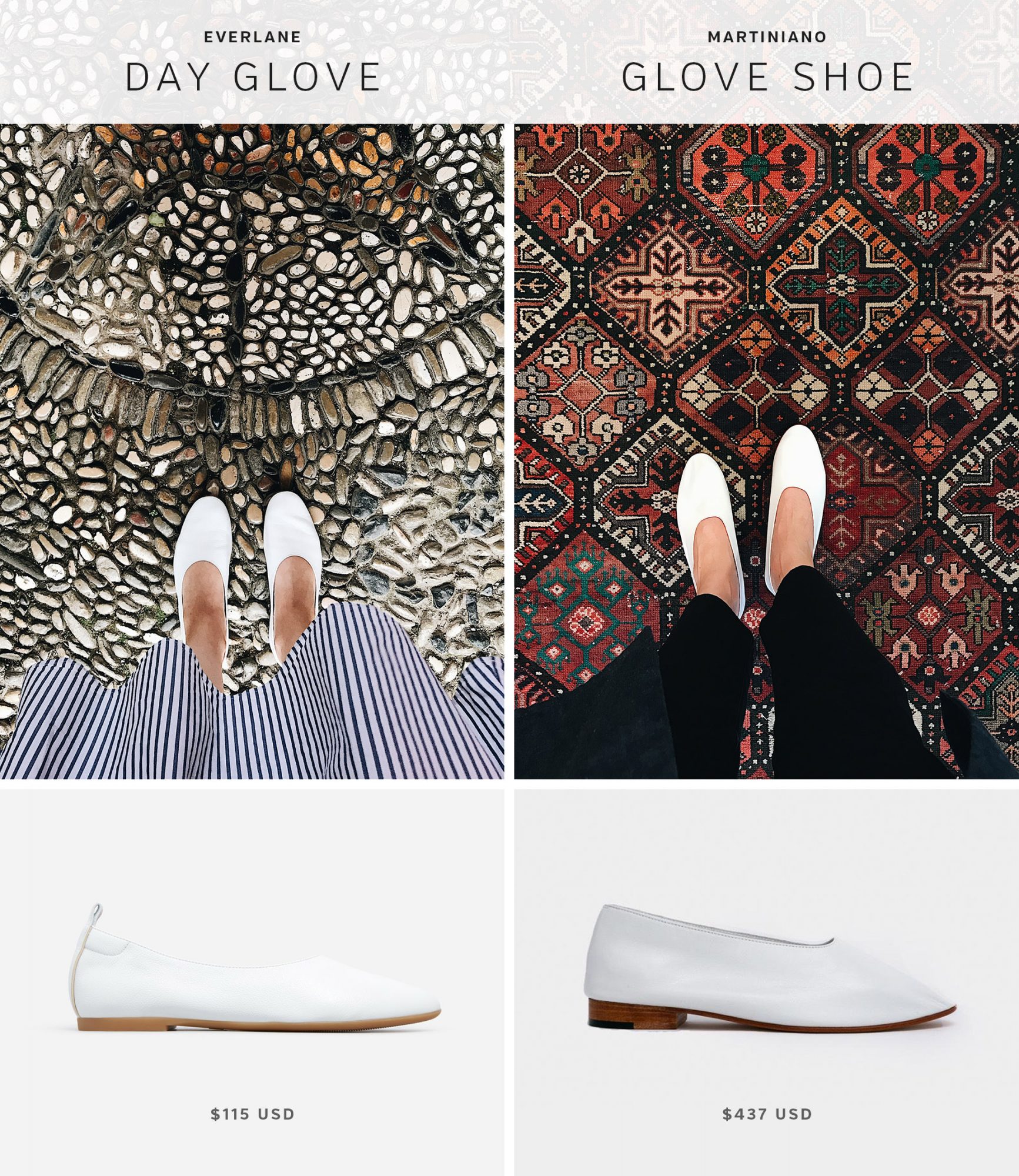 ---
It's no secret that the Everlane Day Glove bears a striking resemblance to the Martiniano Glove Shoe (the best selection is available via Garmentory, save $20 off here). Now, Everlane has been known to, ahem, 'model' their styles after select, classic, cult favourite styles by independent designers. You can see my comparison of Everlane's Wide Leg Crop Pant with Jesse Kamm's Sailor Pant right here. I don't know if this is necessarily a 'knock-off' situation because there are distinct enough differences but it's pushing the boundaries for sure.
At the start of this Spring I was honestly ready and willing to invest in the Martiniano Glove Shoe. I'd heard only rave reviews from friends who had them and I'd seen them on almost all my favourite style bloggers. So I waited and waited and saved and waited and went out of my way to try them on before ordering a pair. But I didn't get them in the end and proceeded to order myself a pair of the Day Gloves instead. 'But why?' you may ask, well, let's unpack that a bit (as my favourite @JVN would say).
EVERLANE DAY GLOVE FACTS:
$115 USD
Made in Santa Maria a Monte, Italy
100% Italian leather
Bright White (+ 5 other colours and more on the way)
Available in half sizes
Heel height is essentially flat
Side vents
Runs slim
Pull tab and reinforcement strip at heel
Cushioned insole and back panel
Man-made rubber sole
Low cut around the ankle and side with a high top (aka. no toe cleavage)
Treat with protectant. Spot clean with a cloth.
On the market since Spring 2018
MARTINIANO GLOVE SHOE FACTS:
$437 USD
Made in Argentina
100% Kid Leather (slightly thinner than the Day Glove leather)
Bright White (+ many other colours)
Available in half sizes
Heel height is .75 in stacked leather
No side vents
Runs slim
Simple design with no added details
Leather sole (replaceable)
Cut close and straight around the ankle and side with a high top (aka. no toe cleavage)
Flat leather insole
Treat with protectant. Spot clean with a cloth. These did not seem as though they'd be as resilient to scuffs and stains because the leather is so smooth.
On the market since 2011
---
Overall my decision to pass on the Glove Shoe and test out the Day Glove was partly because of fit, partly because of cost and partly because of curiosity!
There is no denying that the Martiniano Glove Shoe is a really beautiful piece of footwear both in how they've been designed and how they've been made (despite their lack of husband appeal). The craftsmanship is nothing short of art, the leather is unbelievably soft and they are, in my opinion, slightly more flattering on the foot. Bottom line is that they're truly iconic and indeed the original glove shoe.
As much as I wanted to love them and be totally smitten, they just weren't fitting my foot 100% right. The size 7 (37) is probably what I would get but it felt a bit snug in the length and yet the 7.5 (37.5) was loose enough that my heel was slipping out so I knew that would be an issue. There was also some wrinkling at the toe where the leather curves and connects to the sole and I wish that wasn't the case.
The next detail that got me re-thinking my plans was the sole. It is slippery AF. I almost went down while walking on the carpet in-store. So a no-slip grip would need to be added to the bottom if I planned to wear them without being in constant fear. That's fine, I've done that on other shoes in the past, but it's a trip to the cobbler and an additional cost.
Then, I considered the price, even if I was willing to wear them in and have a grip added, in Canada they are about $575 CAD. That was essentially my entire Spring style budget and ultimately just didn't make sense when I was about to embark on a lavish trip to Europe.
Finally, my increasing curiosity about the Day Glove convinced me to test them out. Wear the hell out of them and then, if they were unsatisfactory, plan to invest in the original Glove Shoe at a later date. Maybe I'll do that yet, but for now I'm happy with my decision!
---
I know a lot of women LOVE their Martiniano Glove Shoes and I totally get it. I've also heard that they wear in brilliantly and only get better with age so I'd love to hear your thoughts if you have a pair!
---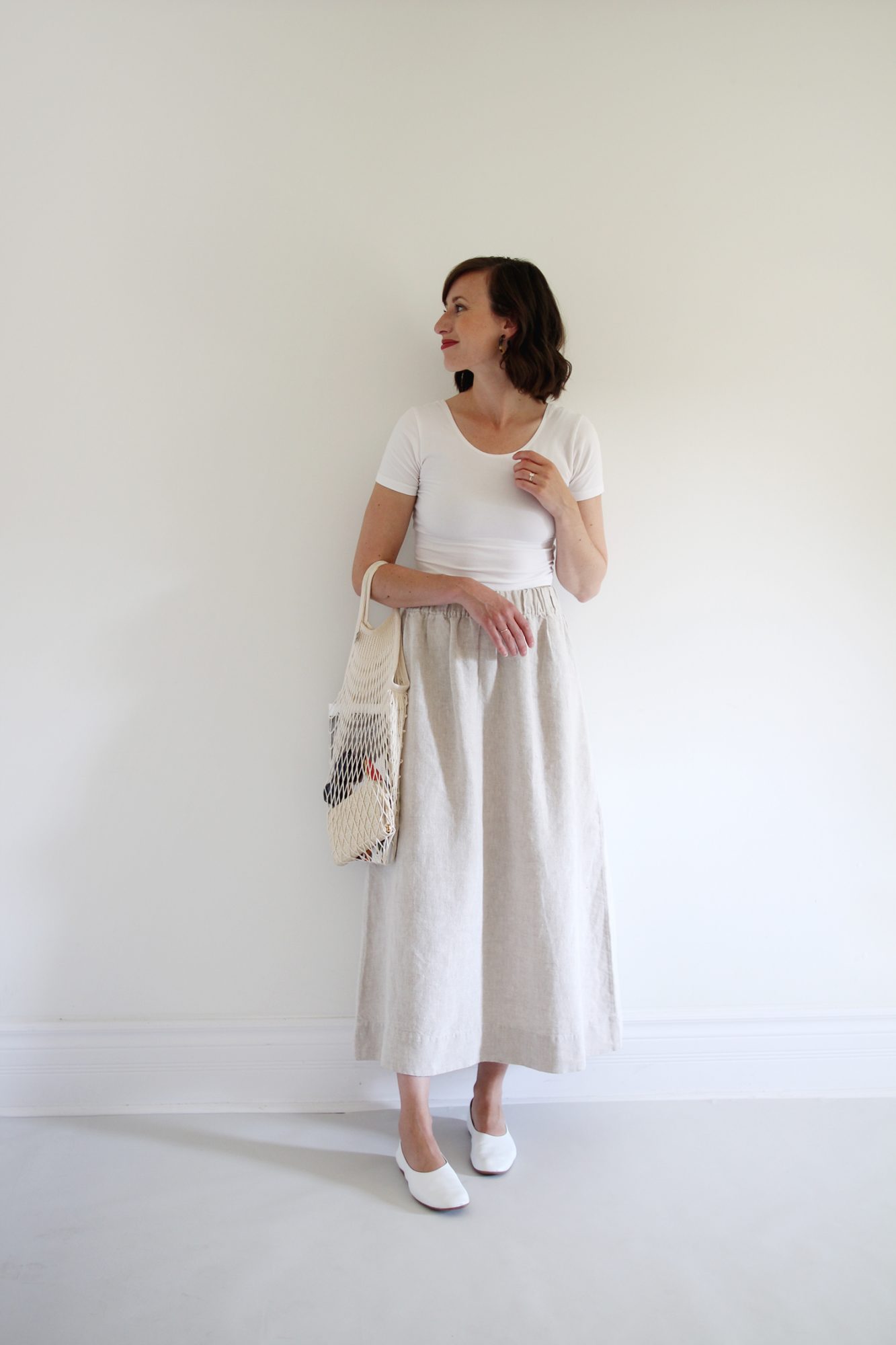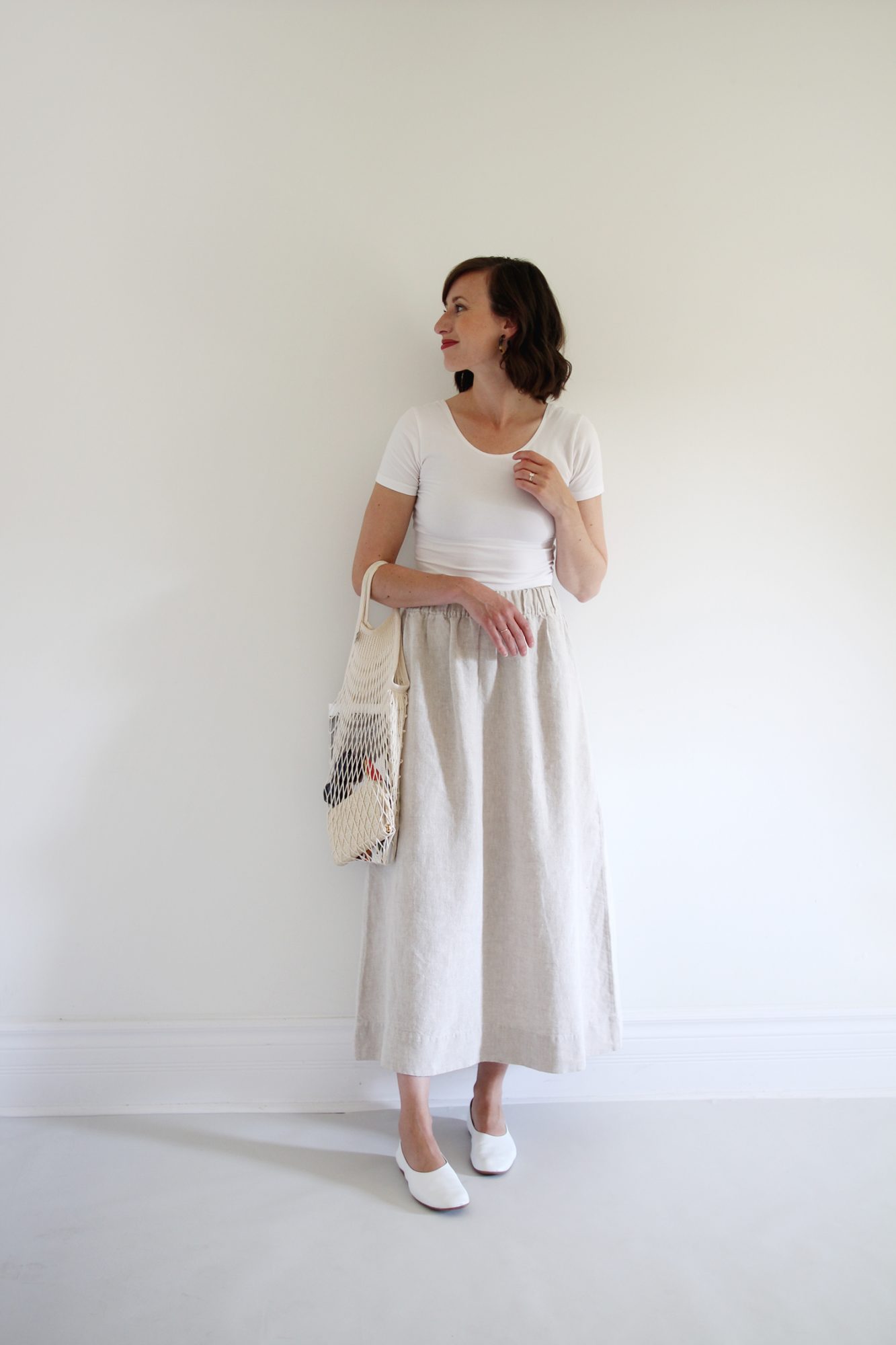 ---
SHOP THIS LOOK: CROP TOP OLD (Similar here) | BEL SKIRT c/o ELIZABETH SUZANN | MARKET BAG via MUR | WALLET c/o HFS | SUNNIES ILLESTEVA
---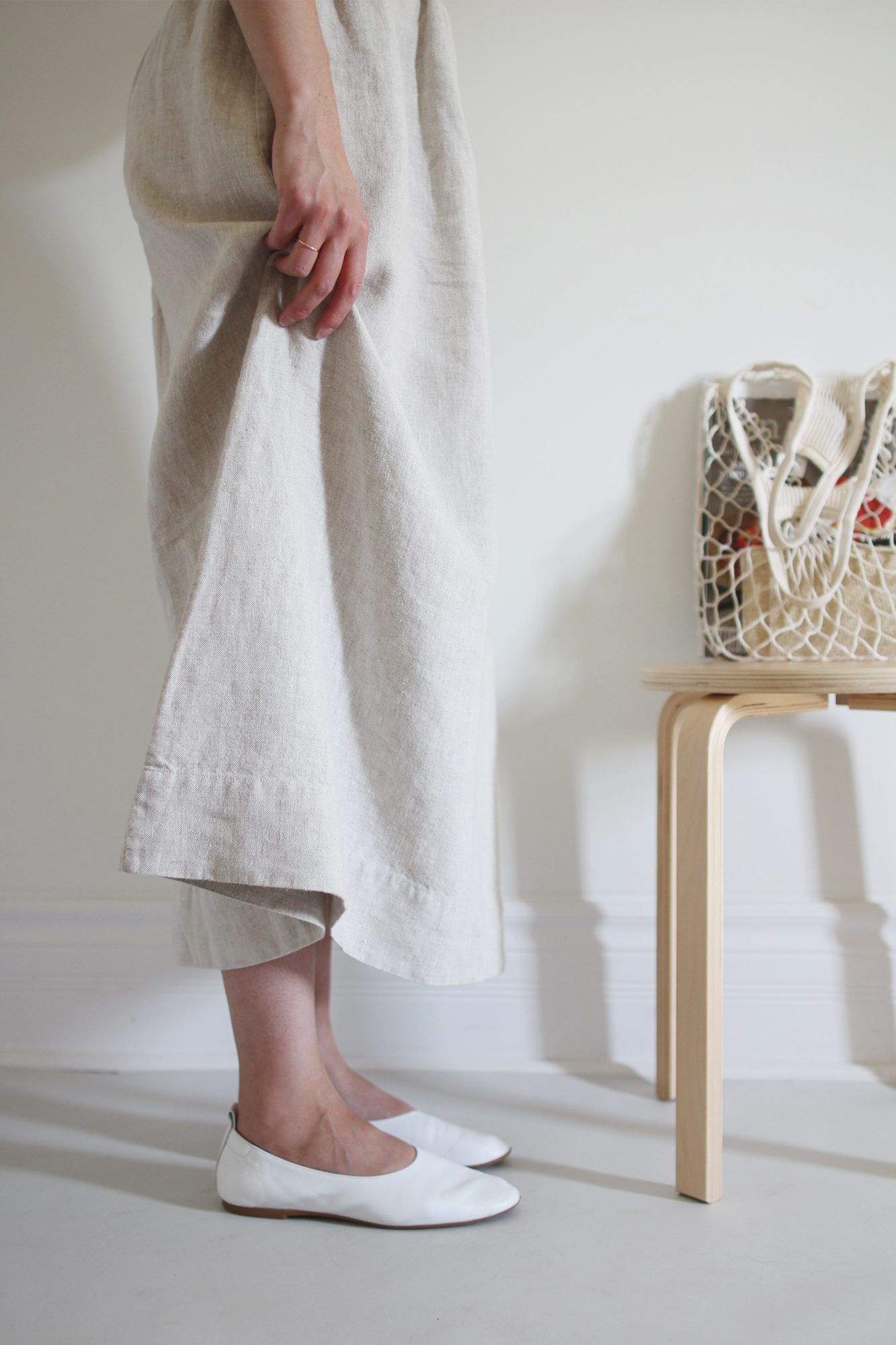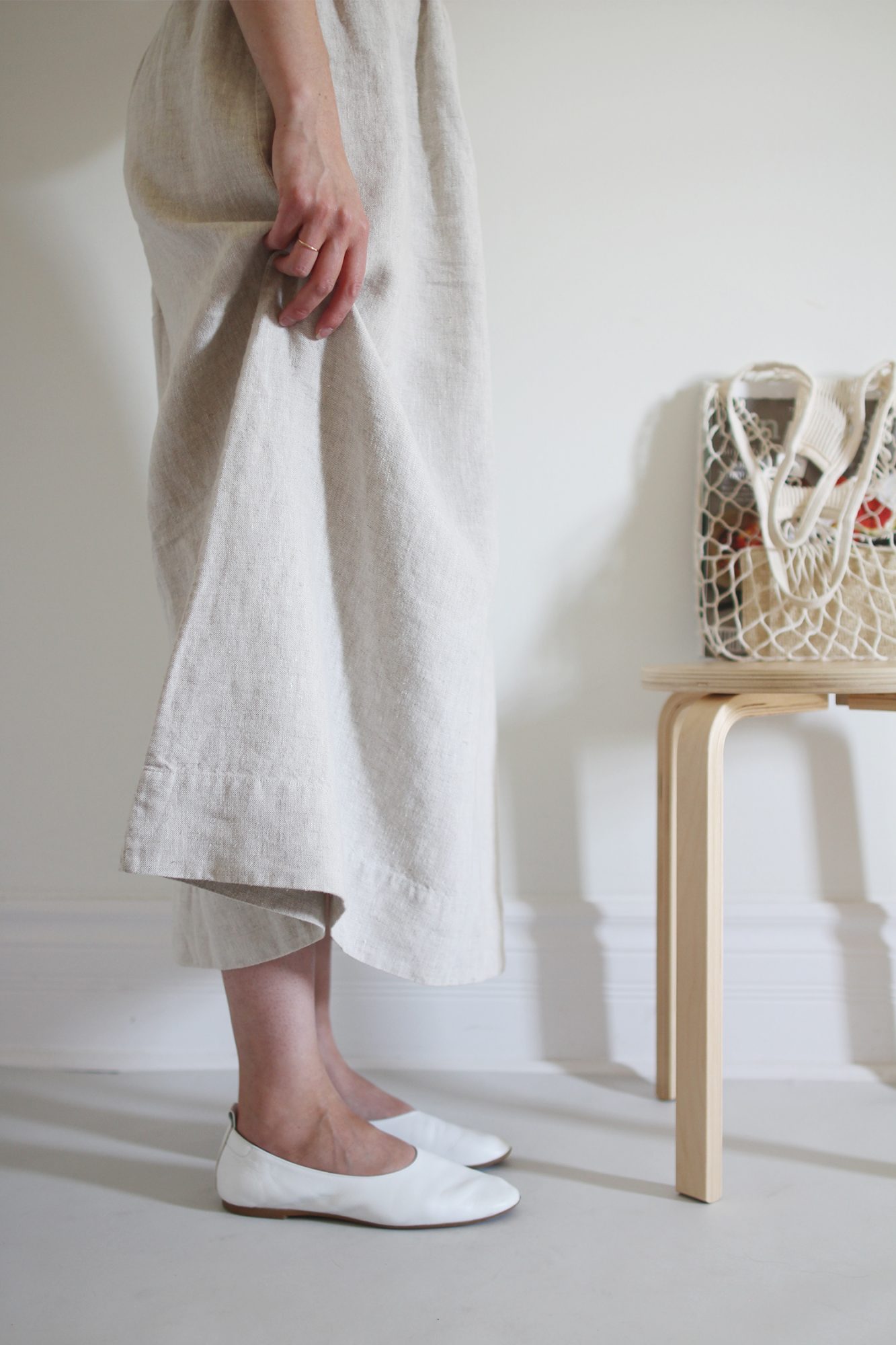 ---
That's all I've got to say on the glove shoe topic. I hope this review was helpful for anyone considering the Everlane Day Glove.
Feel free to ask any unanswered questions you might have!
---
Question for you: Is there a certain item in my closet that you'd be interested in a review on?
Let me know in the comments!
---
By this time next week the #SUMMER10x10 challenge will have kicked off!
My co-host Caroline of Un-Fancy and I can't wait to dig into this session and we hope you'll join us!
Get all the info 10×10 Challenge you need right here.
---
WISHING YOU A WONDERFUL WEEKEND!
---
This post is not sponsored or produced in partnership with any of the aforementioned brands but it contains affiliate links. When you shop using the links above I may make a small portion of the sale. Thanks for supporting the brands that support Style Bee.