AND WE'RE OFF! The #Summer10x10 Challenge begins today and I'm so excited to dive back in, say hello to some old #10x10Friends and to make some new ones! It's usually at this point in the season that we need a little style boost to reinvigorate our closets and the 10×10 never fails to do just that. I can't wait to see what the community has up their sleeves this time and I hope to catch you there!
Sadly, this round my usual co-host Caroline (of Un-Fancy) won't be joining due to an illness but she'll be back next season and is hopefully well on the road to recovery. Until then, you're stuck with me!
I always have to pinch myself when I look at how the 10×10 Challenge has grown from its single participant (that would be me) beginnings because I still can't quite believe how it's caught on. Hundreds (maybe thousands?) of women around the world are sharing their take on personal style and a peek into their lives, which is incredible! The best part of it all is how much more we take away from the challenge than just cute new outfits and style inspo. We make real connections, with real people and that's pretty special! So whether it's your first or fifth challenge, thanks for joining in and for putting yourself and your style out there.
Just remember to try to go at your own pace (something I still struggle with), have fun, make mistakes, take notes and enjoy the journey that is personal style. It's meant to be a challenge but never a chore!
Today's kick off post will cover:
Why I'm switching things up for this 10×10.
My 10×10 Challenge goals.
How I'll be posting this time around.
The 10 activewear items I've included.
---
Wondering what this whole 10×10 thing is about? No worries!
---
TAKE ME TO THE OUTFITS
DAY 1 | DAY 2 | DAY 3 | DAY 4 | DAY 5


---
DAY 6 | DAY 7 | DAY 8 | DAY 9 | DAY 10
---


---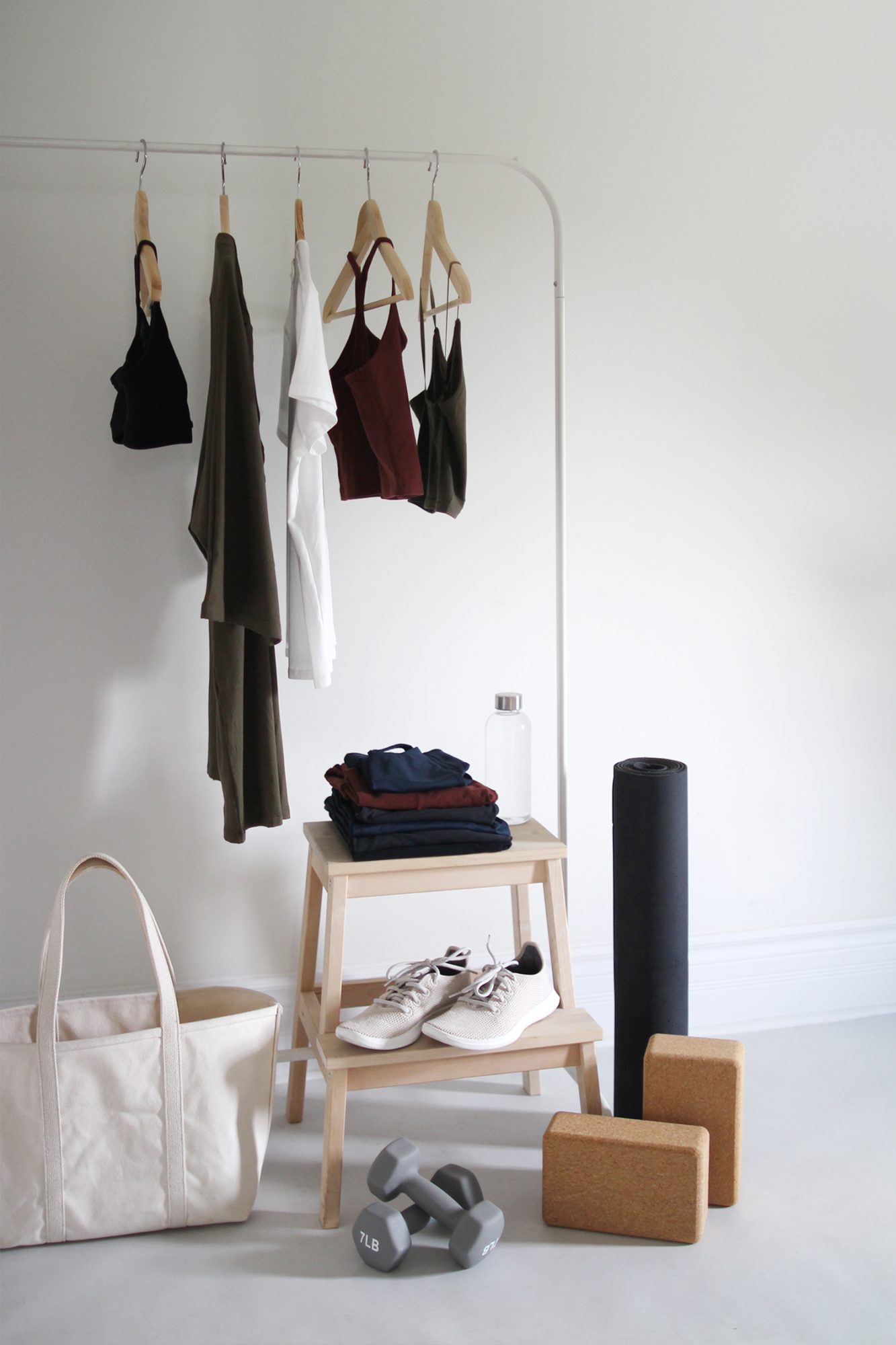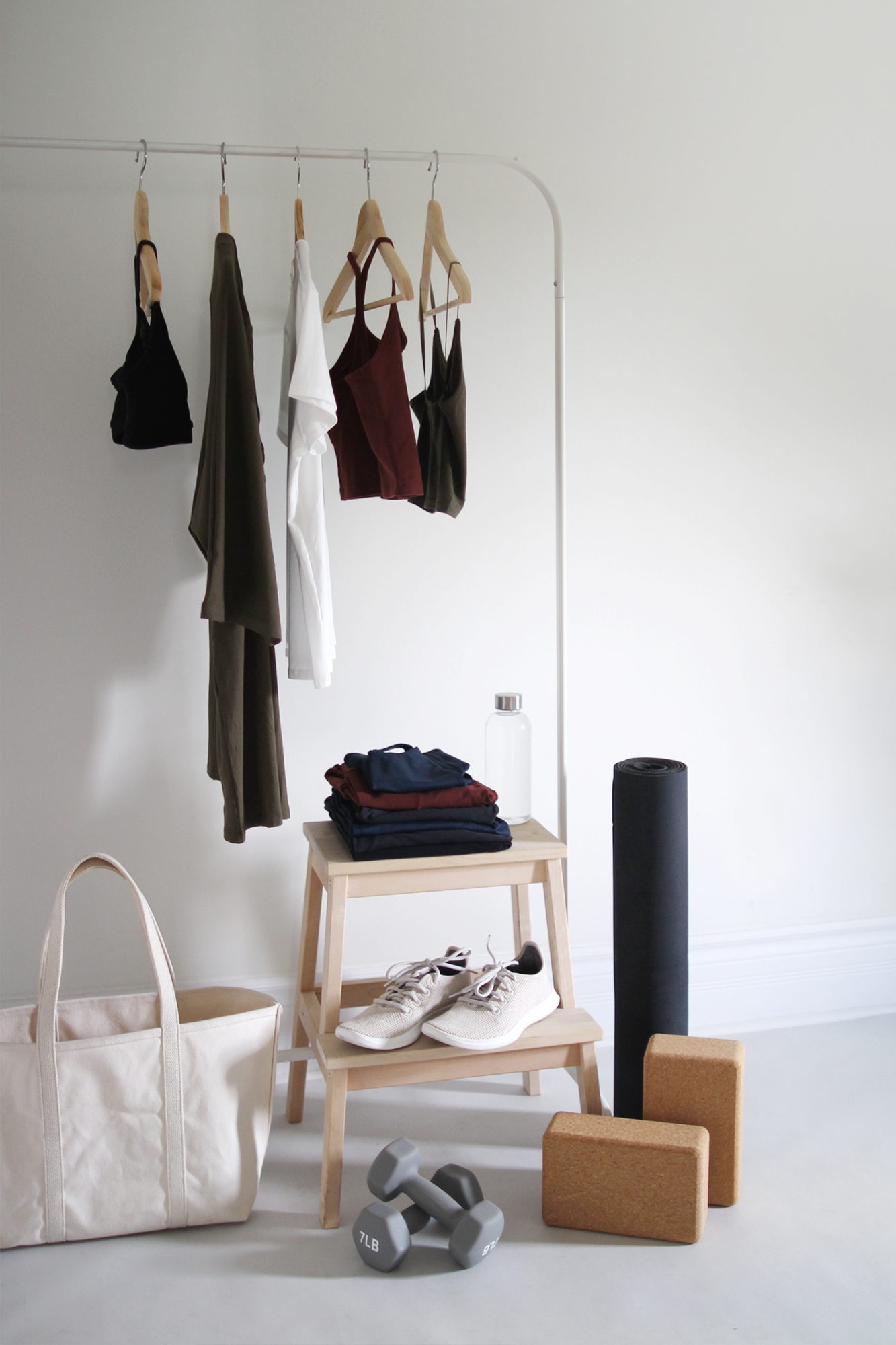 ---
WHY I'M SWITCHING THINGS UP
---
It certainly sounds crazy to me, but, this will indeed be my 12th 10×10 Challenge. That's 3 full years of challenges! I honestly love doing 10×10's and it's one of my absolute favourite parts about running this blog. But that said, I have been itching to switch things up a little bit. So for this edition of the challenge I'm breaking my own 'guidelines' (no such things as 'rules' around here!) and trying out a 10×10 based around activewear! I'm both excited to try it out and nervous about how it'll go over. In fact, I was totally second-guessing myself last night but I just had to remember that the challenge is about taking some risks, exploring your wardrobe and having some fun along the way! It's not about likes on instagram or doing what others expect you to all the time.
But why activewear? Well, a few seasons back a reader mentioned that she was hesitant to try a 10×10 because she basically lived in her yoga uniform. I replied saying that she could totally do a 10×10 based around that part of her closet and the idea has been stuck in my mind ever since.
Health and fitness has also been a big theme in my life this summer as I've been doing my best to reduce stress and anxiety while getting a bit stronger and more fit in general. What they say about your bod when you turn 30 ain't no lie! Since the end of June I've been revamping my morning routine, getting up early, designating time every day for some sort of movement, whether it's yoga, circuit training, a run or just a long walk with the pup. It has already made such a difference to my state of mind, productivity and energy overall. I'm sleeping better, working smarter and just generally feeling so much better about tackling each day. So, in order to continue instilling this habit into my life I wanted to give myself the opportunity to really focus on it during the 10×10 Challenge.
I'm by no means a wellness expert but I'm excited to share some of the tips, tricks and favourites I've come across that help me make healthier choices each day. And you know what's funny? I cancelled my gym membership in January yet this is by far the healthiest and strongest I've felt to date! I also hope I'll be able to introduce you to some great responsible brands within the activewear and athleisure category.
Now, if you're not into the world of work out wear that's okay. I'll be sharing lots of other outfits from my regular closet next week. We'll be taking a look at lots of my old summer pieces that are still around and I'll be sharing my July Wear Count including my favourite looks too. So lots of good stuff in the queue plus there is always TONS of style inspo over on the #Summer10x10 feed!
---
Side note: I wasn't convinced that 'activewear' was actually a word but Google seems to think it is, so that's what I'm rolling with!
---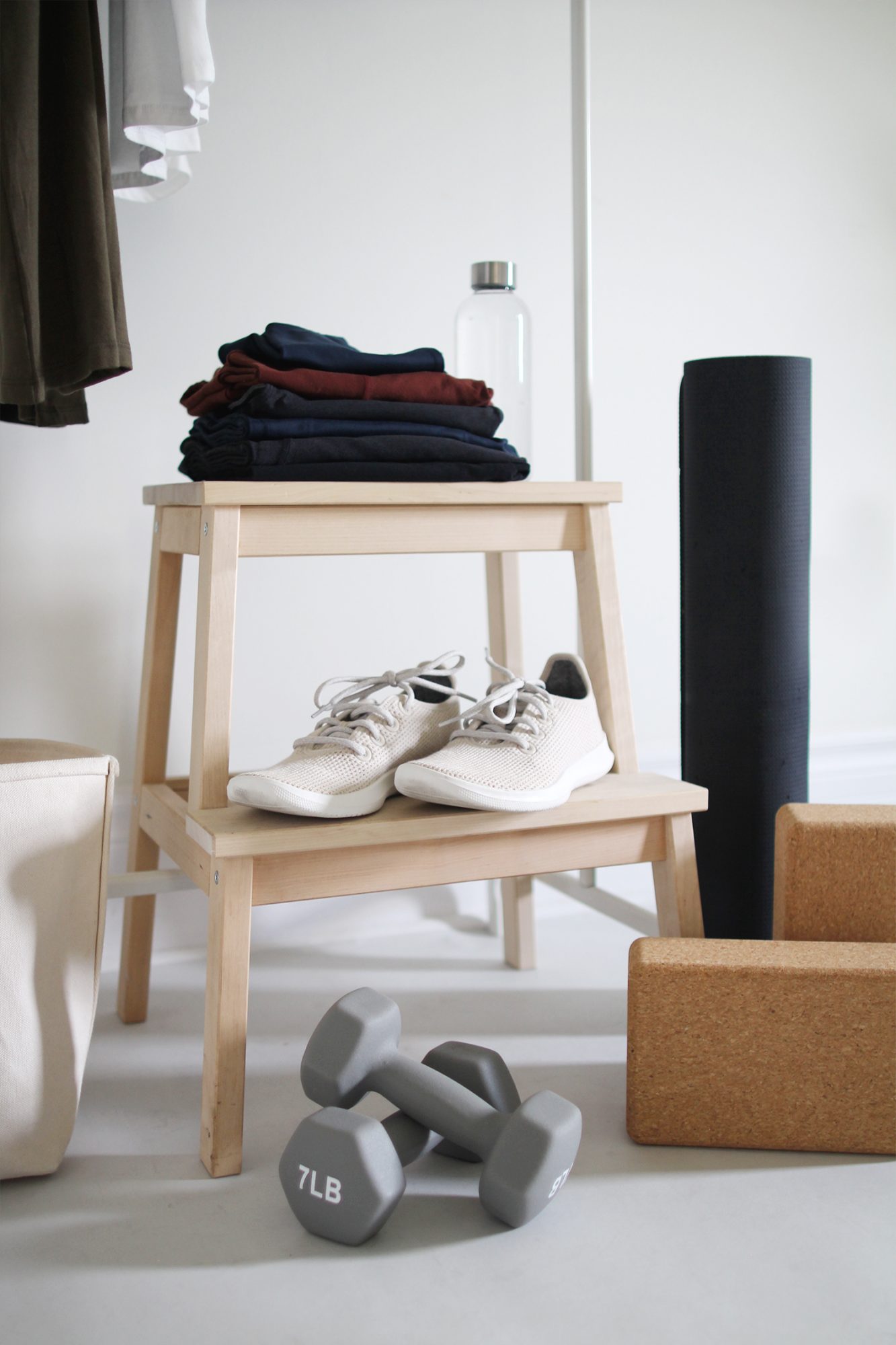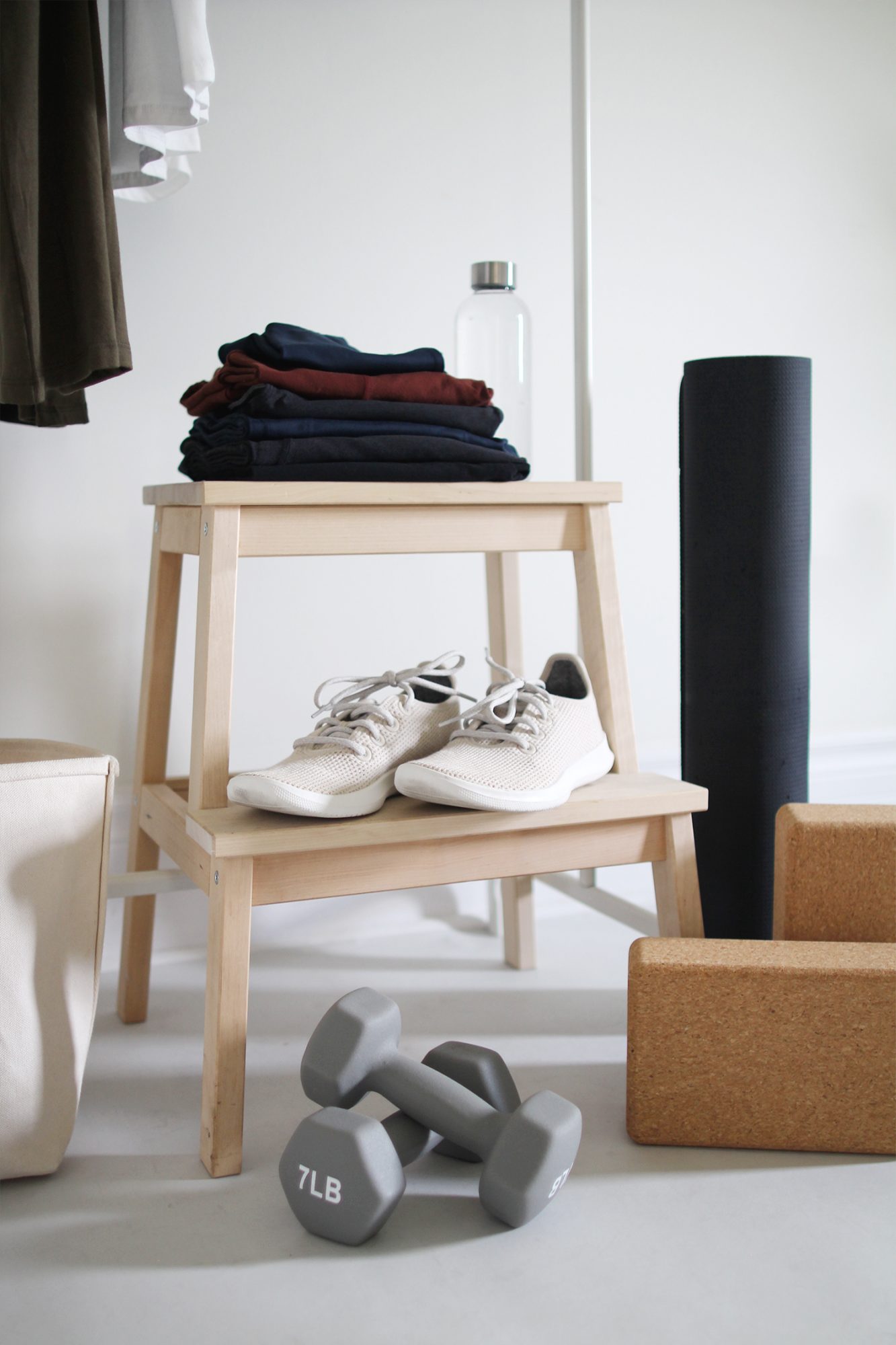 ---
MY 10×10 CHALLENGE GOALS
---
1 – BE ACTIVE EVERY DAY
Finding a routine that I actually look forward to has been a real struggle up until this year. I'm not really into group classes, I don't run and the gym lost its lustre for me long ago. Honestly, a solid yoga session at home followed by some core strengthening is my perfect kind of morning workout. I also like to throw in a BBG circuit in my studio a few times a week to break a sweat and get my heart rate going. Whenever I can, I love to hit 10, 000 steps in a day and Dobby often helps me get there if it's not too hot outside. Dave and I also like to grab the bikes and head up to Guelph Lake. So I'll be aiming to do at least one of those activities a day during the challenge!
2 – FINE-TUNE MY ACTIVEWEAR CAPSULE
One of my Closet Mission goals for 2018 is to create an activewear capsule and I think I've just about got it set. I'm so glad I've found some pieces that are functional and fit within my style profile of clean, considered and versatile. This challenge will let me see how some new additions and older favourites can work together!
3 – BEGIN COMPILING A RESPONSIBLY MADE ACTIVEWEAR DIRECTORY
I love compiling all the brands I discover into useful directories for those looking to shop responsibly. If you've got any ethical activewear brands in mind, please let me know and I'll check them out!
---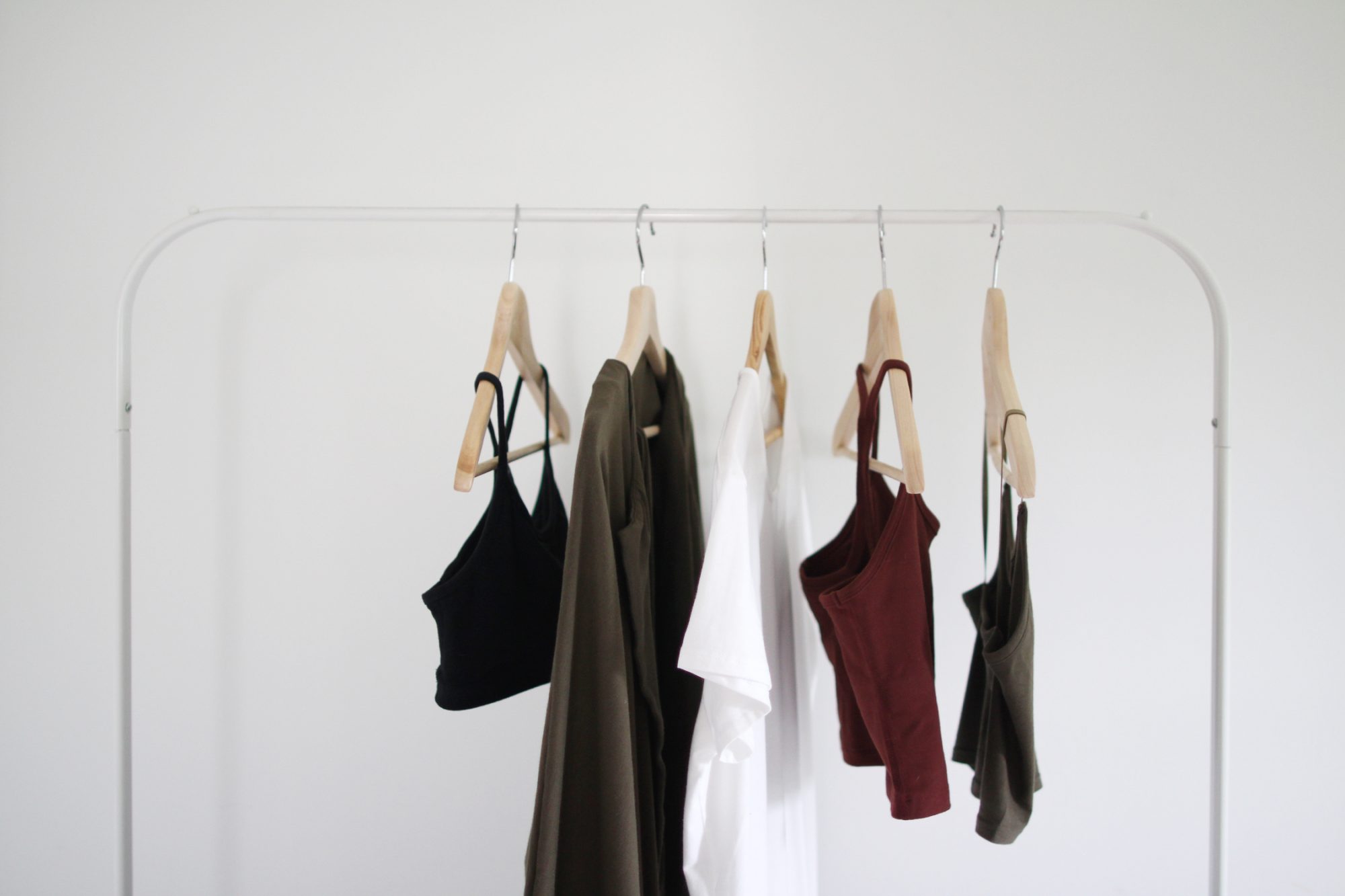 ---
POSTING PLANS
---
Despite my best efforts, my 10×10 posting plans often seem to go awry. I always think I'll be able to share more and do more and keep up with everyone much more than I'm actually able to. But in an effort to maintain better consistency I'm going to try my best to update this post (yep, the one you're reading) every day by adding my looks and thoughts on the pieces I've worn. I'll be starting tomorrow with Day 1 and I'm also hoping to share some other fun fitness related tidbits too!
My hope is that it'll be less daunting than publishing new posts and I'll have everything in one place in the end. So let's see how that goes, shall we? Of course, I'll be over on Instagram and updating my stories as well.
Now let's dig into my 10 activewear items!
---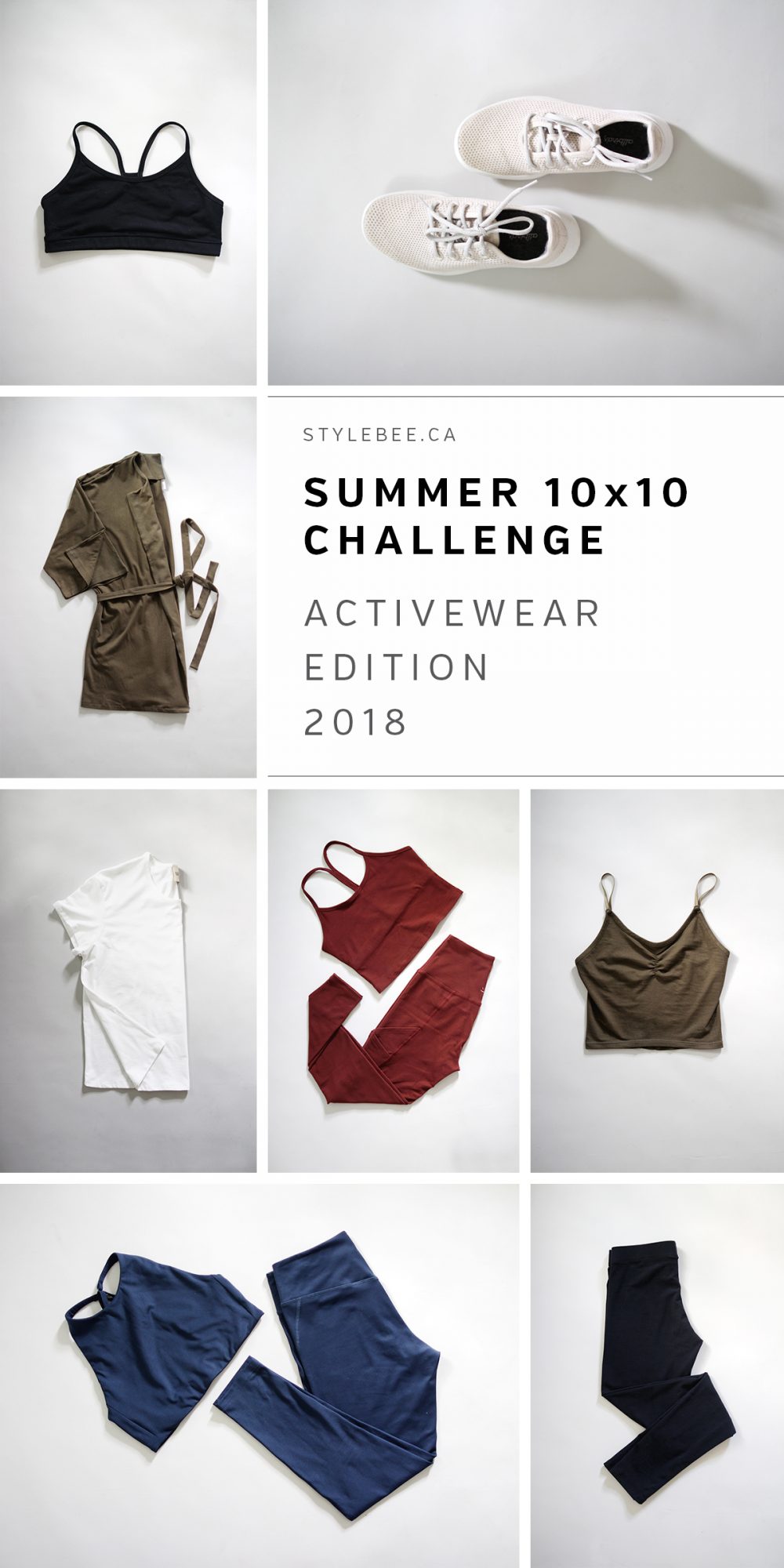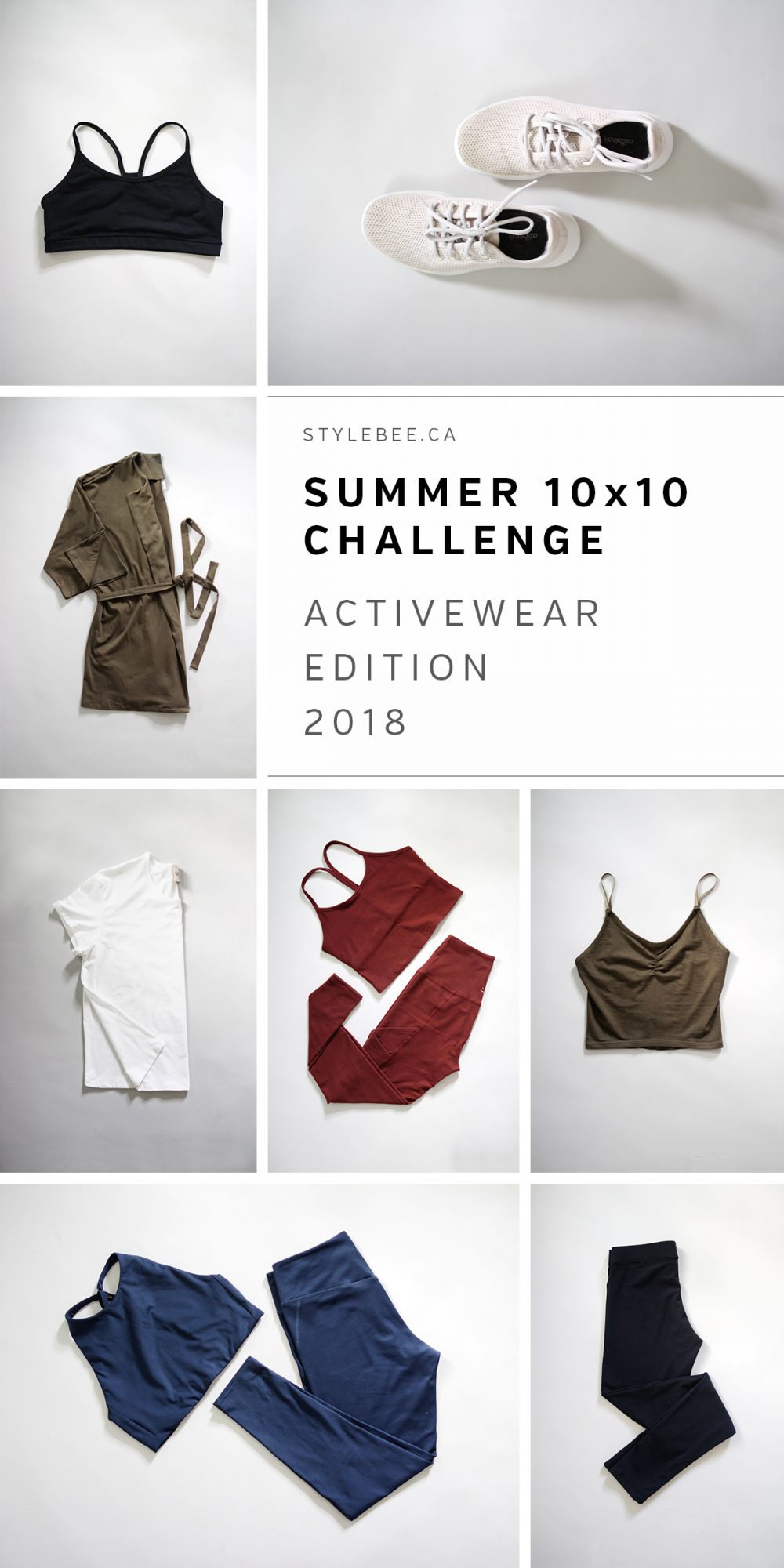 ---
SUMMER 10×10 ITEMS – ACTIVEWEAR EDITION
---
1 | CLASSIC SPORTS BRA | LULULEMON | Bought by me | $52 CAD |
This is one of the oldest items still remaining in my activewear collection. I strongly debated swapping it out for this one (which I also love) but I decided to keep it in since I wear this one more often. I also thought it might be interesting to get your thoughts on Lululemon as a brand and whether or not you feel they're a 'responsible' option.
2 | TREE RUNNERS | ALLBIRDS | Bought by me | $135 CAD | TTS I wear a 7 |
Like many Canadians I'm sure, I waited very patiently for this sustainably and responsibly produced running shoe brand, Allbirds, to finally begin shipping here and when they did I jumped on the chance to try the Tree Runner. They took a minute to break in but now they're essentially like wearing a sock with a rubber sole on it. The brand's claim to be 'the world's most comfortable shoes' might not be too far off.
3 | ROBE | MIAKODA | gifted | $122 USD (Save 15% Off site wide with the code 'STYLEBEE' during the 10×10) | I wear the S/M | Also comes in Black and Grey |
Julia Ahrens, the founder of Miakoda, an athleisure line made sustainably and ethically in NYC, had been chatting for a long time about how we might be able to collaborate. I just love what Julia and her brand are all about (and I'm sure you will too!) so once I decided to focus on my activewear capsule for this 10×10 I knew it was the perfect opportunity to try out a few items that were on my wish list. The first was the Organic Robe, which I feel is the perfect alternative to a sweatshirt or hoodie (which are just not my vibe) because it's so easy to throw over workout clothes on the way to the gym or studio or even for when you're just around the house. It's one piece I've been missing in general and I'm excited to see how I can make it work beyond my activewear.
4 | WHITE TEE | MIAKODA | gifted | $62 USD (Save 15% Off site wide with the code 'STYLEBEE' during the 10×10) | I wear the S | Also comes in Black |
A perfect white tee has long eluded me but this is certainly the closest I've come yet to finding one. I love how this one feels, which is incredibly light and soft. It's cut a little boxy and a tiny bit cropped making it both contemporary and flattering. It's great to toss on over a workout bra if I'm taking Dobby for a walk or for a low-key night in leggings but it's just as great tucked into jeans or a cute pair of shorts too!
5 | SIENNA CROP TANK/BRA | BEYOND YOGA | Bought by me | $60 USD | I wear a S | Also in Grey and Black |
I'd been intrigued by Beyond Yoga for a long time and when I saw they were on ShopBop I decided to order a set. I'm excited to put this one to the test with a workout but I also think it could transition into a cute top for a night out.
6 | SIENNA HIGH WAIST LEGGINGS | BEYOND YOGA | Bought by me | $99 USD | I wear a S | Also in Grey and Black |
I always seem to order and wear activewear in sets. I rarely mix and match colours but I'm excited to try these with other bras as well as the matching crop tank. I just love this rich red/brown sienna colour and these leggings truly feel amazing on. More on these in the coming days!
7 | BRAMI in OLIVE | MIAKODA | gifted | $58 USD (Save 15% Off site wide with the code 'STYLEBEE' during the 10×10)
This gem is a Miakoda fan favourite and I am beginning to understand why. It's so soft on the skin and what I think will be the perfect little tank for low intensity yoga, going for a long walk or bike ride or even just lounging at home. It's going to be fun to pair this one with different leggings and put it to the test. I'm also thinking it will be a great option for under sweaters in the Fall!
8 | TOPANGA BRA MIDNIGHT | GIRLFRIEND COLLECTIVE | Bought by me | $38 USD | I wear a S |
I first caught wind of this sustainable activewear brand during their initial marketing blitz when they were giving away their signature leggings, made from recycled water bottles, for the cost of shipping. The campaign worked and I totally fell in love with those leggings and have since added a few different sets to my workout rotation. The Topanga Bra was one I added as soon as the full line was released and it's been a favourite sports bra ever since.
9 | CLASSIC RISE LEGGING in MIDNIGHT | GIRLFRIEND COLLECTIVE | Bought by me | $68 USD | I wear a S in the 23.75" inseam |
Of course, I got these bottoms at the same time as the Topanga Bra and I was excited to test out the then named 'Mid-Rise' legging at a 3/4 length (slightly cropped leg). They have been really great and I must say this is always the first set I reach for when my laundry is fresh and I'm ready to start a new week of workouts!
10 | ORGANIC BLACK LEGGINGS | MIAKODA | gifted | $60 USD (Save 15% Off site wide with the code 'STYLEBEE' during the 10×10) | I can wear the S or M (stay tuned for a size comparison) |
The final item on the list for this challenge is a pair of classic black leggings. I've been on the lookout for a truly simple, quintessential pair of responsibly made black leggings for a long time now and they've been hard to find. I've tried a couple of other options by ethical brands and they've been good but not perfect. These come a lot closer to the mark for me and they are easily the softest fabric I've felt yet. I think they'll be great for my typical workout regime, day-to-day life and for just kicking back with a glass of wine after work!
---

---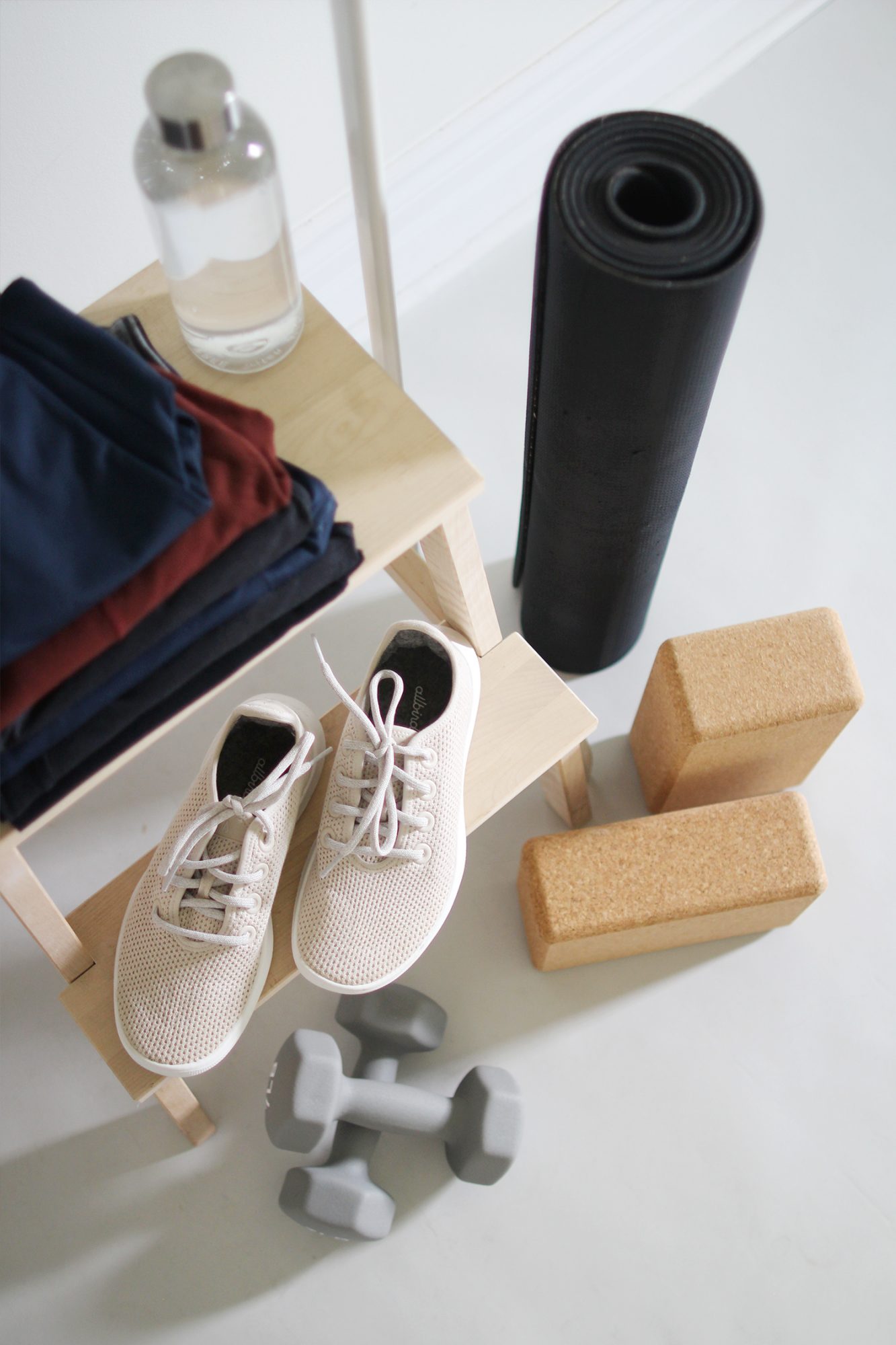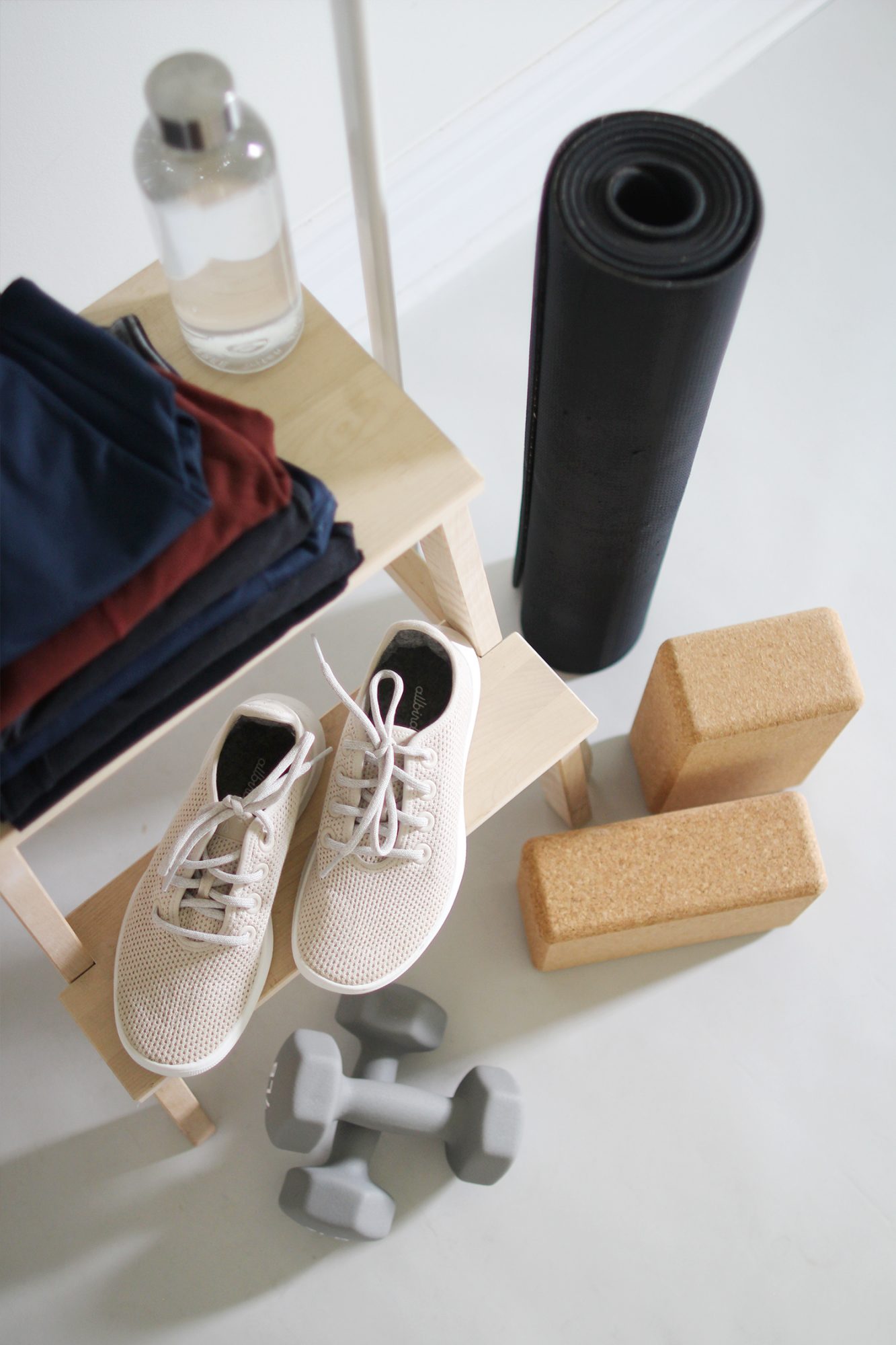 ---
Other Items: Clothes Rack | IKEA \\ Step Ladder | IKEA \\ Yoga Mat (old) | Lululemon \\ Weights | Amazon \\ Blocks | Dusky Leaf \\ Bottle (old) | Everlane
---
HERE'S SOME ACTIVE OUTFIT INSPO TO KICK THINGS OFF
---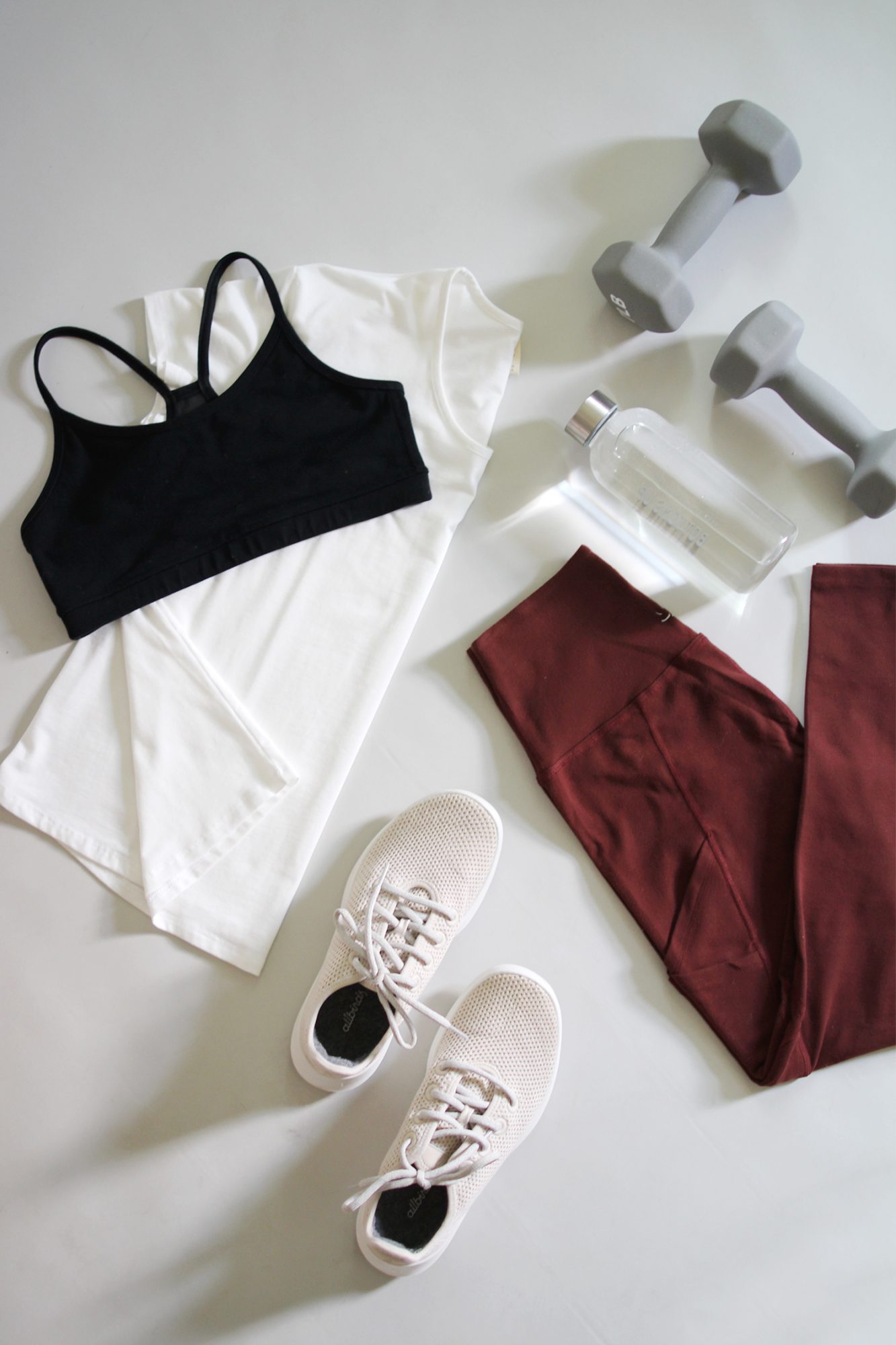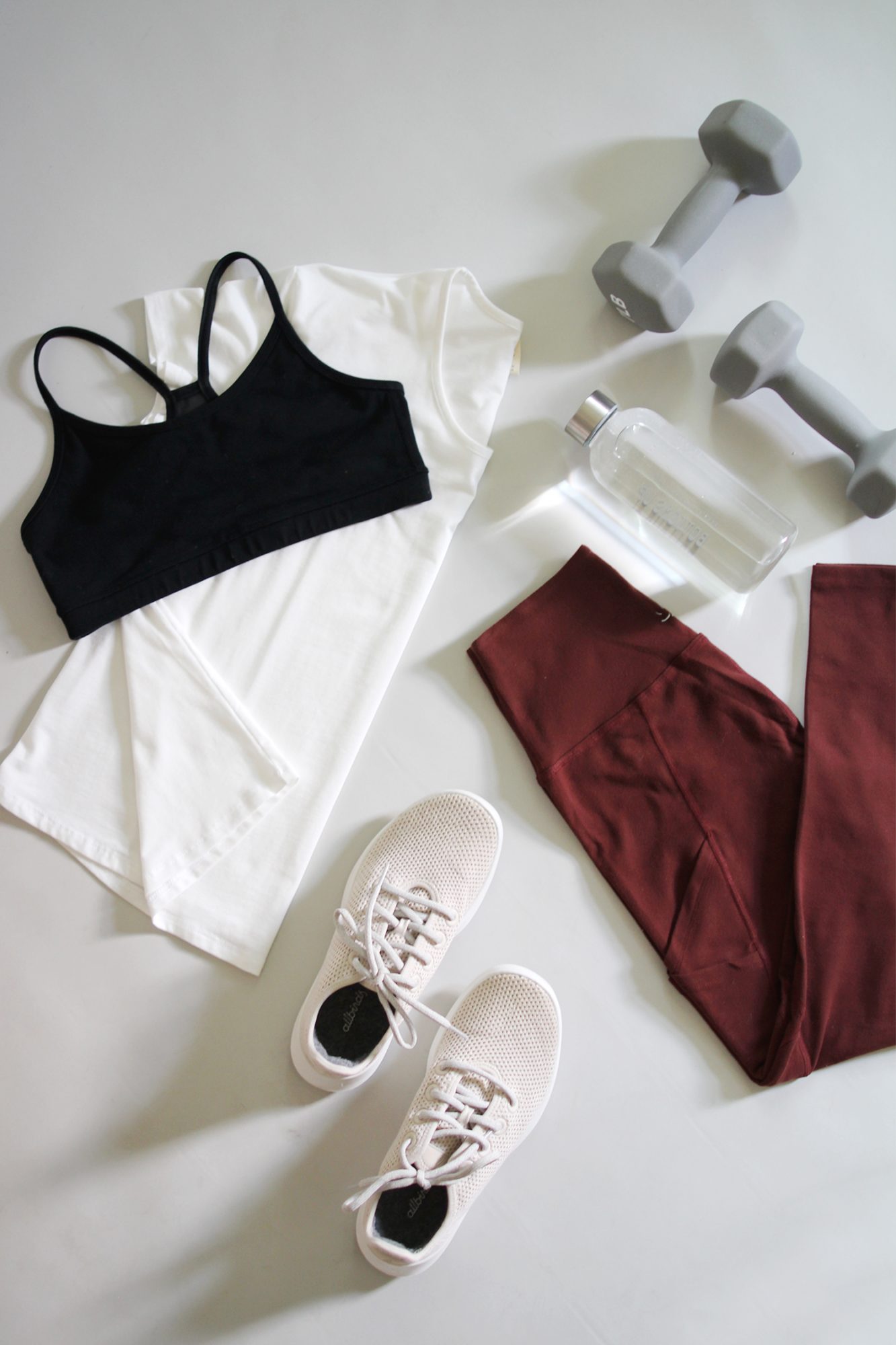 ---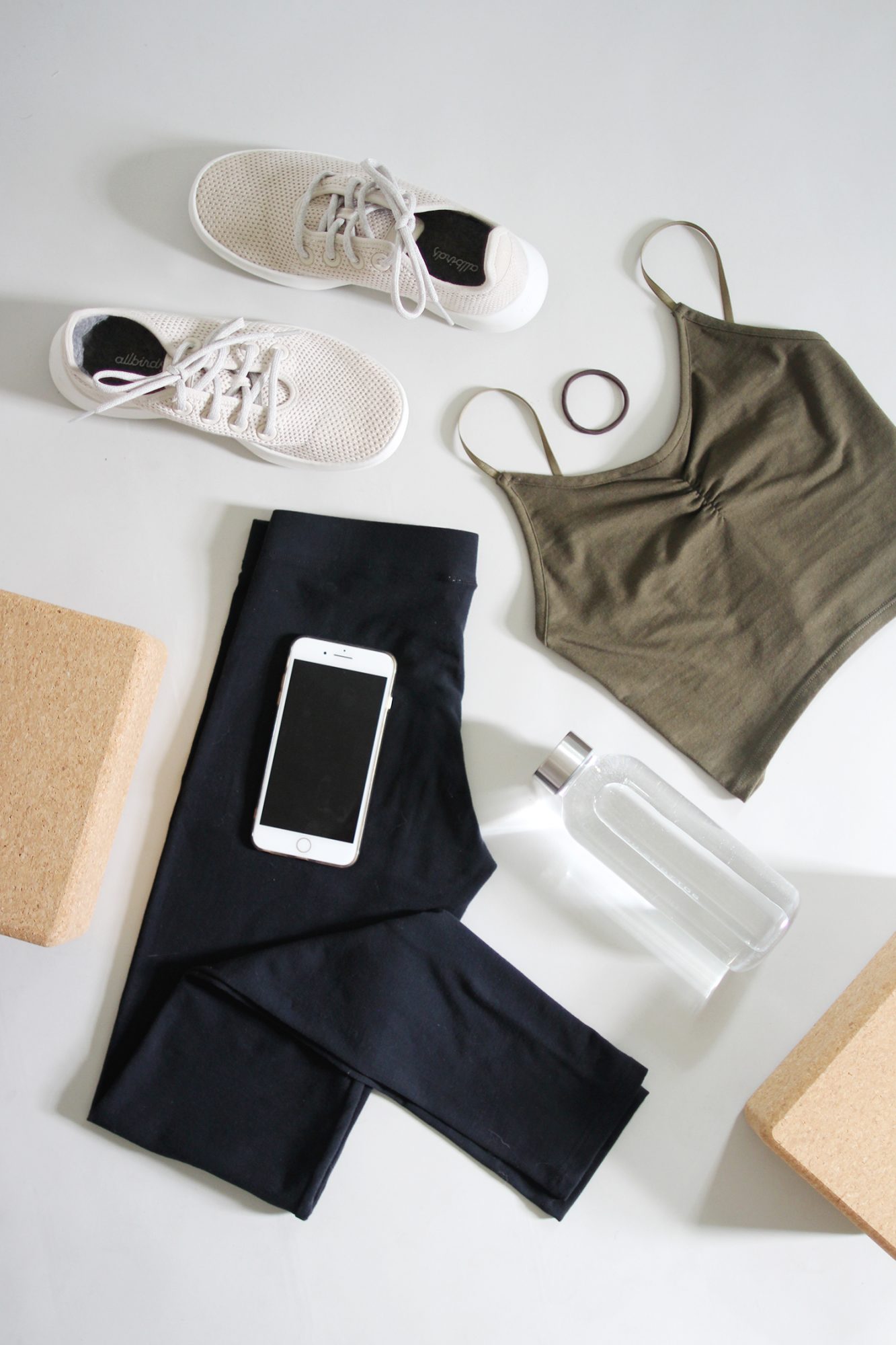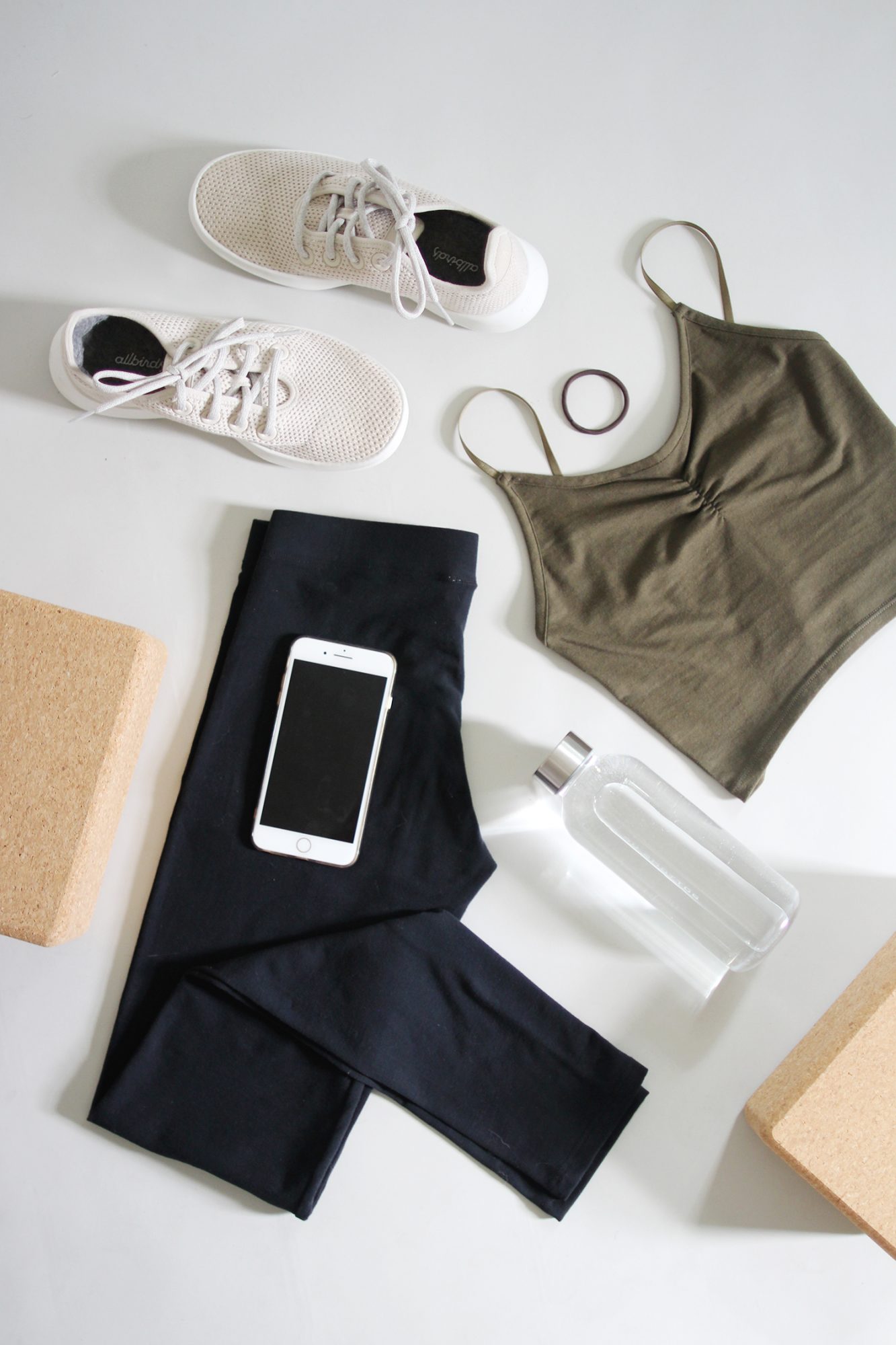 ---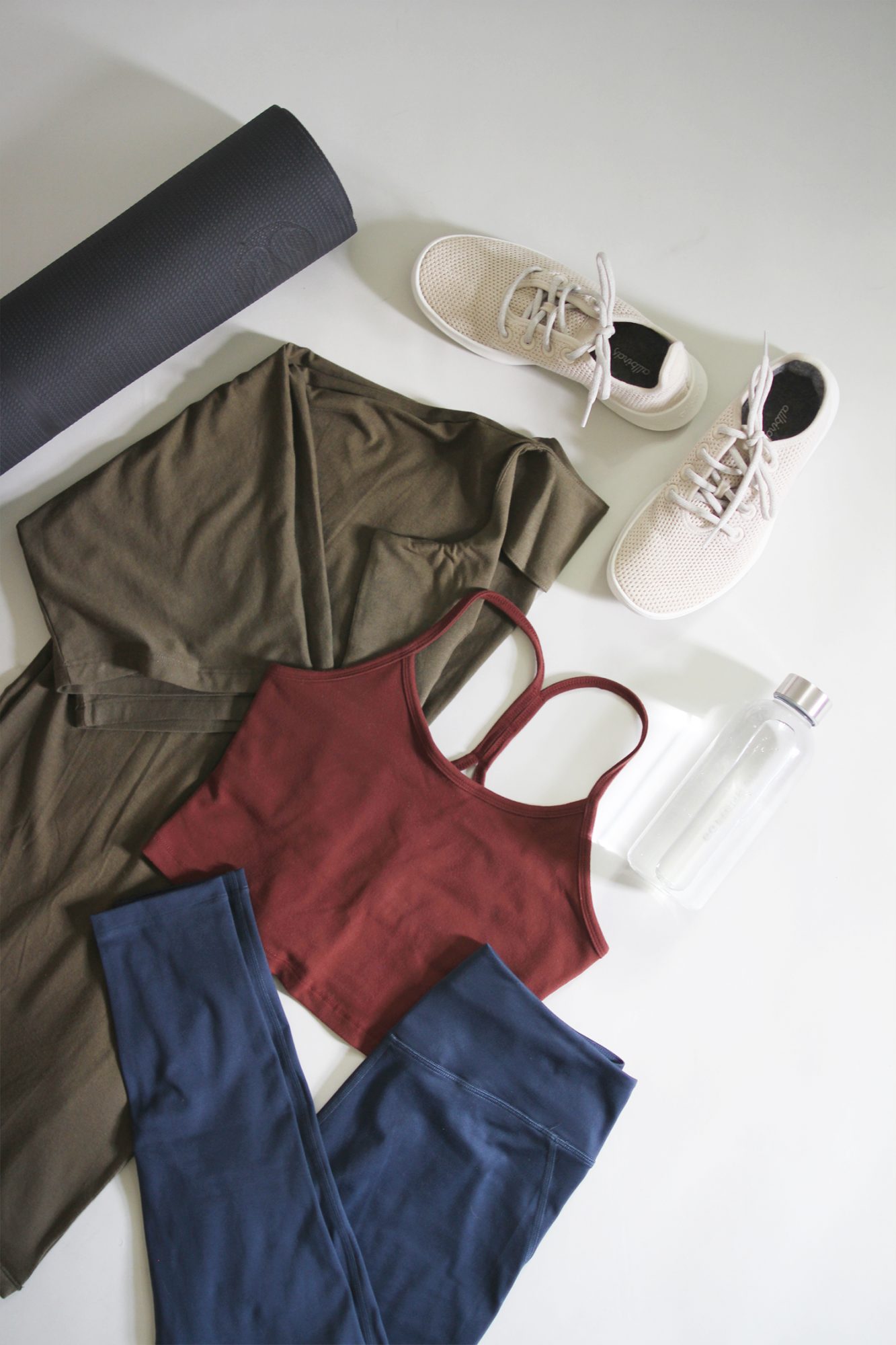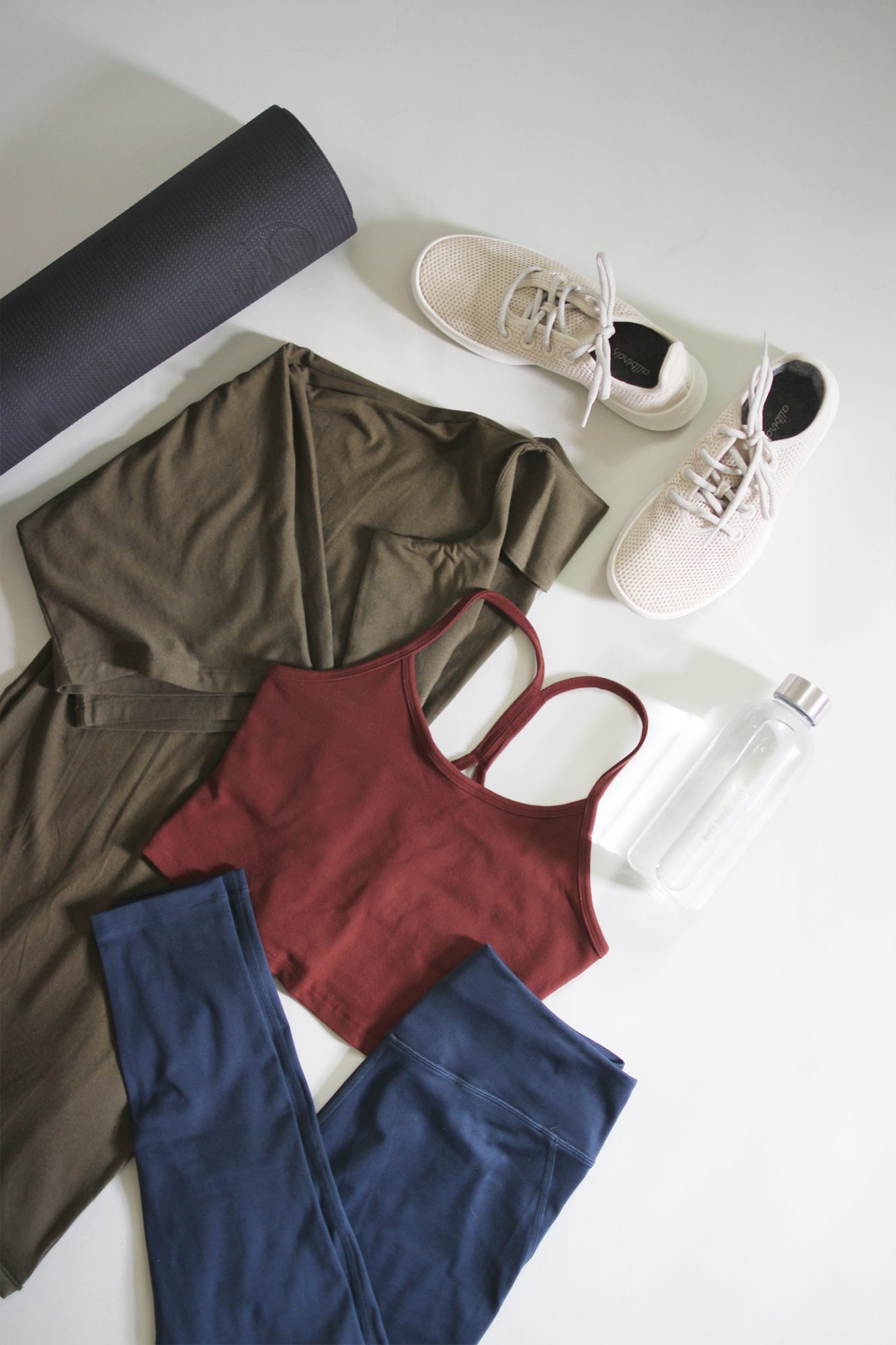 ---
MY 10×10 ACTIVEWEAR OUTFITS
---
DAY 1
---
The response to yesterday's 10×10 kick off was amazing and overwhelming in the best way so I decided to focus on the community and start a day behind everyone else. I'm glad to be digging in a little bit less distracted now that most people are well on their way. Alas, here is my first activewear outfit!
---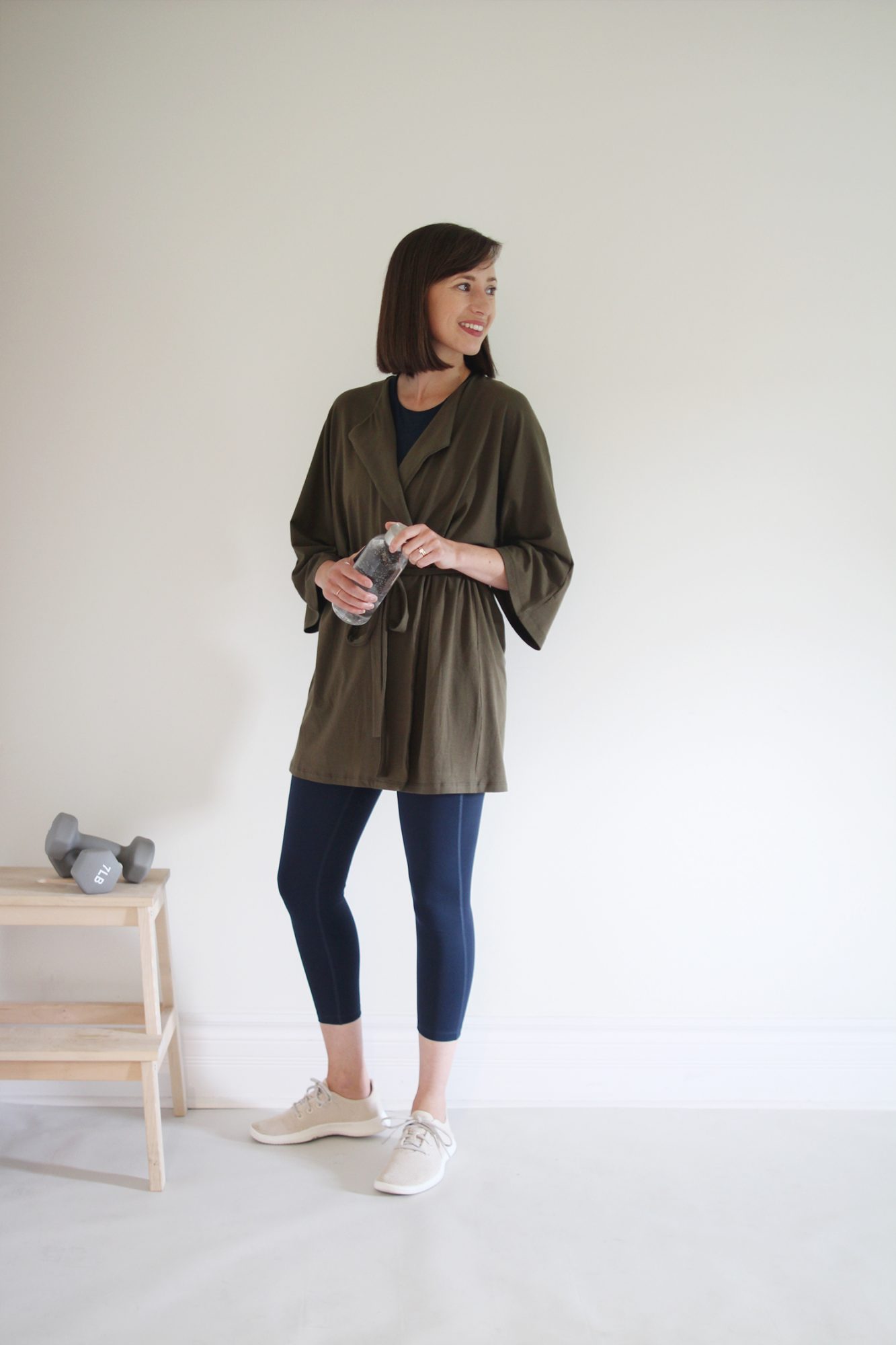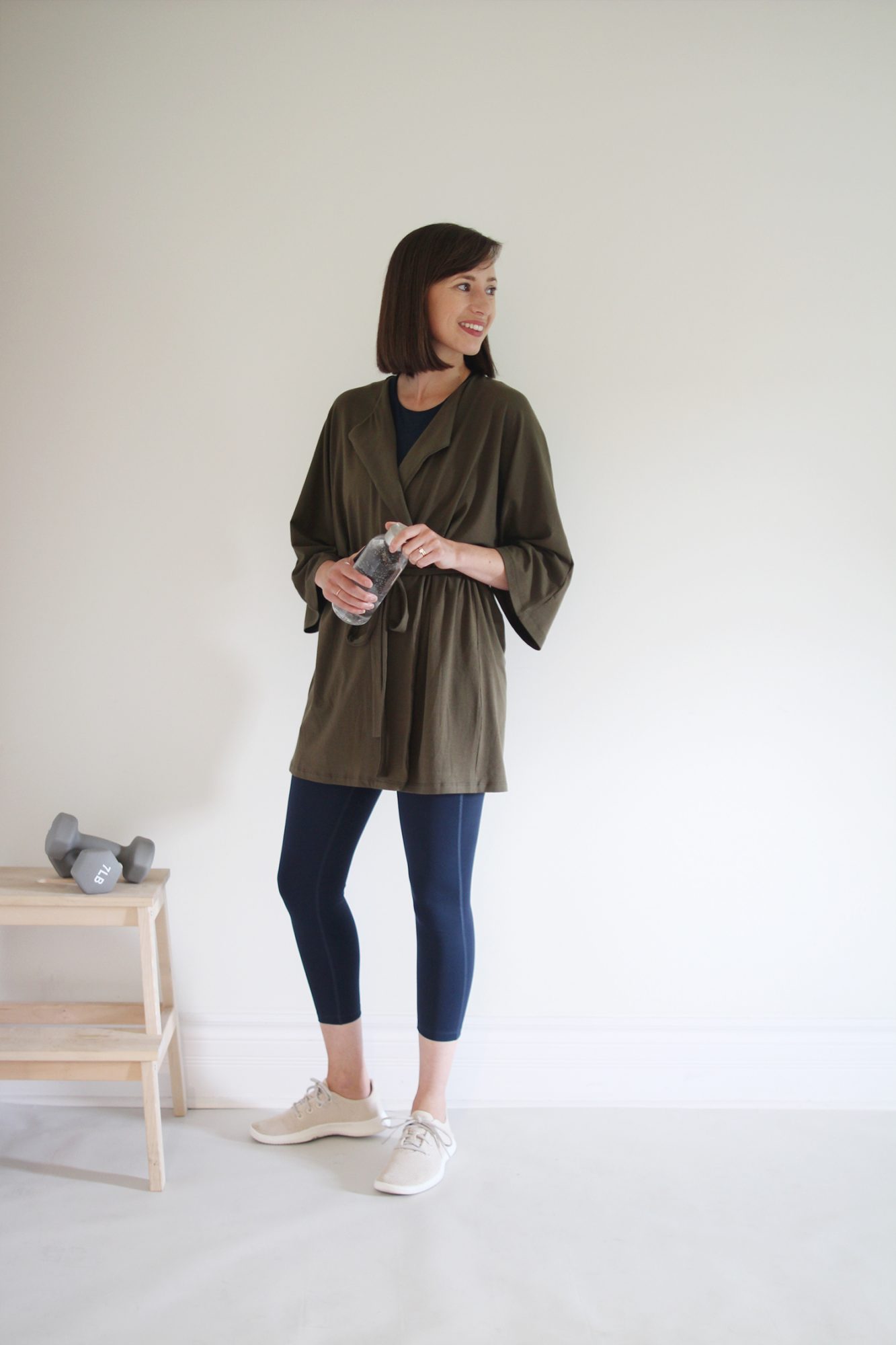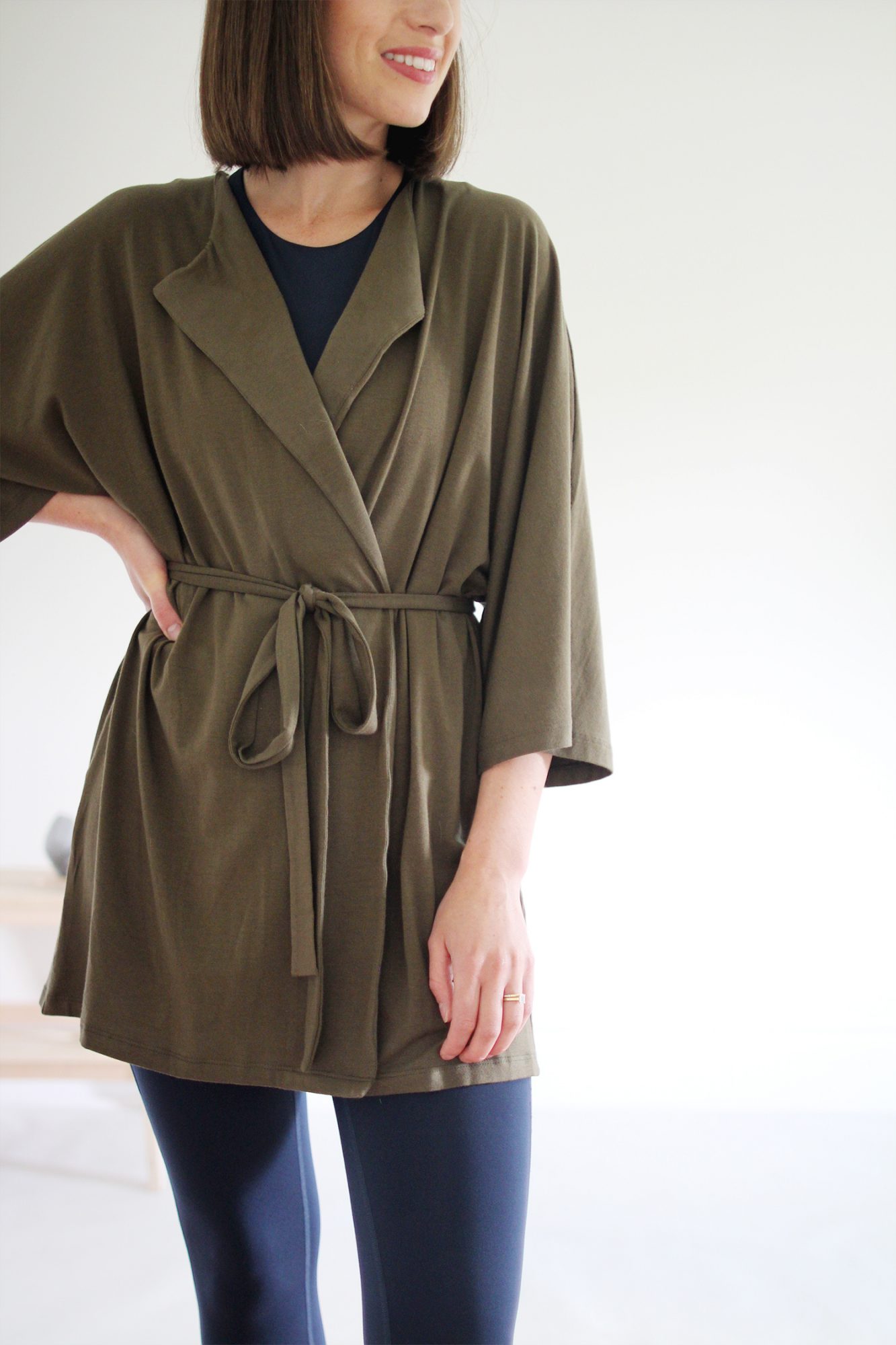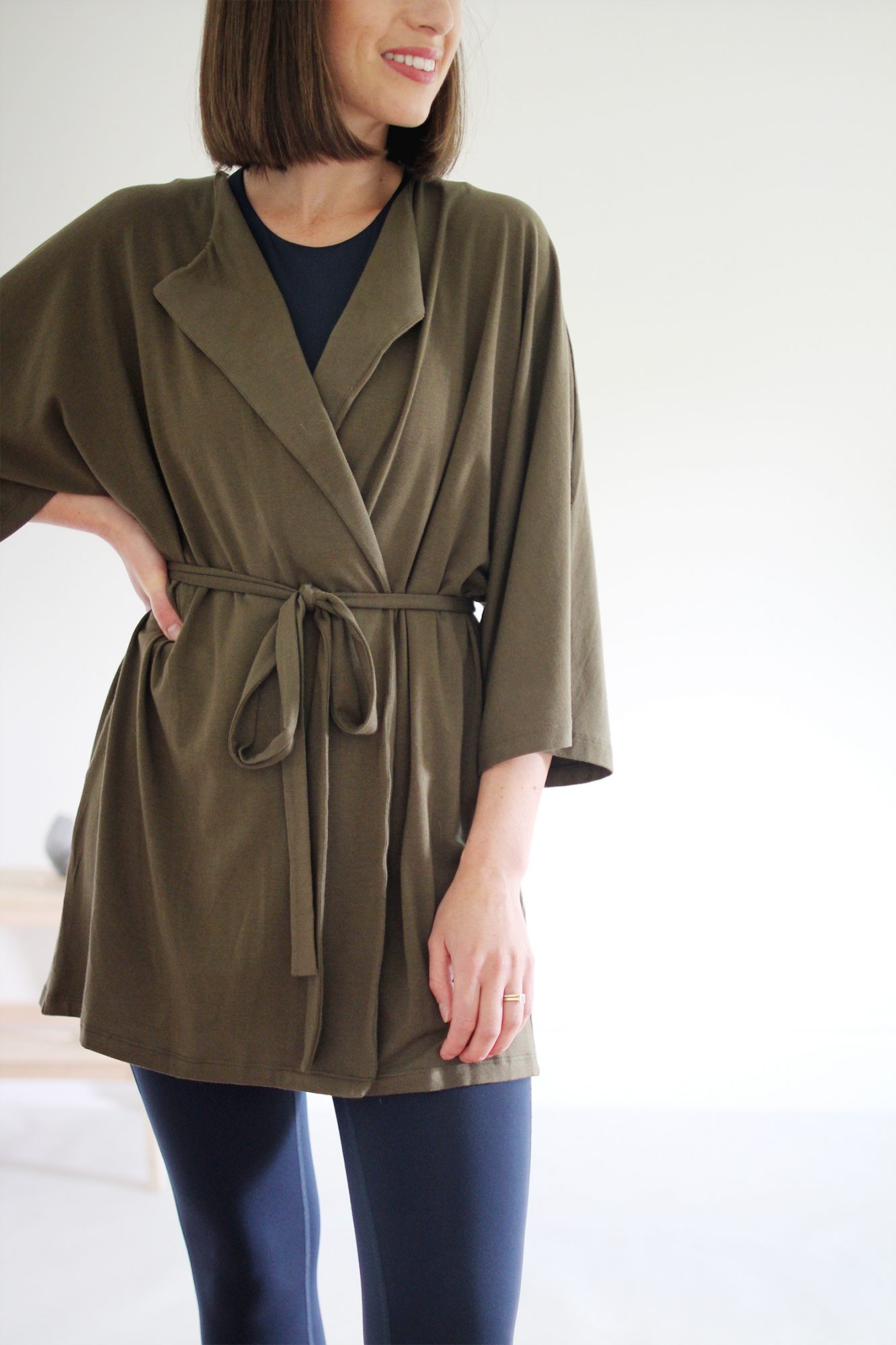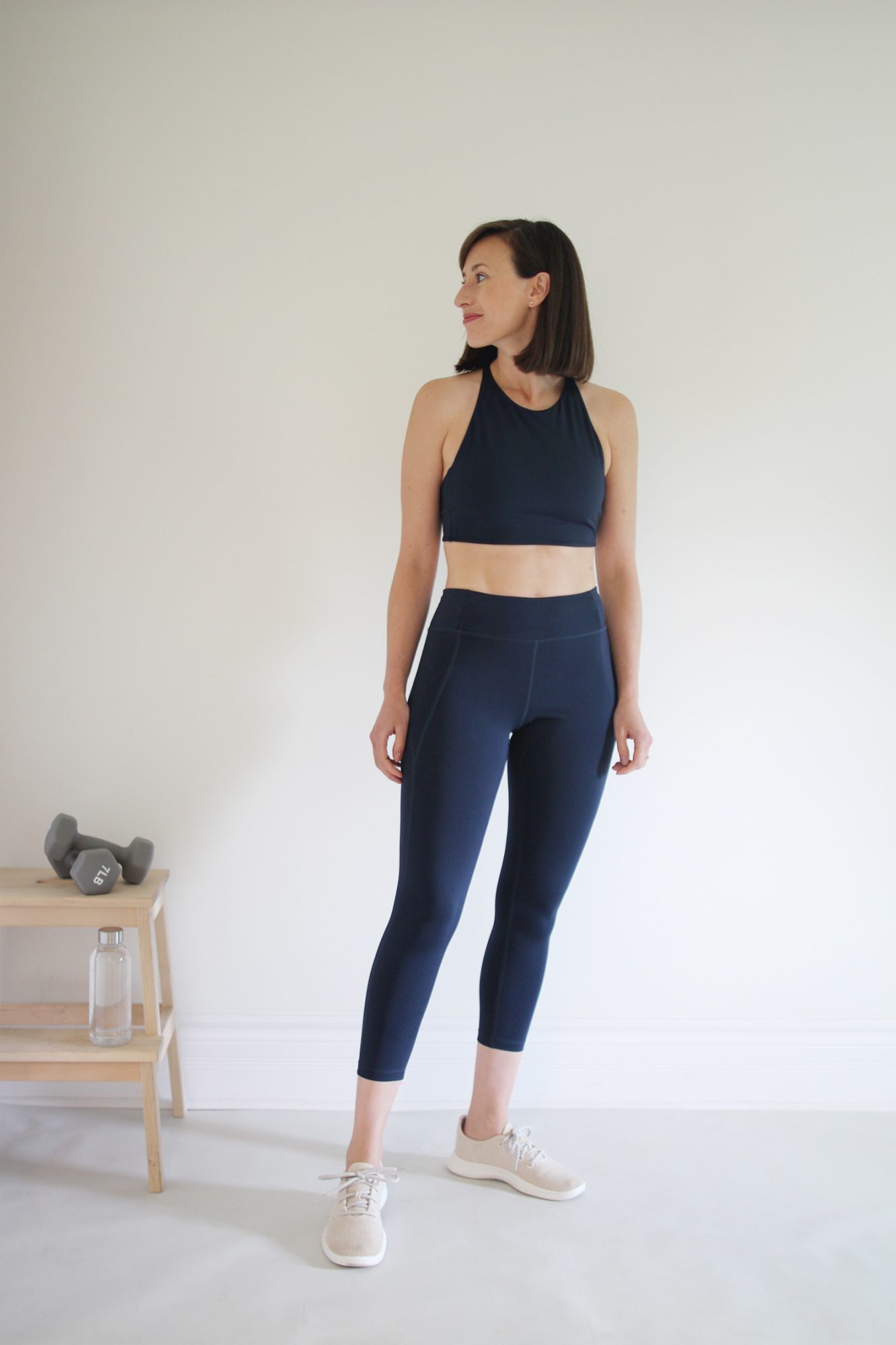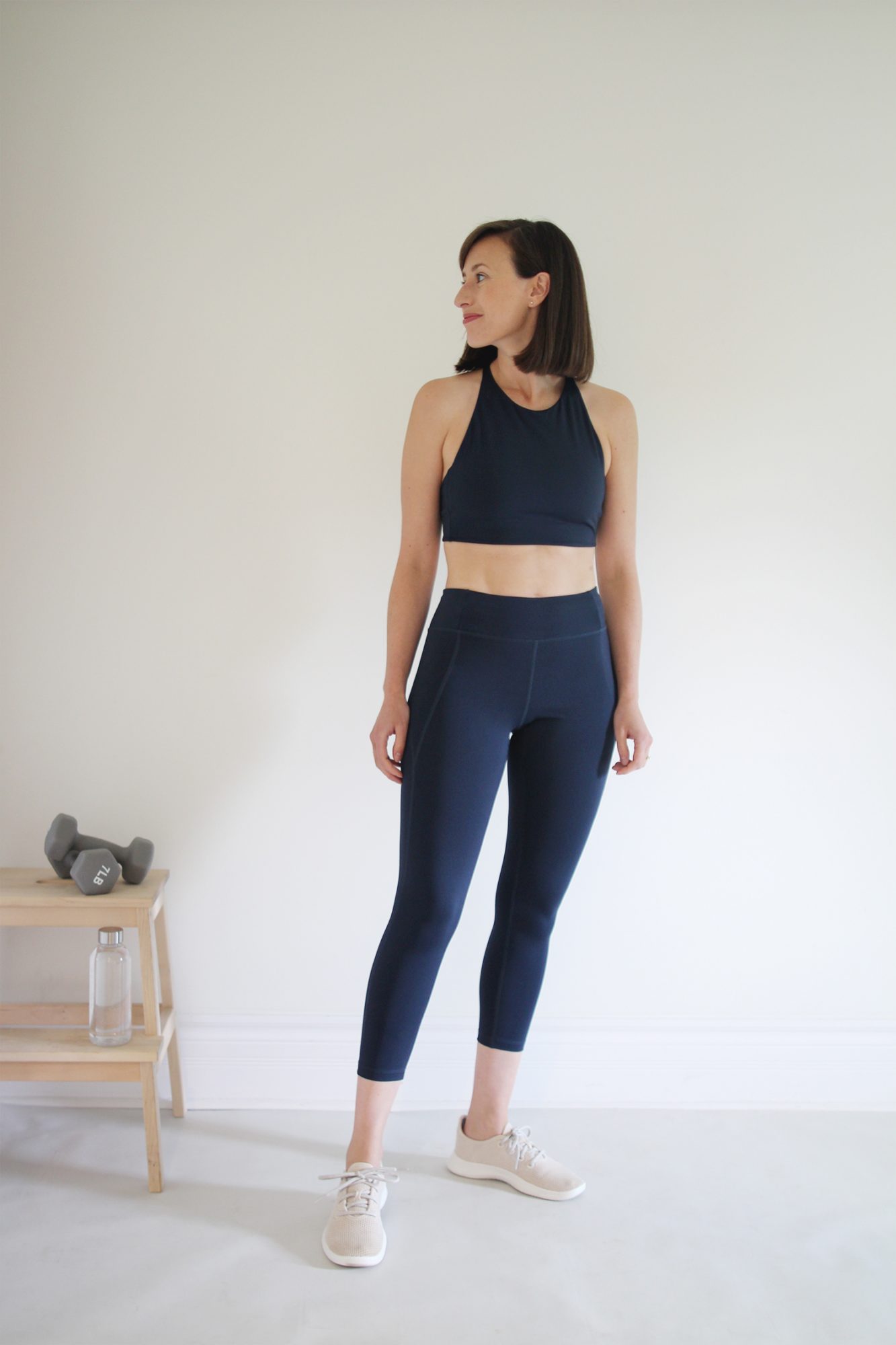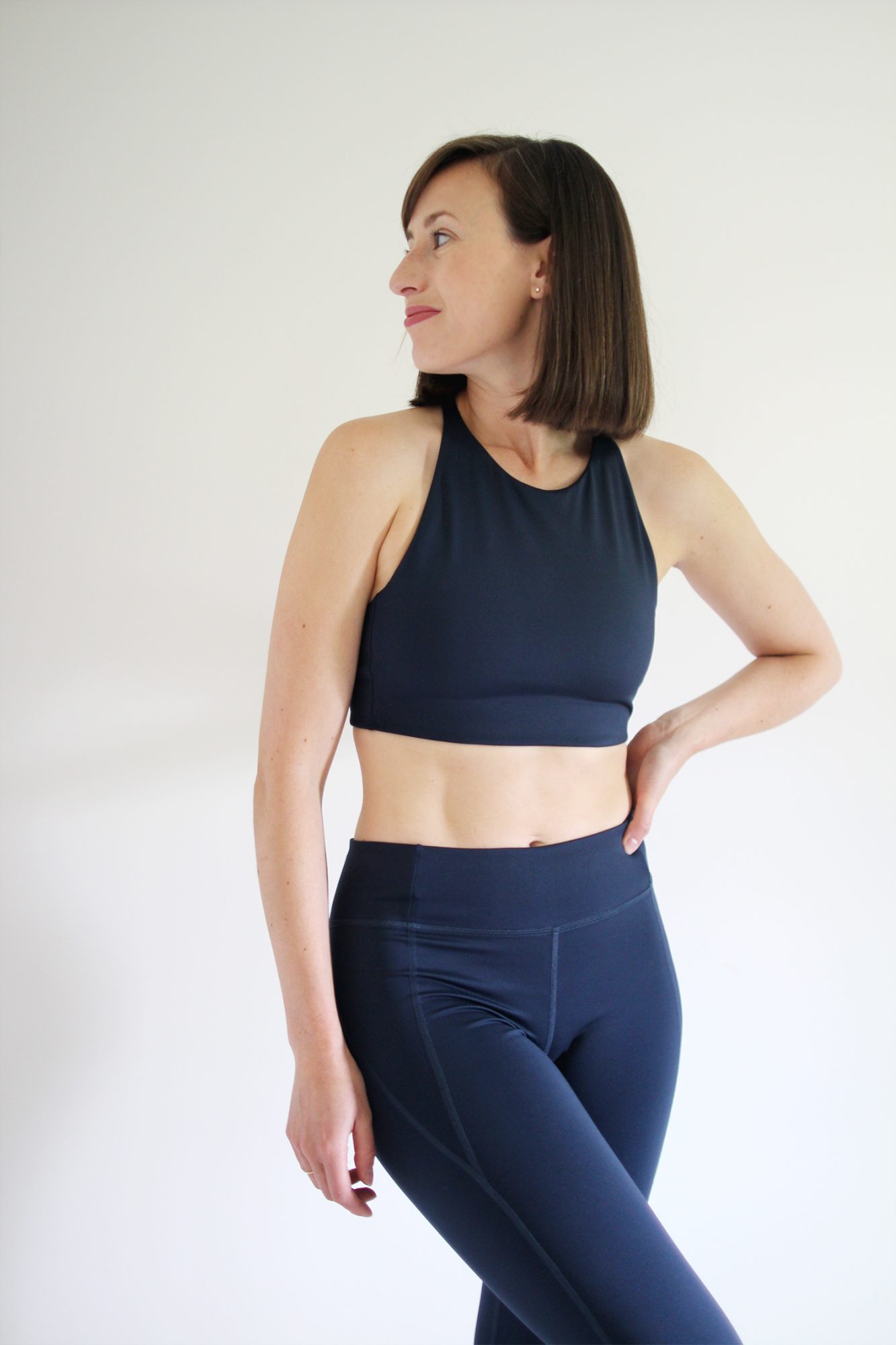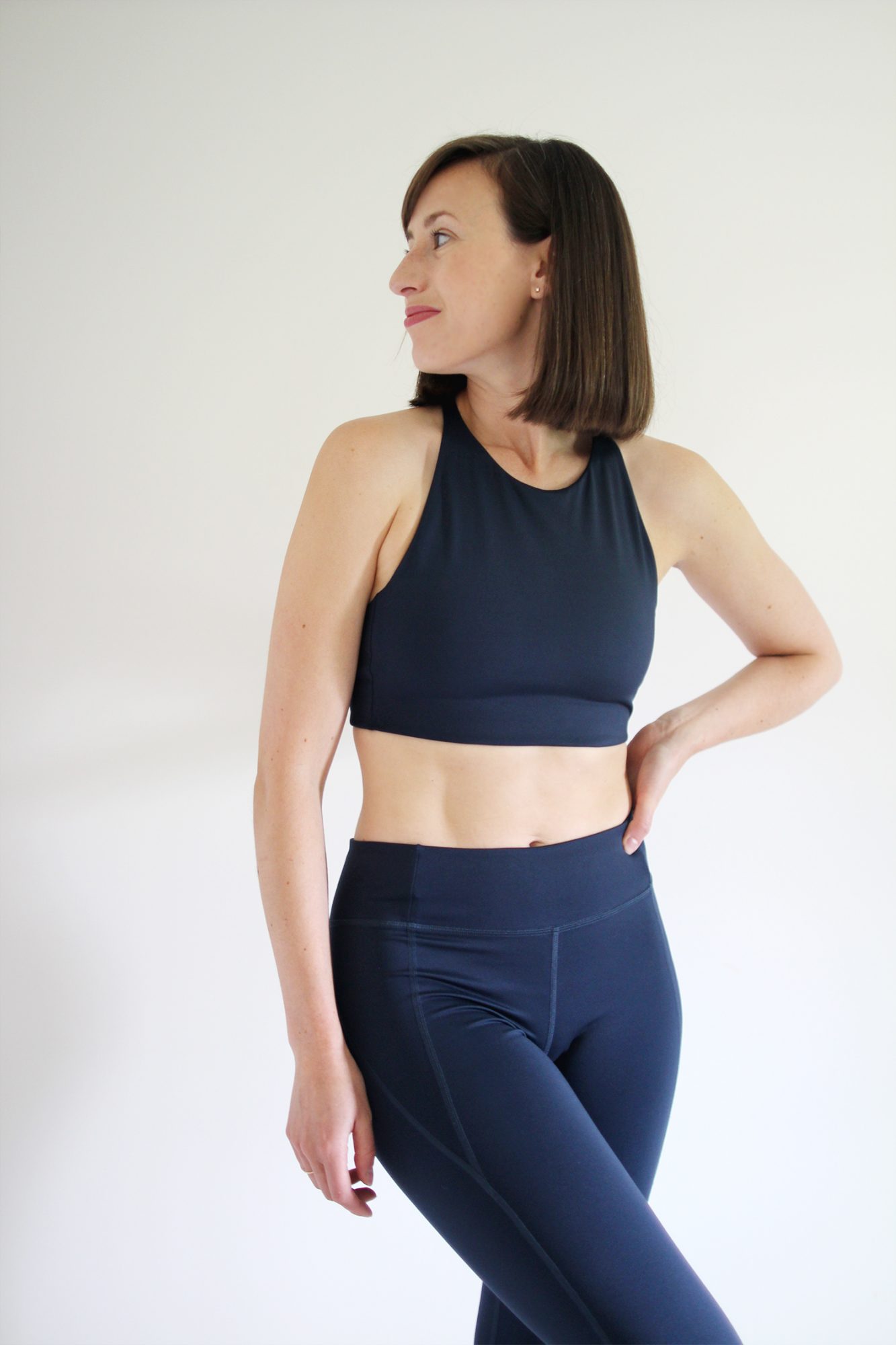 ---
LOOK 1 – INITIAL THOUGHTS
I decided to start with my Topanga Bra and Classic Legging and wore my Miakoda Robe to walk the pup and around the house this morning. I can already tell this robe is going to be a game-changer for my closet and morning routine. I used to fumble around for a t-shirt or sweatshirt in the mornings and always felt a little rumpled and uncomfortable. Now though, I simply pull my robe off the hanger and slip it on over my work out clothes and I'm ready to head out the door with Dobby!
I needed this morning's yoga session more than usual today. My head has been buzzing and jittery for the last 24 hours so it was really nice to calm things down. I've also started noticing how the colours I choose to put on first thing each morning can really influence my mindset. This calming navy and earthy green were pleasantly grounding today.
---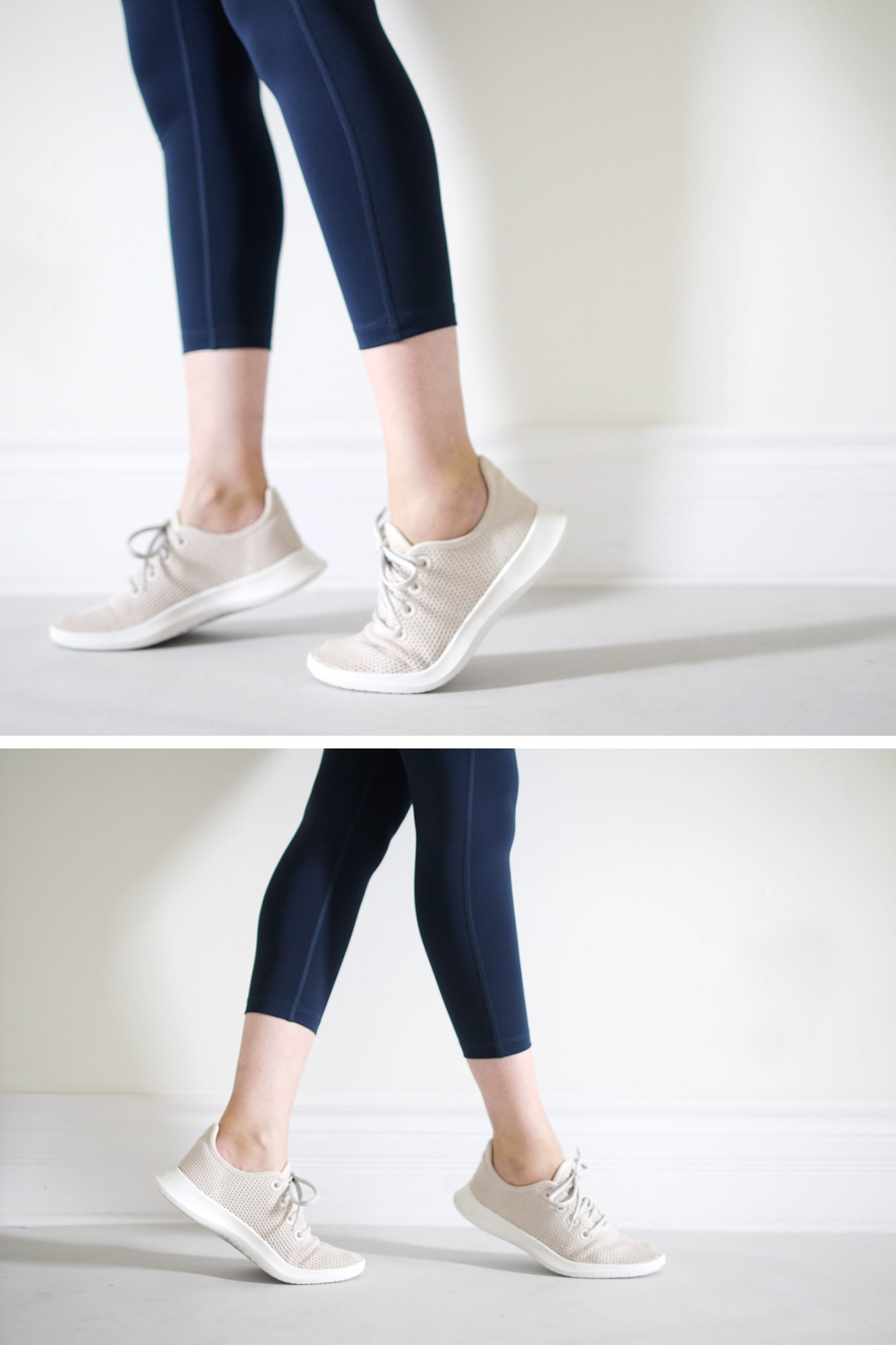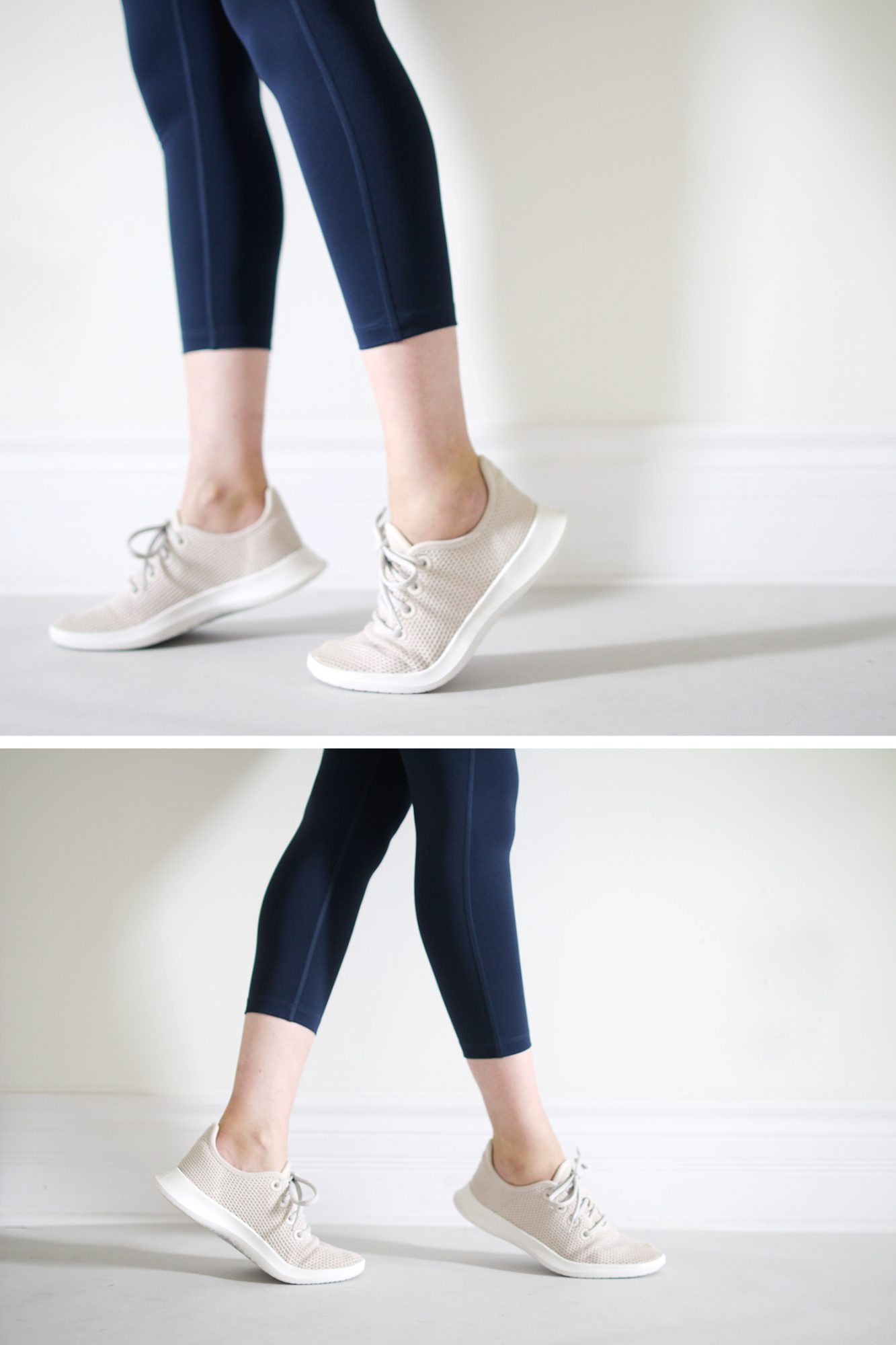 ---
ITEM SPOTLIGHT – ALLBIRDS TREE RUNNERS
---
I've received tons of DMs and about these running shoes and since they're going to be in every 10×10 outfit I thought Day 1 would be the best time to address them. So here goes!
Quick Facts:
Allbirds Tree Runner in Kauri Stone (5 other colours available)
$135 CAD or $95 USD
Free Shipping and Returns (with a 30 day window).
Made responsibly in China from sustainably harvested eucalyptus trees (FSC certified). The proprietary fibre is crafted in Austria by Lenzing. Lots more information available here and the making-of video is great.
Whole sizes available. Allbirds has a nifty fit finder which can help you determine your best size depending on the style you're interested in.
Fit runs true to size. I have a 7 and typically wear a US 7 or 7.5 in running shoes.
Machine washable. I've washed mine once and they came out perfectly! Give yourself at least 24hrs for them to air-dry though.
---
FIT + BREAK-IN:
Thanks to the free shipping and returns I was able to try two sizes in these. I first tested the size 8 since I had previously found that the wool runners ran small. The 8 fit OK but was a little too long and roomy in the toe and my heel was slipping when I walked. So I switched to the 7 it felt snug to start but has relaxed perfectly and there is still a little bit of room around the toe.
There is an elastic band under the tongue that runs over the top of the foot. This was very tight to begin with (like circulation limiting tight) but has loosened up the perfect amount to be comfortable but still hold my foot in place very well.
There is additional padding around the heel, which I didn't love at first but now that it's softened and formed to my foot it's totally fine.
These are supremely comfortable now that they're broken-in (took a few long dog walks to get there). I honestly forget I'm wearing sneakers sometimes! The soles are extremely flexible and the material is very breathable, which has been great for the hot summer weather.
CAN YOU RUN IN THEM? I don't do any long distance running but for light jogging and any amount of walking I think these are perfect. I would opt for something with more shock absorption for more serious running endeavours.
CAN YOU HIKE IN THEM? Certainly, but I don't know how grippy they will be on smooth, damp surfaces like rock. They don't offer much in terms of ankle support either. I think they're best suited for trails.
ARE THEY EASY TO CLEAN? Yes! You can simply toss them into the washing machine (remove laces and insole first), let them air dry and they come up like new. I have some stains on the soles now from my bike pedals which did not come out in the wash. If you're very concerned about marks and such, go for a darker colour.
ARE THEY DURABLE? So far I would say yes for sure, however, I think the wool runners might be more durable long-term. Dave has had the wool runners since last year and he is NOT easy on his shoes but they're still in excellent condition.
CAN YOU WEAR THEM FOR NON-ACTIVE STUFF? Of course! I'll be sharing how I style them with pieces from my regular closet later but I particularly love them with a straight leg cropped jean in a light wash or white.
Overall, I LOVE these runners and highly recommend them for anyone interested in the perfect everyday sneaker.
---
More questions about Allbirds? Feel free to ask away in the comments and I'll respond asap!
---
QUICK TIP: If you struggle to stay hydrated and drink enough water throughout the day (I know I do!) try putting your water glass or bottle on top of your phone. This way, every time you go to check on Instagram, you'll be reminded to take a sip! Works like a charm.
---
DAY 2
---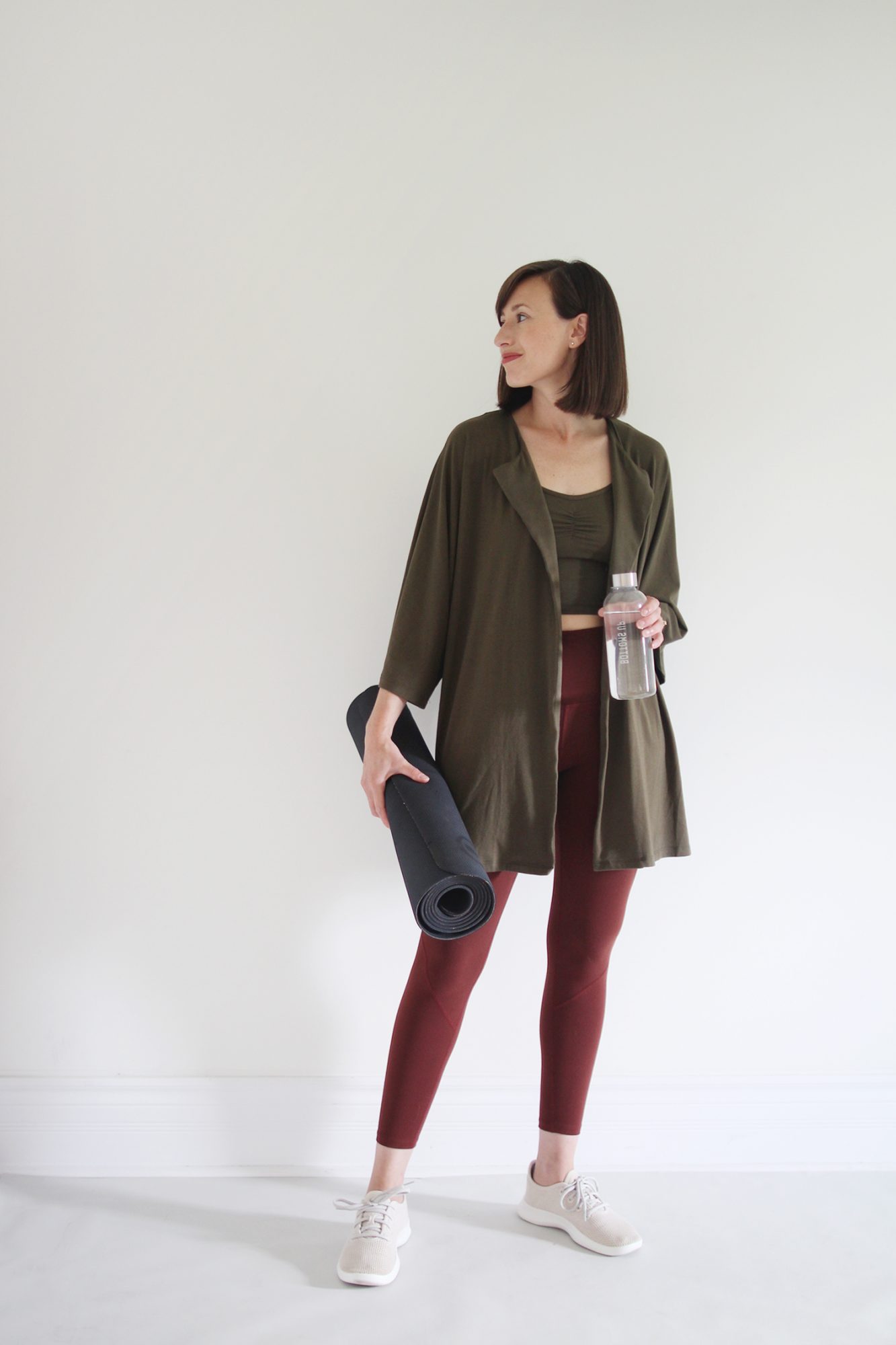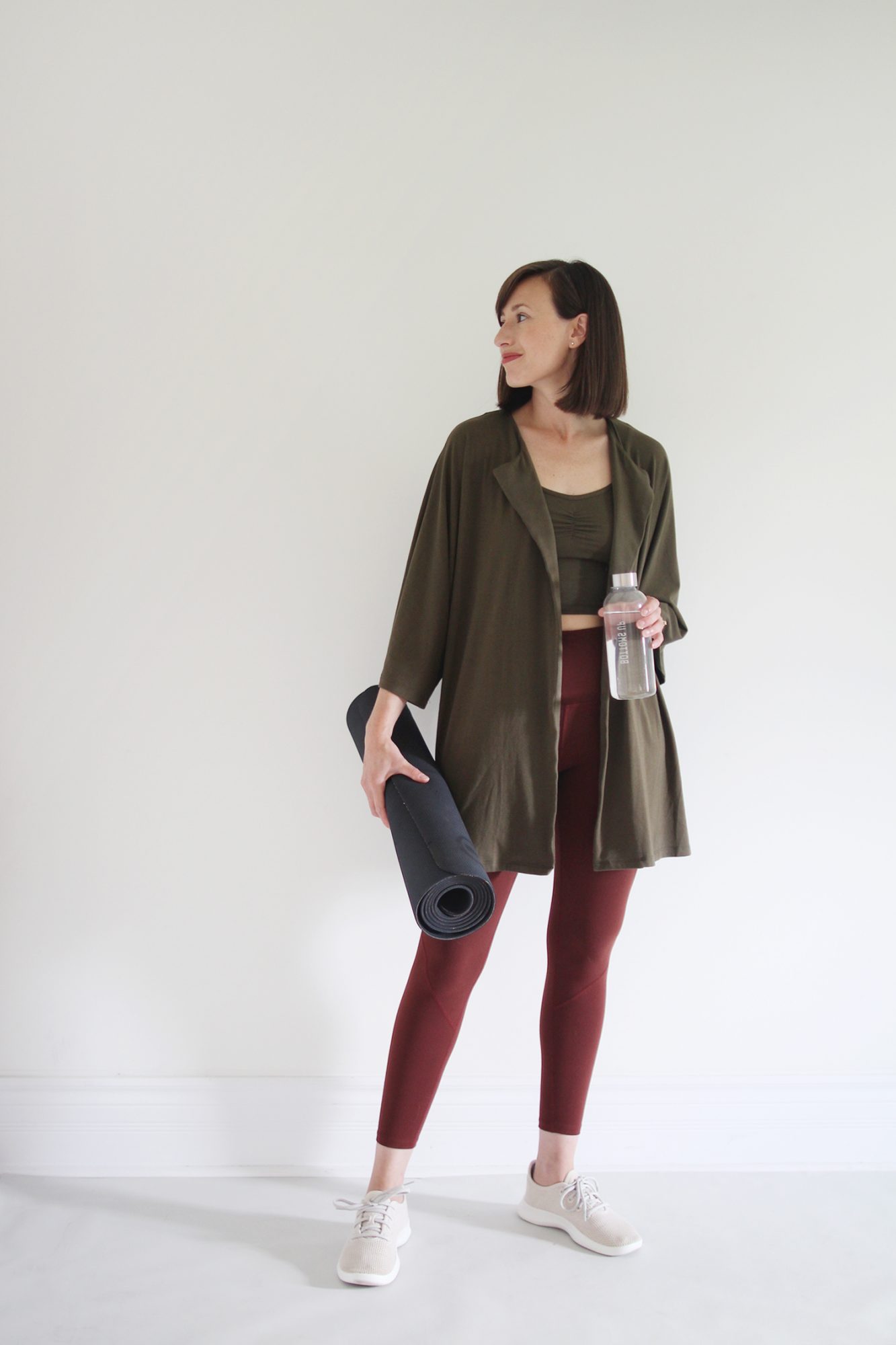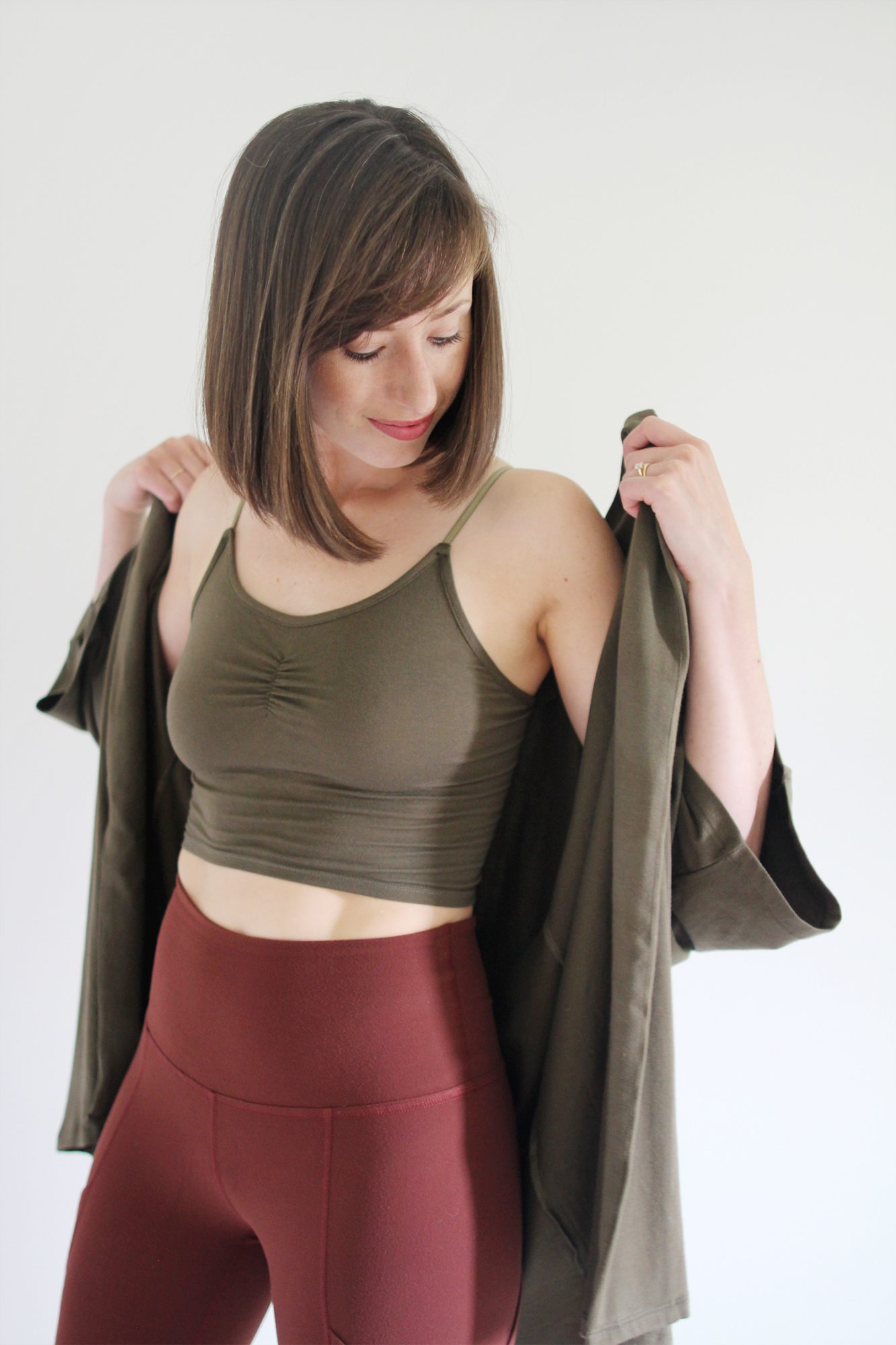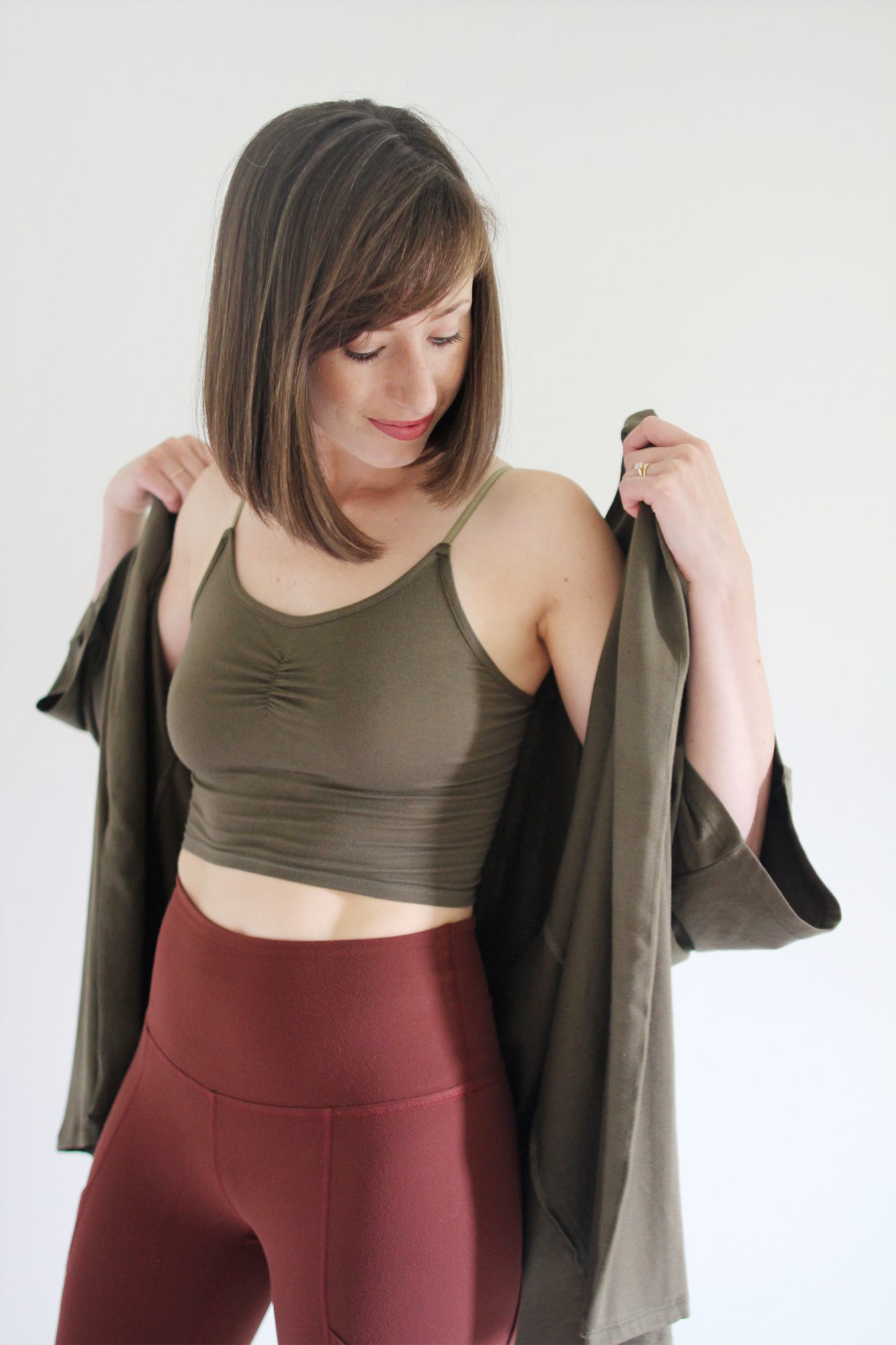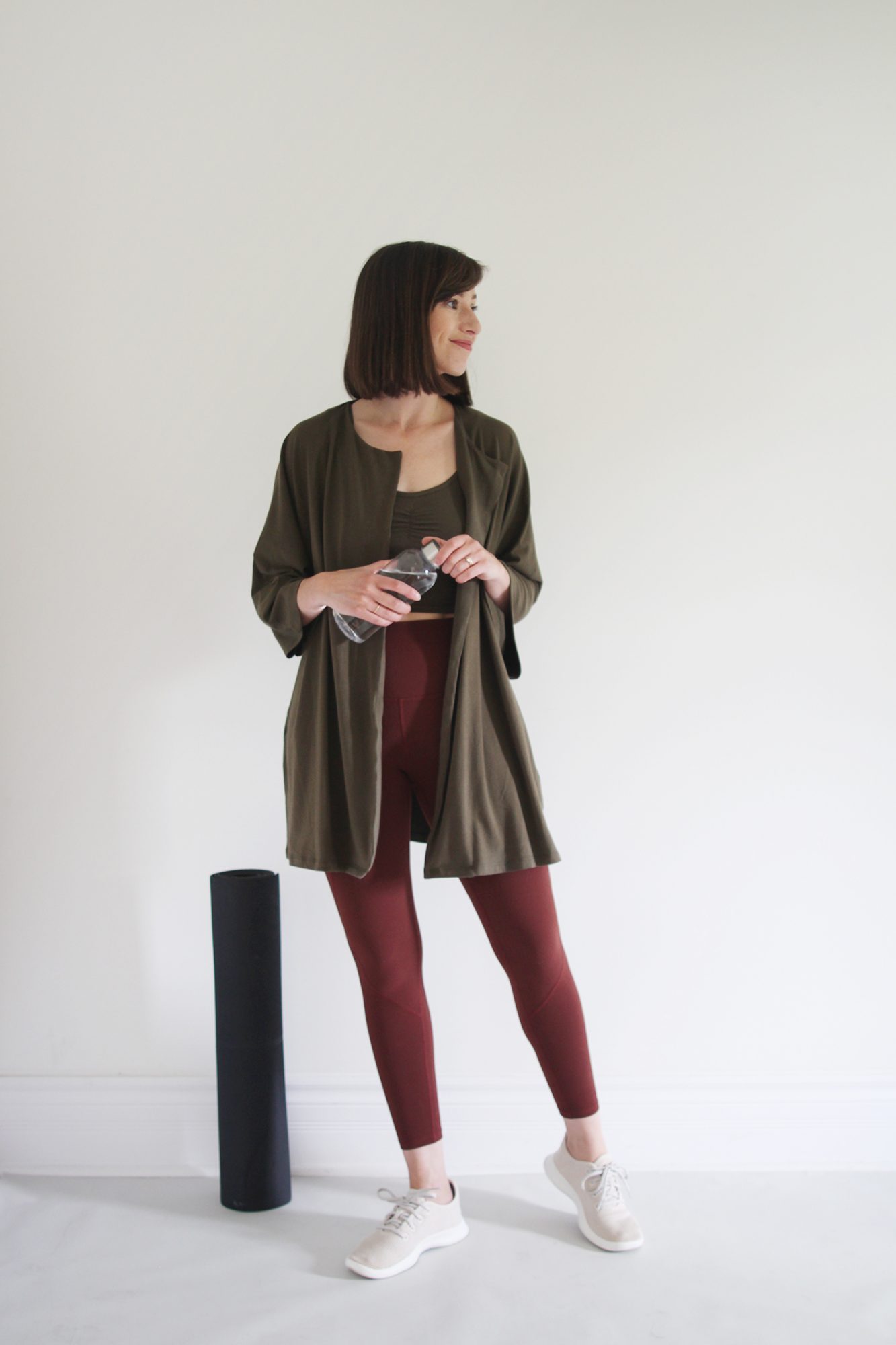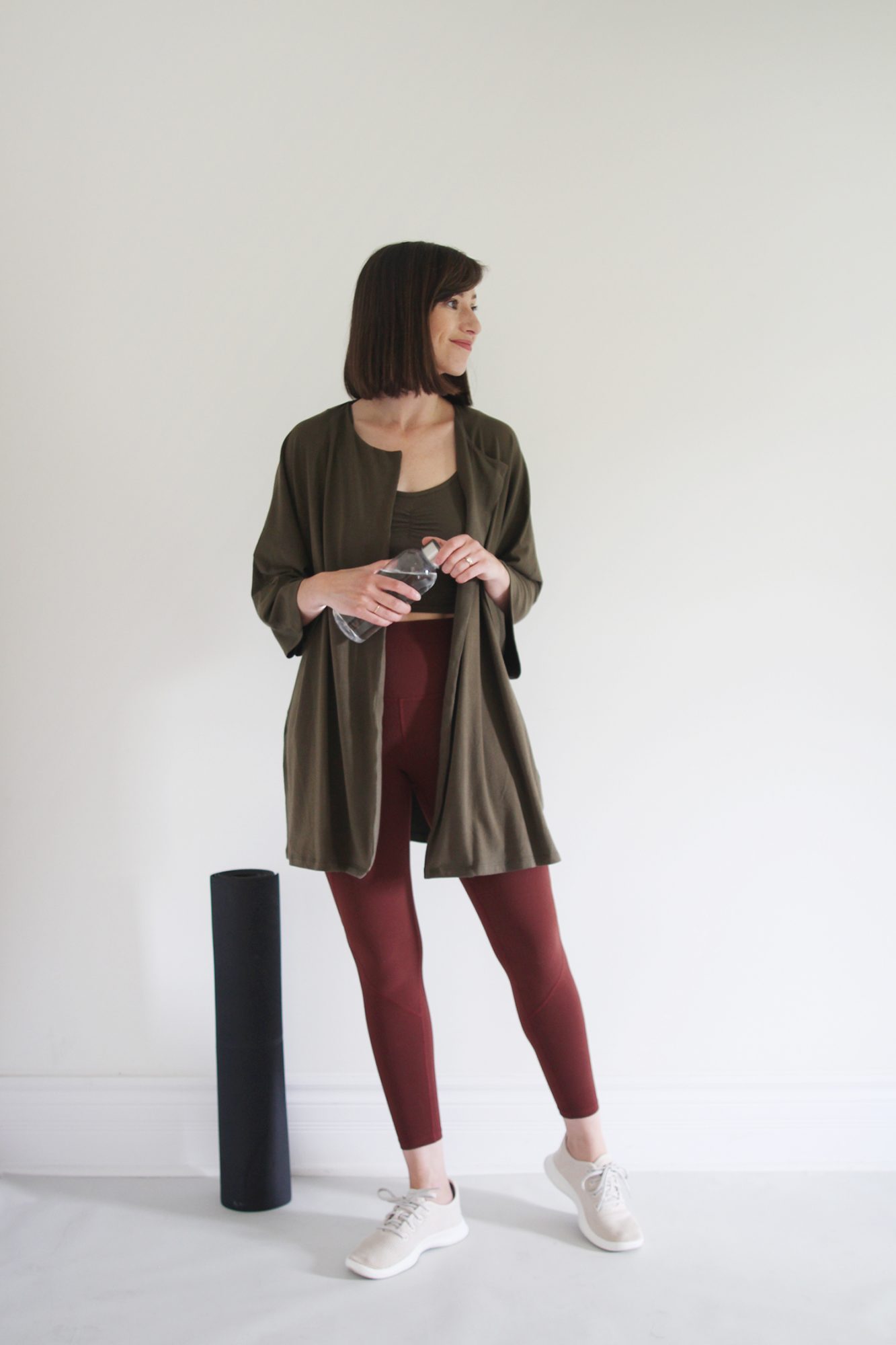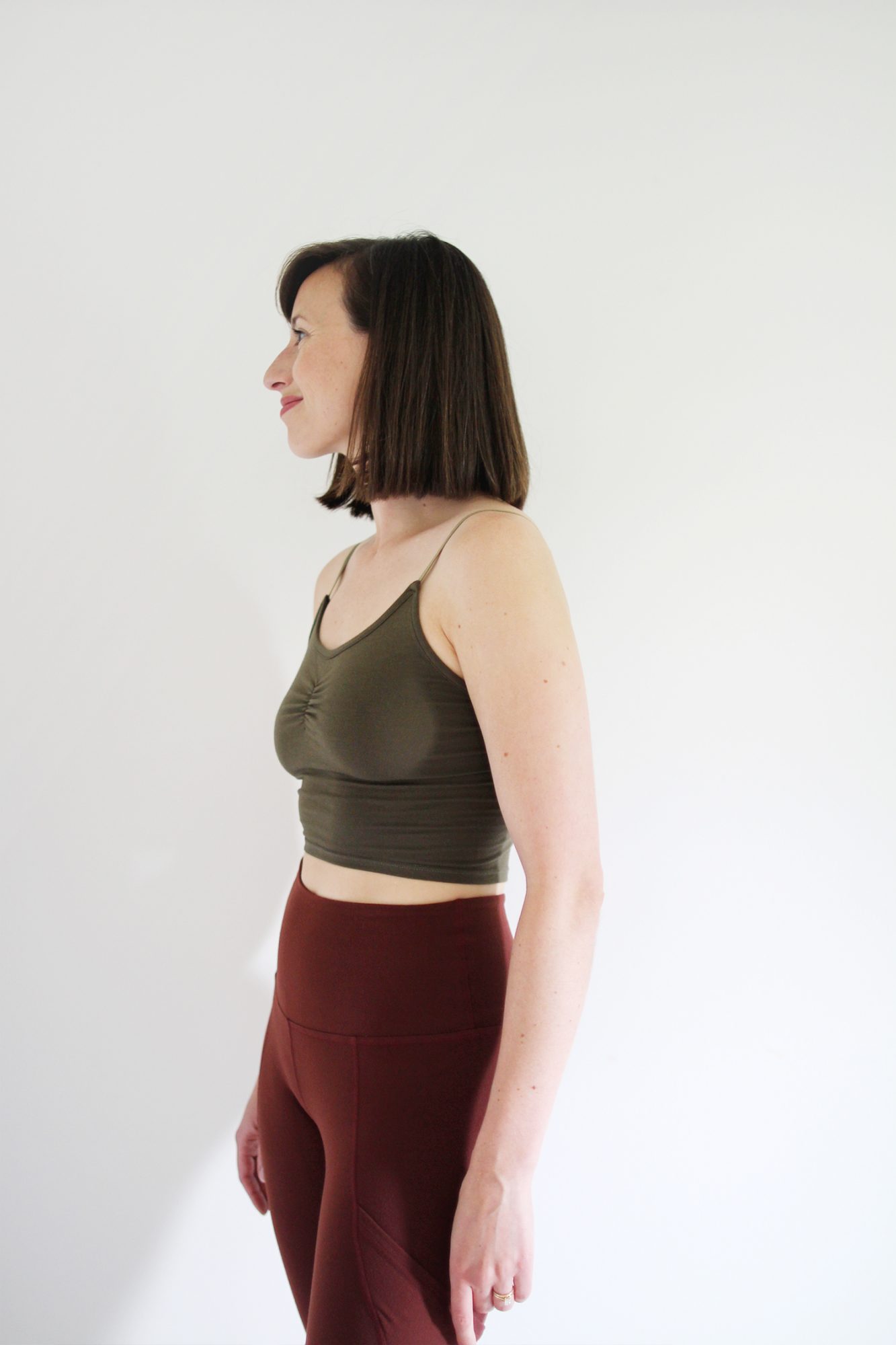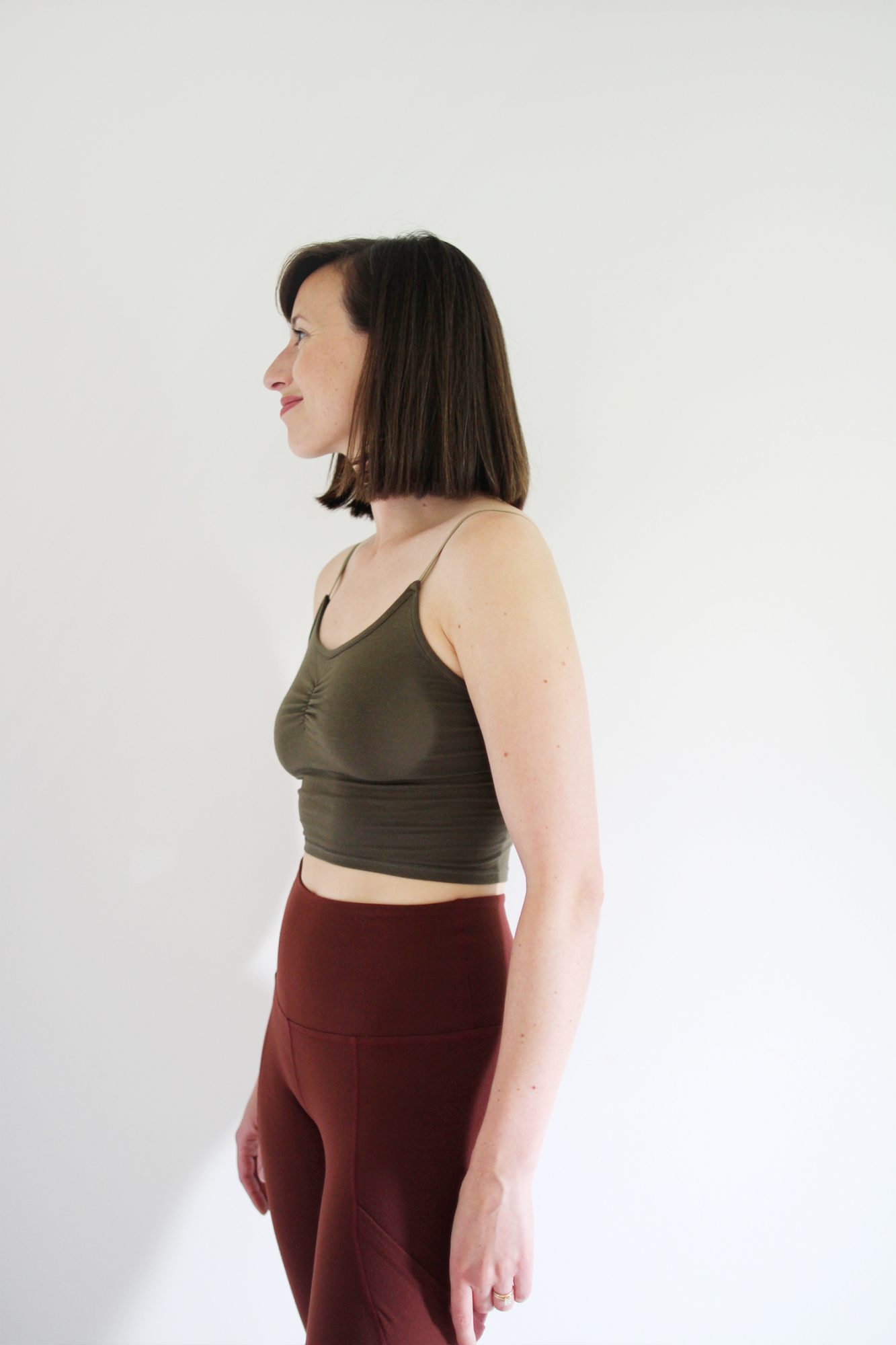 ---
LOOK 2 – INITIAL THOUGHTS
I was channelling a combination of Peter Pan and Aria Stark with my 2nd 10×10 outfit and I loved it! I opted for a sporty-meets-comfy combo with the Beyond Yoga Leggings and my Miakoda Brami and Robe sans belt. I felt like I should be going to a kick-boxing class or engaging in some sort of combat training. However, truth be told, I didn't actually do much working out in this one. That said, it was still a really comfortable outfit for a day of blog prep and some casual fussing around the house.
I'm already enjoying how my activewear is letting me play with some tones outside my usual palette since this colour combo is not one I would normally choose. Loving how the muted hues of olive and sienna work together, making for a warm and comforting vibe rather than overtly festive haha.
Even though I had changed out of this at the time, I did manage to get some exercise in by riding my bike to a family dinner and taking Dobby for a long evening walk. So that felt good!
---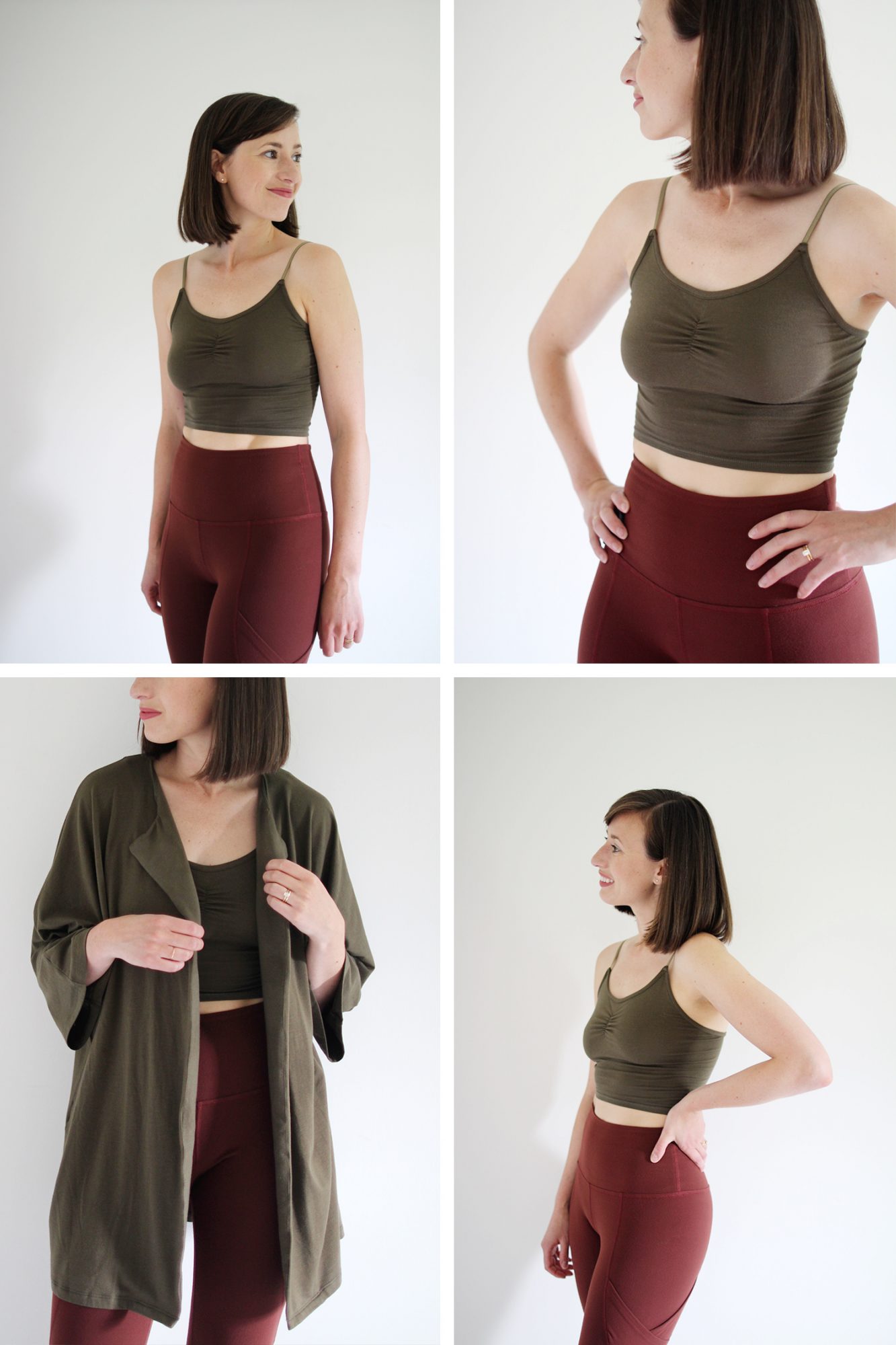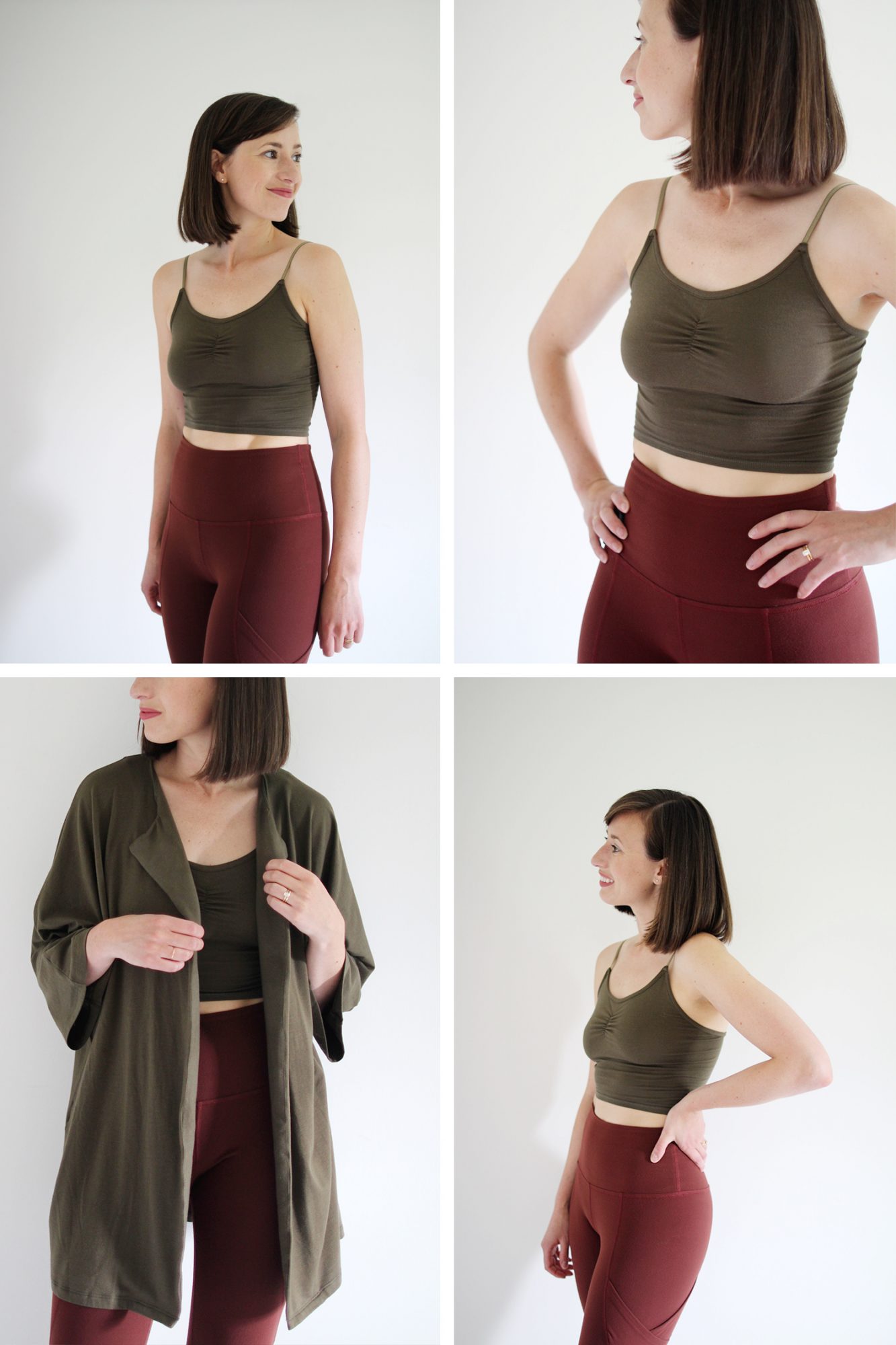 ---
---
Quick Facts:
7 colours available (Olive, Black, White, Nude, Grey, Wine, Orchid)
$58 USD $49.30 USD When you use code: STYLEBEE for 15% OFF any MIAKODA order.
Free shipping on US orders over $100 and $15 international flat rate. All packages shipped in eco friendly materials.
Ultra soft fabric blend of: soy, organic cotton, spandex.
Made responsibly and sustainably in NYC. Learn more here.
Available sizes: XS/S | S/M | M/L | XL
Fit runs true to size. I am usually a S or XS in bras and wear a 32C and I am wearing the XS/S in the BRAMI.
Machine wash cold and air dry.
---
I am definitely a fan of a good bralette (a fact my Underwear Directory might have alluded to) so I was very excited to try the BRAMI out. Especially after learning that it's a long-time MIAKODA fan favourite. So here's my quick initial take on it:
PROS:
Extremely comfortable. It basically feels like you're not wearing a bra at all, which is both liberating and delightful.
That is also because the fabric is SO soft and smooth on the skin. I love the buttery blend of soy, organic cotton and spandex.
The straps, while not adjustable, are made of a stretchy elastic that gives as much or as little as needed to fit comfortably without digging in.
No show-through in this Olive colour.
Will be AWESOME under sweaters in the Fall and Winter.
I really like the higher cut neckline, so there's no worrying about cleavage.
It stays put quite well and I didn't notice any shifting or riding up even after doing some activity around the house.
Just the right amount of fitted without being too tight.
CONS:
While the material is not see-through in Olive but it might be a bit sheer in a lighter fabric, so keep that in mind if ordering white or nude.
No support. If you like a natural lift like me, great, but if you need more support I would go for the Active Brami instead.
Sightly skimpy as a top worn alone (at least for me). That said, I will definitely wear it out under a light coat or blazer with high rise pants!
Not ideal for intense activity like hot yoga, circuit training, spin or running. It would be totally fine for restorative yoga, low-key strength training or barre class, however, you might want to avoid any head stands or bridges if you're in a group setting.
Overall, I'm really glad I've been able to try the BRAMI out and I'm looking forward to mixing it up with other items in my activewear capsule. I think ultimately it's going to end up in my loungewear capsule but it's pretty much the definition of an athleisure staple!
---
More questions about the BRAMI? Feel free to let me know in the comments!
---
QUICK TIP: If you're finding it tough to stick to an out-of-the-gym workout routine try scheduling your workouts into your calendar ahead of time and setting reminders that they're coming up. When my iPhone tells me I have a workout in 30 minutes I'm much more inclined to follow through!
---
DAY 3
---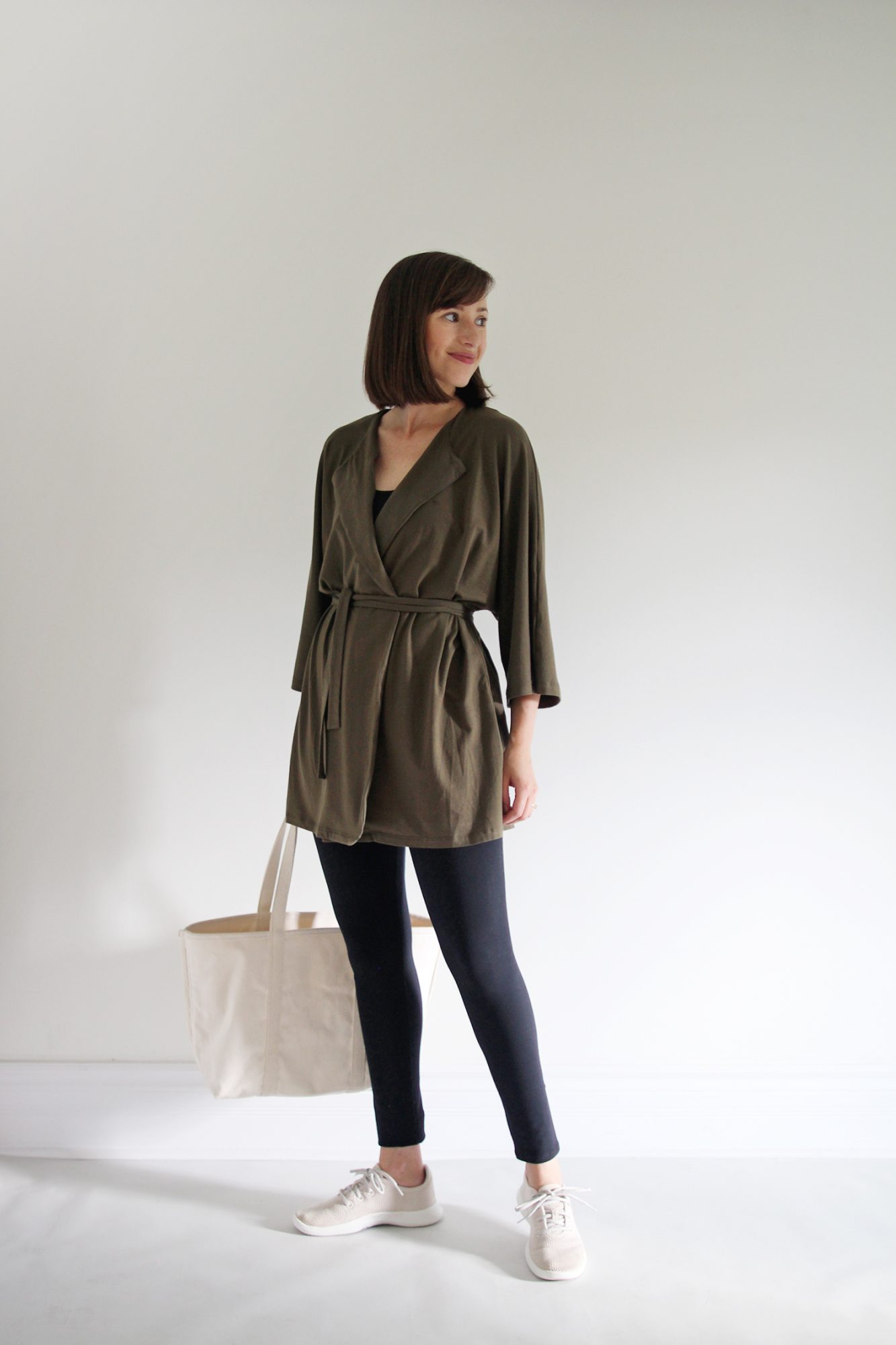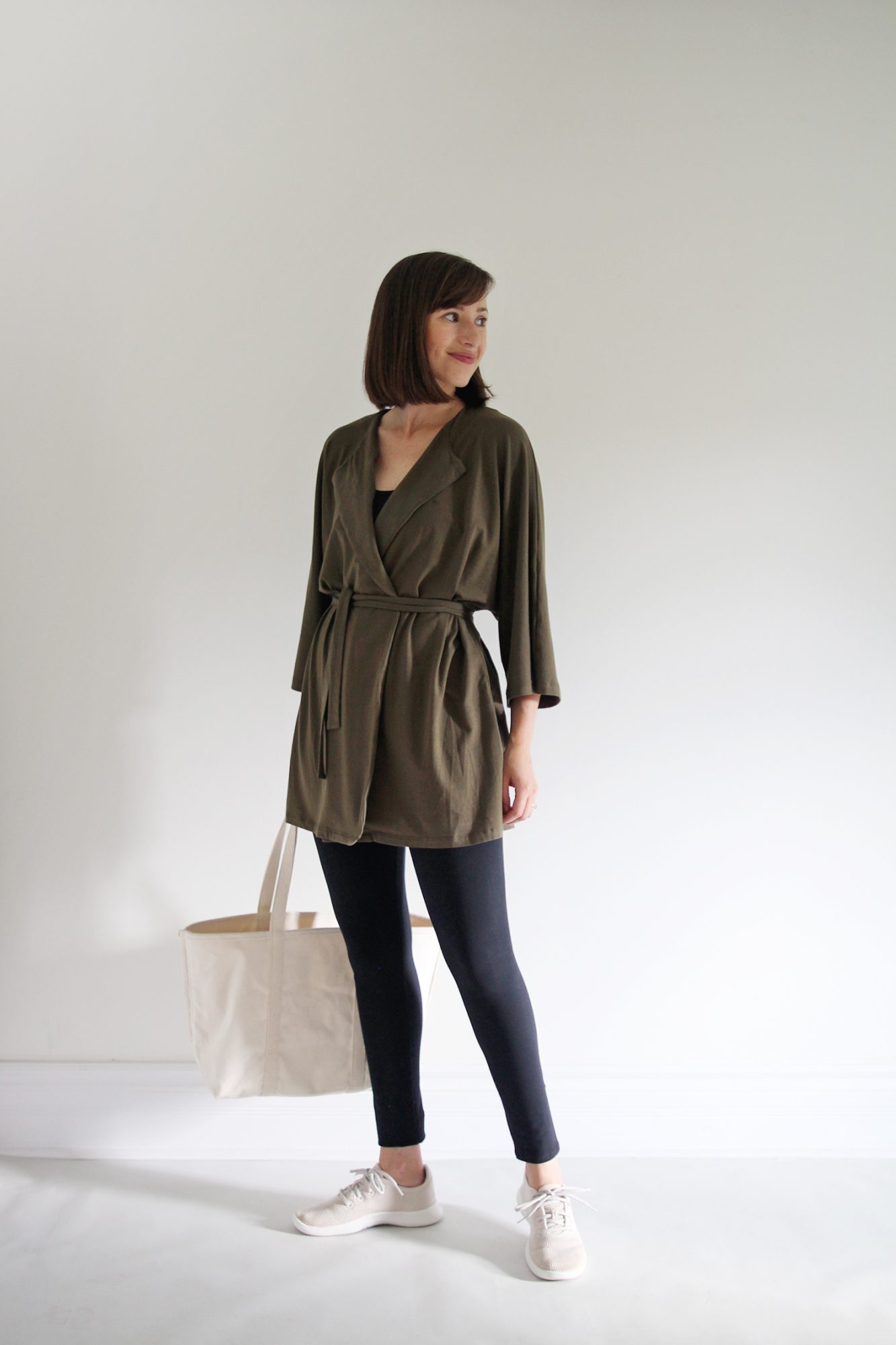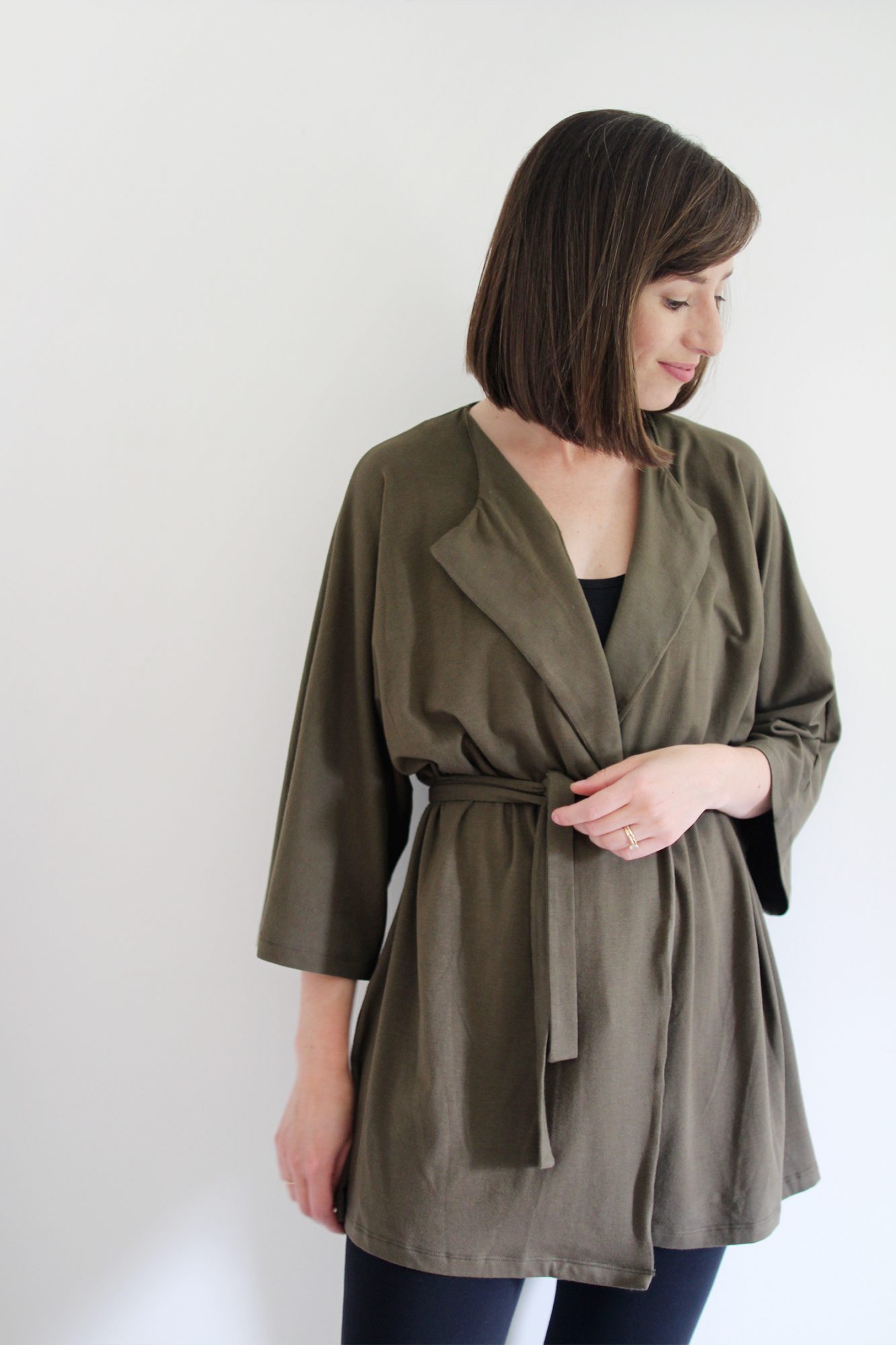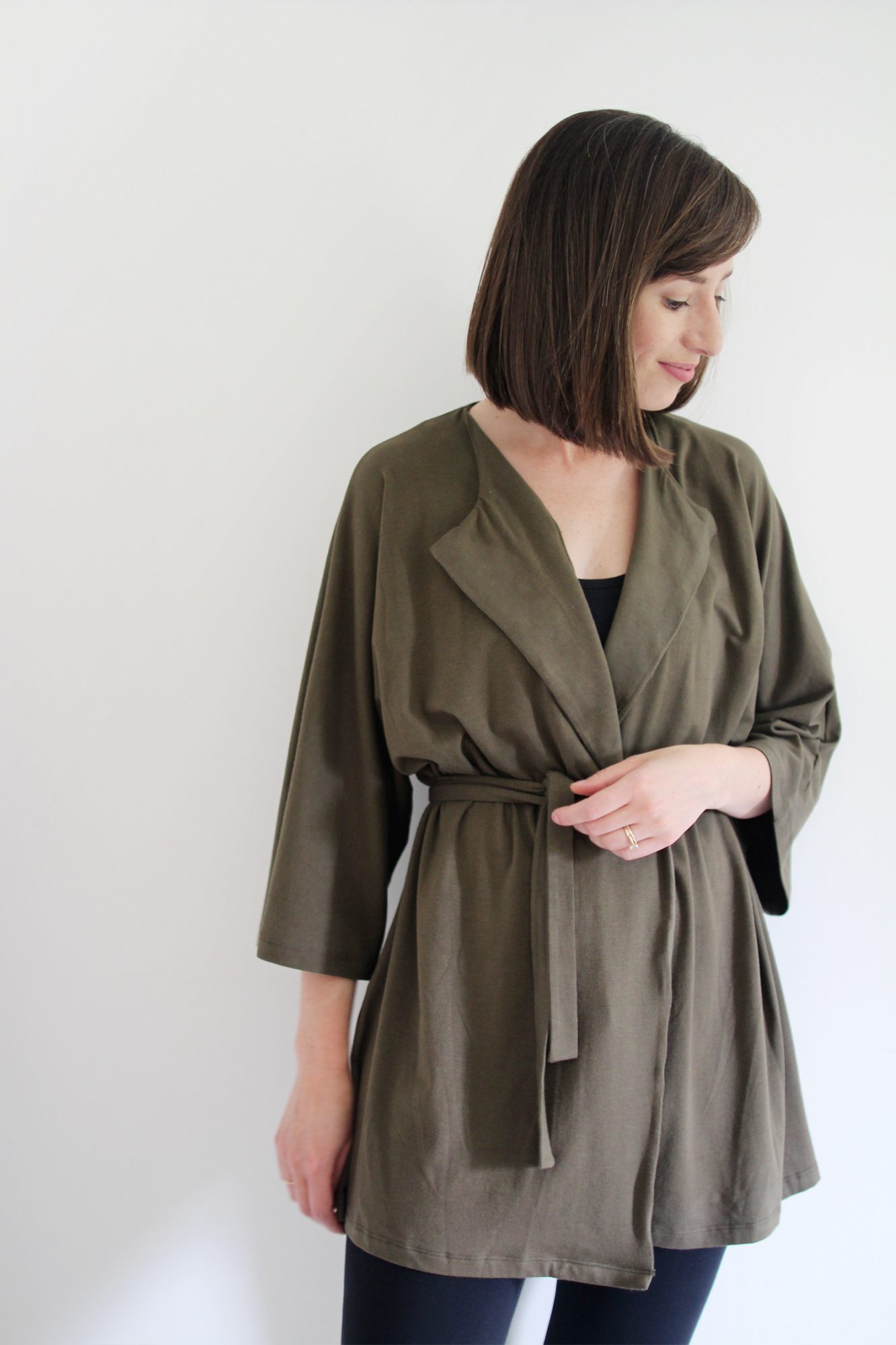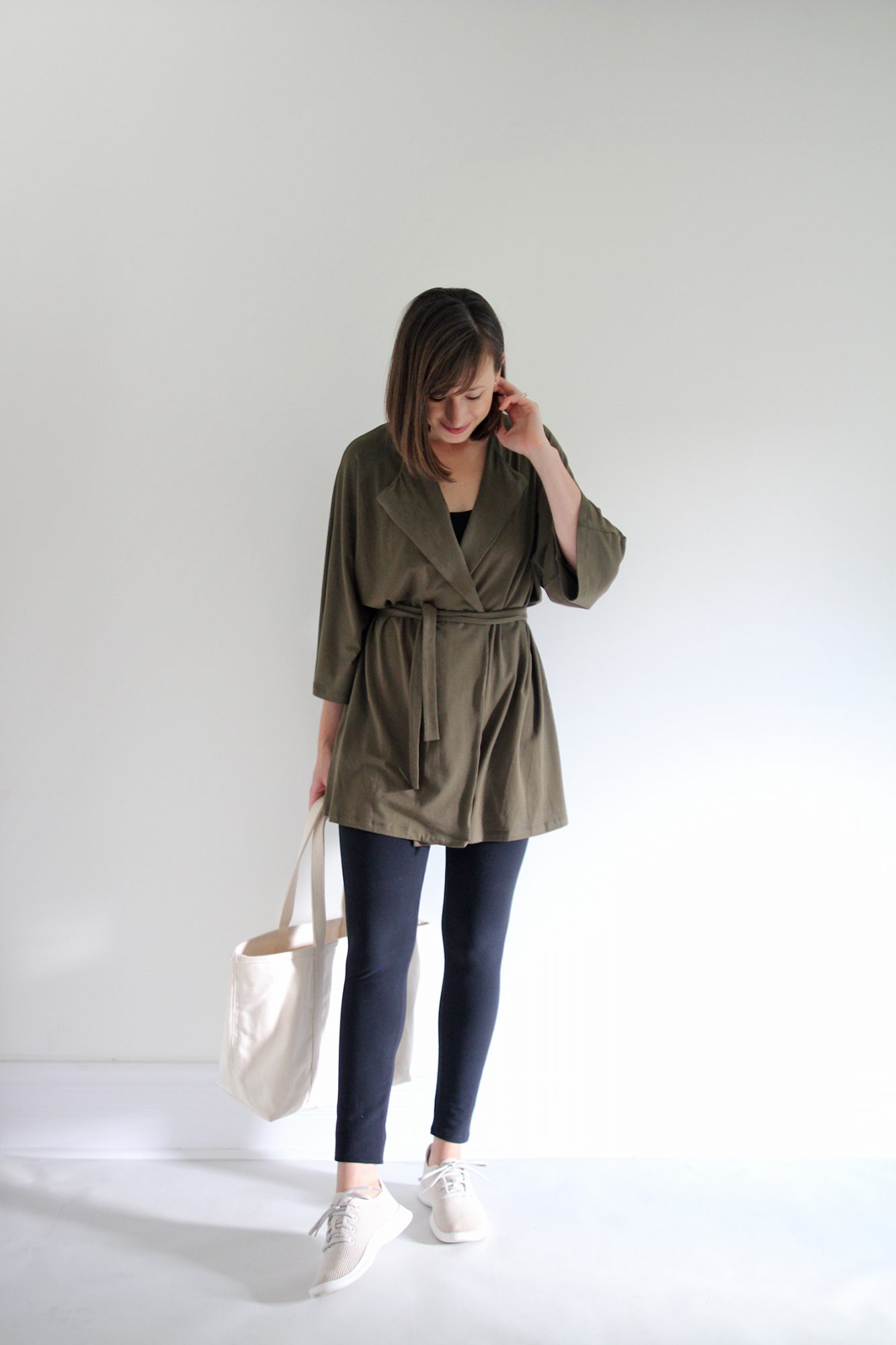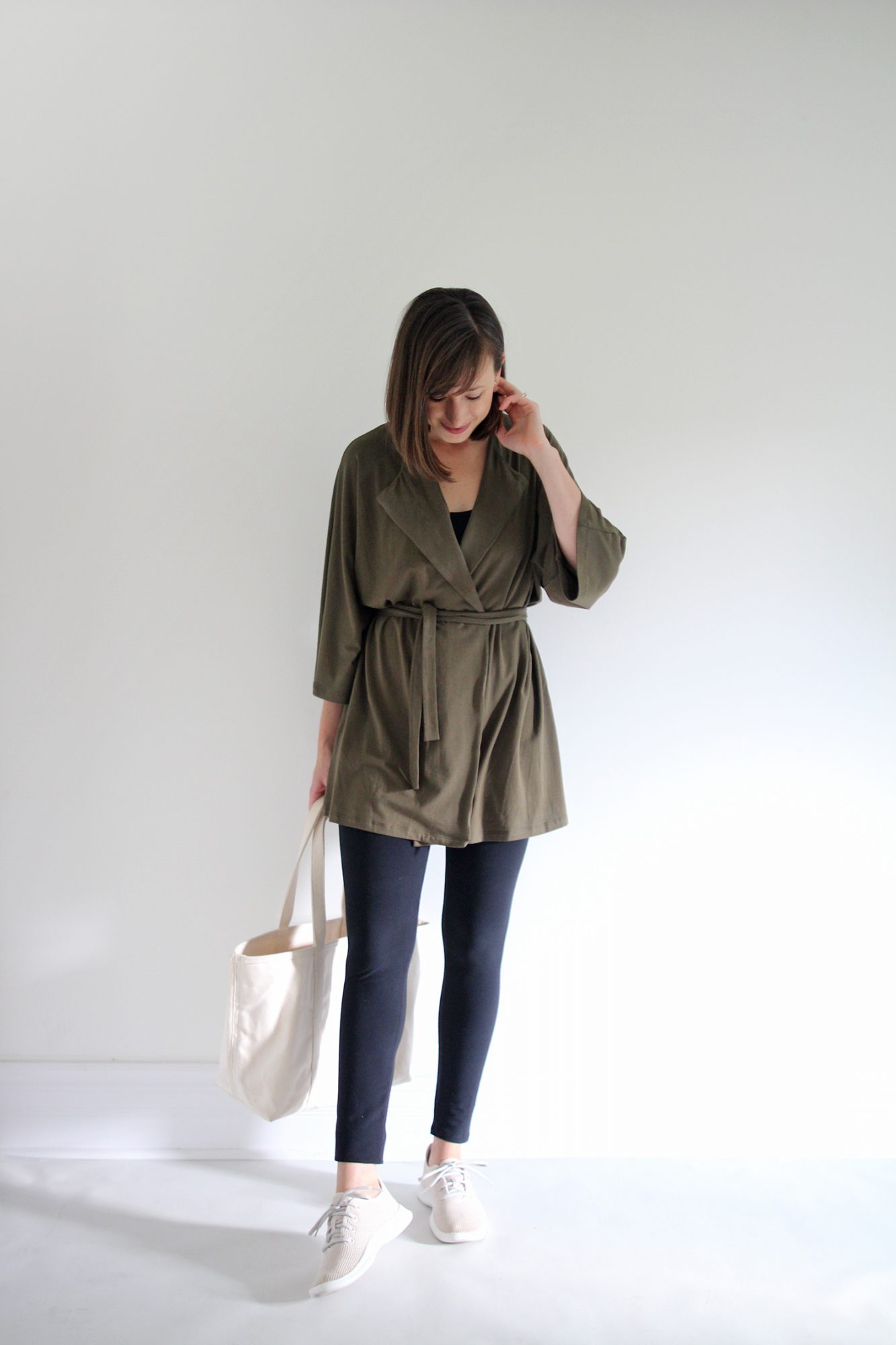 ---
LOOK 3 – INITIAL THOUGHTS
For what was a relatively fine Monday and my 3rd day of the #Summer10x10 I chose the Organic Leggings, my old Lululemon Sports Bra and wore my Allbirds Tree Runners and Robe to walk the pup and in between workouts. Since I'm a bit short on words as I'm writing this, I'll just quickly share a couple of thoughts on this outfit. The first being that a black base really is my comfort zone, whether it's workout gear or regular clothes, I just don't think I'll ever tire of it. It's forgiving and chic and timeless and all the things I like about dressing simply. I used to have lots of bright coloured work out gear and always felt way off whenever I wore it (which to be fair was not often).
The second is that this is one of the first times I've worked out in a 90% cotton legging (instead of the usual nylon/poly/spandex/lycra blends) and it was an interesting experience! So let's dig further into that in the notes below, shall we?
---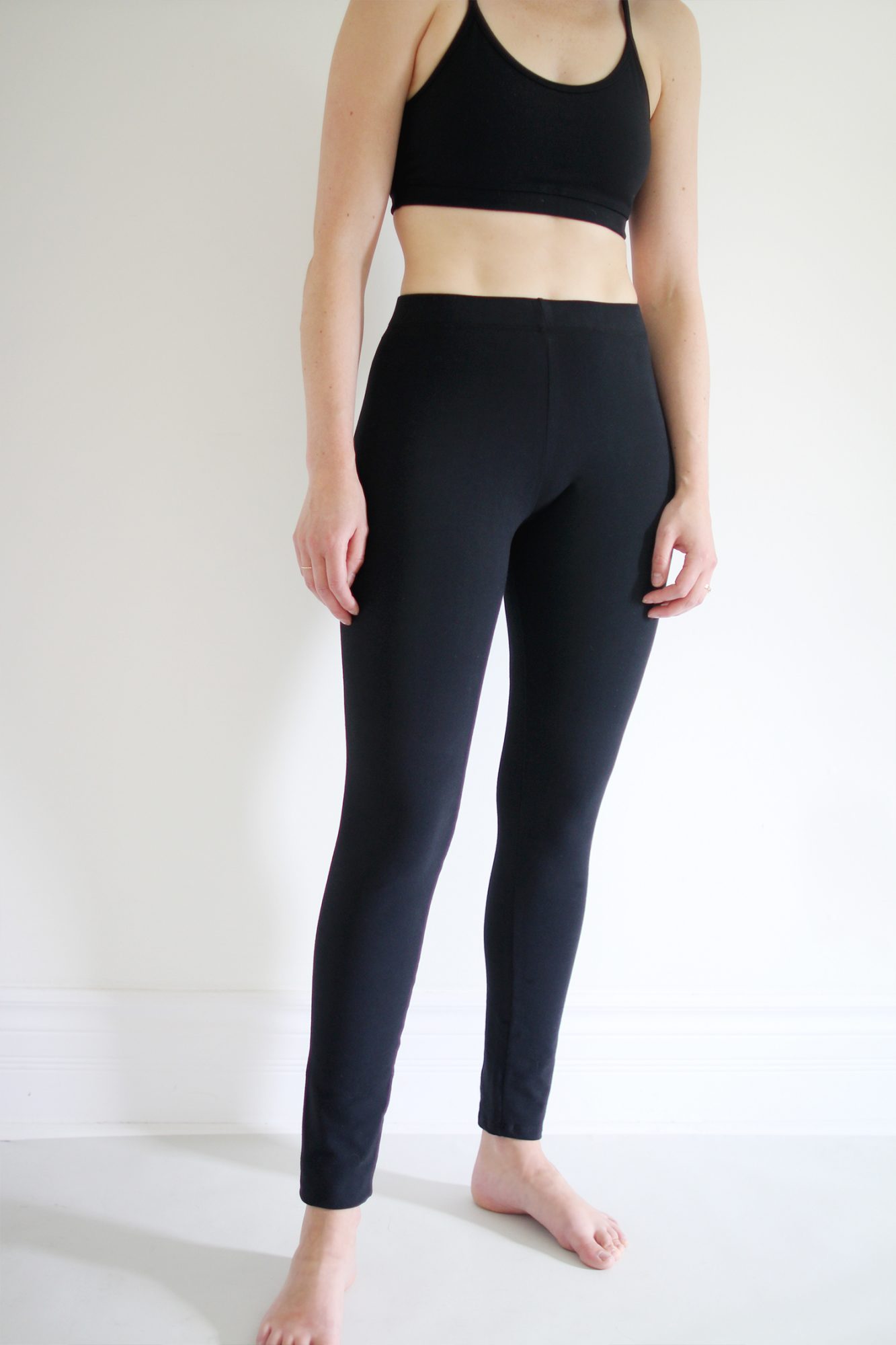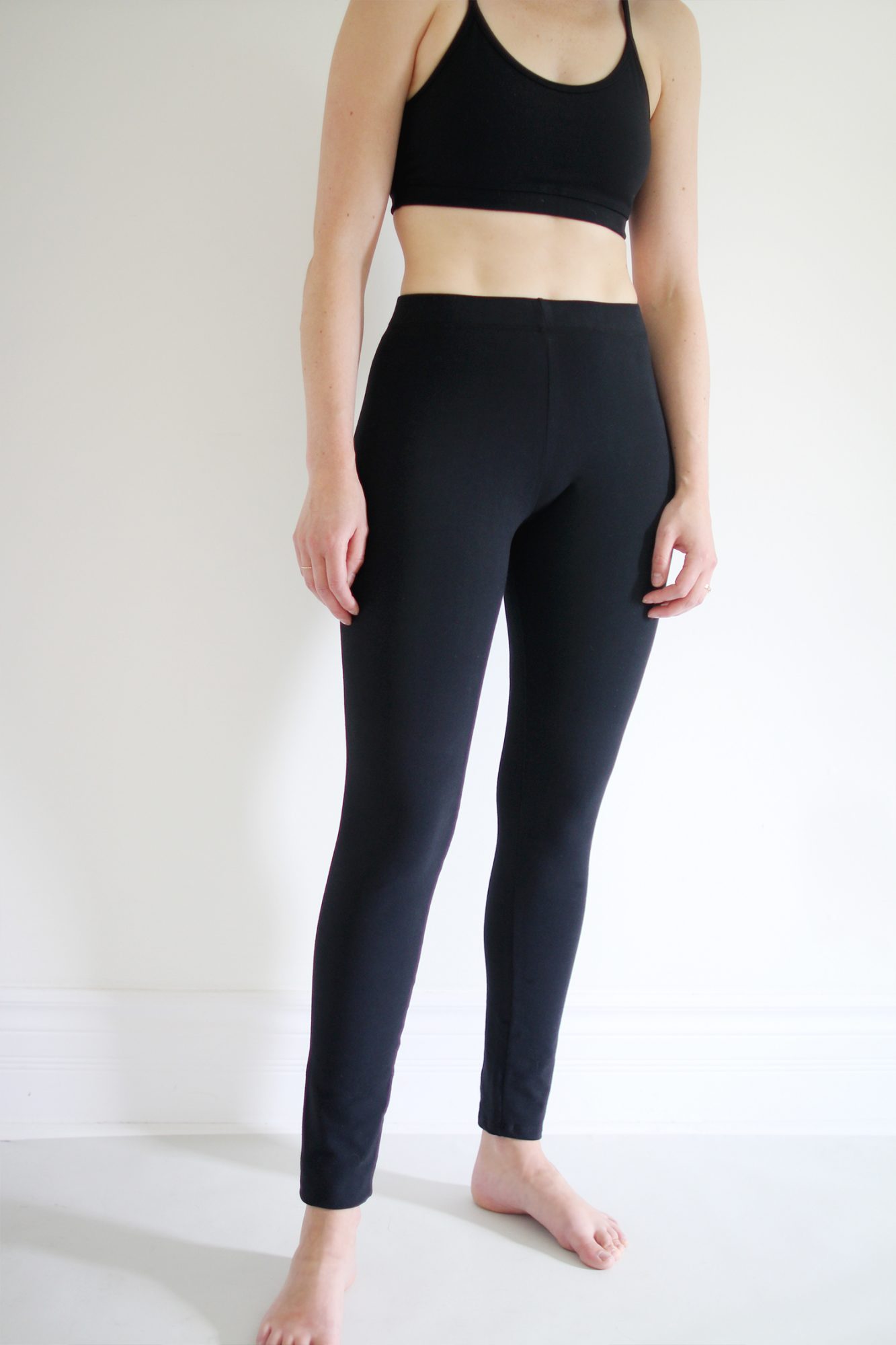 ---
---
Alright! So I wasn't planning to feature two pieces by the same brand back to back but I ended up having some time to do a double workout today (I wanted to test out two sizes) and, well, that's just how things are going to go down! So, yes, I doubled up my workout in order to test these Miakoda Organic Leggings in both a Medium and a Small. I'd already worn both casually in the office but the point was to see how they'd hold up to more activity. First thing this morning I did a fairly intense yoga session in the Medium (lots of deep stretching, lunge postures etc.) and then I did a BBG Full Body in the size Small (so squats, lunges, burpees, sit-ups etc.). Both were similarly sweat inducing and there was lots of stretching, bending and other such motions that put leggings to the test. Here are my thoughts!
Quick Facts:
1 colour available
$60 USD $51 USD When you use code: STYLEBEE for 15% OFF any MIAKODA order.
Free shipping on US orders over $100 and $15 international flat rate. All packages shipped in eco-friendly materials.
Soft fabric blend of: organic cotton 90% + spandex 10%
Made responsibly and sustainably in NYC. Learn more here.
Available sizes: XS/S | S/M | M/L | XL
Fit runs true to the sizing noted and these are intended to have a mid-rise fit. I have tested both a size S and M below.
Machine wash cold and air dry.
Now we'll leave the Pro and Con lists to the sizing debate below and I'll review these in a Q&A format.
ARE THEY COMFORTABLE?
Oh heck yes! These leggings are very comfy. The fabric is so soft and almost feels like micro-suede but in a natural, plant-based way, if that makes any sense. There is just enough spandex in there to give them tons of stretch and to help maintain recovery. The 1.5 inch waistband is also fully wrapped and stays put nicely!
ARE THEY BREATHABLE?
Yes in some ways and not so much in others. I found they were more breathable than the MIIK Lisa II Legging, the Girlfriend Collective leggings and a pair of Outdoor Voices leggings that I also have so I didn't sweat as much in the usual spots but when I did sweat those areas didn't wick away or dry as quickly as with the other leggings in my 10×10. Since cotton is absorbent this makes sense.
ARE THEY SEE-THROUGH?
Not as far as I could tell and I really tried to find evidence of any transparency. Plus, I got Dave to verify that before he left for work this morning. I'm fairly sure that the fabric is thick enough to prevent any show-through, even in downward dog.
WILL THEY BE GOOD FOR HIGH INTENSITY INTERVAL TRAINING?
I think they could totally stand up to that but they're best suited for yoga, pilates, strength training and classes like Barre or LEKfit. They don't have much on the form of compression so they won't 'hold' you in while running or jumping etc. If you want a true high performance legging the Bamboo Half Moon Crop legging would be my suggestion for the better moisture wicking properties of bamboo.
DO THEY STRETCH OUT?
They did stretch a little bit in the knees after I did a lot of squats, lunges and some floor poses. It wasn't major or very surprising, especially since the knee area wasn't super tight on me to begin with.
ENOUGH ABOUT FITNESS, CAN YOU STYLE THESE FOR REAL LIFE?
Totally! I think these would be great leggings for travel and I can really see them working with oversized sweaters, a wool sock and some cute boots in the winter. They could also work great with a linen tunic and some fun slides right now! I'd just faux cuff the hem slightly for a little more ankle crop. By this I mean fold the bottom up and inside itself.
---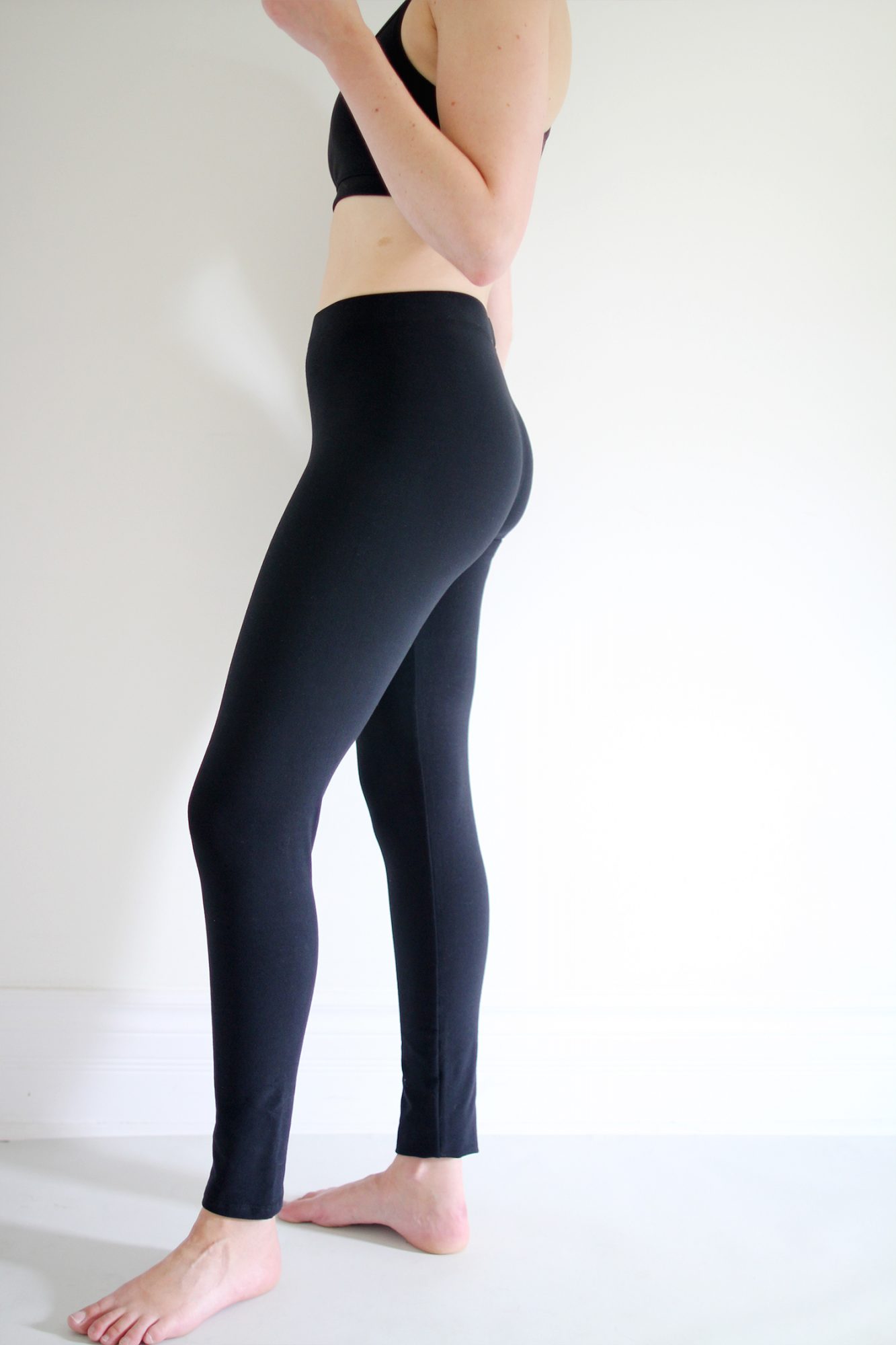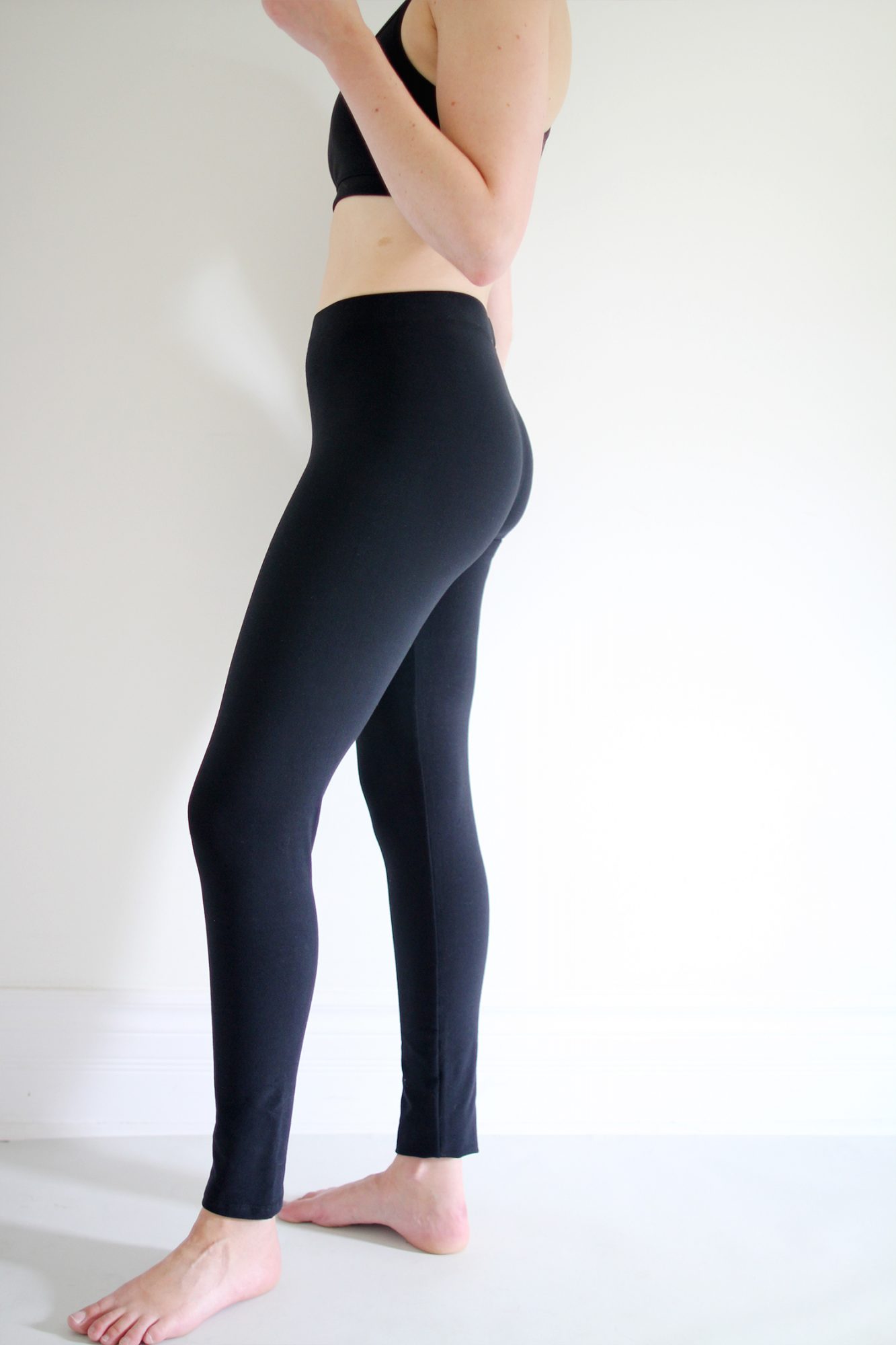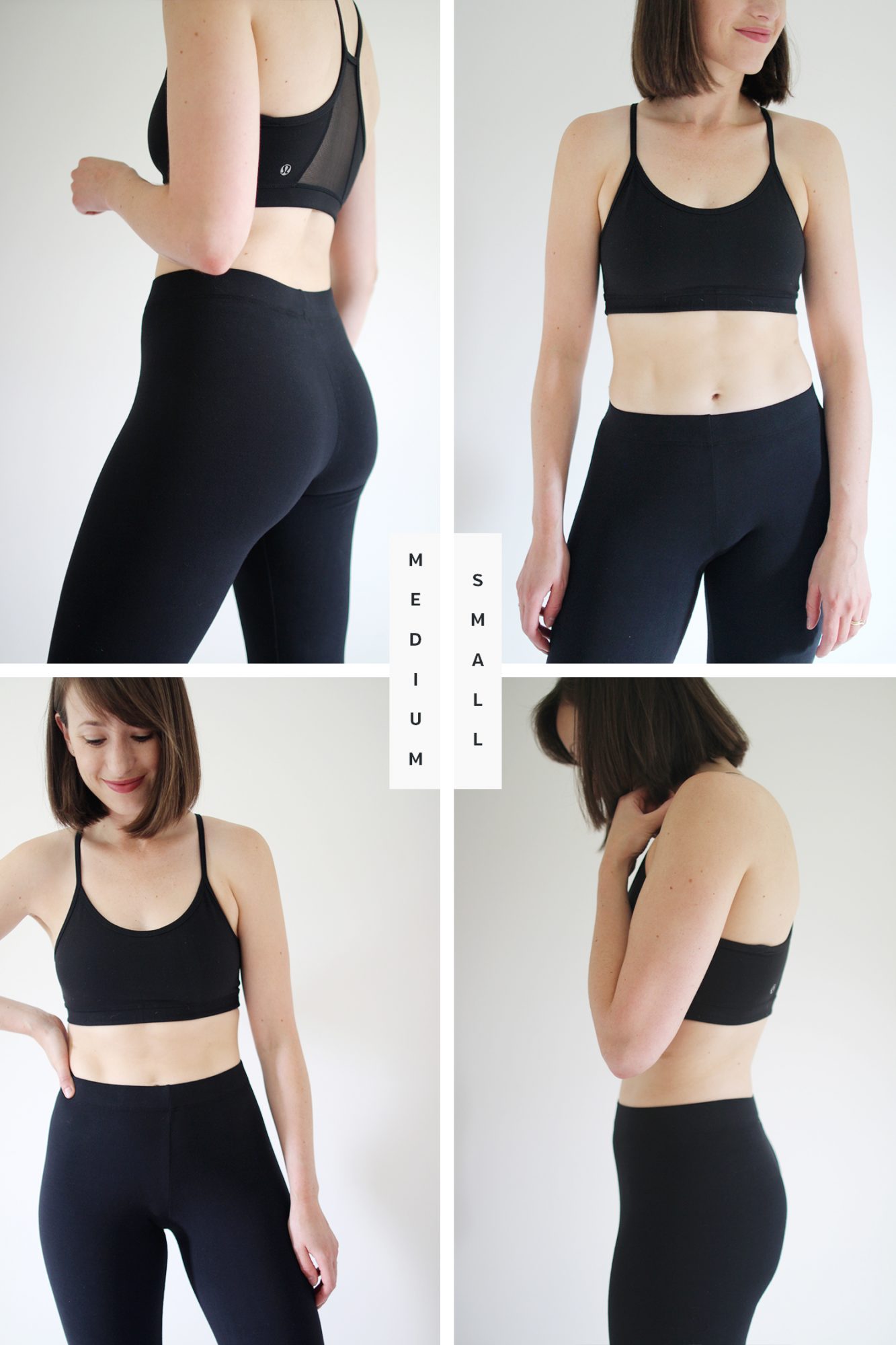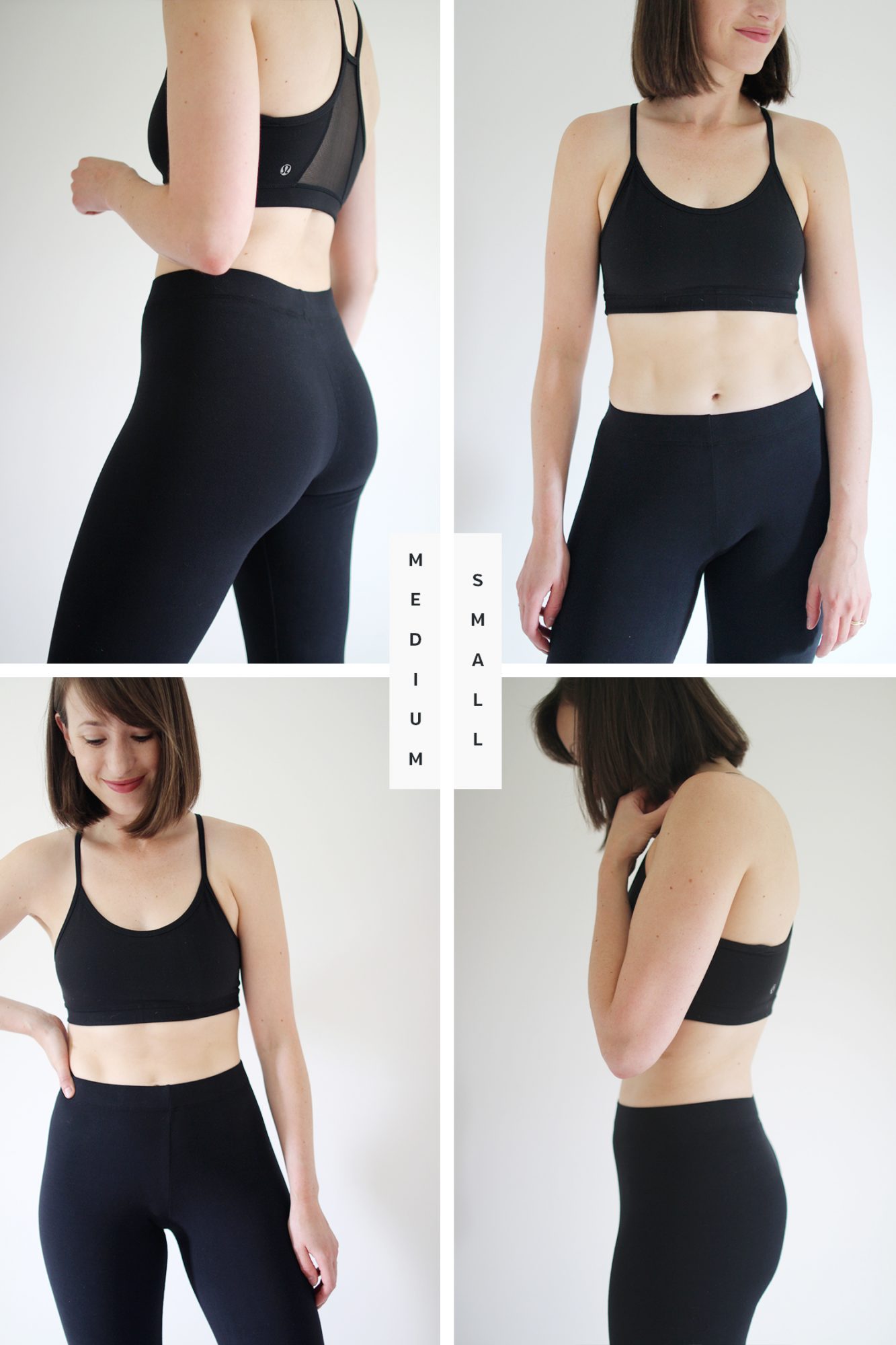 ---
SIZE COMPARISON
---
I wanted to share a size comparison between the size Medium and the size Small because, well, I find that kind of thing helpful! I originally thought I'd need a Medium but Miakoda kindly sent a Small as well for me to try. Either one is totally wearable but here's how it went down!
For reference my measurements are: 26 inch waist and 37 inch hips. I'm about 5'7.5 and 125 lbs.
MEDIUM
PROS:
Can be worn high-waisted
Nicely fitted at the waistband, zero digging-in
Not too snug in the crotch
Fitted through the butt and thigh
CONS:
Slightly loose around the knee and lower calf
Because of this, it is inclined to stretch out slightly after a lot of knee bending/lunges etc. but I expect that returns to normal after a wash.
SMALL
PROS:
More fitted through the knee and calf but not super tight
Less inclined to get loose with wear but not impervious to it
CONS:
Tighter through the waistband and crotch (ie: camel toe potential)
Sits about 1.5 inches lower on the hip for a medium rise (this might be a pro for some folks though)
WHICH IS MY FINAL PREFERENCE?
Both were very comfortable to work out in and I didn't feel as though I needed to shift or adjust the waist much at all. Ultimately, I preferred the Medium because of the higher rise and better fitting waist band/crotch so that's what I'll be hanging onto!
I hope that comparison is helpful if you're interested in the Miakoda Organic Leggings!
---
Sorry no quick tip today, but I'll see what I can come up with next!
---
DAY 4
---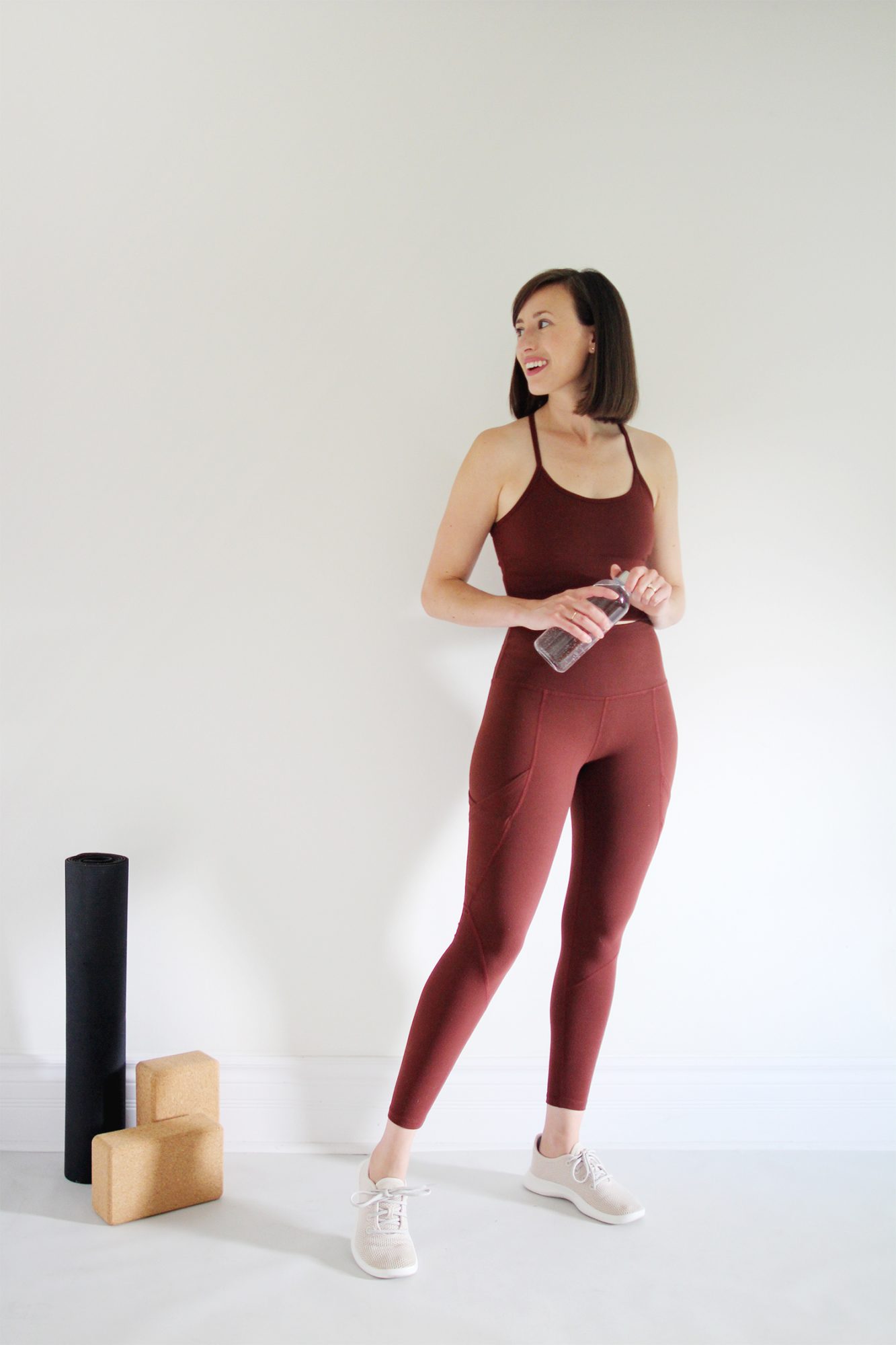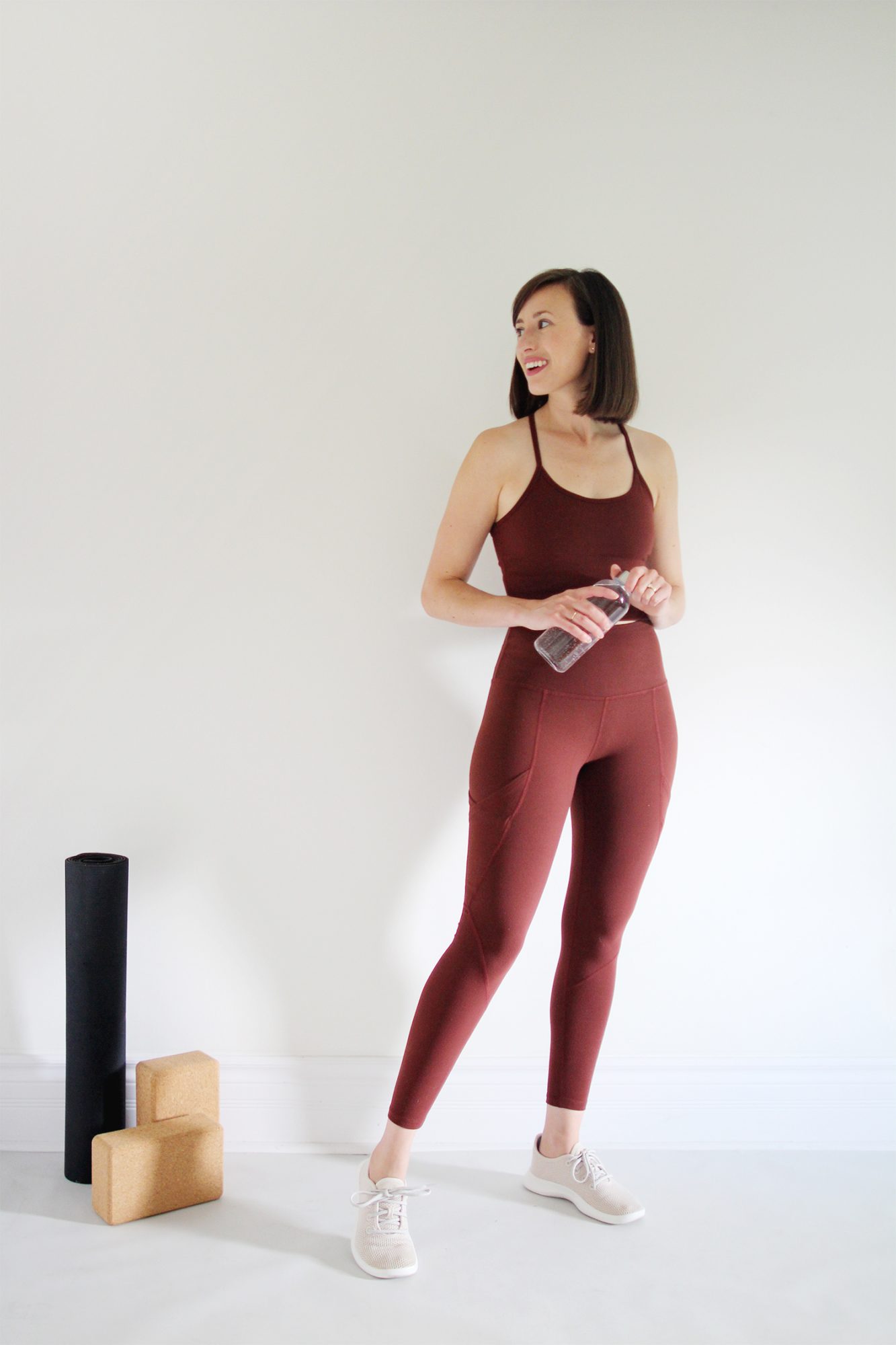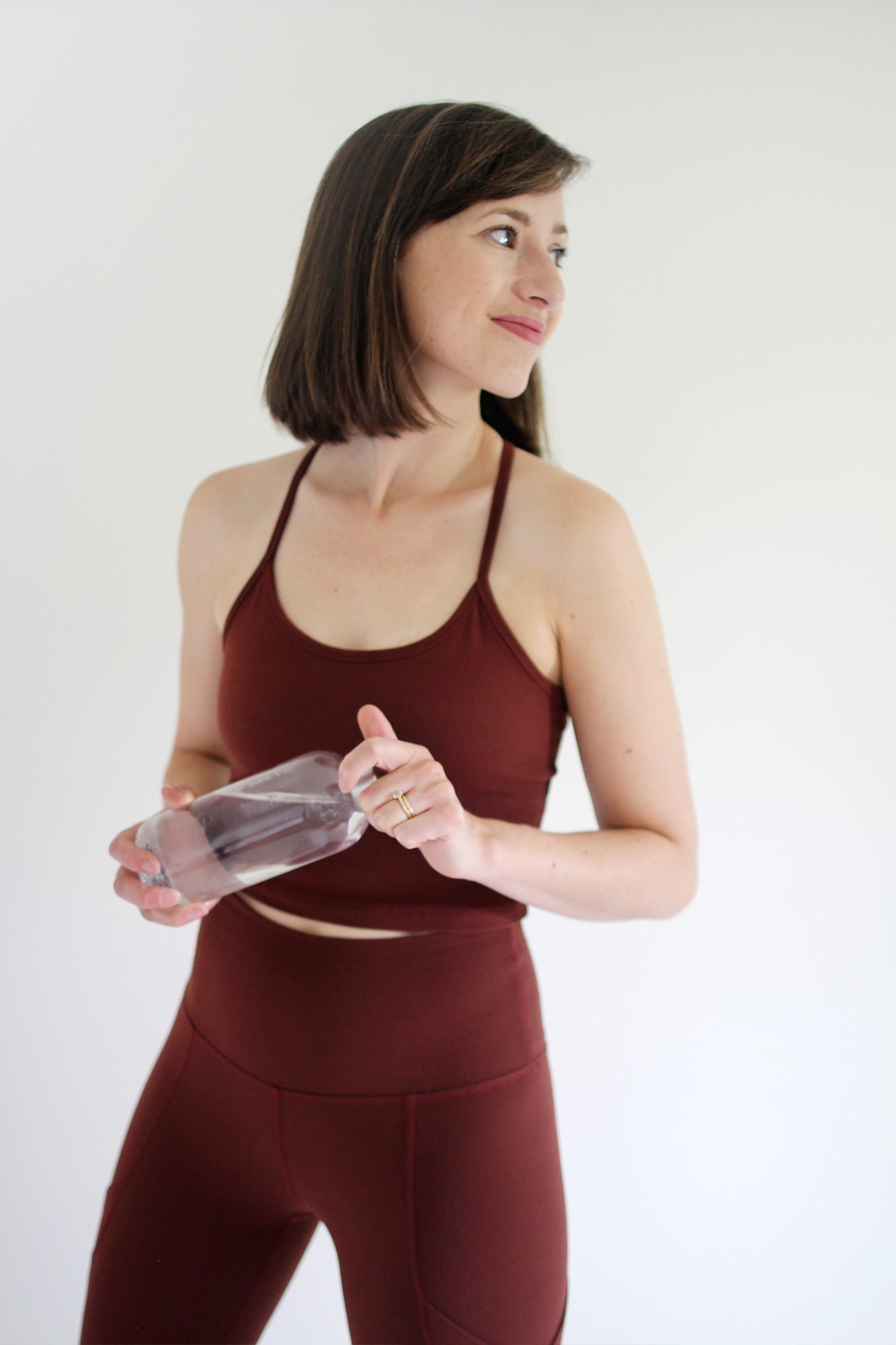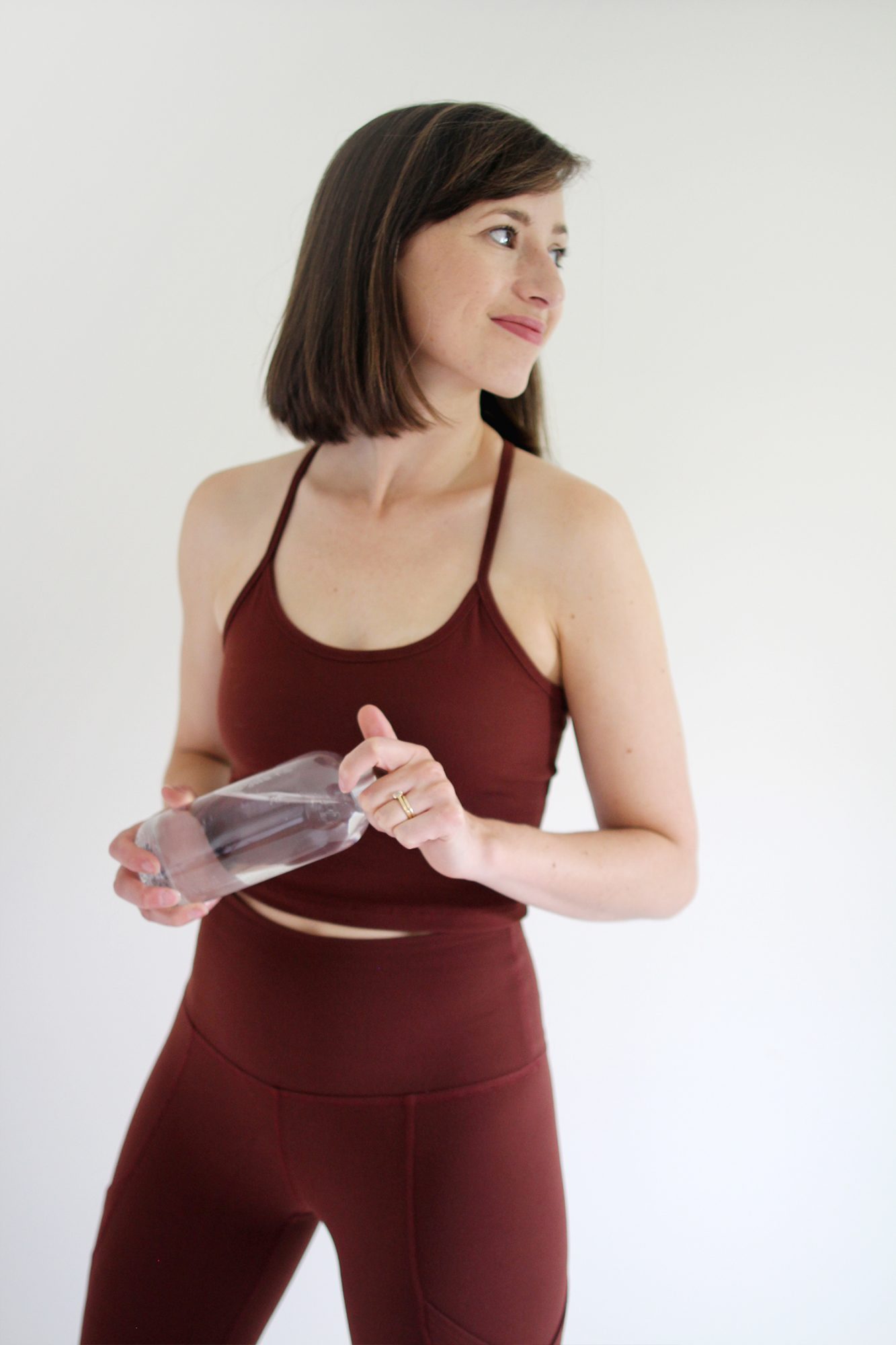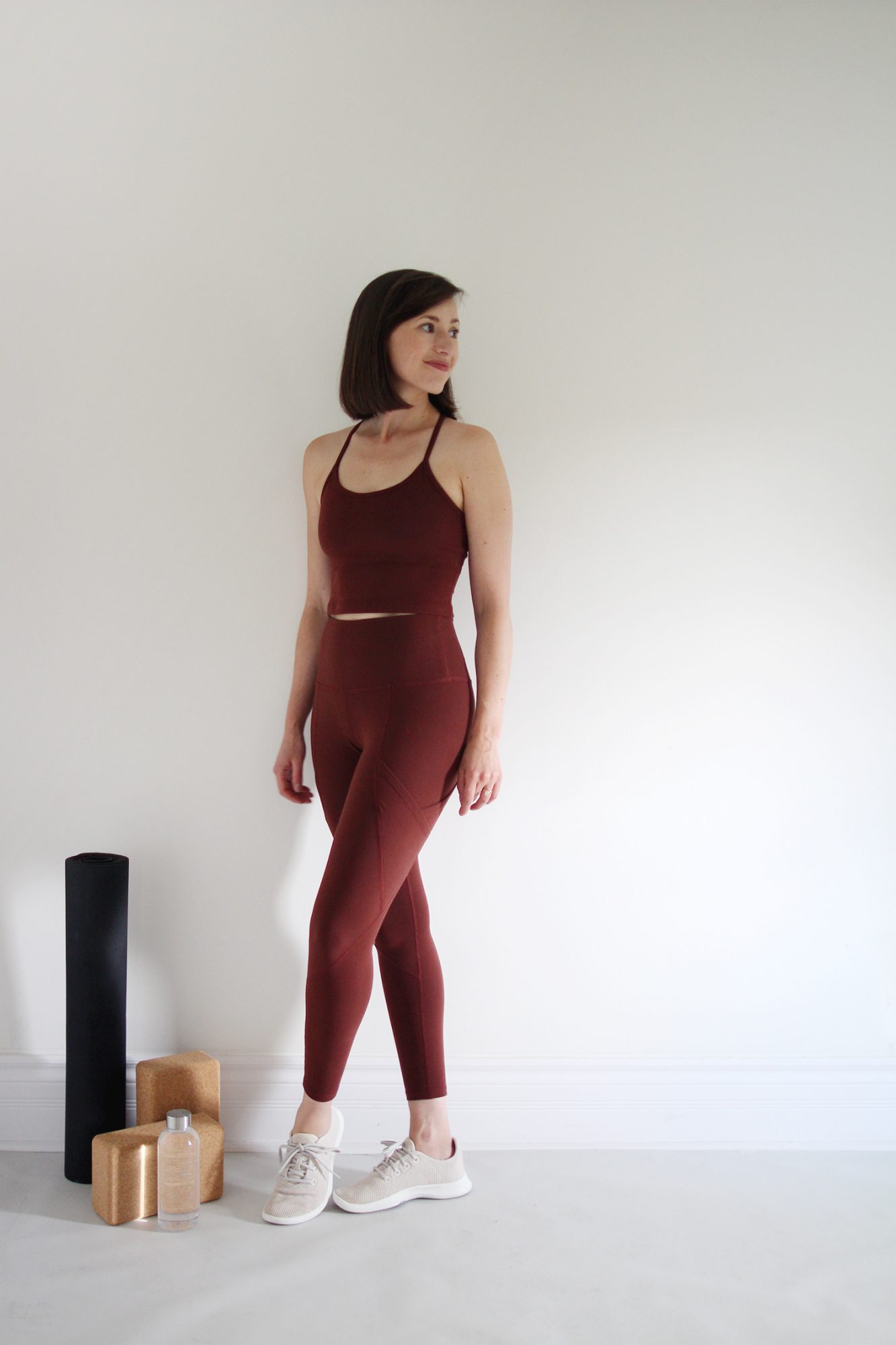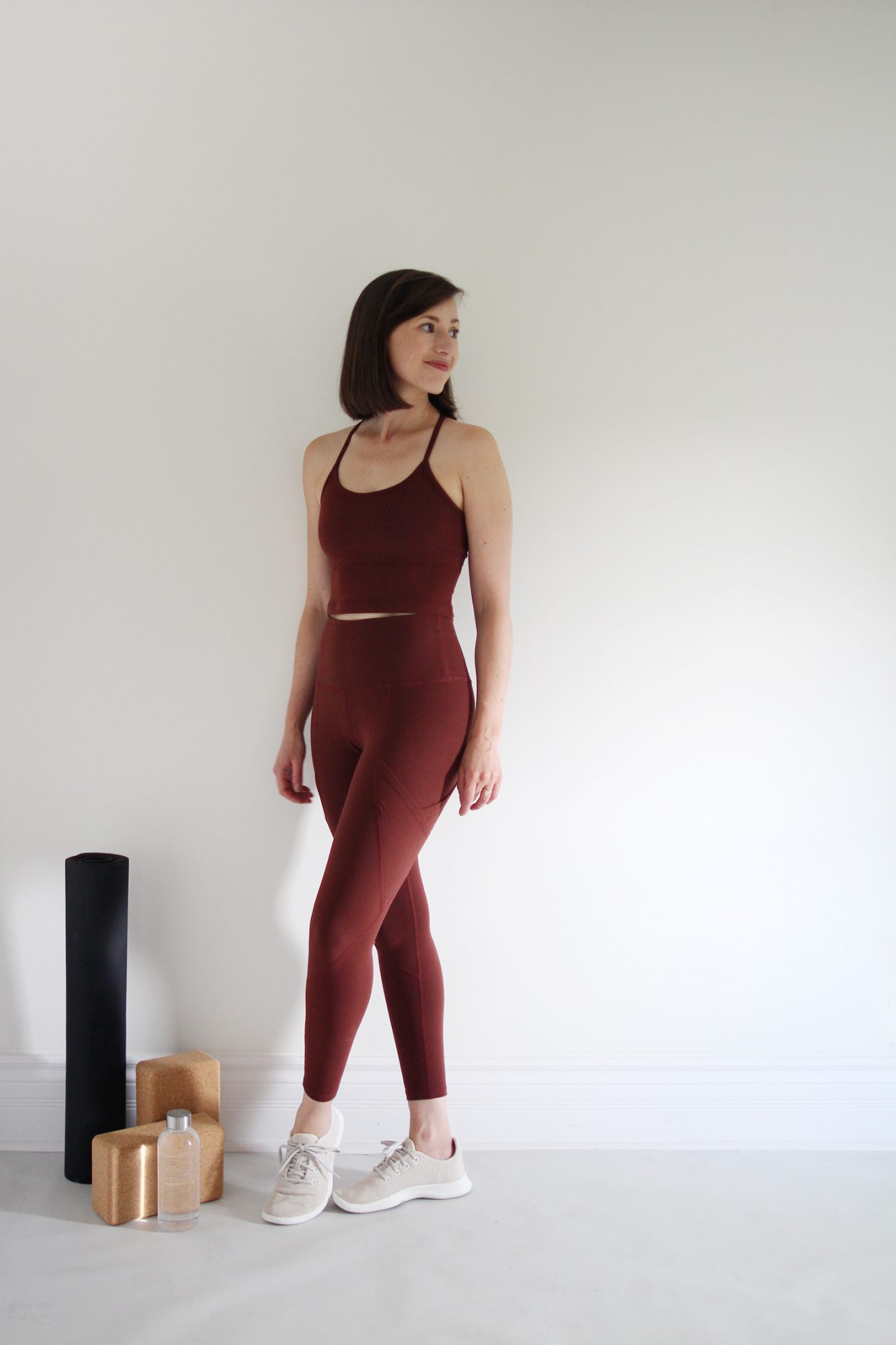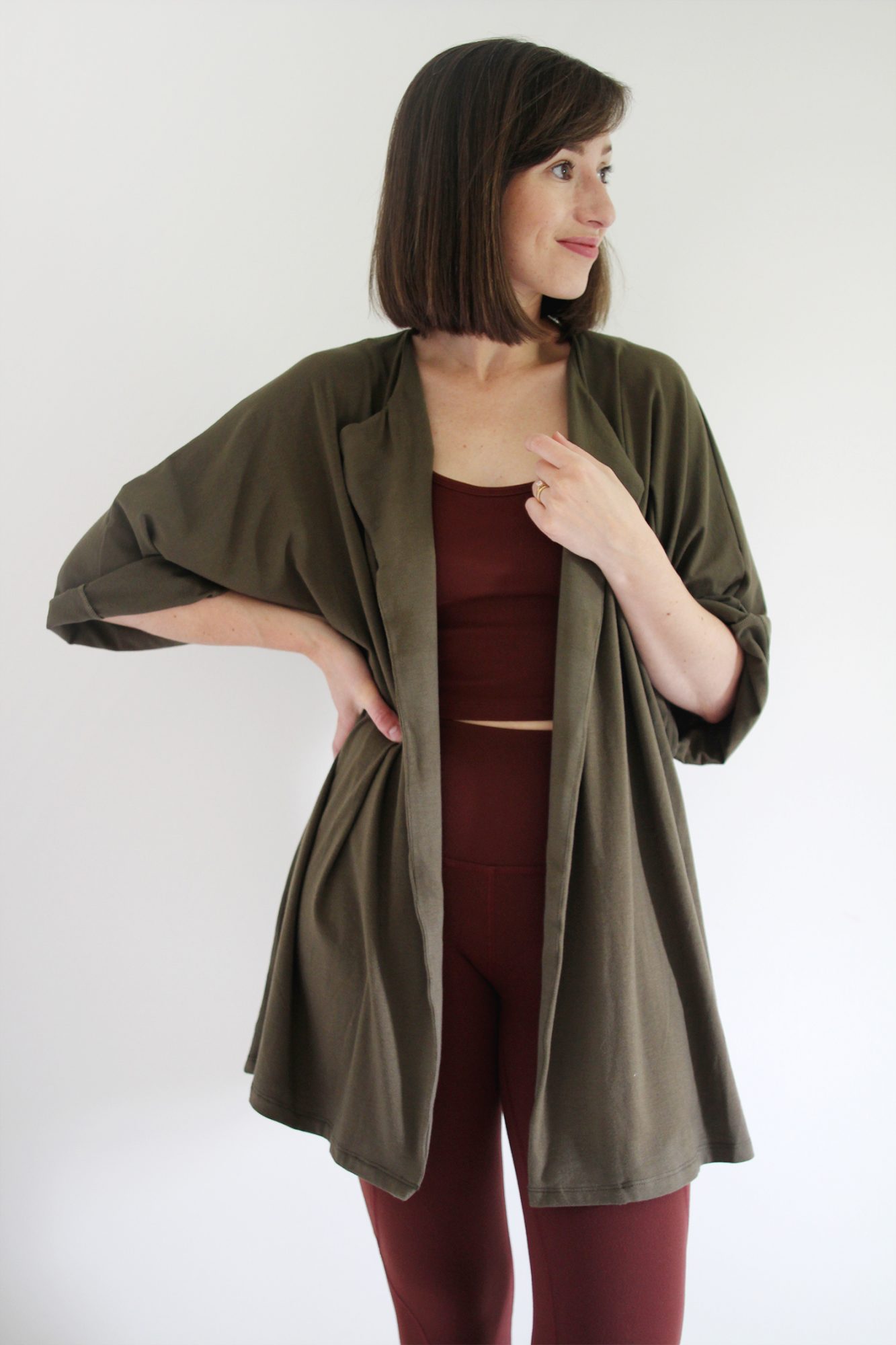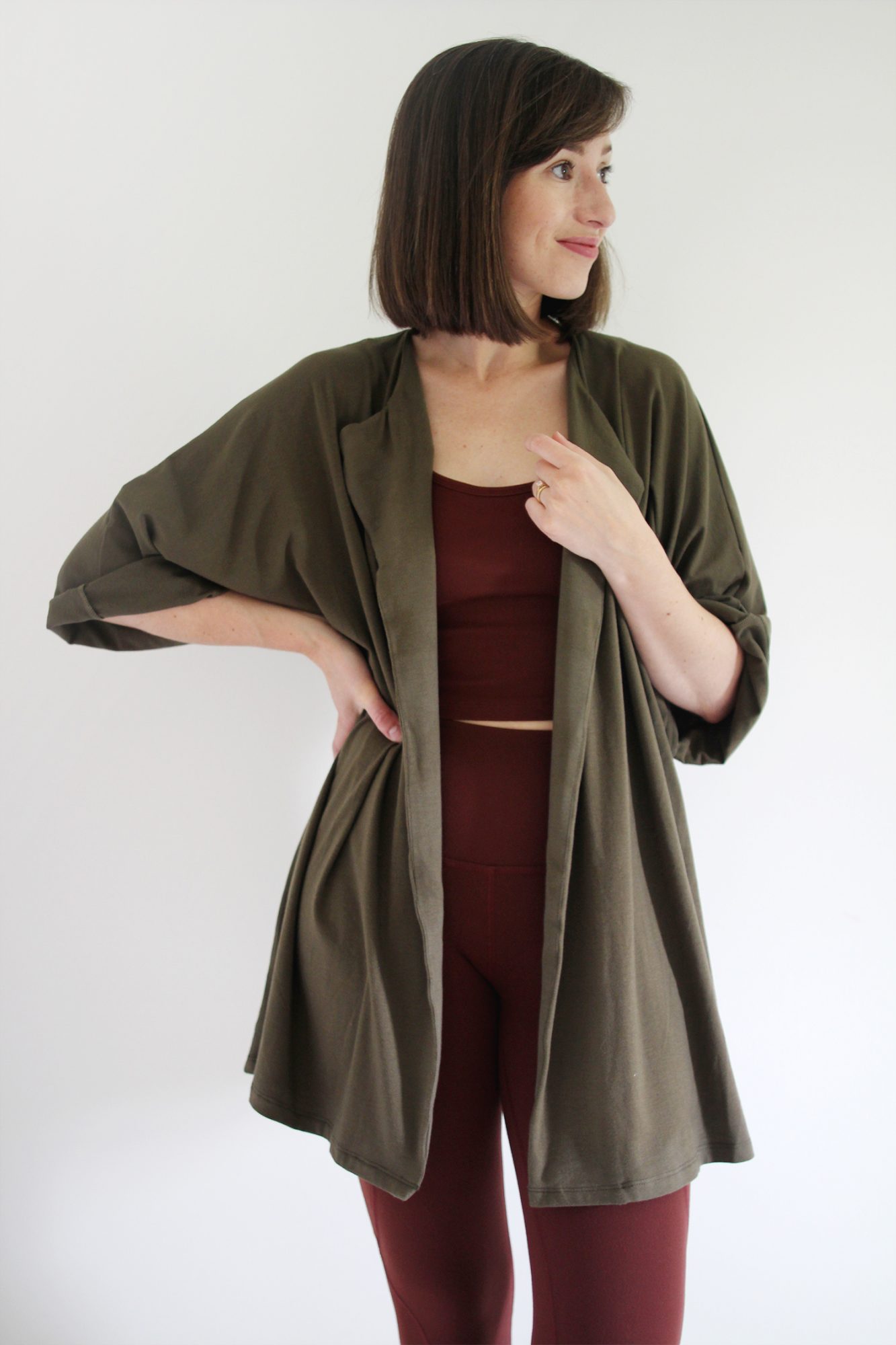 ---
LOOK 4 INITIAL THOUGHTS
Oh man, Day 4 was an odd one. I was just not in a good headspace and couldn't seem to get anything done. I tried to combat the brain fog with a yoga session, didn't work. Tried to get out of the funk with a dog walk, wasn't happening. Finally resorted to a 'quick' afternoon nap, set the timer wrong and woke up an hour later completely disoriented and even more flustered than I started. So yeah, it just wasn't meant to be! Part of that was work stress, planning projects for Fall always gives me decision fatigue. Another factor was diet. The night before (Monday) I'd had a crappy dinner, not unhealthy, just scant and then I'd stayed up late working. So I woke up without much in the tank. For me, that never ends well. So lesson learned (for the 10000th time)!
That said, this outfit was probably the best decision I made all day (Runners, Robe, Tank, Leggings). I just love the sienna colour and the fit of these leggings is dead on. It was super comfortable for yoga, walking the pup, working at my desk and especially for a not so quick cat nap! I finally forced myself to get into real clothes when it was time to leave for my weekly girl's night. We drink wine, watch the bachelorette and eat snacks with questionable nutritional value. It's the best night of the week, obviously. That really turned my day around and so did the fresh air and walk to and from my friend's place.
Now onto the details about Look 4! I've got lots to say about this set from Beyond Yoga so take a look below for the item spotlight.
---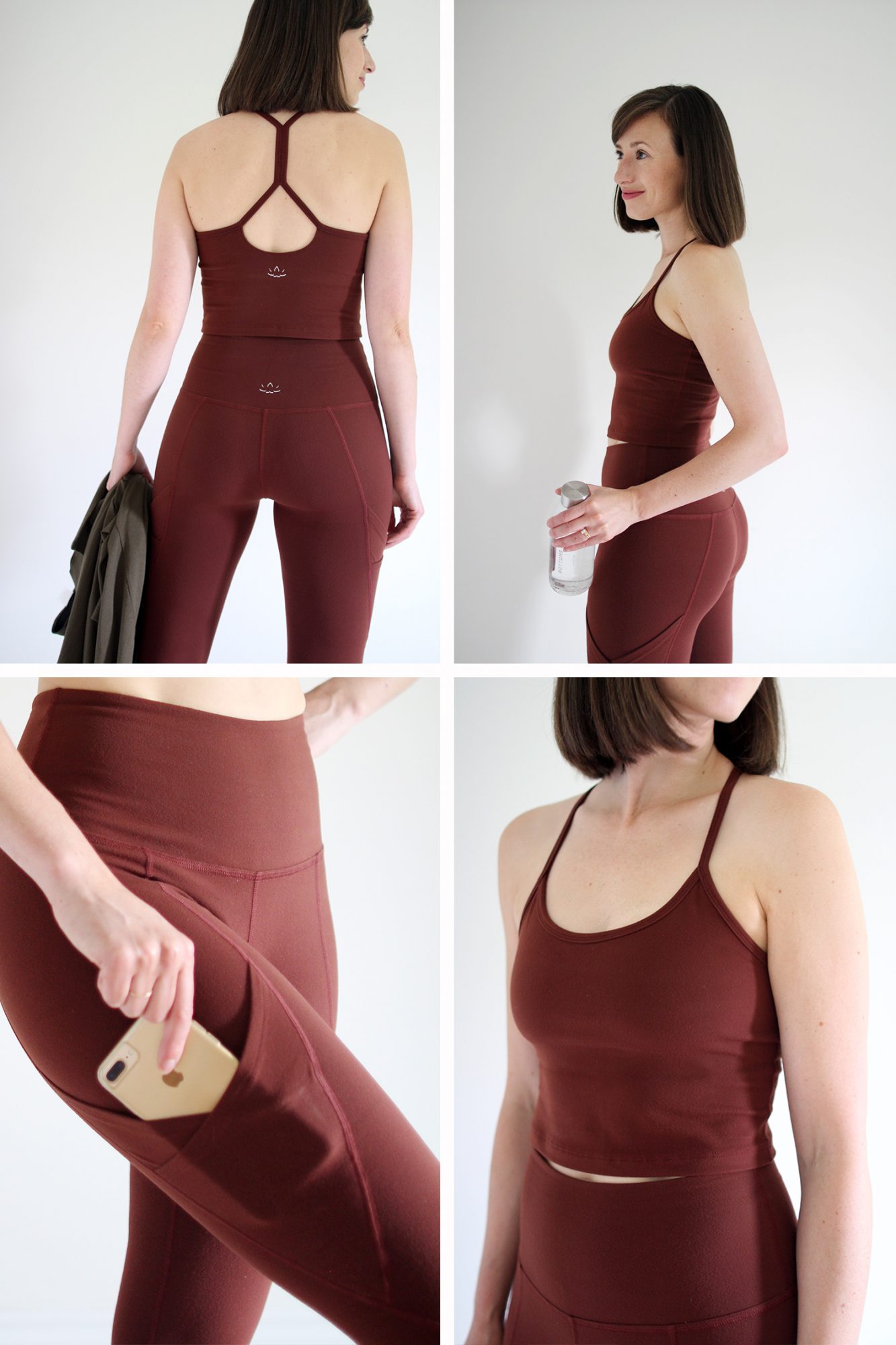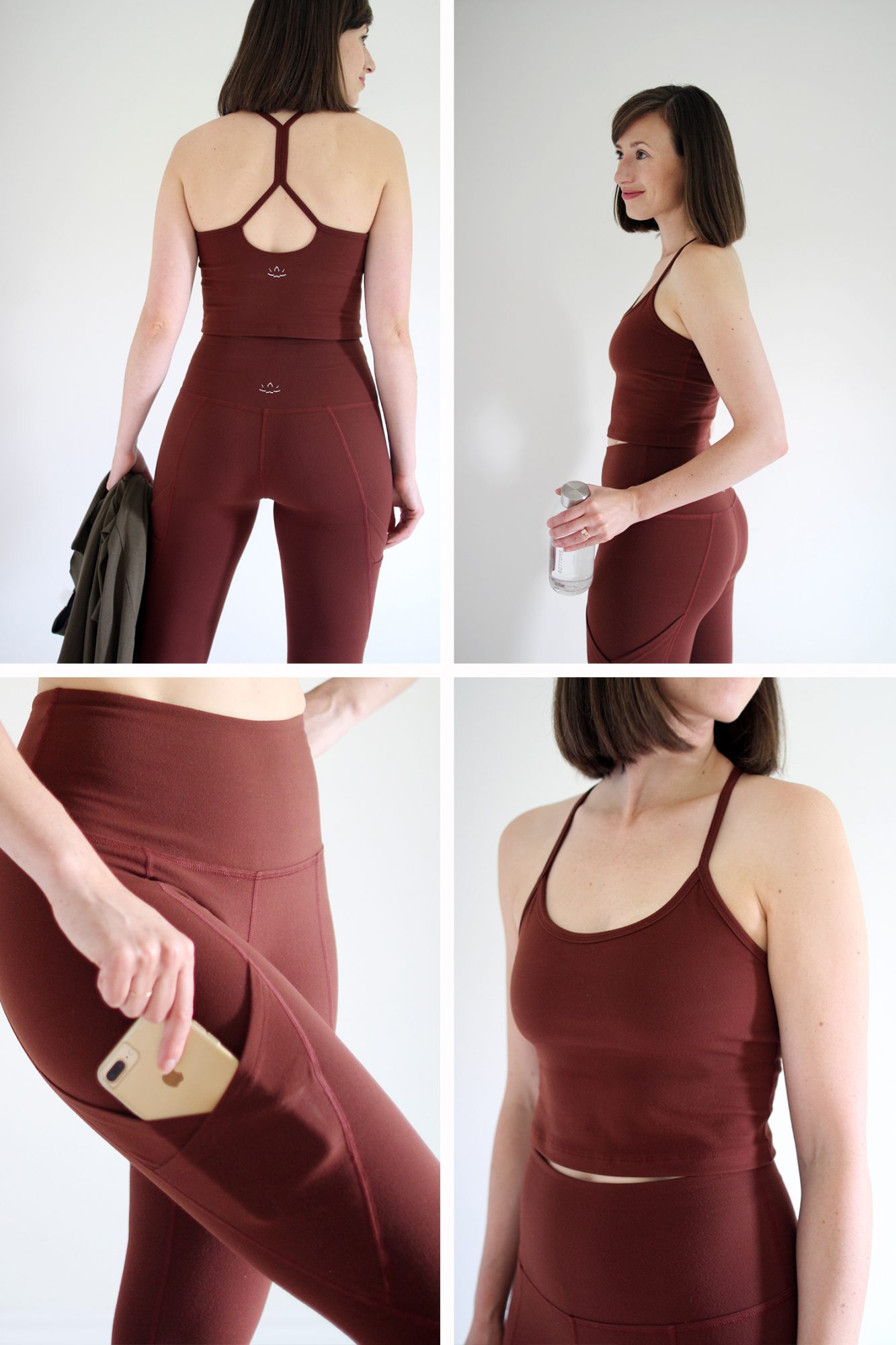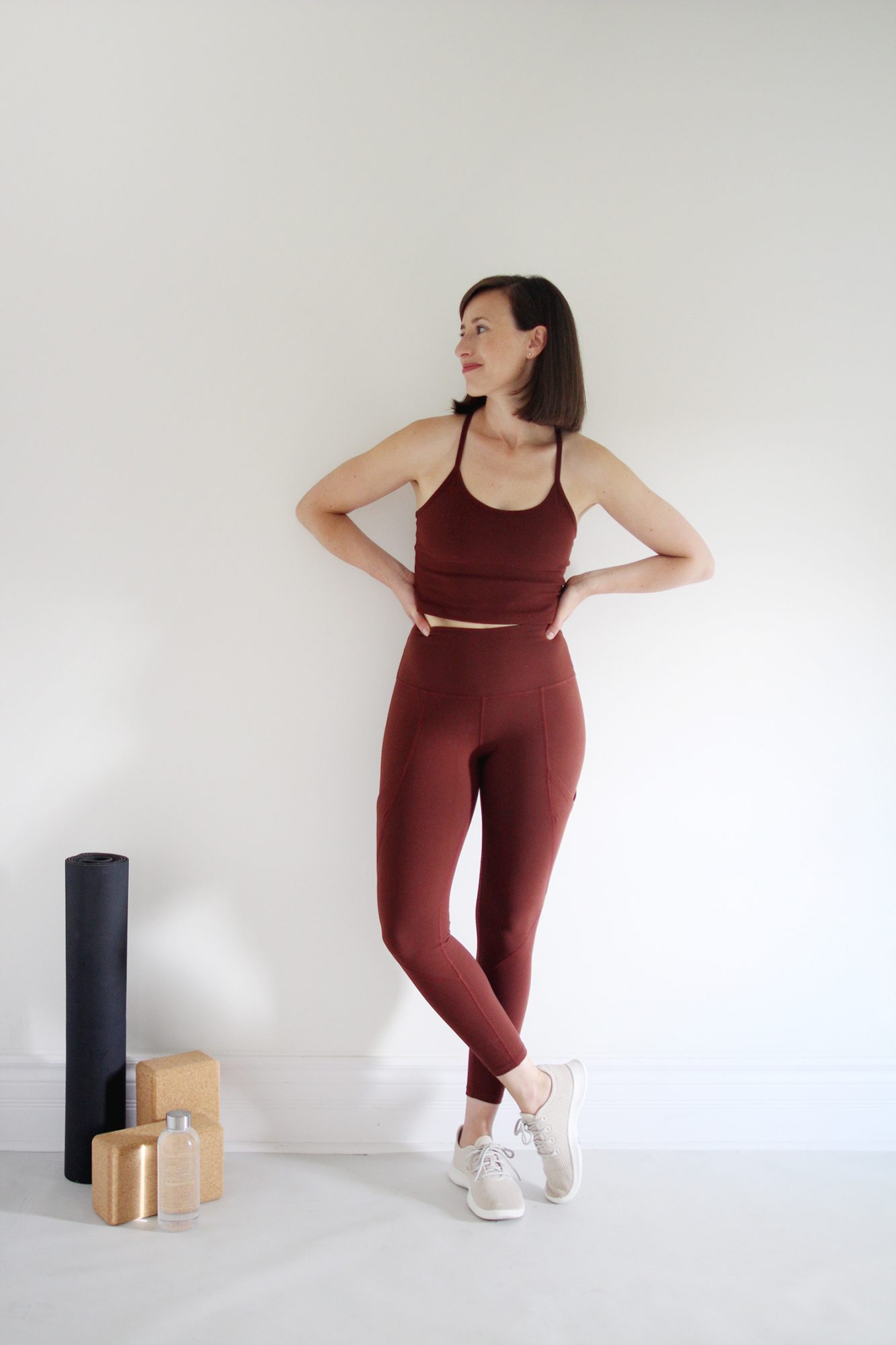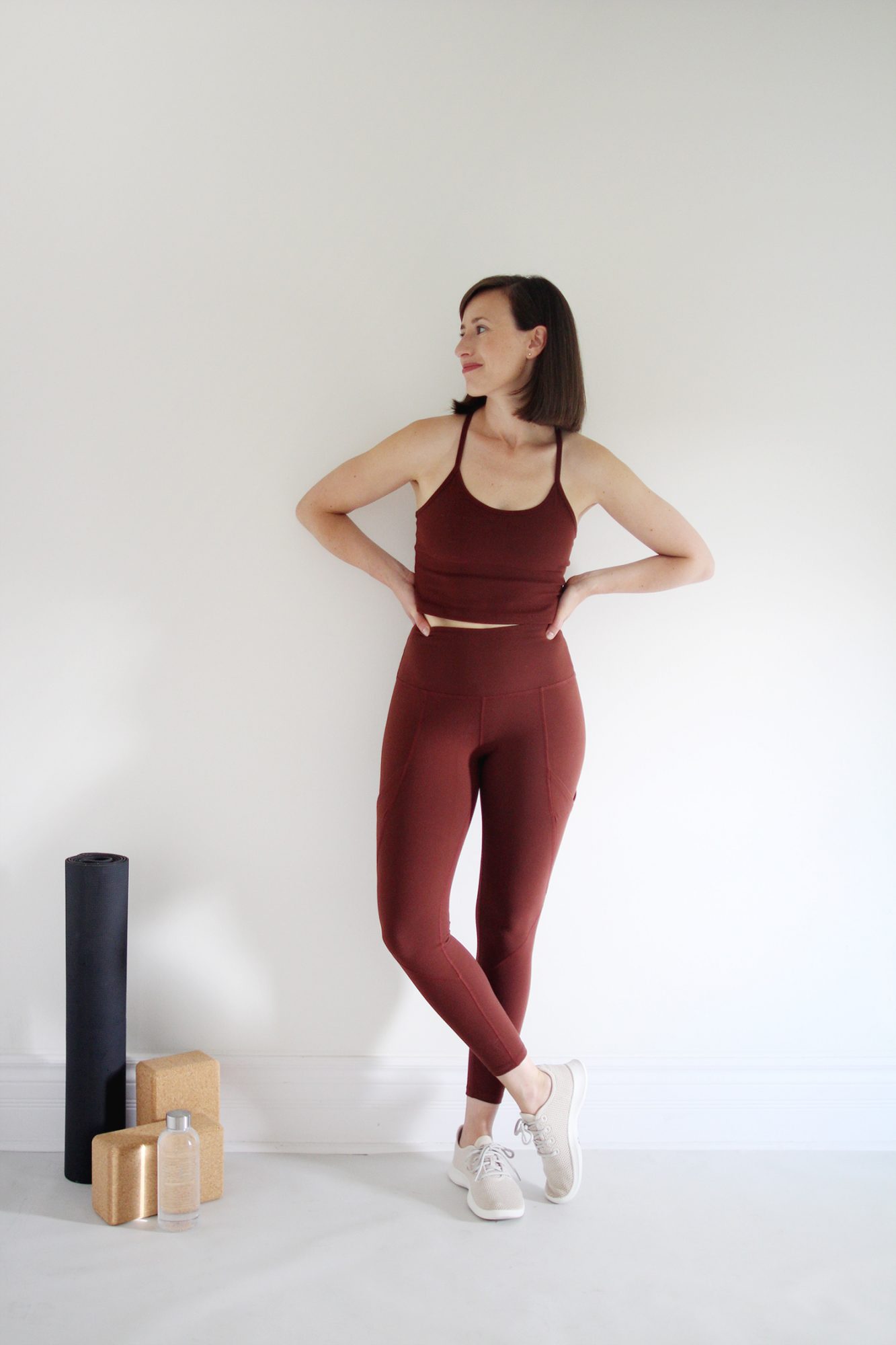 ---
ITEM SPOTLIGHT – BEYOND YOGA SET
---
I'm excited to be able to share my thoughts on this set because I had really high hopes for it and it delivered! I bought this one myself, just like everything except the Miakoda pieces in this 10×10 so I'm under no obligation to be positive (nor am I for the Miakoda pieces either). The thing is, I just can't help it! I really like how these pieces feel to move in and I know they won't be my last from the responsible activewear brand Beyond Yoga.
Quick Facts:
BEYOND YOGA SET – RACER BACK TANK + PALOMINO HIGH WAIST LEGGING
PRICE: $60 and $99 USD respectively
4 colours available (Red, White, Black + Grey in both items but leggings vary slightly) (Shop via Shop Bop or direct from Beyond Yoga)
Soft fabric blend of: nylon 90% + spandex 10%
Made responsibly and sustainably in the US. Learn more here.
Available sizes: XS – XL (with extended sizing for a range of other styles)
Fit runs true to size.
Machine wash warm and air dry.
HOW IS THE FIT?
I absolutely adore how both of these pieces fit. I wear a small in both and they are true to size (for reference my measurements are: 26 inch waist and 37 inch hips. I'm about 5'7.5 and 125 lbs.). The leggings are as close as I've come to my dream fit. The waist is high and compressive but not to the point where it's over my ribcage or restrictive. I also love how the super stretchy material never gapes at the back! The length is long but cropped a few inches above the ankle, which is my preferred crop. I love the slender straps on the tank and how they connect at the back. It's flattering, functional, fun and freeing all at once!
DO YOU NEED TO ADJUST THINGS BETWEEN MOVEMENTS?
Not much at all. The fabric is so stretchy and soft that it moves very well with you. Sure, I might need adjust the waist after a round of intense sit ups and a bunch of forward folding but more because of what I see in the mirror and less because of any discomfort. So far I must say this is my favourite set to work out in.
IS THE TANK SUPPORTIVE?
The tank is great for comfort and staying in place but it's not wildly supportive and a touch low-cut for mountain climbers etc. Neither of those things bother me but it's worth noting if you're above a 32 C, which is my bra size.
WILL THE FABRIC PILL?
So this I am not sure about. I think it might but so far there is nothing to speak of. I haven't worn/washed them enough yet to know but it's such a soft fabric that I can't help but imagine that the fibres will fray over time.
DOES IT SHOW SWEAT?
Yes, it will show moisture. I don't love this about the fabric but I do get some satisfaction in knowing I've worked hard enough to break a real sweat. That's part of the objective right?
WHAT CAN THE POCKET HOLD?
I have an iPhone 7+ and as you can see above, it glides into the pocket no problem. The top 1/4 of my phone sticks out but I would not be worried about it falling out while running. If you have a smaller phone, you're definitely in good shape! The pockets are also great for dog treats, which Dobby can attest to!
So that's my entirely unsponsored but rave review of the Beyond Yoga set! If you have further questions, you know where to send them!
---
QUICK TIP: Need some motivation for travel or at home workouts? Yesterday I put out a call for recommendations on the best workout/yoga/fitness apps and these are the ones that got the most votes. I'll definitely be giving a few of these a try!
NIKE TRAINING CLUB (leader of the pack for sure)
TONE IT UP
ALO MOVES
YOGA GLO
YOGA WITH ADRIENNE ON YOU TUBE
AAPTIV
---
---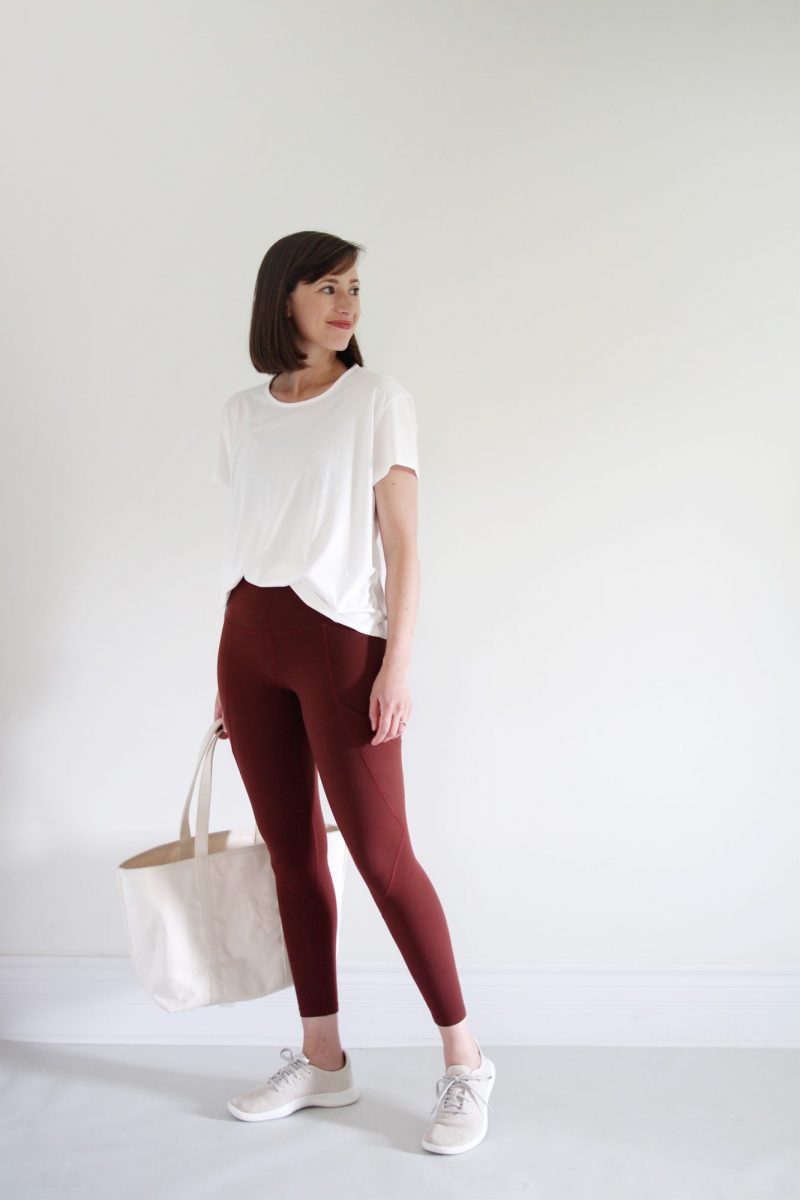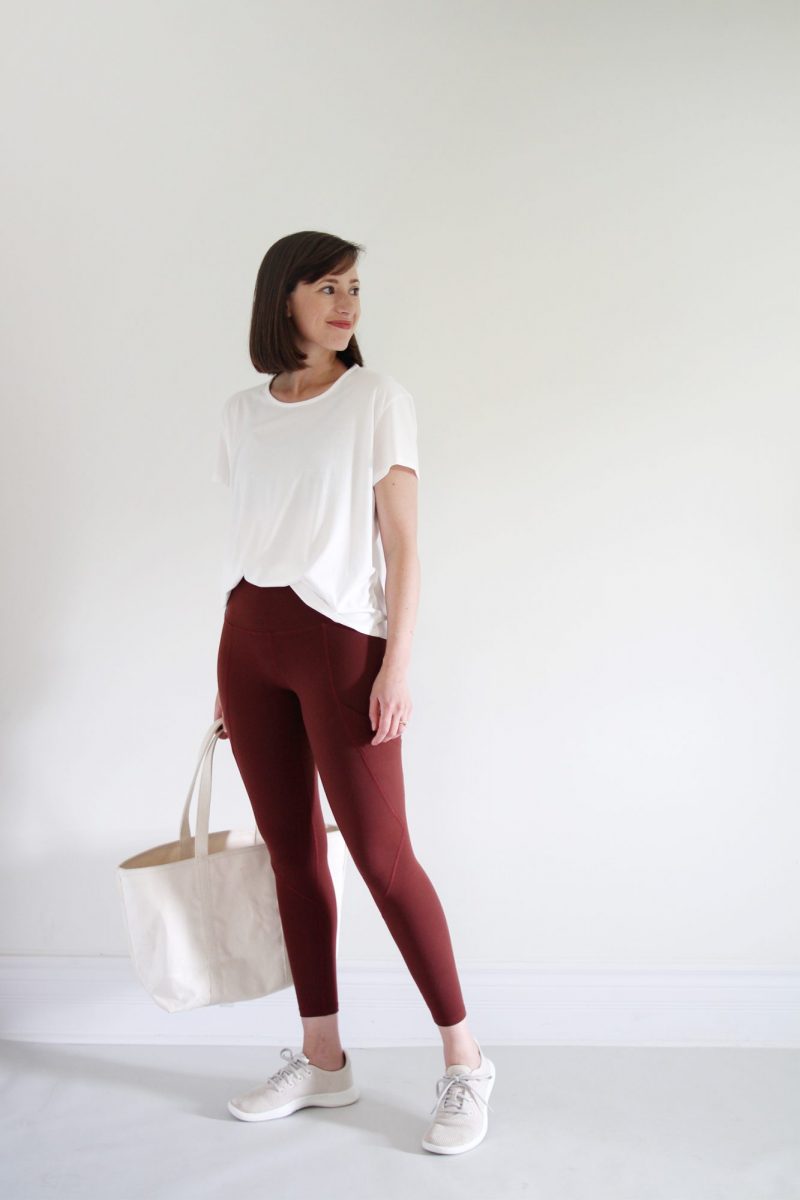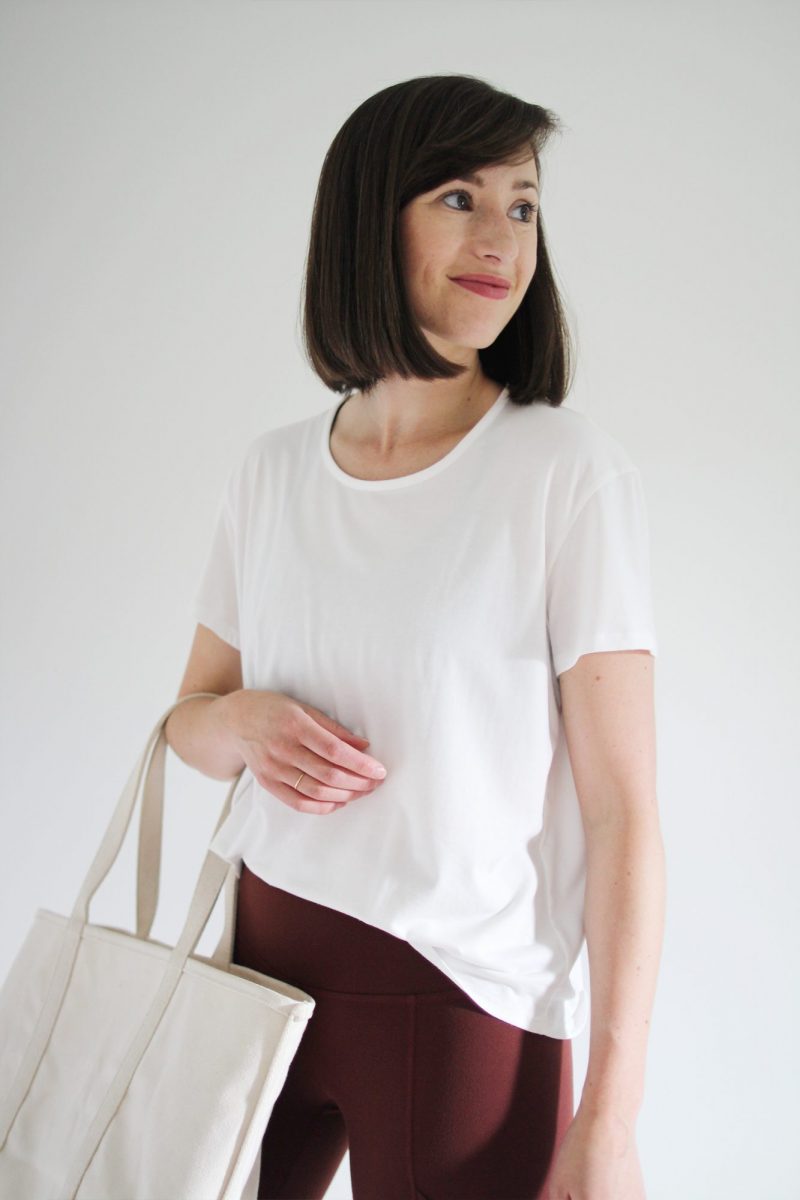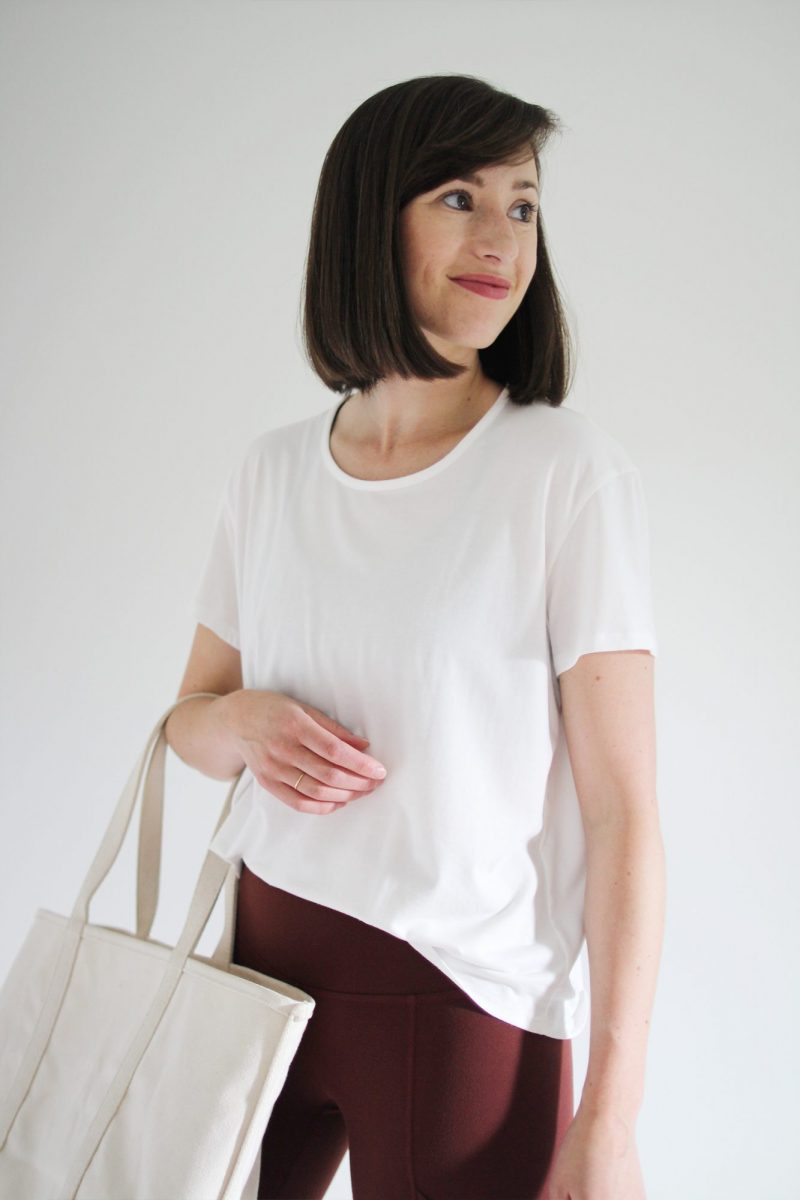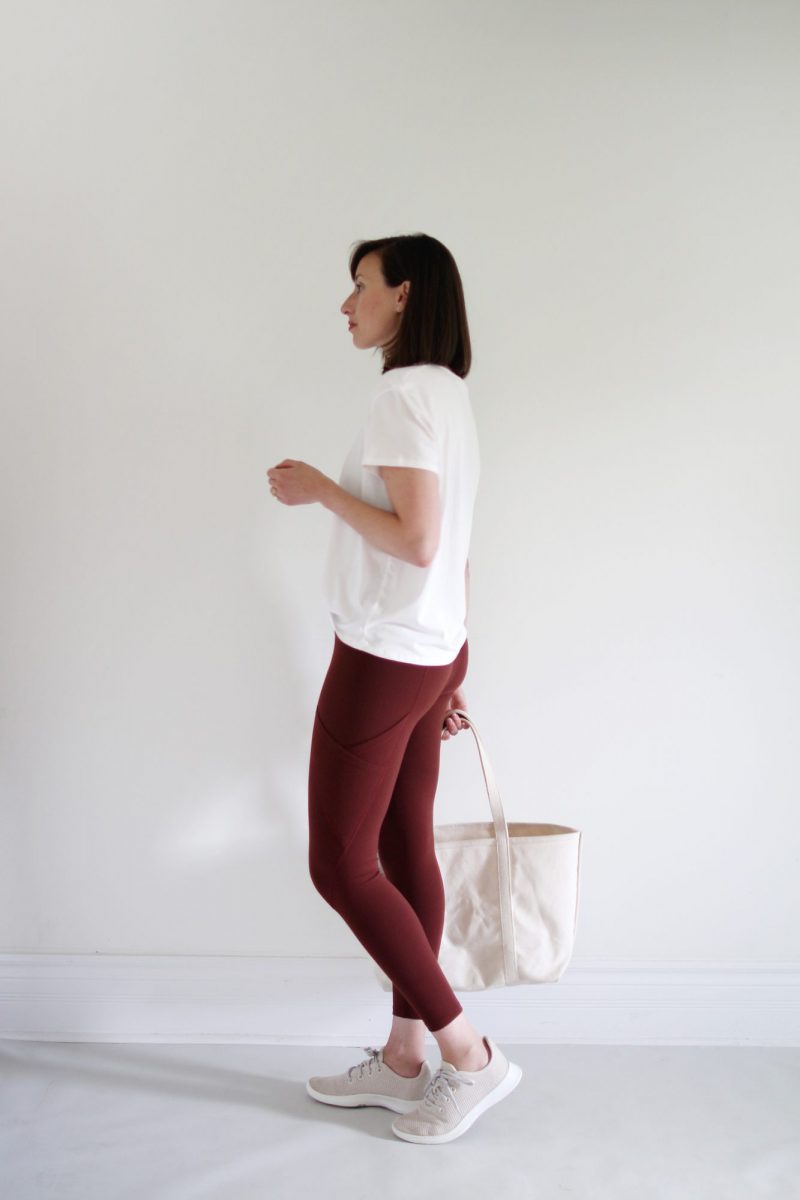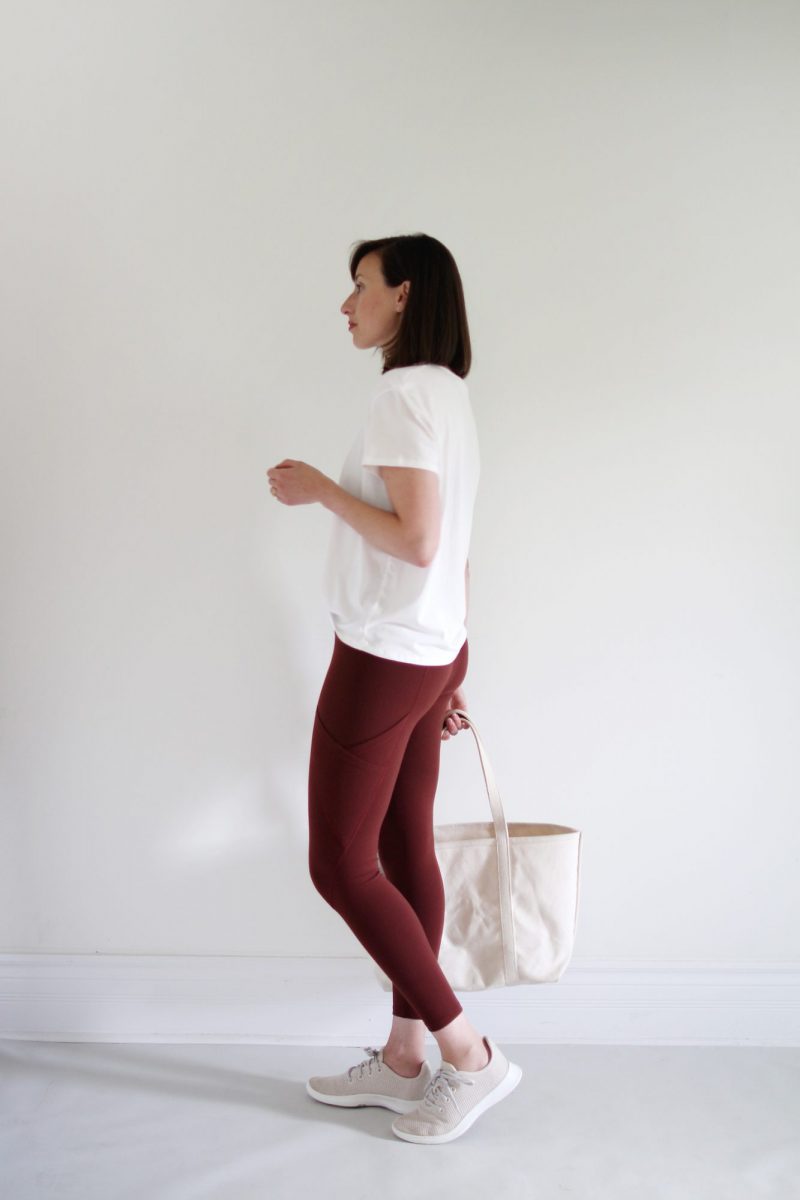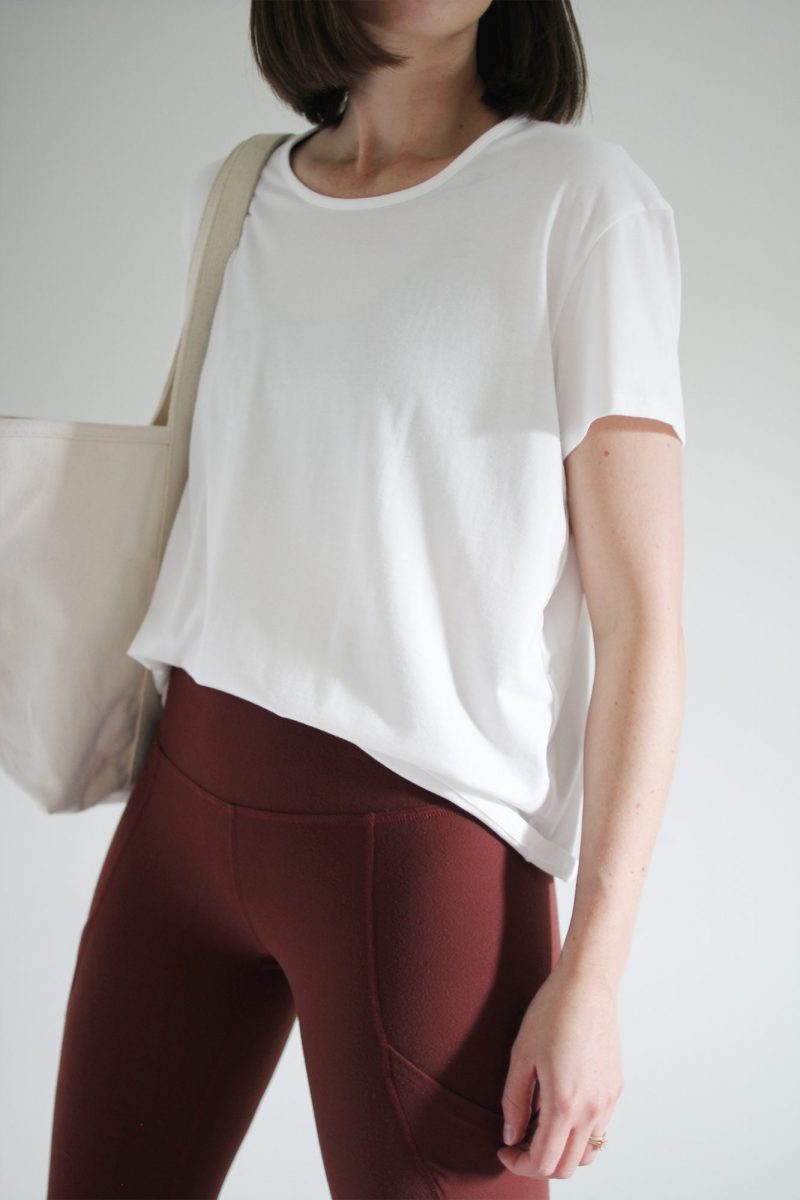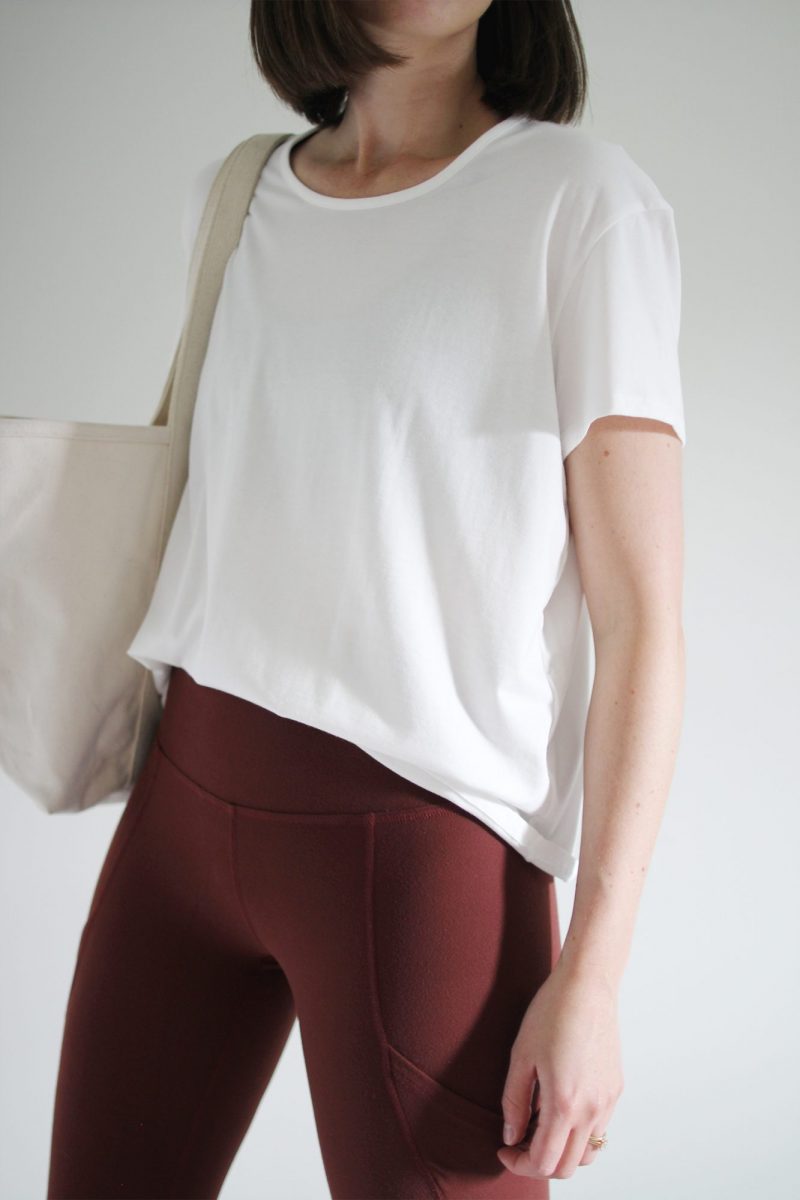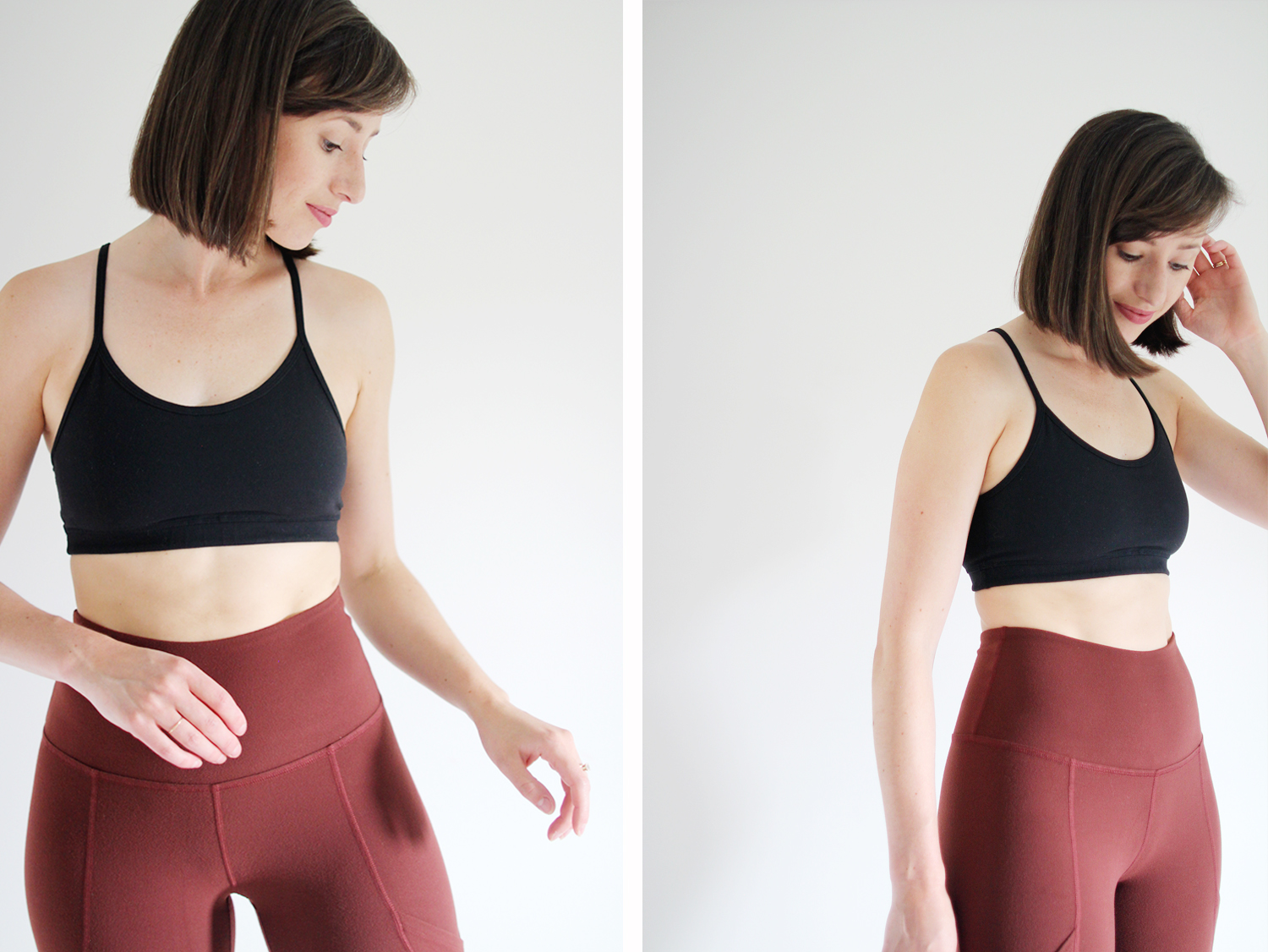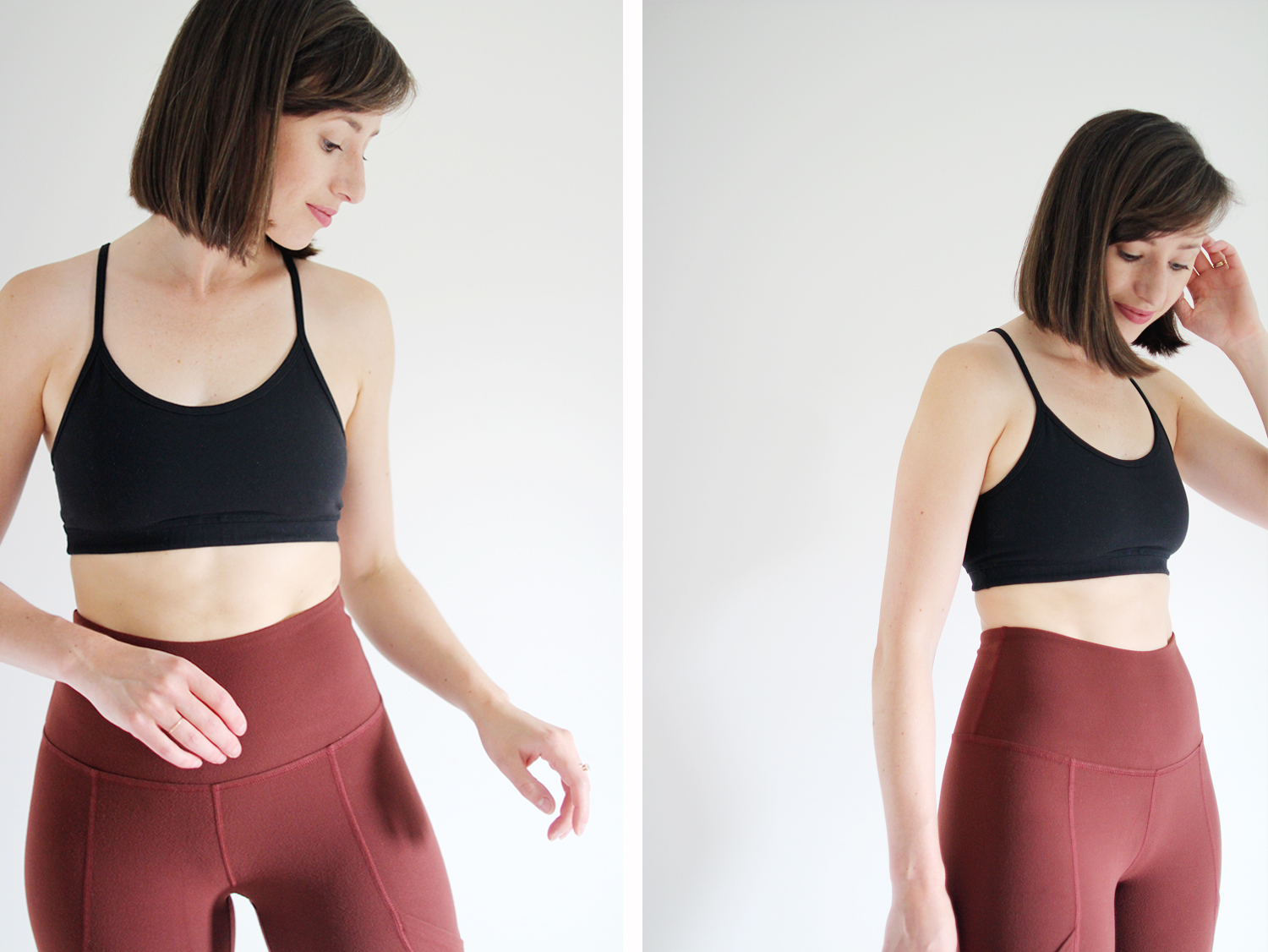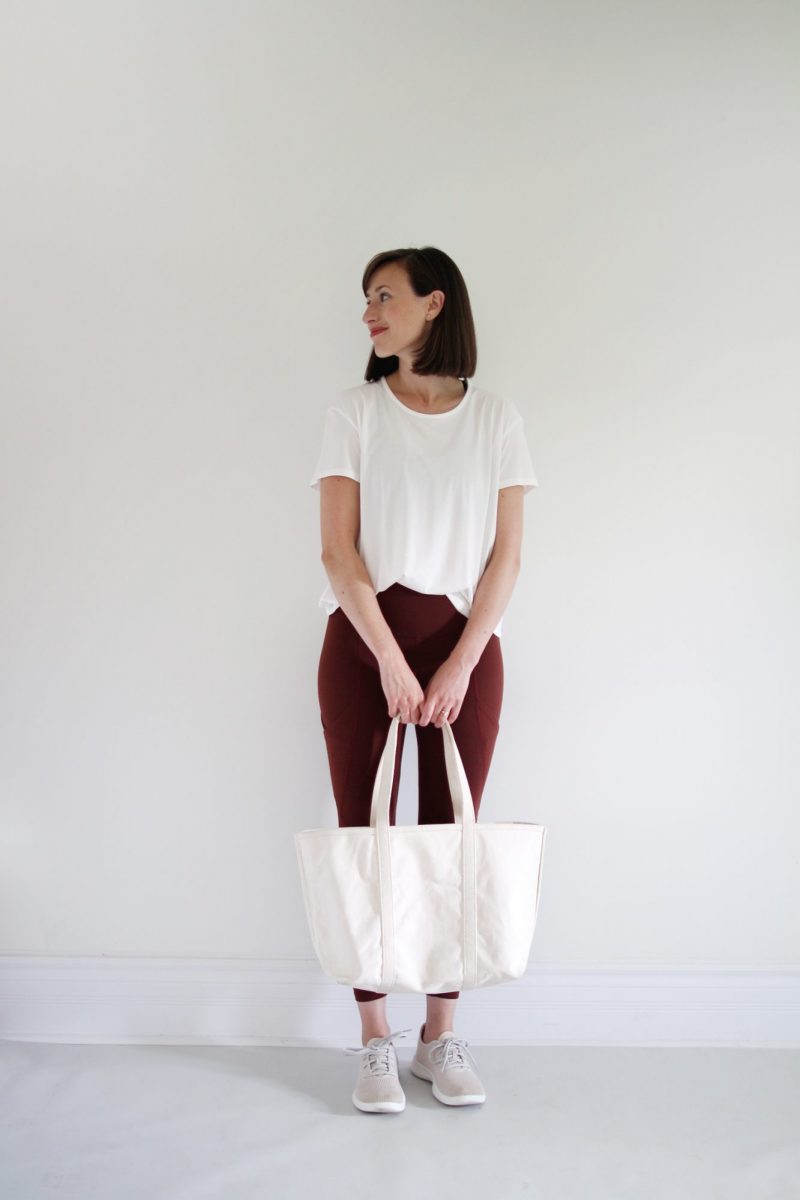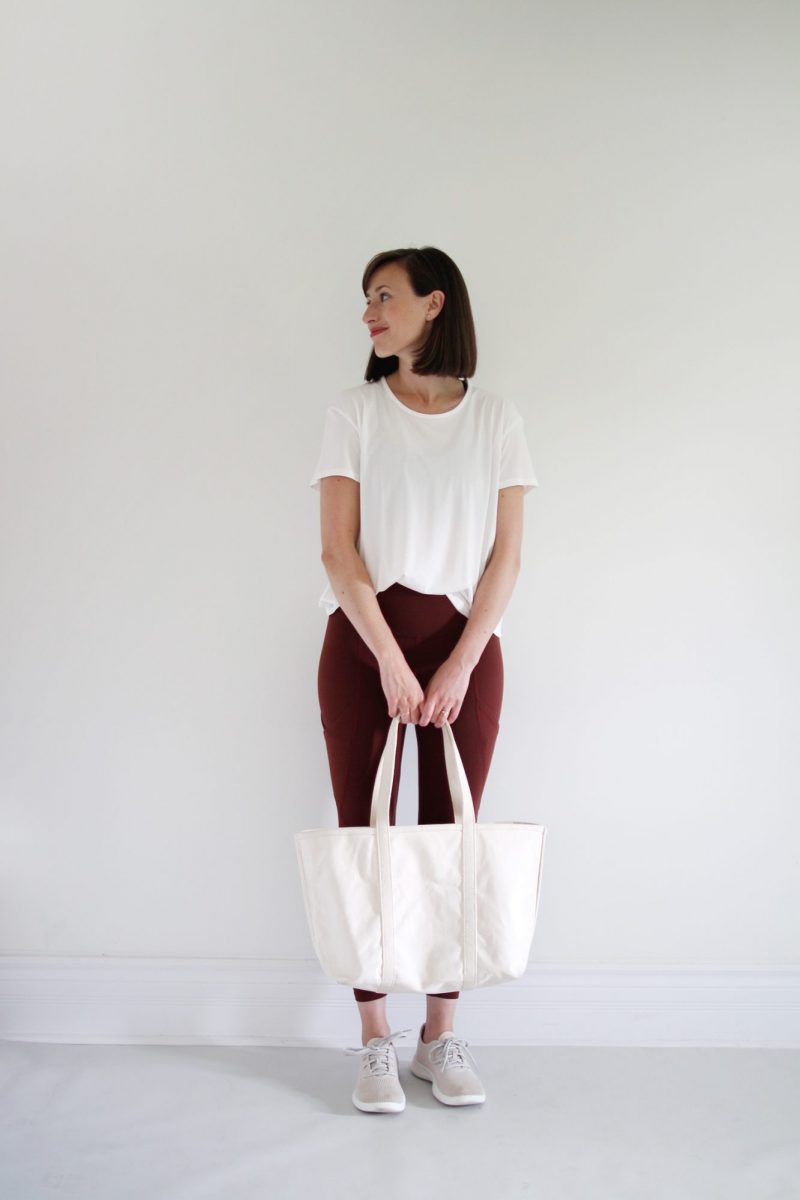 ---
LOOK 5 INITIAL THOUGHTS
Okay! Halfway mark here we are! Phew!
I won't lie, it felt like it took longer to get here than it normally does. Usually day 5 arrives in a blink and I'm shocked. But this time each day has felt fairly significant. I think that's a good sign though. Changing it up with activewear instead of my regular closet has definitely helped me approach the 10×10 from a whole new angle. It has had me way out of my comfort zone when it comes to what I post and I needed that.
I've also been trying to push through the FOMO syndrome that comes from seeing all the great outfits and conversations happening on the #Summer10x10 feed. Ultimately though, I'm really glad that I decided to try something different because it's really making me appreciate my regular closet too! Of course, this is not to bash any of the items or looks I've been creating. They've been so fun! It's just been nice to realize I not tired of the 10×10 in its original format.
So this outfit! So easy, so comfy, so chill. Just what I needed for a day of hunkering down in the office. I couldn't tear myself away from these leggings so I figured, what the heck, let's wear them for another whole day. I did some light pilates and recovery foam rolling today because my legs have been a bit sore (thanks to Monday's double workout I suppose) and we'll be walking downtown for dinner tonight so I'll get a bit of exercise in there. Tomorrow I'll kick things up a notch with a SWEAT workout and hopefully the weather will let me get outside with the pup!
---
No item spotlight or quick tip on this look. Outfit photos and some rambling initial thoughts were about all I could muster! In fact, I'm going to keep the remaining 10×10 look updates to a minimum as well. With lots of other posts and projects on the go I need to be cognizant of my time (and energy) so I hope that sounds ok! Of course, if you have any specific questions about items shown, please feel free to ask and I'll gladly share my thoughts.
---
Thanks for following along everyone!
---
SHOP LOOK 5
---
DAY 6
---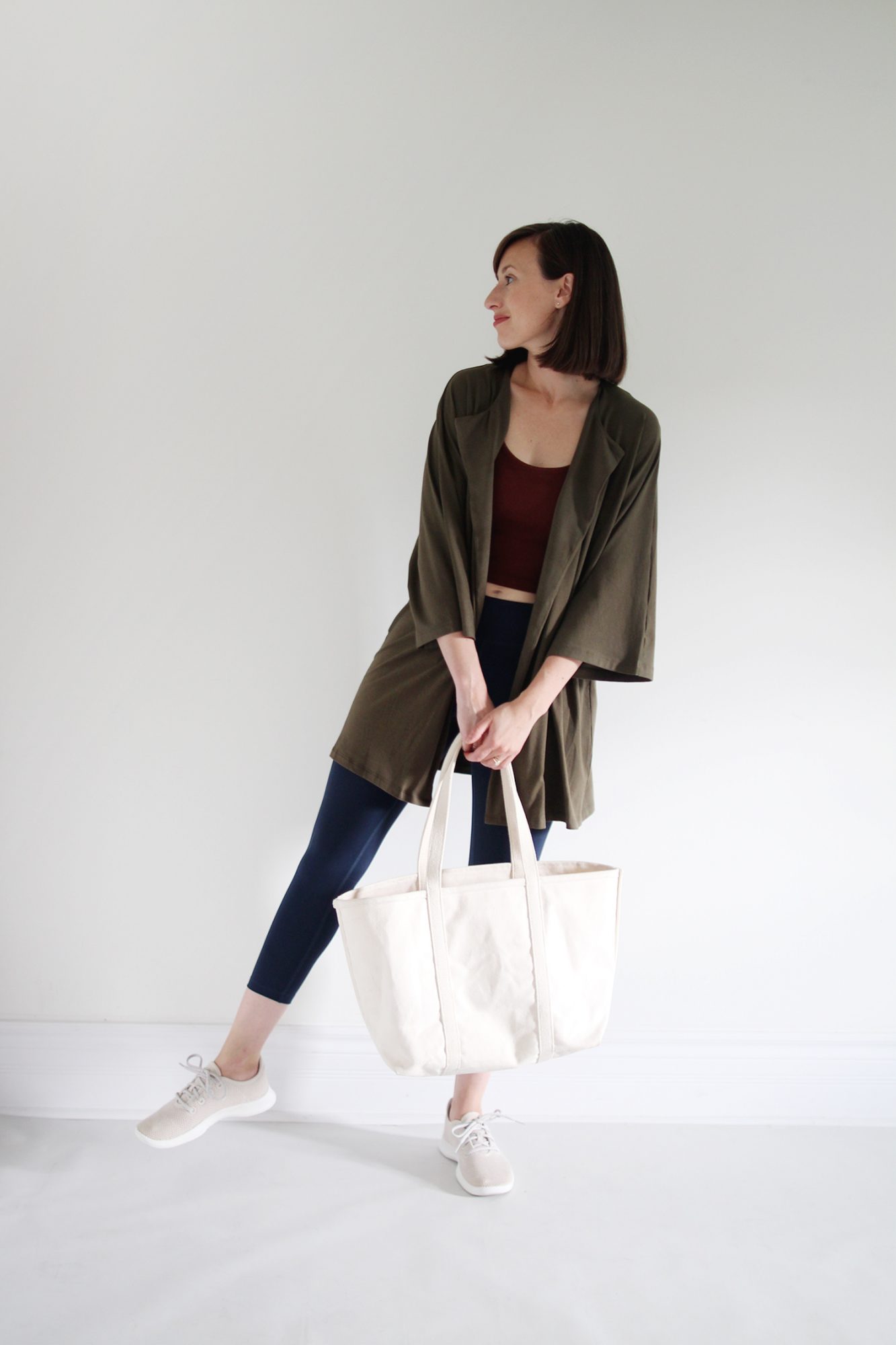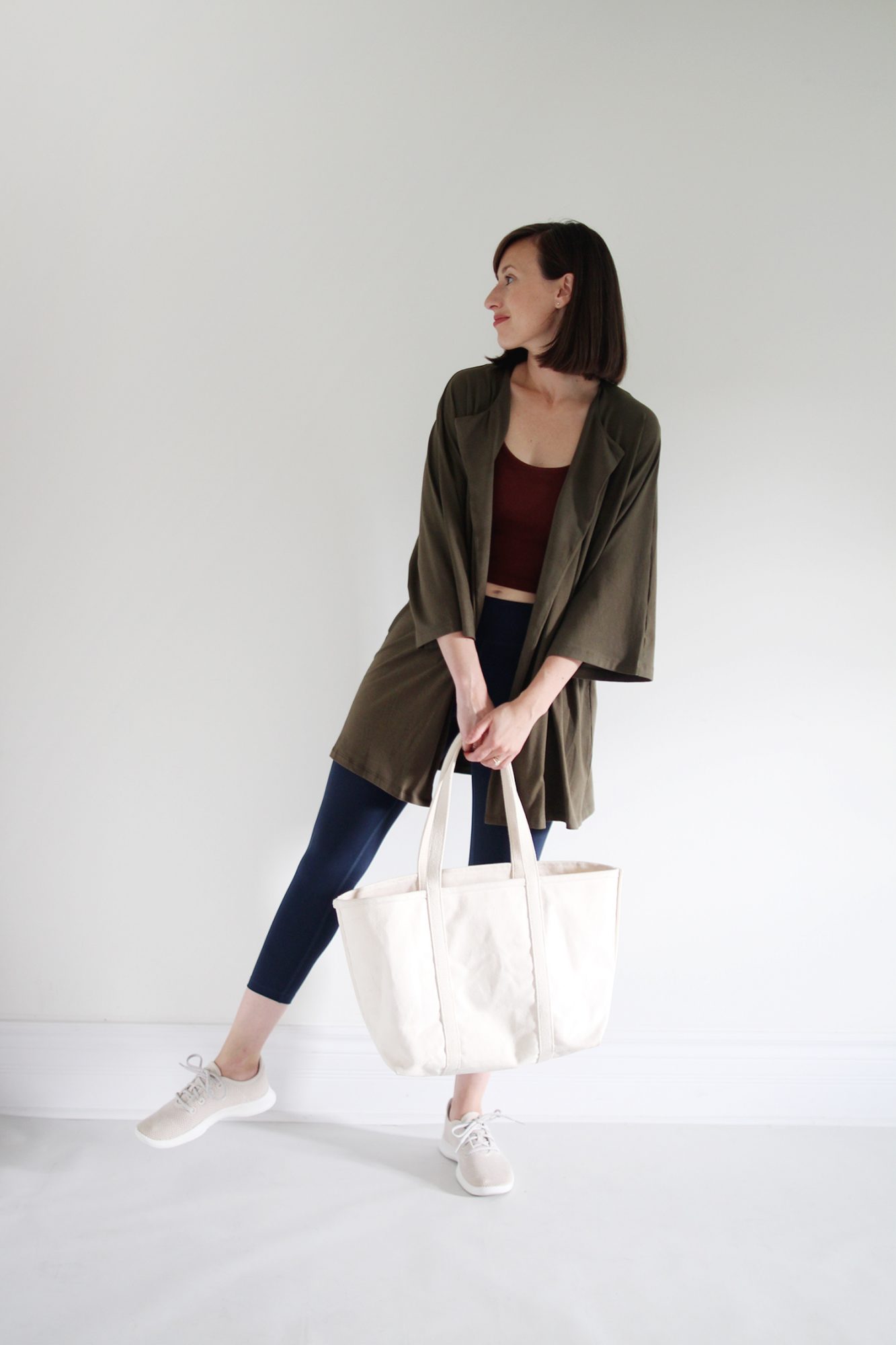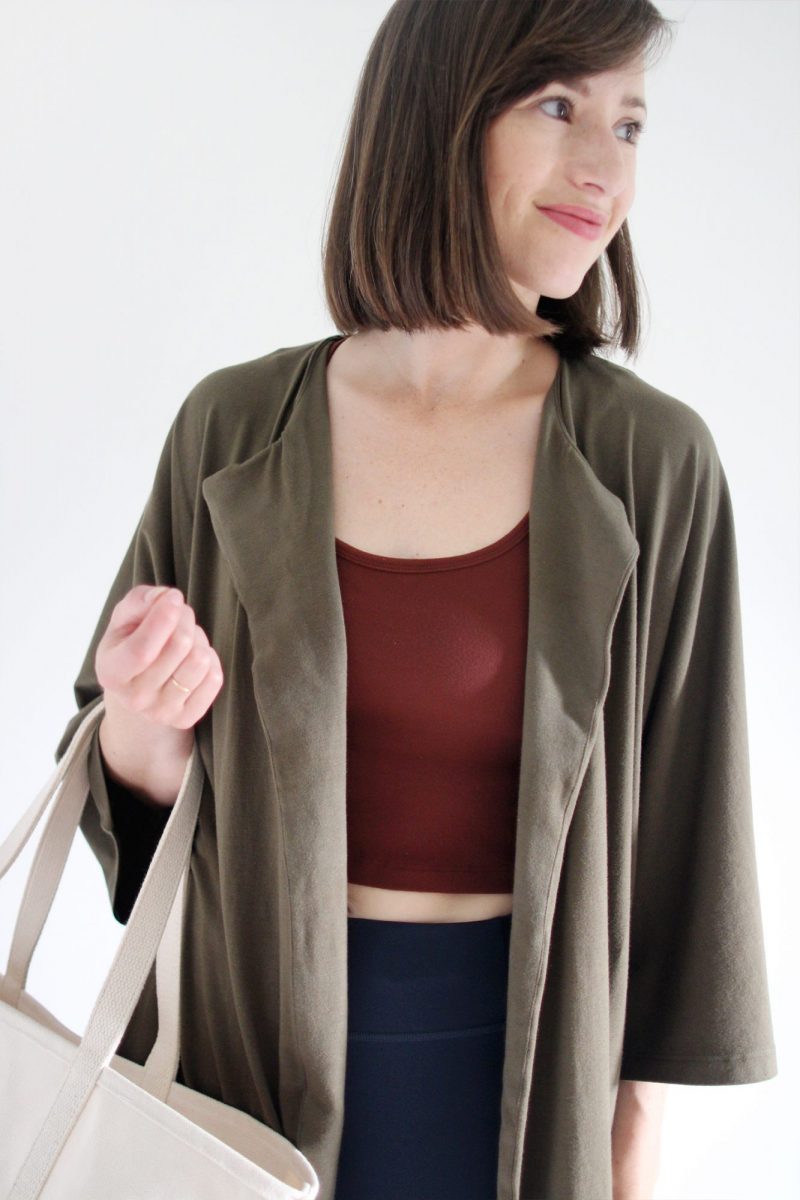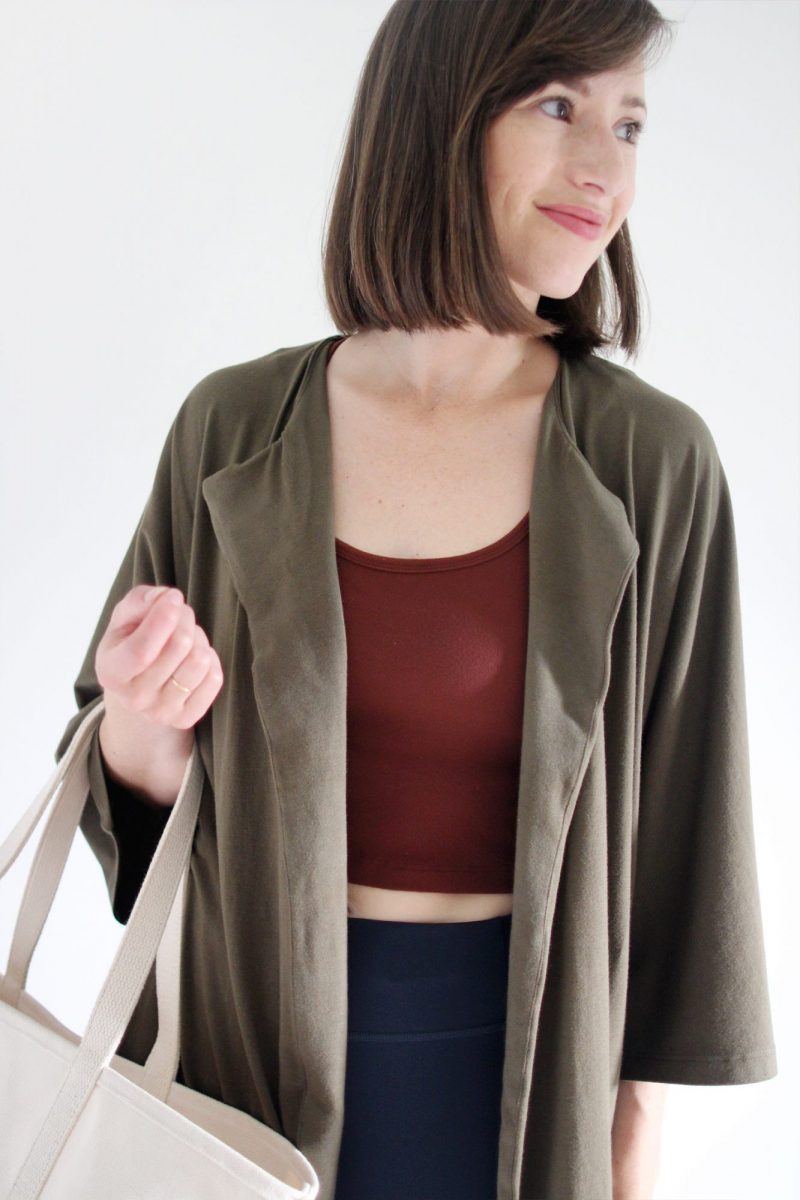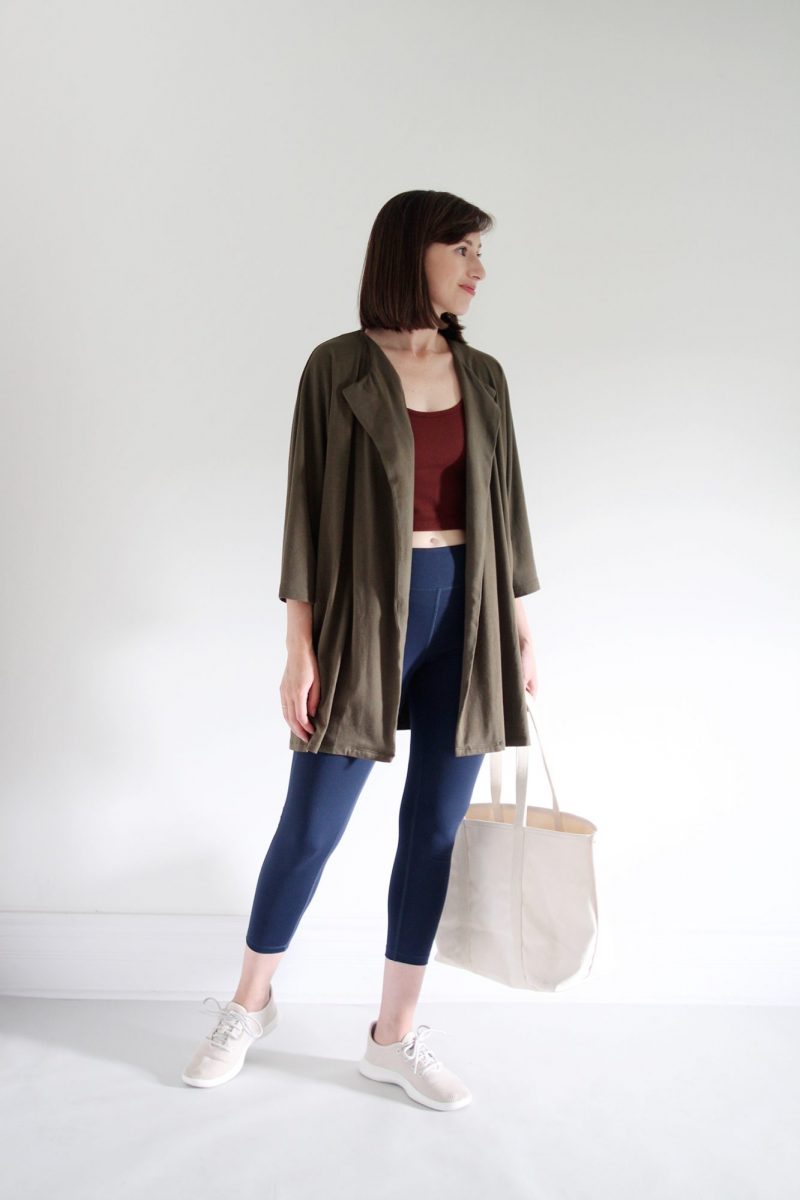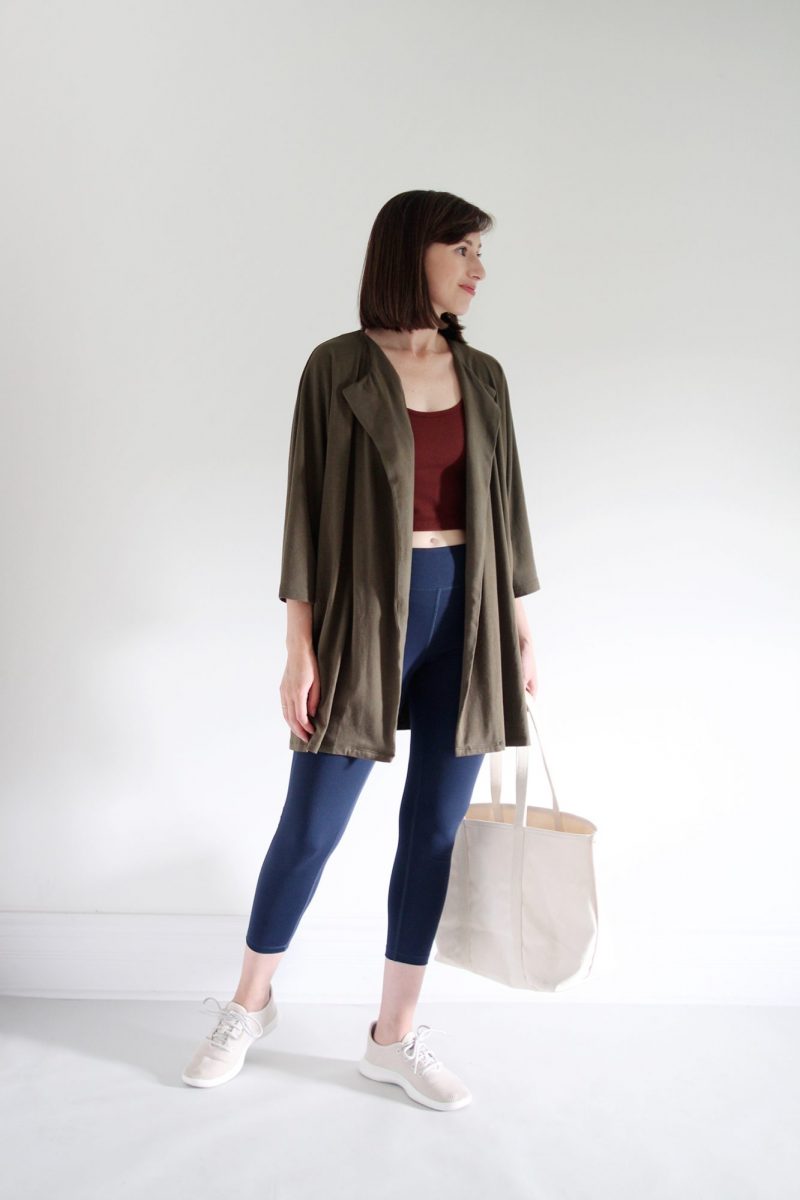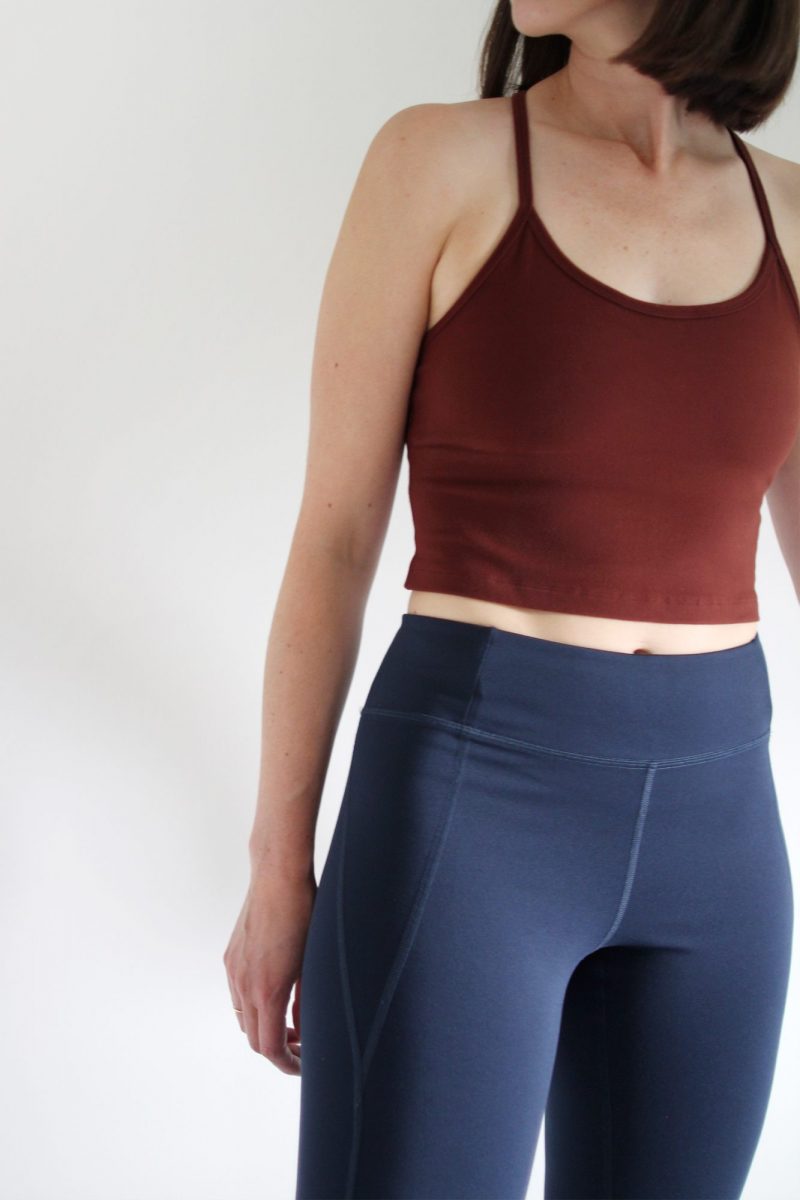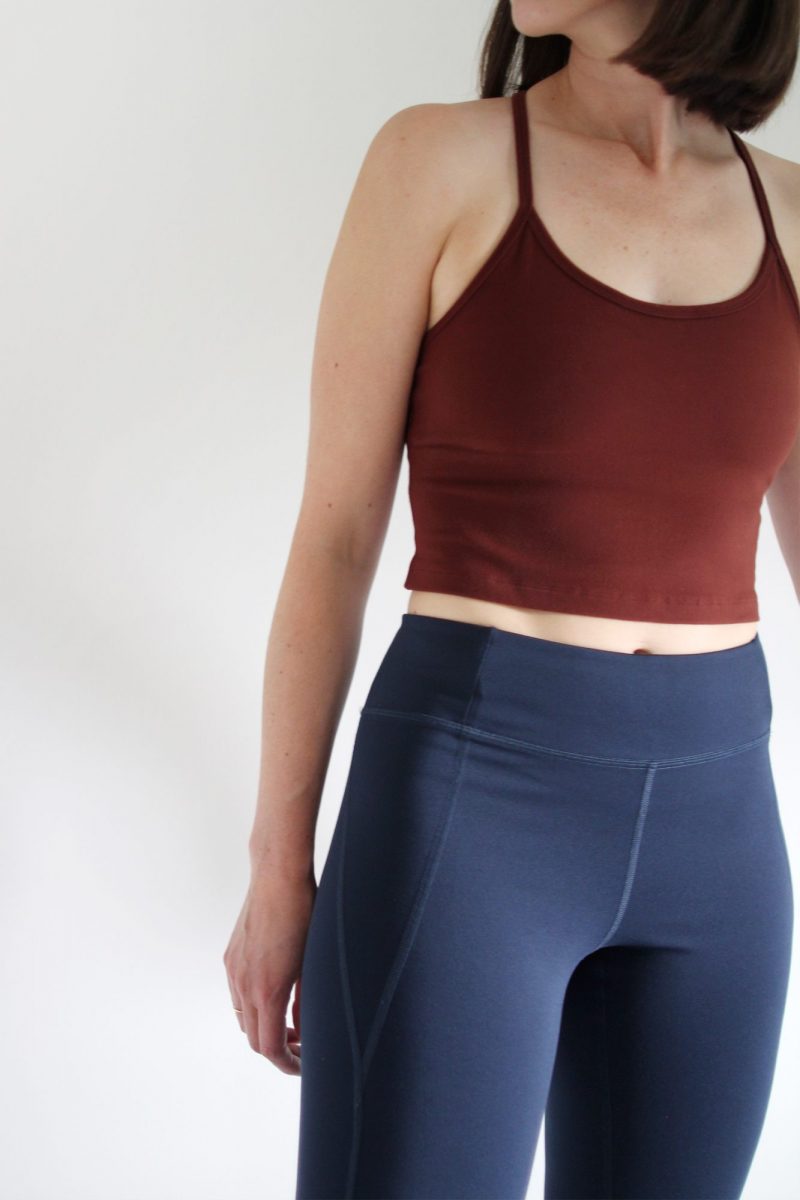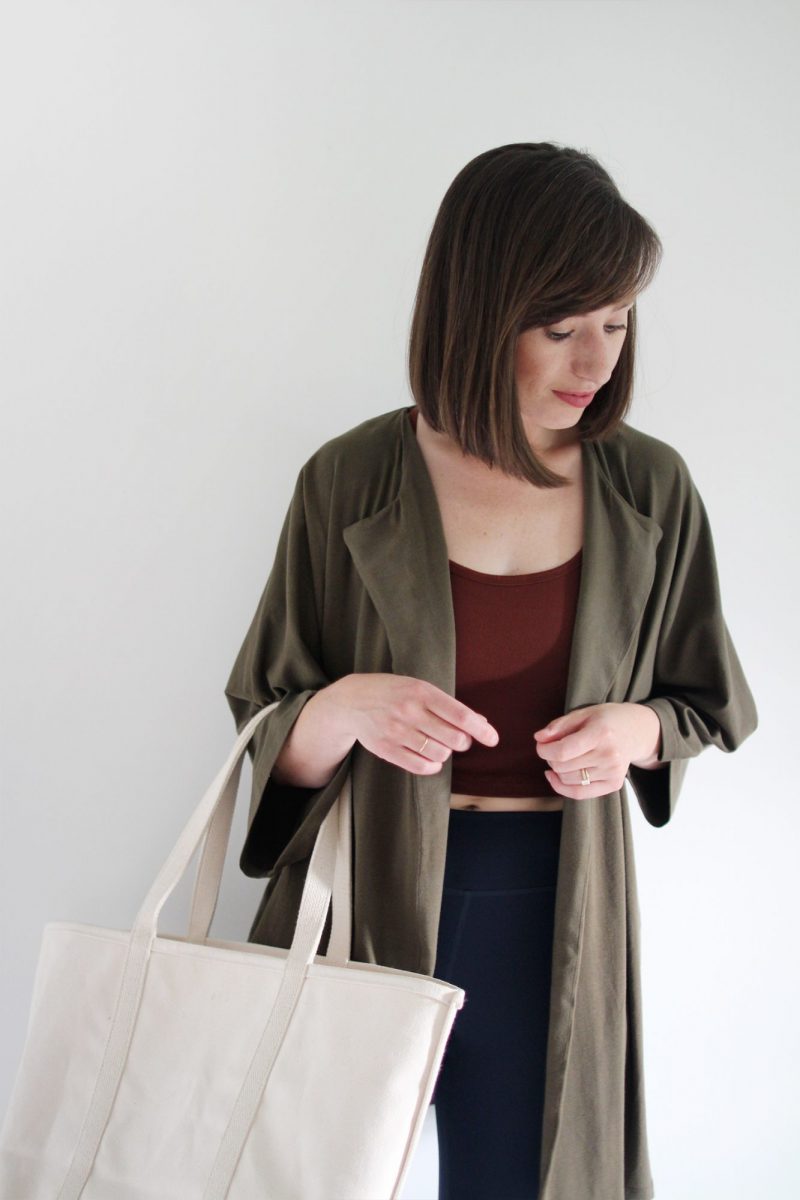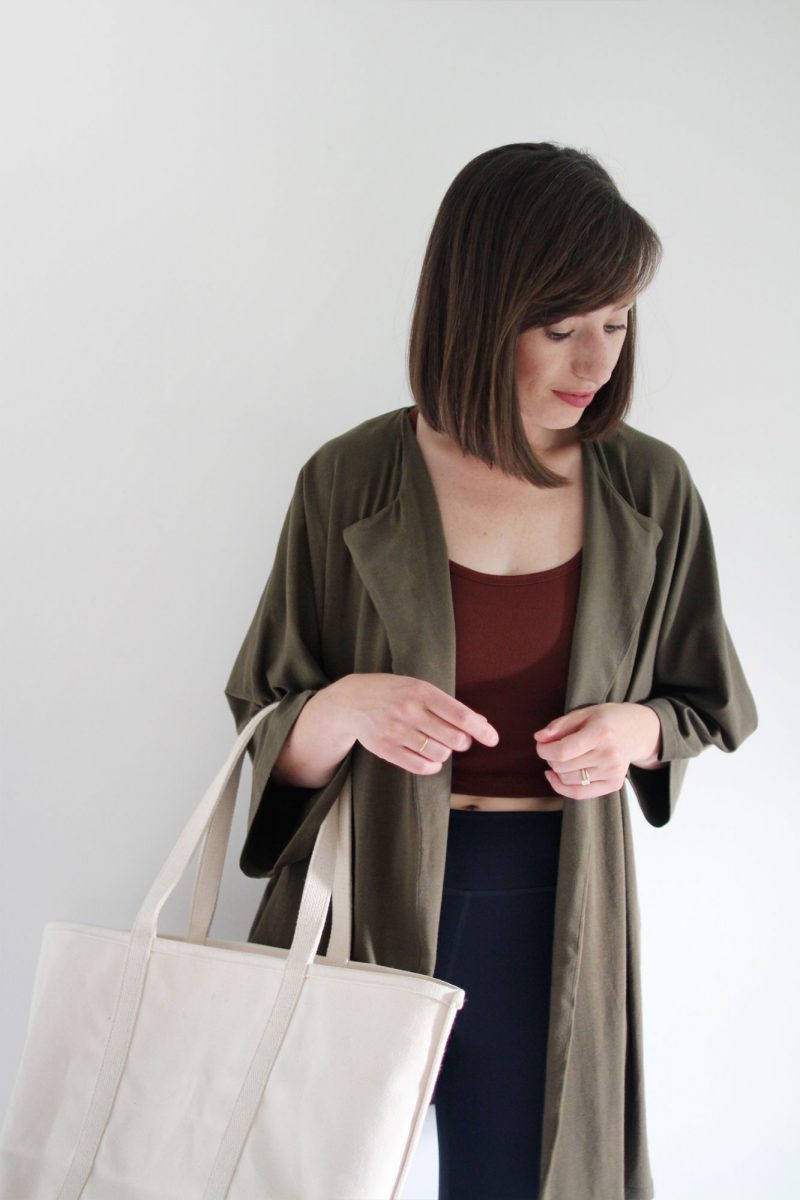 ---
LOOK 6 – INITIAL THOUGHTS
After day 5 I decided to lean into the latter half of the 10×10 challenge a little deeper and try to ignore some of the pressures to be overly present on social media. I can sometimes forget that I'm supposed to be enjoying it and learning something from it too. I find myself feeling guilty for not posting an outfit everyday or sharing in my stories but then I remember that everyone is busy doing their own challenge (or not!) and it's less about the posting and more about the introspection of how these items are influencing my day. So I might be a bit behind on this challenge from a posting/social media perspective but my real goals are still being met, which is to get active daily, put my activewear items to the test and compile a list of great ethical options! Now onto the outfit.
Hello colour! I love how this workout palette is working so far. It's been so reaffirming to realize that the colour principles I apply to my regular closet are completely applicable to the area of my wardrobe too! Earth tones, neutrals and simple, clean lines are what I feel most myself in and this isn't something I used to apply to workout clothes. I used to have neon runners, bright pink tanks and purple printed leggings, which is obviously completely fine if you love those tones but I always felt like an imposter when I wore them. I wouldn't put them on and then I wouldn't work out! This approach is much more conducive to the goal of being active.
---
QUICK ITEM SPOTLIGHT – Girlfriend Collective Leggings.
I really enjoy wearing these leggings for yoga, workouts and just lounging around the house. I've also worn their black counterparts for travel a few times and they were excellent. There is a reason why the brand has garnered a cult following for both performance and personality. You can learn more about what they stand for here.
As far as fit goes I wear a size Small and these are the mid or classic rise, not the high-rise. They move really well and fit snug through the leg and hip without being too tight in the crotch or waist. They stay put once your body temp rises and you work up a bit of a sweat. When you're cool they tend to shift around more. They're fairly breathable for a fabric made entirely out of plastic bottles and I find they're quite flattering thanks to the thickness of the material (similar weight but softer texture than Outdoor Voices) and the well placed seams. I've got these in Black, Burnt Apricot and Black (each with a matching bra) so it's safe to say I'm a proper fan! I'm excited to test out the new LITE version, which is currently on its way to me.
---
SHOP LOOK 6
---
DAY 7
---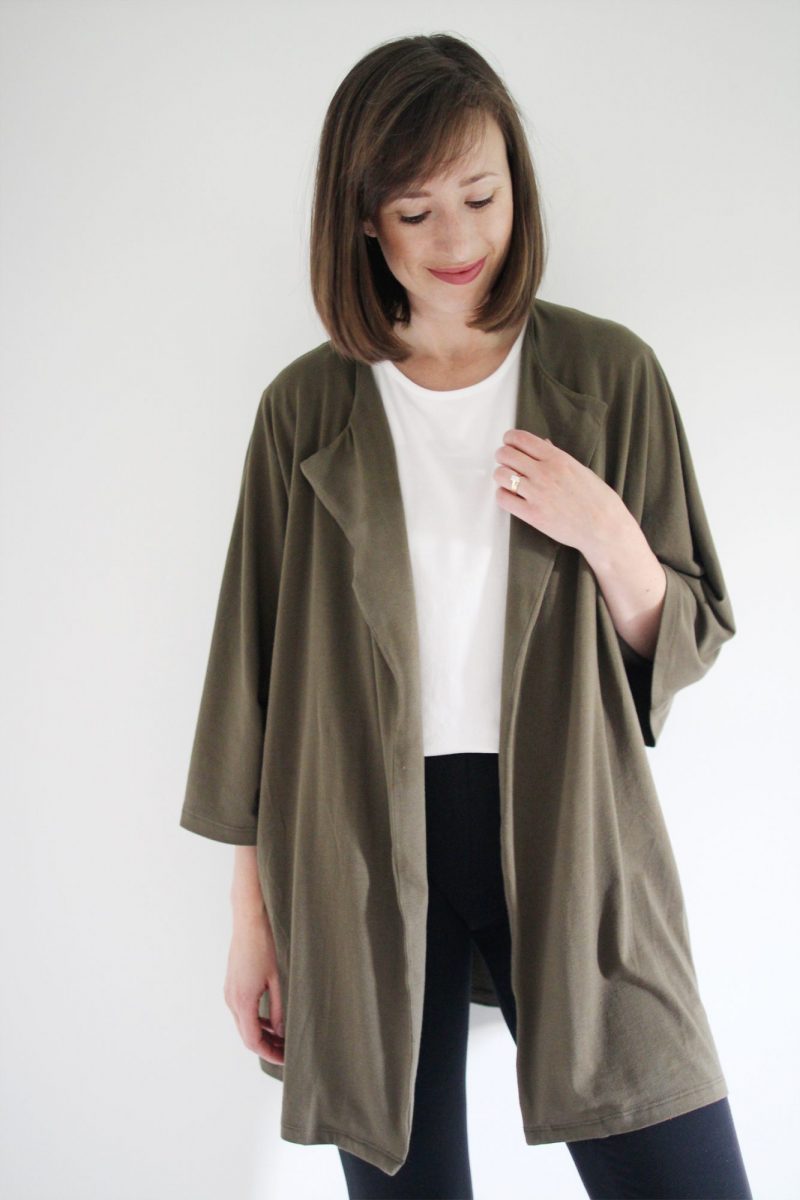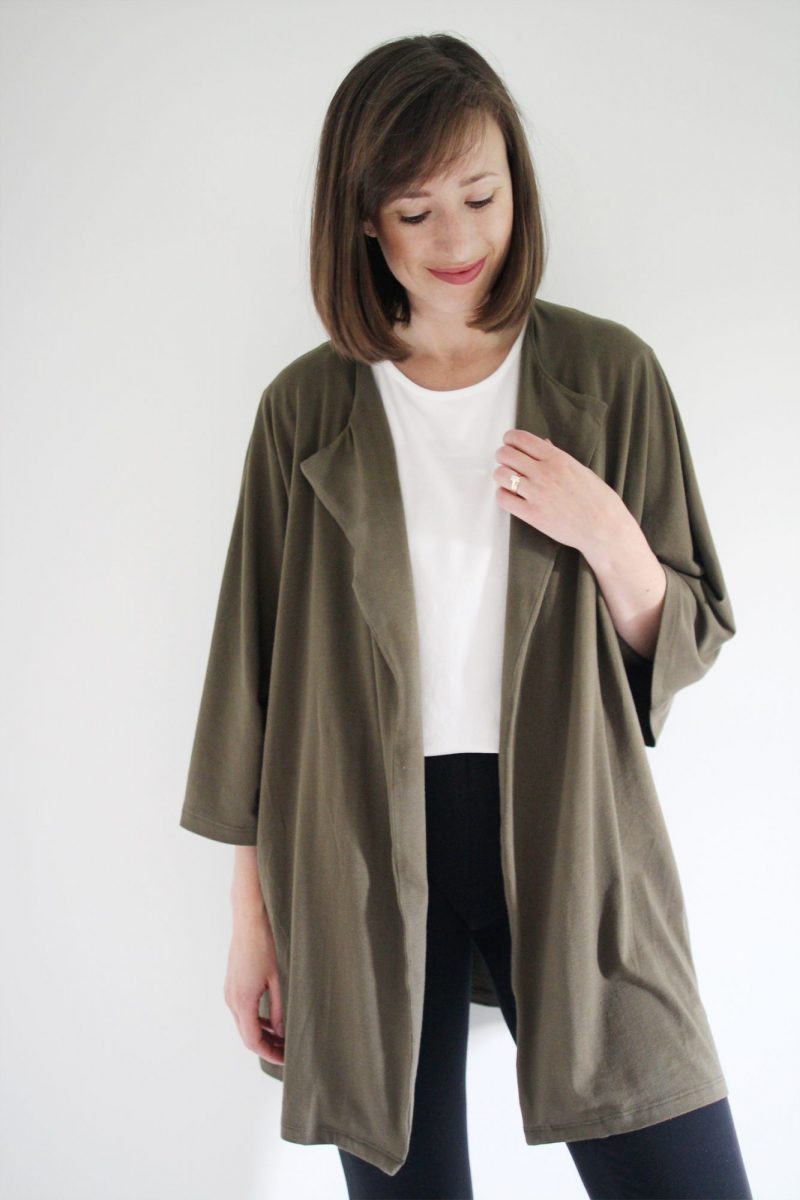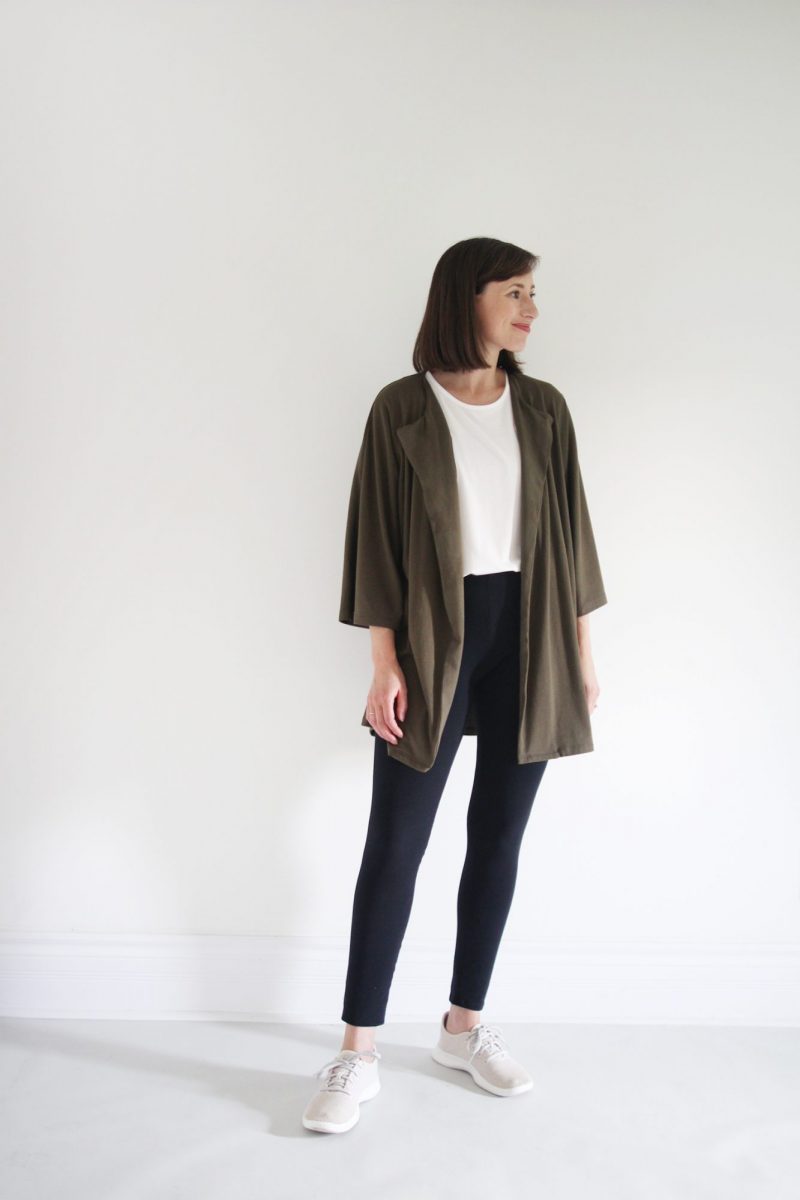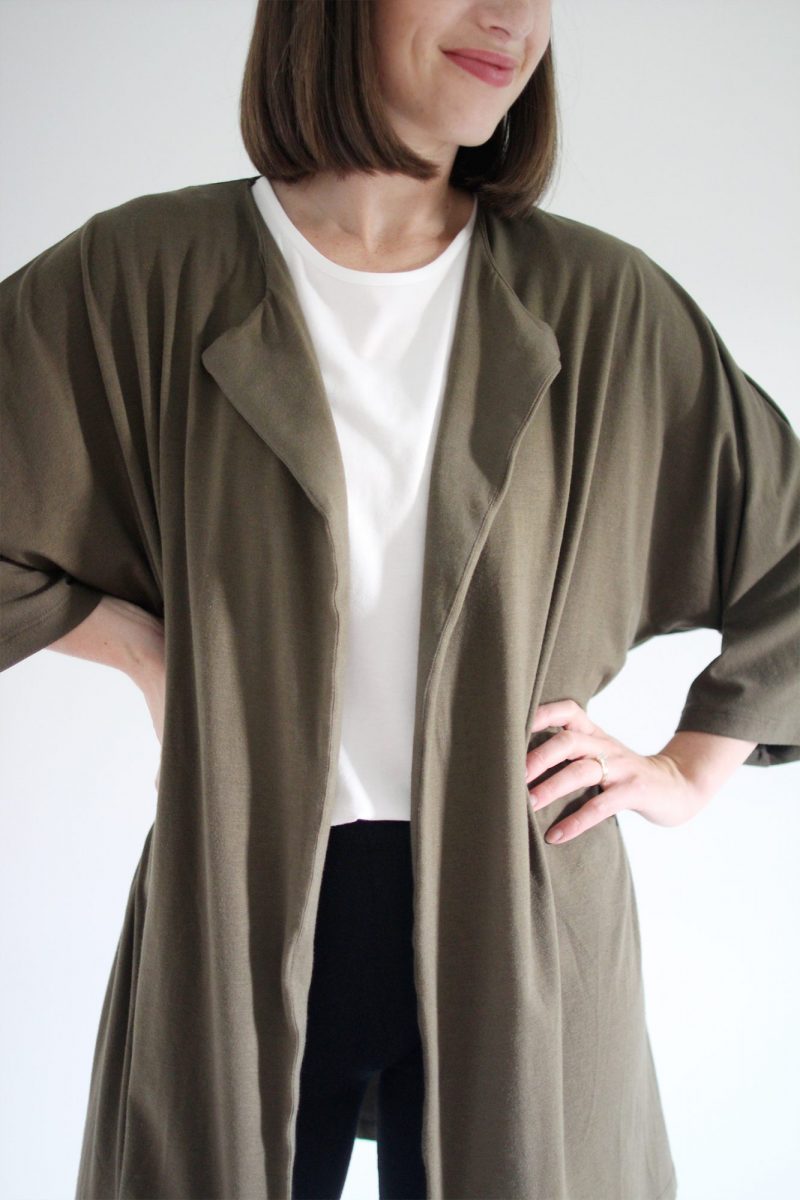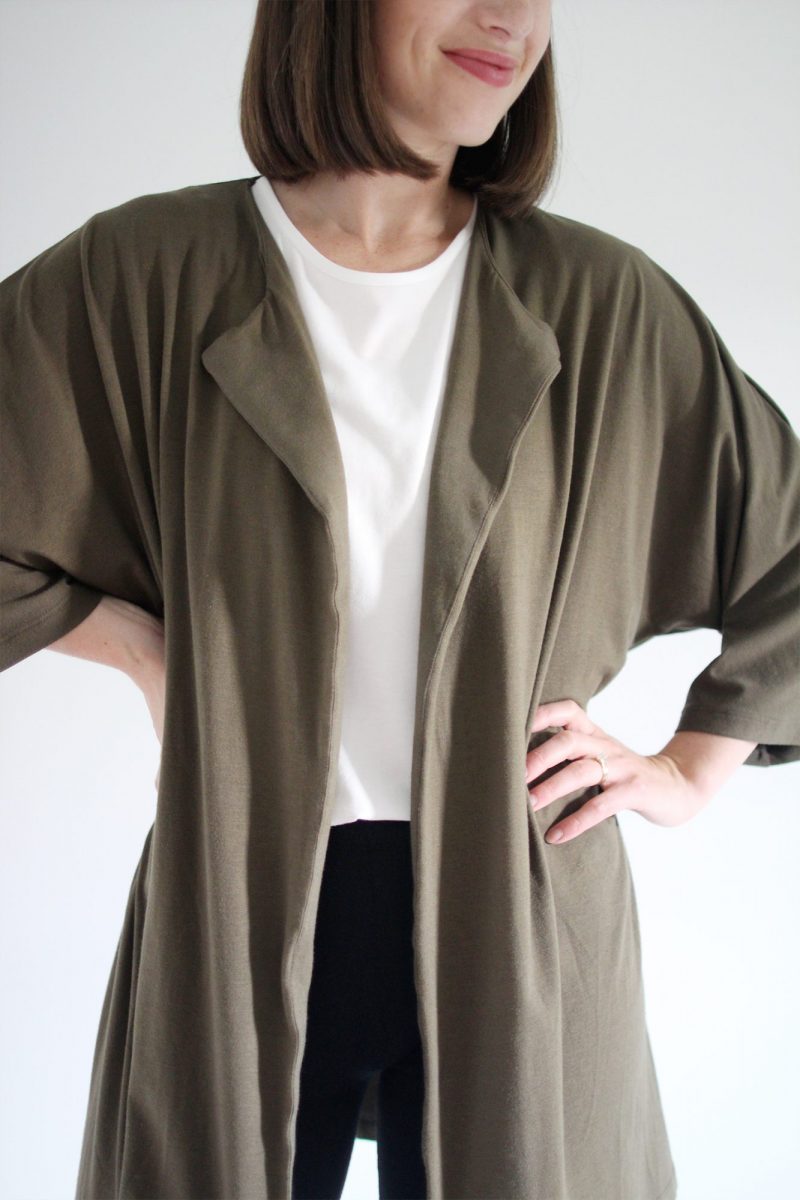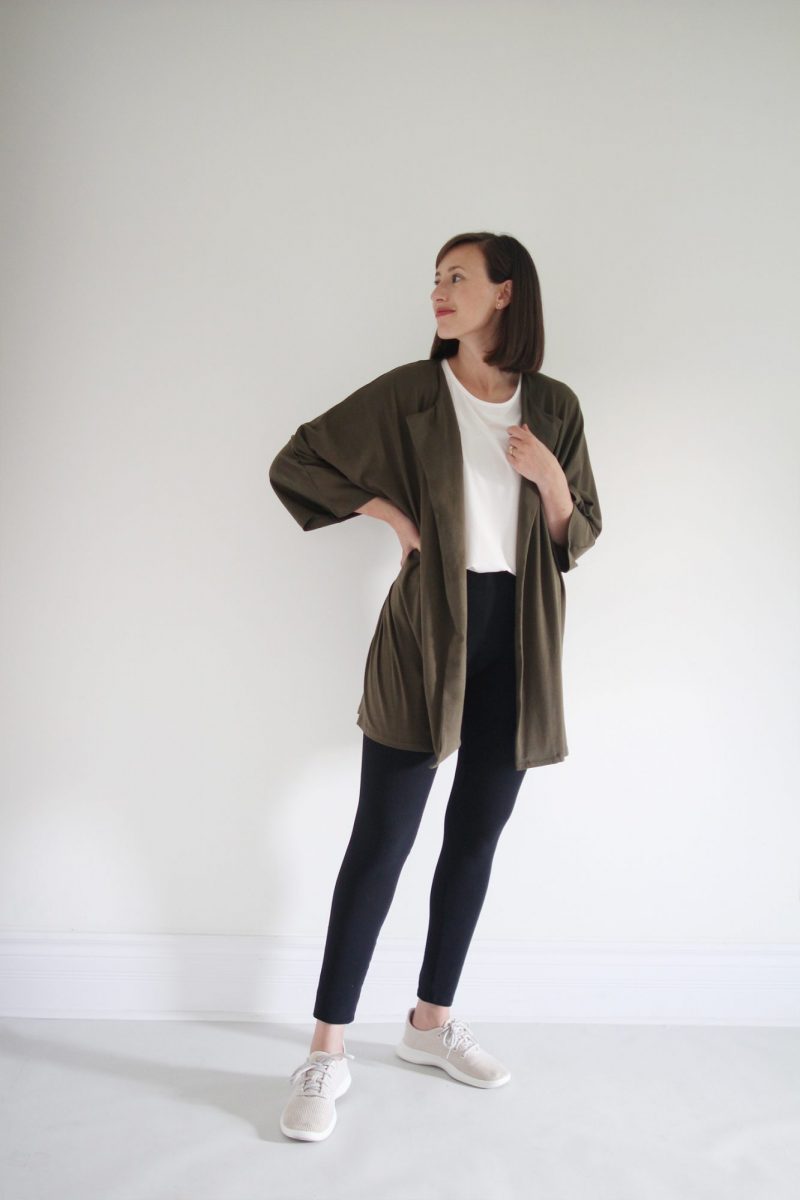 ---
DAY 7 – INITIAL THOUGHTS
Comfort was the name of the game on Friday. I usually spend much of the day answering emails, doing office admin and getting my plans in order for the following week and this Friday was no exception. I know a lot of folks like to cut out early at the end of the week but there something about a quiet afternoon, with a glass of wine, an amber candle burning and a notebook that really eases me out of the work week. This outfit was the perfect one for that agenda!
I did a hamstring opening yoga session in this which was focused on breathing, deep stretching and balanced and I felt so much stronger and taller afterwards. I think my favourite part about working out regularly is the increased strength. The energy is highly variable for me, the muscle tone is a major plus and the stress relief is nice but also not completely dependable. The strength however is awesome. I feel more connected to my limbs, my core and much more capable overall. The best example is when I find myself encouraging Dobby to keep up with me as we stride up the hill to our house instead of huffing and puffing behind him. That feeling is highly motivating for sure!
I won't say much about the particulars of this look but I know this won't be the last time I clad myself from head to ankle in the softest organic cotton!
---
SHOP LOOK 7
---
DAY 8
---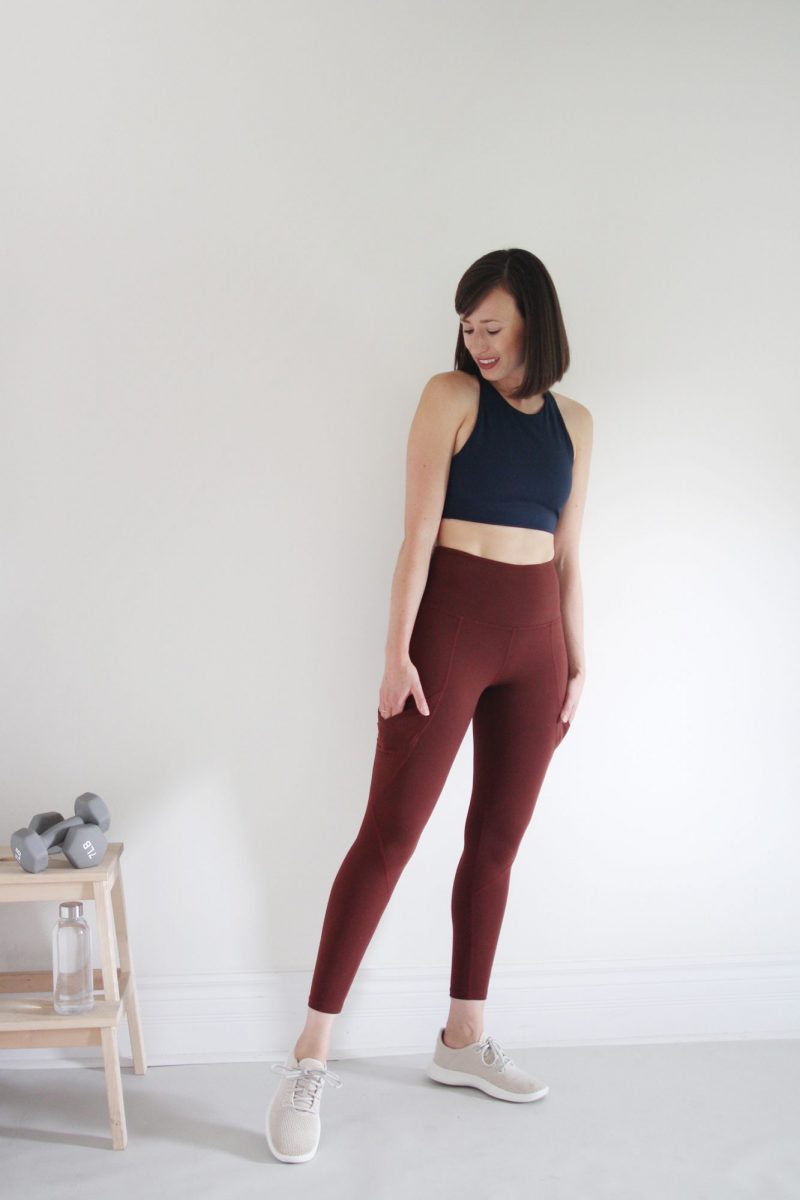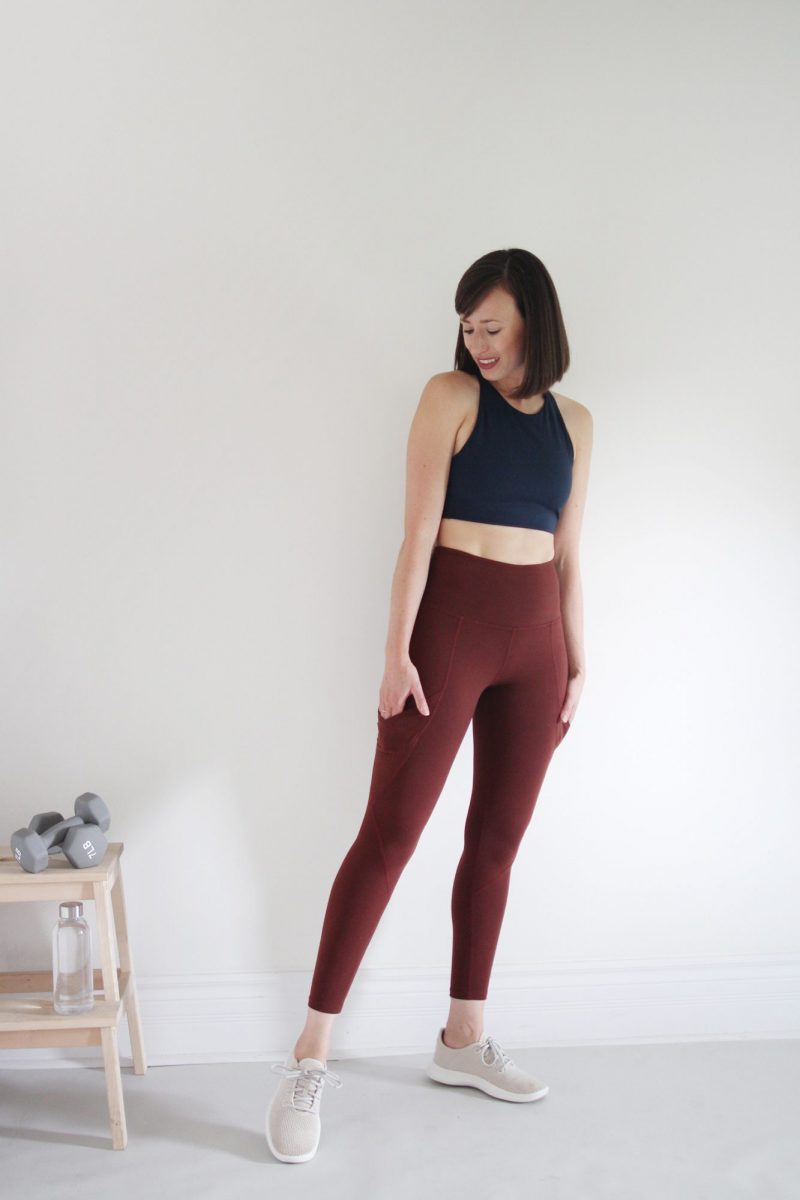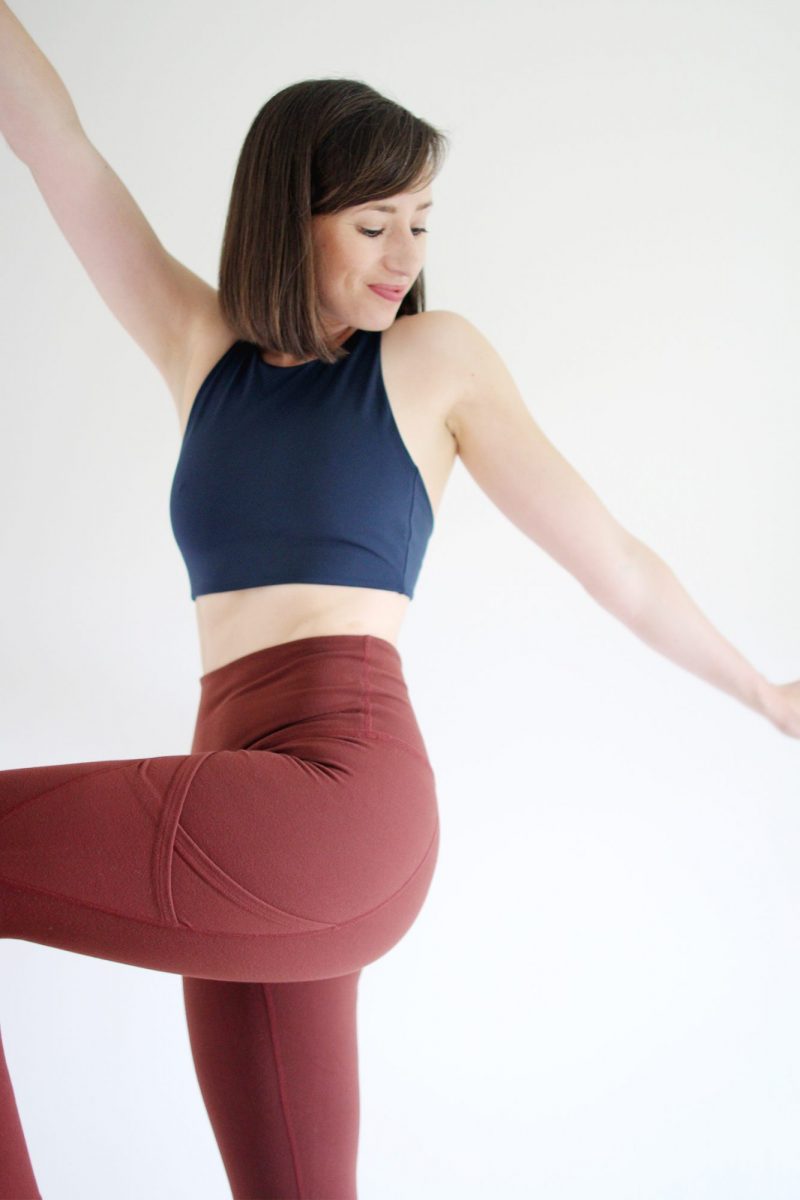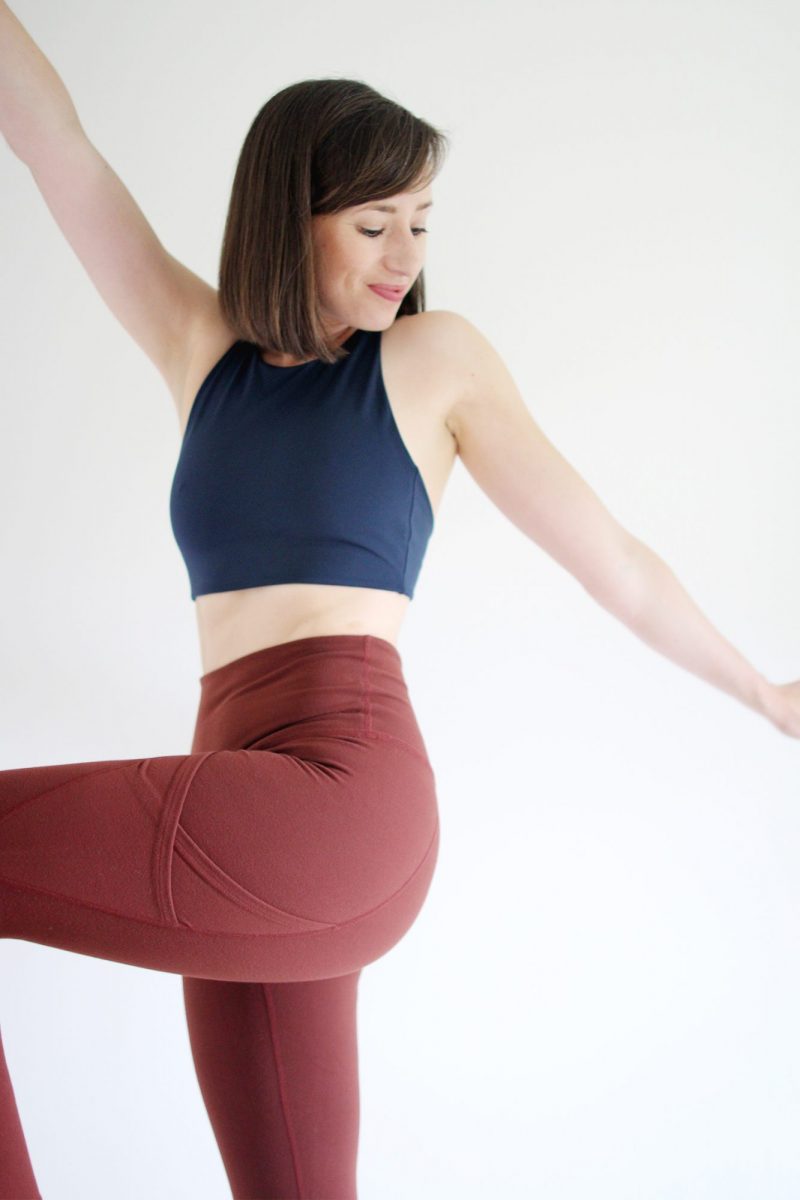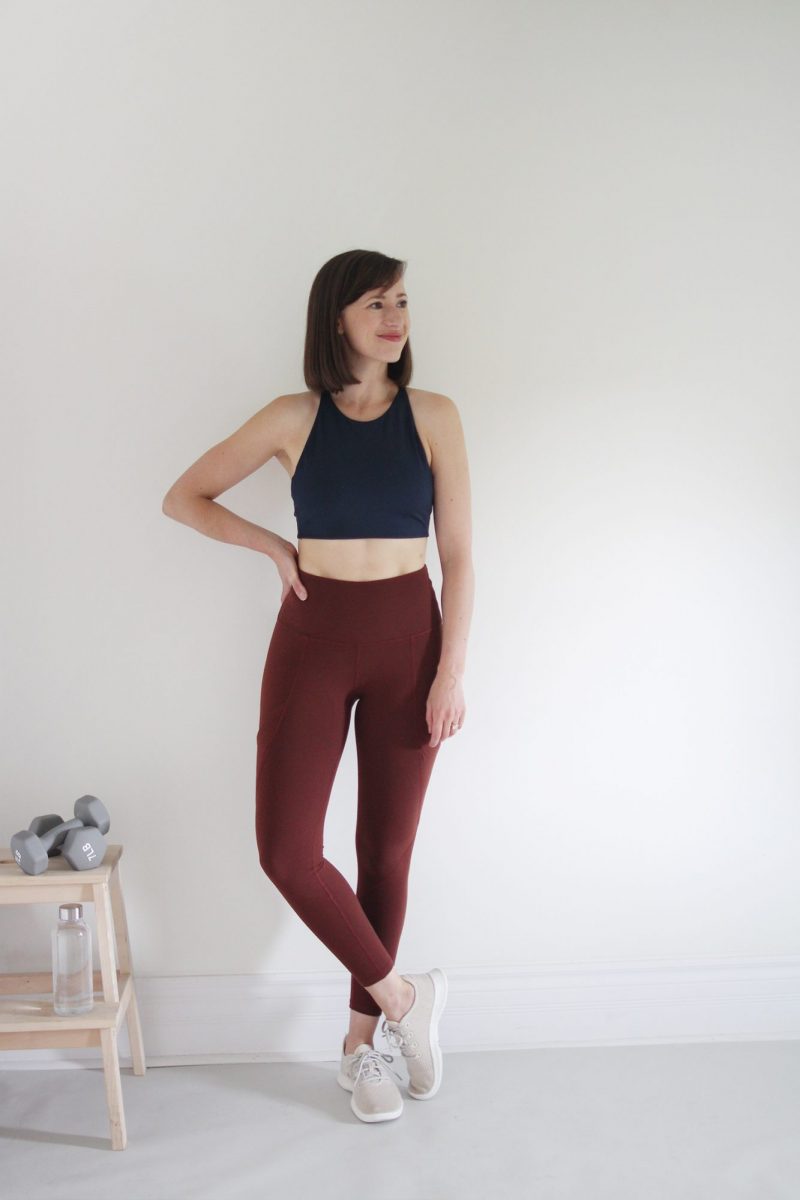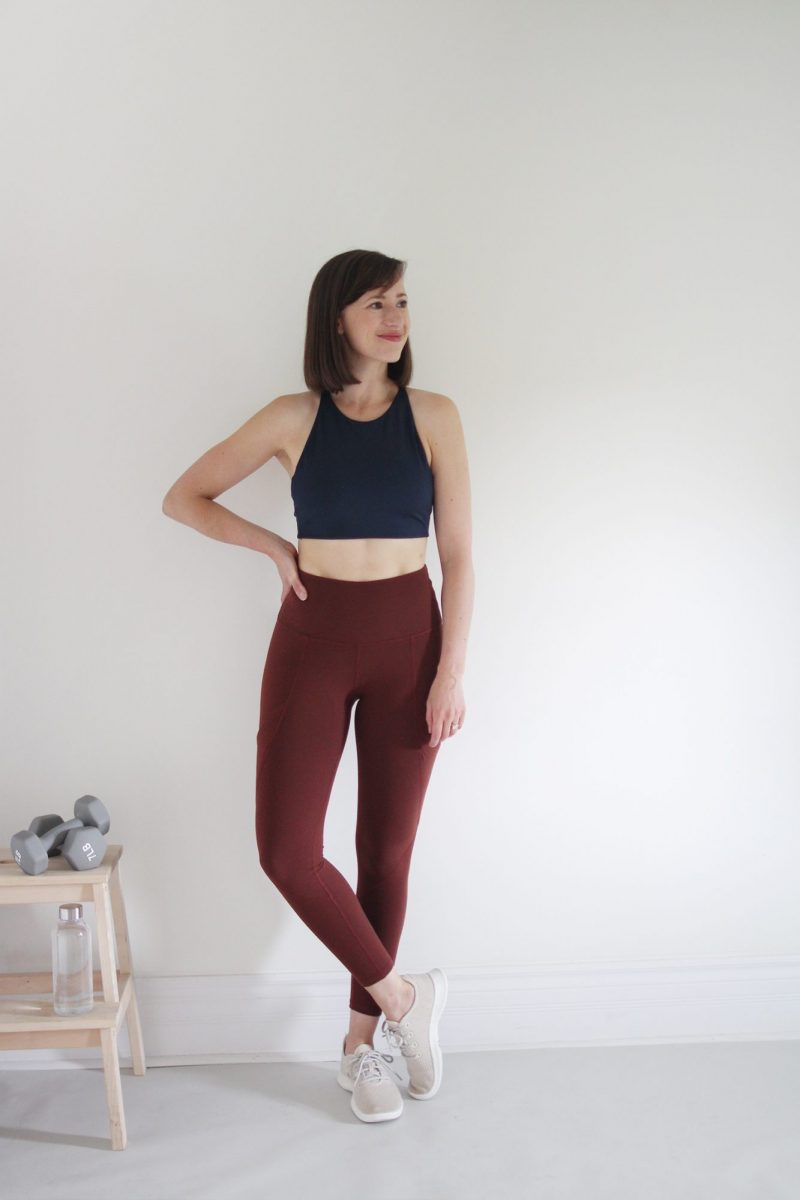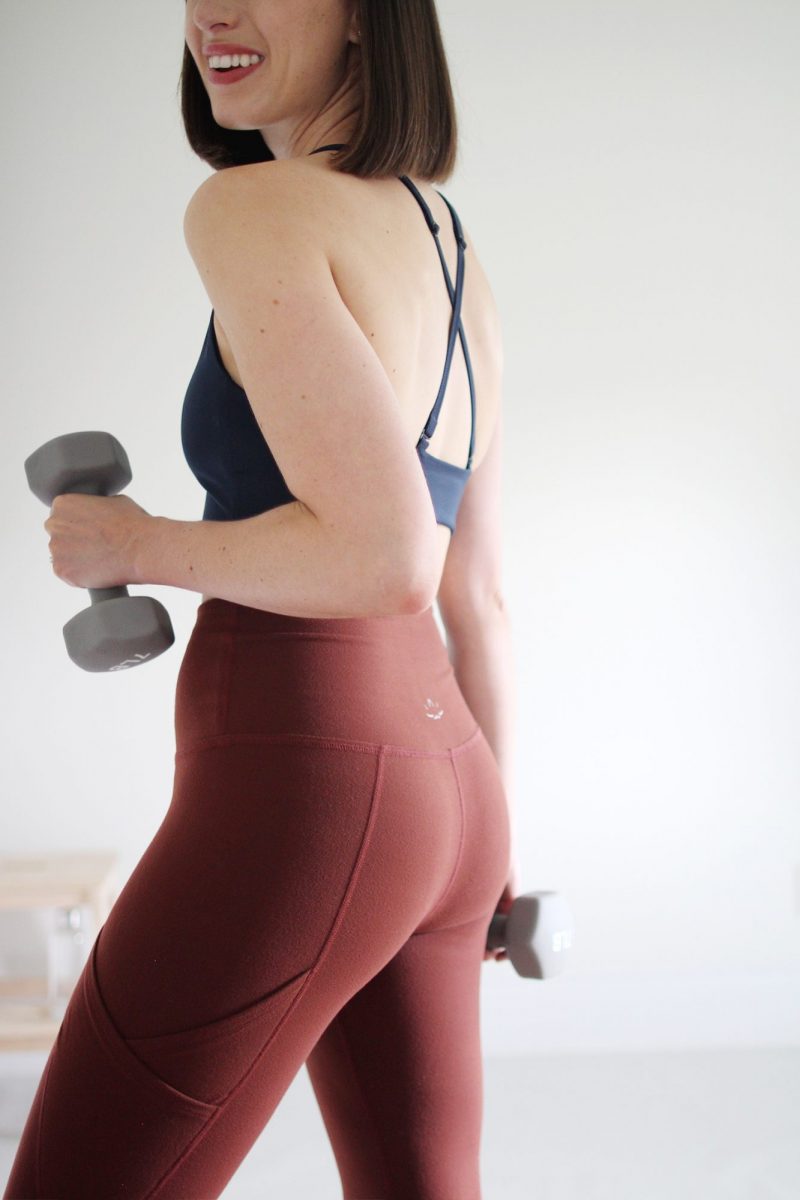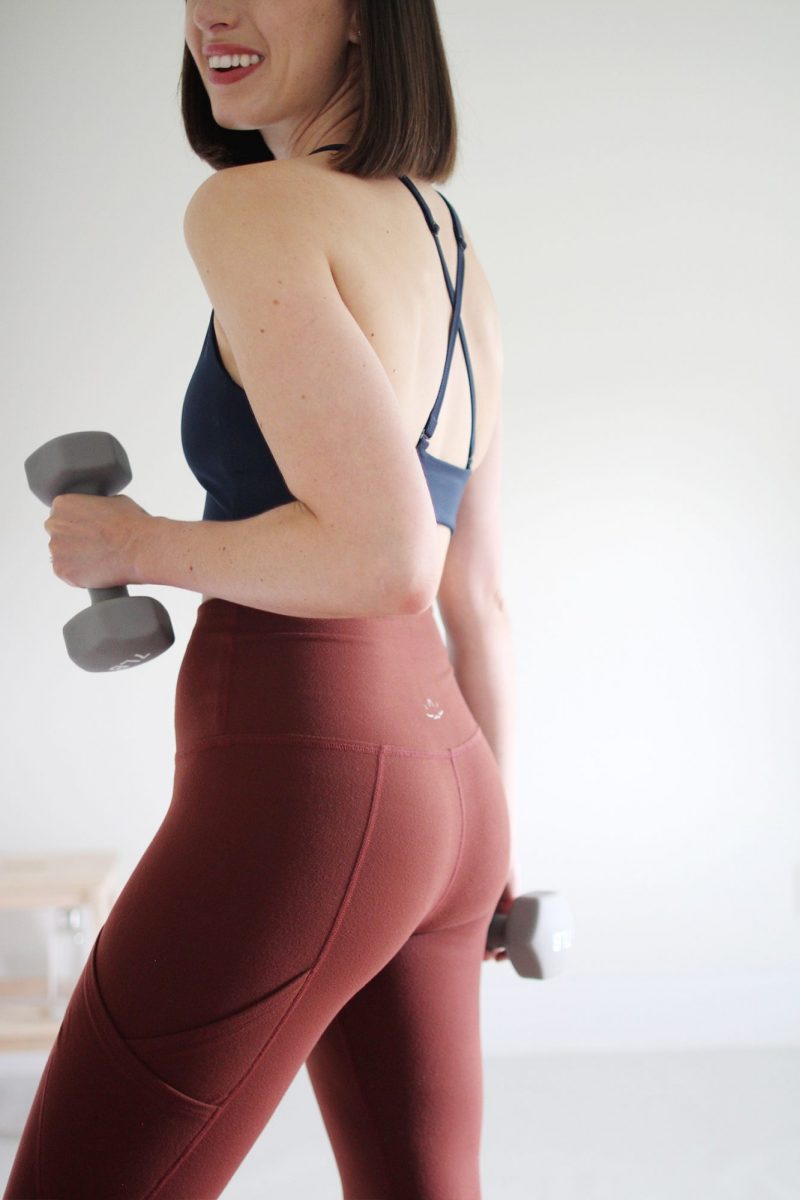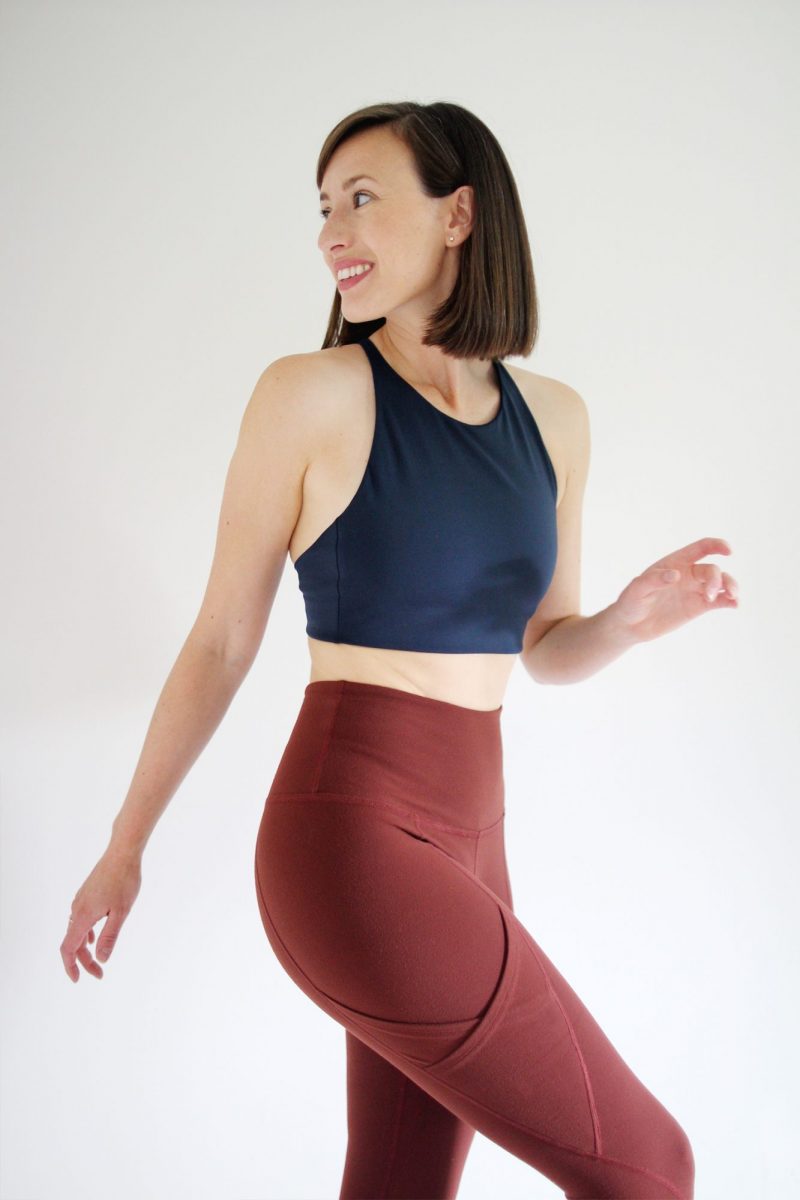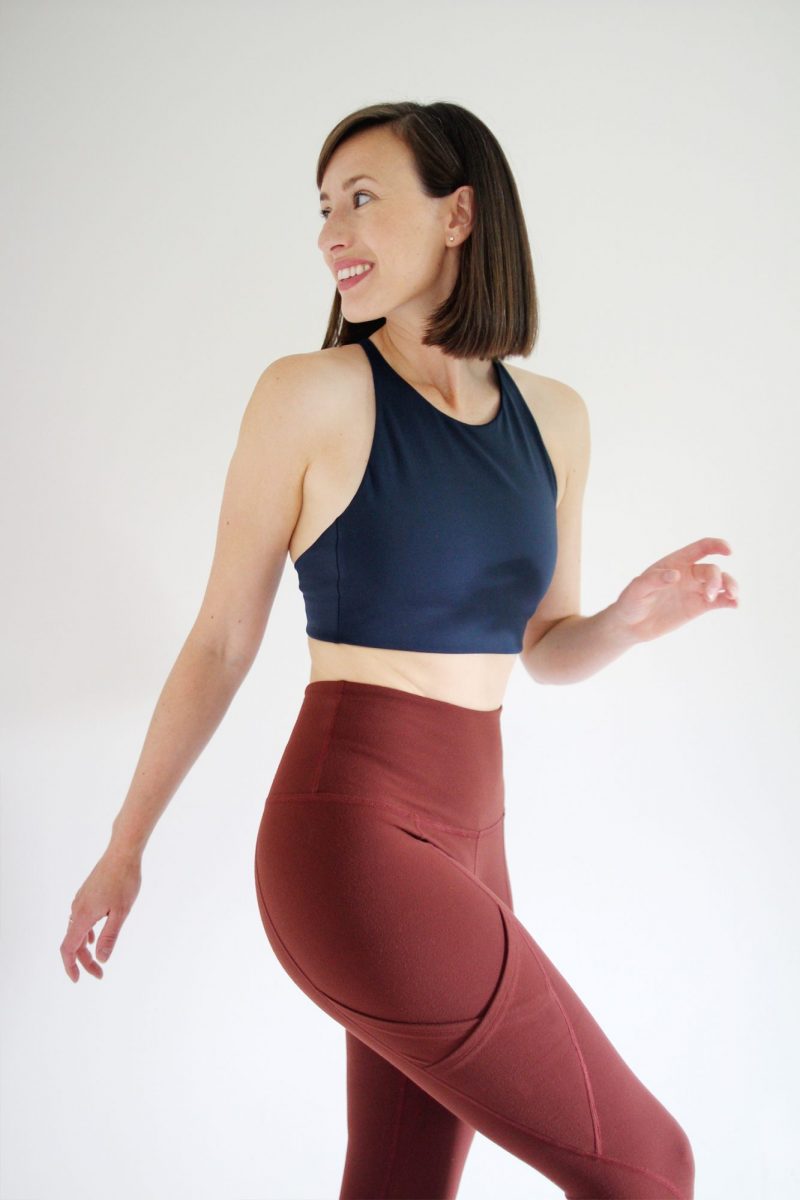 ---
DAY 8 – INITIAL THOUGHTS
It's Saturday, I'm back in my comfy new leggings and my favourite sports bra and I'm feeling good! We're on the final stretch with the 10×10 challenge and that end game surge of energy is just what I needed!
Today I tried out one of the apps that folks recommended most on Instagram, which was YogaGlo. It has hundreds of 5 star reviews, it's free for 7 days and I felt that it had a really approachable vibe to it. Some of the other apps are very slick, which I like as well, but I felt like this was more my vibe for now. It's a bit pricey at $29.99/mo so we'll see if it's really worth it! You can pick individual classes or sign up for programs to build up your skill level gradually. I started with a single Core Defining Flow class and it was great. Not terribly hard but definitely a bit challenging and nicely guided. I'm excited to keep exploring some of the classes within Glo this week. If you've got a favourite please let me know!
QUICK ITEM SPOTLIGHT – Girlfriend Collective Topanga Bra
So far, out of all the bras I've tried from Girlfriend Collective, Outdoor Voices, Lululemon, Miakoda and otherwise, this is my favourite sports bra to wear for working out. The design is flattering, contemporary and comfortable and the fit and feel is fabulous. I love the high neckline so there is never any worry about cleavage and the cut around the arm is really comfortable to move in without any side boob concern. The cross-back straps are adjustable for the perfect amount of support and the band that runs around the base is very soft on the skin. I never find myself needing to adjust after a pose or set either. It's compressive but not super tight so it may not be quite supportive enough for larger bust sizes. Otherwise, I'd definitely recommend this one!
---
FUN FACT: I bought those weights just before this 10×10 because my other ones are a nasty neon yellow. Turns out I was ready to up my weight to 7 lbs anyway!
---
SHOP LOOK 8
---
DAY 9
---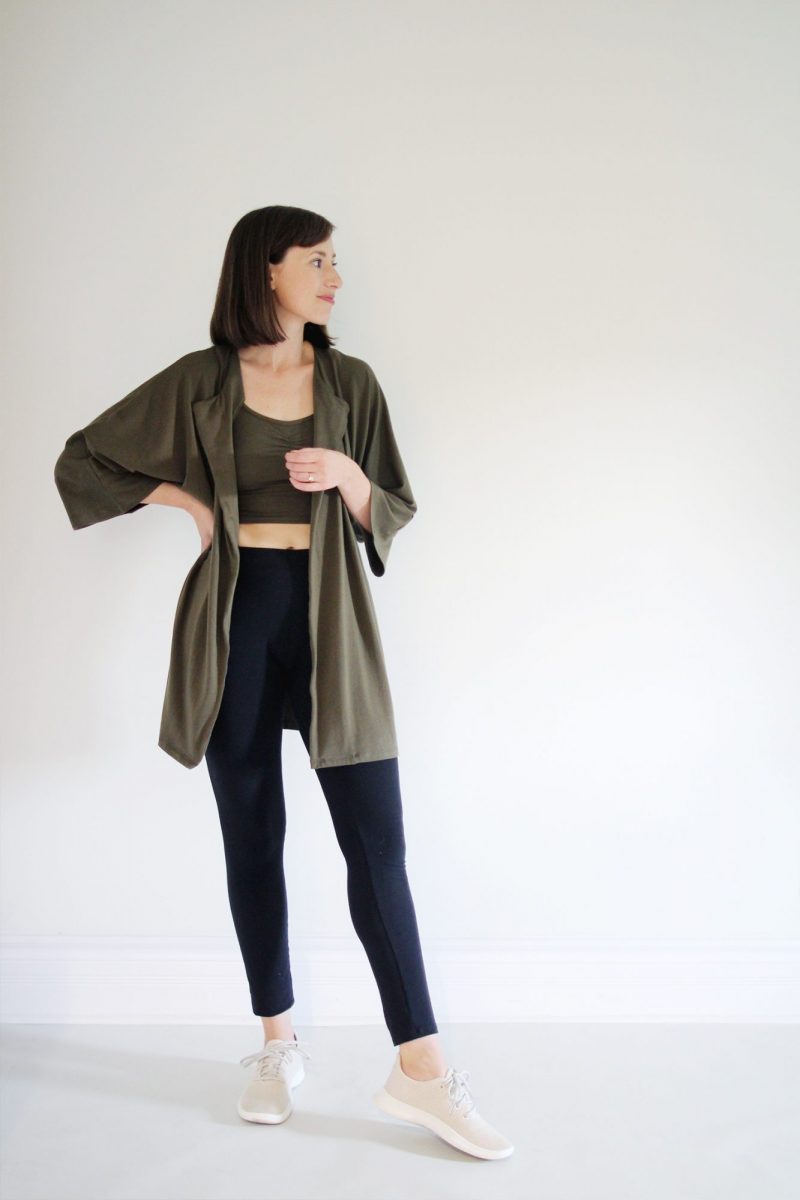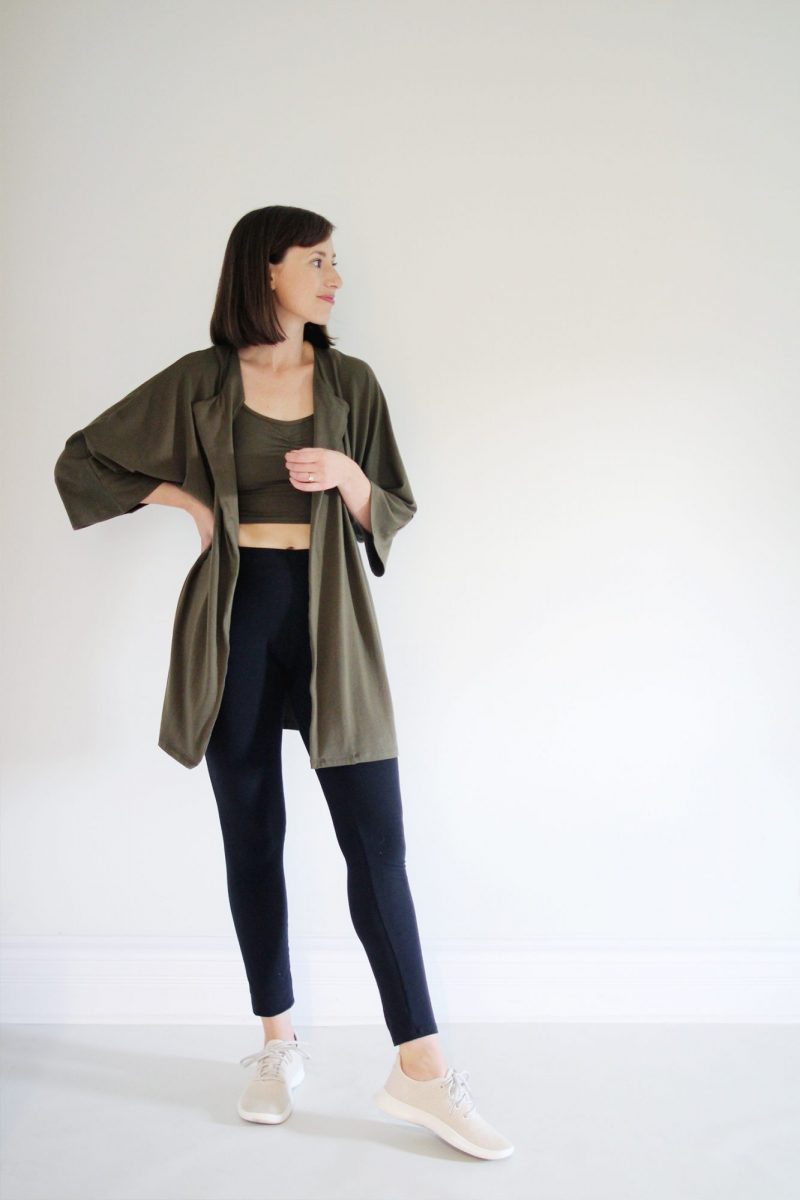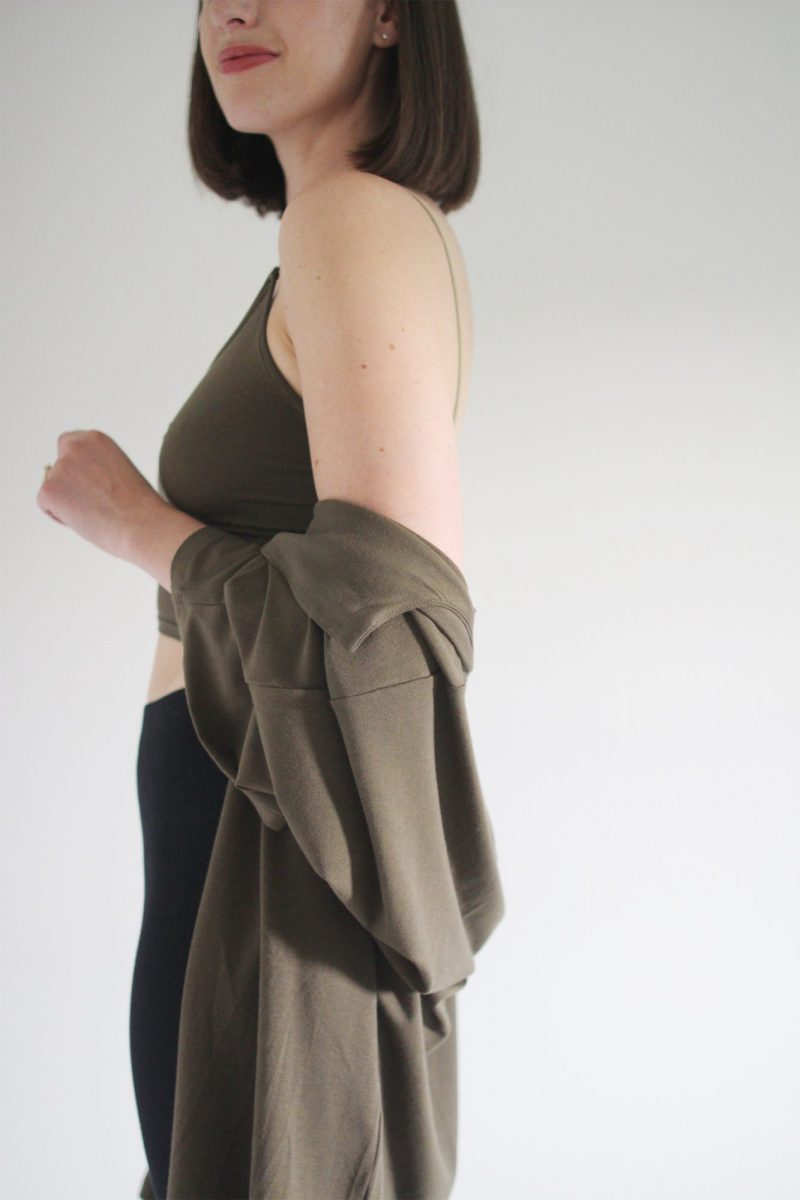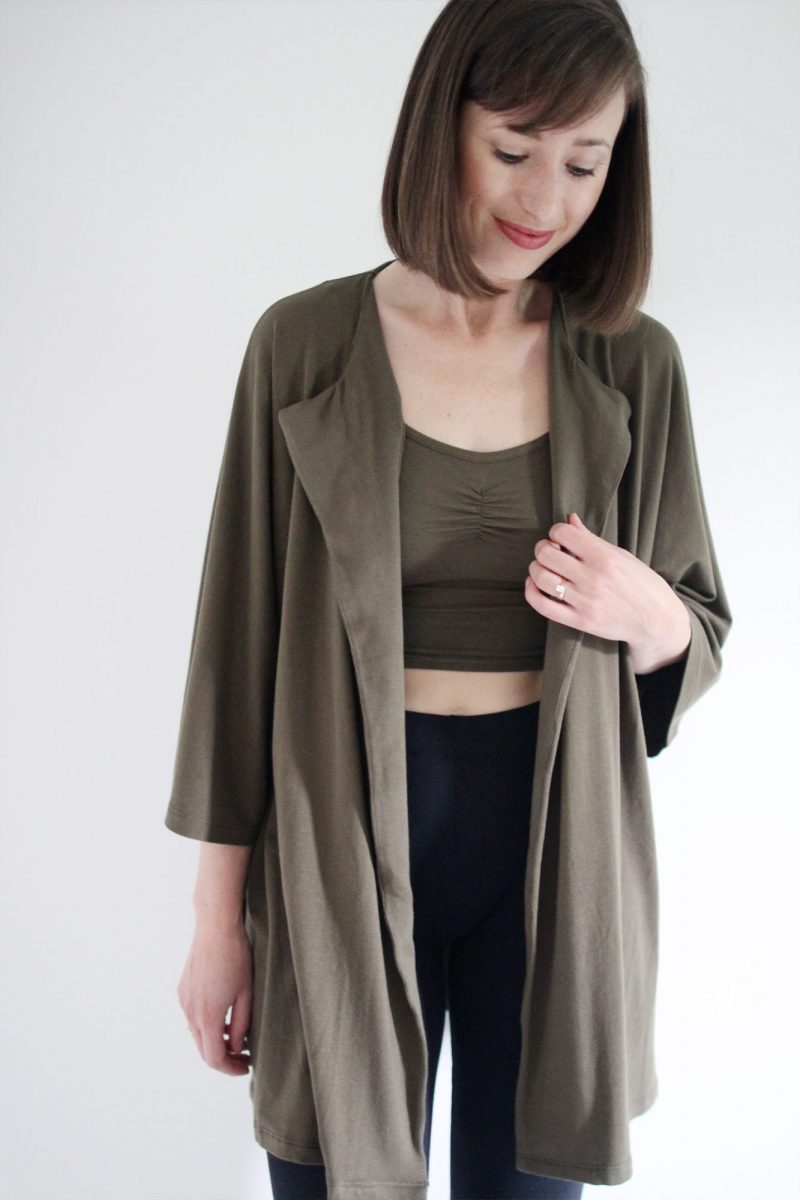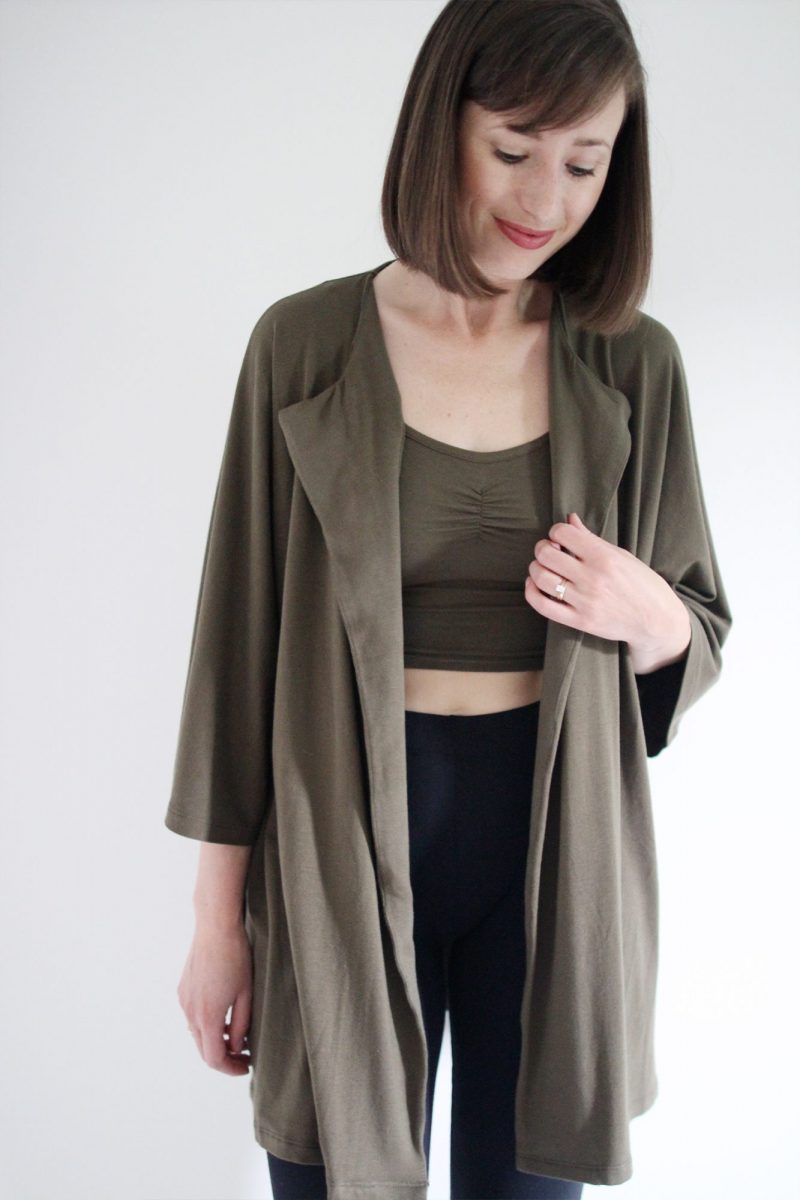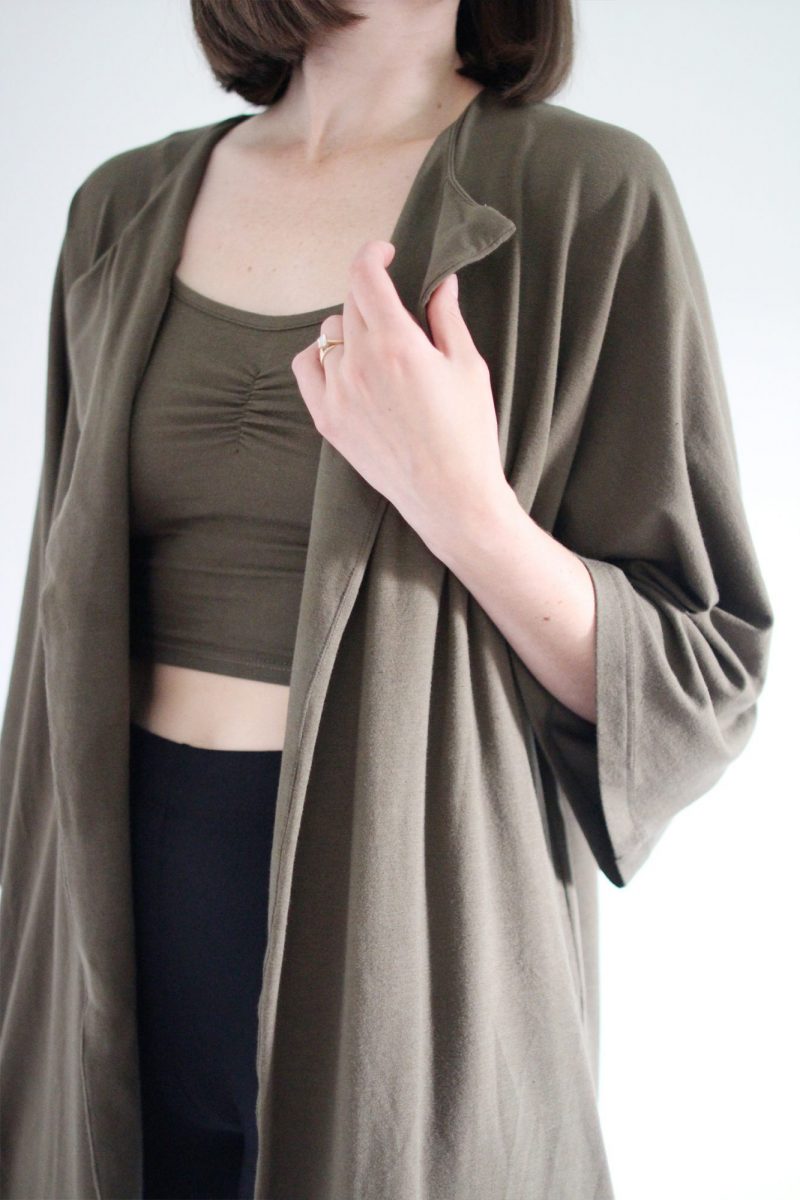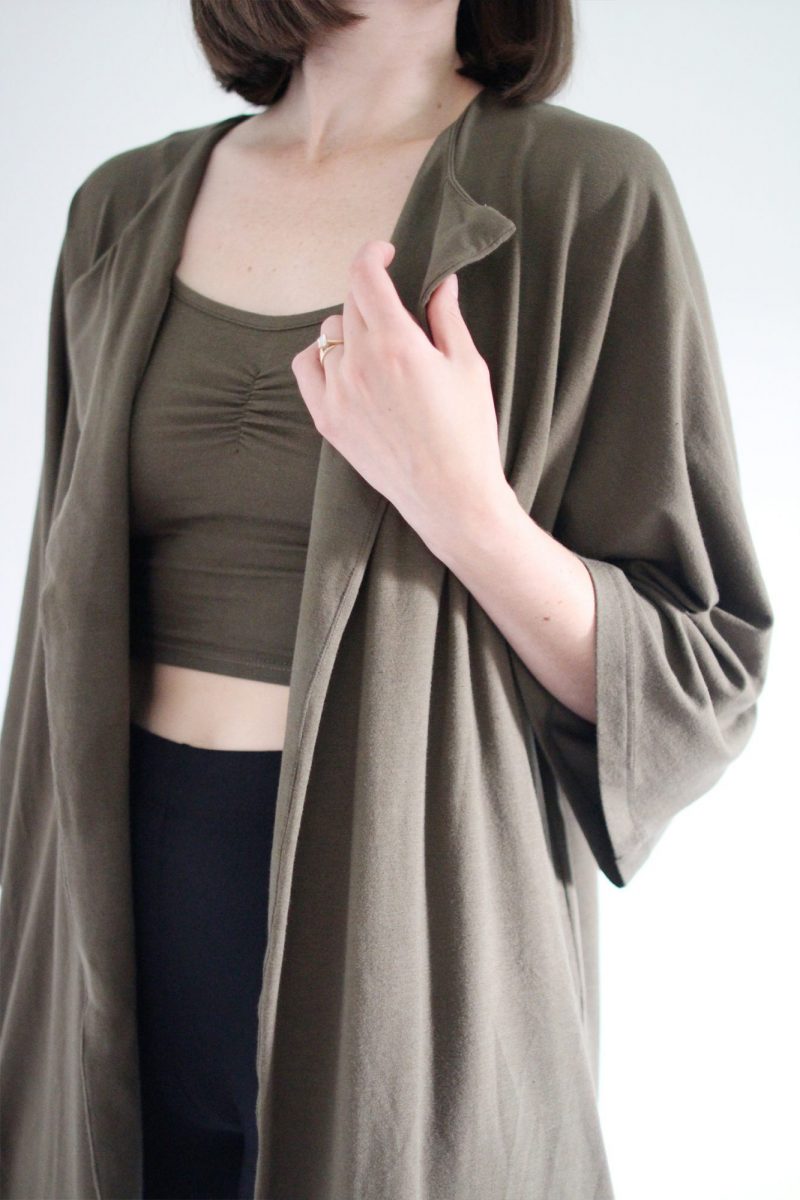 ---
LOOK 9 – INITIAL THOUGHTS
This outfit couldn't be more perfect for a slow Sunday morning at home. It was just me and my pup this weekend so we slept-in, lazily toured the neighbourhood with a coffee and made a nice breakfast. Dobby loves when I make soft boiled eggs and toast and, well, so do I! Taking advantage of Dave's absence I decided to indulge in some classic chick flicks like 'He's Just Not That Into You' and 'Eat, Pray, Love', neither of which I would recommend if you're unable to ignore 90% of the messaging and just enjoy the fabulous 2008-2010 fashion.
Once I'd got that out of my system I did what I thought would be a low-key yoga session but ended up being a much more involved hamstring ass kicker of a work out. It was great though! Don't you love when you think you're not up for anything major but then your body surprises you by feeling much stronger and more capable than you thought? This doesn't happen to me often, in fact it's almost always the opposite, but it was a very pleasant surprise!
QUICK ITEM SPOTLIGHT – ORGANIC ROBE
I am officially awarding this Miakoda Organic Robe the title of 10×10 Activewear MVP! This piece has been by far the biggest game changer within my closet and daily routine, to the point that I can't imagine what I'd do without it now. Besides the fact that it's insanely soft, the ideal length and has a simple, elegant shape, it's just so darn functional. It's been such a pleasure to not have to worry or even think about what to throw on over my workout set or PJs or what to cozy up in while I'm at my desk or chilling on the couch. This answers all those instances perfectly.
It's soft and cozy but at the same time quite light so I'd say it can work for a pretty wide range of temperatures. It's just enough to take the edge off in an overly air conditioned space or to cut the chill on a cool night but not too warm that you'll over heat if you wear it out on a sunny day.
It's just the right combination of a sweatshirt, cardigan and coat that gives it a casual vibe with elevated details like a simple lapel, kimono sleeve and minimal design that elevate it slightly. It's also great for dressing up over a jumpsuit with the belt tied on or worn open with jeans and a tank for going out in a more formal scenario. Basically, as far as I've seen, this robe can do just about anything you need it to!
---
SHOP LOOK 9
---
DAY 10
---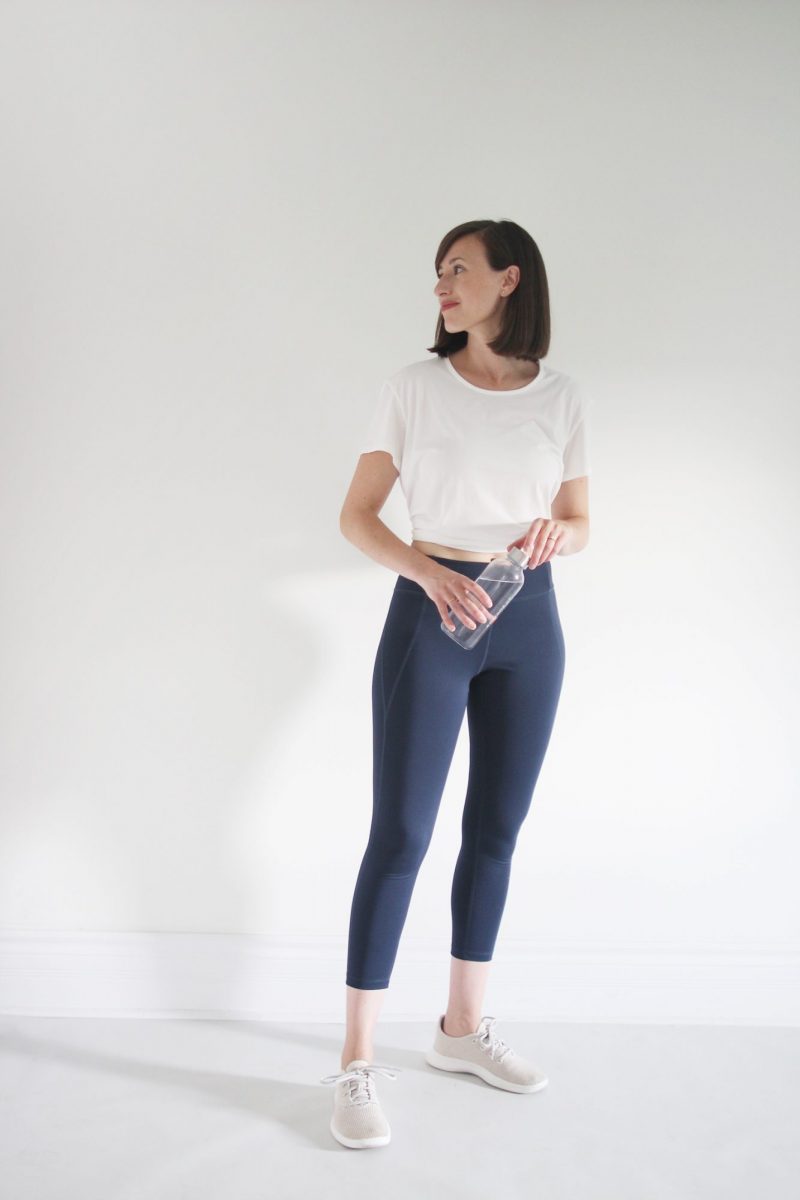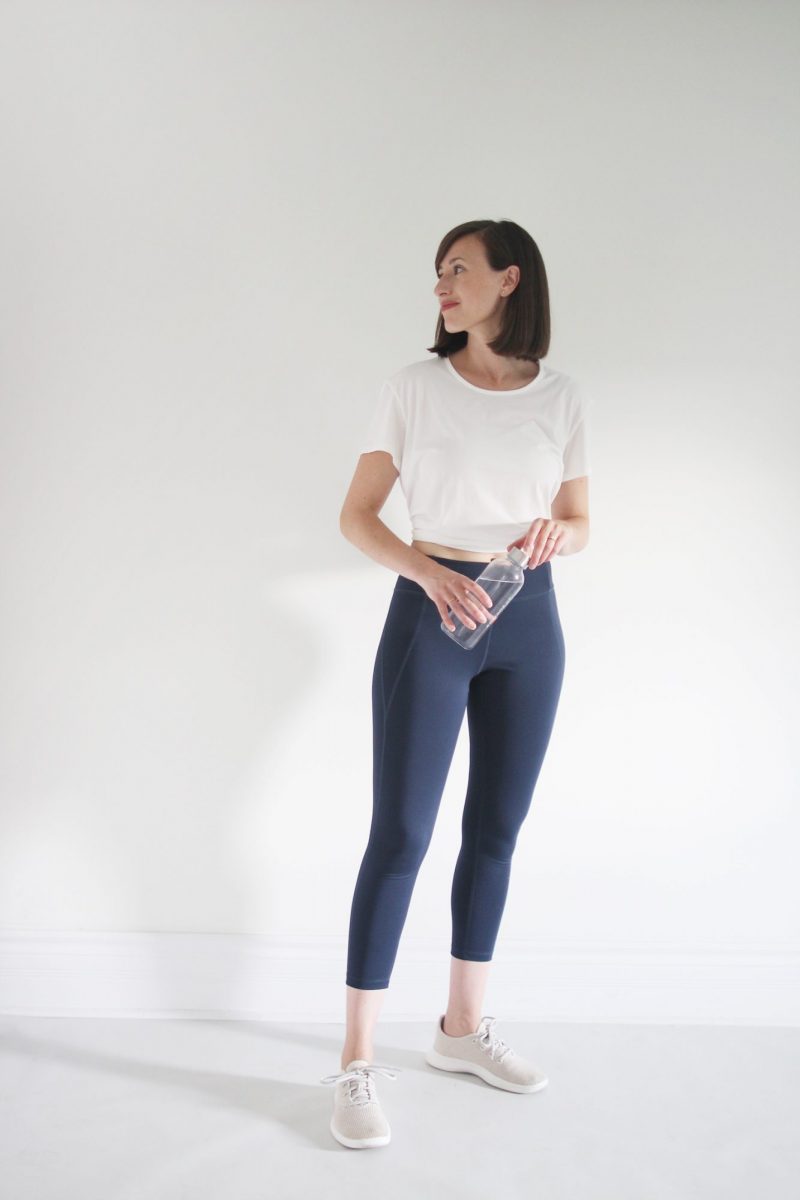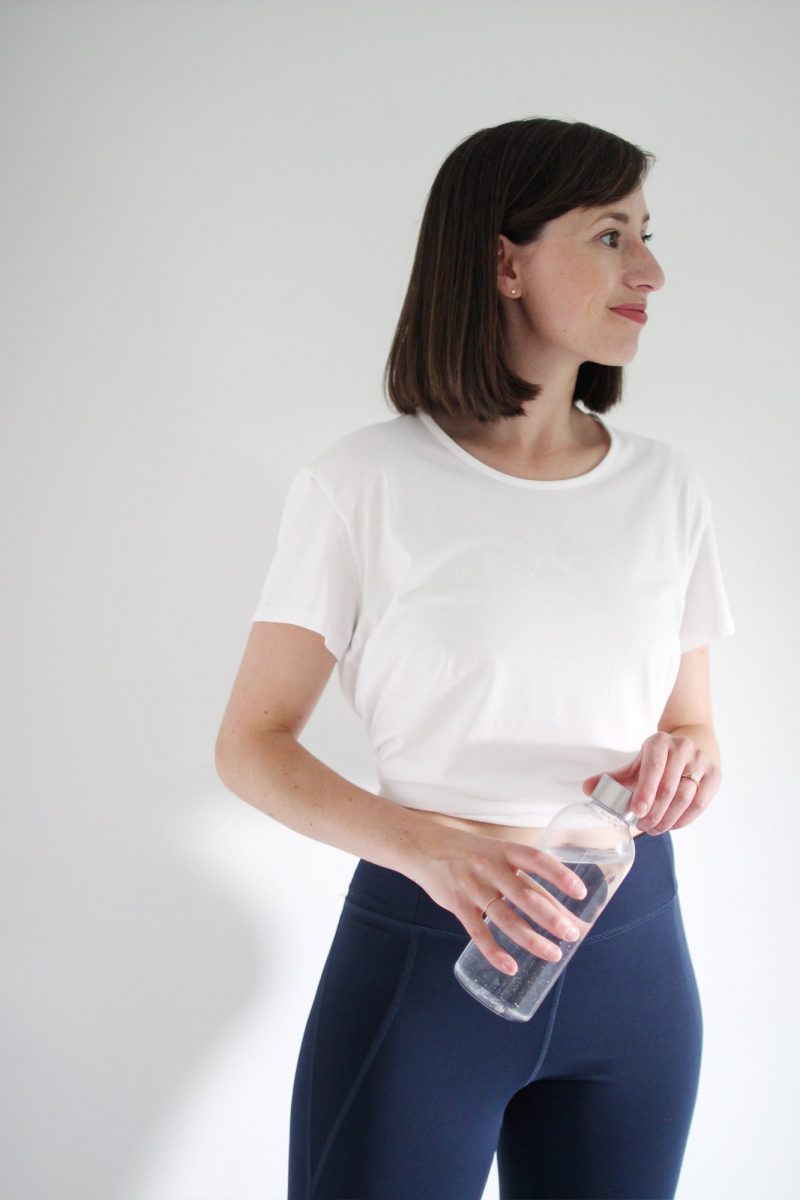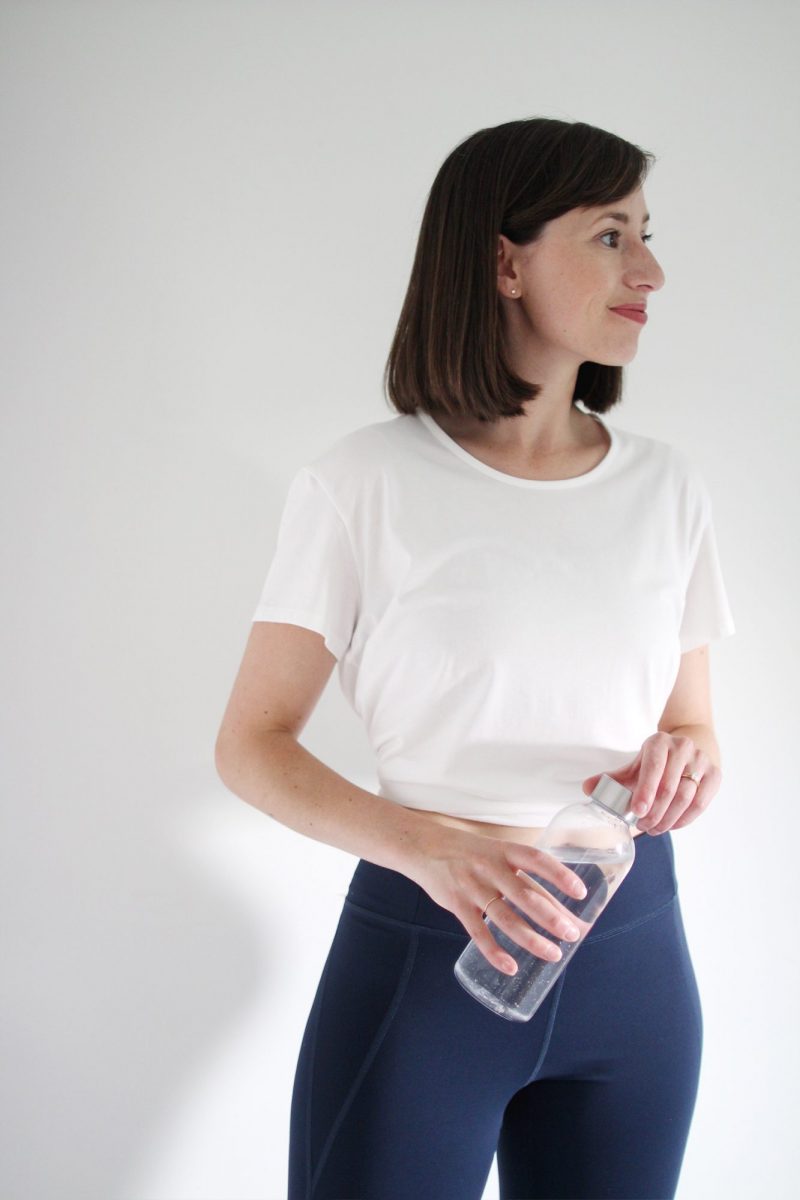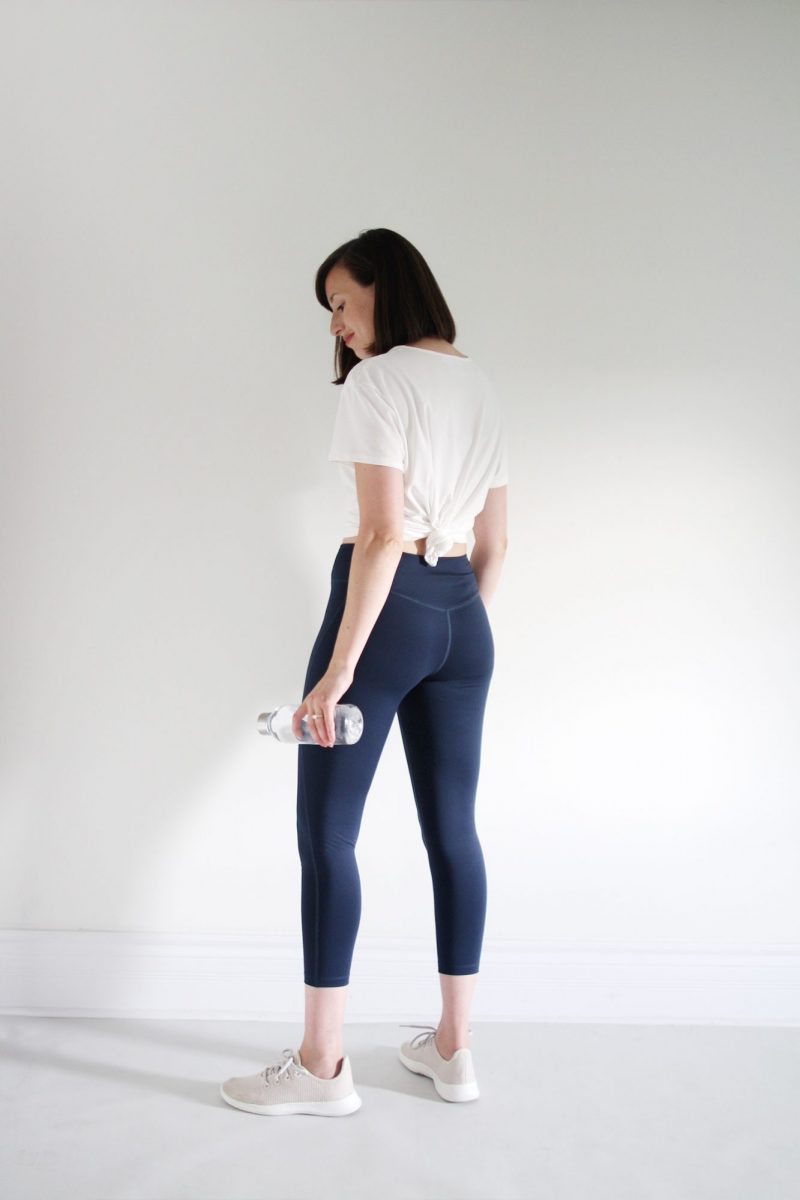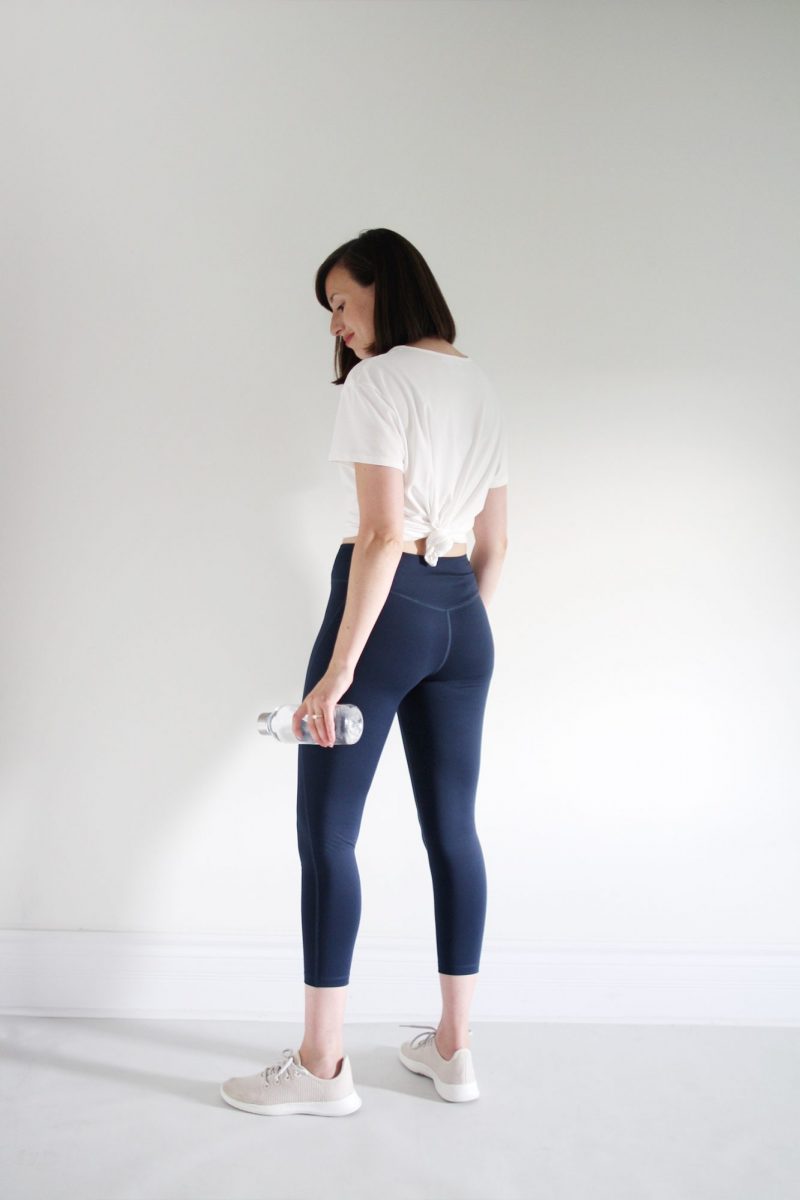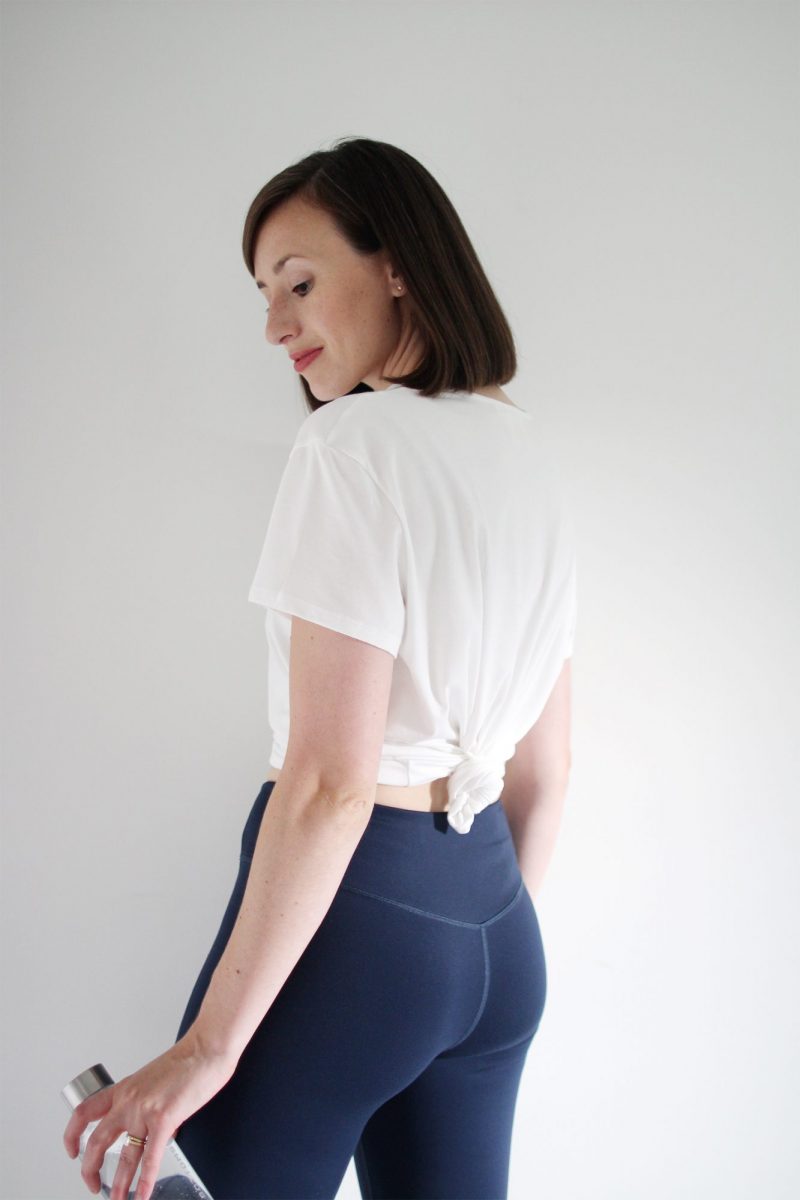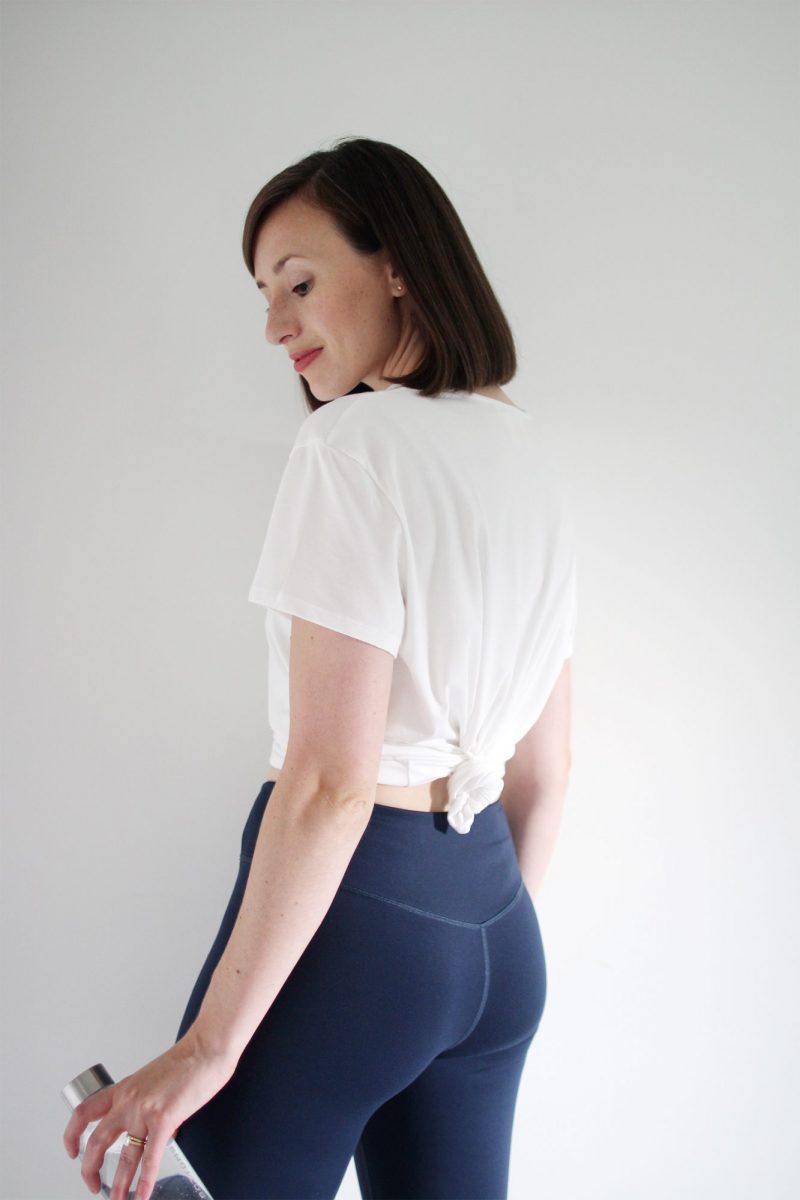 ---
LOOK 10 – INITIAL THOUGHTS
WE MADE IT! Day 10 of the 10×10 Challenge has arrived. It's so funny because I feel like I was just lamenting over day 5's slow arrival when BAM day 10 is here.
I'd be lying if I said I had already worked out today but it's a civic holiday here in Canada and I'm taking full advantage of that. I am indeed wearing this outfit though. It's raining out so I've been puttering around the house trying to get some long ignored chores checked off the list, casually working on my weekly to-do list and getting going on some Fall planning. There is no such thing as a true day off for the self-employed and I'm OK with that.
This 10×10 Challenge was a unique one for sure. Not just because of my decision to use activewear items but because I incorporated some other elements of my day into the challenge too. It became more about routine and practice than the usual closet centric approach I've taken in the past. This was good in lots of ways but it also made the 10×10 be feel a bit more intrusive in my daily life. Here's a quick Q&A to sum things up that might be helpful for your own 10×10 recap too!
Are you glad you tried this 10×10? Definitely! Focusing on activewear was tricky and pushed me out of my comfort zone, which I needed, but also reminded me why I love the 10×10 in its original form.
What was your favourite outfit? I was honestly so comfy throughout this entire challenge and would/will gladly repeat any of the outfits! The days when I mix and matched my work out sets were particularly fun though!
Favourite item? I already gave this away but the Miakoda Robe was probably my favourite item. The Beyond Yoga leggings are a close second though, I'm obsessed with those!
Least favourite? I really liked all the items in my 10×10 but I think the black sports bra from Lululemon pales a little in comparison to some of the newer workout tops I have in my repertoire now.
Will you do another 10×10? You bet! I'm so looking forward to playing around with my regular closet this Fall.
What did you enjoy most about this 10×10? As always, seeing the community come together, reconnect and welcome new participants was my favourite aspect of the 10×10. The style this round was particularly on point too! It's also feeling more and more inclusive and diverse and I love that so very much!
Biggest Takeaways?
1) The 10×10 is a lot like yoga practice. It's entirely individual, requires discipline and repetition leads to strength and better understanding.
2) The principles I apply to my regular closet (simplicity, versatility, quality and consideration) are just as applicable to my activewear!
---
SHOP LOOK 10
---
That, my friends, is about all I have to say for this 10×10 Challenge! I cannot thank you enough for following along!
STAY TUNED FOR AN OUTFIT POST ON HOW I STYLE A FEW OF MY ACTIVEWEAR ITEMS WITH MY REGULAR CLOSET COMING WEDNESDAY!
---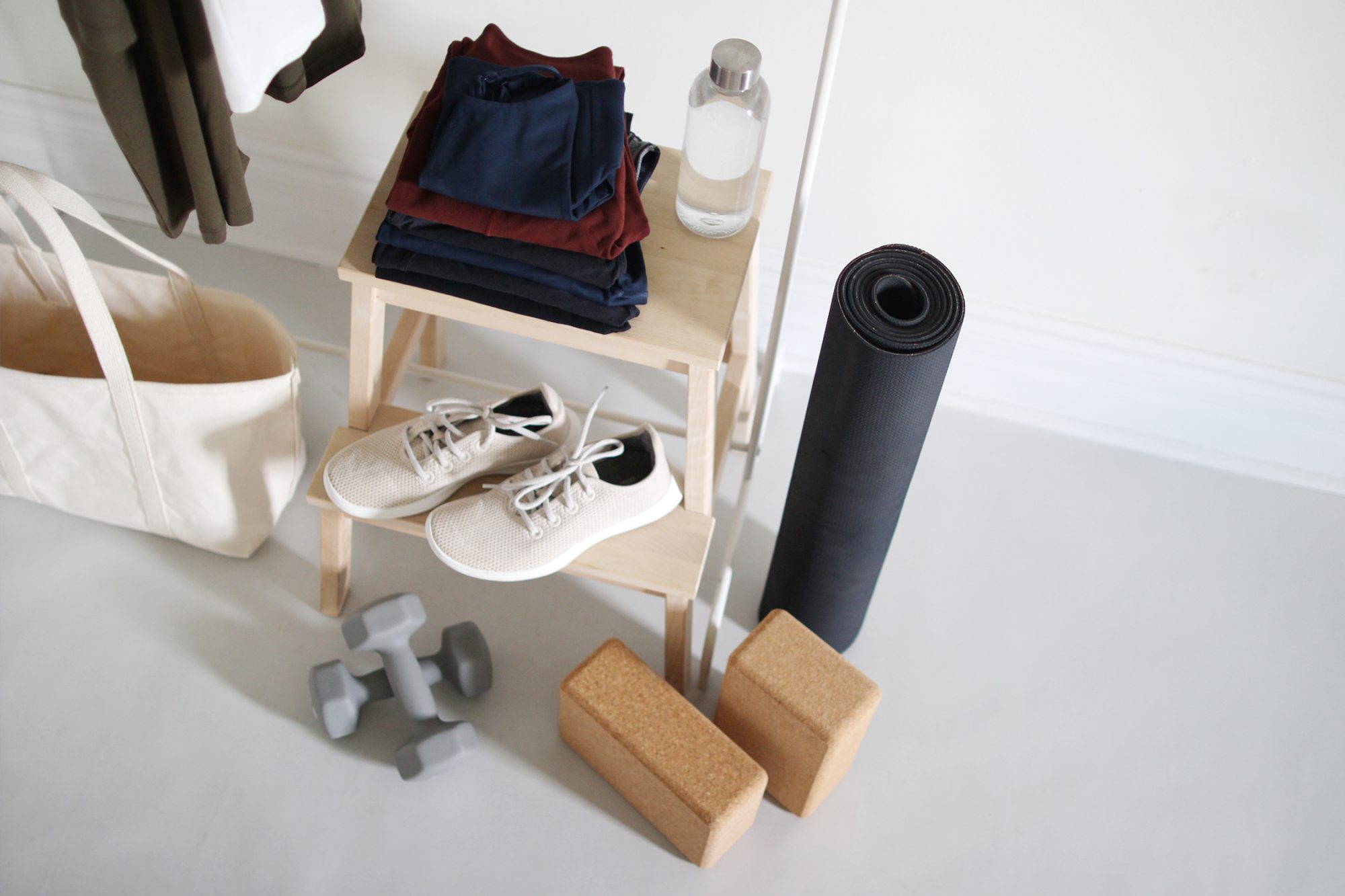 ---
CONGRATS TO EVERYONE WHO COMPLETED THE 10×10 CHALLENGE + THANKS SO MUCH FOR JOINING IN!
IF YOU DIDN'T JOIN THIS TIME WE HOPE TO SEE YOU NEXT SEASON!
THE FALL 10×10 START DATE WILL BE ANNOUNCED SOON.
---
This post is not sponsored but contains affiliate links. When you shop via the links above I may make commission on a sale. Thanks for supporting Style Bee! All opinions are always my own.