Hope you had a great weekend! We're right in the thick of the #Summer10x10 and you can see how my activewear edition is going over on this post (I'm updating it daily-ish with looks 2 + 3 to be added this afternoon). Meanwhile, I thought I'd take a look at some past summer items that haven't been in the spotlight much but still hold a special place in my closet.
Your suggestions in my Day Glove Review were so great to read and have had me thinking about my plans for the rest of the summer and into…dare I say it…fall! AKA my favourite season because, LAYERS. Thank you for taking the time to share your thoughts and for being such a supportive group of readers! I take your feedback to heart and it truly helps me see my way forward and out of the occasional creative rut I find myself in.
Now let's jump into the five simple looks I'm sharing today. All these items (except a couple of accessories) have spent at least 1 year in my closet and some are even from my early days of responsible shopping. I'm sharing my thoughts on as many as I had time to write about over the weekend, so let's take a look!
---
LOOK 1
---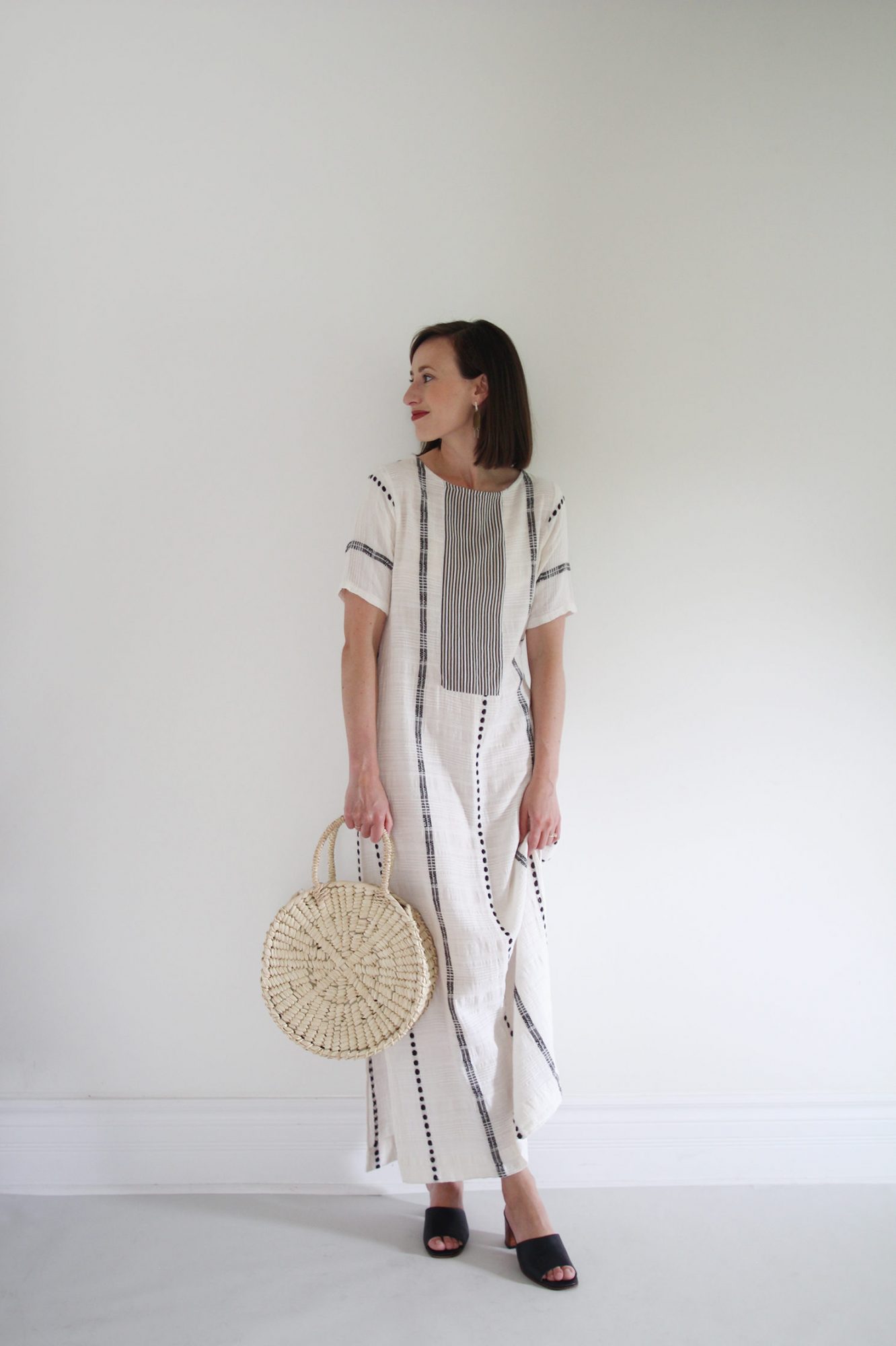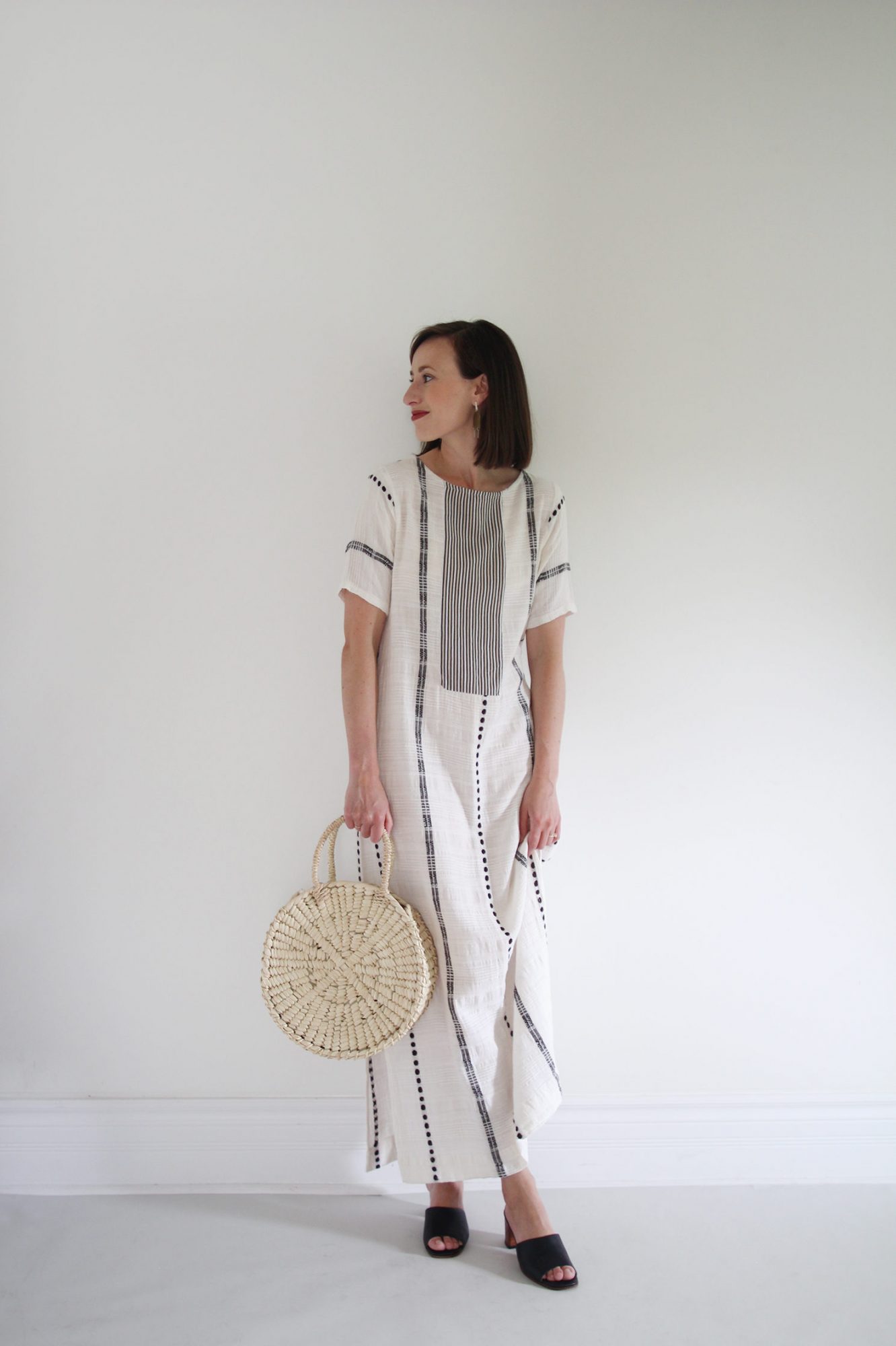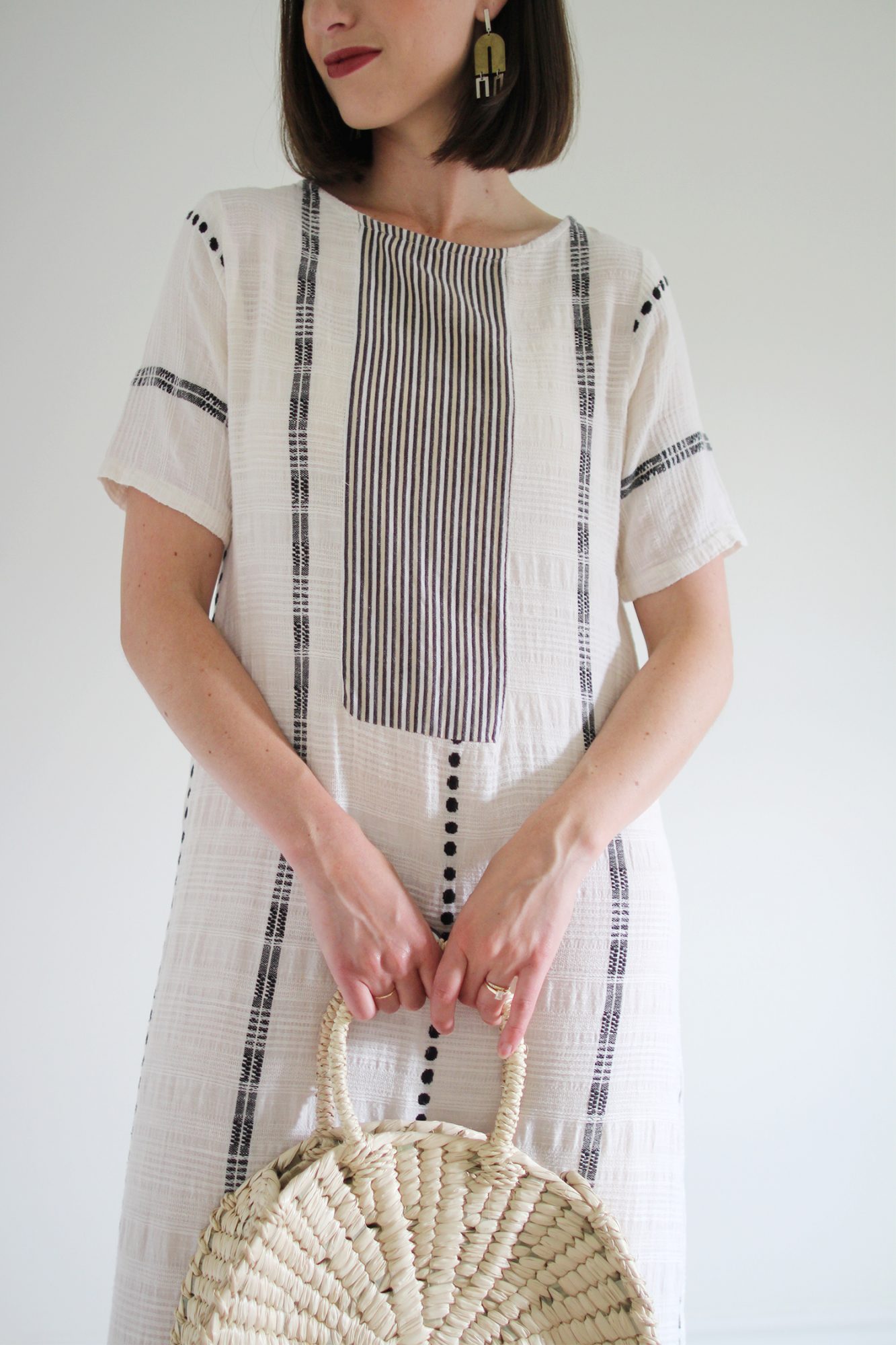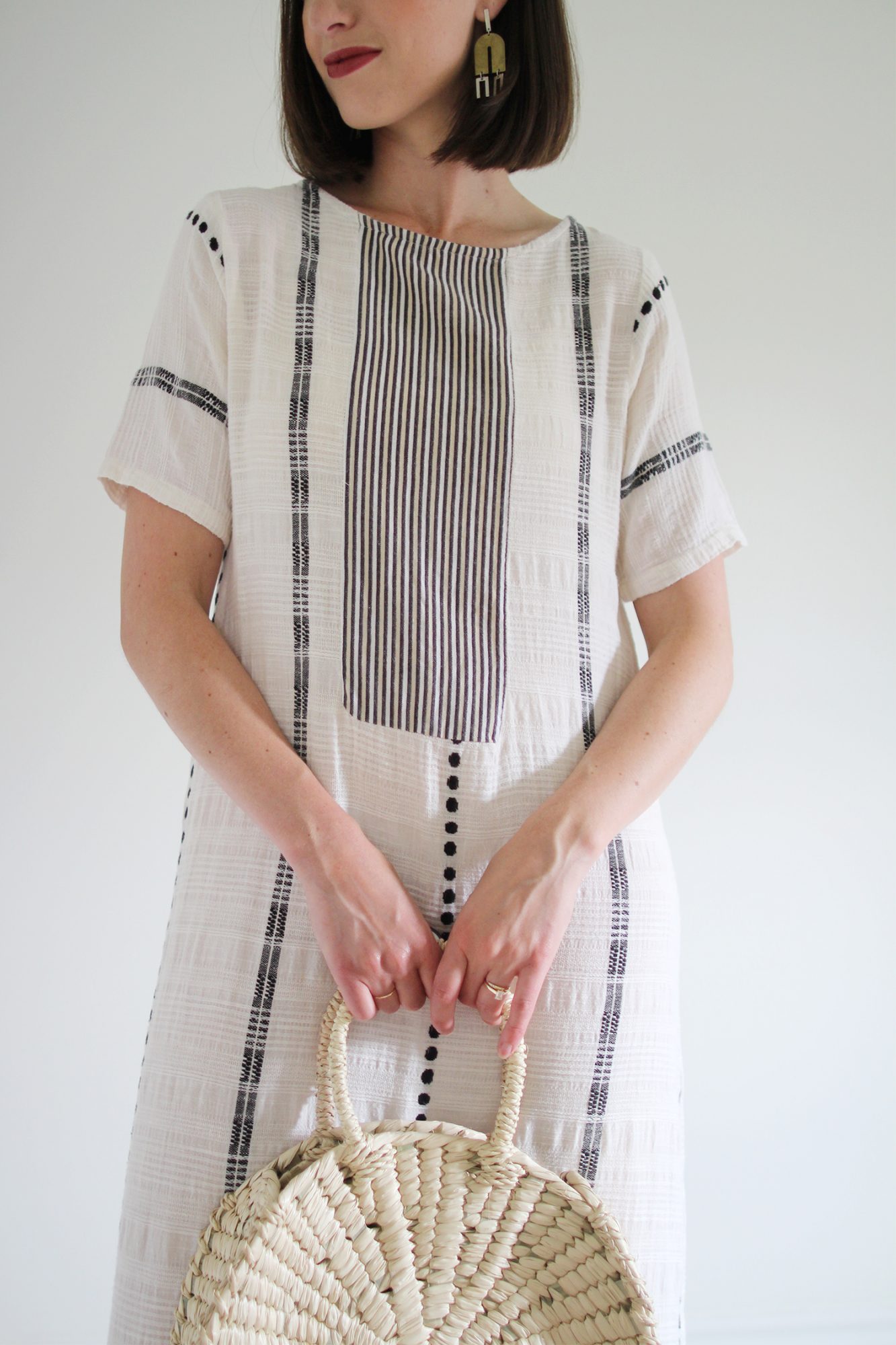 ---
MAYA DRESS – ACE & JIG – First seen on the blog here in July 2015 but I like this styling too.
I bought this dress in early 2015 and it was one of the first pieces I'd invested so much money in with the intention of supporting ethical fashion ($340 USD to be exact). To this day, I haven't come across a dress quite as unique or as comfortable as this one. It's so breathable and light which makes it perfect for the hot, humid summer days we've been having. Even though I don't reach for it a ton of times each year, I still consider it an essential item in my closet and don't plan to part with this gem anytime soon. I love it styled with a basket bag and a pair of statement earrings for a fun day or night out and about!
Although I haven't bought anything else from Ace & Jig, I always admire their beautiful patterns and fabrics from afar. The Fall 2018 collection is pretty exciting and I loved the teaser video. Do you happen to have any pieces from this cult favourite?
---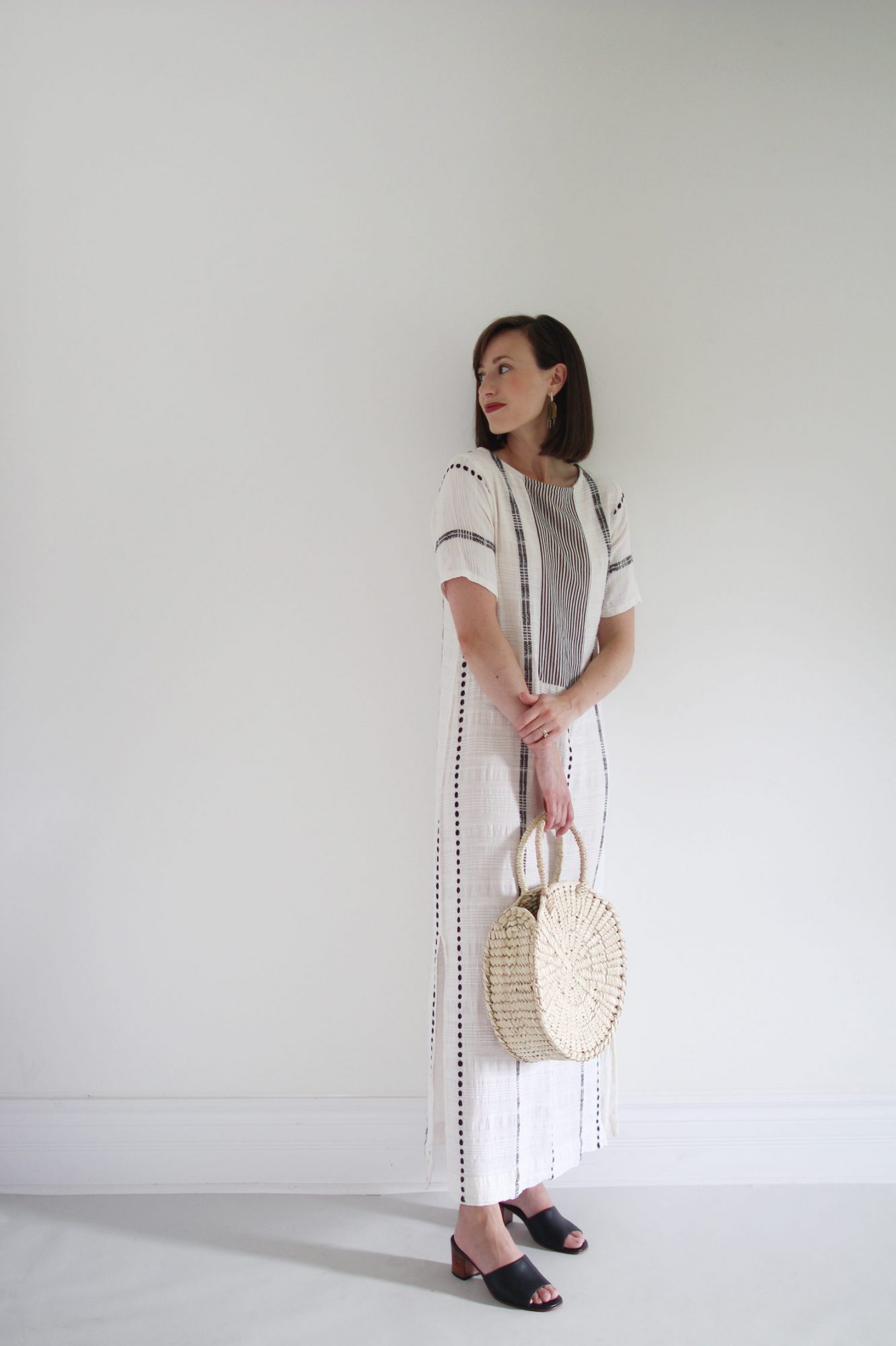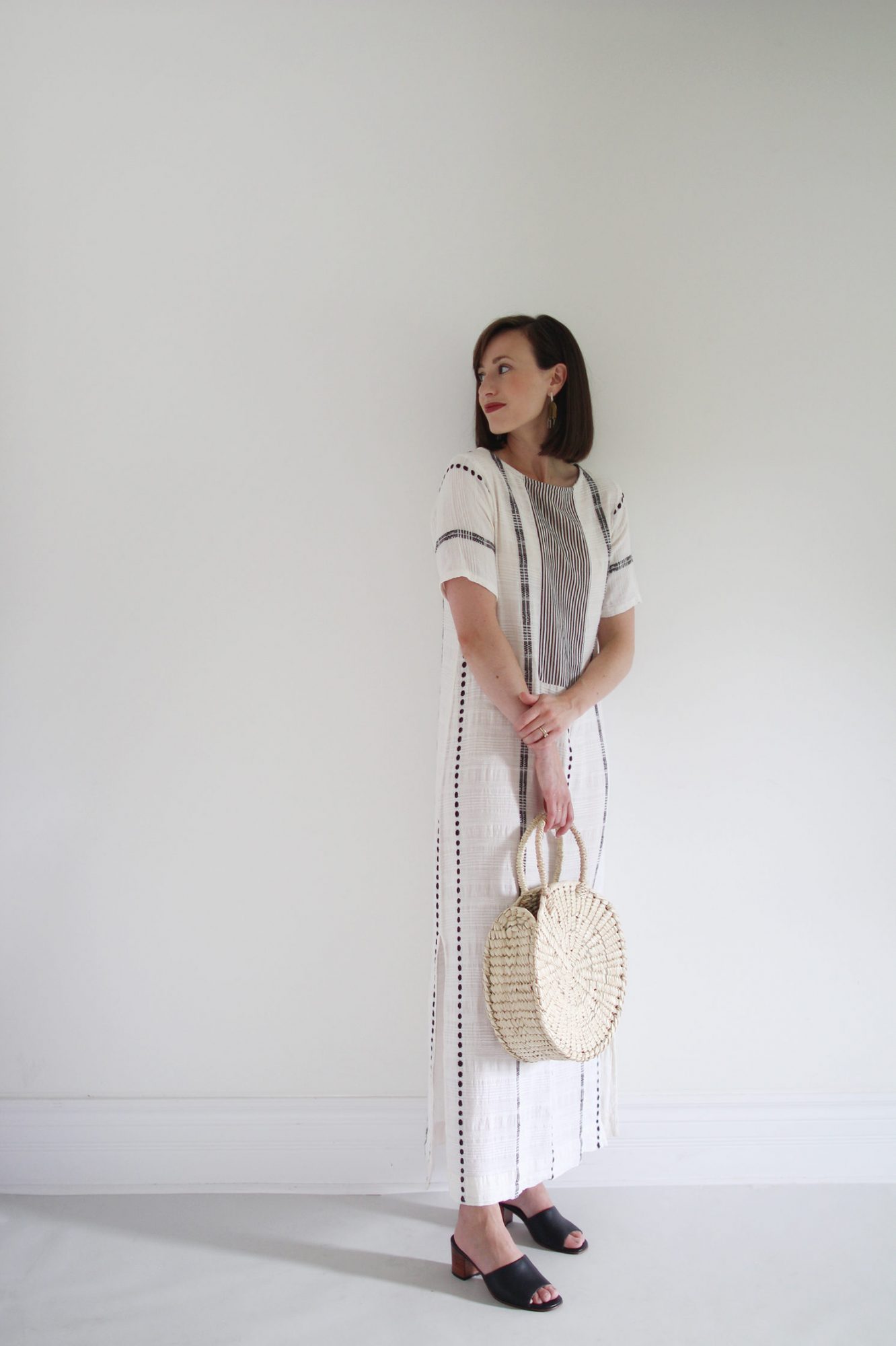 ---
ELIZABETH SLIDE – NISOLO – First seen on the blog here in September 2016. I guess I thought they'd get more use at the time and I ended up selling that Keaton Duster with some lingering regret.
I'll admit that these aren't shoes I reach for terribly often but for some reason I can't bear to part with them. They're not super comfortable to walk in (the leather is still a bit stiff around the toes) so I save them for occasions that won't require a lot of activity. They do stay on quite well (they're tight around the foot) but they make I find myself thinking about them as I walk. Despite these factors I still think they're some of the loveliest, minimal mules I've seen around and Nisolo really does produce a high quality shoe for the price (in this case $158).
My Camilla Slides are a more practical option that I wear several times a week in the summer. I wear a US 7 in those. (You can find them on Garmentory and save $20 when you sign up here.)
---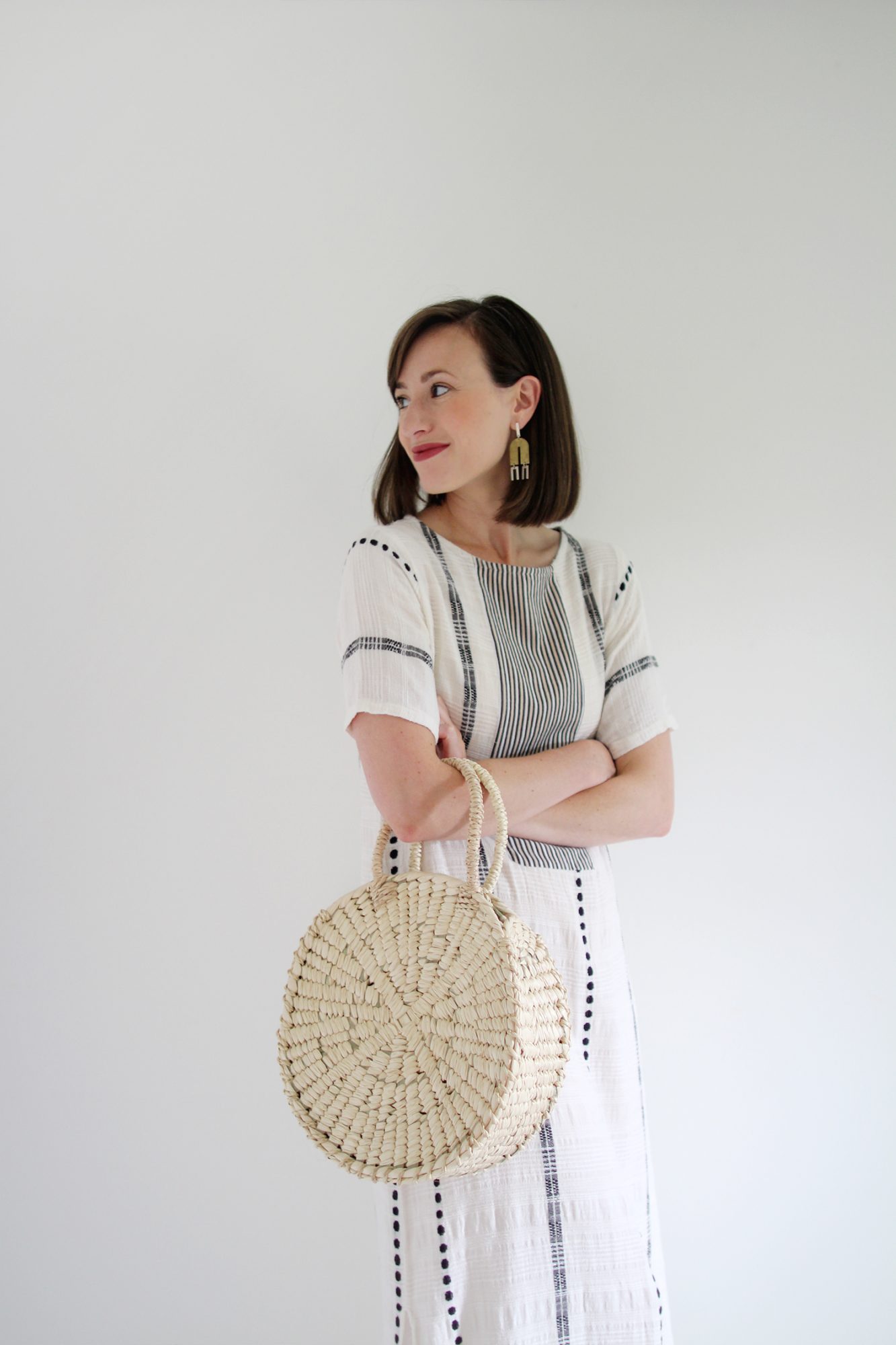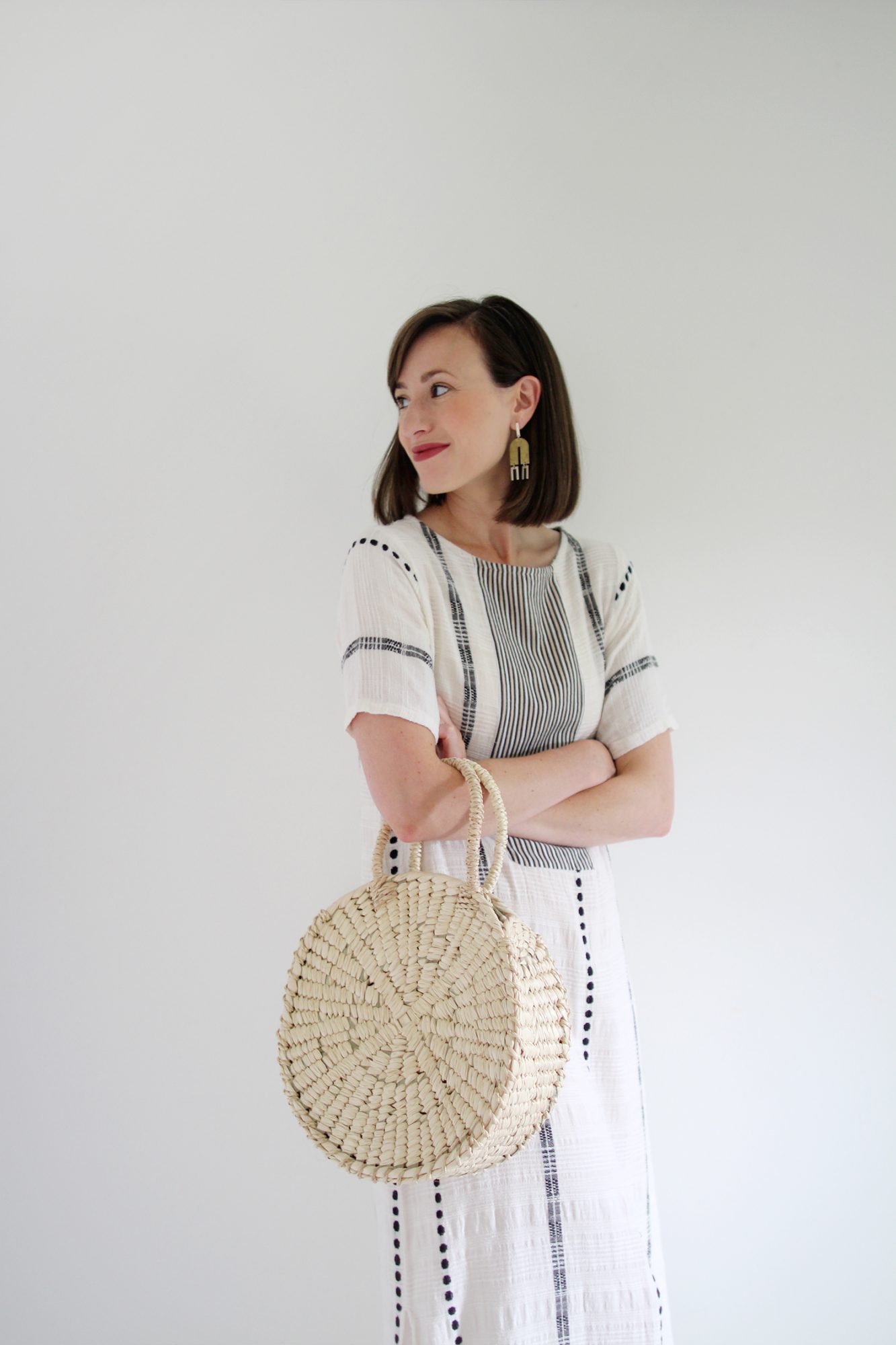 ---
DRESS old ACE & JIG (Love this dress and you can Shop more A&J here with lots on sale.) | BAG c/o ARTISAN & FOX (enter the $100 Giveaway on my Instagram!) | EARRINGS c/o Natalie Joy Jewels | ELIZABETH SLIDES c/o NISOLO | LIP COLOUR Undone KOSÅS
---
LOOK 2
---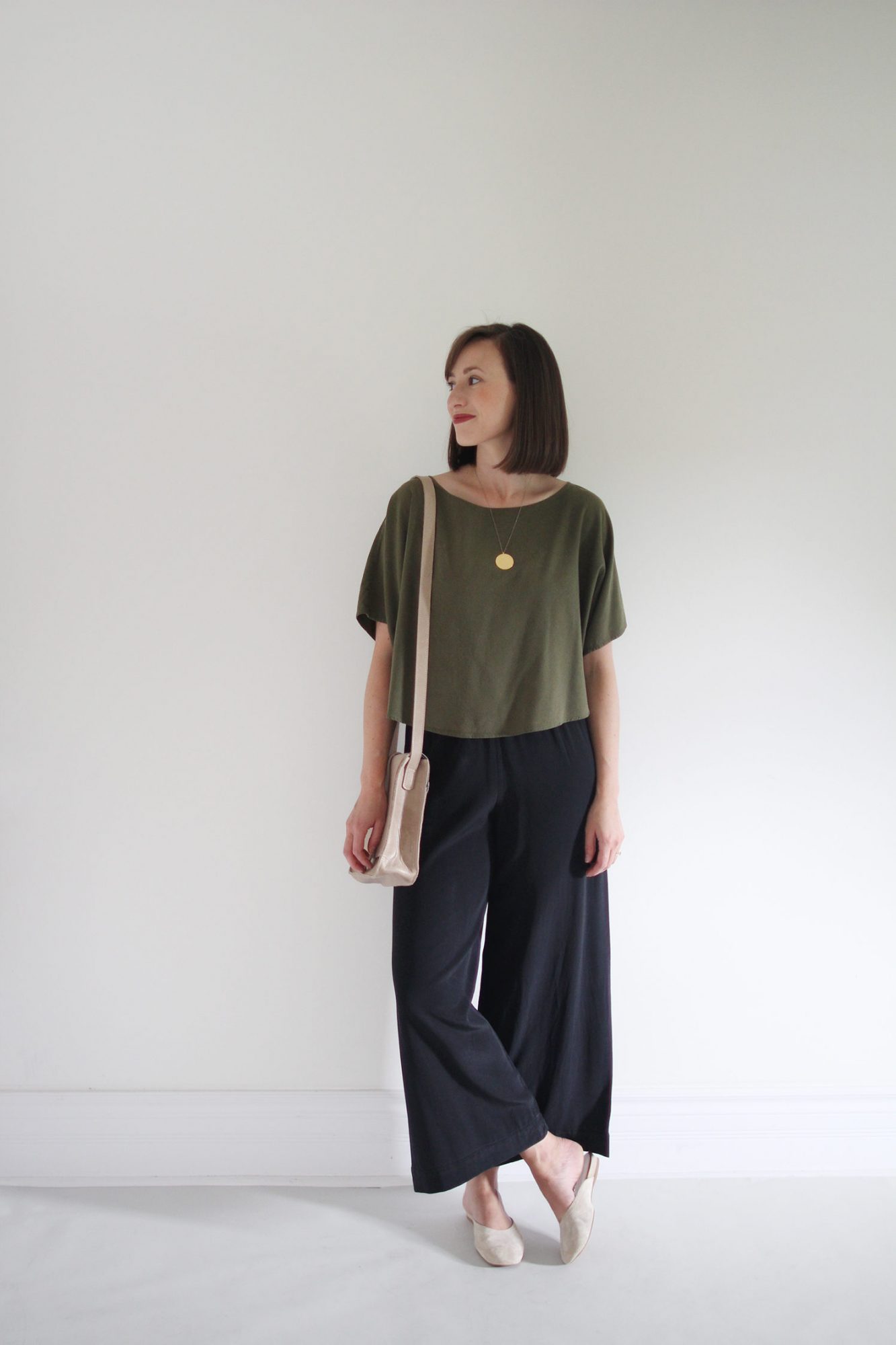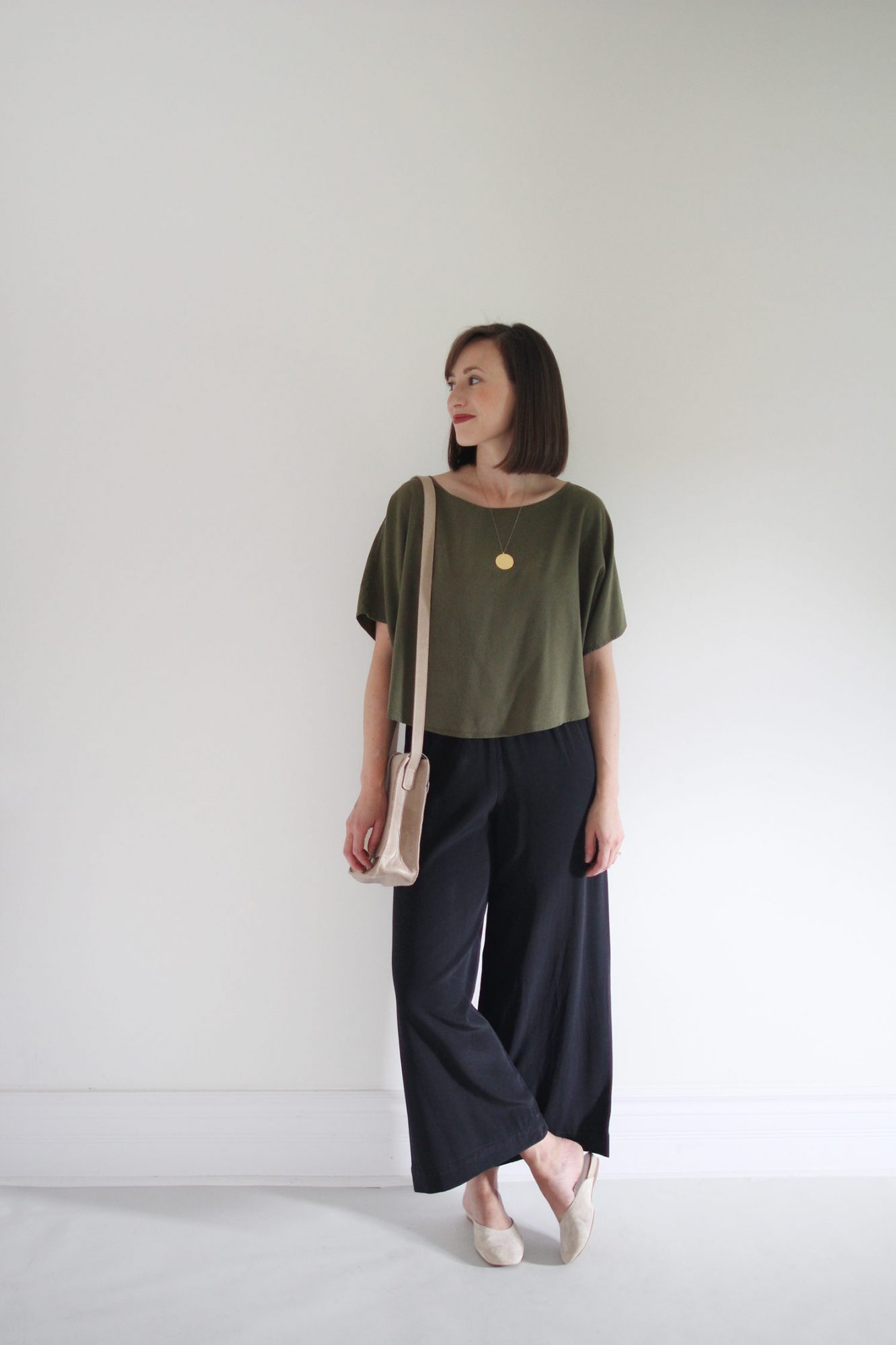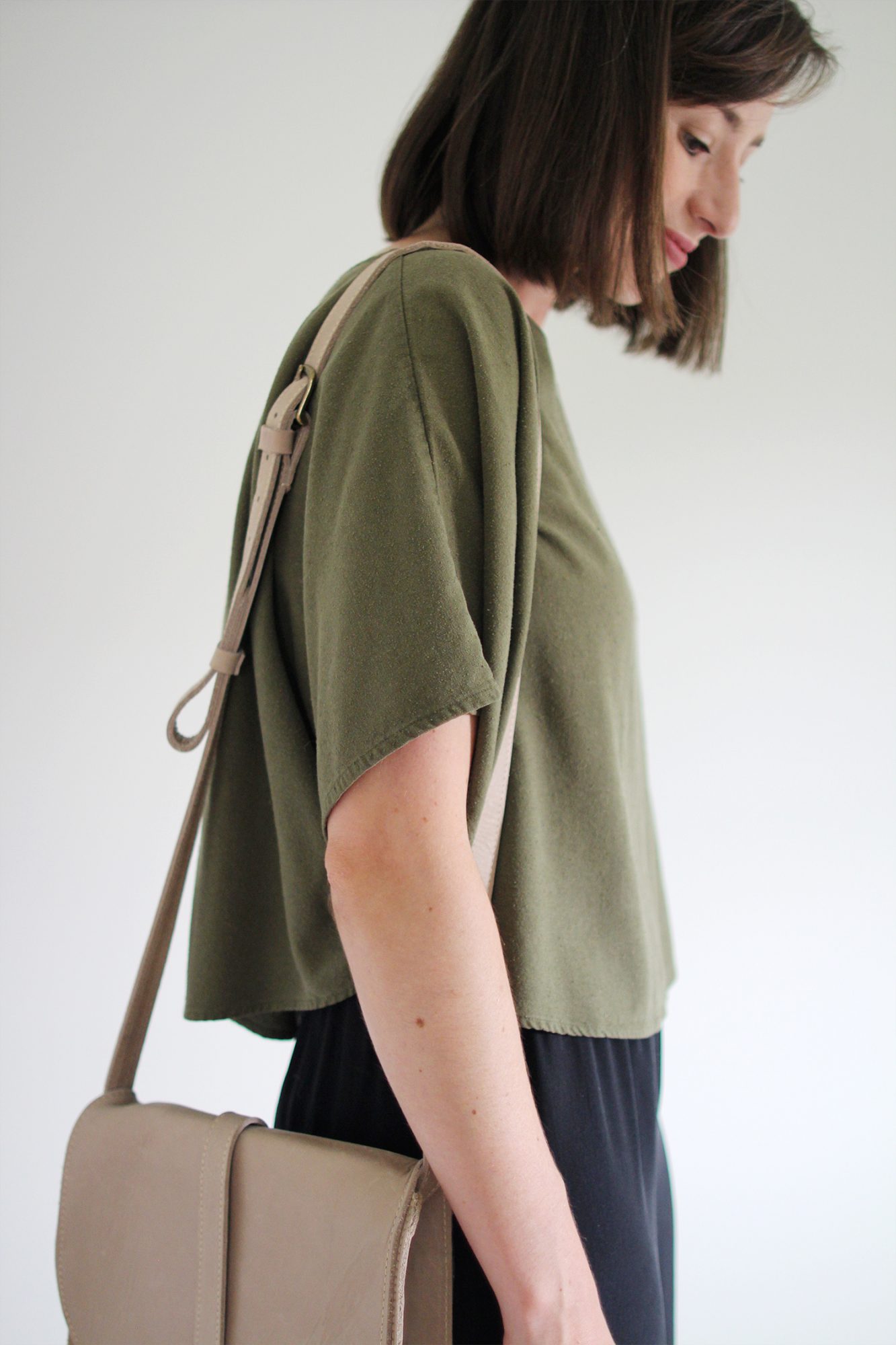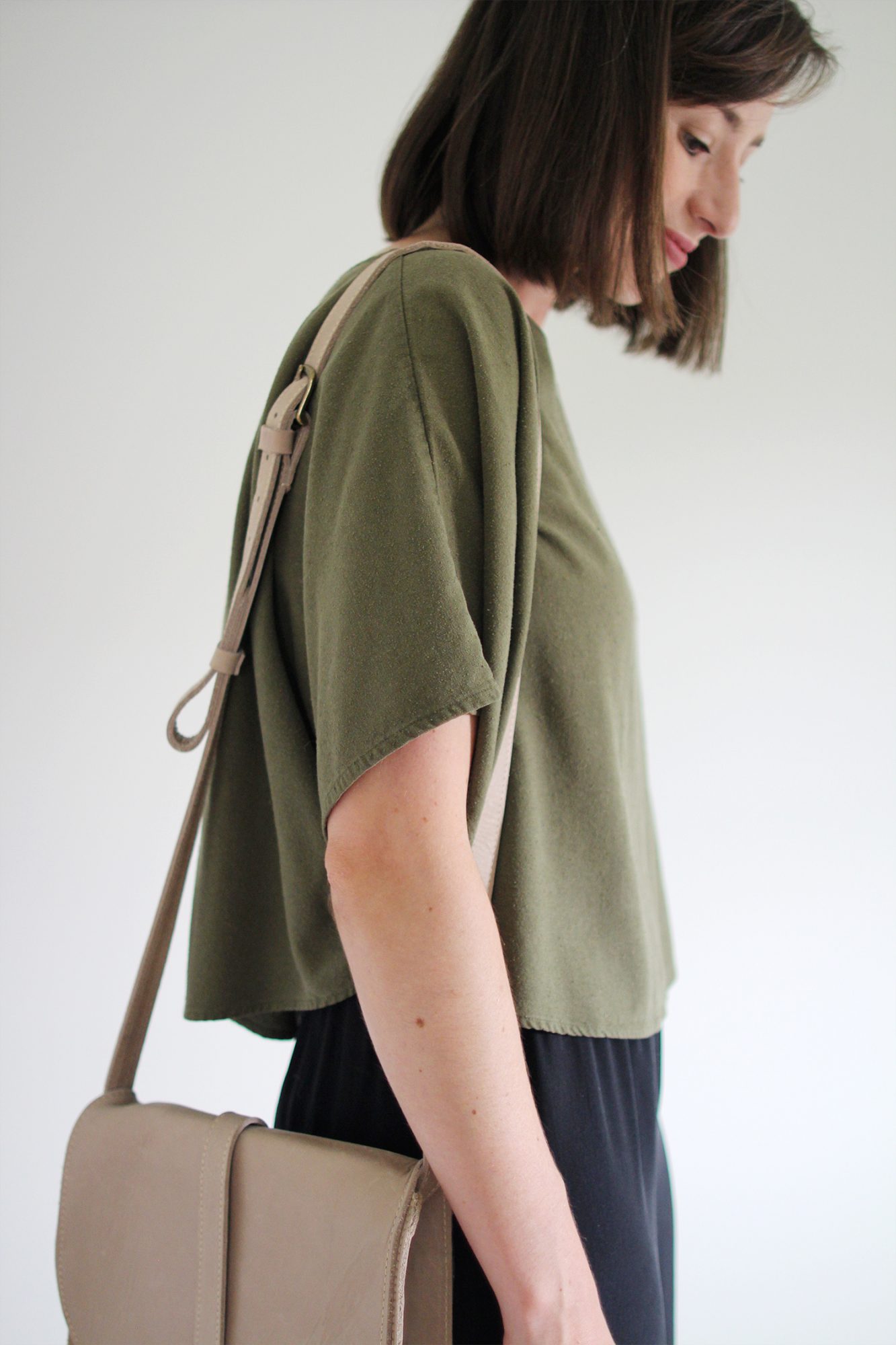 ---
BLANK CANVAS TOP – JAMIE + THE JONES – I wear the old OS sizing but it's closest to a current Small. – First seen on the blog here in Feb 2016.
I know a lot of folks are big fans of this top and I certainly am too. There is a reason why it's a hero in so many closets! Actually, I think there are a few reasons, which for me are:
1 | Fit | It's relaxed but not enormous and seems to be extremely flattering on a wide range of body types and sizes.
2 | FABRIC | This raw silk is easily one of my favourite fabrics ever. It feels luxurious and soft but also comfy and casual unlike crepe silk, which can often feel a bit formal. It also has a beautiful drape and movement to it.
3 | DESIGN | I think Jamie + Hannah really nailed it with this design. The sleeves hit at just the right place on the arm and the length is perfectly cropped but not scandalous at all. The curved hem is very elegant and helps to draw the eye up at the hip, which lengthens the leg.
Ultimately, I think I prefer the fit of the Blank Canvas more than the Linn Tee but it's a very tough call! Perhaps we need a comparison post?
---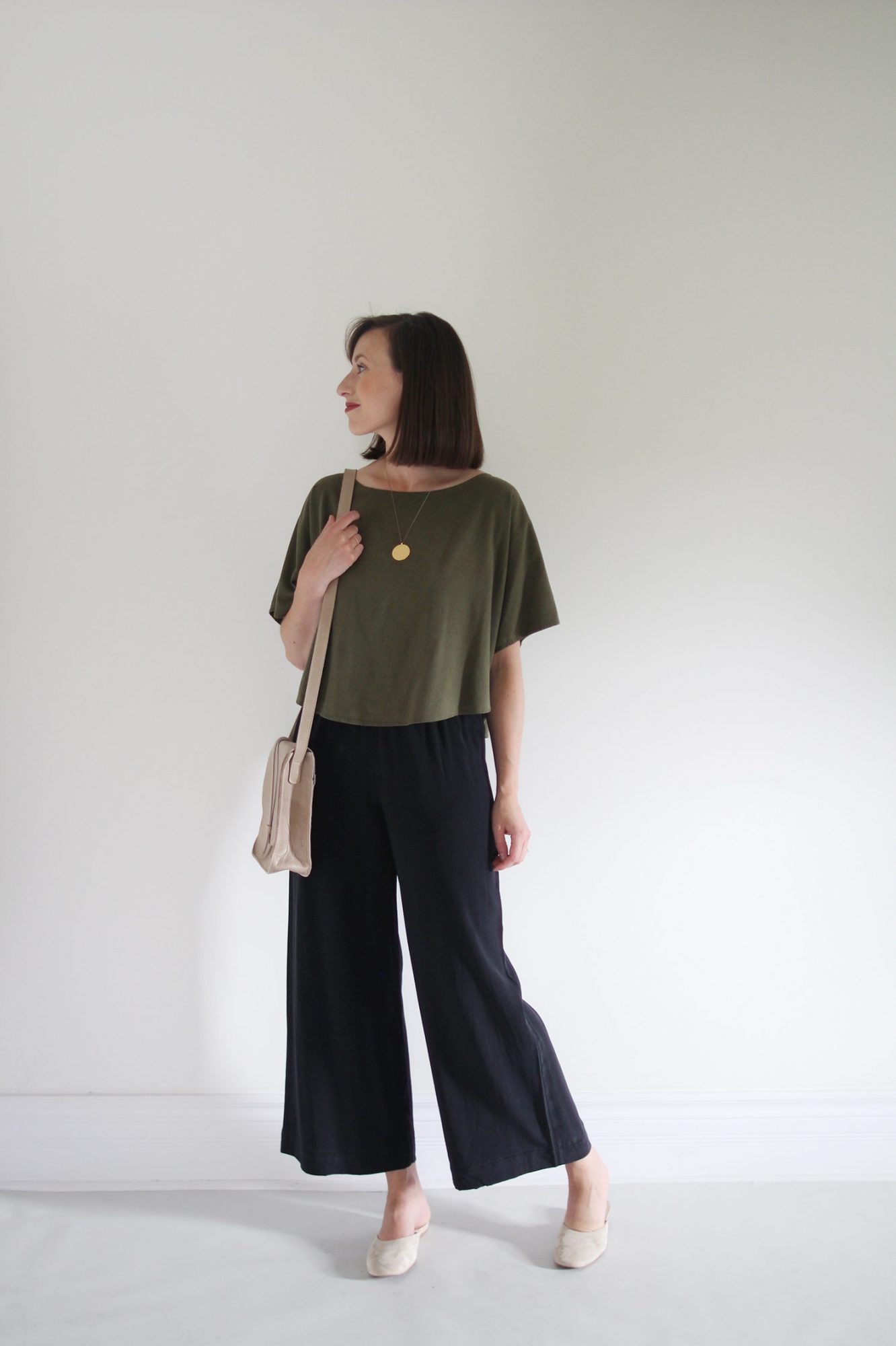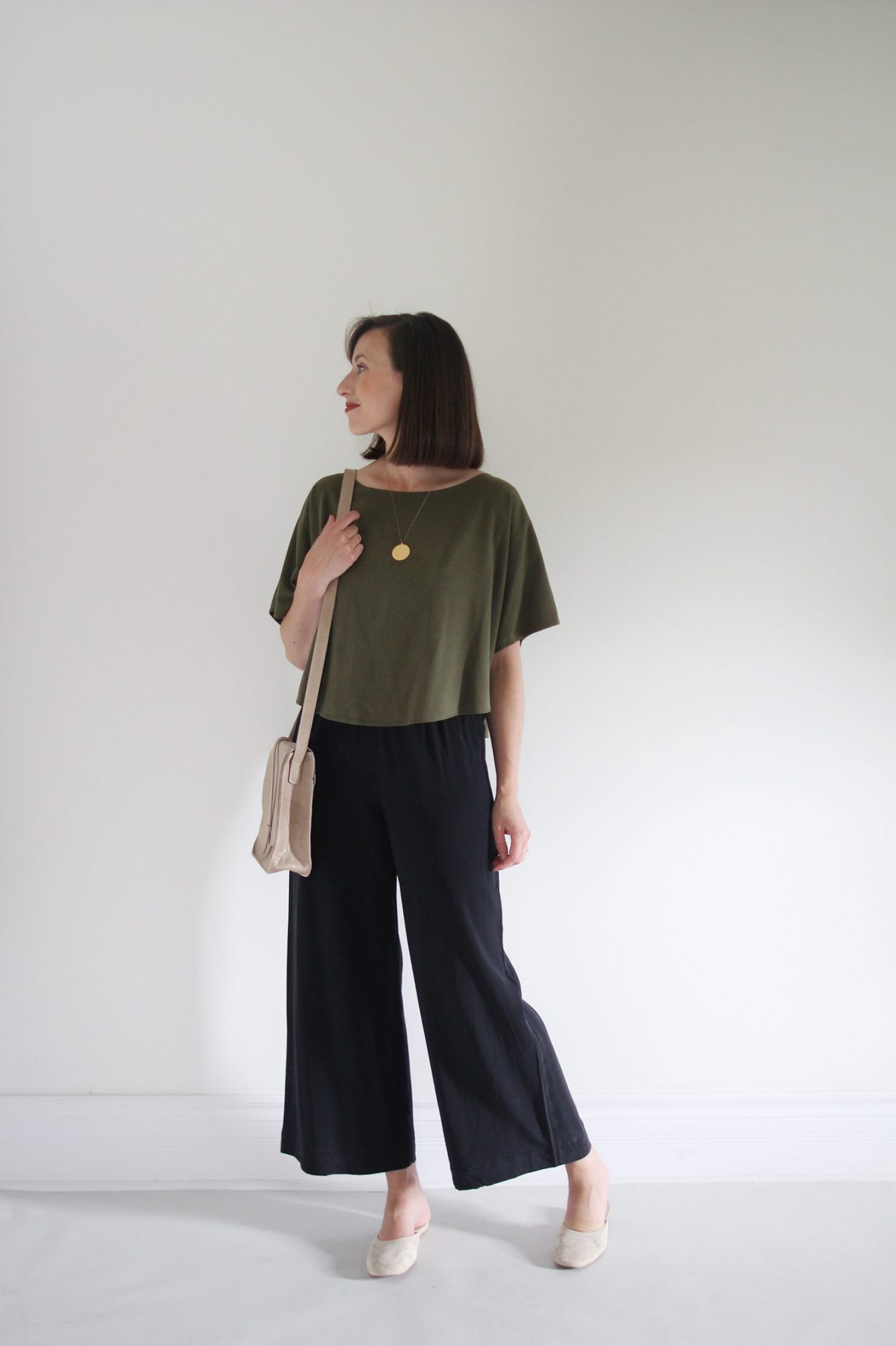 ---
TIRHAS SADDLE BAG – ABLE – First seen on the blog here in September 2016 but many times since including this personal favourite.
I'm so glad I have this bag because it's the perfect in between colour. It's a warm-grey, taupe-esque shade that goes with so many things. I always get questions about it when I share it in a post too. Often people want to know what fits inside and honestly, everything but a laptop can go in no problem. Sometimes people ask me about durability and I'd say it's pretty good but I don't wear it in the rain and I spray it with protectant each season. It's gotten a few marks and stains with time but that's just part of the patina. Otherwise it has help up quite well and doesn't look a whole lot different from the day I got it!
I haven't tested out any of ABLE's other accessories or clothing line but I've heard good things! Do you have any thoughts on their denim or footwear collections? I am SO intrigued by the Wide Leg Jean in Doris and the Gamboa Boot.
---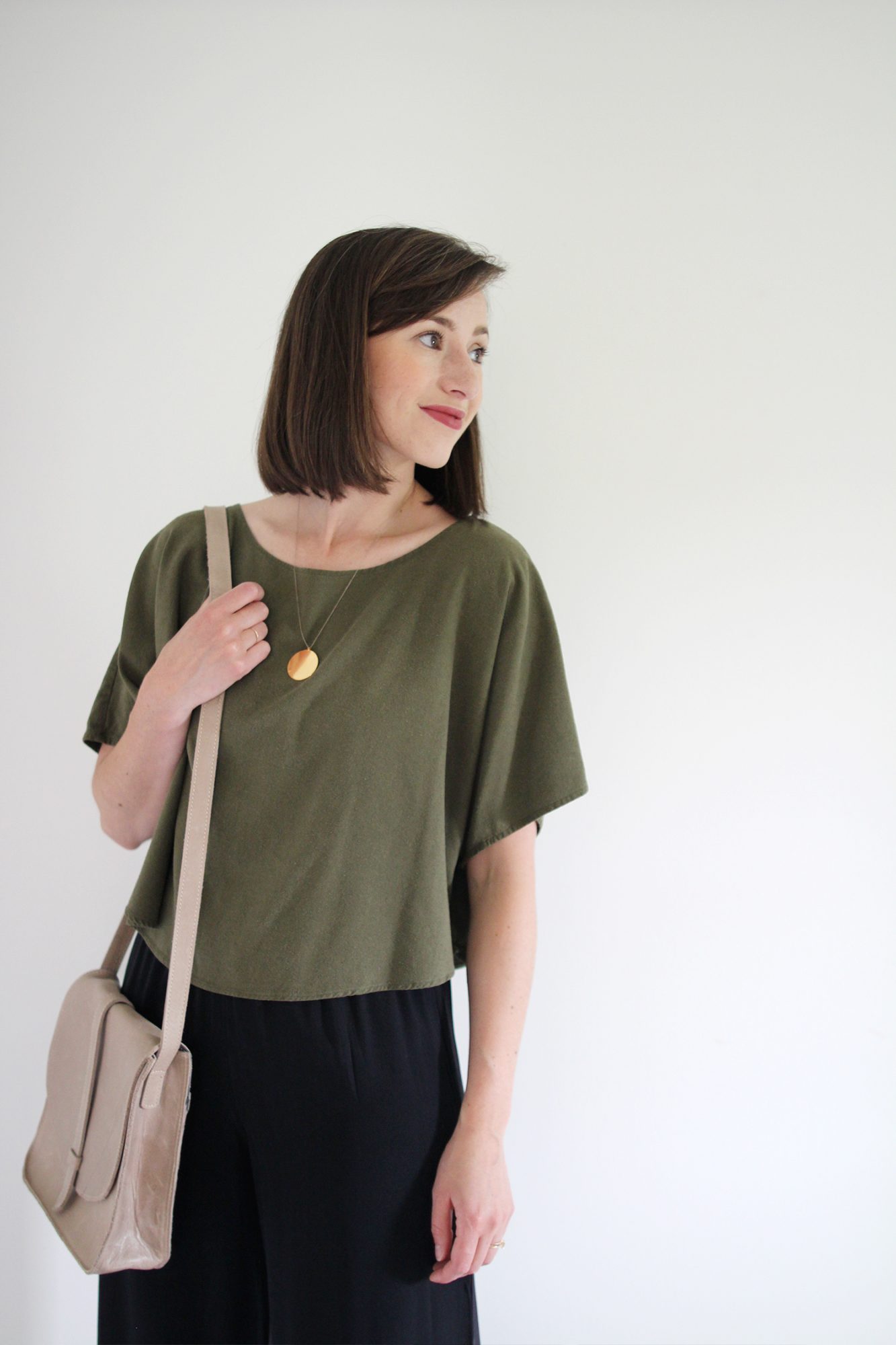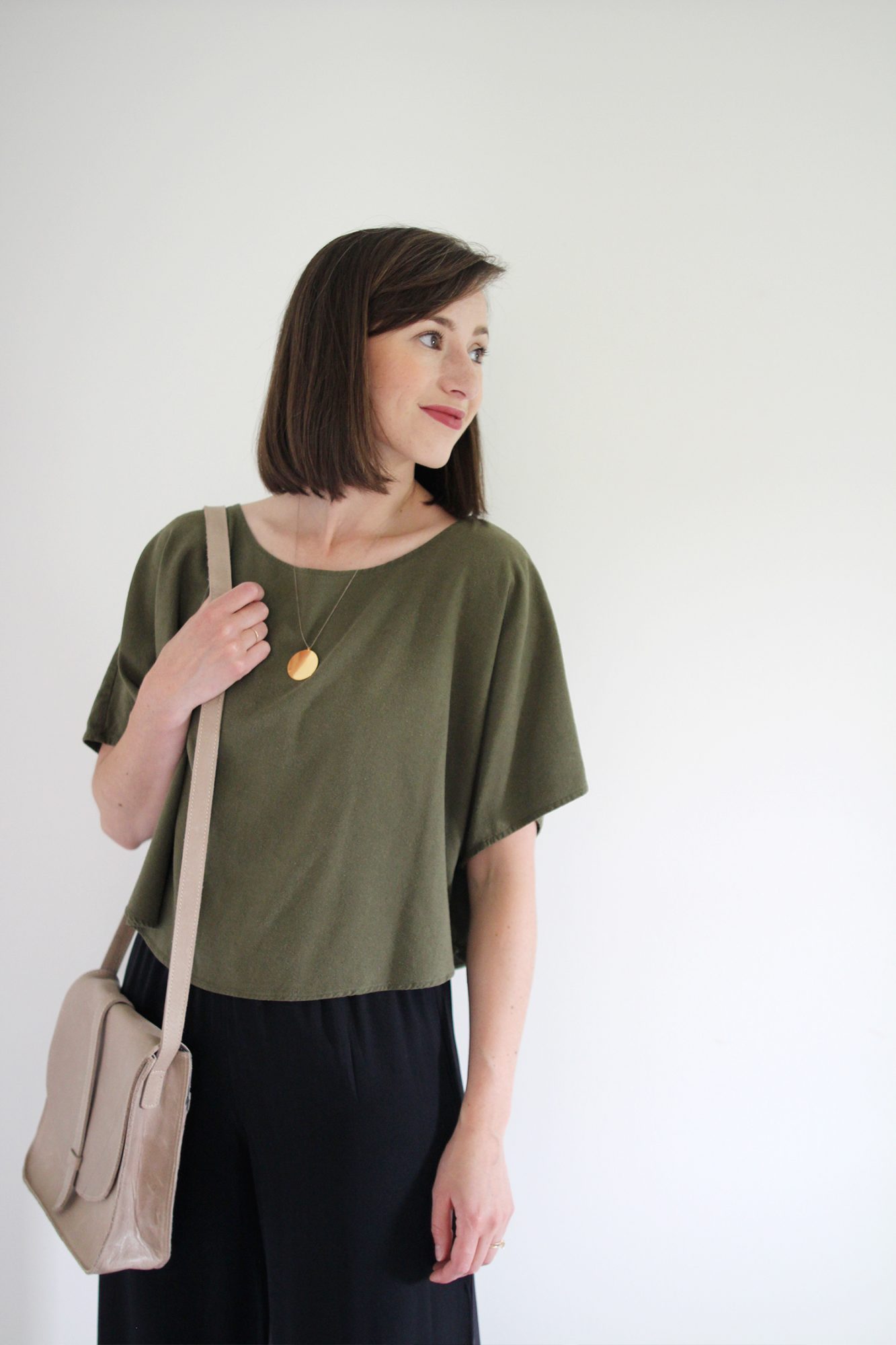 ---
BLANK CANVAS OLIVE TOP c/o Jamie & The Jones | SILK FLORENCE PANT Elizabeth Suzann | TIRHAS CROSS BODY BAG c/o ABLE (colour sold out but available in other styles) | DOT PENDANT old c/o YOUNG FRANKK | DAY MULE c/o EVERLANE (Flats n/a but heeled version is well stocked) | LIP COLOUR Undone KOSÅS
---
LOOK 3
---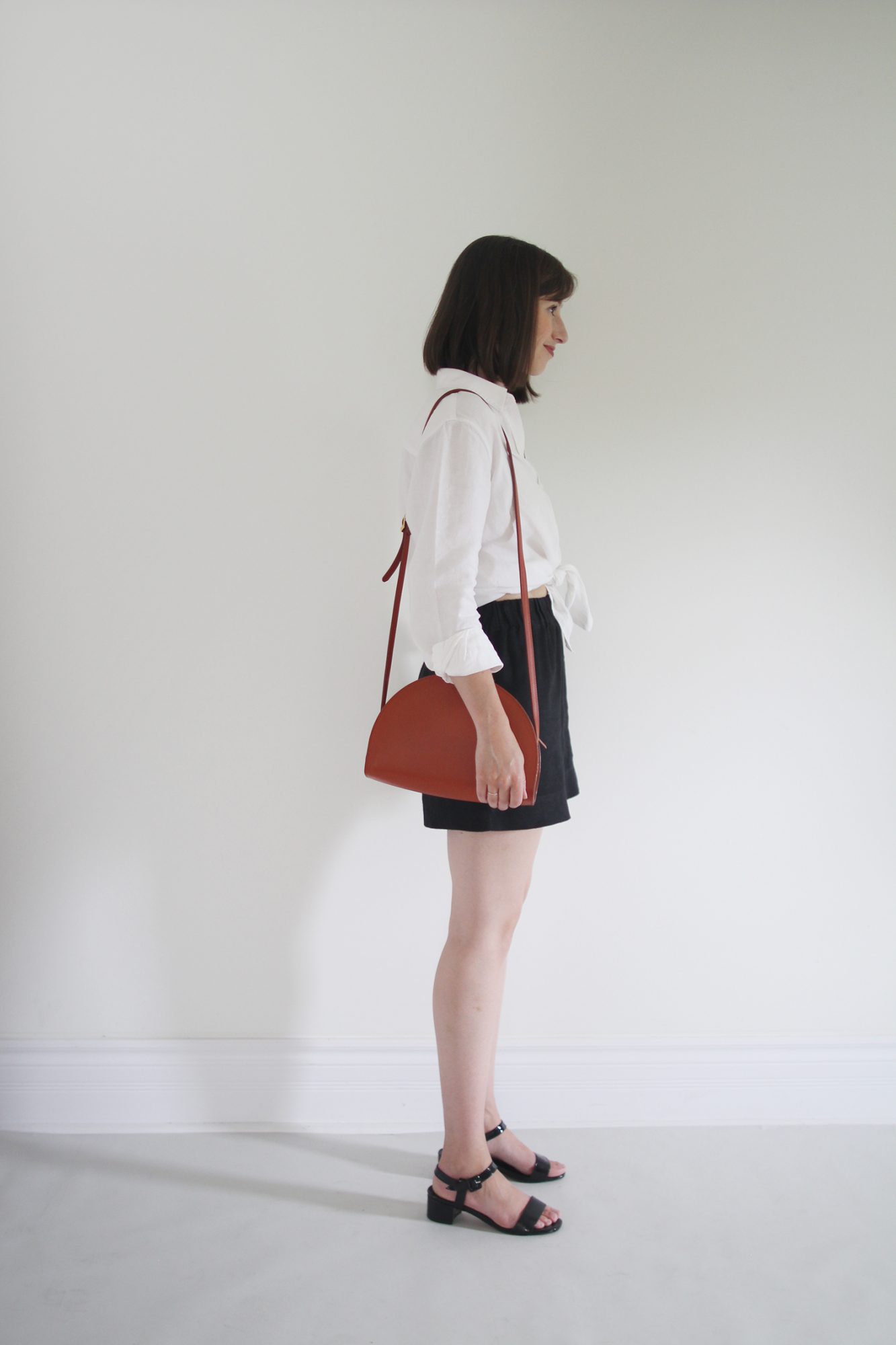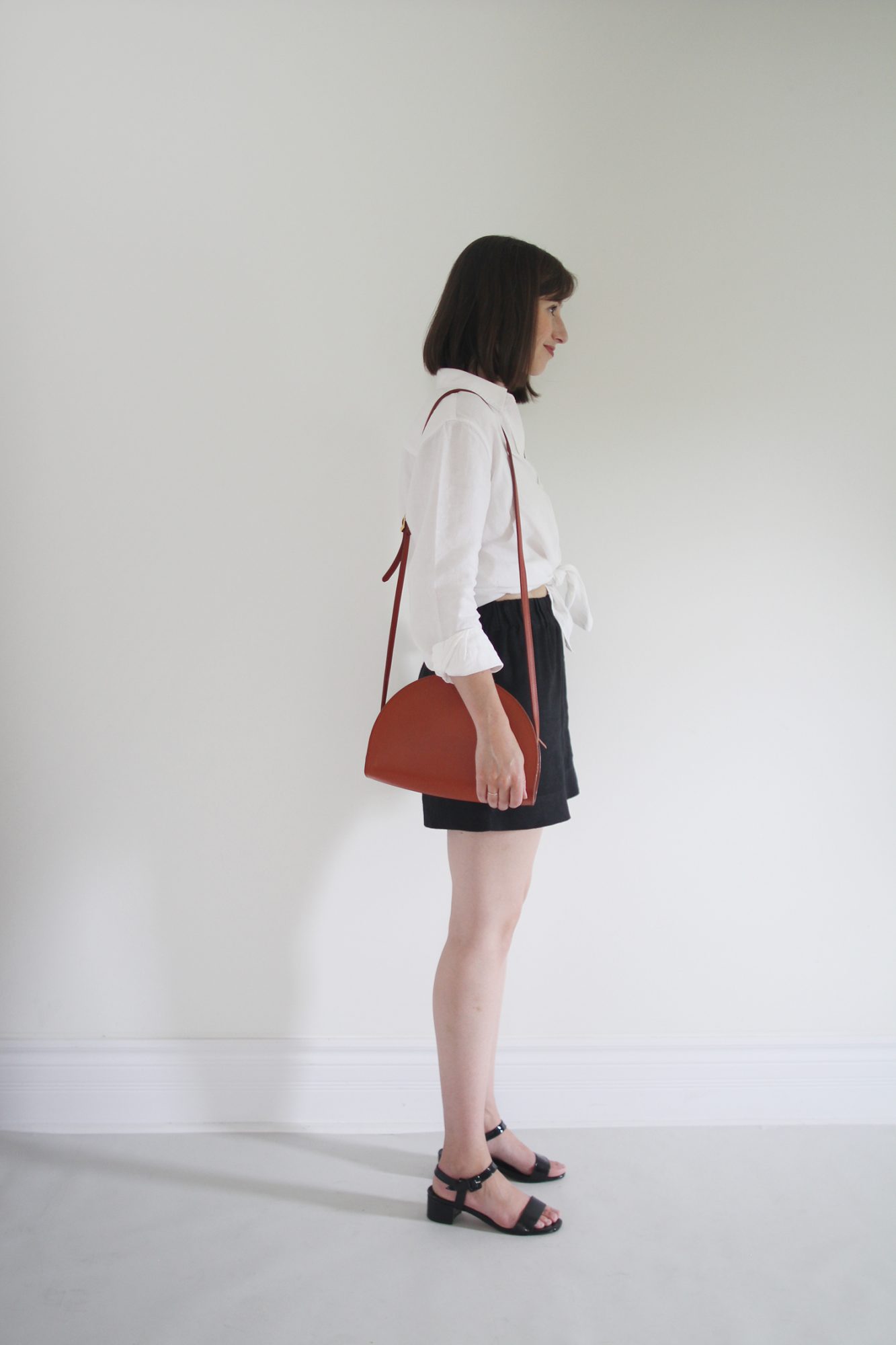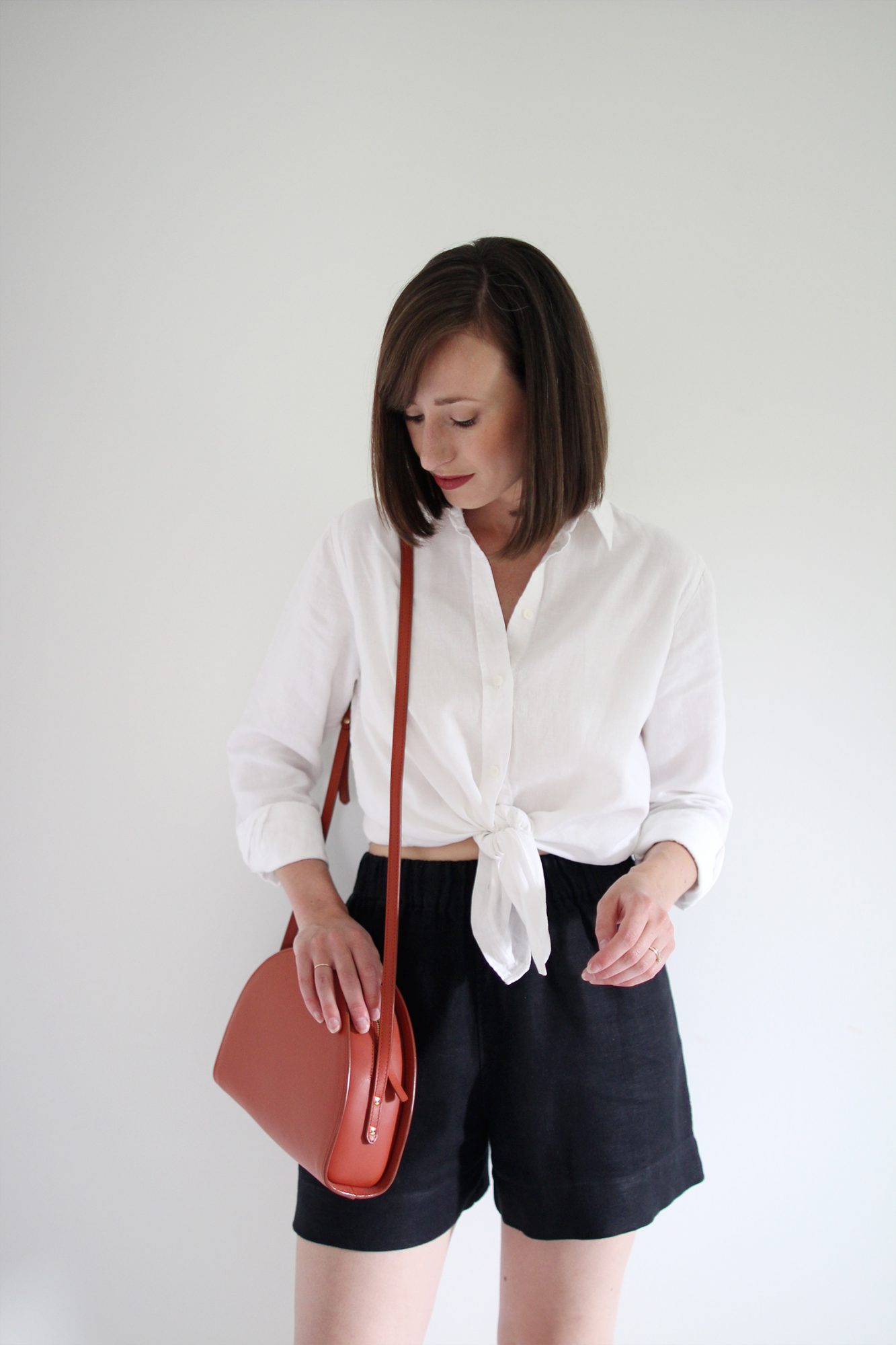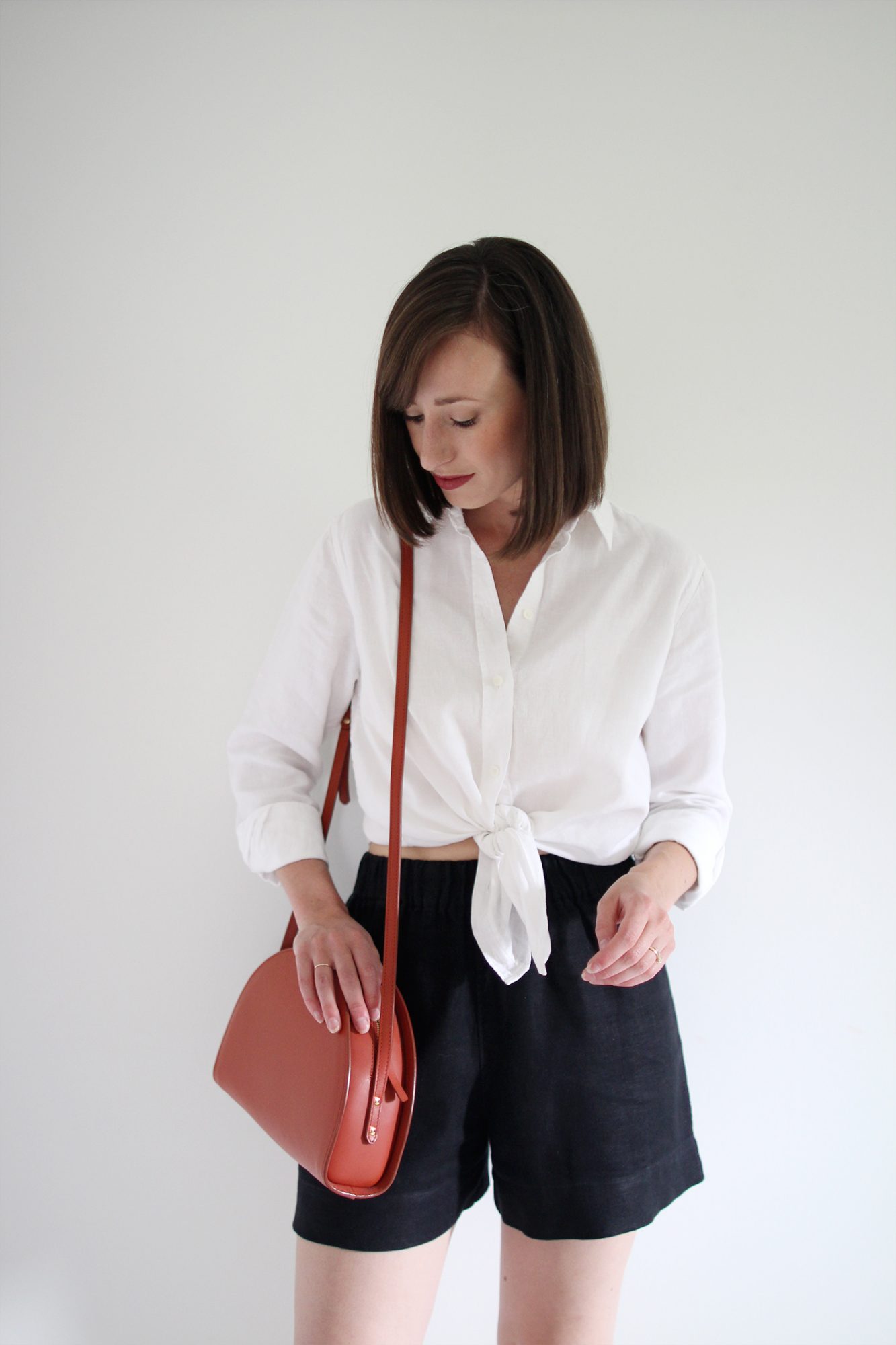 ---
FLORENCE SHORT – ELIZABETH SUZANN – First seen on the blog…today!
I've had these shorts since last summer but somehow they've escaped the blog all this time! At this point in my closet I only have 3 pairs of shorts (this pair and these are my other two) and these have seen the most sunshine this summer for sure.
As you likely know, Florence Pants are hands down my favourite style by Elizabeth Suzann (shown in the oufit above), so when they released a short version I was all over it. They are just as flattering and fun to wear but I'd say they run a smidgen smaller through the waist and hip. I have the Small in linen, which is okay because it relaxes with wear but if I was ordering a pair in silk I'd probably go for the Medium.
I really like the simplicity of these. No pockets to add bulk and no other unnecessary details like pleats, zippers or buttons. The deep hem is a favourite detail of mine and the seam on it subliminally draws the eye a couple of inches up the leg so they don't seem quite as long as they are. They hit at that perfect upper-mid thigh spot that's sophisticated and flattering!
Are you a shorts person or do you opt for dresses instead?
---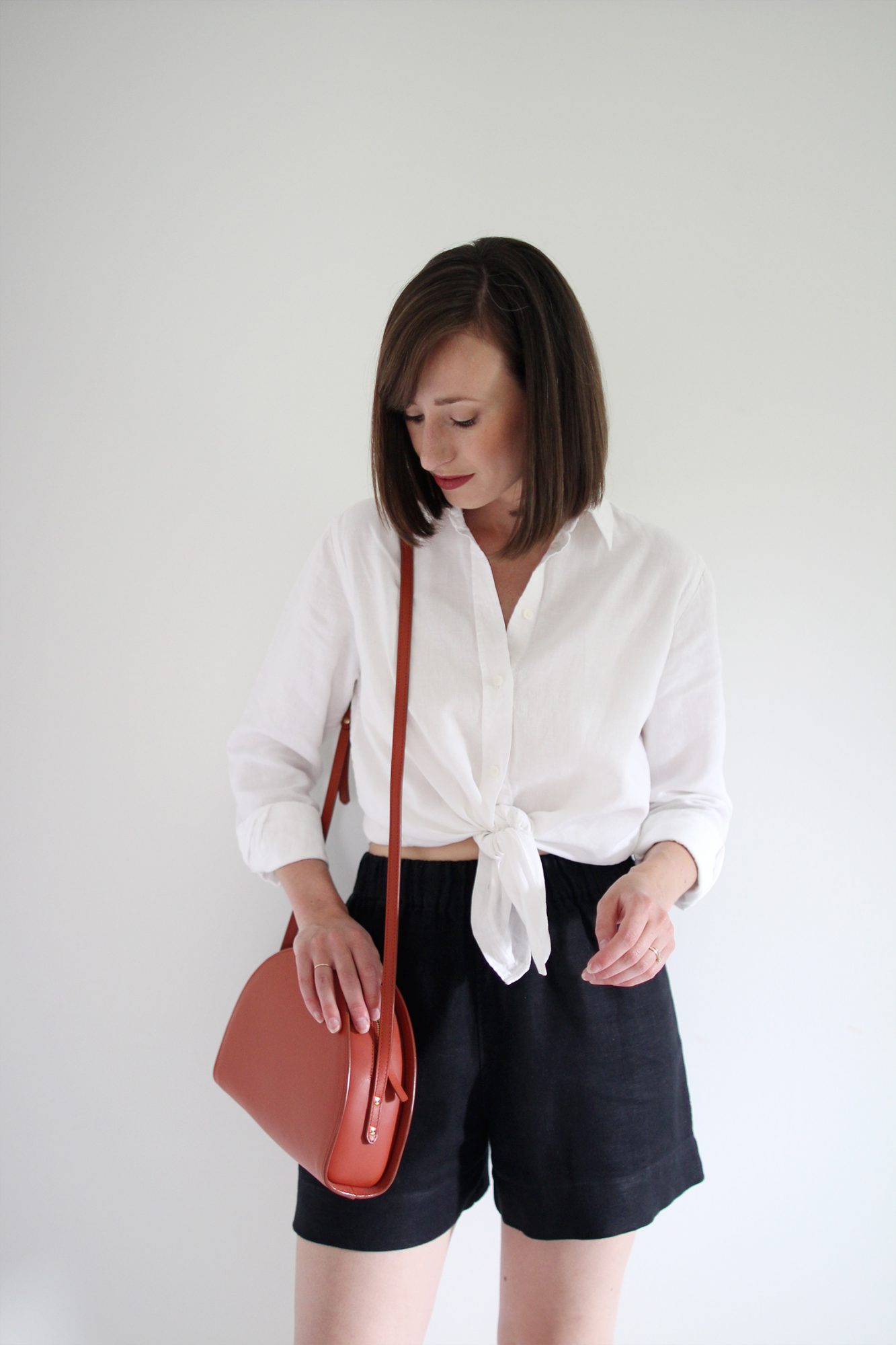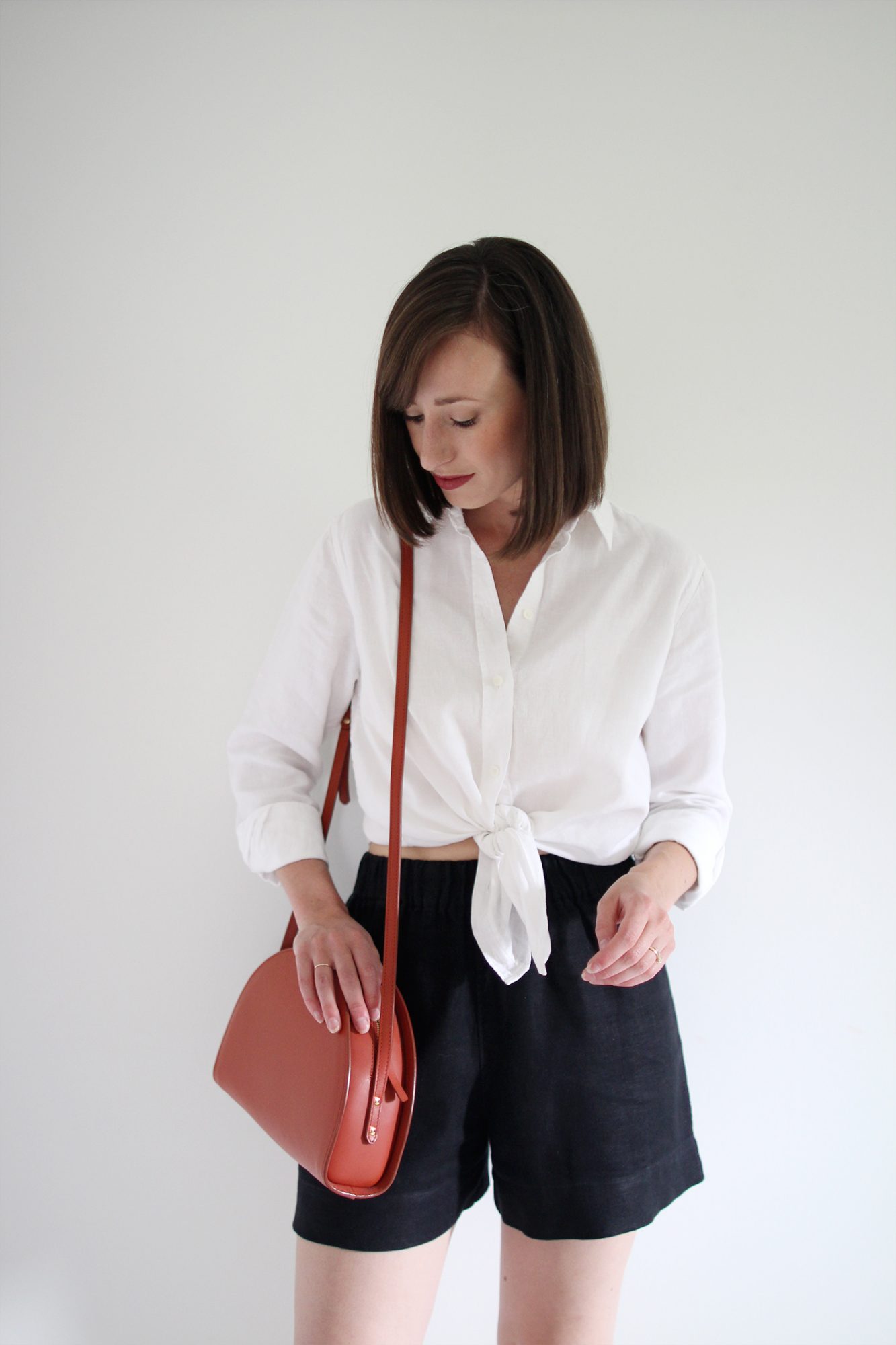 ---
WHITE LINEN SHIRT (old) – EVERLANE – First seen on the blog here in May 2016.
There is always room for a classic white linen shirt in my closet and this one has been in rotation for a couple of years now. I don't wear it as much as I wear my Friend Shirt but it's still a good option when I want a bright white and some long sleeves. It's one of those items that may lay dormant for a few months but then I'll notice it again and wear it non-stop for a week.
Right now I'm loving it knotted with the sleeves rolled up but here are a few other ways to style a white blouse this summer:
The styling potential really is endless with this forever staple!
---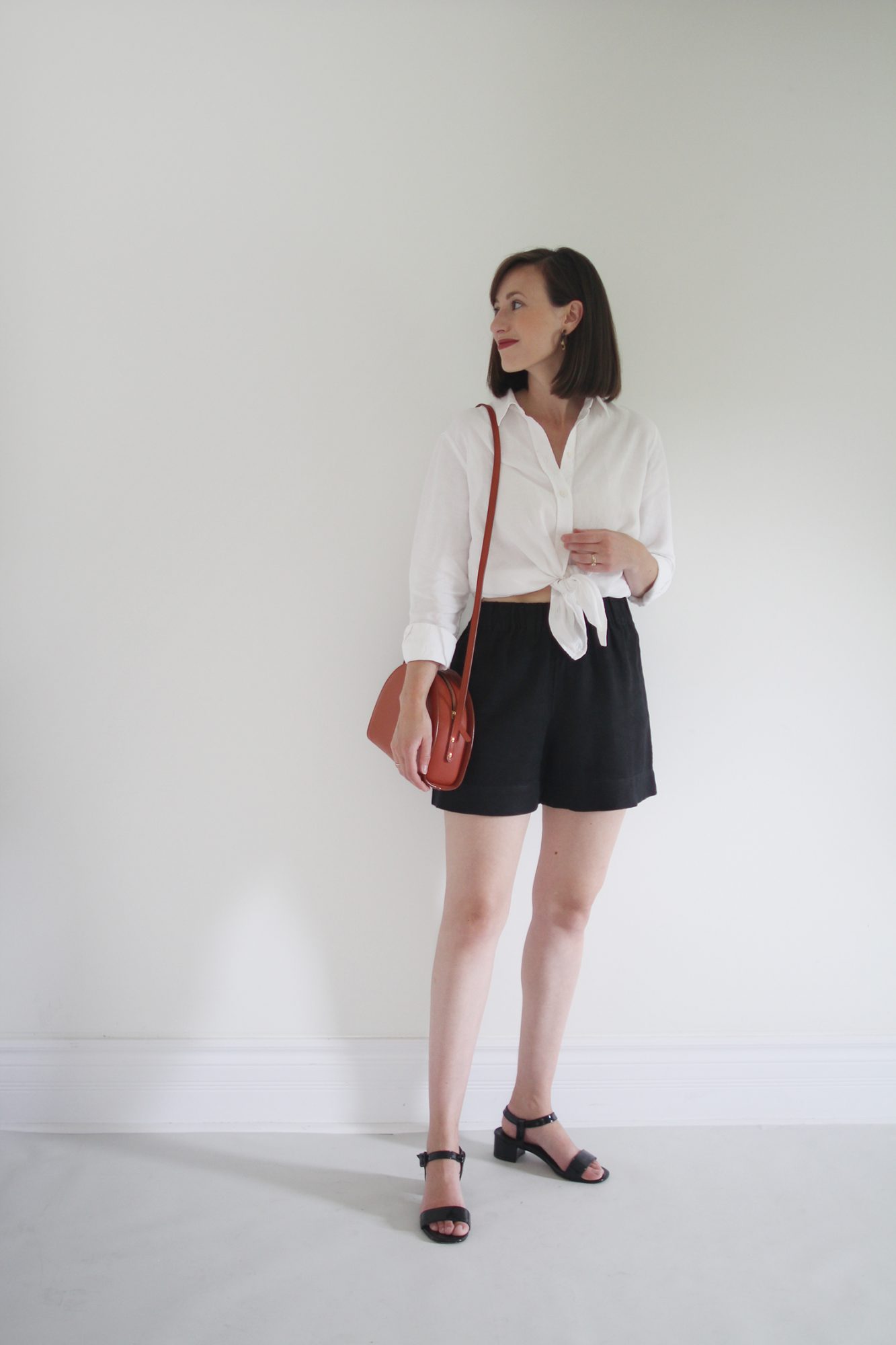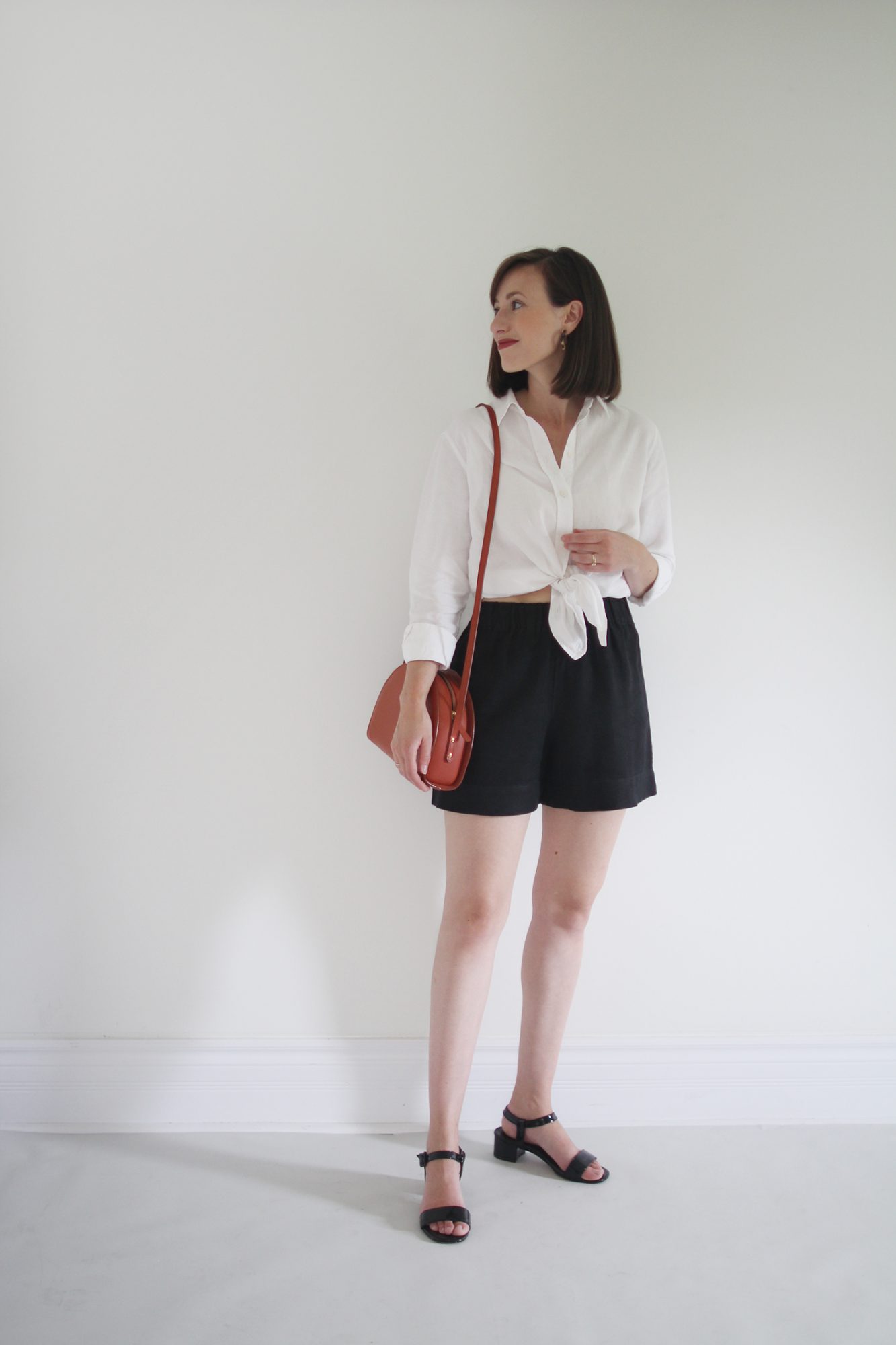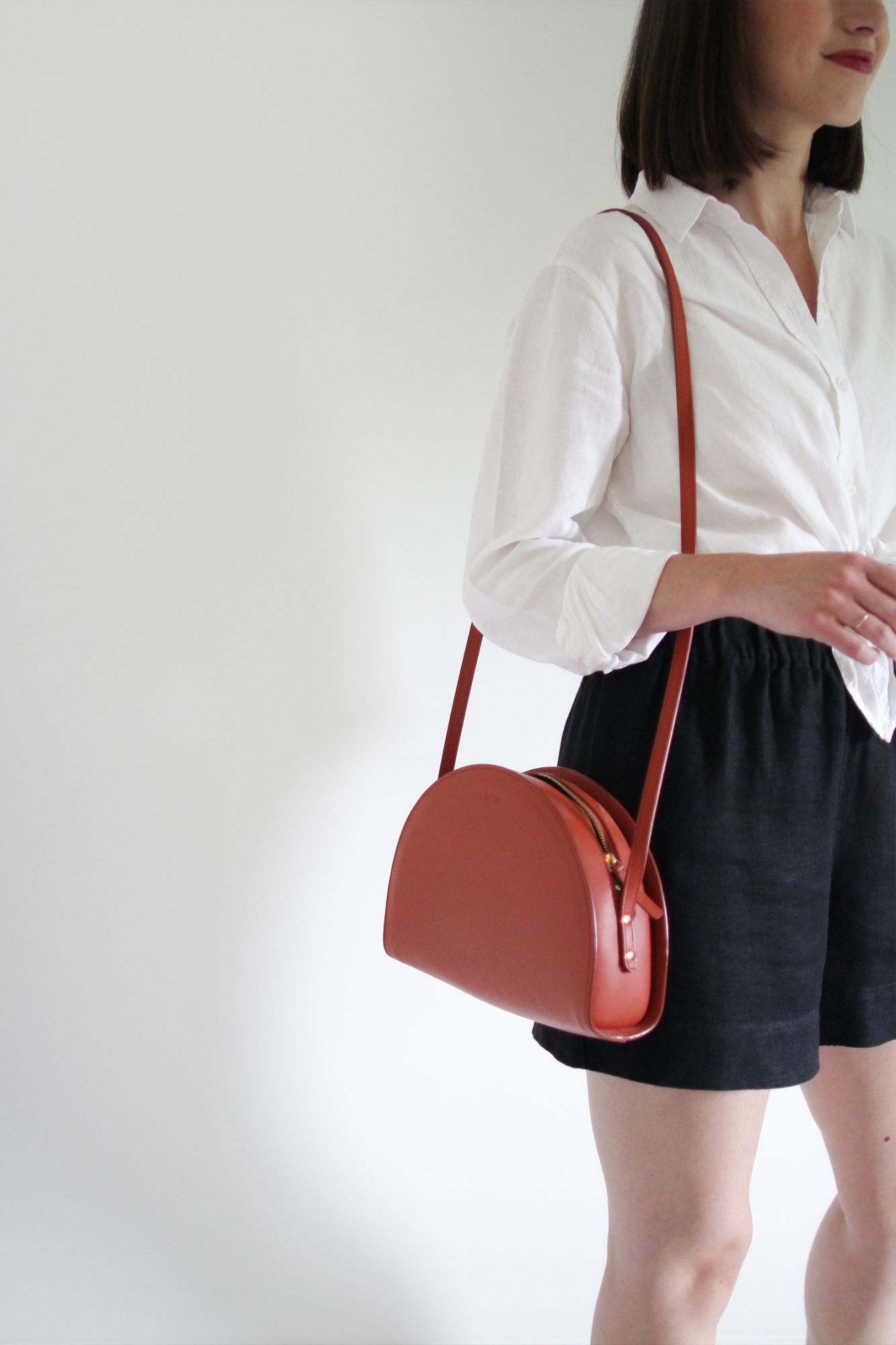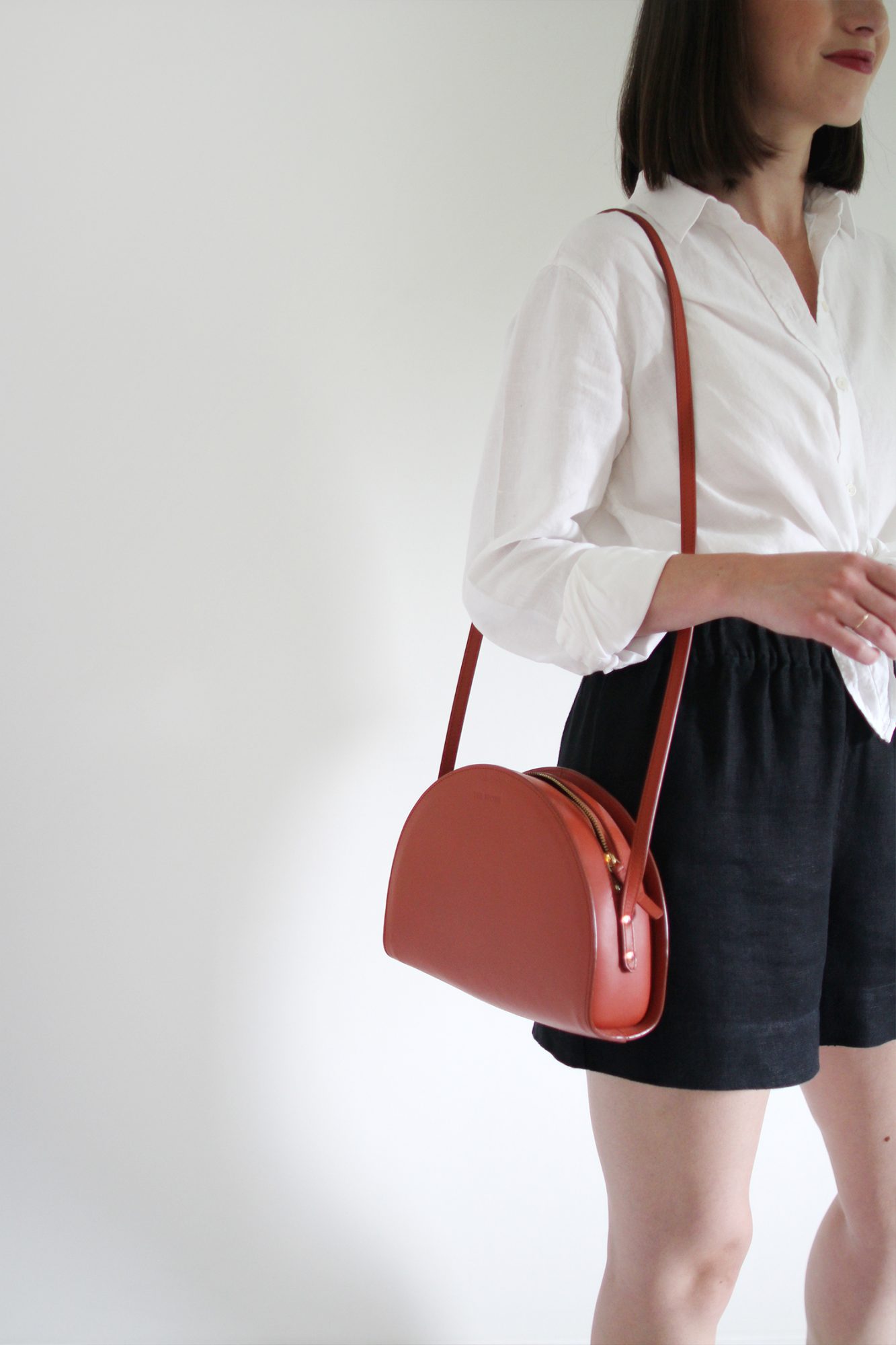 ---
MARGOT BAG in PAPRIKA – THE STOWE – First seen on the blog last fall but many times since.
It's not an 'old' item yet but I'll share my thoughts on the Margot Bag by The Stowe (one of my favourite Canadian-based designers) anyway. This one is a real jewel in my handbag collection and I reach for it all the time when I'm going for dinner or out to a meeting or basically whenever I need a pop of colour. I'm not terribly precious with it but I do try to keep it from getting wet and so far it has stayed safe.
Over the winter I received a couple of emails about whether or not the zipper/opening gets softer/easier to use with time and I'd say it definitely does but it takes some patience. After breaking in my Eloise bag (also from The Stowe) I wasn't too shocked by how stiff this one was to begin with but I know it can be a pain to 'break-in' a bag (brass zippers are durable but also tough on the hands!). Ultimately, a really well-made leather bag with a hard structure like this will likely need some time to soften up. My main wish was that the zipper extended farther down the sides so that the opening was bigger.
---
WHITE LINEN SHIRT old c/o EVERLANE (linked to similar) | FLORENCE LINEN SHORT Elizabeth Suzann | MARGOT BAG c/o The Stowe (on sale) | SOPHIE SANDAL old Maryam Nassir Zadeh (linked to similar) | TORTOISE EARRINGS Machete | LIP COLOUR Undone KOSÅS
---
LOOK 4
---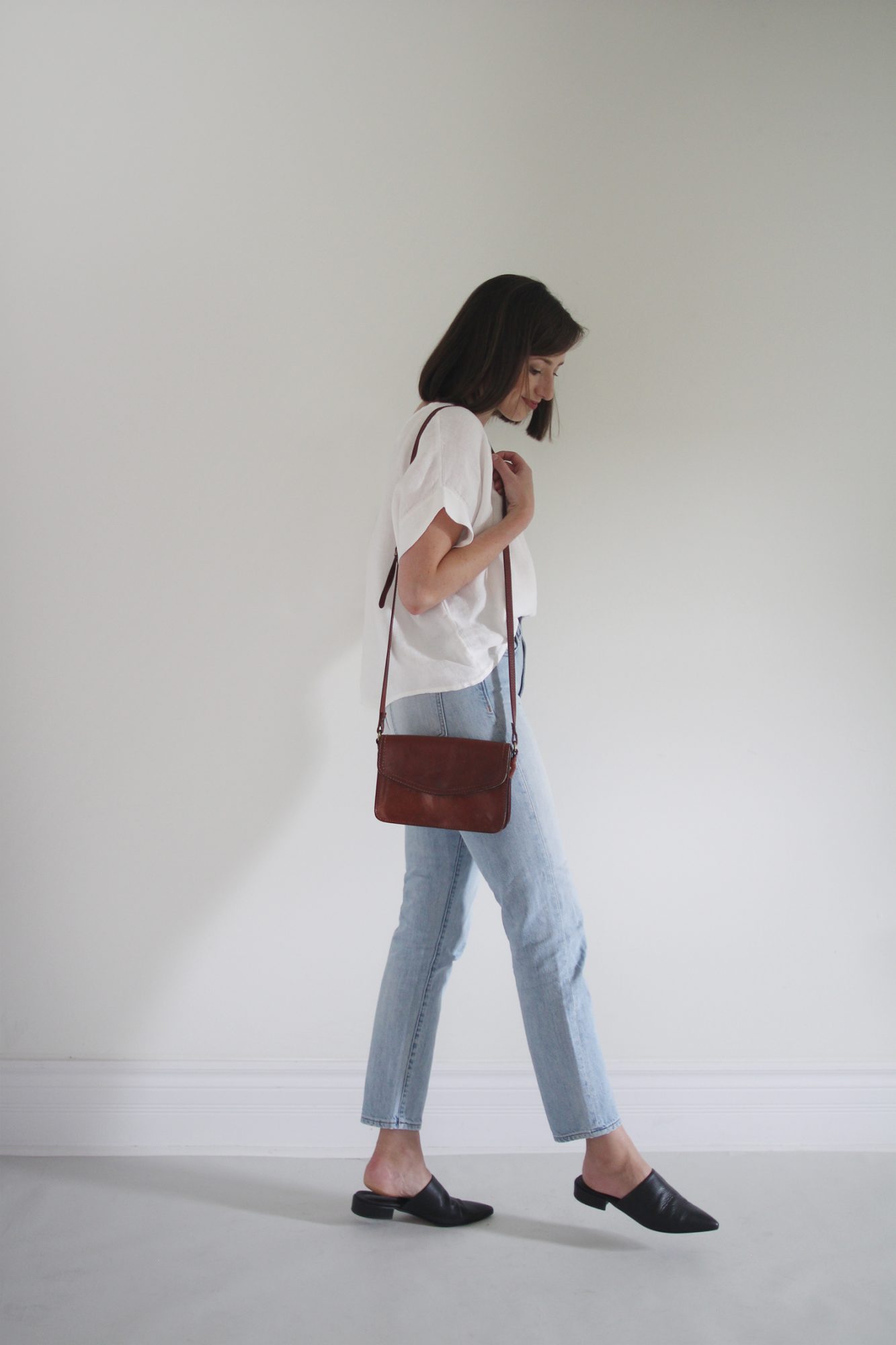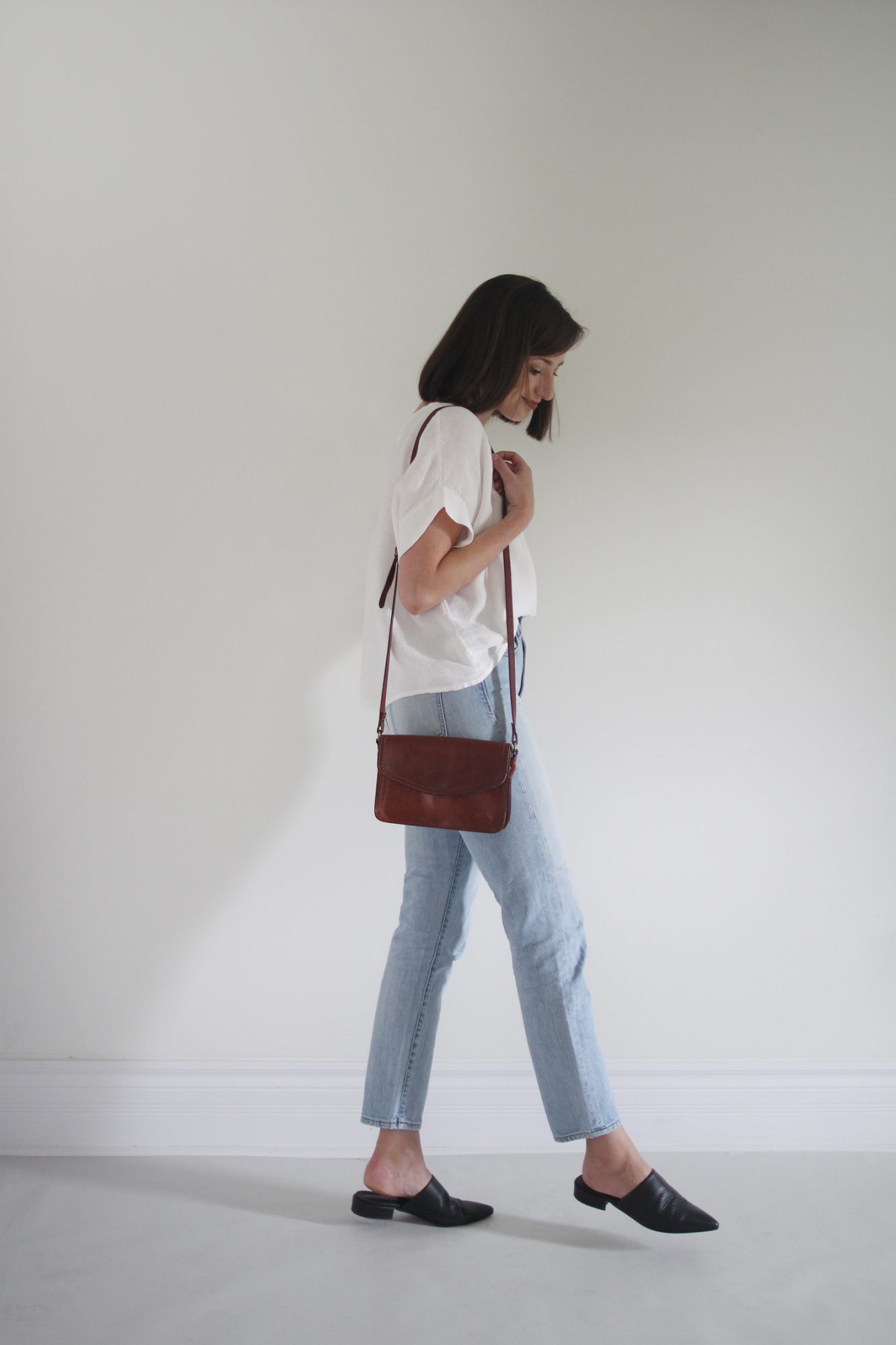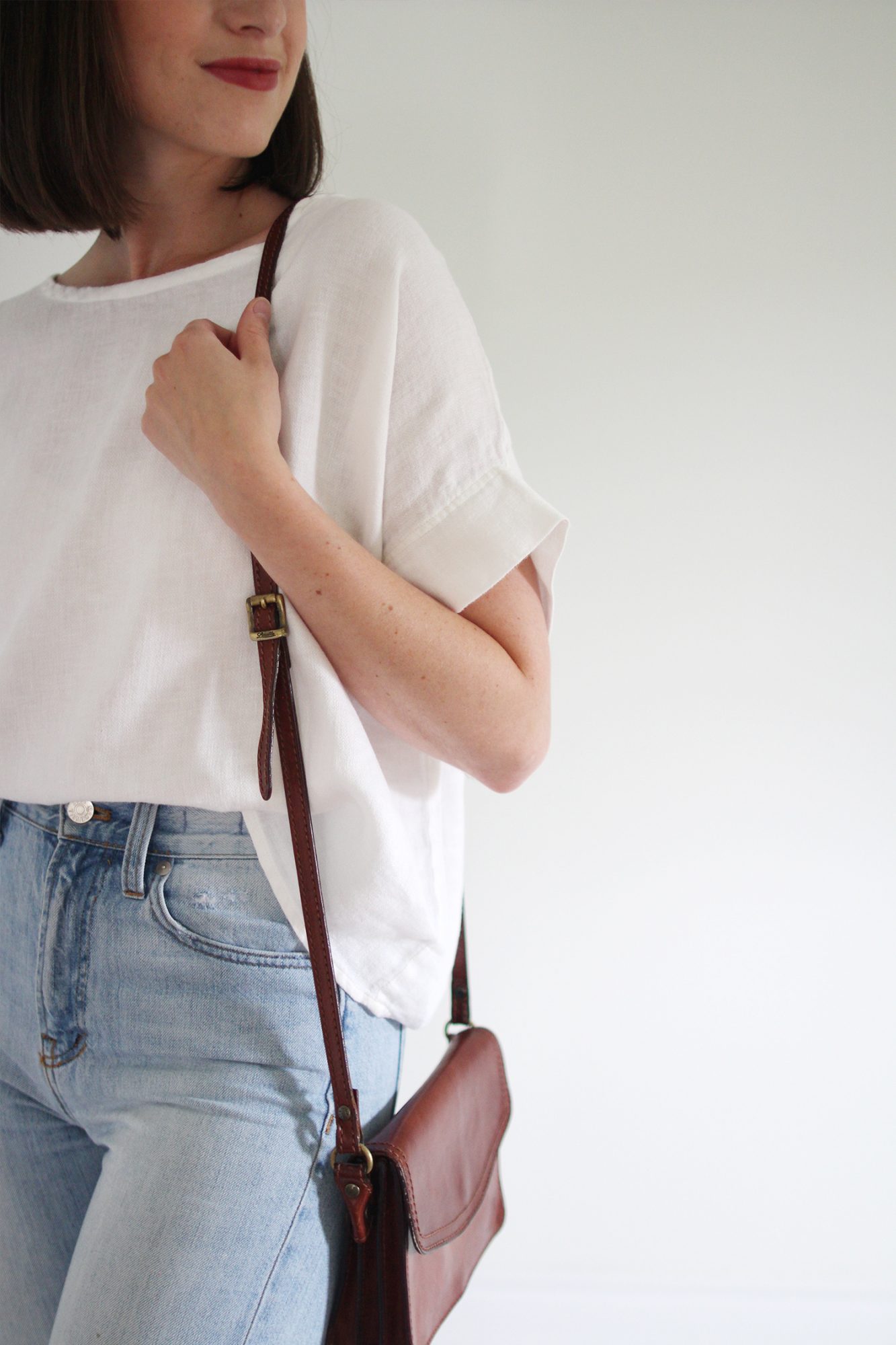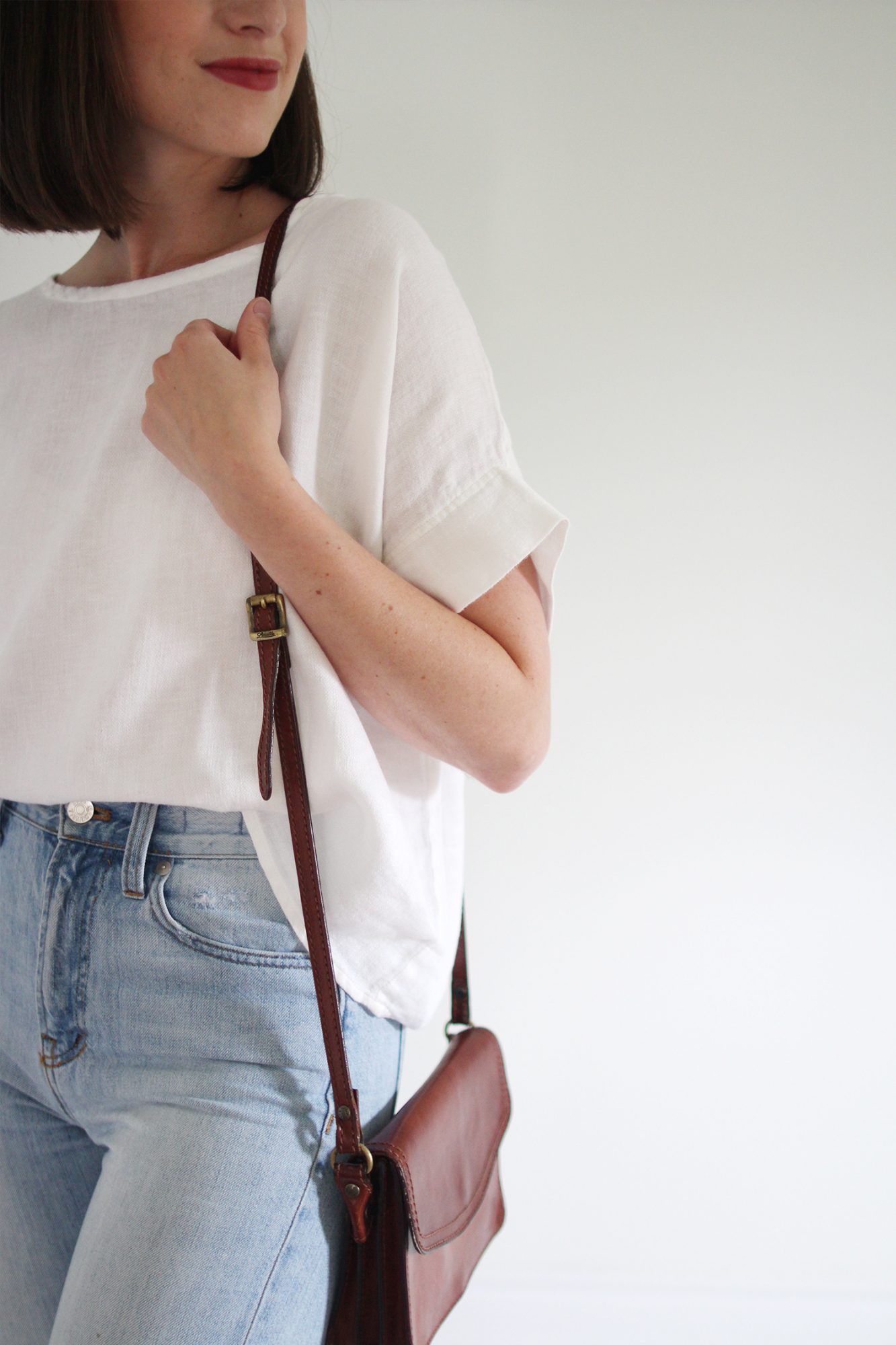 ---
GEORGIA TEE WHITE LINEN – ELIZABETH SUZANN – This is the old OS in lightweight linen. – First seen on the blog here in June 2016 but I'd already had it for 1 year.
Ah, the Georgia Tee. This top epitomizes the start of the slow fashion movement for me. It embodies all that is good about simple, thoughtful, approachable design and personal style. It's timeless, ageless and flattering on any body type. It is the quintessential closet workhorse and though often copied, never truly replicated.
I get emails all the time about where to begin with Elizabeth Suzann styles and my default is almost always the Georgia Tee. For me it serves as both a style crutch and a style launching pad. I reach for it when I'm feeling fabulously chic or when I'm feeling lost and clueless about my style (oh yes, that still happens to me too) and it never lets me down!
I have this style in three fabrics. A very old silk/cotton blend, a green stripe linen and this ivory light weight linen. I'm also considering it in black silk for fall!
Do you have a Georgia Tee in your life?
---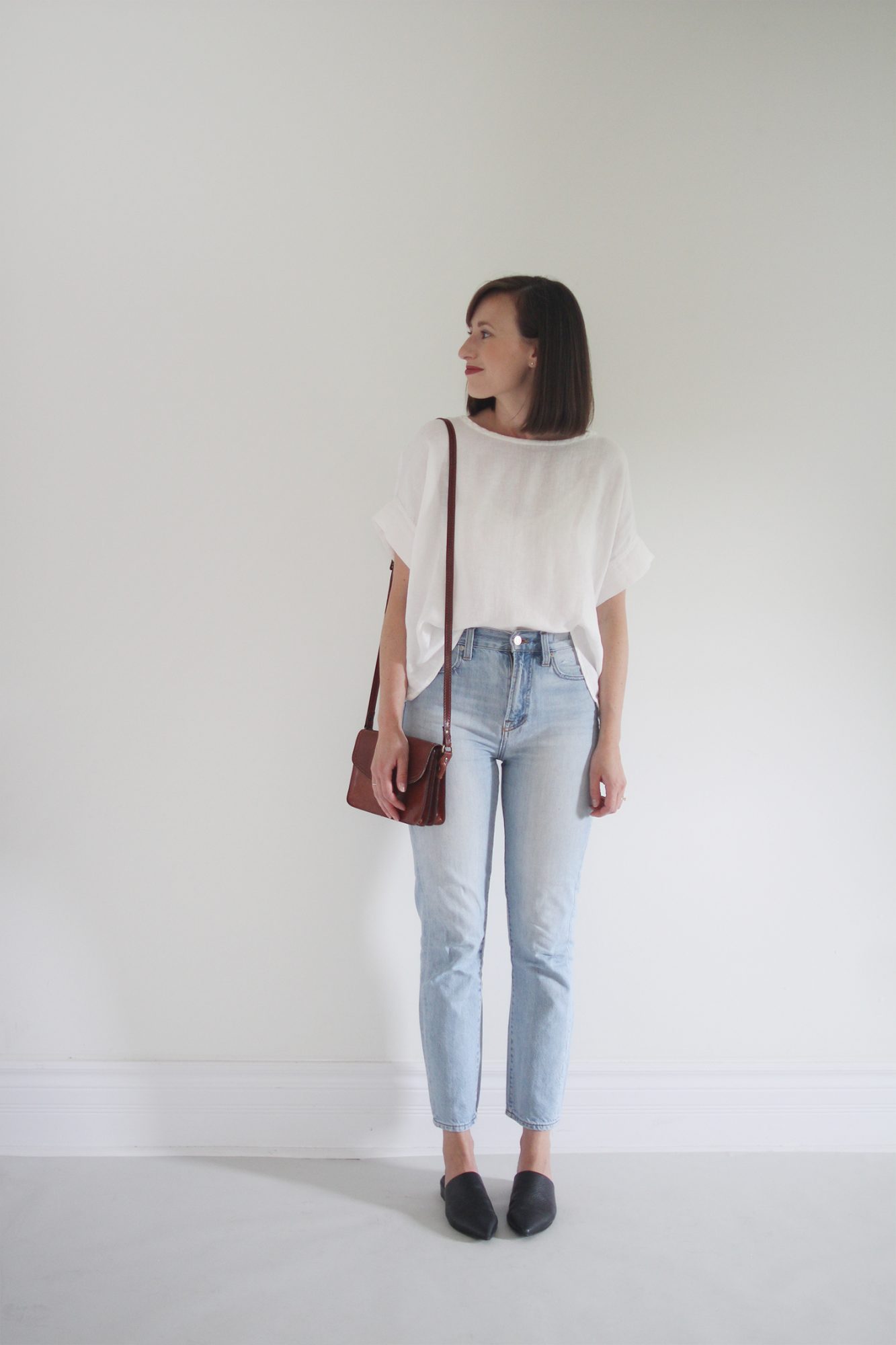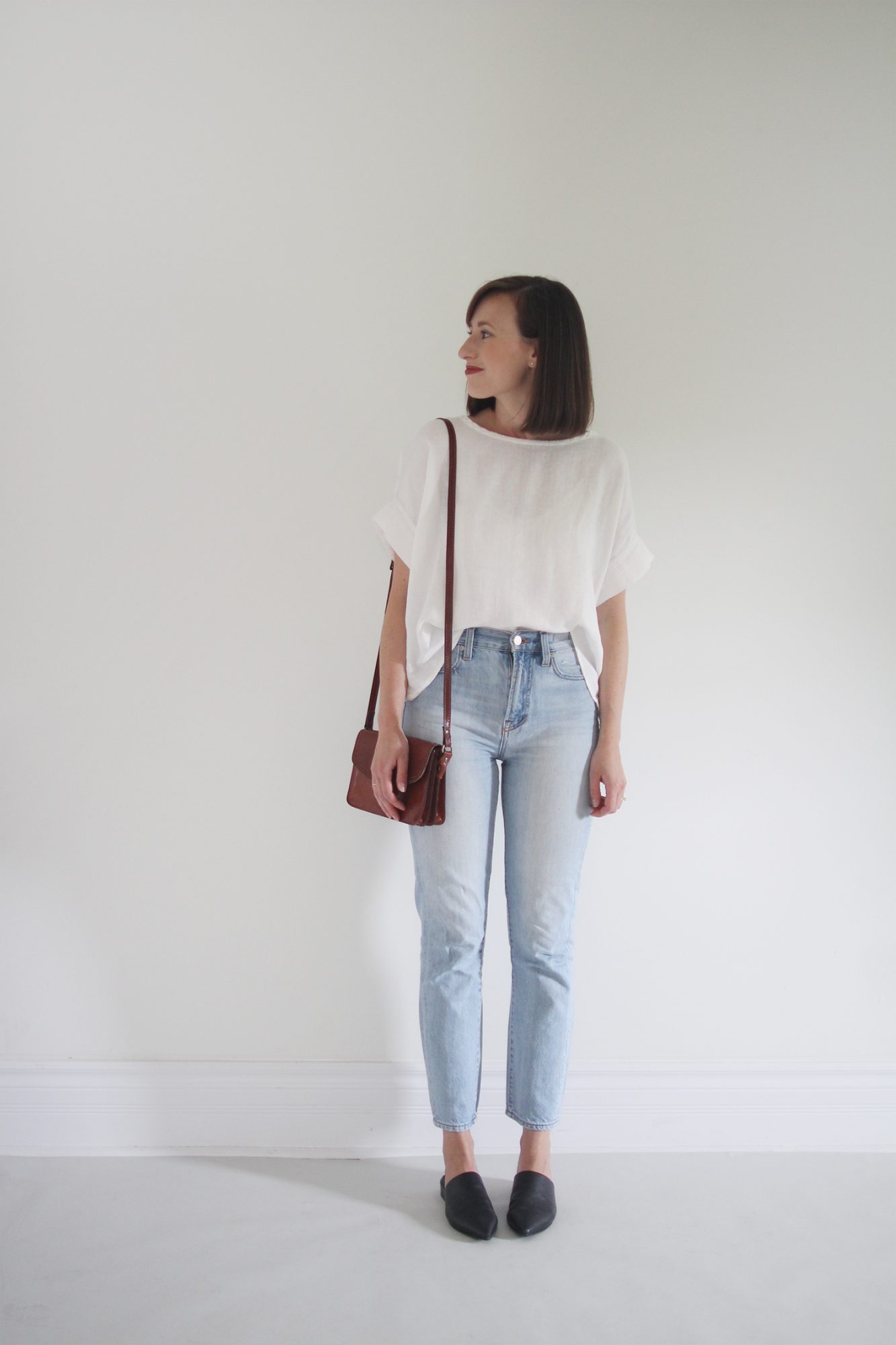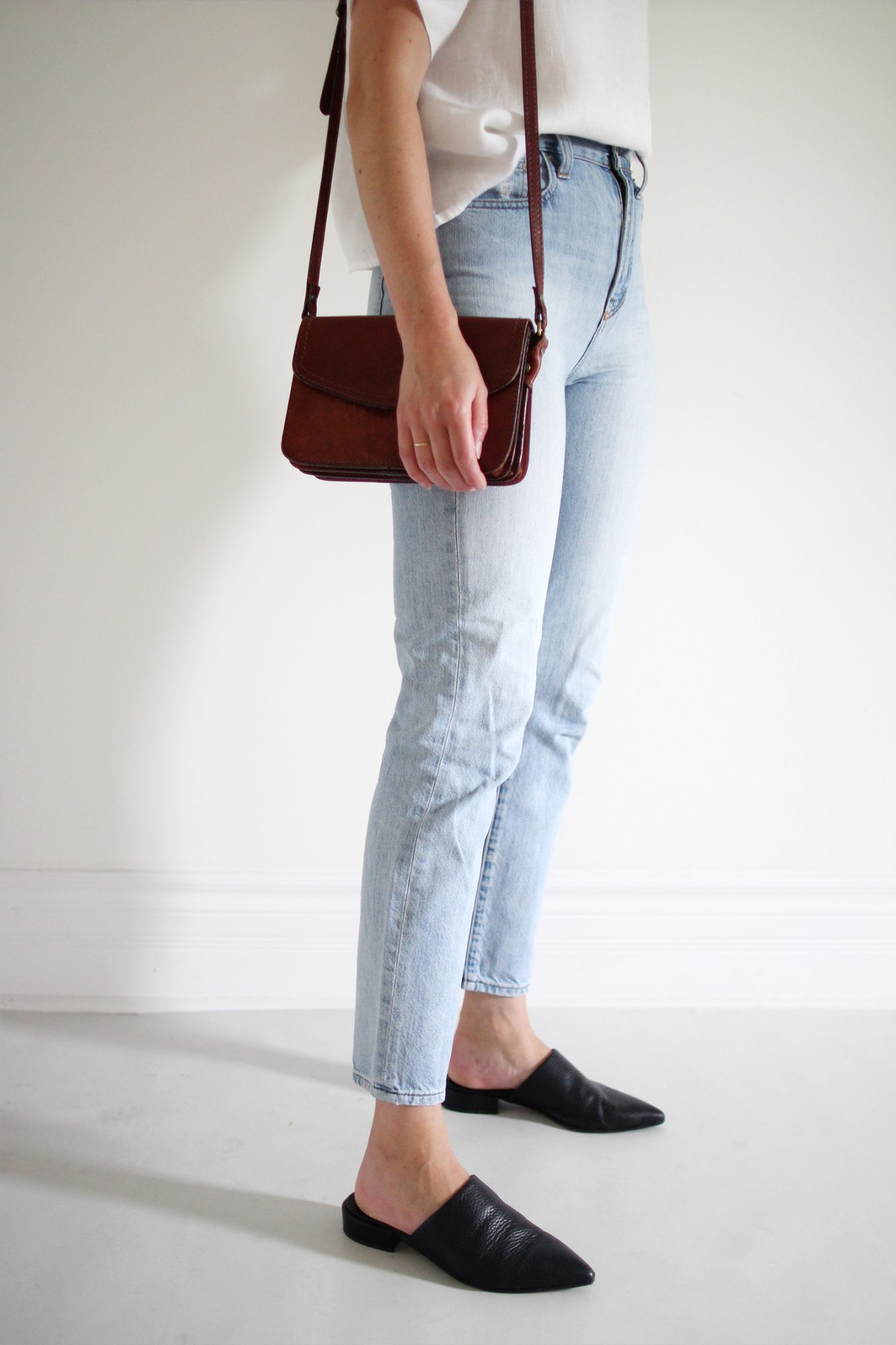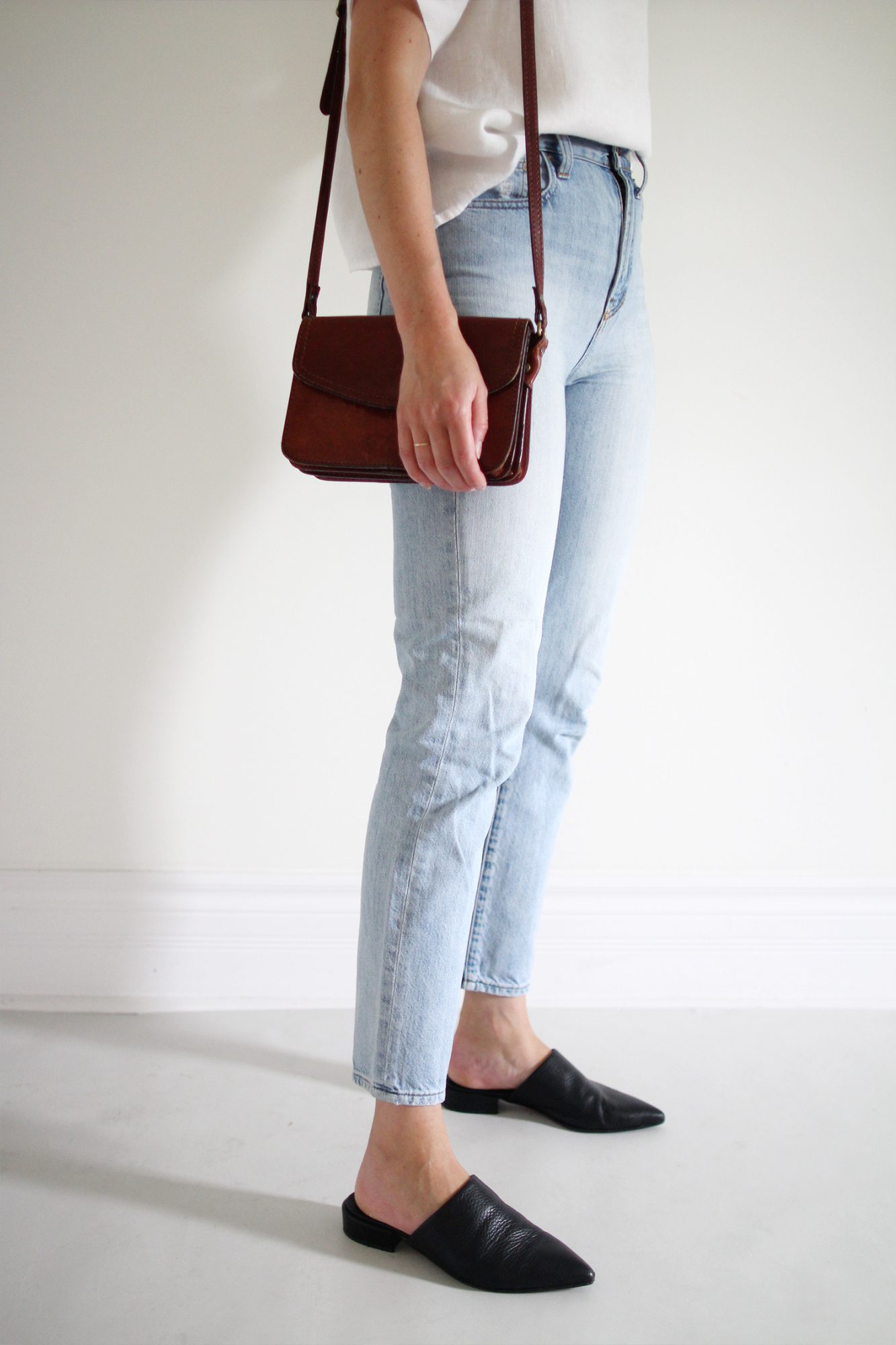 ---
CLAUDIA BLACK MULE (sold out but these are gorg!) – L'INTERVALLE – First seen on the blog here in June 2017 and many times after (here, here, here and here) during my June 30×30.
This summer black shoes have not been getting a ton of use from me. I've been drawn much more to nudes, white and light neutrals instead but that's ok! I'm glad I dug this pair out of my shoe drawers for this post because I'm already imagining some great Autumn looks with them.
A few people have mentioned that they don't like wearing mules because they're not always flattering on the ankle and I get that. I think the mule style works best with a cropped pant to expose some leg above the ankle and balance out the way they cut across the top of the foot. I also think a pointed toe helps to elongate the foot.
I've also had a few DM's asking if I think mules are a fleeting trend. My answer: I think they'll probably peter out of style in a few seasons but they'll be around for a while yet and will always make their way back again!
What do you think about the mule as a shoe style?
---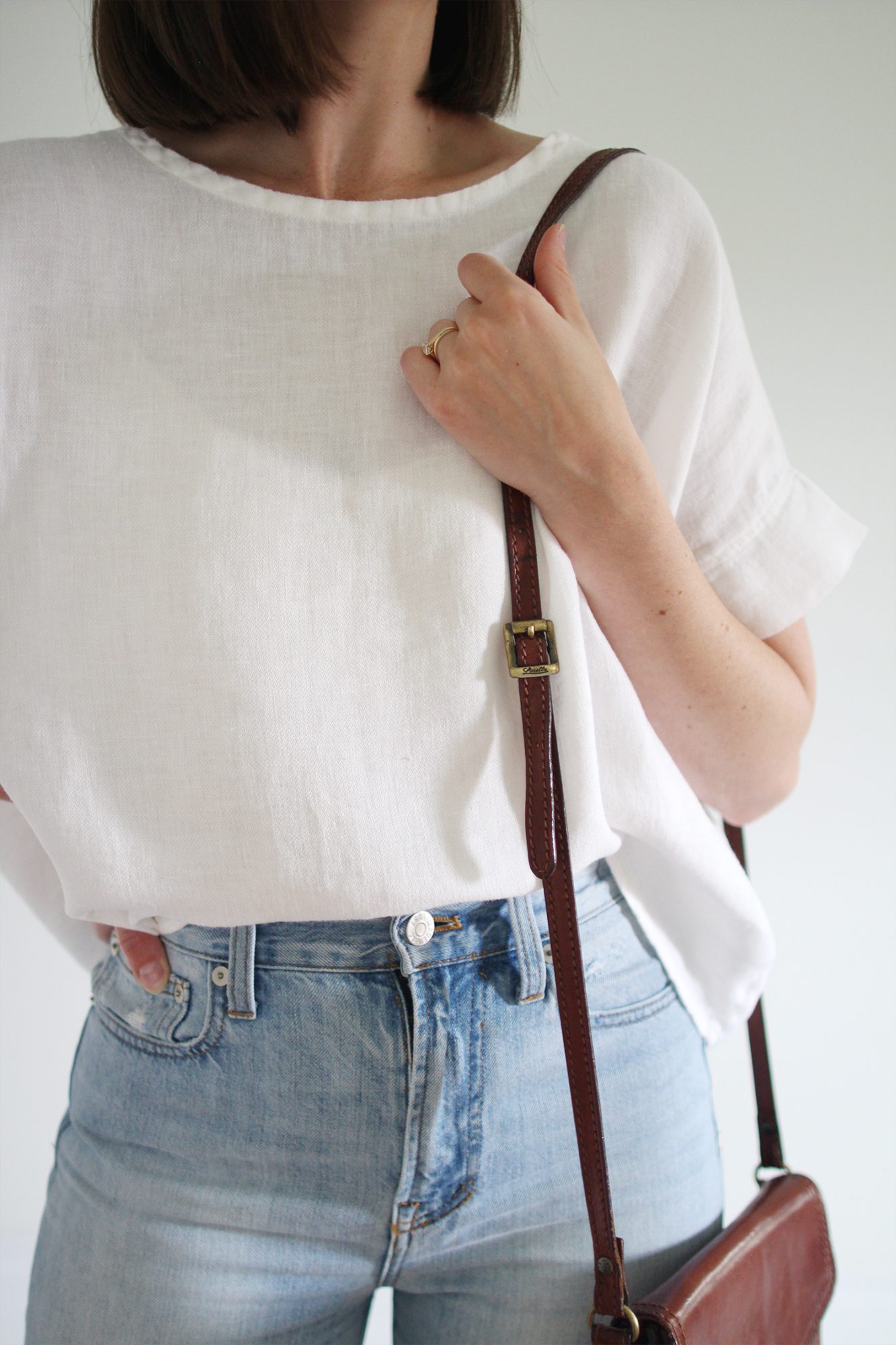 ---
GEORGIA LINEN TEE (old version) Elizabeth Suzann | SUMMER JEAN Madewell | POINTED MULE old c/o L'Intervalle (similar here) | BAG Vintage via Millay Vintage | LIP COLOUR Undone KOSÅS
---
LOOK 5
---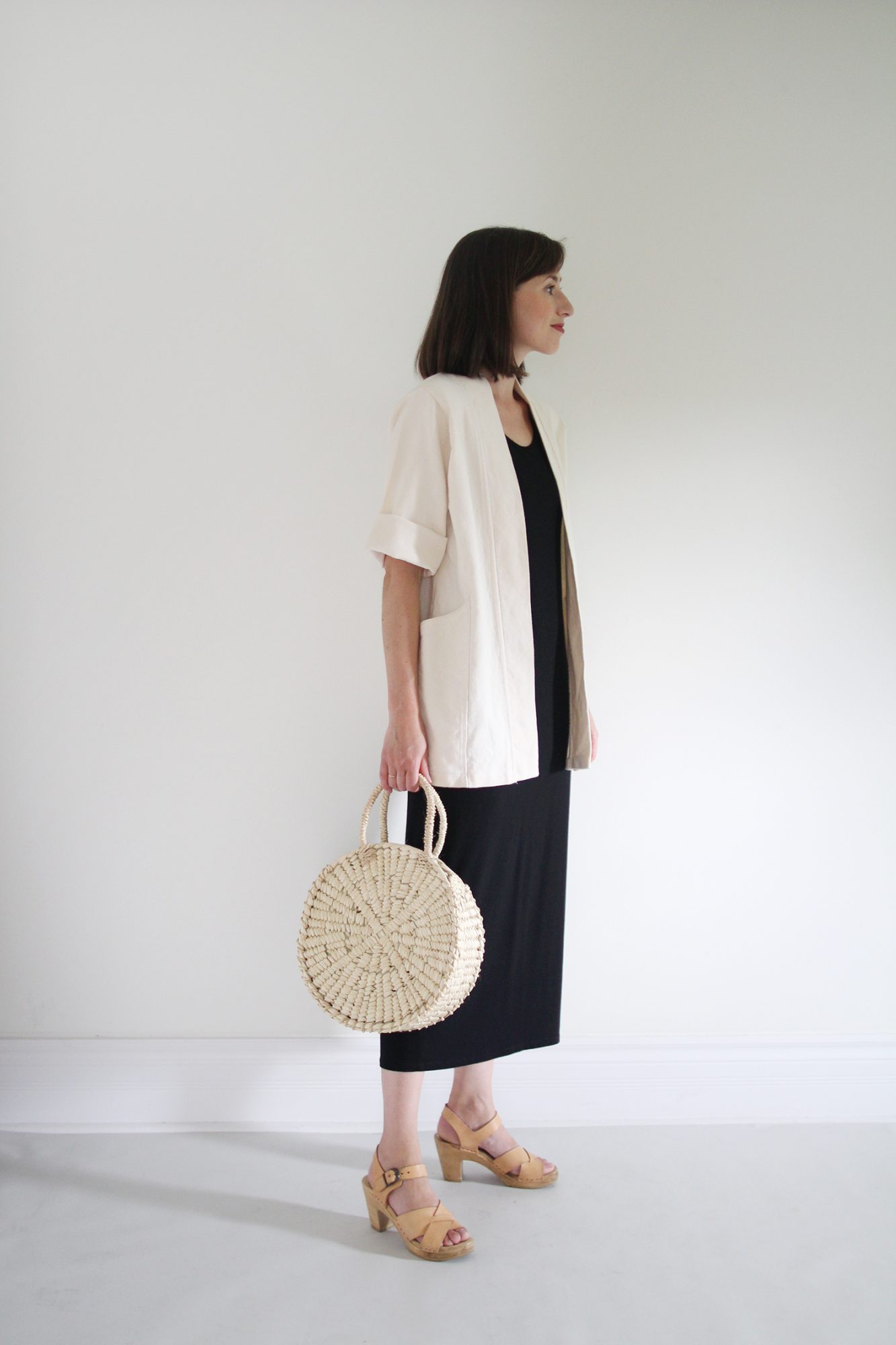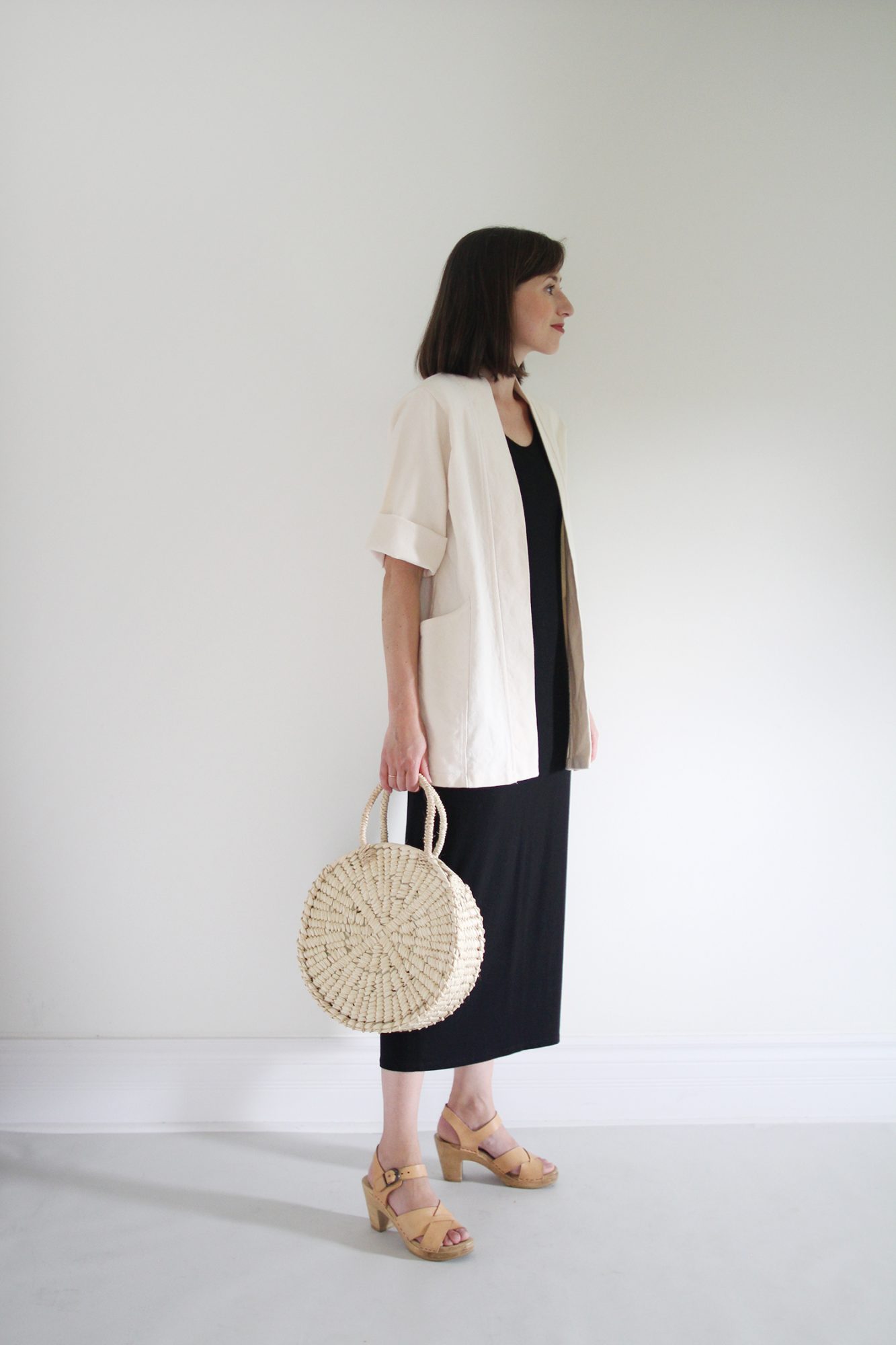 ---
JERSEY TANK DRESS – EILEEN FISHER – First seen on the blog here during my Spring 10×10 in April 2017. – I wear an XXS in this but an XS would be good too.
This dress has a special spot in my closet since I'm not usually a huge fan of dresses in general. This one definitely gets a gold star for comfort though. I wear it for meetings and dinners and working from home and just about everything else in between. I hadn't reached for it in a while because I was drawn to lighter colours and patterns for most of June and July but I pulled it out last week and was reminded of its magical way of blending classic chic with care-free comfort.
This is an example of an item I may not have picked for myself but receiving it as part of a collaboration let me test it out and realize how well it could work in my closet. Fast forward over a year and a half and it's one of the pieces I wear most from my styling project featuring The System Collection by Eileen Fisher.
Are you a dress or a separates person usually?
---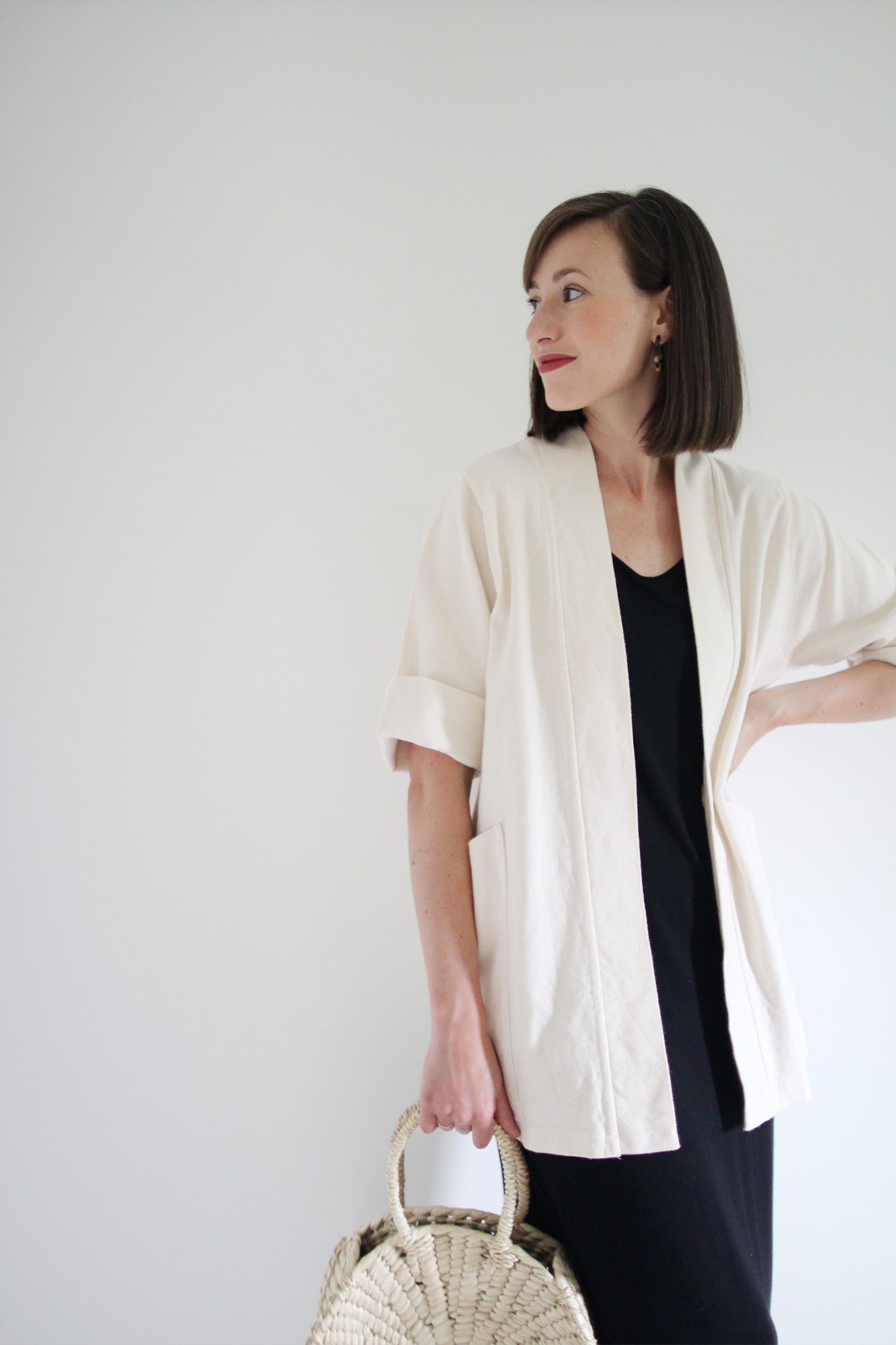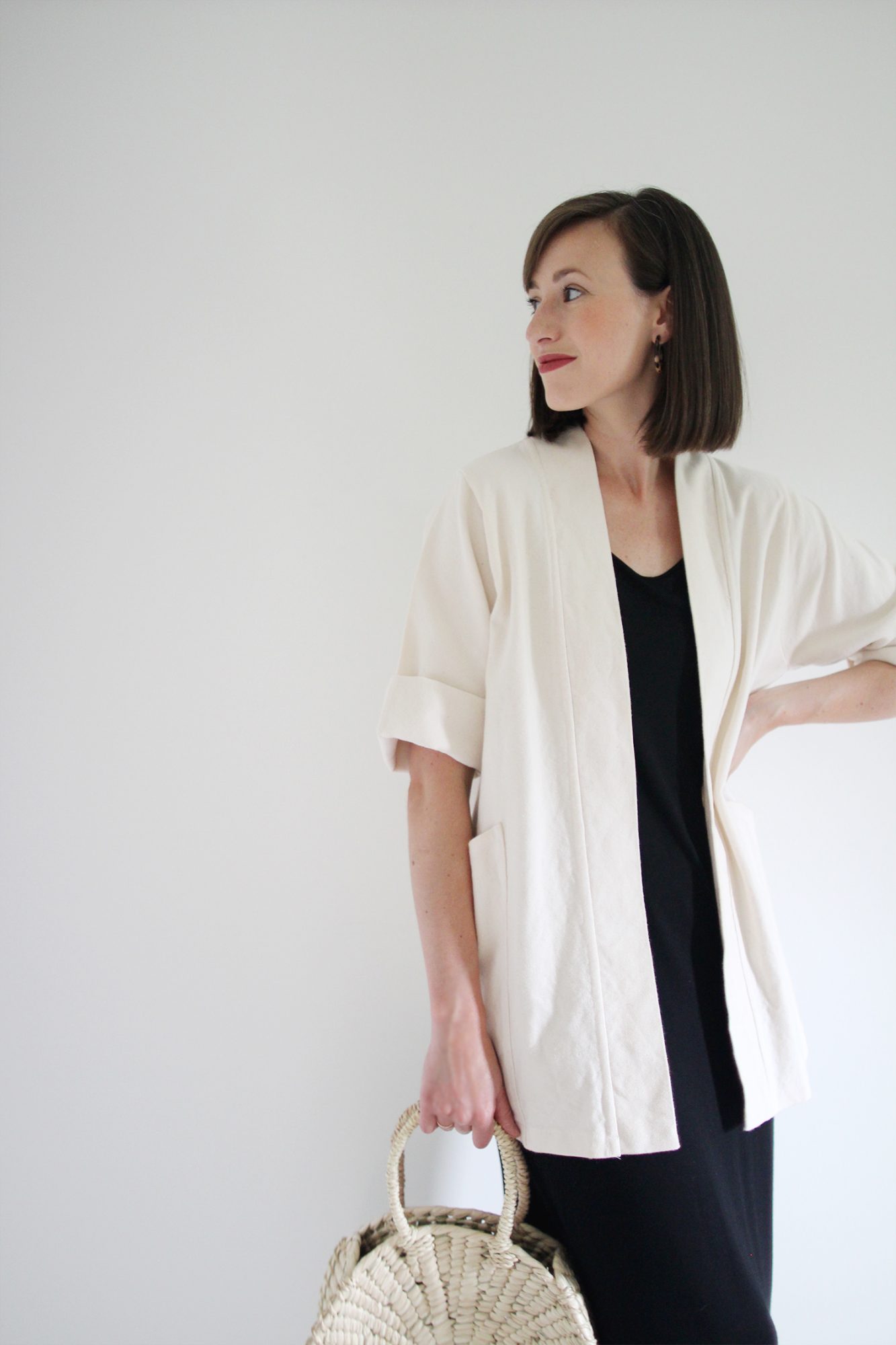 ---
CARDIFF WORK JACKET – ONLY CHILD – First seen on the blog here in April 2017.
Confession time. I accidentally washed this coat with dog treats still in the pocket and the result was not pretty. I was mortified and it took about 4 subsequent washes and intense stain removal protocols to get the nasty brown 'marbling' out of the entire left side. It's alllmost 100% ok now, thank goodness! Hopefully that's one lesson I'll only need to learn the hard way once!
Aside from that narrowly averted tragedy, I love this coat and the fabric is a dream to wear. It's perfect for cool summer nights and I really like rolling the sleeves up to just above my elbow for a fresh styling approach.
I'm also really looking forward to Haley's AW18 collection for Only Child. She has shared peeks of the Cardiff Coat (long version) in Oatmeal Wool and it's definitely on my radar! Her summer collection was a total dream too but our timing just didn't quite work out for a collaboration.
---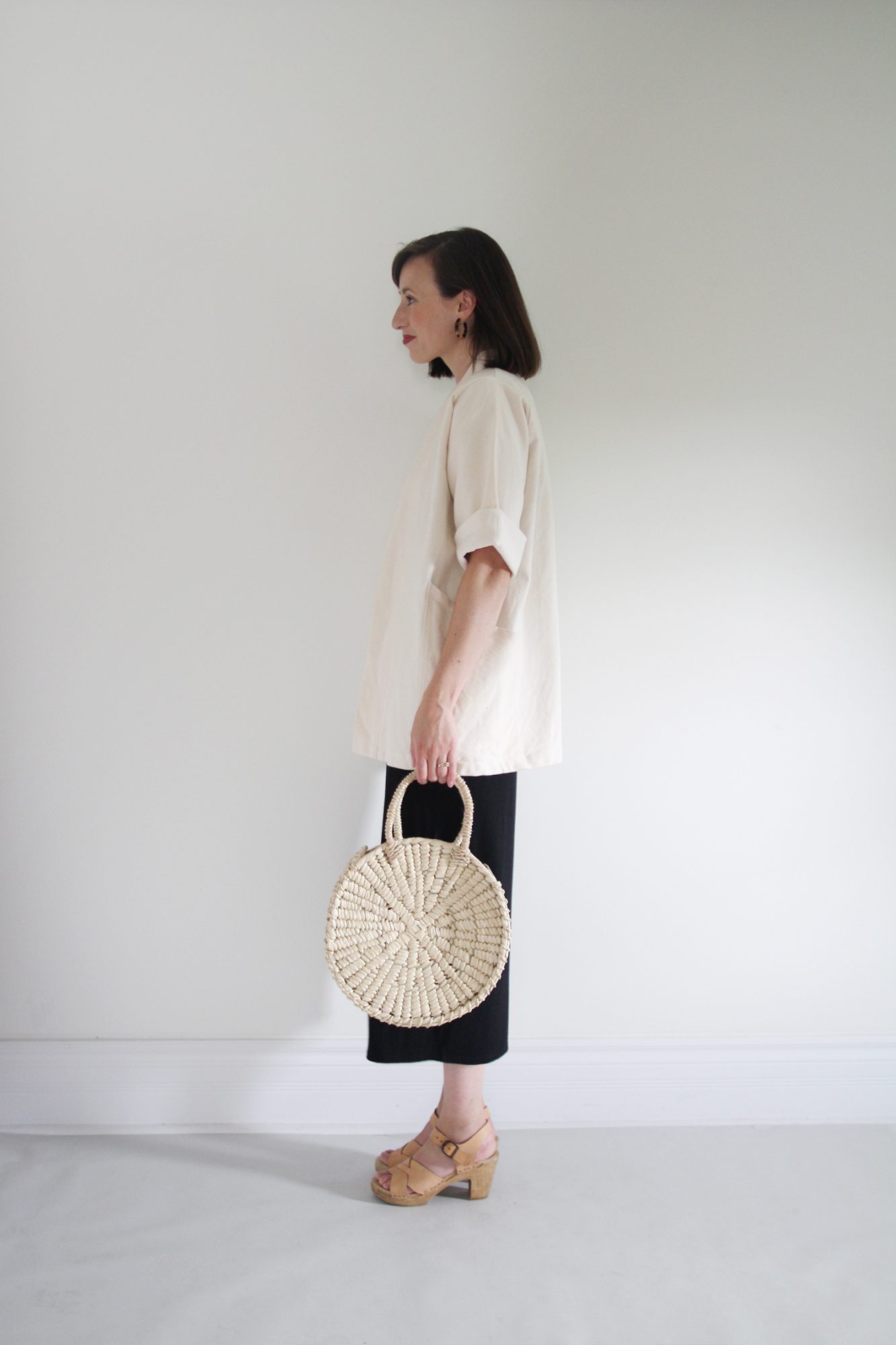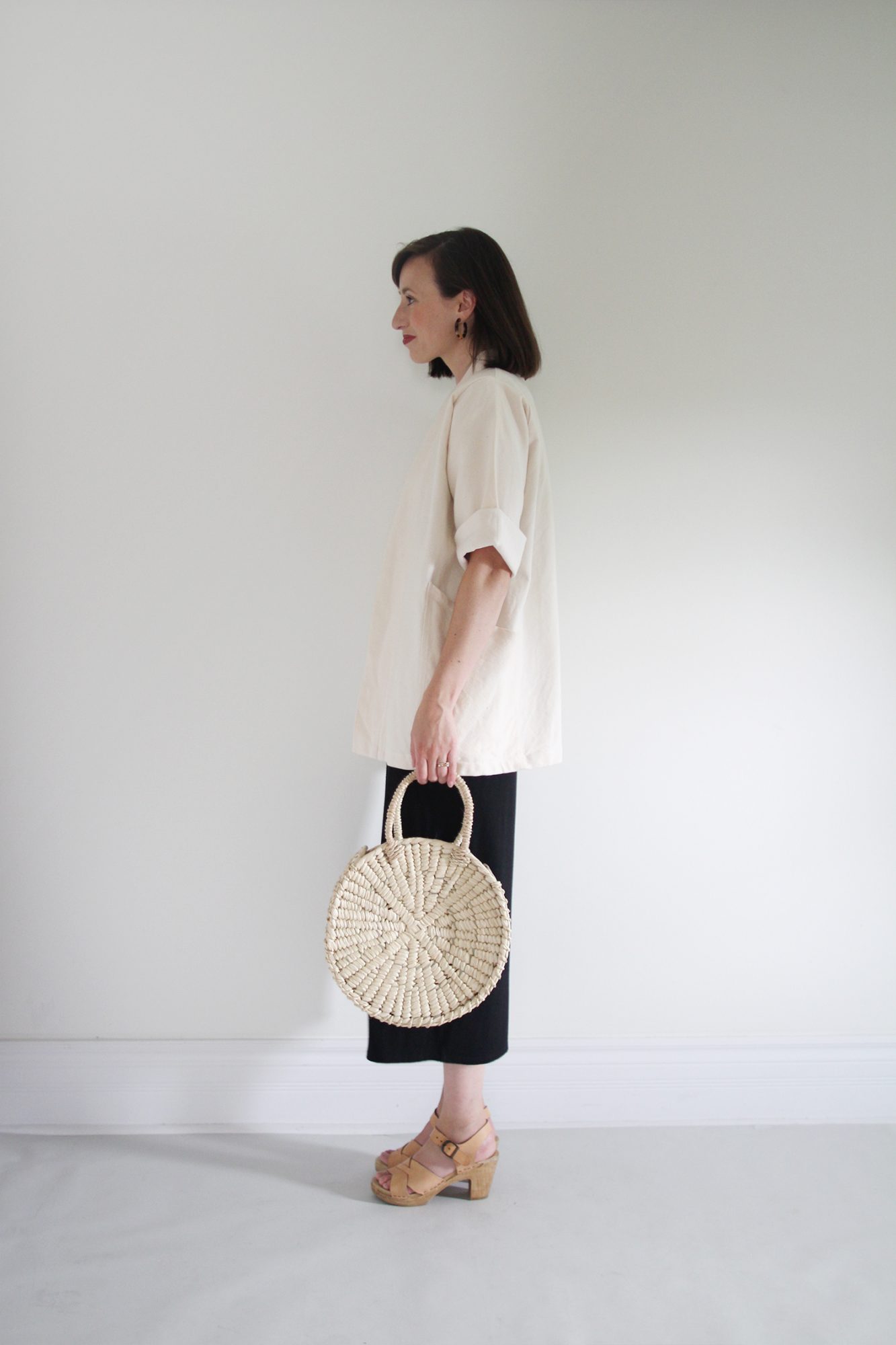 ---
CLOG – N0.6 STORE – First seen on the blog here in the early days of Style Bee circa 2014.
Clogs and I have had a tough go in recent years because as much as I love them, they kind of kill my lower back. I would always be quick to dismiss the idea that it was my shoes causing trouble until one day last year I just couldn't deny it anymore. So, with great sadness I let go of most of my clog collection and kept only the original pair I'd had custom-made in 2014.
Now, I wasn't doing yoga as often (or at all) at that time and since I've been keeping up with that on an almost daily I've noticed a tremendous improvement in my lower back. I'm still cognizant of wearing clogs for a long time when I will need to remain standing but I can get away with more frequent use of them. Plus, they're just such a timeless style that works with everything in my closet!
I really love No.6 Store clogs because they have a rubber sole on the bottom and the wood base is treated/sealed so they don't get scuffed or stained very easily (if at all). They are also a more narrow fit, which works out great for me, whereas BRYR clogs are much wider in my experience.
Are you a diehard clog lover like much of the slow fashion community?
---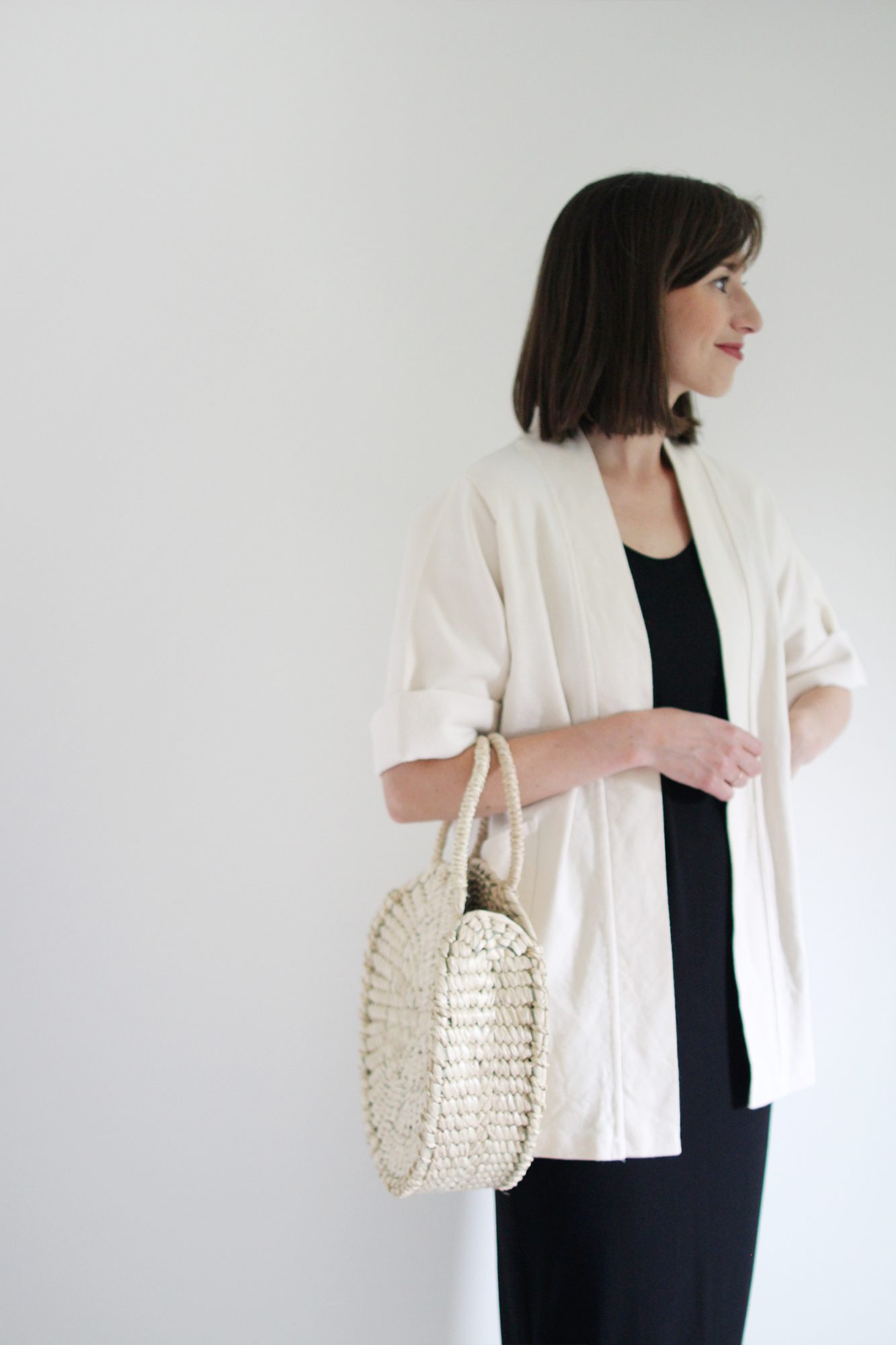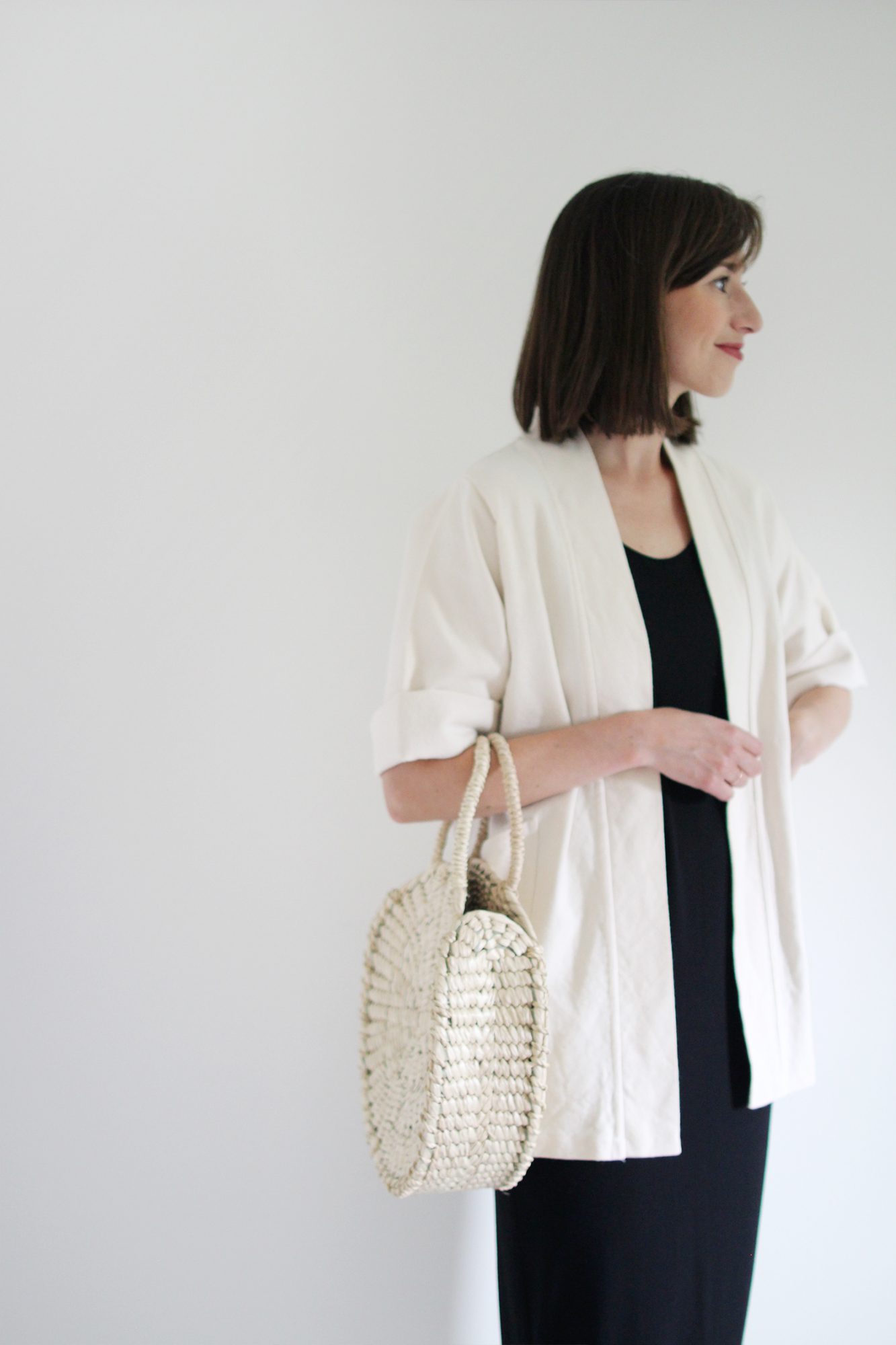 ---
CARDIFF WORK JACKET old c/o ONLY CHILD (linked to current version) | JERSEY TANK DRESS c/o EILEEN FISHER | CLOGS old custom NO.6 Store (linked to similar) | BAG c/o ARTISAN & FOX (enter the $100 Giveaway on my Instagram!) | LIP COLOUR Undone KOSÅS
---
Well friends, I hope you've enjoyed this trip down memory lane to revisit some old summer favourites!
I'm enjoying getting back into the swing of outfit posts and can't wait to share my July Wear Count later this week!
---
THANKS FOR READING AND HAVE A GREAT WEEK!
---
This post is not sponsored but contains affiliate links. When you shop via the links above I may make commission on a sale. Thanks for supporting Style Bee! All opinions are always my own.