Over the past few months I've had the opportunity to try out quite a few clean beauty products and I thought it would be fun to share the ones that have become part of my regular routine. I'm not a beauty guru by any means so the products I love are usually pretty basic but effective and easy to use. Once I find something that works I tend to stick with it too, so you might recognize a few of these from past round-ups.
Most days I don't wear much makeup unless I'm going out or shooting for the blog and even then I try to keep it natural and simple. There are no contouring tricks or special techniques happening here! I don't even bother with primers or setting sprays or anything like that. I like my natural skin texture to show and find that the odd imperfection results in a much less 'made-up' look.
The lineup I've been using lately is made up of a mix of 100% natural and partially synthetic ingredients but they're all non-toxic, cruelty-free and made responsibly around the world.
So let's take a look at the products I've been loving for: 
EYES
FACE
CHEEKS
LIPS
NAILS
Plus, I've included a list of all the places I go to shop for clean beauty products! 
---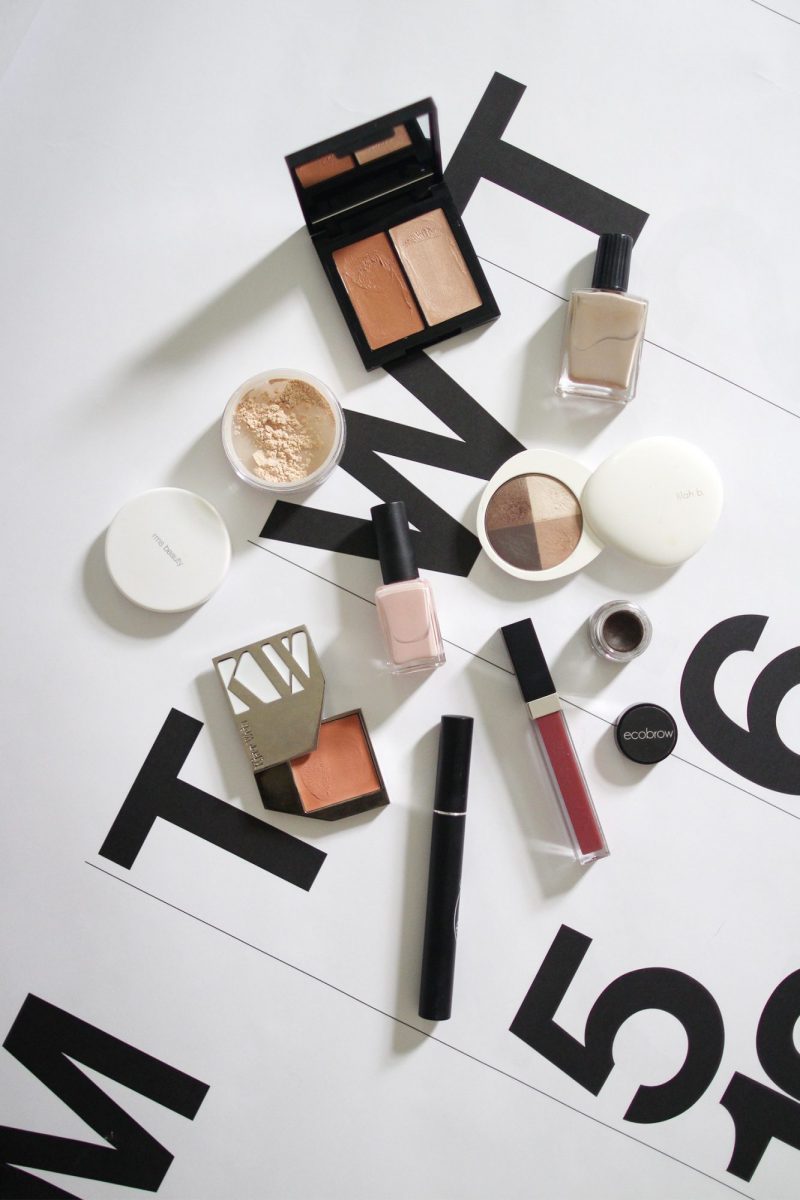 ---
EYES
---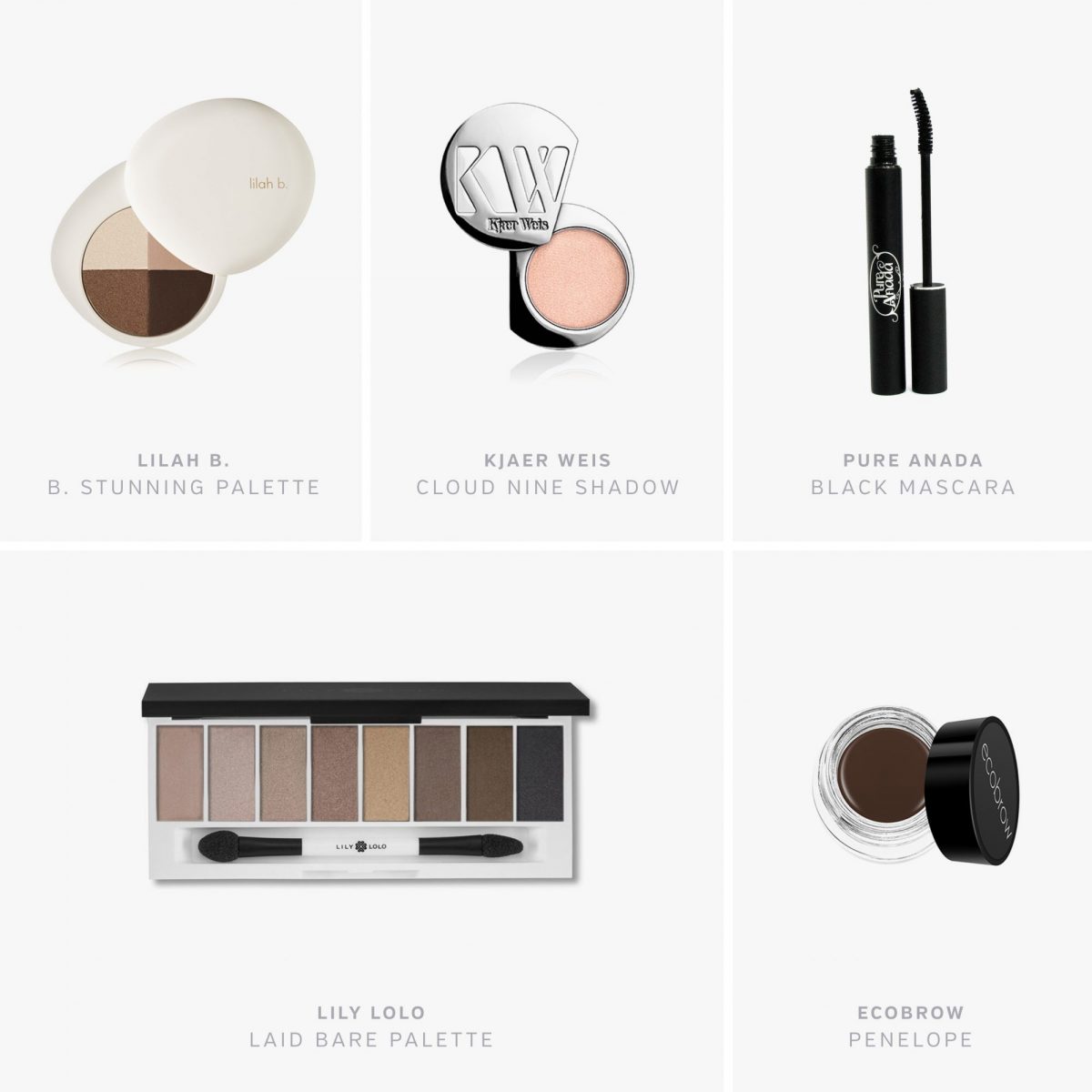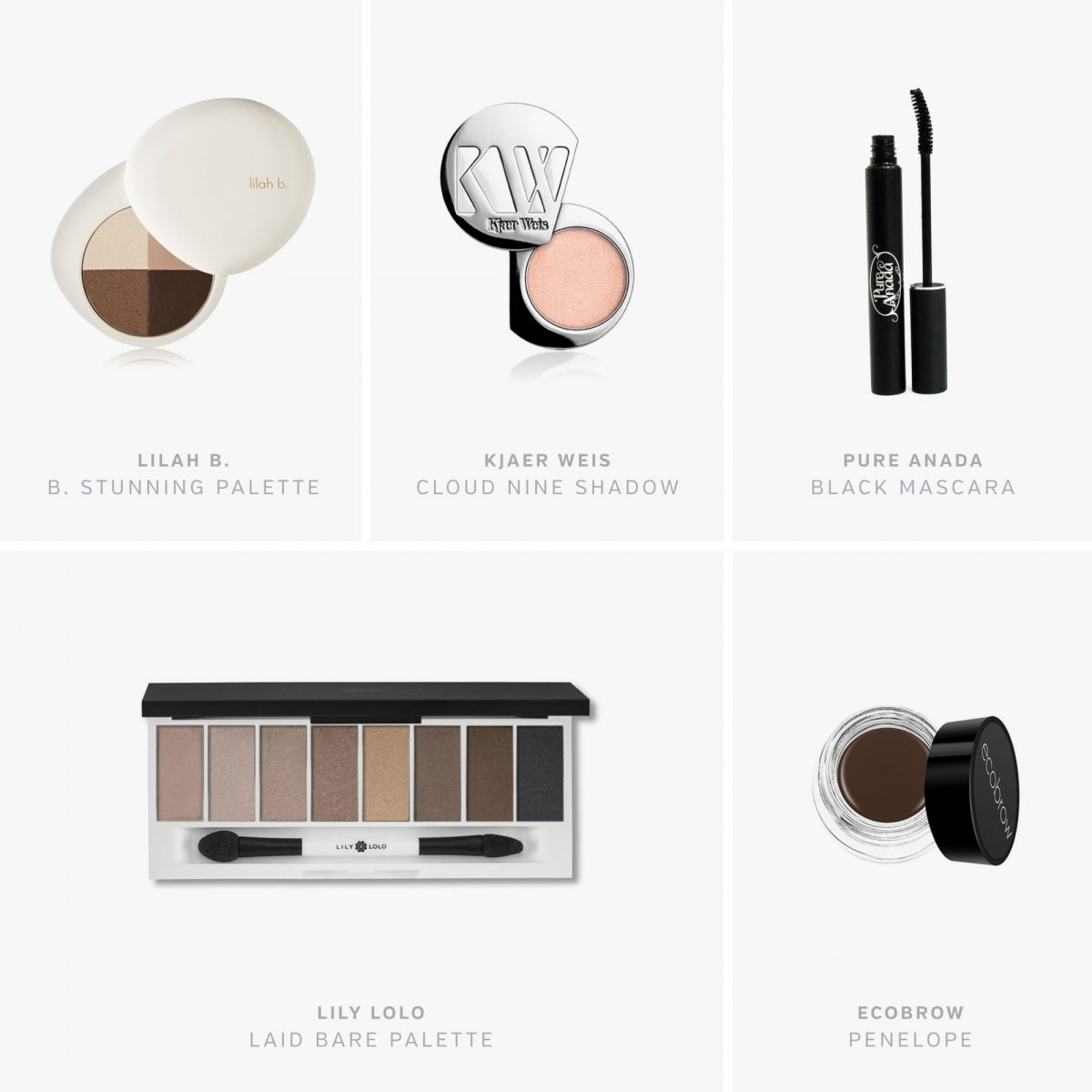 ---
LILAH B. B.STUNNING PALETTE – $78 CAD – (gifted) – This has become my go-to palette most days, especially when I want a bit of drama that still looks natural. I usually use it dry to create a softer look but I like to use a wet liner brush to build a cat eye with the darkest shade and then blend in the other tones. It lasts all day and resists settling quite well. Lilah B. packaging is also really gorgeous and it feels like you're holding a smooth little stone in your hand. So nice when a product is as much of a pleasure to use as it is to wear!
Lilah B. products are cruelty-free, vegan, and free of synthetic fragrances and gluten. 
Would I buy again? I really like this palette but it's quite pricey so time will tell depending on how long it lasts.  
KJAER WEIS EYE SHADOW CLOUD NINE – $45 USD – When I'm short on time this is always what I reach for to help me look more 'awake'. I usually apply it with my finger or a shadow brush over my lid and up to my brows. It's very subtle but has a lovely iridescence that catches the light just right and brightens the eyes nicely. It is an expensive one to start with but the refills are only $27 and I've found it lasts a long time. I've honestly been using this palette almost daily for a year and it's not even close to empty. If you plan to wear for a full day it will settle in the lid crease  but I just swipe my finger over it and it blends back out.
KJAER WEIS packaging is sustainably produced. No KW products are tested on animals.  All products are free of parabens, silicones, petrochemical emulsifiers and synthetic fragrances.
Would I buy again? For sure, but I might try a new colour! 
LILY LOLO LAID BARE PALETTE – $34 USD – (gifted) – This is a great neutral palette that I've been using for a long time now. It lets you build from a totally natural eye to a dramatic, smokey look with so many options in between. I love the wide range of colours and how many different looks you can create with it. This one also works great both dry and wet depending on what you're going for. I'd say this is a great alternative to the Lilah B. palette if you need a more budget friendly option.
Lily Lolo products are vegan and cruelty-free. 
Would I buy again? Maybe, I don't need so many colours but it's a great price for the quality.
ECOBROW EYEBROW WAX – ($26 USD + $23 USD for brush) – I've been a fan of this product for years now and the love affair remains strong. I have slightly patchy brows and this tinted wax and the accompanying brush (sold separately but so worth it!) let me build up totally natural looking full brows. It holds the shape and doesn't flake or fade throughout the day. Even with the addition of the brush it's a high value set for how long one little glass pot lasts and for how well it performs. My brows stay full and held in place all day every day! Even after using everyone's favourite, Brow Wiz, this one is at the top of my list. I wear Penelope.
Eco Brow products are naturally derived, mineral-based, paraben-free with vitamin E  and never tested on animals.
Would I buy again? Definitely, if it ever runs out! 
PURE ANADA MASCARA – $14 CAD – For the price nothing else has come even close to the performance of this mascara for me. I've even tried the highly regarded KW Mascara ($38 USD) but it gave nowhere near the length or volume and flaked over the course of the day. This one doesn't flake off and it's easy to build length and volume, plus, it's gentle on my sensitive, contact wearing eyes. I like the curved wand and the metal tube feels luxurious compared to all the plastic options on the market. Cannot recommend this natural, vegan, Canadian-made option enough!
Pure Anada products are made in Canada, cruelty-free and free of all common allergens. 
Would I buy again? Already have, many times! 
---

---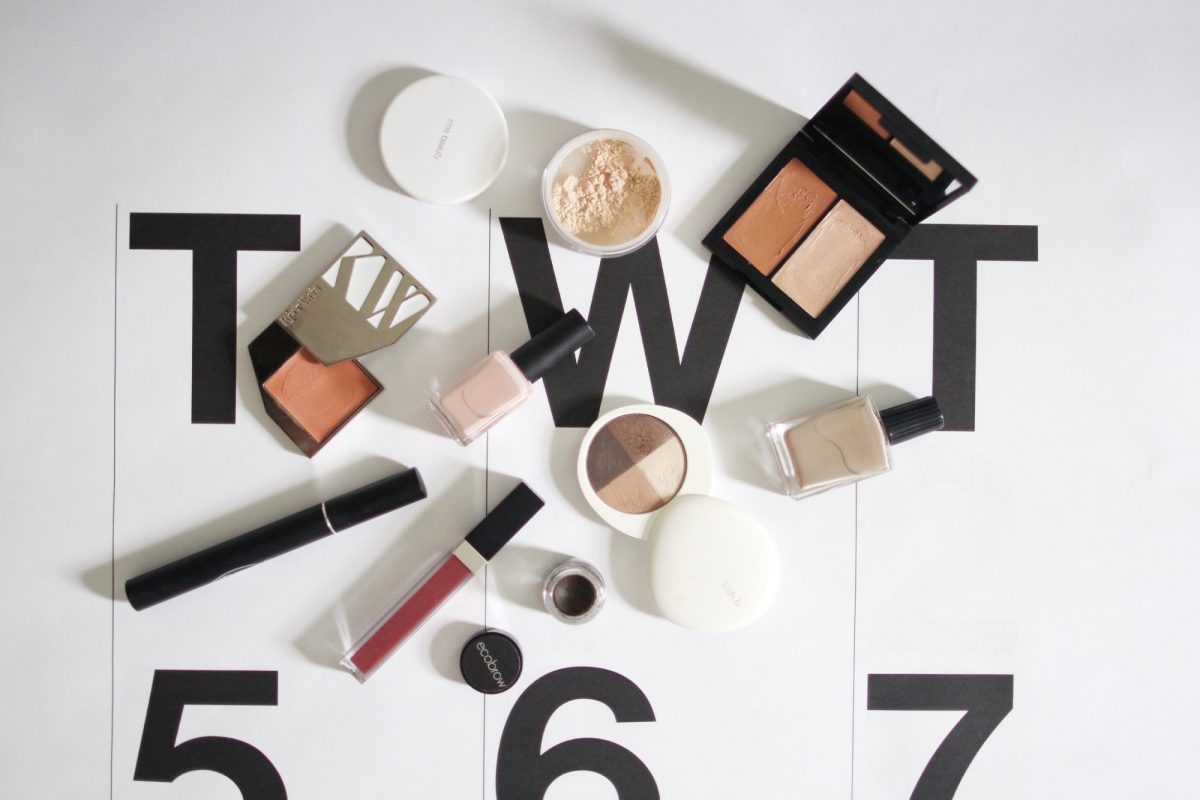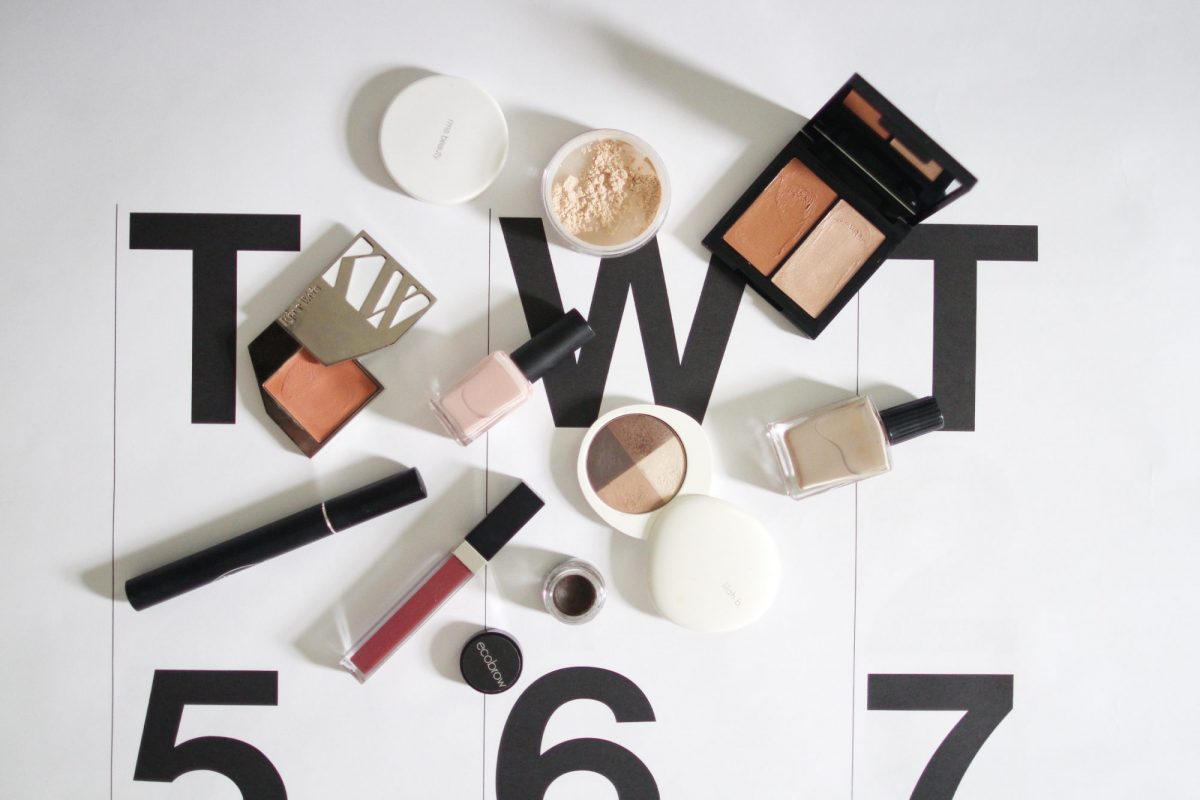 ---
CHEEKS
---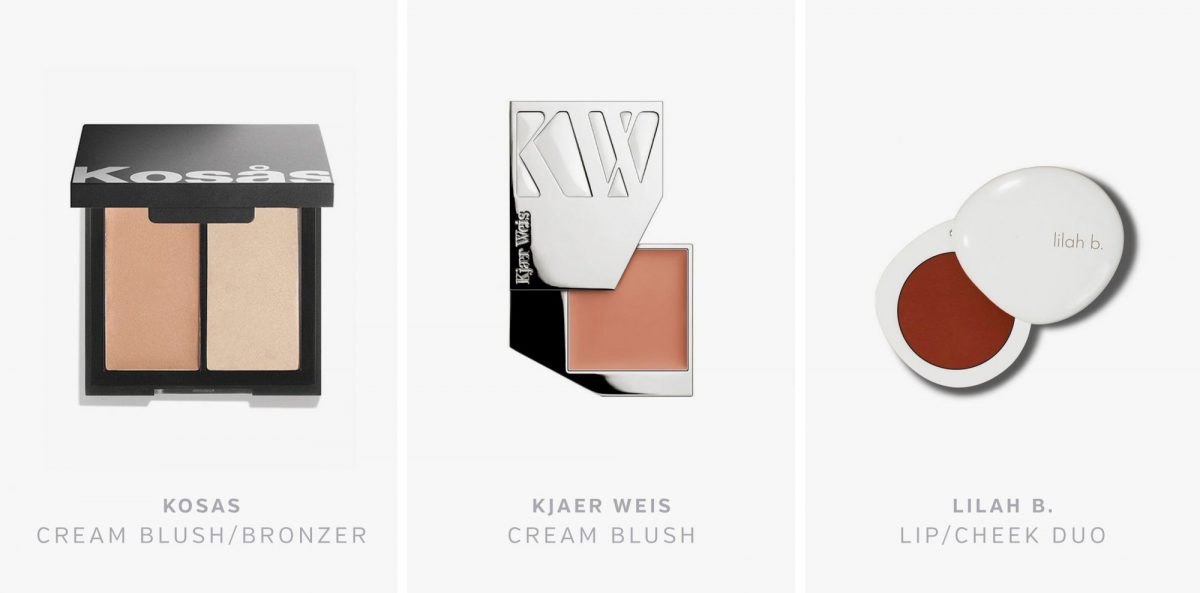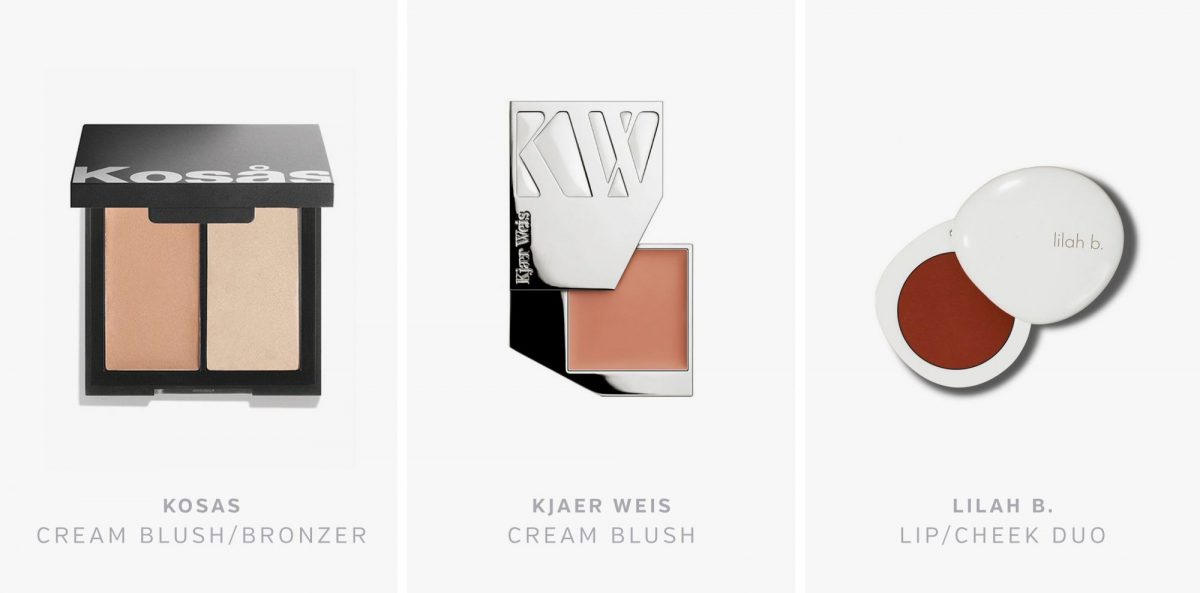 ---
KOSÅS TROPIC EQUINOX CREME DUO – (gifted) – $34 USD – I've been asked how I achieve a 'sunkissed glow' and needless to say I'm always highly flattered. Of course, it's not natural! I owe any 'glow' I have entirely to this KOSÅS duo and I've been using it since it arrived earlier this summer. I'd never gotten the hang of bronzers before but this one is so easy it's impossible to get wrong. I simply take a dab of each palette with my middle and ring fingers and then mix them on cheek bones, moving in circles towards my temples until it looks well blended. All while making a weird pouty face of course! Being a cream formula it gives that sought after dewy texture and the iridescence reflects the light for a luminous look. I love the results but especially enjoy how light it feels it on the skin. I often use the pressed palettes from KOSÅS as well but apply those with a brush.
All KOSÅS products are gluten, egg, nut, soy, and cruelty-free.
Would I buy again? You bet! 
KJAER WEIS CREAM BLUSH IN PRECIOUS – (gifted) – $56 USD (refills $32 USD) – For a more classic touch of colour on my cheeks I have been using the KW cream blush, which gives a natural flush. I apply this one with my fingers as well and find it blends in really nicely for a subtle effect. It doesn't have any highlighting elements in it so it's great for day time and easy to build for more colour as desired. I love that it has anti-aging ingredients and nourishing beeswax and jojoba seed oil for added moisture.
KJAER WEIS packaging is sustainably produced in Italy. All products are free of parabens, silicones, petrochemical emulsifiers, synthetic fragrances and never tested on animals. 
Would I buy again? I think this will last a while yet so we shall see! 
LILAH B. DIVINE DUO – (gifted) – $56 CAD – This one is great for your purse or travel kit because it serves double duty as a blush, lip tint and even an eye shadow. It has a satin/matte finish so if you don't want any sheen this one is a great option. I'd say it's true to its long-wear claims and buildability. I like to apply it with the tiniest dollop of face cream or oil to help it blend in and keep my cheeks feeling moisturized. I wear B.Lovely and it simply enhances the natural rosy undertones in my cheeks.
Lilah B. products are cruelty-free, vegan, and free of synthetic fragrances and gluten. 
Would I buy again? Probably not since I like more of a dewy finish on my cheeks. 
---

---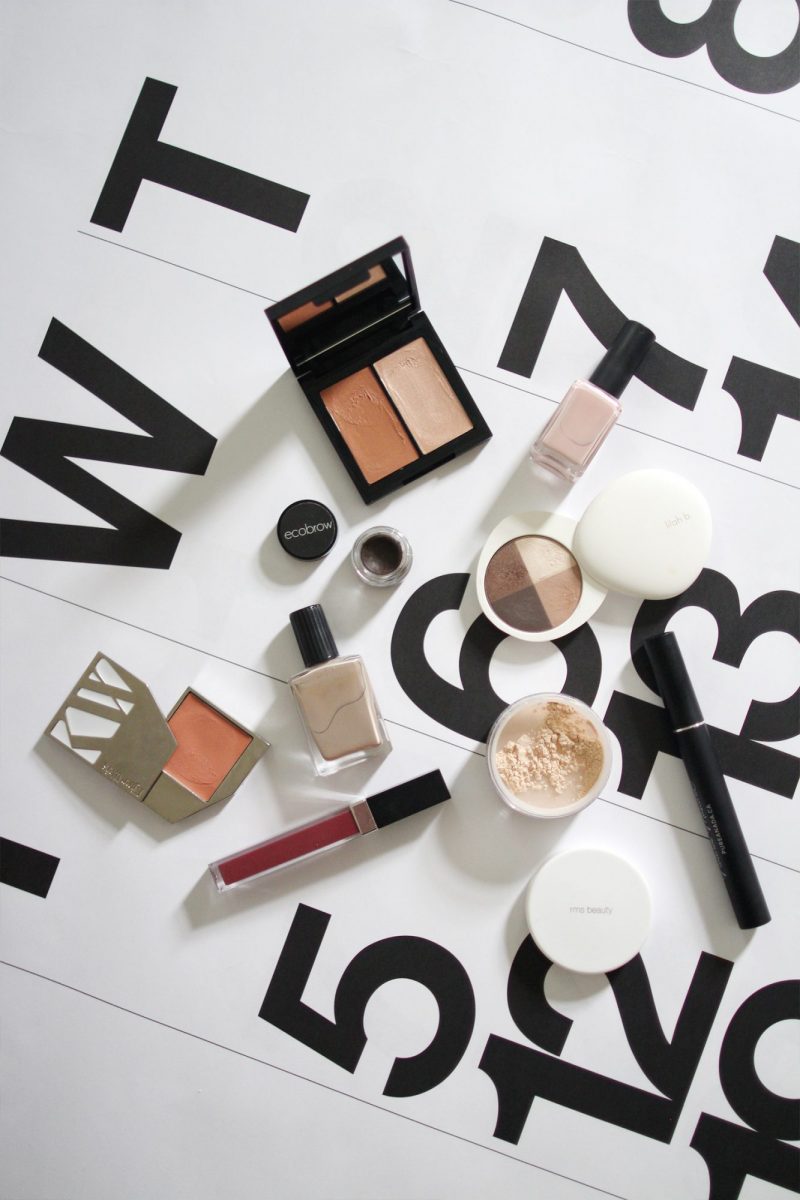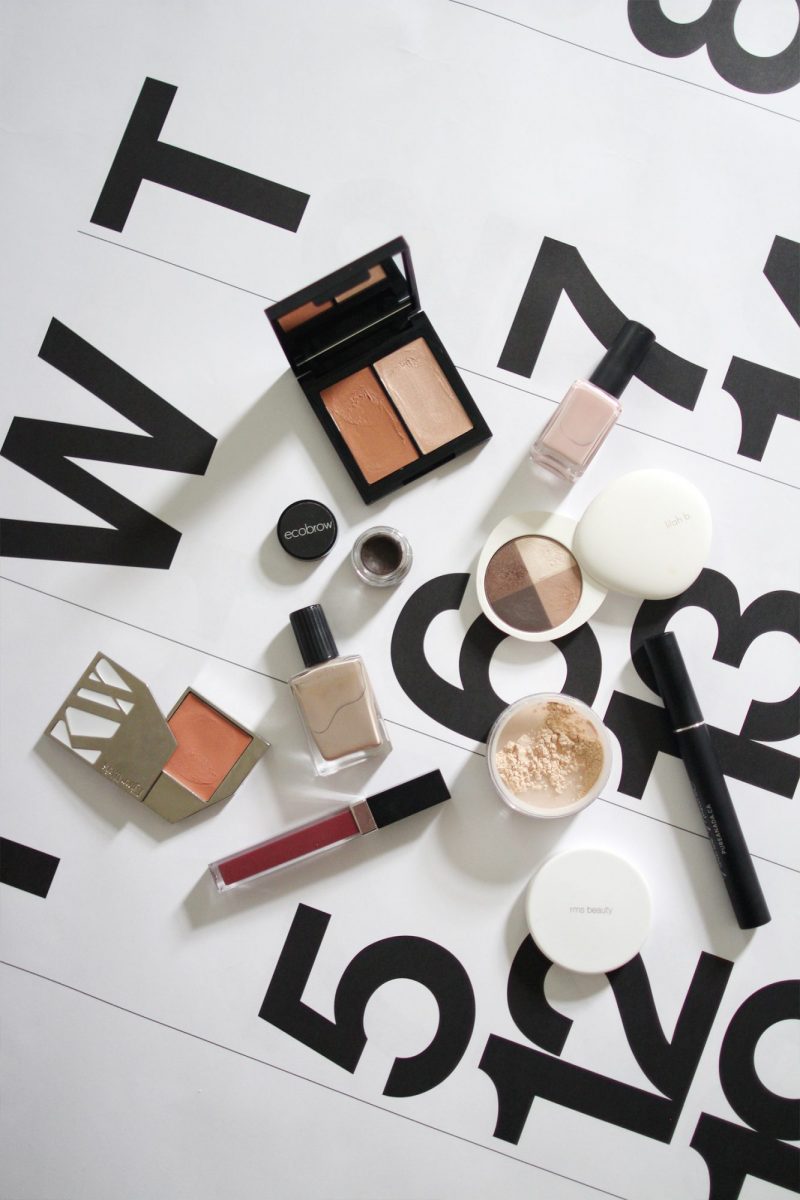 ---
FACE
---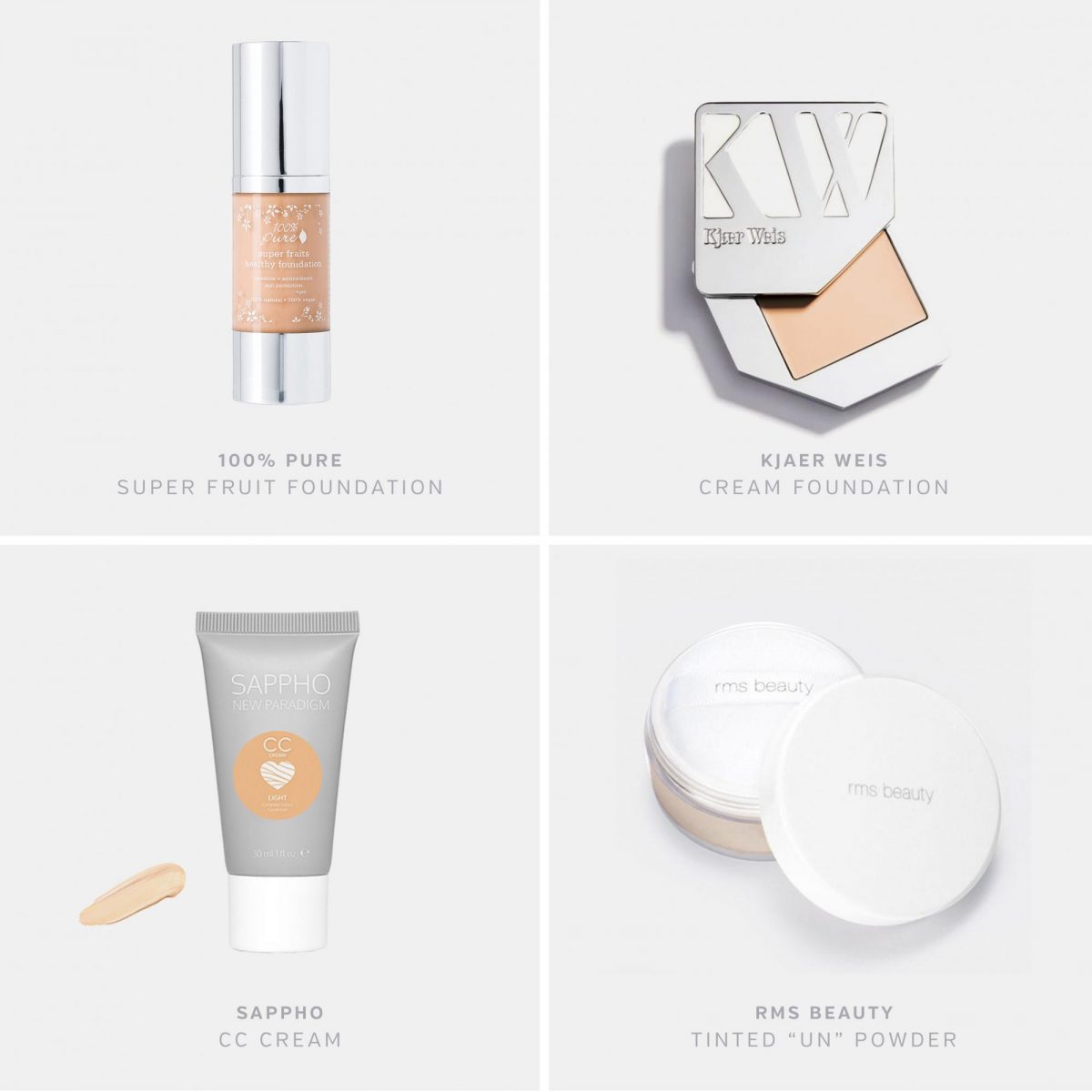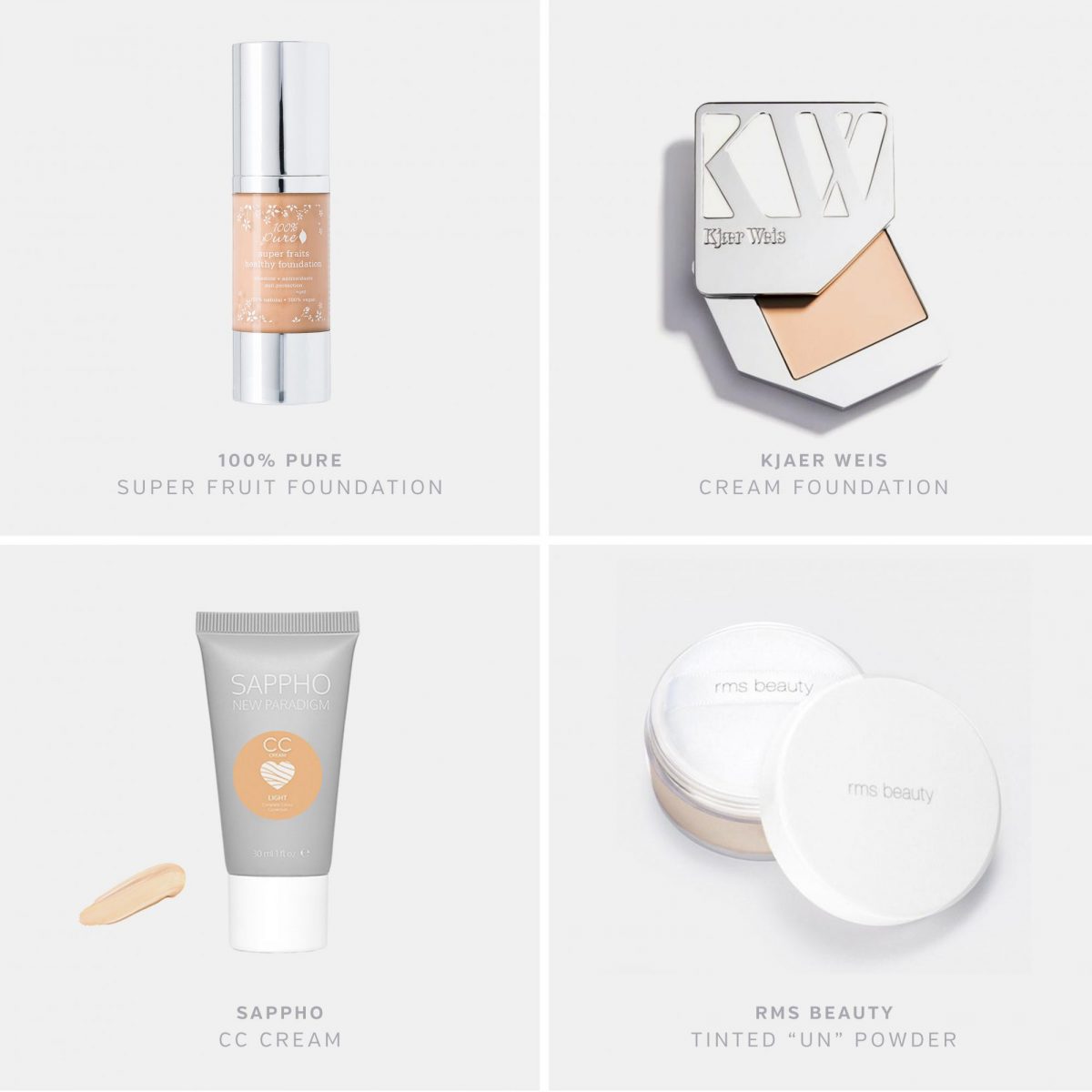 ---
100% PURE FRUIT PIGMENT FOUNDATION – $56 CAD – This has been my go-to foundation for a few seasons now and I just ordered a new bottle. It is great for oily or combo skin (that's me) but can be a touch drying so I like to apply it soon after moisturizing and/or with a drop of face oil. I wear Light Peach, which is for complexions that are light with warm undertones. The coverage is full, it evens out the skin tone well and it's easy to build on areas that need more opacity. I appreciate how easy it is to apply, the weightless feel on the skin and how long-lasting it is. Another benefit is the addition of natural sun protection! I wear Light Peach.
100% Pure products are organic, non-GMO, vegan, fair trade, gluten-free and natural.
Would I buy again? Already have, twice! 
SAPPHO CC CREAM – $38 USD – I bought this before our trip to Europe and sadly, I bought the wrong colour so it was a little too light for my skin tone and I had to offset that with concealer and bronzer (I would get Light instead of Fair next time). Now that my tan is long gone, I've been using it again and I quite like the whipped texture and how it feels on my skin. It's very light, calming (thanks to organic aloe juice) and leaves my skin feeling soft and moisturized. I would say this can be used on its own for light to medium coverage and would sit well under a foundation if that is your preference. It has 10% zinc oxide as well for sun protection.
Sappho products are non-toxic, vegan and cruelty-free. 
Would I buy again? No but I might try the Essential Foundation. 
RMS "UN" POWDER – This magical powder is my secret weapon during the summer months, especially when it's humid or I'm travelling somewhere hot. I'd originally been using the original RMS "Un" Powder and loved it but the tinted one is even better since there is no chance for any white cast. I use it on my t-zone and it keeps my skin from looking oily even after several hours in sweaty situations. It's so fine that you don't feel it on and even to the touch it makes your skin feel like satin. Other powders in the past have clogged my pores and made my skin look cakey but this lets my freckles show through while still blurring imperfections and large pores. Just be careful when you open it after travelling because the powder is very fine and may engulf you in a cloud. I wear 0-1. 
All RMS Beauty products are free of harmful chemicals, synthetic preservatives, synthetic vitamins, and genetically altered ingredients (GMO) and they are never tested on animals.
Would I buy again? Yep, already restocked once!
KJAER WEIS FOUNDATION – $68 USD ($40 USD for refills) – I've been using this foundation for years, it's amazing and, yes, entirely worth the price! I use it as a concealer instead of an all-over product but it's awesome for instantly deleting dark under eye circles, diffusing redness and camouflaging any upset areas or breakouts. I also believe that instead of aggravating my skin issues (hormonal/stress induced acne) the ingredients (like coconut oil) actually help to heal them! It's great on the go too and I just slip it into whatever bag I'm carrying if I want to do touch ups later. It blends in so easily, lasts very well and feels completely weightless on the skin. Occasionally, it will settle into fine lines but if my skin is well prepped and moisturized I'm usually fine. I wear Like Porcelain.
KJAER WEIS packaging is sustainably produced in Italy. All products are free of parabens, silicones, petrochemical emulsifiers, synthetic fragrances and never tested on animals. 
Would I buy again? Definitely, I'm on my fourth refill.
---

---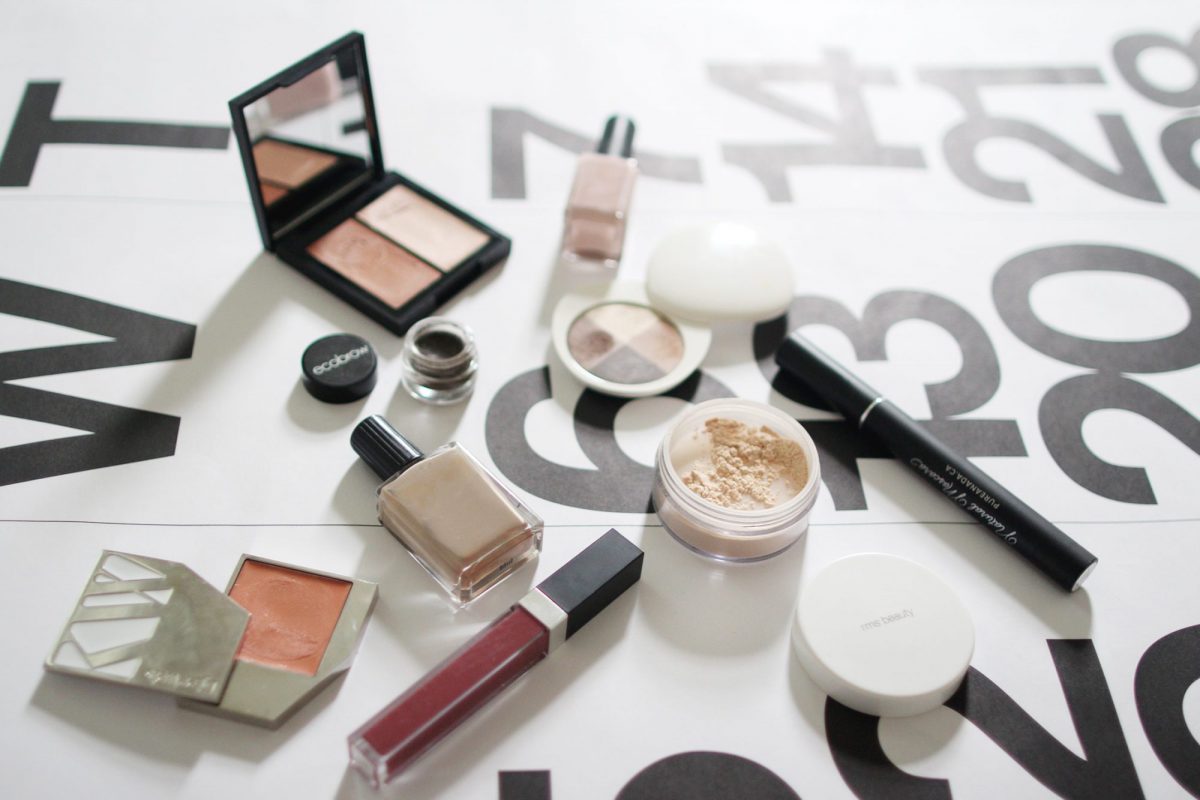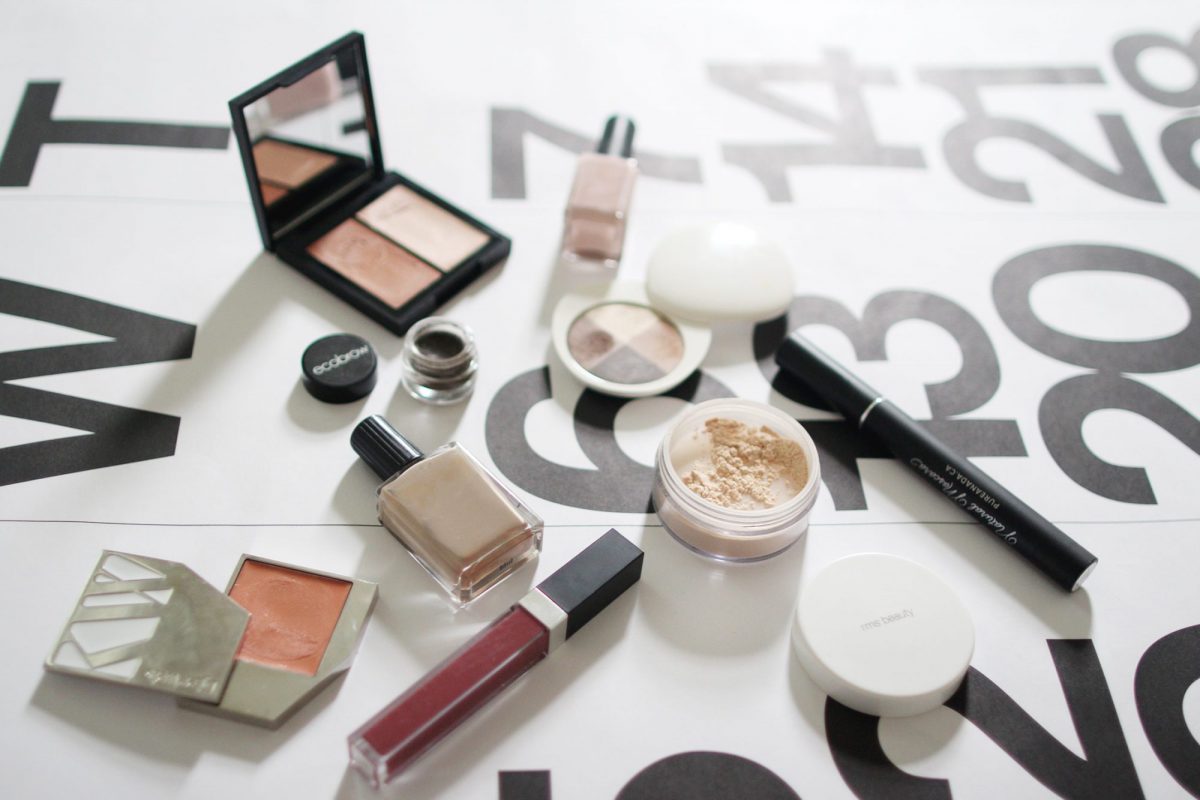 ---
LIPS
---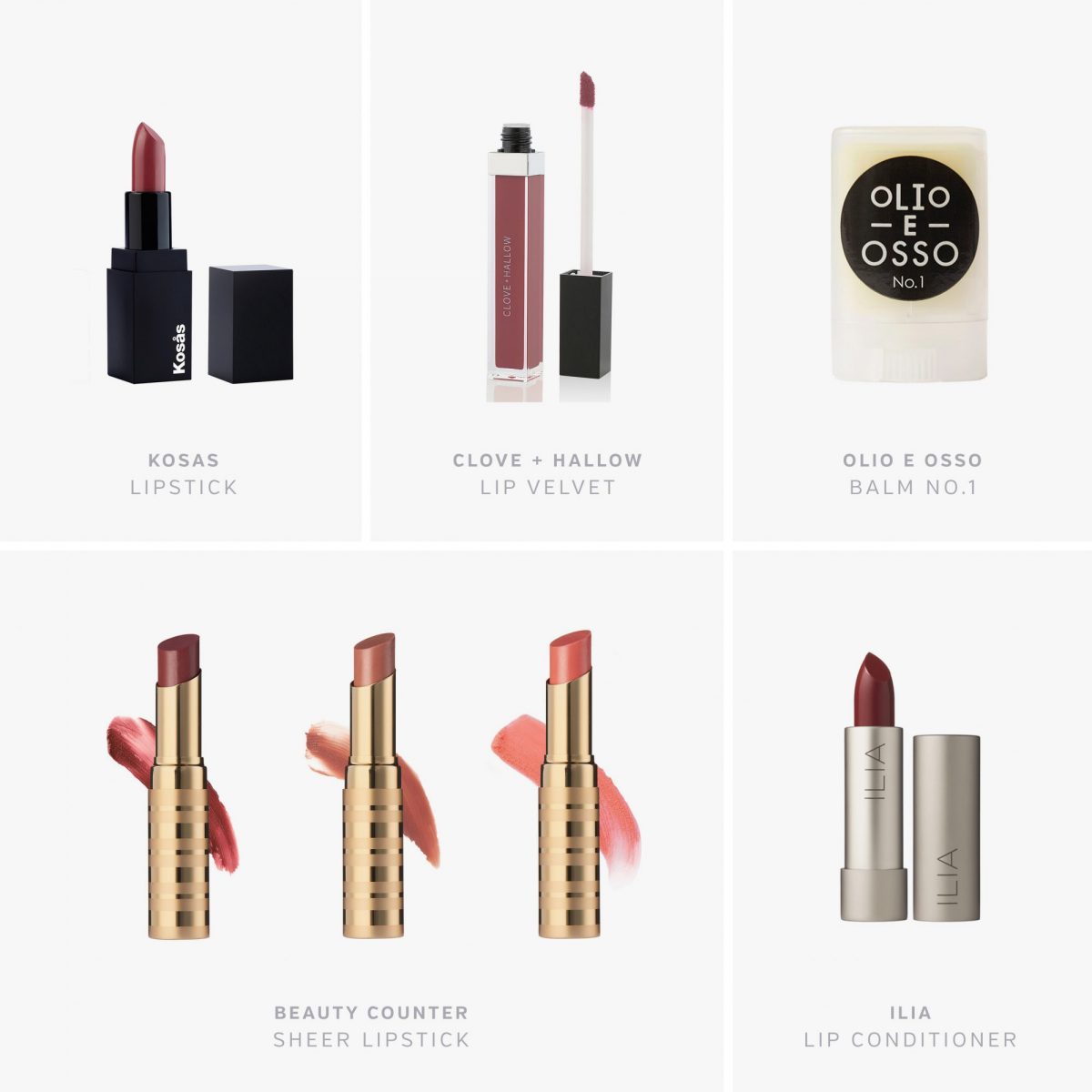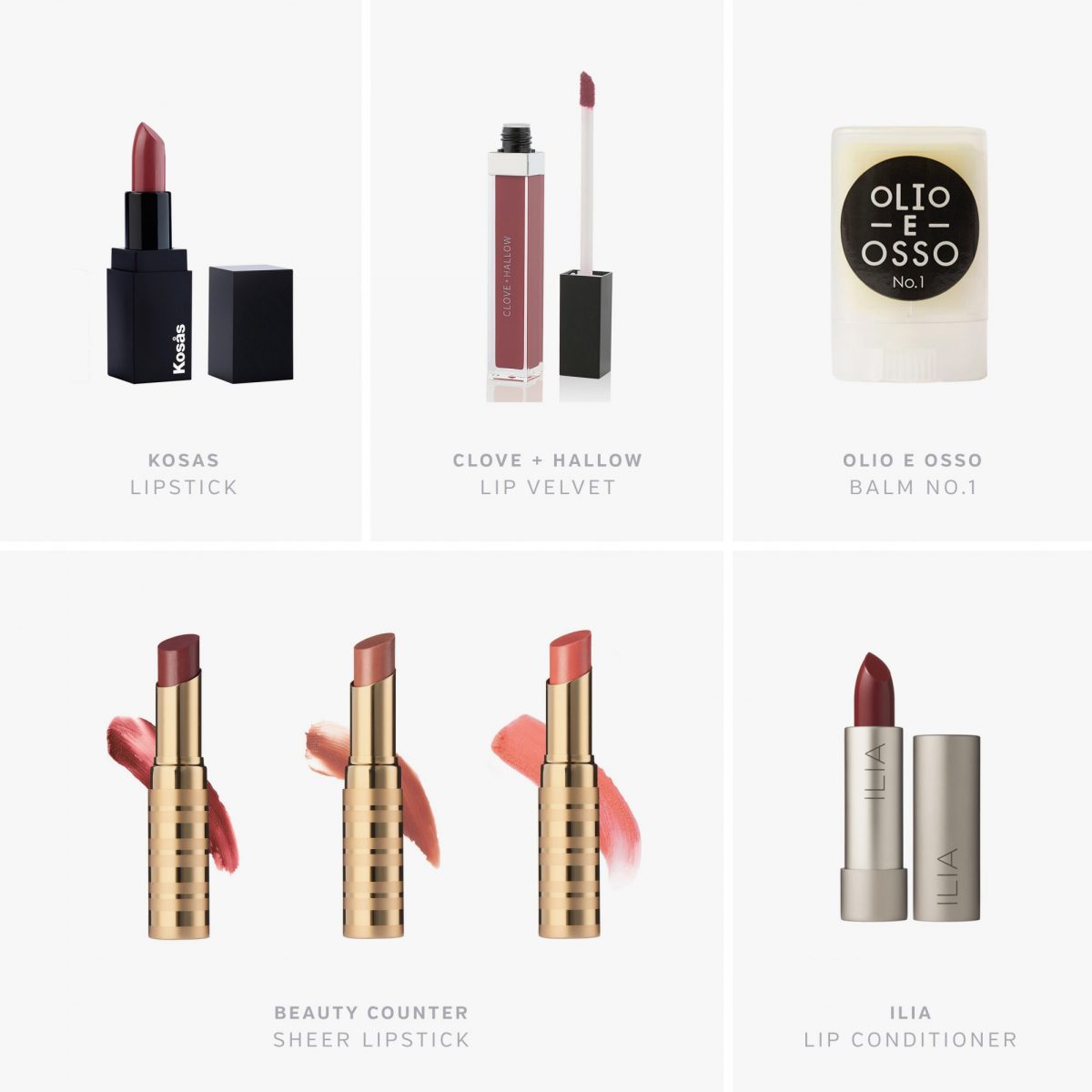 ---
KOSÅS LIP STICK – $28 USD – If you've been around here long you'll know how much I swear by Kosås Lipstick and they're still at the top of my list! Check out this post to see my favourite colours on and to learn more about them but long story short this line is my favourite for universally flattering colours, in a nourishing formula that's easy to apply and lasts very well. Since I shared my initial post about the Kosås line I've had so much great feedback from readers who've tried and loved them too!
All KOSÅS products are gluten, egg, nut, soy, and cruelty-free.
Would I buy again? Duh! 
CLOVE & HOLLOW LIP VELVET – (gifted) – $18 USD – This is such a cool lip colour formula and it is true to the name 'velvet'. It goes on 100% opaque and soaks in right away for an instantly bold pout. It has excellent staying power (lasts through meals) and doesn't smudge or budge at all. I don't find it nearly as hydrating as the brand claims but if applied under a balm it is ok. I would just be sure to exfoliate your lips before applying or it will show flakes or specks of anything. I have the colour Uptown, which is like a deep, muted berry with cool undertones.
Clove + Hallow products are PETA-certified cruelty-free, vegan and made with the Clean 15™ Guarantee. 
Would I buy again? Possibly, but I like warm undertones in my lip colour and this line is more on the cool side of the spectrum. 
OLIO E OSSO LIP BALM – (gifted) – $38 CAD – I have really enjoyed trying out some colours from this all-natural line and they've become a part of my daily routine. As lovely as the colours are, the clear balm is by far my favourite. It's always my final step before bed and I wake up with a full, hydrated pout in the morning. It's a great balm because it's not too waxy, glossy or sticky and the subtle scent is lovely too. It's also good for flyaways and the odd scrape or dry cuticle. It's pricey for sure but the tube is large and equivalent to almost two regular sized balms. (Find it in Canada from Clementine Fields.)
All Olio E Osso products are cruelty-free and made from natural ingredients (except colour No.2 which has 0.05% synthetic colorant).
Would I buy again? Probably! I haven't found a clear lip balm I like better but the lip colours are a bit too sheer once you've used a lipstick like Kosås.
BEAUTY COUNTER SHEER LIPSTICK – $32 USD – This is another long-time favourite product of mine. It's the perfect lipstick for people who want colour without the stress of wearing lipstick, if that makes sense. It goes on so easy and packs a solid amount of pigment in a natural looking way that can be built up for more intensity. I am onto my second stick of Currant and it's a perfect Fall colour and find the formula very hydrating (so much that you don't need to supplement with balm).
Beauty Counter products are not tested on animals. Learn more about their ingredients here.
Would I buy again? You betcha! 
ILIA LIP CONDITIONER – $28 USD – I was able to try this product out when it came as a free gift with purchase and I really like it! The colour is substantial but sheer and it feels great on. Super hydrating and fairly long-lasting (but not through a meal). My only gripe is that the stick is a bit too soft so after a while it started to lean and catch on the tube creating a bit of a mess. I haven't had that issue with other ILIA Lipsticks so it could just be this formula, which is too bad since I love the colour and how it wears.
ILIA products are cruelty-free and made without parabens, phthalates, sulfates, GMO, synthetic fragrances, gluten, and talc.
Would I buy again? Probably not, after this experience but I do plan to try other products from the ILIA line. 
---

---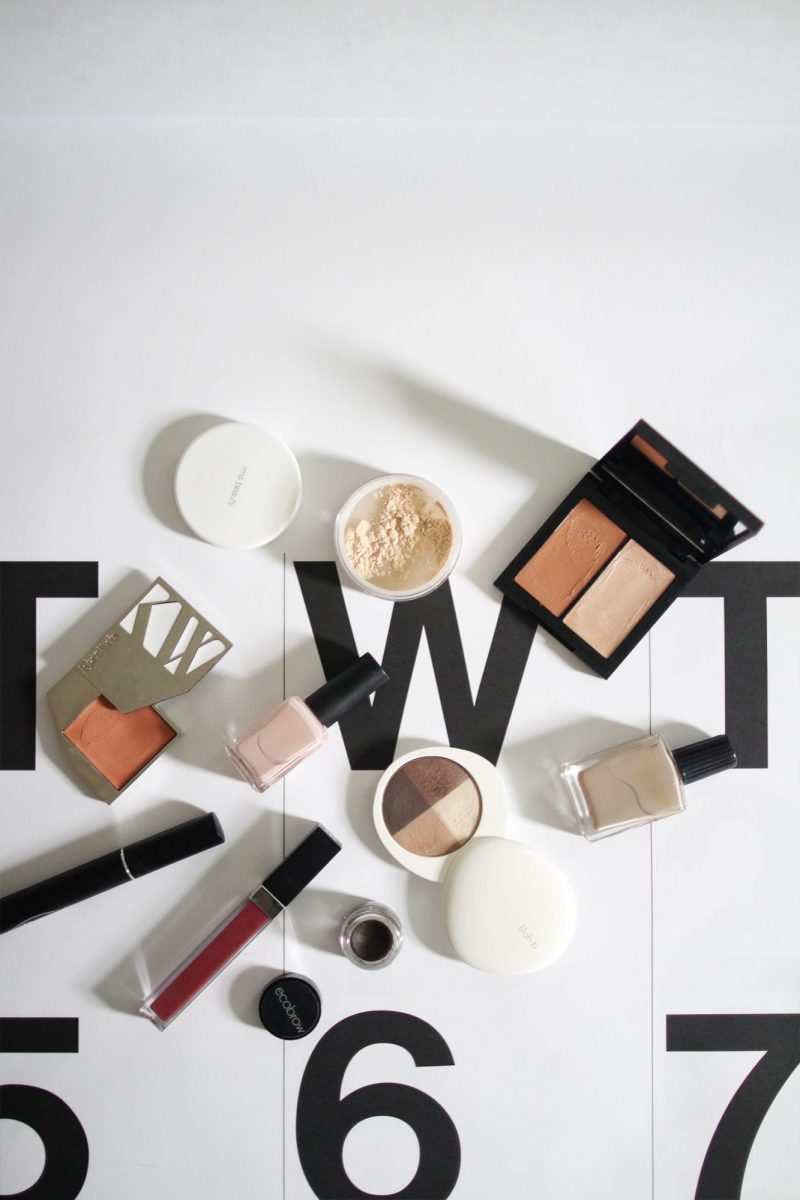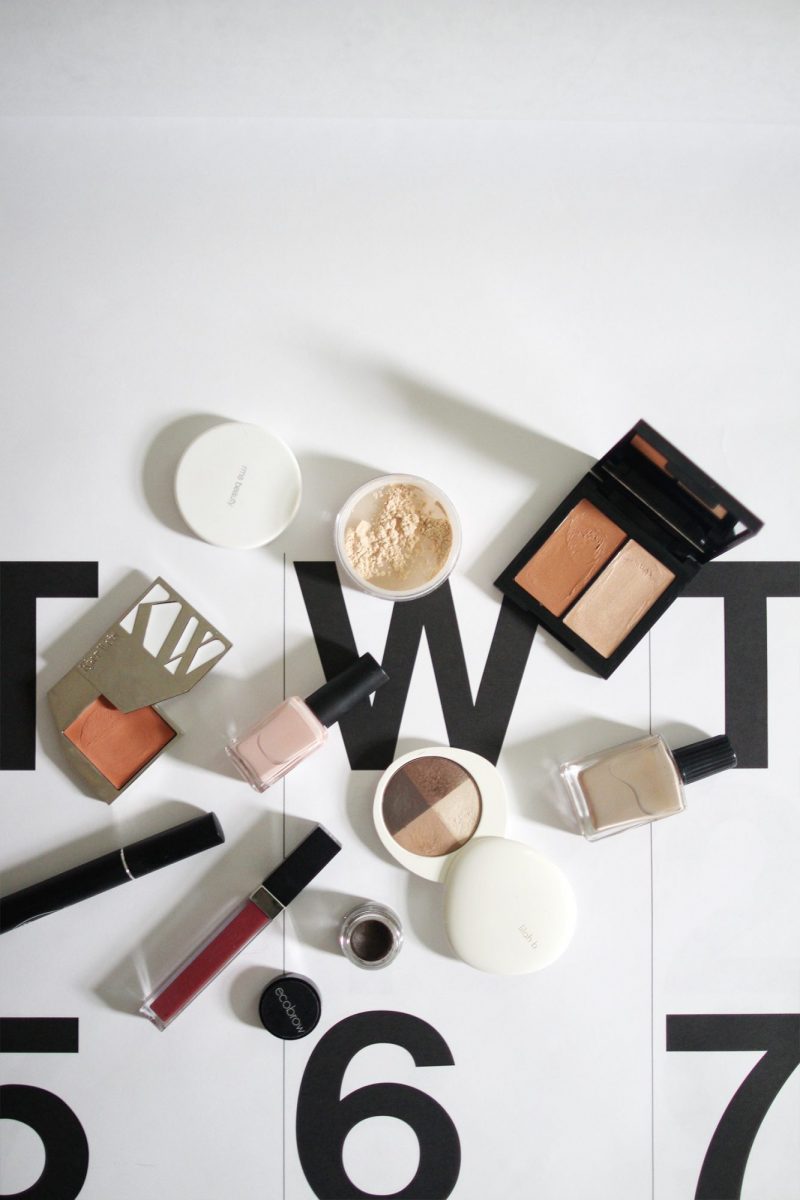 ---
NAILS
---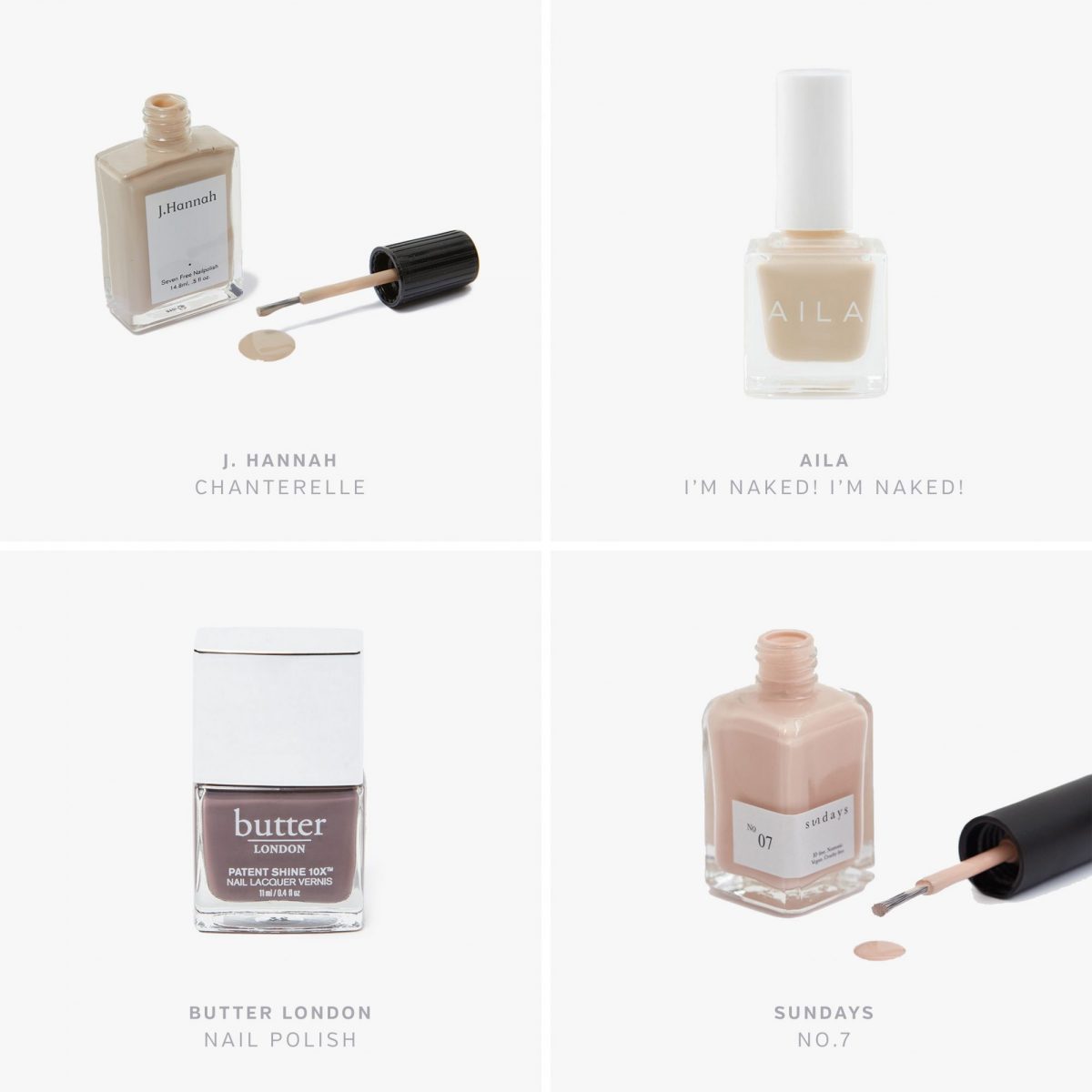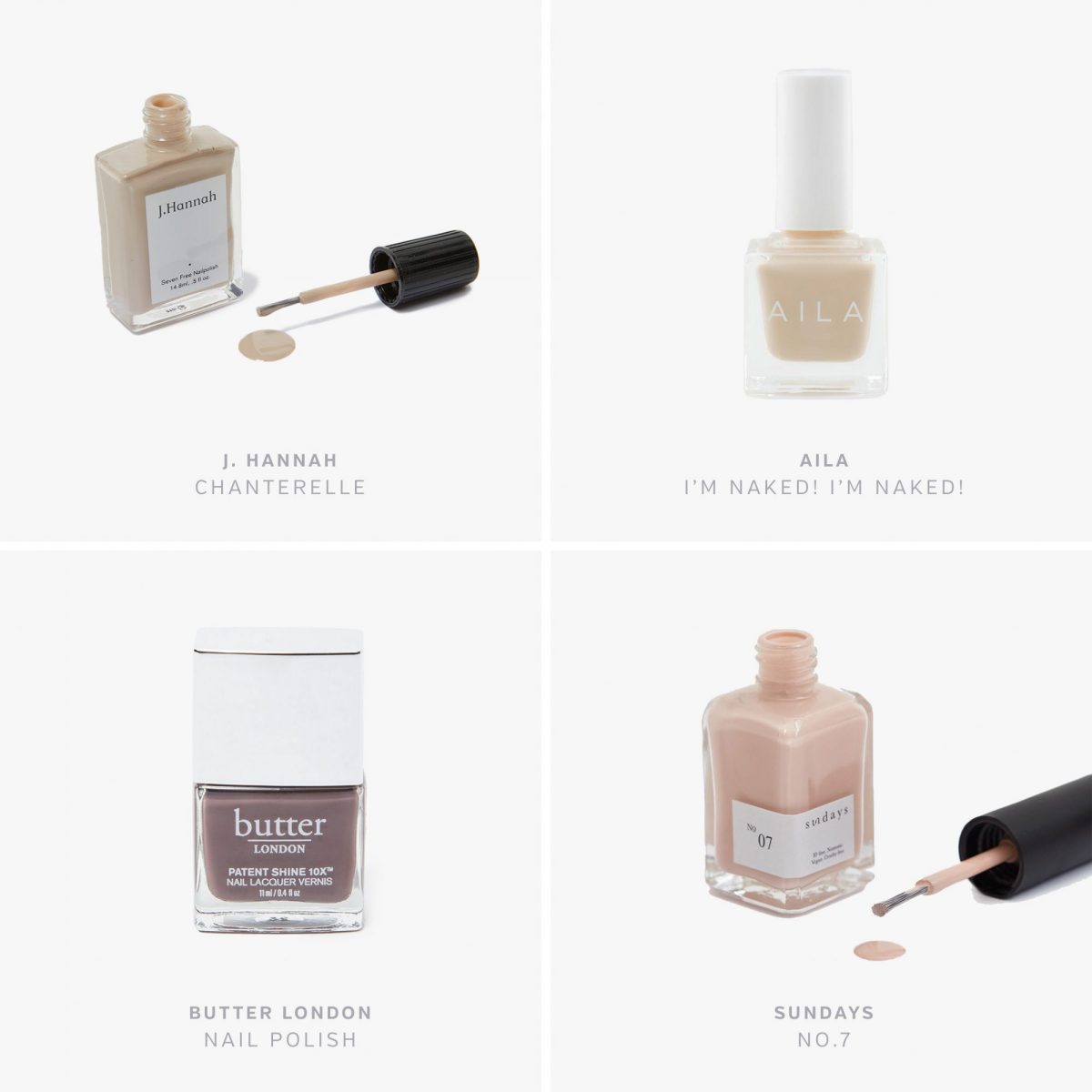 ---
J.HANNAH 7-FREE NAIL POLISH – $19 USD – I love Chanterelle which is a warm grey neutral. – This line of polishes is a cult favourite thanks to the uniquely muted colour range. I had been dying to try it out and found a great selection at One of a Few in Vancouver's Gastown. I love the colour and it goes on well and dries quickly. Two coats are all you need for a streak-free finish and it's definitely high gloss. Unfortunately, it's not very long-lasting and I'd say without a top coat, you're lucky to get a full 24 hrs out of it unless you avoid using your hands as much as possible. One rigorous dish washing session and it's over. The other note is about the bottle, which I love aesthetically, but functionally it is inclined to tip when you're swiping excess polish off the brush, so you need to be careful.
7 free and cruelty-free. 
Would I buy again? If I end up in a shop that carries the line I will most likely try another colour. 
SUNDAYS 10-FREE – $18 USD – No.7 is the perfect rosy beige that's like a pale pink and a nude combined. – This one goes on streak free and you only need two coats for fully opaque coverage. I love how quick-drying it is too! It's not as shiny as others I've tried but I'm cool with the lower lustre of this one. It is fairly ship resistant however I find it does start to crack after about 48 hrs. I will usually apply a third coat when any lines appear and then I get another day out of it.
10 free, non-toxic, vegan and cruelty-free.
Would I buy again? I dare say I would! 
AILA 8-FREE – $21 CAD – I'm Naked! I'm Naked! is my favourite nude polish for a nude tone that's chic and versatile. – This polish is the one I use most often and it's great! It goes on thick and glossy and with the 'better than gel' top coat it lasts for a couple of days no problem. I like that it gives an almost French manicure since it is a bit translucent. This is a safe bet for any outfit, workplace or occasion.
8 free, gluten-free, vegan, made without parabens and cruelty-free. 
Would I buy again? Yep! I have a couple of other colours from this brand already. 
BUTTER LONDON 8-FREE  – $18 USD – Royal Appointment is a dark taupe neutral that's great for Fall. – I have collected a few colours from this line over the years and it's a high performing polish for sure. I find it goes on really easily and smooth for a salon quality finish and probably lasts the longest of all the non-toxic options I've tried. I wish there were more subtle colour options in this line but for traditional tones like taupe, red or black this brand is a good call.
Vegan, cruelty-free and formulated without formaldehyde, formaldehyde Resin, DBP, toluene, camphor, ethyl tosylamide, xylene or TPHP. 
Would I buy again? Yes indeed. My collection is already several strong! 
---

---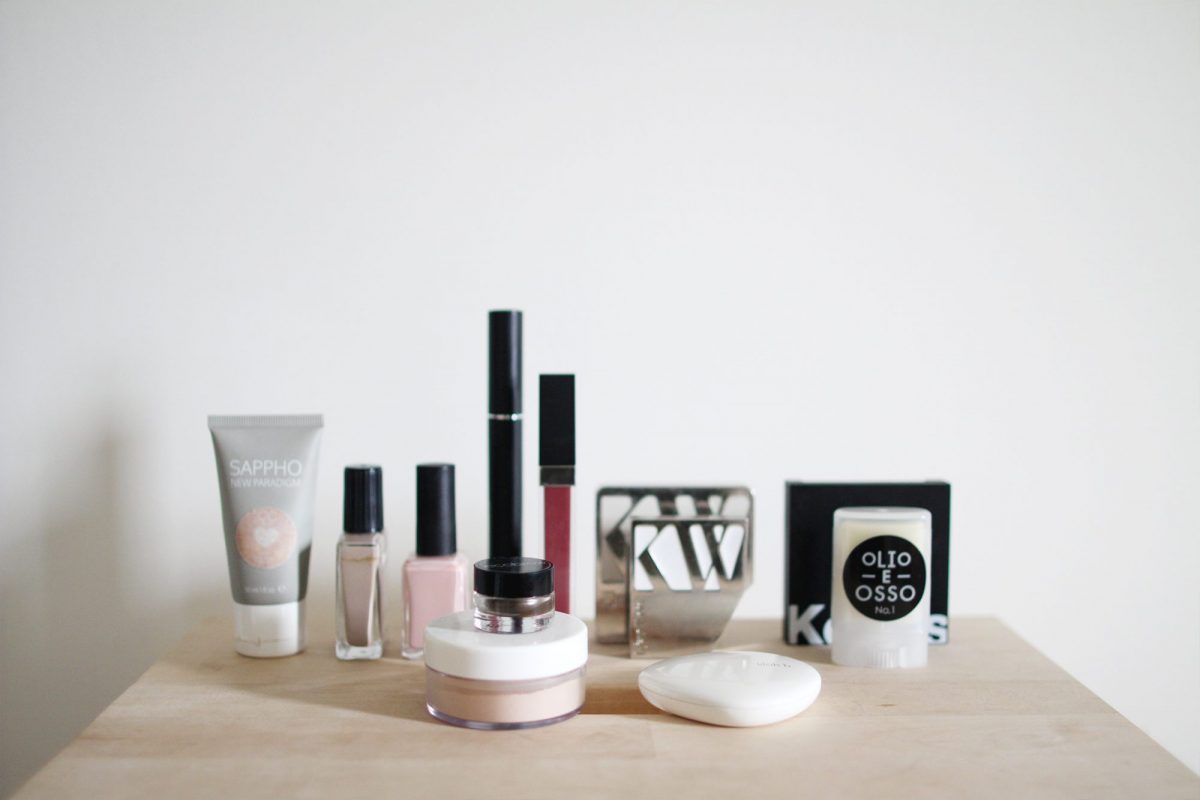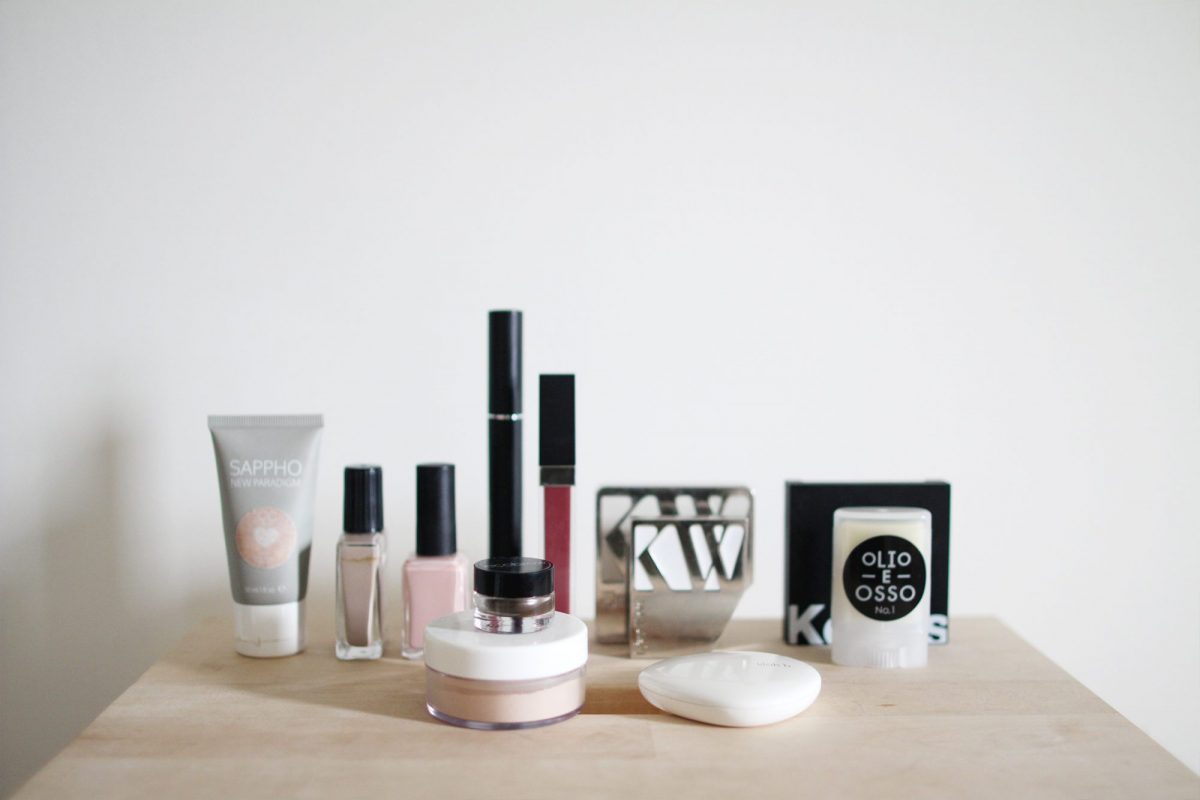 ---
WHERE TO SHOP FOR CLEAN BEAUTY + SKINCARE
---
(Excellent Sample Program)
THE DETOX MARKET*
(Also offers a sample program, shop: Canada | USA)
(Ships free oer $75 USD to US + Canada. International shipping available.)
(Ships most items to US, Canada, EU and UK)
(Free shipping on Canadian orders over $95 CAD)
(International shipping available.)
(Free INTL Shipping over $100 USD)
(Free Shipping Over $50 CAD)
(Free Shipping in Canada Over $75 CAD)
*Canadian Based Shops
You can also find lots of these brands on AMAZON but I prefer to support smaller boutiques when I can.
---
That's it for now when it comes to my clean beauty go-tos! 
Do you have any particular products or brands you love to use? Please feel free to share your favourites!
---
Thanks for reading and have a wonderful weekend!
---
This post is not sponsored or produced in partnership with the aforementioned brands but it does contain affiliate links. When you shop via the links above I may make a commission on a sale. Thanks for supporting Style Bee while you shop! All opinions are always my own.