I don't know about you but my mood on a Monday is often influenced by whatever outfit I choose to start the week in. If it's not quite right I can easily get thrown off. Of course, a good breakfast and a yoga session are just as critical but similar to both of those, a few well-chosen pieces can really help to determine how my day goes. Lately, the most critical element in how I decide what to wear is comfort. I've been juggling several projects and spending a lot of time hunkered down in front of a computer so the more cozy and relaxed I can feel, the better. At the same time, however, I'm just not a work from home in my sweats kind of gal.
This just means that I need to choose pieces that are as easy-going as possible and yet, still have an element of sophistication. One responsible brand that answers this need really well is Hackwith Design House. In particular, the HDH Basics collection. You might remember this post from the spring when I shared a couple of my favourite pieces from the line. Now I'm back to discuss a couple of items I've added since, those being the Easy Tapered Pant and the Reversible Long-Sleeve Top. Both of which, I will happily report, are ridiculously comfy!
I have been a long-time supporter and wearer of Hackwith Design House and love that they're a team of mostly women, creating unique styles and working towards fully sustainable production model (check out the Sustain Shop). I love the HDH Basics collection because the styles are available year-round (so you can save up and order), the sizing is inclusive (going up to +4), the price point is approachable (with many items under $100 USD and everything under $200 USD) and the fabrics are such a delight to feel and wear.
In today's post I'm sharing 4 comfy fall outfits and a closer look at the two HDH Basics items I've been living in since they arrived, so let's get to it!
---
SAVE 10% OFF ANY ORDER FROM HACKWITH DESIGN HOUSE WITH 'STYLEBEE10'
(Enter code at checkout. Valid through October 10th.)
---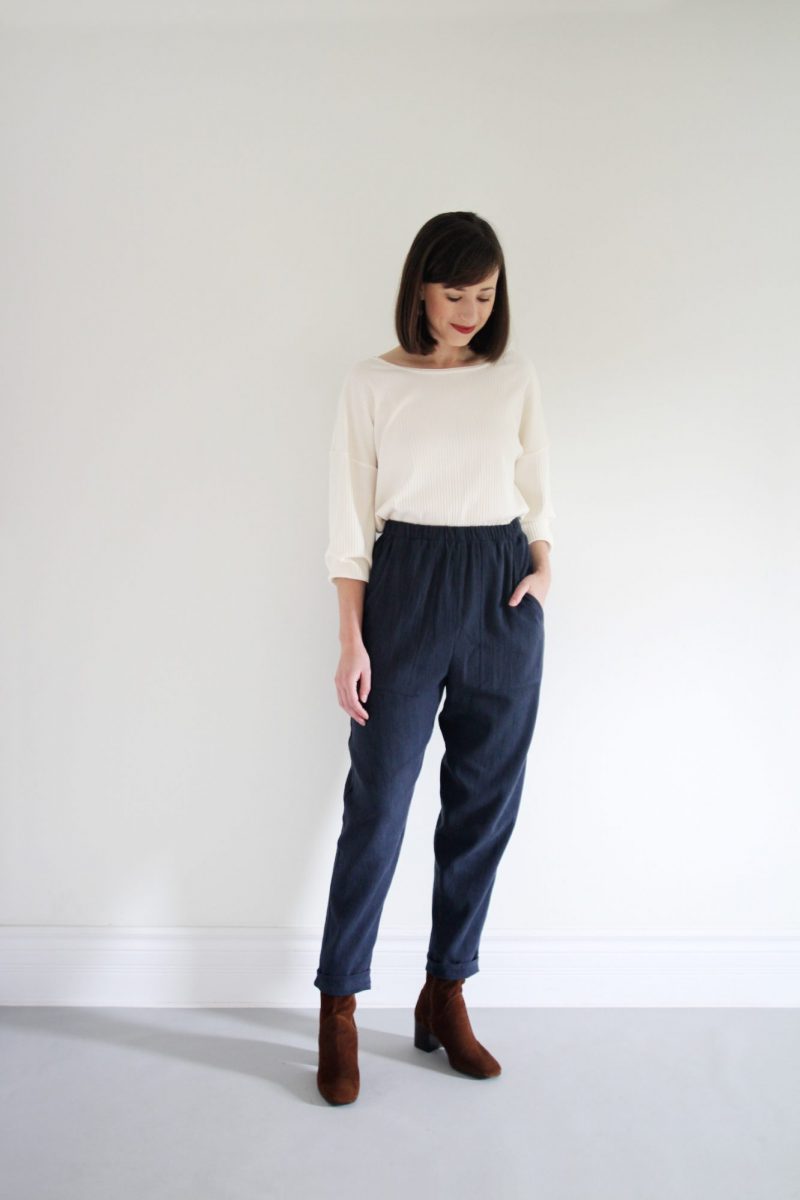 ---
---
WHY I CHOSE THESE PANTS: I'd had the Easy Tapered Pants on my mind for months and months but it wasn't until they were released in Carbon Blue (a cotton/tencel blend) that I was convinced I needed to try them. I don't have much navy in my closet and by 'not much' I mean the only other item I have in navy is the one I'm wearing in look 4. So the prospect of introducing a dark colour other than black was quite exciting. I was also drawn to the tapered cut (which I know is odd given my obsession with wide-leg pants) because I felt it would work well with fall boots and coats and give me a chance to play around with a new shape.
The colour and shape are two elements that make them a unique piece in my wardrobe but I also loved the pocket design, high-waist fit and the easy drape of the fabric (seeing it on my friend Marielle really sealed the deal too).
THE ROLE THESE PLAY IN MY CLOSET: Being unlike any other bottoms in my wardrobe, I'm confident that these pants will get a lot of use this Fall and Winter. They're great with boots and flats alike and oh-so easy to pair with just about any top or sweater in my closet. I like the idea of a tapered fit with my many duster coats and longer jackets because it means less fabric over all and a slightly more streamlined silhouette.
KEY DETAILS:
PRICE: $160 USD $144 USD | Use 'STYLEBEE10' for 10% off any Hackwith Design House order from today through October 10th.
MADE RESPONSIBLY IN: The Hackwith Design House studio in Minnesota.
FIT: I am wearing a size S and my measurements are 26 inch waist and 37 in hip. I'm 5'7 and about 125 lbs. These are quite roomy on me (which I love!) but the waist fits comfortably (not too tight or too loose). The inseam is 28 inches, which hits right at the top of my ankle. For a slimmer fit you might consider sizing down and if you prefer a more tailored fit overall you could try the French Seam Tapered Pant.
AVAILABLE SIZES: XS, S, M, L, XL, +1, +2, +3, +4
FABRIC: Carbon Blue – 65% Lyocell, 35% Cotton
So long story short, this fabric is AMAZING. It feels so soft and so cozy on the skin. It's warmer than a 100% tencel or linen but still has great movement and a smooth feel. It has a crepe-like texture, which makes it basically impossible to wrinkle and you'd honestly have no clue I'd been wearing these for several days in a row. Trust me when I say, you won't want to take them off!
The navy colour is unlike most I've seen and I want to describe it as almost smokey since it's slightly muted and the fabric has it a velvety drape.
AVAILABLE COLOURS: Carbon Blue, Camel, Light Denim, Gingerbread and Black
CARE: Machine wash cold on gentle cycle with like colours. Use mild detergent. Do not bleach. Tumble dry low. Do not iron. So about as easy as it gets!
Now onto the Reversible Long-Sleeve Top! 
---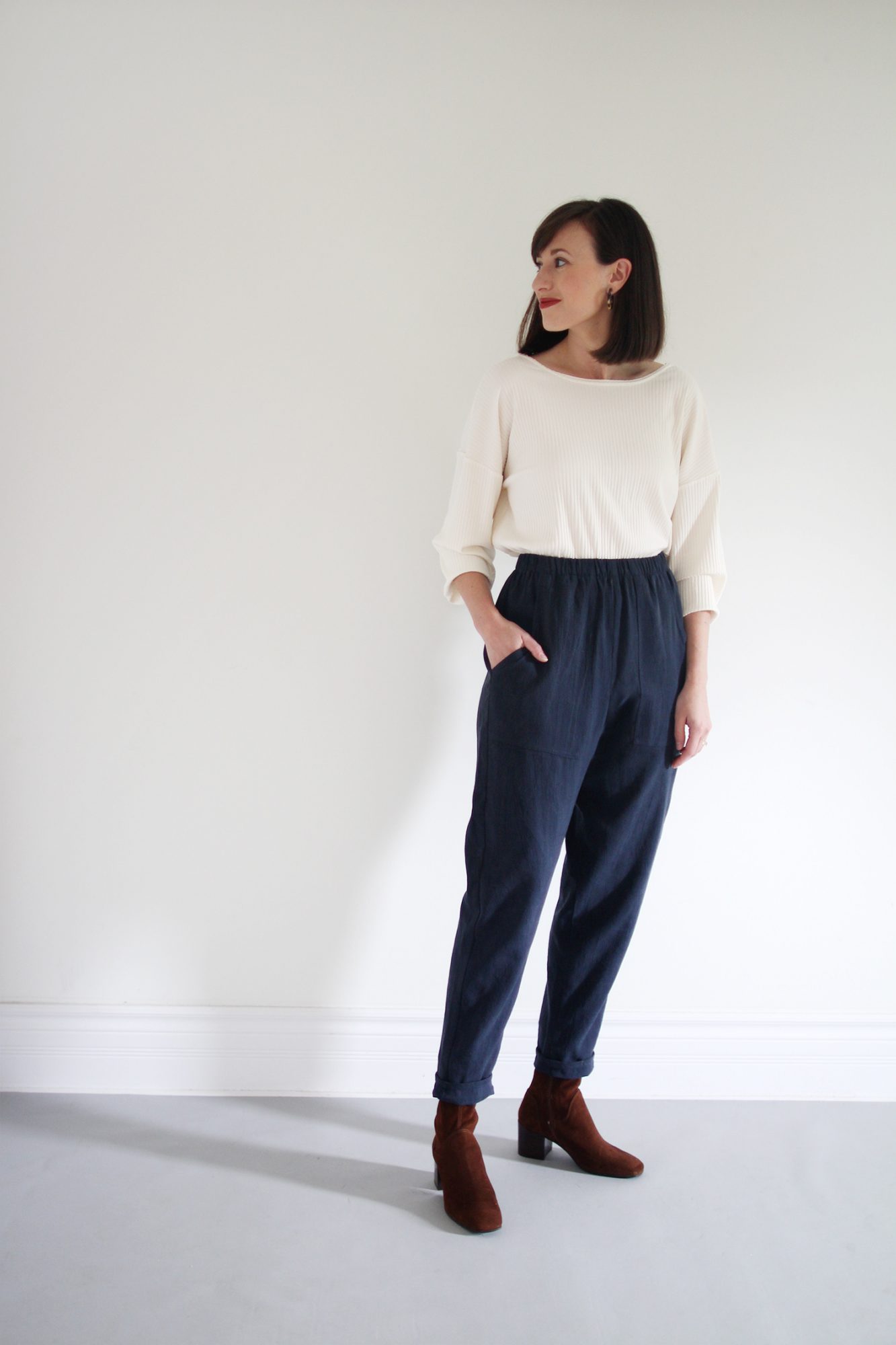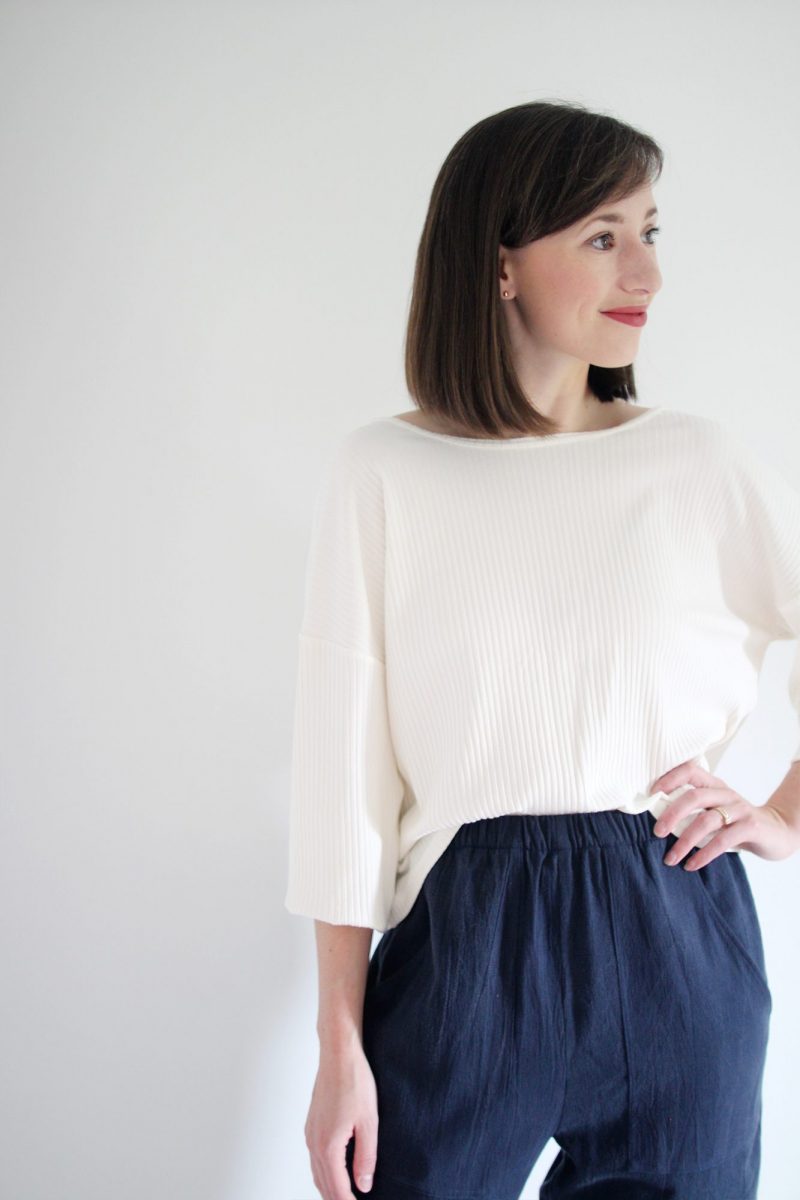 ---
---
WHY I CHOSE THIS TOP: I'd originally been tempted to add this tie top in gingerbread but I knew it would be a more special occasion piece whereas, the Reversible Long-Sleeve Top is perfect for an average day. I was also swayed when I saw how HDH had styled it with the tapered pant and a few other ways in one of their newsletters. Aside from that, I have quite a few dark tops for winter but not many in a cream tone and I love wearing lighter colours in the colder months and having options to contrast with all my usual fall and winter bottoms.
THE ROLE THIS PLAYS IN MY CLOSET: Similar to the tapered pant, this top isn't quite like any other pieces in my wardrobe. It's got a nice thickness and weight to it, however, it's not a sweater and yet, it's more substantial than a long-sleeve tee. I think it's going to be a perfect base layer under sweaters and jackets this fall and winter. It also feels a bit more special and dressier than the basic long-sleeves I'm used to. The ribbed texture makes it interesting and I'm loving all the different ways it can be worn and styled, scroll down to see 6 of them below!
KEY DETAILS:
PRICE: $95 USD $85.50 USD | Use 'STYLEBEE10' for 10% off any Hackwith Design House order from today through October 10th.
MADE RESPONSIBLY IN: The Hackwith Design House studio in Minnesota.
FIT: I am wearing a size S and my measurements are 32 inch bust, 26 inch waist and 37 in hip. I'm 5'7 and about 125 lbs. If I was ordering again I might be inclined to size down to an XS but the neckline isn't too low and the length is great for tucking into pants so I'm happy to keep the small and save the shipping hassle and carbon emissions.
The sleeves are quite long and tapered in shape so they are narrow around the wrist but loose through the upper arm. This makes them fun to play around with! They still slide easily into fitted jackets, which you can see in Look 3 below. When worn with the v-neck to the back the weight of the fabric can cause it to slip off the shoulder. If the sleeves are pushed up this happens much less but I think I might sew in a little clasp that can hook onto my bra strap so I never have to worry about it.
AVAILABLE SIZES: XS, S, M, L, XL, +1, +2, +3, +4
FABRIC: Ivory White (Cream) – 92% Rayon, 8% Spandex, Made in U.S.A.
I really tried to do this fabric justice in the photos but I think it's one you need to see in person to properly appreciate. It feels so luxurious on and I love that it has lots of stretch and movement to it almost like a jersey but it's smoother and falls more like a thick, matte silk. It's quite opaque, so there is no fear of a nude or light bra showing through, which is rare for lighter tops. Aside from under sweaters, I think it will be great to layer over silk tanks since the fit through the body is quite open.
This ribbed fabric is also used for the Easy Pant, Everything Top and the Reversible Jumper.
AVAILABLE COLOURS: IVORY WHITE (Cream), BLACK + BERRY
CARE: Machine wash cold on gentle cycle with like colors. Use mild detergent. Do not bleach. Tumble dry low. Do not iron.
---
SIX SIMPLE WAYS TO STYLE THE REVERSIBLE LONG-SLEEVE TOP:
---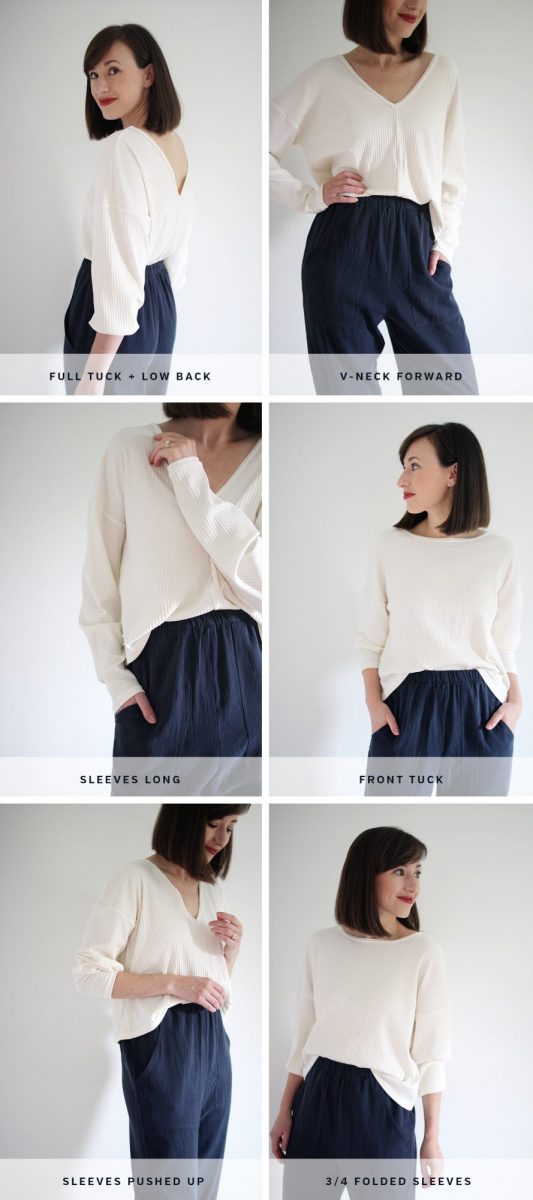 ---
LOOK 1
---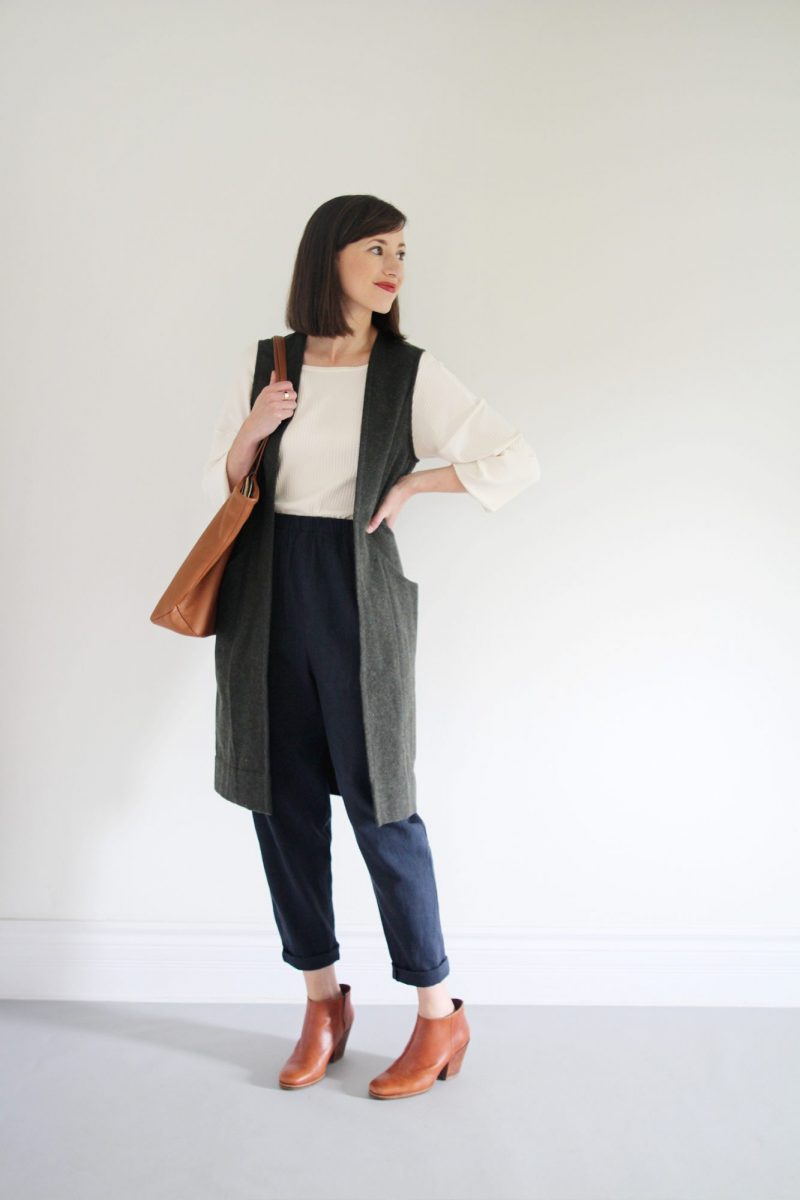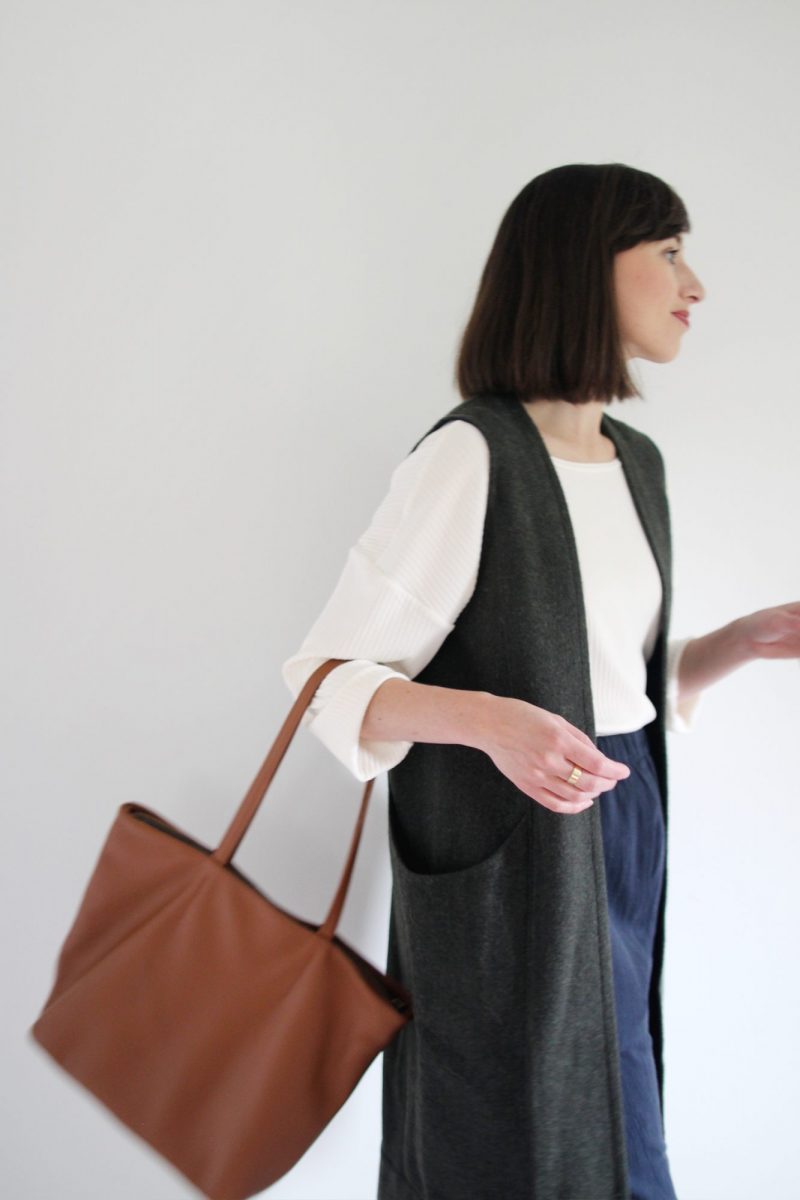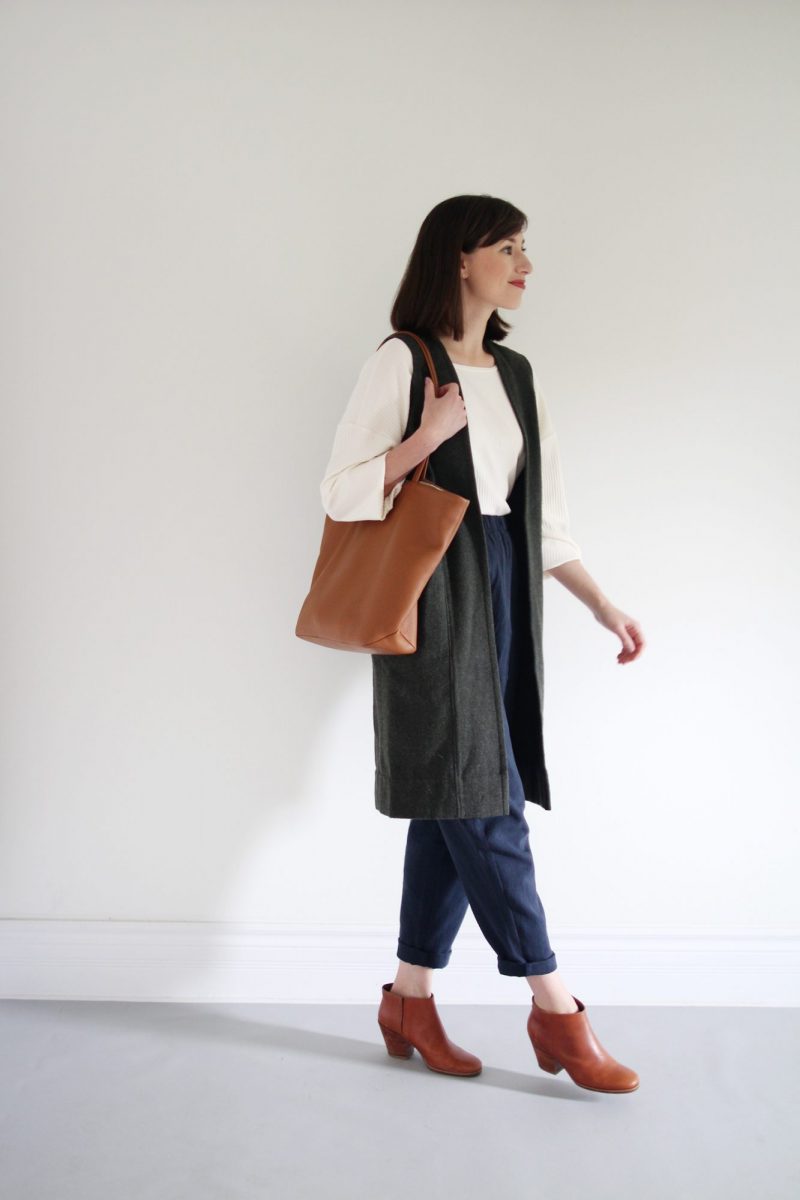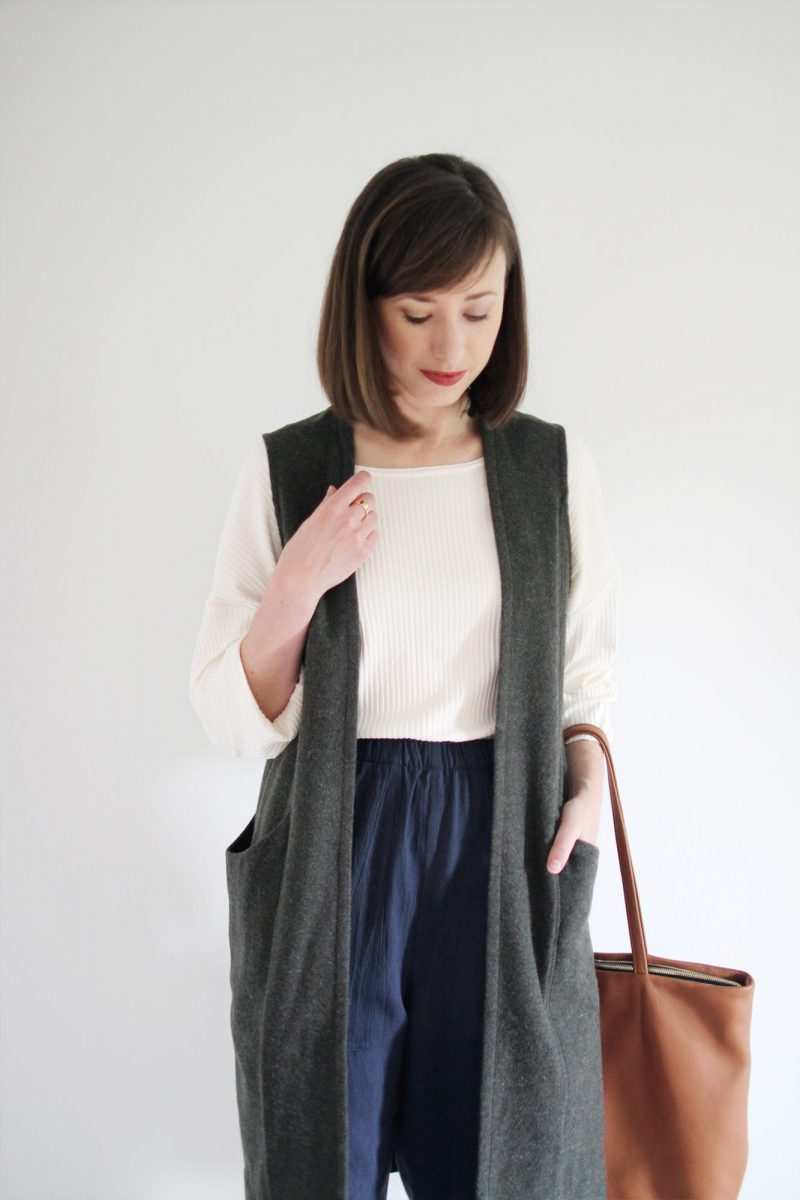 ---
THOUGHTS ON LOOK 1 
For this first outfit, I wore the reversible top with the v-neck to the back because I think the high neck pairs best with the duster vest. Then I tucked the top in fully for a clean waistline and adjusted the sleeves for a 3/4 length. I was pleasantly surprised with how the sleeves layered under the vest too! I double cuffed the hem on these pants to show more ankle/calf above the top of my boots and added my favourite whiskey/cognac leather accessories to warm things up!
I'm loving all the earthy autumnal elements in this cozy colour palette and how it feels so fall without being over the top. Remembering that I had this duster vest was such a treat when I opened my cold weather storage box. It's the perfect topper for those days when it's not quite cold enough for a coat but there's a little chill in the air.
This outfit would be great for any day of the week for me. I tend to get chilly when I'm at my desk so the vest would keep me cozy and the pants and top are essentially as comfy as pyjamas without looking like it!
KEY STYLING TIP – MIX UP THE VIBES
I was unsure how to make this outfit feel polished and professional but these ankle boots really did the trick. Sometimes a little contrast in vibe can take a look from 'chillin on the couch' to 'ready for a meeting'. In this case these boots add a ready-for-action feel and the leather tote brings a touch of professionalism. Neither compromise in comfort though, which is key!
---
SHOP LOOK 1 
---
LOOK 2
---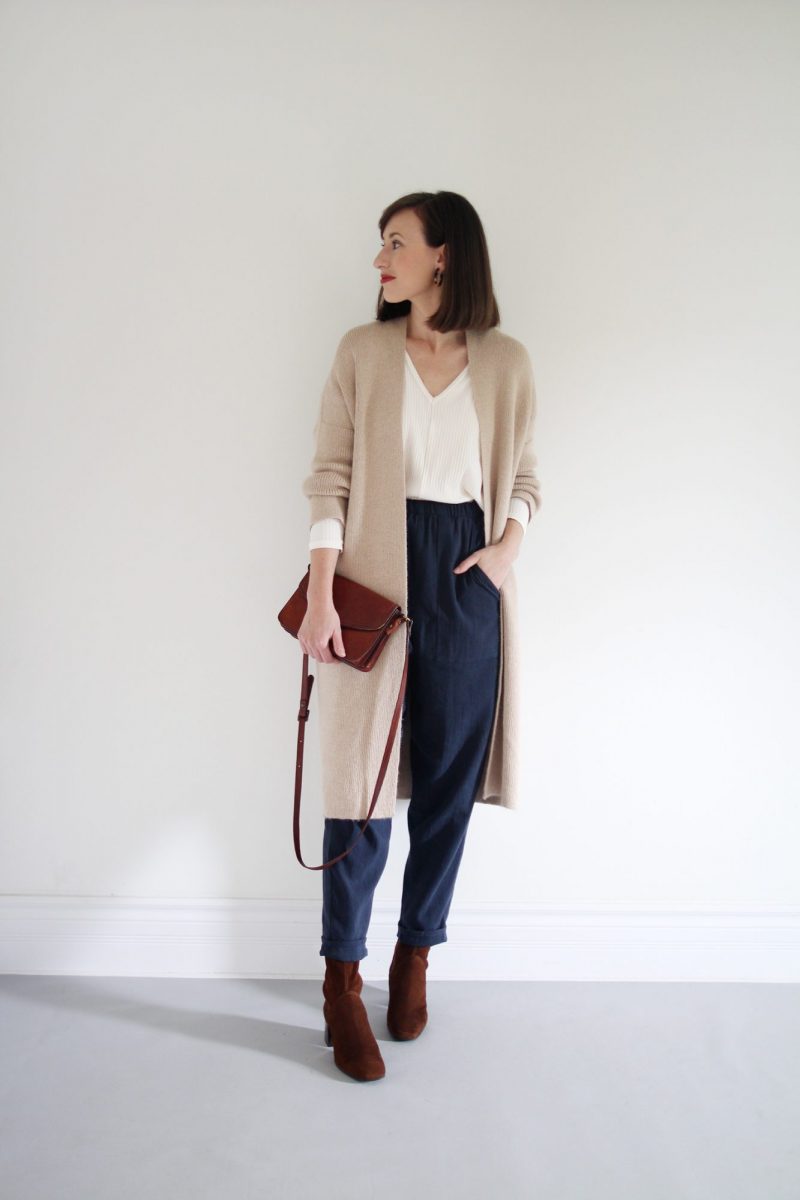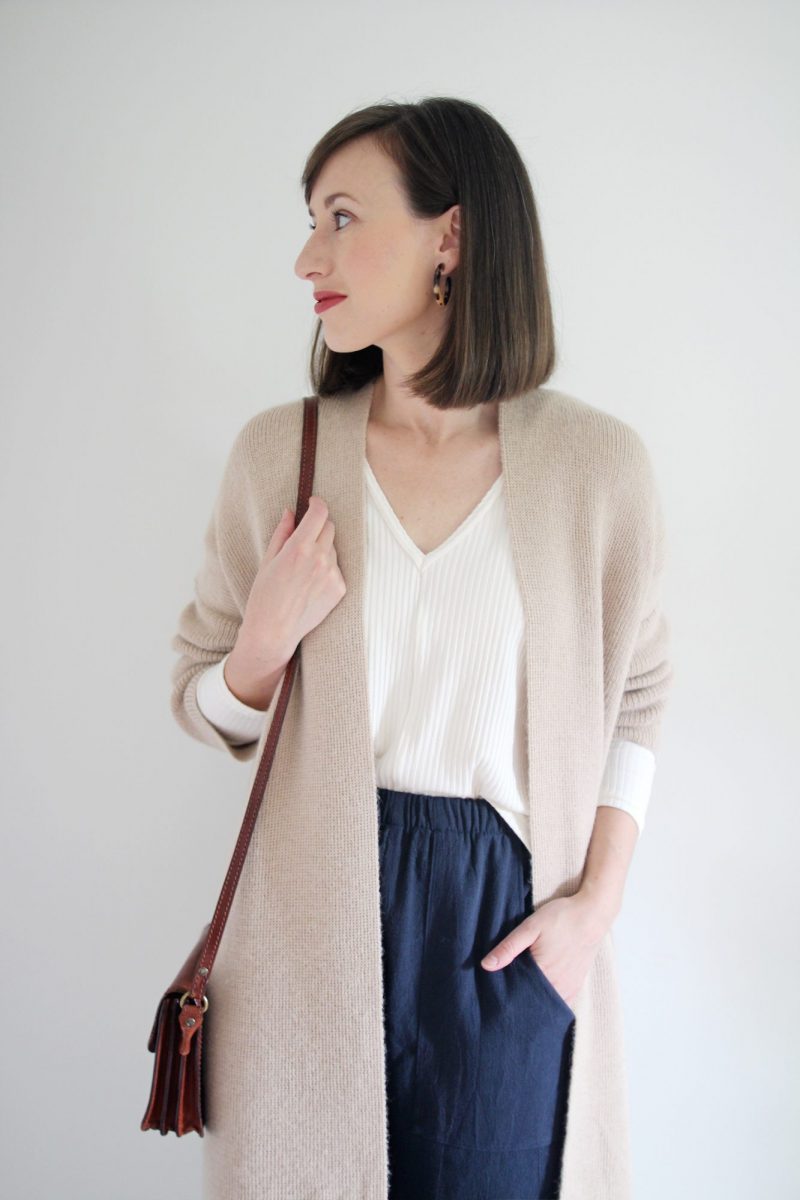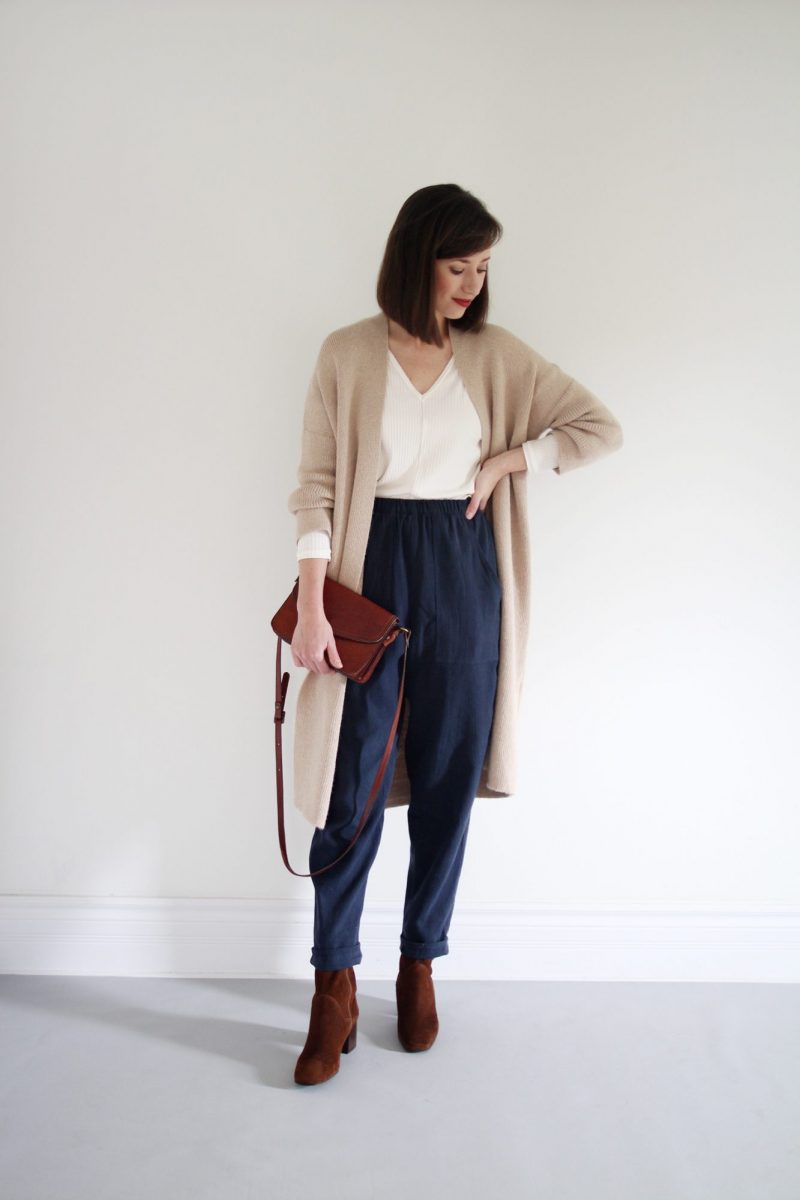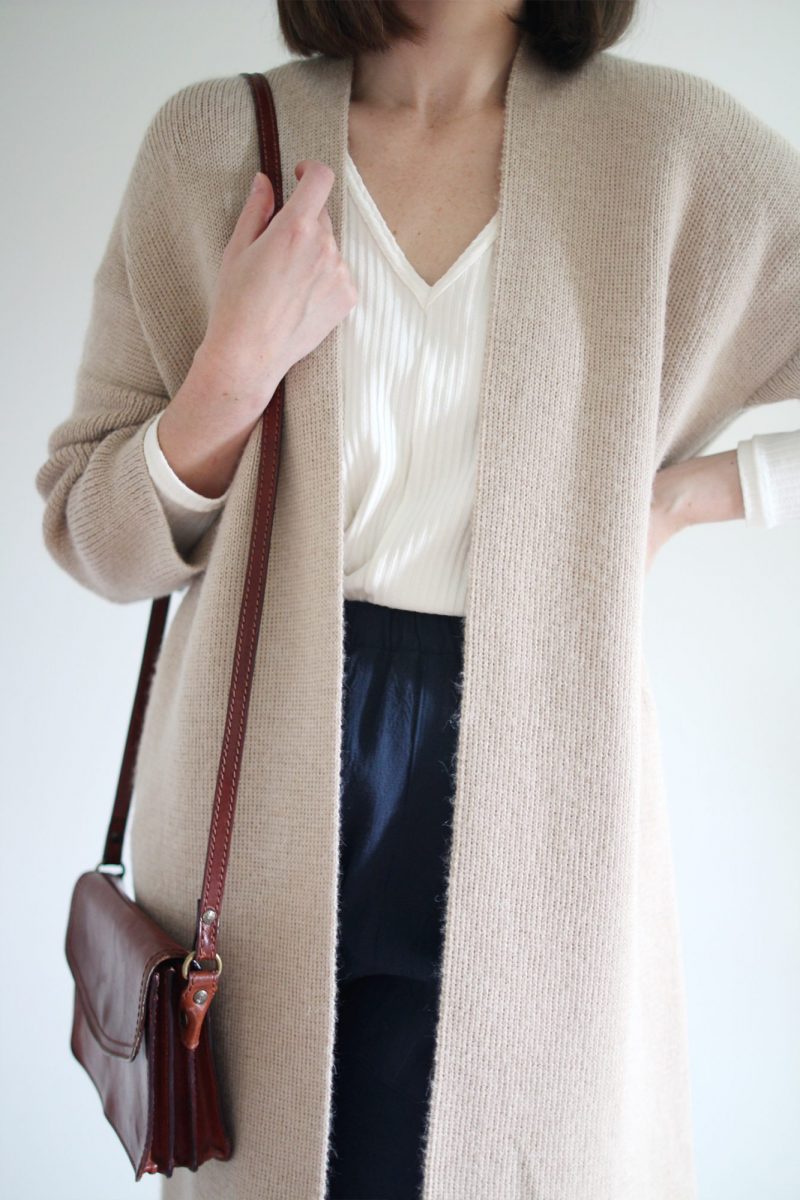 ---
THOUGHTS ON LOOK 2
This time I flipped the neckline on the reversible top around so the v-neck is at the front and kept the sleeves long. I love the cropped length sleeves on this cardigan because it makes layering a base top such a breeze, no cuffs or rolling needed! Then I pushed both sleeves up for a more lived-in vibe. I flipped the cuffs up on these pant just once (instead of the double roll in look 1) so they'd overlap with my tall ankle boots and not risk popping over the top when I walk or sit down.
I love this comforting colour scheme and how the carbon blue pants keep it feeling softer than a black pair would (although they would work well too). That said, my favourite element in this look is the mixing of textures. The wide-ribbed top paired with the micro ribbed knit, paired with the crepe cotton pants, mixed with a soft suede and smooth leather is multi-dimensional and tactile in a way that makes me so happy.
Finally, I'll just say that I also like how the seam on this top adds just a little bit of interest and tailoring to an otherwise very easy-going piece. Subtle details like that are usually my favourite thing about dressing simply!
KEY STYLING TIP – REPEAT OFFENDER
I'm always coming back to this styling trick because it's so simple and effective. In this case I've repeated the deep, rich red of my suede boots with my purse and lip colour for some subtle continuity. I think this keeps the look feeling minimal and streamlined but the repetition helps it come across more polished and put-together.
---
SHOP LOOK 2
---
LOOK 3
---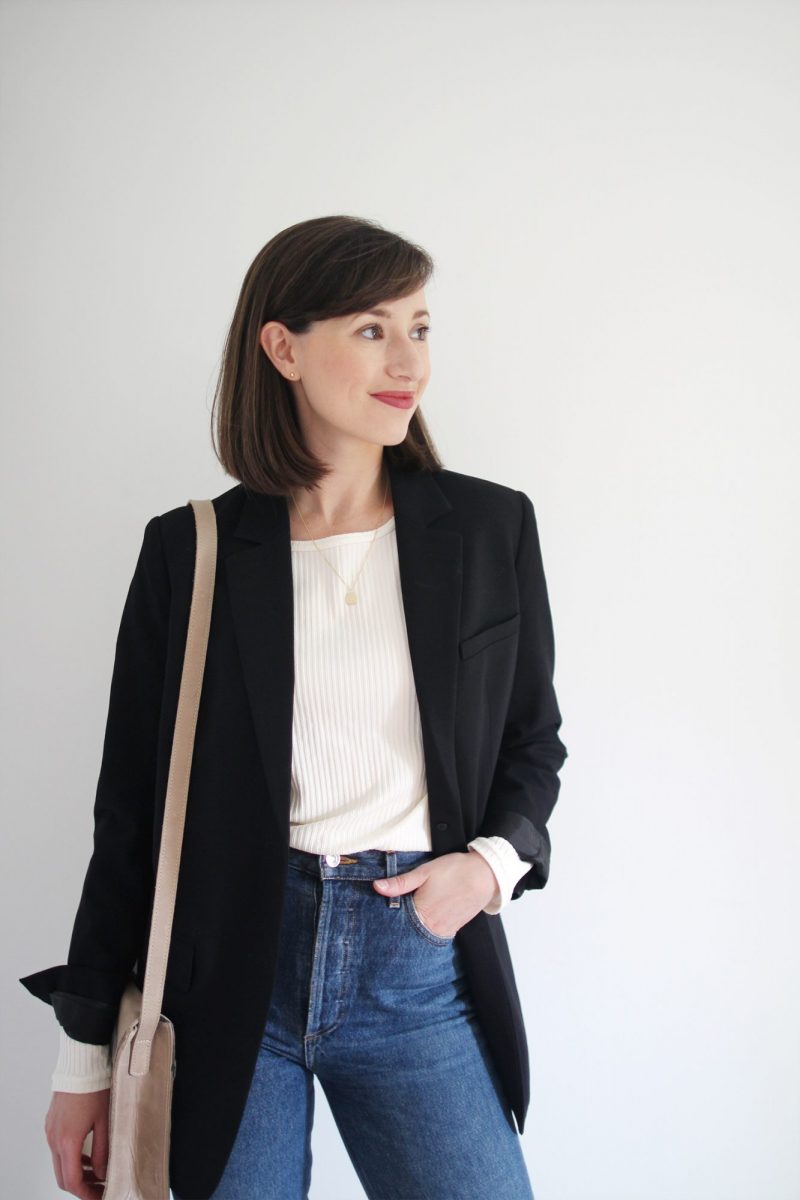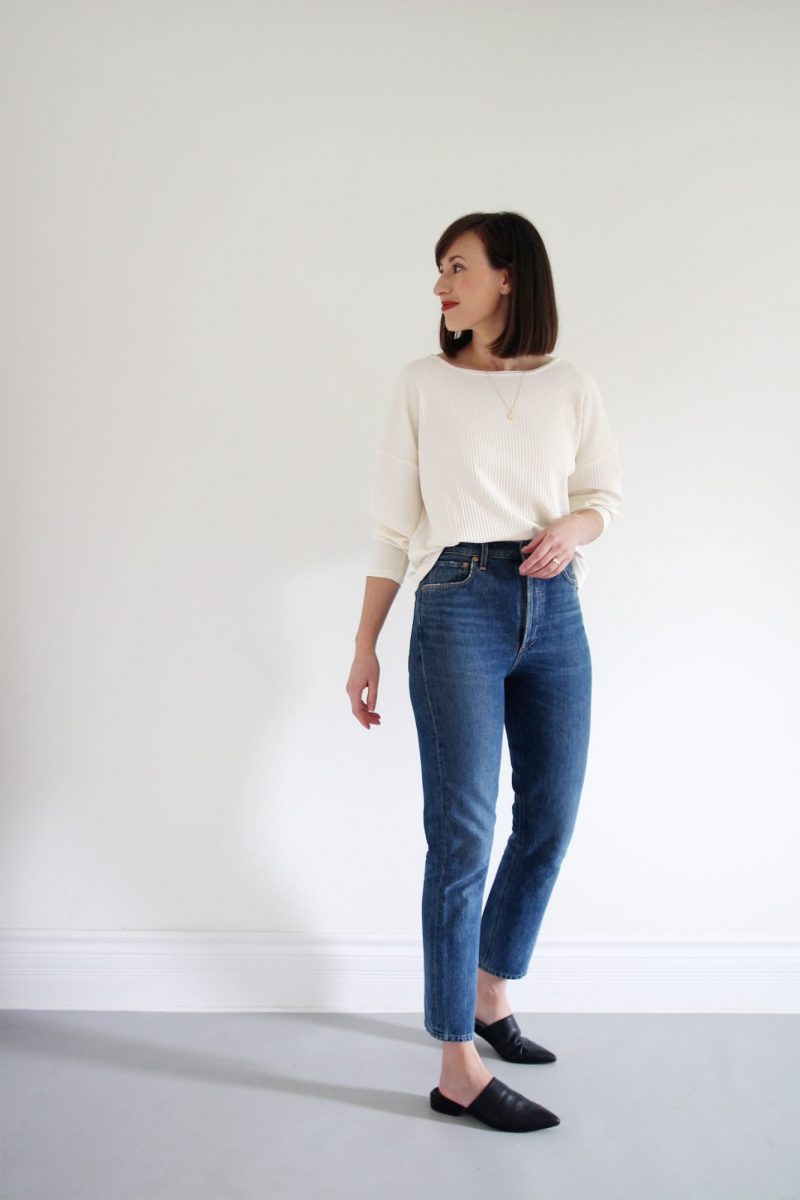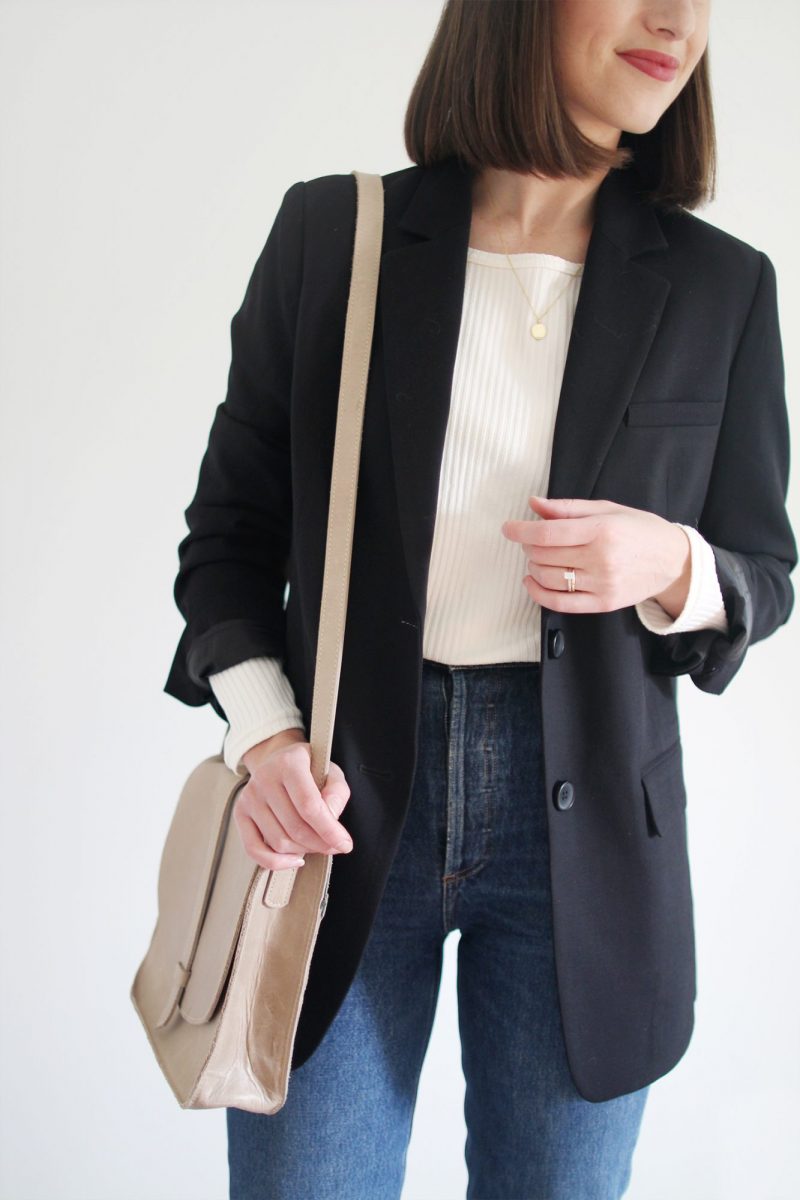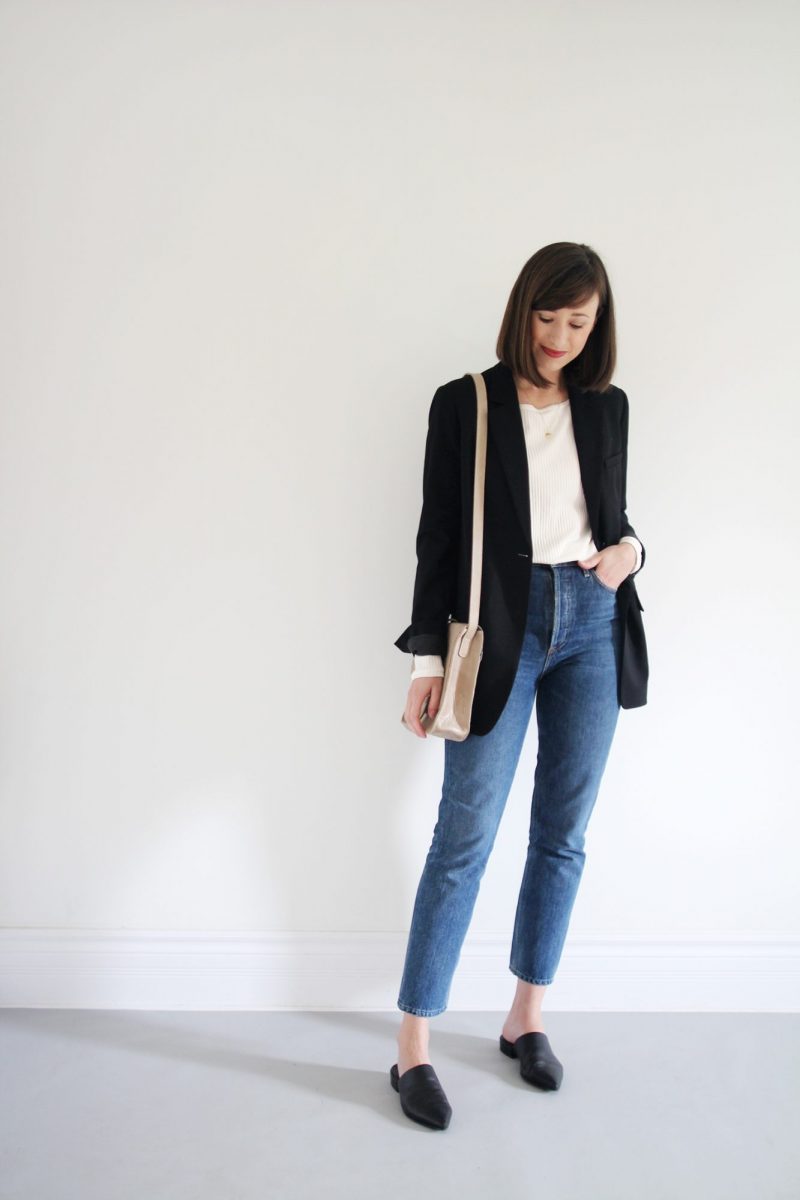 ---
THOUGHTS ON LOOK 3
For this one I wanted to try something a little more fitted overall and was curious about how this top would work under my more tailored items like this blazer. Much to my delight it slid underneath without issue and didn't feel bulky or scrunched at all. Yay!
I wore the higher neckline forwards and front tucked the hem into my jeans for a high visual mid-point (a leg lengthening trick I love and have employed in all these looks) and left the sleeves long. I always like to roll the cuffs on my blazers to steer them away from being too corporate and this was no exception. I added a touch of gold with my circle pendant necklace and a bit of warm grey in the cross-body bag.
This look is ready for a coffee date, lunch meeting and just about anything else my day might call for.
KEY STYLING TIP – MIX CONTEMPORARY + CLASSIC
I love a timeless look and colour scheme but I find that there should always be at least one modern element to keep it from creeping into the 'dated' zone. In this case there are two! My vintage fit jeans and classic black blazer stay current with a sleek, contemporary mule and an interesting texture in the top adds intrigue without being busy.
---
SHOP LOOK 3
---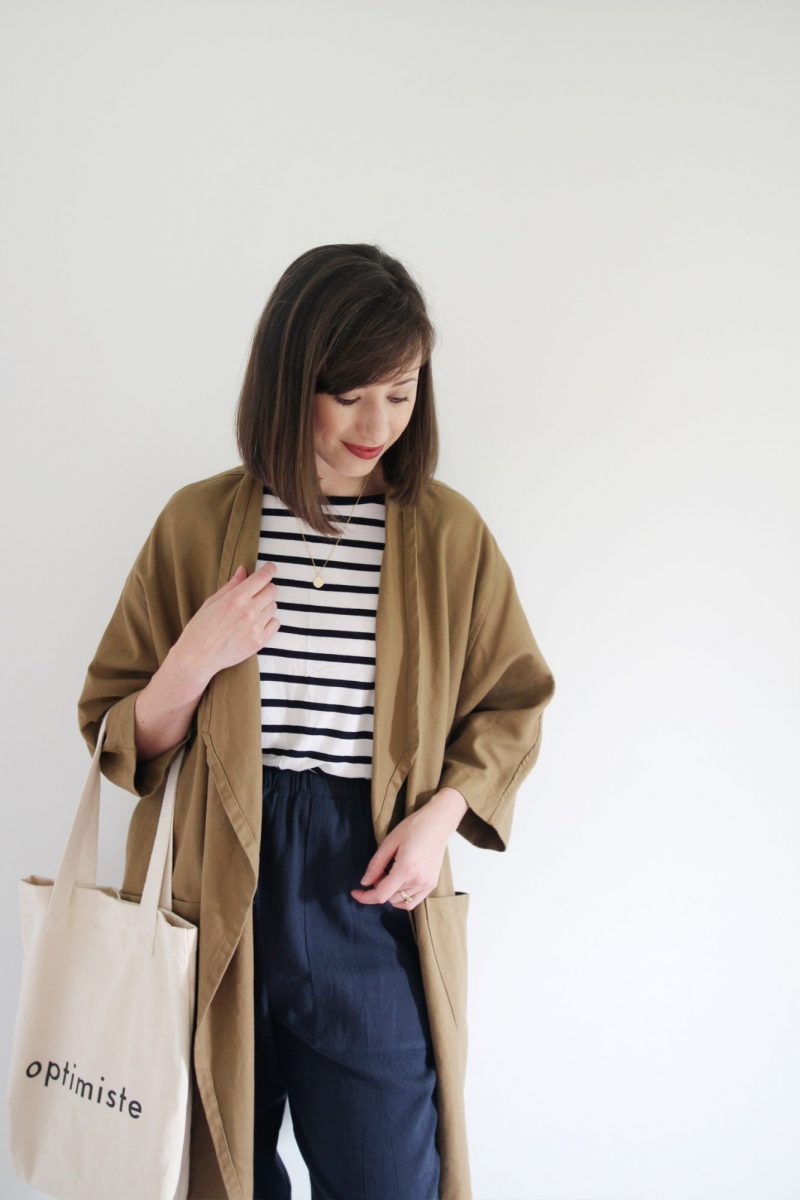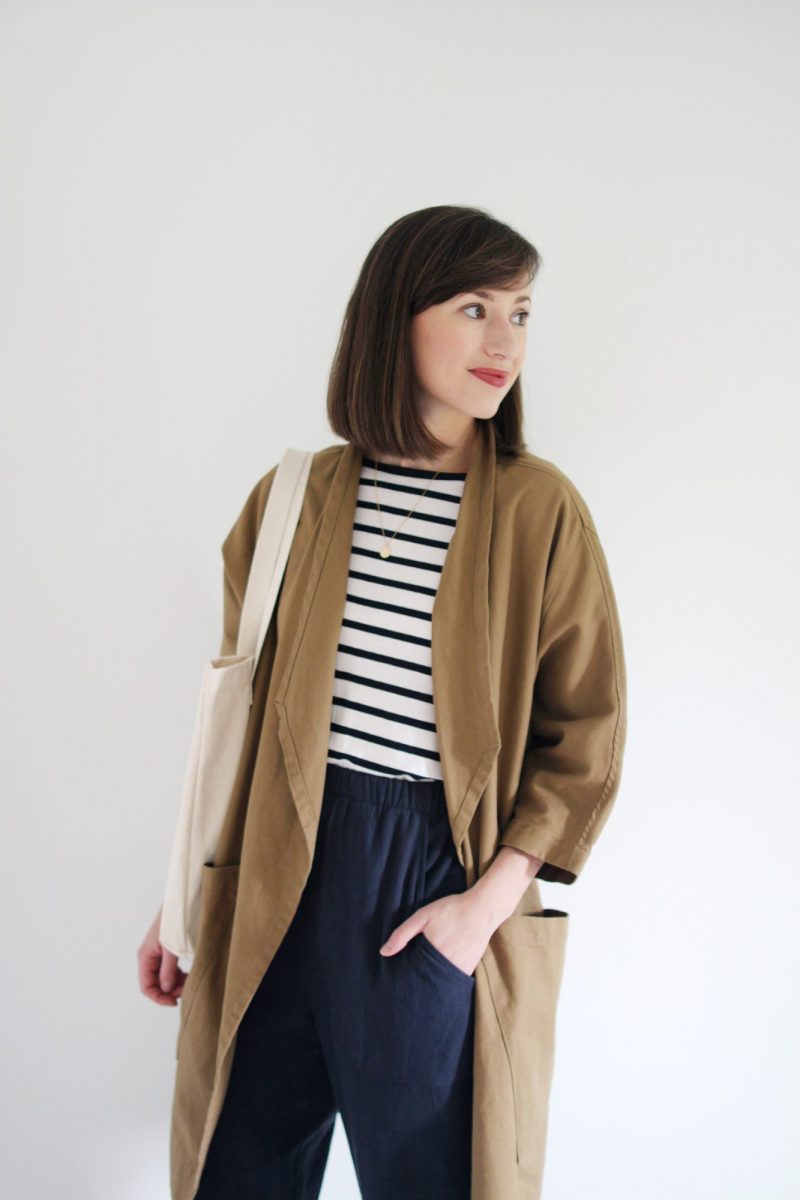 ---
THOUGHTS ON LOOK 4
I was so excited to style these pants with this jacket because I knew they'd be a match made in sartorial heaven. First off, I love how the soft navy contrasts with the warm clay canvas. They are truly complimentary. The next element I found particularly pleasing was how the top stitched pockets on both the pants and coat line-up almost perfectly. This gives them a more tailored vibe and feels almost like a deconstructed suit.
This outfit would have easily worked using the reversible top but I chose to try this striped tee instead for a little bit of pattern and I like how it adds some energy in a simple way. I added a touch of polish with the gold necklace and repeated the canvas texture from the jacket in the tote bag. Something tells me I'll be reaching for this one again very soon!
There isn't much this look wouldn't be ready for whether it's a weekday in the office, a weekend trip to the market or just about any travelling you might be up to.
KEY STYLING TIP – MATCHY MATCHY
This tip is similar to the one in Look 3 but a bit different in that it's about repeating multiple tones in an outfit instead of just one. In this case I matched the navy blue of these pants with the navy blue stripe in the top. Then I matched the bright white in the top with the crisp white shoe for a bit of extra coordination. Since both tones are neutrals it doesn't feel obvious but instead results in a cohesive colour story.
---
SHOP LOOK 4
---
That's about it for today but I hope these looks inspire some comfy ideas for you!
Do you have a favourite?
What pieces do you usually reach for on a Monday?
Check in on my Insta Stories to see these looks 'in action' too.
---
SAVE 10% OFF ANY ORDER FROM HACKWITH DESIGN HOUSE WITH 'STYLEBEE10'
(Valid through October 10th)
---
Thanks for reading and have a great week! 
---
The HDH Basics Pants and Top were gifted to me for this post and I receive a commission on sales made using the exclusive Style Bee reader code. This type of partnership enables me to work with independent brands and helps to support my small business. All opinions are entirely my own. Thanks for supporting the brands that support Style Bee!