One question I receive a lot around this time of year is how to style linen pieces for cold weather. Linen is a fabric that I personally love to wear. It's known for its breathability, temperature regulating properties, gorgeous movement, comfort and tendency to improve with age. It's also known primarily as a summer fabric, which I believe is where the hesitation toward linen as a cold weather material stems from rather than its true functional potential. We don't seem to question silk, cotton or tencel as a wearable winter fabric, yet, I've found those to be arguably as temperature dependent as linen.
But I get it. If you're going to invest in a special linen piece you want to, at least conceivably, be able to wear it all year-long. The good news is that you can most certainly can! It just takes a few minor adjustments to make it work. We've already had our first snowfall and negative temps so I can attest to the fact that these techniques really do work!
Today I'll be walking through three outfits, which each employ a couple of the tricks I use to wear linen in colder months, without sacrificing any feeling in my extremities. Here are the three linen styles I'm sharing:
Button-Up Shirt (see details below for 10% off)
Cropped Trouser 
Jumpsuit 
Let's dig in! 
---
LOOK 1 
---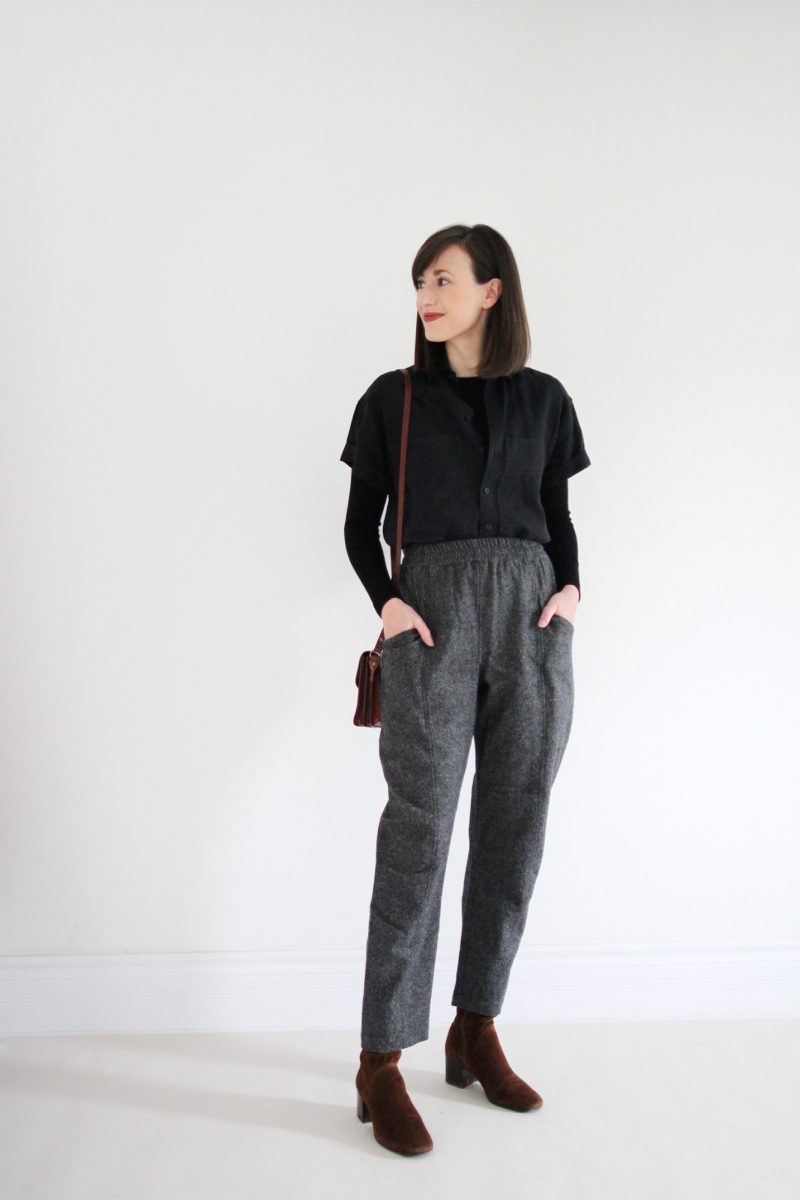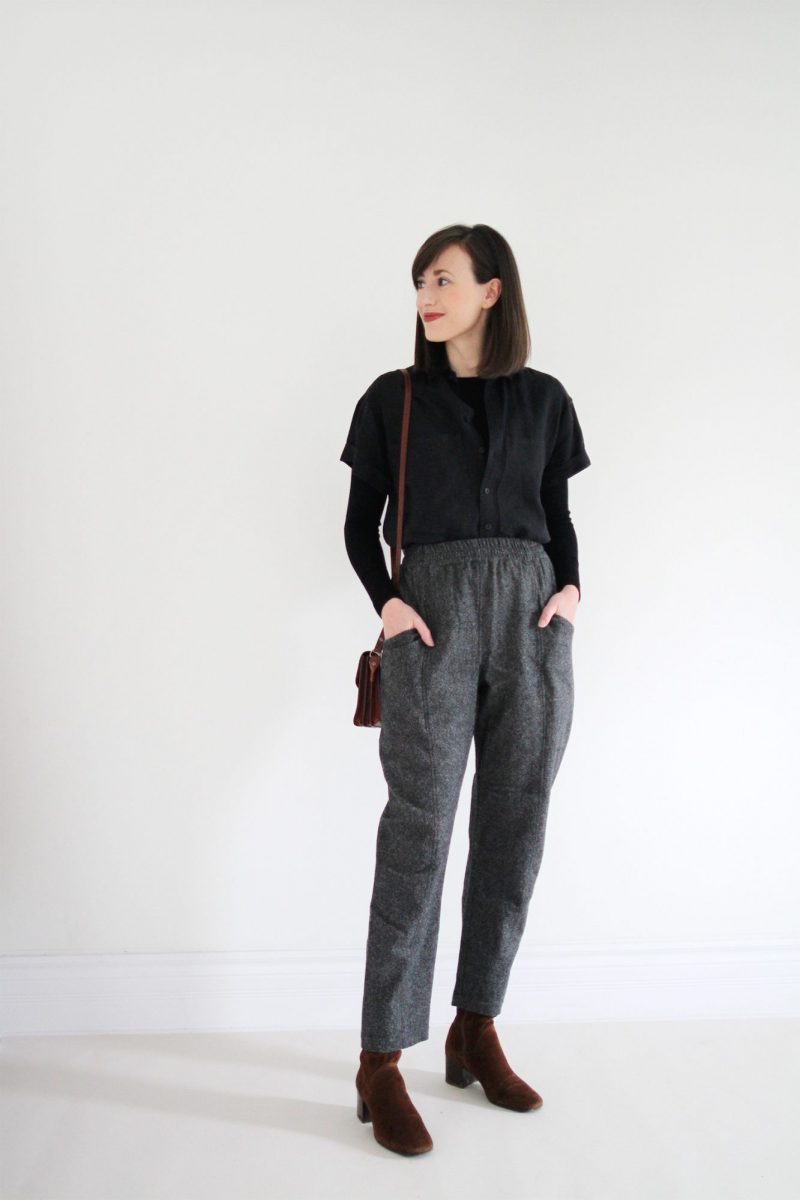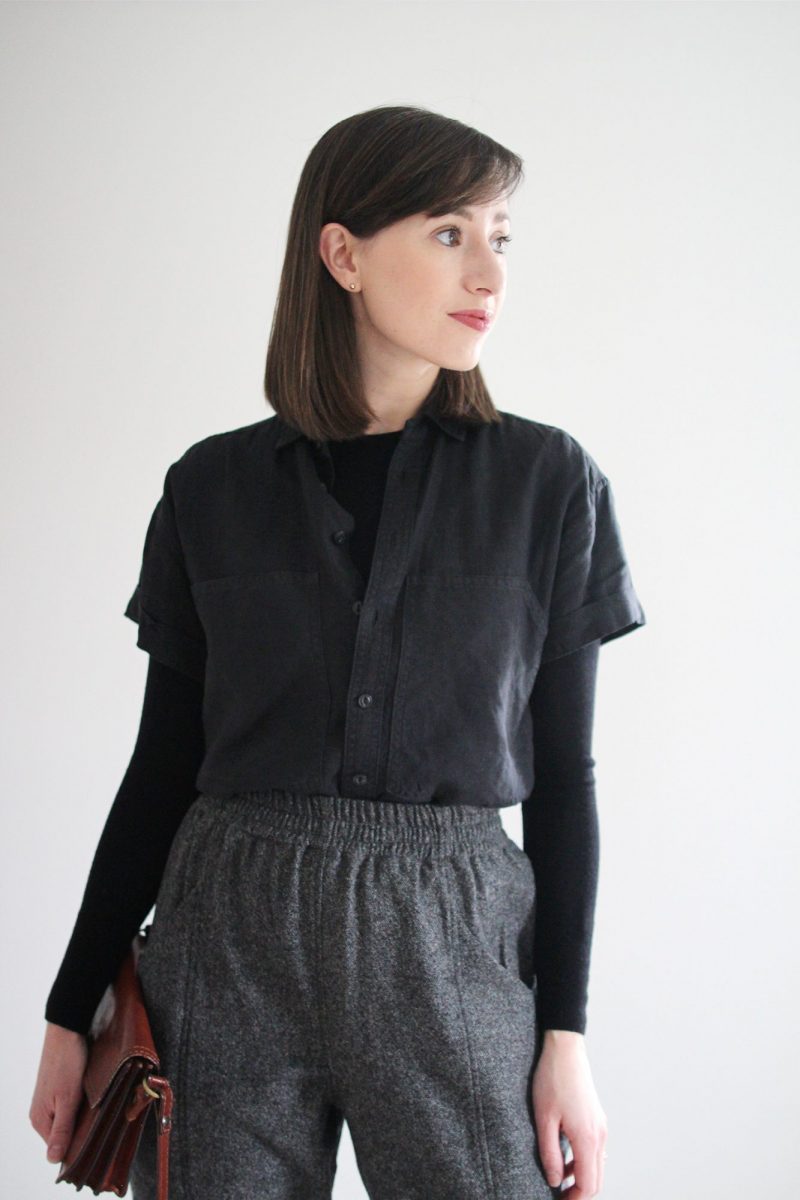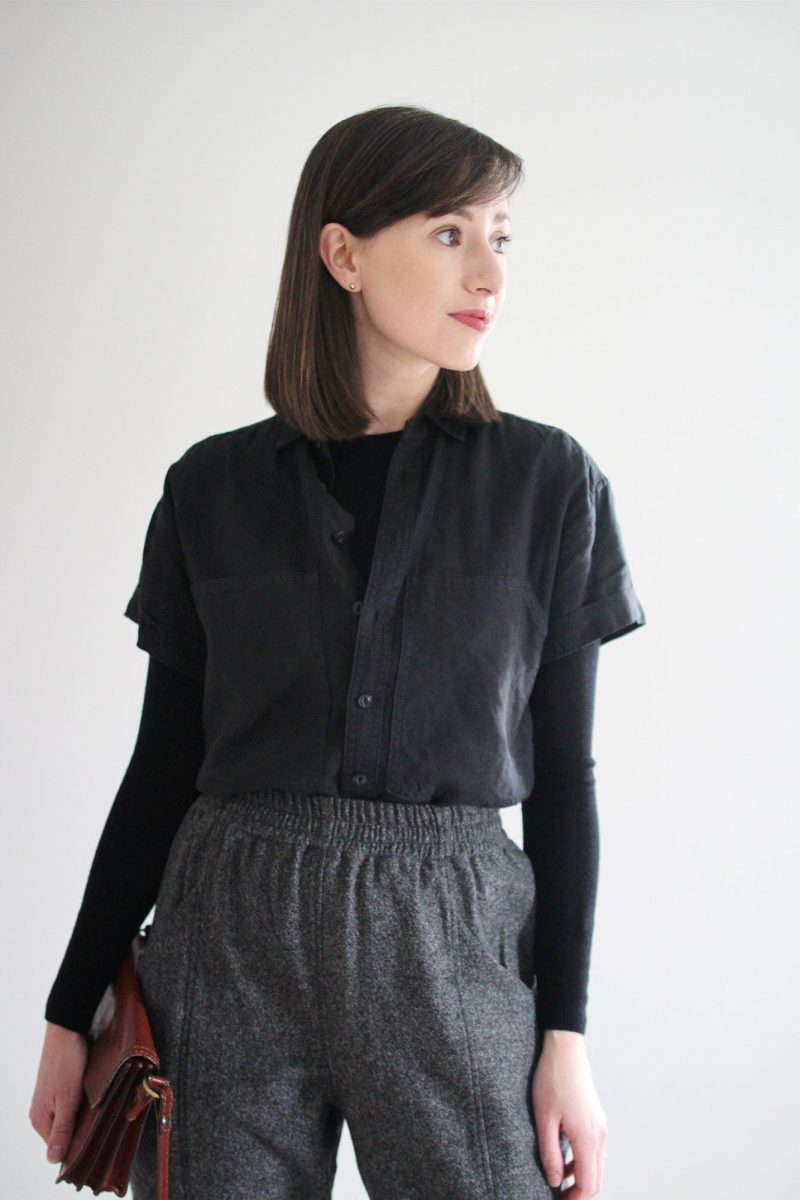 ---
TIP 1 – BASE LAYERS
---
I always have a few long-sleeved, fitted knits or tees in my fall/winter rotation because they're great for layering and adding warmth without bulk and extra fussing. Black, white and grey are the colours I stick to in order to keep versatility maximized. I like a high crew neck or a turtleneck so that layering different necklines looks as clean as possible. I also recommend tonal layering (ie: black on black) to keep things simple, particularly when combining different sleeve lengths or pieces with details like pockets and buttons, as in this case. Imagine I'd worn a white long sleeve underneath, it could certainly work but wouldn't feel nearly as streamlined.
In this case, I've purposely unbuttoned my Philosopher Shirt lower than I normally would. This is an important detail for me because it helps the long sleeve base feel as though it's part of the look not just a thermal requirement. Keep small elements like this in mind so your layering looks intentional.
Find great base layers via: EVERLANE | KOTN | BRASS | PACT | BODYSUIT of BARCELONA
---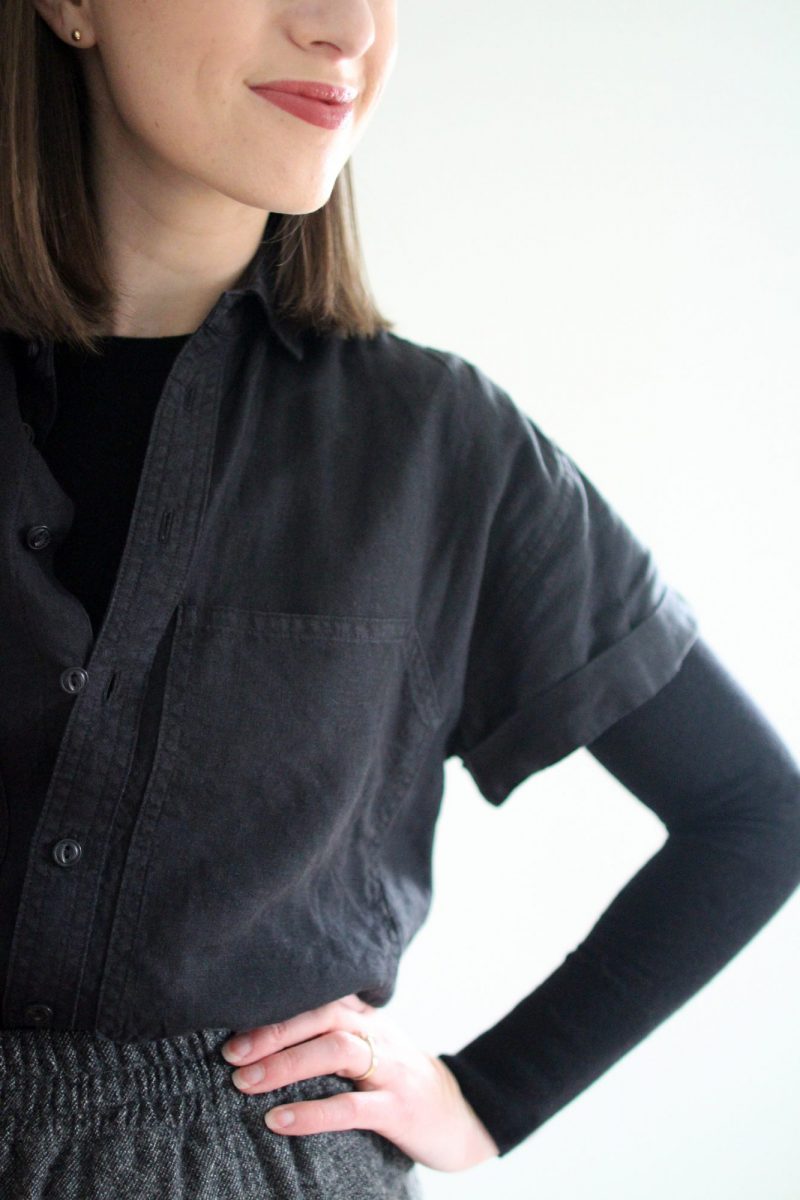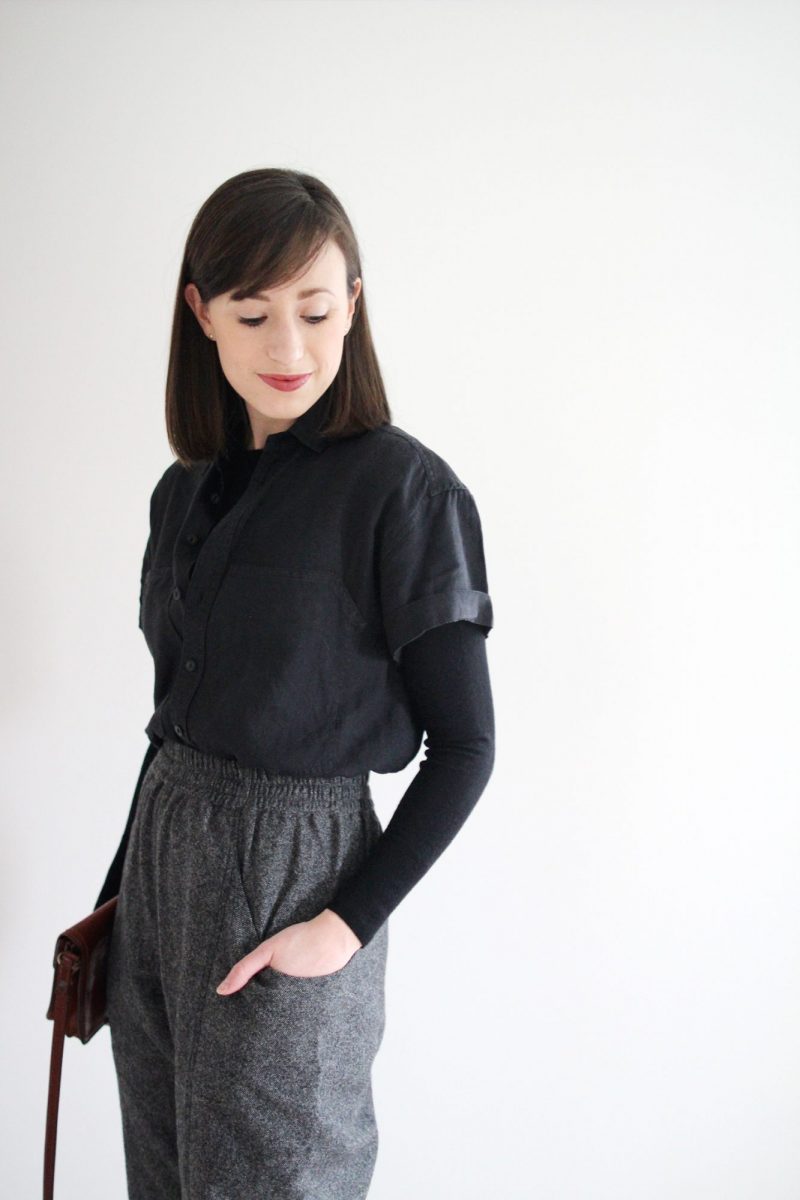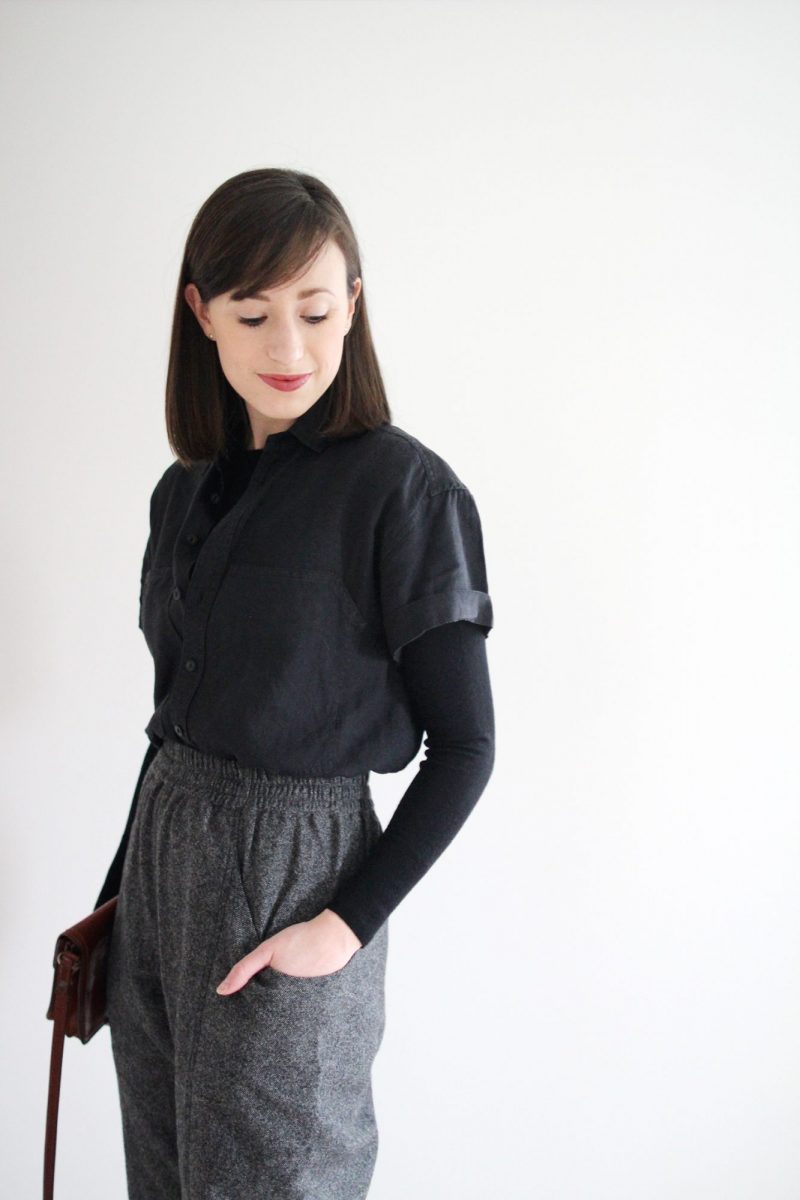 ---
---
SHOP ALL POWER OF MY PEOPLE SHIRTS
SHOP MY FAVOURITES: THE FRIEND + THE PHILOSOPHER
SAVE 10% with STYLEBEE10 anytime.
---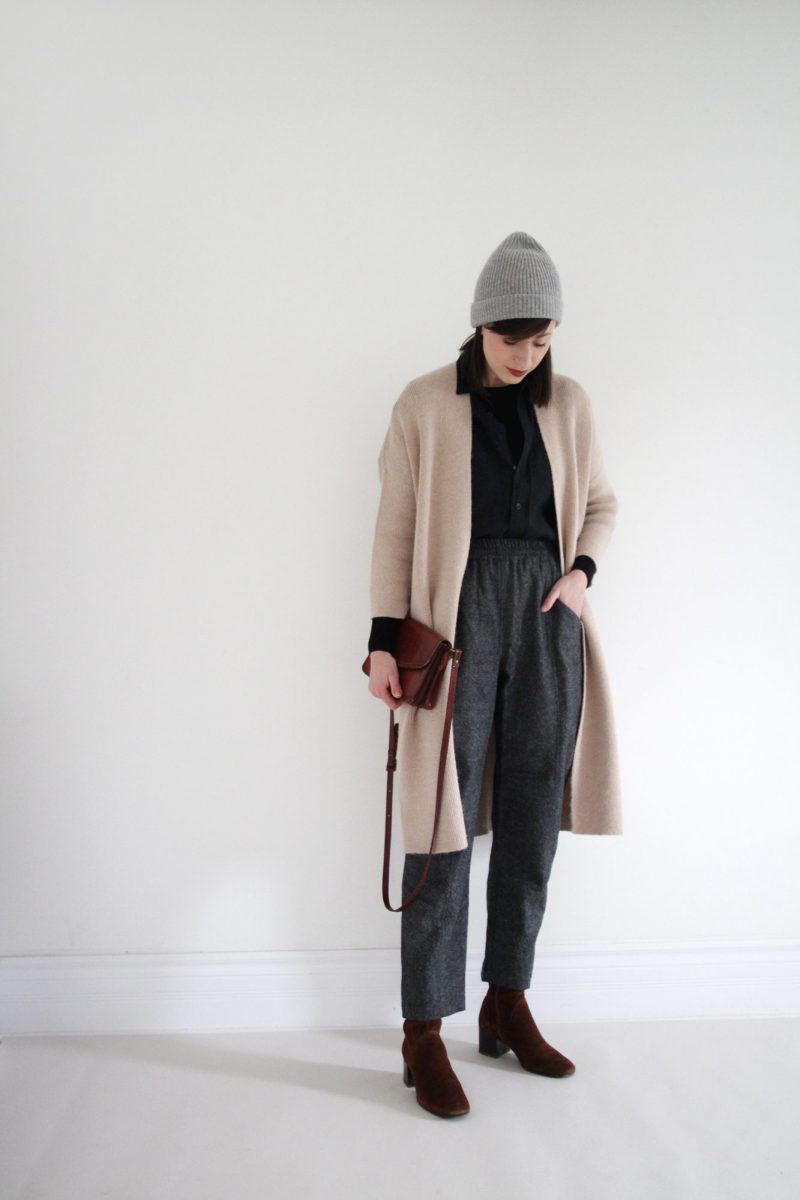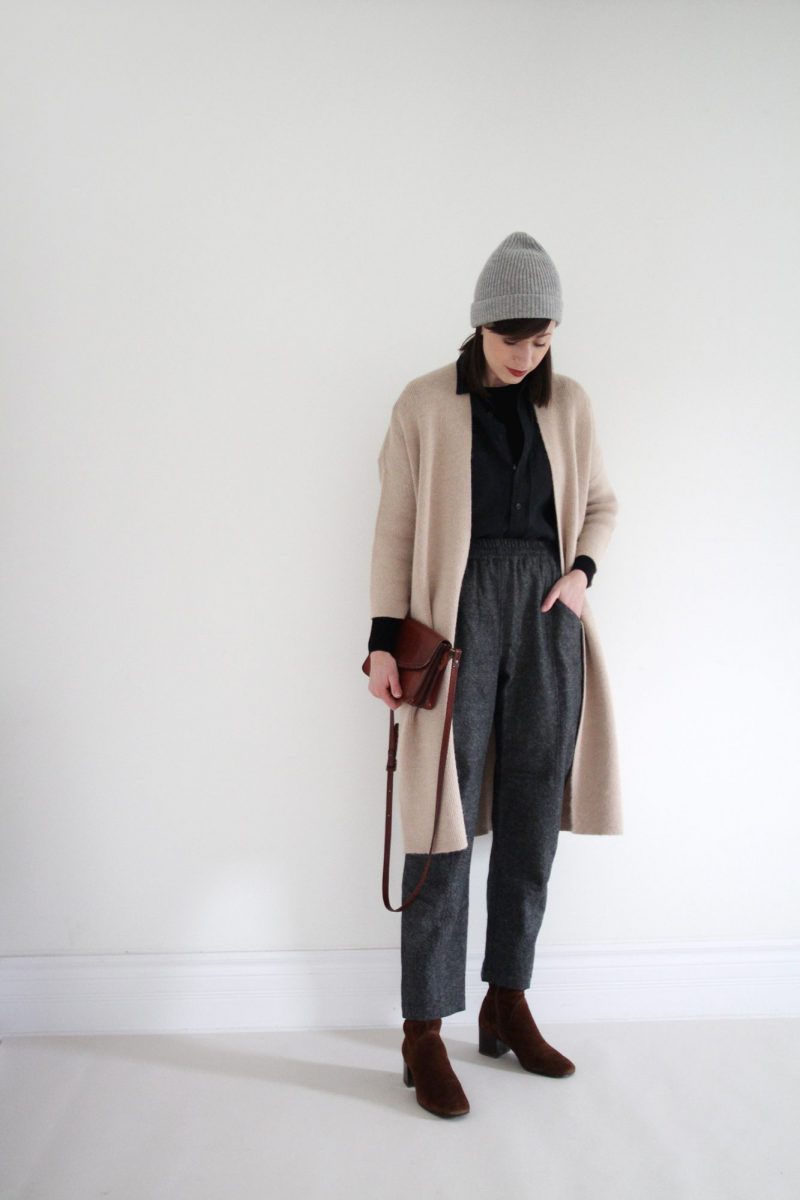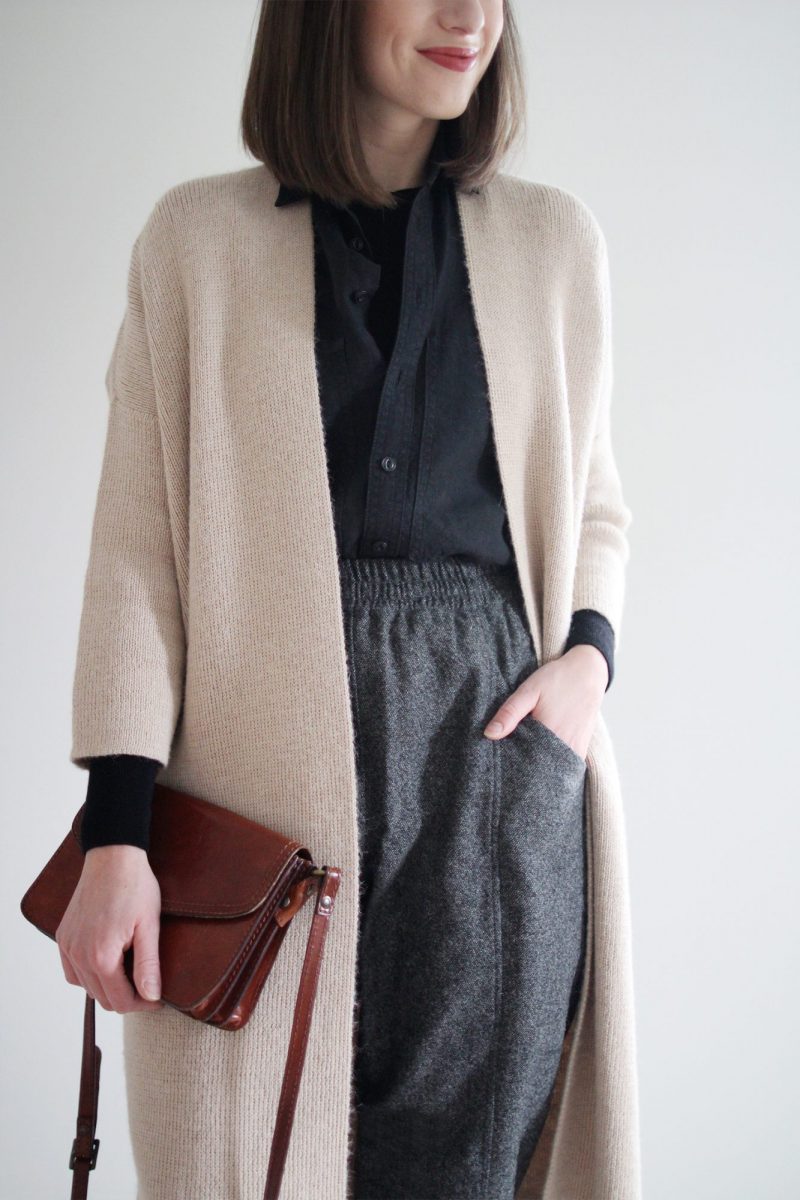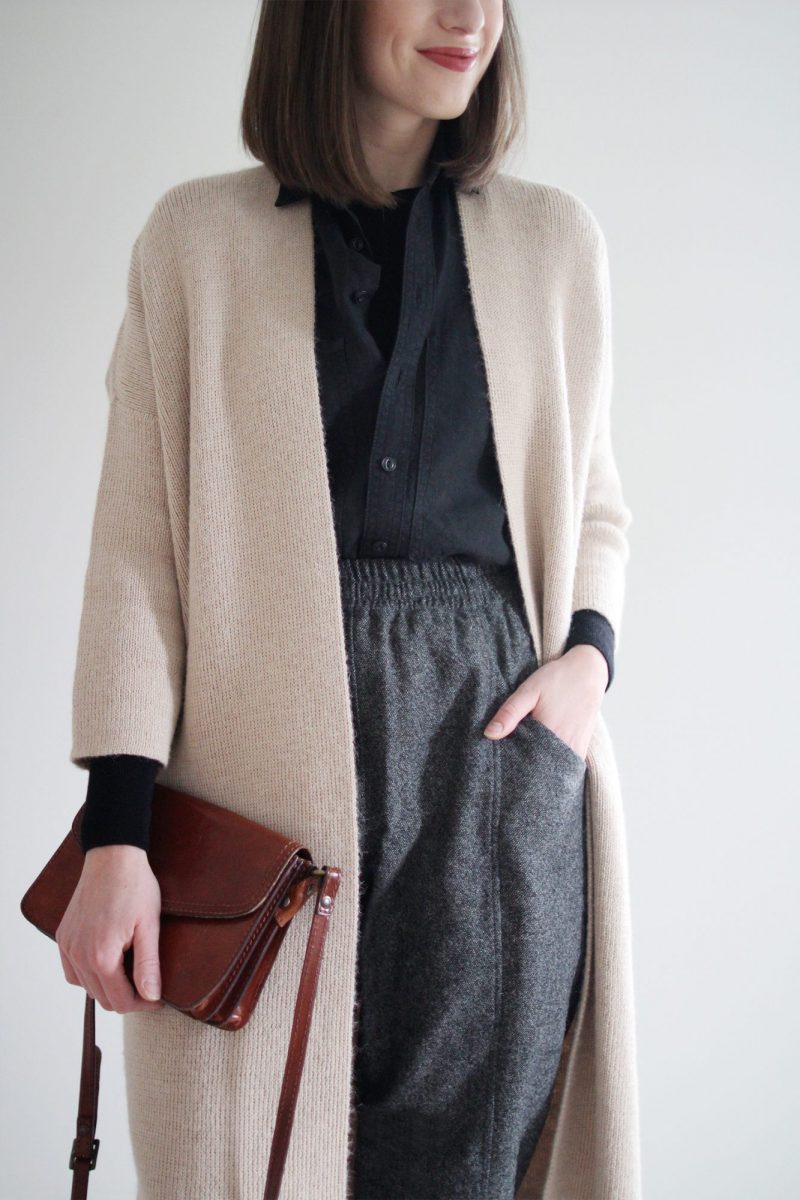 ---
TIP 2 – MIX MATERIALS
---
I've heard people mention that mixing different seasonal fabrics is a no-no but I simply don't agree. Just because linen is a 'summer' fabric doesn't mean it can't be paired with 'winter' materials like wool. In fact, I think the textural mix is awesome and actually enhances the cozy feel of the look overall. Linen also works brilliantly with crepe silk, raw silk, tencel and cotton too. So I say, mix 'em up to your heart's content!
In this look alone I've got an alpaca cardigan, marled wool pants, a linen shirt, suede boots, a merino wool long sleeve, a cashmere hat and a leather bag. I love this mix of textures so much.
If you're not feeling confident about mixing materials start with a simple palette like black, grey tones and a warm neutral like camel.
---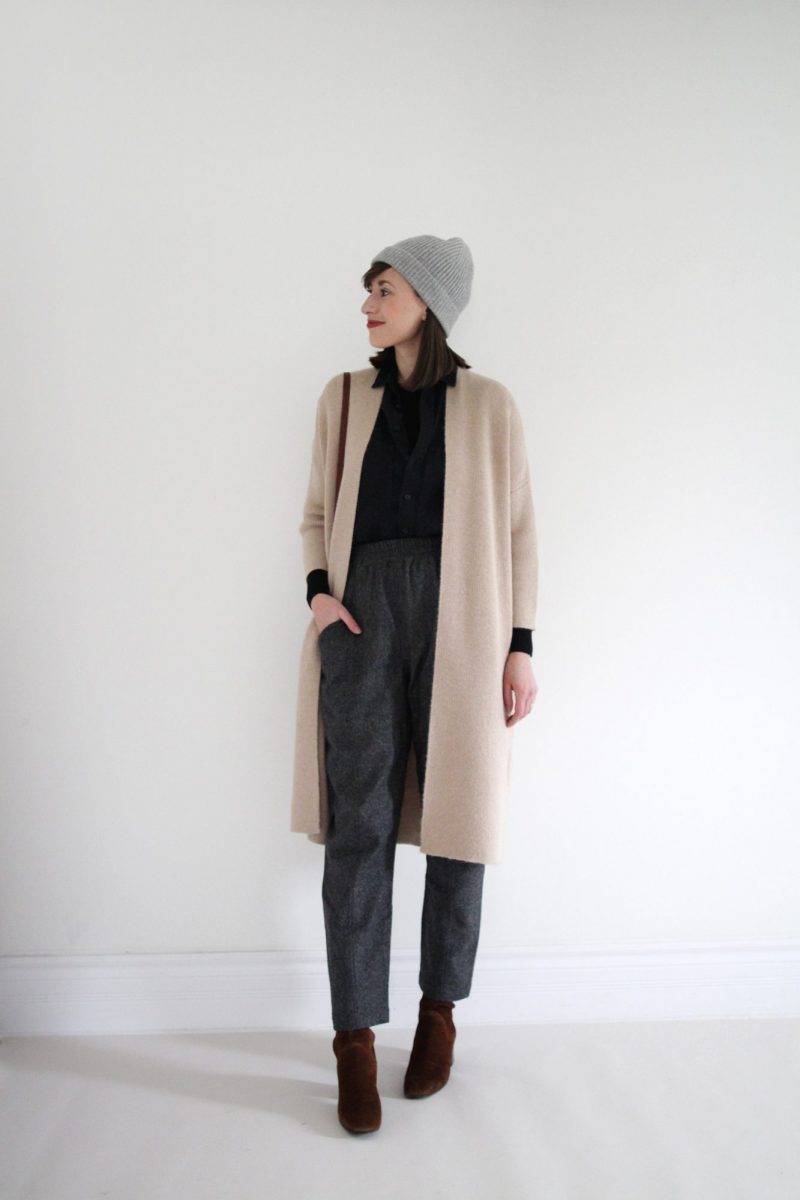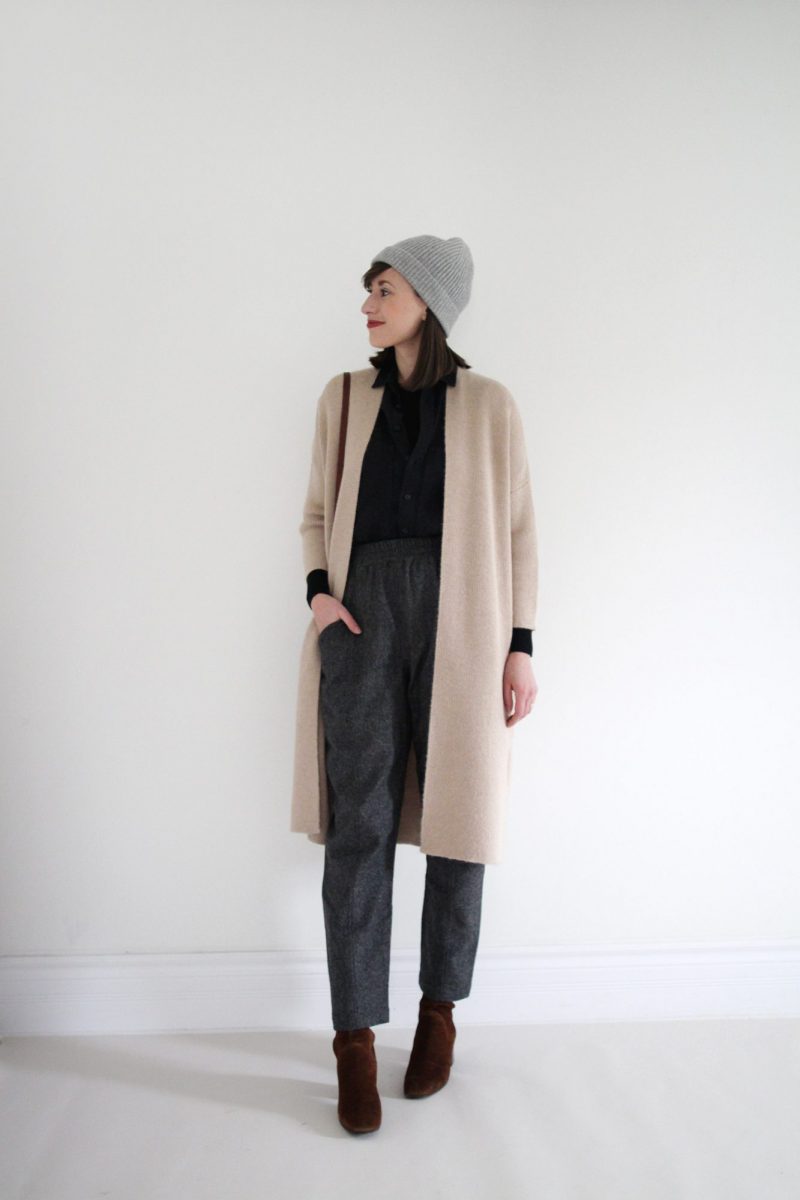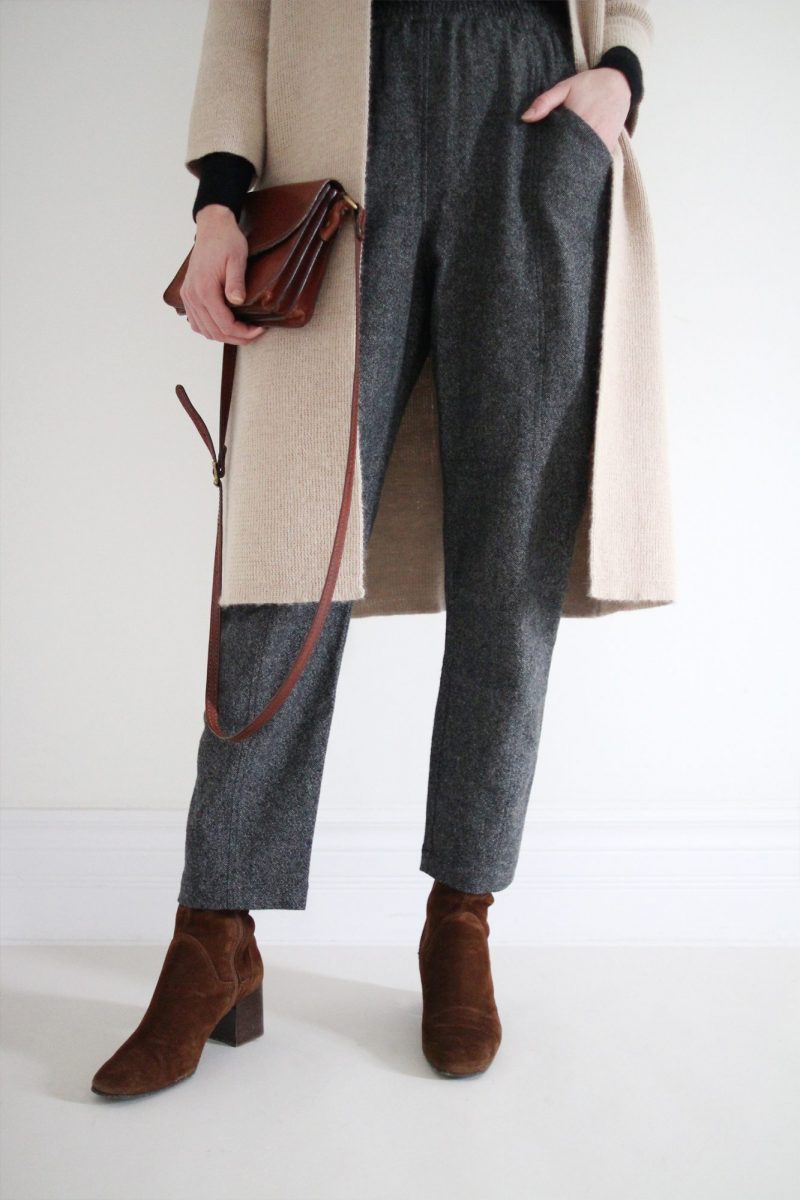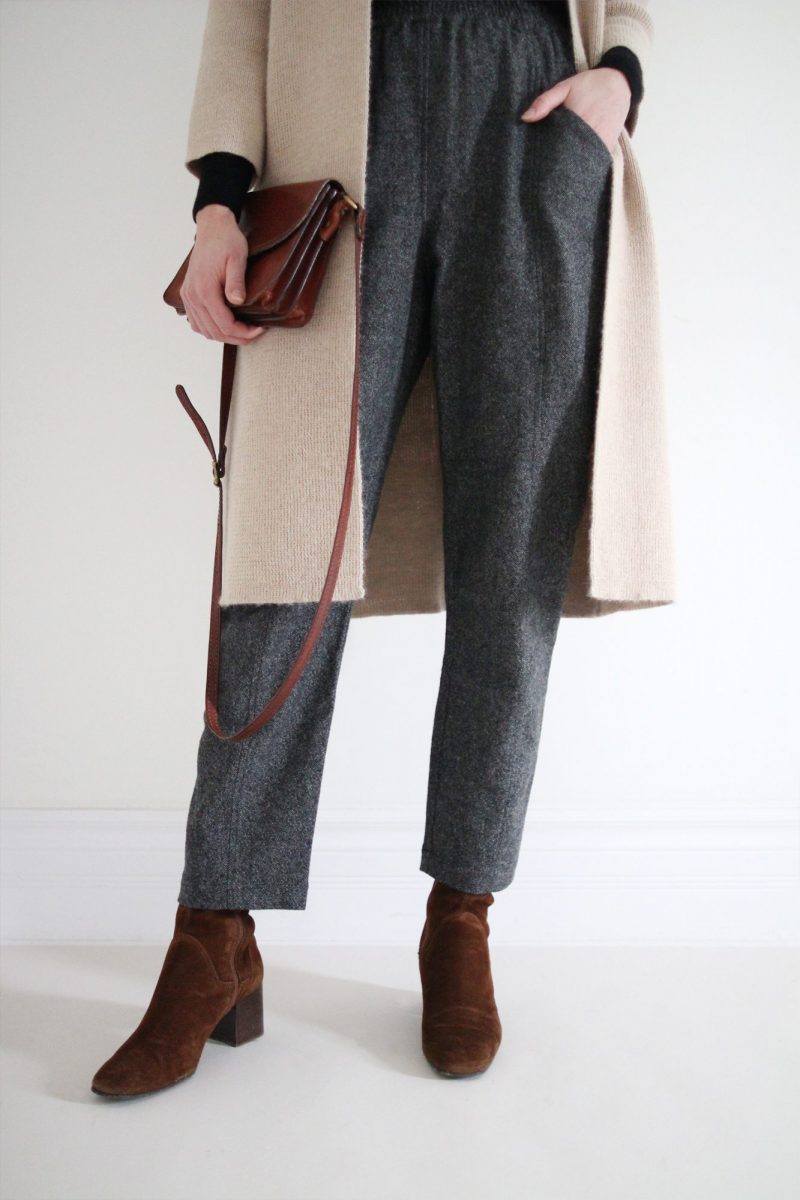 ---
---

---
LOOK 2
CROPPED LINEN PANT
---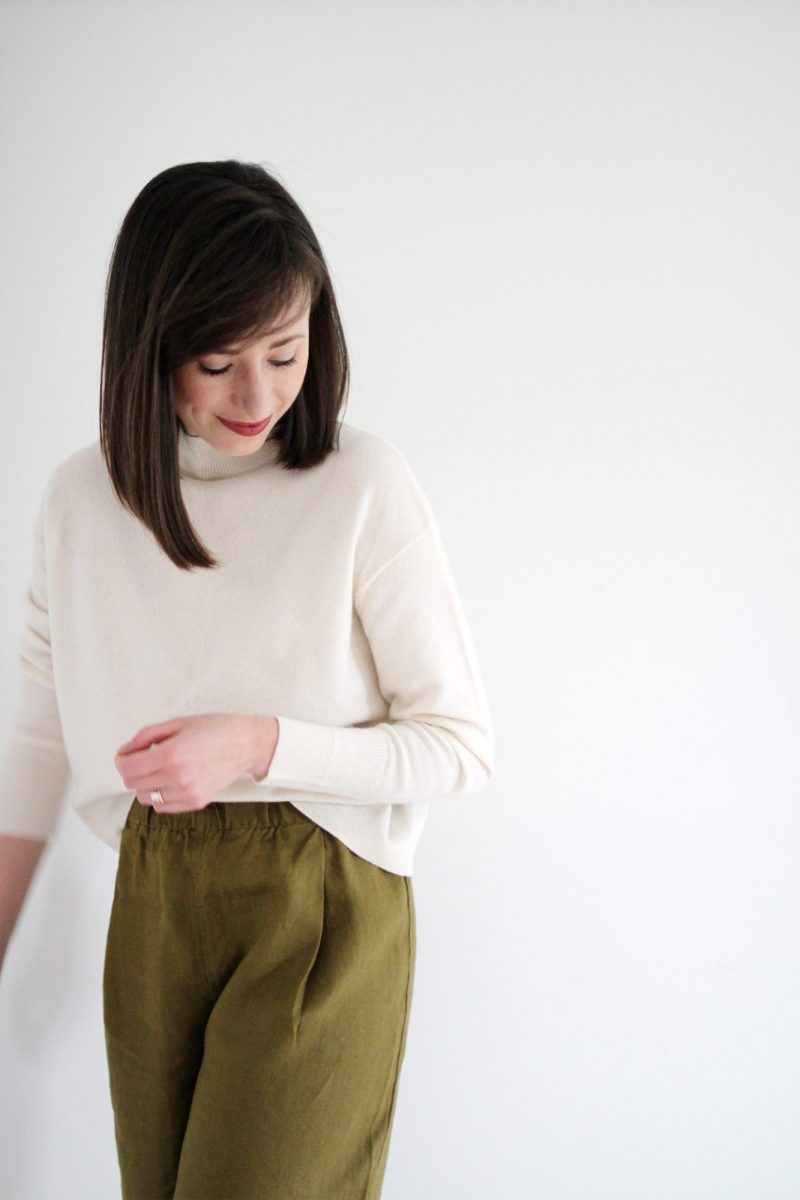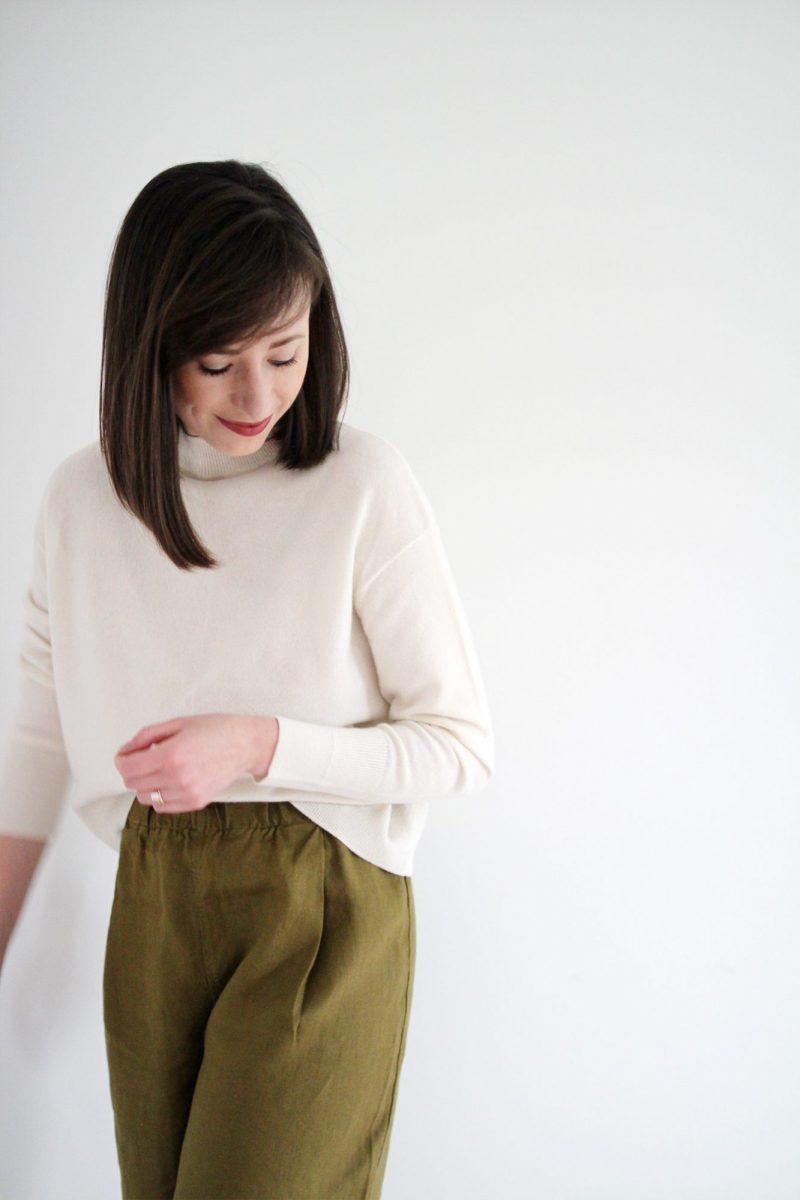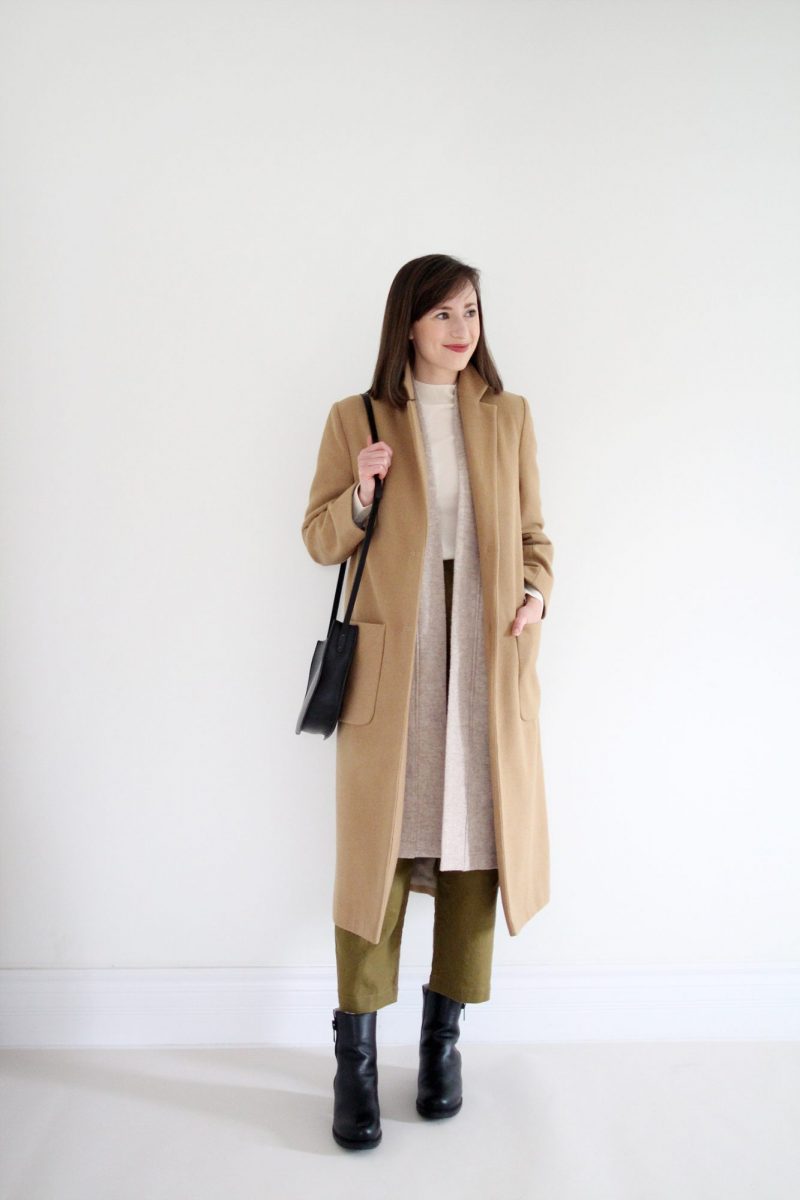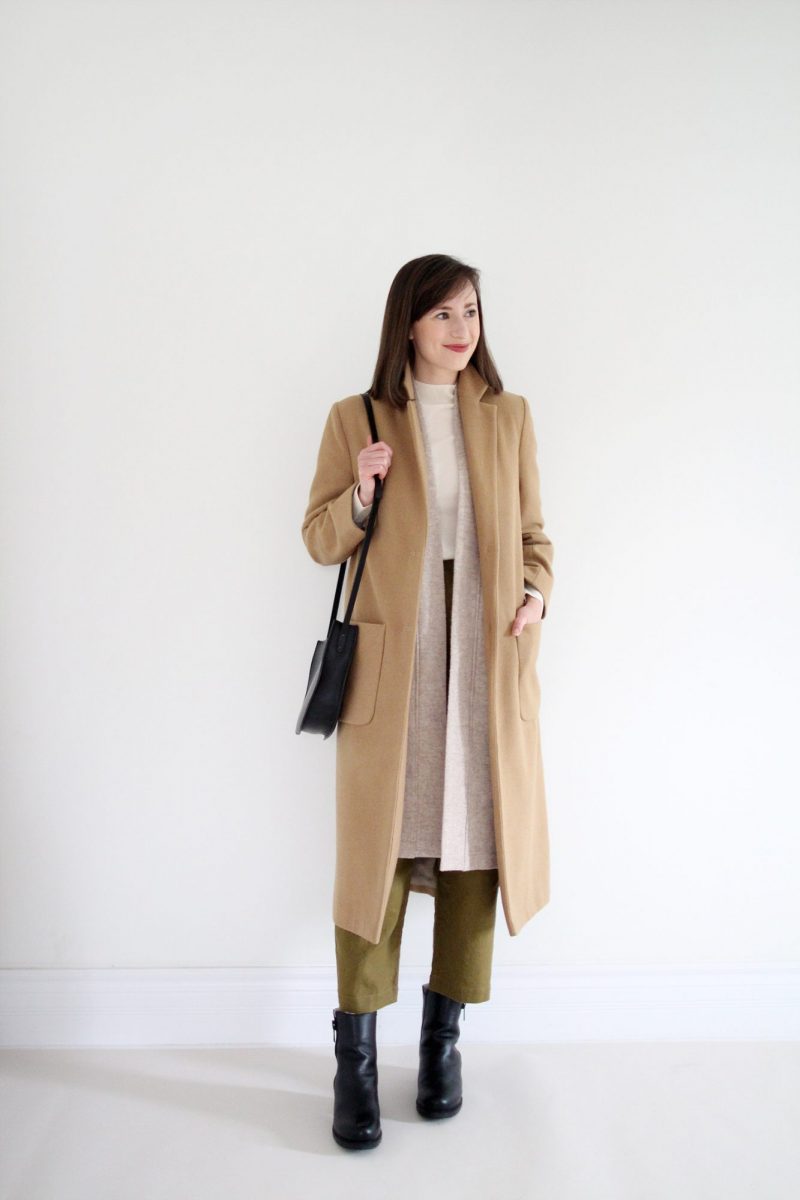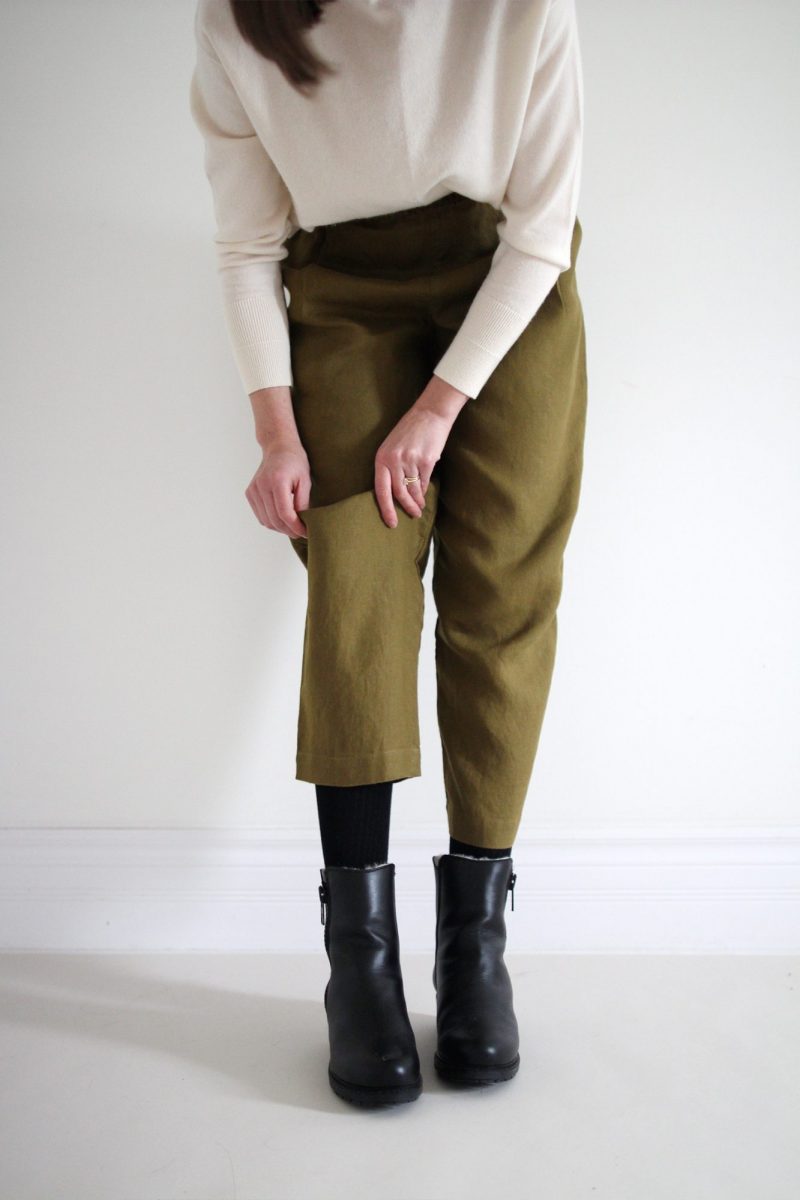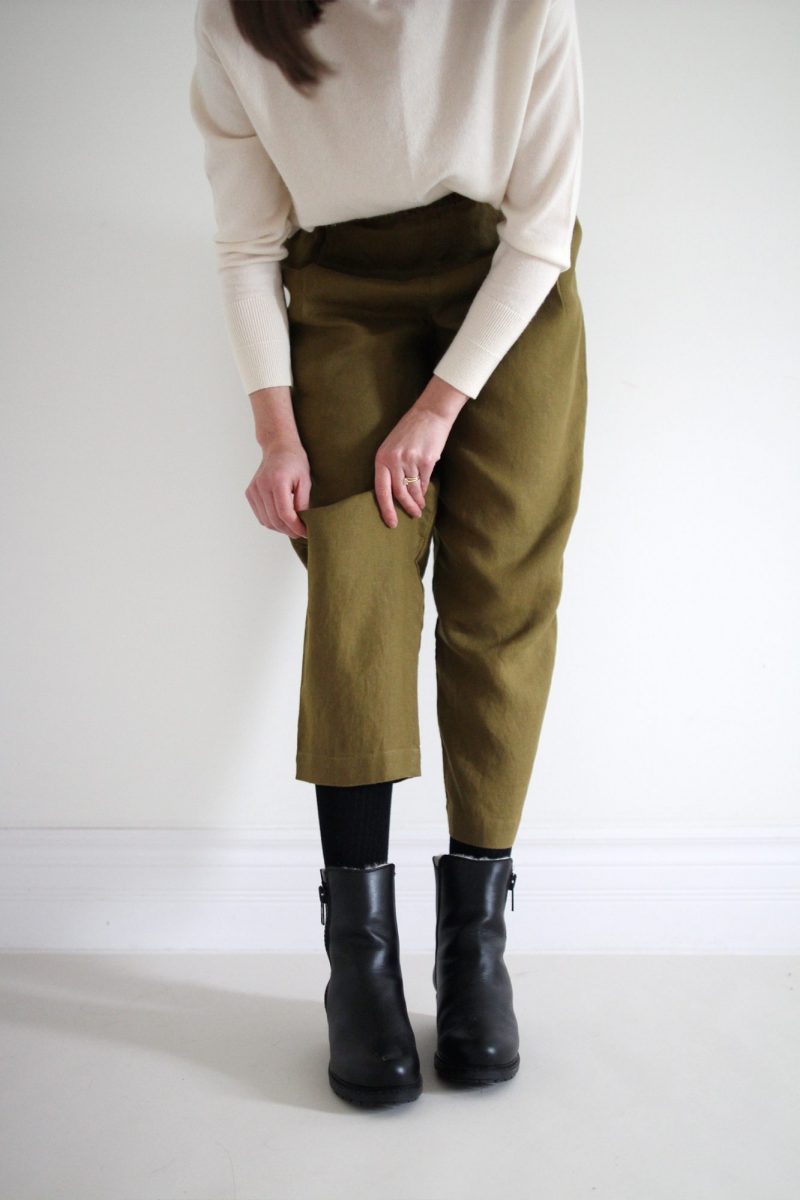 ---
TIP 3 – KNEE SOCKS
---
I swear by this trick for wearing linen pants and wide-leg styles in colder temps and it hasn't failed me yet! Knee socks keep your lower leg cozy and counteract any draft that might find its way up your leg. They don't even need to be particularly thick to be effective either. I've also started wearing them under my slimmer legged pants because they work wonders under those too!
Knee socks instead of tights? Yes. The reason being that tights can often add complexity to an outfit and make it uncomfortable. Tights, no matter how well-fitting, always tend to fall down and need adjusting, which isn't great under pants. The added friction and static build-up when wearing tights under pants is also a nuisance. For me, the marginal added warmth is not worth the hassle.
Where to find good knee socks: PACT (my favourites) | SMART WOOL | NORDSTROM 
---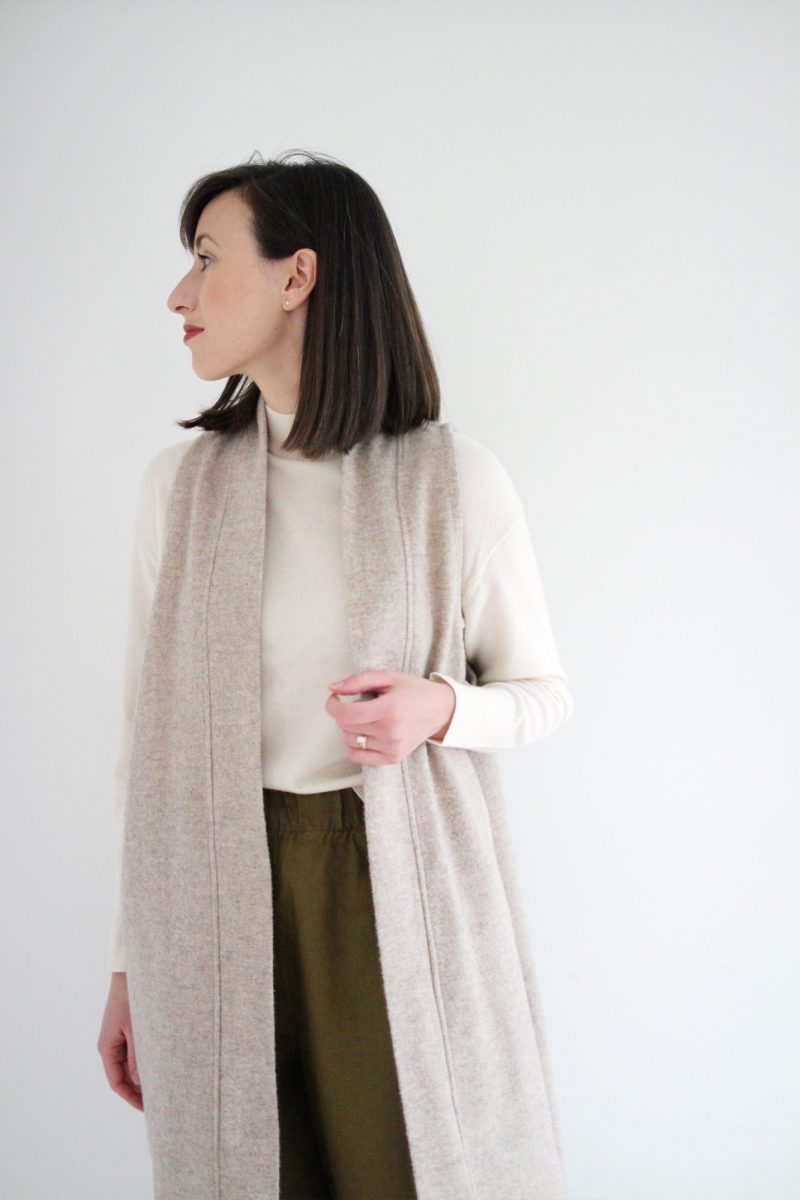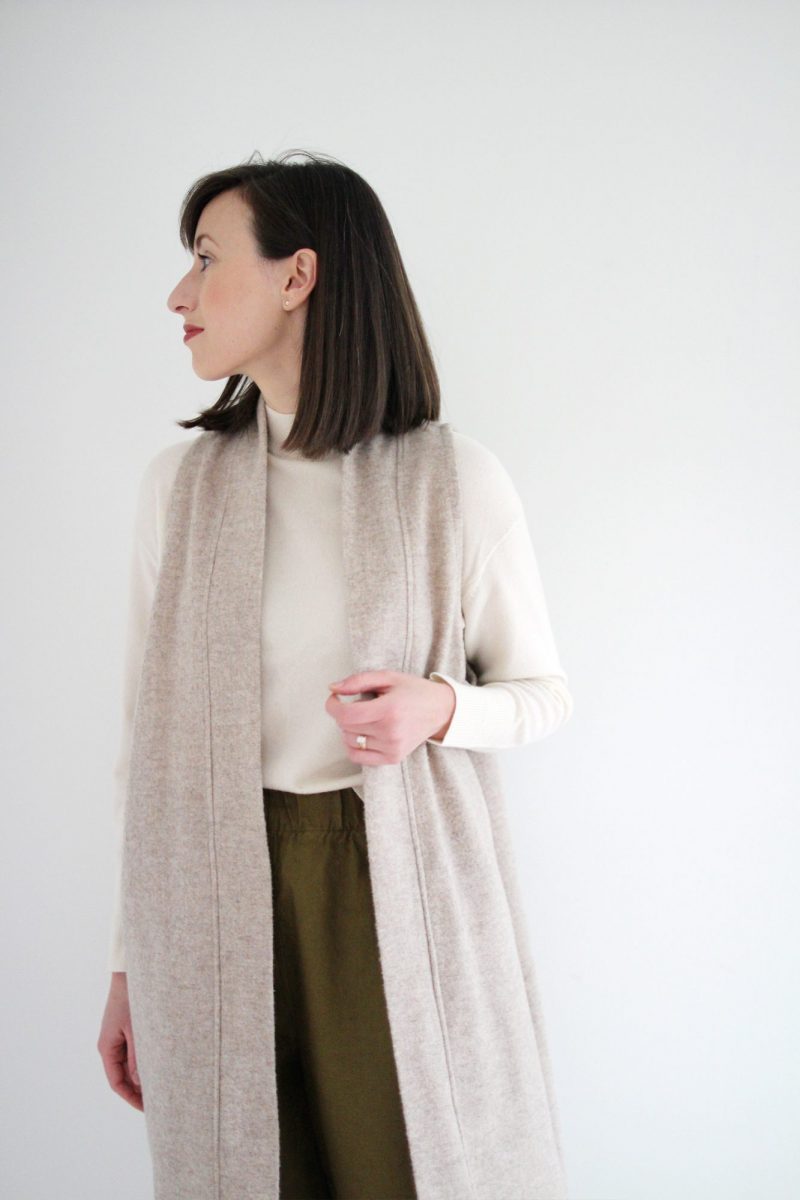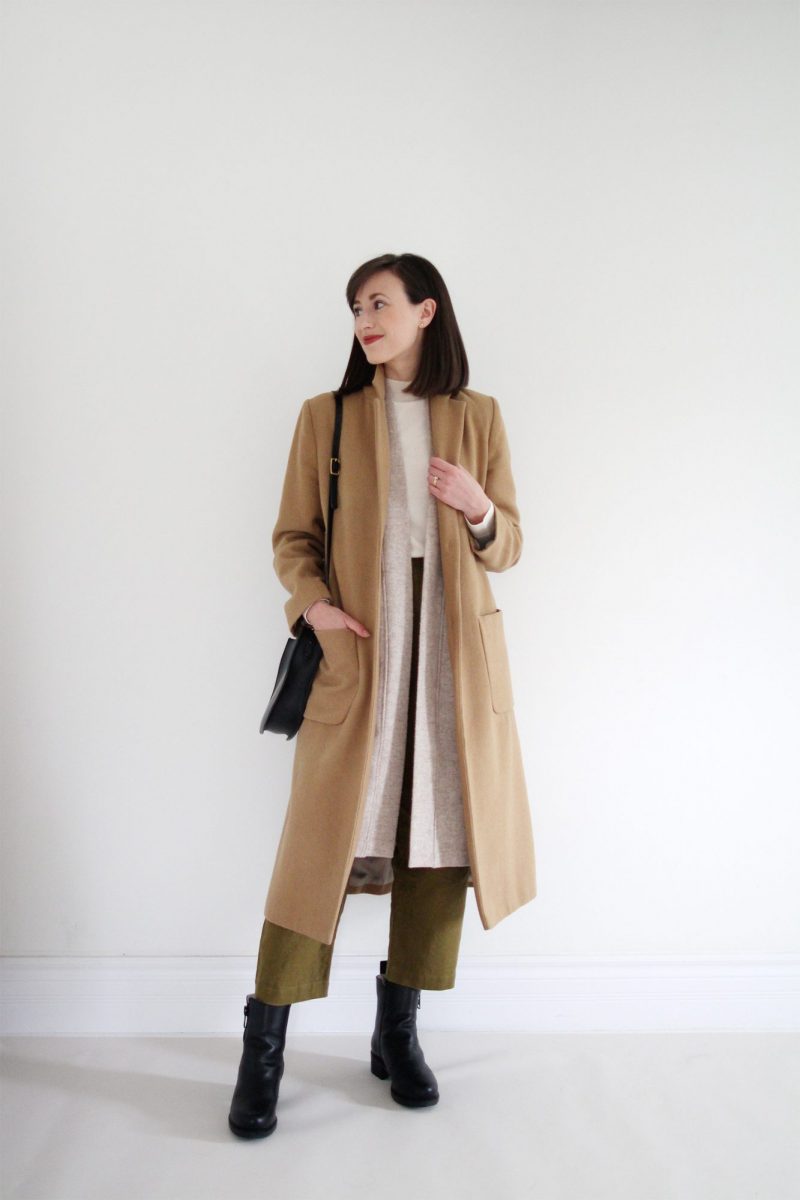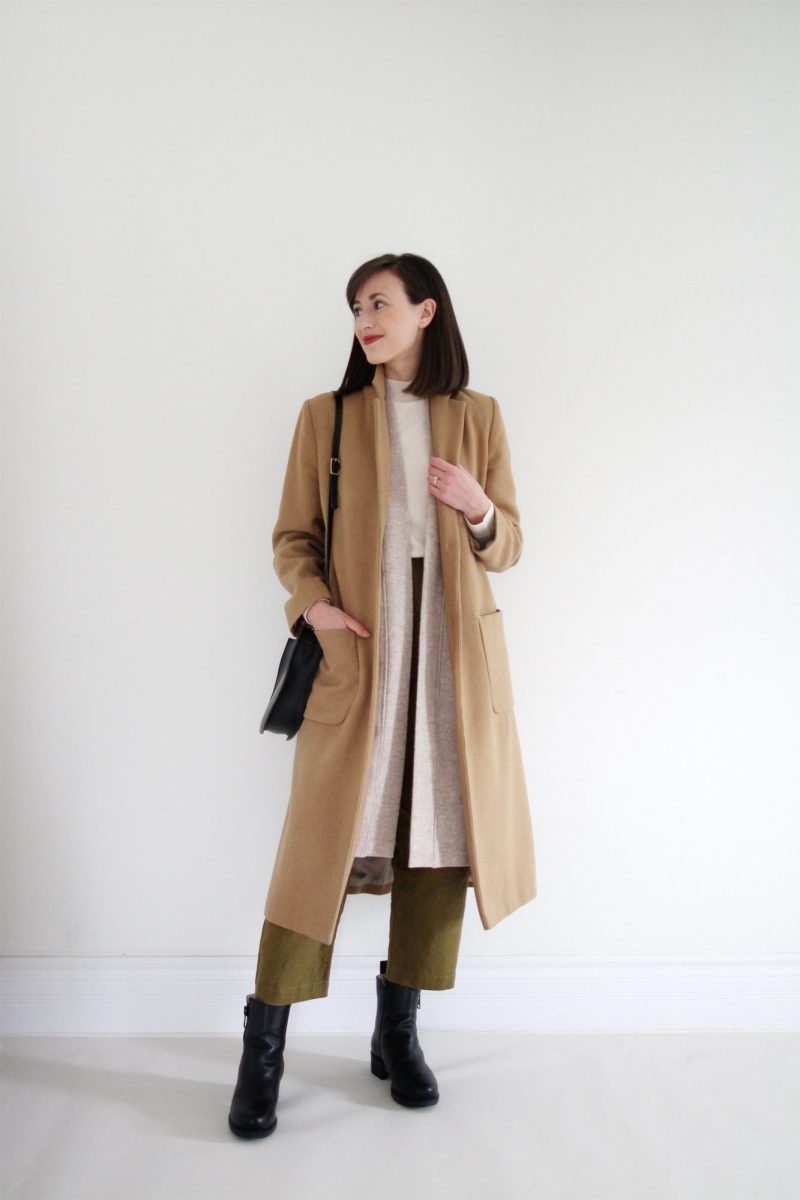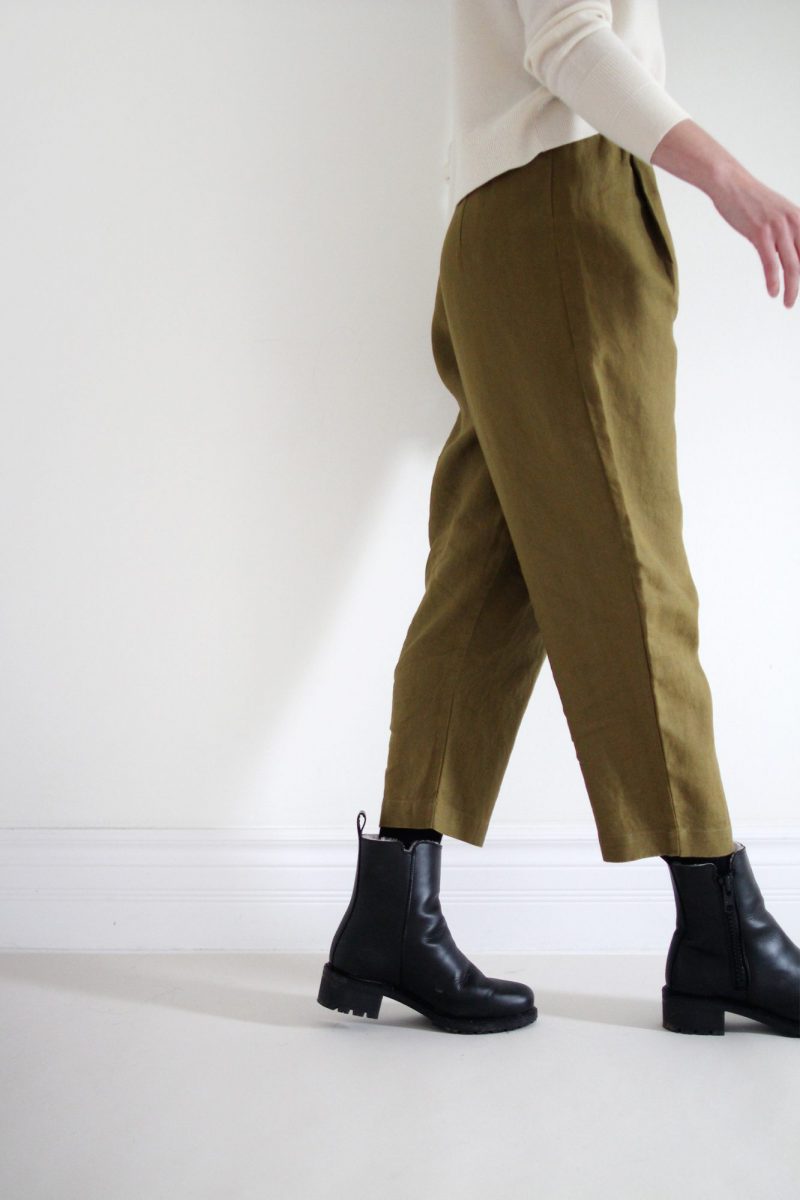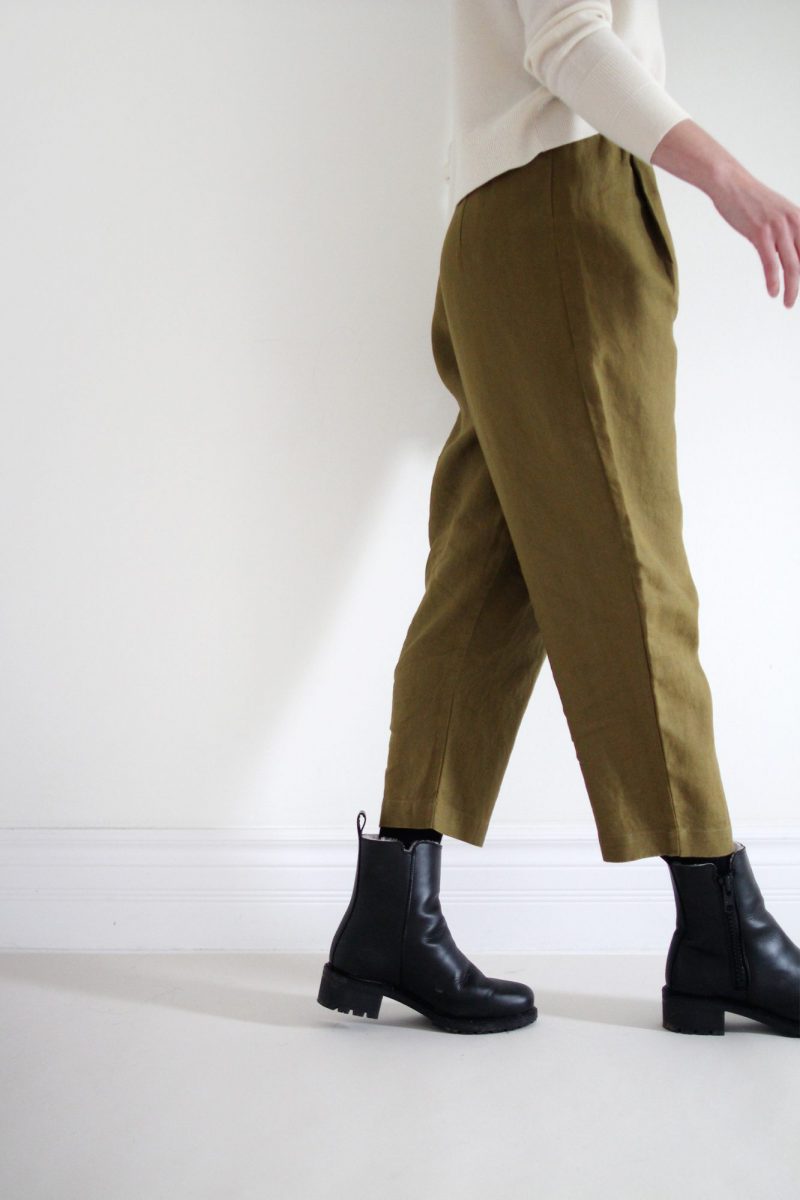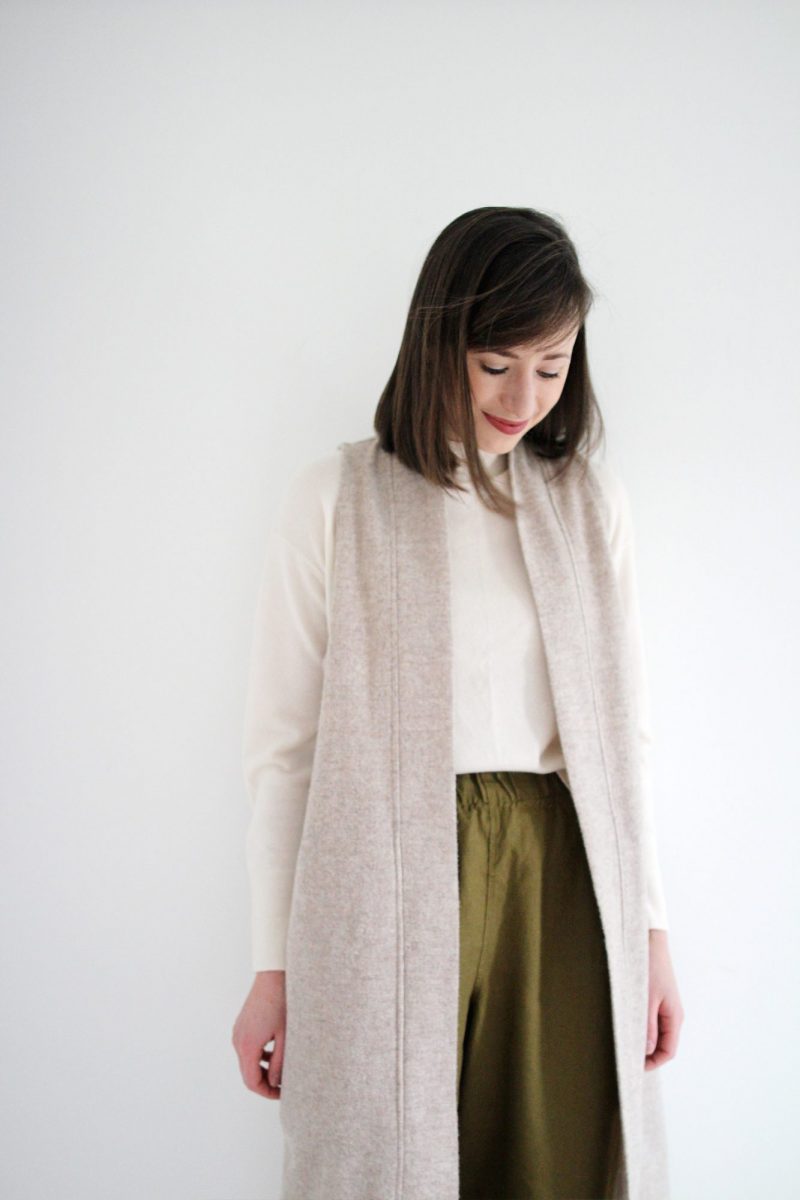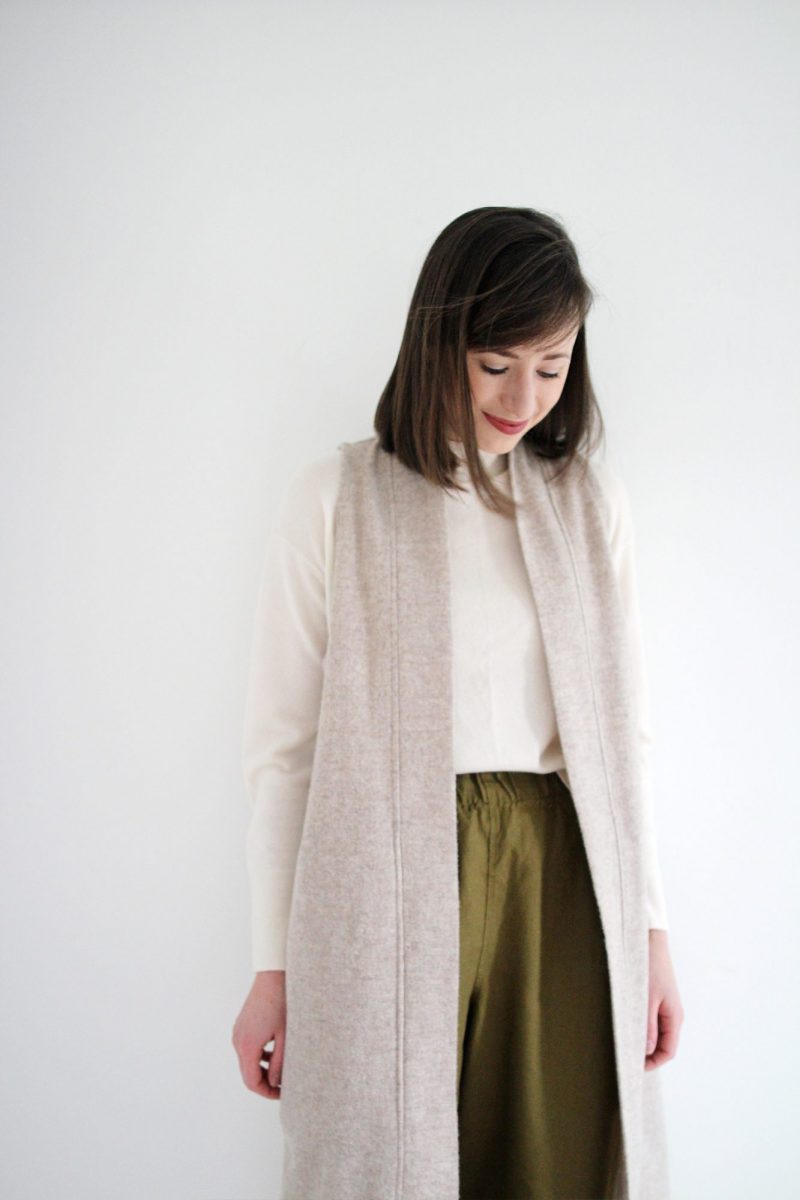 ---
TIP 4 – LONG TOP LAYERS
---
Once you've got the lower leg covered (pun intended) you can think about the upper half. I don't find my upper leg is as bothered by the cold but I still like to keep myself insulated as best I can. Duster vests come in very handy for this purpose as they can be worn inside a cold office or home and then slid under a wool coat when you're heading out. Long cardigans, such as the one in my first outfit, also serve a similar purpose.
To make a long vest work in this case I've tucked my cropped cashmere sweater into my pants to keep the waist-line visible, this is my favourite leg lengthening trick. From there I've chosen an ankle boot that meets the bottom of my pants so there is no leg showing to break up the line. Then I'm mixing tasty neutrals like oatmeal and olive together with classics like black, ivory and camel for a colour palette that's both comforting and fresh.
I'm also kind of loving how these sturdy winter boots add a utilitarian vibe to all these soft pieces. Which leads me to my next tip in Look 3!
---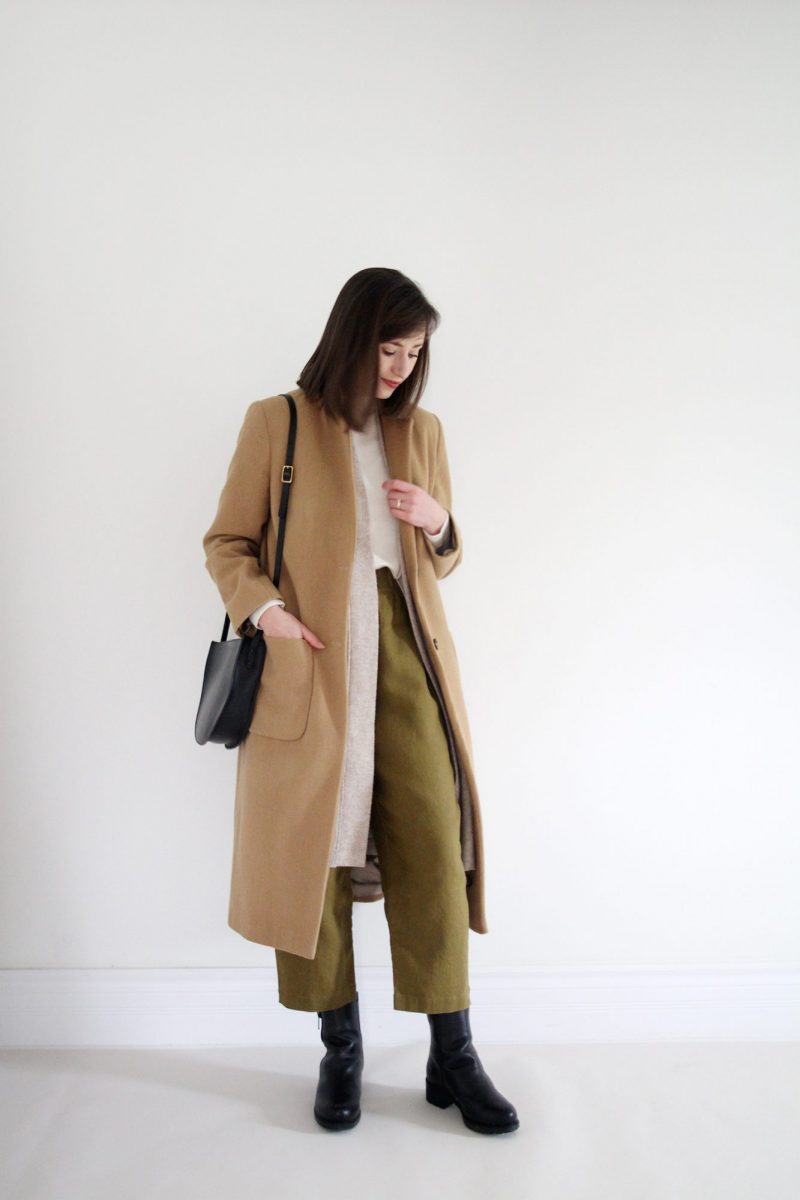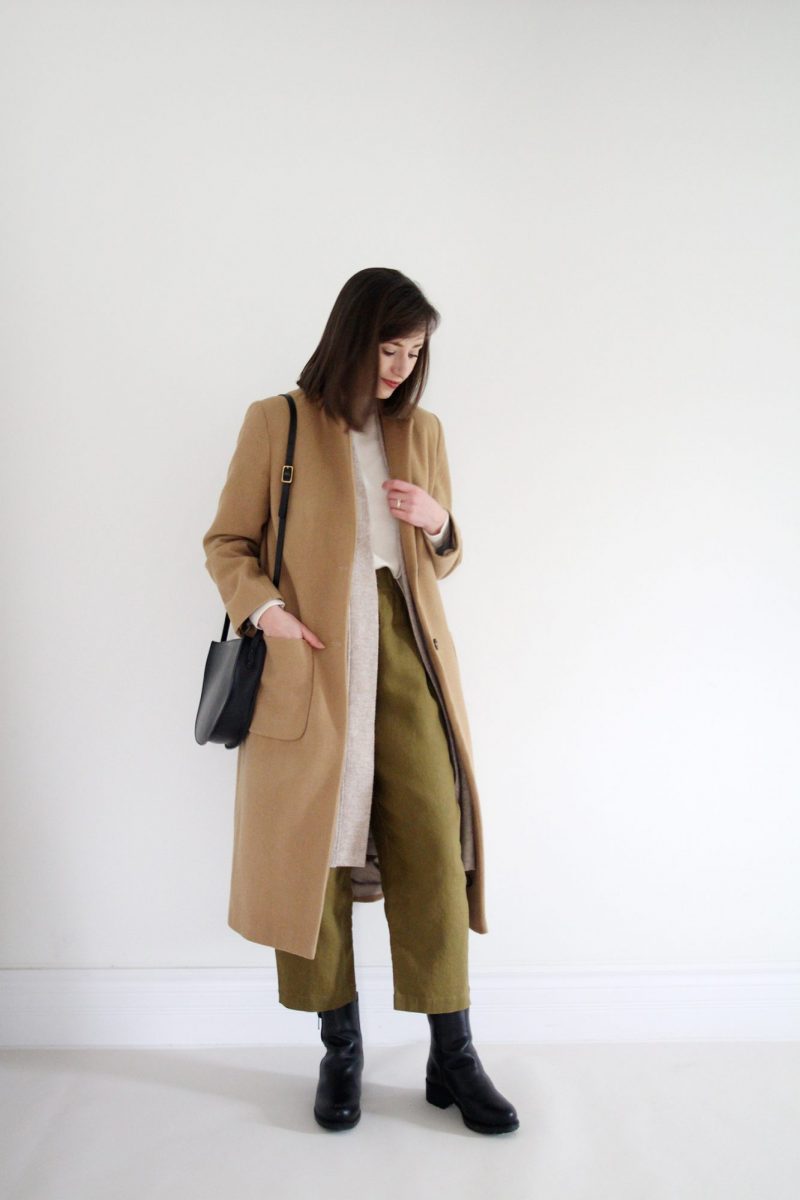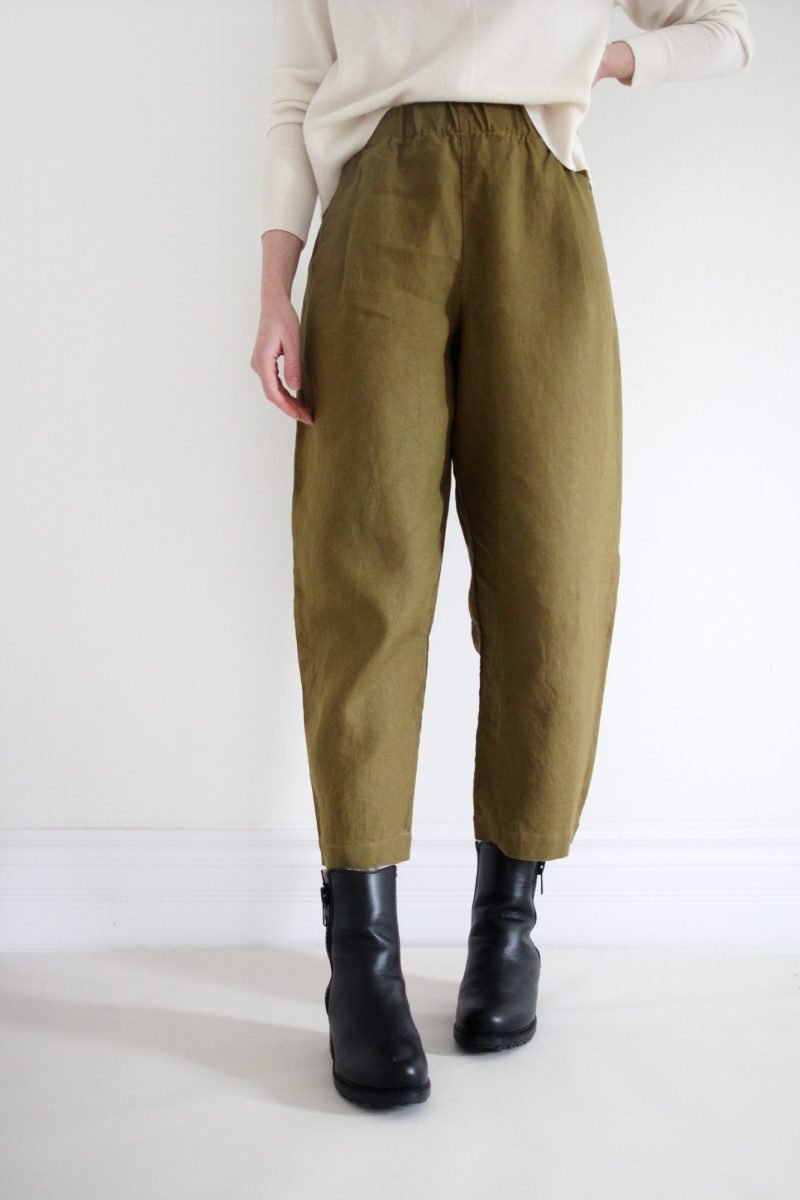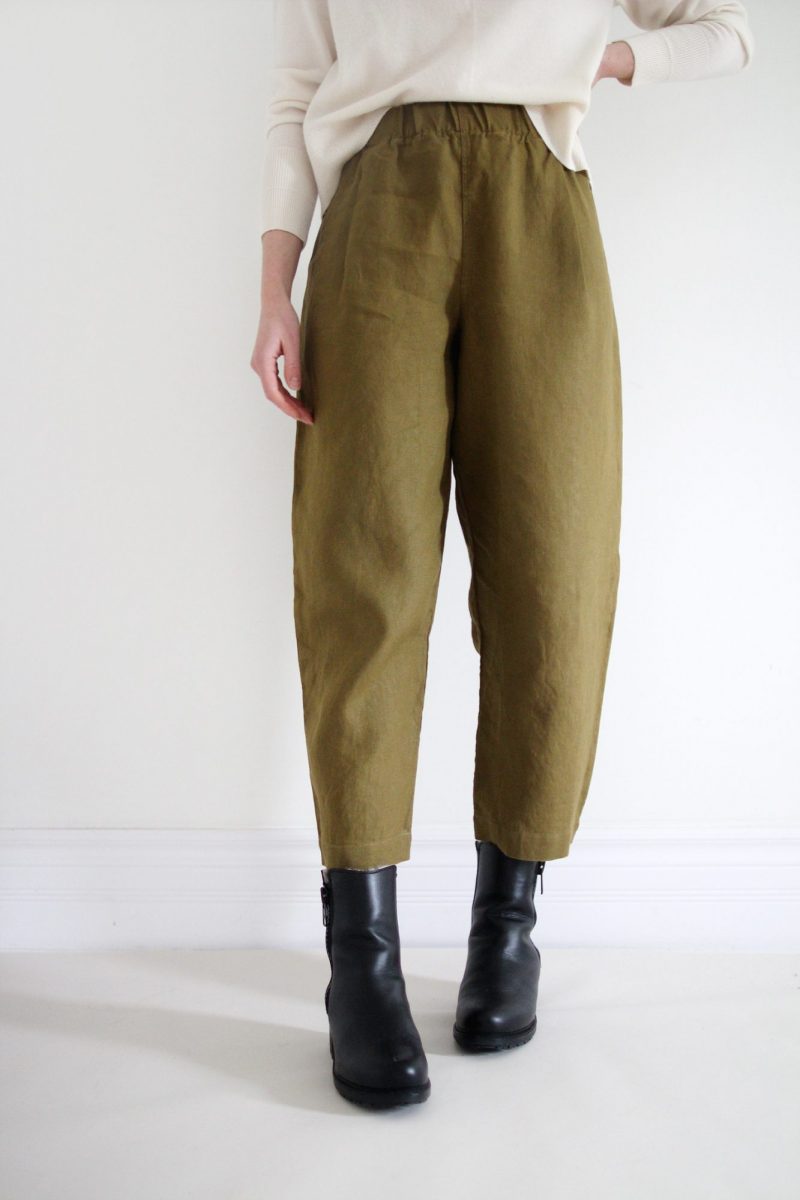 ---
Sidenote: This post isn't about the Andy Trouser but can we take a brief moment to appreciate this shape? So good! 
---
---

---
LOOK 3
LINEN JUMPSUIT
---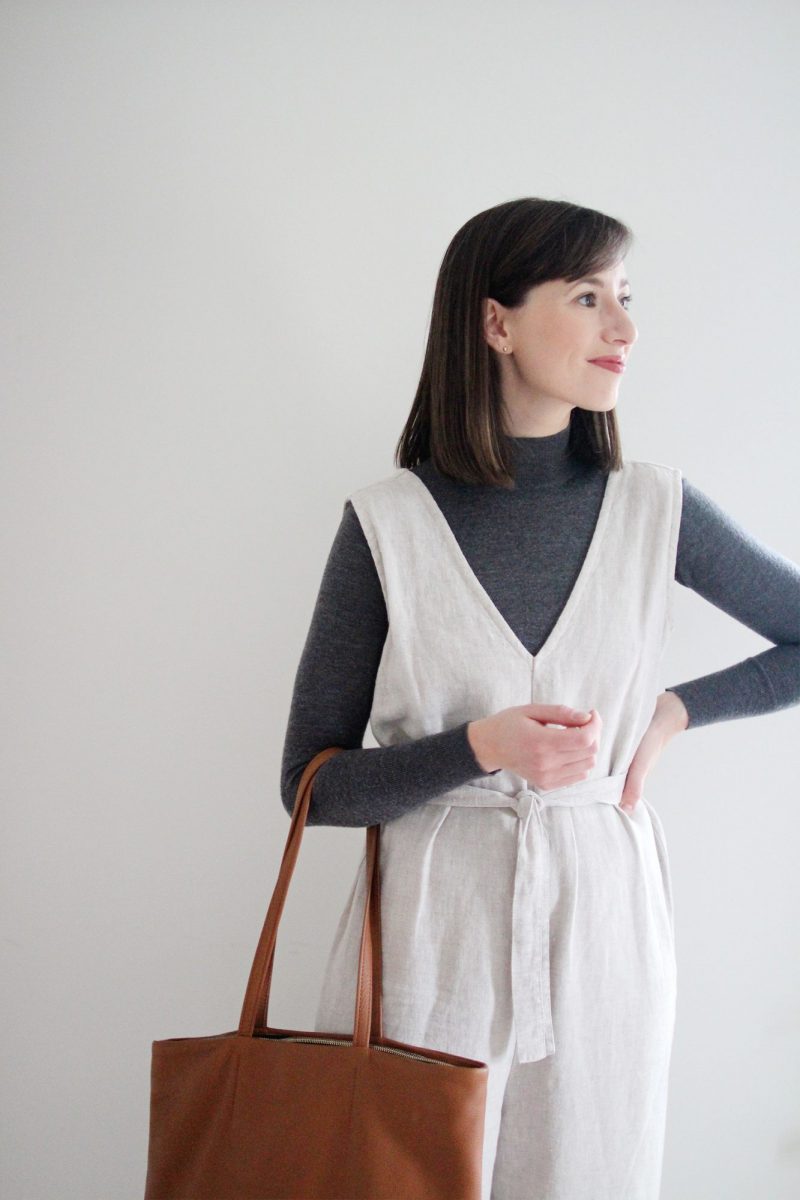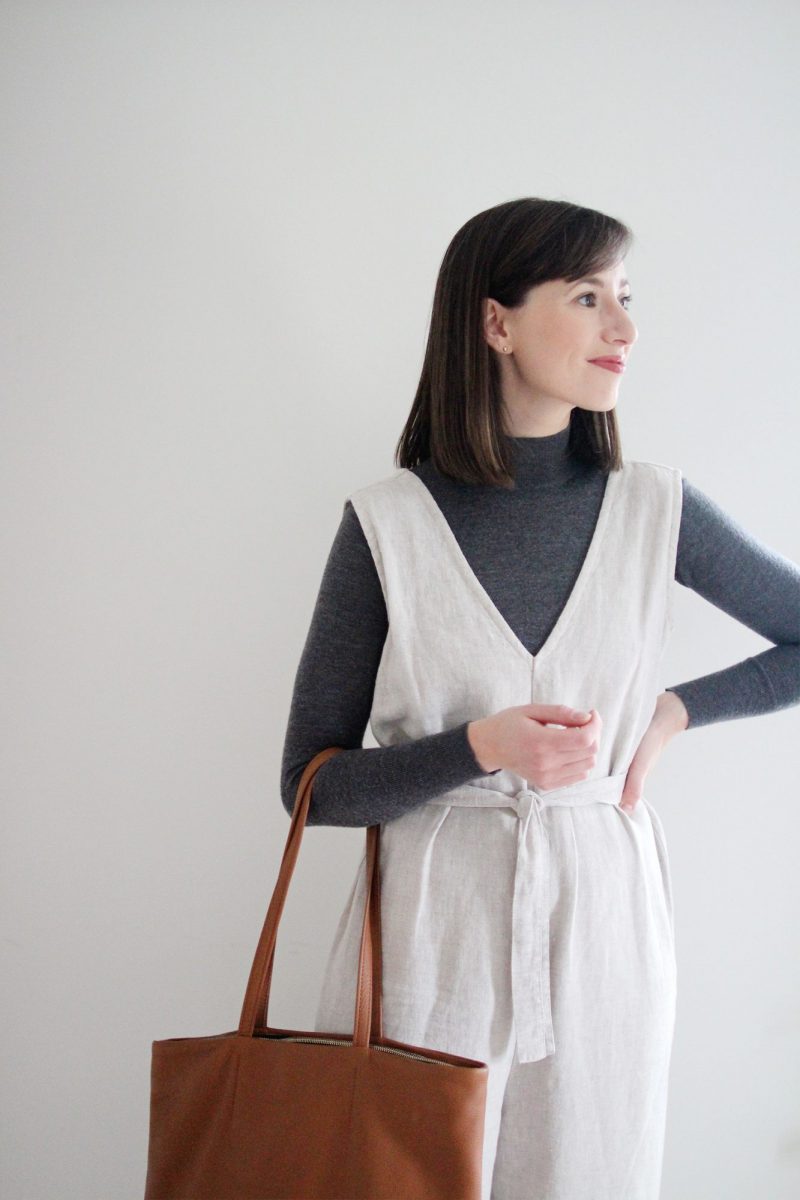 ---
TIP 5 – TALL BOOTS
---
In Ontario the temps are officially below bare ankle territory at this point and I've been reminded of why I have so many tall ankle boot options. When it comes to cropped length pants (which I seem to have almost exclusively now) they come in very handy.
I'm really glad that there are so many tall shaft ankle boot styles available right now because they really are the best way to make cropped inseams practical in cold weather. I like my boots to come up above my ankle by several inches in order for them to at least meet the bottom hem of my pants, or ideally, for there to be some overlap. This is usually between 4 and 8 inches.
Look #1 and this outfit show what a bit of overlap looks like and Look #2 shows what it looks like when the inseam ends at the top of the boot. This paired with knee socks really helps to keep out the winter chill.
Check out my winter boot round-up for more cozy footwear options.
---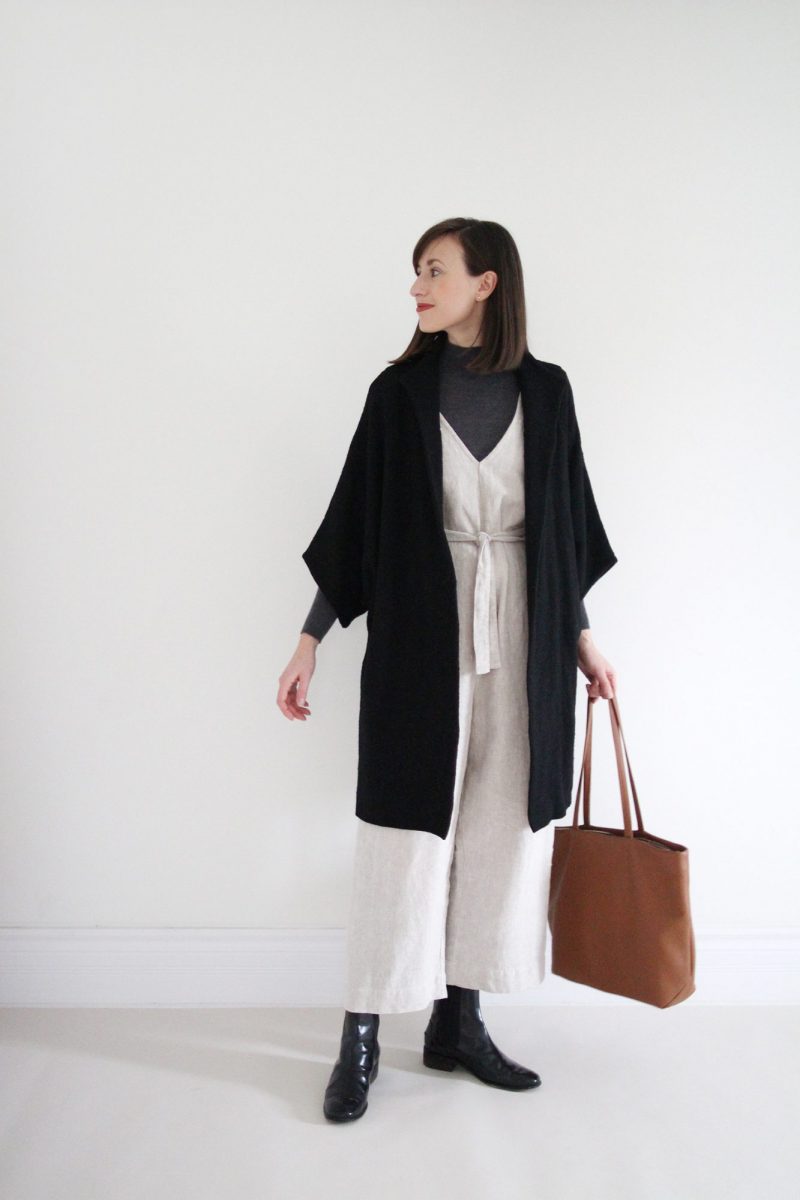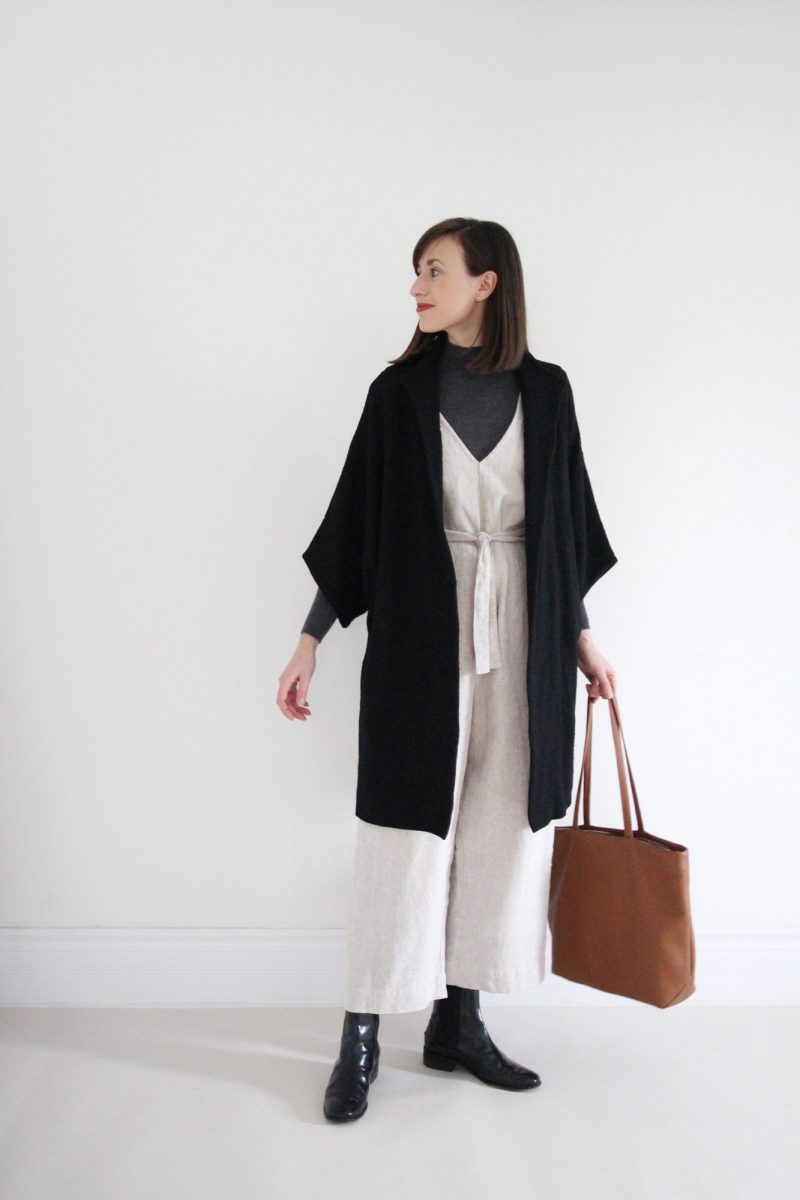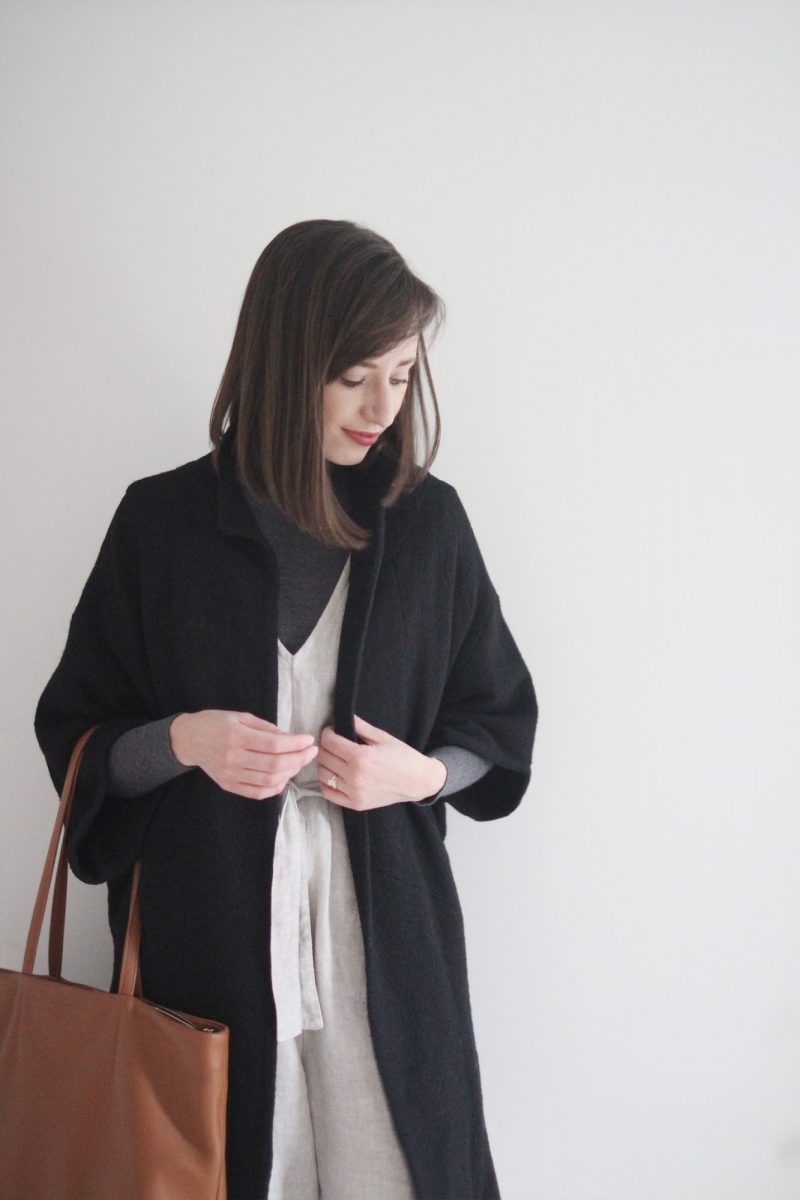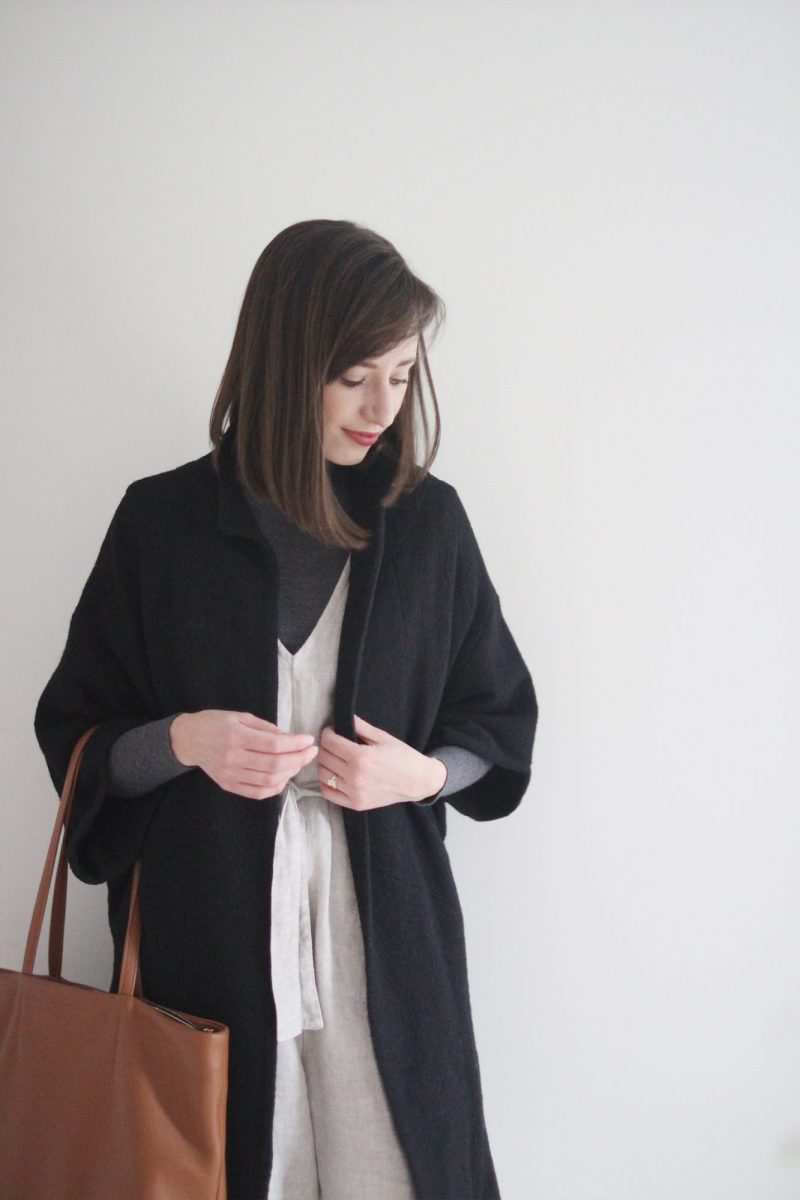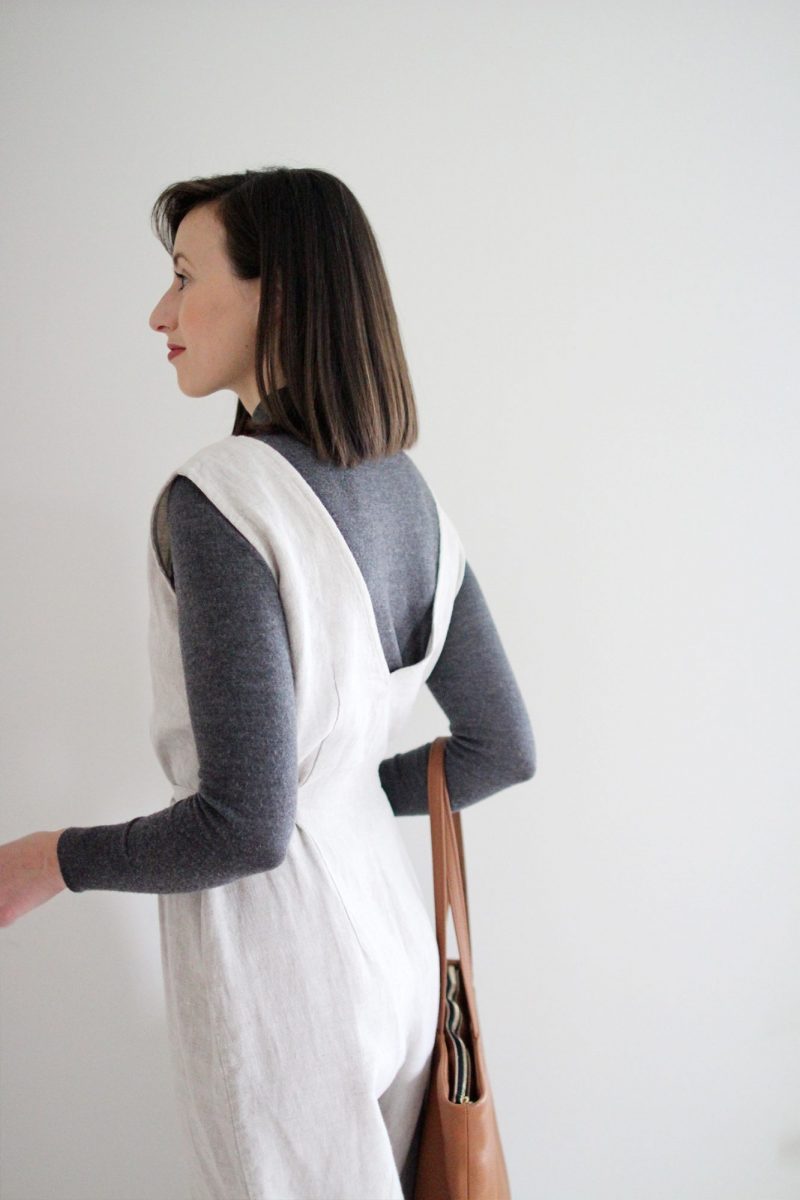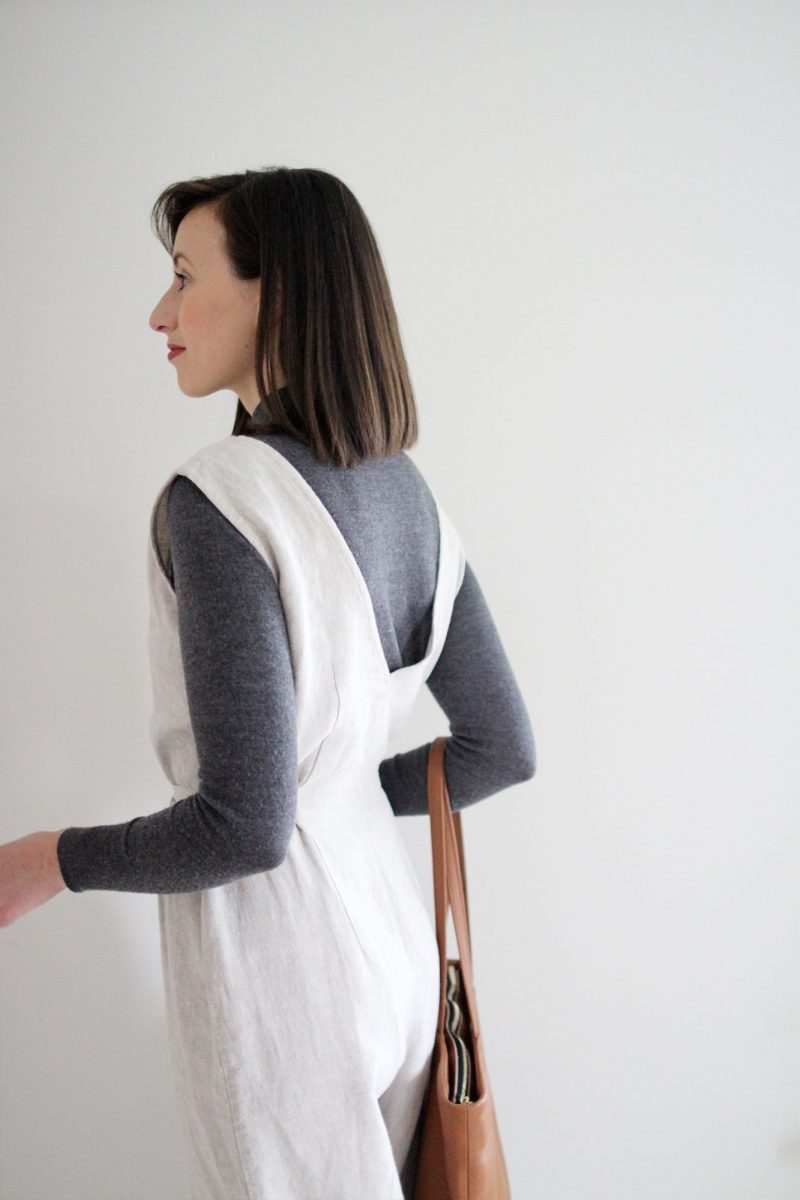 ---
TIP 6 – IGNORE SEASONAL ASSOCIATIONS
---
This one is less of a practical tip and more of a theoretical one. We tend to categorize pieces in our closet by season, especially when we reside somewhere that has distinct weather changes. I know I personally had a habit of doing this but once I began blurring those lines a little bit I started seeing how items could work beyond the temperatures I'd originally intended to wear them in. So give yourself permission to ignore the season an item might have been marketed for or purchased in and see if you can't push its boundaries a little bit.
Get ready to layer up, mix textures, add cozy footwear, pile on the long coats and enjoy wearing your favourite summer styles for a little more of the year!
---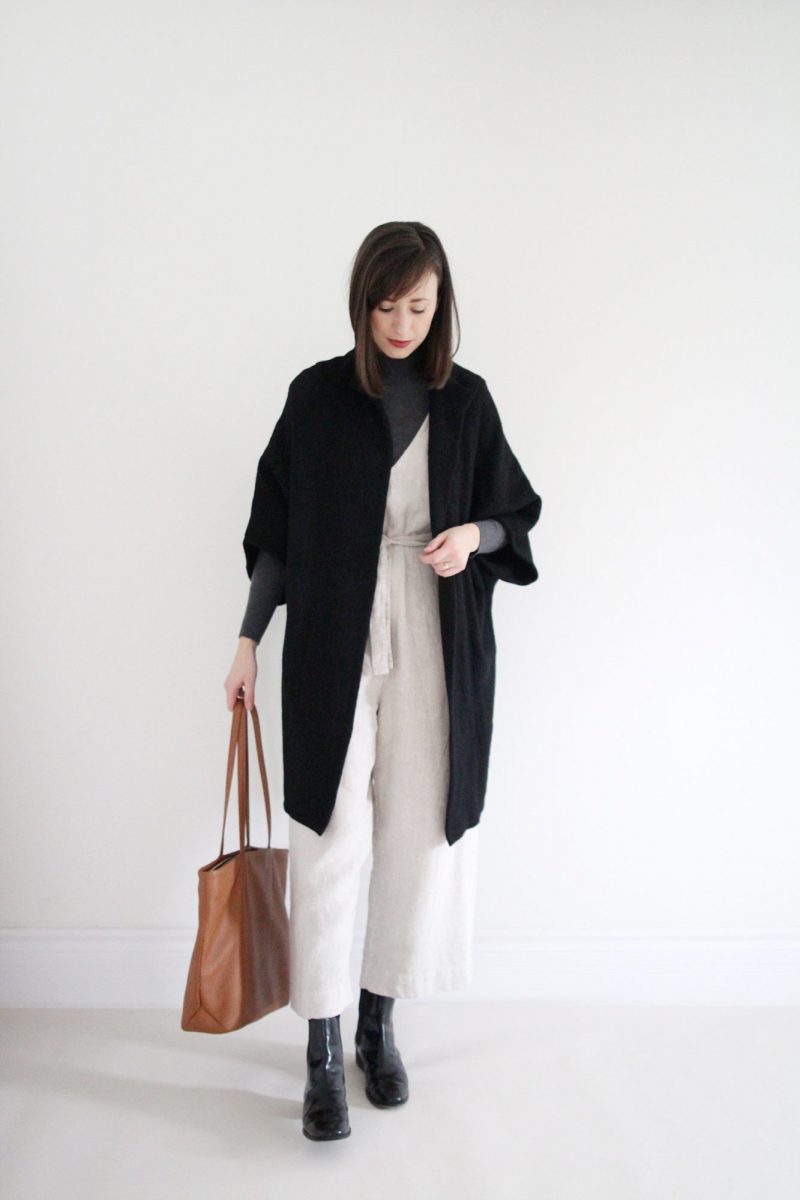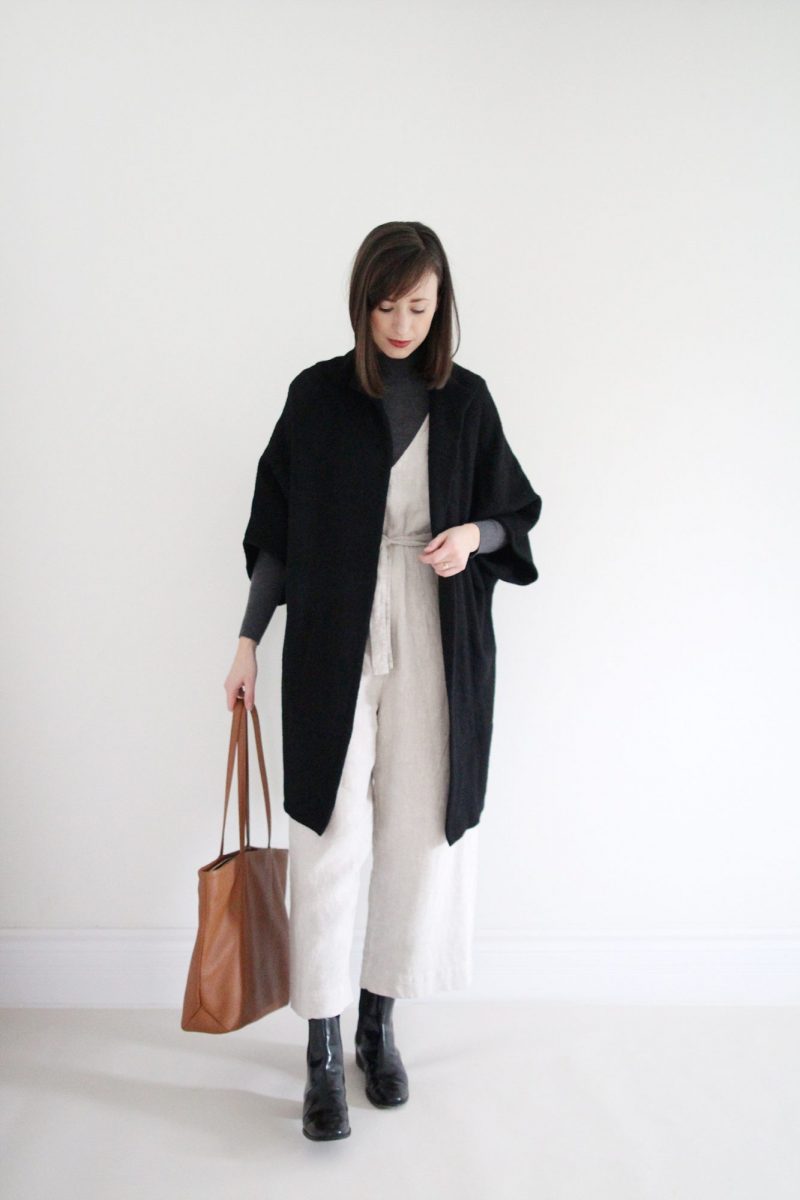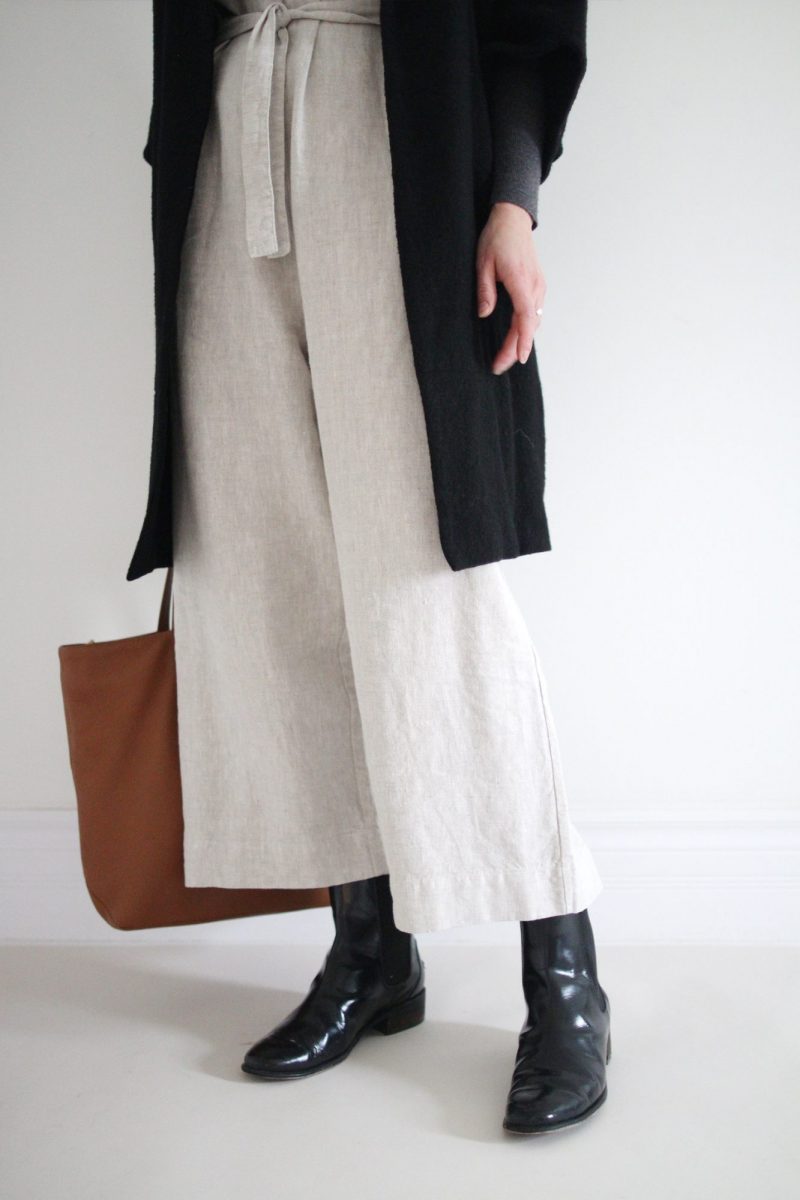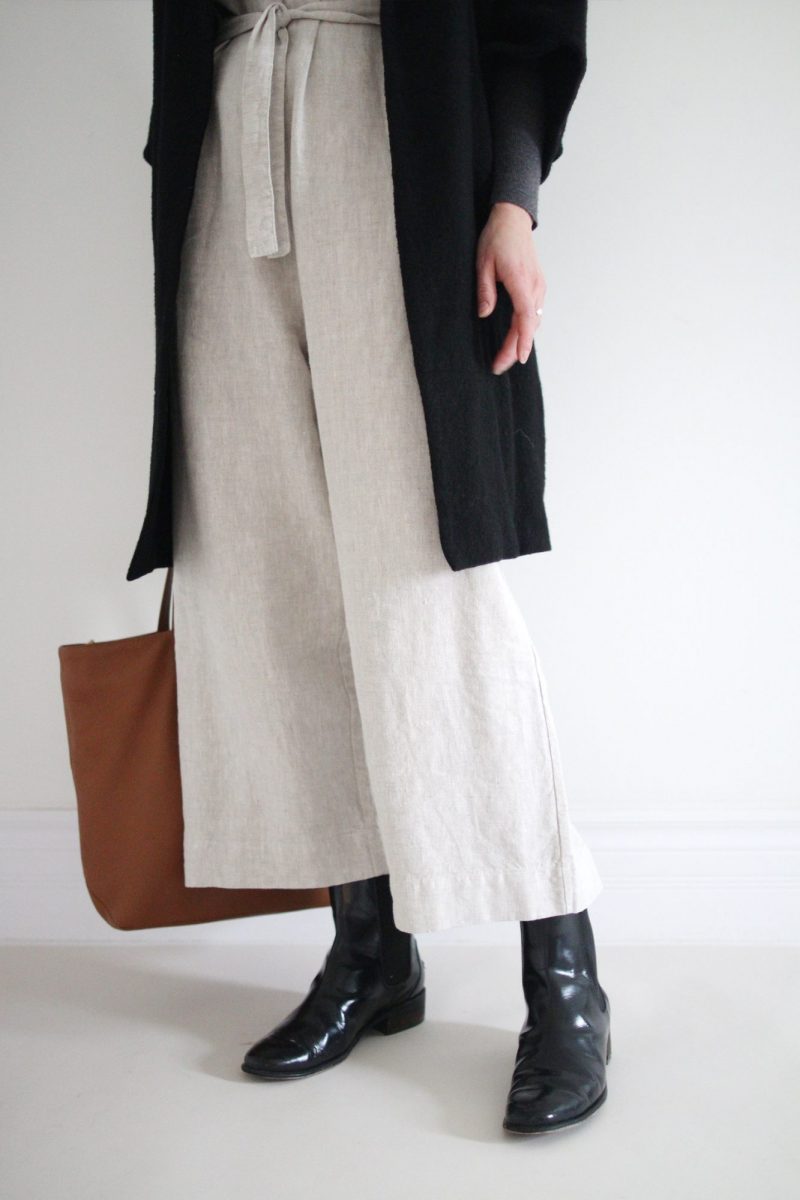 ---
---

---
I hope these tips are helpful and inspire you to keep wearing your linen favourites into the winter months! 
---
How do you make your linen items or summer styles work for colder temps?
---

---
---
SHOP ALL POWER OF MY PEOPLE SHIRTS
SHOP MY FAVOURITES: THE FRIEND + THE PHILOSOPHER
SAVE 10% with STYLEBEE10 anytime.
---
THANKS FOR READING & HAVE A WONDERFUL WEEKEND!
---
This post is not sponsored but it does contain affiliate links. If you choose to shop through the links above I may make a small commission on a sale. I only share brands and products that I genuinely believe are worth noting and all opinions are, as always, my own. Thanks for supporting the brands that support Style Bee!