Happy Friday folks! I've got something a little bit different for you today. That is, a super simple jewelry organizer DIY. If anyone is need of a new storage solution for their accessories collection, this one is for you!
Even though this jewelry organizer happened by accident it has become such a useful spot for me to store my most worn pieces. I'd originally bought the board and push pins for a party I hosted and had planned to use it as mood board for inspiration and content planning. Instead, I found that it became a catch-all for my necklaces, earrings and bracelets as I finished shoots or began getting ready to relax at the end of the day. Turns out that a cork board and pins are an affordable, customizable and highly functional way to organize and store jewelry. Knowing how well it works for me, I just couldn't keep the idea to myself any longer!
Today's DIY post will cover: 
What you need to create this jewelry organizer
How I use mine to organize my collection
My long-time jewelry faves + a roundup of pieces I've been eyeing
Let's take a closer look then! 
---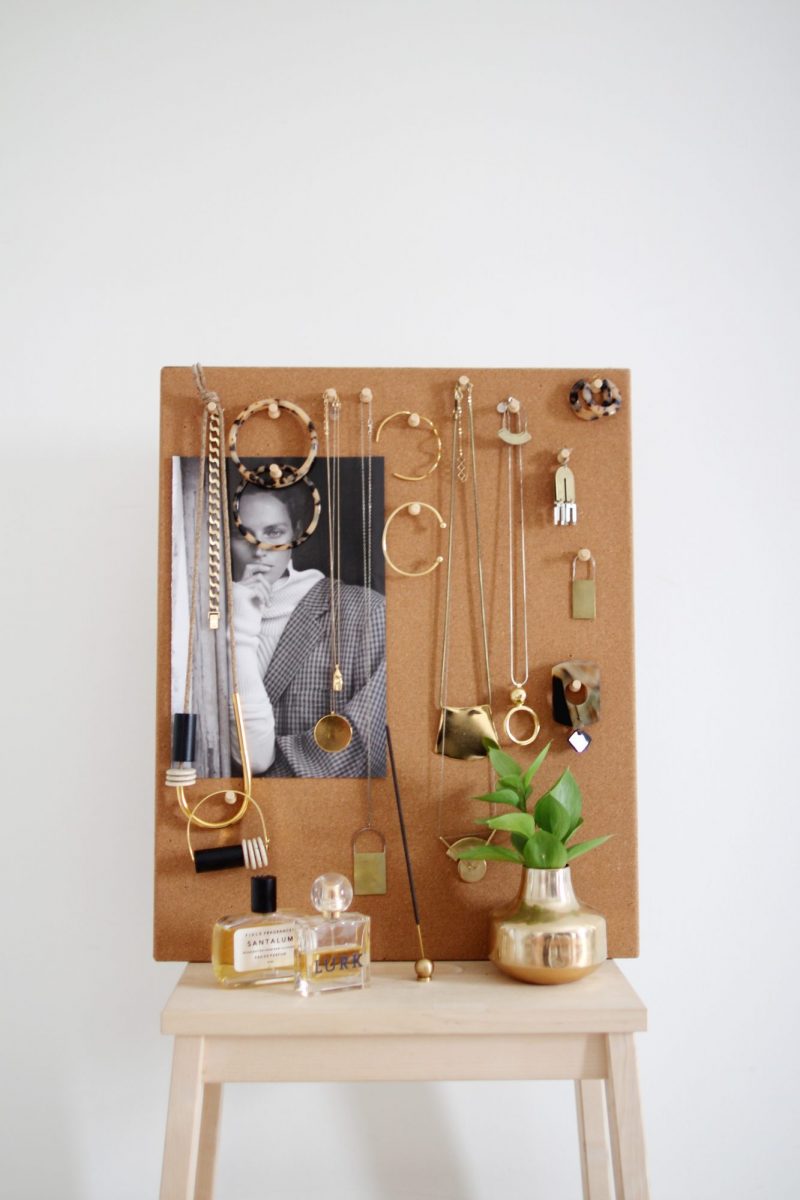 ---
WHAT YOU NEED
---
CORK BOARD – The board I have is about 18″ x 24″ but there are lots of sizes and thicknesses available. Try Michaels or Amazon for lots of options.
PUSH PINS – I liked the look of natural wood push pins but you could choose a different shape or colour if you want to jazz things up. The classic push pin shape works great because the shape of the head acts like a little hook.
VISUALS (optional) – I tore out a photo I liked from a recent issue of Porter to add a bit of visual interest to the board. You could do that or use your own photos, a postcard, print, poster, however you'd like to add a bit of style! Change it up seasonally to give your board a little update.
MAKE IT YOUR OWN – I left my board the natural cork colour because I liked it with my gold jewelry but you could easily paint the board another colour. I like the idea of painting it the same colour as the wall for a more subtle look but bright white, black or grey would work well too. You could also frame it to make it look more finished or substantial.
---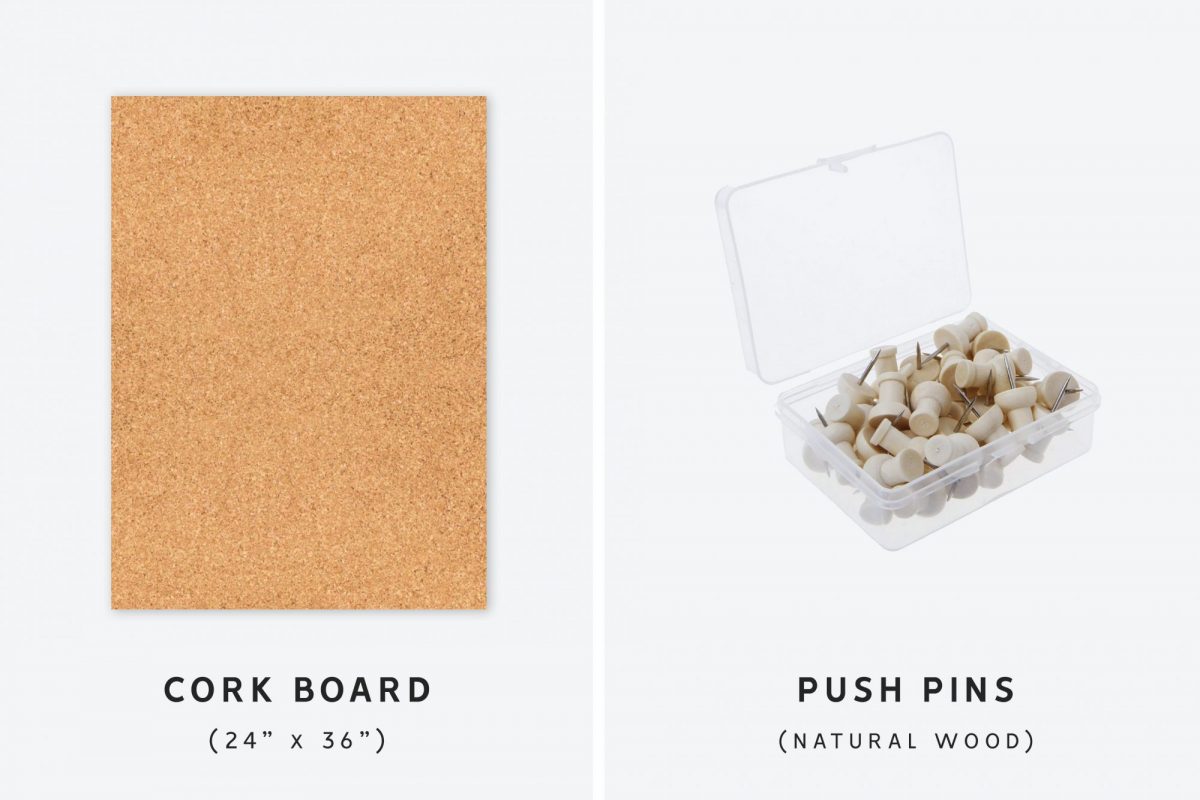 ---
HOW I USE MY ORGANIZER
---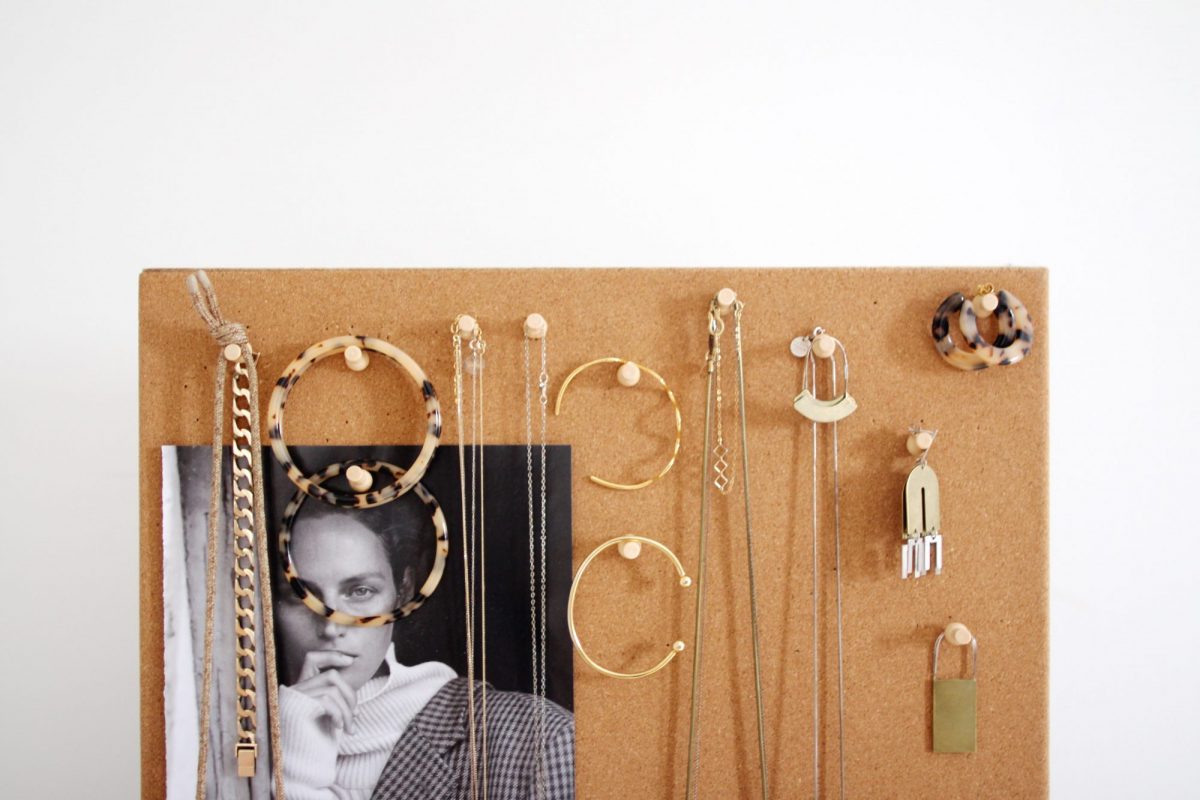 ---
FOR NECKLACES: For a long time I hung my necklaces on a few hooks within my closet. This solution was okay, but I found it hard to keep them from getting tangled as moved clothing in and out and they'd get bumped and swirled. I also found I wasn't wearing most of my necklace collection because I couldn't really see them all clearly.
This approach works much better because I can hang each necklace, or at most a couple, on one pin and they don't get tangled or wrapped around each other. I can also adjust the height of the pin as needed for the chain length.
FOR BRACELETS: I used to stash my bracelets all over the place but could never find the one I wanted when I was looking for it. This way they each have their own spot and never (well almost never) go missing!
---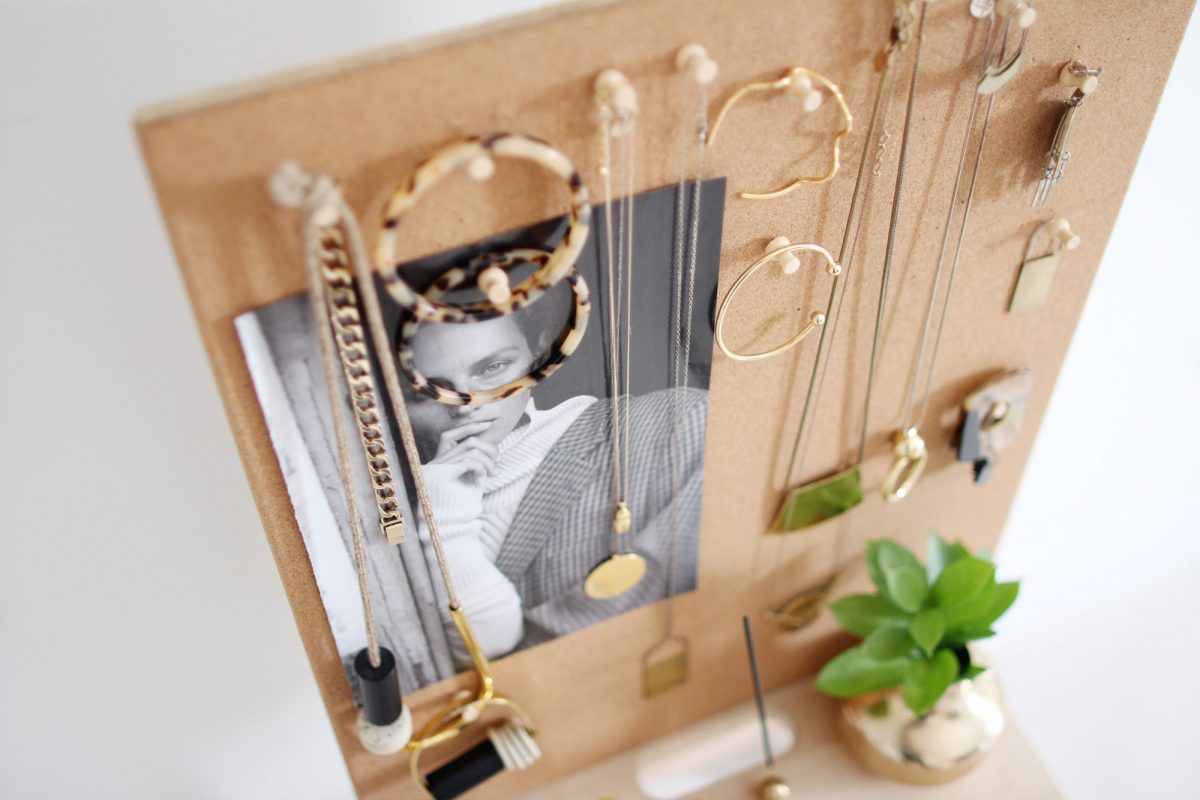 ---
FOR STATEMENT EARRINGS: My earrings used to live in a little box in my desk but I wouldn't bother wearing them as often because it was just one extra step to get them out. By hanging them on the board, I can see them all at once and grab the pair I feel like wearing without having to go hunting for them. To hang them I just position the butterfly backing at the end of the post and then they hook onto the pin no problem. (see below)
---
---
FOR STUDS: I wear studs most days and as I was putting this post together I realized I didn't have spot for them on the board. So I pulled out a piece of velvet topped foam from my Jewels & Aces box and secured it between two pins. This way I can pop my studs in and out of the foam square as needed! (see below)
FOR RINGS: I usually just keep my rings in a small brass catch-all in front of the board on my desk but you could also put them into a little pouch and pin it onto the board.
HOW I STORE IT: I simply sit the board on my desk and let it rest against the wall. It would also work well attached to the wall next to a closet or free-standing wardrobe. It works best on a stationary space but I wouldn't put it on the inside of a door because the pieces might slip off a pin when moved.
---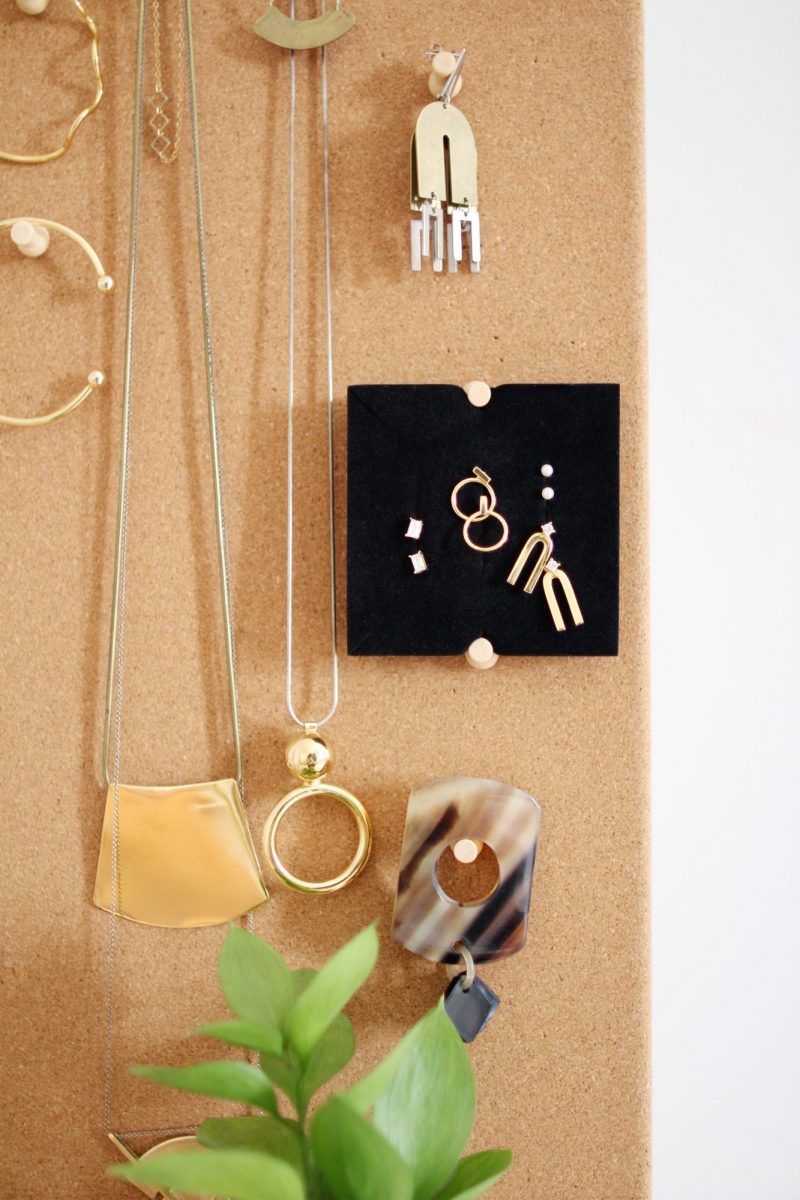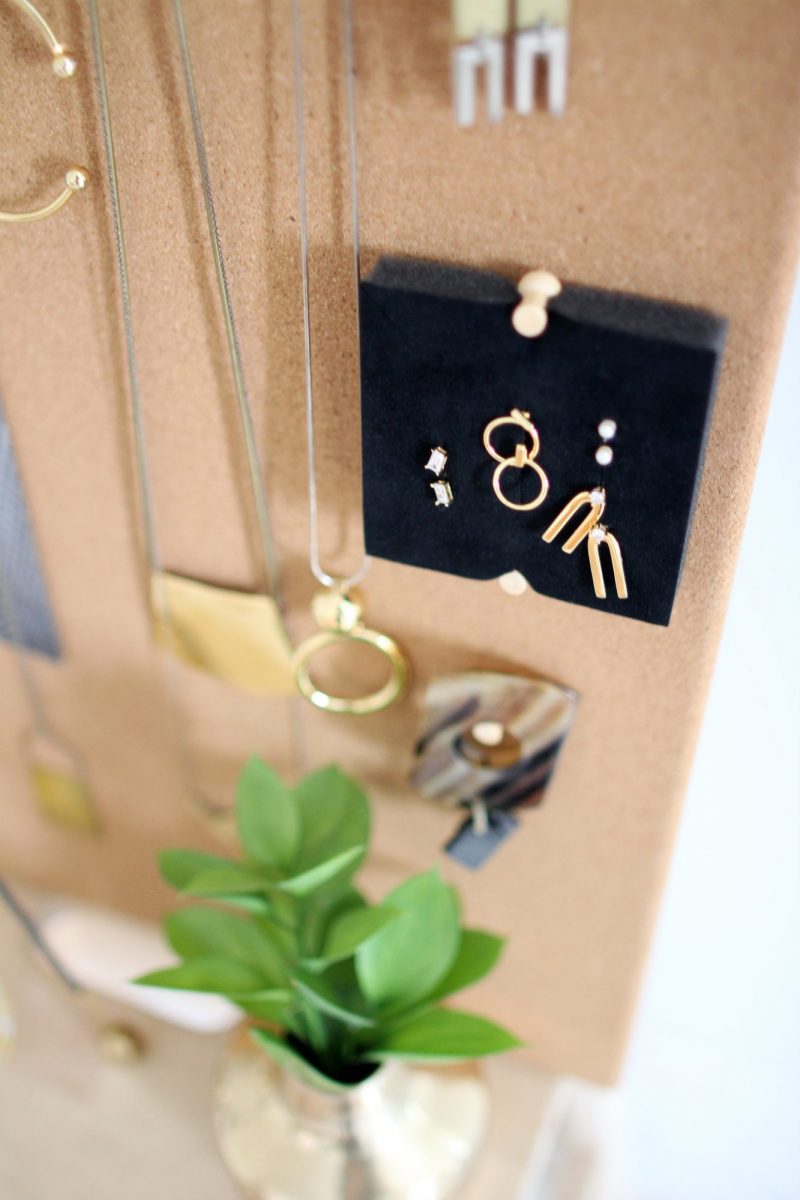 ---
MY GO TO JEWELRY
---
In addition to the pieces I've bought myself over the years, I've had the opportunity to collaborate with some incredible jewelry makers and many of the pieces I've collected are still in high rotation today. I prefer to wear gold jewelry and I stick to simple but impactful shapes that work with a wide range of the clothes in my closet.
In case you're interested in any items shown in this post, I've listed and linked to all the styles that are still available or similar options I've come across. Below the links to these items I've put together a little round-up of some pieces I've been eyeing lately too!
---
---
IN THIS POST
---
FROM LEFT: CHOCK A BLOCK NECKLACE gifted MASLO | BASELINE BRACELET gifted MASLO | CHAIN BRACELET (vintage)* | TORTOISE BANGLES MACHETE | CIRCLE PENDANT* gifted YOUNG FRANKK | WOMAN VASE PENDANT WOLF CIRCUS | LONG PADLOCK PENDANT n/a CLAUS | WAVE BANGLE n/a YOUNG FRANKK | DOT BANGLE gifted BIKO | PLATE PENDANT* + DOUBLE DOT PENDANT* YOUNG FRANKK | LONG ABSTRACT PENDANT n/a STVDIO BROOKLYN | U-HOOPS + LOCK HOOPS* gifted CLAUS | ARC + LINE EARRINGS gifted NATALIE JOY JEWELS | KATE HOOPS MACHETE | STUD EARRINGS gifted JEWELS & ACES | BUFFALO HORN EARRINGS gifted OPELLE
*Linked to similar option.
---
PIECES ON MY RADAR
---

---

---

---
WELL, THAT'S IT FOR MY JEWELRY ORGANIZER DIY! 
WHAT DO YOU THINK, COULD IT WORK FOR YOUR COLLECTION?
---
This post is not sponsored but contains affiliate links. When you shop via the links above I may make commission on a sale at no additional cost to you. Thanks for supporting Style Bee! All opinions are always my own.