Preparing my closet for a new season always begins with reinvesting in pieces I already have and love to wear. It's so interesting to see how just a few months of not wearing certain items can inspire a new level of appreciation and styling ideas. So before I fill in my spring wish list I like to pull out my wardrobe staples from the previous year(s) to remind myself what I'm working with.
Two of the pieces I'm excited to wear again this year are The Friend Shirt and The Philosopher Shirt from Power of My People, a Canadian brand based in B.C.. If you've been reading Style Bee for long, this line of classic shirts and timeless wardrobe staples will probably be familiar as it's been a go-to of mine for many seasons now.
If you're interested, you can find a review of today's featured shirts and learn more about what makes them stand out within button-up crowd. Somehow these shirts never cease to prove their versatility within my closet and I hope this post will inspire some new ideas for you too!
---
STYLE BEE READERS SAVE 10% OFF AT POWER OF MY PEOPLE ANYTIME WITH 'STYLEBEE10'!
*This post is produced in partnership with Power of My People and Style Bee earns a commission on sales made using the reader code (at no additional cost to customers). More details below.
---
---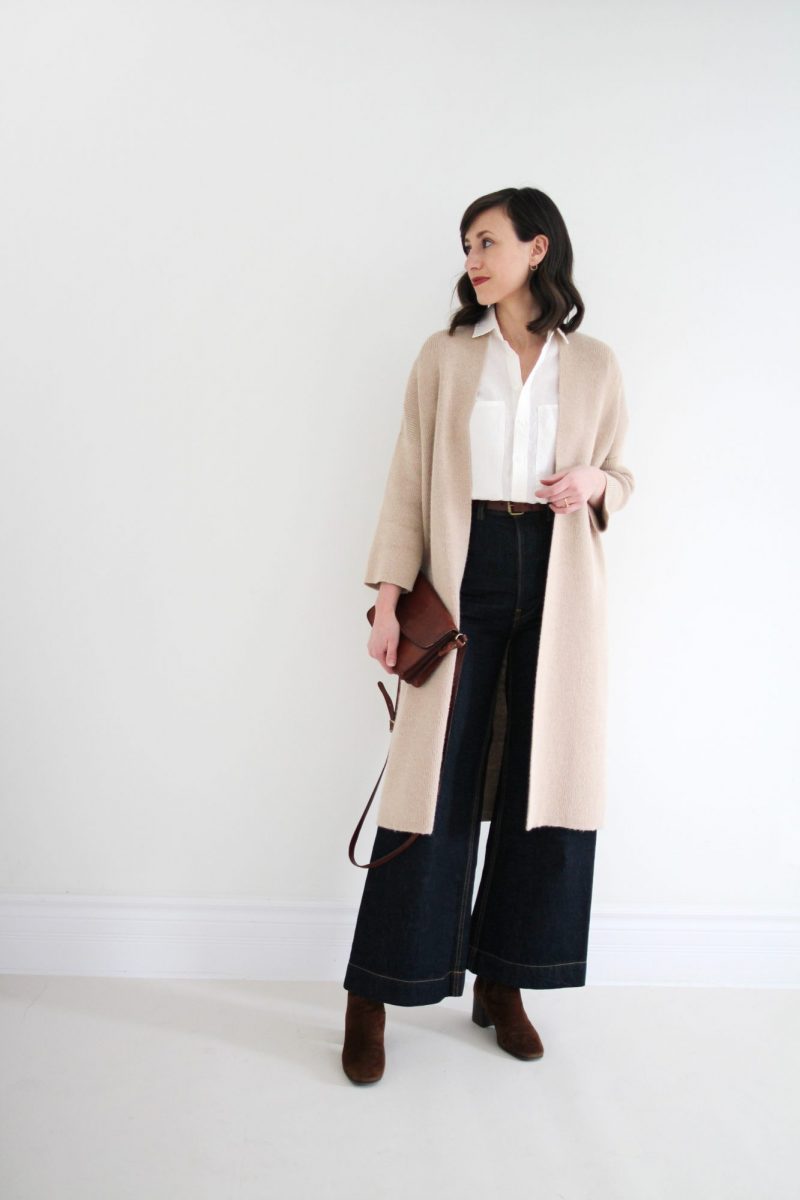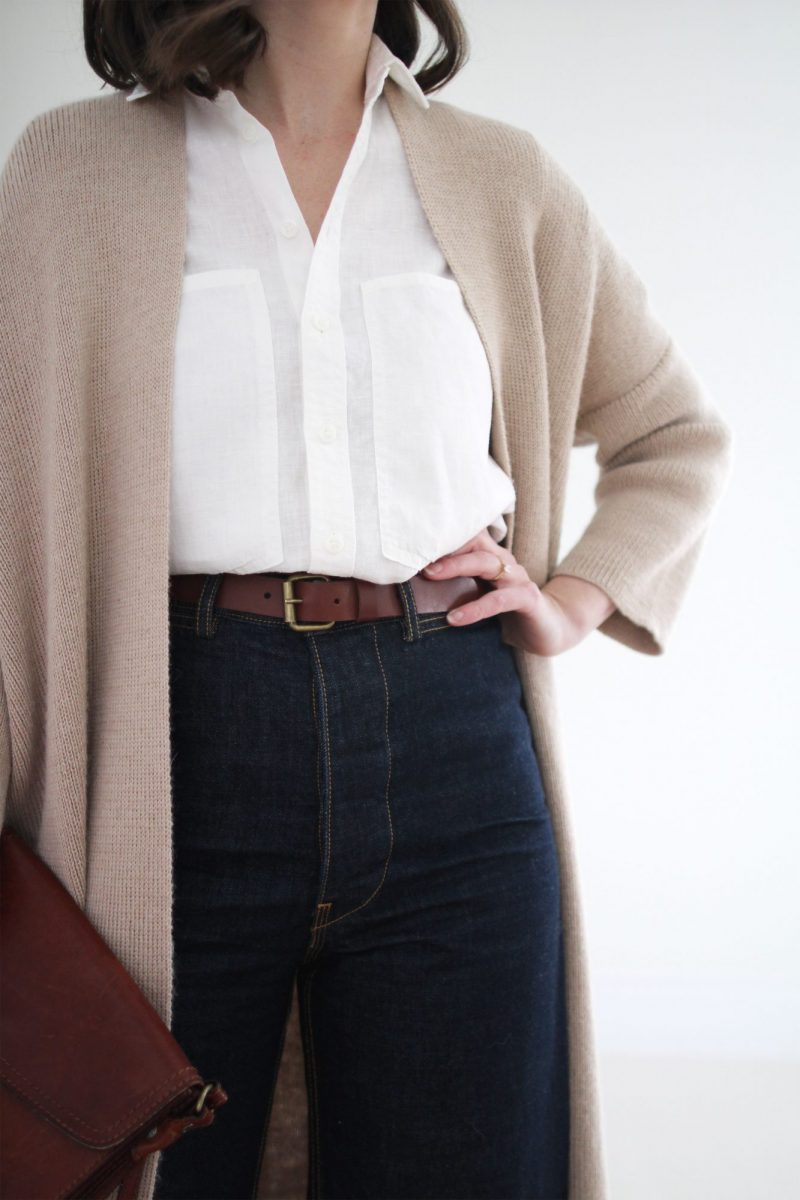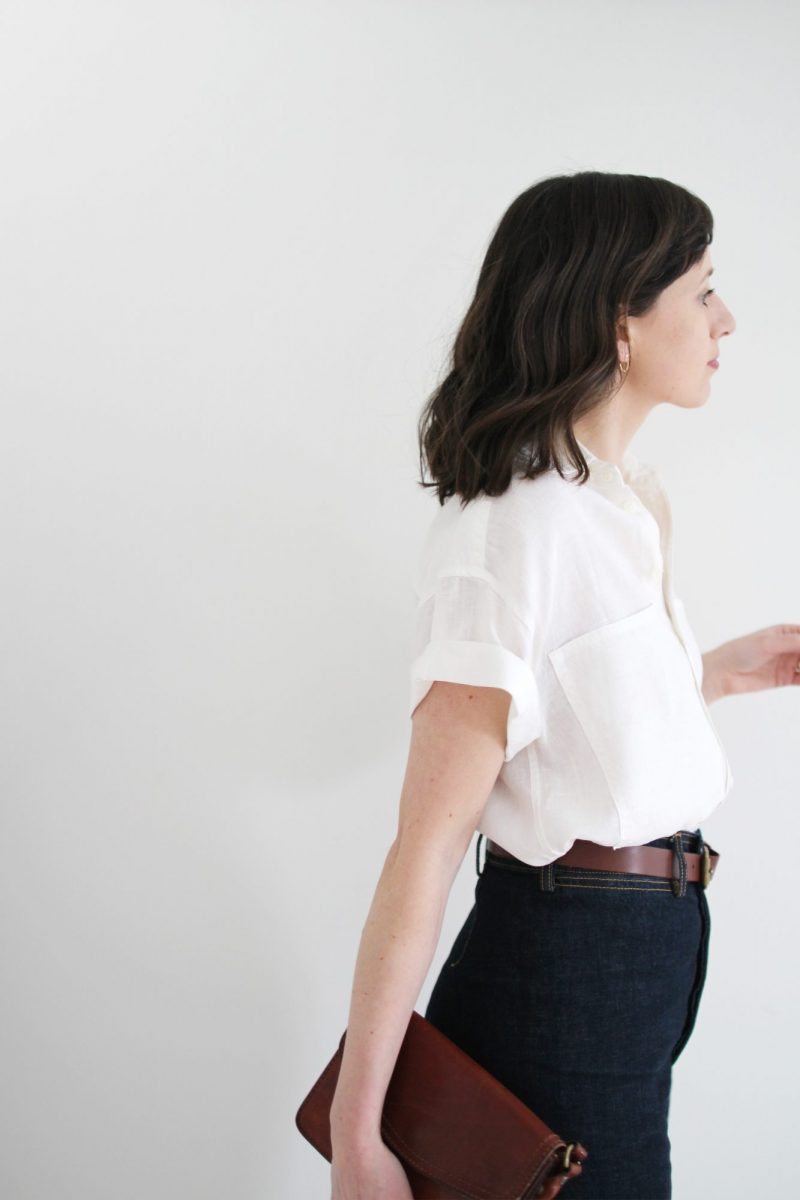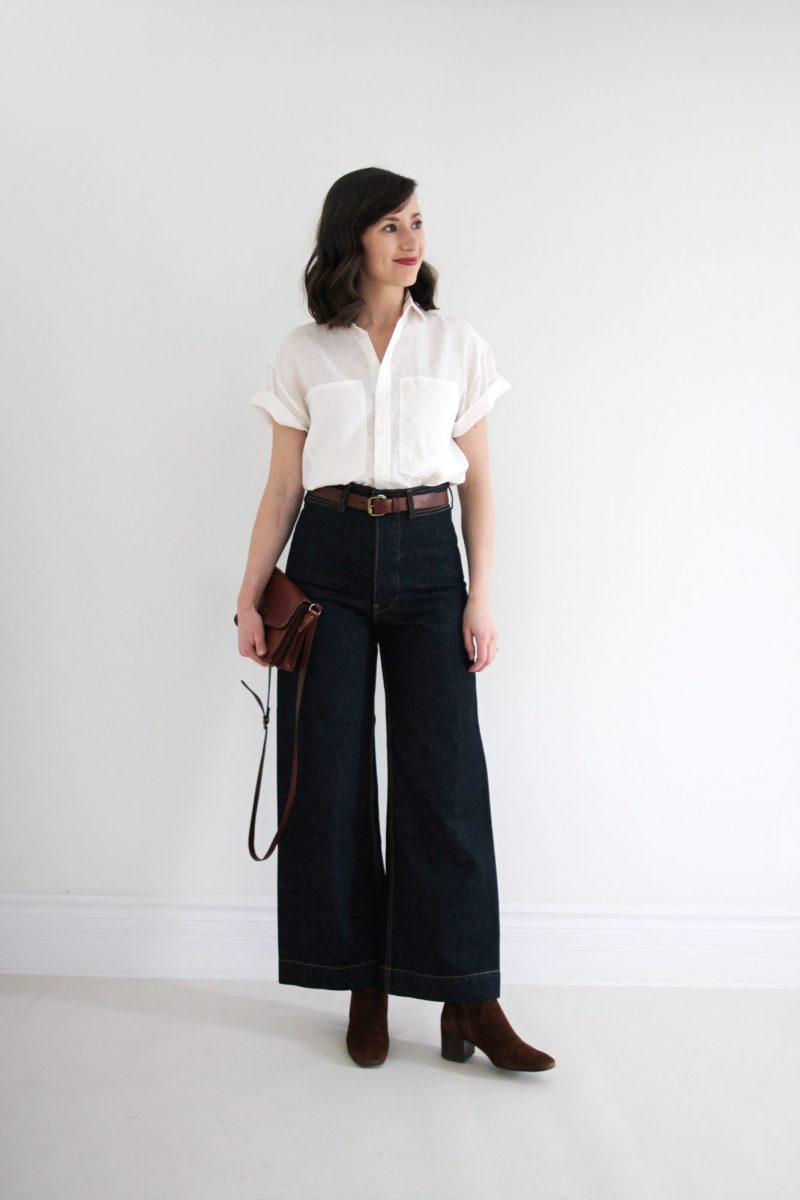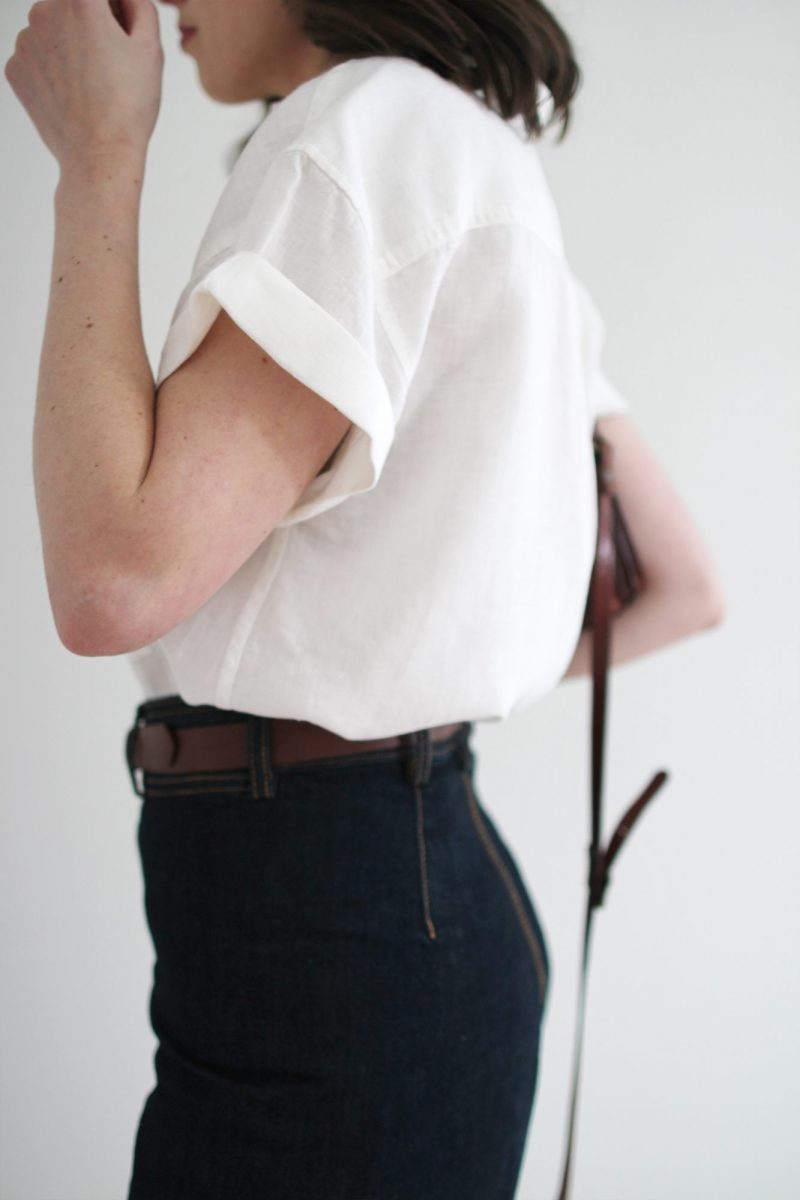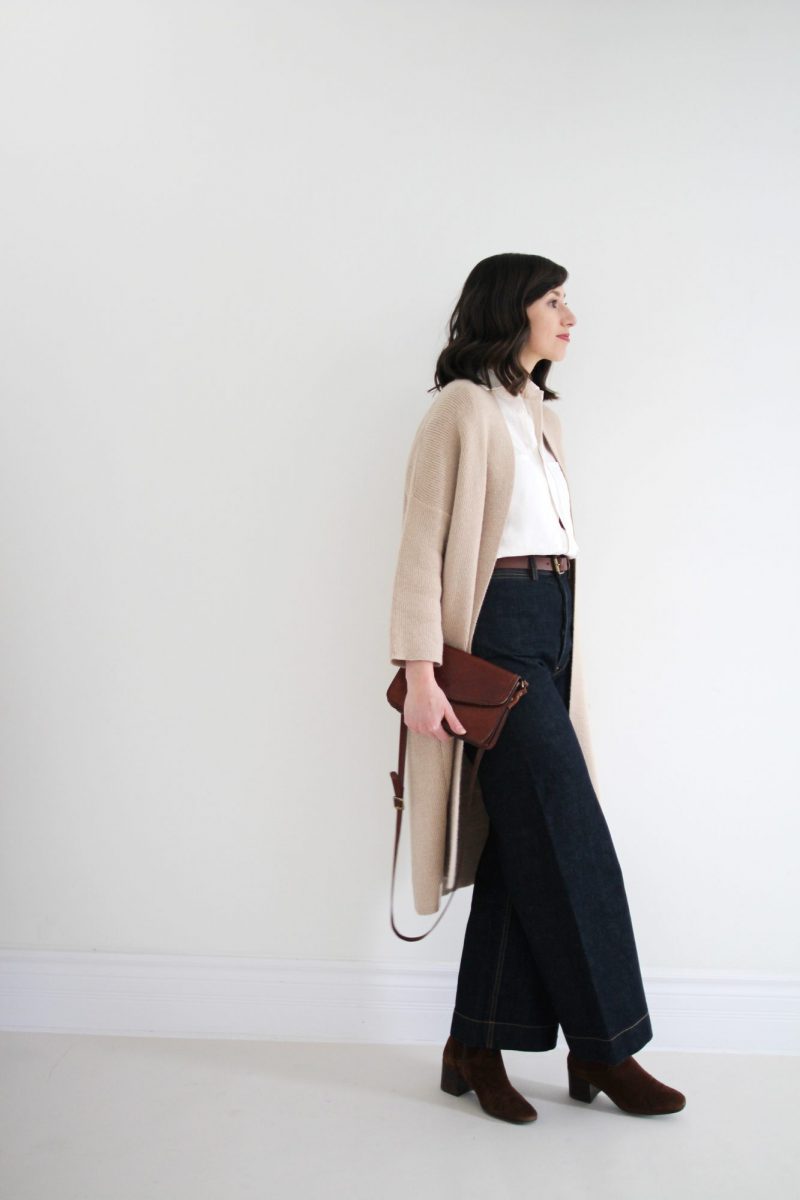 ---
ABOUT THIS LOOK
If fresh white shirts and dark wash denim weren't made for each, well then, I don't know what was! Few combinations manage to be so timeless and applicable to any stage of life. Whether you're prepping for your first day of uni or your first day of retirement, this duo won't let you down! I love when I'm able to identify combinations like this in my closet because it gives me a sense of contentment and ease in my style.  For early spring I'm planning to wear my favourite winter sweaters as coats when the weather permits and I love the comfy/casual element this one adds to an outfit.
STYLING NOTES
1 – ROLLED SLEEVES – Something as simple as rolling the sleeves on this shirt makes a big difference. I like to wear them this way because it gives the shirt a more relaxed feel and balances out the structure of a button-up. I find that I use this styling trick almost every time I'm wearing something with an oversize fit.
2 –  BALANCE – Balancing two items that have a more generous silhouette, such as my wide-leg jeans and this shirt can take a bit of finessing. For my body-type and personal preference, the most straight-forward approach is to wear a dark tone on the bottom and a light colour up top. Our eyes are naturally drawn to light and by wearing a bright item up top it draws the focus upward. Another balancing element is a belt that creates a bit of shape by defining the waist and emphasizing a high visual mid-point.
3 – MONOCHROME ACCESSORIES – I decided to try wearing all matching accessories and really like the cohesive feel it adds. They don't feel too matchy-matchy to me because they're each a different texture and the eye reads it as as more of a common element than a deliberate pairing.
---
---

---
---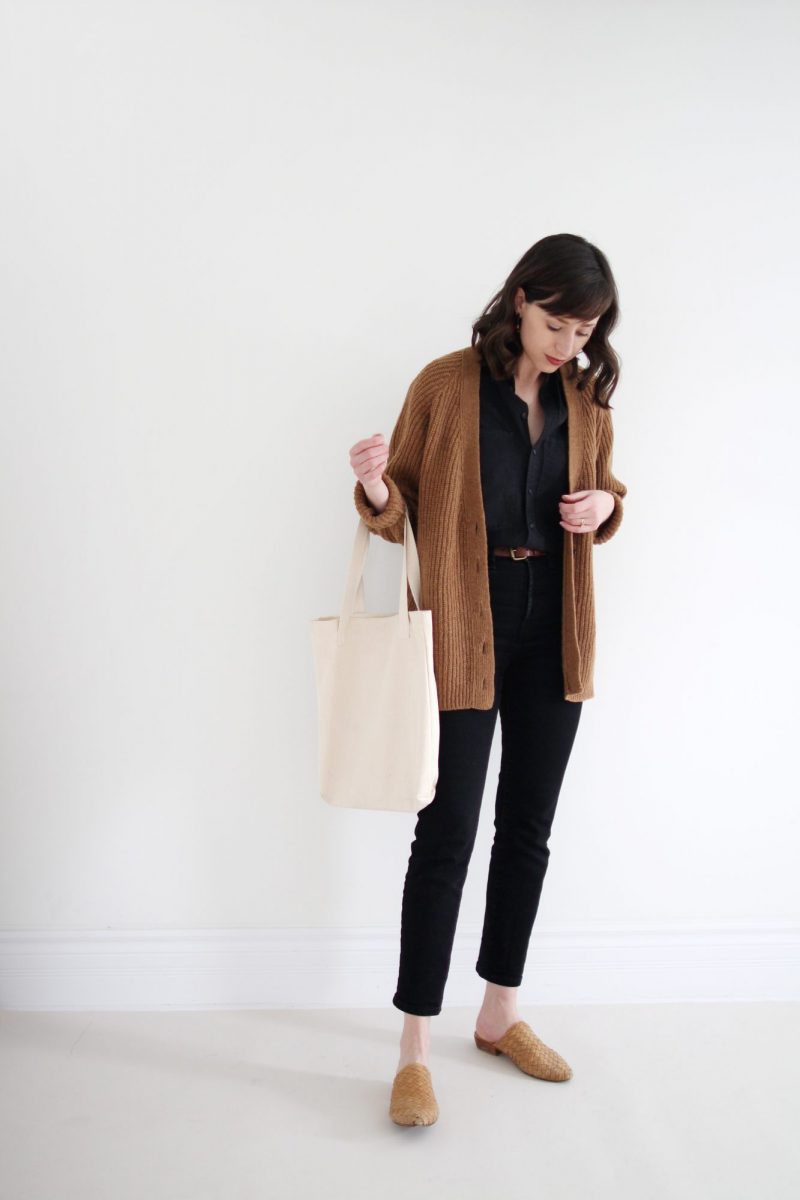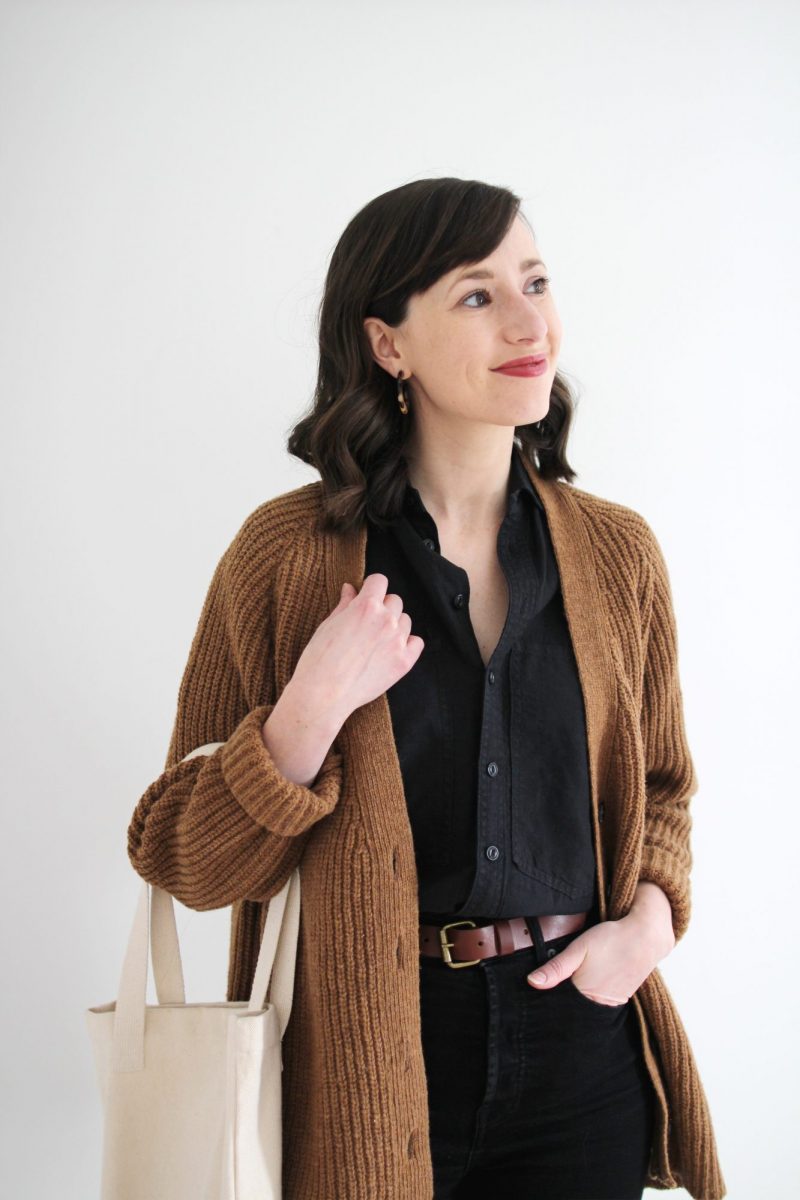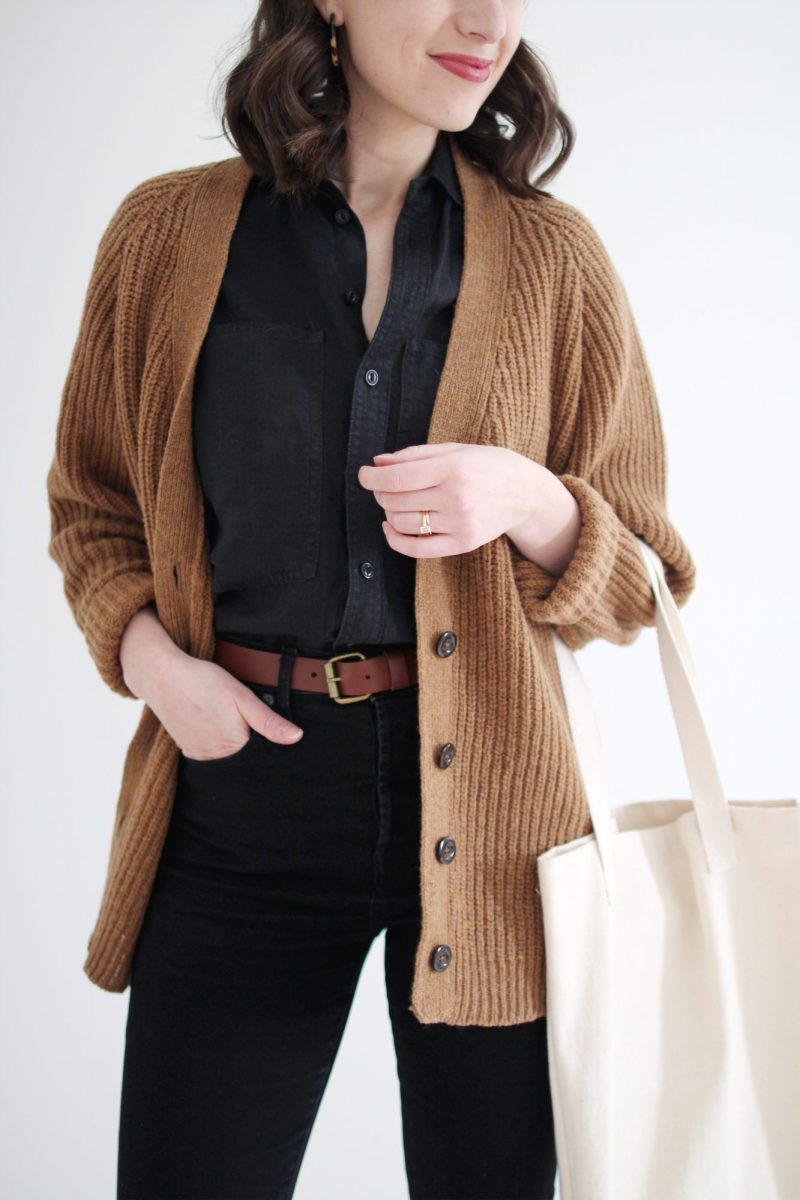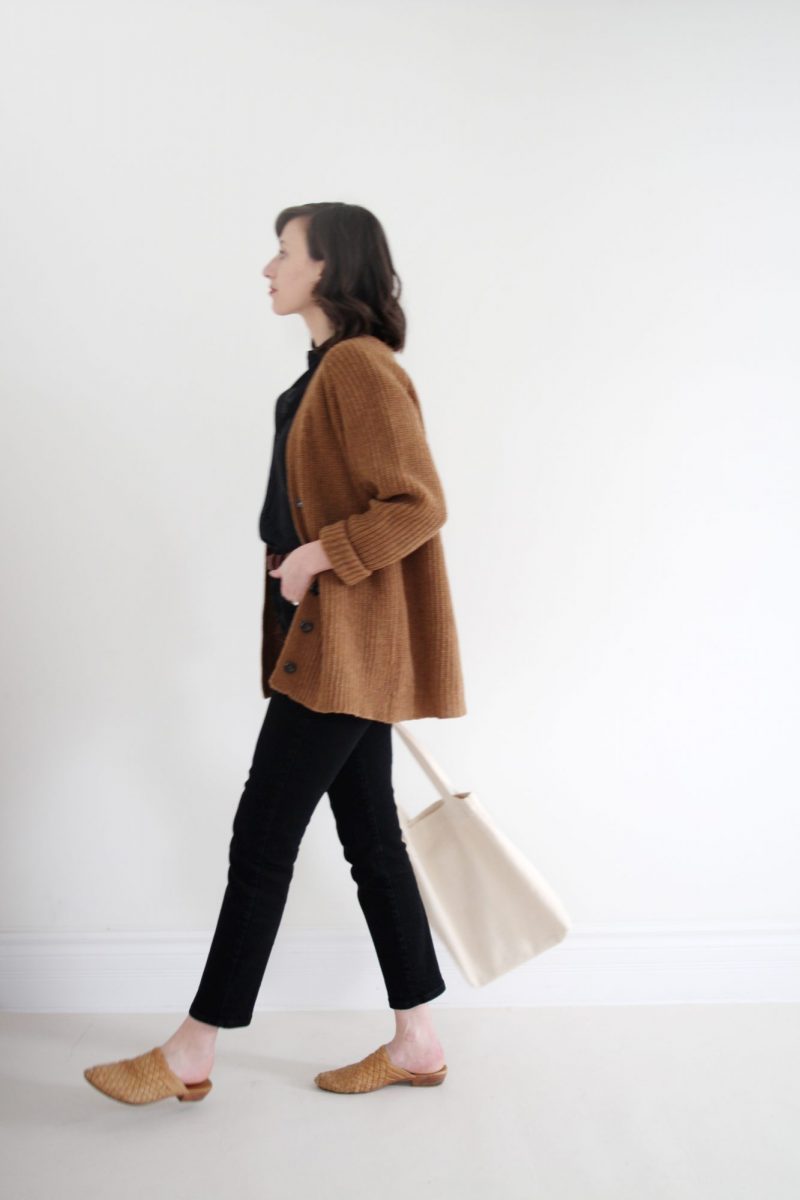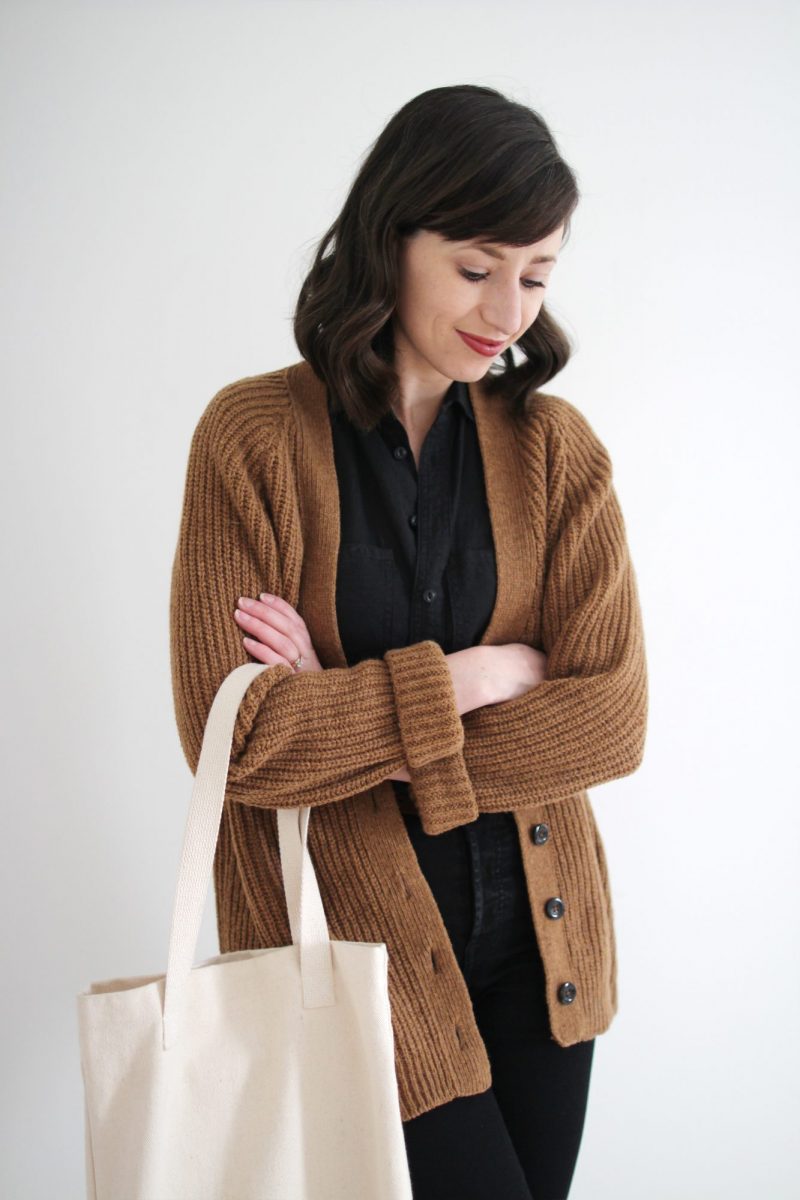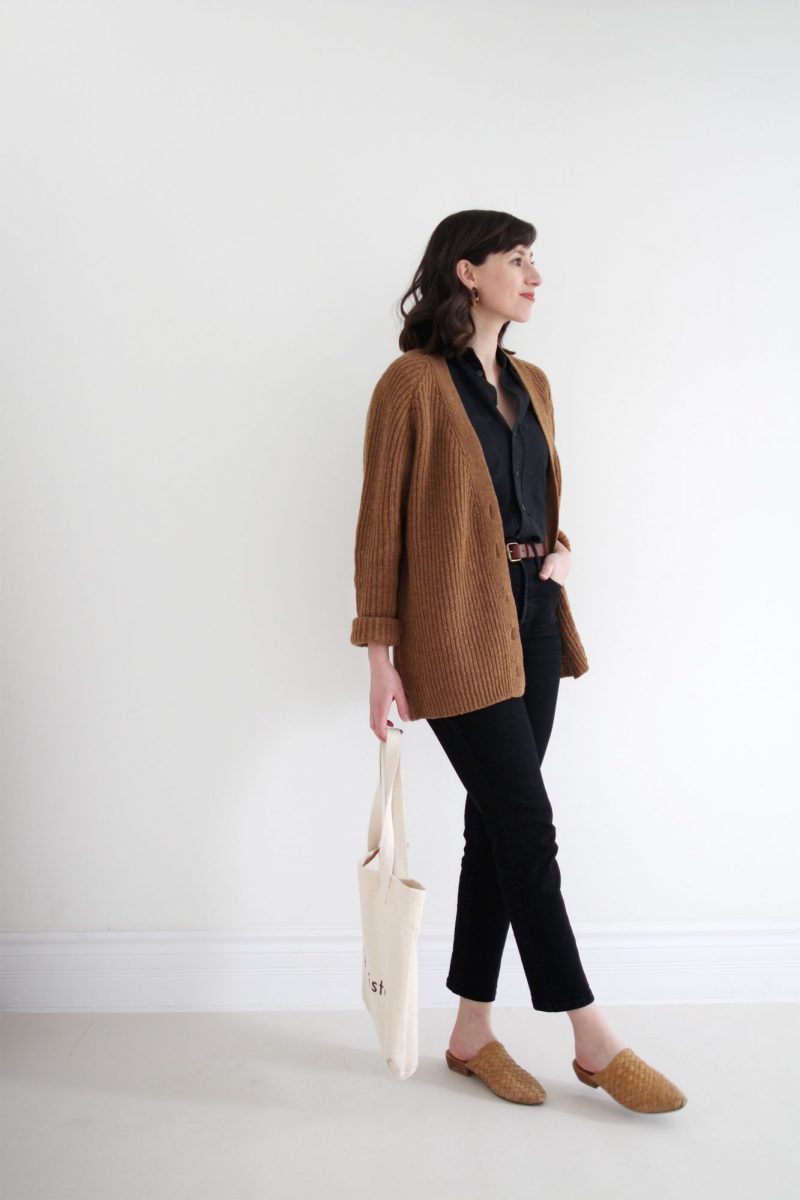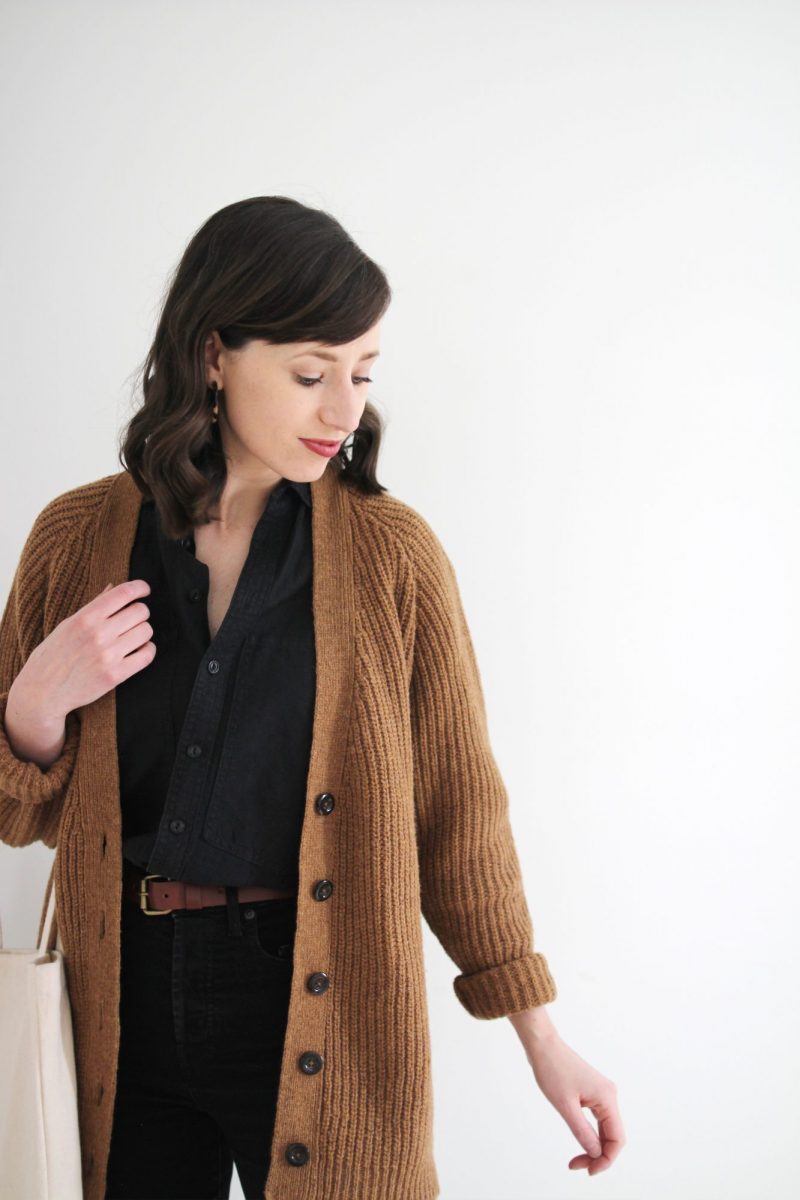 ---
ABOUT THIS LOOK
I wanted to try something a little unexpected with The Philosopher shirt so I pulled together a colour combination that I'm not usually drawn to, which is, black and brown. Typically, I would have paired The Friend shirt with this look to brighten things up but I'm glad I stuck with the dark base to try something a little less predictable. This exercise also helped me see that these two shirts are pretty much interchangeable within my closet. If you imagine each of these 4 outfits with the shirts swapped, they still work!
STYLING NOTES
1 – FAIL-SAFE BASE – I've mentioned this a few times and I still believe that an all black base is a pretty fool-proof way to build an outfit. Whenever I'm in doubt or tired or just can't be bothered to overthink it, I reach for a black top and pants. It's timeless, sophisticated and from there you can add just about anything to create interest.
2 – BRING ON THE BROWN TONES – I really doubled down on the black and brown palette here because I wanted to push myself out of my comfort zone and use a range of tones. I pulled in dark brown through my belt, mid brown via my chunky sweater and light brown thanks to my shoes. I even added a little more through my tortoise statement earrings. Adding a light cream canvas tote freshened things up a bit but stayed within the warm colour theme.
3 – TEXTURE – When you're inclined towards minimal style the more texture the merrier! It's always fun to add interest to such a simple look with some rich textures like this chunky wool sweater and woven leather mules. A little wave in the hair doesn't hurt either!
---
---

---
---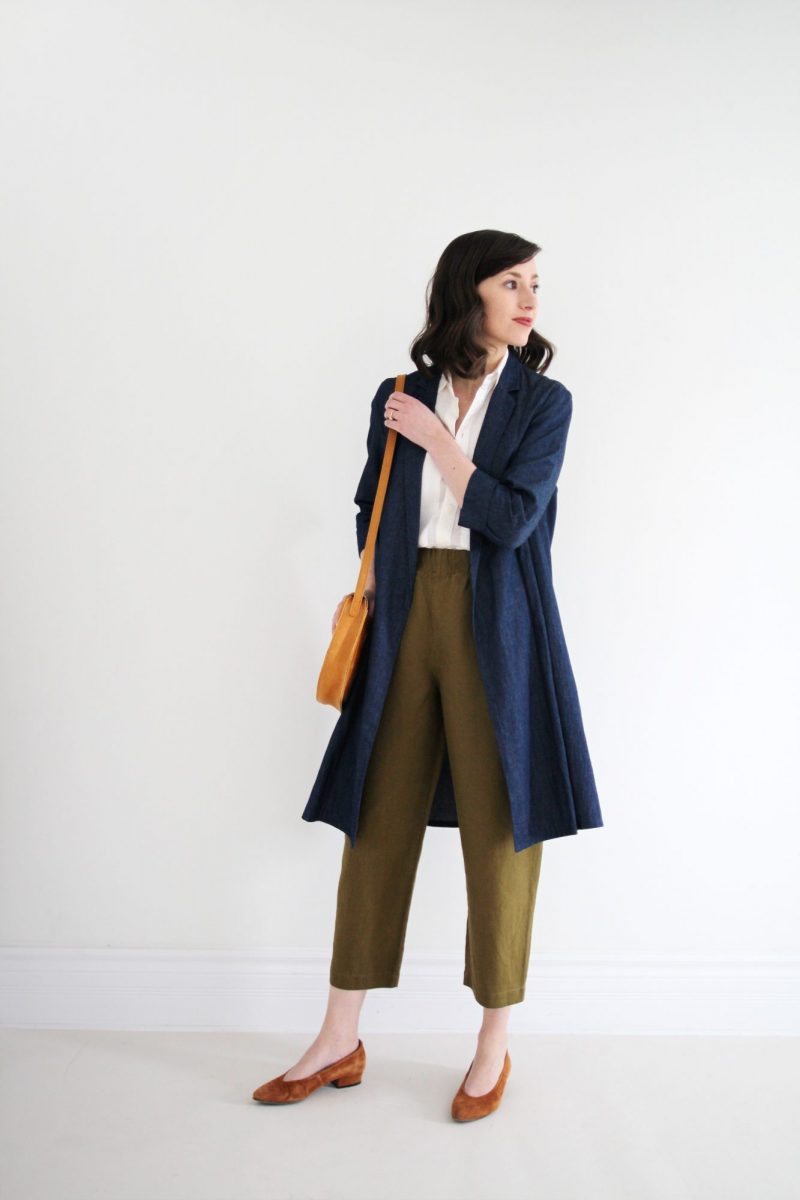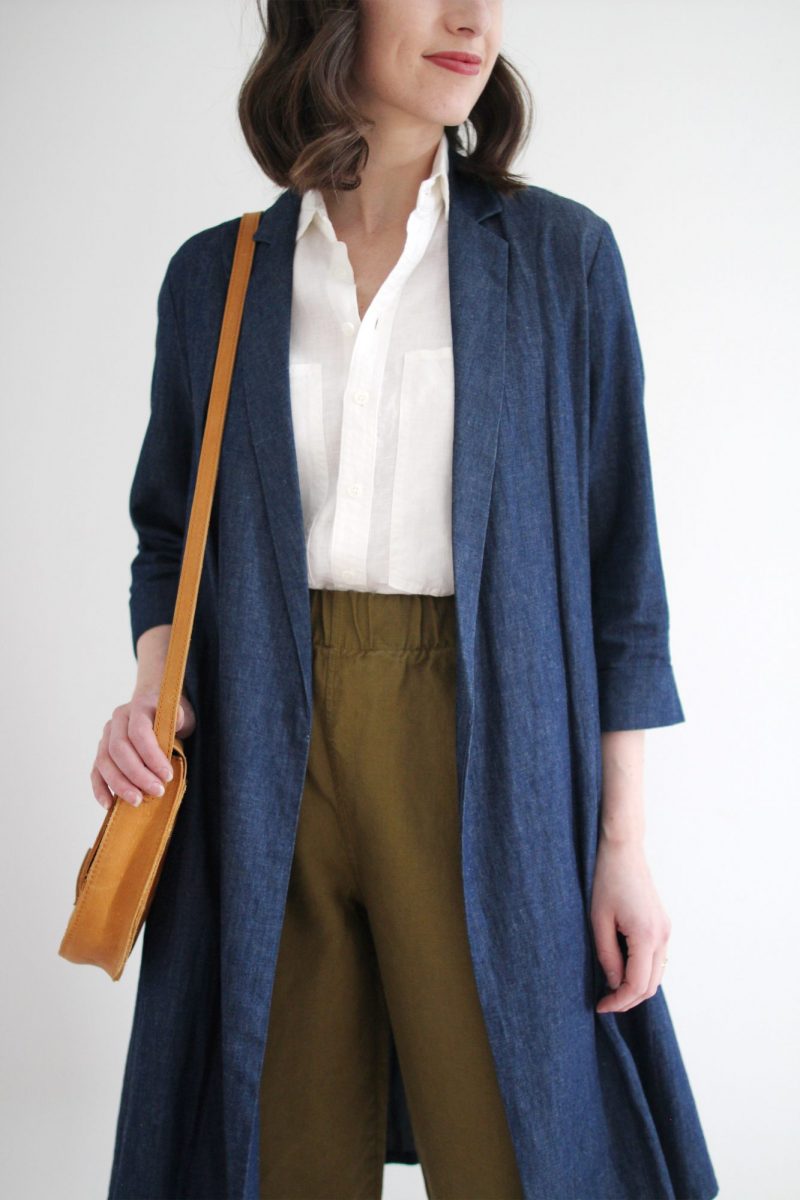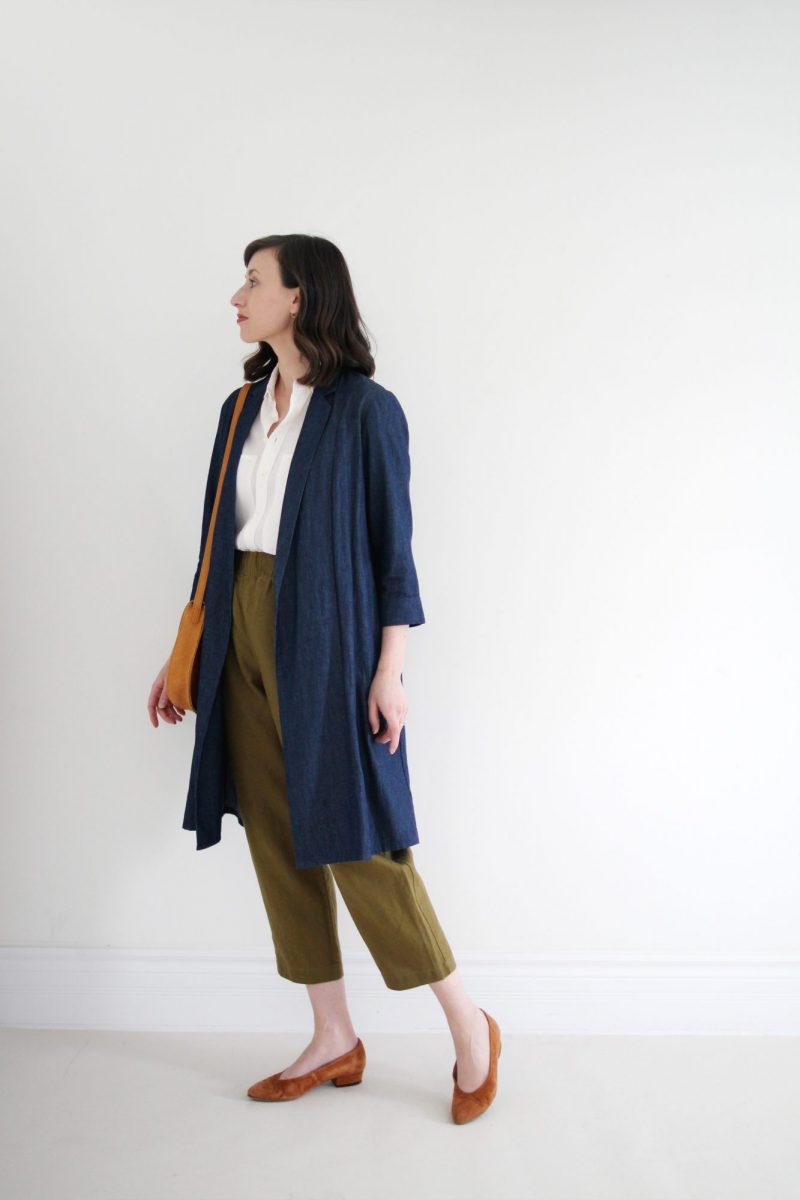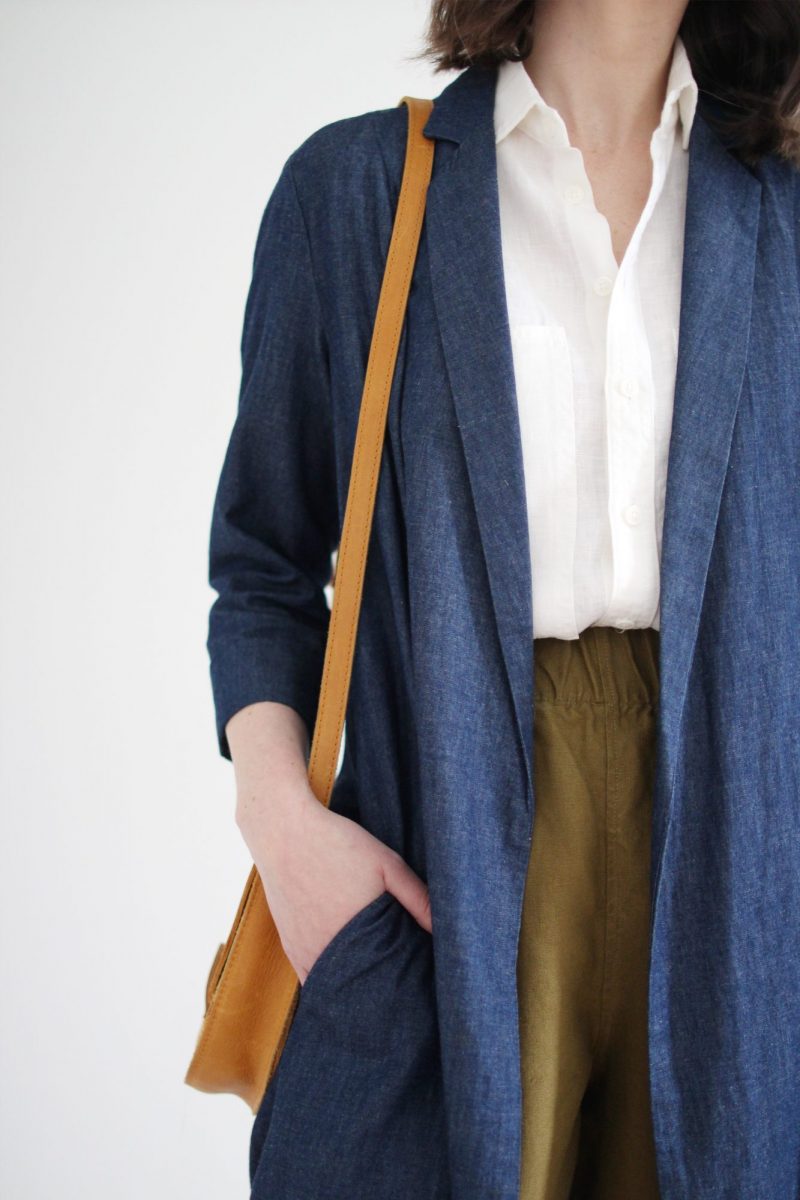 ---
ABOUT THIS LOOK
Spring tends to be the season I find myself most drawn to colour. After adding these pants to my closet last Fall I've been dying to get them out again for spring and summer. They pair so well with the crisp ivory of The Friend shirt, which tucks in easily thanks to the wide waistband and relaxed fit through the hip. I love this one for work meetings and events but could just as easily swap the pumps with sneakers and the duster with a shorter jacket for weekend brunch or market runs.
STYLING NOTES
1 – LINEN ON LINEN – Nothing says warm weather like linen on linen! It's one of my favourite fabrics to wear and I can't wait to bring out all my linen favourites when the temperature starts cooperating. Even when you're pairing two different weights and colours, linen pieces have a unique way of combining in a very effortless, elegant way that feels like a set without trying too hard.
2 – FRESH PALETTE – I dare say that this is the first time I've worn this particular colour palette and I LOVE it. It feels new and fresh but not so far outside my usual colours that it's too much. I didn't know the olive green would work so well with the indigo and help the cognac accessories really pop.
3 – SOFT STRUCTURE – This outfit is ridiculously comfy but it doesn't feel the least bit slouchy thanks to the subtle elements of structure in each piece. The collared shirt feels professional. A pleated, tapered trouser gives a tailored vibe. A lapelled jacket adds polish and a modern bag and unique shoe ties it all together.
---
---

---
---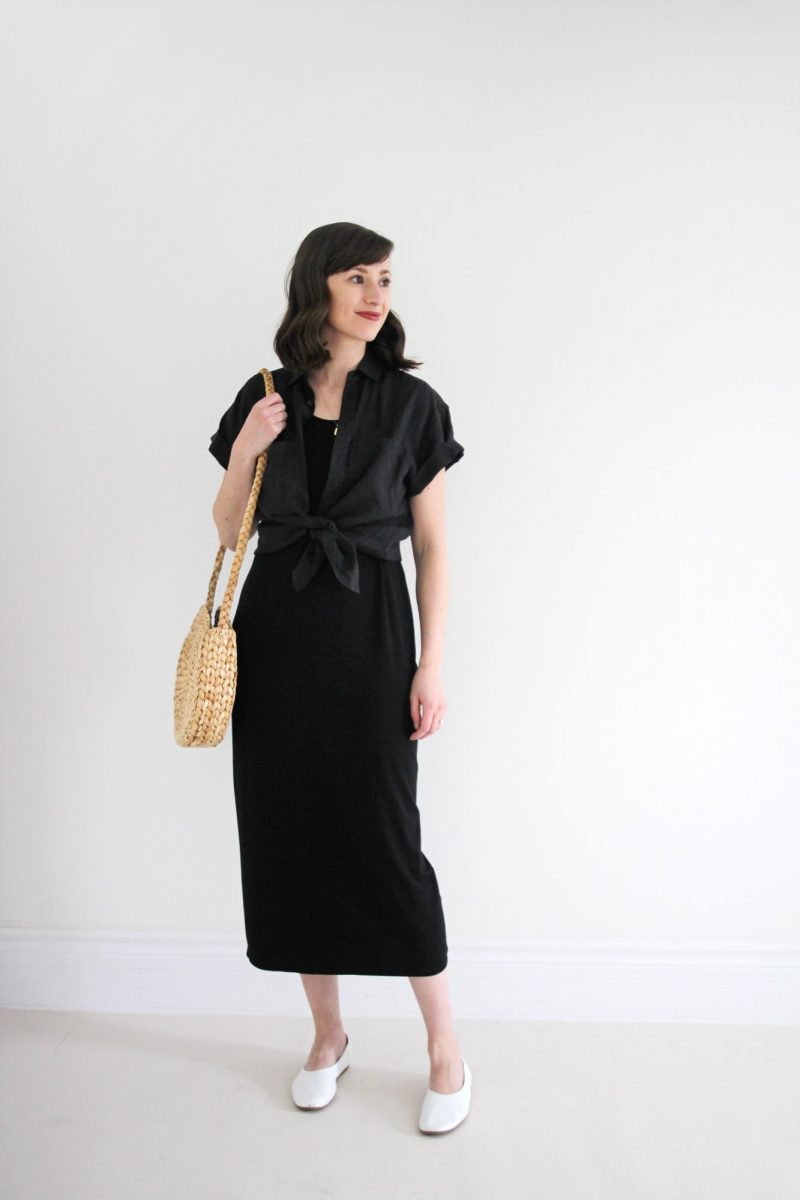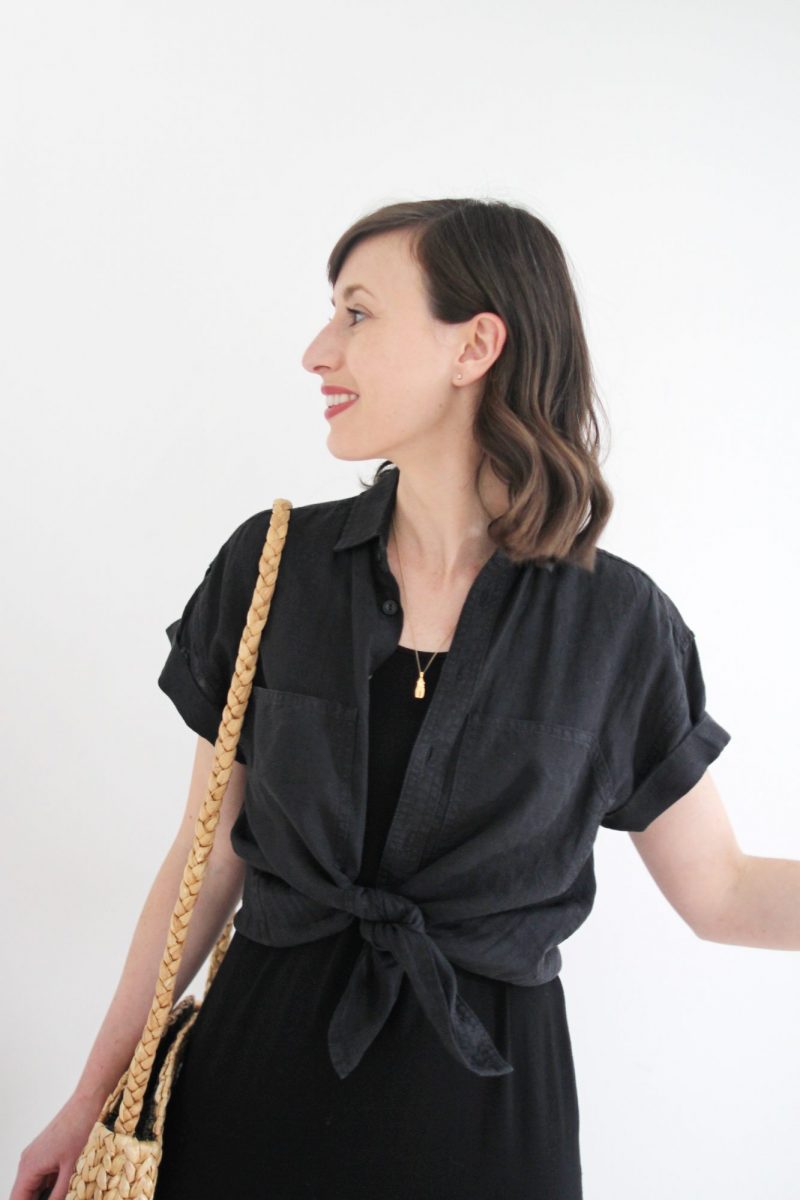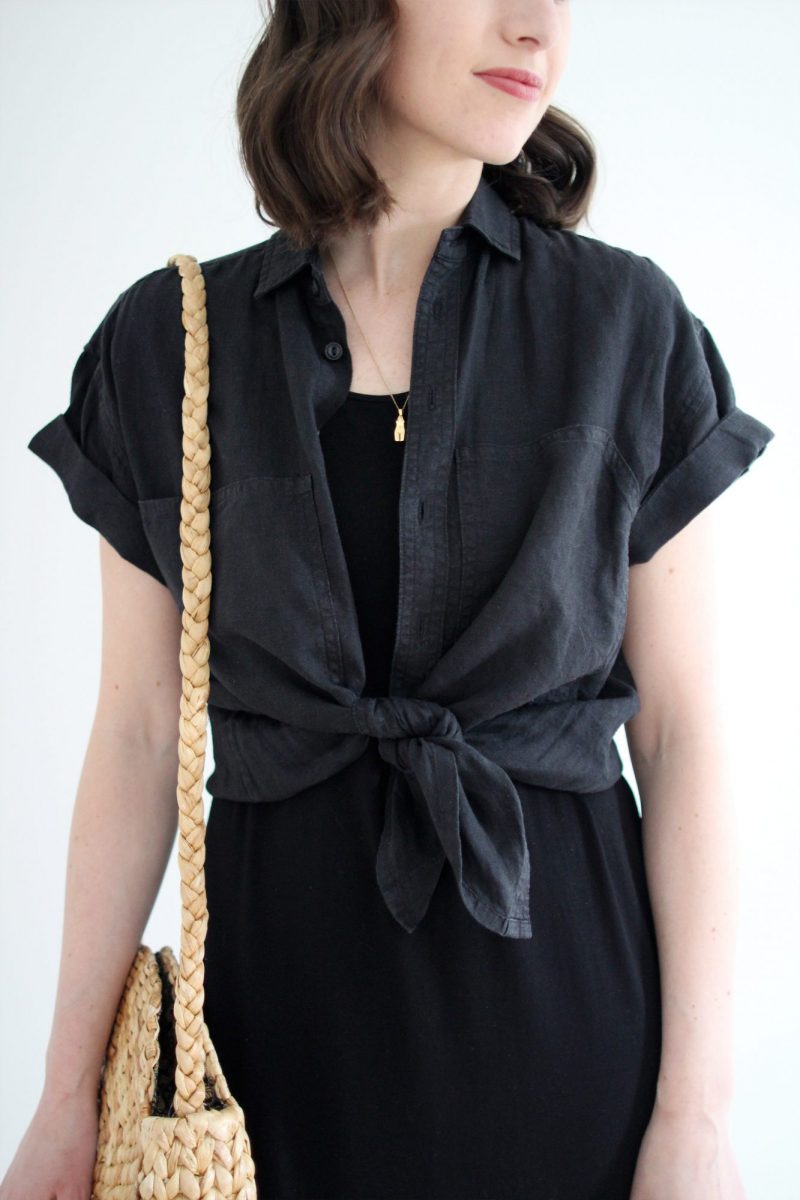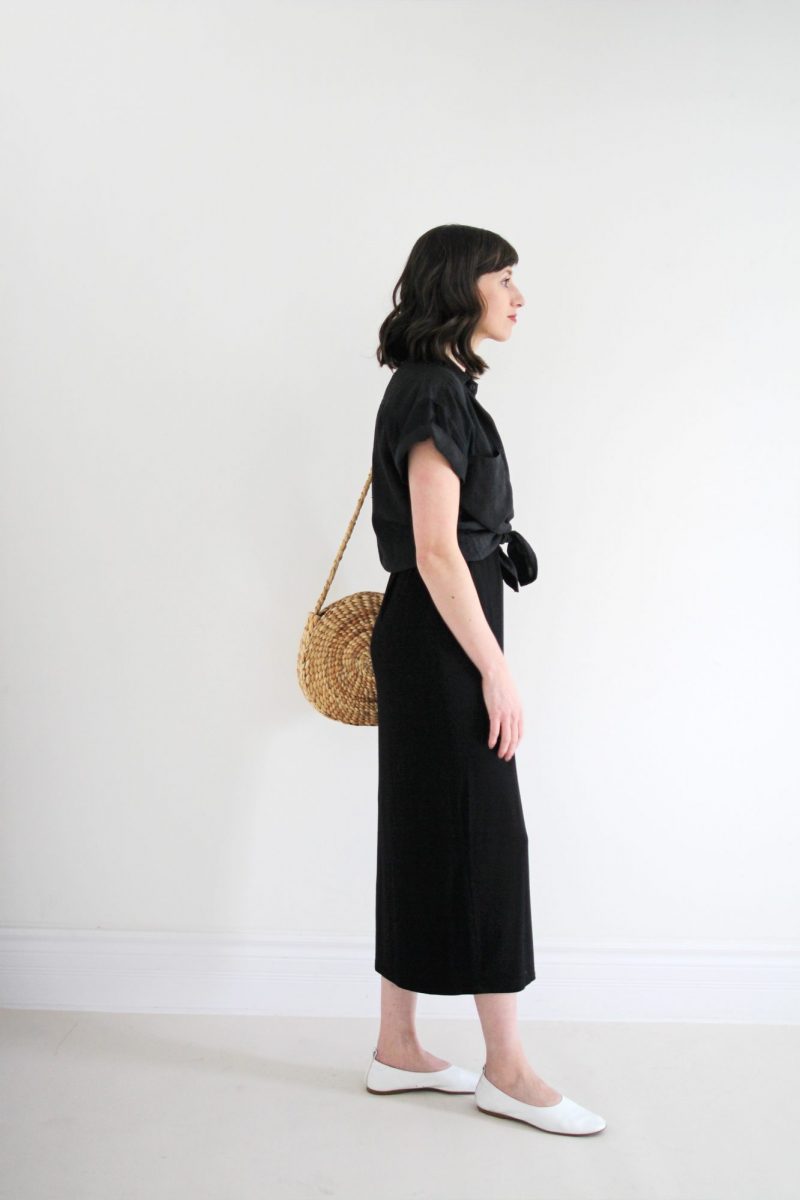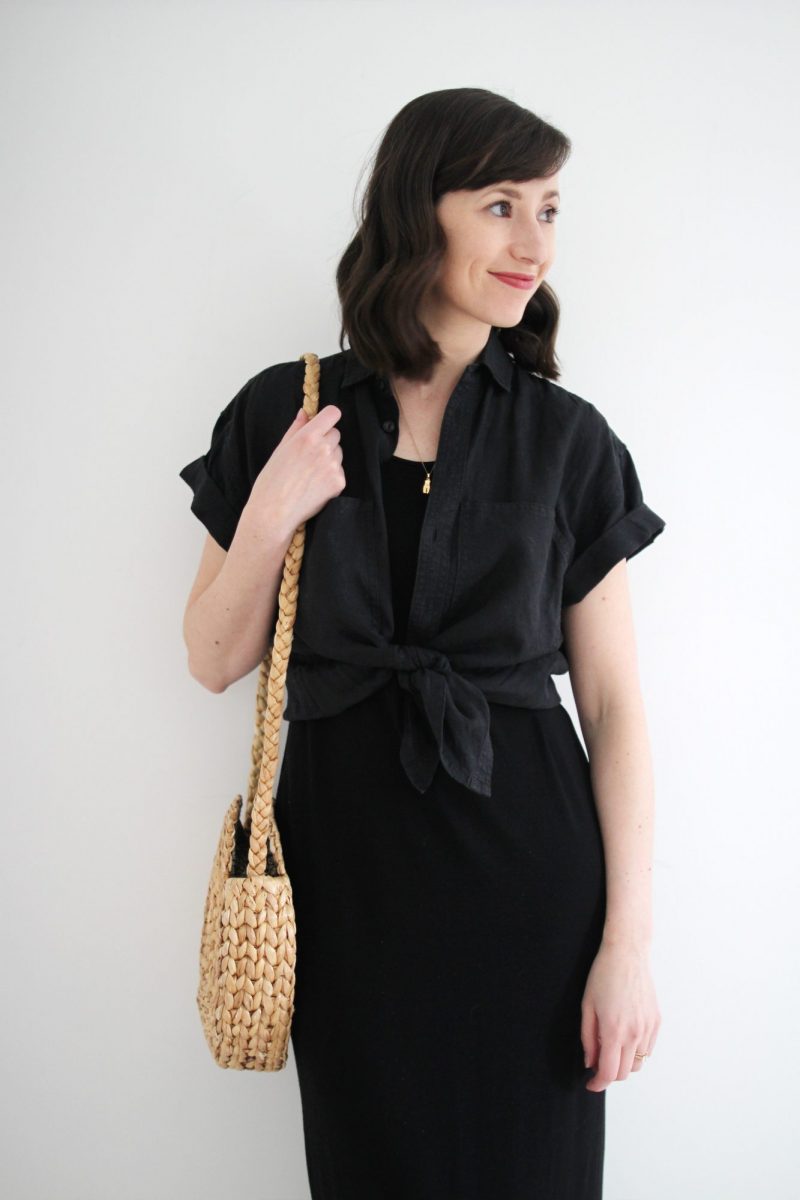 ---
ABOUT THIS LOOK
I've worn this look in the past with The Friend shirt worn over top of my jersey midi tank dress and love the laid-back femininity it conveys. I decided it was time to try this one with The Philosopher instead and love how the black on black feels sophisticated and chic enough for a night out or a late spring get-together. Yet, at the same time, it's so comfy and playful!
STYLING NOTES
1 – OPEN TIE-UP – I love the laid-back, beachy vibe that an unbuttoned, front-knot gives an outfit. This trick is essentially the equivalent of letting your hair down and instantly takes a look like might feel a bit formal and gives it permission to have fun!
2 – SHAPE DEFINING STYLING – Similar to adding a belt in the first look, the knot trick adds some shape to a column dress. I also love how the shoulders and subtly flared sleeves of the shirt balance out the slim, tapered lines of the midi length shift.
3 – PLAYFUL ACCESSORIES – An all-black outfit can feel a bit somber but by adding some lighter pieces and unique shapes it gets a lot less serious. I added my day gloves for a contemporary perk and this round woven purse is basically summer fun embodied in a bag. To finish things off I layered on my current favourite necklace made by another BC-based designer!
---
---

---
This post has me so excited for spring style and I hope it's given you some outfit ideas!
Here are a few more from previous posts.
---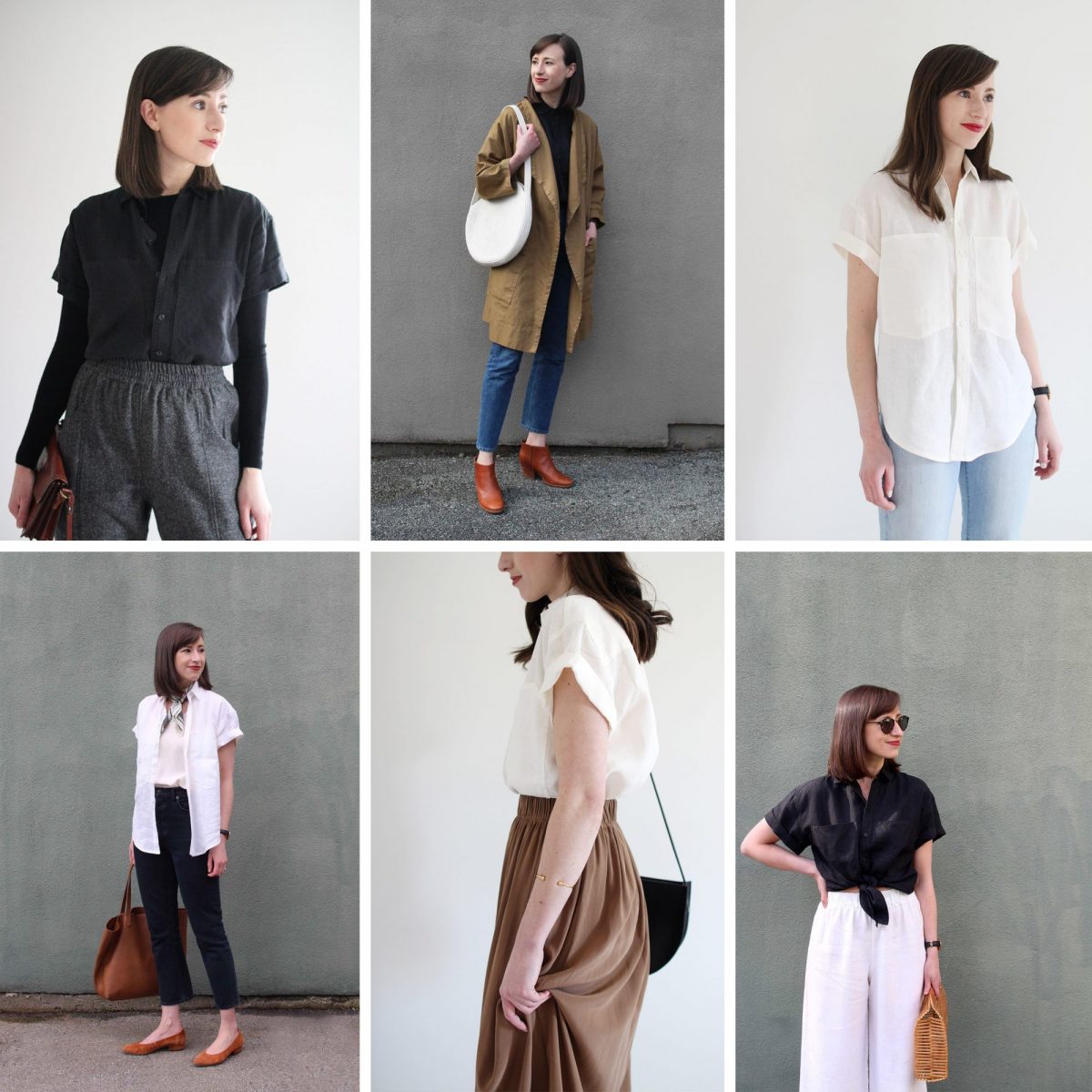 ---
ENJOY EXPLORING THE LATEST COLLECTION FROM POWER OF MY PEOPLE!
---
STYLE BEE READERS SAVE 10% OFF AT POWER OF MY PEOPLE ANYTIME WITH 'STYLEBEE10'!
(Offer valid through 2021!)
---
*Discount code will apply automatically when you follow a link above and is valid for 210% Off. Discount not applicable to studio and sale section styles.
This post is produced in partnership with POWER OF MY PEOPLE and contains affiliate links. No new product was received in exchange for this coverage but Style Bee earns a commission on sales made using the reader discount code (at no additional cost to customers). Thanks for supporting the independent brands that support Style Bee!