In the spirit of Earth Day and Fashion Revolution Week I thought this would be a good opportunity to share a spring closet look back. Last year I published this post where I revisited some of my older summer items and styled them into new looks and it was a great exercise in reinvesting in my wardrobe. So here we are with a spring version in which I'm be sharing 6 looks, highlighting items I've had for a while, many for over 3 years! 
I'm far from perfect when it comes to sustainable consumption and facing the truths behind climate change and the fashion industry can be disheartening and overwhelming. That being said, I believe that one small act of generosity towards our planet can be made by simply taking a moment to appreciate what we have. Then, in the future, we'll think twice about consuming more than we need to and this small mindset shift can lead to much bigger changes.

Now, care to join me as we revisit some old spring faves and take a look back at some very old posts? Great!
---
LOOK 1
---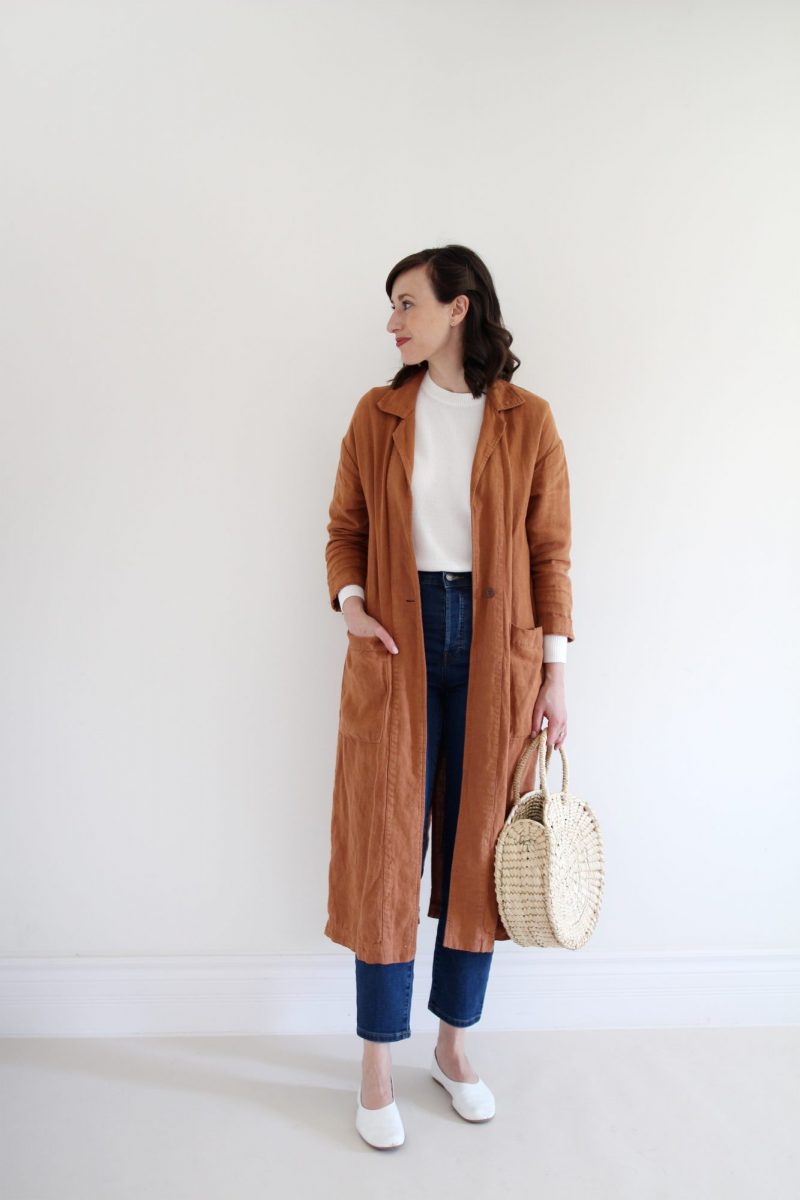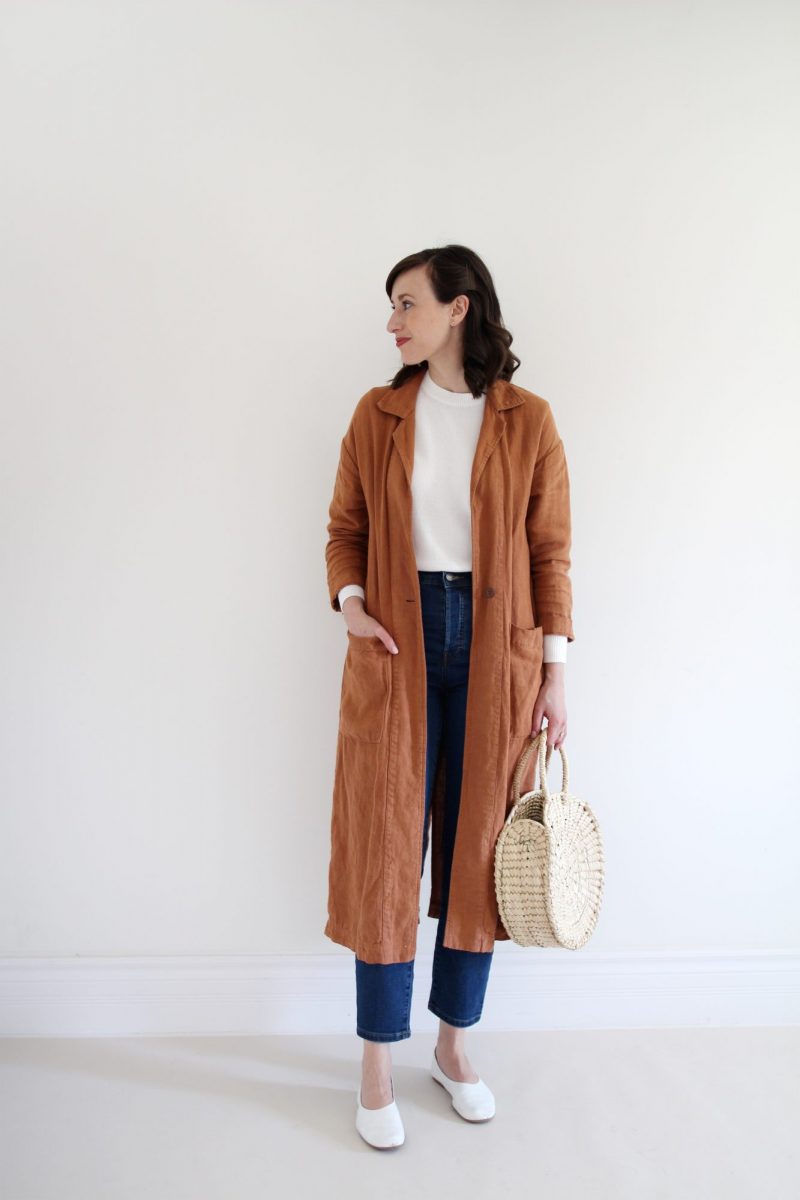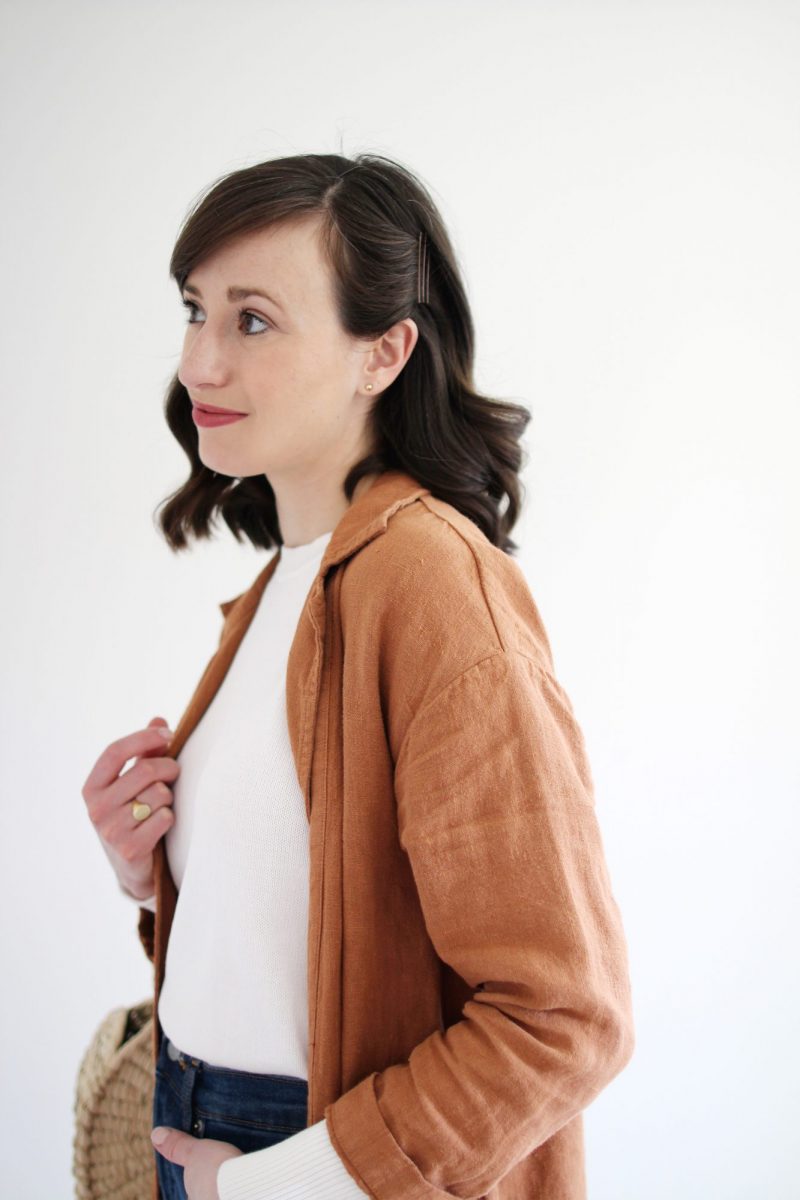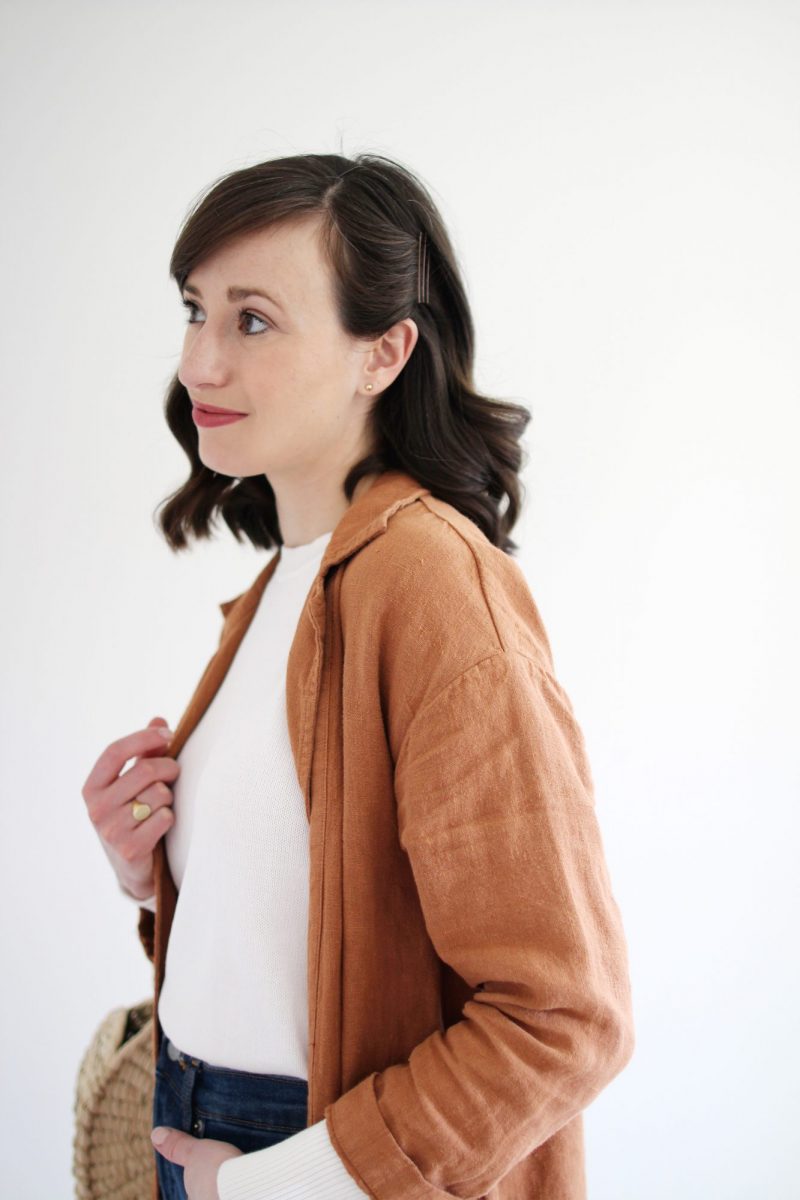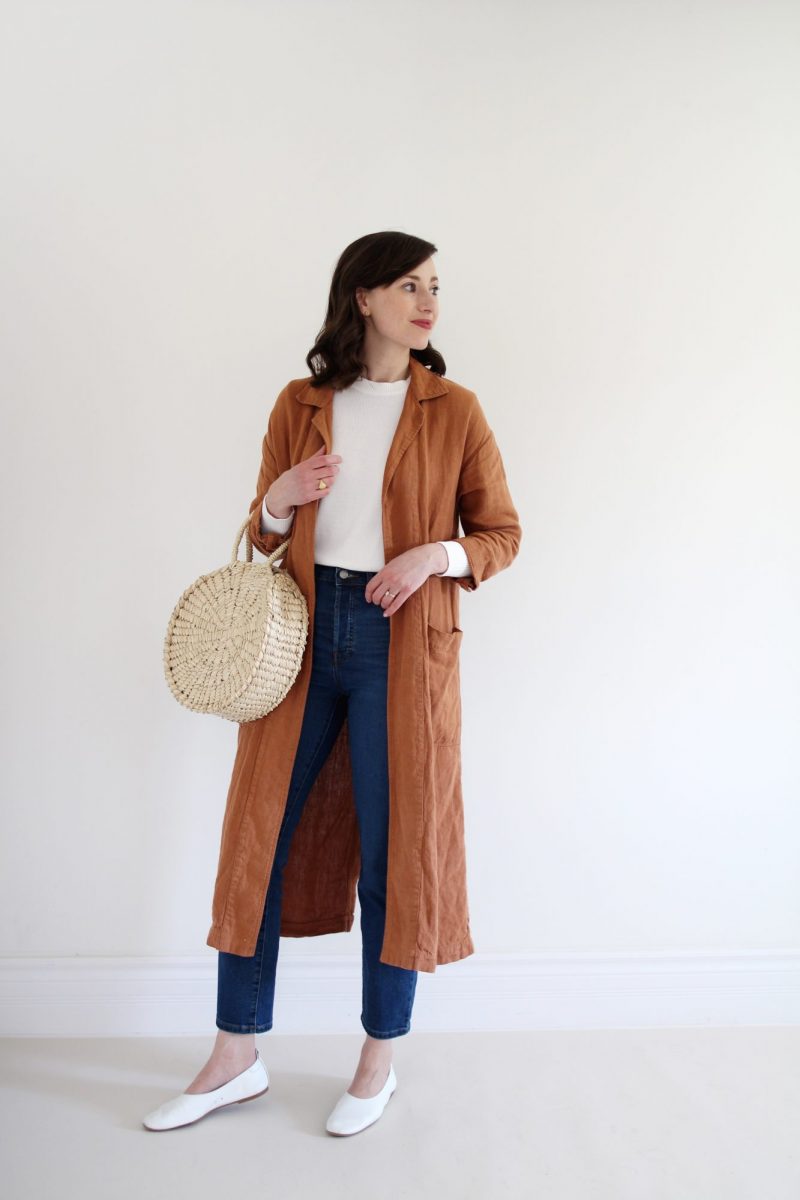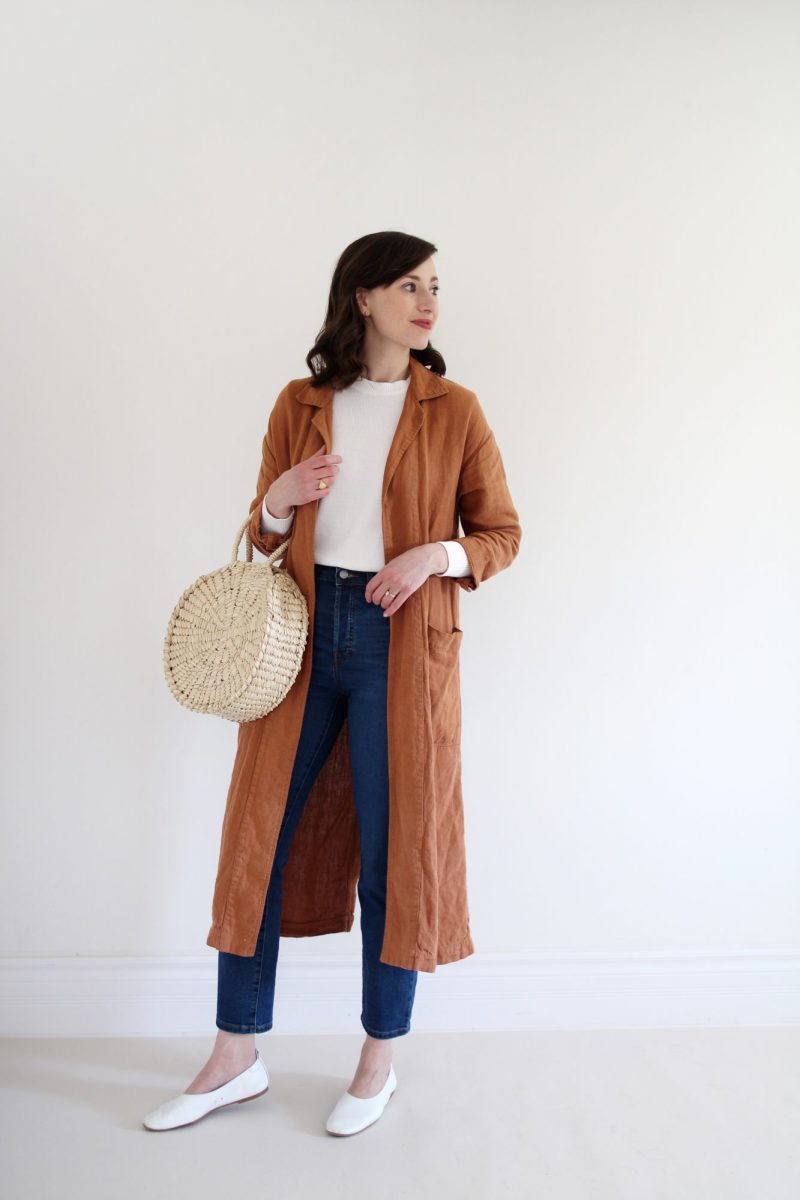 ---
BARONNE DUSTER | gifted ESBY | Seen first on the blog here in 2017 and lots more during my June 30×30.
It's no secret that I love a good coat. This one was an early foray into the world of duster coats and has been a favourite ever since. In fact I'm wearing this very look today as I write this post!
In addition to it's unique terra cotta colour, this duster has been a keeper for a couple of reasons. The first being it's long, lean shape that makes it both a statement piece and a practical layer. The second being a few intentional elements like a lapelled collar, patch pockets, a deep back vent and a singular button that make it both classically designed and highly practical. I'm reminded about all these details each time I wear it and feel so lucky to have this piece in my closet.
---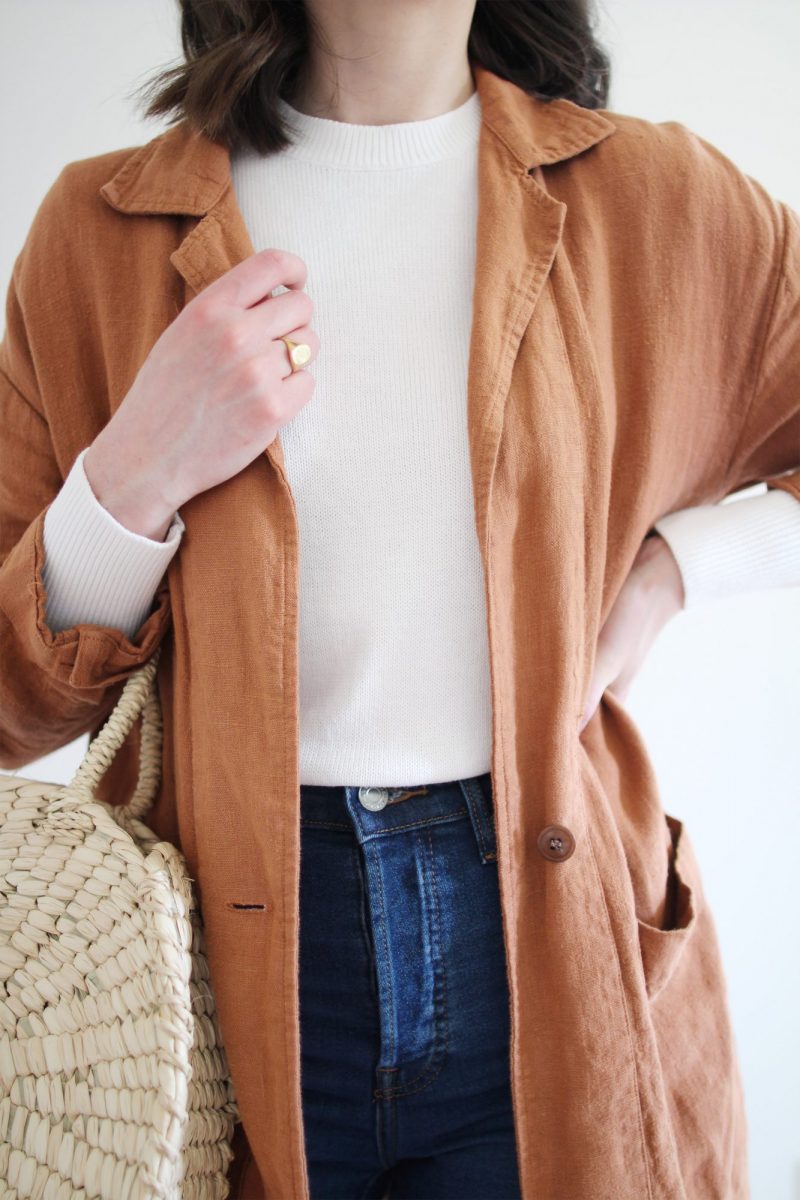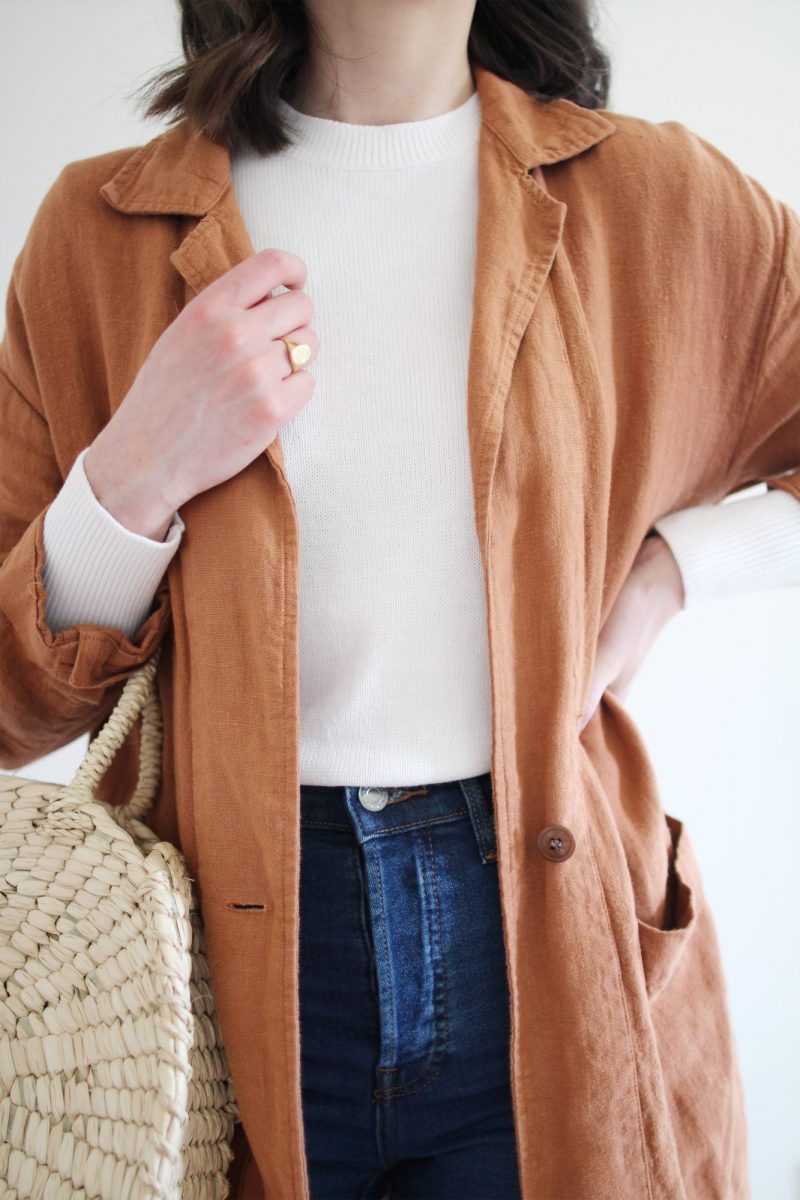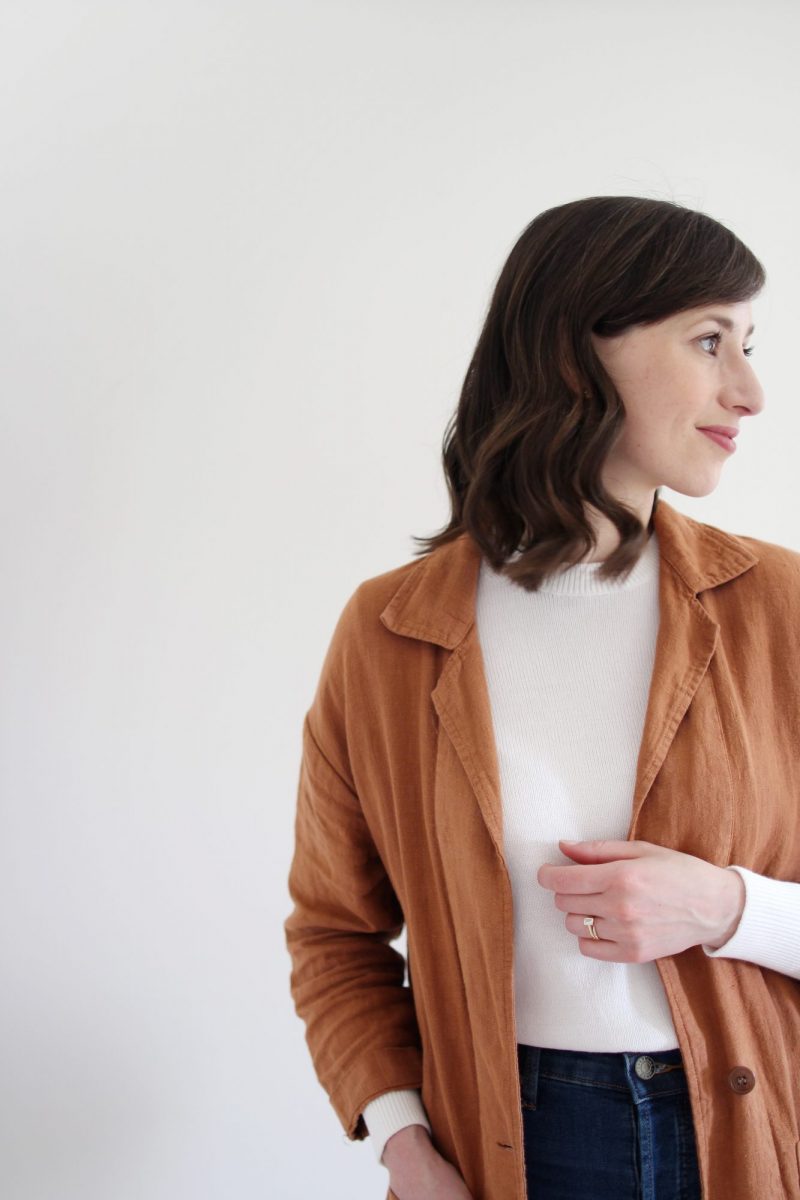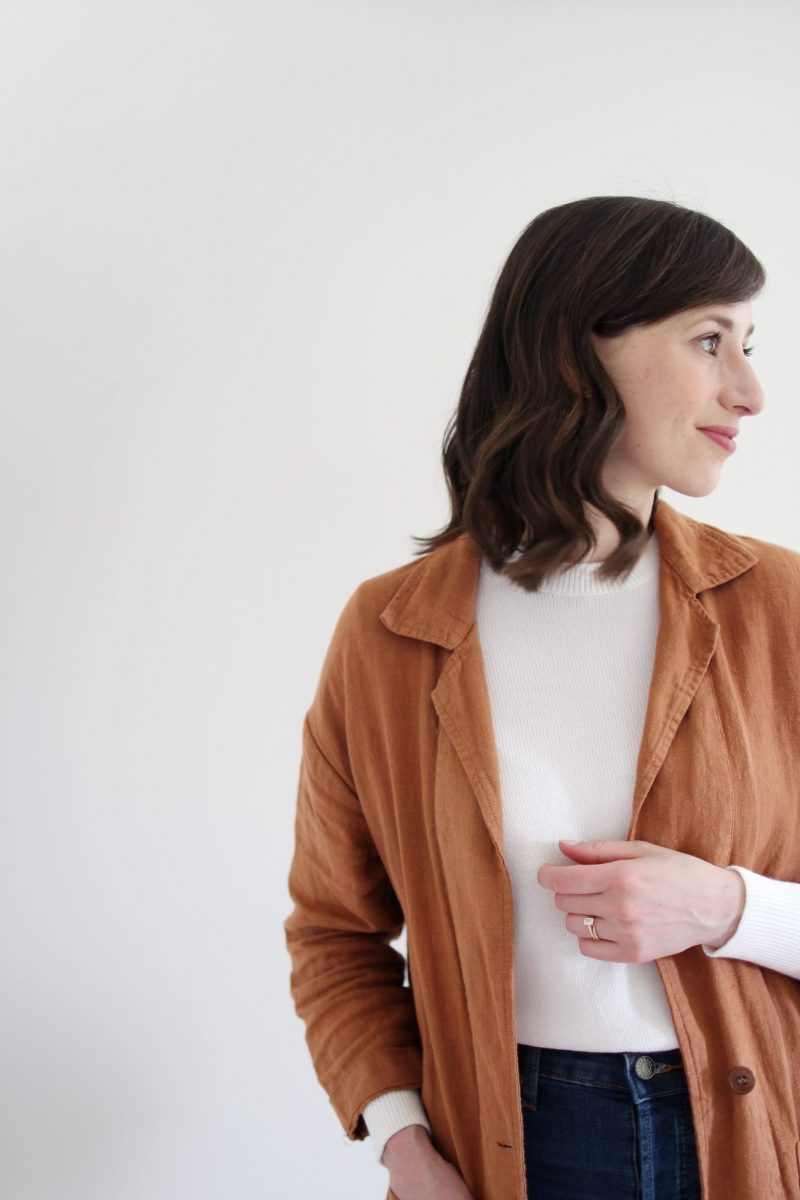 ---
DUSTER JACKET* | n/a ESBY || COTTON SWEATER | EVERLANE || CIRCULO BAG | gifted ARTISAN & FOX || CIGARETTE DENIM | EVERLANE || SIGNET RING | gifted CLAUS || DAY GLOVE | EVERLANE | *Linked to similar option
---

---
LOOK 2
---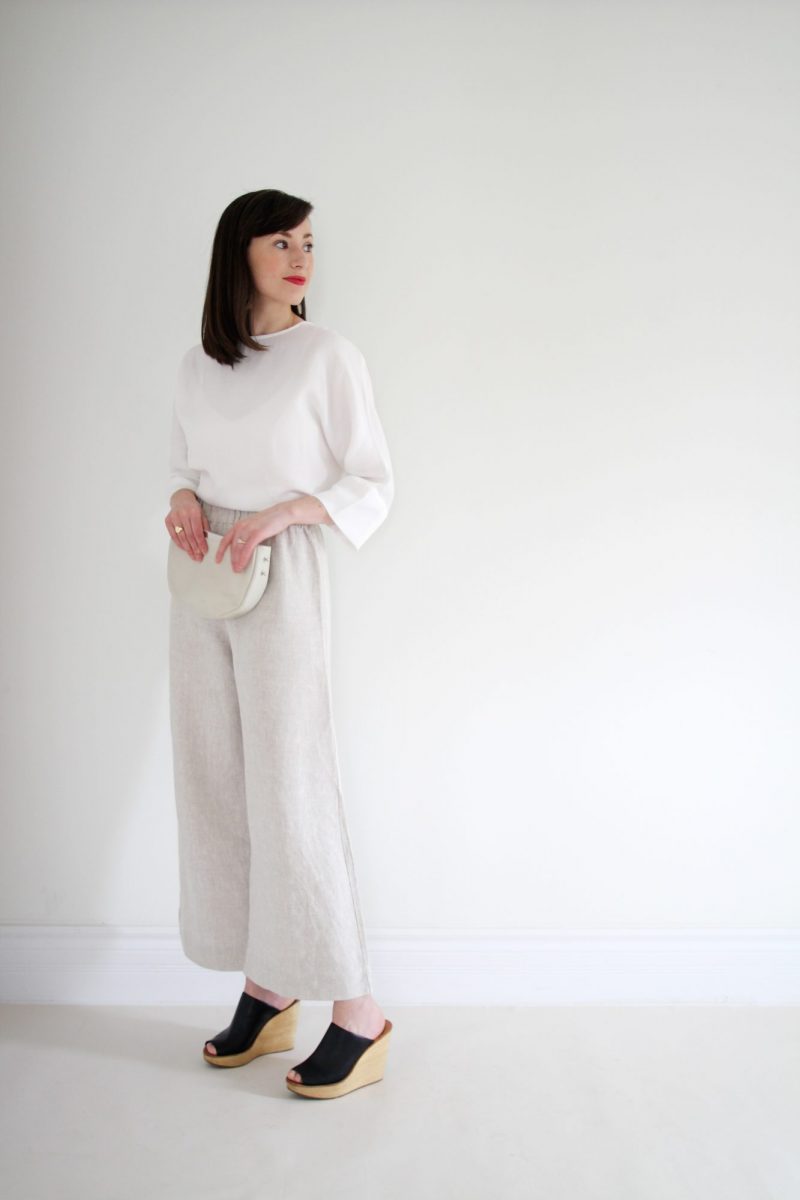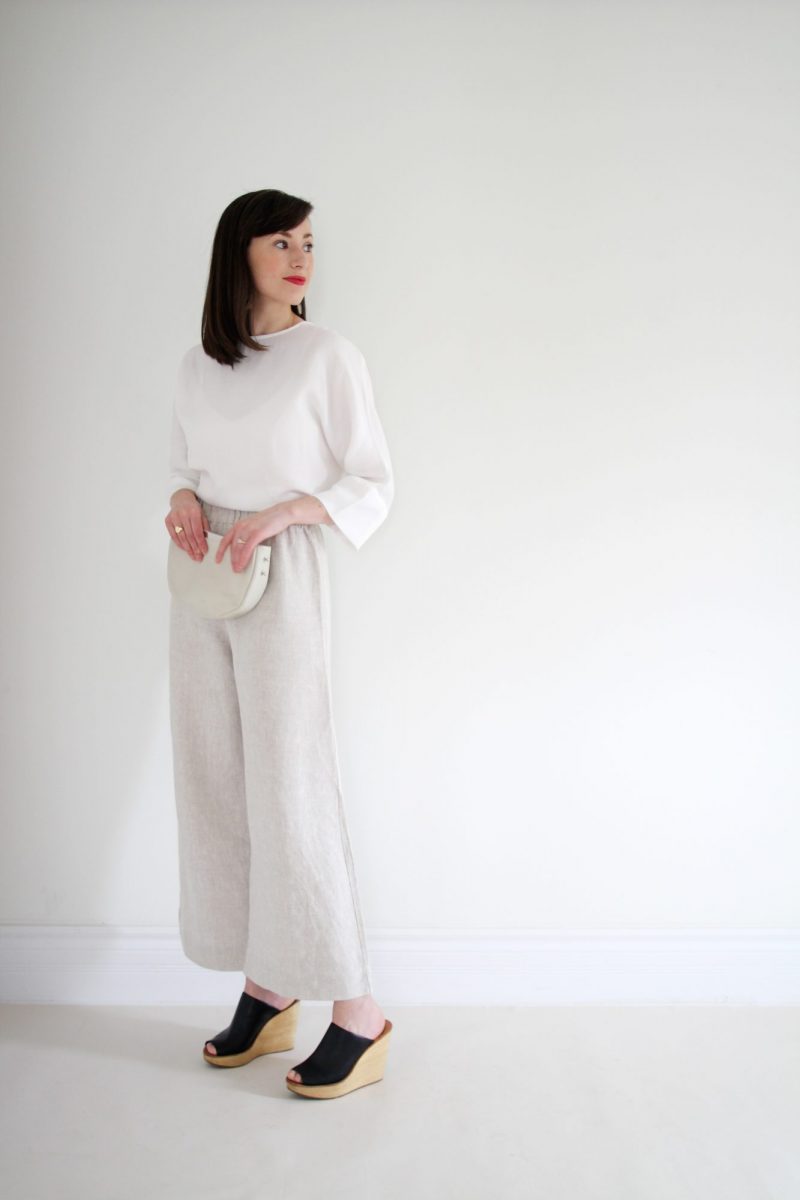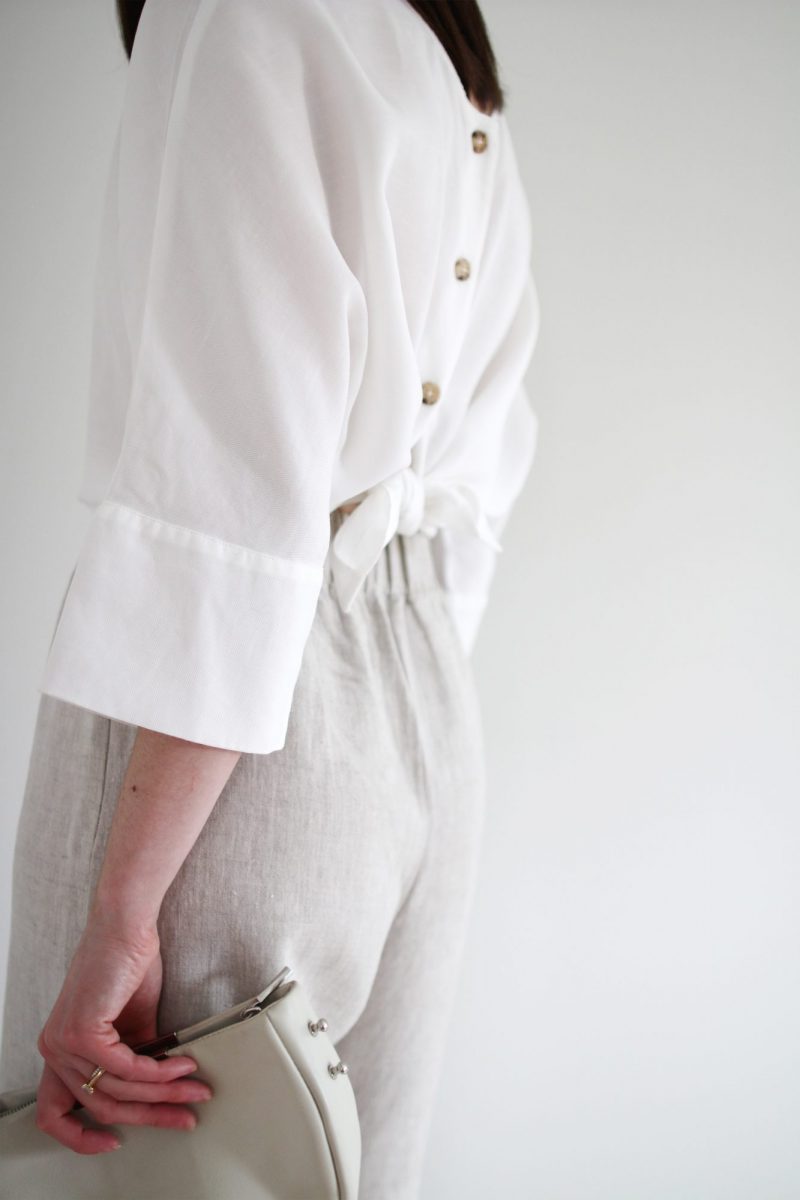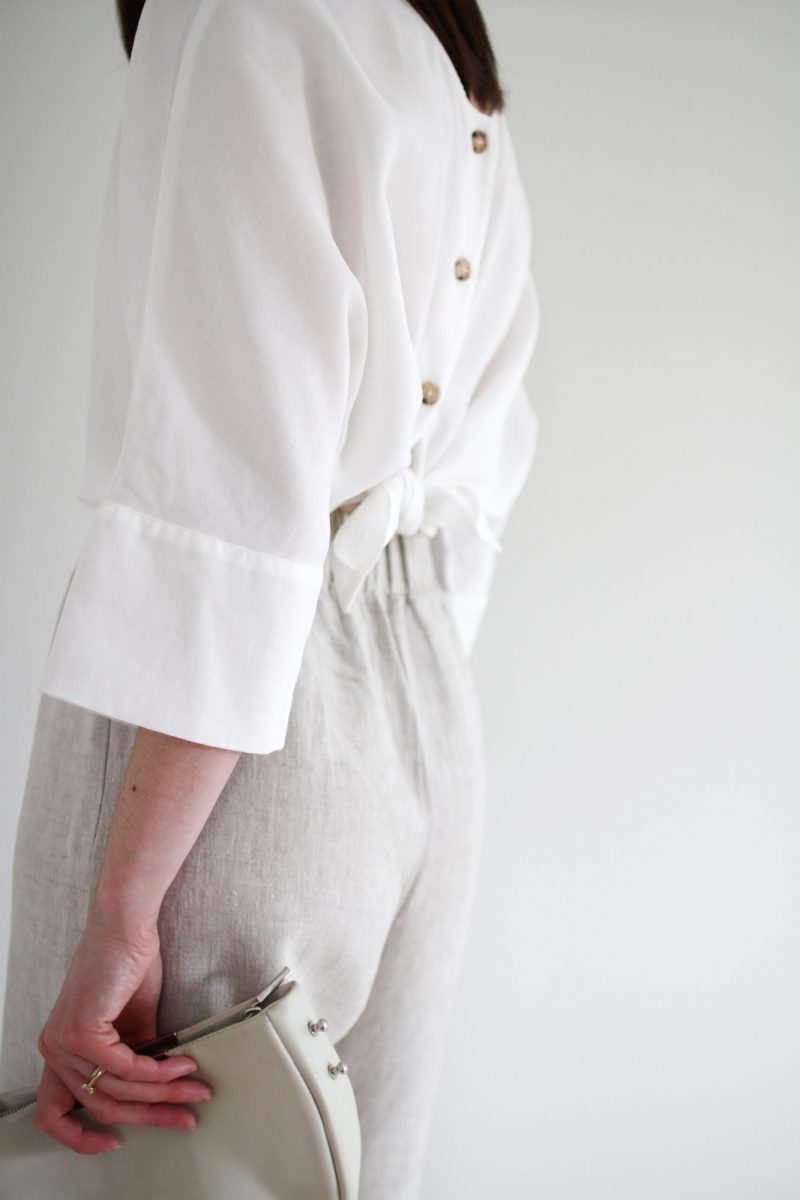 ---
BOXY BLOUSE | gifted VETTA | First seen on the blog here last spring and then again several times, including my August wear count.
This is piece has been a great top for both an average day or for travelling and even after wearing often for an entire year I'm still finding new ways to style it. This particular approach was inspired by this pin I came across and immediately bookmarked for future reference. I'd initially planned to leave the top three buttons undone for a more open back look but ended up preferring it done up (ie: it's more bra-friendly).
This top is a personal favourite of mine due in large part to it's versatility but also thanks to the super soft and comfy Tencel/linen blend. The shape is oversize and wide (read: comfy and airy) but the the material drapes and moves makes like silk, which keeps it from looking boxy. I love a unique take on a classic like a white shirt and this is just that!
---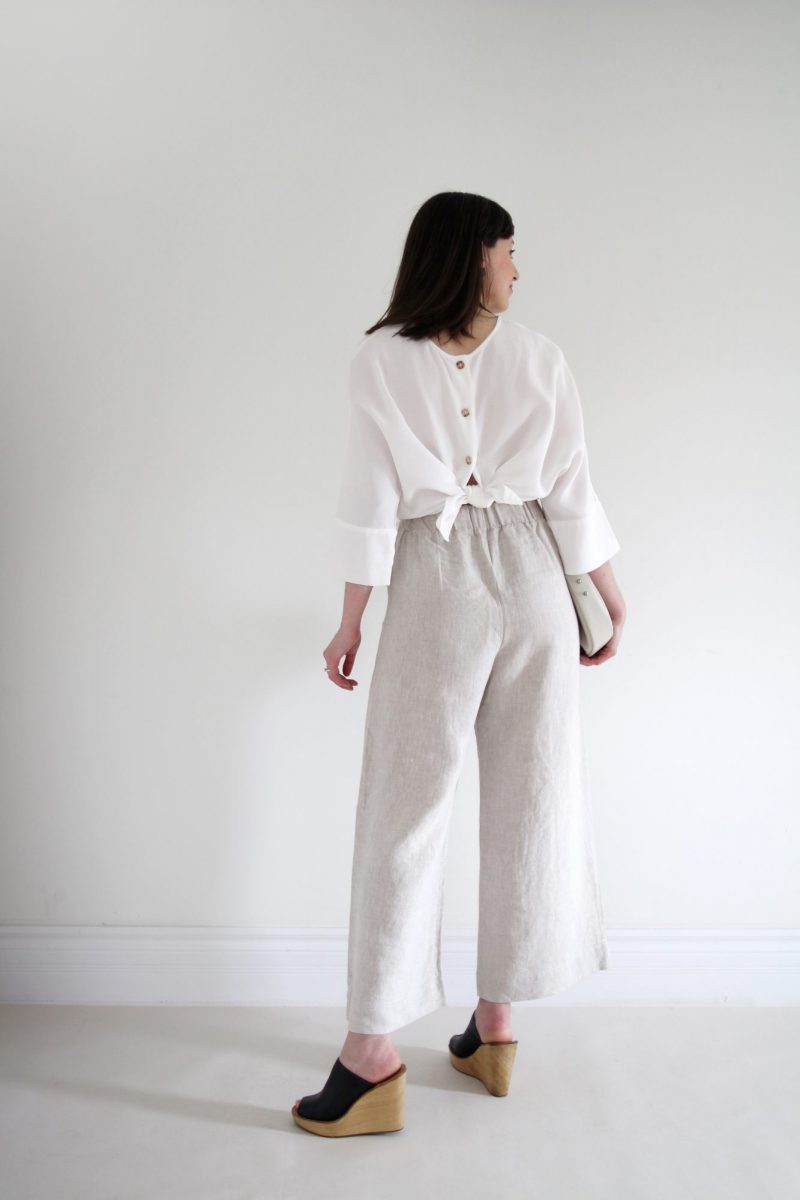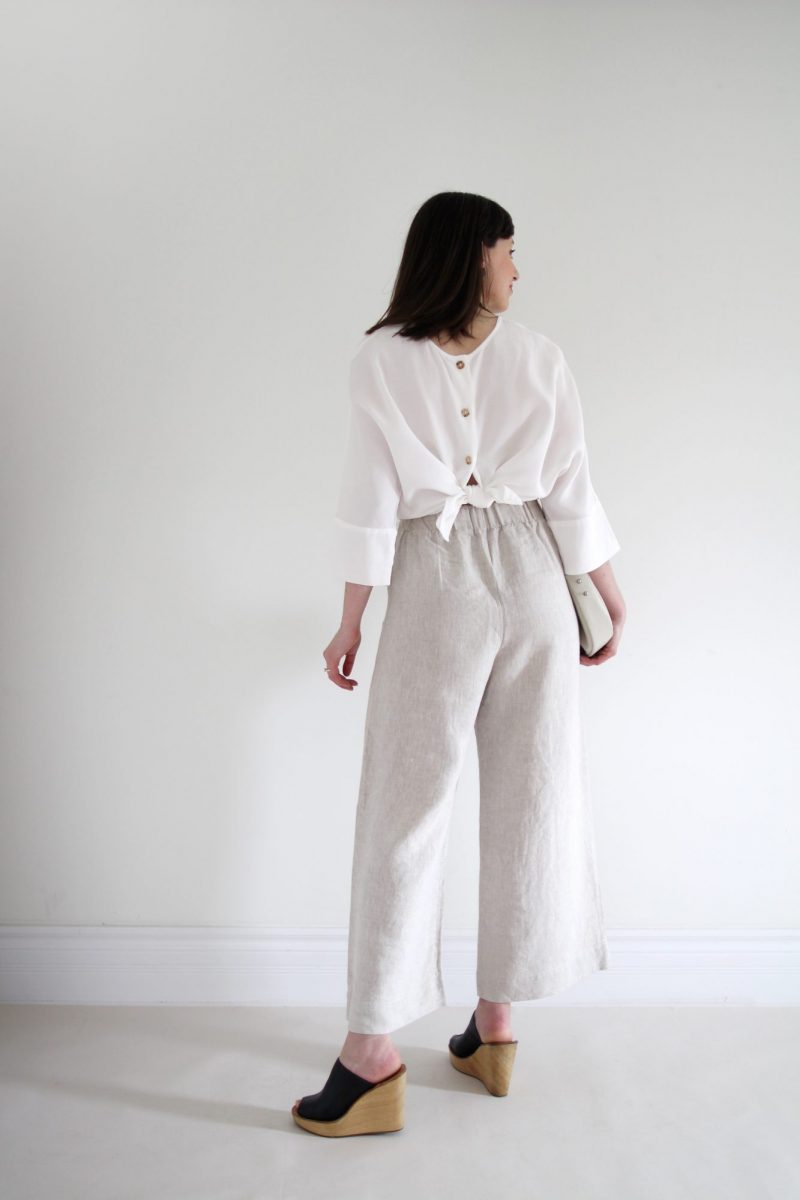 ---
FLAX FLORENCE PANT | ELIZABETH SUZANN | First seen on the blog back in 2016 in my 50 piece closet post and since then many other times (like here, here, here and here). | I wear a size Small Regular and I'm 5'7.
I've been fortunate enough to have tried out almost every style of pant that Elizabeth Suzann has released. They each have merit (and some a cult following like the Clyde) but I always return to the Florence. Maybe it's because they're the first style I fell in love with or because they're so timeless, flattering and just downright fun to wear. At this point I just know I love them. I've got 4 pairs in my closet and they're easily my most worn pant style.
Full disclosure: I sold the the first pair of flax linen Florence pants I had and replaced them with a more recent release in mid-weight linen. I like the mid-weight for more opacity and structure plus I find I can wear them into the fall because they're a bit warmer.
---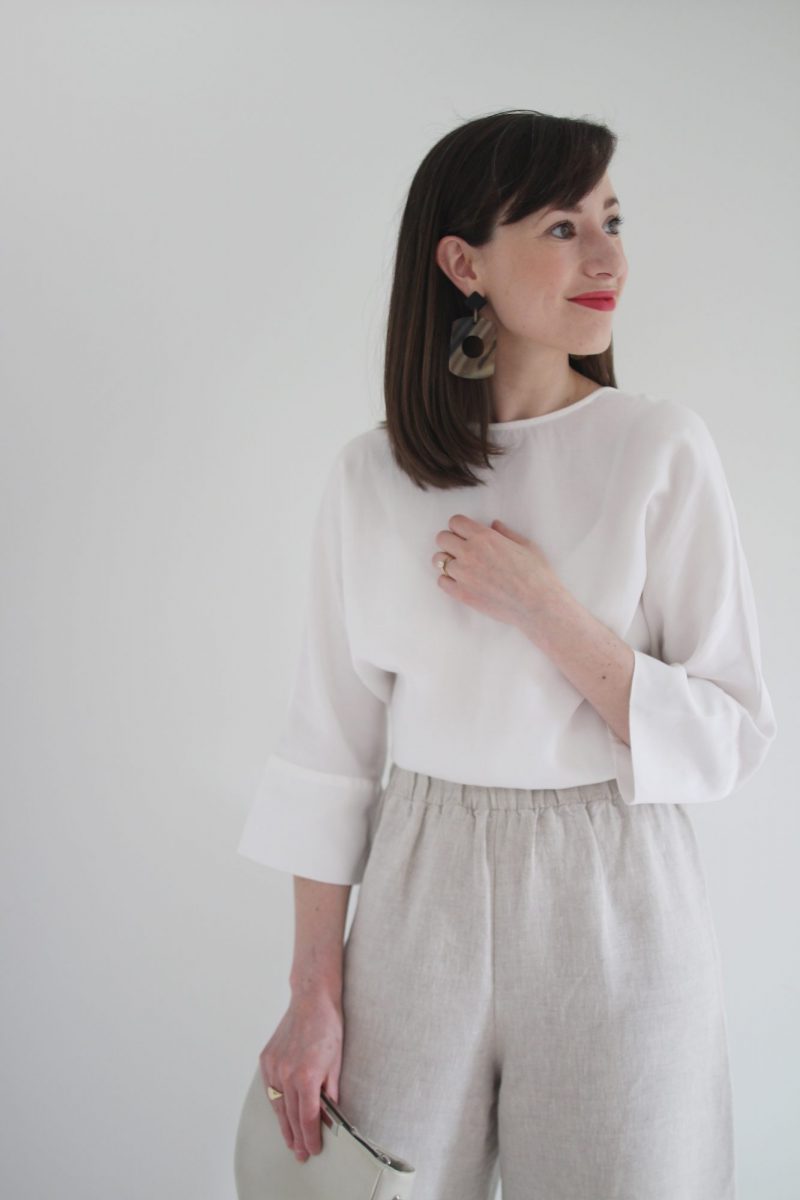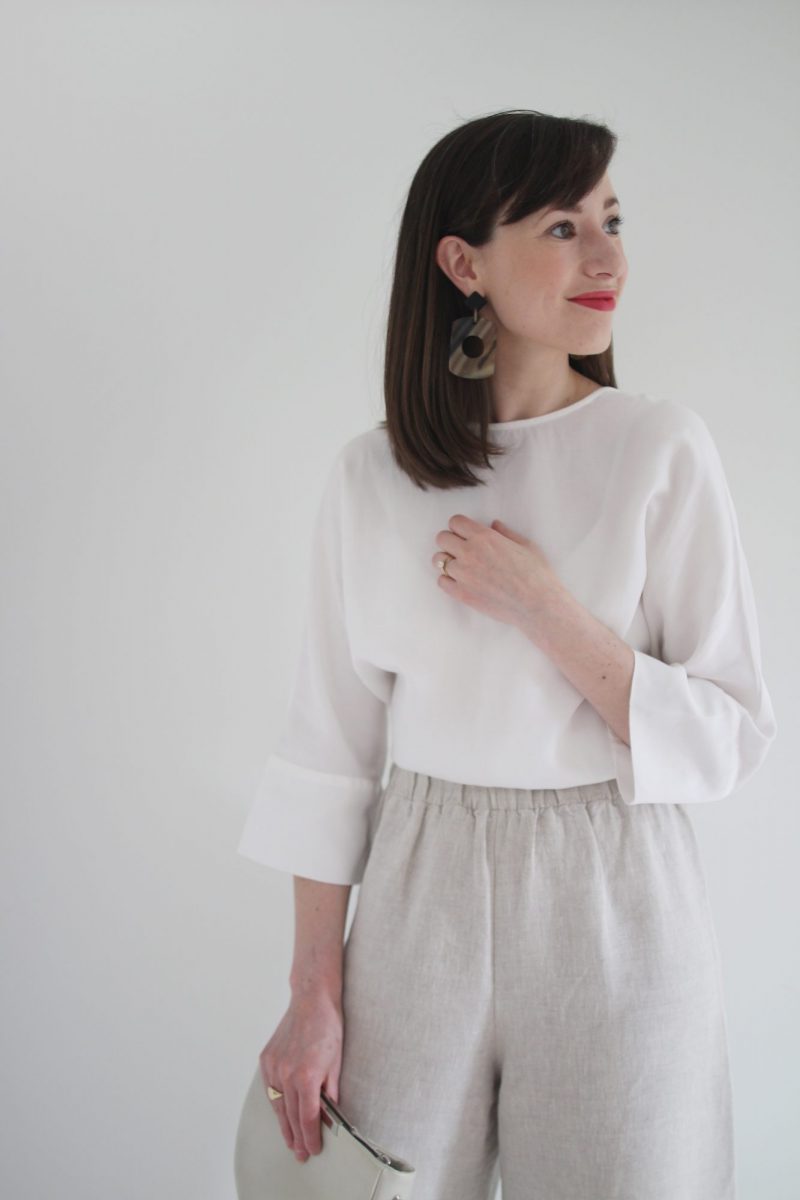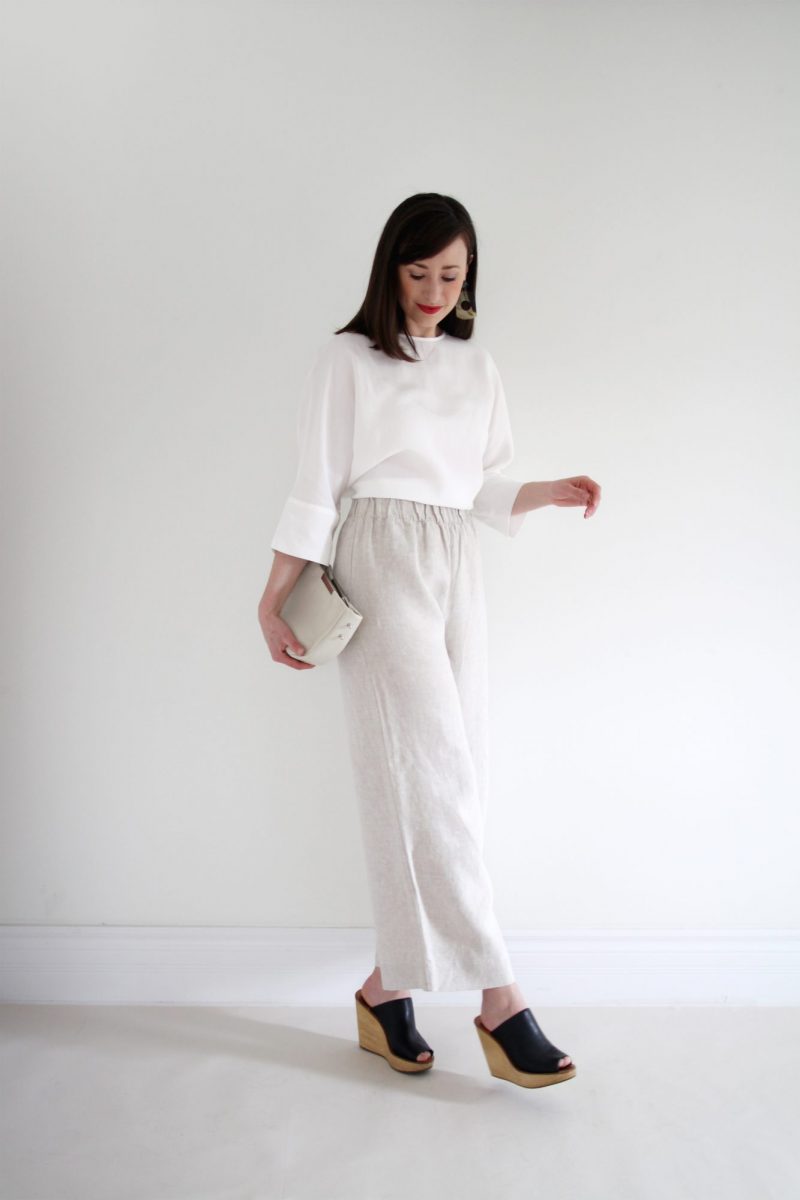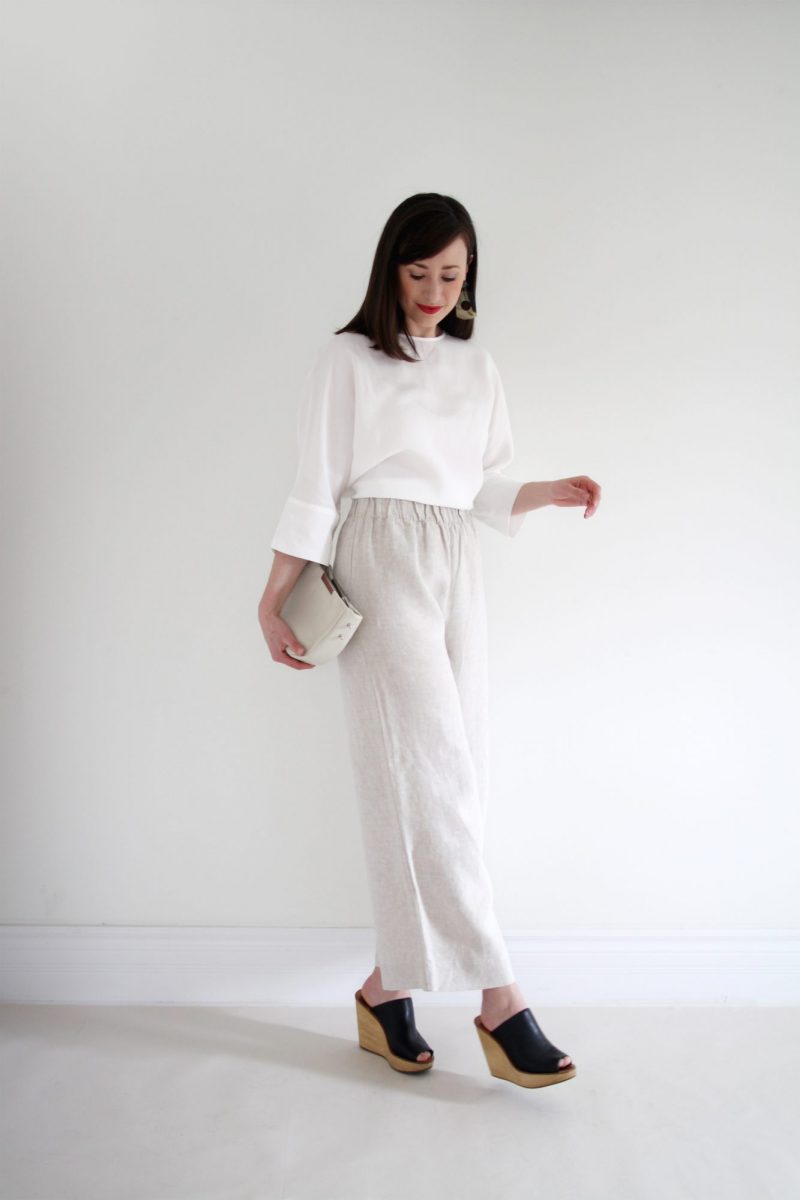 ---
WEDGE MULES | n/a RACHEL COMEY | First seen on the blog back in 2015 in a major wayback playback of an outfit post. Ha! They've made many an appearance since then as well including here, here and here.
These are easily the most eccentric of all the footwear in my closet. I bought them in a serendipitous 50% off Rachel Comey sale and have cherished them ever since. They come out to play on tropical holidays and a couple of times during the summer or for special occasions. If I'm being completely honest, sometimes I just like to look at them!
Everyone deserves a fabulous pair of shoes that they feel amazing in and these are those shoes for me.
---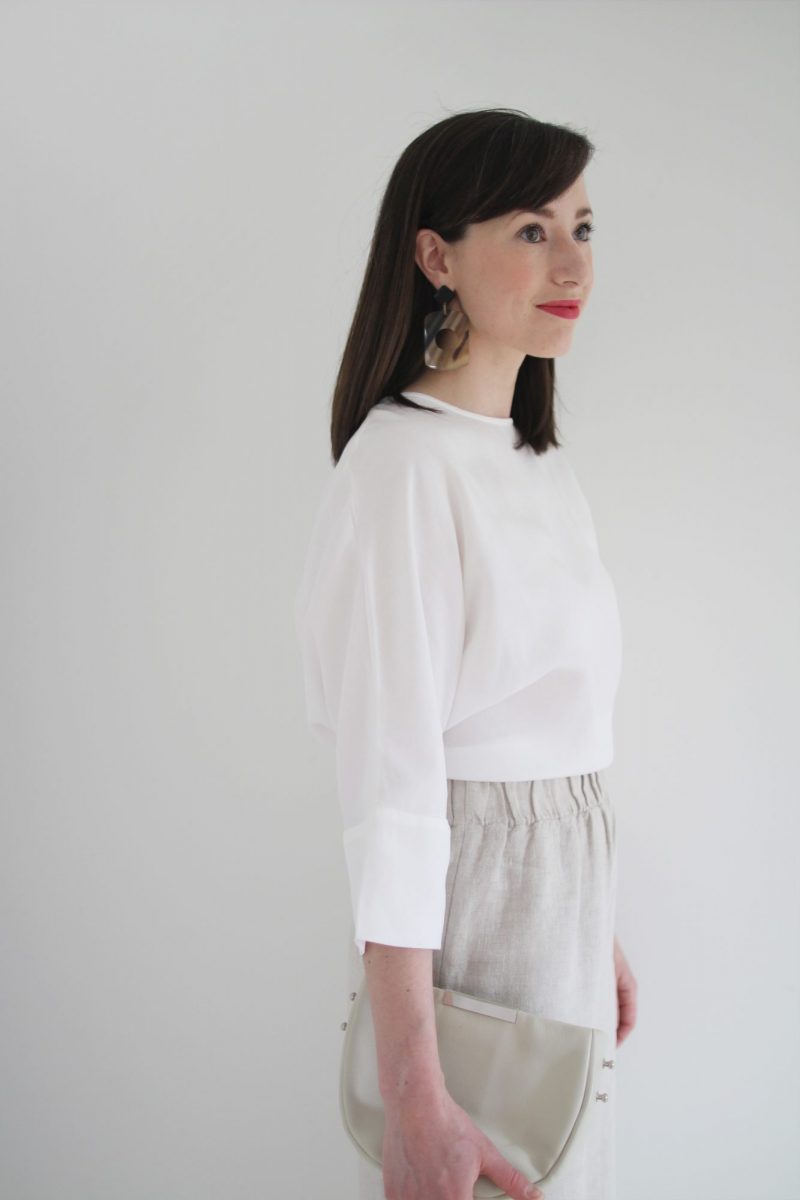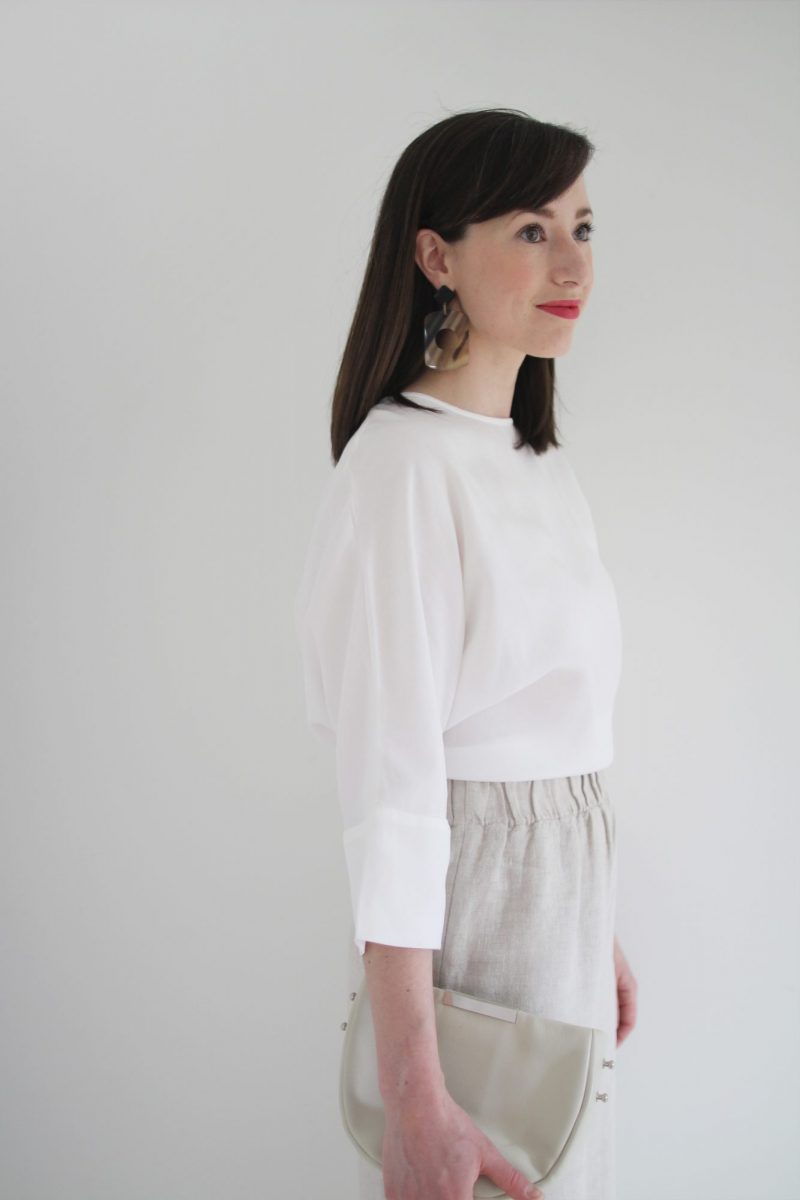 ---
BOXY BLOUSE | gifted VETTA (recently restocked) || FLORENCE PANT | ELIZABETH SUZANN || MICRO MEENA CLUTCH (black) & HORN EARRING | gifted OPELLE || PLATFORM MULES | old RACHEL COMEY || LIP COLOUR: THRILLEST | KOSÅS
---

---
LOOK 3
---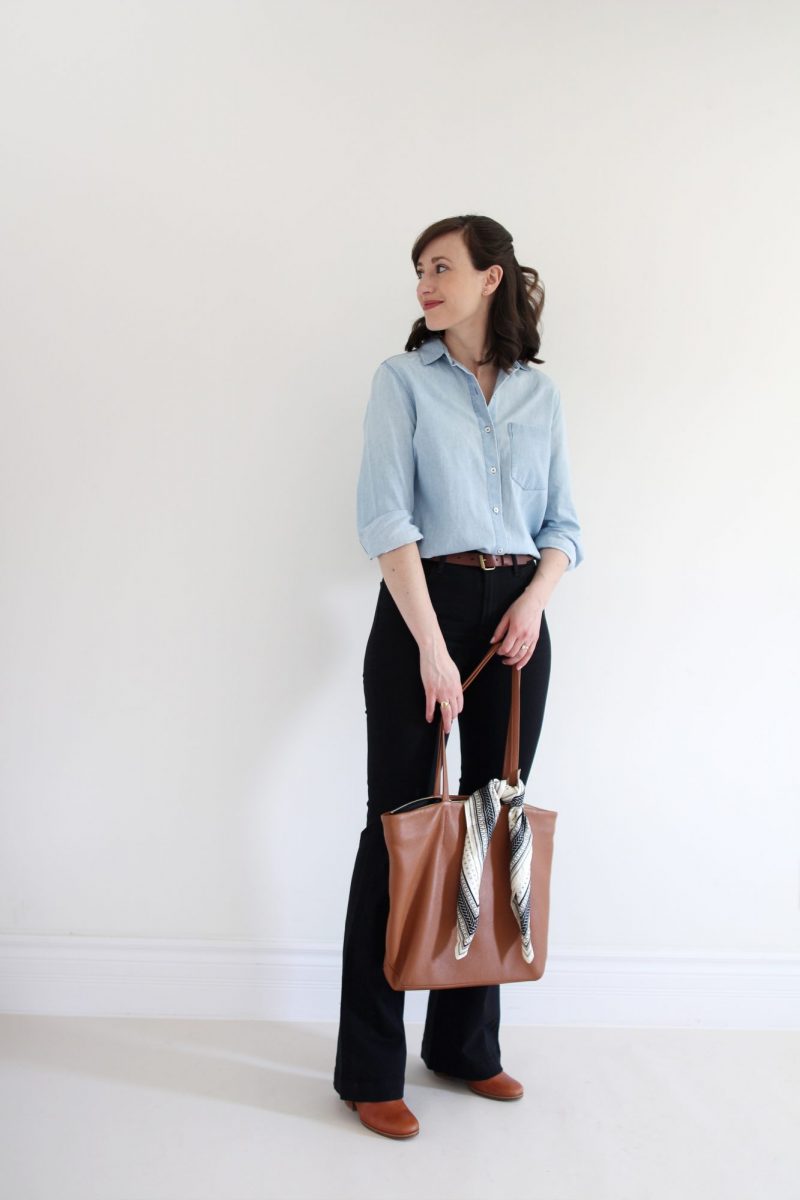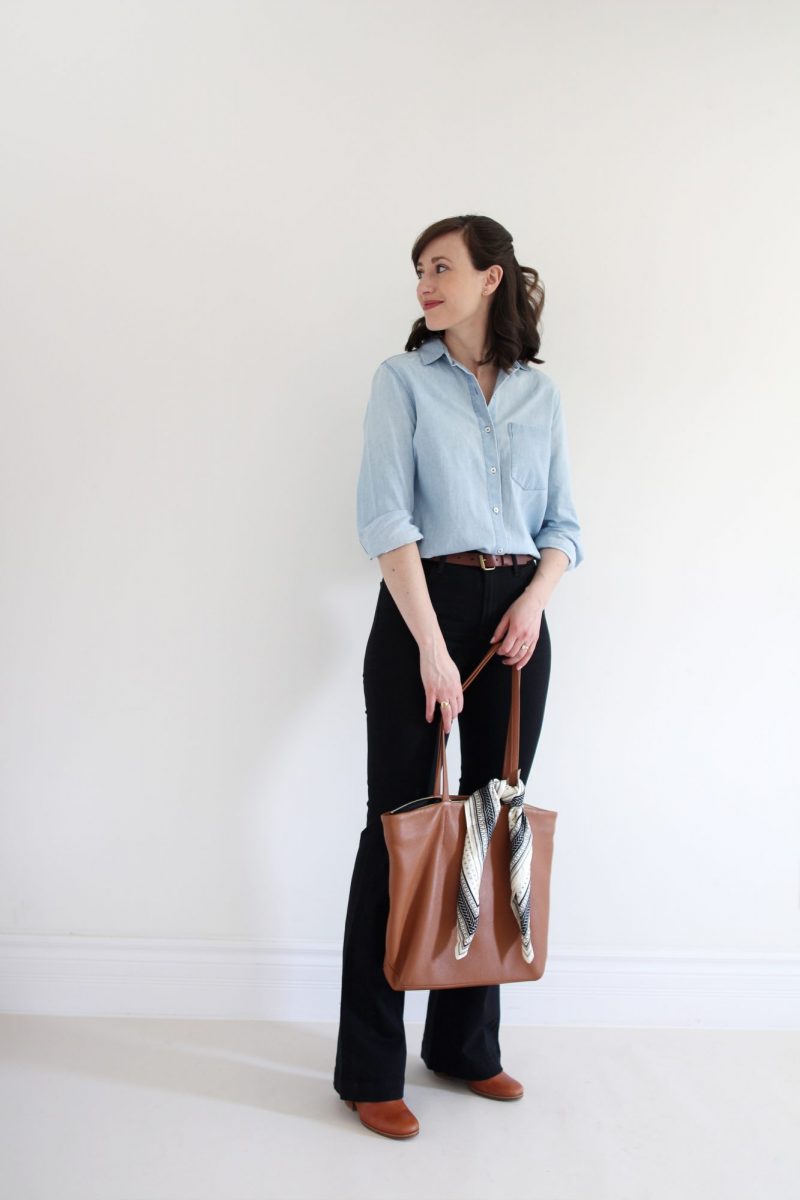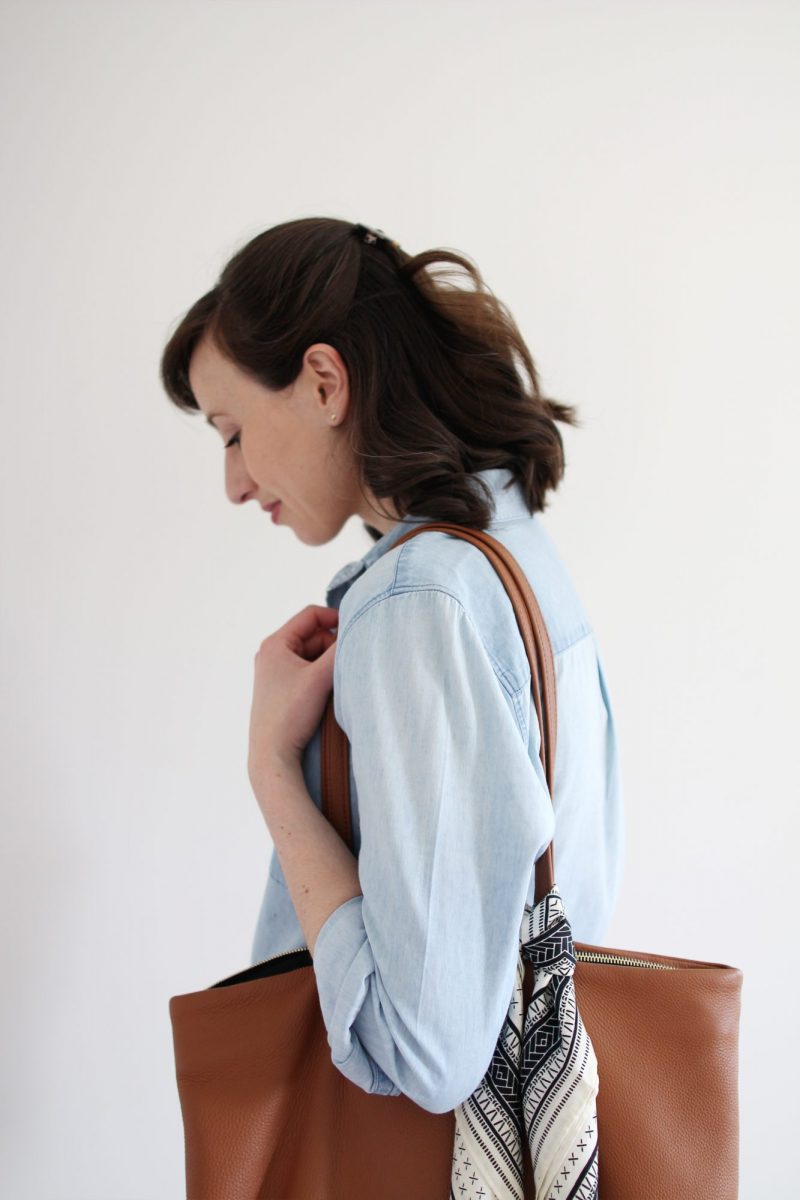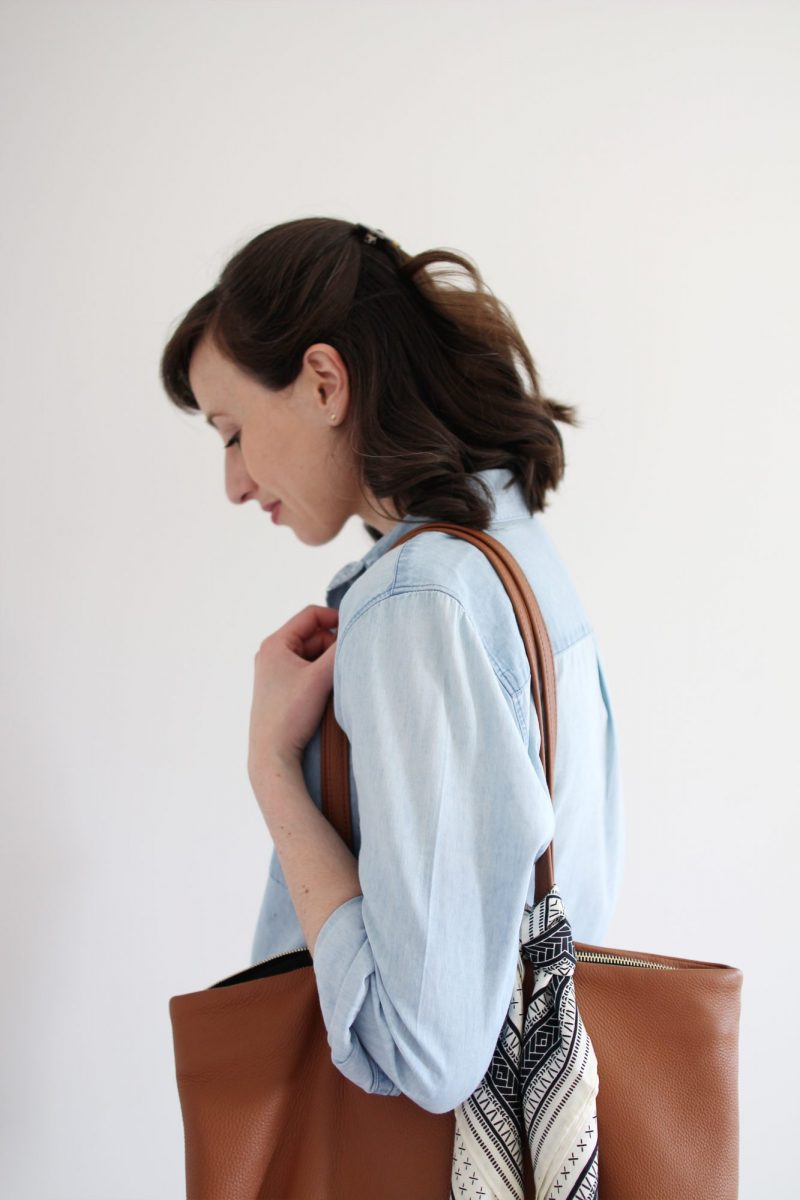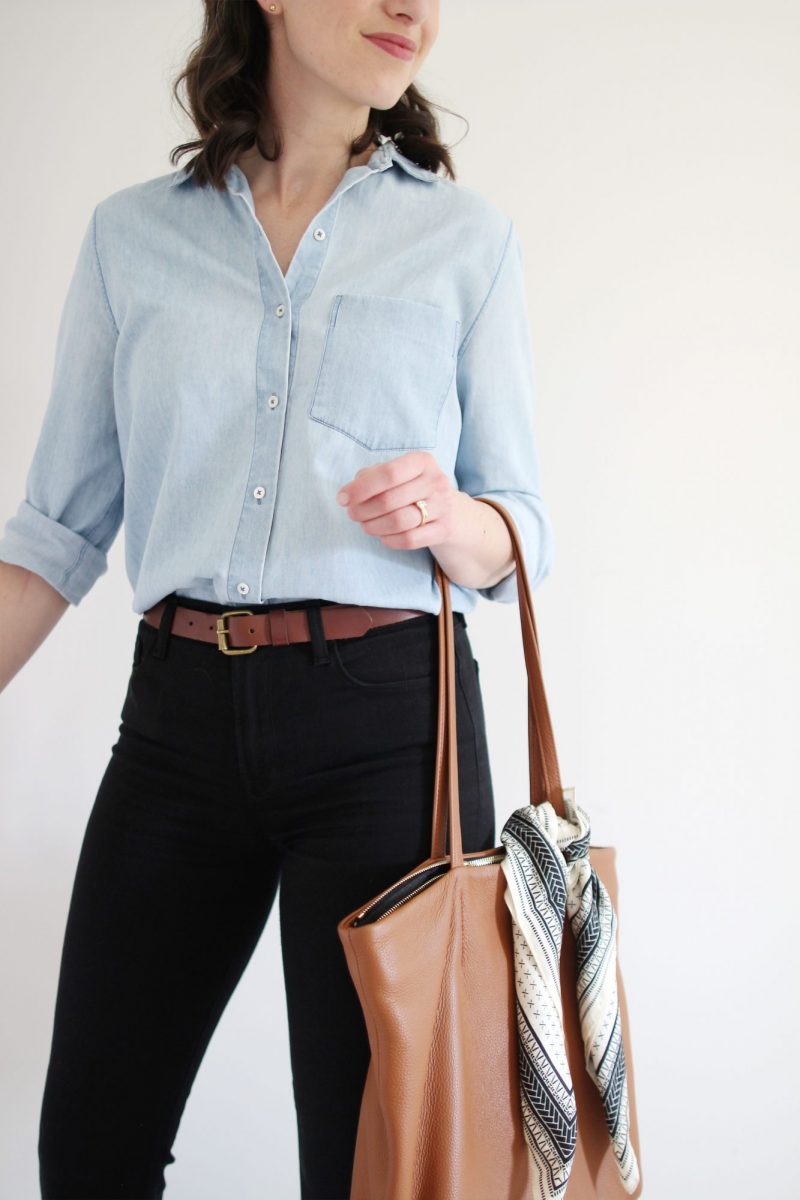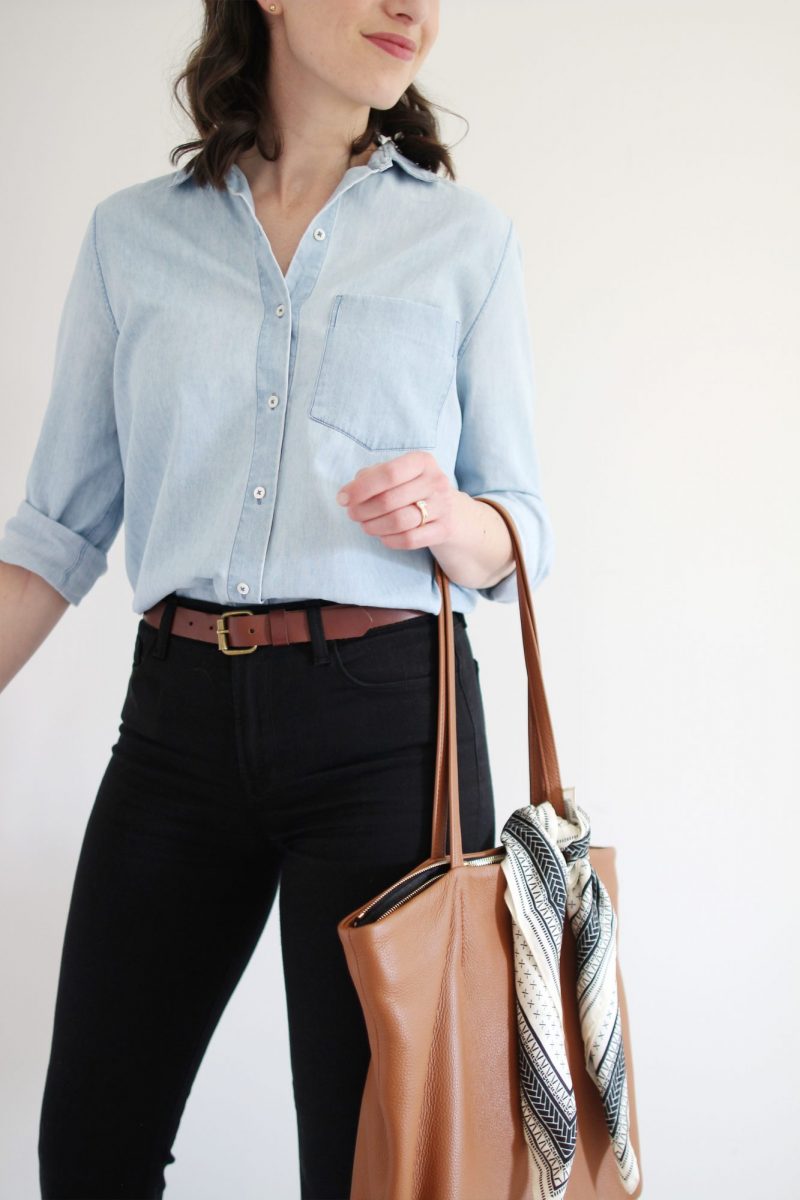 ---
CHAMBRAY SHIRT | n/a EVERLANE | First seen on the blog in 2015 during my original 10×10 Challenge!
A truly timeless closet staple will be just as fun to wear the 100th time as it is the very first time you pull it on. This chambray button-up is just that. In fact, I wore this exact outfit not long ago and it felt great to pull together some of my longest-standing wardrobe workhorses; this top, these flares and my Mars boots.
I think a chambray shirt is something just about every closet could use. It's a classic piece that transcends style eras, appears in just about every street style round-up and offers a ton of versatility. IMHO, the more sun-bleached and worn-in the better! Here are a few inspiring style ideas I'm bookmarking myself:
---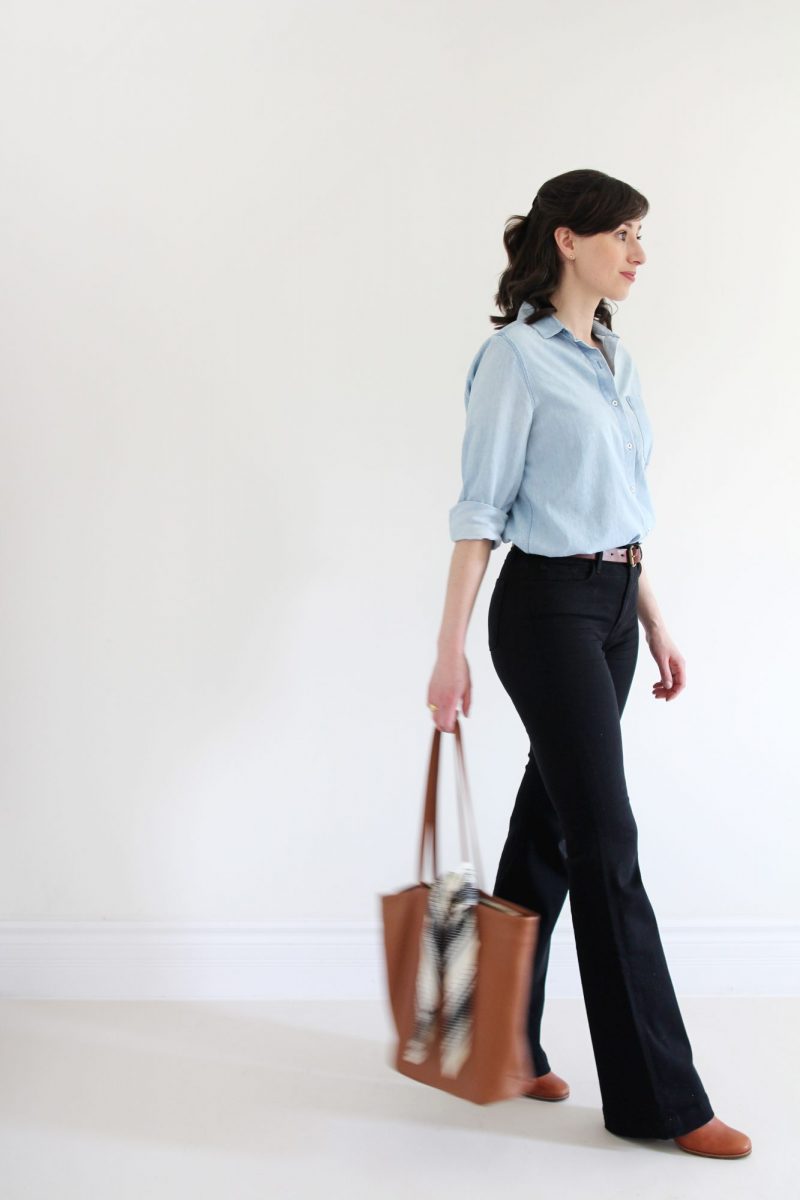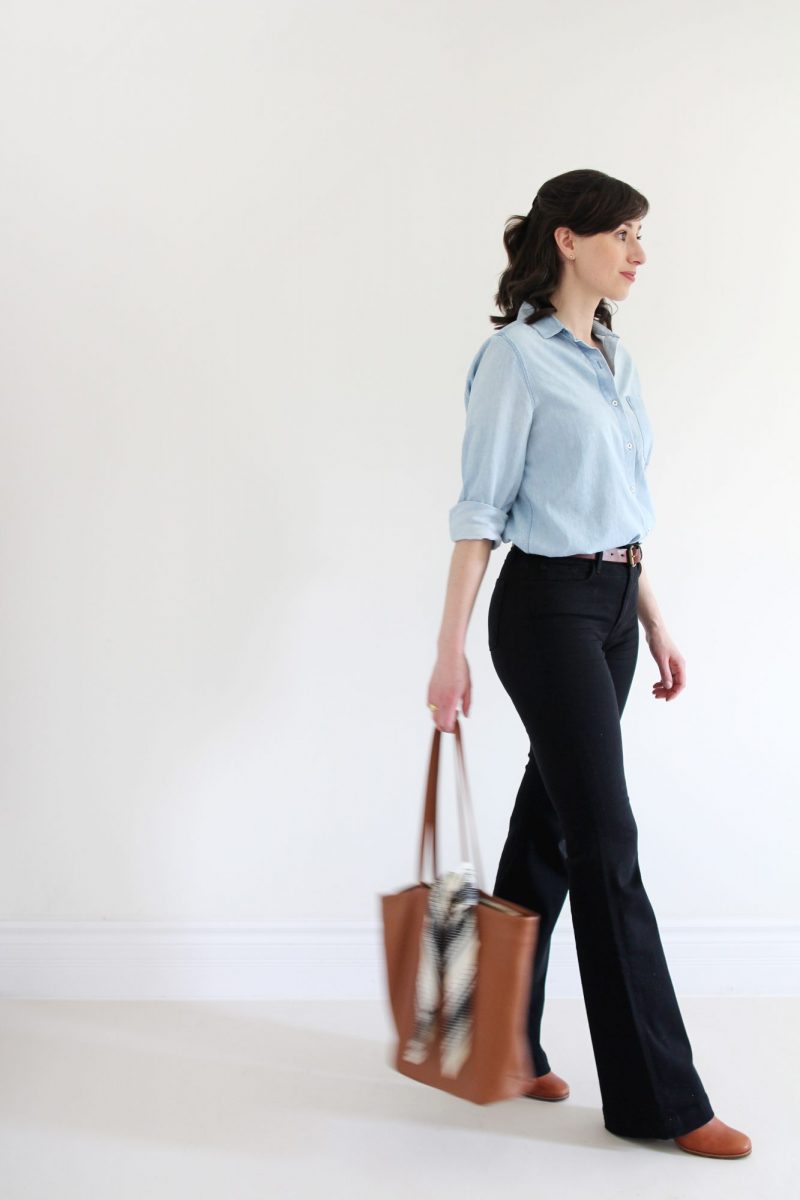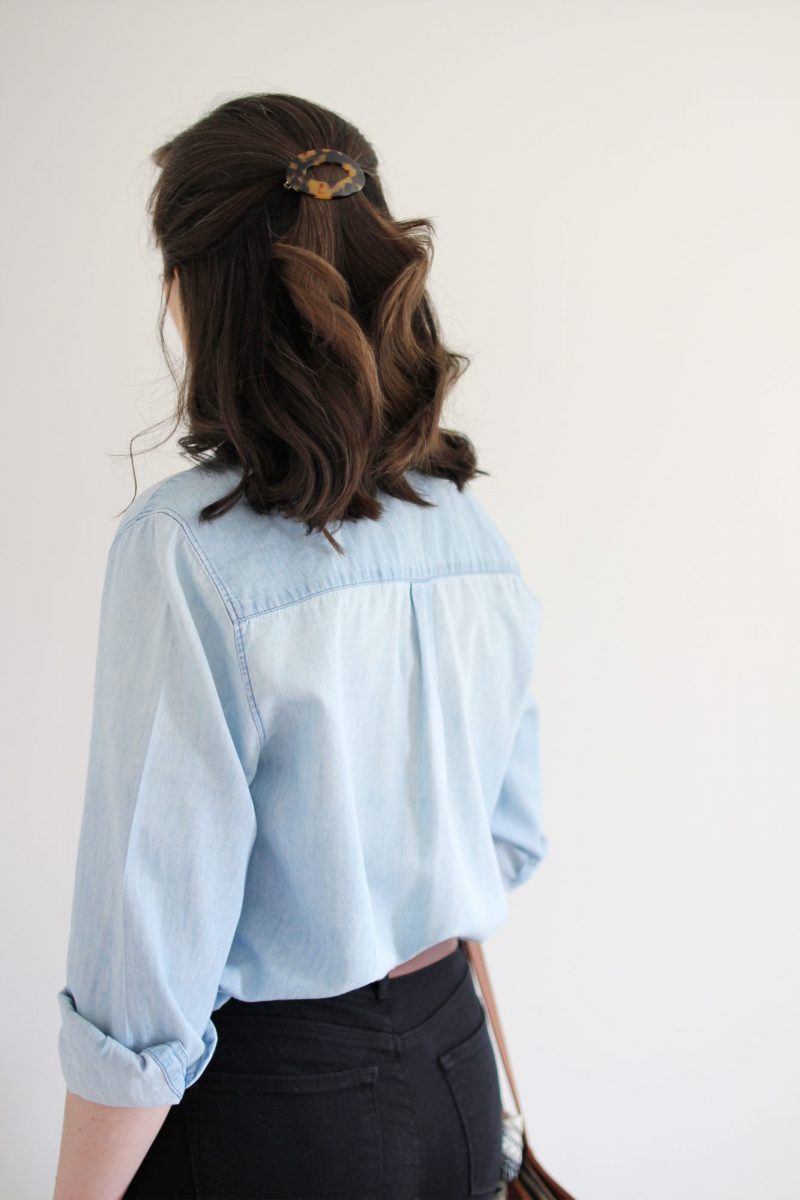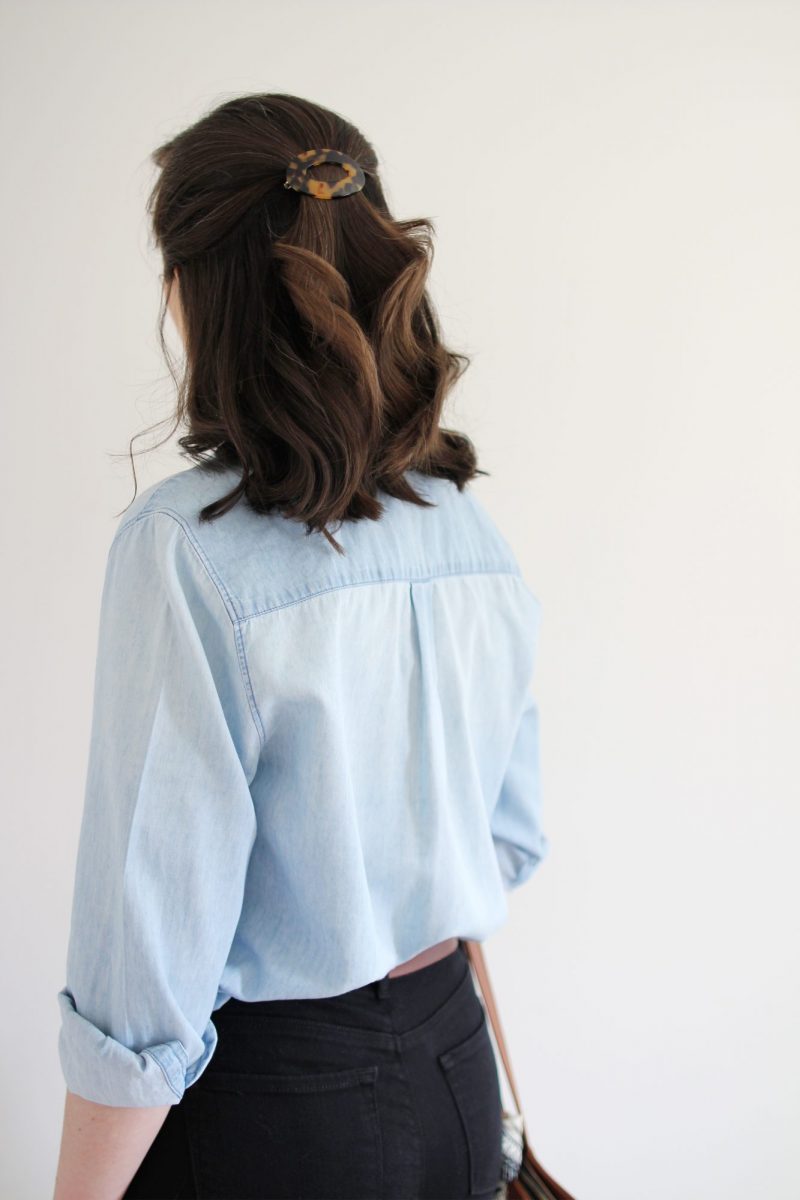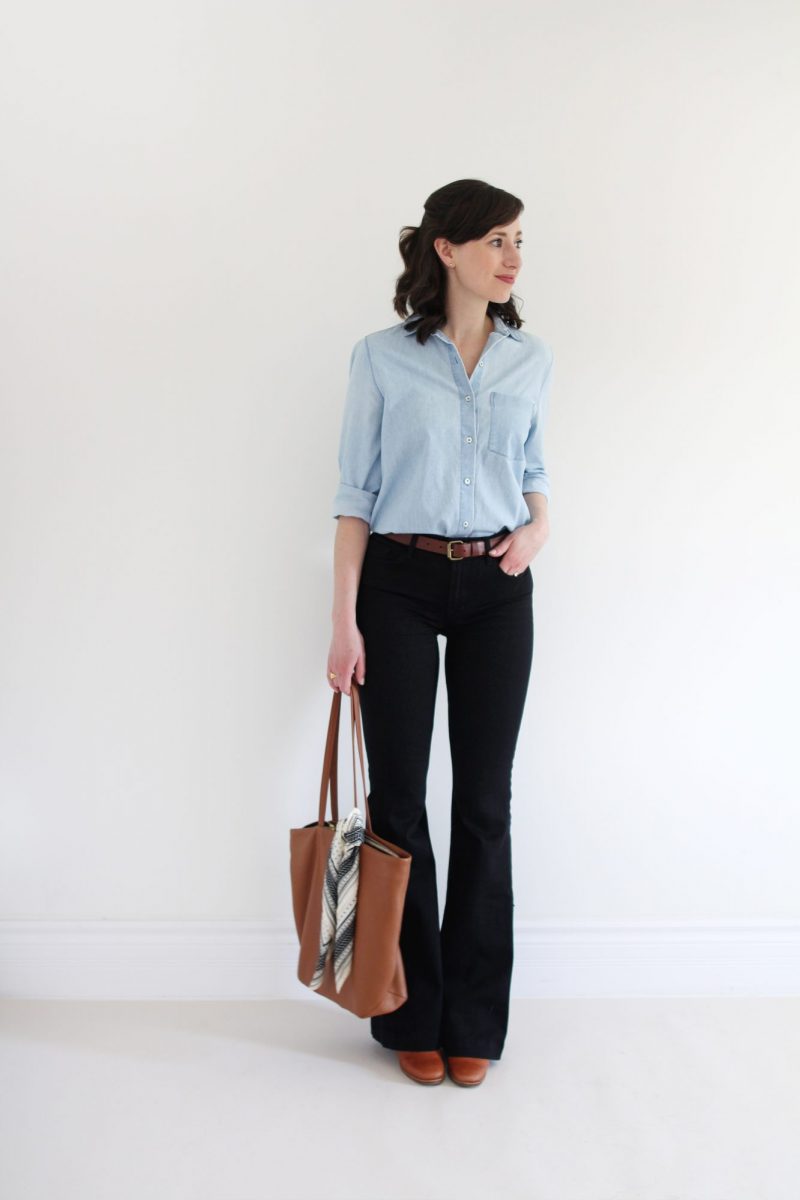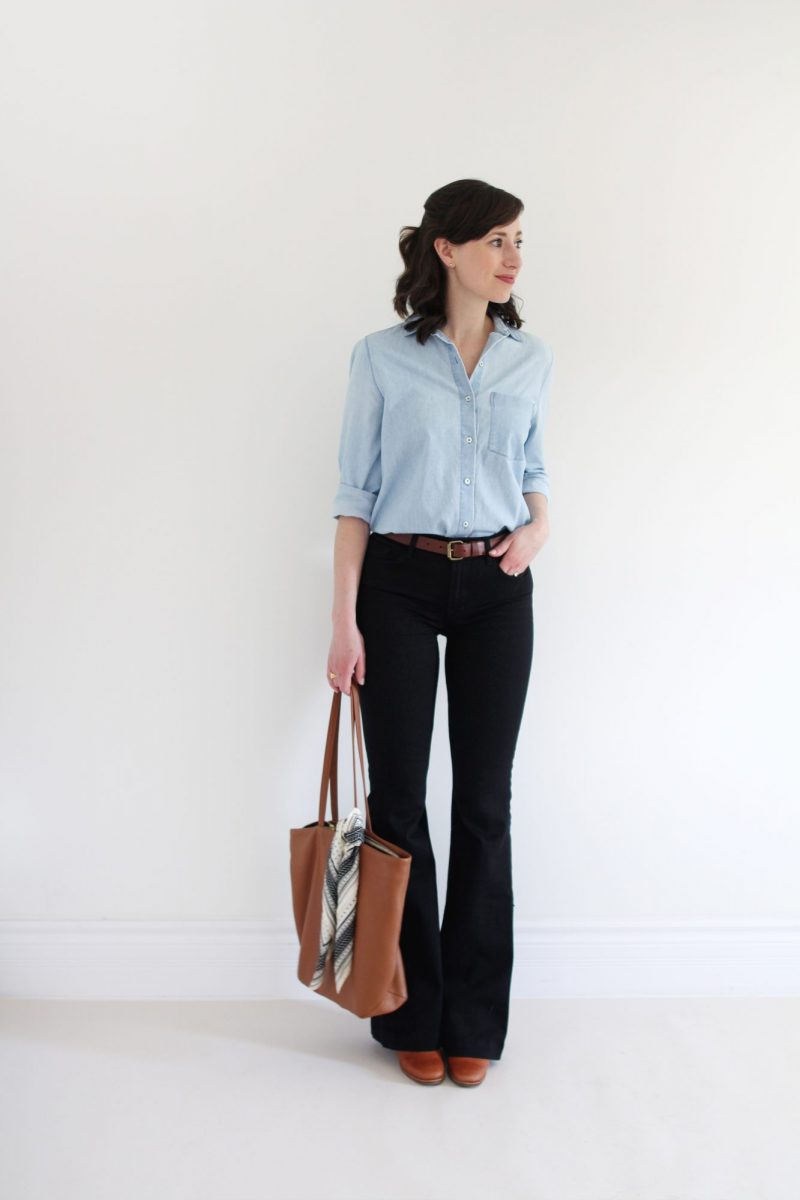 ---
BLACK FLARES | n/a JBRAND | First seen on the blog in 2016 here, here and here.
As soon as I saw that flares were making a comeback after a turn in the shadow of wide-legs, I dug into my denim collection for this pair. And they still fit!! I'm certainly a fan of non-stretch denim but wow, stretchy jeans sure can be easier on the ego.
These are my feel-good, ready for some fun black jeans. I pull them on for a night out with my girlfriends or a dinner date with the in-laws and they seem to fit the bill no matter what. They might spend a season or so on the sidelines but I know I'll always come back to them again.
Note to self: don't write-off a style you love just because it's not 'on trend'. Wear it anyway or keep it handy for when it inevitably comes back.
---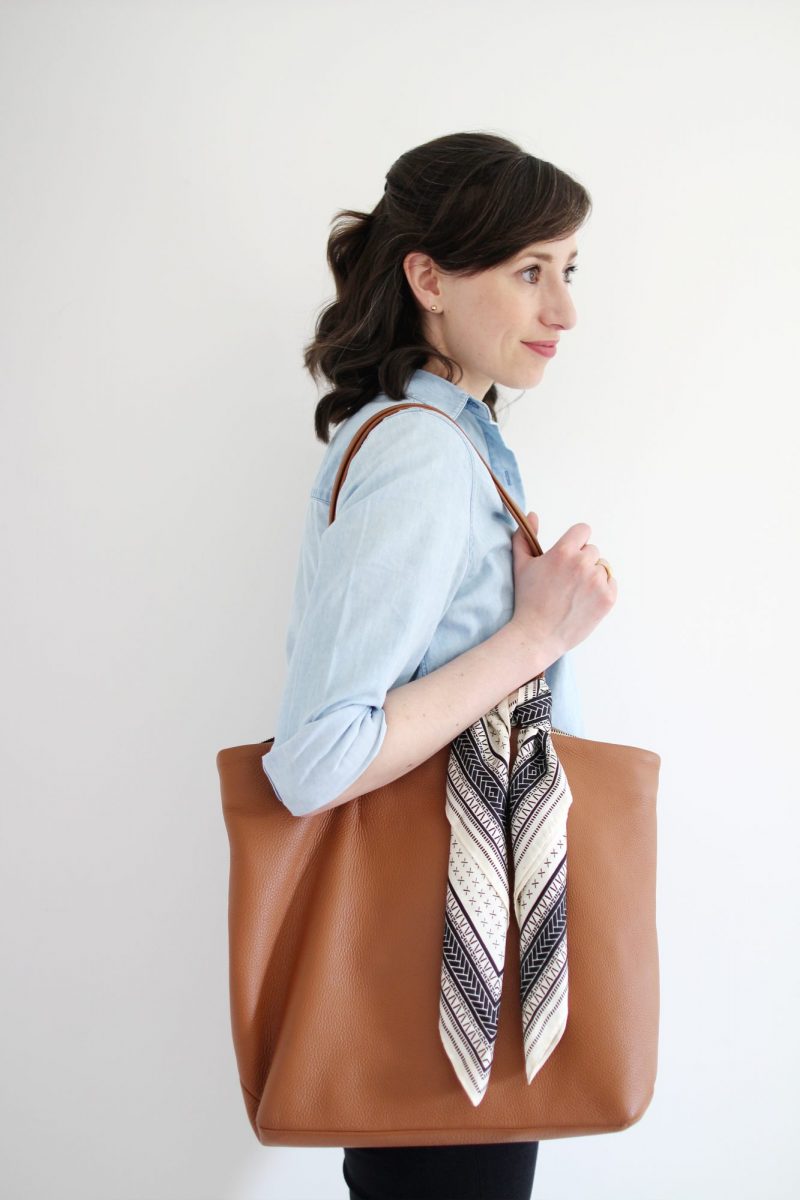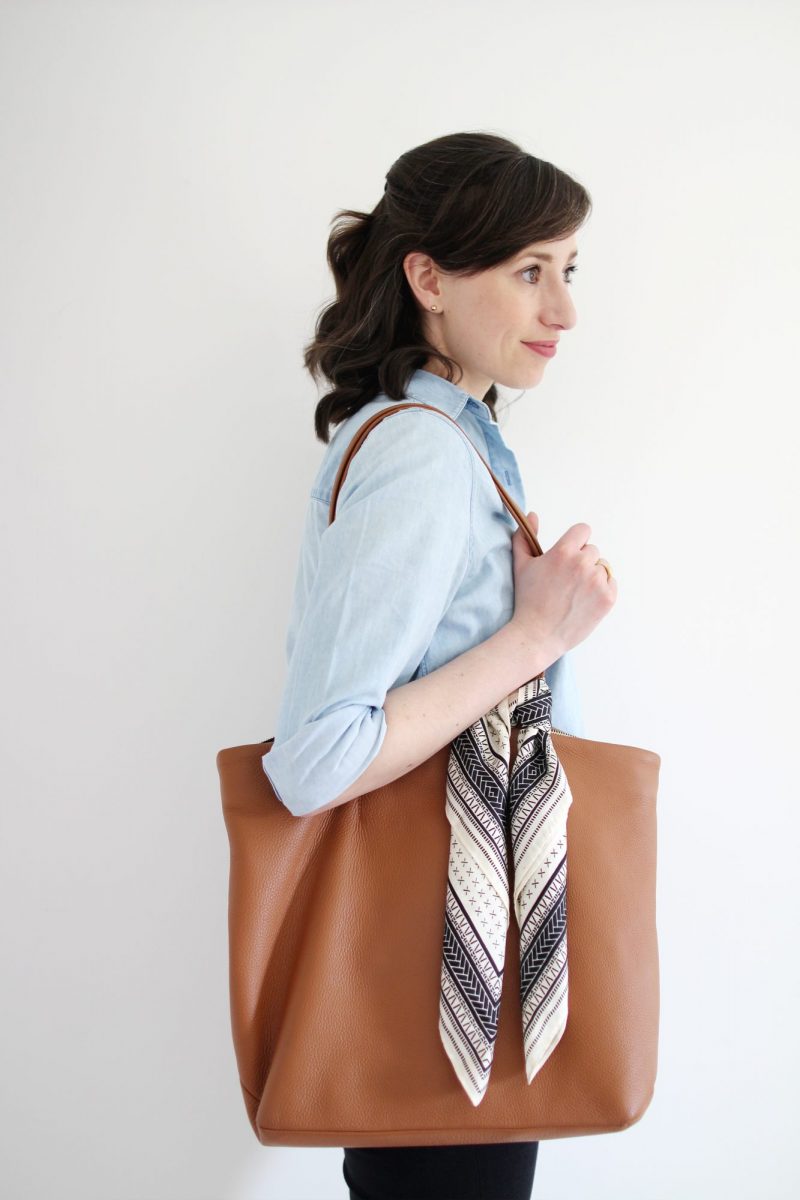 ---
CHAMBRAY SHIRT* | old EVERLANE || BELT | ATELIER B || FLARES* | old JBRAND || SILK SCARF* | old A PEACE TREATY || MARS BOOTS | RACHEL COMEY || TOTE* | gifted OPELLE CREATIVE || BARRETTE* | old J.CREW || SIGNET RING | gifted CLAUS || *Linked to similar option
---

---
LOOK 4
---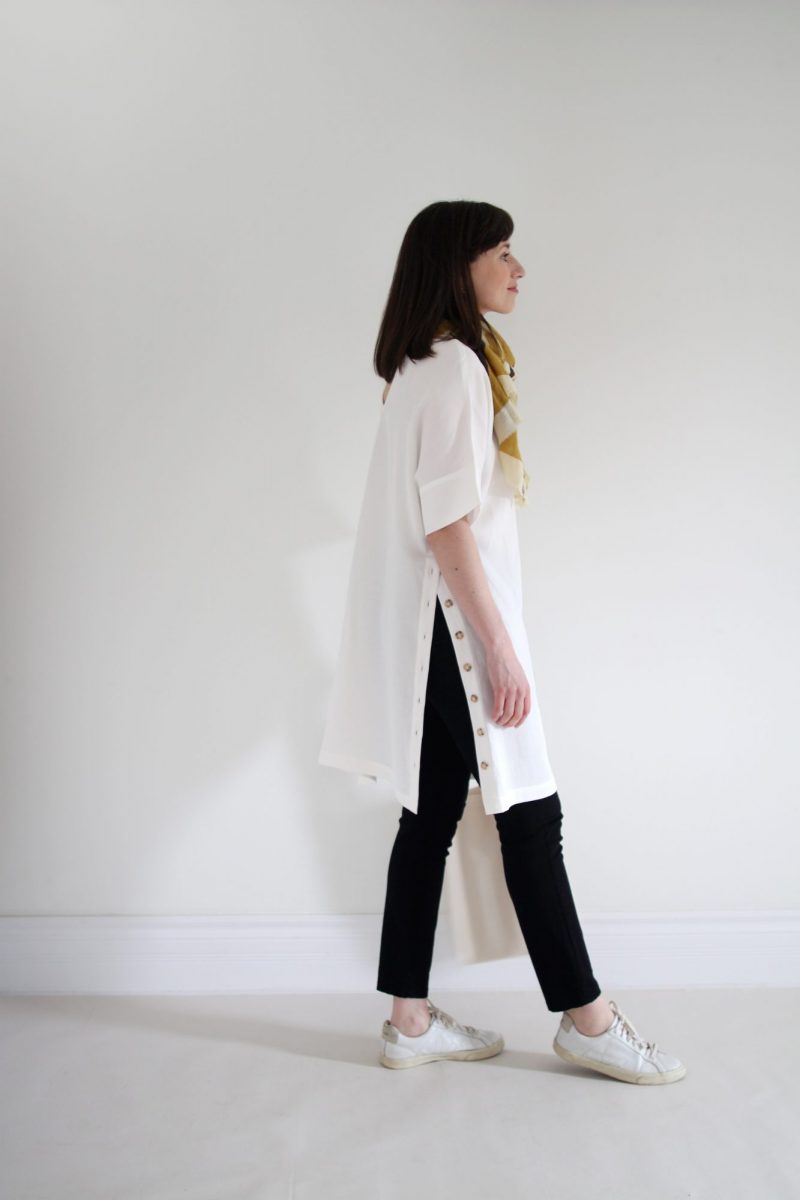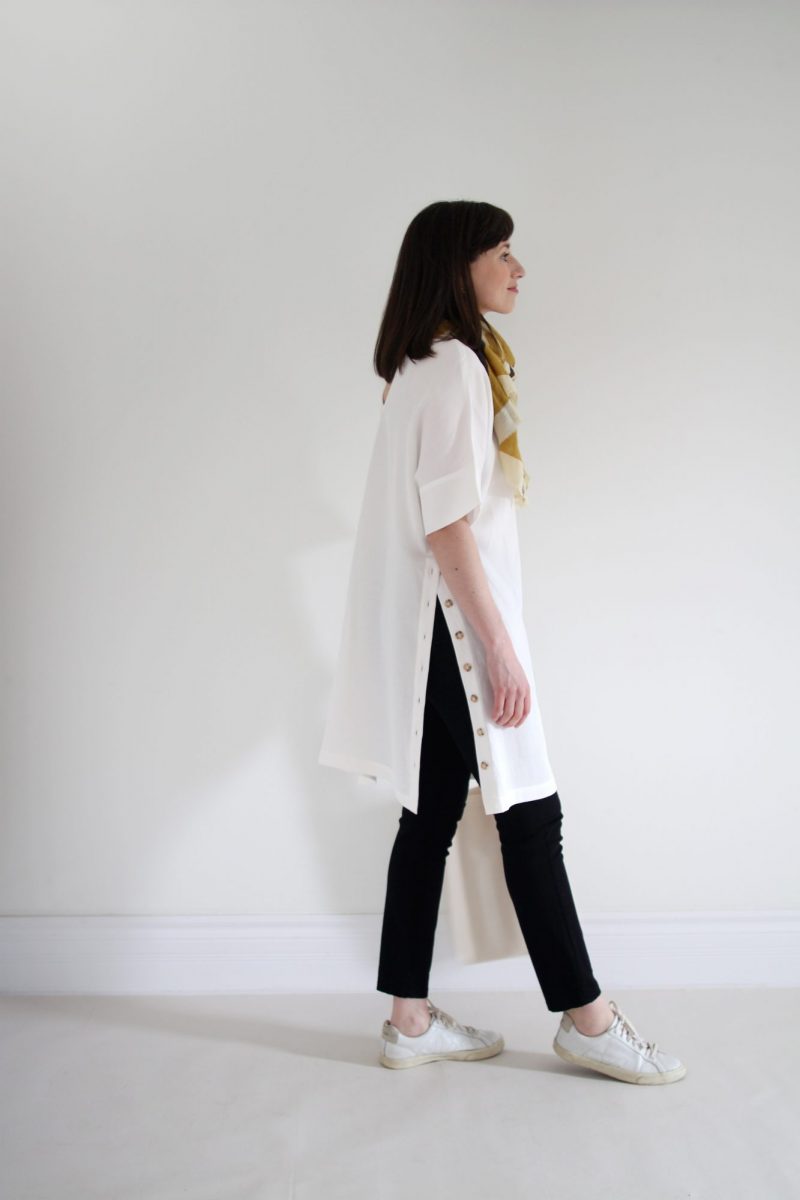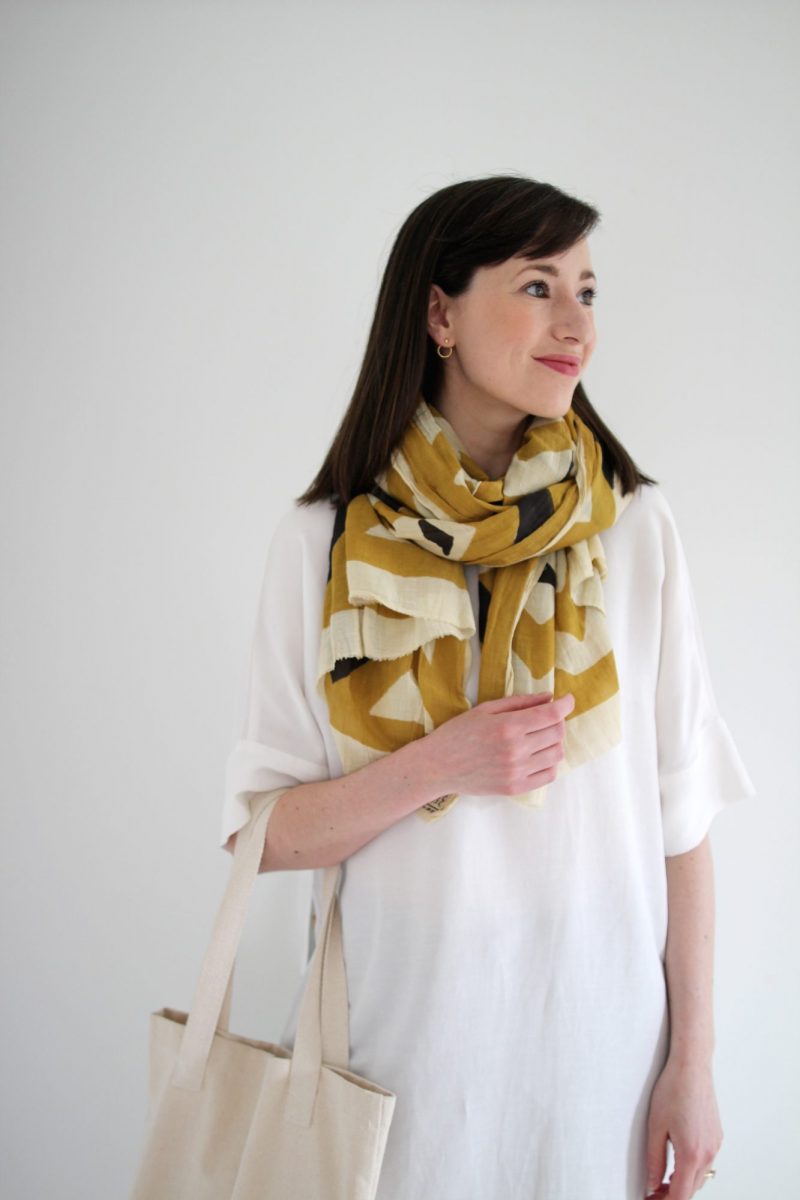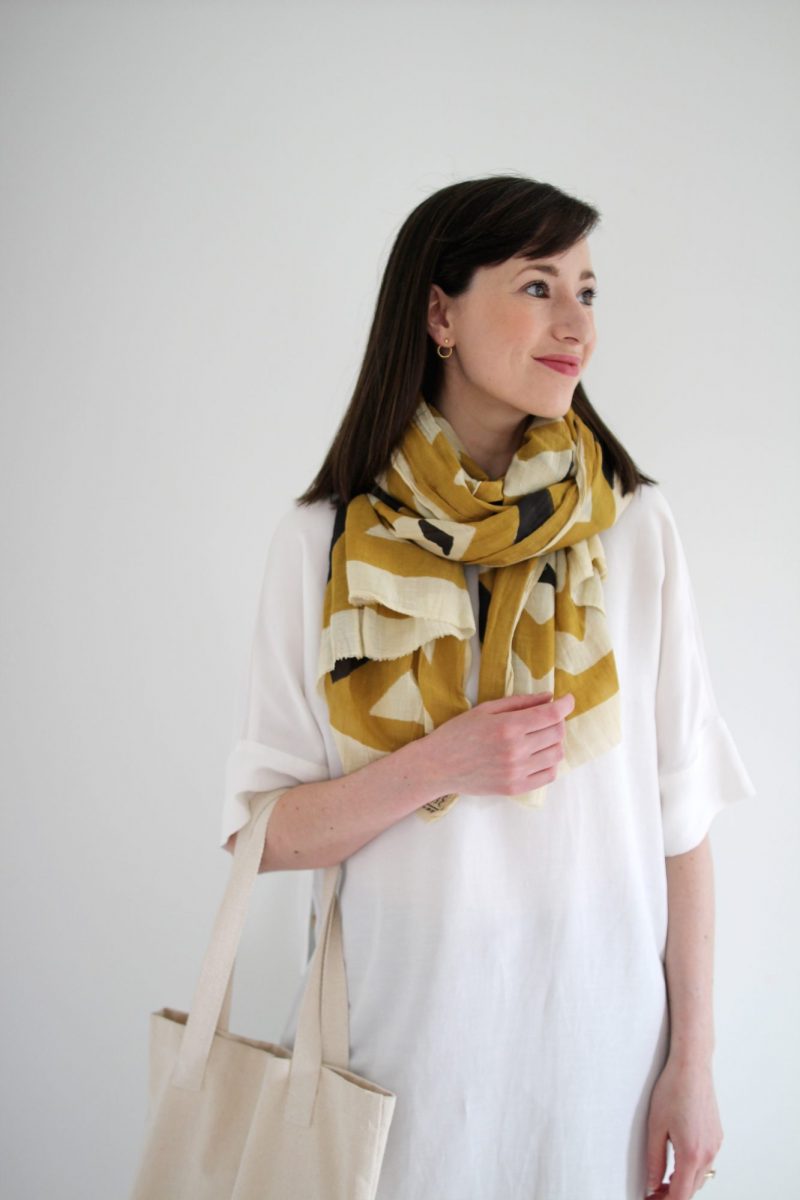 ---
PRINTED SCARF | n/a BLOCKSHOP TEXTILES | First seen on the blog in this 2015 post and again many times since (here, here and here).
I inherited a love for scarves from my Mum who's collection might even rival that of Iris Apfel! I never used to understand why she kept them all but as time goes on I've begun to appreciate why it makes sense to hang on to as many scarves as you can.
In my experience the best ones are usually really big and really light-weight making them endlessly versatile, packable and wearable. Their strengths include travel readiness, boring outfit boosting and magical abilities to extend lean closets!
---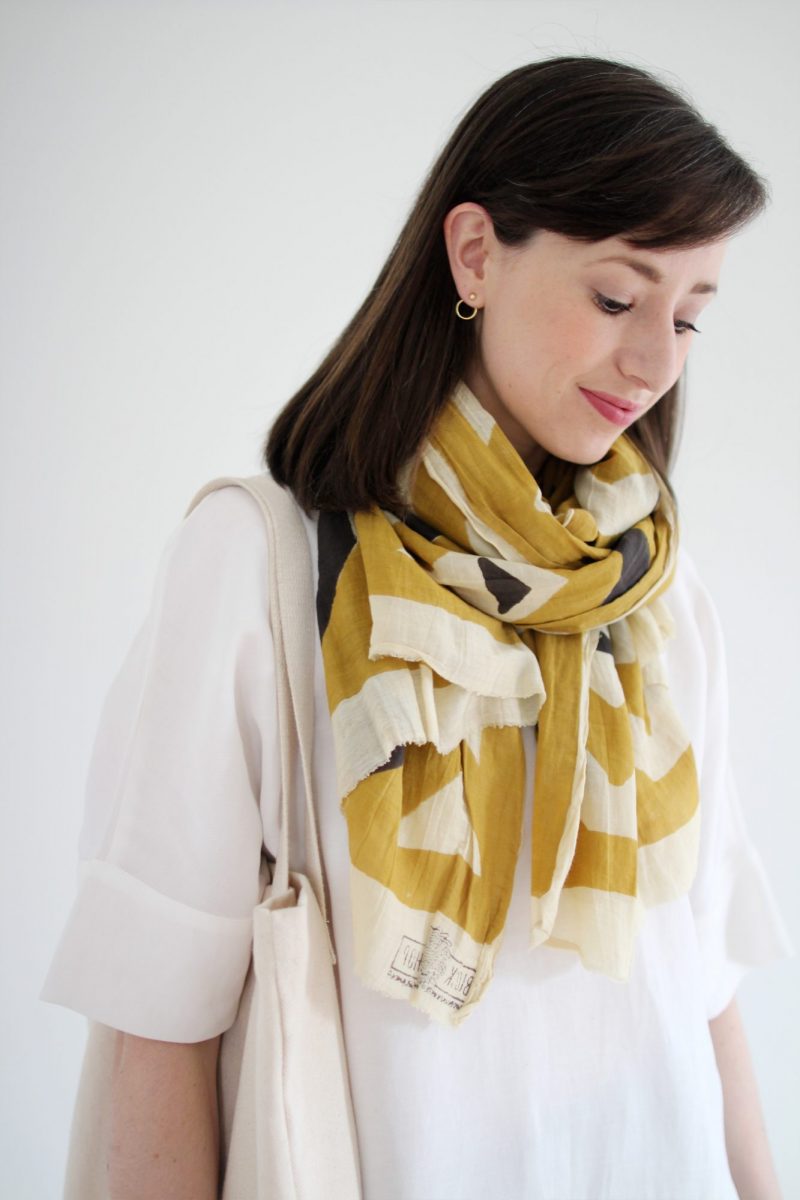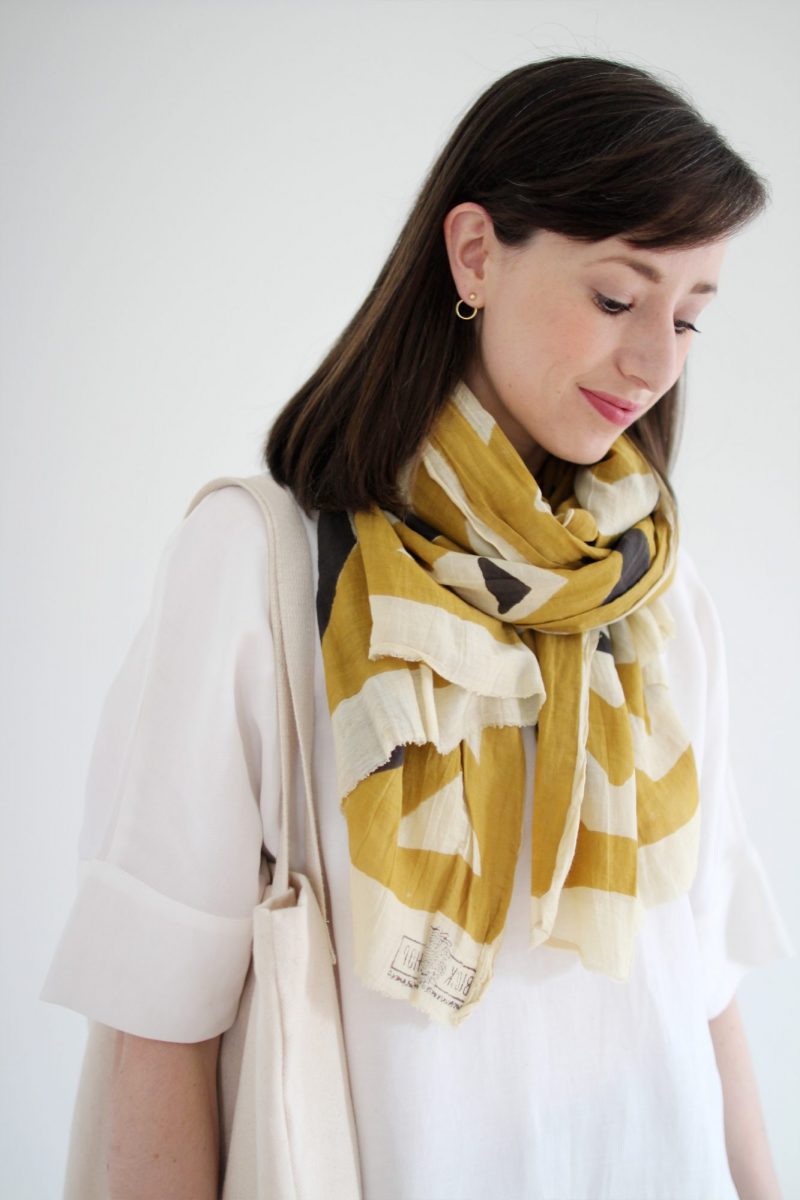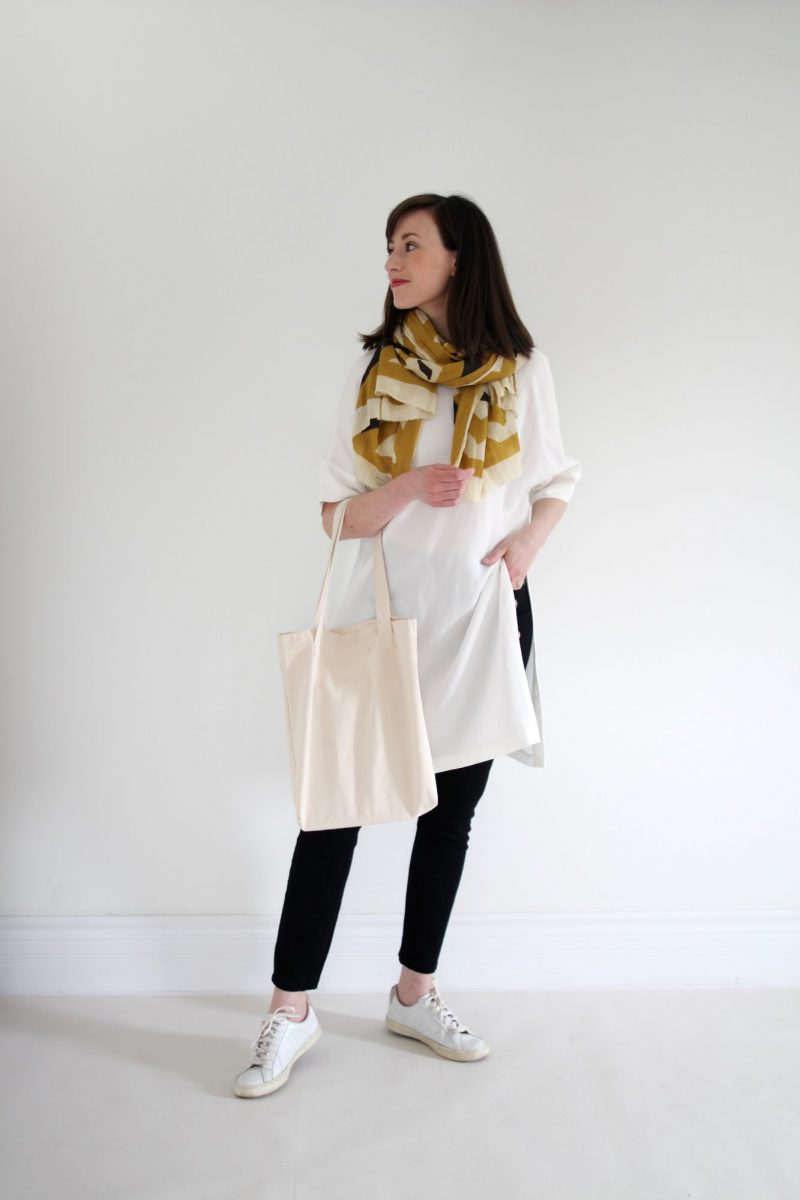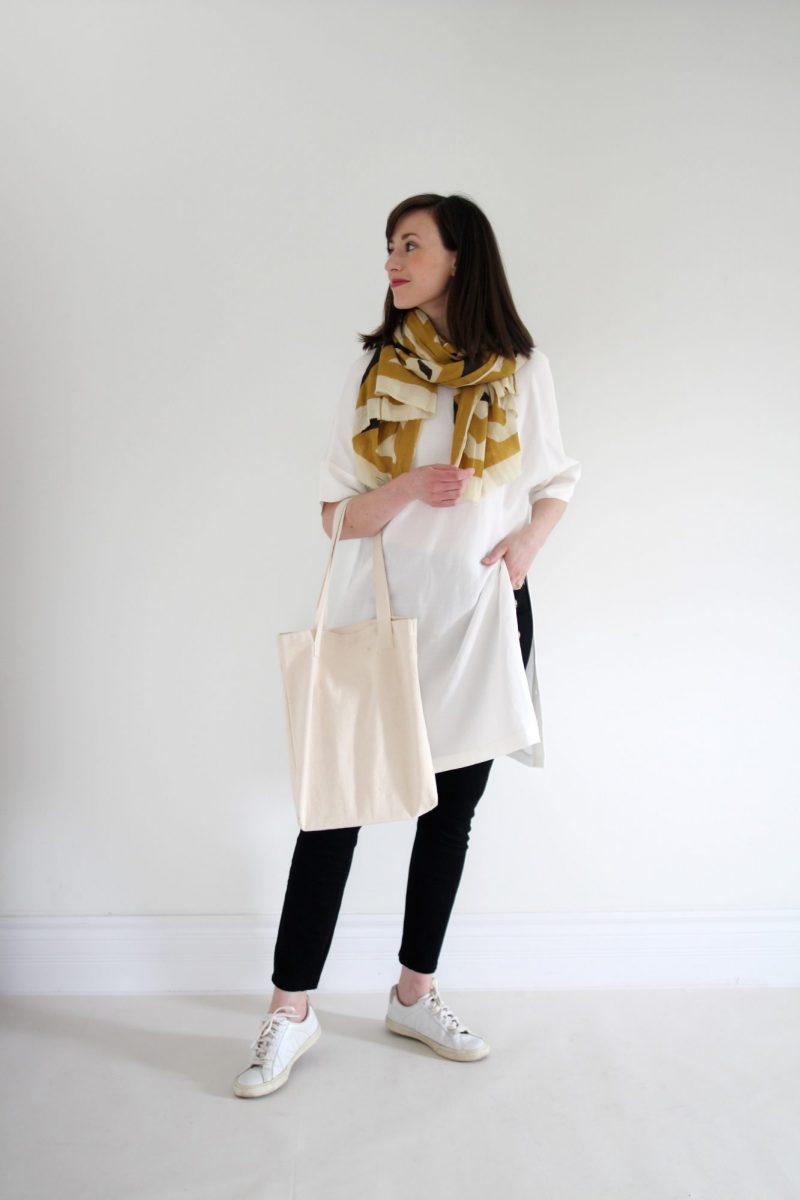 ---
ESPLAR SNEAKER | VEJA | First seen on the blog in 2017 in this post.
I wasn't sure if these sneakers and I were destined to be in each other's lives for very long but as it turns out we've been going steady for almost 3 years now. They were a bit brutal to break-in (a commonly noted occurrence) but have proved to be well-made and prepared to stomp many (millions?) of steps.
These have explored England, Scotland, Amsterdam, Paris, Mexico and plenty of Canada with me and show no signs of missing out on future endeavours. I love that her Royal Highness the Dutchess of Sussex is also a fan of the VEJA brand and has helped to put sustainable sneakers on the map!
---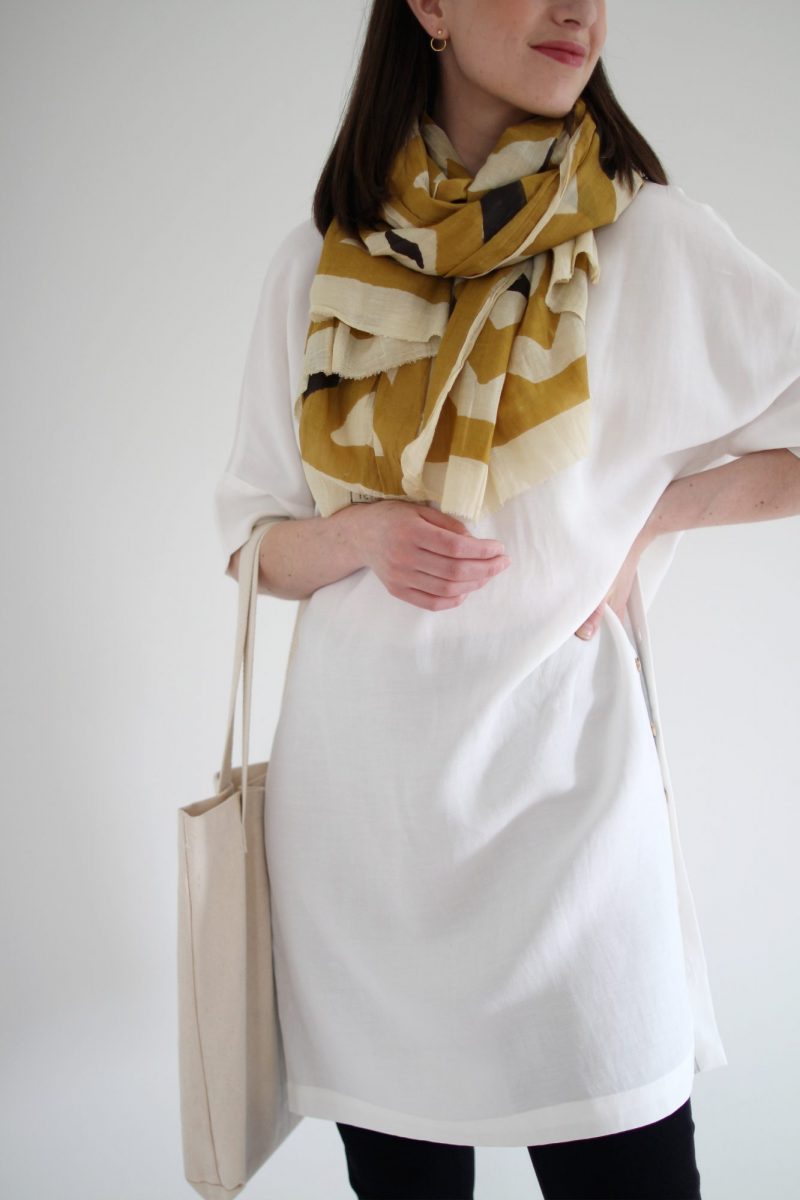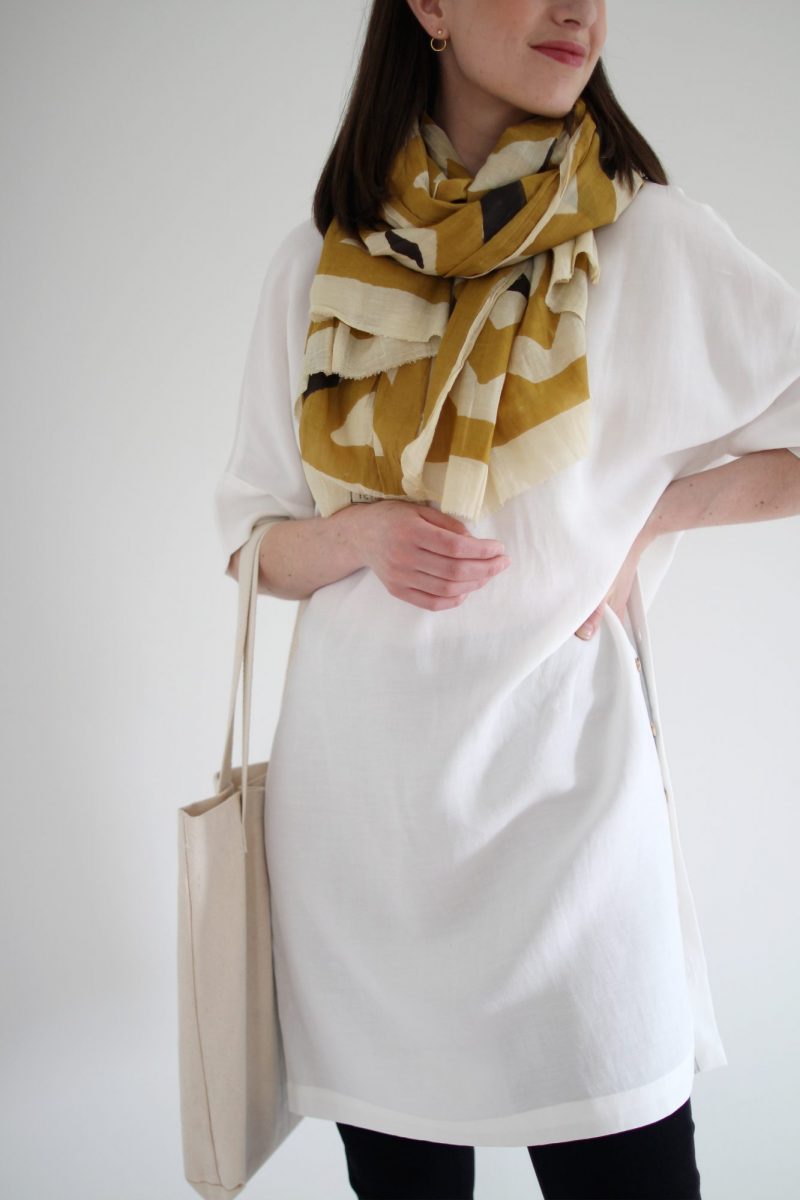 ---
SCARF* | BLOCKSHOP TEXTILES || RELAXED TUNIC | gifted VETTA (recently restocked) || BLACK SKINNY JEANS | PAIGE || TOTE* || ESPLAR SNEAKER | VEJA || *Linked to similar
---

---
LOOK 5
---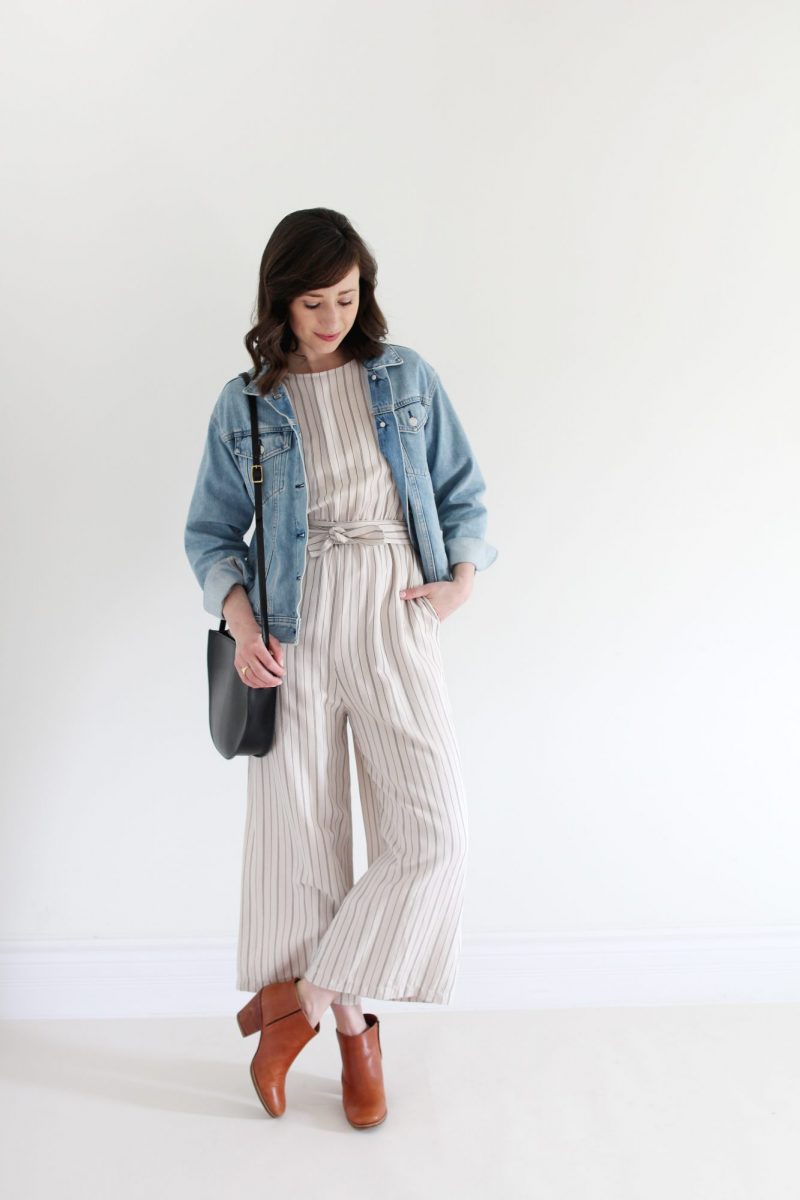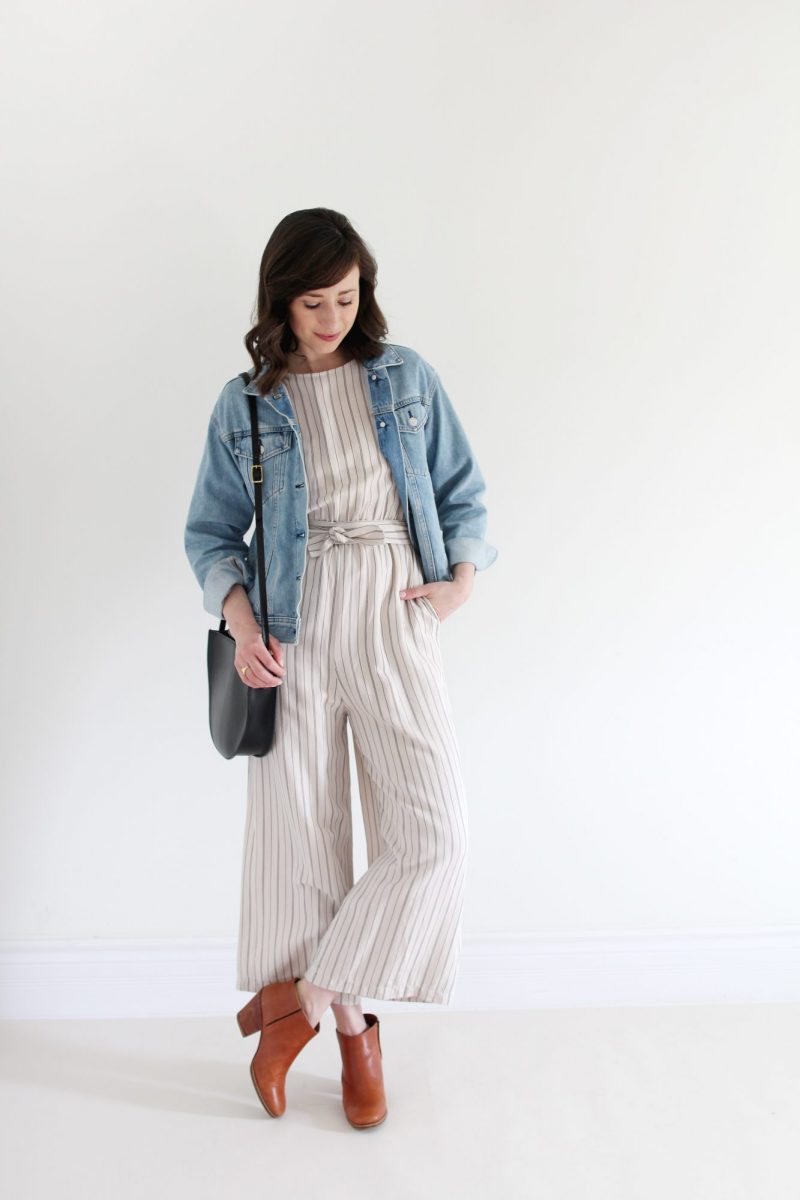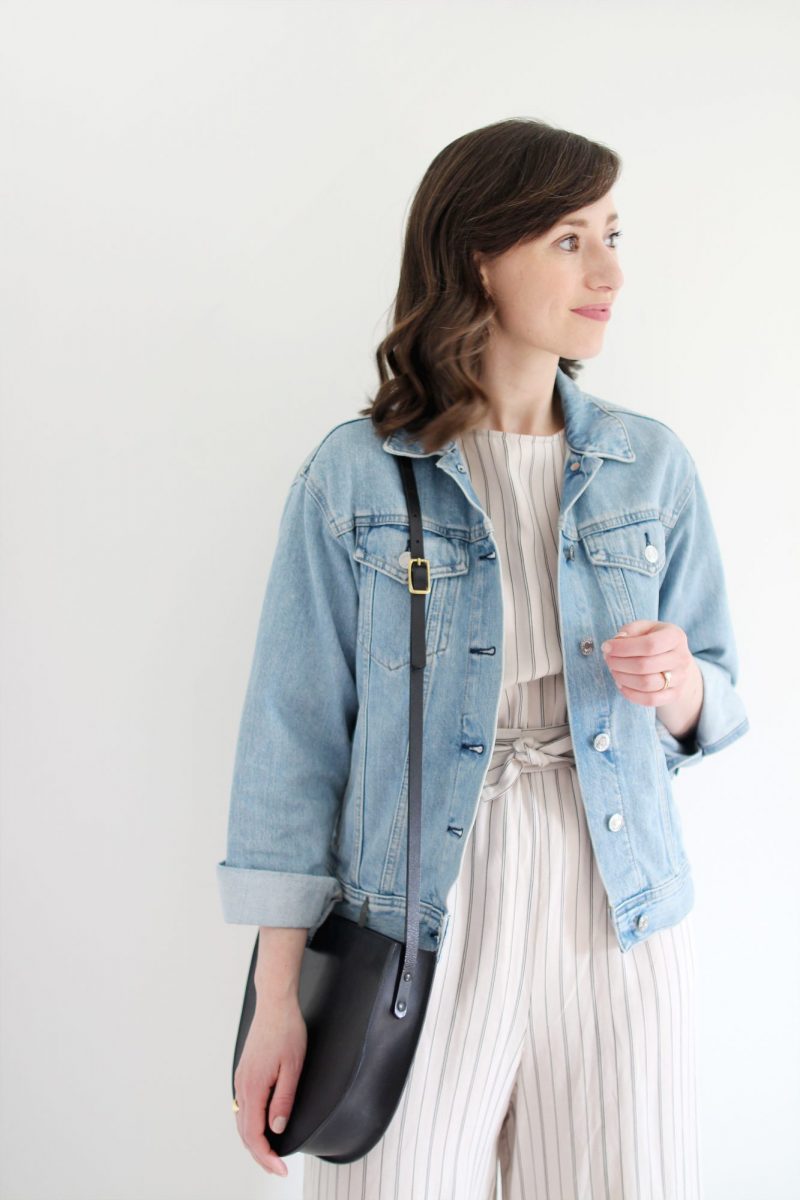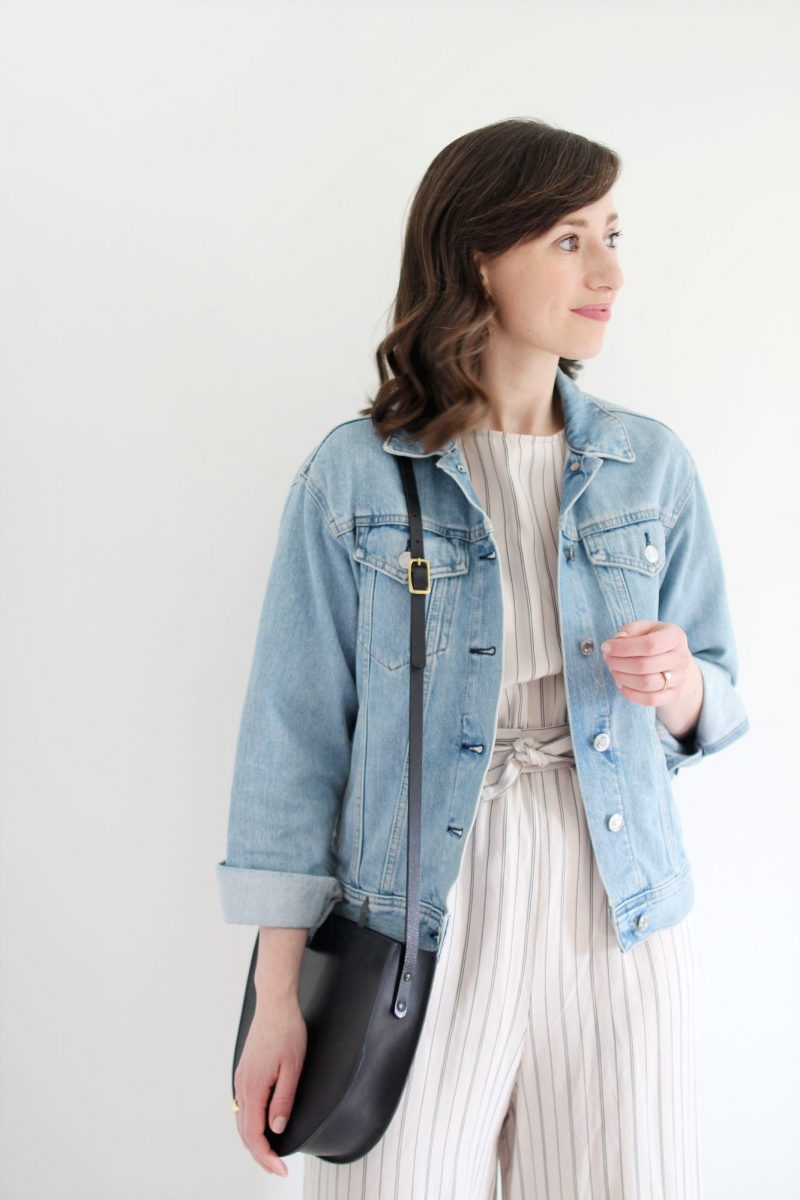 ---
WRAP JUMPSUIT | gifted VETTA (recently restocked) | First seen on the blog a year ago in this post and since here and here.
Much like my sneakers, this sustainably produced jumpsuit has ventured across both Canada and the Atlantic ocean with me and I've no doubt it's days of adventure are far from over. It's one of those pieces you can wear to a wedding, dance the night away in and then proceed to wear right into bed. It's just that comfy!
My devotion to jumpsuits is as strong as ever and this one is at the top of the pile for sure. I mean, who doesn't love having a one-and-done outfit option to rely on every now and then?
---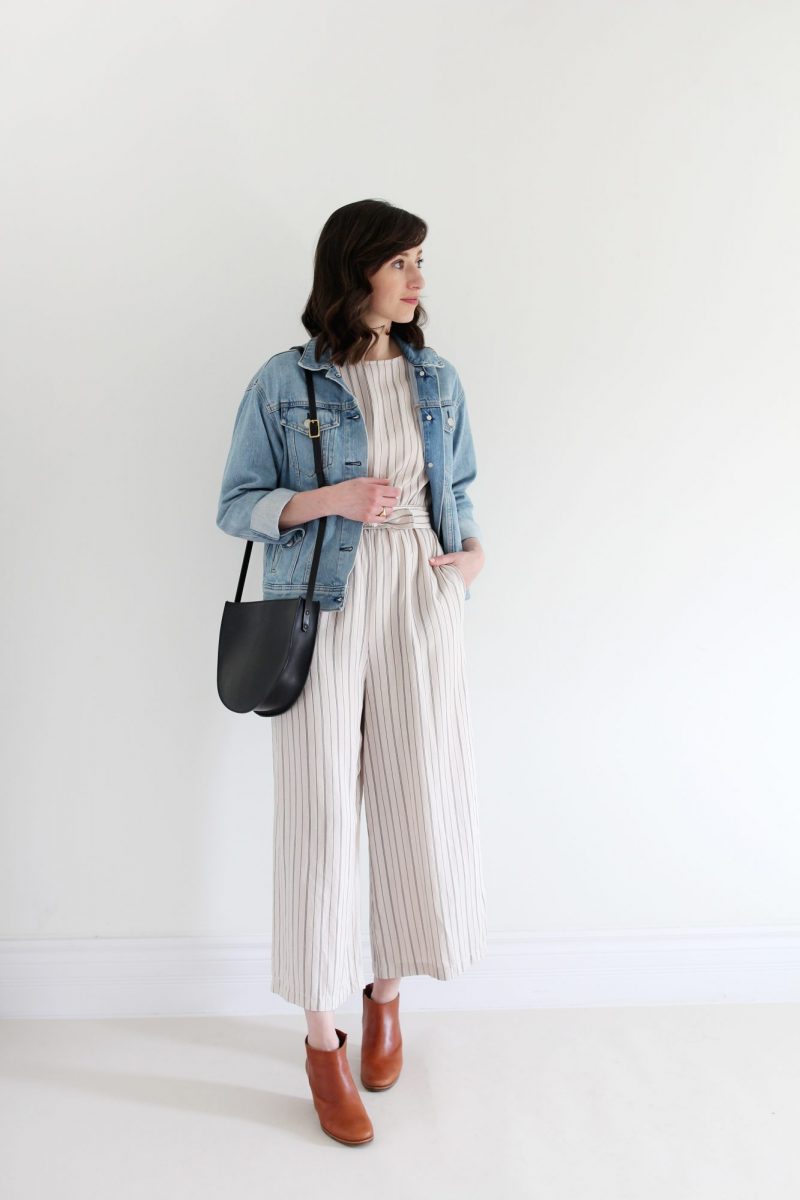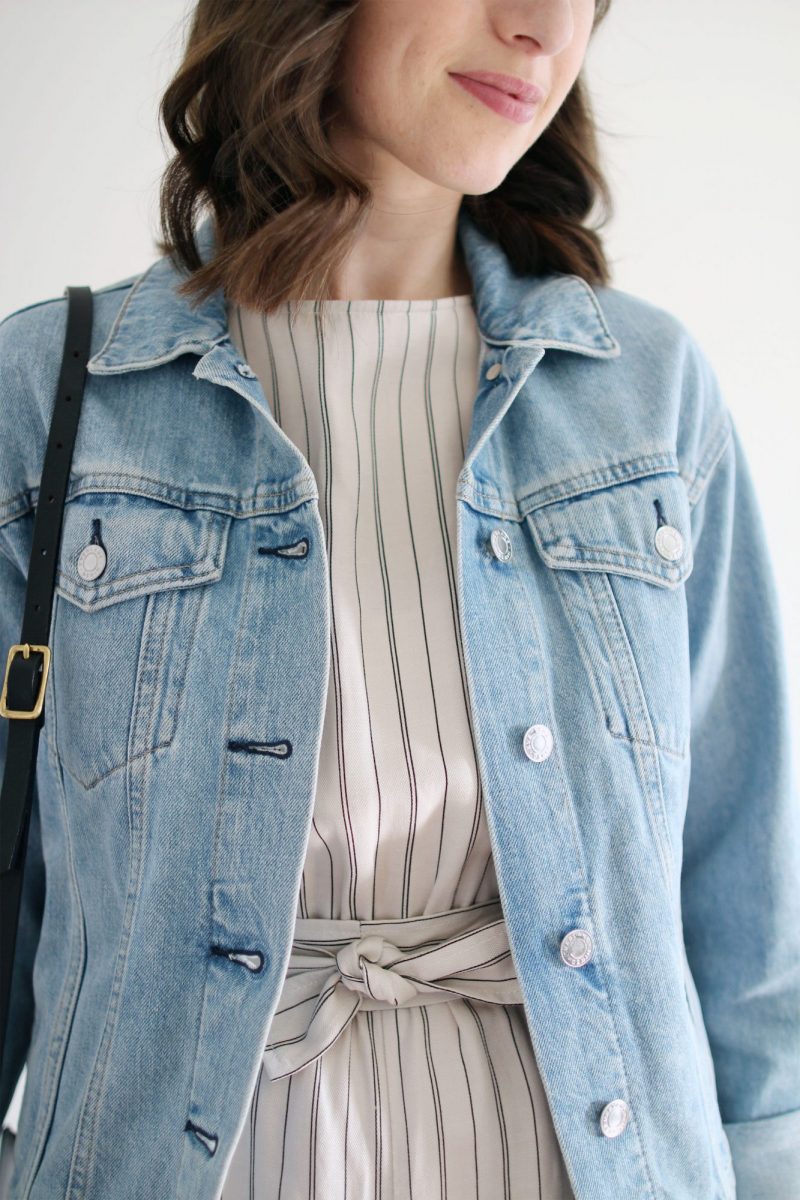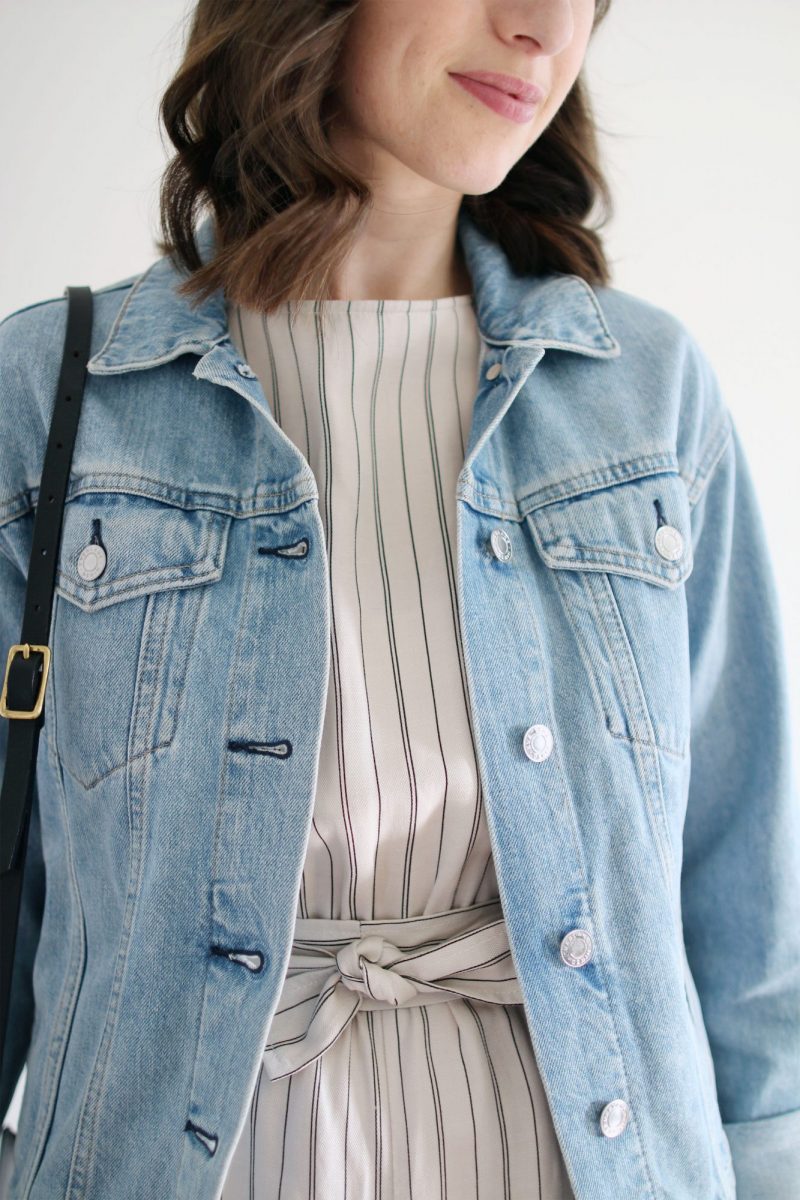 ---
DENIM JACKET | EVERLANE | I picked this item up last spring after looking for the perfect oversize jean jacket forever. Seen initially on the blog in this post.
Similar to its cousin, the chambray shirt, the jean jacket is a truly timeless closet hero. It leaves little to be desired in terms of styling potential and easily earns it's keep over a lifetime of wearability being entirely age appropriate whether you're still in high-school or an empty nester.
I loved the looks of this one from Everlane with all the quintessential elements like contrast stitching, drop-in side pockets, tapered front v-seams (I doubt that's a technical term), flapped upper pockets, adjustable buttoned hem and all the other key ingredients for this iconic closet favourite.
It's still available and if I was ordering again I might consider a size smaller (I have the S) for a slimmer fit but as is, this one layers like a champ over tees and sweaters alike.
---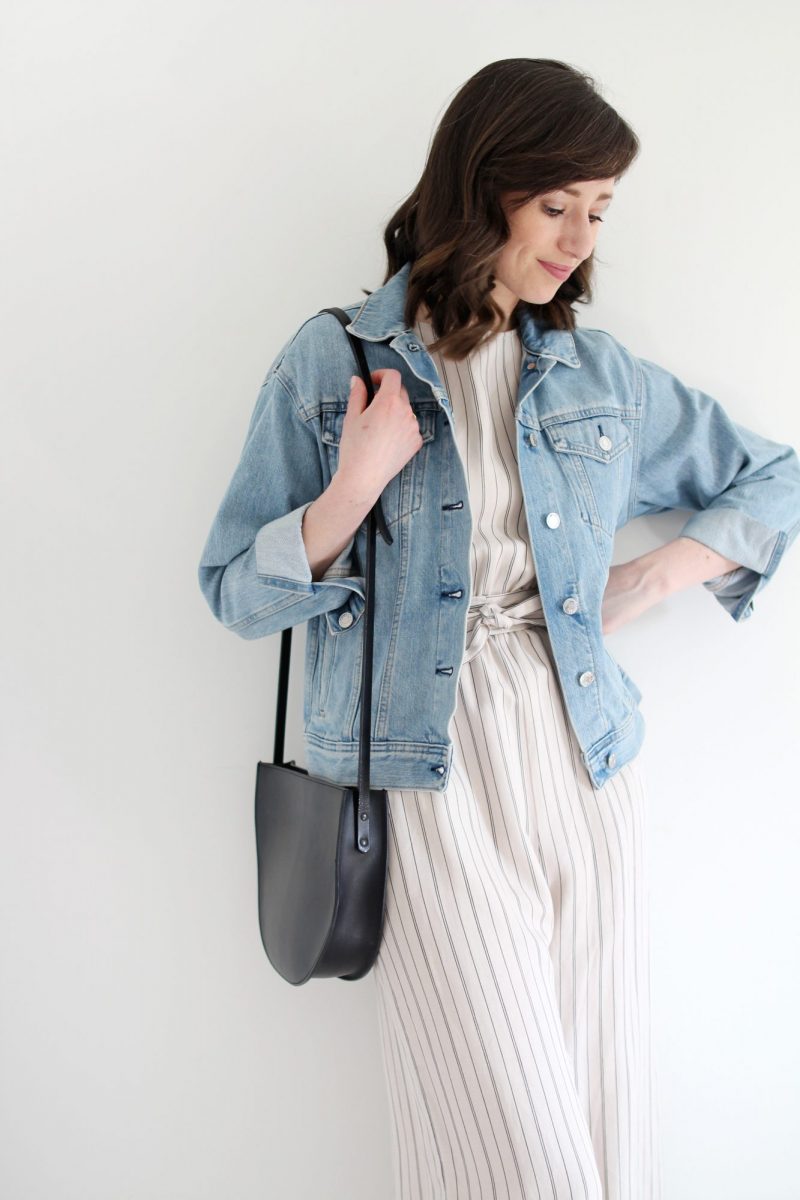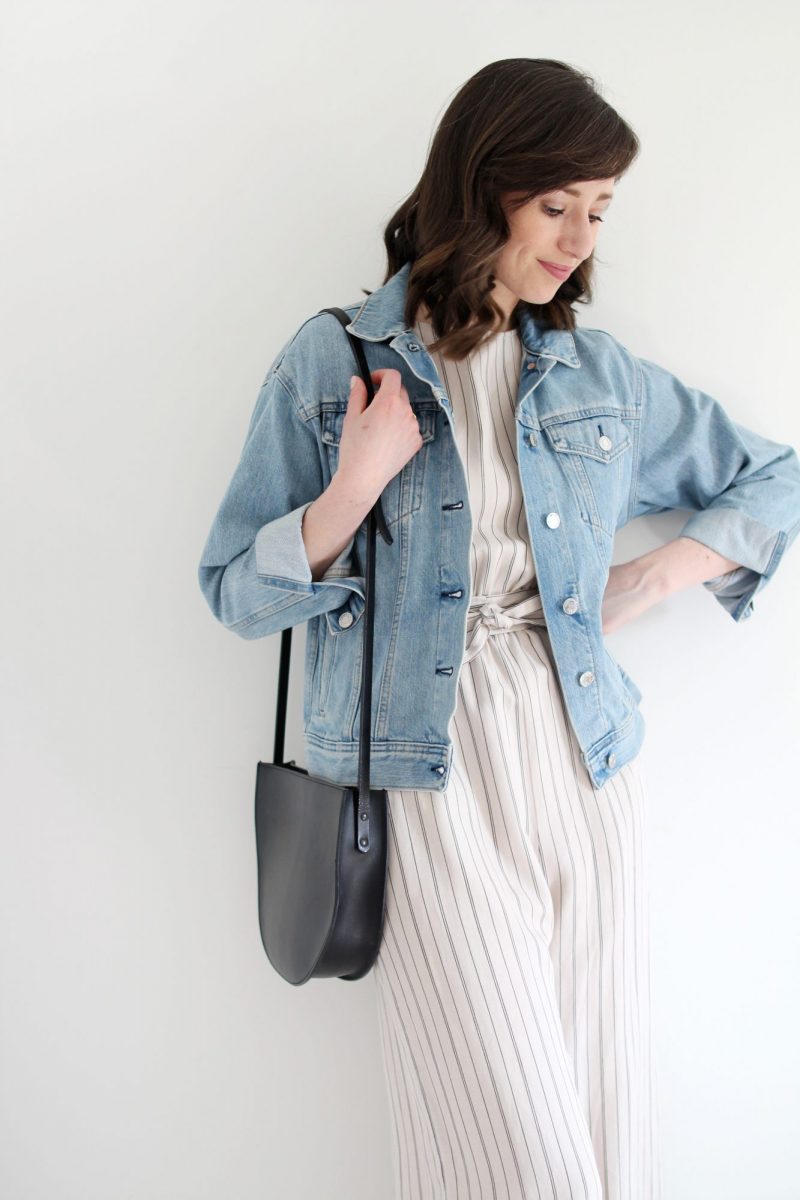 ---
DENIM JACKET | EVERLANE || WRAP JUMPSUIT | gifted VETTA || ELOISE BAG* | THE STOWE || MARS BOOTS | RACHEL COMEY (similar for less) || *Linked to similar
---

---
LOOK 6
---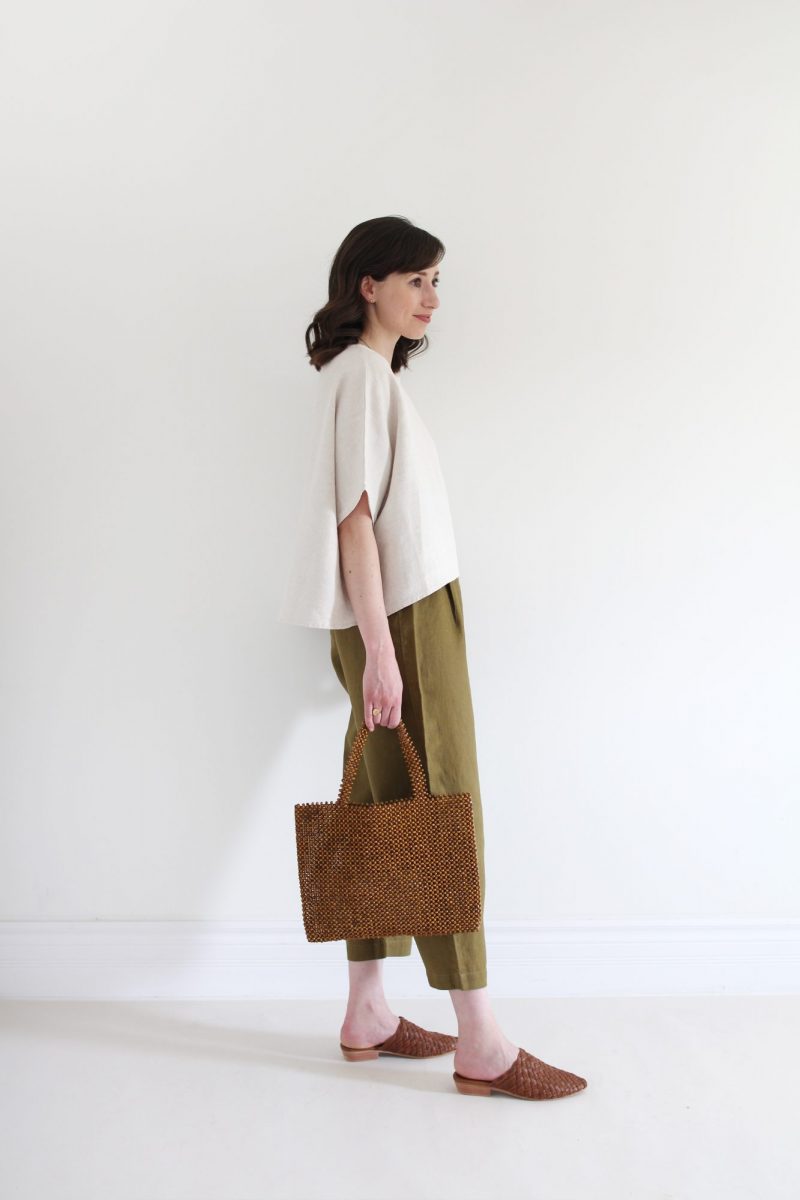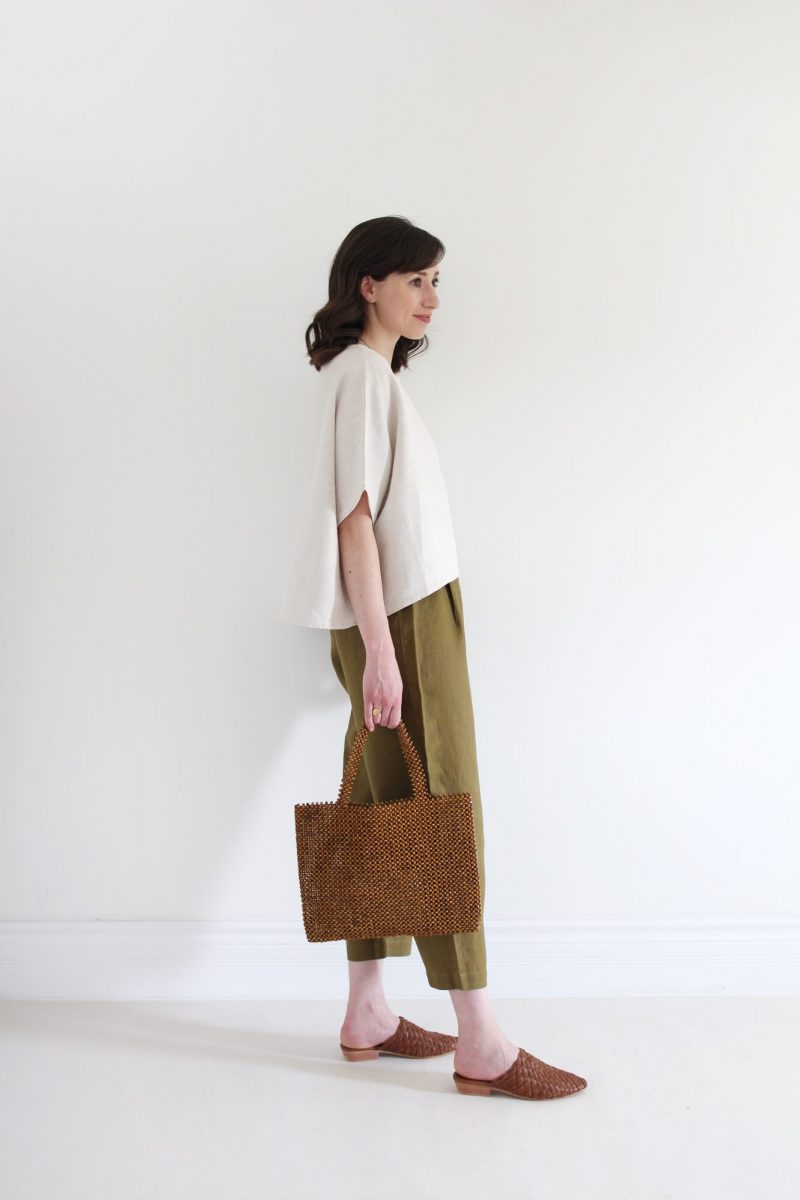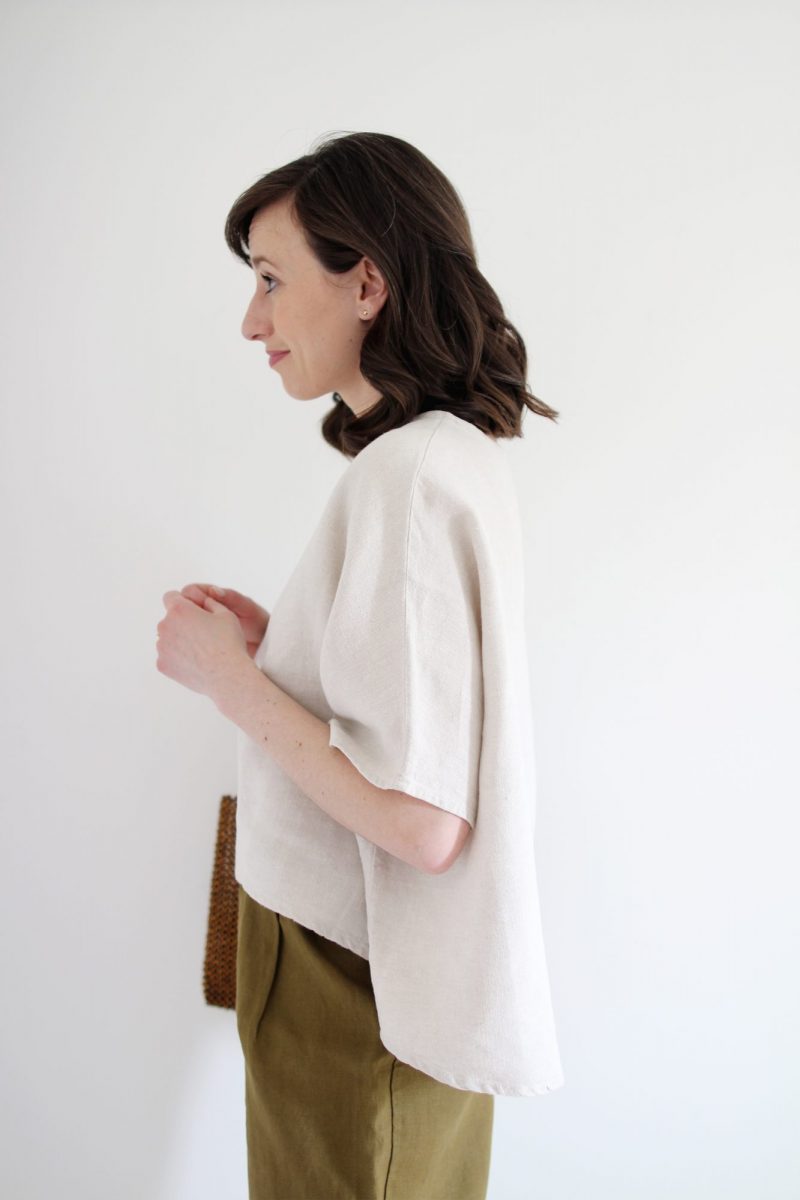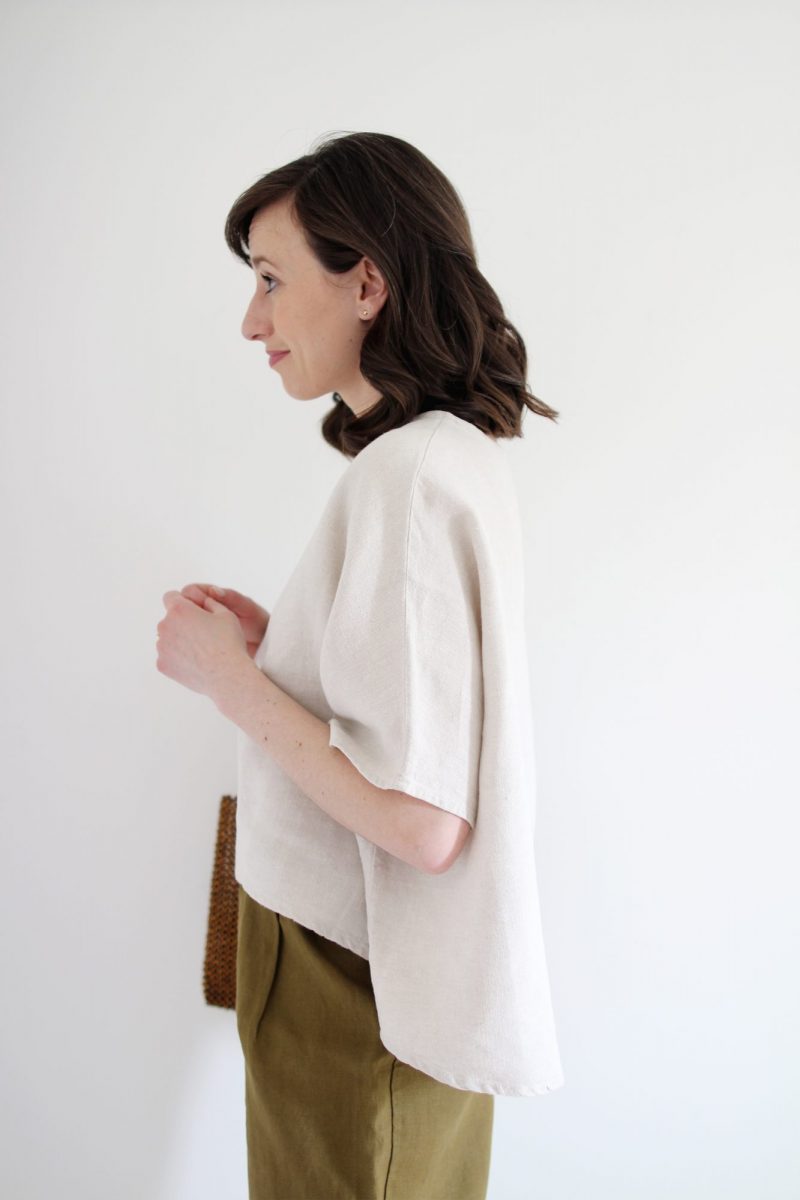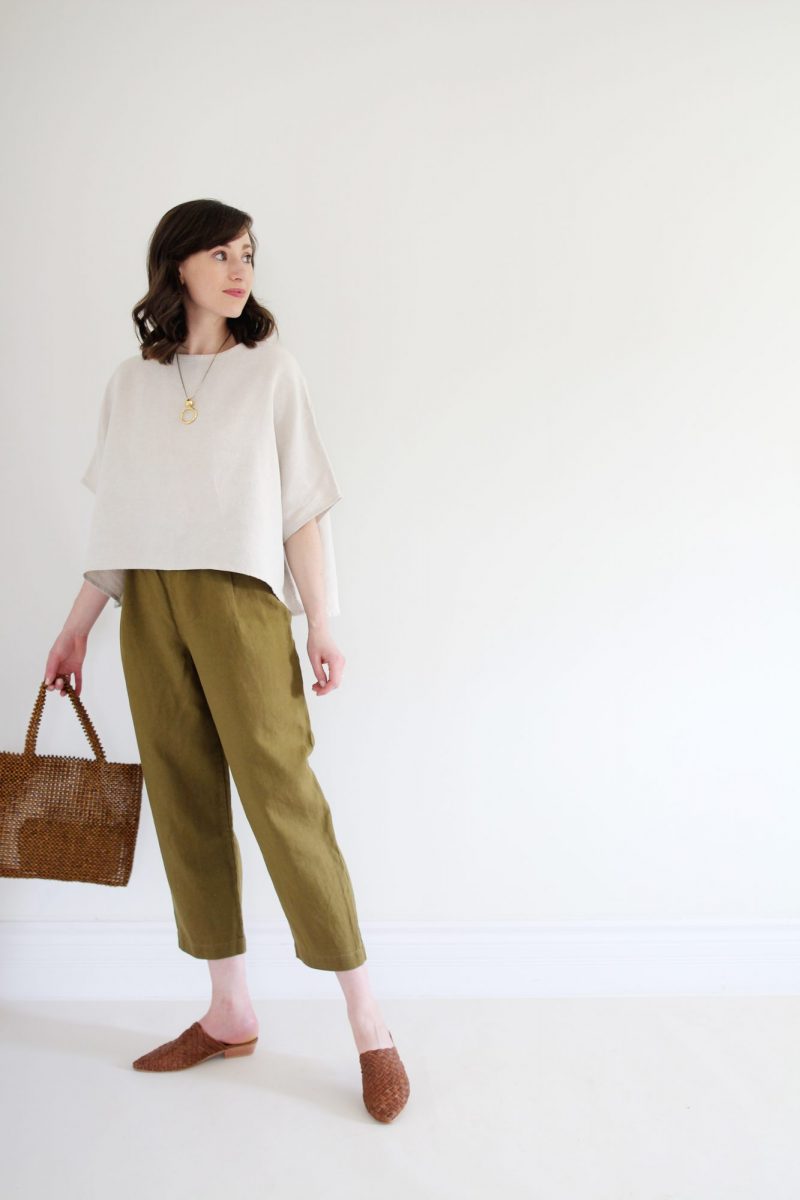 ---
LINN TEE in FLAX LINEN | ELIZABETH SUZANN | First seen on the blog in 2016 in this post but also here, here and here. | I'm wearing an OS here but have the OSM in silk (seen here).
If Florence is my go-to pant style from ES then I'll have to give Linn the title of my favourite top style. Unlike the Florence pant, however, I go in and out of phases when it comes to wearing the Linn Tee. I tend to reach for it more in the summer season since I find it a but tough to layer in the fall and winter.
It's the kind of special piece that always garners compliments and questions from strangers. Of course this is lovely but if I'm honest, it's those very inquiries that occasionally give me pause about putting it on. Sometimes I'd rather blend in but I'm working on pushing past those wallflower instincts because I really love wearing this top!
---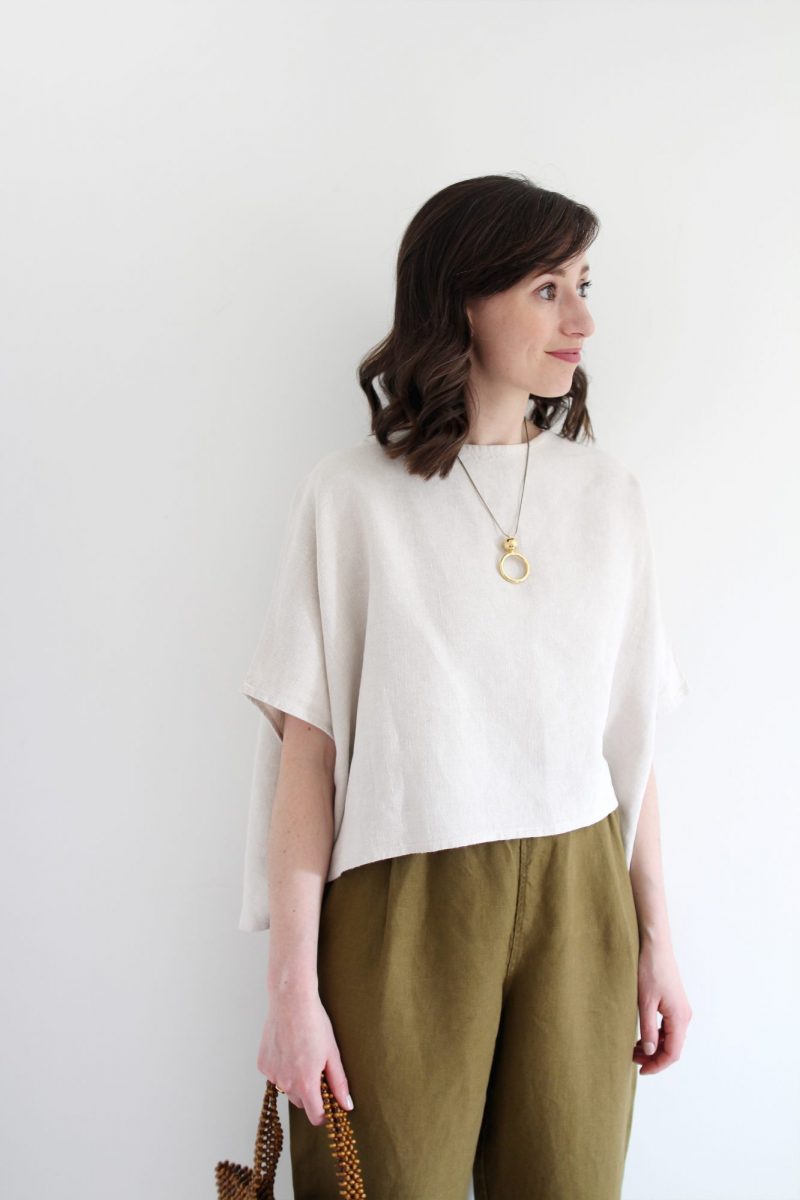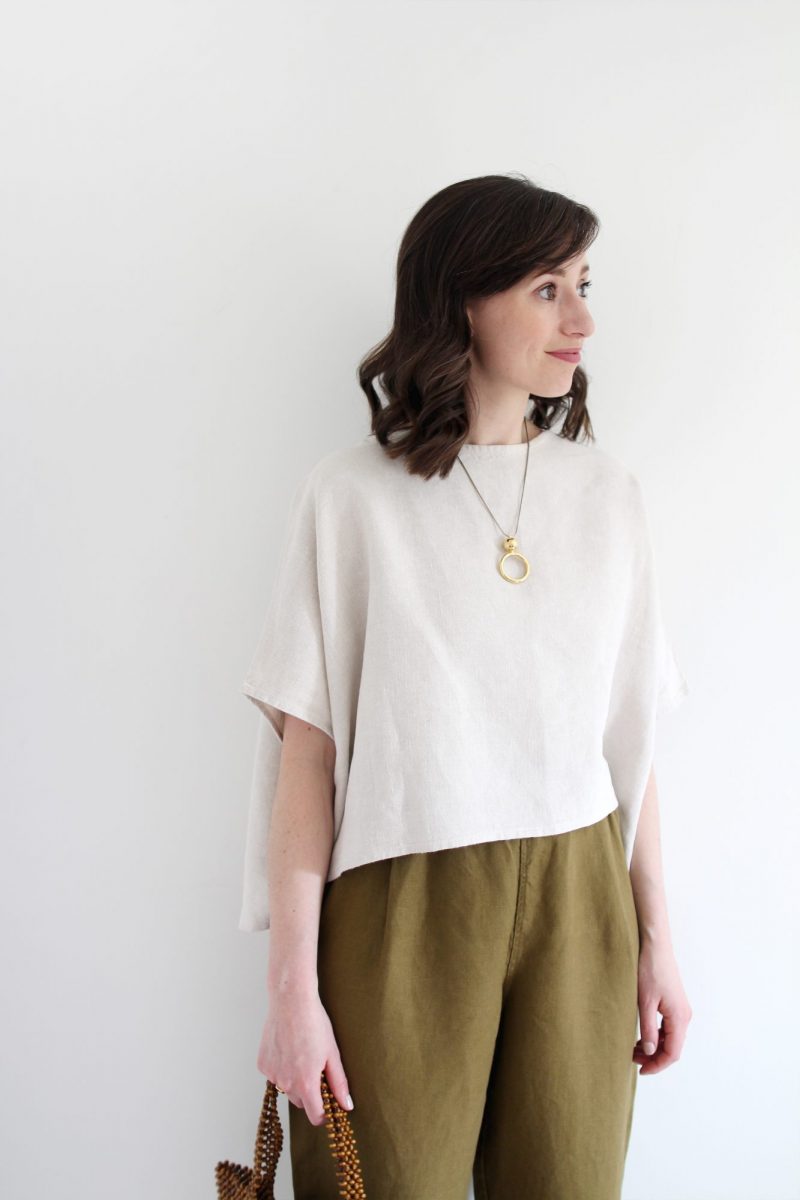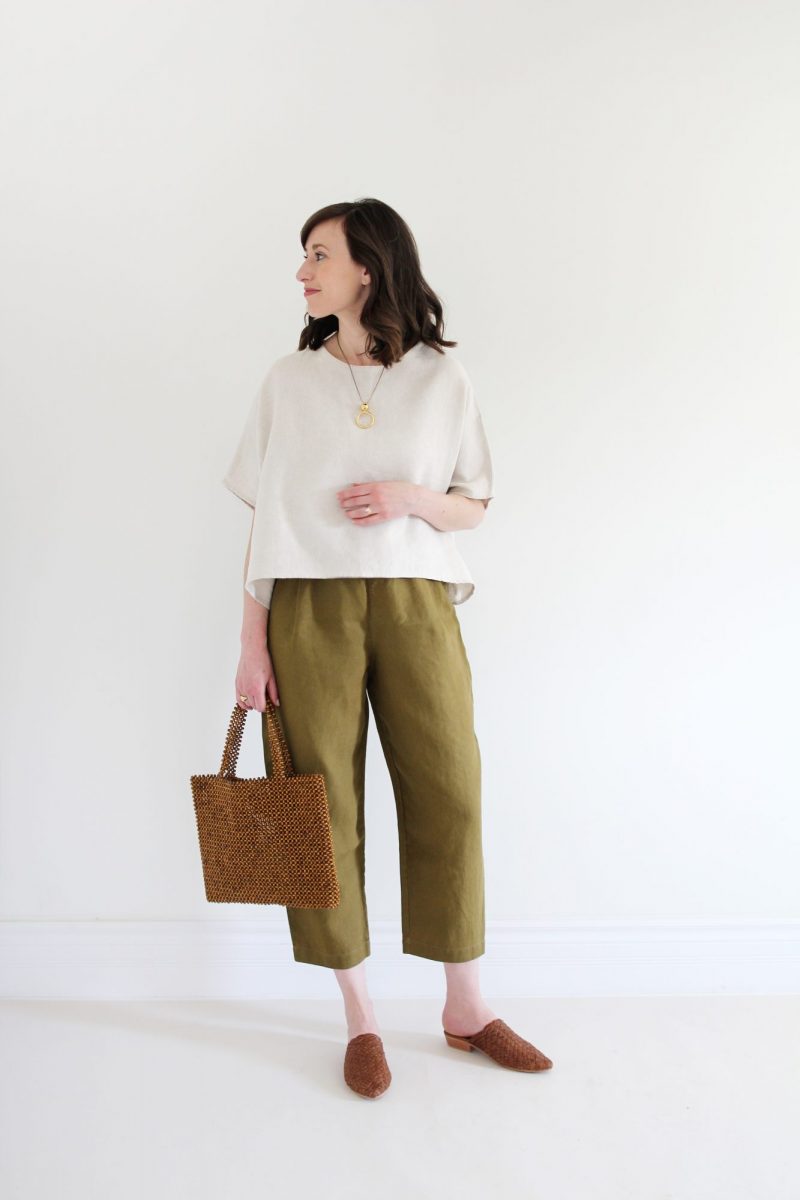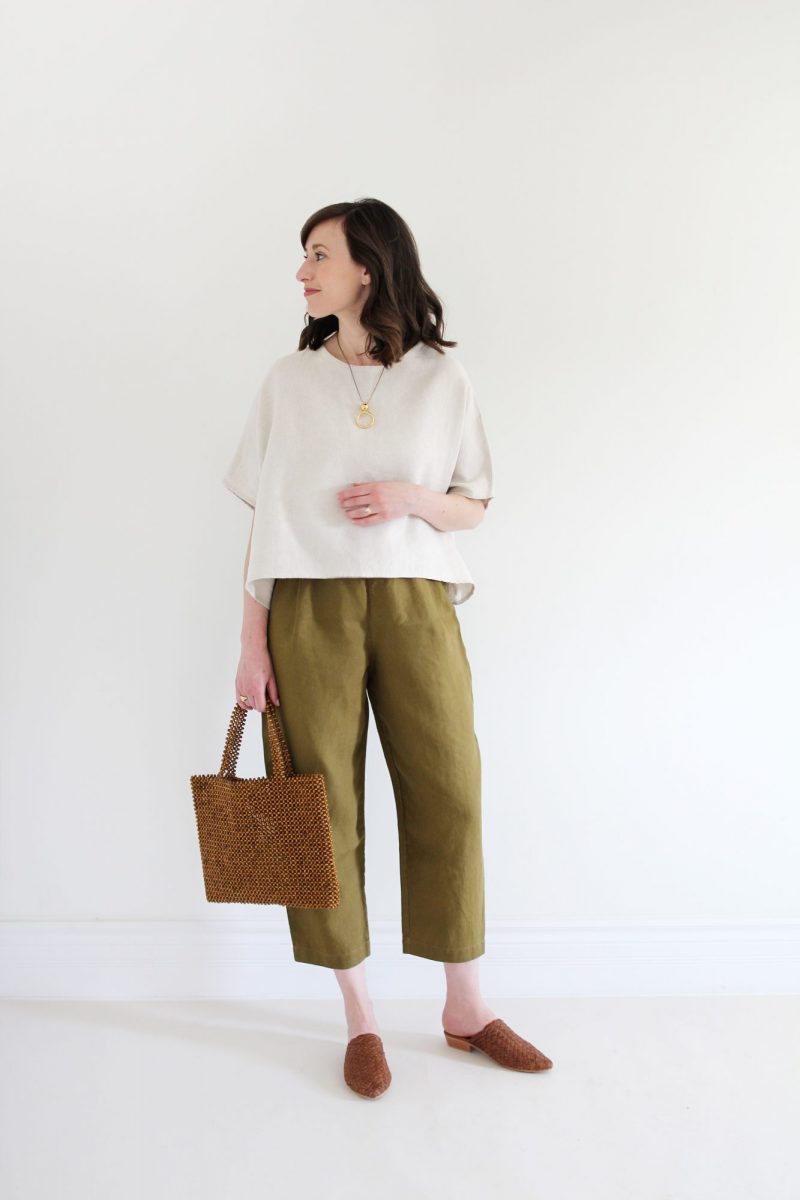 ---
LINN TEE | gifted ELIZABETH SUZANN || ANDY TROUSER | gifted ELIZABETH SUZANN || BEADED BAG | ABACÁ || PARIS WOVEN MULE | ST. AGNI || NECKLACE* | old YOUNG FRANKK || SIGNET RING | gifted CLAUS || *Linked to similar option
---

---
I hope you've enjoyed this peek into some of my older spring closet favourites!
Do you have a favourite out of all these looks?
What closet faves do you come back to year after year?
---
Wishing you all a great week!
---
This post is not sponsored but contains affiliate links. When you shop via the links above I may make commission on a sale at no additional cost to you. Thanks for supporting Style Bee! All opinions are always my own.