Last weekend Dave and I hit the road for a little getaway in Prince Edward County, a wine region in south eastern Ontario that runs along the lake. We'd been meaning to visit the area for years and decided to take advantage of a rare free weekend. While in the county we wined and dined, explored the beautiful Sand Banks Beach, goofed around, toured the town and had ourselves a few tastings along the way.
We had a blast despite the gloomy weather (which is kind of ideal for day drinking anyway) and it was the perfect time to explore the area before the busy season. We did our best to unplug and savour the downtime but still took lots of photos and, as always, I made notes on everything I packed and wore. Today I'll be sharing our trip with you!
This post will cover:
Where we stayed & ate in Prince Edward County
Wineries we visited & spots we explored
What I packed & the outfits I wore
Let's dive right in!
---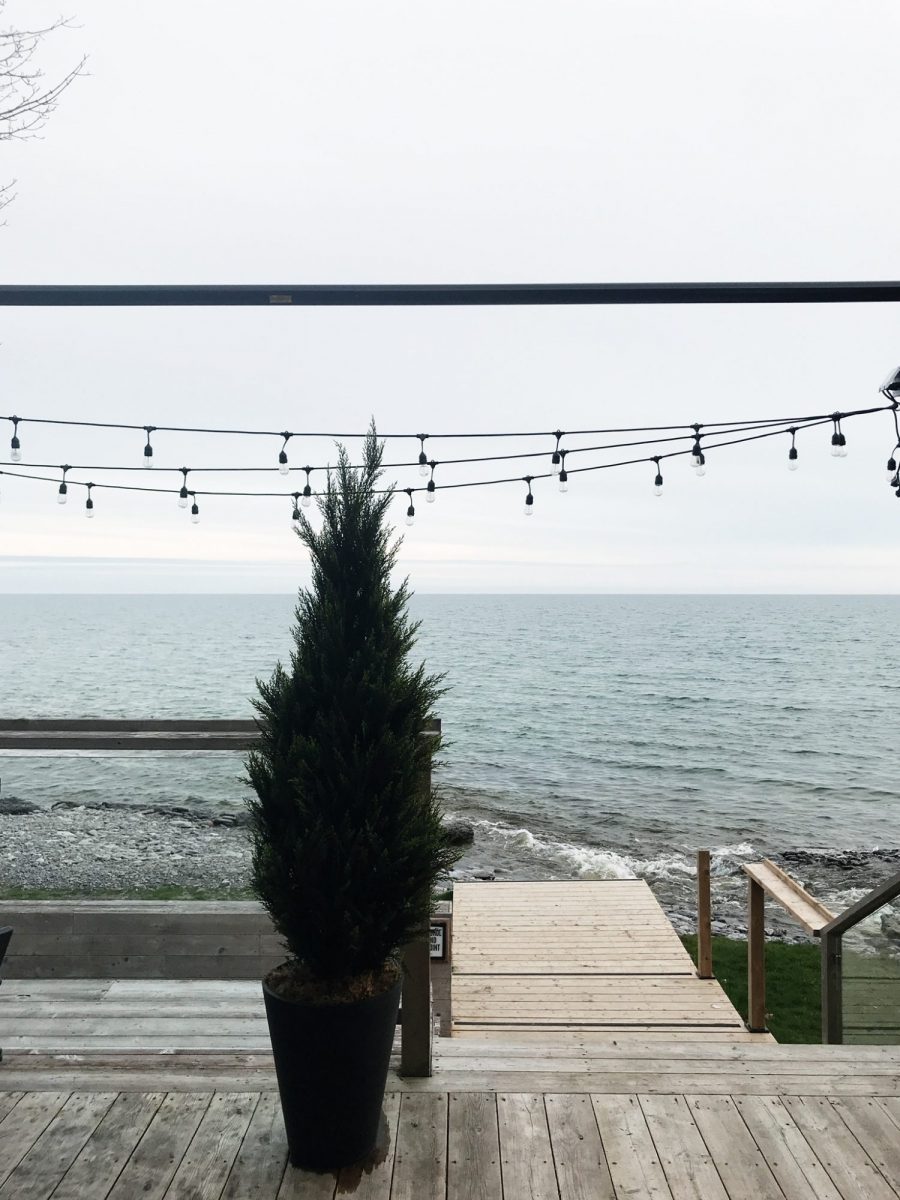 ---
WHERE WE STAYED & ATE
---
There are lots of cute spots to stay in Wellington, which is a small town and sort of the central hub of Prince Edward County. The Drake Devonshire was our choice since we'd heard great things about it and happened to have a gift certificate. We lucked out in nabbing the last available room and the hotel was full of character and a great launching point for wine tours and other local exploration. The front desk went above and beyond to make our stay enjoyable and even got to know us by name. The restaurant was excellent and the views over the lake were beautiful!
There are lots of great Airbnb's in the area, The Drake Motor Inn will be open soon and another highly recommended spot was the June Motel in Picton (definitely a picturesque little place!).
Here's a peek at The Drake Devonshire.
---
---
We had a dinner and a brunch at the Drake Devonshire and both meals were DELICIOUS (get the pancakes!). We also enjoyed some tasty snacks at Midtown Brewing Co and had a fabulous Mexican dinner and epic cocktails at the newly opened La Condesa. To cap off the culinary component of our weekend, we enjoyed a tasty breakfast at Enid Grace on Sunday morning. We would have liked to try Sand & Pearl Oyster Bar but it wasn't open for the season yet.
You'll have to forgive me as I definitely dropped the ball on food photos but I guess that's a sign that we were both hungry (and perhaps a result of the wine!). You'll just have to trust me that it was all very tasty indeed.
---
---
WINERIES WE VISITED
---
We opted for a guided wine tasting tour on the Friday we arrived and I'm so glad we did it. If you can swing a weekday tour it's much more relaxed than on weekends. We booked the tour through The Drake and our guide Jeff was great. He zipped us around in a green Mini on back roads and had lots of insightful things to share about the area and the vineyards we visited. We learned about the grapes that thrive in the region (Pinot Noir and Chardonnay), the wine making process and what makes each vineyard unique.
From the tour we enjoyed the tastings at Karlo Estates (not to mention the very cool dry laid stone bridge, shown below), The Grange (my personal favourite, women owned and operated) and Closson Chase (we picked up their Churchside and South Clos Pinot Noir). We also stopped into Sandbanks to get a sense for a more large scale winery and it was bustling with people but not really our scene.
On Saturday we explored a few wineries on our own and checked out Domaine Darius (a family run vineyard with a very cool old cellar) and Hinterland, which is a fun spot for groups and has a tasty selection of sparkling wines. Everyone we met along the way was super welcoming and truly passionate about the wine.
*All wineries linked to their Google Maps location.
---
KARLO ESTATES

CLOSSON CHASE

THE GRANGE (Also above)

HINTERLAND
---
SAND BANKS BEACH
---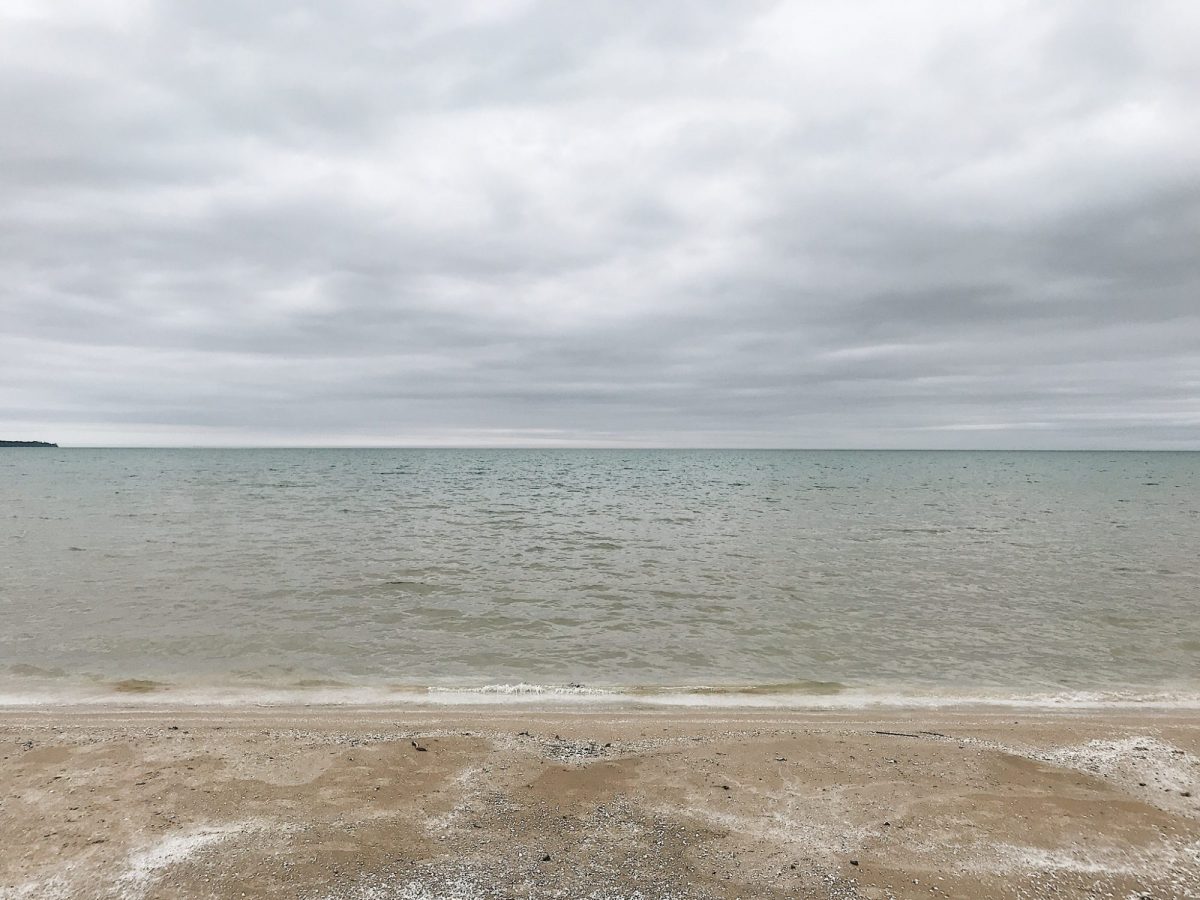 ---
After our tasty brunch on Saturday morning we headed out to explore the county and our first stop was the beautiful Sand Banks Beach and campgrounds. It was definitely too cold for any sort of swimming and the sun remained firmly tucked behind clouds but we had the beach almost entirely to ourselves and it was so dreamy and calm. We wandered the shore, goofed around and imagined how fun it would be on a hot summer day.
---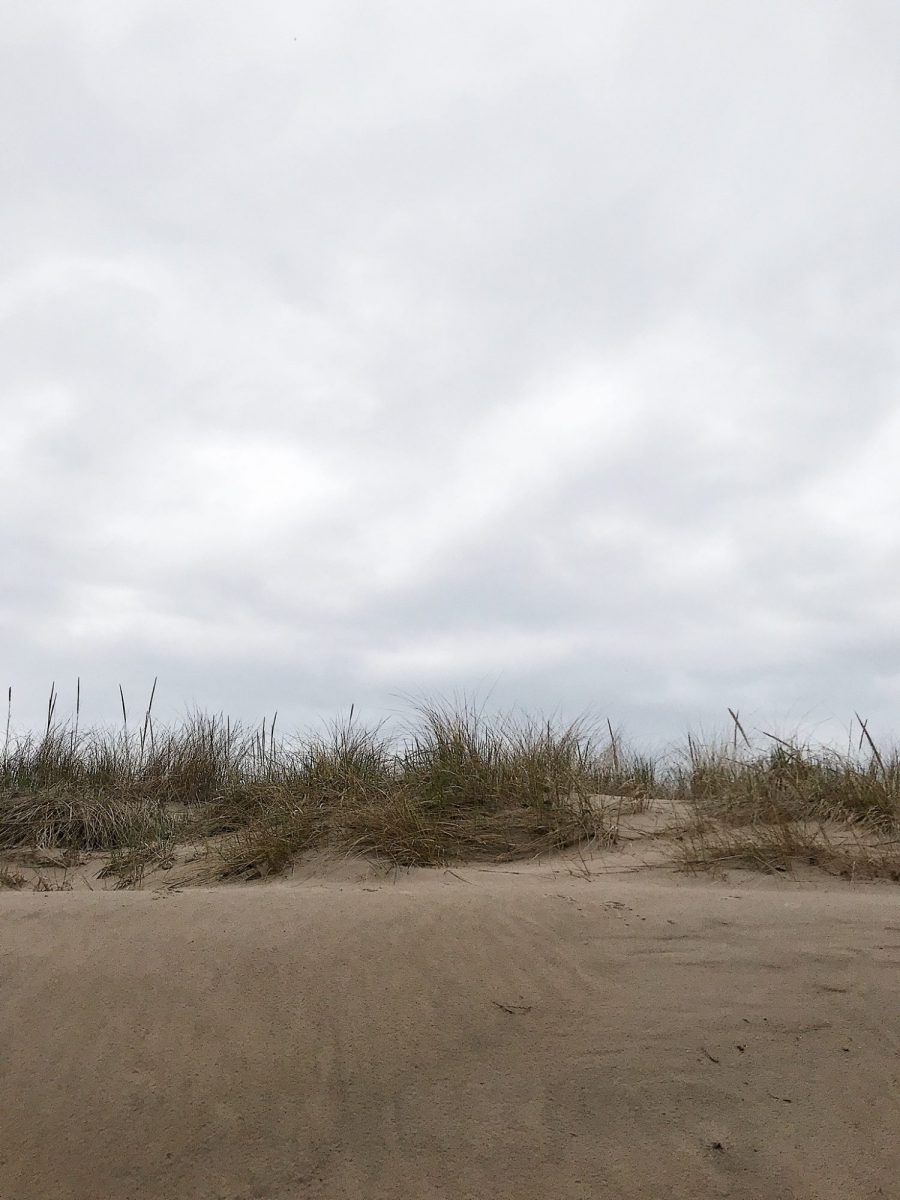 ---
---
---
OTHER COUNTY FINDS
---
After the beach we stopped in to peruse MacCool's Antiques on our way to the wineries and popped into Carson's Market & Garden where there were thousands of fresh seedlings ready for planting. On our way out of town on Sunday I made sure we stopped into Parlour Studio to scope out lots of leafy goodness and of course, I couldn't leave empty handed!
---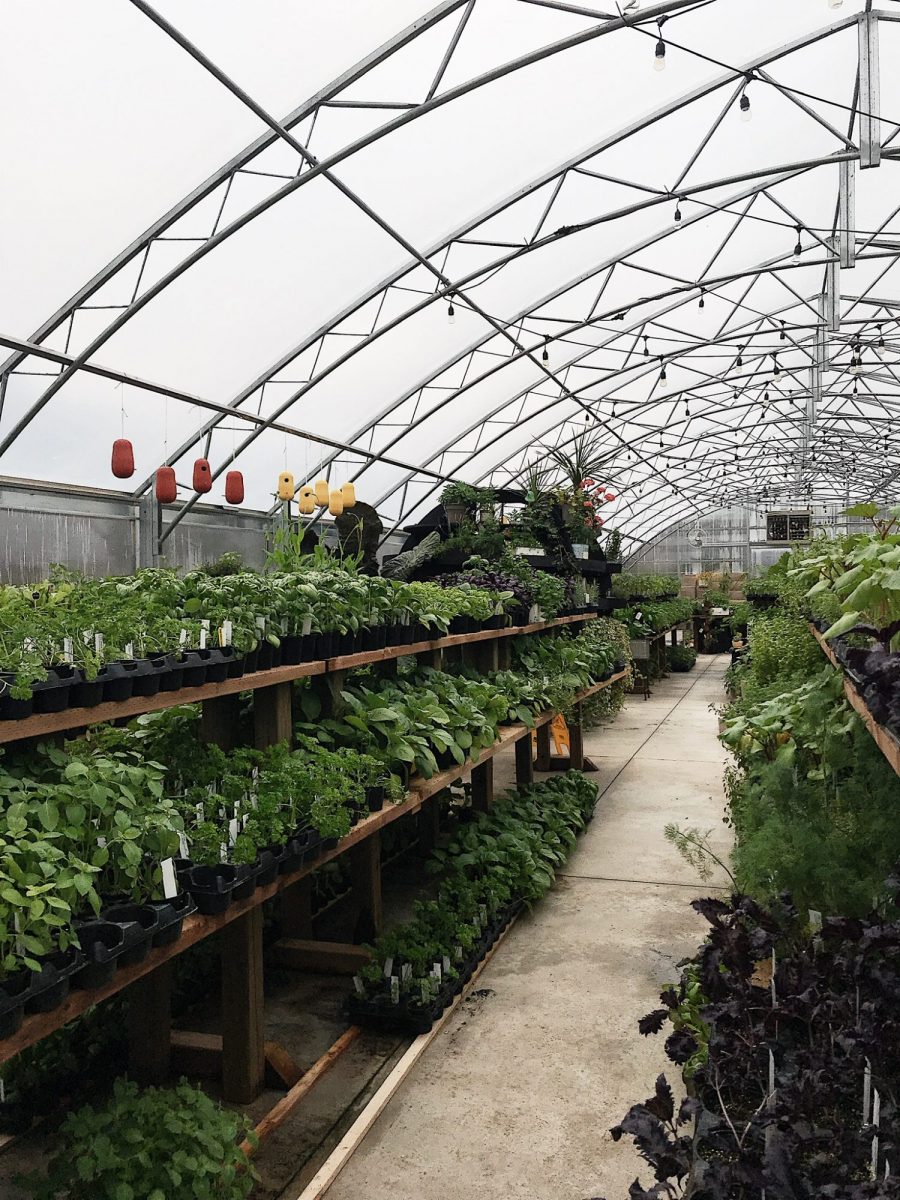 ---
---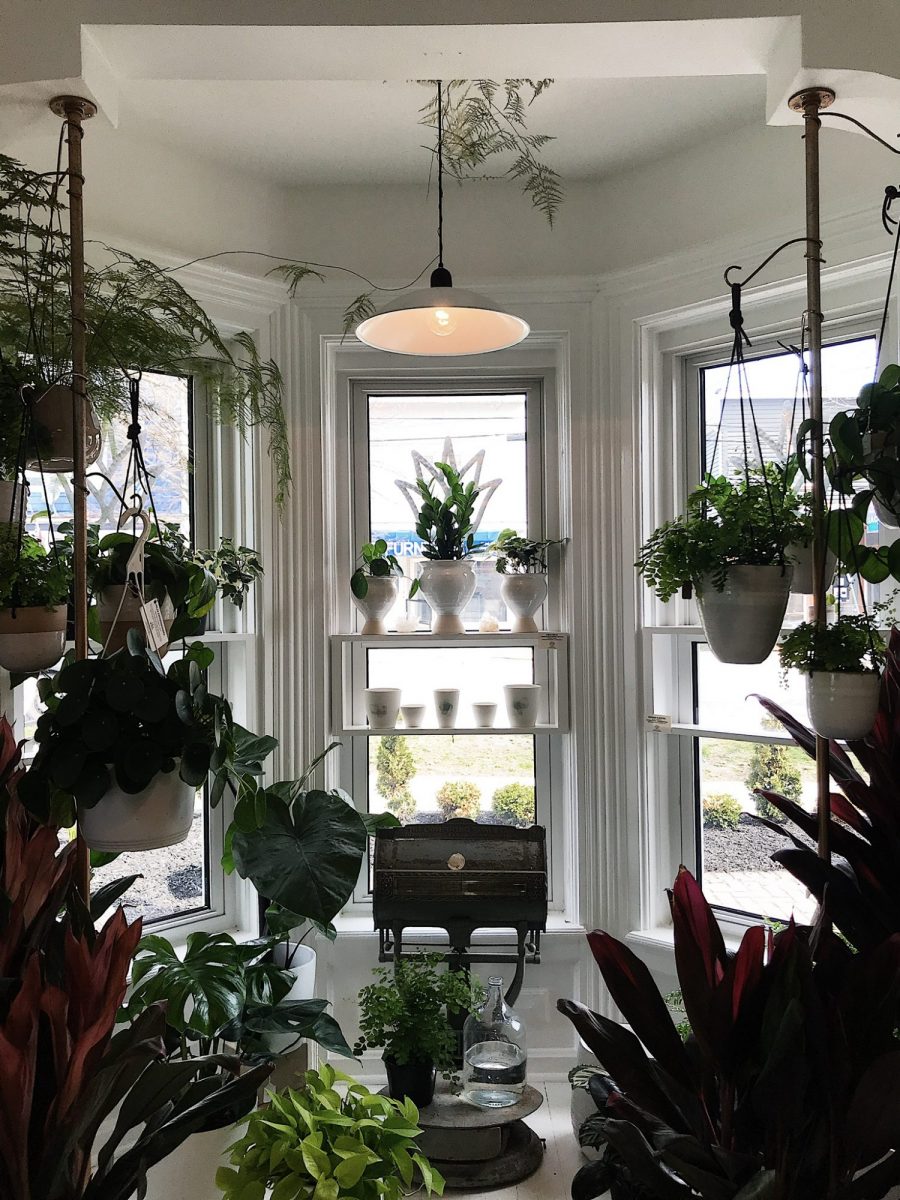 ---
WHAT I PACKED & WORE
---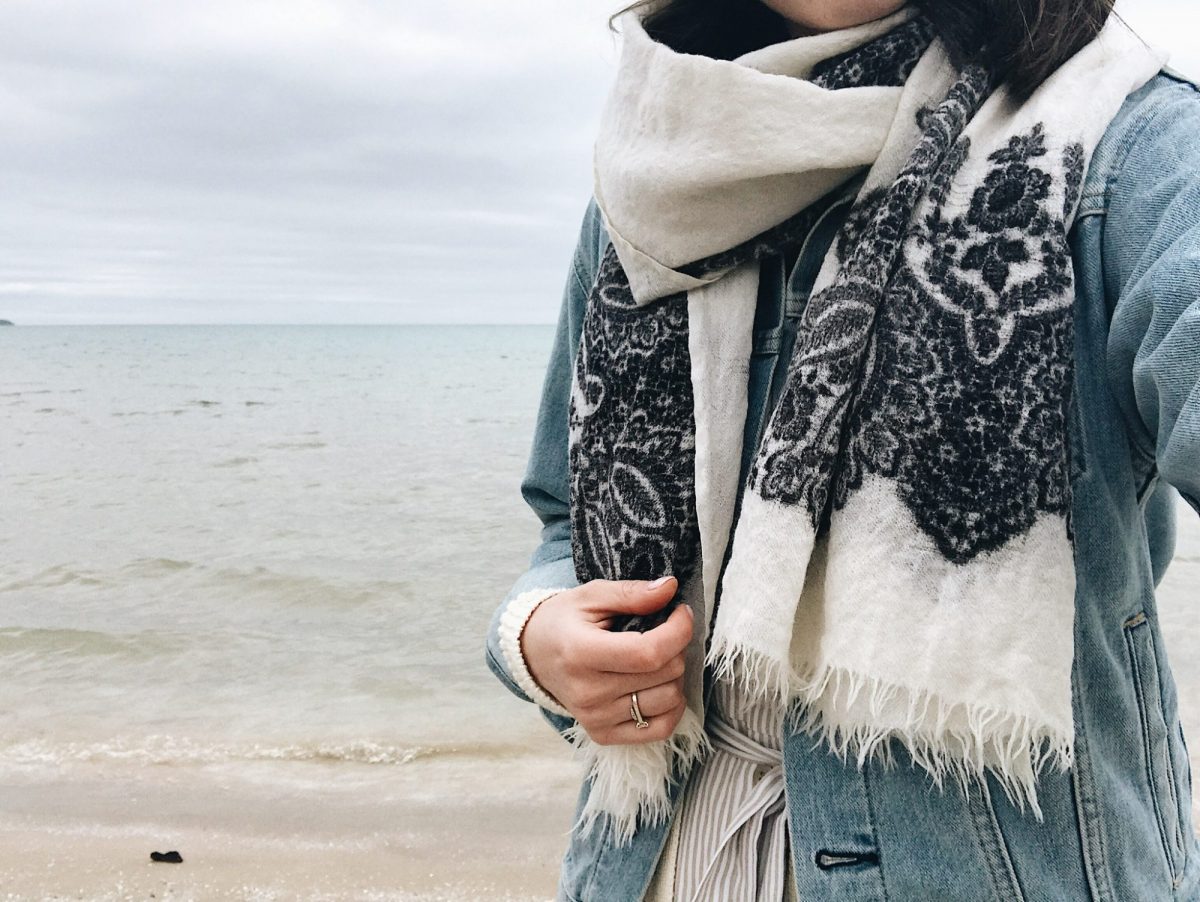 ---
Now onto what I brought with me! I'll admit it was a little chillier by the lake than I'd anticipated but for the most part my wardrobe was warm enough and we were indoors or well covered for much of the time. I packed my usual Away Carry-On suitcase and grabbed a range of options from comfy jeans and tees to a midi dress and heels. I brought more than I really needed but I wore everything and could have easily made lots of other looks with these items. I'm keeping this list in mind for future trips for sure!
---
Here's what I packed:
---
DENIM JACKET

CHINOS

HEELED SANDAL

BLACK RIB TEE

PAISLEY SCARF

BEADED BAG

SUNGLASSES

CARDIGAN

WHITE FLATS

MID BLUE JEANS

MIDI DRESS

BROWN BELT

STRIPED TEE

WHITE BLAZER

WRAP TOP

SUEDE PUMPS

SLEEP SET

WHITE RIB TEE

TORTOISE HOOPS

LINEN PANT
---
DENIM JACKET | WIDE LEG CHINO | BLOCK HEEL SANDAL gifted | BLACK RIB TEE | SCARF old | BEADED BAG | SUNGLASSES similar| COTTON CARDIGAN gifted (more on this gem next week!) | WHITE DAY GLOVES | MID BLUE CIGARETTE JEANS | MIDI BUTTON DRESS gifted | BROWN BELT | STRIPED TEE similar | WHITE BLAZER | WRAP TOP gifted | SUEDE PUMPS similar | SLEEP SET | WHITE RIB TEE | TORTOISE HOOPS | FLORENCE LINEN PANT | LUMEN COIN NECKLACE not shown
---

---
WHAT I WORE
---
---
FRIDAY – TRAVEL & WINE TOUR
---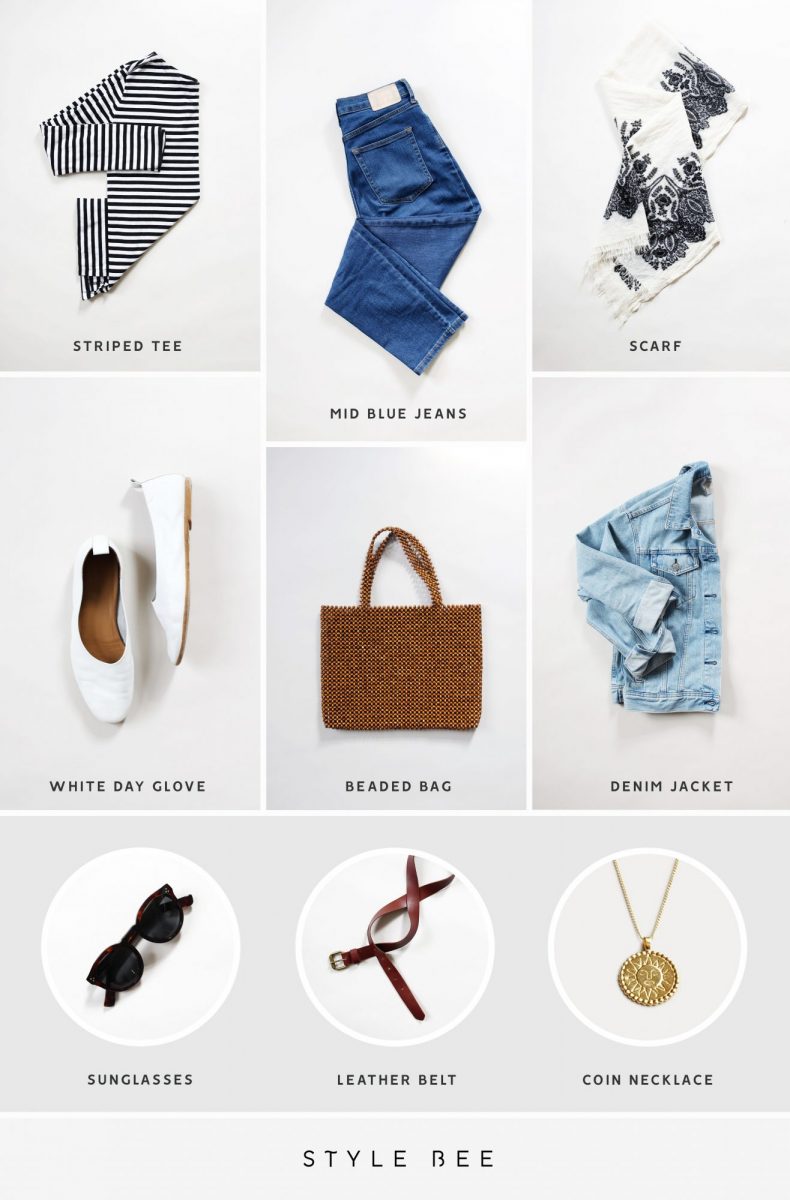 ---
FRIDAY – COCKTAILS & DINNER
---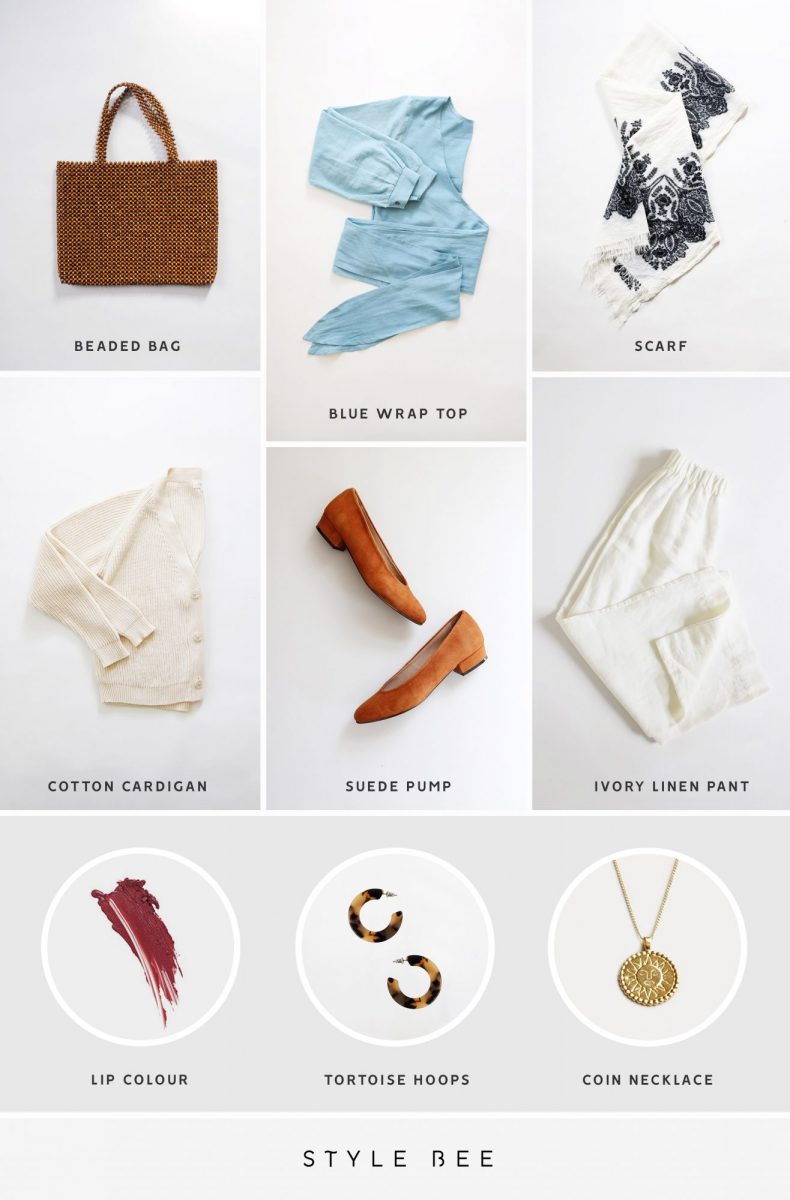 ---
SATURDAY – EXPLORING & TASTINGS
---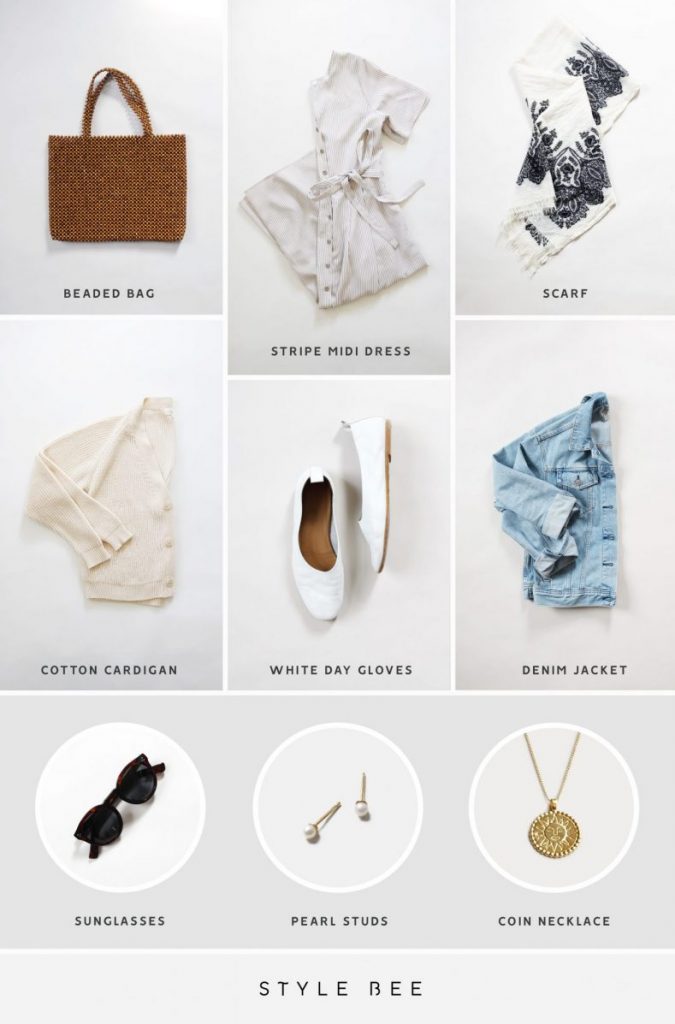 ---
SATURDAY – DINNER
---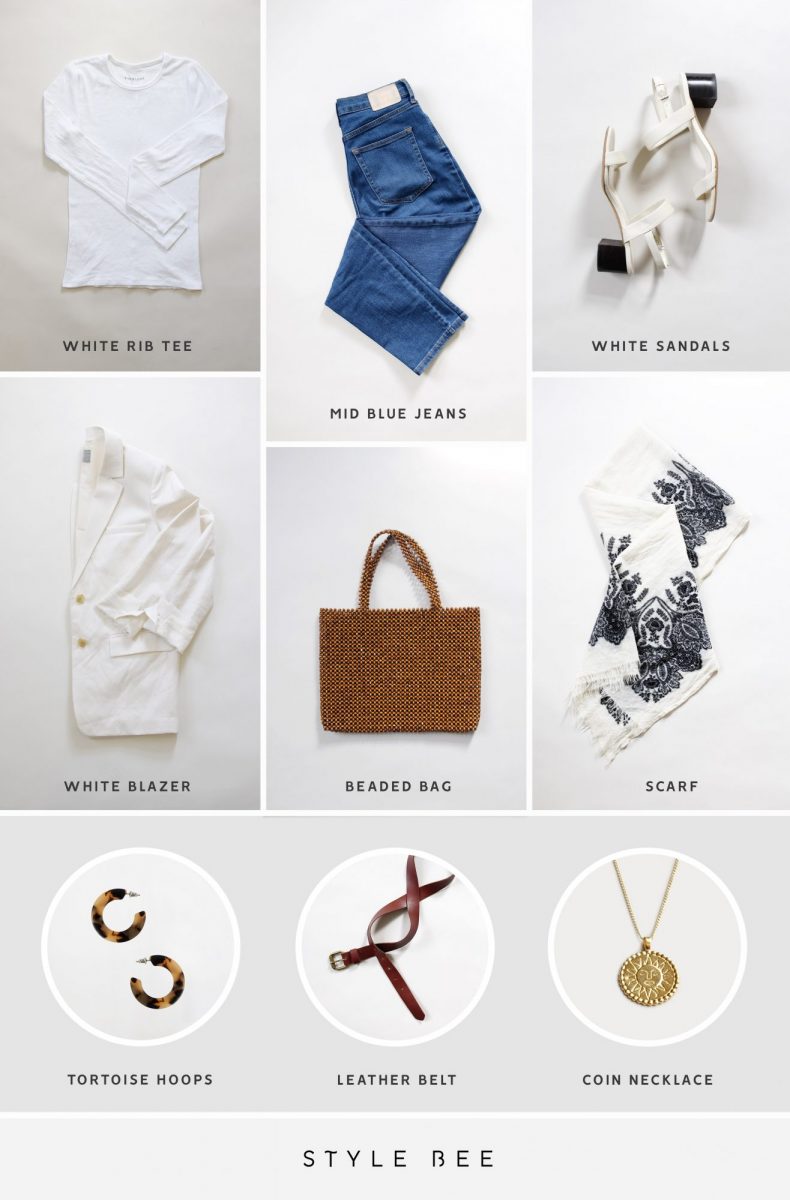 ---
SUNDAY – BRUNCH & TRAVEL
---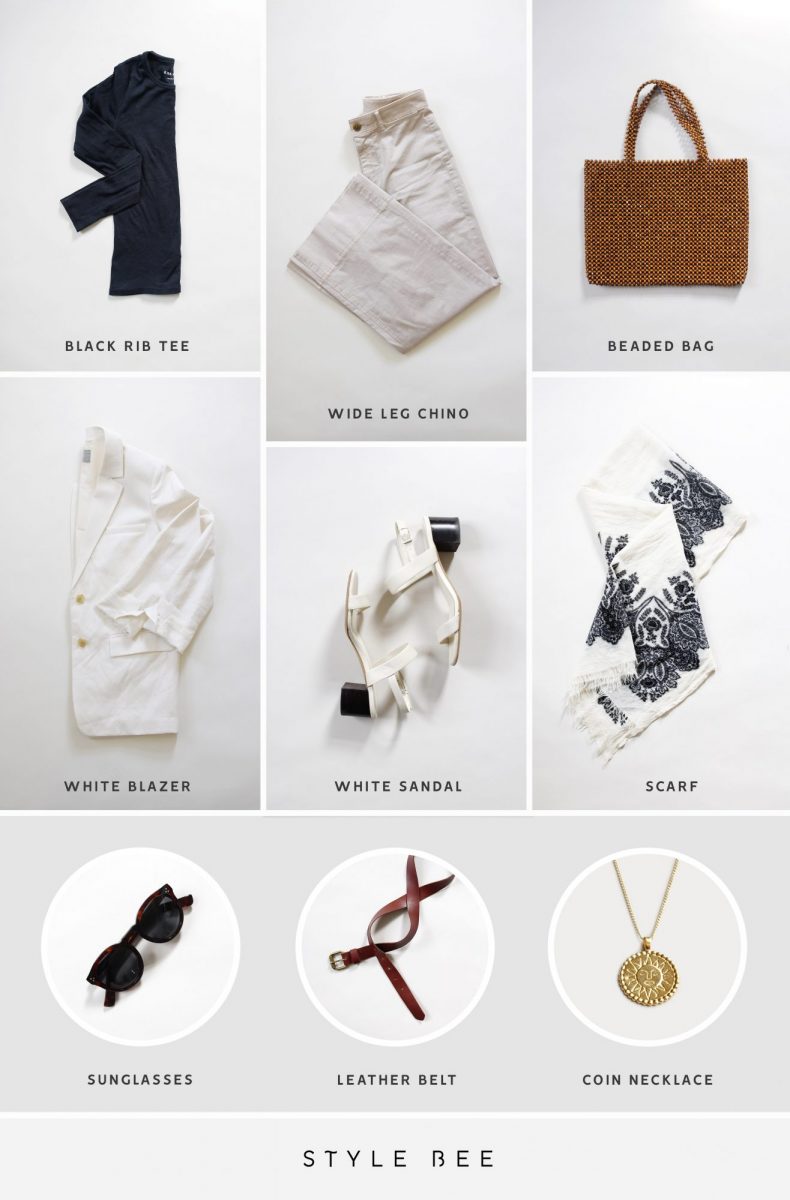 ---
All items are linked below the packing list.
---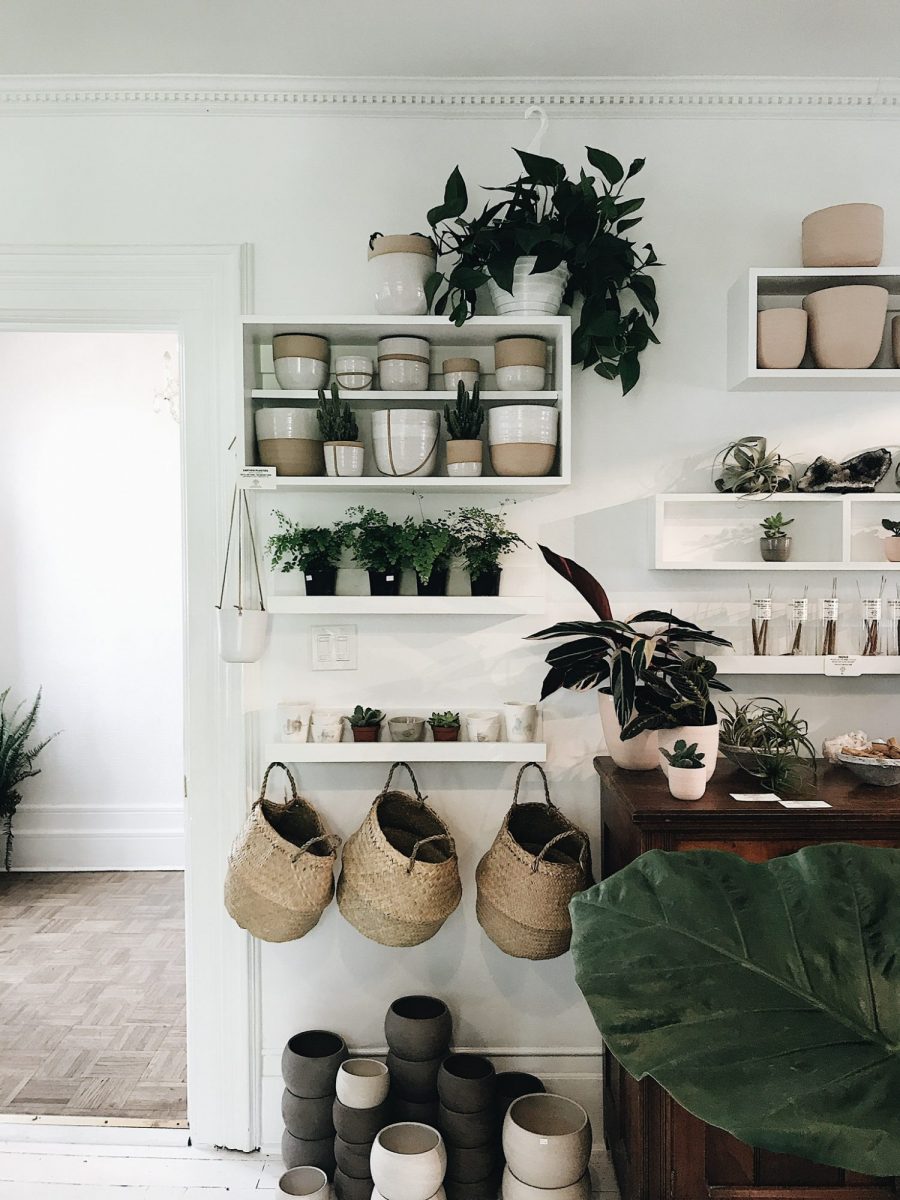 ---
And there you have it, our little weekend getaway to Prince Edward County! Have you been? If so, what were your favourite spots?
I hope this post helps anyone planning to visit the area or looking for packing ideas for a long weekend or short trip!
---
THANKS FOR READING & HAVE A GREAT WEEKEND!
---
This post is not sponsored but contains affiliate links. When you shop via the links above I may make commission on a sale at no additional cost to you. I always strive to give information that is as honest and accurate as possible to help you add pieces you'll love wearing long-term. Thanks for supporting Style Bee! All opinions are always my own.