You know those special pieces you find once in a while that instantly fill a closet gap you've been hopping around for years? Well, today we're taking a look at one of those!
Towards the end of last winter I made list of pieces that would have been ideal for the variable weather and unpredictable temperatures we always seem to get as we transition into spring. At the top of that list was, 'a simple cream cardigan' and so began my search.
Fast forward to this spring, yep, a full year later, when I heard that one of my favourite knitwear lines, L'ENVERS, was releasing an organic cotton collection. The Anna Cardigan appeared to tick all the boxes I'd been hoping to fill and since its arrival we've been inseparable.
Today I'll be sharing a bit more about this special closet staple and how I'm styling my Anna a whole bunch of ways this spring! Let's have a look shall we?
---
*This post was produced in partnership with L'ENVERS and Style Bee earns a commission on sales made using the reader code (at no additional cost to customers). Valid through May 22nd (1 week). More details below.
---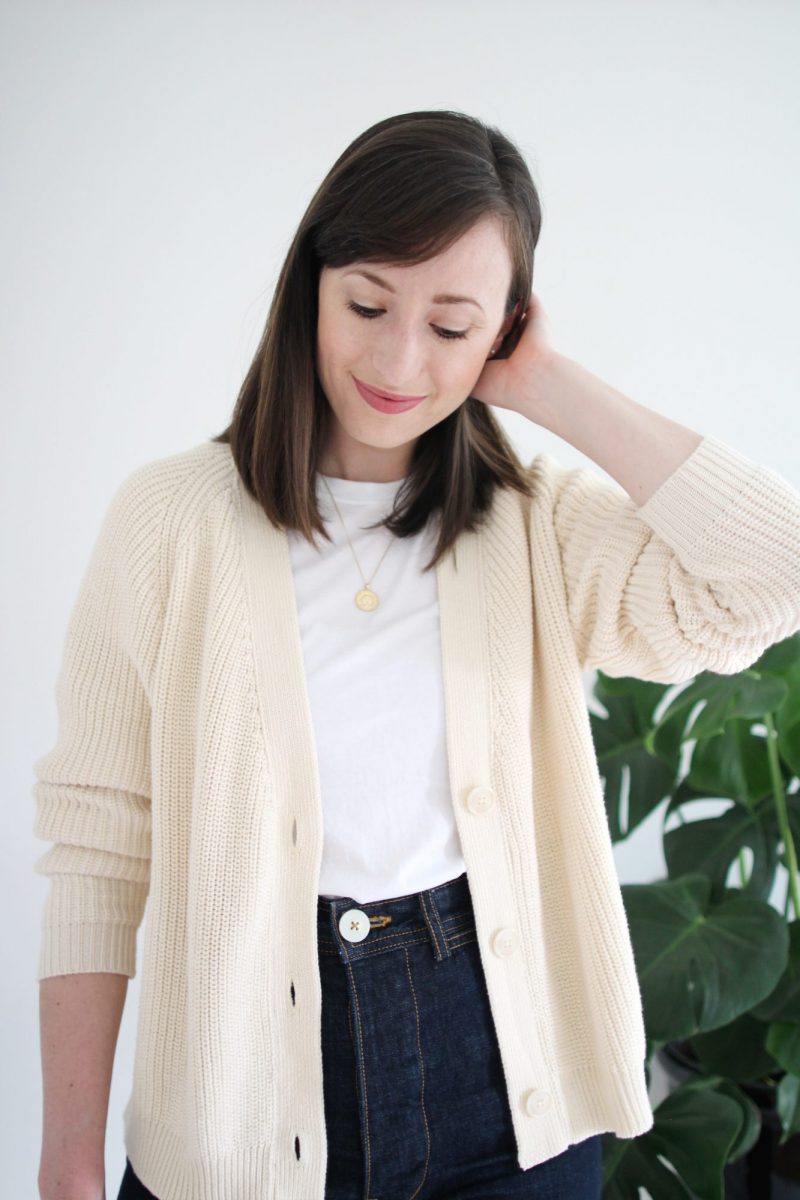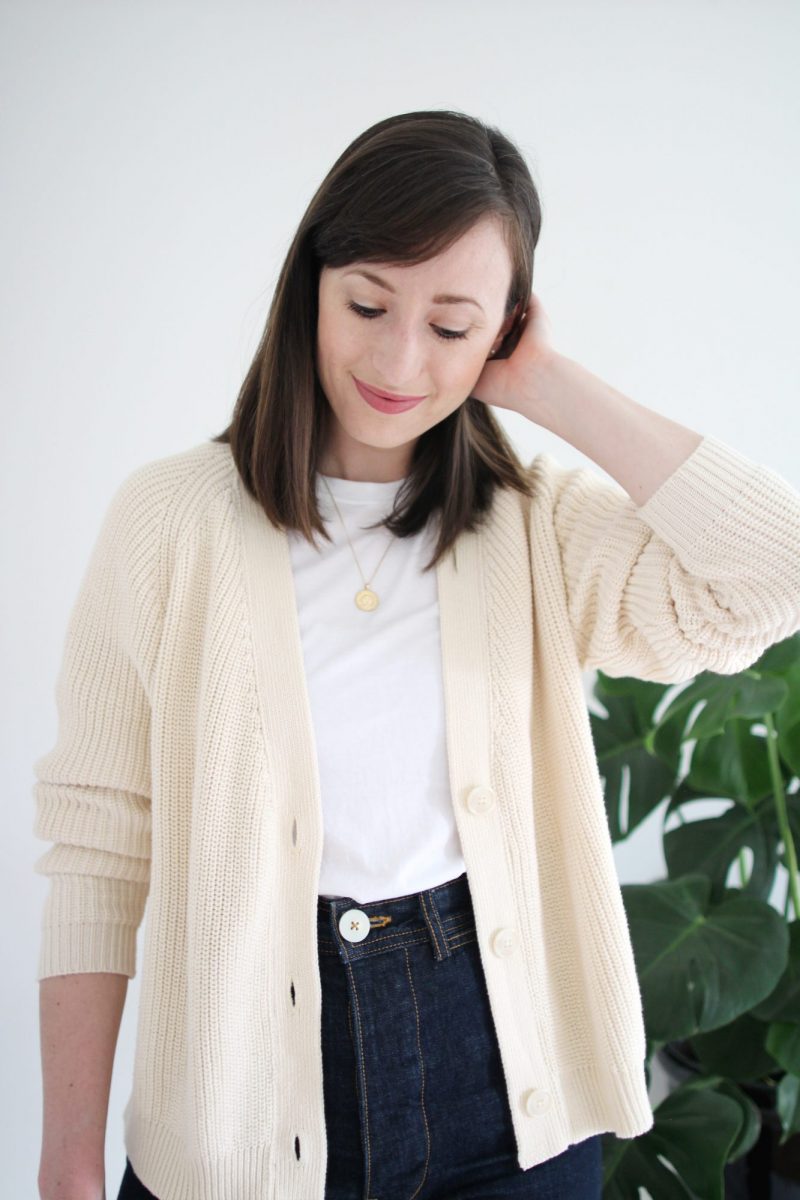 ---
ABOUT THE ANNA CARDIGAN
---
As it turns out my requirements for the perfect spring sweater were a bit of a tall order, ergo a year-long search. The must-have elements were:
Neutral cream tone to pair with both light and dark colours
Breathable natural fibre that would cut out a chill without overheating and be multi-seasonal
Timeless design to withstand trends
Thoughtful production
Easy upkeep (ie: no dry cleaning required)
Travel friendly (ie: not too oversize or heavy)
Button closures for the option to wear it closed
Within my spring budget (I was very lucky to receive this cardigan as part of this partnership and I stand by it's investment value as a piece to be worn, enjoyed and treasured for many years to come.)
I have really loved my wool Claude Cardigan (styled here) and when I saw that the Anna Cardigan was a similar design with a slightly shorter length I knew it was a serious contender. The other elements that sold me were:
100% organic, undyed cotton
Fair trade sourced, spun and knitted in Spain
Easy fit that's wide enough to layer over loose tops but still slim enough to slip into a relaxed denim jacket (shown later) or a raincoat.
Machine washable on delicate with air dry (more care notes here)
OTHER ANNA FACTS:
Price: €220 (Equates to about $330 CAD or $246 USD)
Sizing: S/M (what I got) | M/L | L/XL | With custom sizing available here.
Knitted to order with lead time of about 1-week
Ships from Madrid, Spain (customs/duties may be charged on delivery, more shipping info here)
---
MY FAVOURITE STANDOUT DETAILS
---
LONG SLEEVES FOR COZY WRISTS + STYLING OPTIONS

TONAL BUTTONS FOR VERSATILITY + A CLEAN, CLASSIC DESIGN FOR LONGEVITY

INCREDIBLY SOFT, SLIGHTLY CHUNKY ORGANIC COTTON KNIT IS ITCH FREE

THE PERFECT LAYERING FIT & LENGTH
---
ONE NOTE PRIOR TO STYLING IDEAS
So as you can see, the Anna Cardigan answered all the necessary requirements to make its way into my closet this spring. Before shooting or writing this post I wear tested the sweater for a couple of weeks and wore it on my trip to Prince Edward County. Being an investment piece I wanted to make sure I'd really given it a good trial period before featuring it on the blog. Overall, I am so pleased with how it's performed and believe it will be a staple in my closet for years to come!
The only cautionary note I felt was necessary to share was that being a cotton knit the fibres will relax with wear. After about the 5th full day of wearing the cardigan I noticed that the sleeves on the elbows and around the wrist were loosening up. The sleeves were still snug enough to push up and wear under coats and with a wash it returns to its original shape and fit. You can see the relaxed fit I'm referring to best in Look 2 below.
Now, onto the outfits!
---
LOOK 1
WITH JEANS & A PLAIN WHITE TEE
---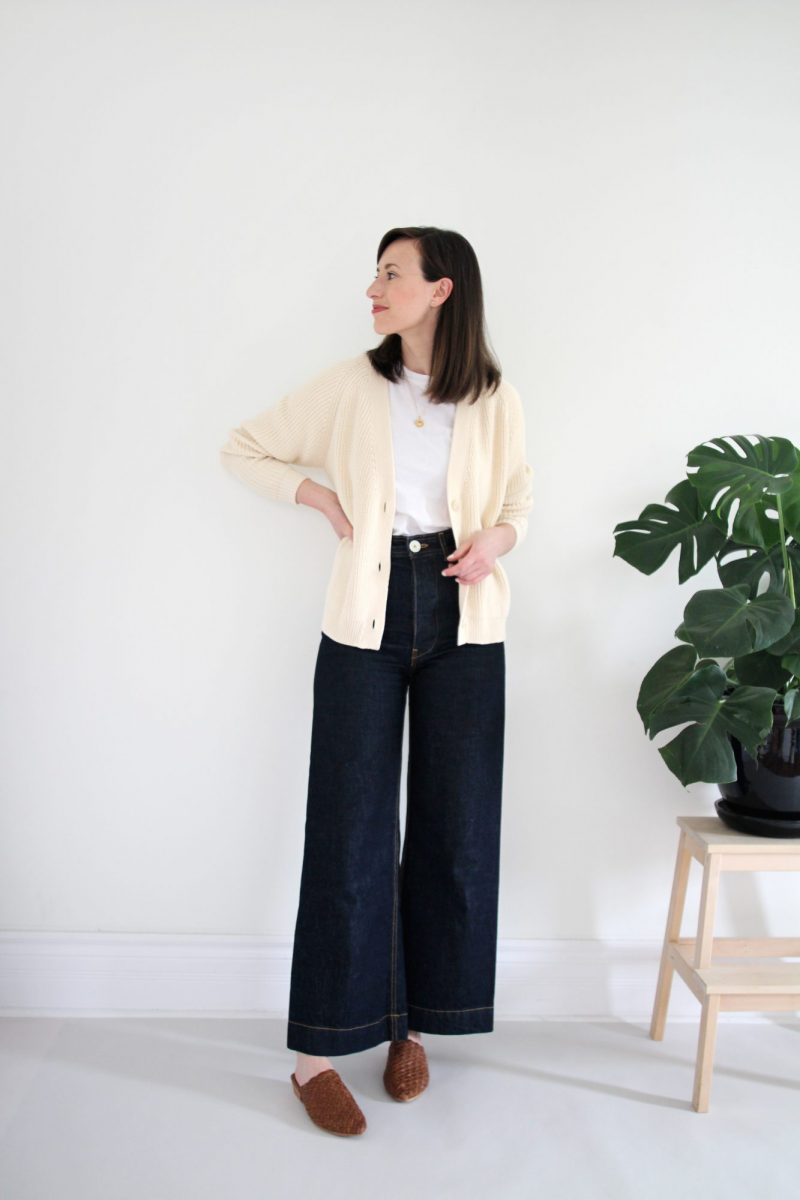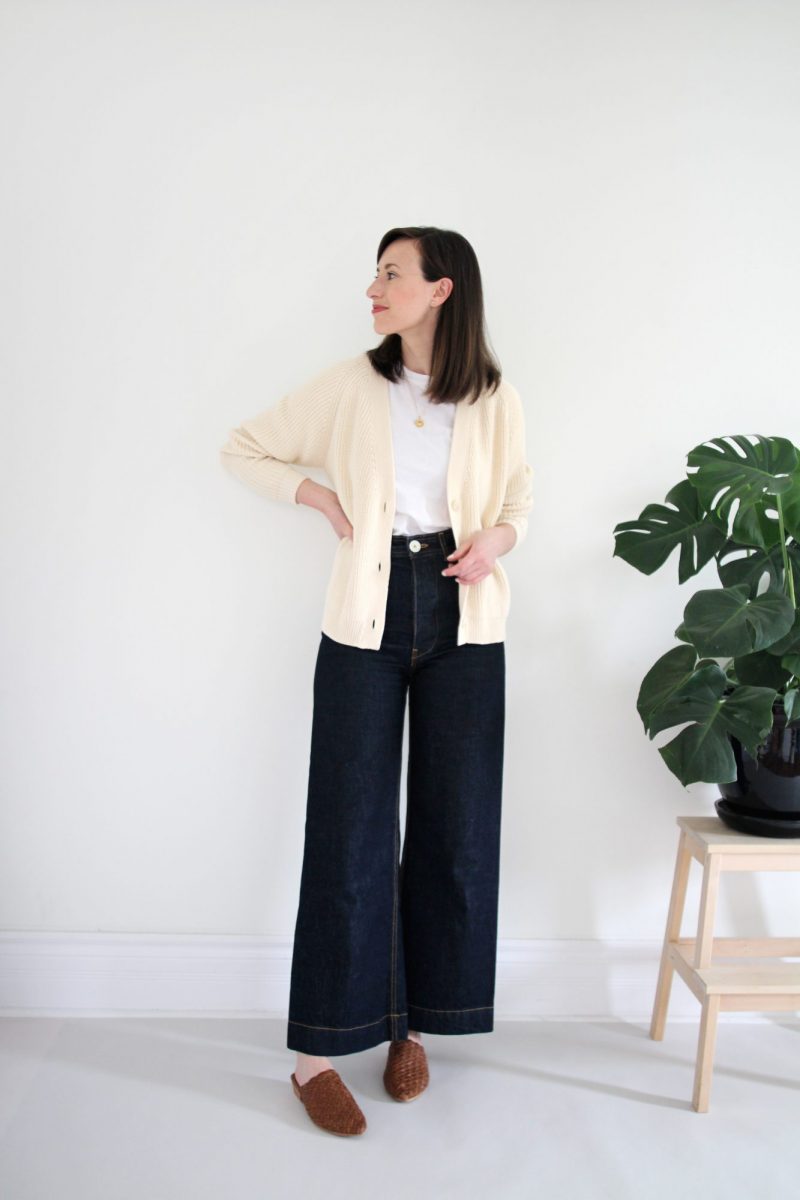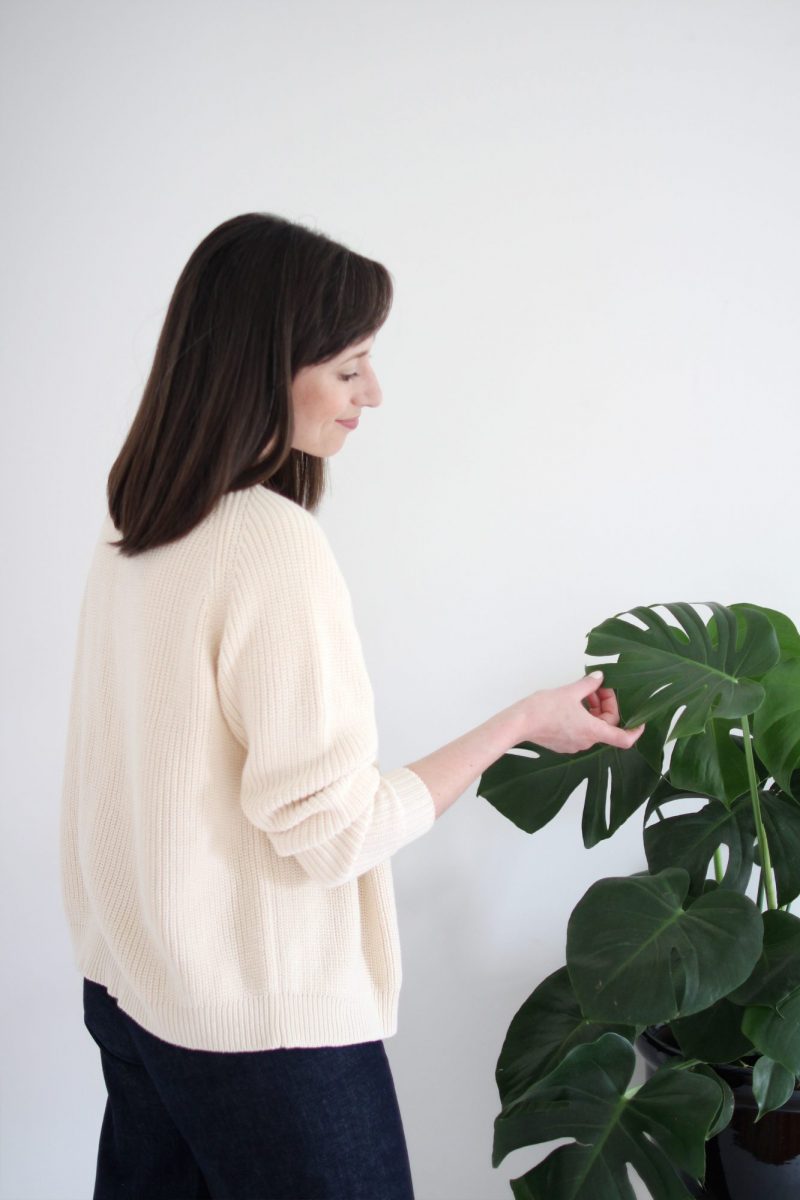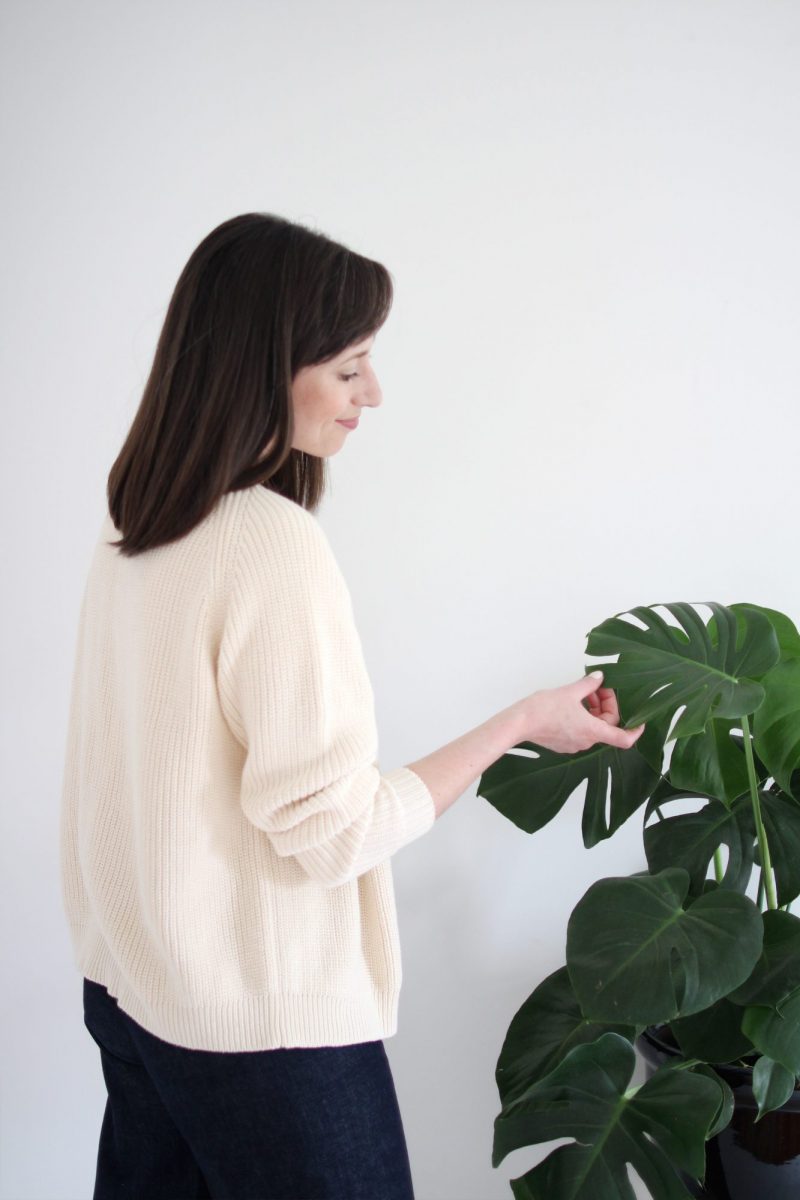 ---
The way I've been wearing this cardigan most since it arrived is with a timeless combo of jeans and a white tee. It's an easy everyday look for spring and one of my go-to outfit formulas.
The cut of this sweater works great over both wide leg and slimmer fitting denim and I love wearing it open over a high waist with a tucked in tee for a casual but put-together look.
The creamy undyed cotton is a true ecru that contrasts subtly but effectively on a bright white and looks fresh against a dark wash denim. Pairing it with brown tones like my vintage tan mules and gold jewelry emphasizes its warmth.
---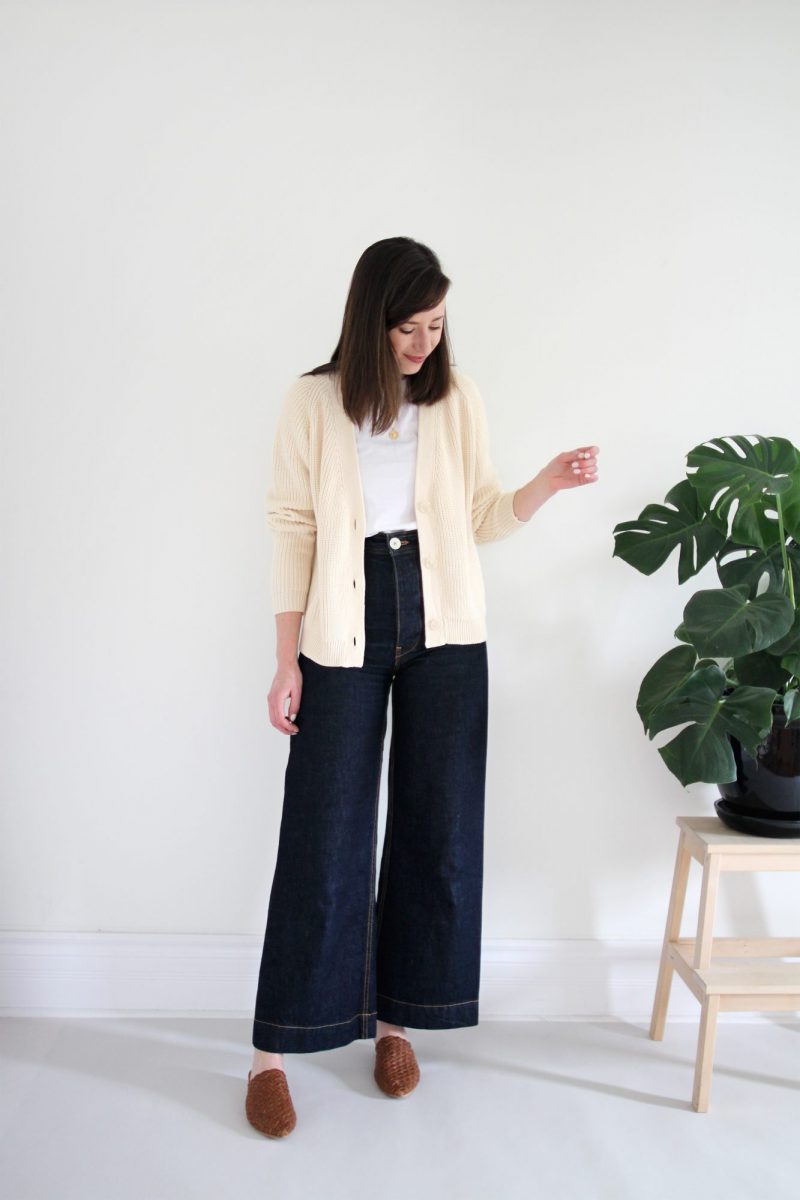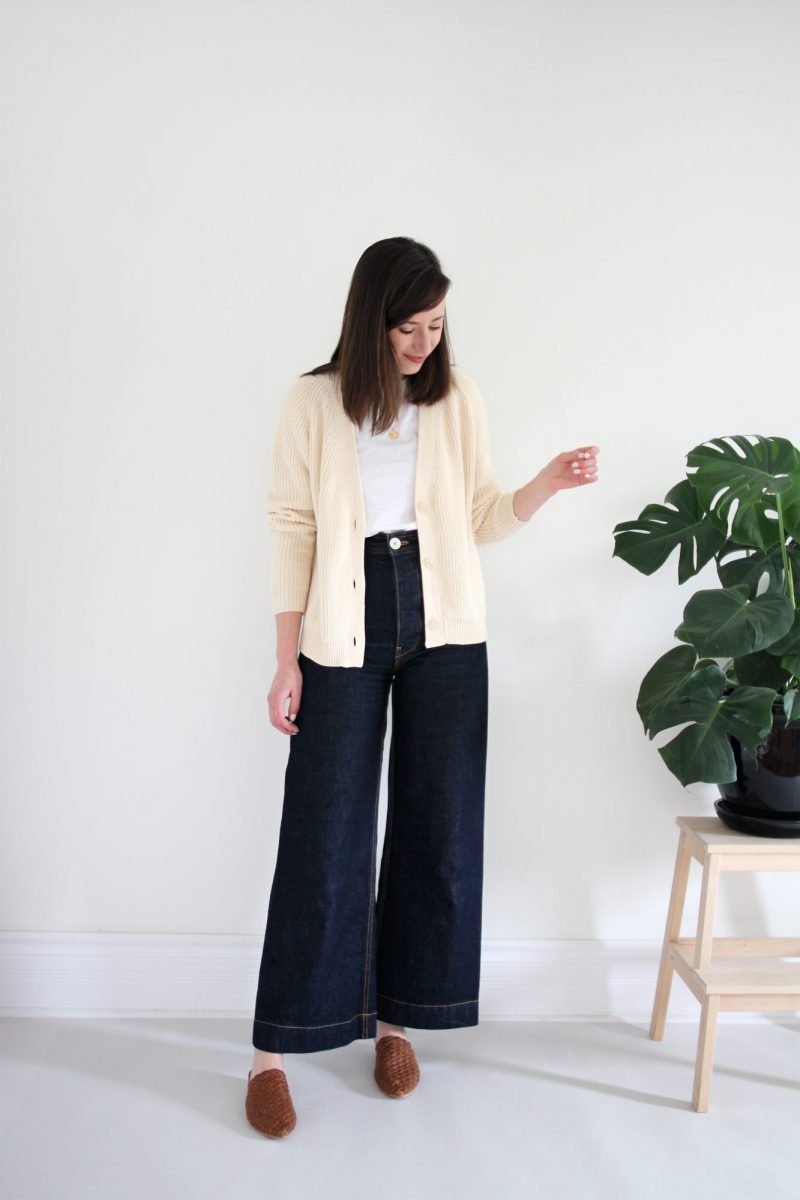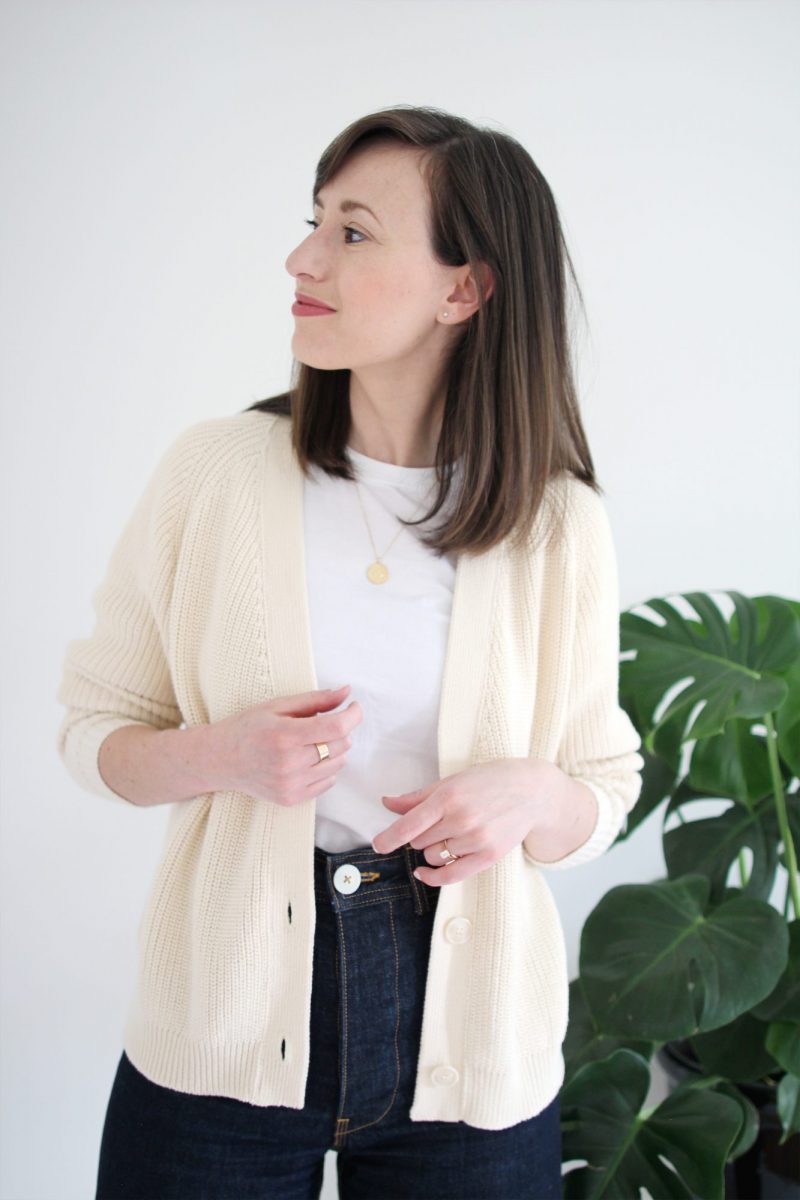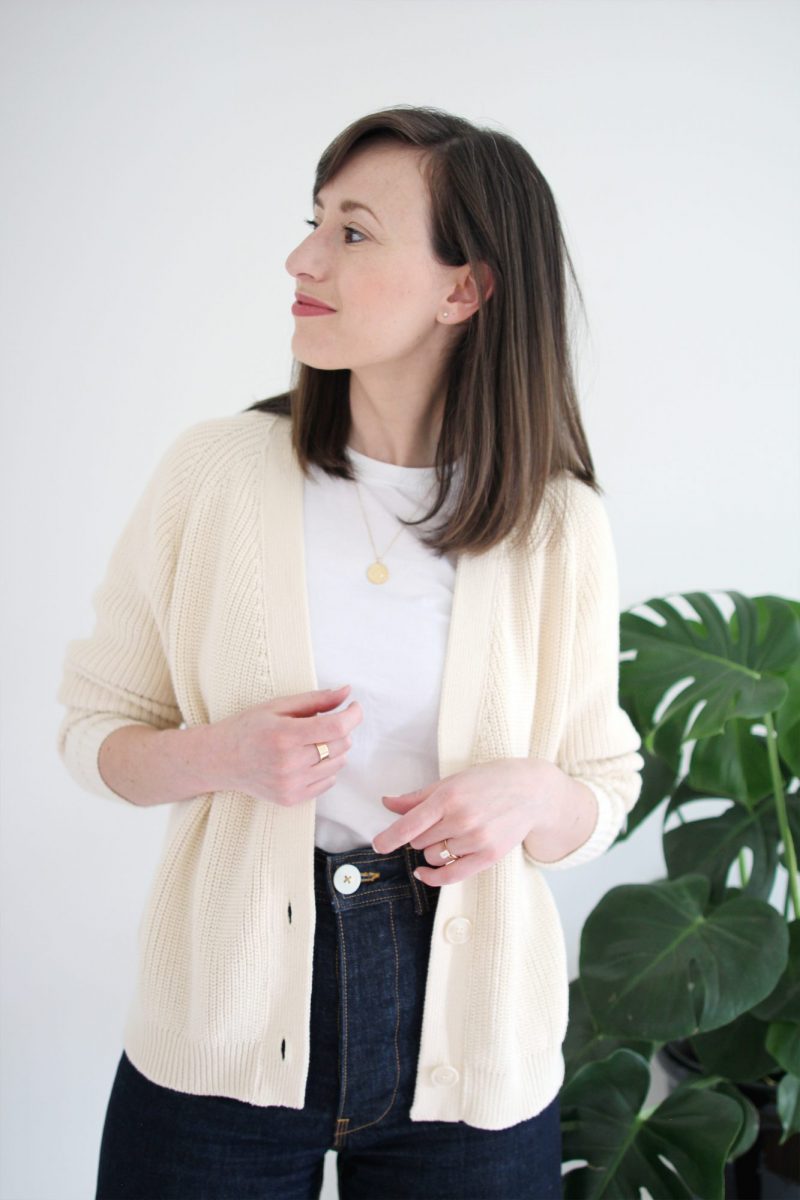 ---
SHOP LOOK 1
ANNA CARDIGAN| gifted L'ENVERS | 100% Organic Undyed Cotton | Fair Trade sourced in Brazil | €220 | Wearing a S/M (I'm 5'7) | Made to order in Spain | ALL SWEATERS SHIP FREE WITH 'STYLEBEE' THROUGH MAY 22nd
WHITE CREWNECK TEE | EVERLANE // DENIM KAMM PANT* | n/a JESSE KAMM // WOVEN PARIS MULE | ST. AGNI // LUMEN NECKLACE | WOLF CIRCUS // *Linked to similar

---
LOOK 2
REVERSED WITH RIGID DENIM + MULES
---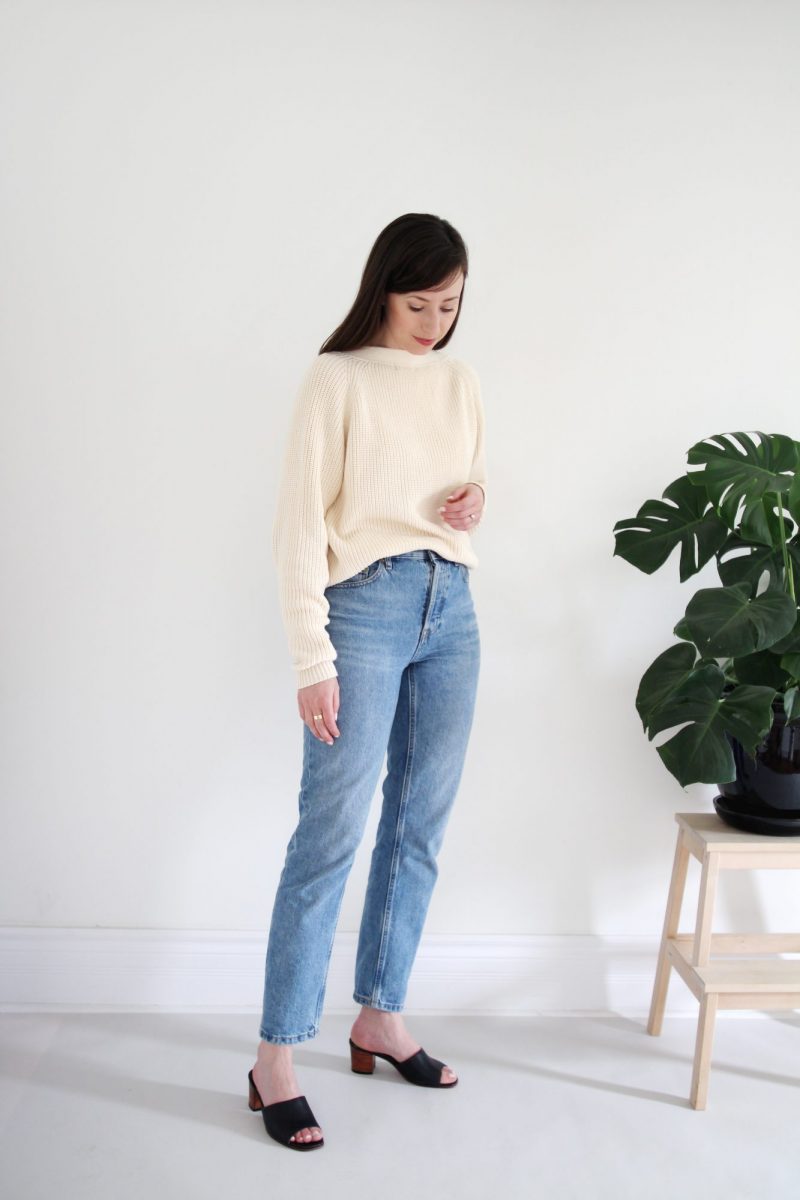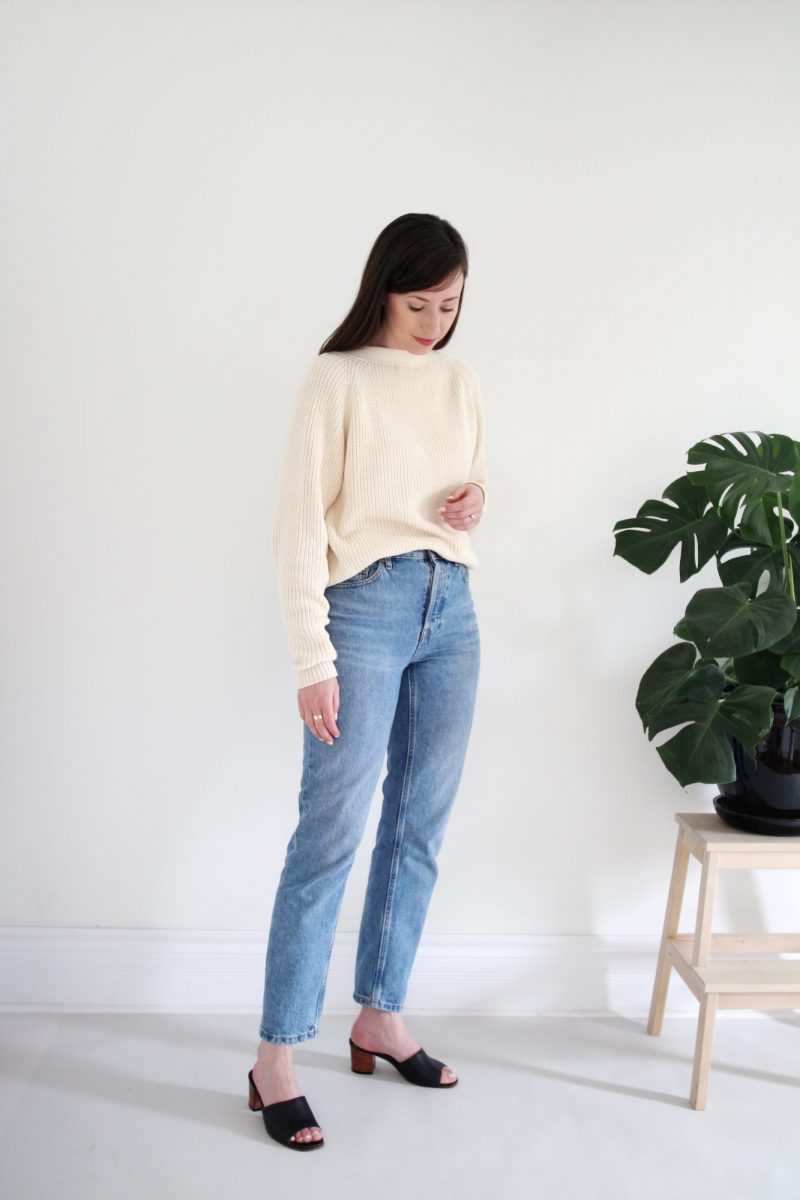 ---
I spotted this pin when I was dreaming up unconventional ways to style the Anna and it sparked the idea to try this sweater reversed. While it's not technically designed to be reversible, I think it is entirely passable!
The higher neckline worn forward looks intentional and with a simple French tuck into vintage or rigid denim it has a casual, cool-girl feel. All seems subdued from the front and then voila! the low back and buttons are a stylish surprise.
For me the key to making a trick like this feel wearable is to keep everything else within the look intentionally minimal. In this case that means; sleek hair, natural make-up, pearl studs, classic jeans and a simple slide sandal. I'd maybe grab my circulo tote or beaded bag to wear this out and about.
What do you think? Would you be willing to wear your cardigan reversed?
---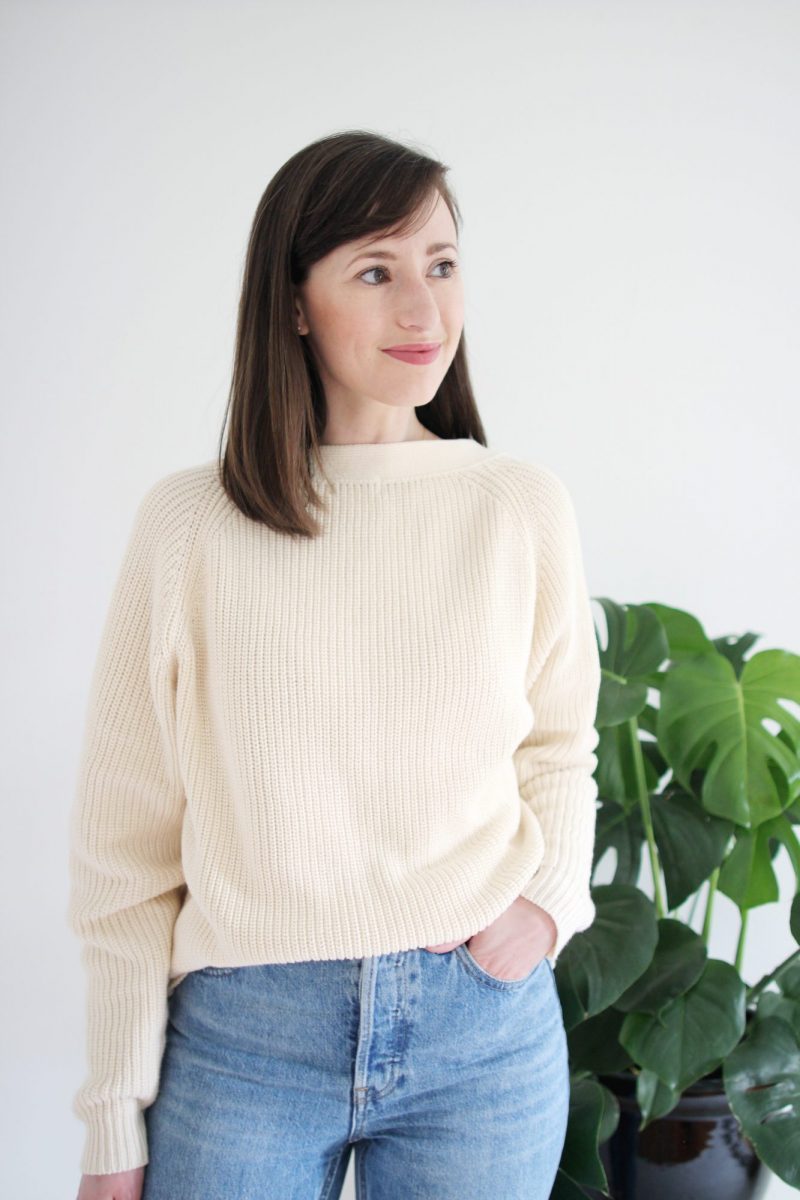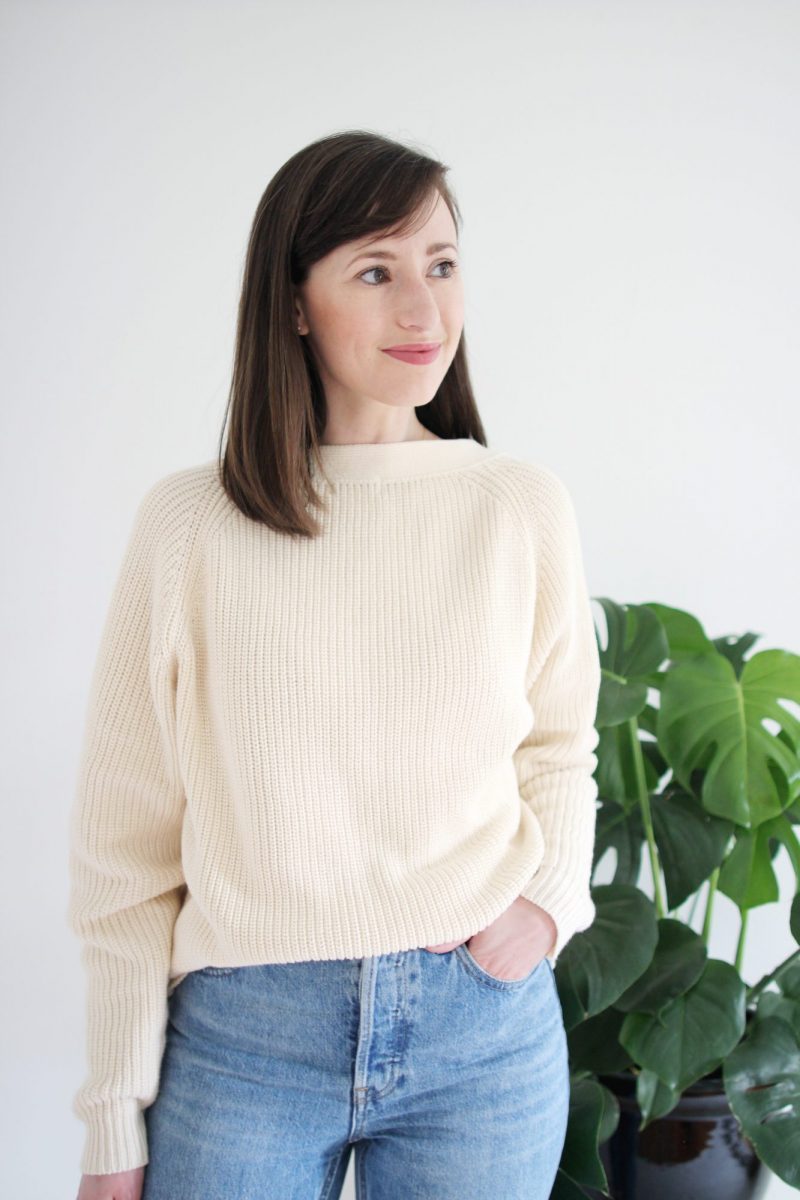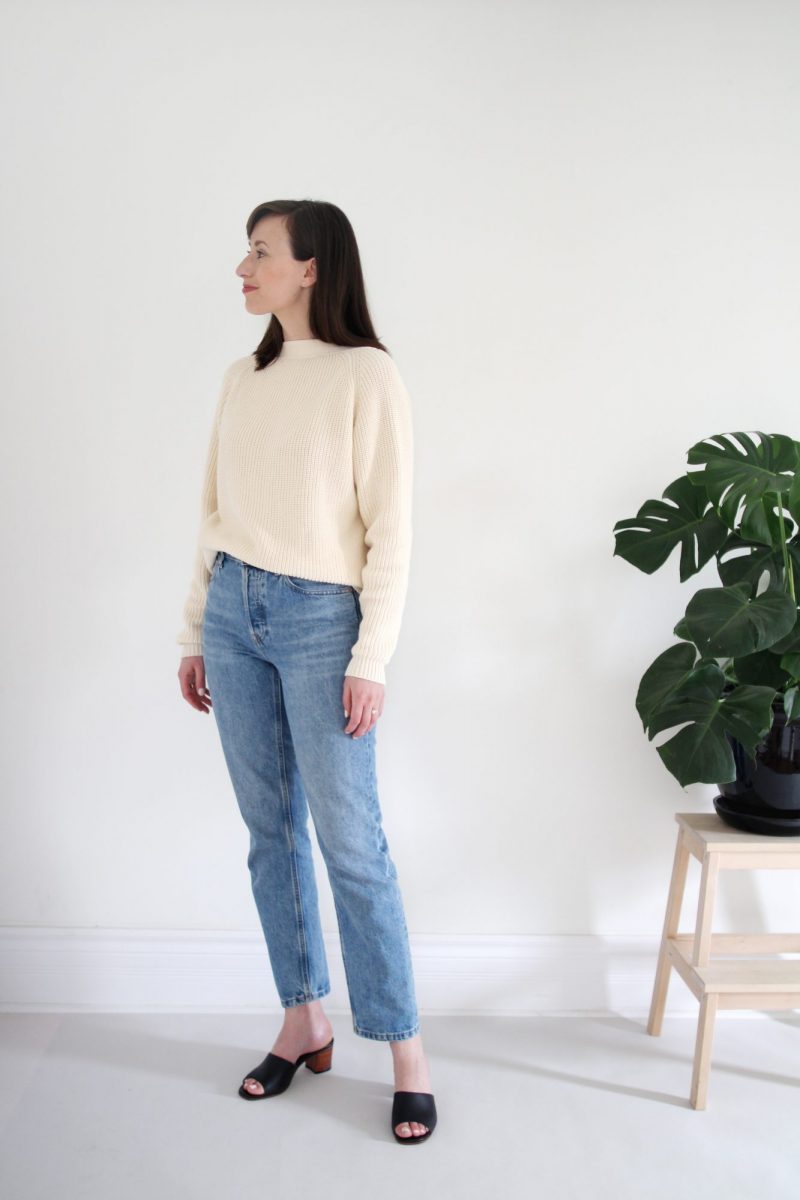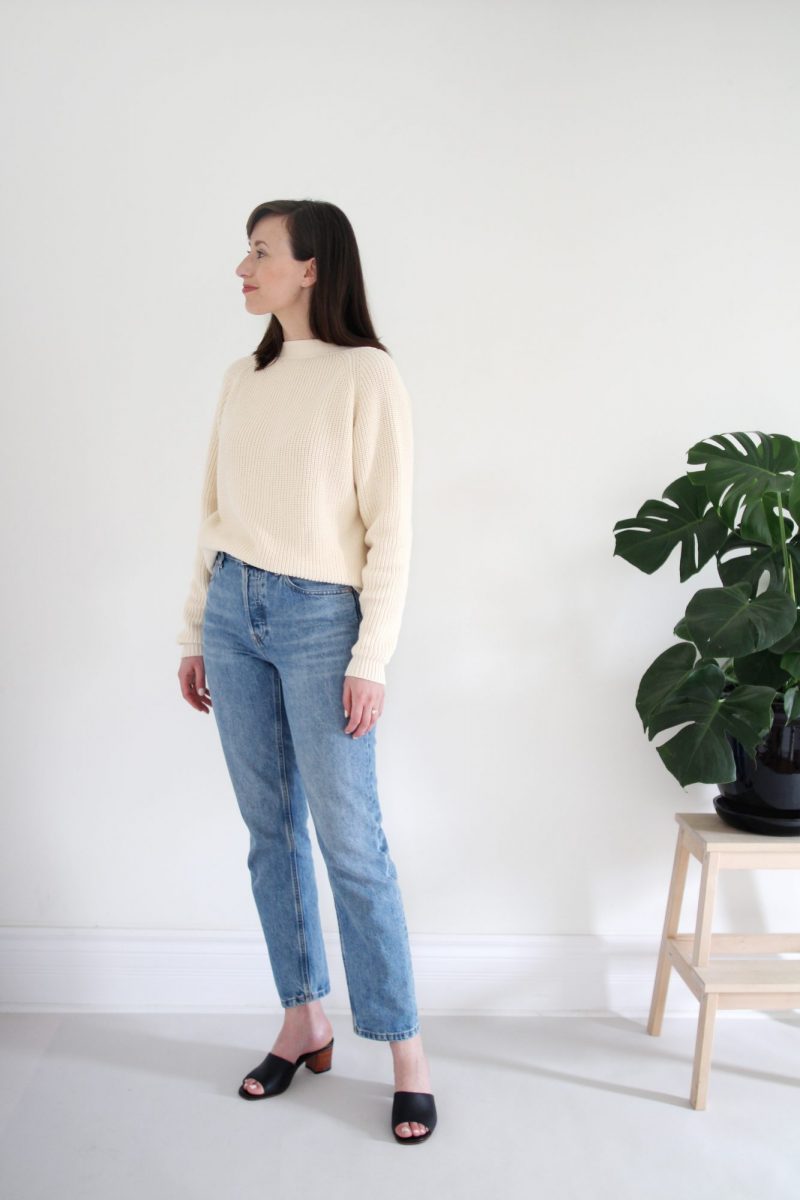 ---
SHOP LOOK 2
ANNA CARDIGAN| gifted L'ENVERS | 100% Organic Undyed Cotton | Fair Trade sourced in Brazil | €220 | Wearing a S/M (I'm 5'7) | Made to order in Spain | ALL SWEATERS SHIP FREE WITH 'STYLEBEE' THROUGH MAY 22nd
90's DENIM | EVERLANE // ELIZABETH MULES* | gifted NISOLO // CIGAR RING | ATTIC // *Linked to similar

---
LOOK 3
BUTTONED + TUCKED INTO LINEN PANTS WITH SLIDES
---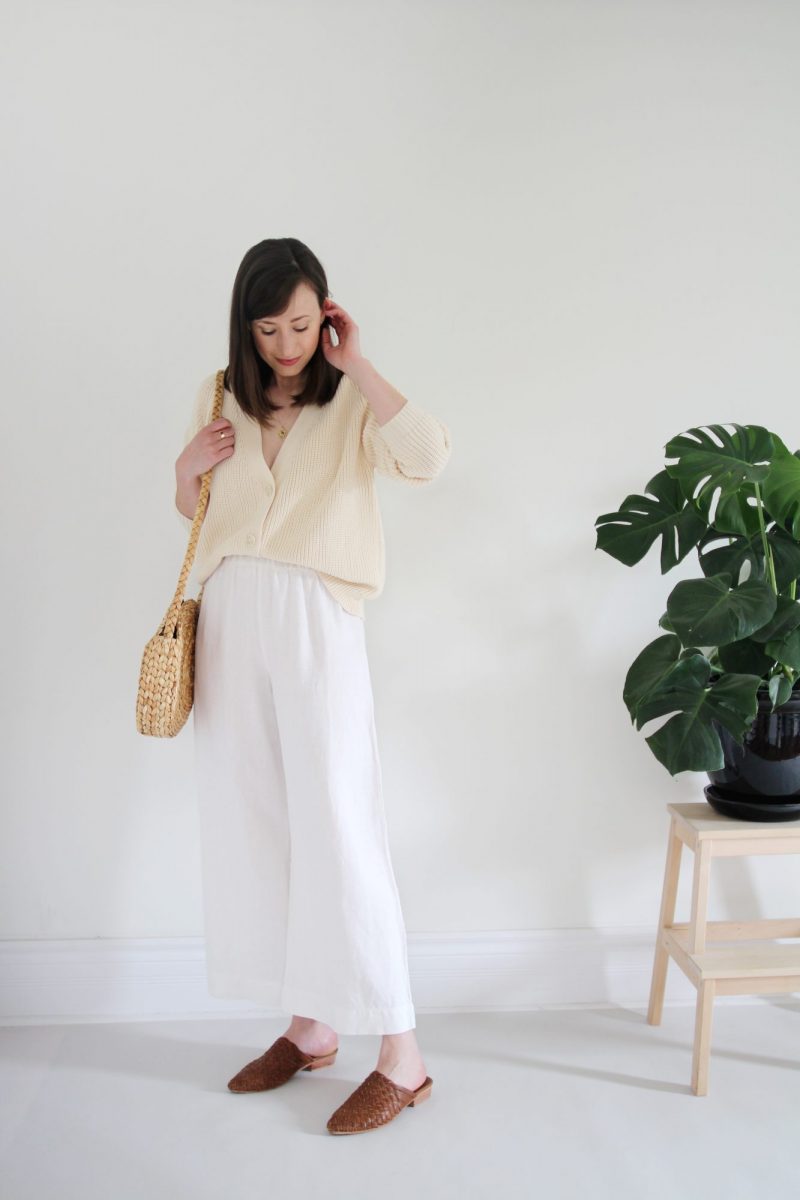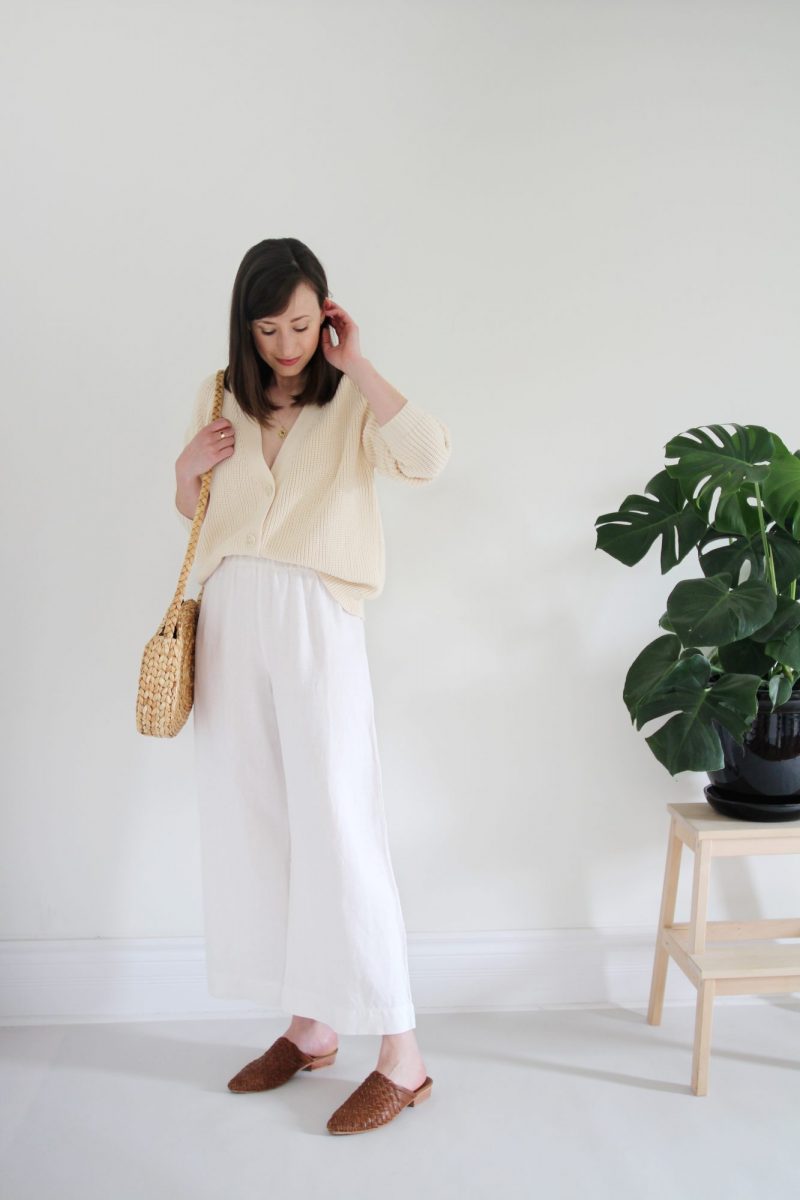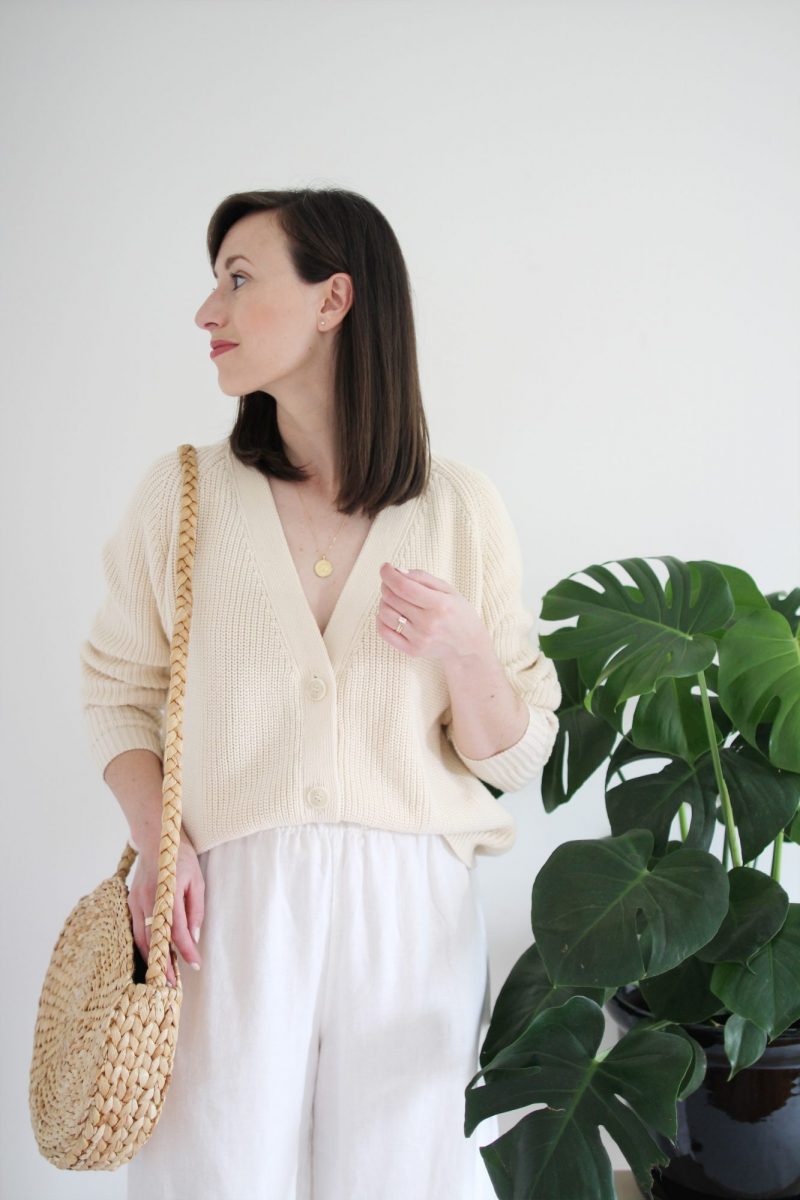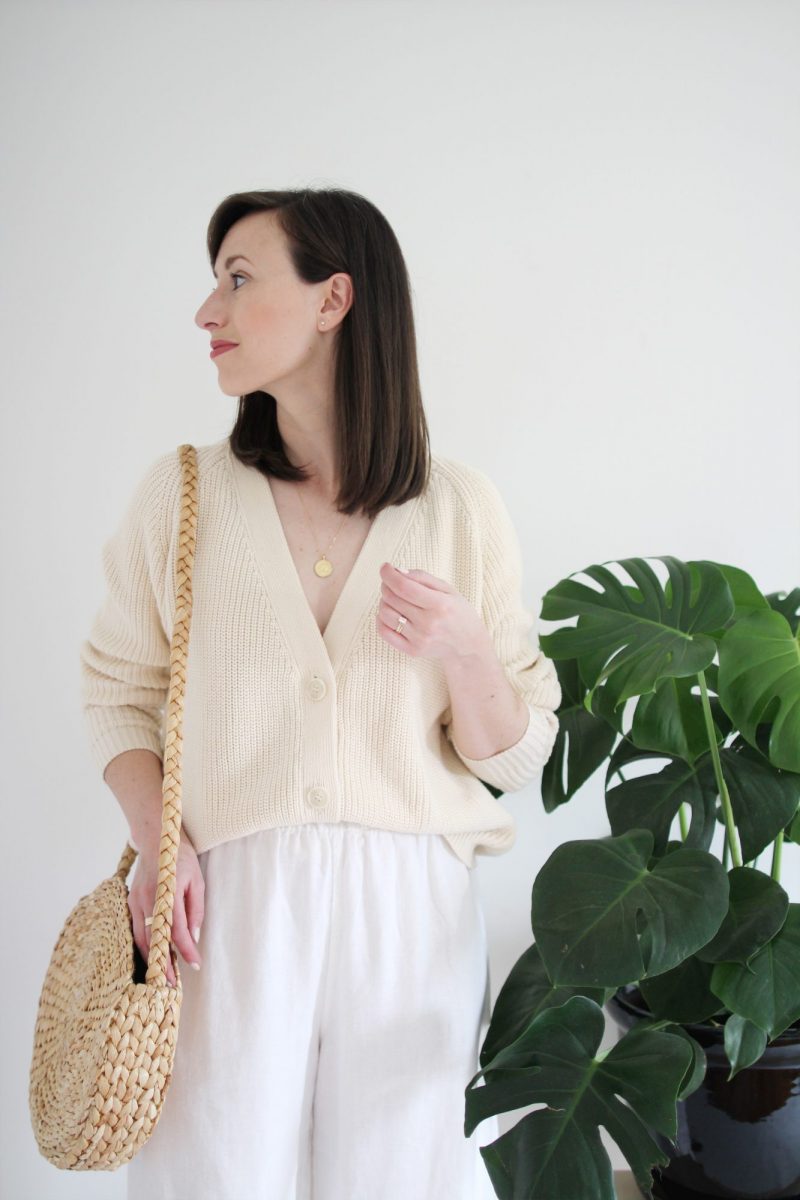 ---
I was very curious as to whether or not the Anna Cardigan would be soft enough to wear as a top on it's own and I can say, without hesitation, that it most certainly is! After seeing how one of the beautiful models was wearing it on the L'ENVERS site I decided to try it out in my own way.
I buttoned it all the way and wore it over a low-cut bralette for a more sultry vibe. You could wear it over a fitted tank or a bra with more coverage if you didn't want the low v-neck. I paired the 'V' neckline with a little coin necklace to emphasize the shape and add some repetition.
Then I simply tucked the front few inches into my Florence pant waistband and pulled enough of the sweater out to spill over the elastic. I pushed the sleeves up and grabbed a couple of woven accessories to add texture but keep the palette soft and neutral. I love how comfy and cozy this look is while still having some elegant and interesting elements involved.
This one is begging for a weekend trip to the market, a morning coffee on the dock at the cottage or a cold chardonnay in the backyard!
---
---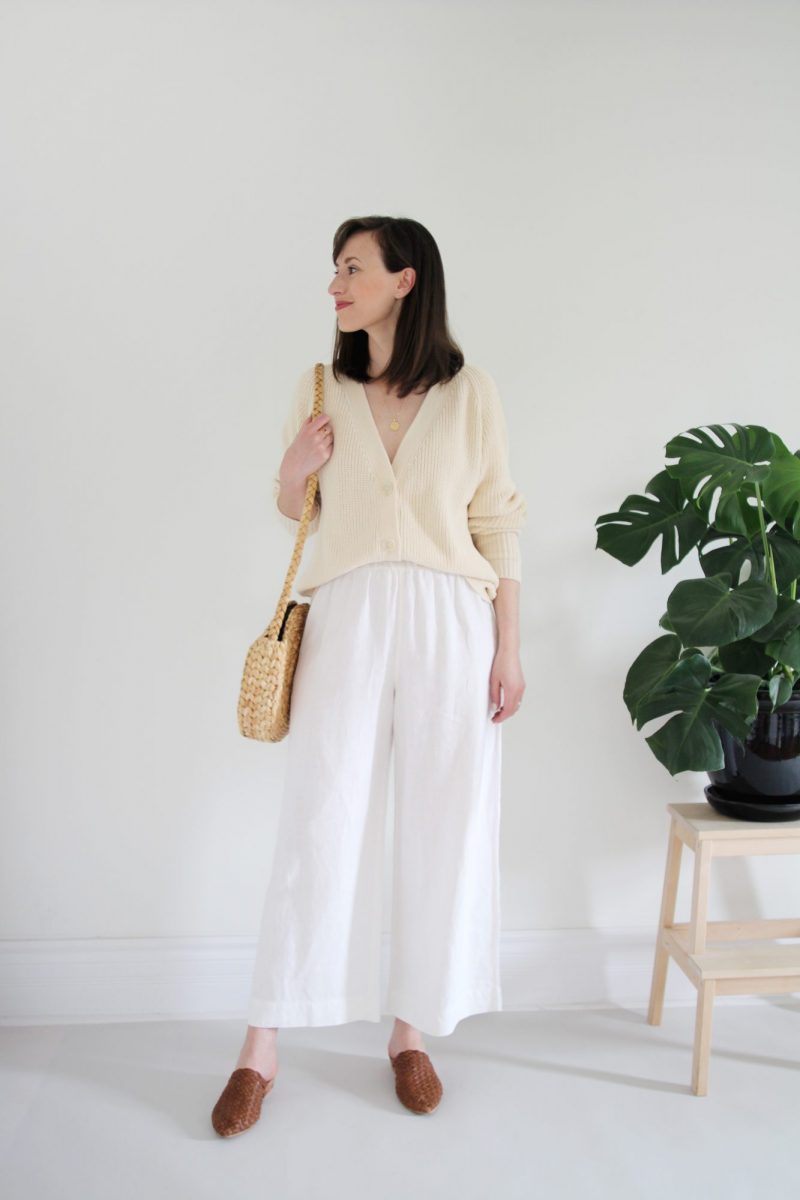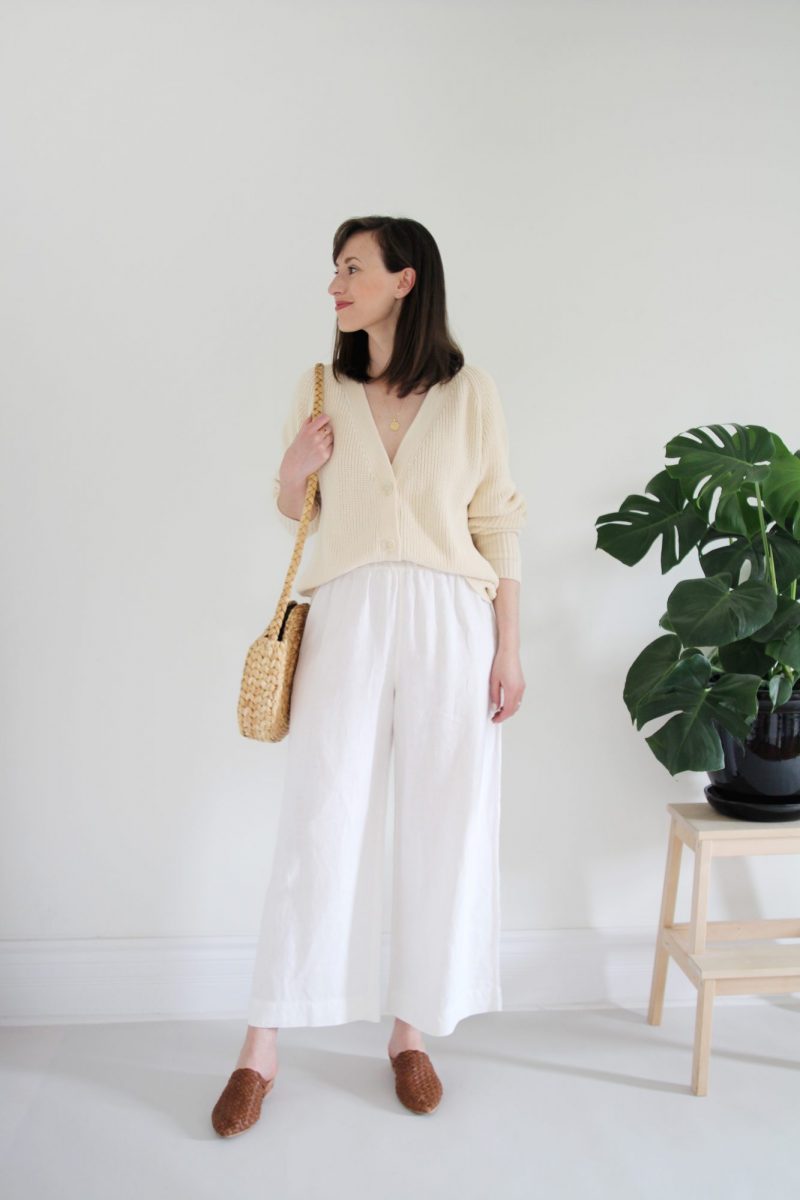 ---
SHOP LOOK 3
ANNA CARDIGAN| gifted L'ENVERS | 100% Organic Undyed Cotton | Fair Trade sourced in Brazil | €220 | Wearing a S/M (I'm 5'7) | Made to order in Spain | ALL SWEATERS SHIP FREE WITH 'STYLEBEE' THROUGH MAY 22nd
FLORENCE PANT | ELIZABETH SUZANN // WOVEN PARIS MULE | ST. AGNI // LUMEN NECKLACE | WOLF CIRCUS // WOVEN CROSS-BODY BAG | n/a PEPYTH // PEARL STUDS | gifted JEWELS & ACES // *Linked to similar
---

---
3 BONUS LOOKS
Once I got to styling this sweater I couldn't help but keep going with different ideas. So while I'd intended to share just the first 3 approaches I ended up snapping an extra 3 bonus looks that I wanted to share too!
---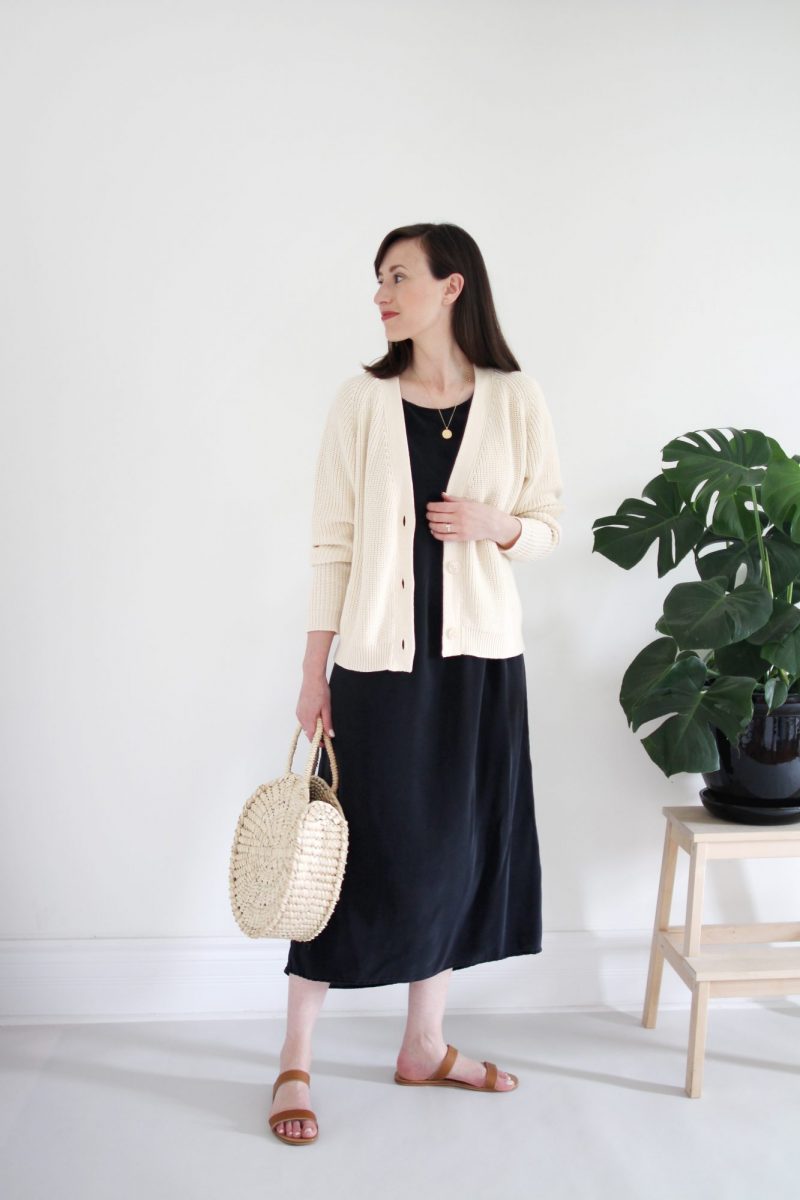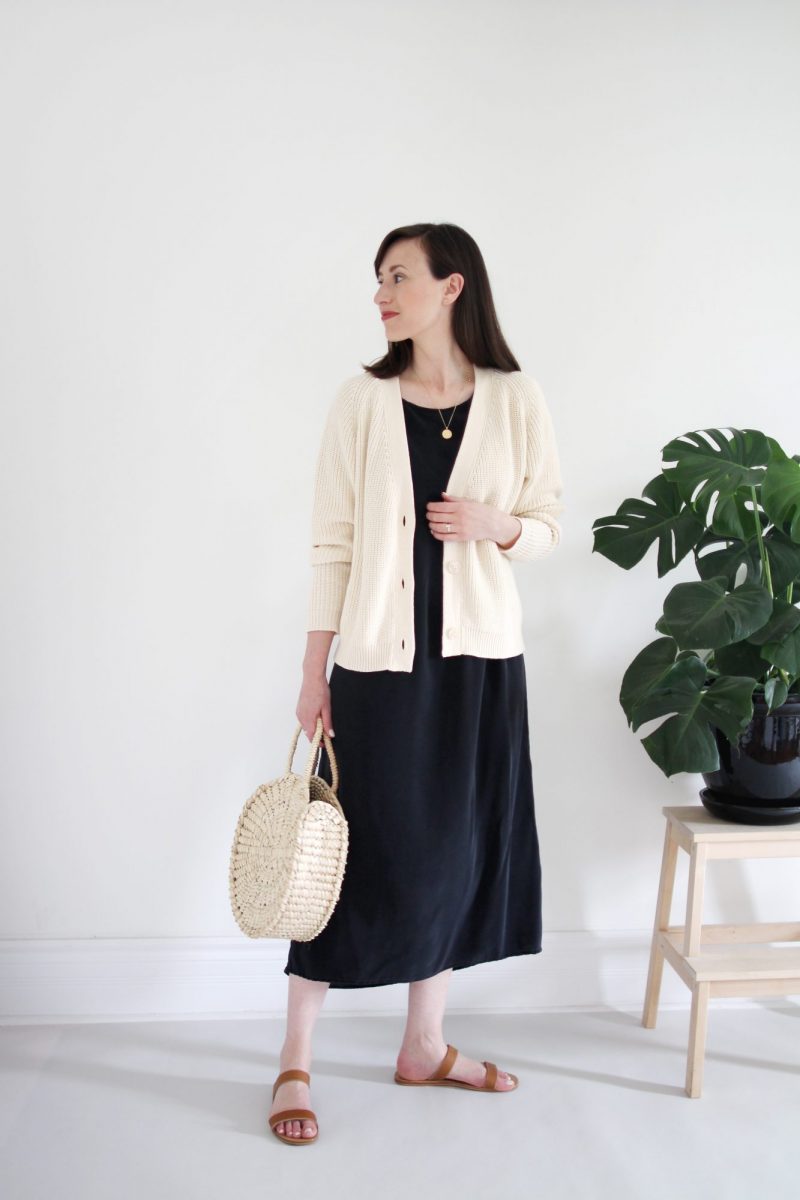 ---
1 | OVER A GEORGIA MIDI DRESS WITH SANDALS
I'm happy to confirm that the Anna slides over a wider sleeve like the Georgia tee with ease. I also love how this cardigan pairs with summery dresses for cool evenings and warmer spring days.
---
ANNA CARDIGAN| gifted L'ENVERS // GEORGIA MIDI DRESS // LUMEN NECKLACE // CIRCULO TOTE gifted // SANDALS* // *Linked to similar
---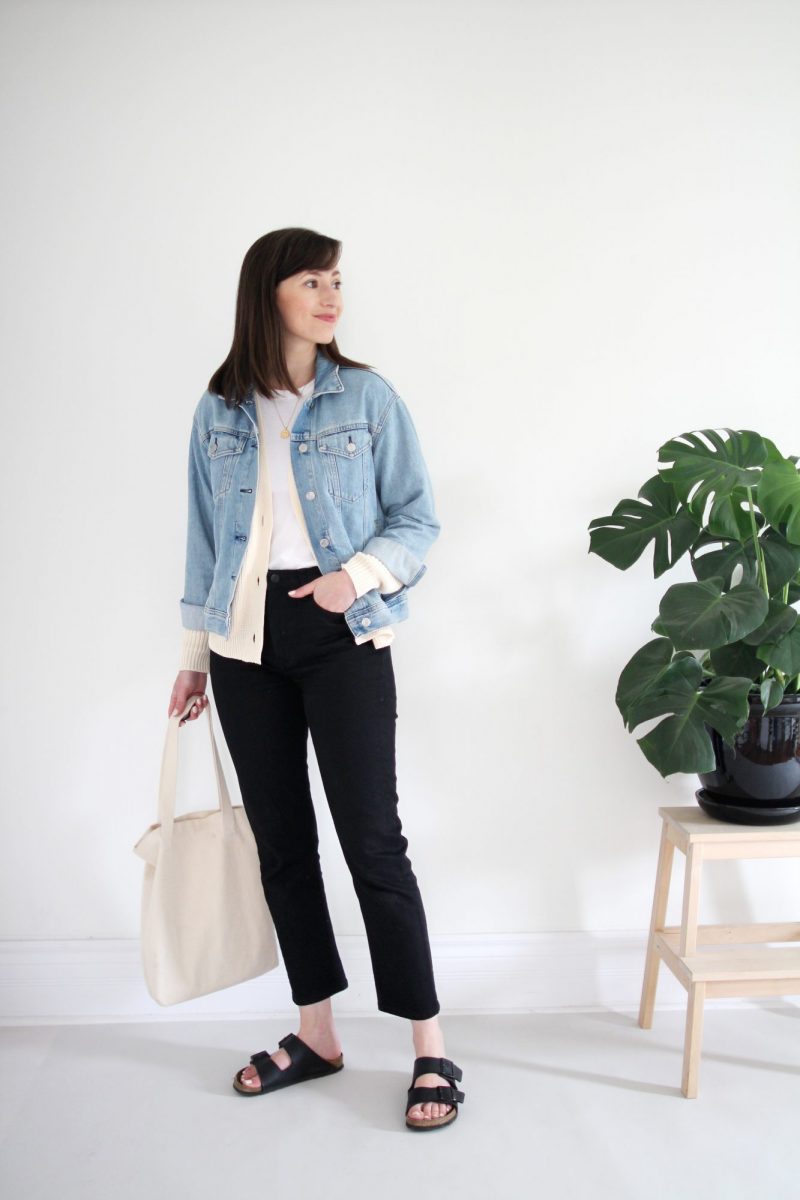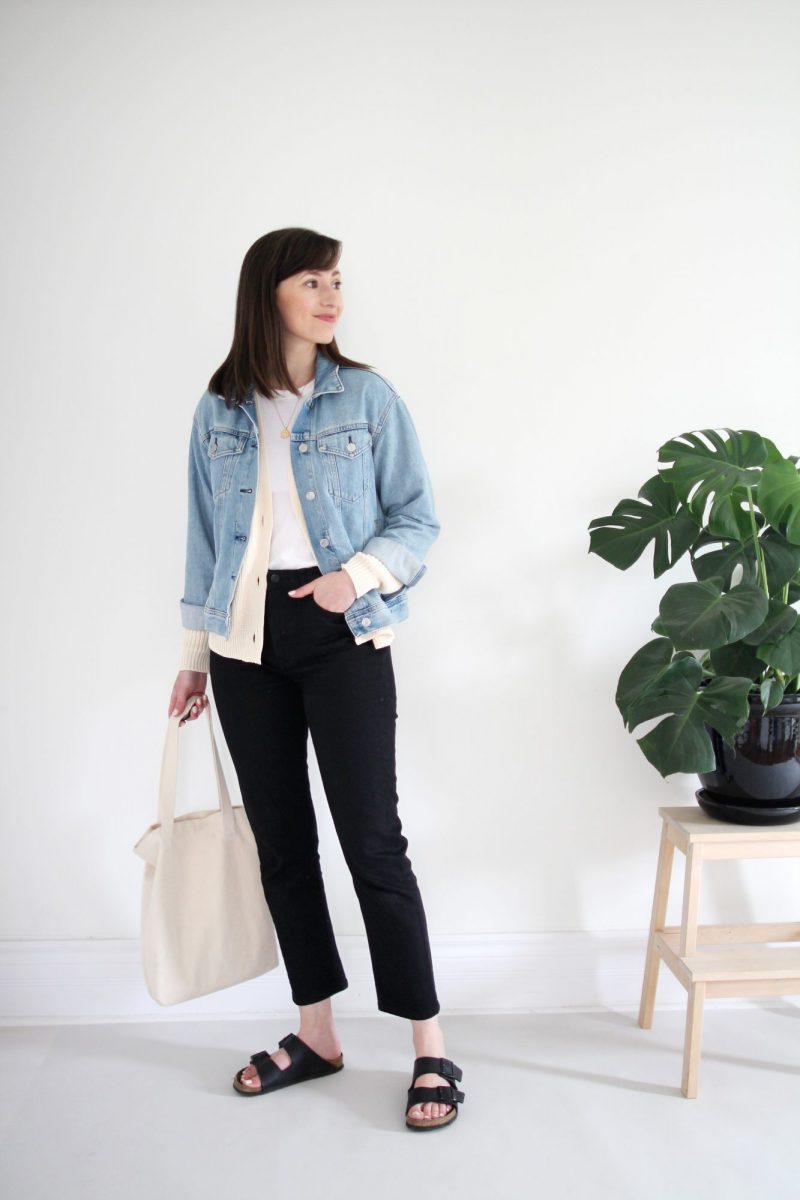 ---
2 | UNDER A DENIM JACKET WITH BIRKS & BLACK JEANS
I paired the Anna with my denim jacket while we were exploring Prince Edward County and it kept me so cozy on the breezy beach and open vineyards. It's slim enough to fit under a relaxed jacket no problem.
---
DENIM JACKET //ANNA CARDIGAN | gifted L'ENVERS // CREWNECK TEE // BLACK JEANS* // BIRKENSTOCKS // TOTE* // *Linked to similar
---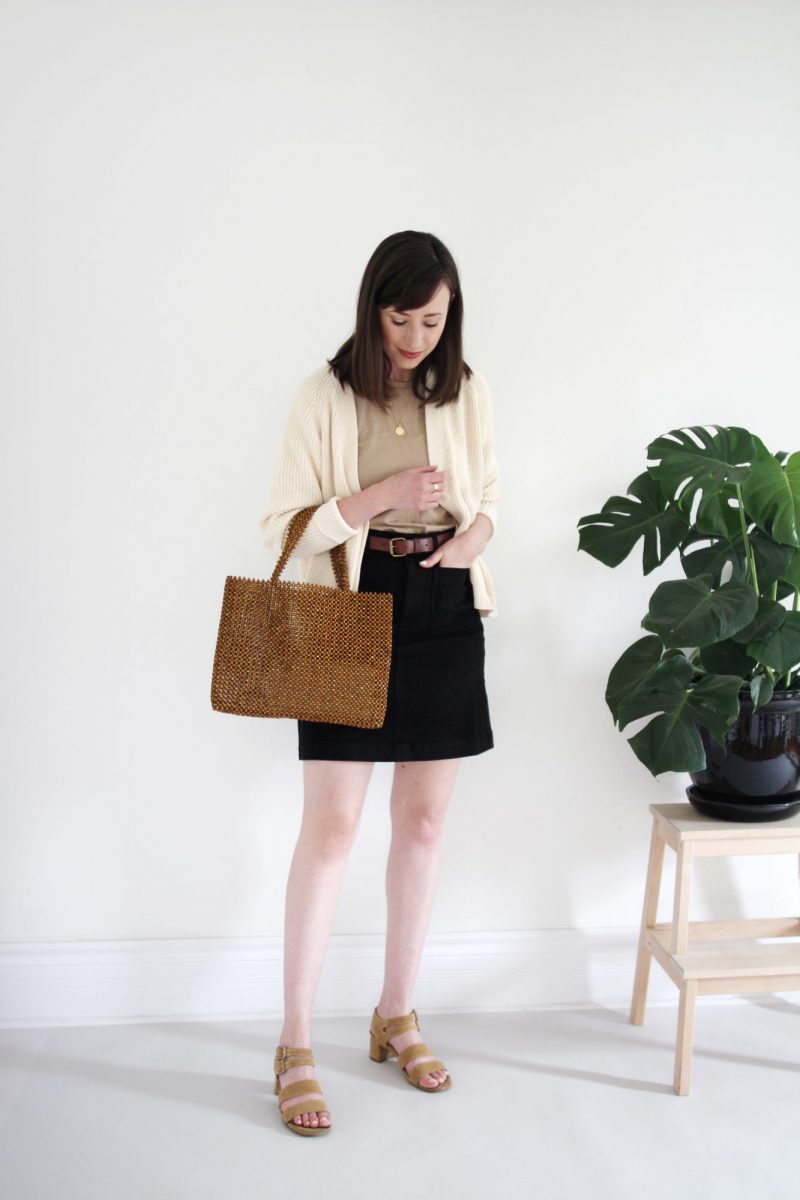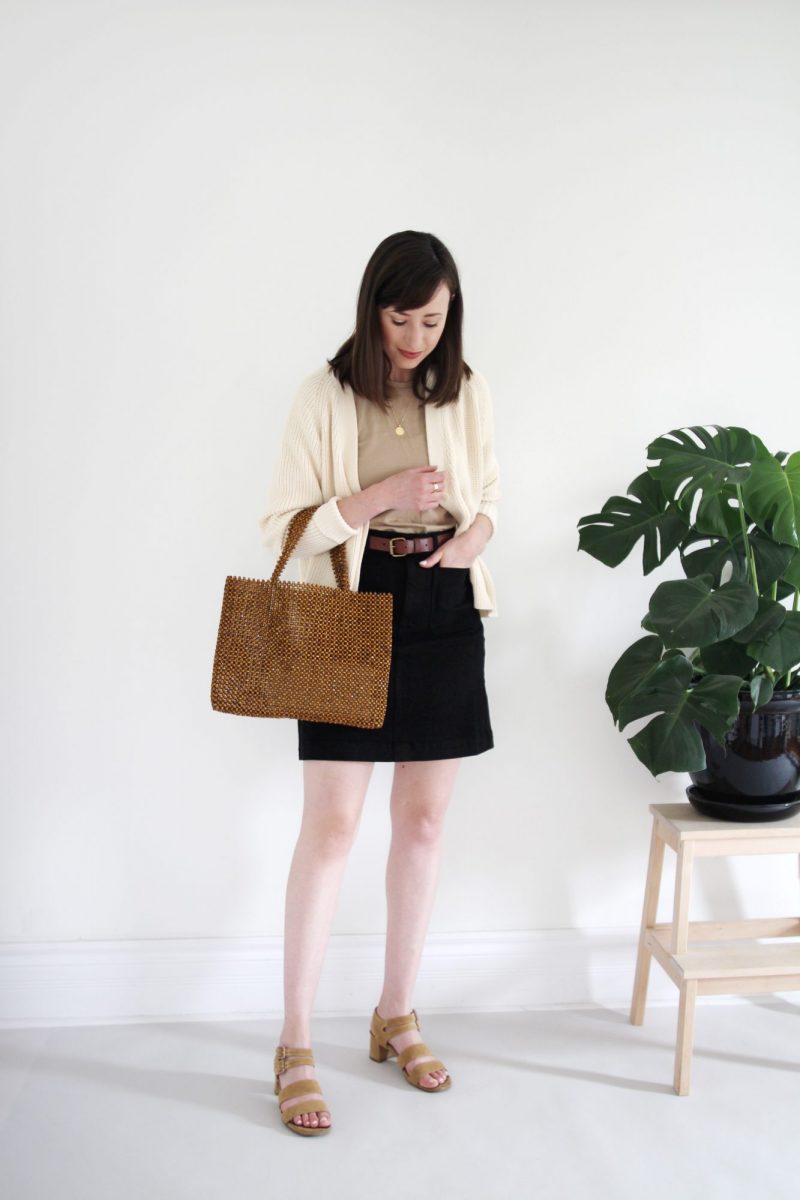 ---
3 | OVER A CAMEL TEE WITH A BLACK SKIRT & BROWN ACCESSORIES
You might need to adjust your screen brightness to accommodate my blindingly white legs (hehe) but the point is more about how the Anna pairs with a simple skirt, which is oh-so-well! I love how the casual chunky knit works with a more dressy look like a mini skirt and heels to keep it feeling relaxed.
---
ANNA CARDIGAN | gifted L'ENVERS // CREWNECK TEE // LUMEN NECKLACE // JARDIN SANDALS* // BROWN BELT // BLACK SKIRT gifted // BEADED BAG
---
ALL SHIP FREE WITH 'STYLEBEE' AT CHECKOUT
Valid now through May 22nd
---
---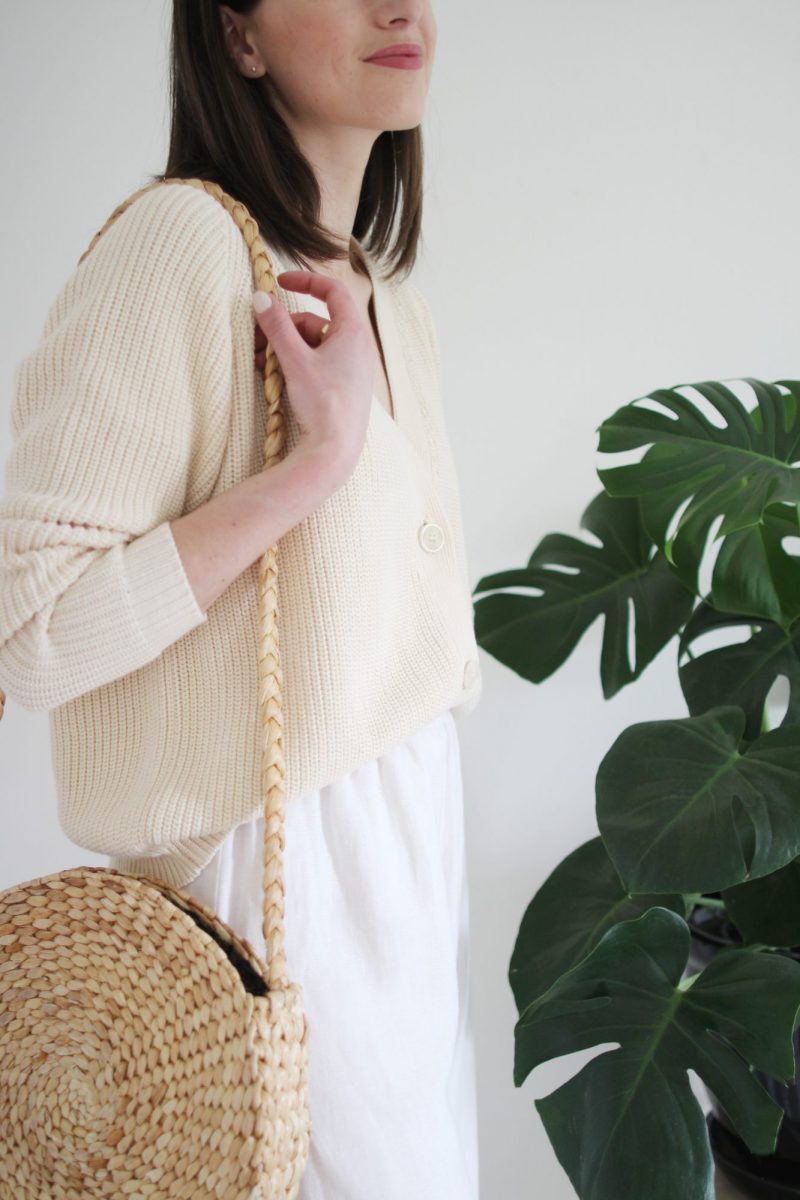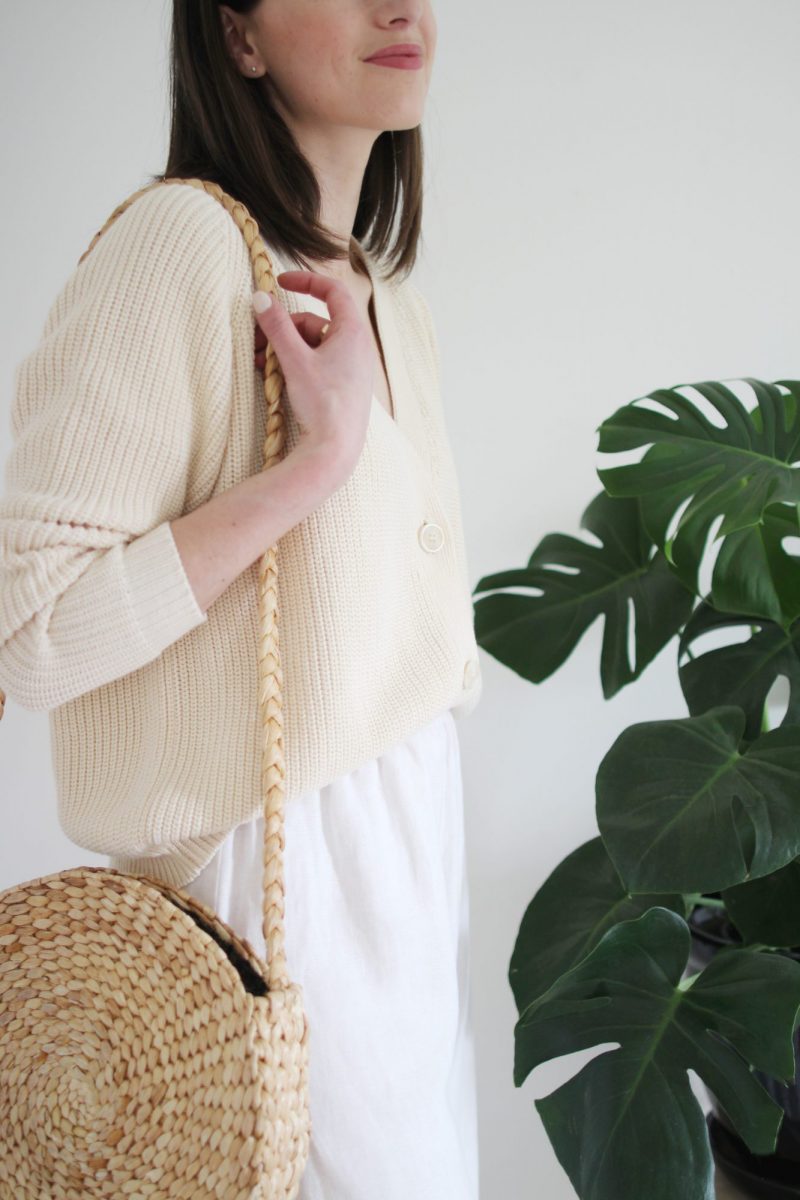 ---
Have you got a classic cardigan in your closet? If so, how do you like to style it?
I hope these looks might inspire some new ideas for you! Which one is your favourite?
---
Thanks to L'ENVERS for this collaboration and to you for tuning in!
---
PARTNERSHIP DETAILS: The Anna Cardigan was gifted in exchange for this coverage and Style Bee earns a commission on L'ENVERS sales made using the reader discount code (at no additional cost to customers) through May 22nd (1 week). Thanks for your interest in supporting the independent brands that support Style Bee! All opinions are always my own and my goal is to share pieces I believe will stand the test of time and trends within your closet and mine.
---