It's time for the final part of my summer travel series (catch up on part 1 and part 2) and today I'll be sharing everything I packed for my 10 day trip to southern France and Barcelona, plus all the looks I put together!
I like to lean into a more playful and feminine style when I travel so I made a point to bring lots of dresses and the flirty summer pieces I love but don't get to wear as often at home. I felt great in all the outfits I wore and I think the key was bringing items that were both weather appropriate and stylish. I never felt like I was sacrificing my comfort for sartorial reasons or vice versa.
With the 30 or so items I packed (including shoes and accessories), I managed to put together 20 different looks! Plus, while creating this post, I realized that my packing list would make for a great summer capsule closet, so even if you're not travelling I hope this one gives you some summer style ideas.
Now, onto the good stuff!
---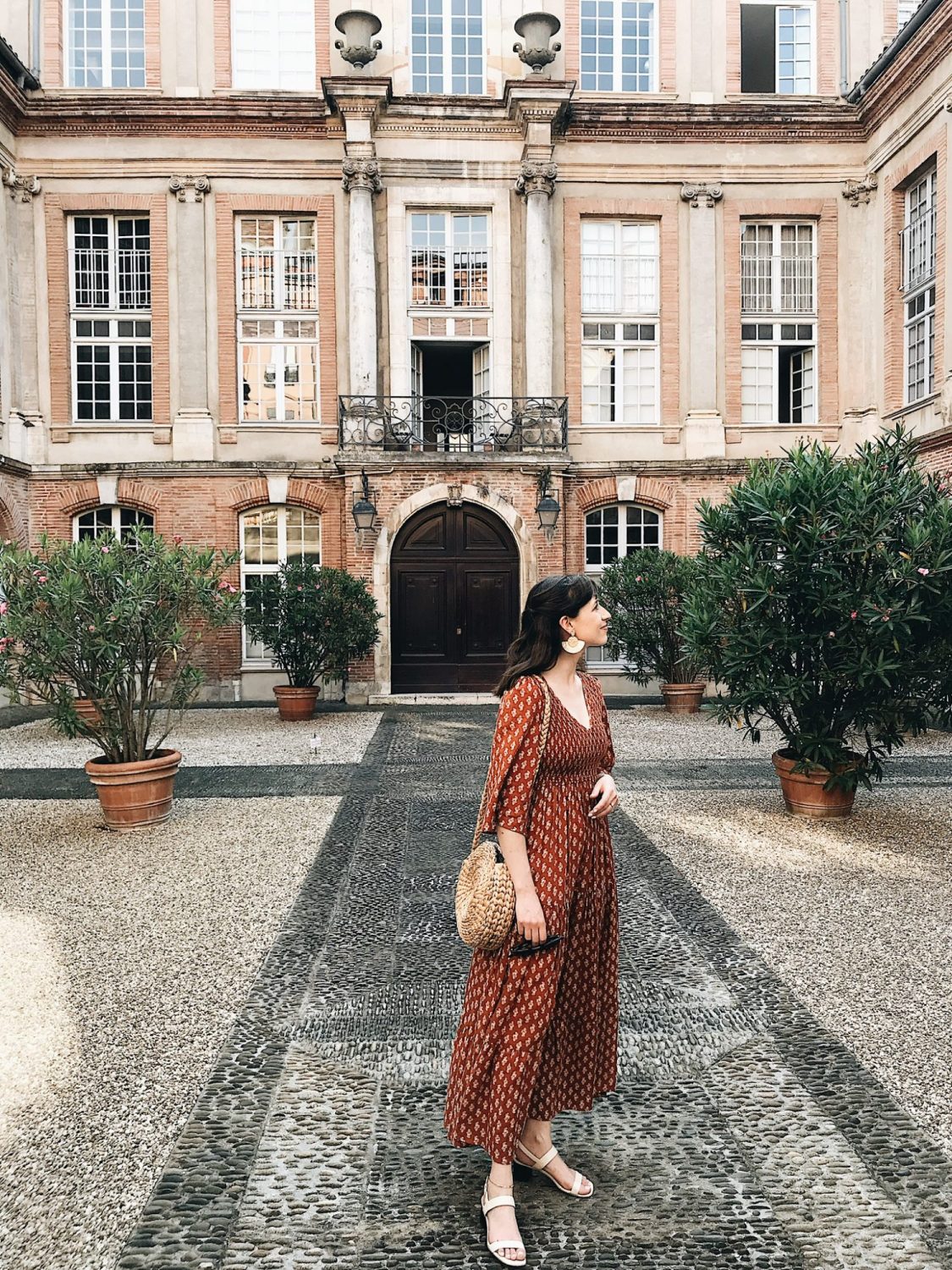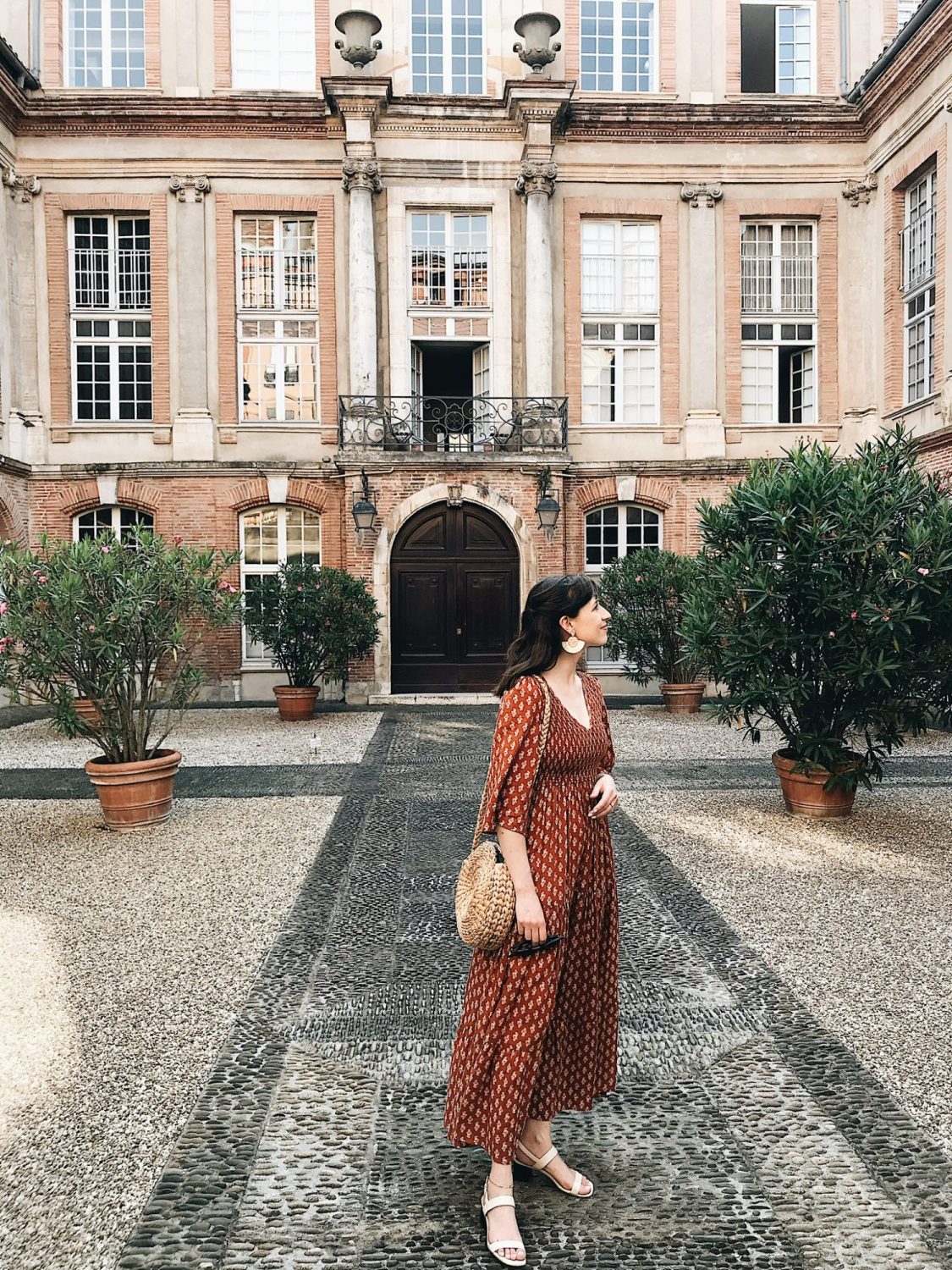 ---
WHAT I PACKED FOR 10 DAYS IN EUROPE
---
As usual, I packed up my AWAY carry-on suitcase, using packing cubes to stay organized. I also grabbed my trusty JOSHU+VELA medium canvas tote (gifted a couple of summers ago) for my second piece of luggage, which is where I keep my purse, liquids and other essentials for easy access.
Technically, my luggage qualified for carry-on with every airline, however, I ended up having to check my bags on a couple of flights because they were full and the crew had concerns about overhead space. Luckily, baggage claim was prompt and there were no issues throughout my trip. I did keep an extra set of underwear and a fresh top in my tote to be safe.
---
---
HOW I CHOSE WHAT TO PACK
---
WEATHER FORECAST: The weather forecast for southern France and northern Spain was a little bit daunting since there were extreme heat warnings and temps in the high 30's and low 40's (that's around 100 degrees fahrenheit). I'm not great with heat and sweat easily, so knowing this, I allowed for 2 outfits a day. One for daytime exploring and one for the evening. I also opted for loose fitting pieces to keep the air flowing as much as possible and lots of linen!
ACTIVITIES: For the most part my trip itinerary was fairly casual with lots of walking in the day and dinners out at night.
---
MY PACKING LIST
---
DRESSES
---
---
Dresses were essential on this trip and the perfect one and done outfits for hot days of exploring and dinners out on patios. Most of the items I packed got too sweaty to wear twice but I wore my ditzy floral mini dress and tiered block print maxi dress a couple of times each. Note to self: prints have more longevity during travel because they hide dirt and stains!
---
SOURCES: DAWN DRESS old (Save $30 USD with this link) | PALO WRAP DRESS gifted | CIRCLE DRESS gifted | DITSY FLORAL MINI DRESS old (Linked to similar print/style) | BASIL DRESS old (Save $30 USD with this link)
---
BOTTOMS & JUMPERS
---
---
I packed a range of bottoms and jumpers for the trip and unsurprisingly found that the jumpers were great for getting ready quick and the separates, like shorts and skirts, were ideal for mixing and matching.
---
SOURCES: BEL SKIRT gifted | JUMPER gifted (old but similar linked) | FLORENCE PANT | EASY SHORT gifted | DUFFY JUMPER gifted | OLIVER SHORT currently sold out | LINEN JUMPER gifted (old but similar linked)
---
TOPS
---
---
I brought lots of tops because I knew I'd go through these the fastest. Loose tees were perfect for the daytime and button up shirts gave me some styling flexibility. You know how I love a front knot! Fitted tees were part of my travel uniform (more on that below) and great for small space packing. If I changed anything, I might have brought an extra bodysuit or two next time because they're great under a relaxed short.
---
SOURCES: FRIEND SHIRT gifted | BOBBIE TIE TOP old (similar linked) | CROP TANK old (similar link) | SHORT SLEEVE BUTTON UP gifted | BODYSUIT old (similar linked) | LINEN GEORGIA old| STRIPED GEORGIA old | CROP TEE old | COTTON TEES FOR TRAVEL DAYS: TOP BLACK | WHITE SCOOP NECK | BOTTOM BLACK gifted | WHITE CREW
---
SHOES
---
---
I was really happy with how my TKEES sandals held up throughout the trip but it would have been smart to bring a pair of more supportive sandals/sneakers for the super long walking days (looking at these for next time). My block heeled sandals were great for nights out and some casual walking around.
---
SOURCES: GEMMA SANDAL (COCONUT) | RILEY SANDAL (SUNKISSED) | DOUBLE-STRAP SANDAL gifted
---
JEWELLERY
---
---
All the jewellery I brought fit neatly into a little white box, which took up barely any room. I packed my favourite Jewels & Aces capsule earrings and my go-to statement earrings. I wore my necklaces and anklet on the plane to avoid tangling. While in Saint Guilhem-le-Désert I picked up a couple of beautiful handmade earrings and wore those for much of the remaining trip.
---
SOURCES: JEWELS & ACES EARRING CAPSULE gifted | NECKLACES & ANKLET | STATEMENT HORN EARRING gifted | KATE HOOPS | Woven statement earrings bought in Saint Guilhem-le-Désert.
---
OUTFITS
---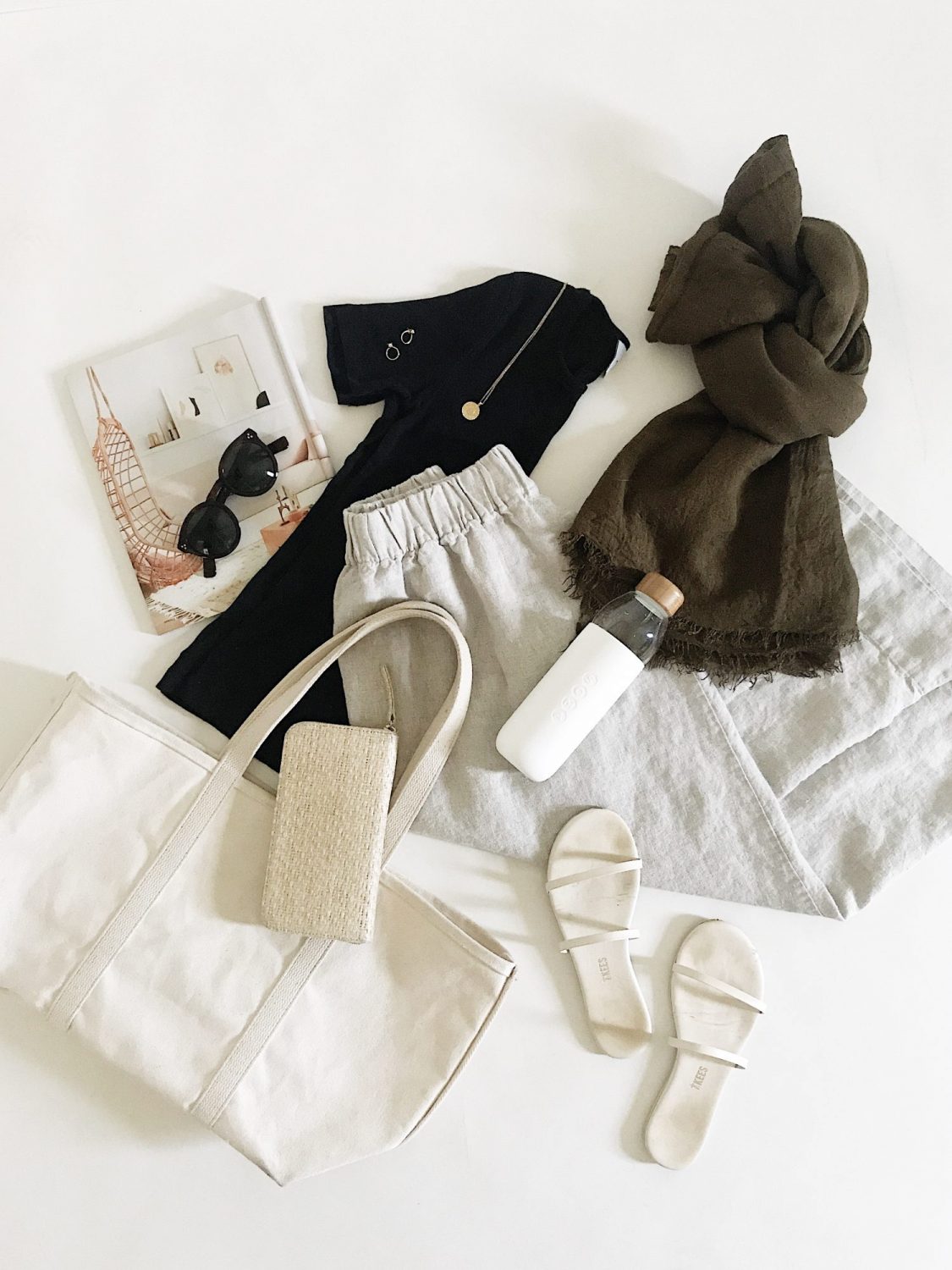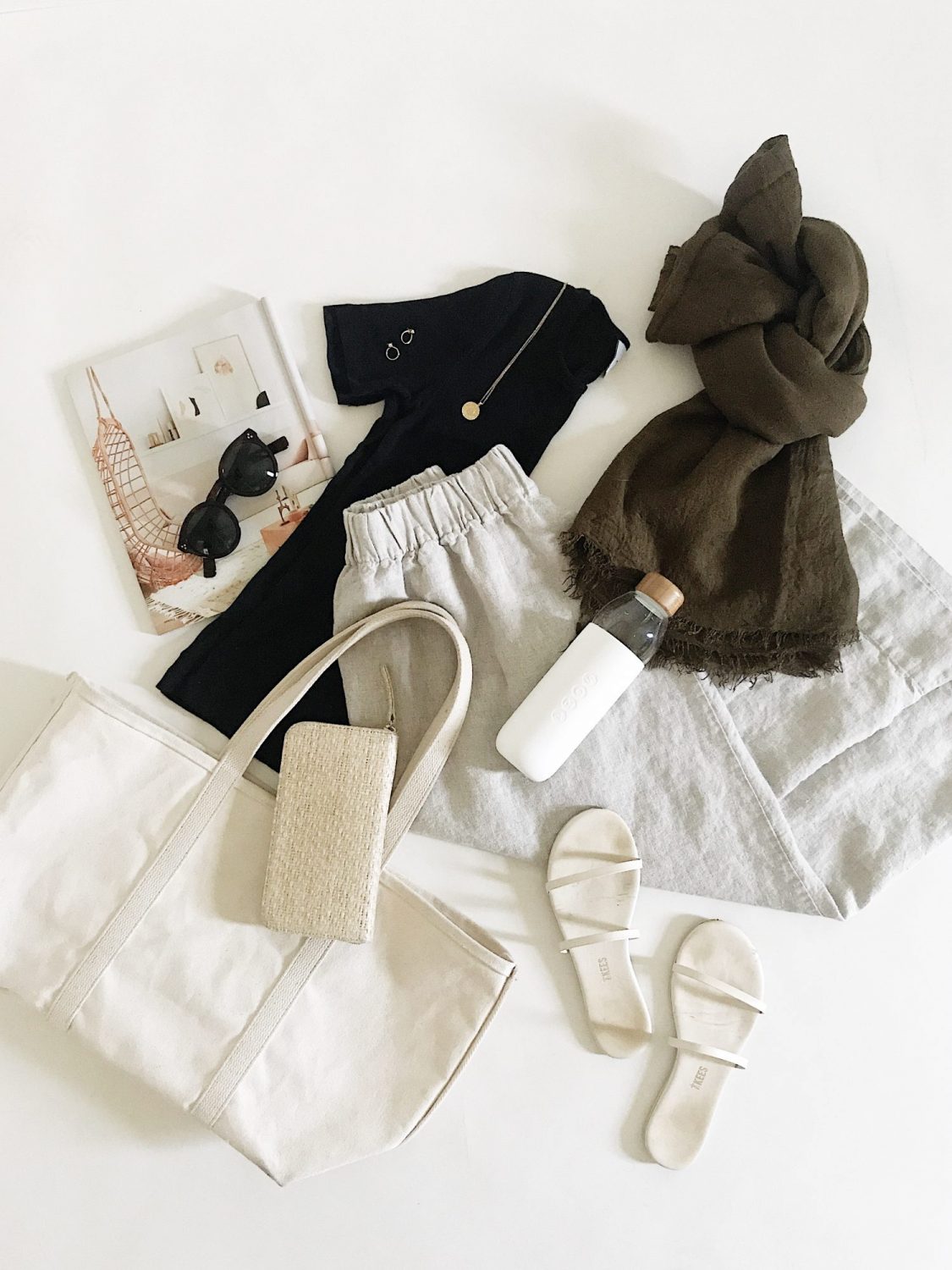 ---
TRAVEL UNIFORM
---
One thing I did on this trip, which I hadn't done before, was plan a travel uniform. This consisted of a basic fitted tee, linen skirt, sandals and my tote bag. I wore this uniform on every flight (4 total) and one day of car travel. It kept my packing lean and eliminated the added stress of deciding what to wear on already hectic days. I will 100% use this trick again!
---
SOURCES: TOTE gifted | TEE | SUNNIES old | SKIRT gifted | SCARF (similar) | WATER BOTTLE | SANDALS | NECKLACE | EARRINGS gifted
---
PARIS + CARCASSONNE LOOKS
---
---
SAINT GUILHEM-LE-DÈSERT
---
---
FIGUERES + CARCASSONNE + TOULOUSE LOOKS
---
---
BARCELONA LOOKS
---
---
SOURCES: WOVEN BAG old similar options here and here. SQUARE LEATHER BAG (shown above) | Please see my packing list for clothing and accessory sources.
---
Et voilà! My summer travel series is complete!
Thanks for tuning in and indulging in these adventure memories with me.
---
DOES YOUR TRAVEL STYLE LOOK A LITTLE DIFFERENT THAN YOUR AT HOME STYLE TOO?
HAVE YOU TRIED CREATING A TRAVEL UNIFORM FOR LONG HAUL DAYS?
GOT A FAVOURITE OUTFIT? I'D LOVE TO KNOW!
---
This post contains affiliate links and gifted products. When you shop via the links above I may make commission on a sale at no additional cost to you. Thanks for reading and supporting Style Bee! All opinions are always my own.