Well hello again! I hope you had a great weekend! We stayed close to home and caught up on some chores and ongoing house projects. I cleaned our place from top to bottom while Dave finished up some work on our outdoor space, which has been under renovation all summer. It's almost done, just in time for fall lol.
On Sunday I curled up with a blanket, a book and a corgi for a quiet morning coffee on the patio. It was the perfect slow start and I can't wait to begin more of my days out there. While I was sipping caffeine and flipping pages it finally hit me that summer is actually coming to a close. It's a bittersweet feeling for sure but I'm choosing to focus on the sweet things like cool night air, apple pie and the promise of fall style!
On that note, today's look is slightly transitional with one foot firmly in summer while the other dips a toe into autumn. Read on for a few ways I semi-commit my style leading into a new season.
---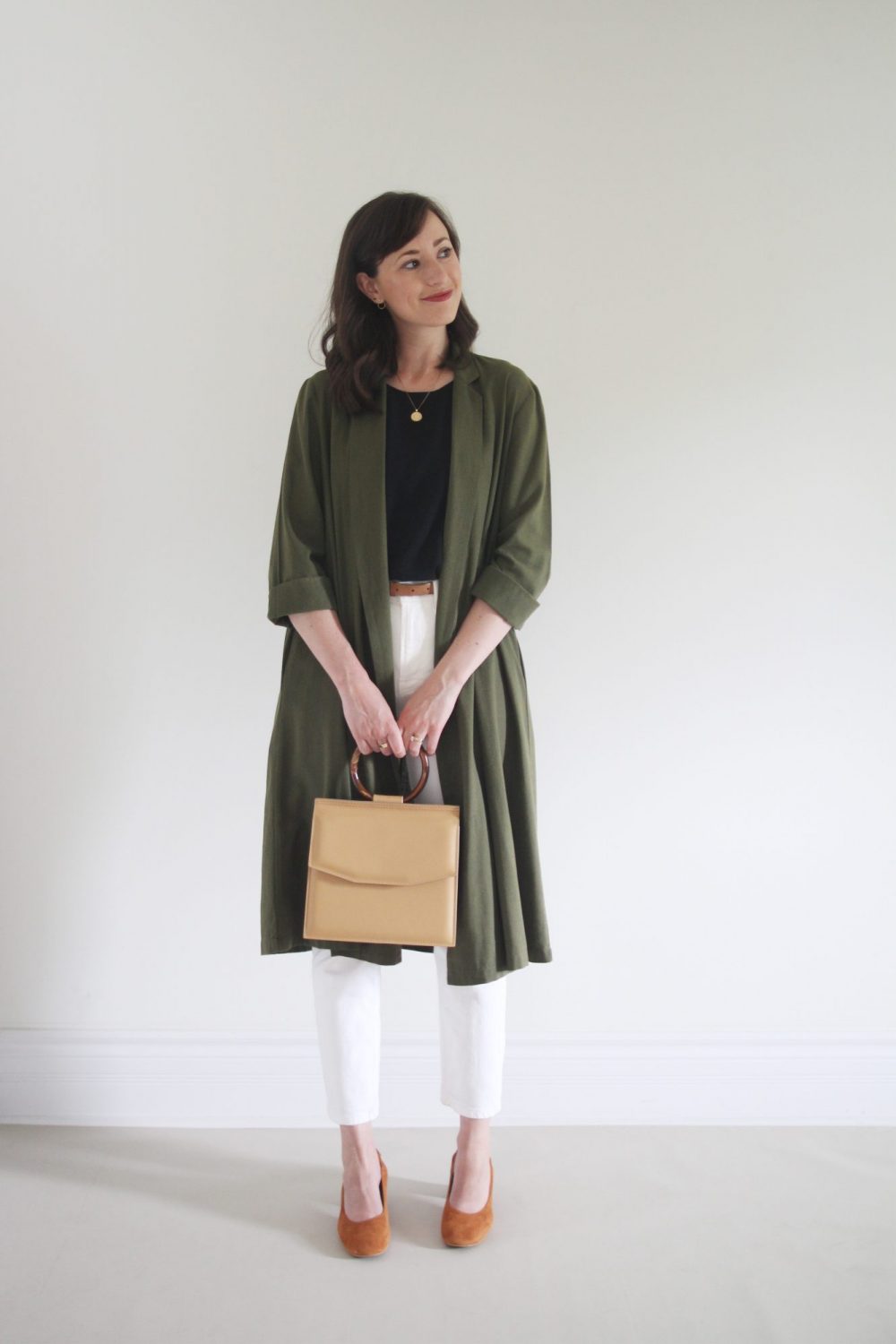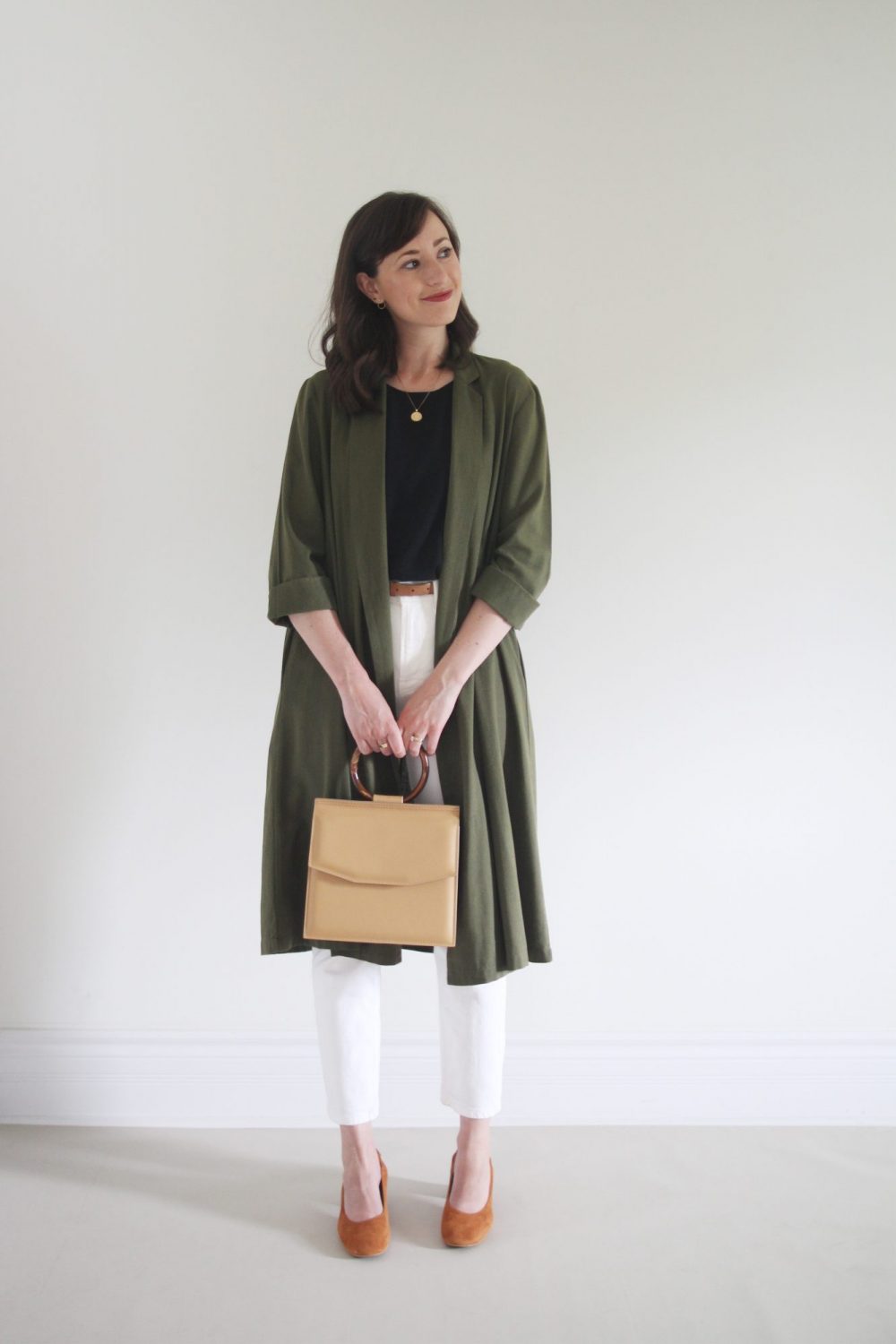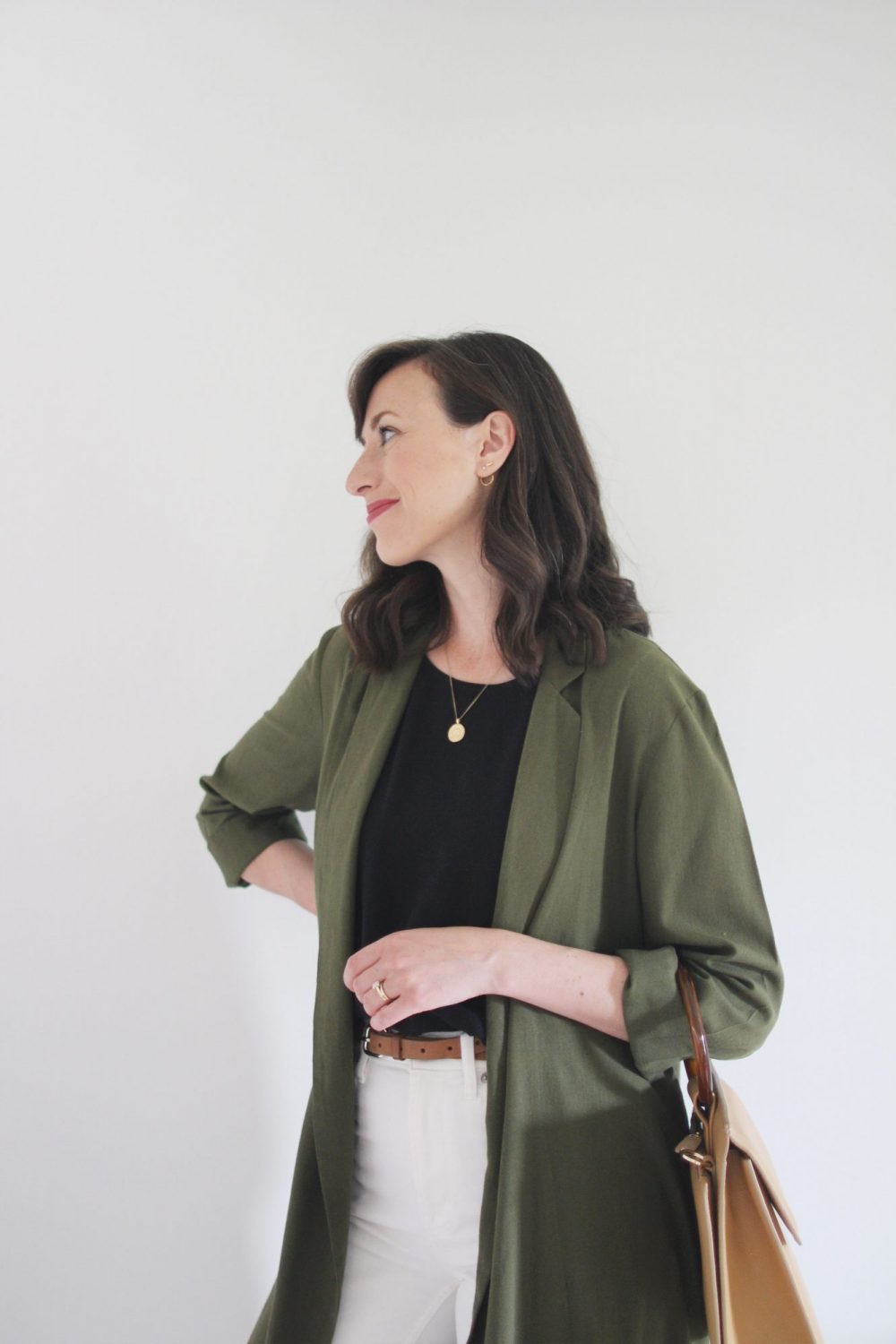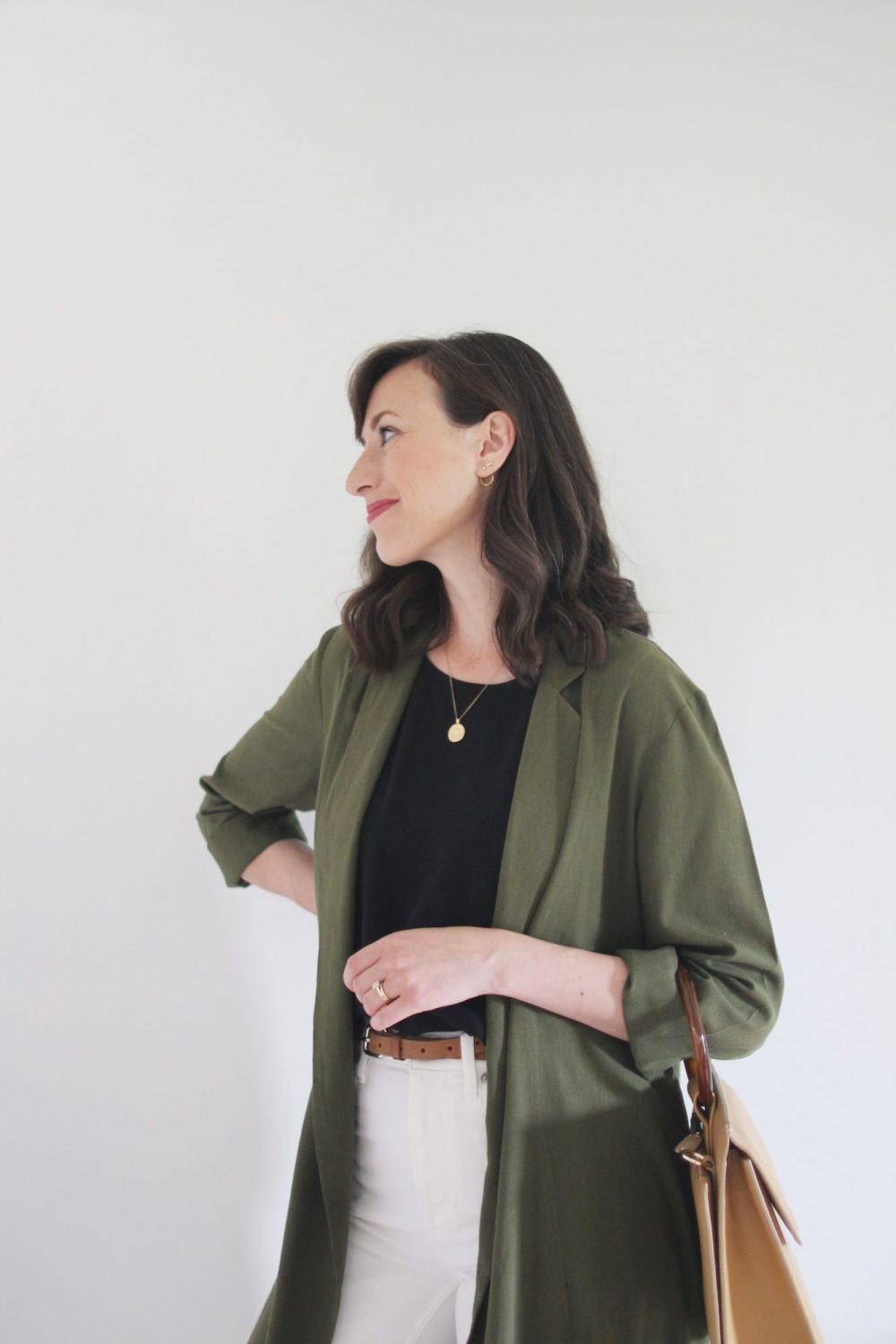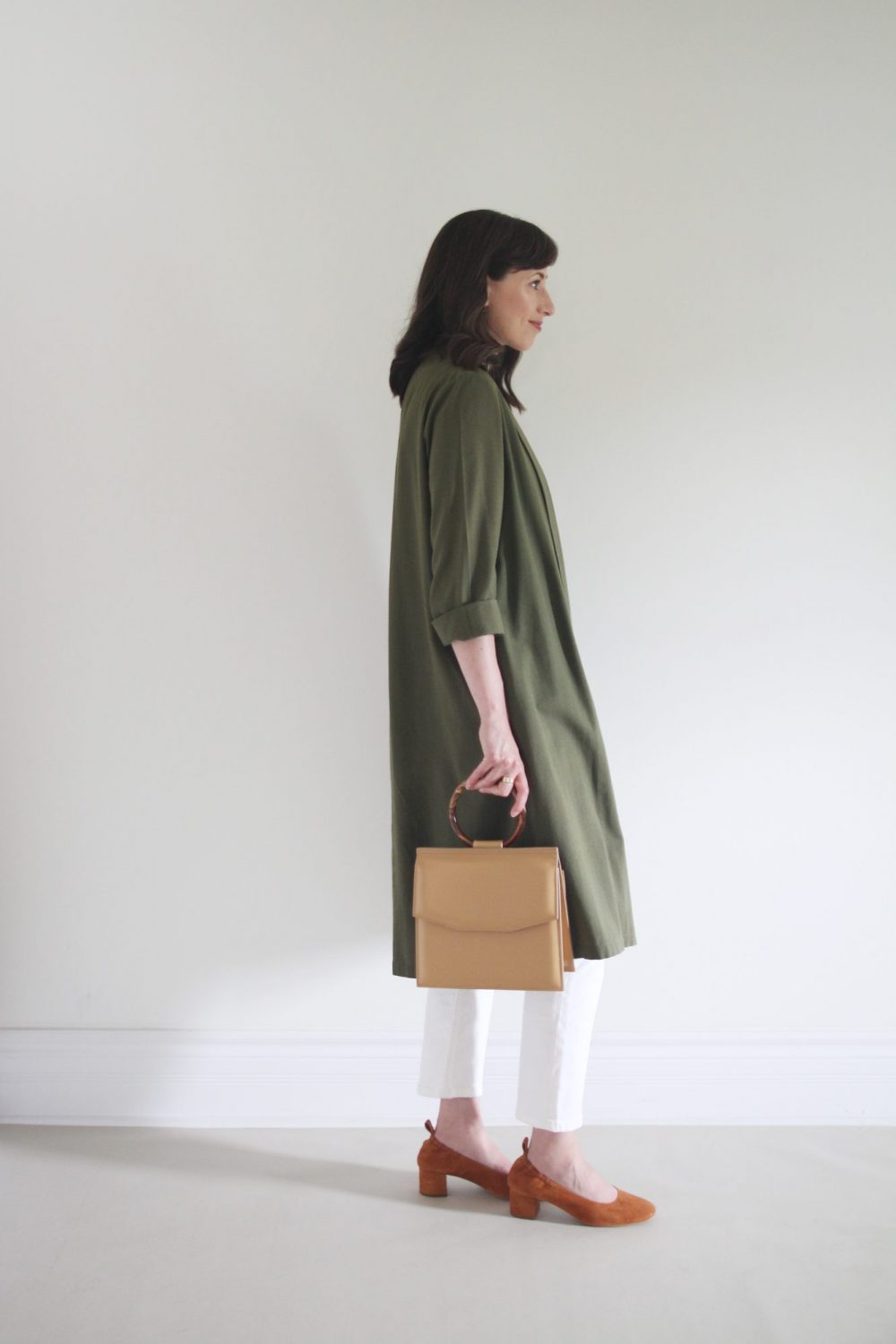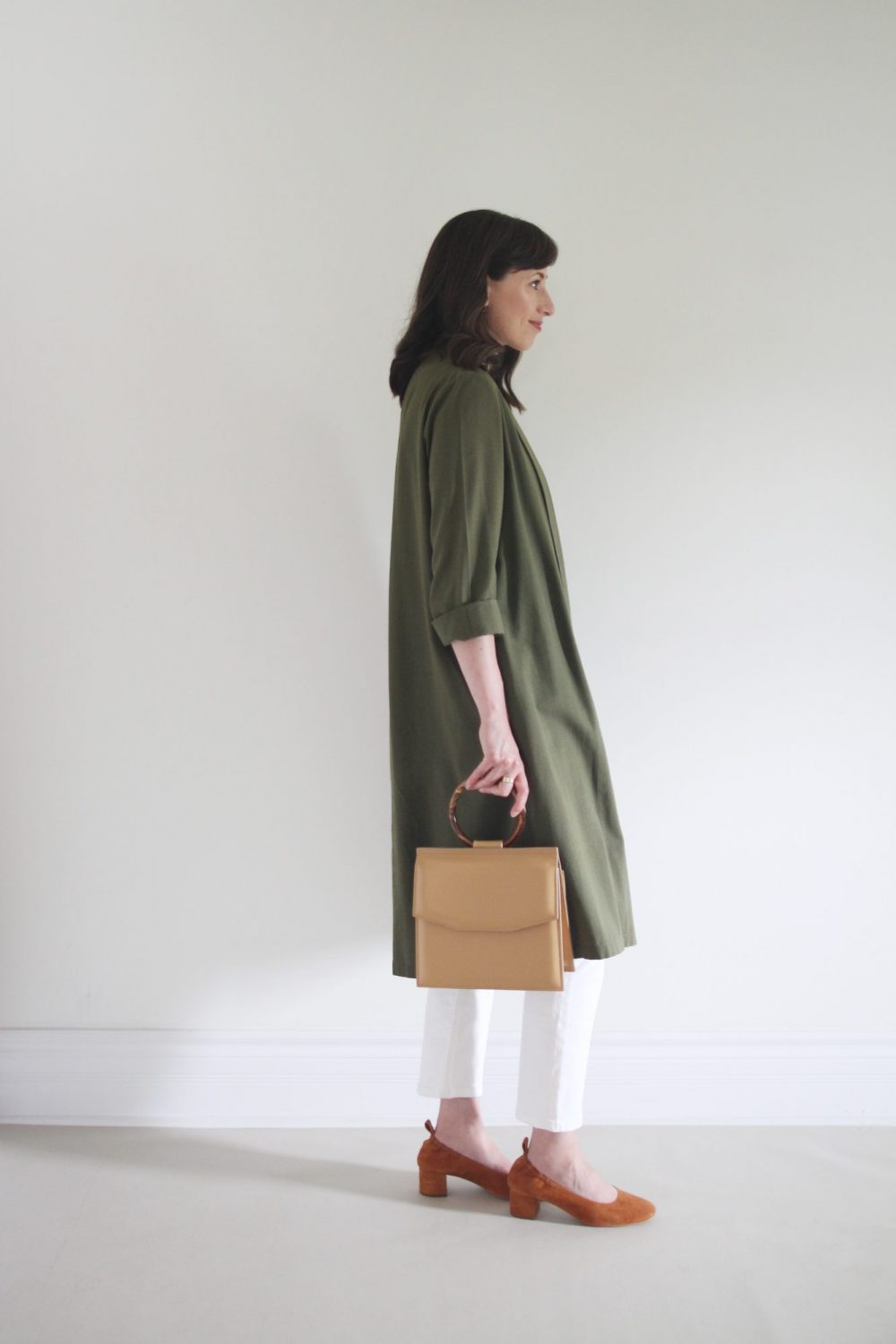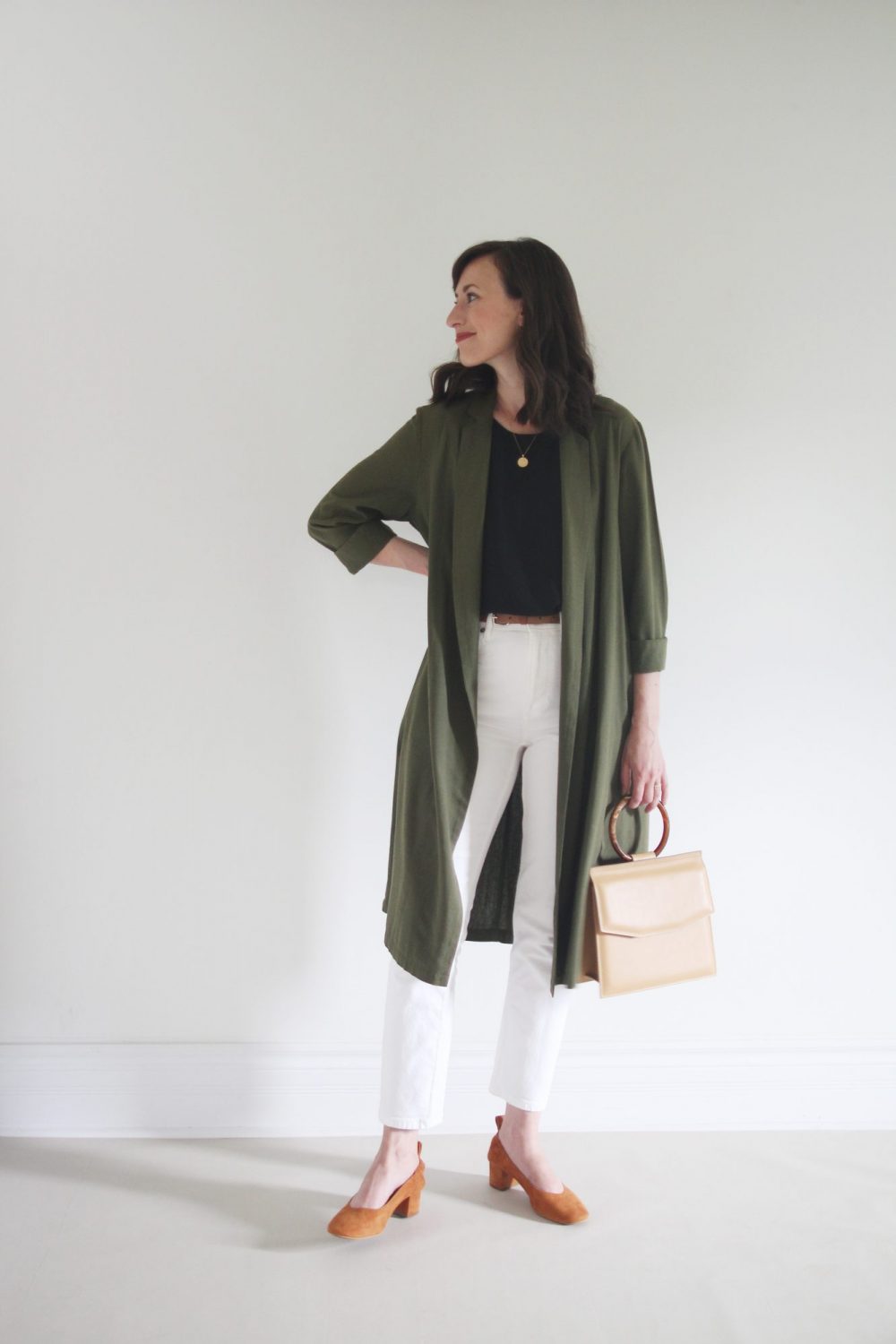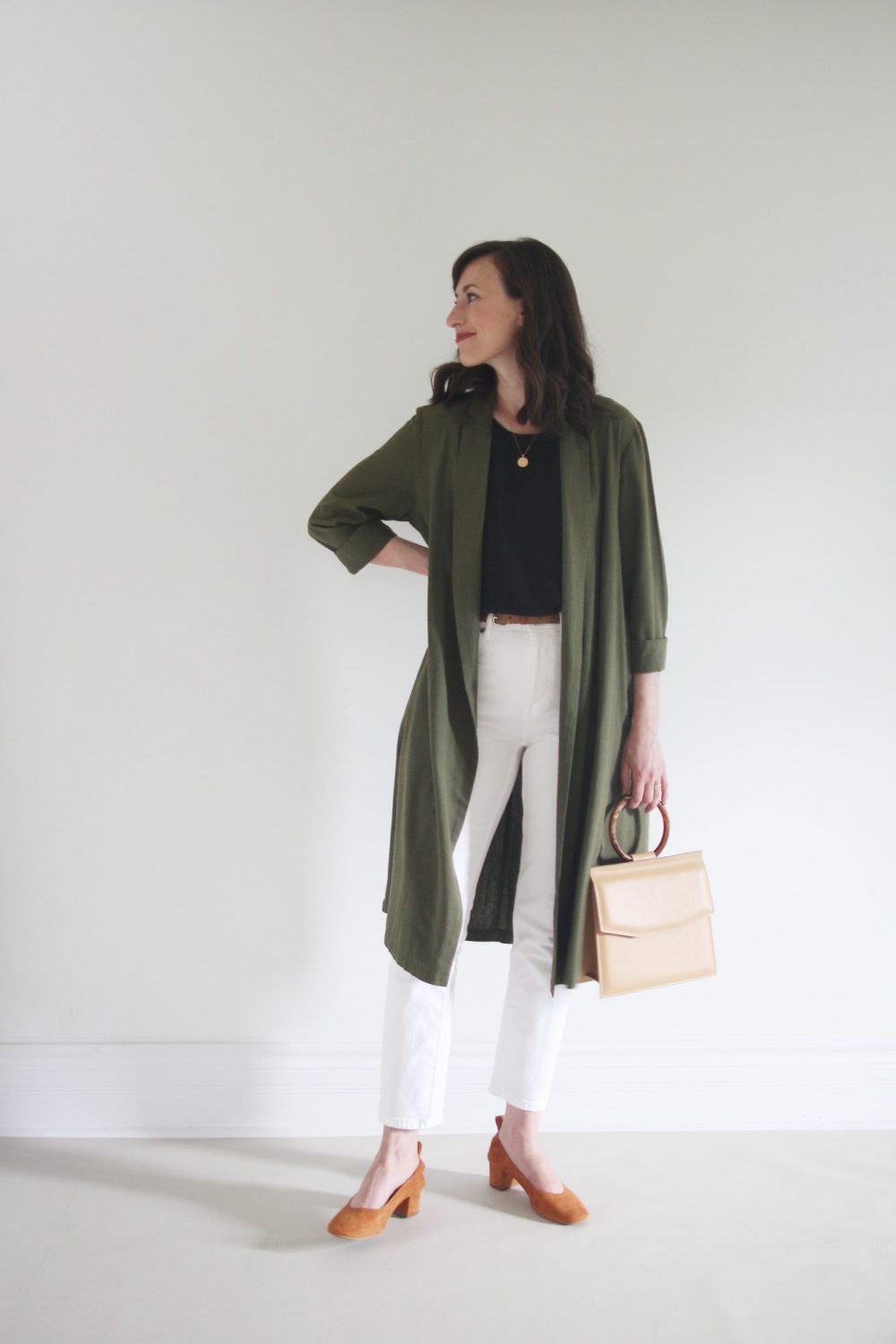 ---
TODAY'S TOPIC: SEMI-COMMITTAL TRANSITIONAL STYLE
Here are a few ways I'm giving in, just a little, to the departure of summer and the beginning of Fall.
1 – DUSTER COATS: Few garments make seasonal switches easier for me than a duster coat. Throw it over a tee, a tank, a dress or just about anything else and you're all set! I love this green raw silk beauty I picked up a few years back because it's always the perfect layer for late summer nights that suddenly seem to call for a little more coverage.
TRY THIS: For a more laid-back summer vibe, roll your jacket sleeves to 3/4 length or even shorter.
2 – LIGHT JEANS: I love white jeans for any season but there is something particularly special about them during transitional times. When leaving winter for spring they're a great way to signal a fresh start and now as we leave summer for autumn they're the perfect way to say I'm not letting go completely!
TRY THIS: Go for an ankle baring inseam length in a straight or boot cut shape for a more contemporary look.
3 – AUTUMNAL ACCENTS: Similar to white denim, earthy accessories are a all-season favourite for me. That said, as we move into fall and the leaves start changing, combining all the honey, cognac and pecan pieces I have feels even more fitting than usual.
TRY THIS: Don't be afraid to mix in all sorts of brown tones, not just those that are similar. The more the merrier!
---
ARE YOU ON THE FENCE ABOUT FALL OR ARE YOU READY TO SAY AU REVOIR TO SUMMER?
---
OUTFIT SOURCES: BLACK SILK TANK gifted (same style in cotton) | CHEEKY JEAN IN BONE (I wear a 26 in this style and am a 26/27 in denim) | GREEN DUSTER* old | BELT* old | LUMEN NECKLACE | STRUCTURED BAG | LIP COLOUR
---

---
This post is not sponsored but contains affiliate links and some gifted items. If you see something you like and decide to shop through the links above, I may earn commission on a sale at no additional cost to you. All opinions are always my own. Thanks for supporting Style Bee!