Happy humpday! I'm getting back on track after a Tuesday full of unexpected hiccups (hence the delayed post). The emails have started stacking up, to-do lists aren't getting shorter and with summer's last long weekend coming up I'm pushing to polish off lots of things!
As I mentioned in August Outfit #10, when work and life feel a bit hectic I turn to my most reliable style combos. In this case that happens to be an oversized Oxford shirt, a trusty pair of jeans and comfy flats.
I took inspiration from this look and love how fresh the classic combo feels with my white day gloves and a black bag with clean lines. A few minimal accessories like a tortoise headband and gold jewelry help to tie it all together. When I feel comfortable but polished, somehow the day doesn't seem so overwhelming!
Today I'll be sharing a bit more about this oversize Oxford shirt* and a few of the styling ideas I've got bookmarked!
---
*The shirt was a press gift from KOTN but I had no obligation to post about it. That said, I really like it and what the company is doing with their traceability initiatives and thought you might be interested as well! All links to KOTN are affiliated.
---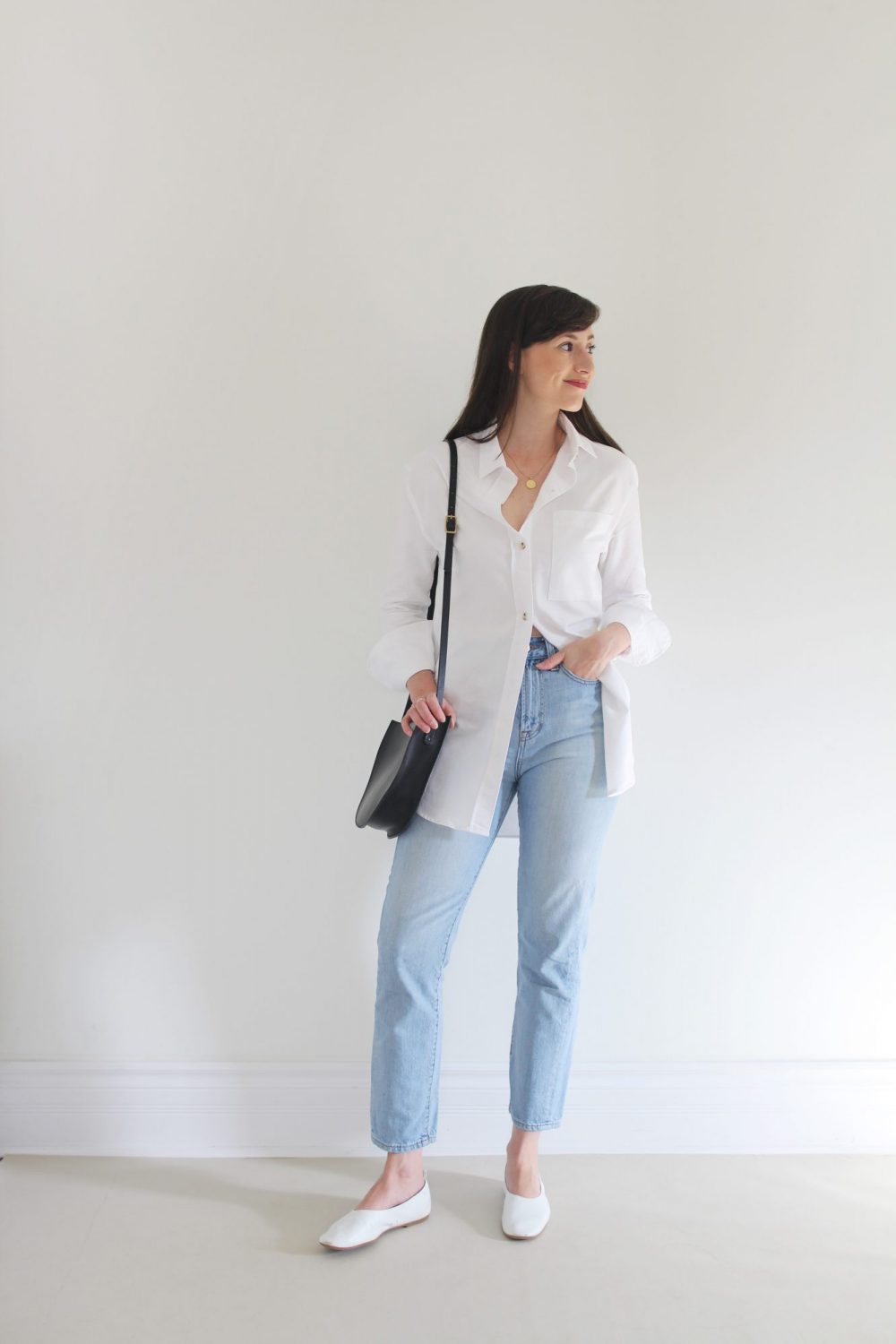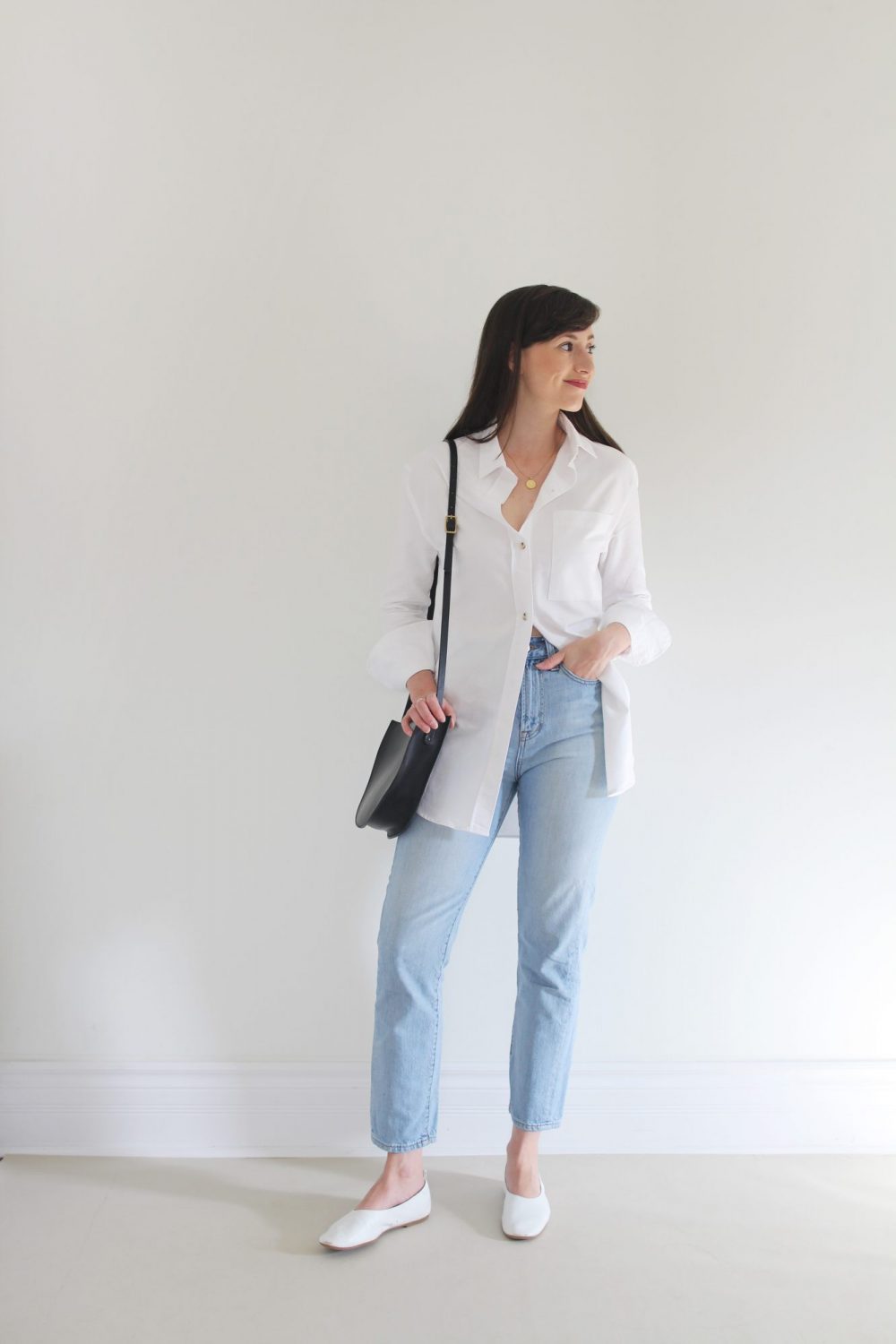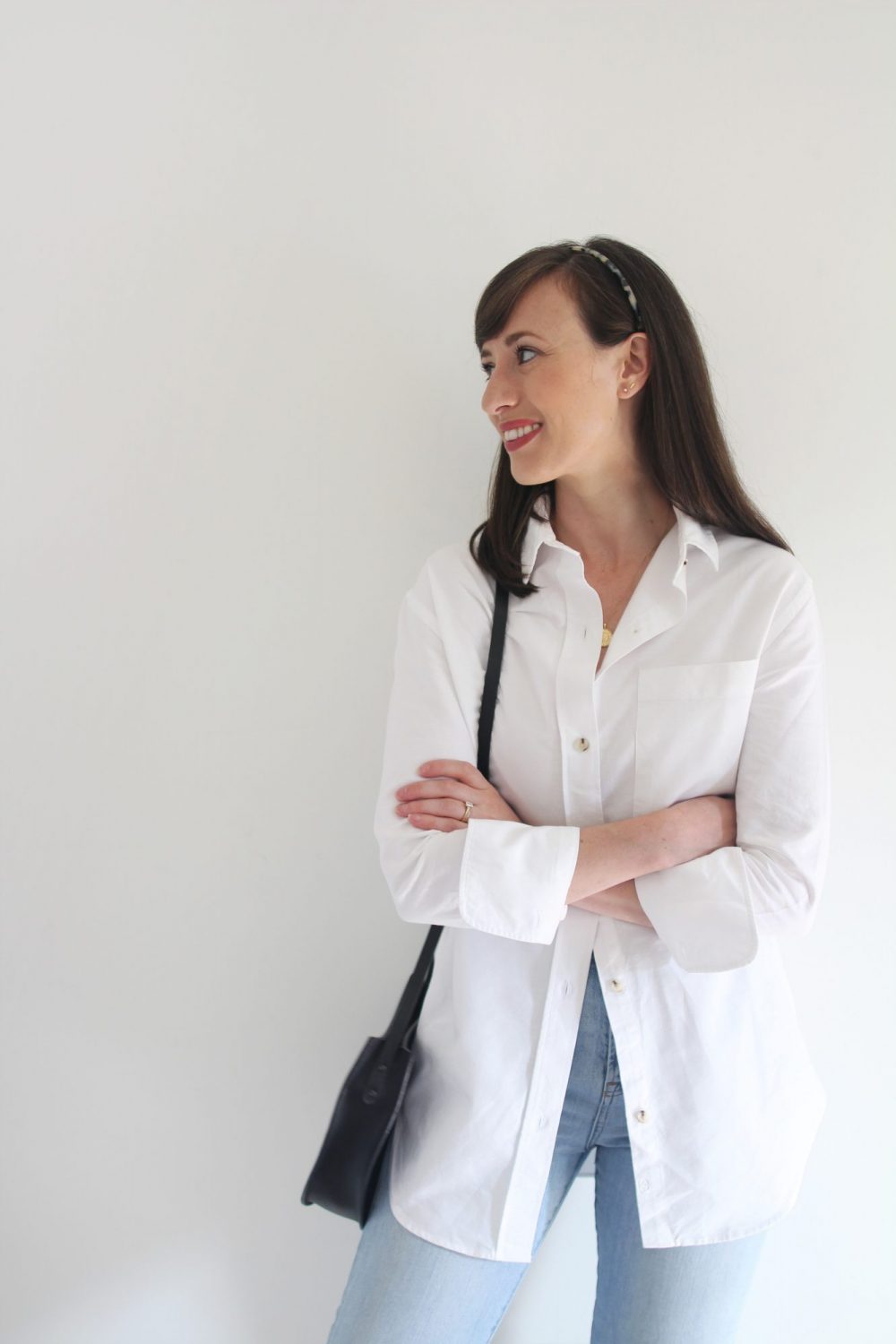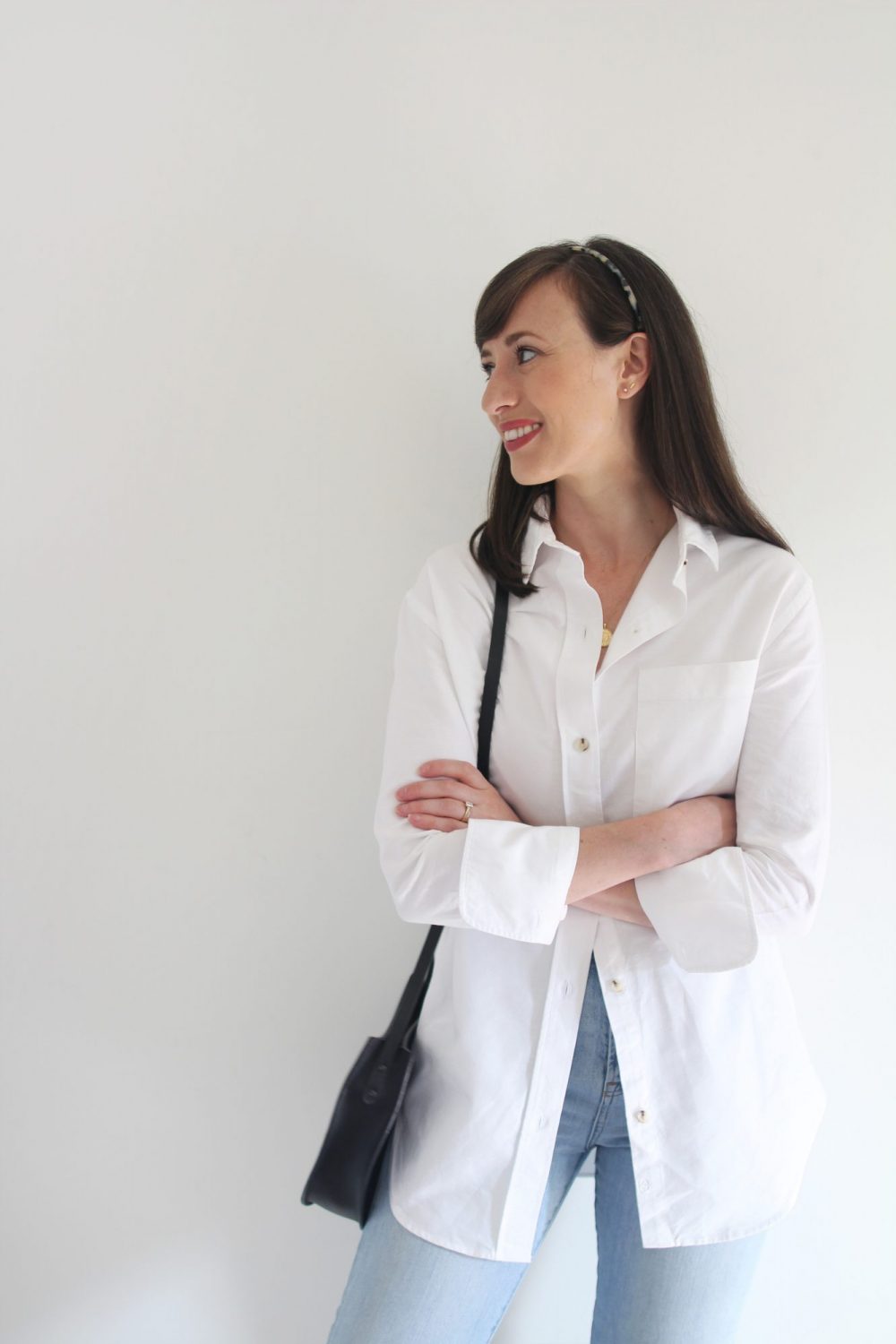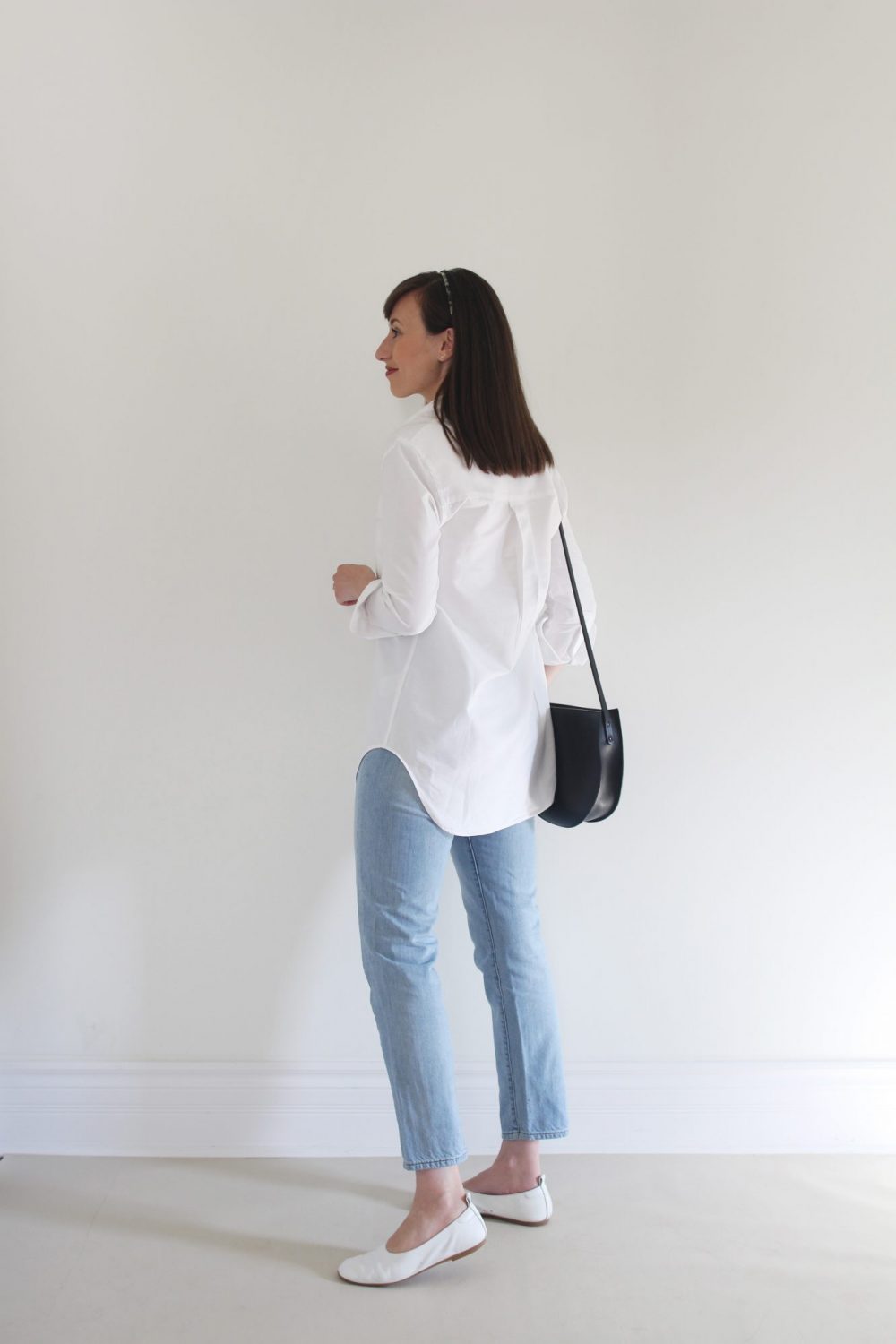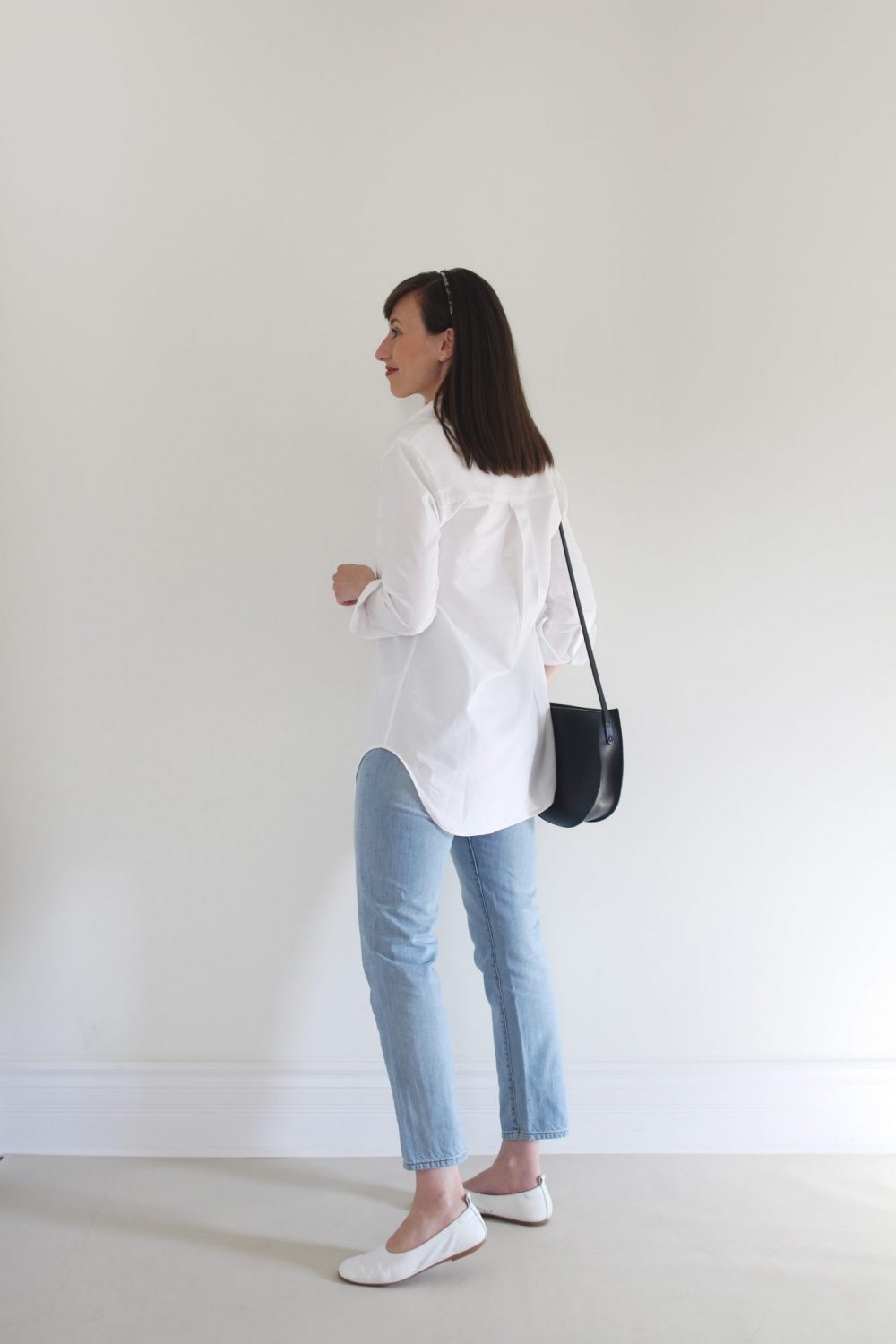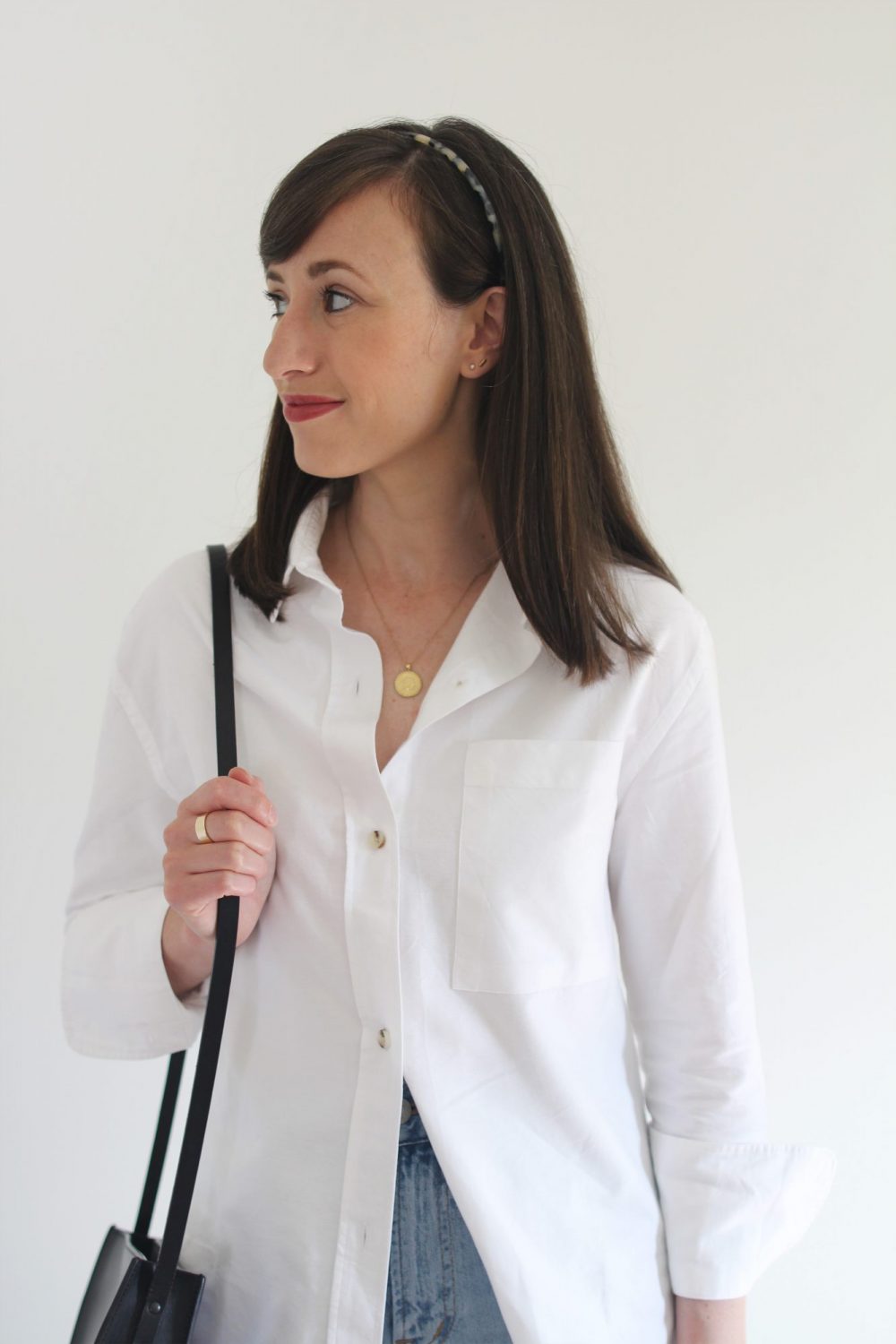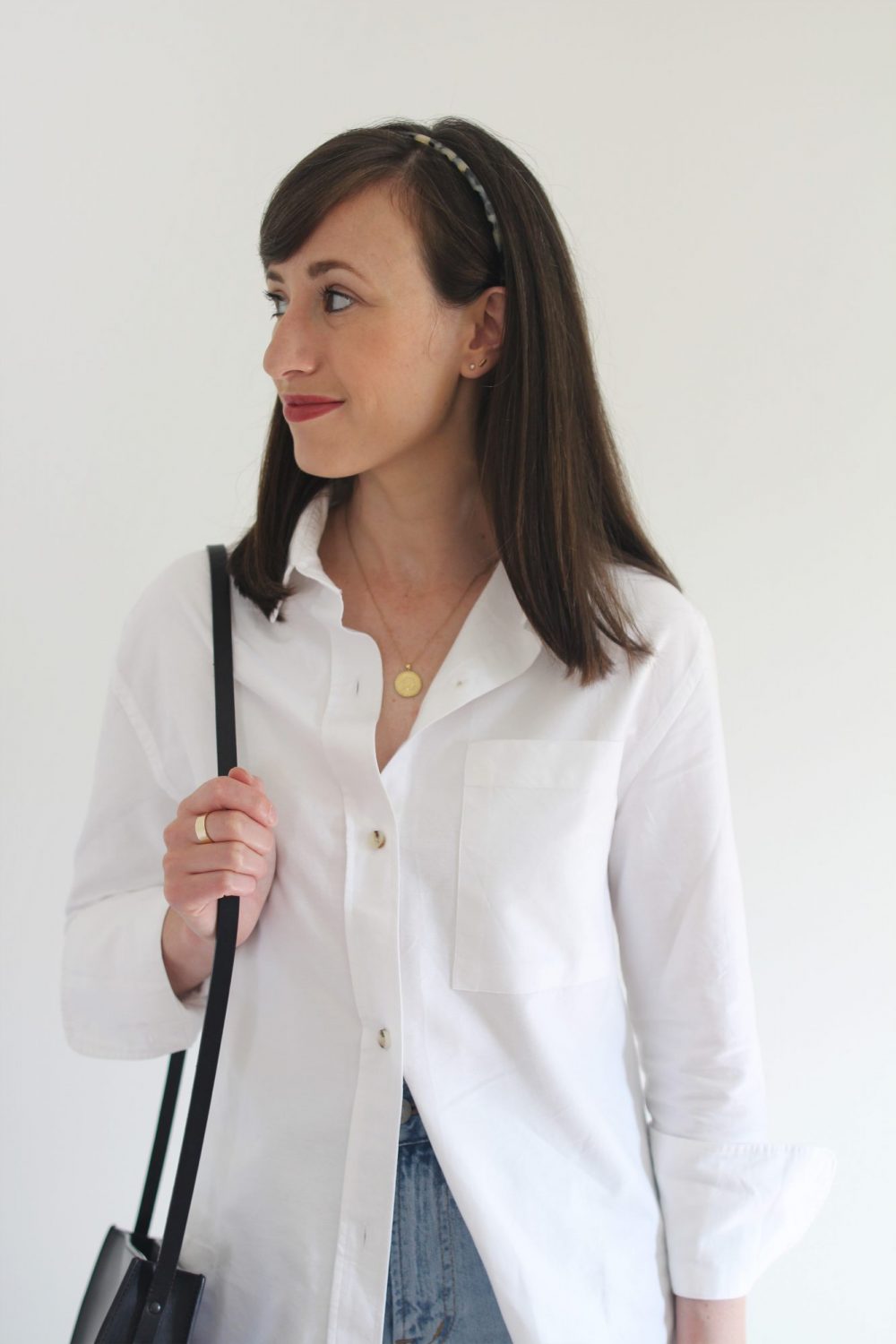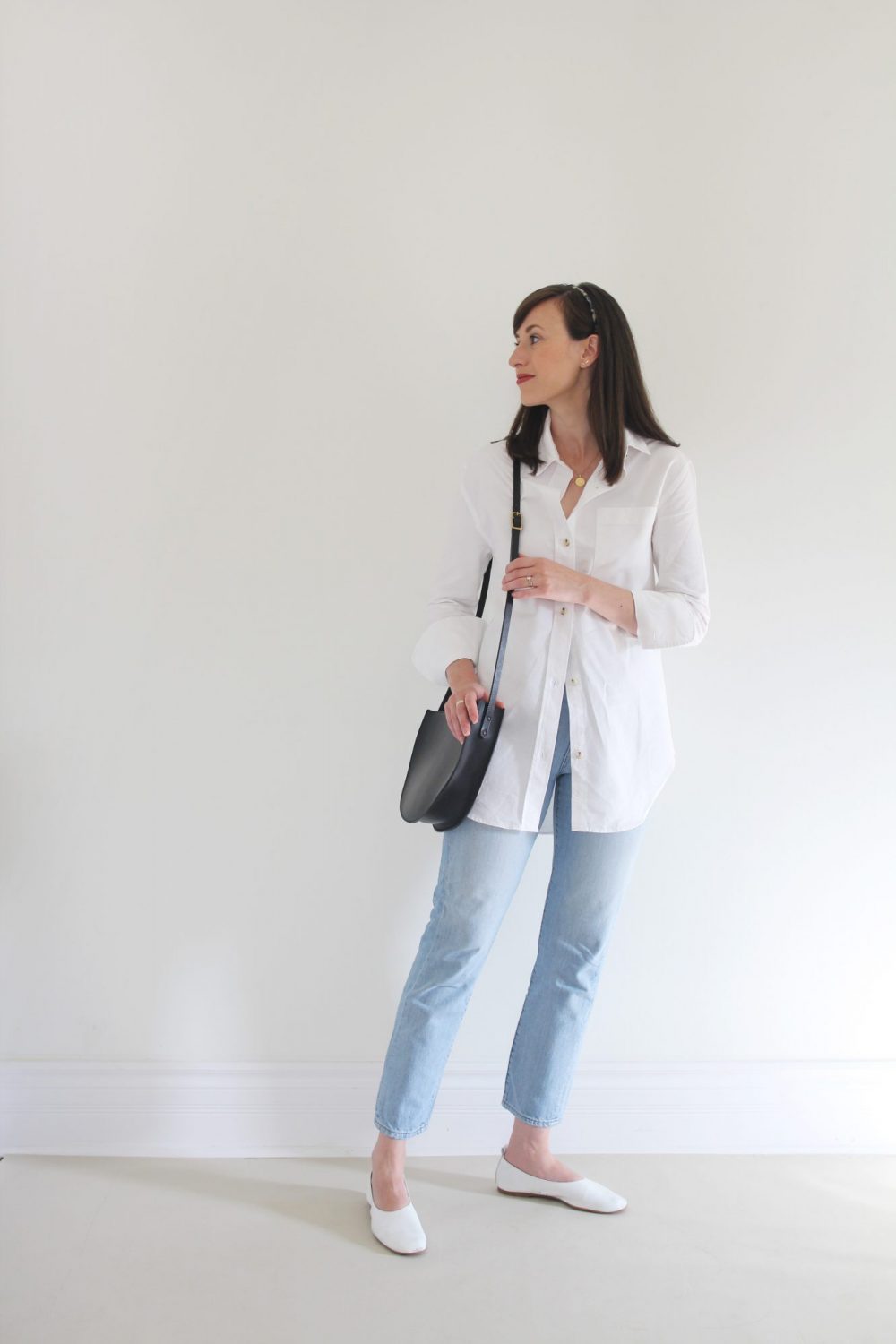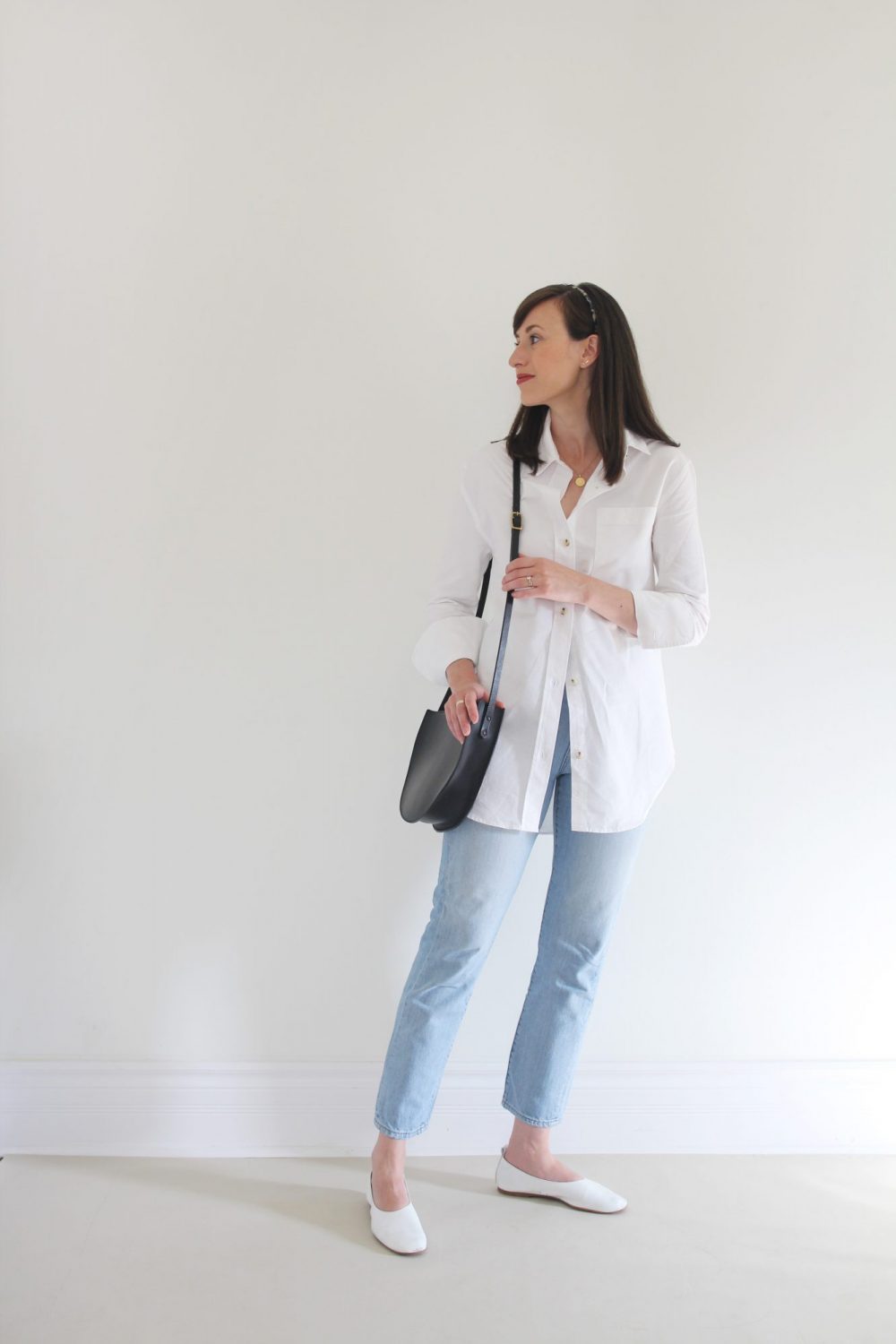 ---
TODAY'S TOPIC: THE KOTN OVERSIZE OXFORD + STYLING IDEAS
---
A BIT ABOUT KOTN
KOTN is a Canadian-based clothing brand, specializing in wardrobe essentials for women and men, produced in Egypt and offered at approachable prices. KOTN is committed to circular traceability and makes their own custom fabrics with cotton fibres purchased directly from Egyptian farmers. As they say, "Think of it like farm-to-table, but for your clothes.". You can learn about each chapter in the process right here (Farming, Yarn Milling, Fabric Milling, Cut & Sew, Distribution & Investing in the Future). It's so cool to see all the steps involved!
I also enjoyed reading KOTN's INTERWOVEN collaboration project in which four creative duos from Egypt discuss their unique dynamic and how they're paving the way in their respective industries.
I'm all for what KOTN is up to and look forward to adding more pieces to my closet. I'd also love to see the brand extend their size range in the future.
---
WHY I'M A FAN OF THE OVERSIZE OXFORD
CUT + SHAPE – The cut and shape of this shirt give a classic Oxford a more contemporary feel, which I love. It's basically like a men's shirt but tailored just right. It's long through the torso but fitted enough through the shoulders that it doesn't feel too boxy. I love the exaggerated front and back scoop and how the deeply curved hem show more of the pants or base being worn beneath. This keeps the shape from swallowing you up.
COTTON – This shirt is a medium-weight structured Oxford fabric made from 100% long-staple Egyptian cotton. It's super soft on the skin, fully opaque and though crisp it doesn't feel waxy like a poplin. The product listing says this cotton will soften and the weave will relax with wear and I can definitely see that. It's the type of shirt that only gets better with wear.
DETAILS – I think KOTN really nailed the details on this piece. The tortoise buttons give it a touch of interest over a basic white button and the deep cuffs are ideal for flipping up as I have here or rolling for an even more casual feel.
MORE INFO: $78 CAD (ships free) | Sizes S-L | Shop it in White + Light Blue | Check out the Essential Shirt, Weekday Shirt & Shirt Dress (which is currently in my cart!)
---
Here are a few other oversize oxford styling ideas that I've bookmarked:
---
---
OUTFIT SOURCES: OXFORD SHIRT gifted (I'm wearing a size Small) | HEADBAND | SUMMER JEANS (I wear a size 26) | DAY GLOVE (TTS see my full review here) | BAG* n/a | CIGAR RING | *Linked to similar
---

---
Are Oxford shirts your thing? If so, how do you like to style yours?
---
Thanks for reading! I'll be back tomorrow with the final installment of my August Outfit Series.
---
This post is not sponsored but contains affiliate links and some gifted items. If you see something you like and decide to shop through the links above, I may earn commission on a sale at no additional cost to you. All opinions are always my own. Thanks for supporting Style Bee!