Folks, I've got a confession to make. I've secretly been a fan of animal prints for so long and I can resist no more! With all the glorious animal prints hitting the spotlight this season I've finally been persuaded to openly embrace my love of them. But as usual, I'm not about hopping on trends just for the sake of it.
I think long and hard about any addition to my closet and this Emerson Fry Cheetah Spot skirt had been in my cart for several months before I pulled the trigger. There was something about the easy midi shape, paper bag drawstring waist and the minimal cheetah dot print that I just couldn't seem to shake. Fast forward and we have today's outfit post!
Over the years I've learned that an item can be on trend and still timeless and I think this skirt walks that line. Since it's been so fun to wear in warm weather I wanted to challenge myself to style it for the cold seasons ahead too.
Here's how I'm styling my animal print skirt for:
As I was writing this post I realized that a lot of these styling tricks could work for any midi skirt, so even if animal print isn't your thing, it might still be worth a look!
---
LOOK 1 – FOR WORK
---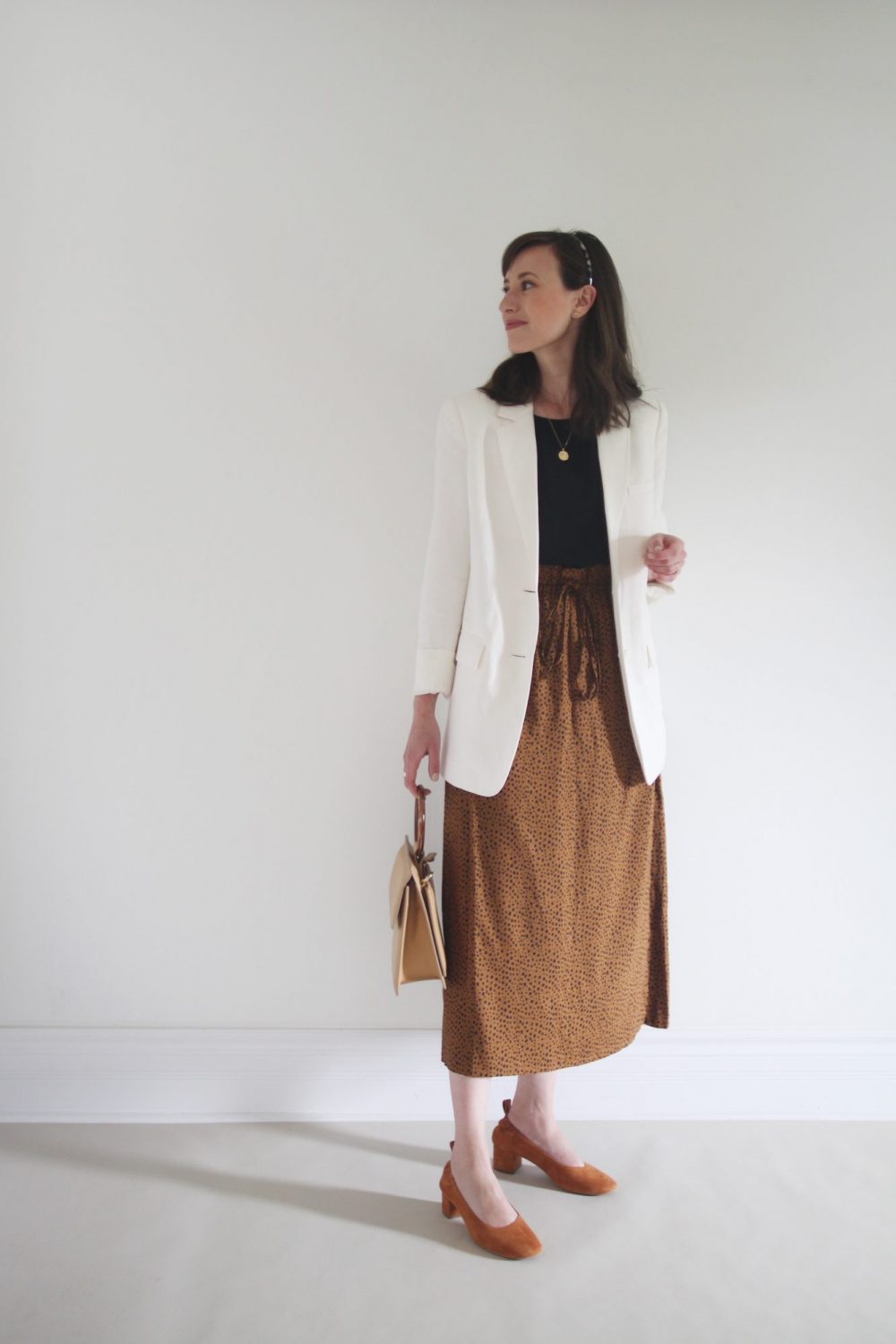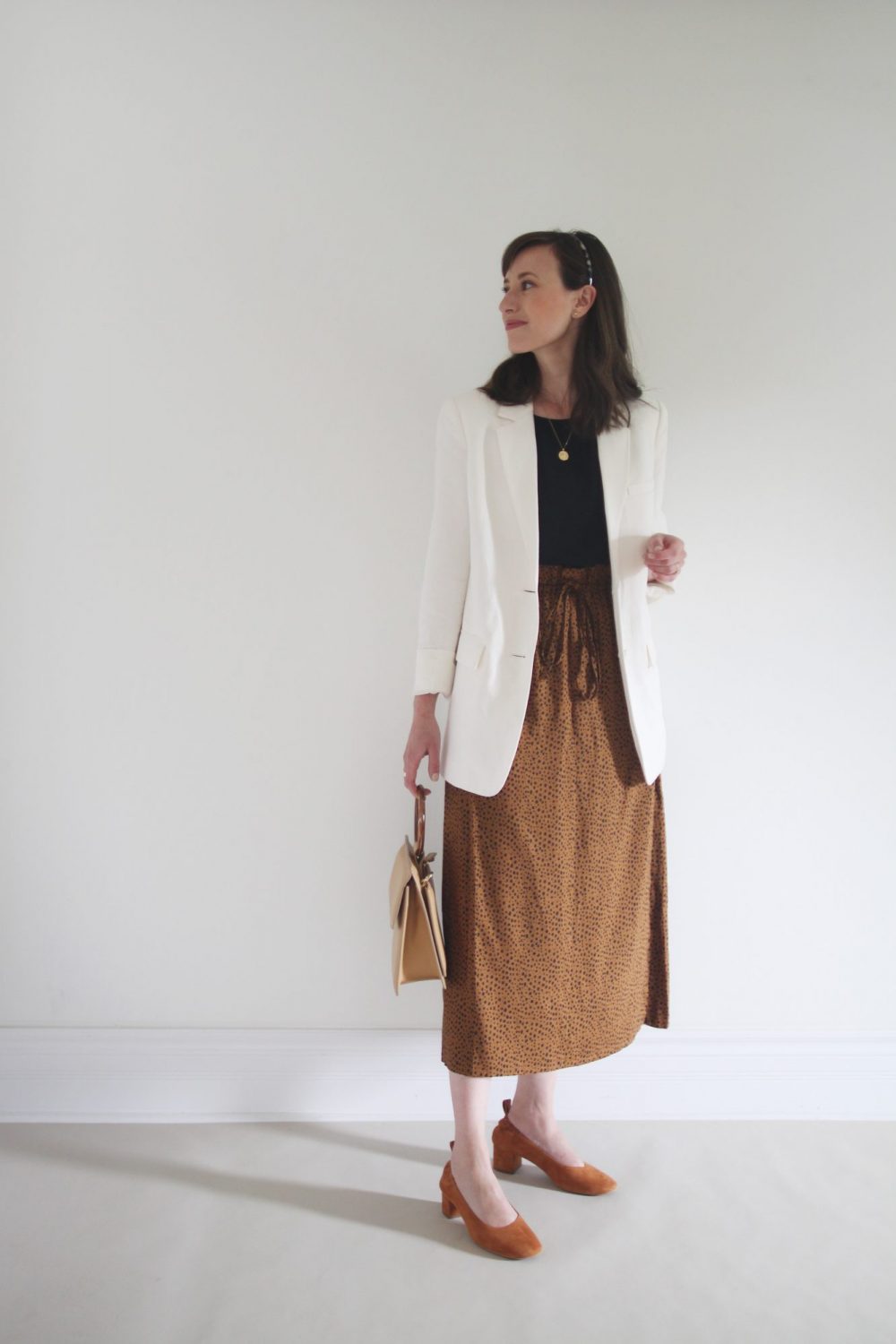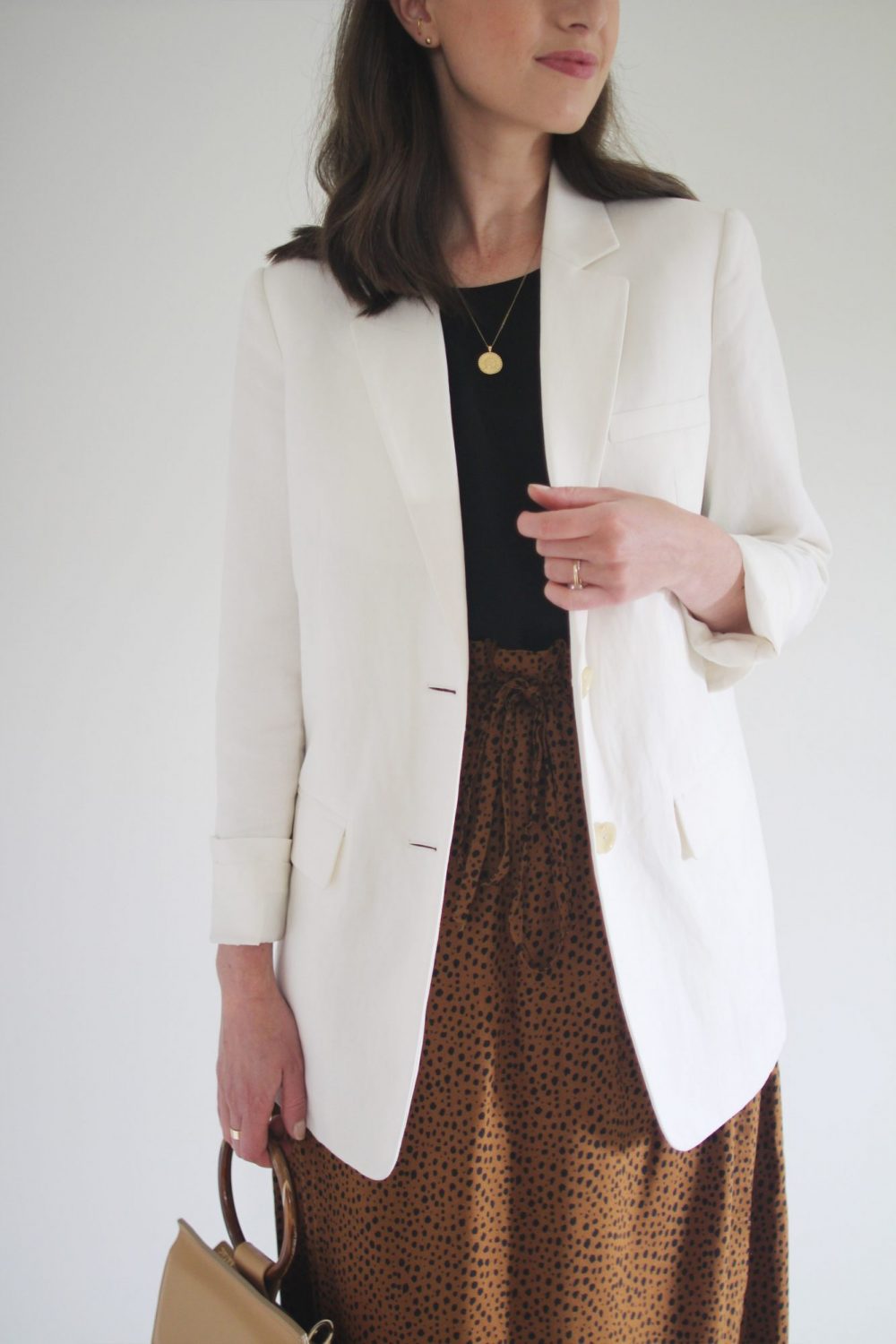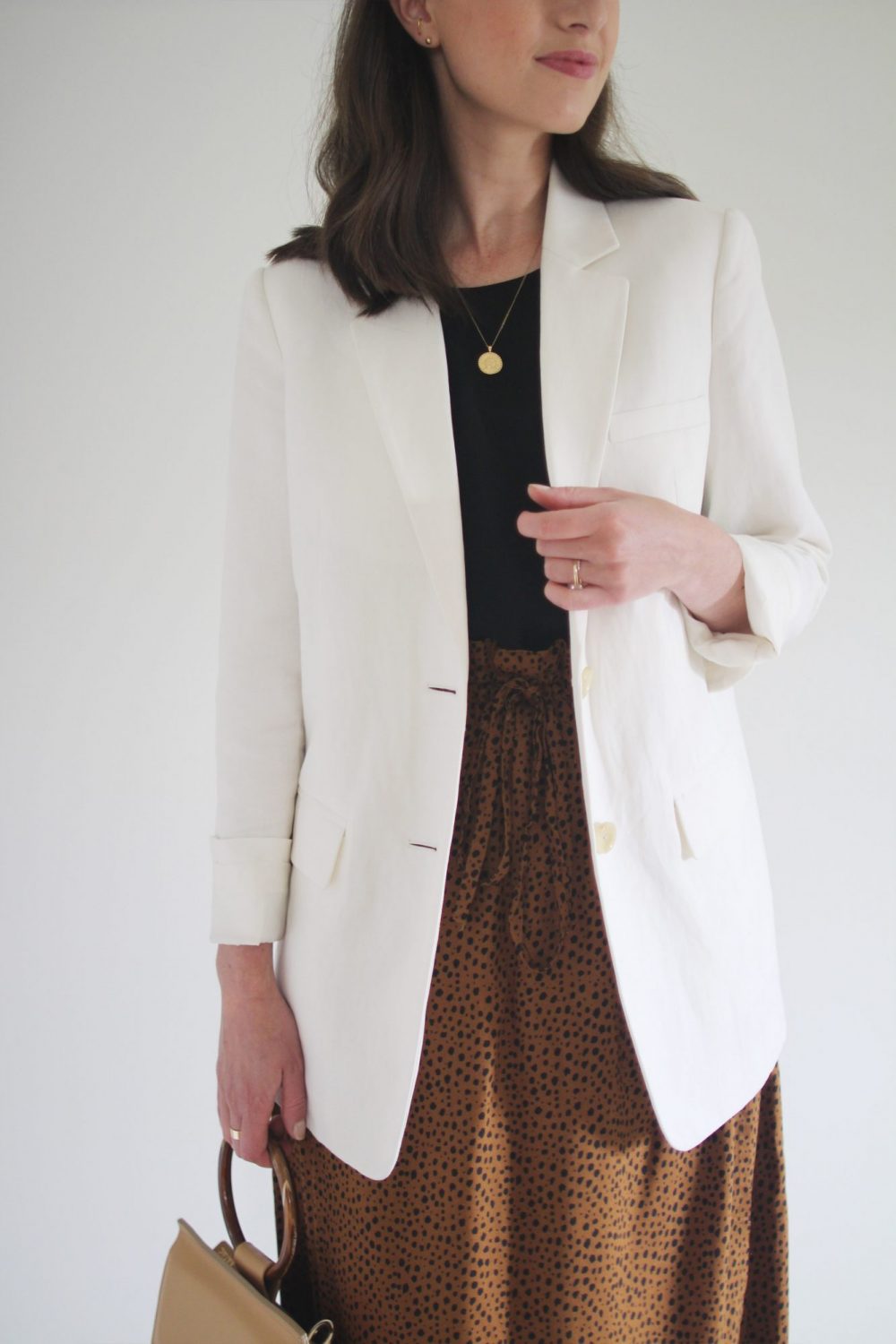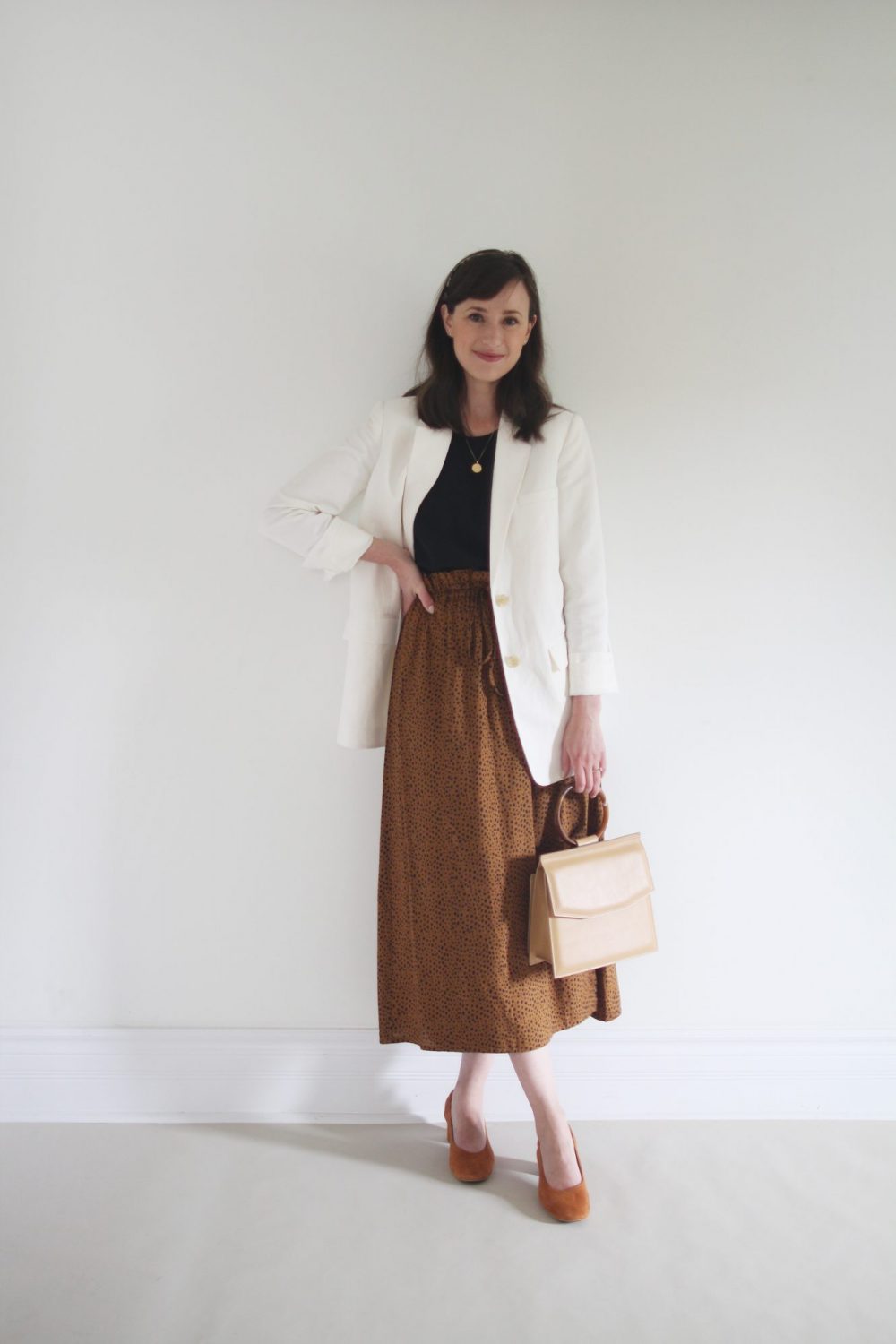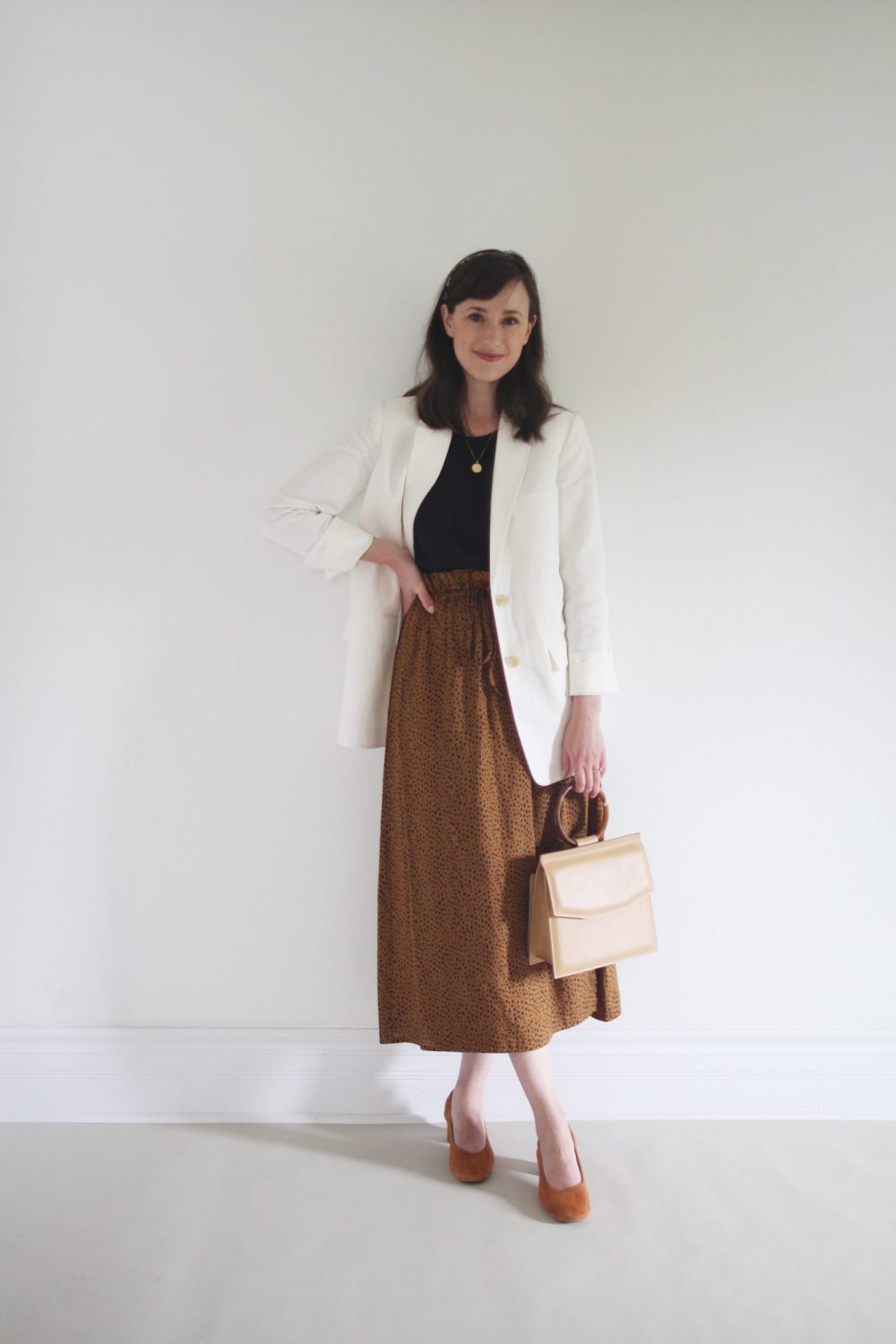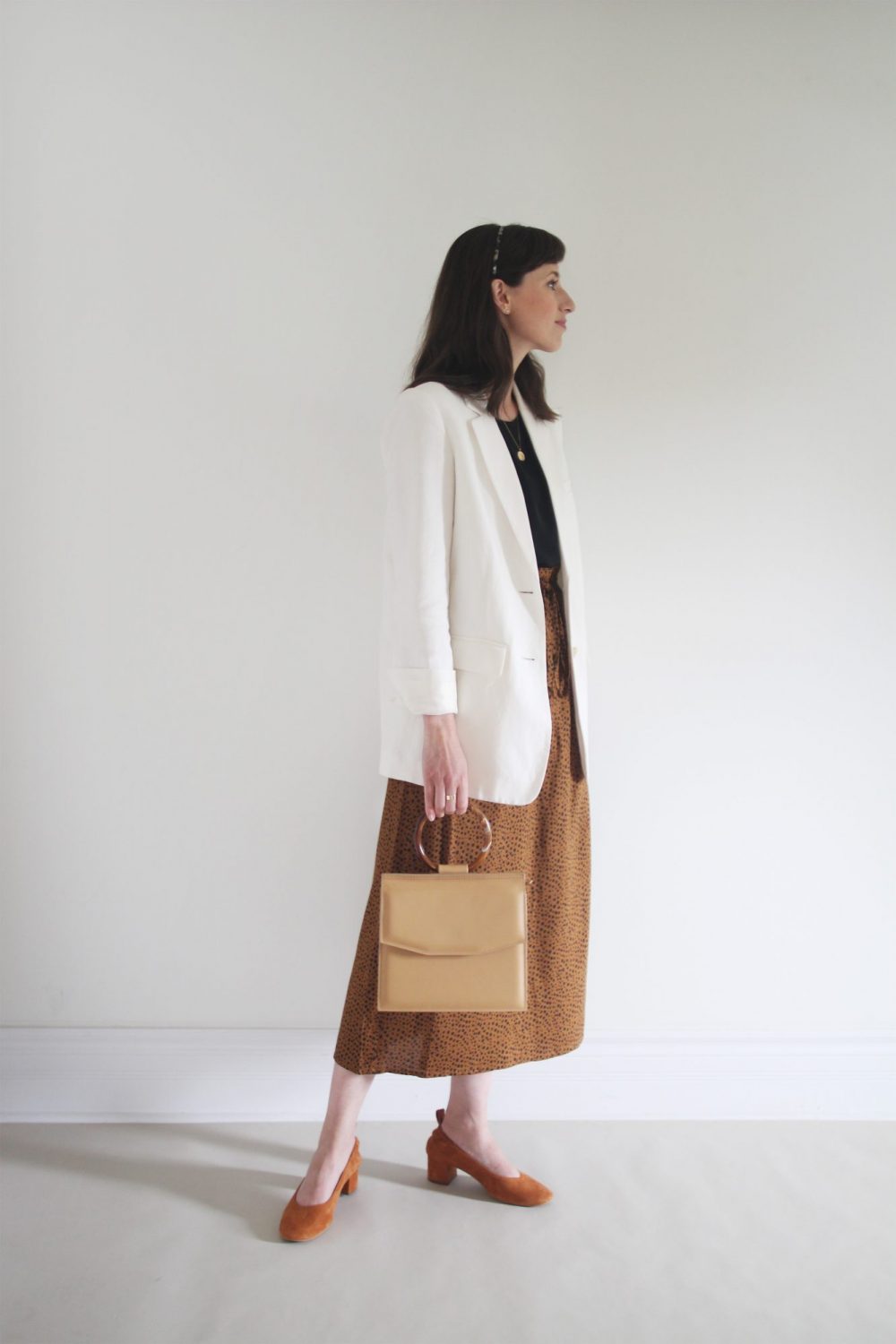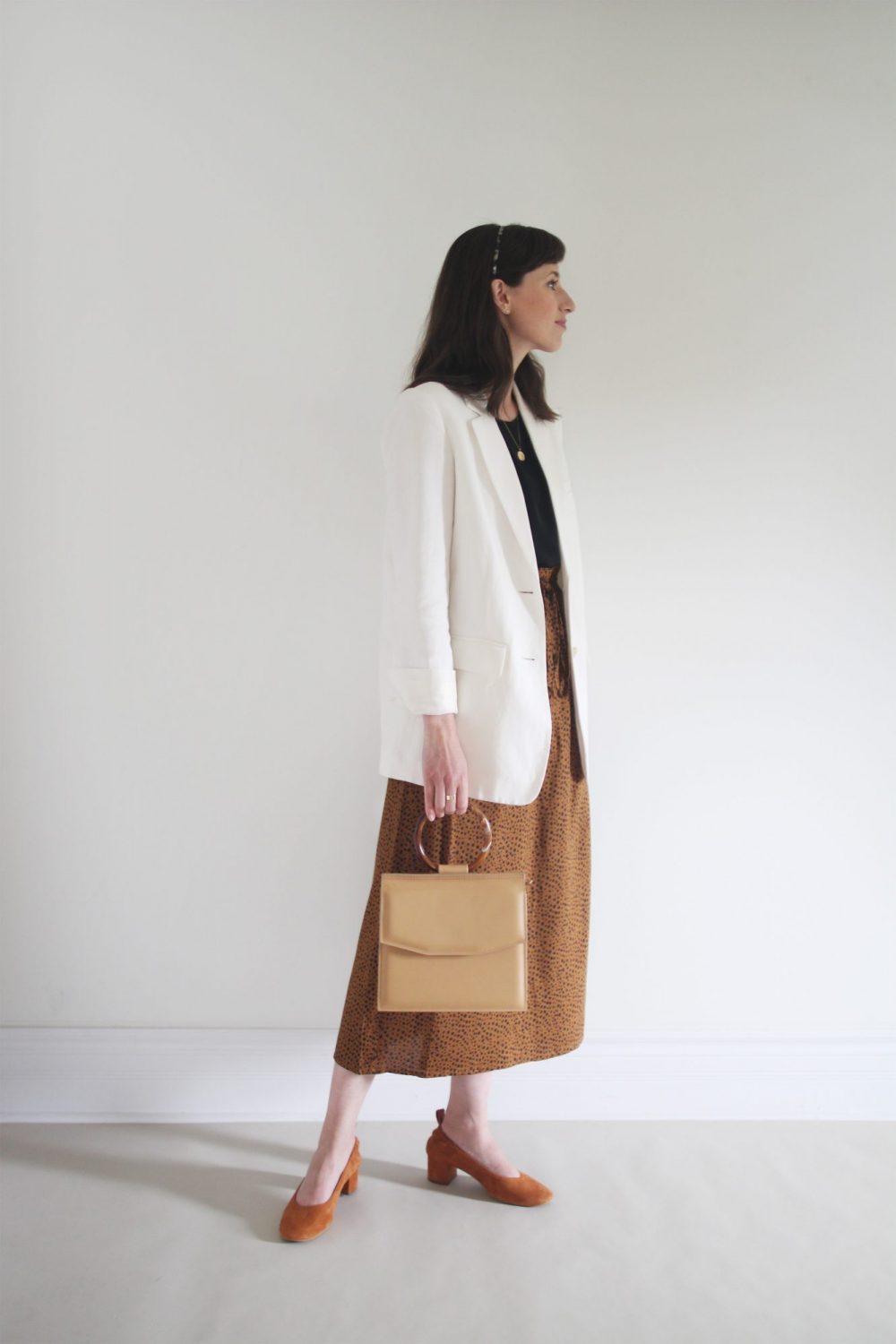 ---
I've received lots of great feedback when I share office ready looks so I wanted to see how I might wear this skirt in a more corporate setting. The key elements I kept in mind were:
MOVEMENT: I paired the skirt with a black silk sleeveless shell (an office essential) and layered a slightly oversized ivory blazer on top. While there are no fitted elements in this look, each piece has a lot of movement and this fluidity helps to keep it from feeling boxy.
LENGTH: I love playing with proportions and by wearing the skirt high on my waist (just below my ribs) it creates the illusion of height. Another leg lengthening trick is to wear a shoe in a similar tone to the skirt so there is a visual connection between the two elements. This trick works with any colour bottom and shoe combo.
STRUCTURED ACCESSORIES: A thin tortoise headband felt like a perfect way to add a touch of polish to my hairstyle and the added hint of pattern paired nicely with the skirt. My favourite statement bag added a monochrome finishing touch with tonal elements in the leather and a marbled vintage handle.
---
OUTFIT SOURCES: MIDI SKIRT (I wear a size Small) $118 USD | BLAZER | SILK SHELL (on sale) gifted (also in Tencel and Cotton) | HEADBAND | BAG | DAY HEEL gifted | NECKLACE (similar)
---

---
LOOK 2 – WEEKEND
---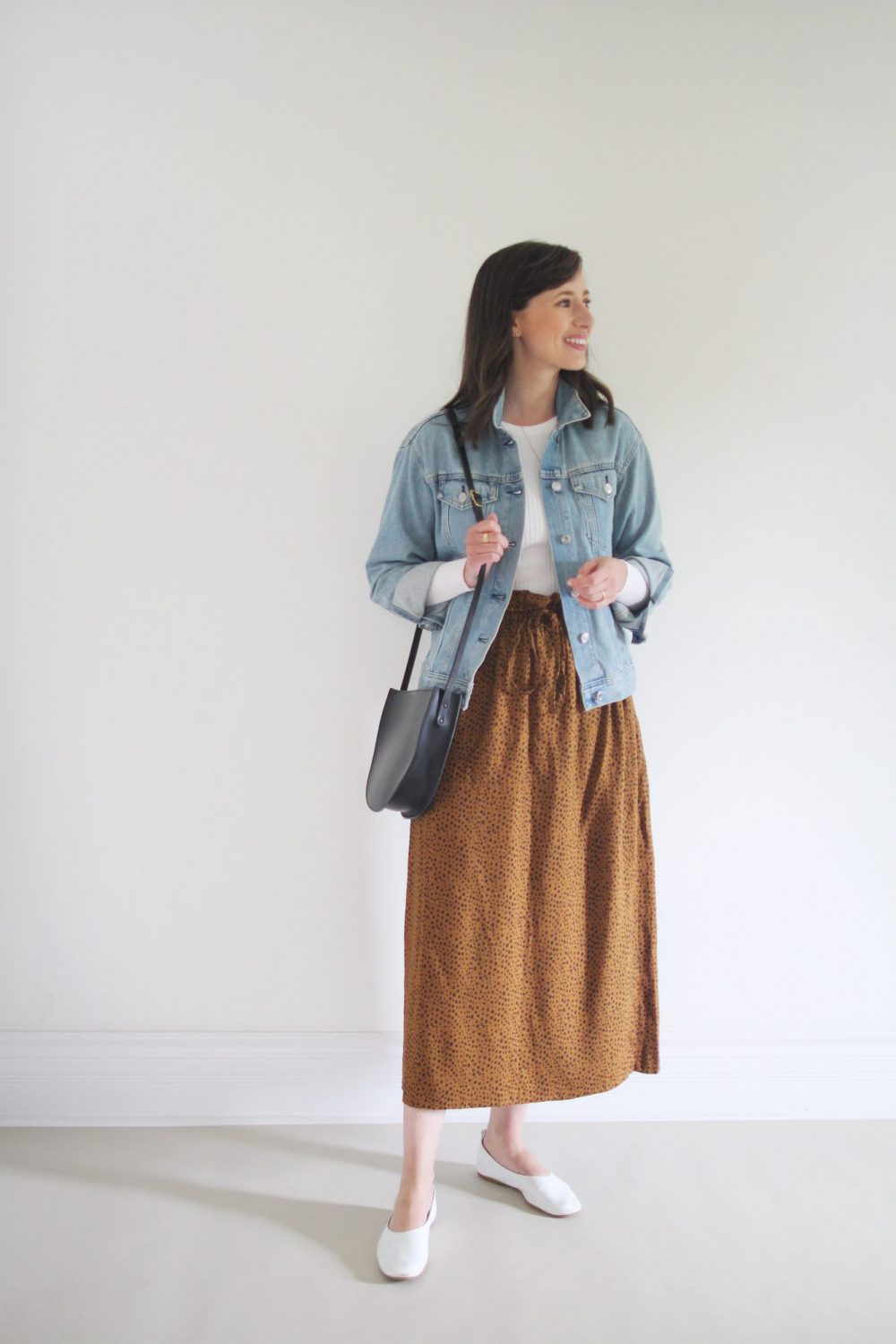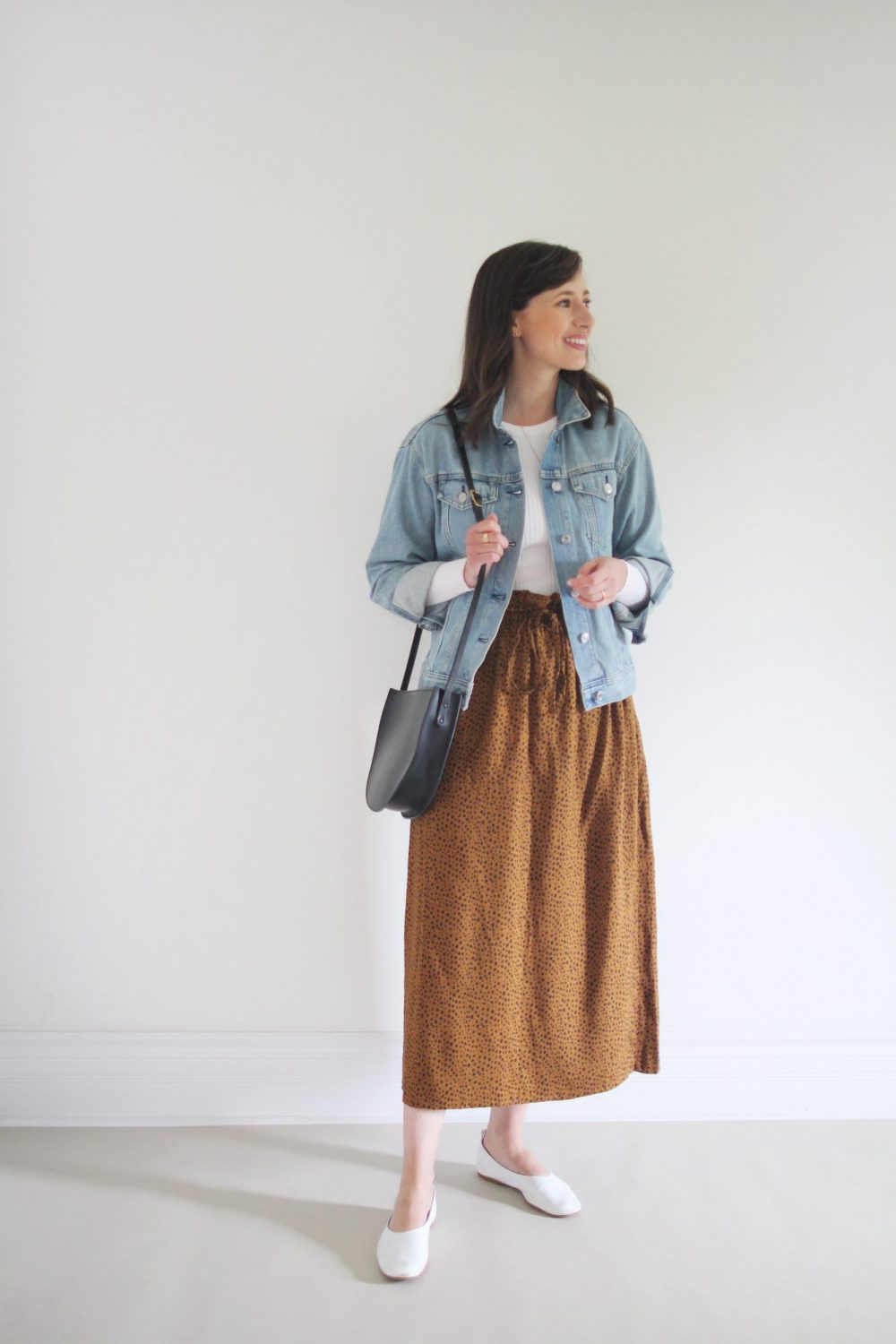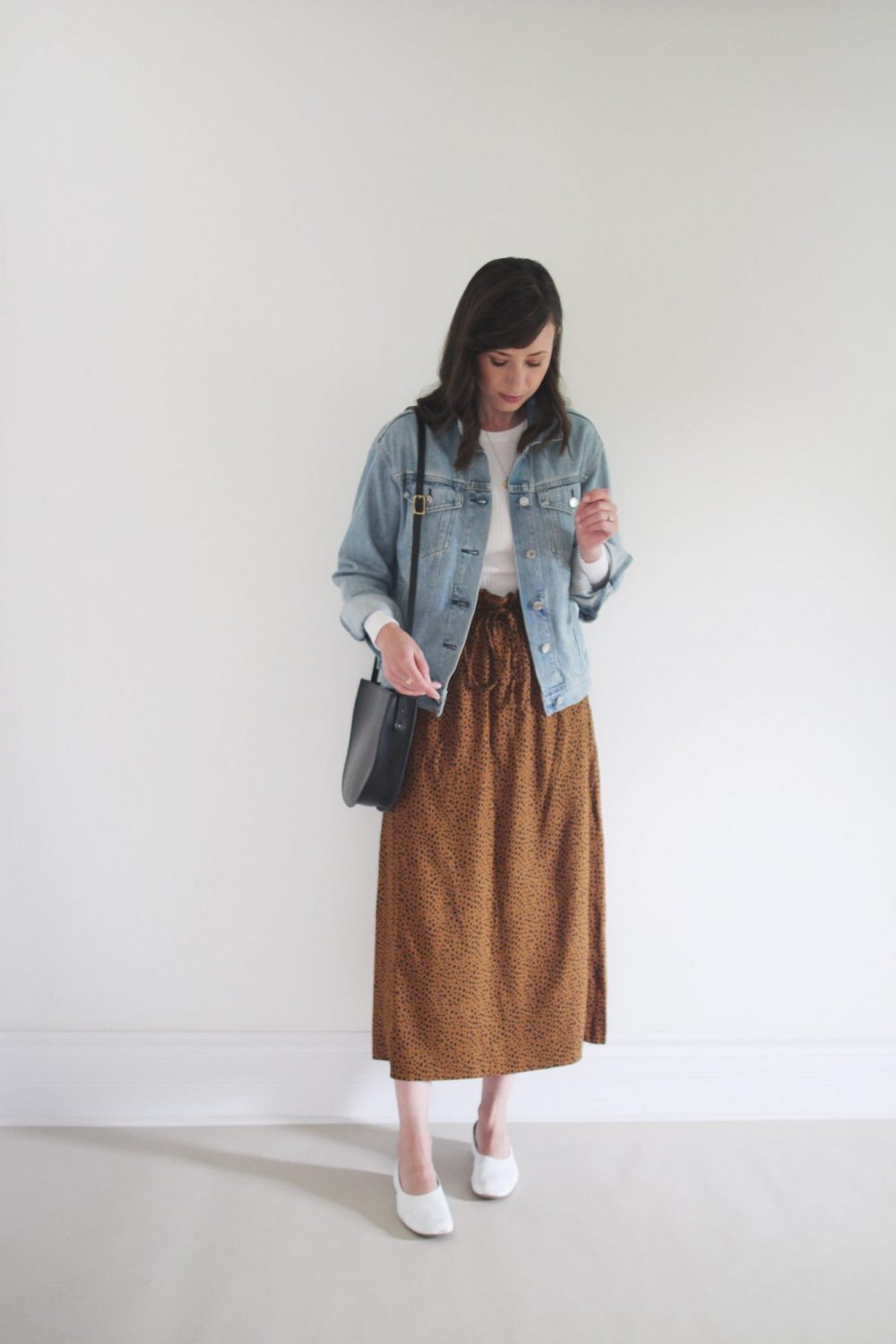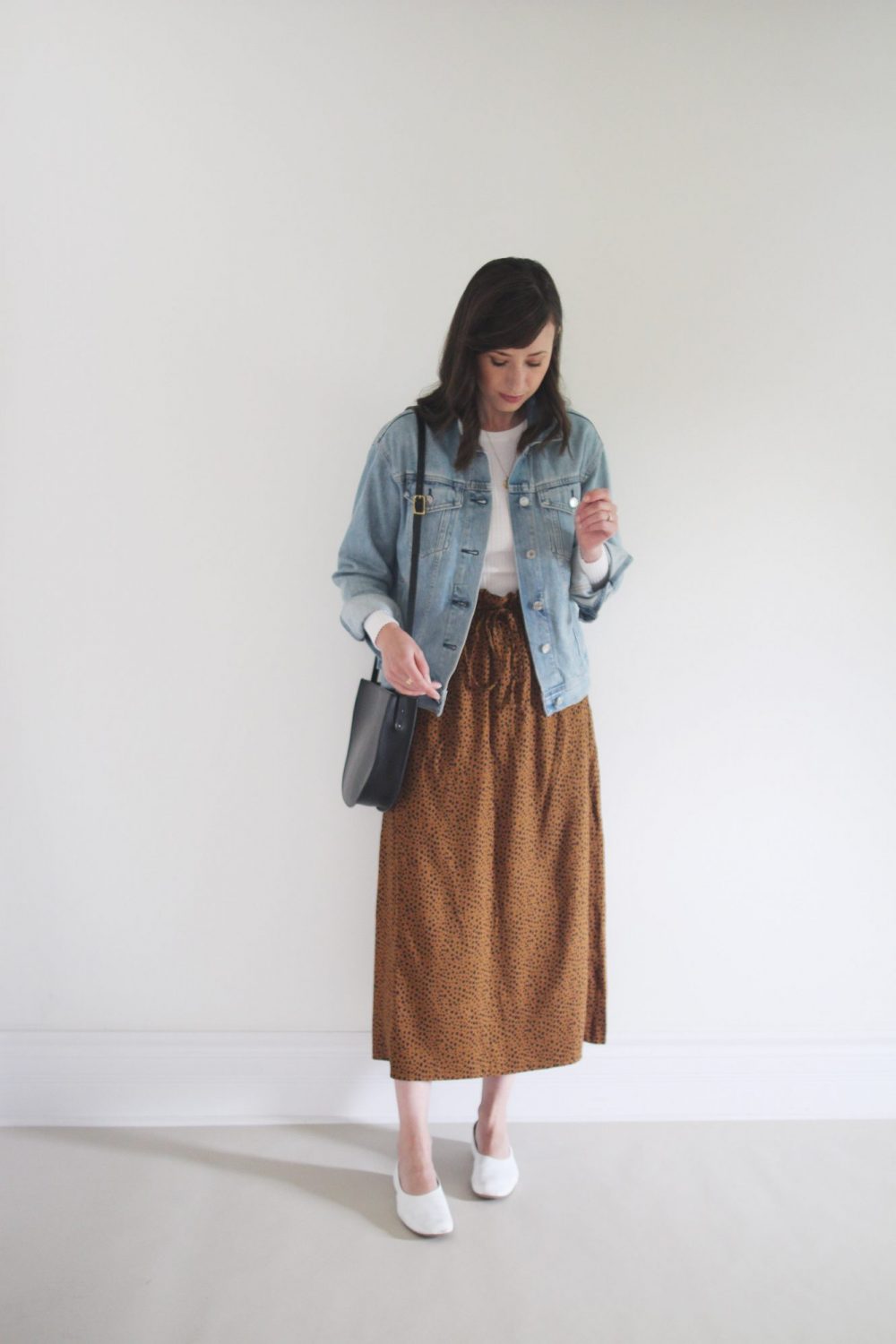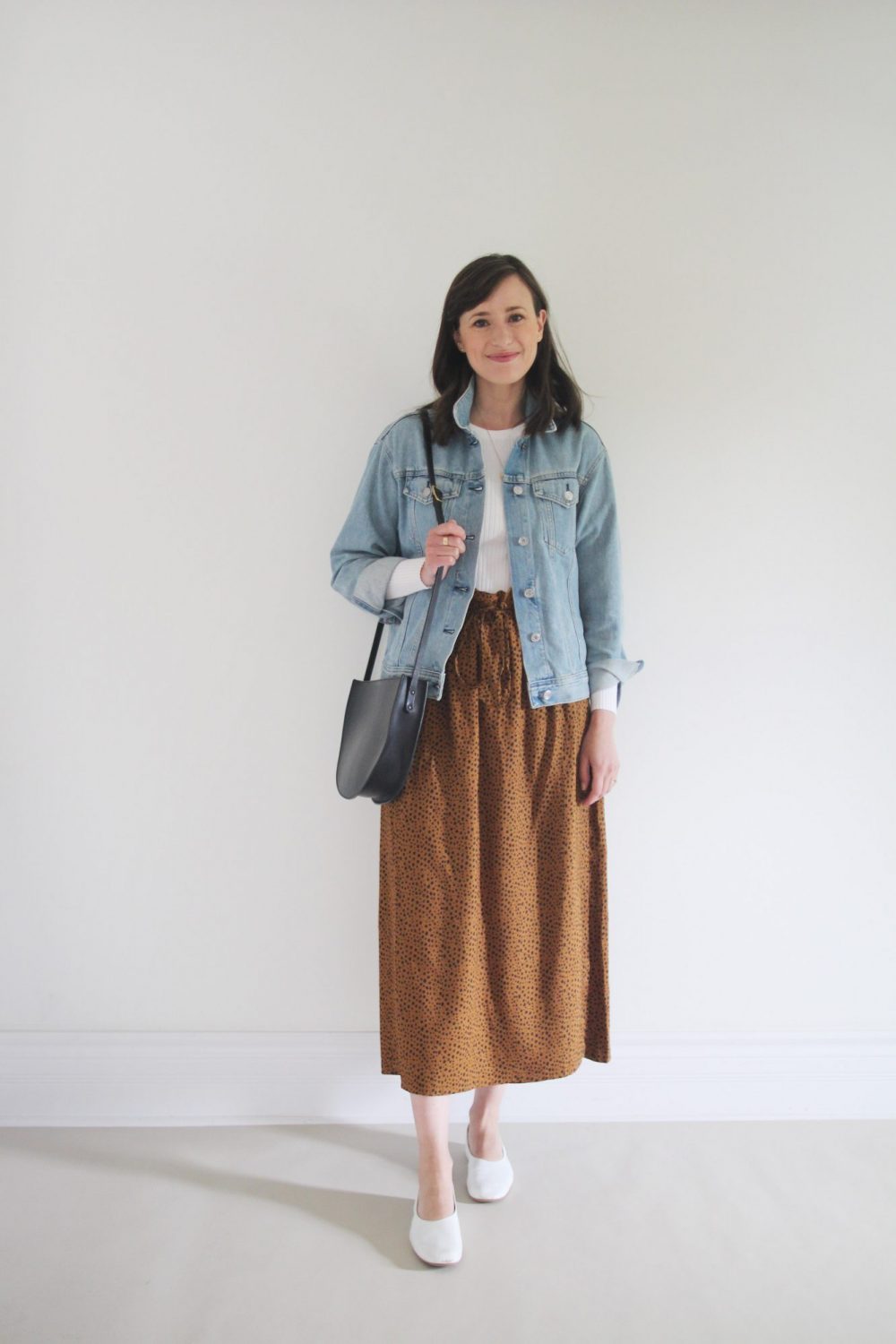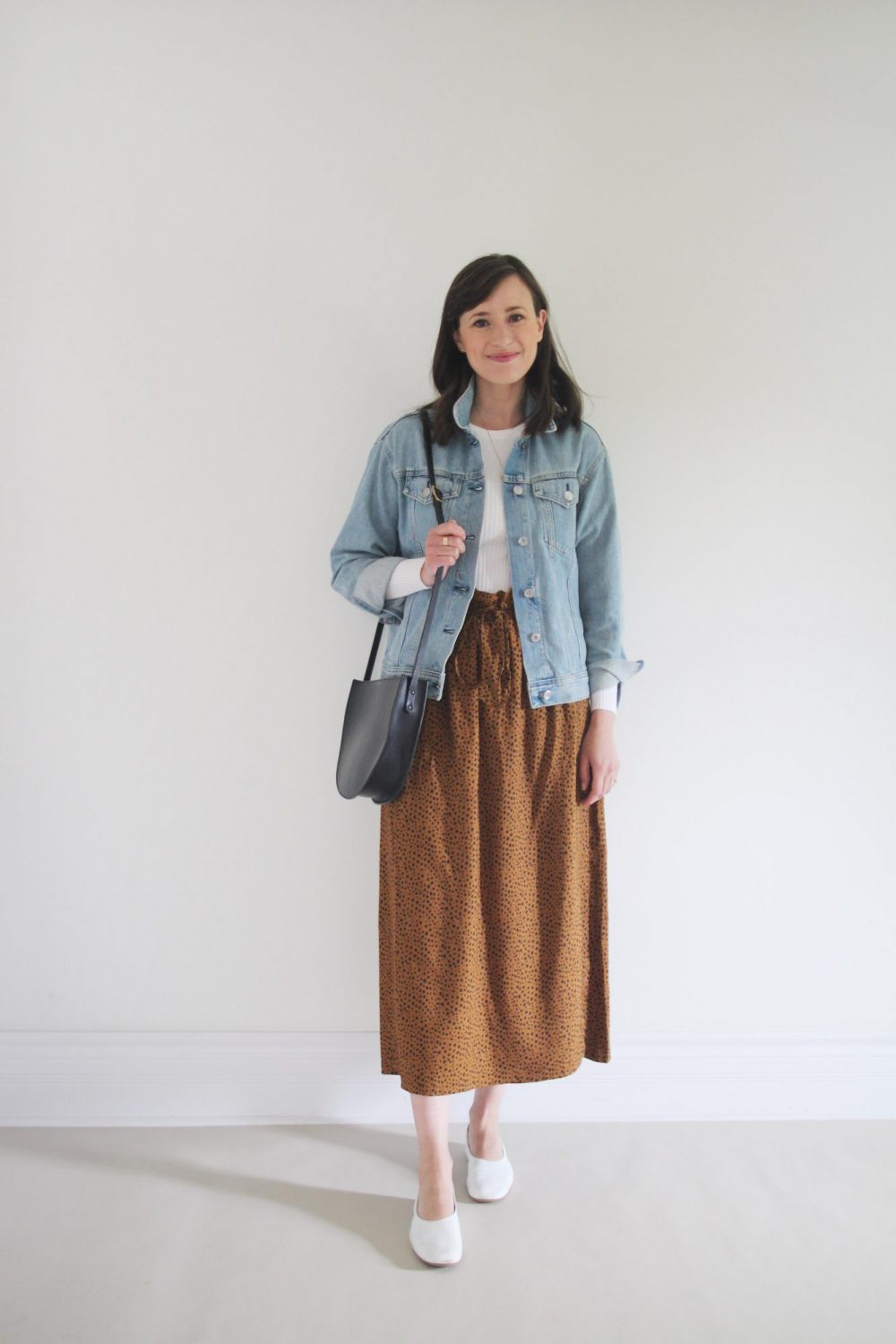 ---
I'm all about a comfy weekend outfit that still feels put-together enough for impromptu visits with friends or family (got to love a pop-in! haha). This look definitely leans into the 90's with a classic combo of animal print and relaxed denim and I am loving it! To give this pairing an updated feel I added two elements:
POPS OF WHITE: I love a fresh white element in any look and this one is no exception. A fitted white long-sleeve and low profile flat add a crispness to the palette and I rolled my jacket sleeves to keep this element repeating throughout.
MODERN SHAPES: The simplicity of both the style and shape of my bag and shoes adds a contemporary feel to this otherwise retro-leaning look. This also helps to balance out the more vintage feel of an oversized denim jacket.
---
OUTFIT SOURCES: MIDI SKIRT (I wear a size Small) $118 USD | WHITE RIBBED LONG-SLEEVE* | DENIM JACKET (I wear a size S and it's oversized) | DAY GLOVE (TTS) | BAG* | *linked to similar
---

---
LOOK 3 – FOR FALL
---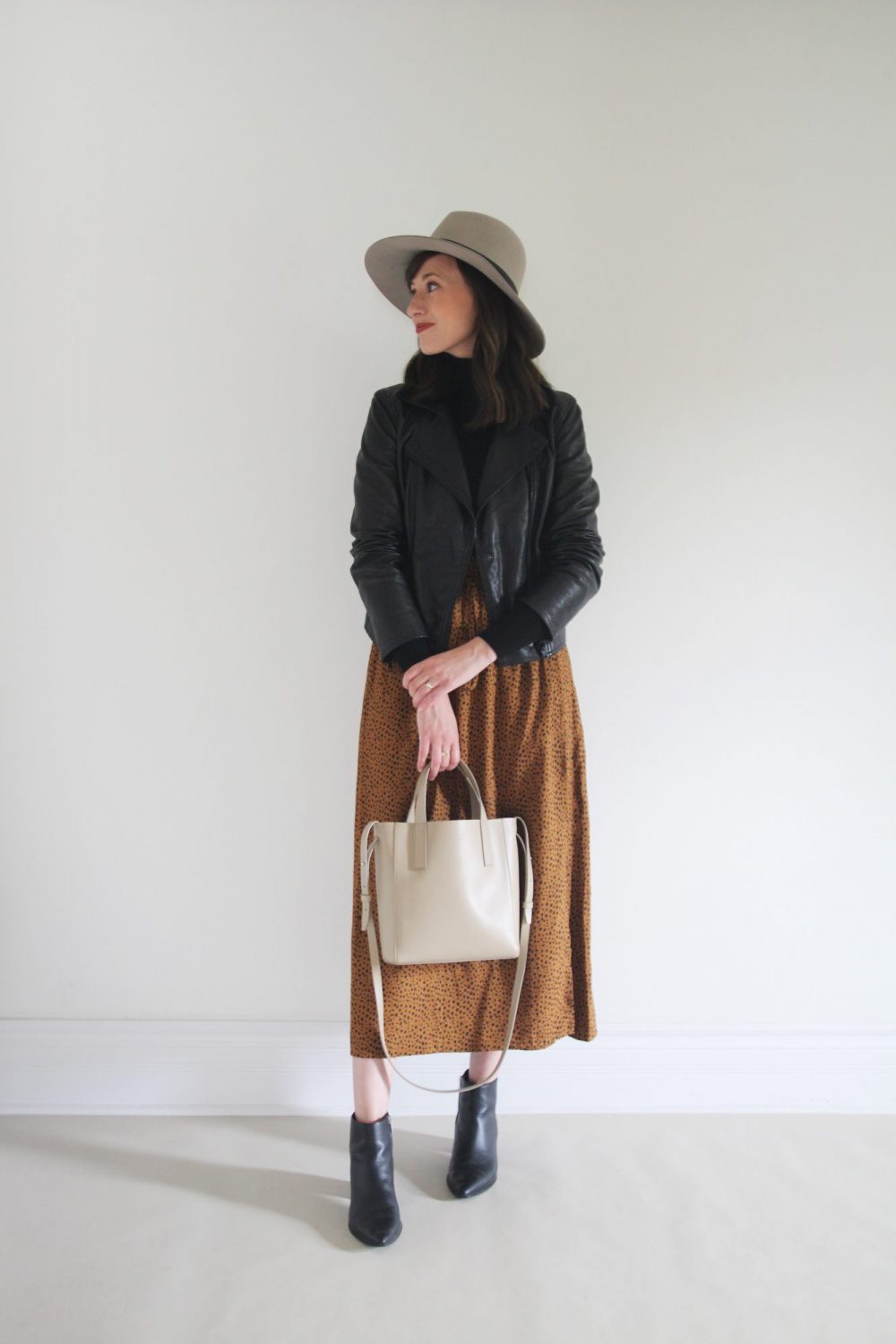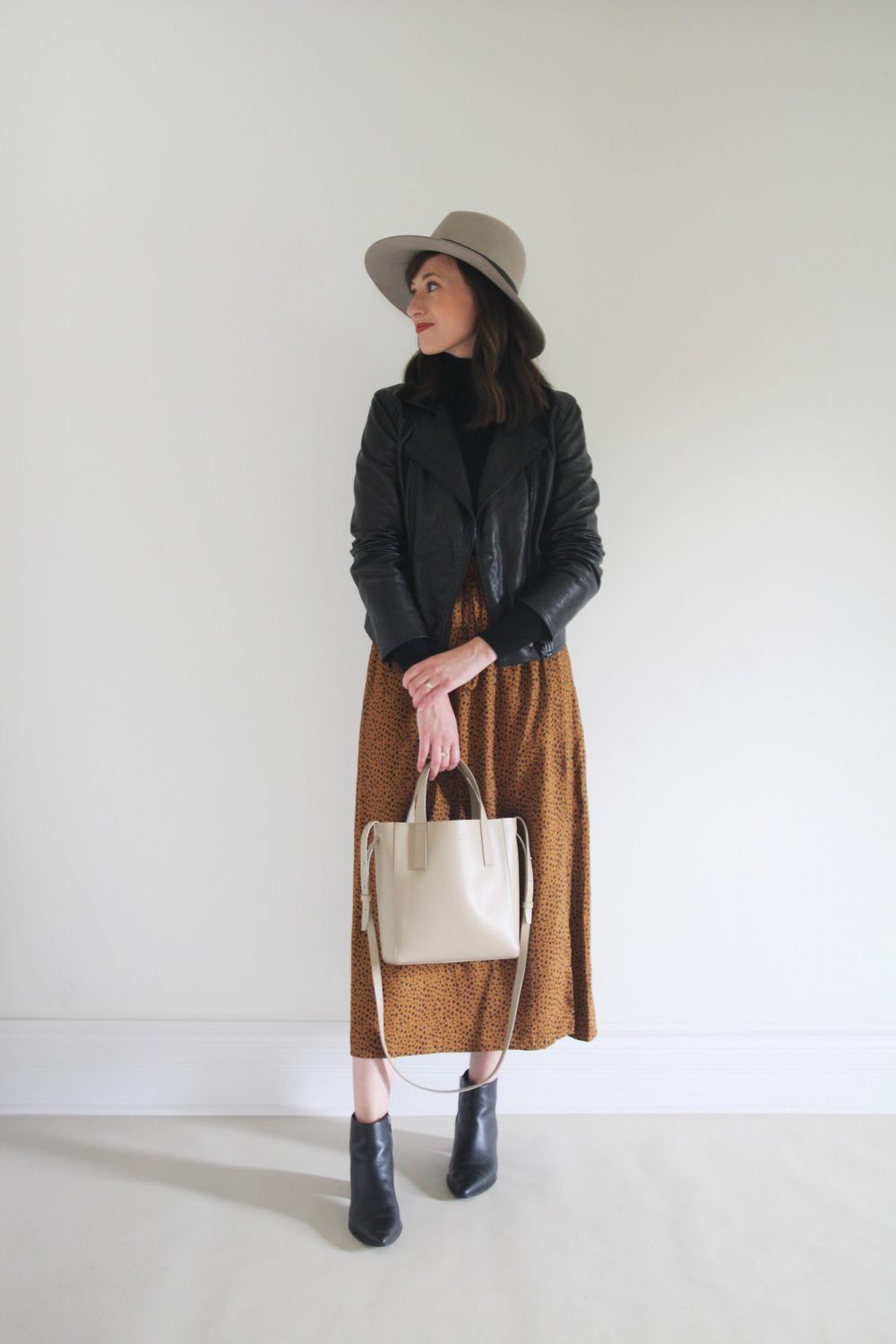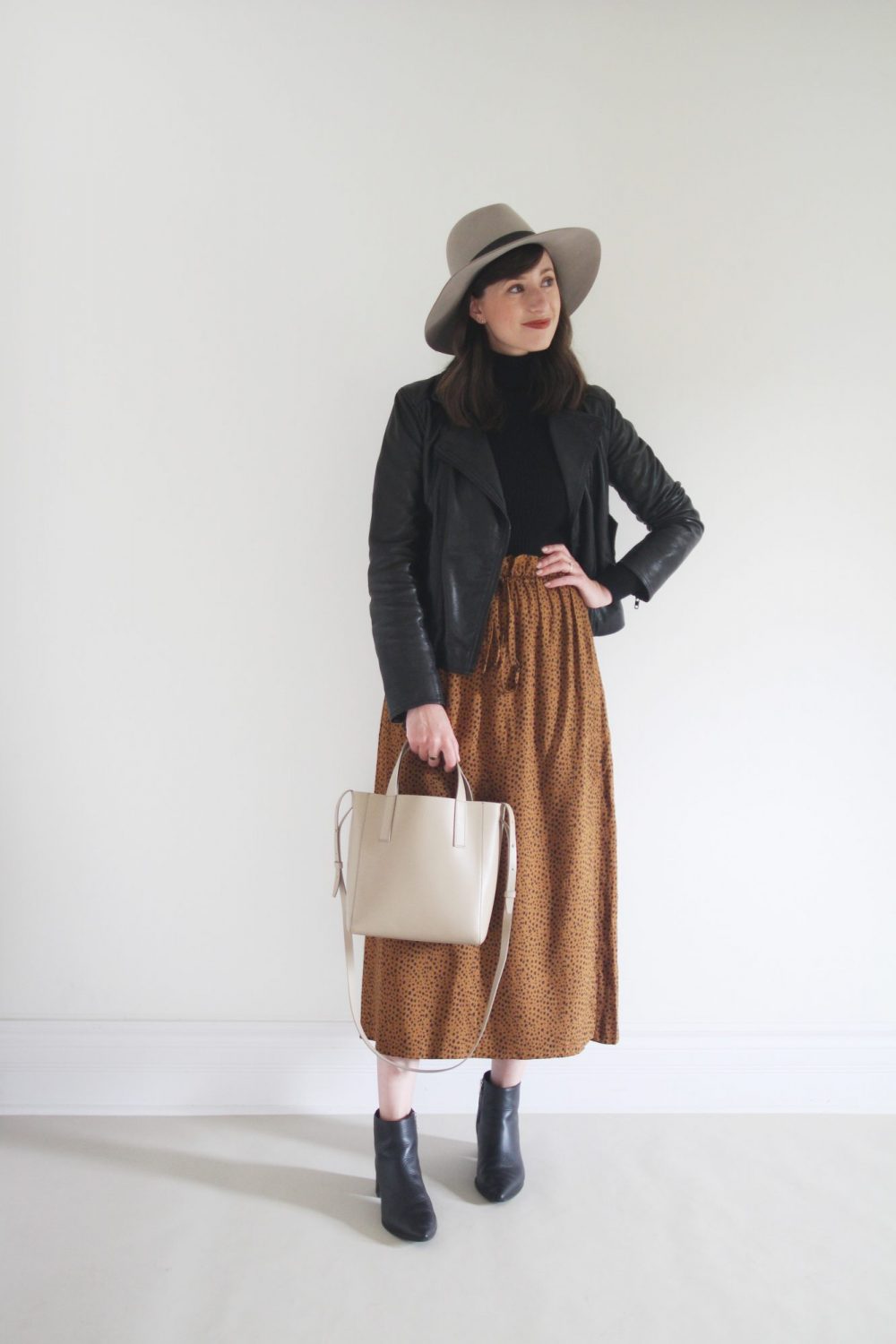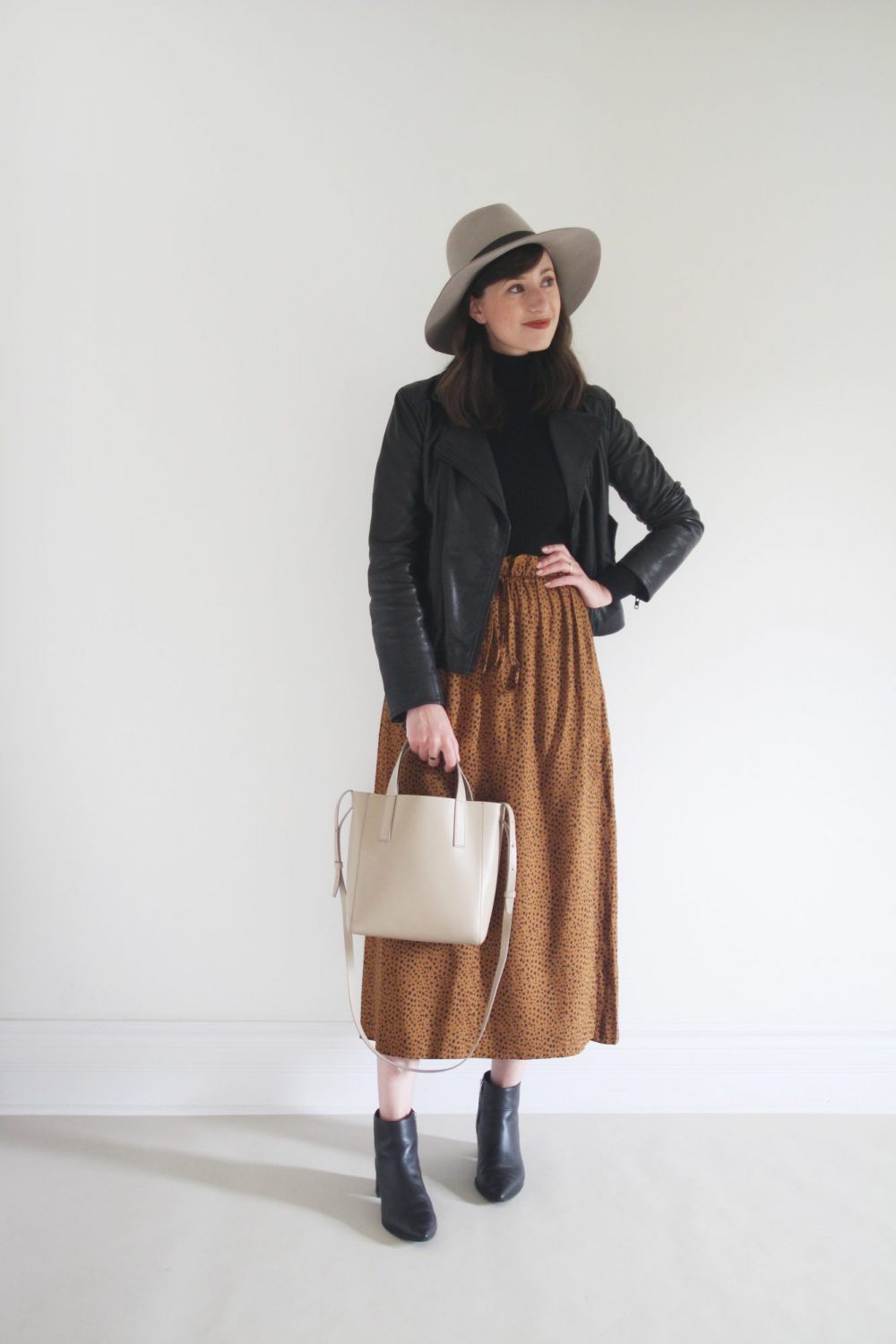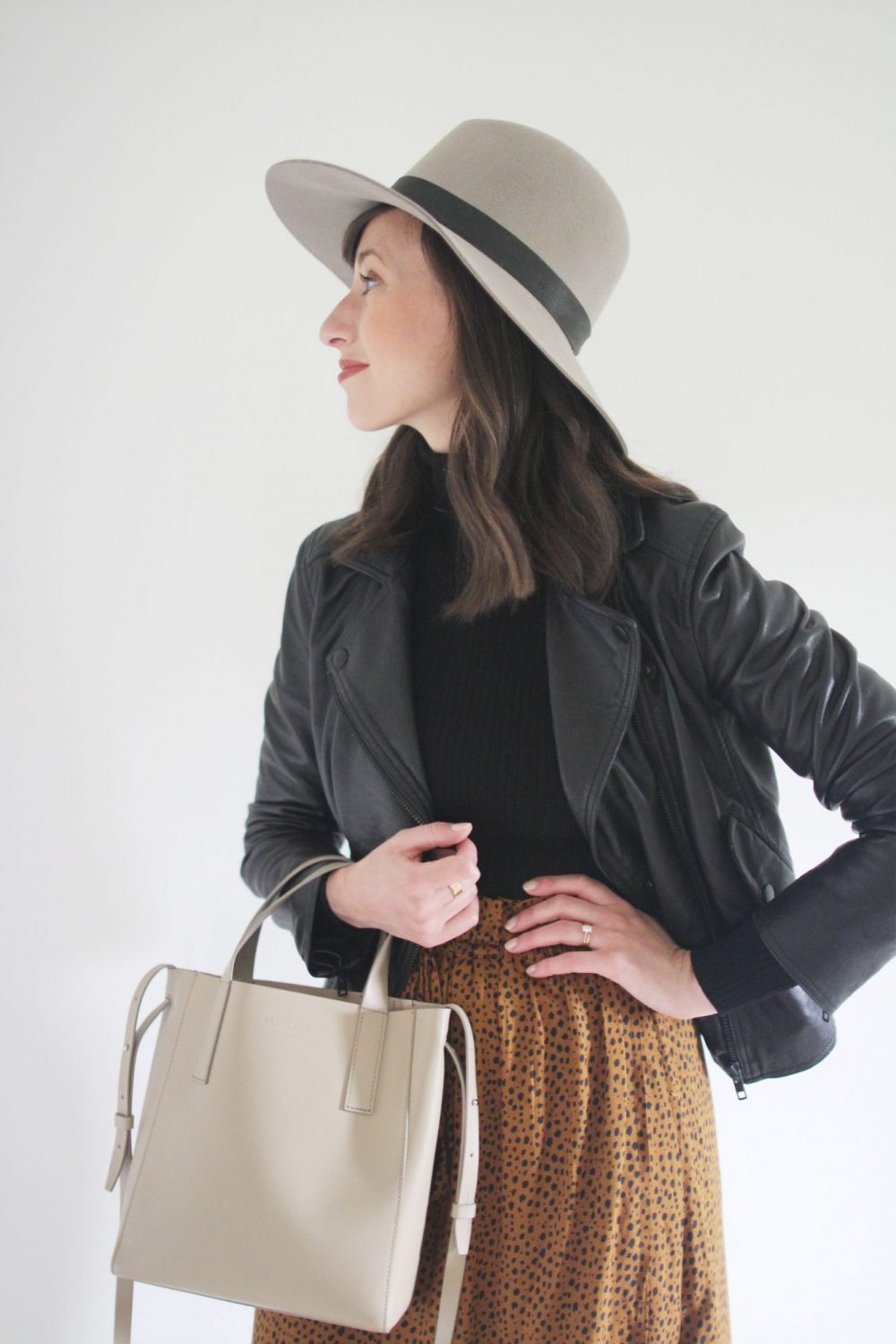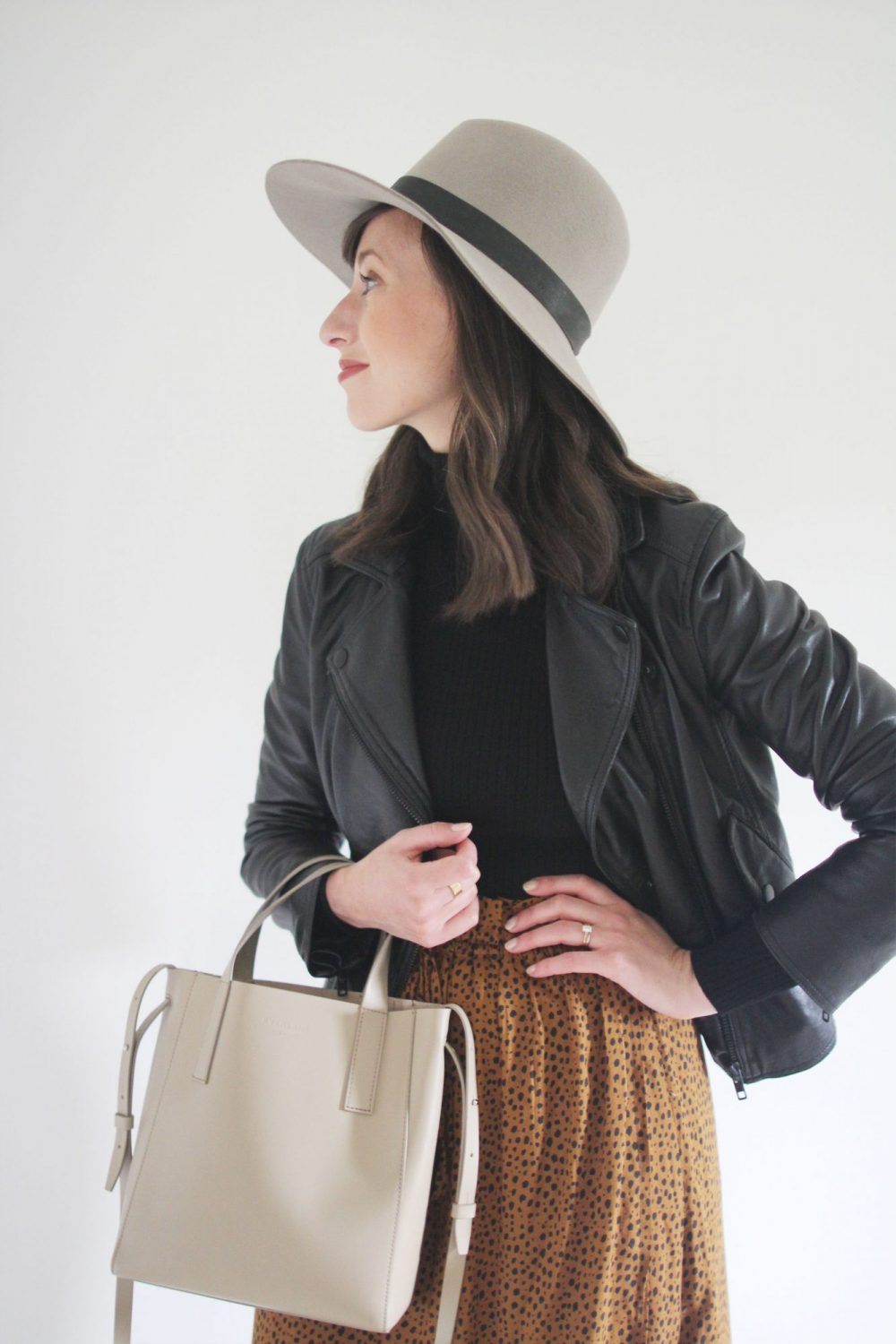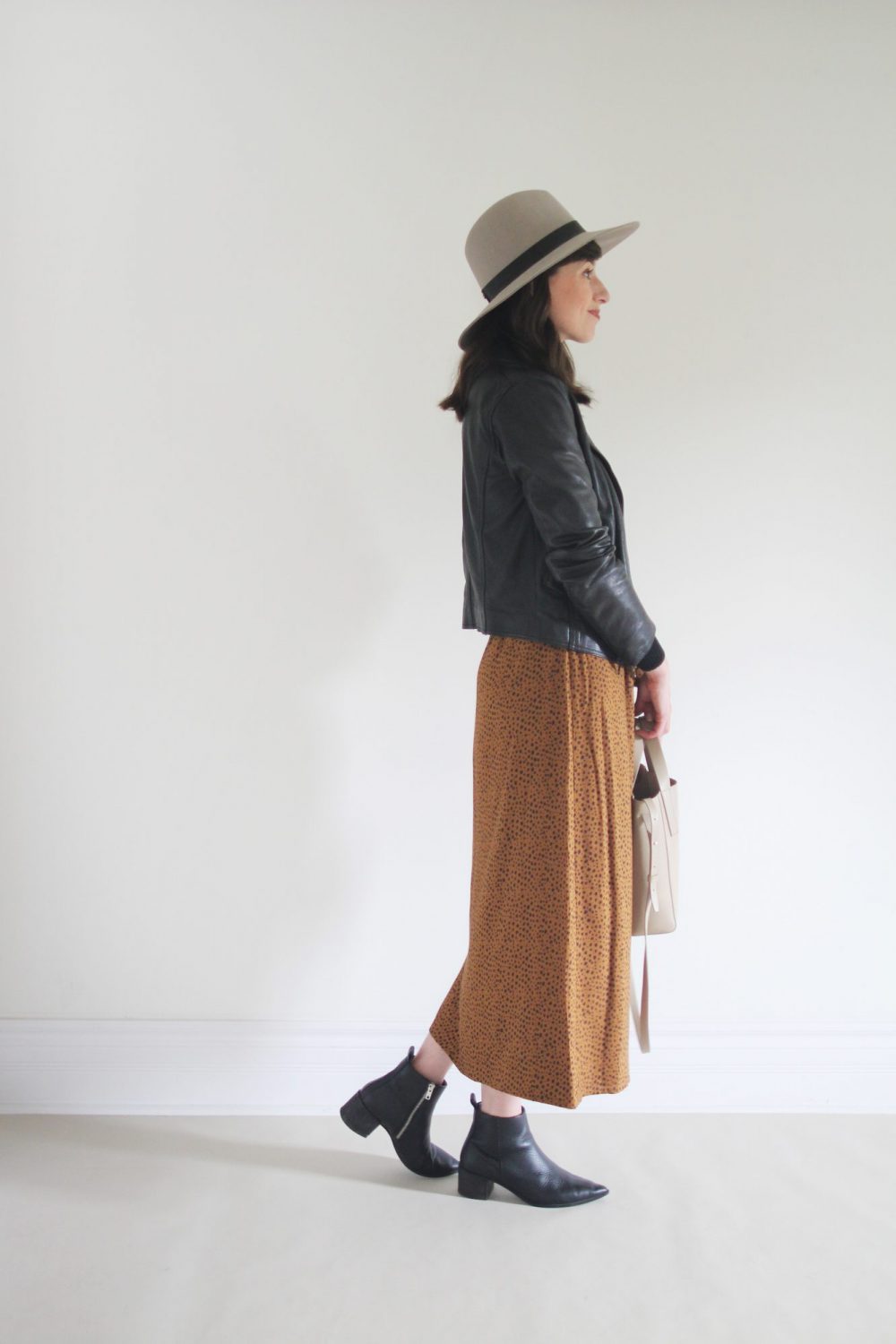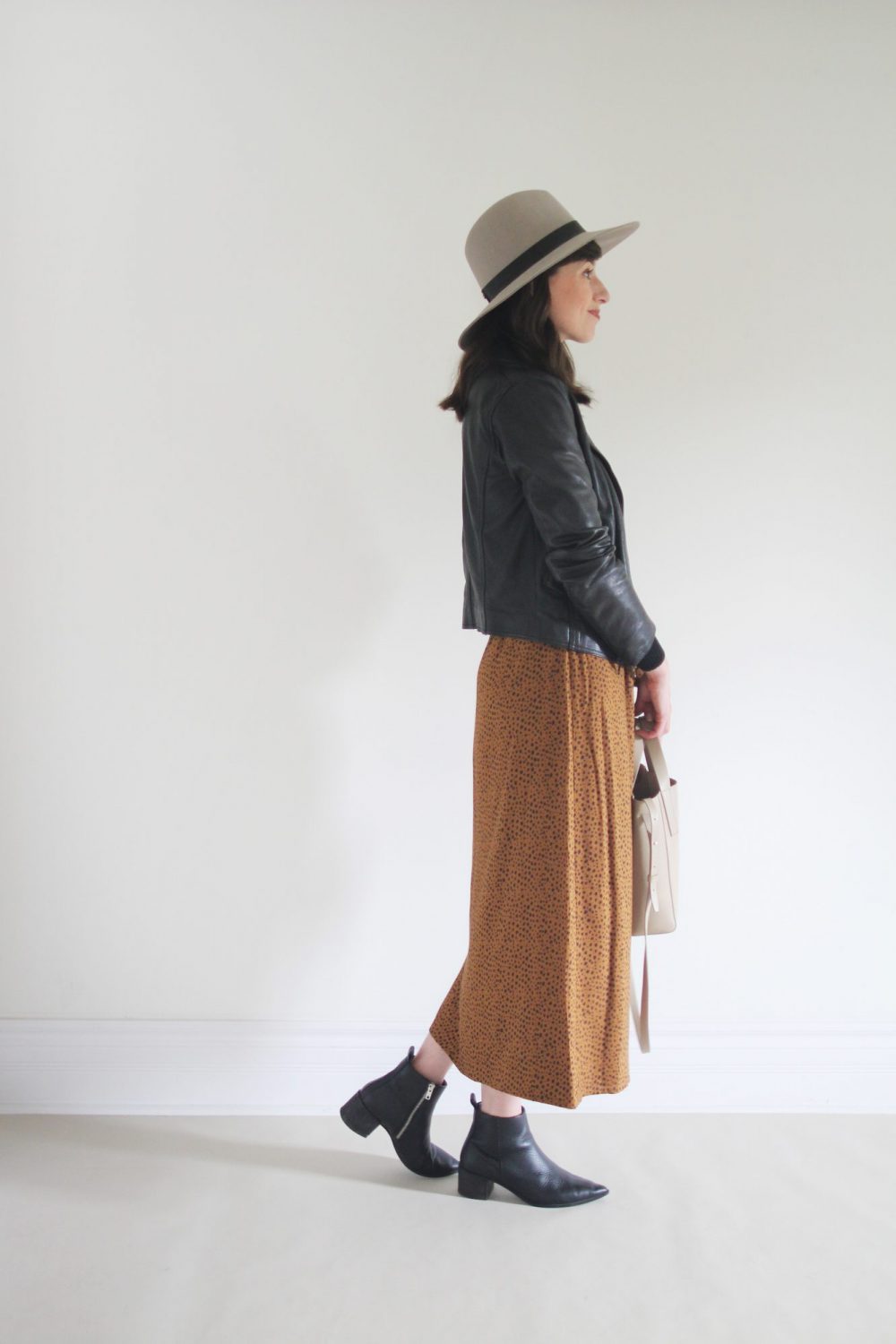 ---
Animal print and black leather are essentially style soulmates but of course, the combination can go too far if you're not careful. Here's how I pair the two in a way that's a bit more on the subtle side.
SKIP THE BLING: I was tempted to wear one of my gold pendant necklaces over my turtleneck but opted not to as I liked the uninterrupted black top half. Additionally, one of the key reasons I've hung onto this leather jacket so long is that it has all black hardware. The usual silver or brass buttons, buckles and zippers can make a leather jacket like this feel too tough for my personal style. It's all in the details!
SOFTEN THE PALETTE: Animal print and black leather is a pretty strong palette but when you add a couple of lighter neutral elements it softens the whole feel. By pairing my grey wide-brim wool hat with the taupe mini day tote the whole mood changes and feels more approachable.
---
OUTFIT SOURCES: MIDI SKIRT (I wear a size Small) $118 USD | BLACK TURTLENECK* | LEATHER JACKET* | MINI TOTE gifted | HAT* | BOSS BOOT gifted | *linked to similar
---

---
LOOK 4 – WINTER
---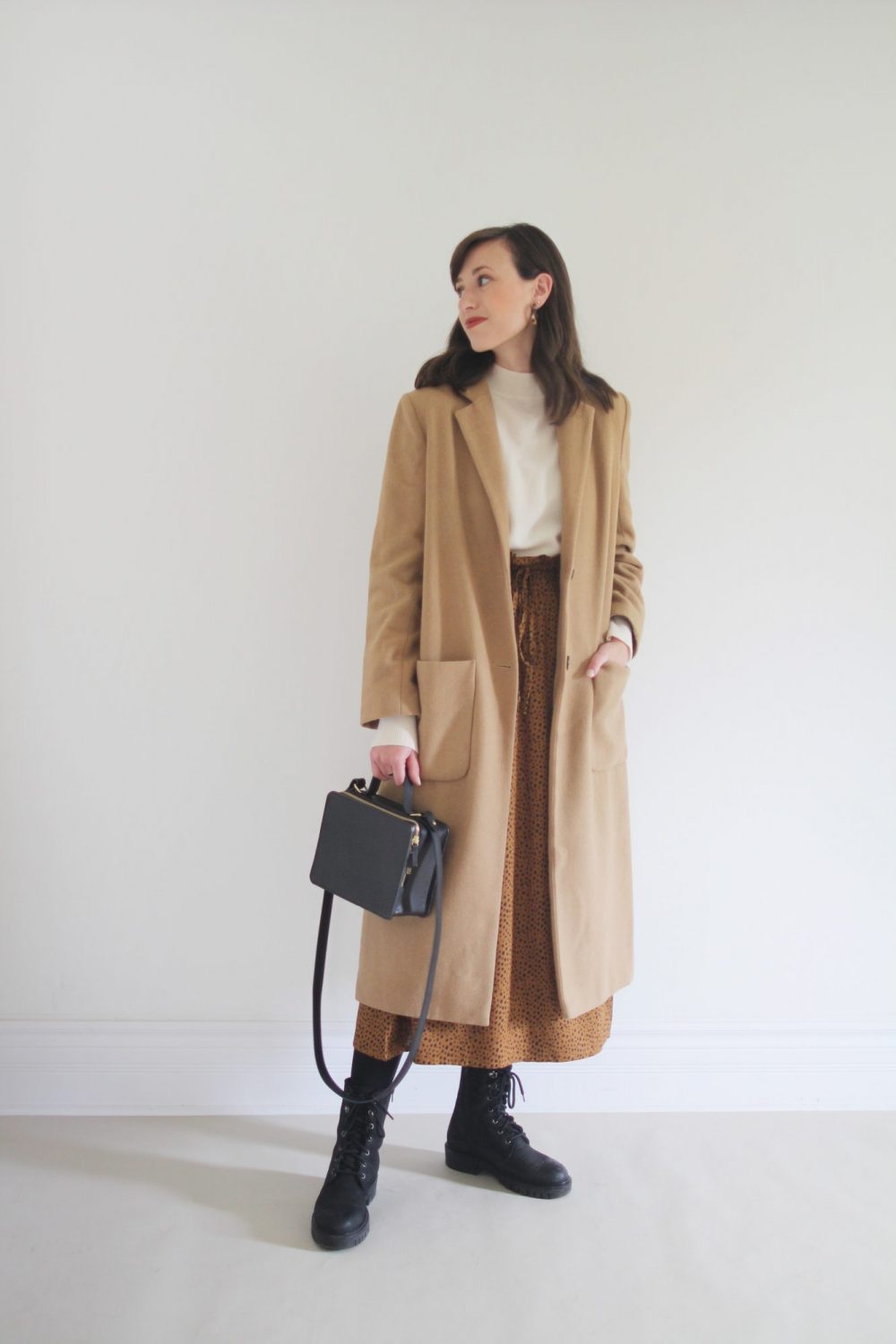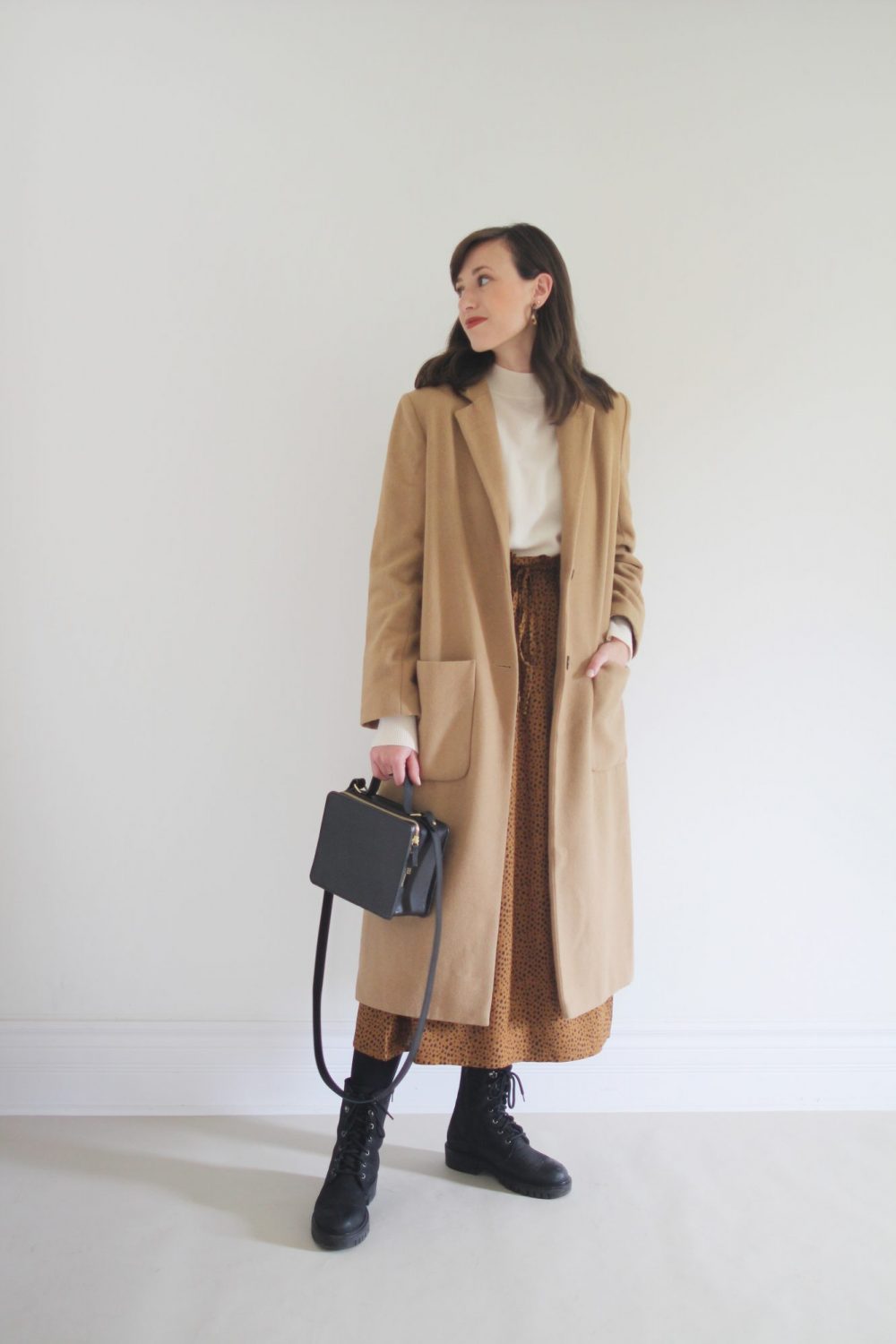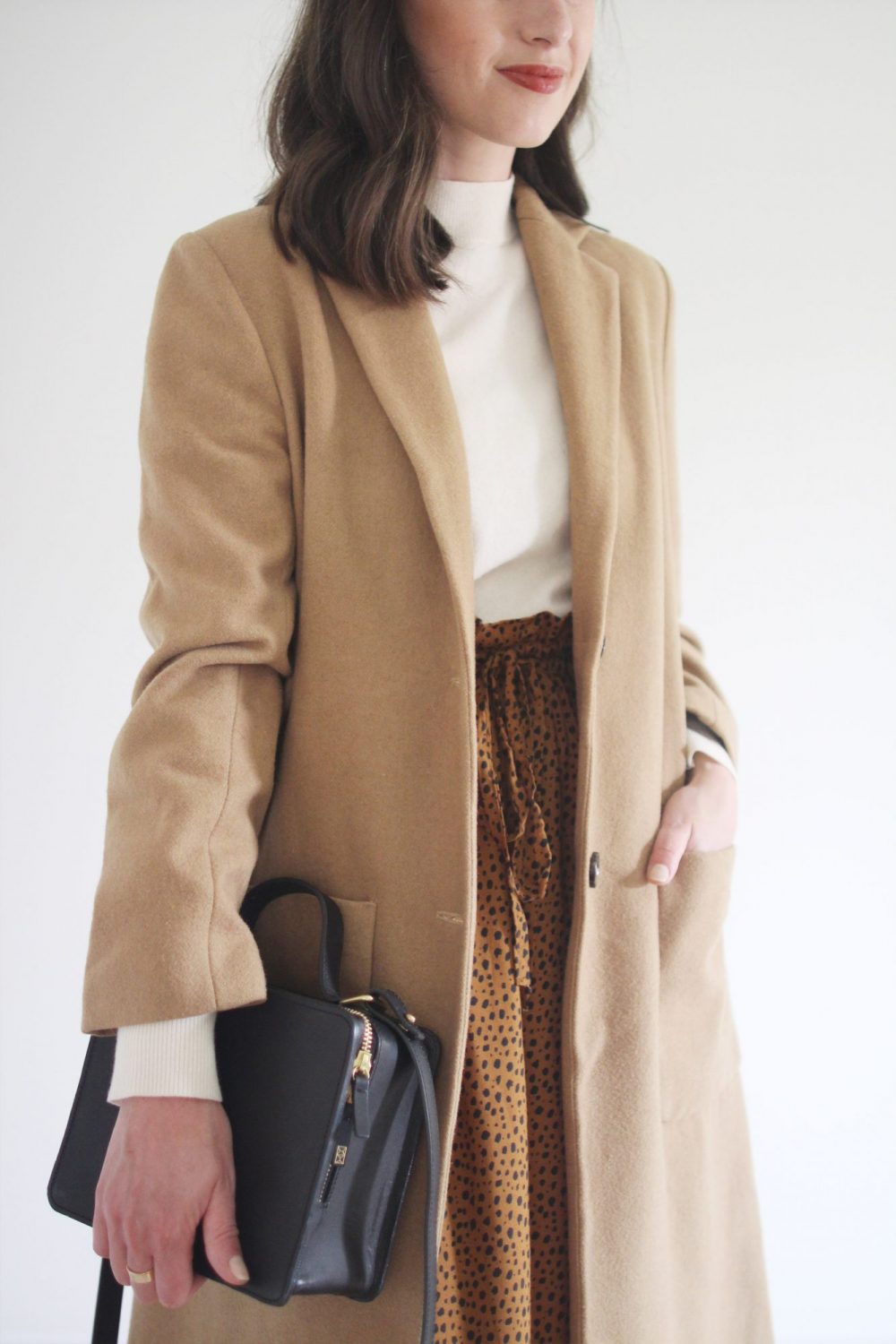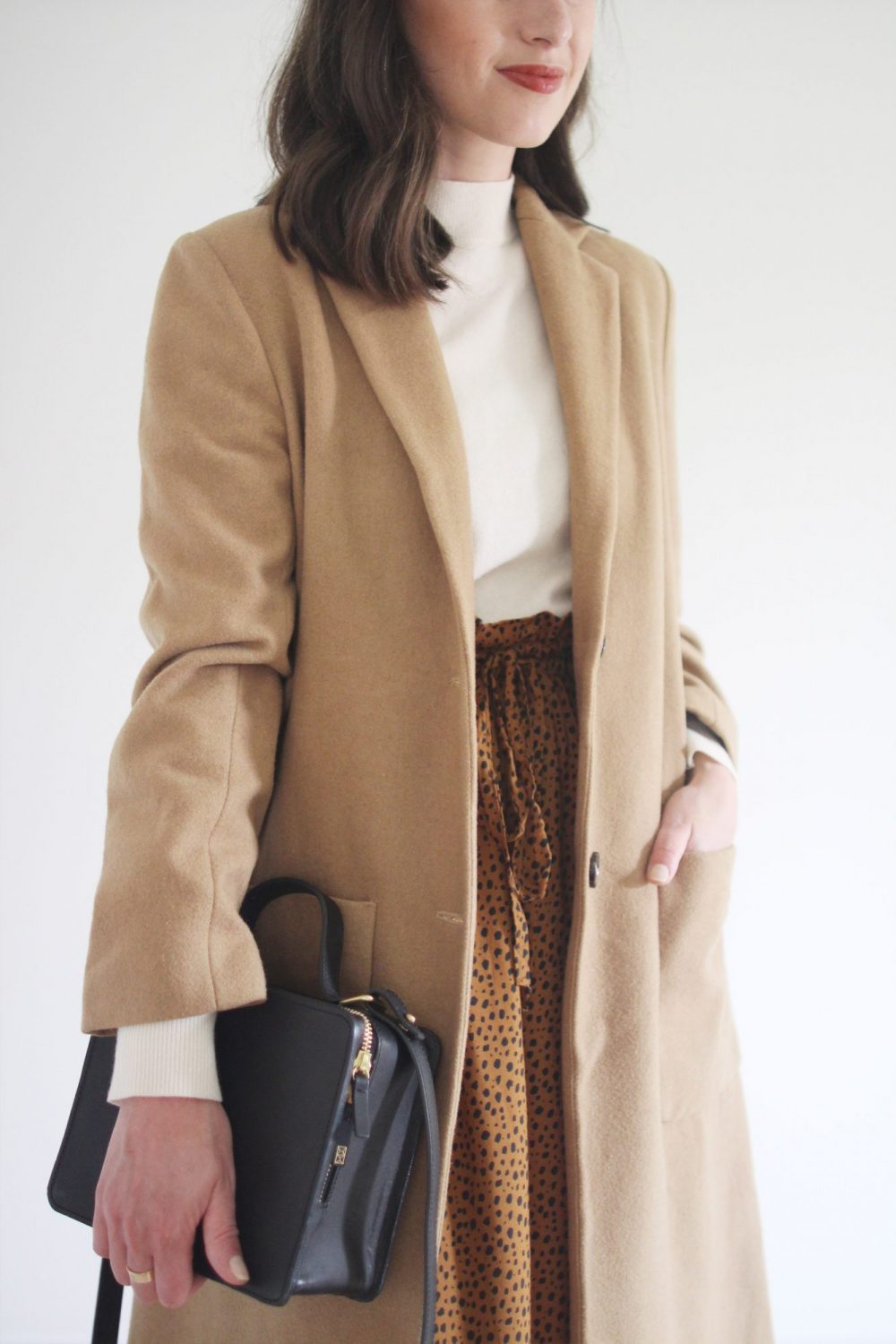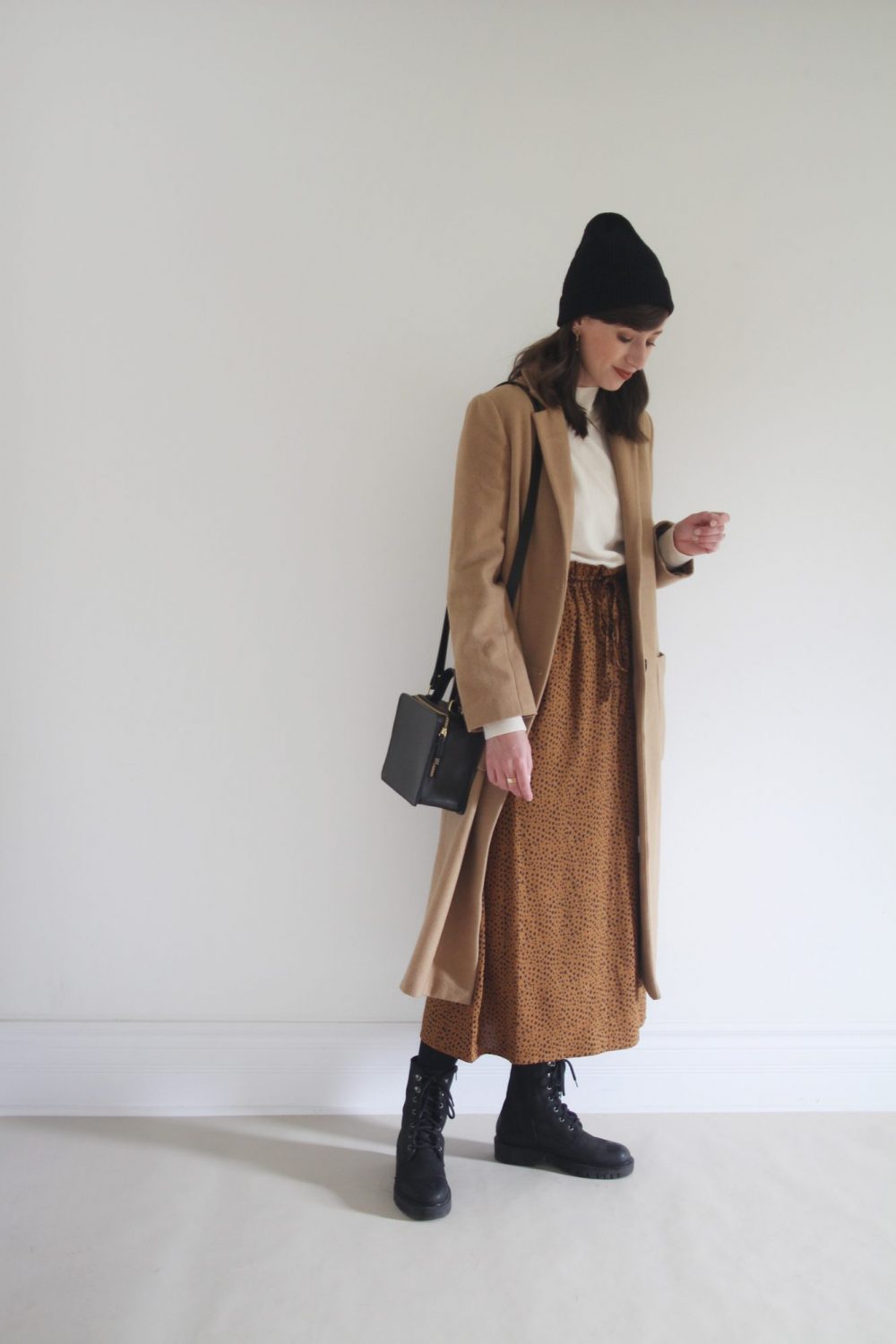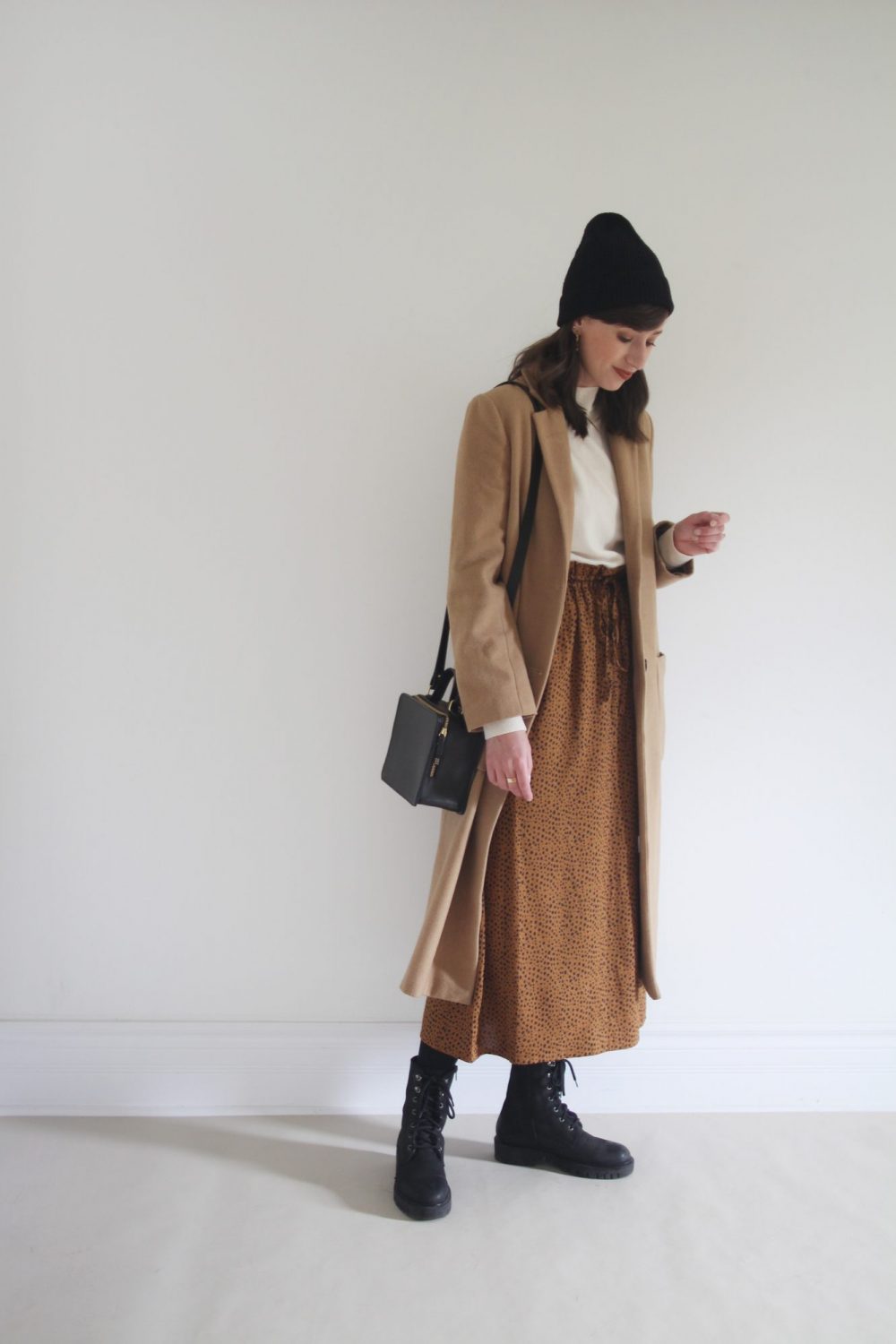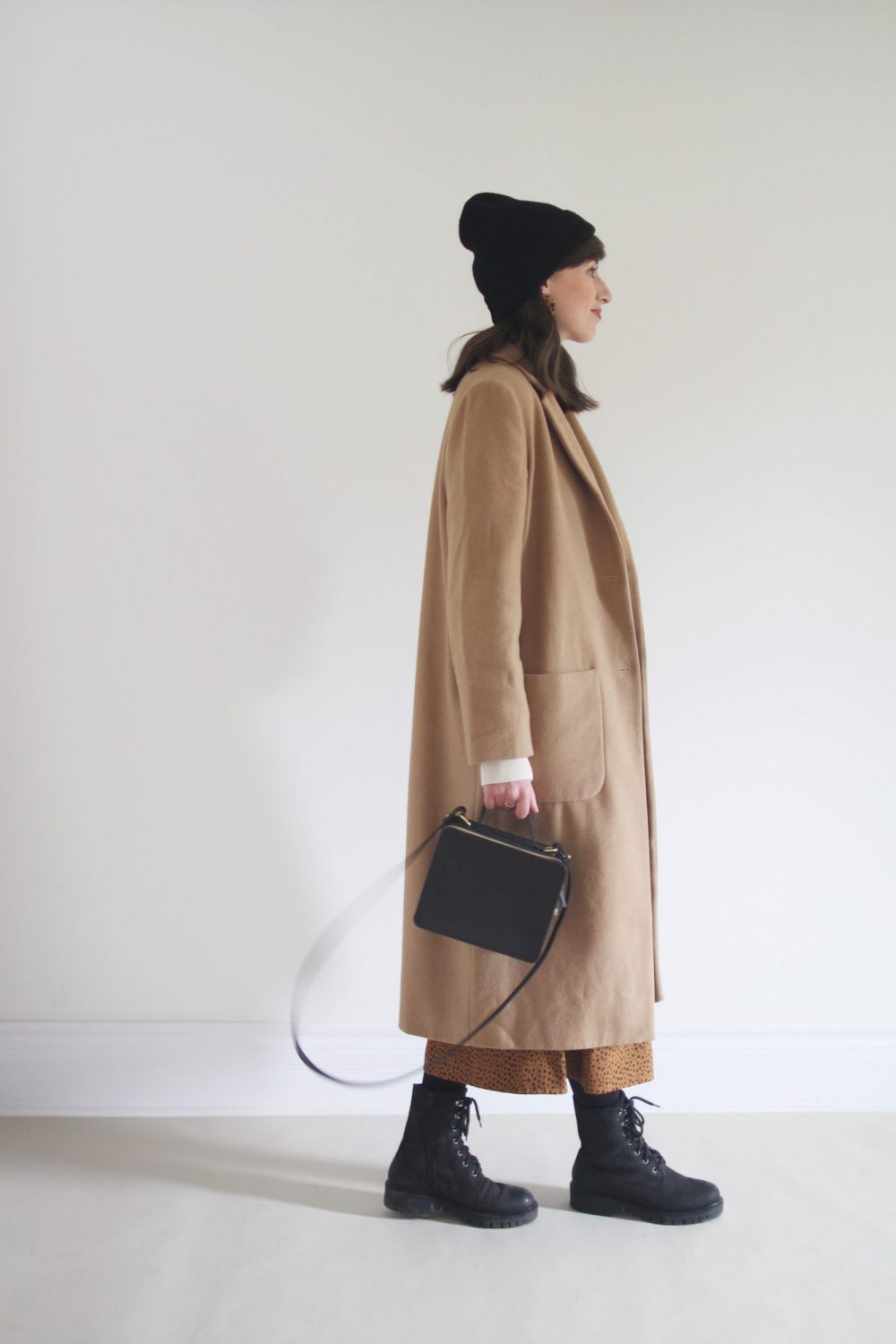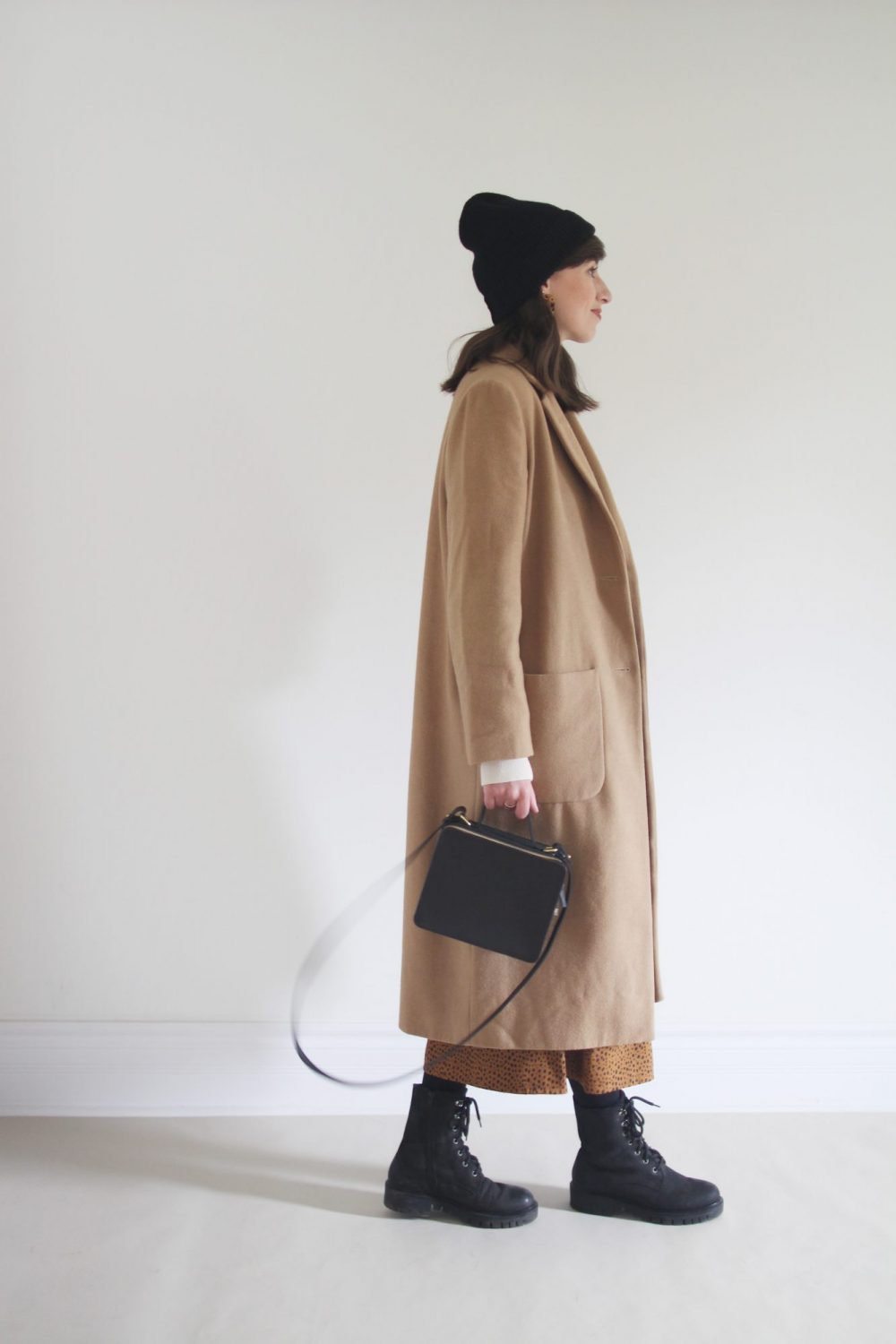 ---
This look was inspired by the always incredible street style of Copenhagen fashion week. It's my favourite fashion week to watch because the looks are both inspiring and still relatively wearable compared to the more avant-garde vibes of Paris and the amazing but over-the-top NYFW.
In particular, this look and this look gave me the gumption to pull this outfit together and it's one of my favourite winter looks ever! A few key styling elements are:
CHUNKY ACCESSORIES: Keeping in tune with the 90's resurgence, combat boots have been enjoying the spotlight for a few seasons now. I love a chunky Doc Marten and these boots (by Canadian footwear brand Maguire) are my winterized, all-black, slightly refined version of the style. Normally, I'd never have thought to pair them with a midi skirt but I kind of love the contrast. By adding a wool beanie and boxy bag the chunky theme continues throughout the look.
MAKE IT A MOOD: Sometimes all you need to make an outfit impactful is some follow-through. In this case thats happening via colour palette, which I've carried through from an amber eye shadow to a brown lip, tortoise earrings and then of course, in all the caramel, camel and ivory pieces. I could have pushed it even further with the right brown accessories but black will definitely do for now.
LONG LAYERS: Long layers are a statement in their own way and it's a styling tool I'll be implementing big time this winter. Here are some other long layered looks to add to your fall/winter inspiration board.
---
OUTFIT SOURCES: MIDI SKIRT (I wear a size Small) $118 USD | CASHMERE SWEATER (wearing a small) | CAMEL COAT* (more below) | BOX BAG gifted | TIGHTS gifted (I love these and wear a M) | RACHEL BOOT (TTS) | *Linked to similar
---

---
A FEW MORE LEOPARD + CHEETAH PRINT SKIRTS TO EXPLORE
This is also a great item to scope out at your local thrift or vintage shop!
---

---
ARE YOU AN ANIMAL PRINT FAN?
WHAT DO YOU THINK ABOUT THESE MIDI SKIRT STYLING TRICKS?
---
THANKS FOR READING & HAVE A WONDERFUL WEEKEND!
---
This post is not sponsored but contains affiliate links and some gifted items. If you see something you like and decide to shop through the links above, I may earn commission on a sale at no additional cost to you. All opinions are always my own. Thanks for supporting Style Bee!