In an instagram post a little while back I asked if you folks might be interested in seeing a workwear capsule and to my delight the answer was a resounding YES! The capsule itself is something I'm still thinking about and slowly pulling together but in the meantime I wanted to share some office-ready looks from my current closet to give you some inspiration for the fall season.
Today I'm sharing 7 looks that could work for a range of different office environments (or no office at all!). From classically corporate to polished professor to artsy accountant, there's bound to be at least one that sparks an idea for your own closet!
I was going to wait until Monday to share these but figured this would give you a head start for next week. Scroll down for all the looks and catch a quick style tip in each one!
---
LOOK 1
---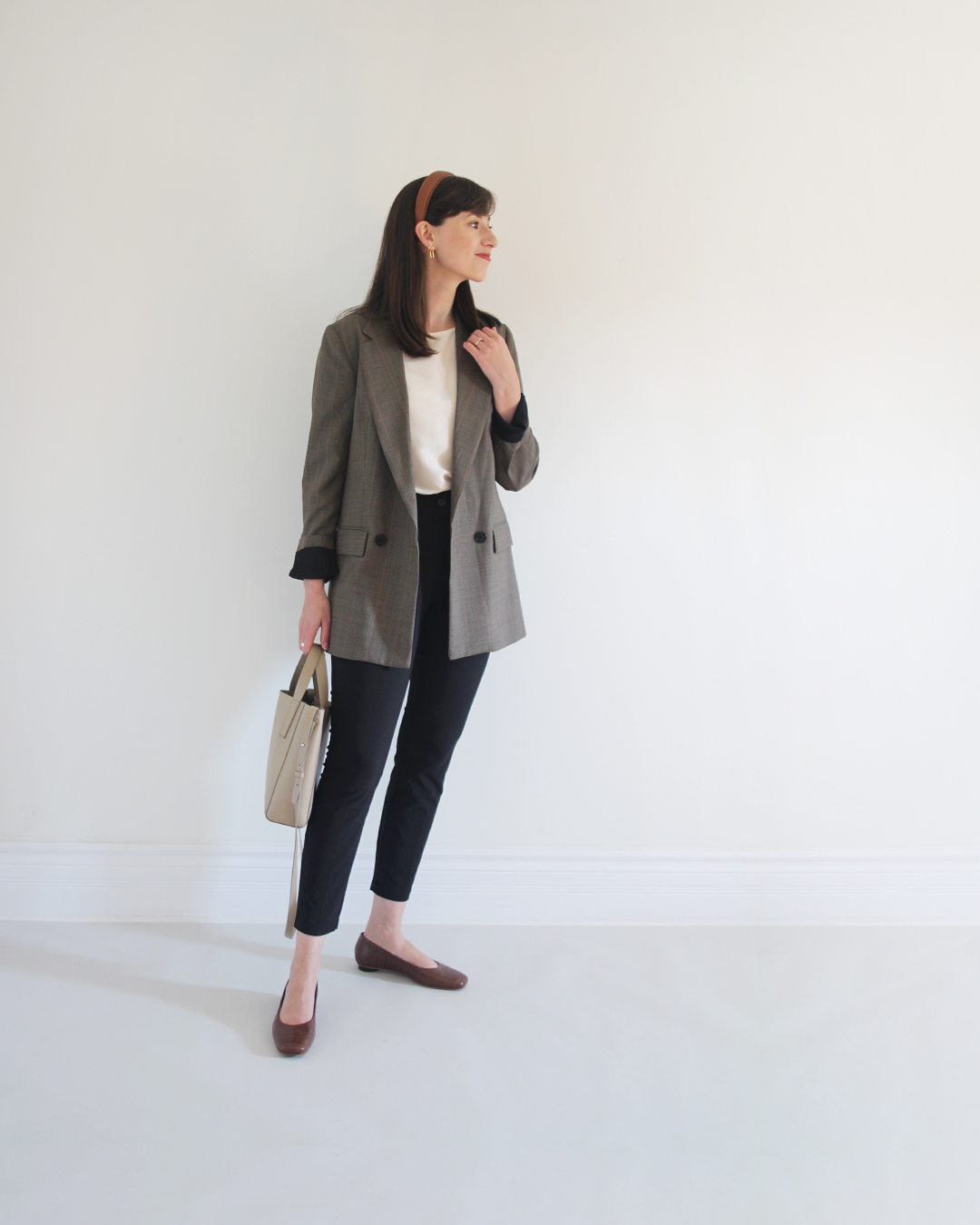 ---
If I worked in an office, this would probably be my go-to outfit formula most days. A simple light coloured top front tucked into black fitted pants with an oversized blazer on top. I added some minimal leather accessories in a range of textures to keep things interesting.
Attention to detail is a great skill to have whether it's for reading reports or getting ready. So consider giving those extra elements some thought when you're putting together a simple look. A little really goes a long way with a modern flat or an unique headband.
---
OUTFIT SOURCES: BLAZER* old | HEADBAND | MINI DAY TOTE gifted | TEE* old | PANTS* old | SQUARE TOE FLATS gifted | EARRINGS gifted | *linked to similar
---

---
SOME GREAT VINTAGE BLAZER OPTIONS

---
LOOK 2
---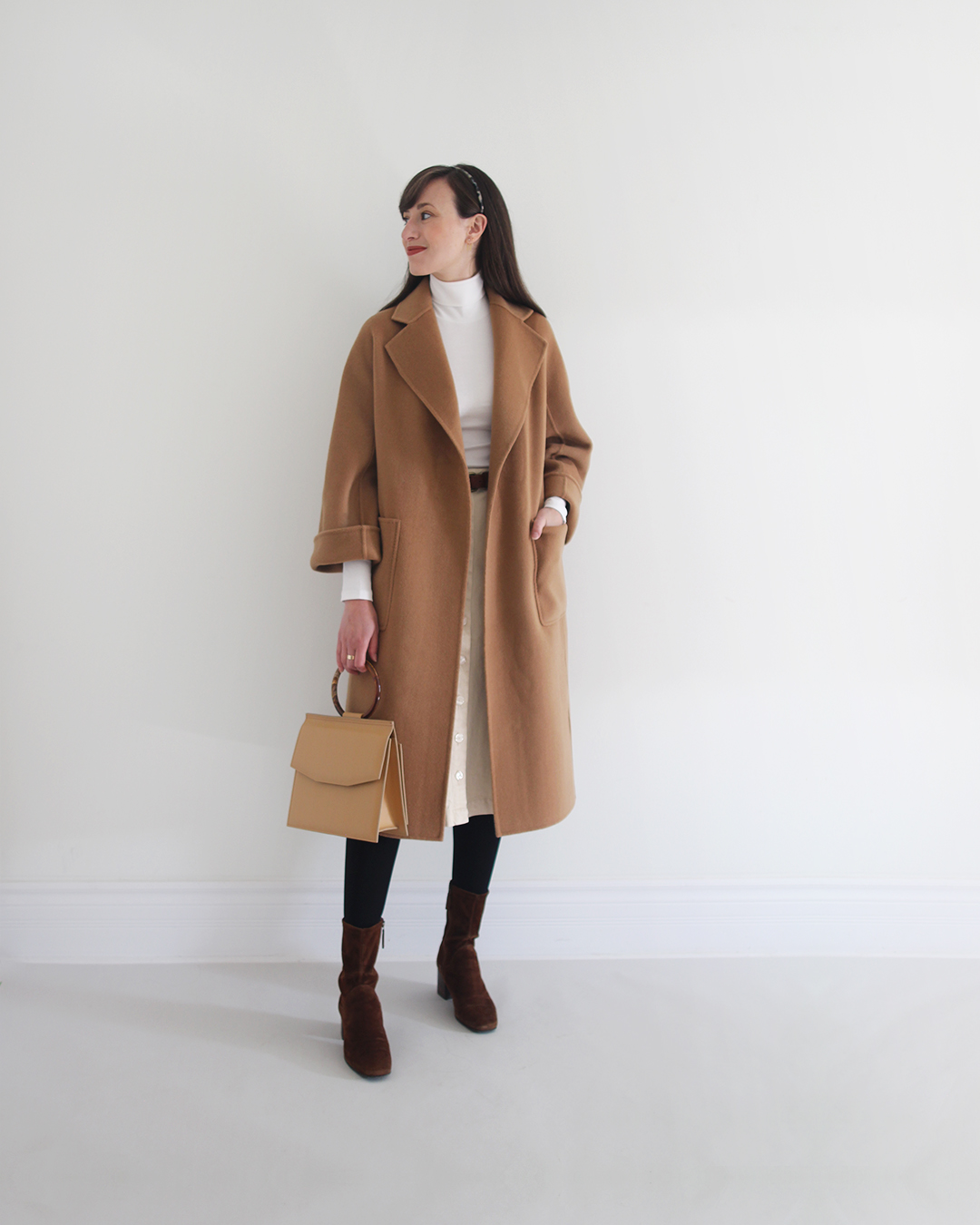 ---
This one is a power look and then some. It's fundamentally minimal but because each item is carefully curated with clean lines and elegant details it has a real boldness to it. I love, love, love the way this palette of bright white, cream, camel and a couple of hints of chocolate came together.
Never underestimate the impact of a monochromatic look! See if you can pull together an outfit using pieces within a tonal range. It could be greys, blues, reds or greens! Whatever you find yourself drawn to often.
---
OUTFIT SOURCES: CAMEL COAT (Wearing a S, comes with belt) | TURTLENECK | BELT | SKIRT* old | TIGHTS gifted | BOOTS (51% OFF!!) | BAG | HEADBAND | EARRINGS gifted
---

---
MORE CAMEL COATS
(Many under $500 USD)

---
LOOK 3
---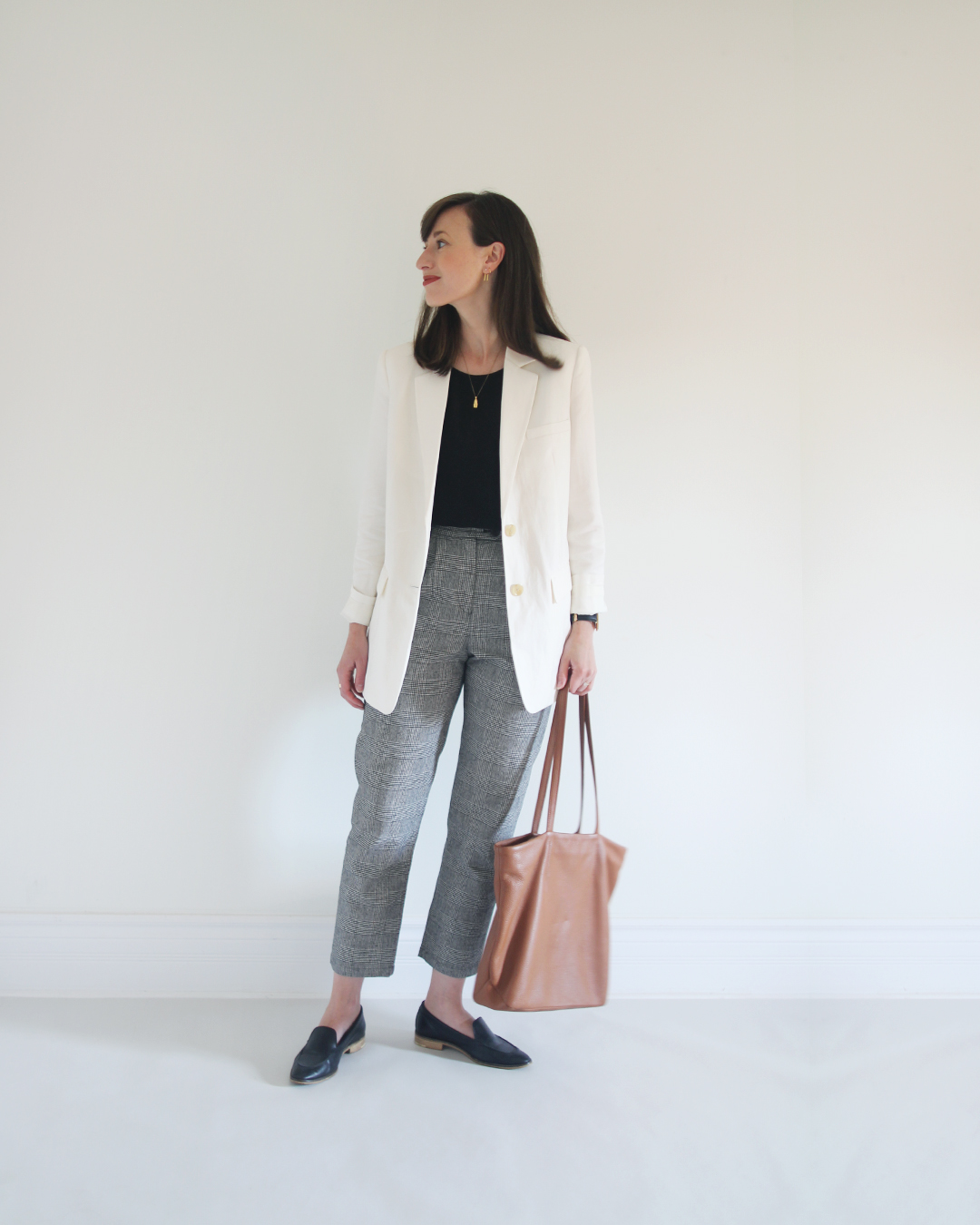 ---
I'm certainly not reinventing the wheel with this office look but I felt the ivory blazer was a nice way to freshen up a black top and houndstooth trouser. I went for loafers, a watch and a large leather tote to reinforce the classic menswear vibe.
Black and white with a bit of pattern and a hit of brown is an easy go-to colour palette when I'm putting together outfits in a hurry.
---
OUTFIT SOURCES: BLAZER (I wear a 2) | TANK gifted | PANTS* old | TOTE* old gifted | LOAFERS | NECKLACE | *Linked to similar
---

---
LOOK 4
---
---
Houndstooth is one of a my favourite patterns (must be the Brit in me) because it always manages to add interest while still blending in. I fought the urge to add a bright white element in this look and opted for a muted olive green button down. I love how this one feels a moody and earthy with the mix of sage, oxblood and lots of black textures.
Next time you're inclined to add a certain colour maybe swap it out for something less obvious and see how it feels!
---
OUTFIT SOURCES: HOUNDSTOOTH COAT* vintage | WASHABLE SILK SHIRT gifted | BELT | SKIRT gifted | TIGHTS gifted | BAG* vintage | BOOTS gifted | EARRINGS gifted
---

---
LOOK 5
---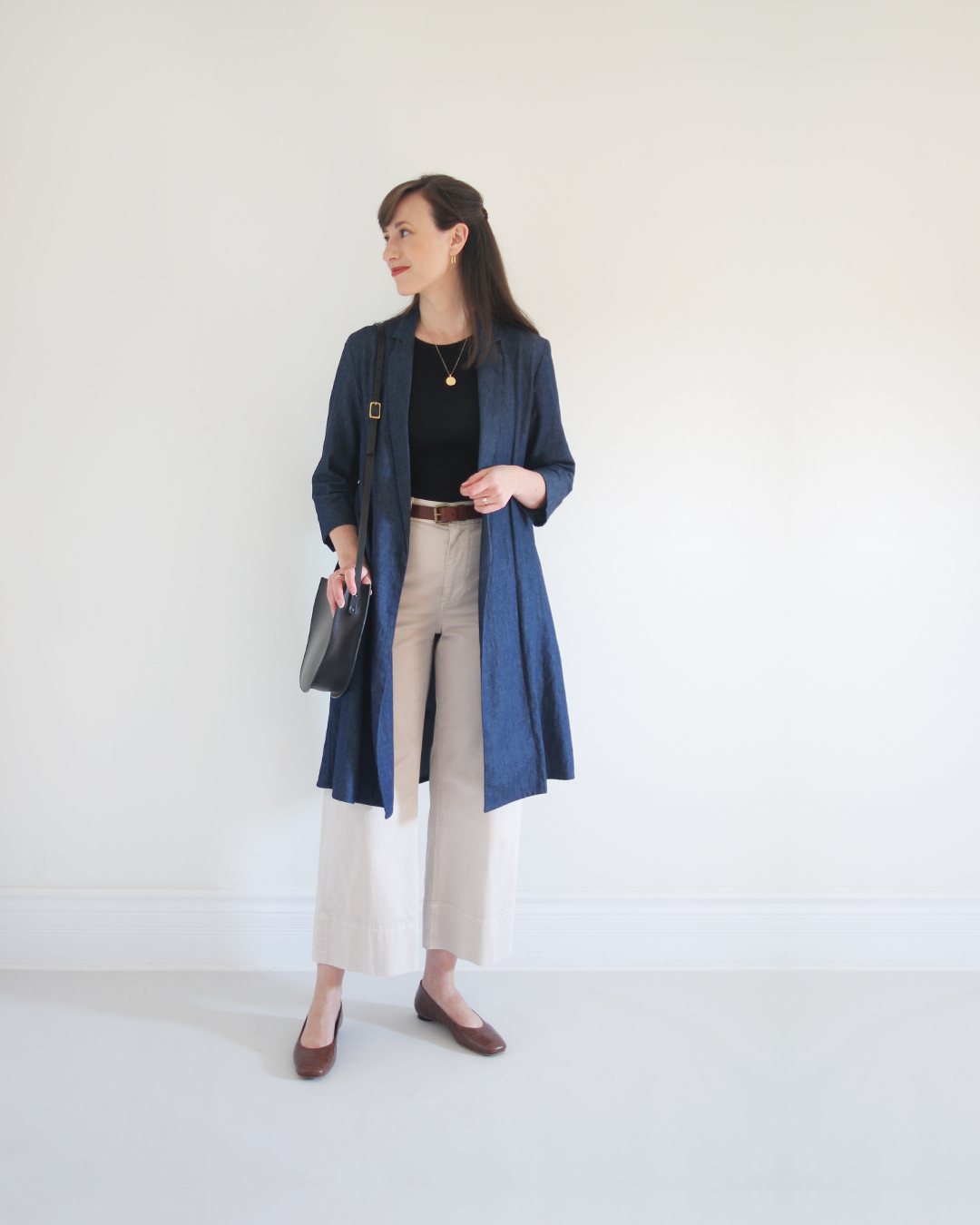 ---
Every time I wear this denim duster someone usually says I'm serving some major art teacher vibes and I can totally see why. A long duster coat like this is a great piece to sub in instead of say a blazer, leather jacket or sweater because it's a bit less expected and adds an element of polish without being too basic or serious. Duster jackets are a fundamental part of my personal style for that very reason!
Fun fact, I almost took psych in undergrad with a plan to become an art therapist. I even considered doing a masters in it but decided to follow my love of design instead.
---
OUTFIT SOURCES: DUSTER COAT* old | BLACK TEE (I wear a S) | WIDE LEG CHINO (see the full review) | BELT | FLATS gifted | HAIR CLIP | NECKLACE | BAG* old | EARRINGS gifted | *Linked to similar
---

---
LOOK 6
---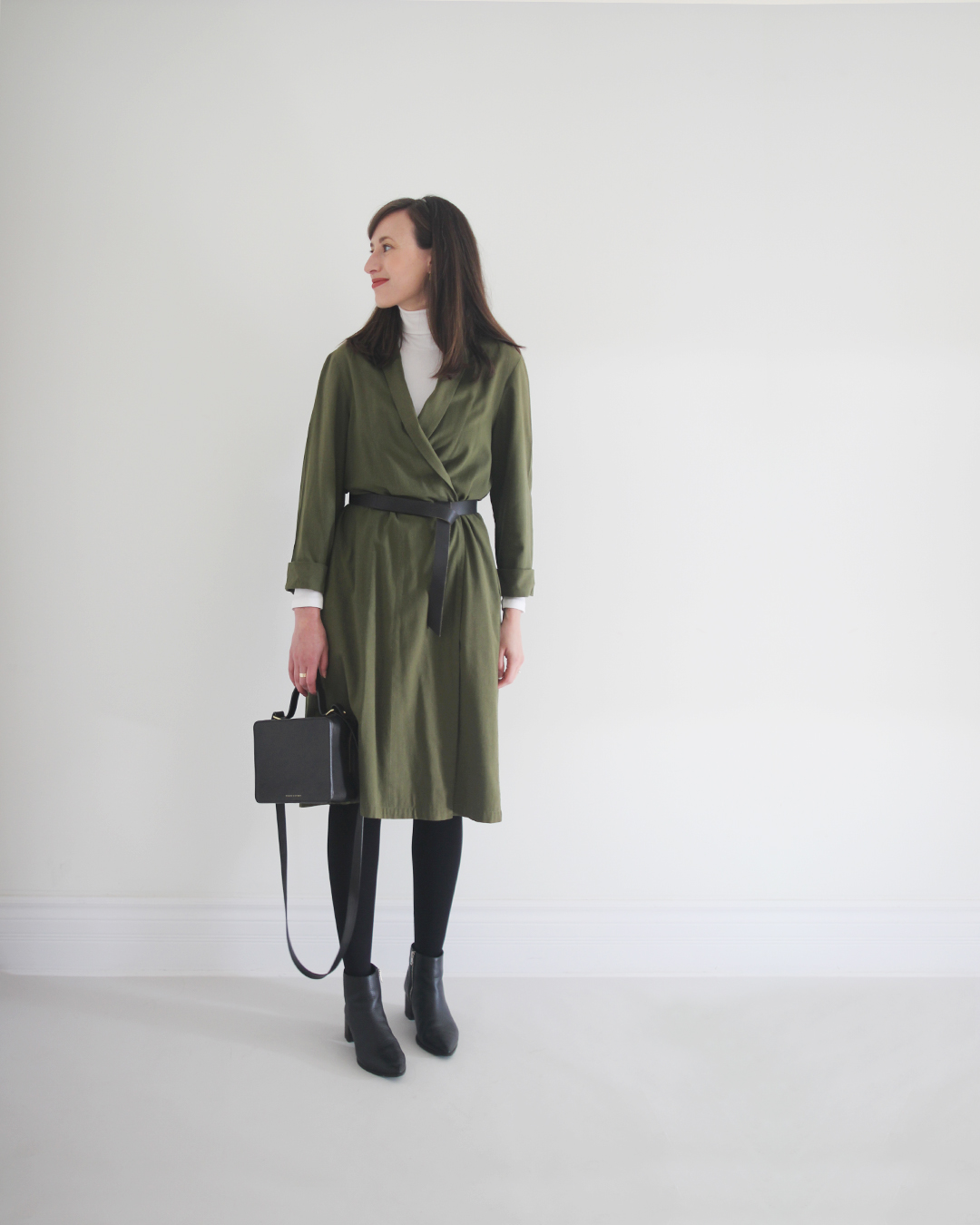 ---
Since we're on the topic of duster coats, I wanted to get a bit creative with this green one and decided to try it out as a dress. Now I just can't believe it took me so long to wear it this way! I layered it over a pair of opaque tights and a fitted turtleneck and belted it with a unique but minimal knot belt.
Whenever I'm trying something new with an item, I try to keep the rest of the look really simple. This way I'm not so far outside my comfort zone that I feel self-conscious. In this case that meant all black accessories and clean lines throughout.
---
OUTFIT SOURCES: DUSTER COAT/DRESS* old | TURTLENECK (I wear a S) | BOX BAG gifted | KNOT BELT* old | TIGHTS gifted | BOOTS gifted | EARRINGS gifted | *Linked to similar
---

---
LOOK 7
---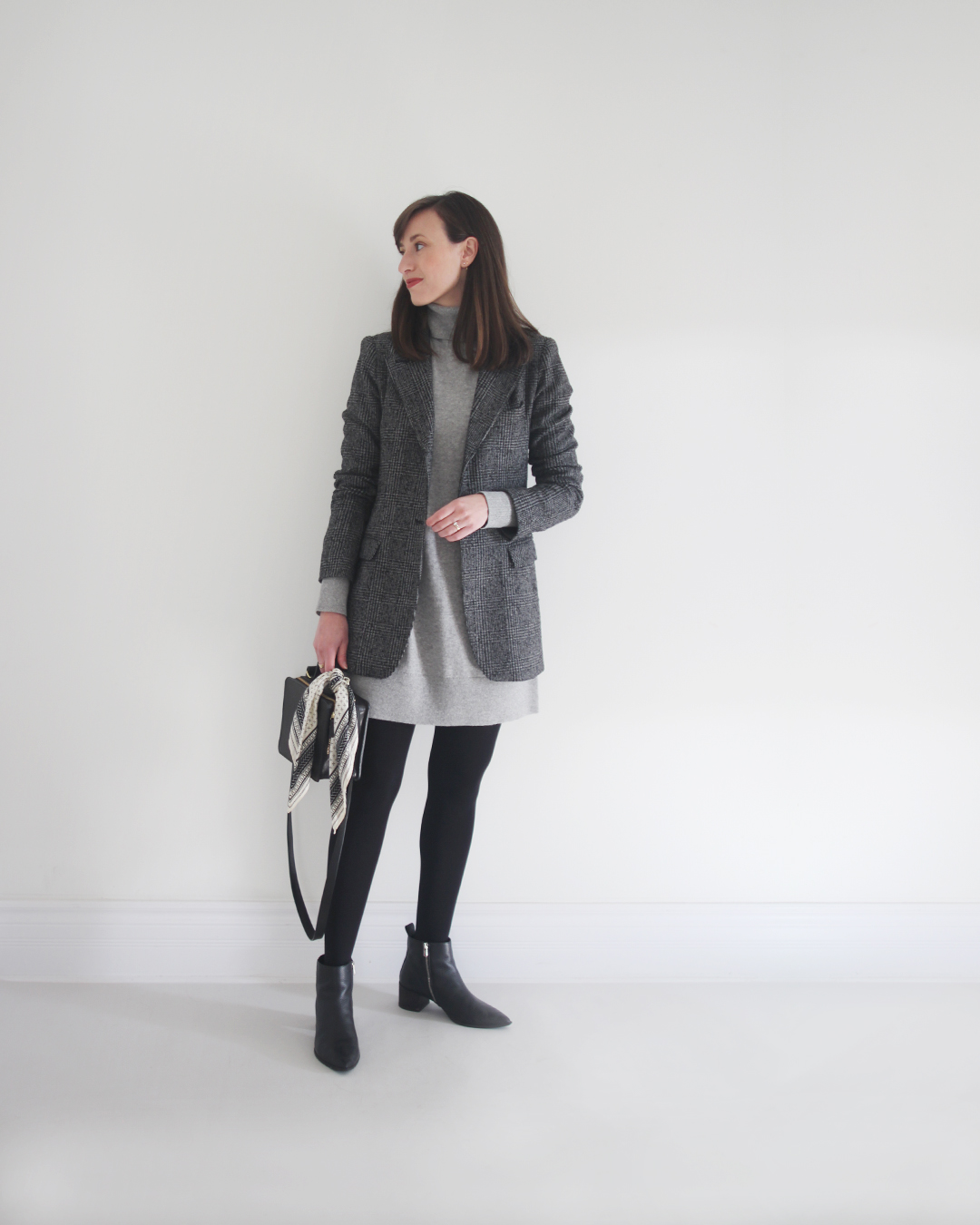 ---
Last but not least we have a more classically corporate look. I wore this one recently for a meeting and felt like a total boardroom badass!
There is something special about the combination of a sweater dress and a blazer. The two don't typically work together but in this case I'm really feeling the softness of the monochrome grey palette mixed with clean lines and a black leather box bag and pointed boot.
Coming at you Q4!
---
OUTFIT SOURCES: SWEATER DRESS (I wear a M for a looser fit) | BLAZER* old | TIGHTS gifted | BOOTS gifted | EARRINGS gifted | BOX BAG gifted |*Linked to similar
---

---
---
---
Well that was fun!
I hope this post gives you some new office outfit ideas!
If you enjoyed this one or have another style category you'd like me to tackle with a week of outfits please let me know!
---
Thanks for reading & have a wonderful weekend!
HAPPY THANKSGIVING TO ALL THE CANADIAN FOLKS!
---
This post was not sponsored or produced in partnership with any brands noted above. This article contains affiliate links and some gifted items. If you see something you like and decide to shop through the links above, I may earn commission on a sale at no additional cost to you. All opinions are always my own. Thanks for supporting Style Bee!