I'm a little bit late to the holiday style party this season but I've still got a few events on my calendar and thought it would be fun to share my ideas. I also had lots of requests for date night looks during a recent poll on Instagram & these would all be great for that!
These looks are easy, comfortable, classics for any holiday or new year's eve event you might have in the next while but also great for dressier occasions all winter long!
Today's post will cover 4 festive looks that could work for:
PROFESSIONAL EVENTS
FAMILY TIME
A COMFY-CHIC NYE
THE THEATRE
Shall we?
---
LOOK 1
TAILORED BLACK & BROWN FOR A PROFESSIONAL SETTING
---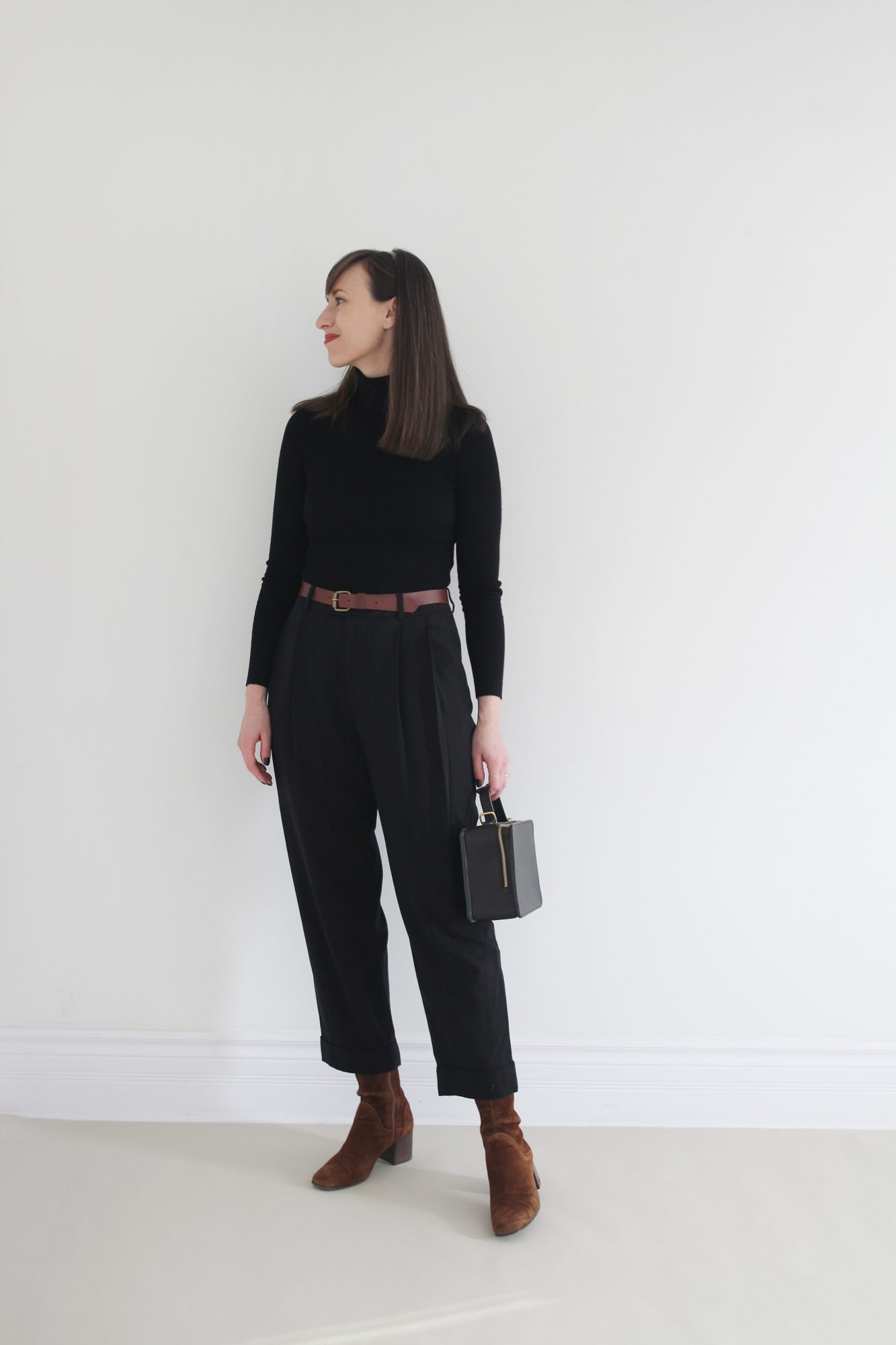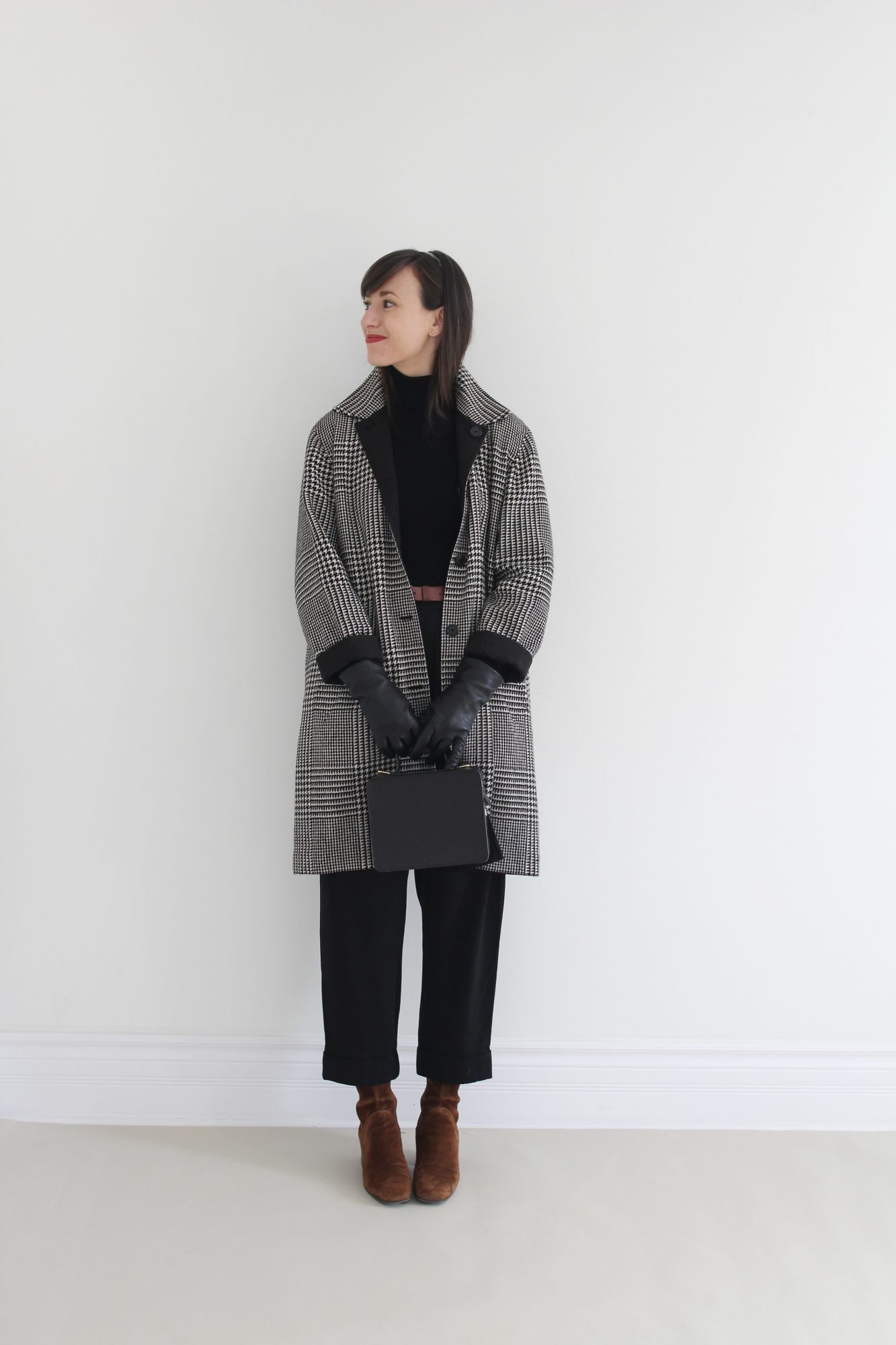 ---
This one could be great for so many things but feels particularly perfect for any winter work events that might be on your radar in 2020. It would do just as well for a family gathering or some market hopping too. The accents of brown have me wishing for a spot of mulled wine!
I've been on the lookout for a pleated trouser for years now and had to give the Put-Together Pleat Pant a try (gifted). I'm going to have the cuffed hem dropped so they're not quite as cropped on me but I really enjoy the sneaky pleat pocket (which reduces bulk at the hip) and the feel/movement of fluid Tencel.
A trouser like this is great for work with a cardigan or blazer but I love how this sleek black on black combo comes to life with a couple of pops of brown. A houndstooth coat and boxy bag add a little dose of vintage glamour, which I am all for!
---
LOOK 1 OUTFIT SOURCES: HOUNDSTOOTH COAT* vintage // RIBBED TURTLENECK BODYSUIT OF BARCELONA (wearing a M) // PLEATED TROUSER gifted EVERLANE (wearing a 4) // CARIE BOOTS AQUATALIA (on sale TTS but narrow) // BELT ATELIER B // BOX BAG gifted MINOR HISTORY // LIP COLOUR: FRINGE KOSÅS // *Linked to similar
---

---
LOOK 2
MINIMAL & COZY FOR FAMILY TIME OR A VISIT WITH FRIENDS
---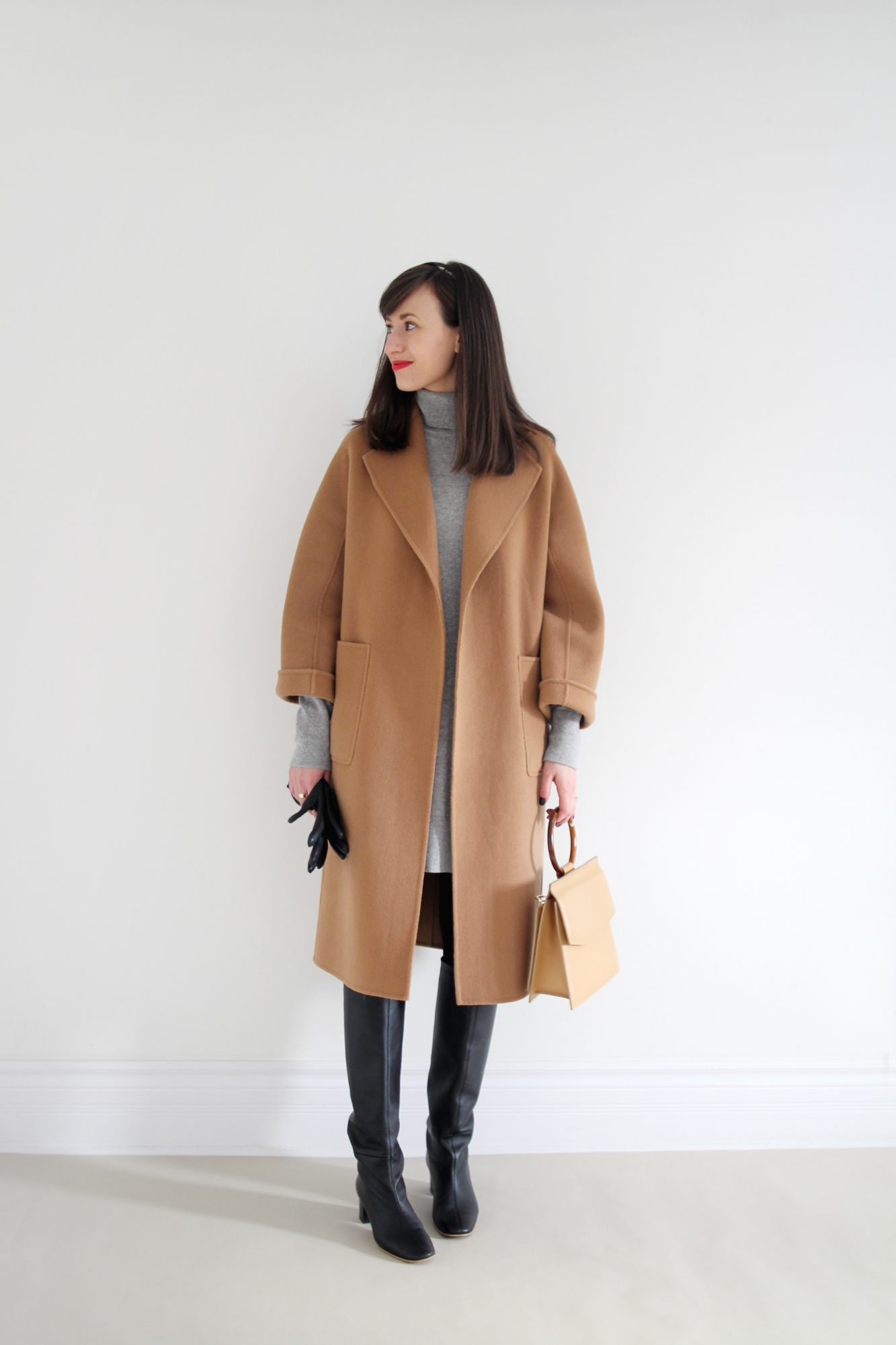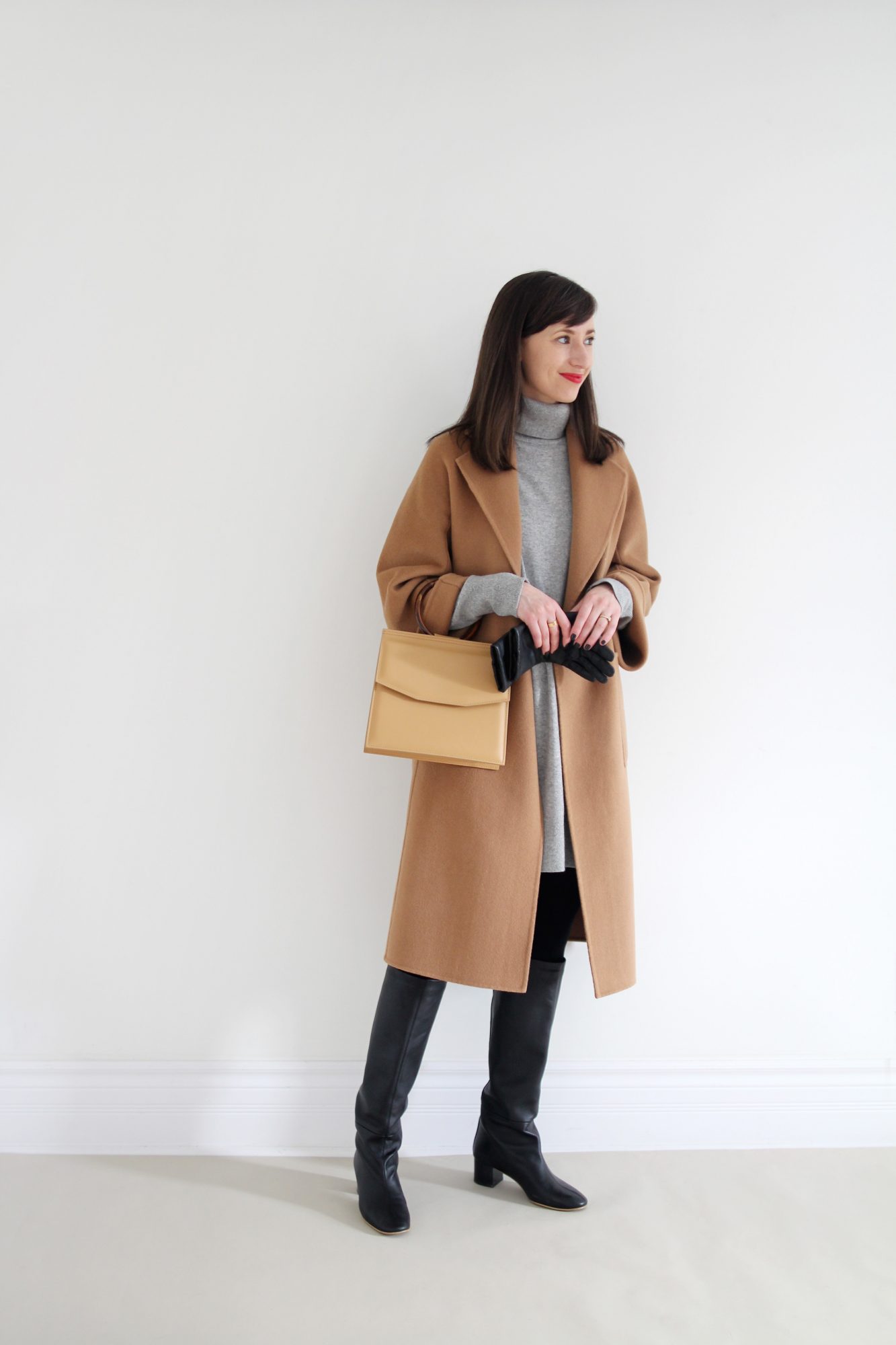 ---
I've shared this look a couple of times this season but I just can't help it when I've found a new favourite! I first wore this outfit during our time out west and again several times since because it's just so darn comfy. I love how cozy and easy-going it is while still making a minimal and elegant statement. Also, camel & light grey, HELLO new favourite combo!
I'll be pulling this one on for upcoming family get-togethers and visits with friends because it's as ready for cocktail hour as it is for crashing on the couch!
---
LOOK 2 OUTFIT SOURCES: CAMEL COAT THE CURATED (wearing a S) // TURTLENECK DRESS EVERLANE (wearing a M) // TIGHTS gifted SWEDISH STOCKINGS // TALL BOOTS* sold out/gifted EVERLANE // BAG ATELIER BATAC // LIP COLOUR: THRILLEST KOSÅS // GLOVES* old // *Linked to similar
---

---
LOOK 3
SILKY SET FOR A COMFY-CHIC NEW YEAR'S EVE
---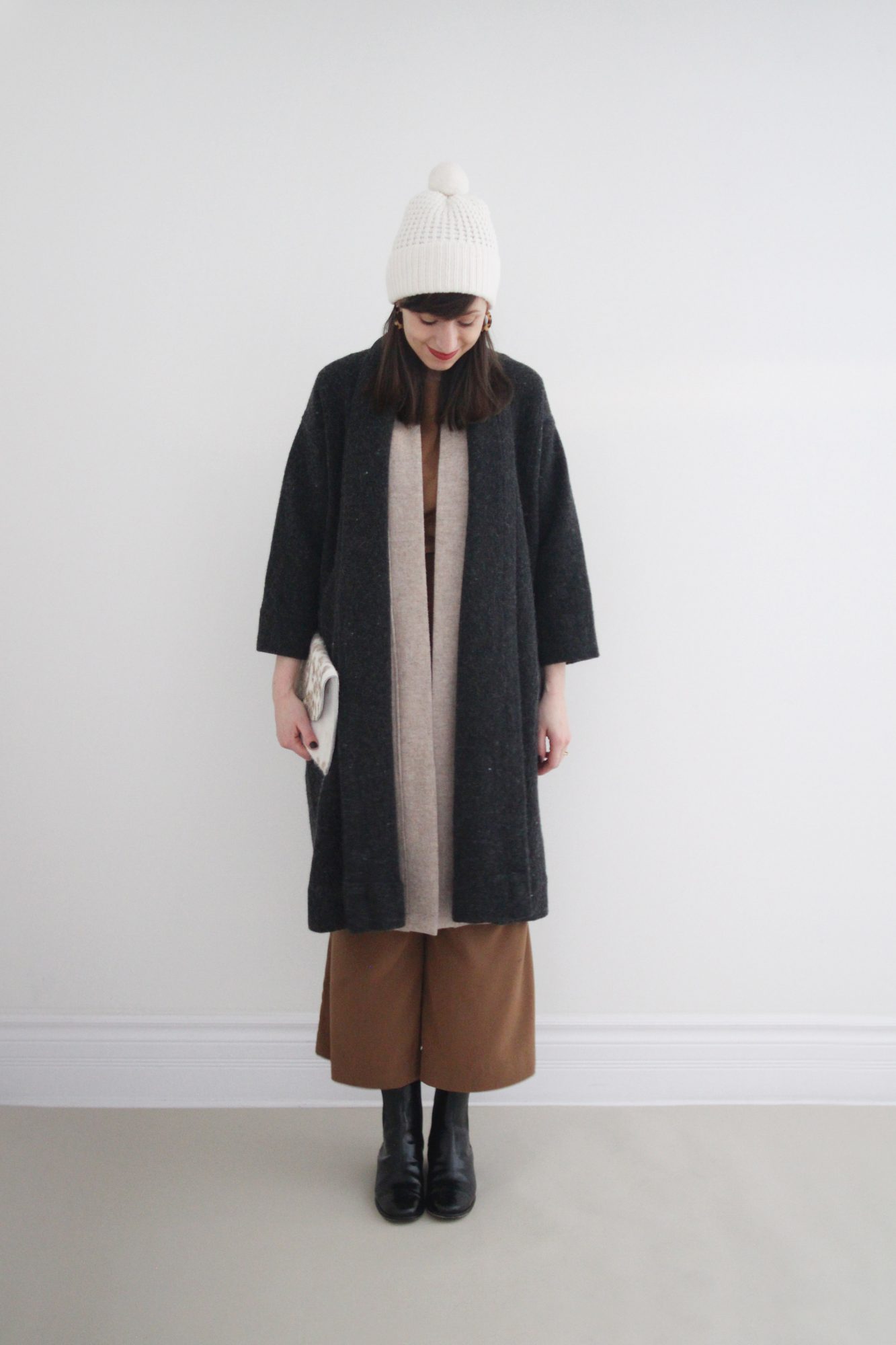 ---
I'm living my moss silk dreams in this one and I never want to wake up lol. All credit for this combo goes to my dear friend Caroline because I might not have tried it otherwise. Caroline always has a way of styling things so simply but so brilliantly at the same time.
This one is ideal for a cozy New Year's Eve gathering to ring in 2020 in both style and comfort. I love how these two pieces create a faux jumpsuit and how the hem of the Florence pant mimics the sleeves on the Georgia tee. I could add a belt to give it a bit more polish but I love it as is with the cinched silk texture creating a focal point.
I added an oatmeal wool duster (old/gifted) for a touch of warmth and layered even more wool on top with my Clyde Trench (gifted). My favourite tortoise hoops and a spotted clutch add a hint of pattern while a sleek chelsea boot and a chunky knit hat serve as classic bookends to the look!
---
LOOK 3 OUTFIT SOURCES: BEANIE* old // CLYDE TRENCH (wearing Small) | GEORGIA TEE (wearing OS) | FLORENCE PANT (wearing M Reg) gifted ELIZABETH SUZANN // DUSTER VEST* old gifted ONLY CHILD // CHELSEA BOOTS* old RACHEL COMEY // CLUTCH gifted PRIMECUT // KATE HOOPS MACHETE // *Linked to similar
---
DON'T FORGET TO ENTER THE ELIZABETH SUZANN GIVEAWAY! WINNERS WILL BE DRAWN TOMORROW AT 12 PM EST.
---
LOOK 4
FESTIVE & FLOATY FOR A NIGHT AT THE THEATRE
---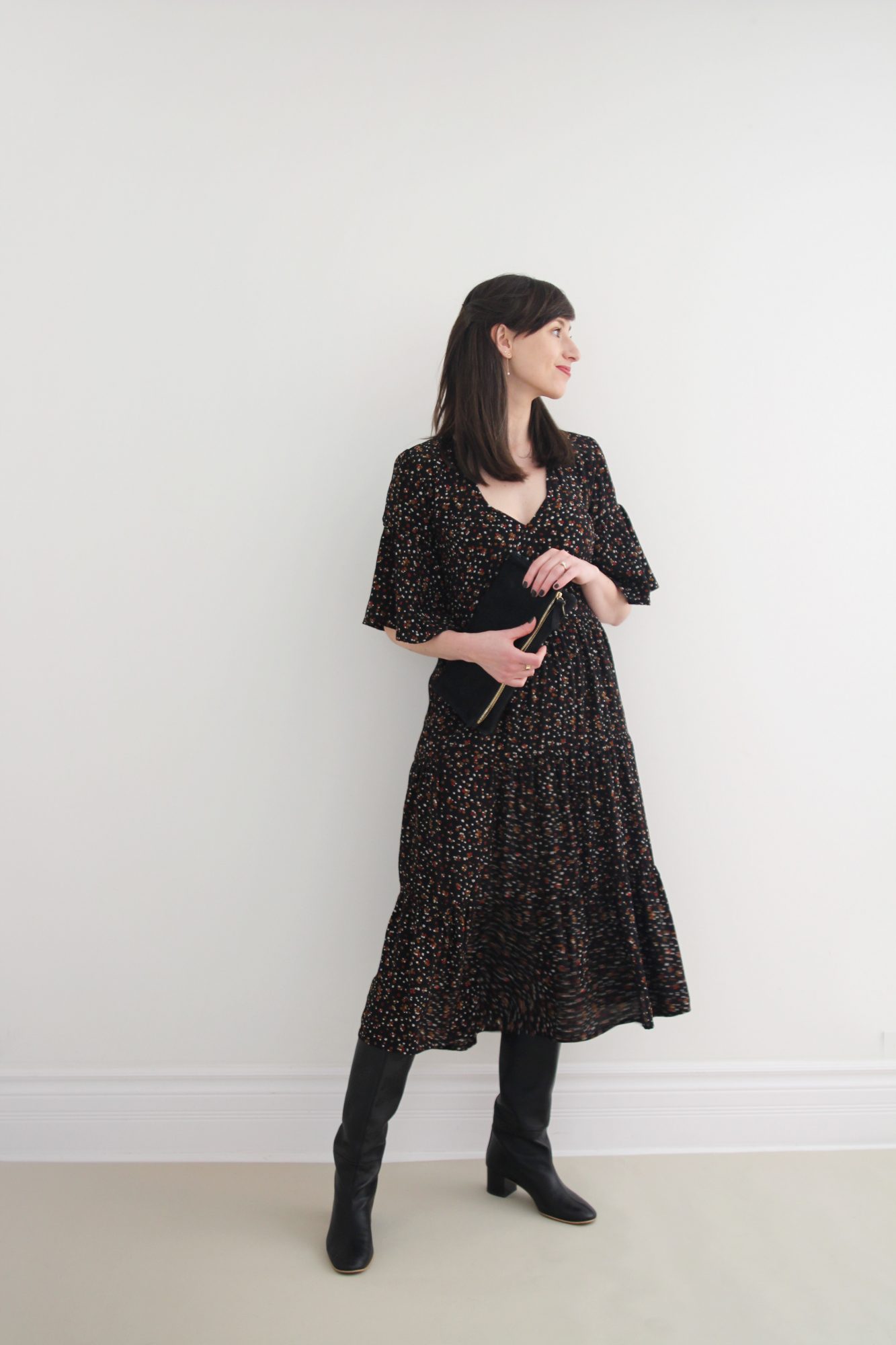 ---
I don't wear a lot of dressy dresses but when I do I like them to be floaty and fun! This is an old one (similar options linked below or check out DOÊN) but it's been perfect for lots of winter occasions like birthday parties, New Year's Eve, the theatre and dinners out downtown.
It's one of those pieces that's easy to dress up or keep casual. I love it with these tall boots and a glamorous coat just as much as with winter boots and a chunky cardigan.
Something about a dress like this really puts me in a party mood. I love cranking the tunes and dancing around but I didn't give myself permission to let loose much this year. When I wore this one over the weekend I felt so fabulous that I made a literal note to wear dresses and dance more in 2020!
---
LOOK 4 OUTFIT SOURCES: DRESS* old FAITHFULL THE BRAND // COCOON COAT* old ELIZABETH SUZANN // TIGHTS gifted SWEDISH STOCKINGS // TALL BOOTS* sold out/gifted EVERLANE // SCARF gifted EVERLANE // CLUTCH* old CLARE.V // LIP COLOUR: UNDONE KOSÅS // EARRINGS gifted JEWELS & ACES // *Linked to similar option
---

---
Thanks for reading! I'll be sharing my 2019 Conclusion tomorrow before I sign off for the holidays.
---
This post was not sponsored or produced in partnership with any brands noted above but does contain affiliate links and some gifted items. If you see something you like and decide to shop through the links above, I may earn commission on a sale at no additional cost to you. All opinions are always my own. Thanks for supporting Style Bee!