It's been an intense week for the world and with so much uncertainty about the future this is an anxious time for many. I'm doing my best to stay updated, without over-consuming news, proactive, without paranoia, and positive, while taking necessary safety precautions.
Another key part of staying sane during this stressful time is to focus on work and continue to share what I love with you, which is of course, style! I'd initially planned to include these outfits in an upcoming post but with so many folks working from home* it seemed like the perfect time to share them.
Today I'm sharing three easy-going outfits that I've been wearing for the last few months. I work from home full-time and have learned that there is a difference between embracing comfy and staying in pyjamas all day. These outfits are all interchangeable and perfect for anything from conference calls to park time with the kids to tackling your out-of-office to-do list. Let's take a look!
*Working from home and stocking up on goods is a privilege that not everyone has. Consider donating to your local food bank and supporting local small businesses who are feeling the strain of reduced foot-traffic if you have the means to do so. We're in this together.
---
This post was not produced in partnership with any brands mentioned but does contain affiliate links. If you see something you like and decide to shop through the links included, I may earn commission on a sale at no additional cost to you. All opinions are always my own. Thanks for supporting Style Bee!
---
LOOK 1
---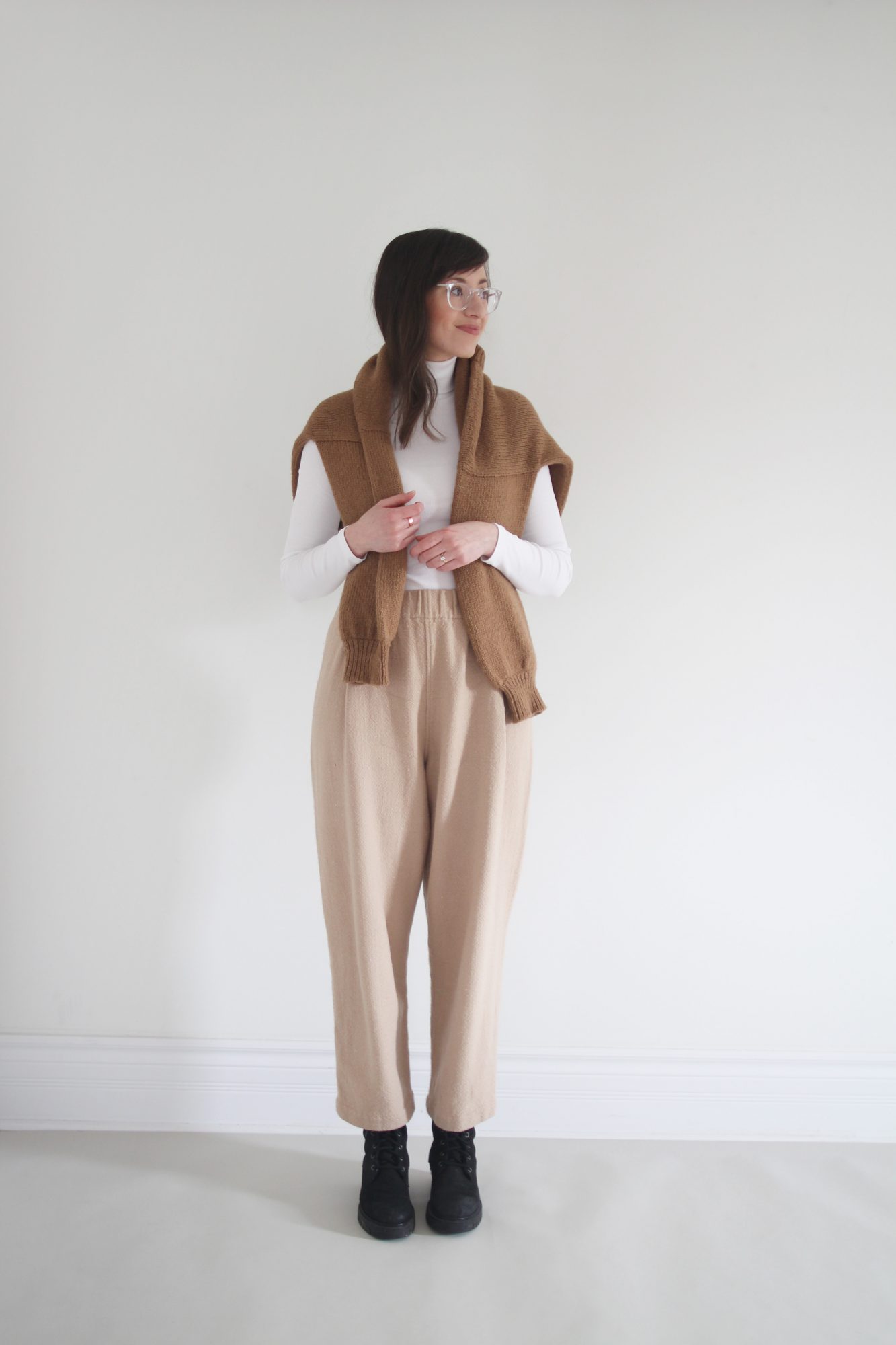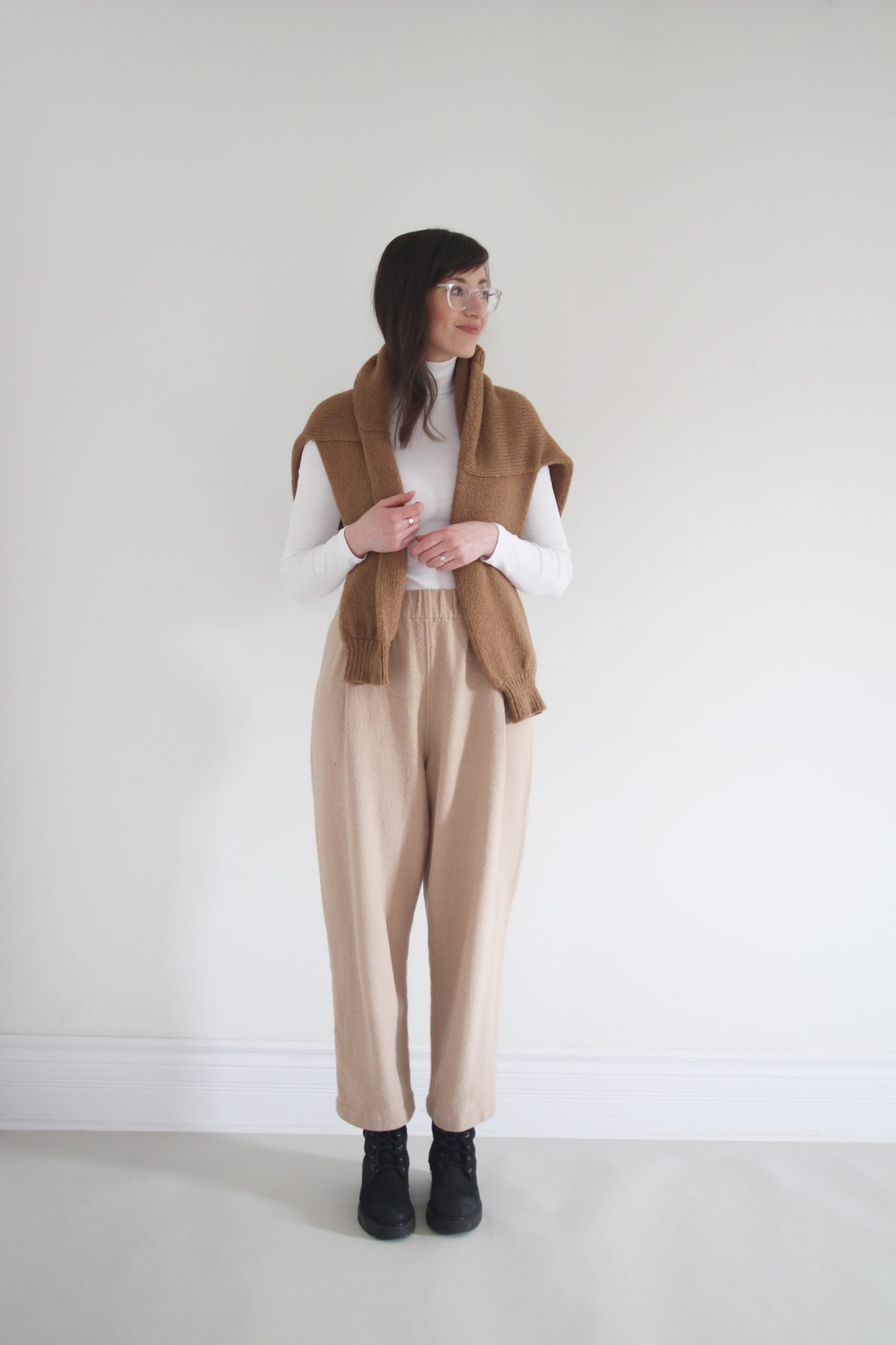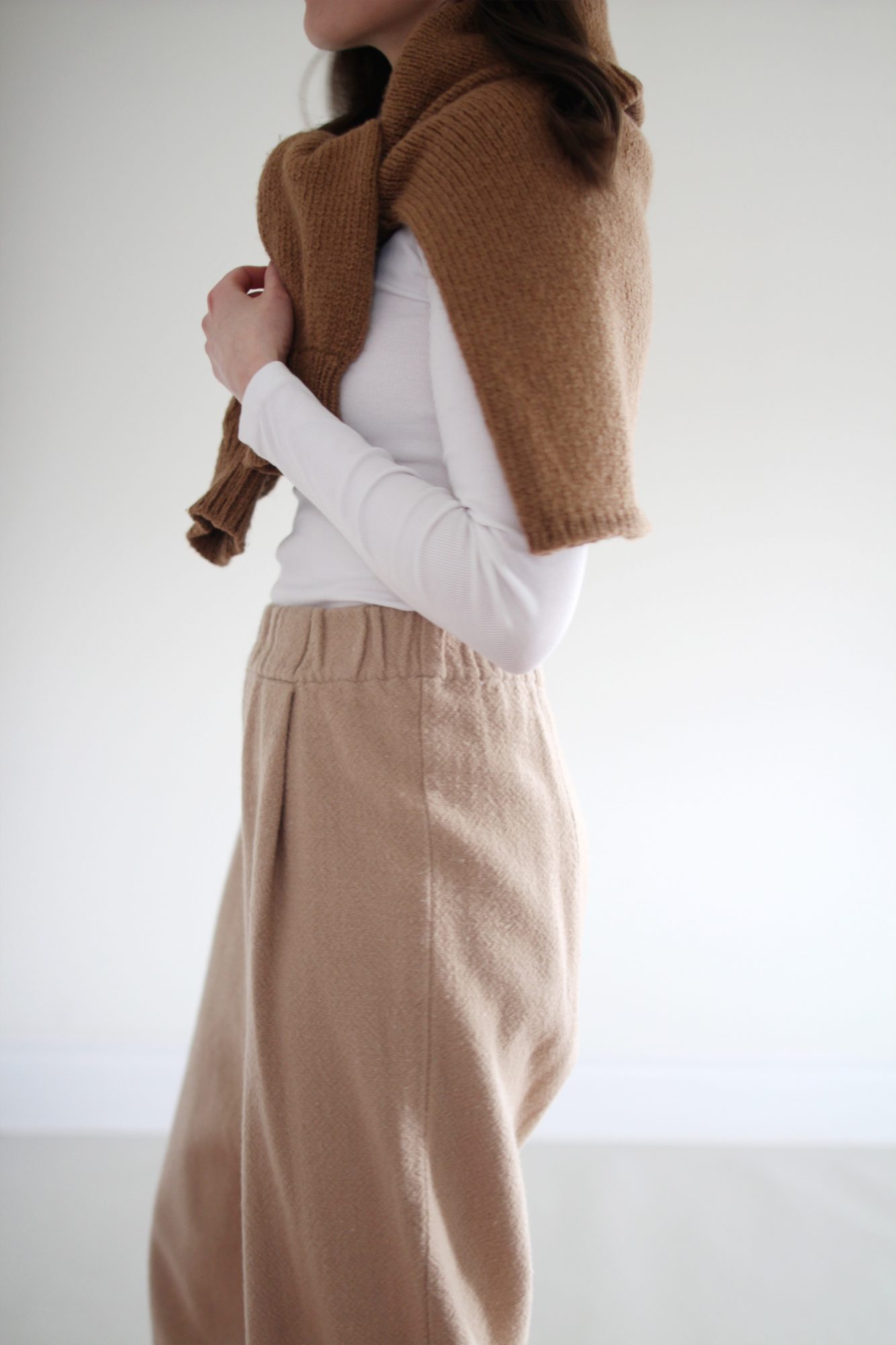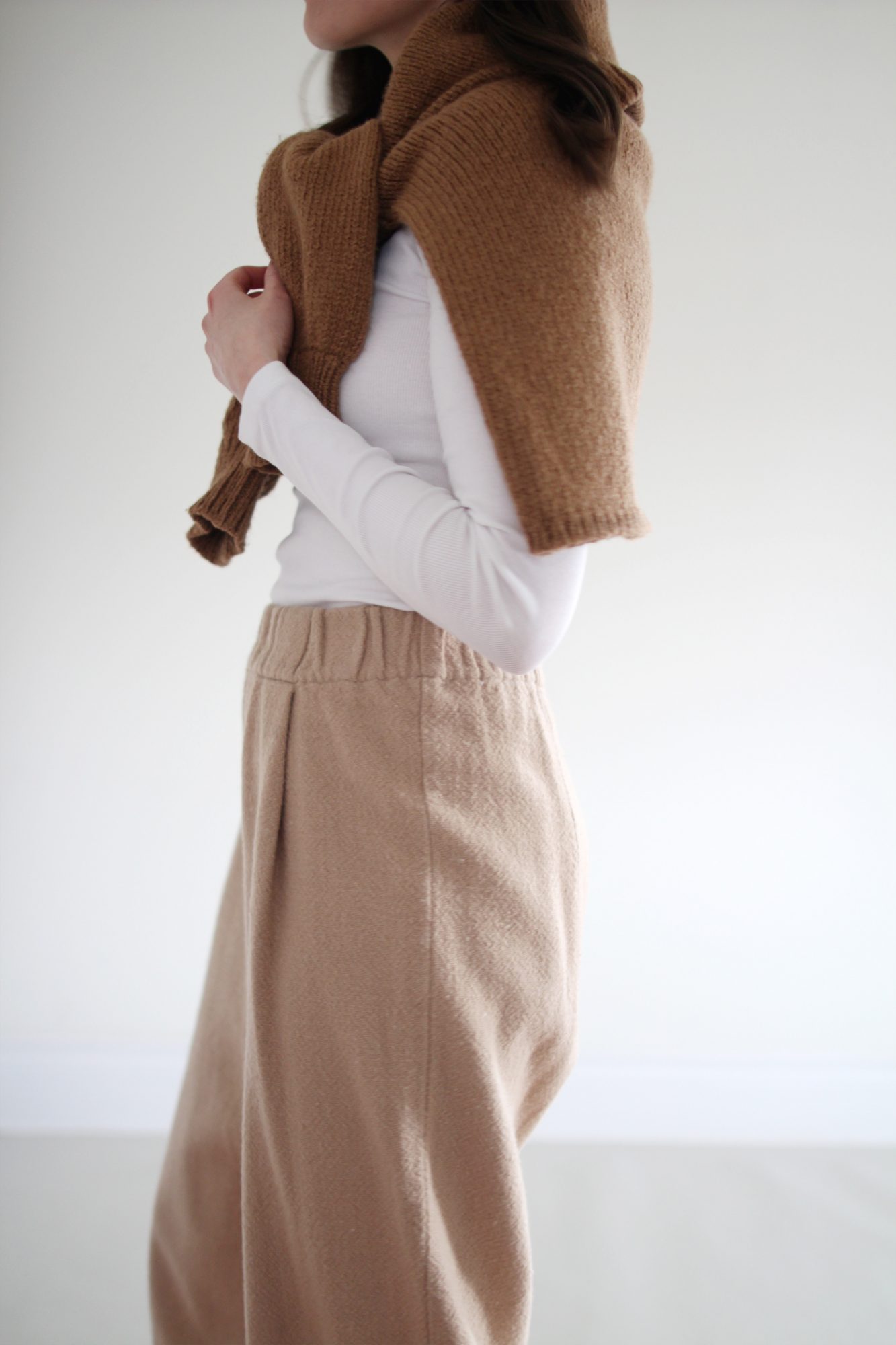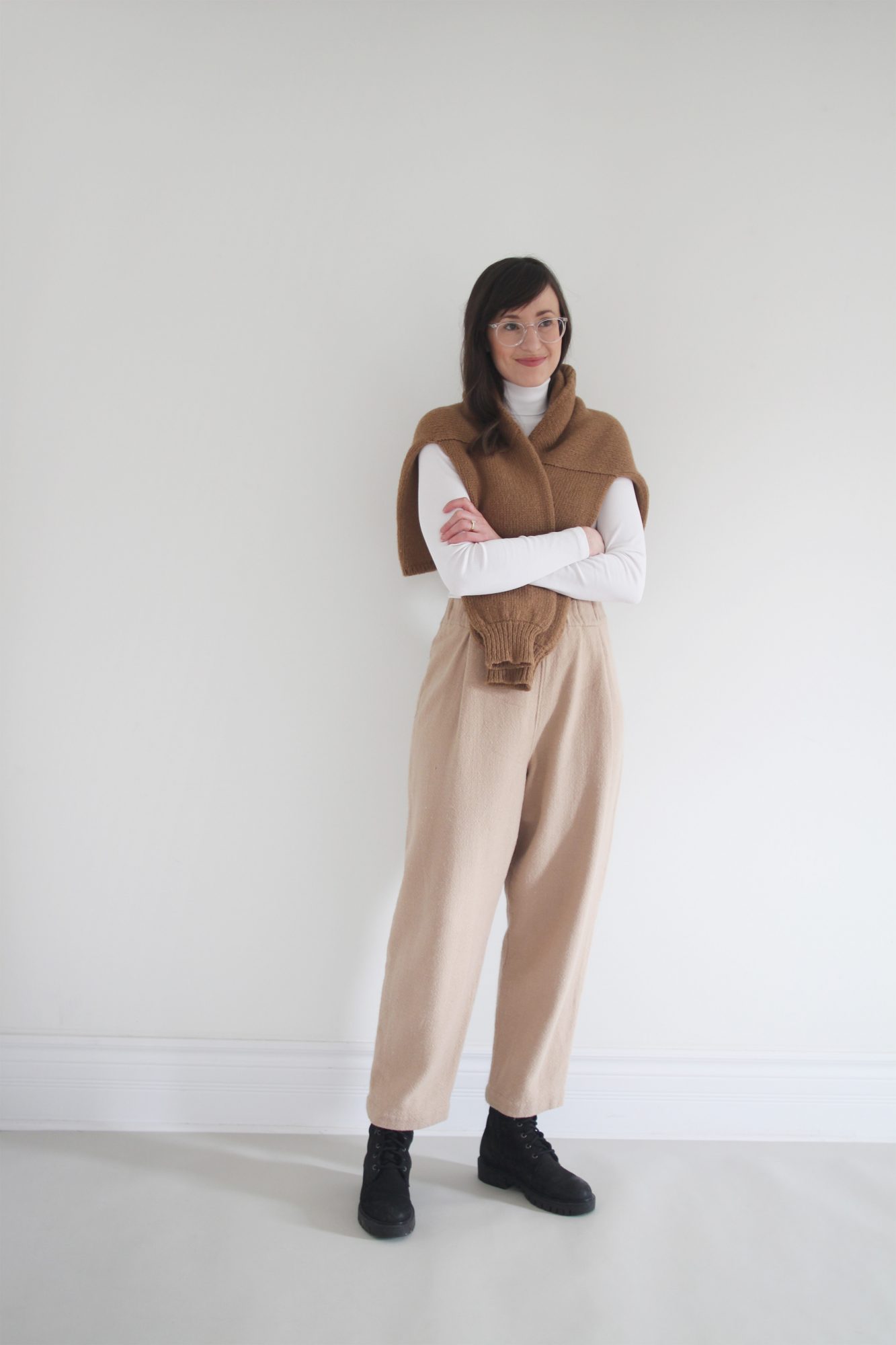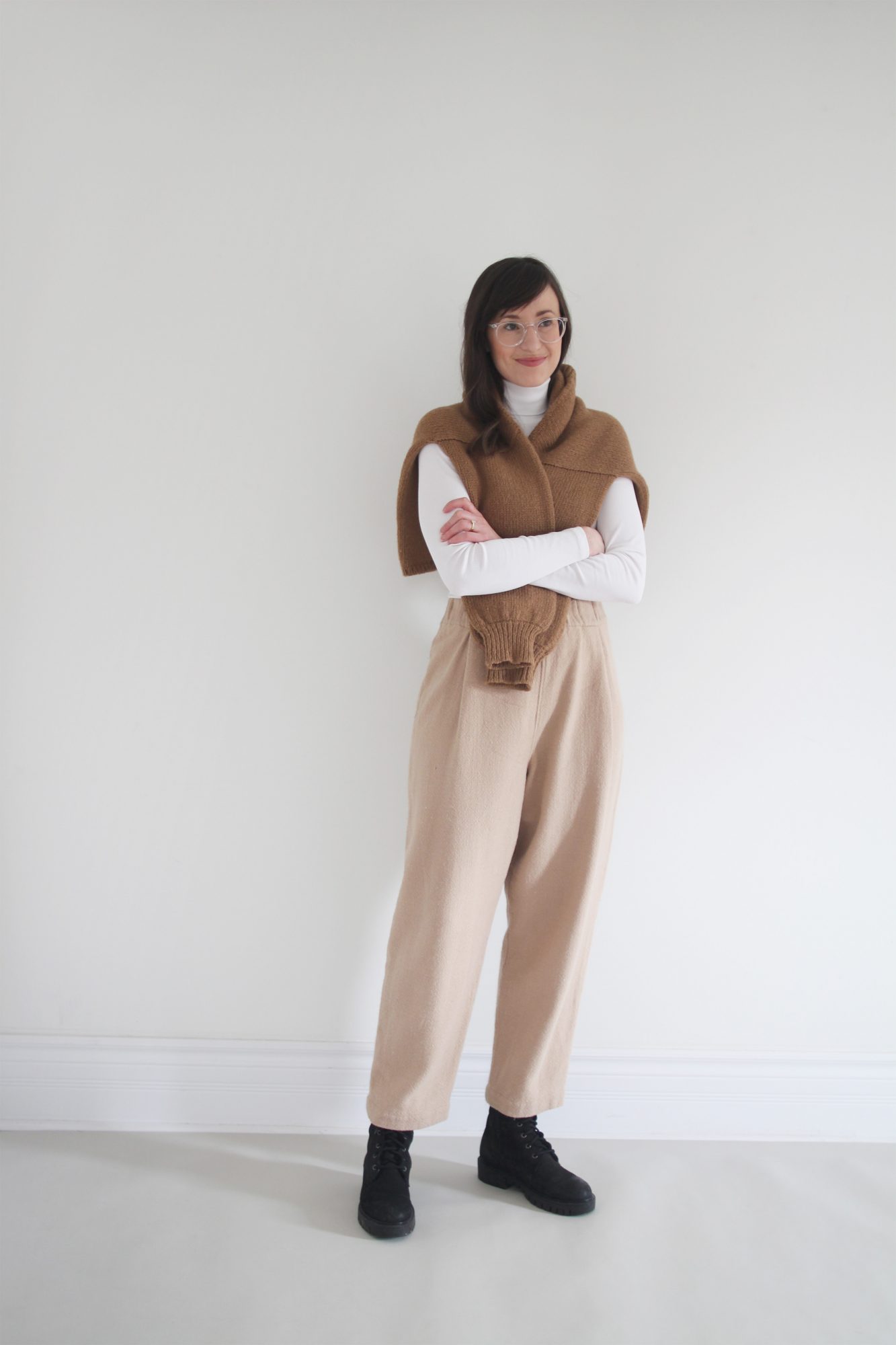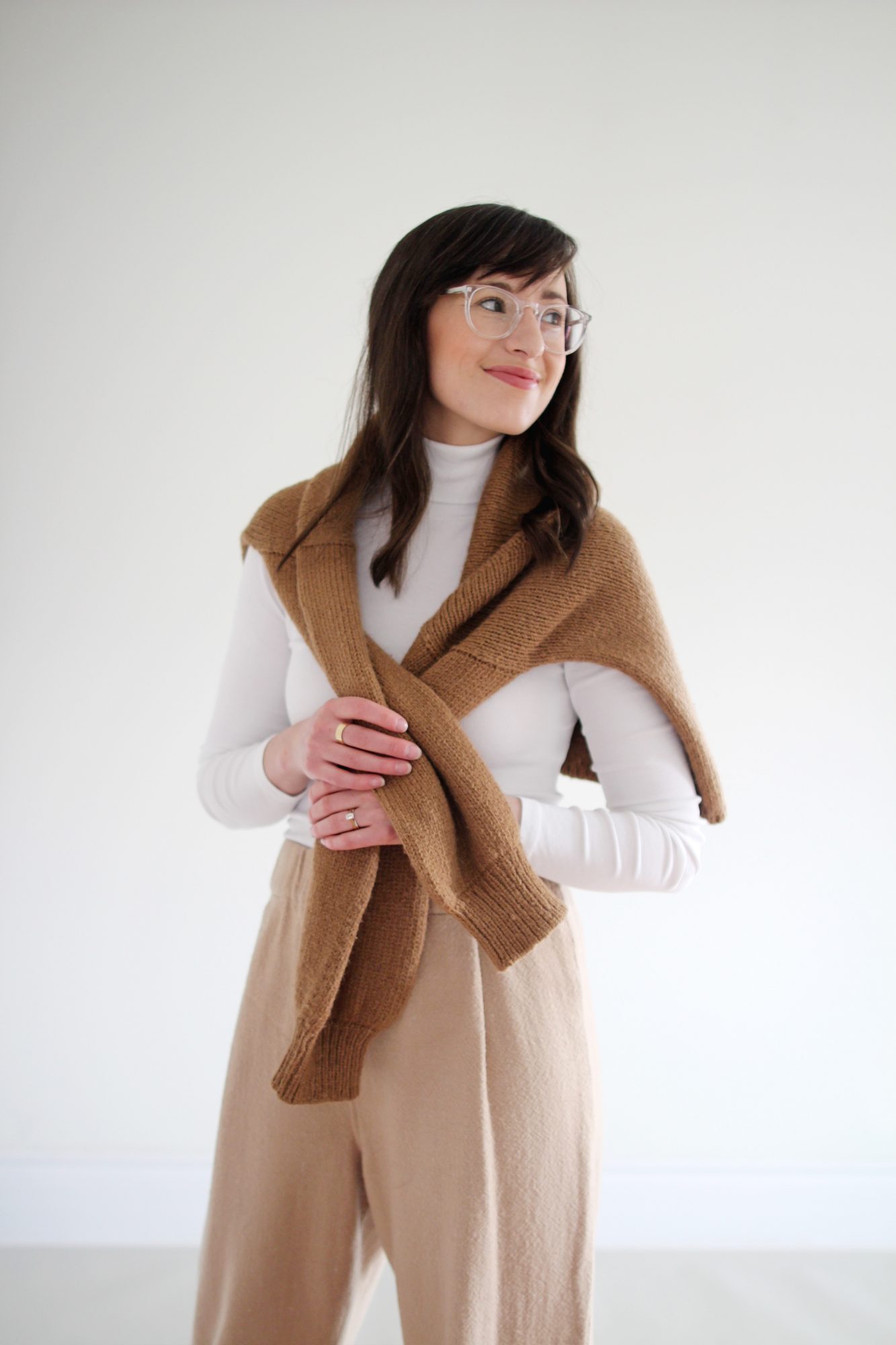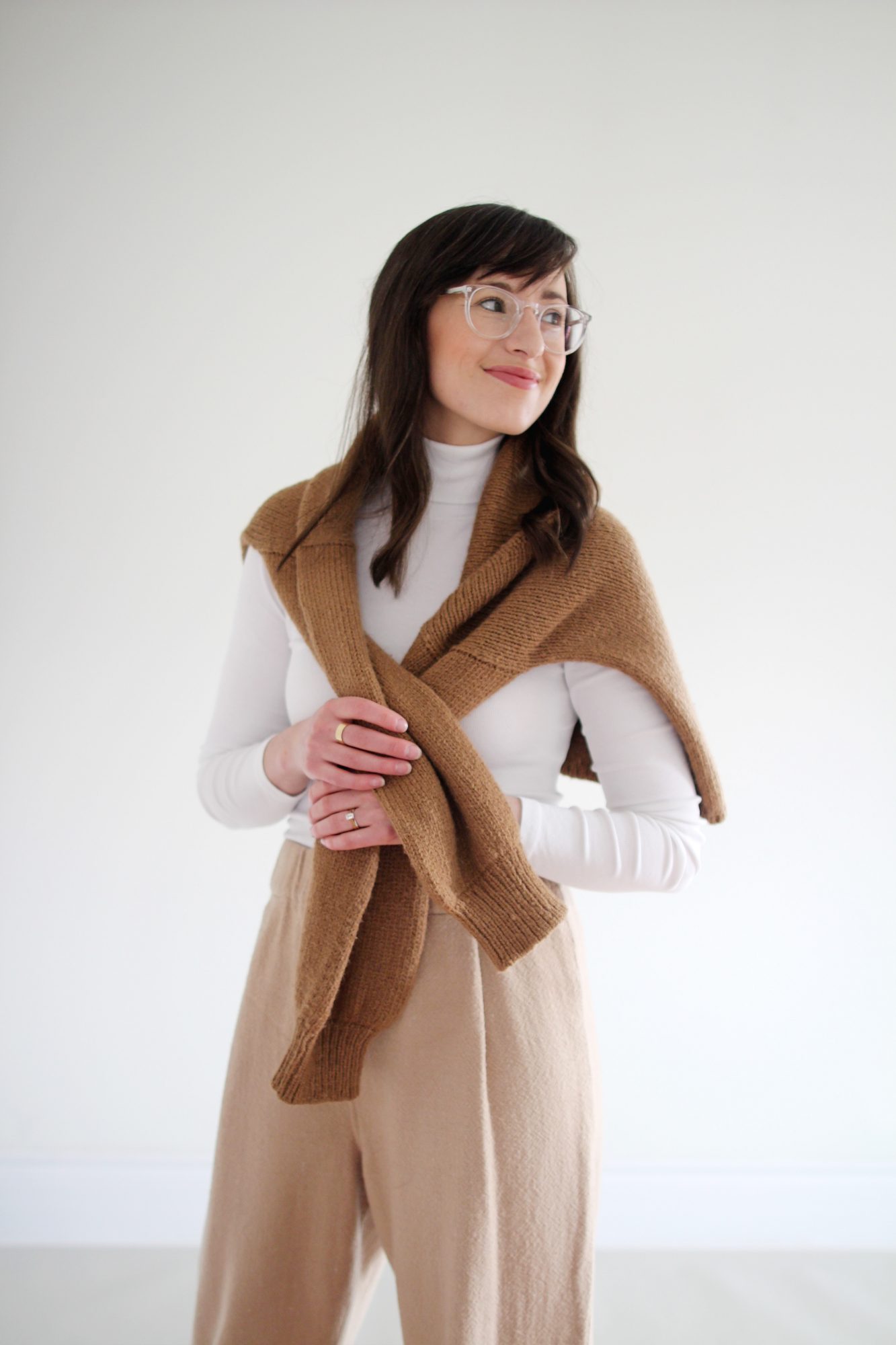 ---
WFH STYLE TIP #1: Making an effort to get out of your pjs and into a proper outfit truly helps you get into a professional headspace. Staying in your sweats will just send a signal for your mind to stay there too.
This has been my go-to cozy uniform all season and I love how the simple styling of a sweater over the shoulders, elevates the whole outfit. This colour palette is also a personal favourite that feels calming, comforting and a little bit different from the average sweats and a tee one might be inclined to wear at home.
For this look proportion is critical. A voluminous pant is balanced with a fitted top and by wrapping a chunky knit over my shoulders I stay warm at my desk. I love wearing my combat inspired boots with this look when I take the pup for a walk but it would work great with a white sneaker (like these) as well!
I've had these Haskell frames from Warby Parker for years now and just rediscovered them. I love the touch of polish and interest they add to a simple look like this one.
---
OUTFIT SOURCES: Sweater sold out (similar here) gifted BARE KNITWEAR // Micro Rib Turtleneck by EVERLANE // Andy Wool Trouser sold out (similar here) gifted ELIZABETH SUZANN // Rima Boots sold out (similar here and here) by MAGUIRE // Haskell Frames by WARBY PARKER
---

---
LOOK 2
---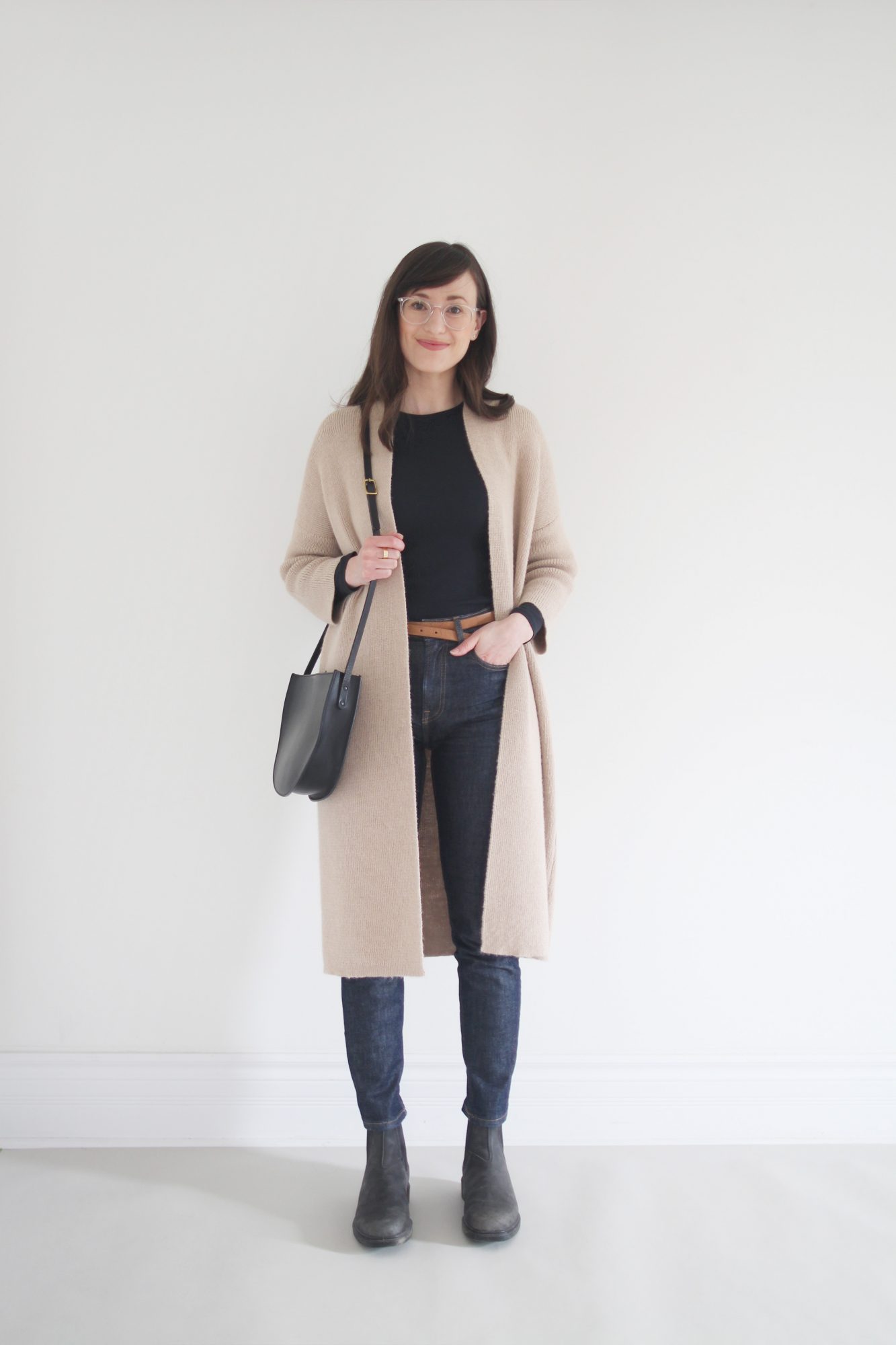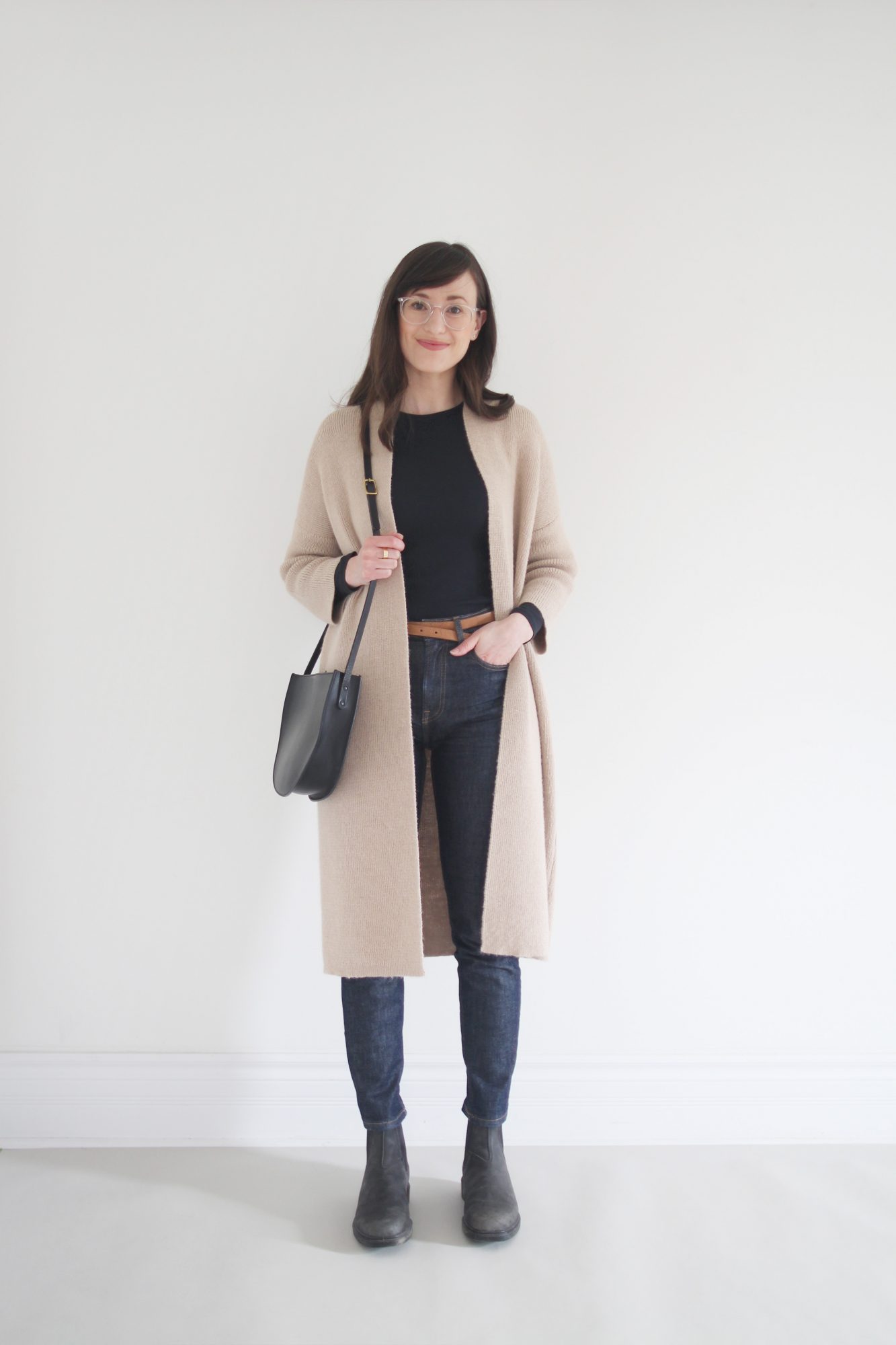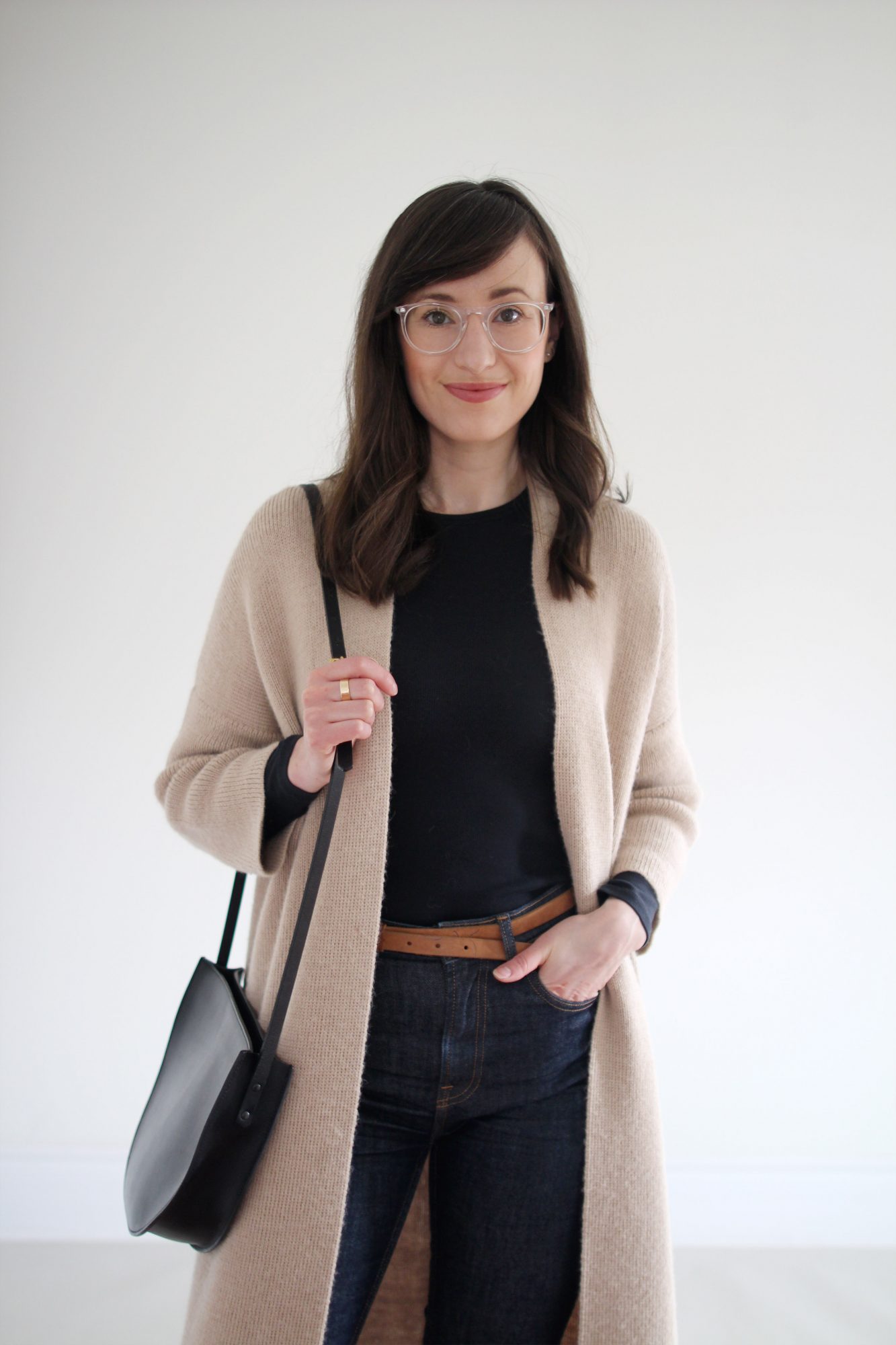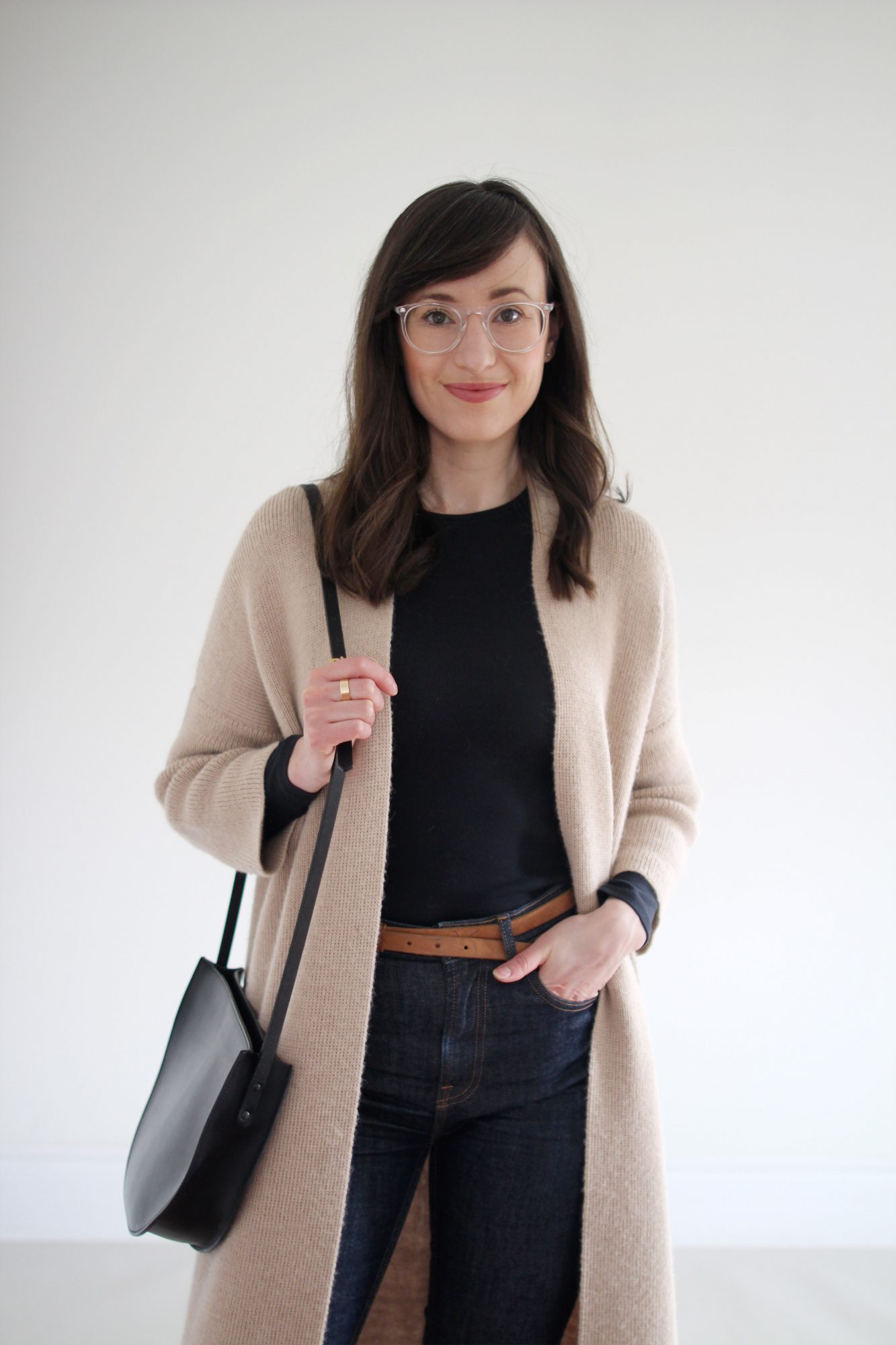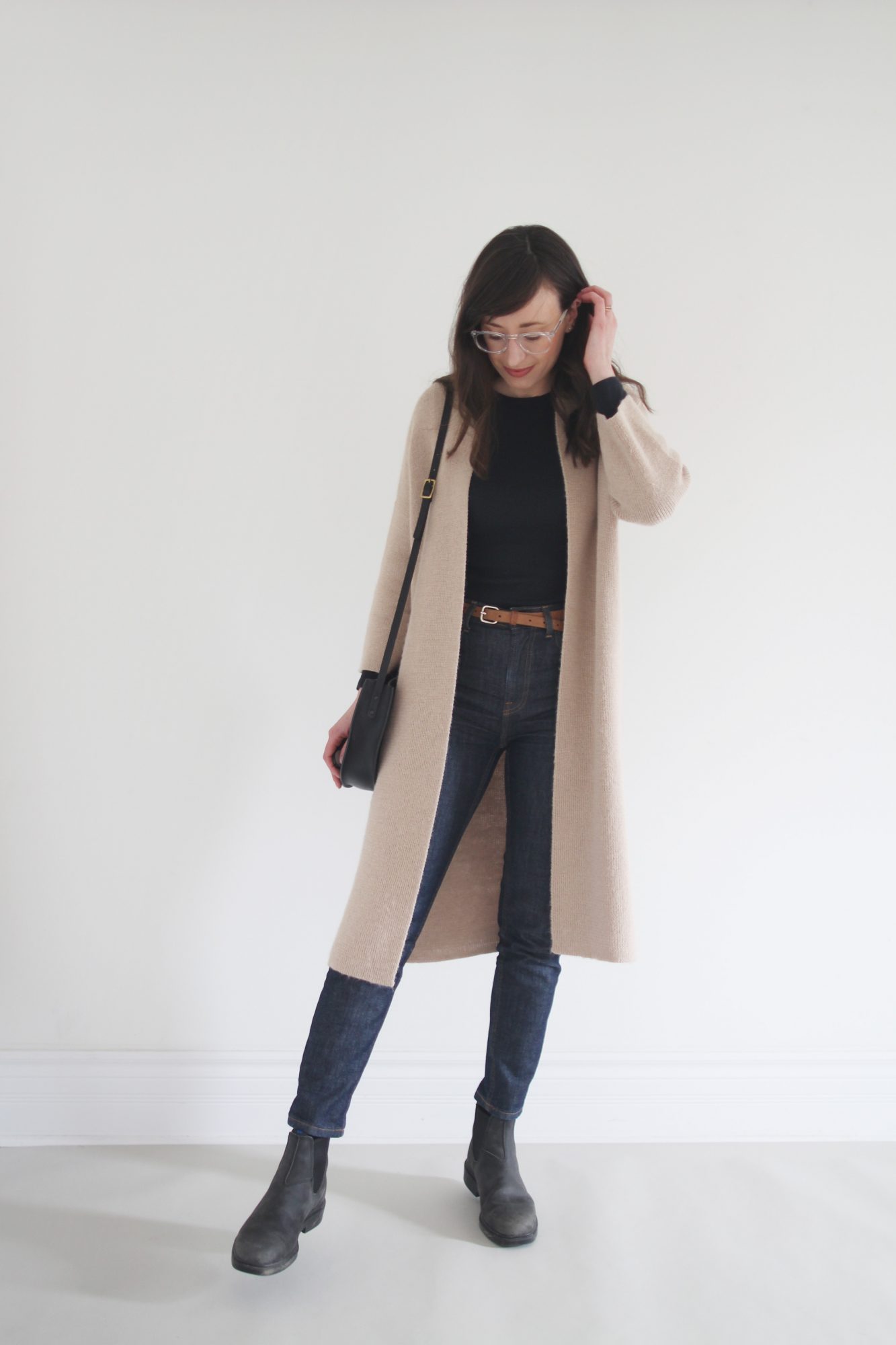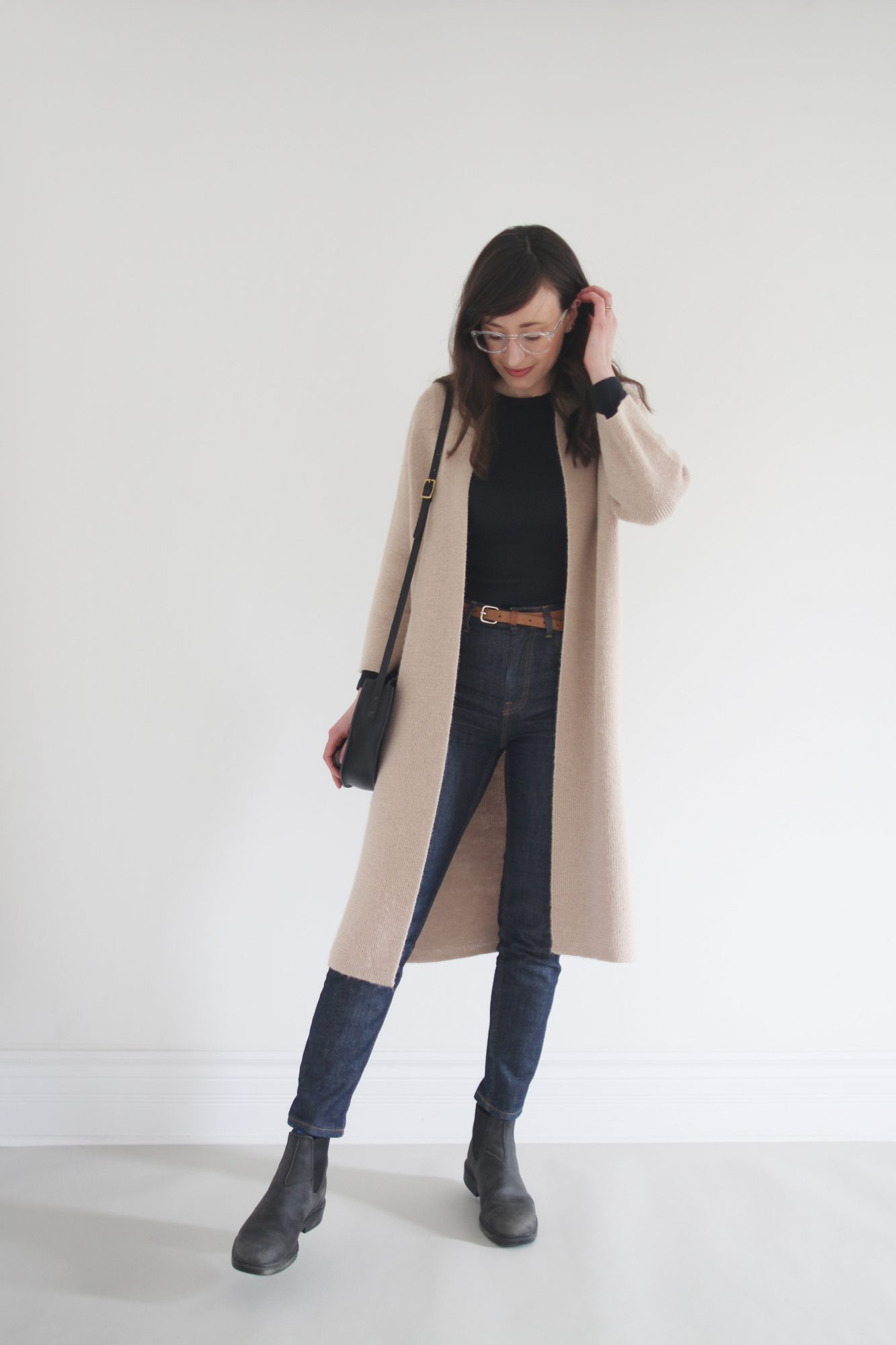 ---
WFH STYLE TIP #2: If you're used to dressing professionally pretend it's casual Friday, what would you wear to work? For me, jeans and a tee with a cute sweater and some simple accessories never fails. If you've got an important video conference, swap the sweater for a blazer and you're all set!
This is a super simple but timeless look that I wear on days when I'll be out and about running errands and whatnot. If it's cold I throw on a coat and a scarf but generally, this outfit works great for casual days when I need to feel put-together but will also be working from my home office.
The brown tones in this outfit are what pull it together for me. Just a small detail like a tan belt that picks up on the contrast stitching in my jeans and a long camel cardigan softens up the darker elements. I'd swap the black long sleeve tee for a cream or ivory to lighten things up even more.
---
OUTFIT SOURCES: Cardigan old (similar here and here) // Micro Rib Tee | Skinny Jeans (I wear a 27) gifted EVERLANE // Half Moon Bag old (similar here) // Blundstones (see a full review here) // Brown Belt old (similar here) // Haskell Frames by WARBY PARKER
---

---
LOOK 3
---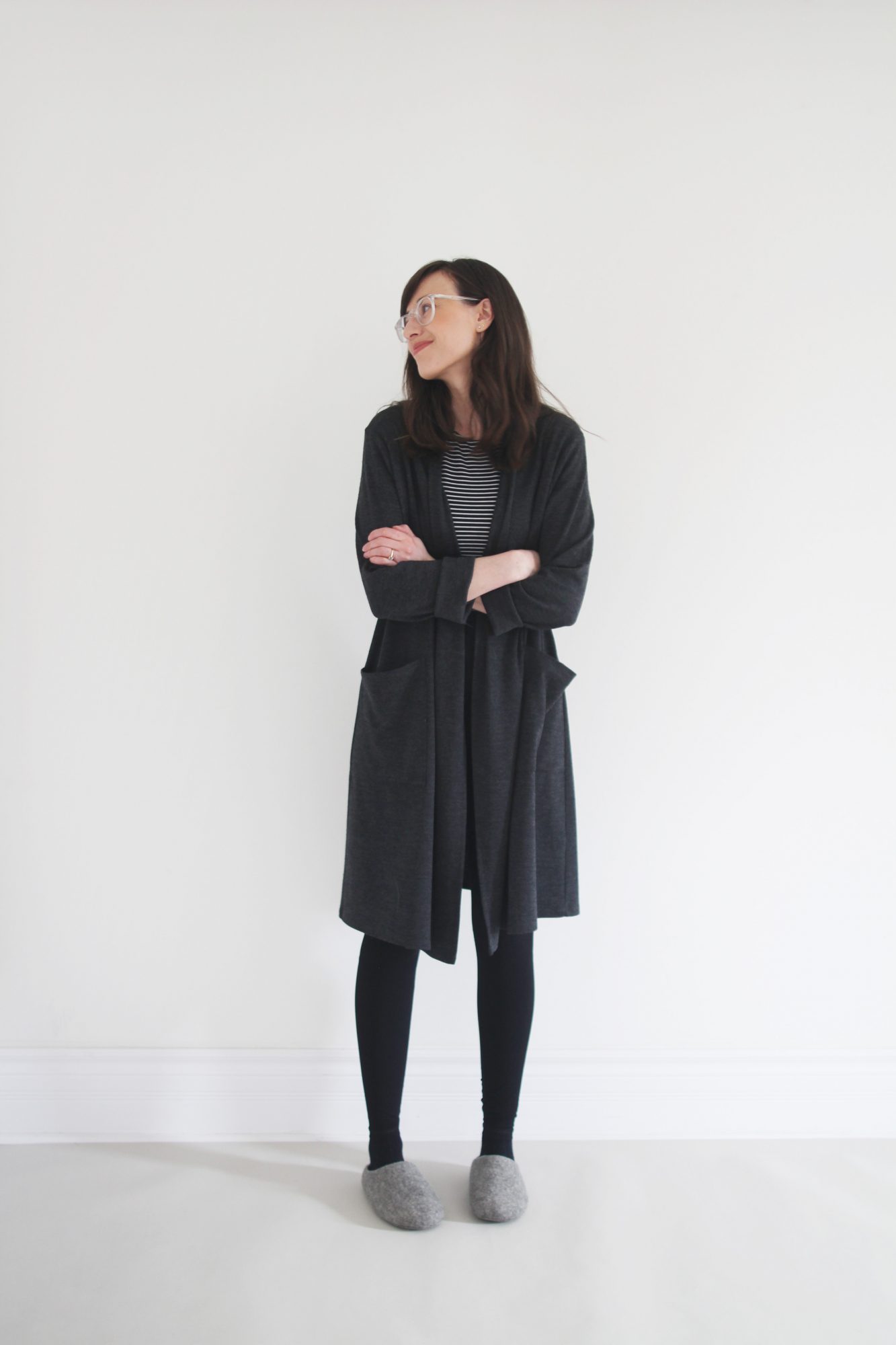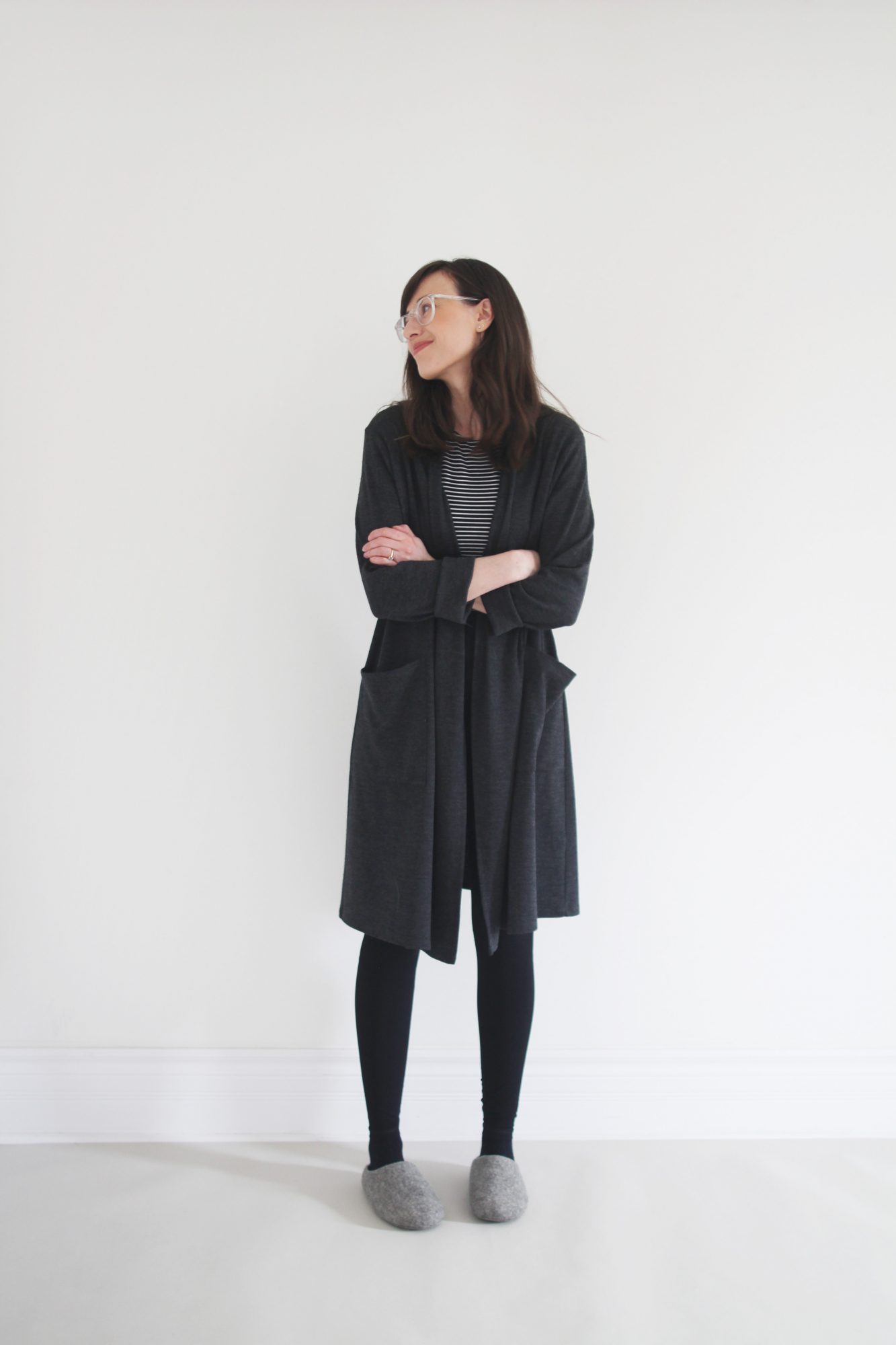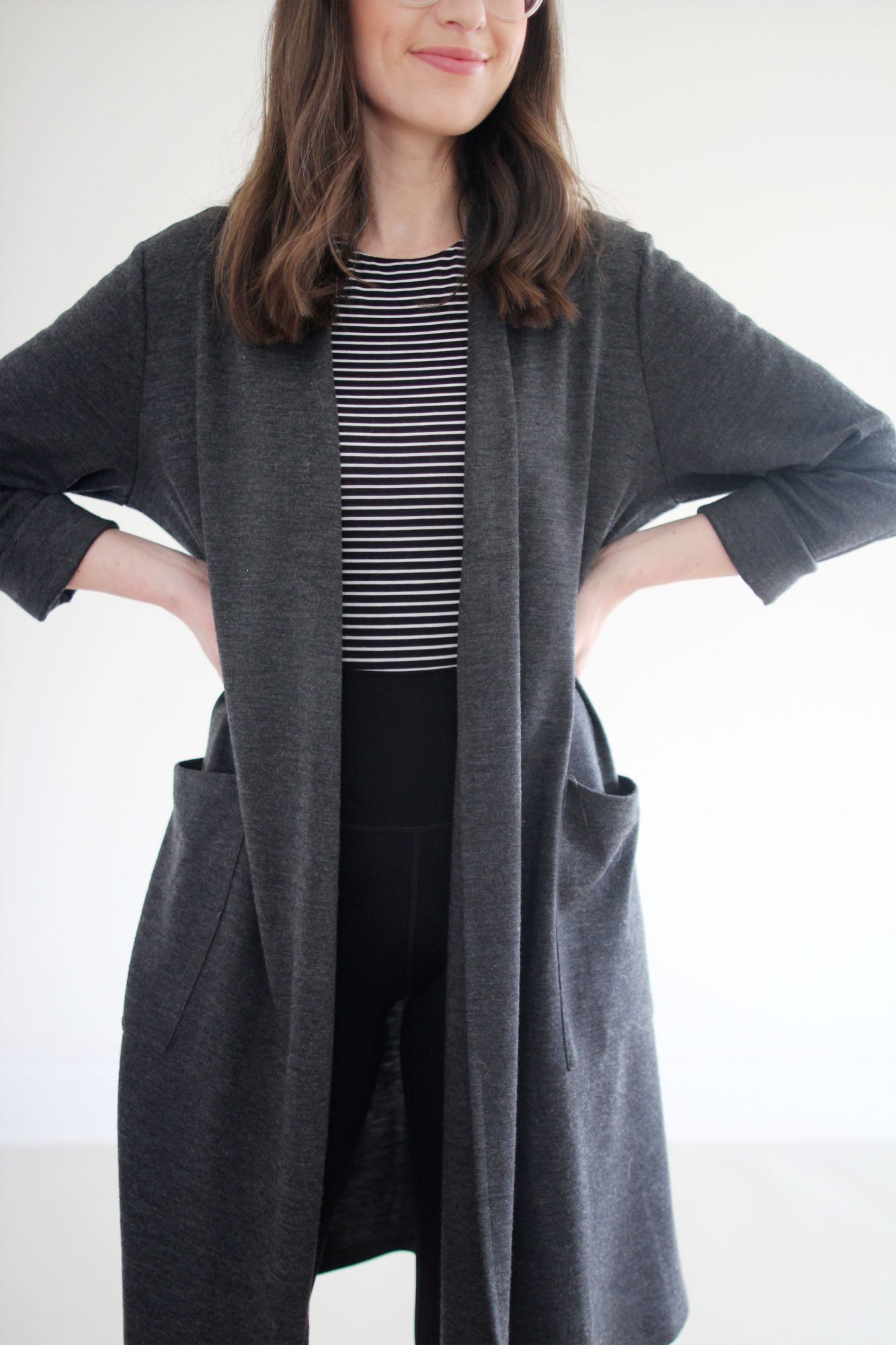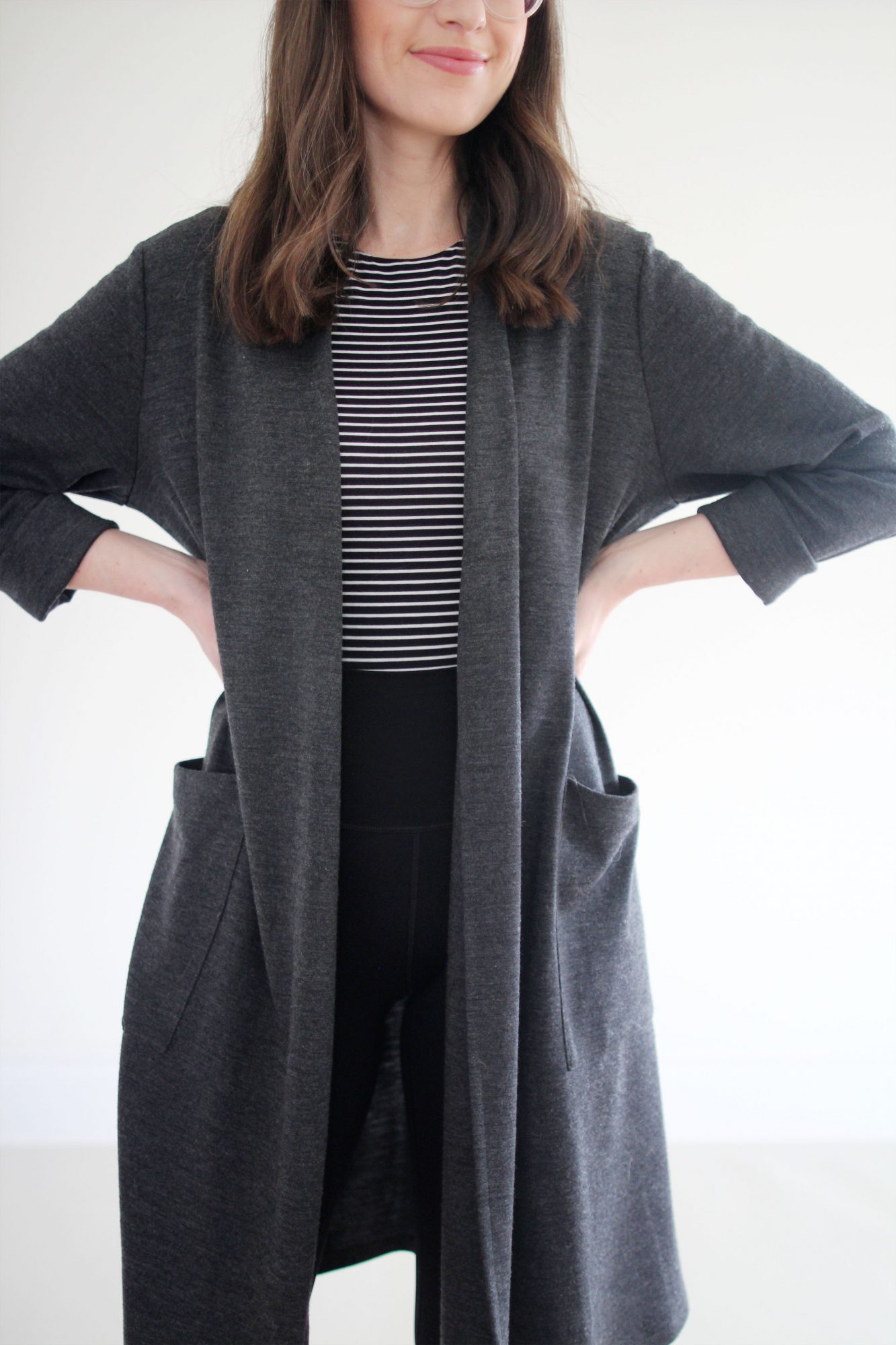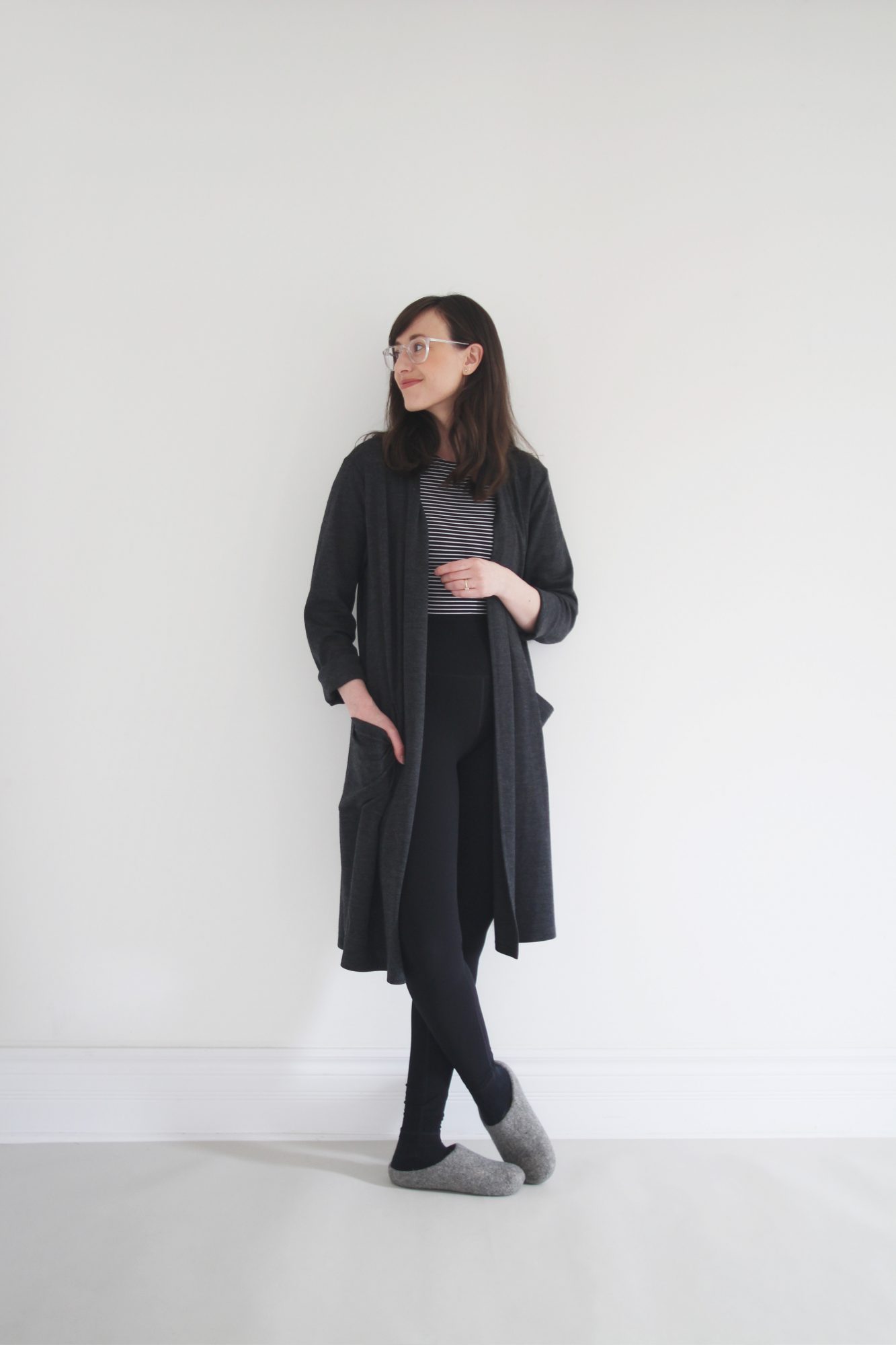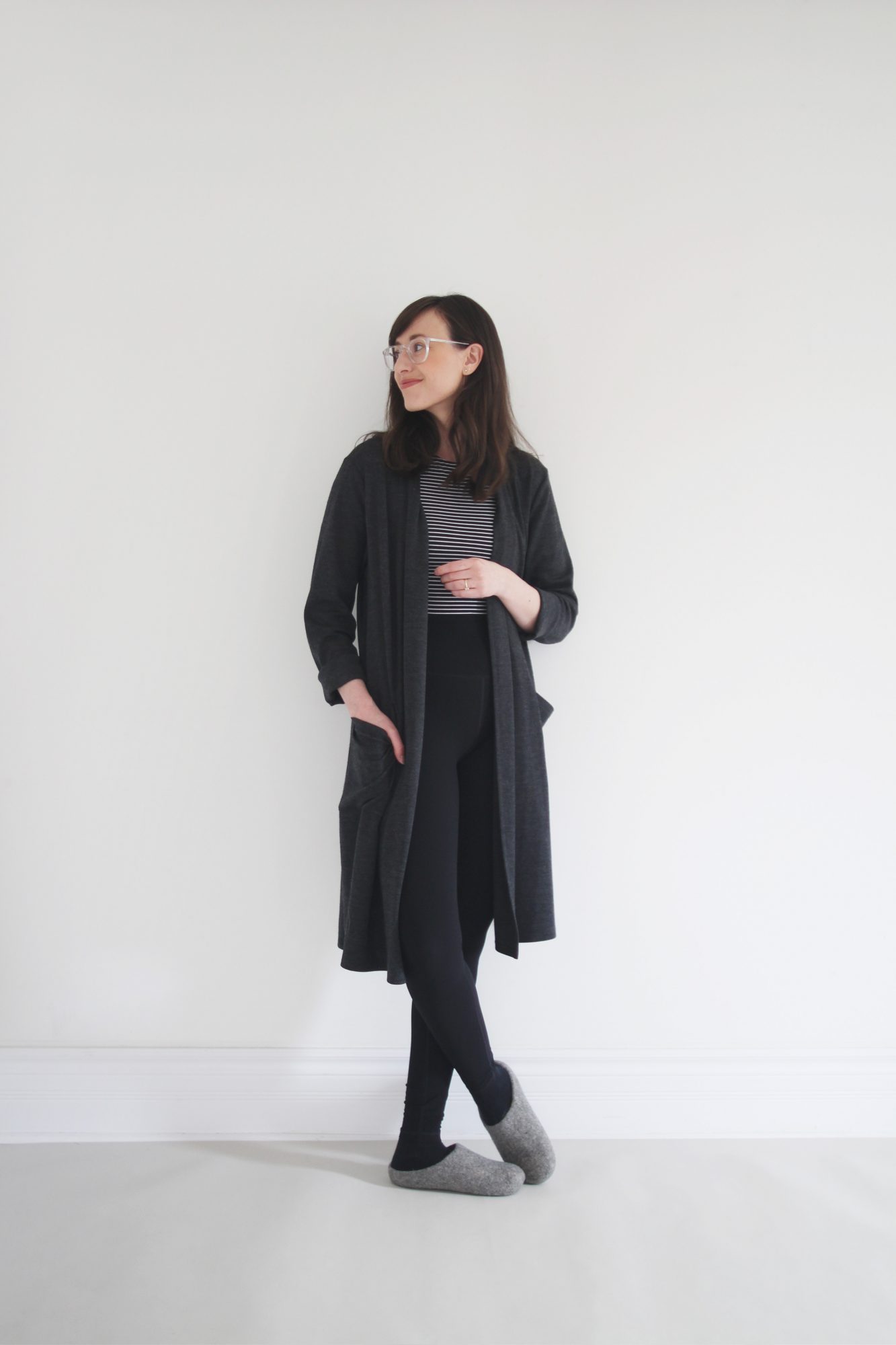 ---
WFH STYLE TIP #3: Wash your face, brush your hair and don't deny the power of a little blush and lip gloss. Even when I know my workday will be super low-key I always put in a little effort to look presentable. This way if plans change and I need to go out or an unexpected call gets booked, I feel ready.
I'm wearing this outfit as I type this right now lol. It's been my go-to lately and I've found it's perfect for a morning dog walk, writing blog copy, a midday yoga session and doing household chores.
When wearing leggings I like to keep the look feeling sharp by wearing a fitted tee or bodysuit and layering a minimal cardigan or house coat over top. A pair of black socks and my all-time favourite house slippers keep my toes toasty too. If I need to go out I'd pull on a pair of boots, a wrap coat and grab a cute bag to add a touch of polish.
Until I tried the Perform Legging from Everlane (gifted with no obligation to post) I wasn't satisfied with any of the options I had in my closet. These however, are so comfortable, sleek, flattering and functional for all kinds of activities. They don't pick up pet fur or lint, they hug all the right places but have loads of stretch and the rise is just right without any of the typical crotch concerns. I definitely recommend them if you're in the market for a new pair of leggings. I wear a small regular and the fit is spot on with no gaping or loose spots.
---
OUTFIT SOURCES: Cardigan old (similar here and here) // Pima Cotton Bodysuit gifted | Perform Leggings (I wear a small regular) gifted EVERLANE // Socks by PACT // Slippers gifted KYRGIES // Haskell Frames by WARBY PARKER
---

---
Thanks for tuning in!
I hope this post offers some ideas for what to wear while working at home and serves as a little reprieve from all that's happening in the world. If you need some tips on how to stay productive at home be sure to give this post a read!
Let's try to stay calm, think positive and take care this weekend.