It's been almost a year since we got our Sven Sectional from Article (it was gifted as part of a living room update in June 2019) and I've received LOTS of messages and emails asking about how it's held up. With many of us spending more time than usual on our couches, I thought this would be a good opportunity to share an update in case you're considering the Sven Sectional for your home.
Today I'll be sharing:
How the Sven Sectional looks almost 1 yr later.
Where it shows it's weaknesses.
How I keep ours looking good.
Would I get another Sven?
Even if a Sven Sectional isn't something you're interested in, this post contains some tips that may be helpful for cleaning and maintaining your fabric couch. For more about our living room update and why we chose this couch please refer to this post.
---
This post was not produced in partnership with any brands mentioned but does contain affiliate links and some gifted items. If you see something you like and decide to shop through the links included, I may earn commission at no additional cost to you. All opinions are always my own and I only feature items I love. Thanks for supporting Style Bee!
---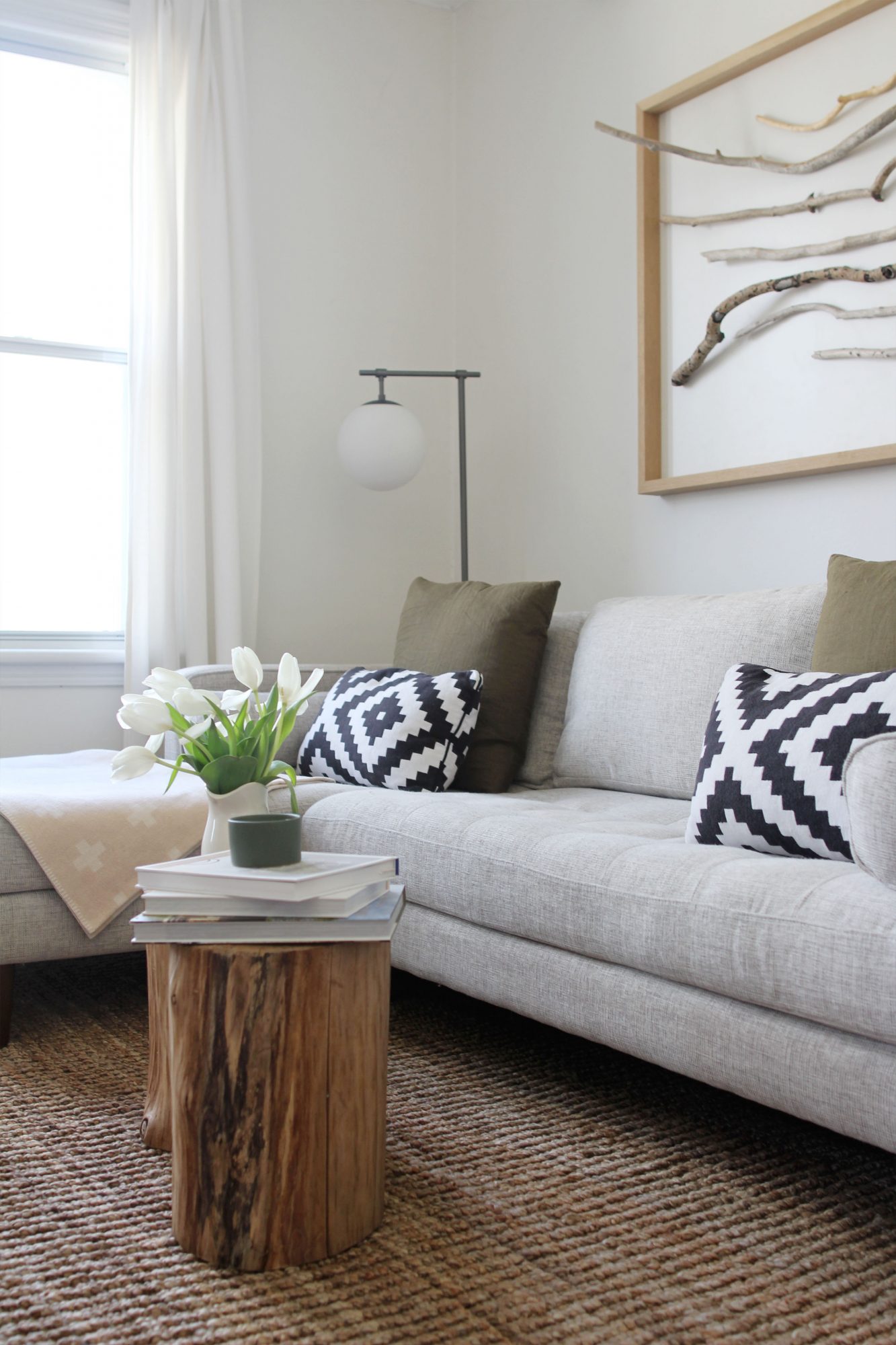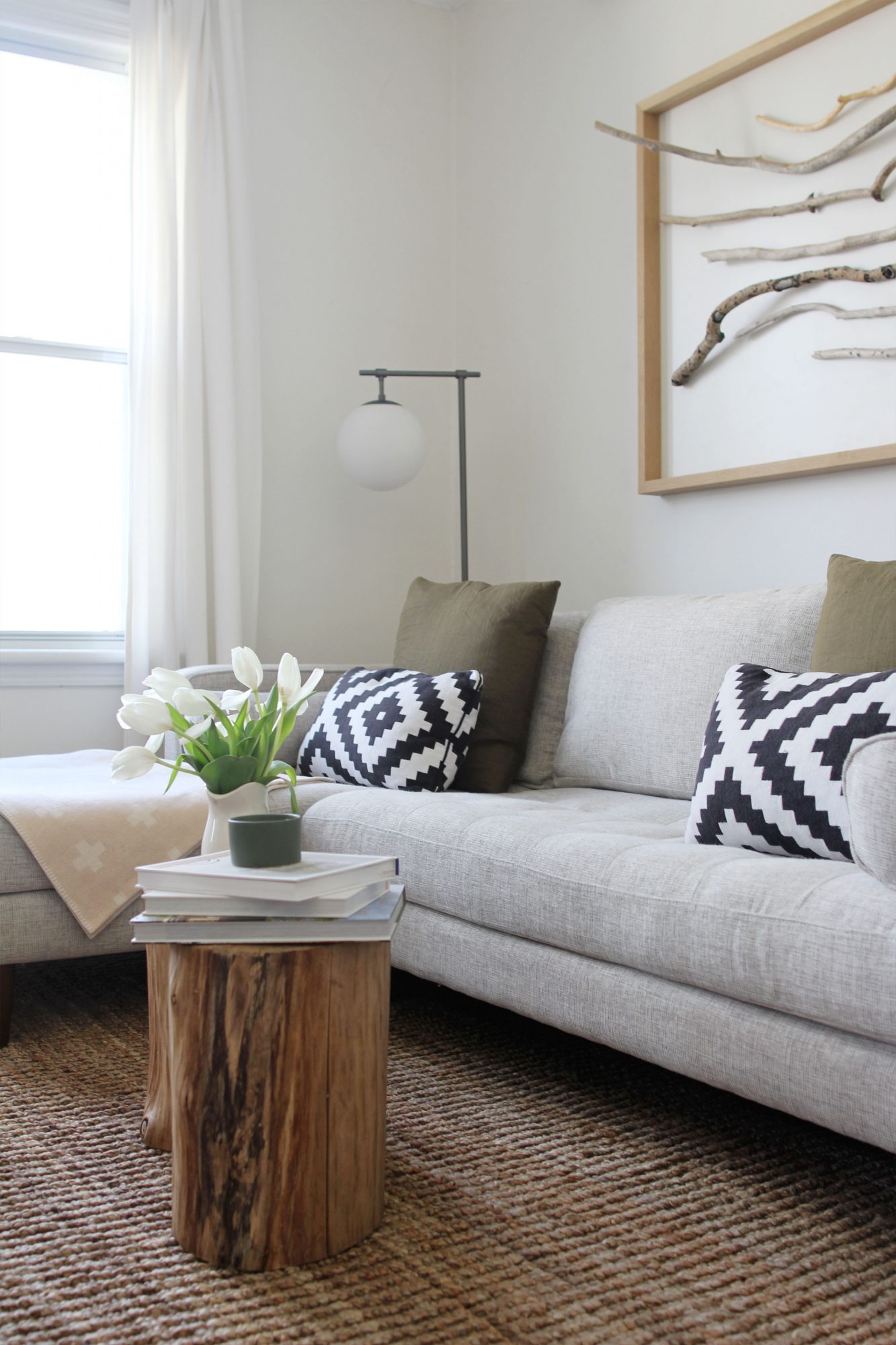 ---
THE SVEN SECTIONAL *ALMOST* 1 YR LATER
---
The photos below show how our Sven Sectional looks after several weeks of use between any sort of maintenance.
Dave and I laze about on it almost every night together and sometimes during the day we work on our laptops on it as well. Dobby snoozes on the chaise by the window during the day and Evie hangs out on the back cushions most evenings.
---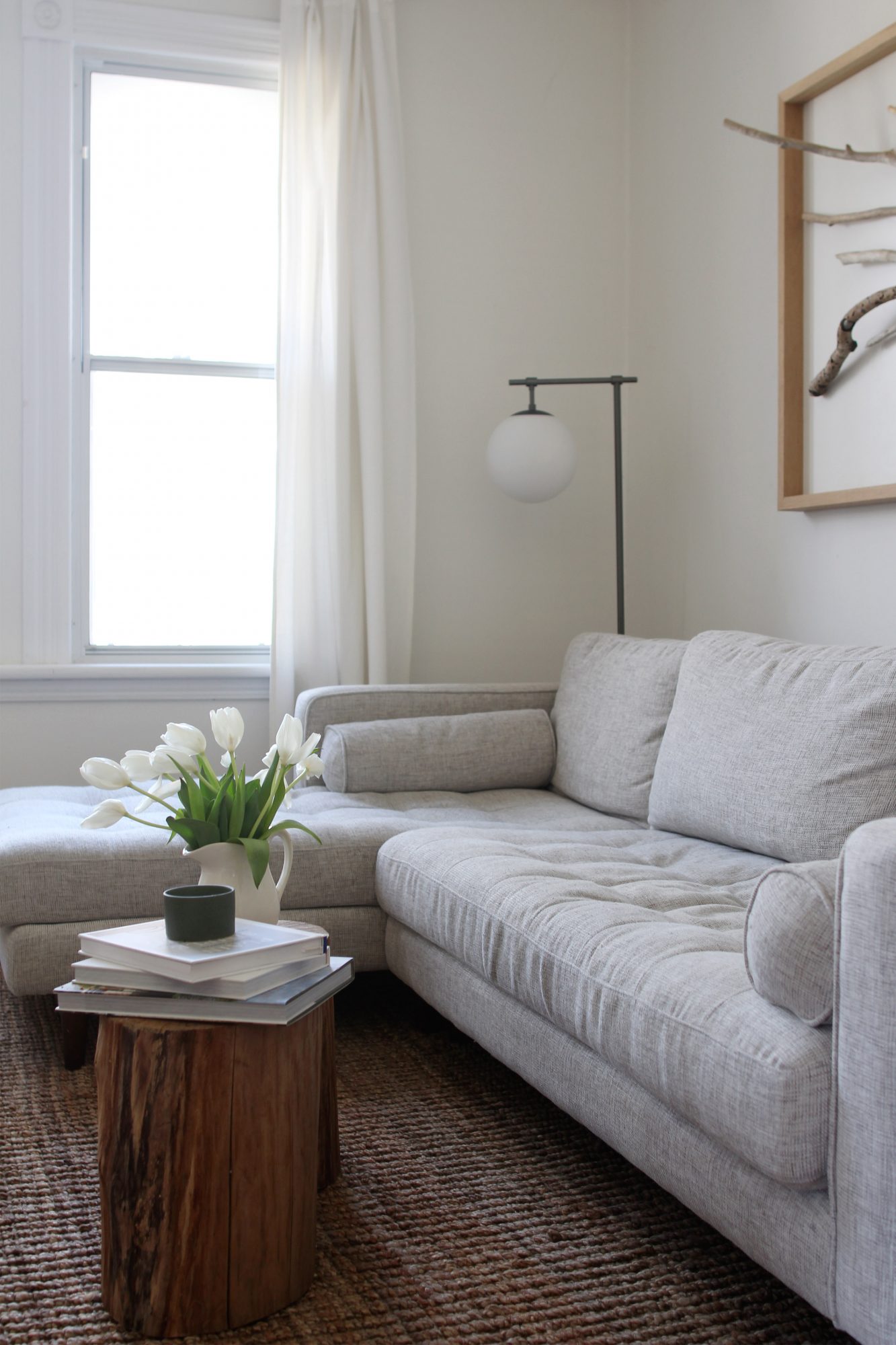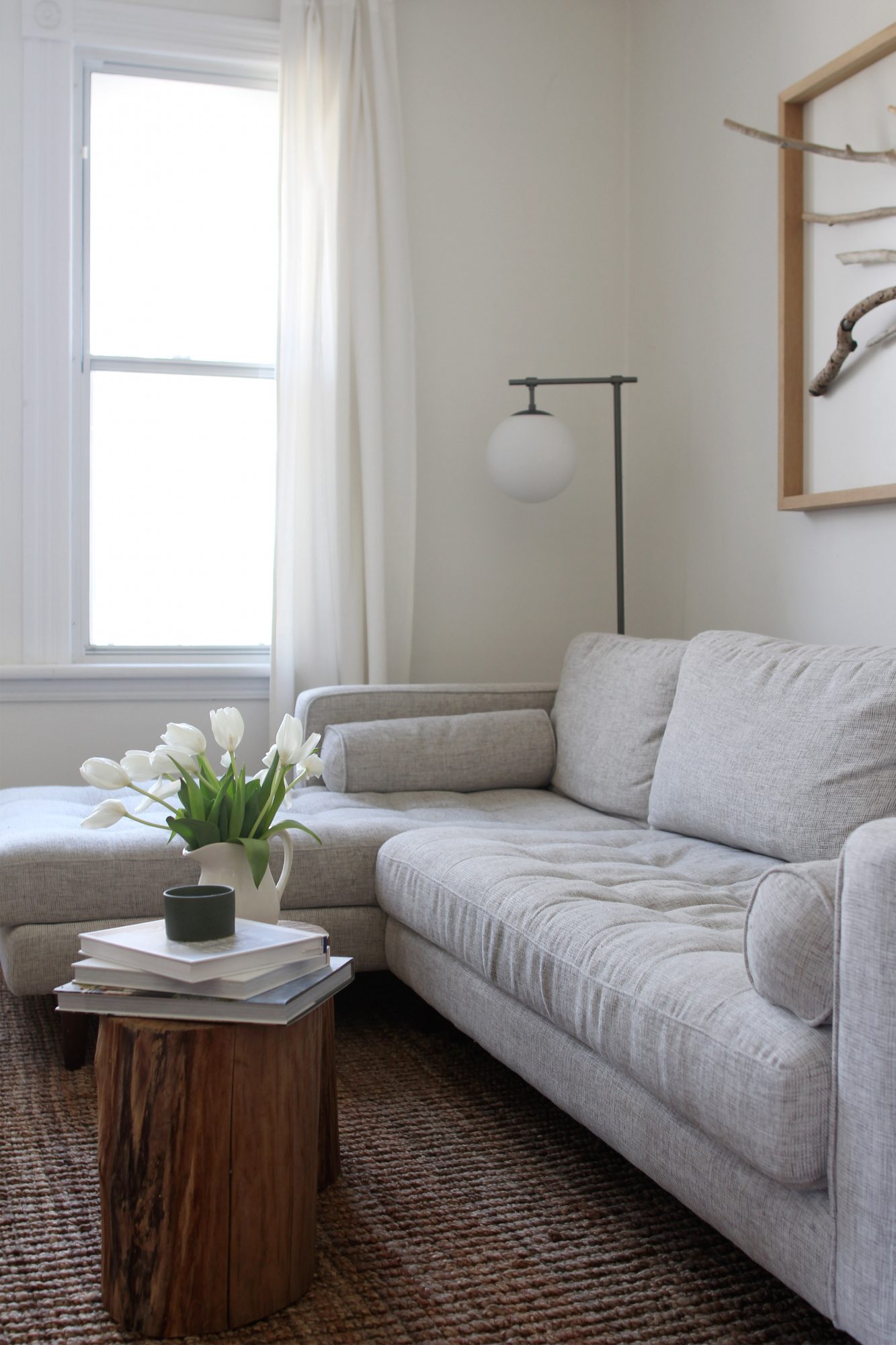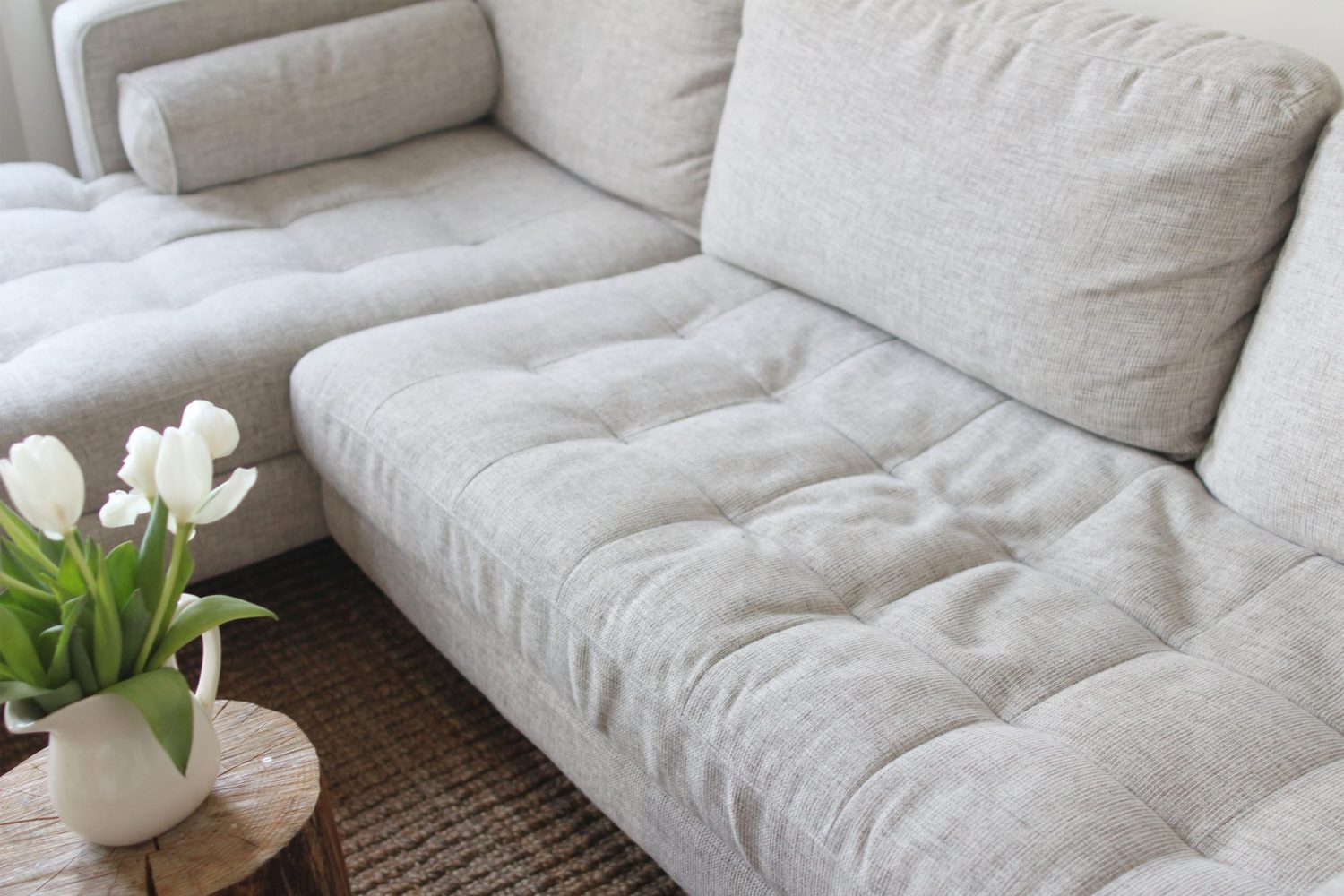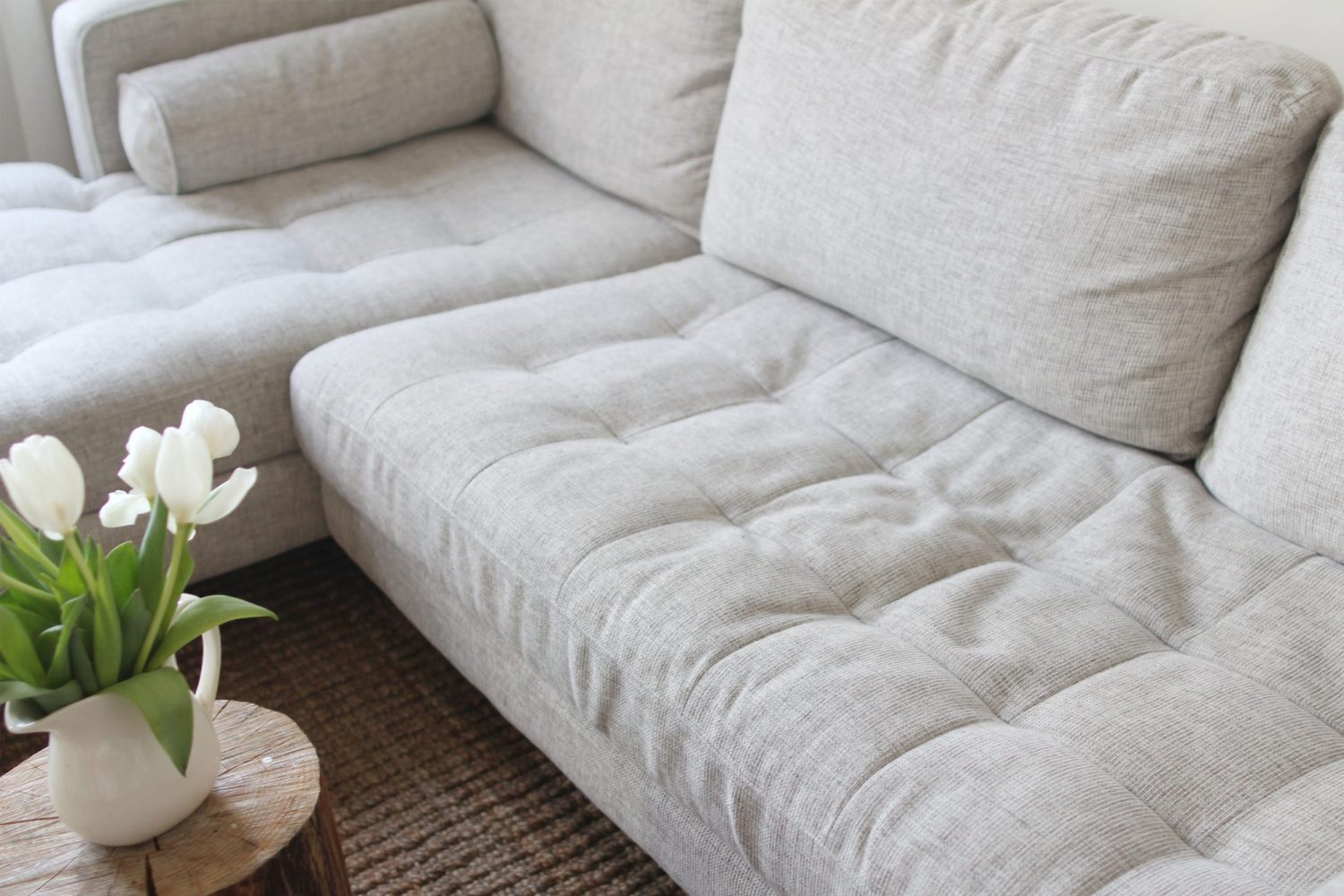 ---
SVEN SECTIONAL WEAKNESSES
---
You'll notice that the seat cushions end up slightly out of place since they're not secured to the frame and the most used spot on the couch is easy to discern from how the foam padding has compressed beneath the cover.
The woven Ivory Birch fabric does develop pills in high friction areas. The inner padding also gets a bit smooshed where it's most used over time. It's ultimately a trade off between comfort and structure.
While it looks a little bit rough, a bit of maintenance and a vigorous fluff is all it needs to return to it's original self.
---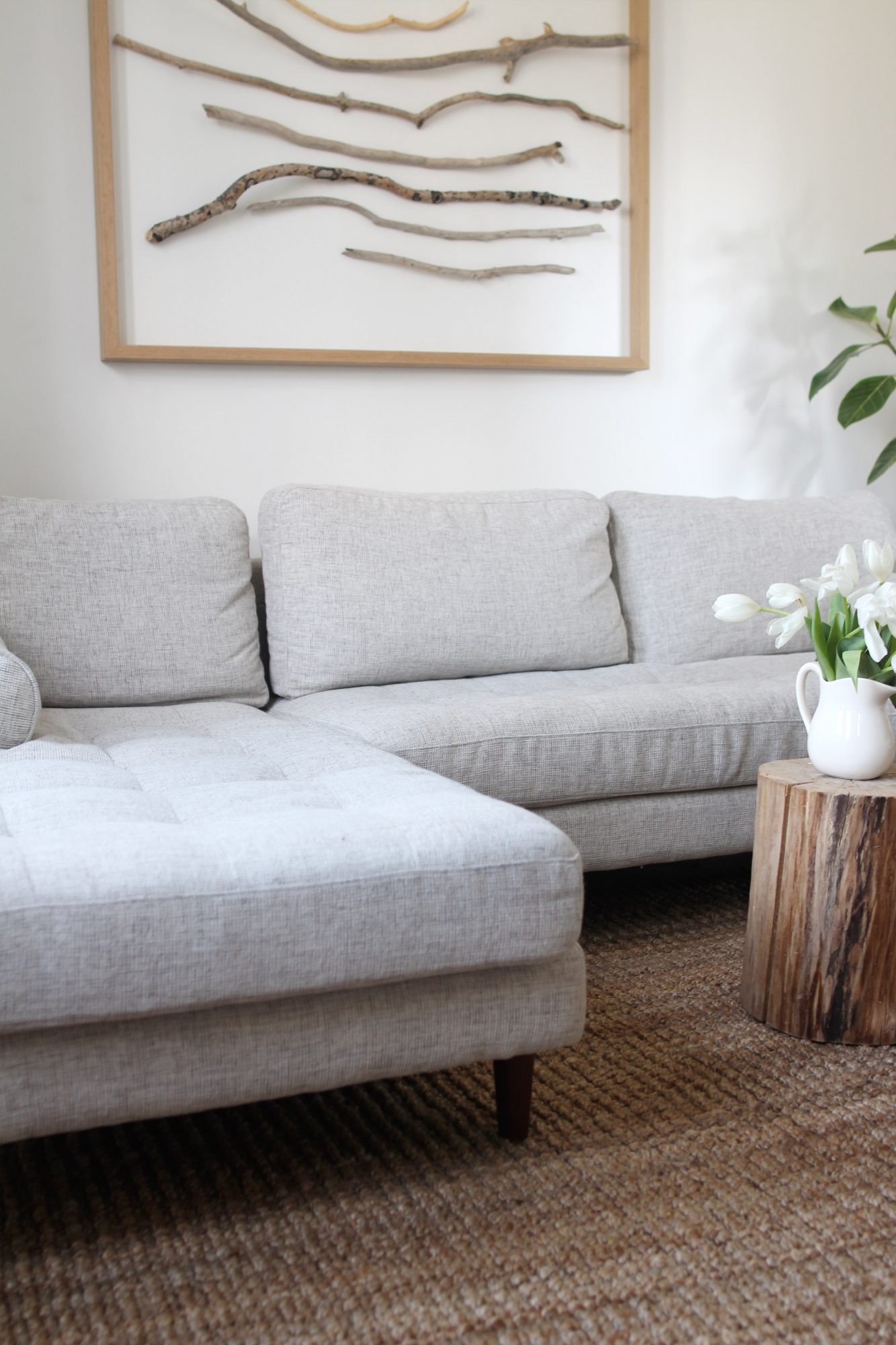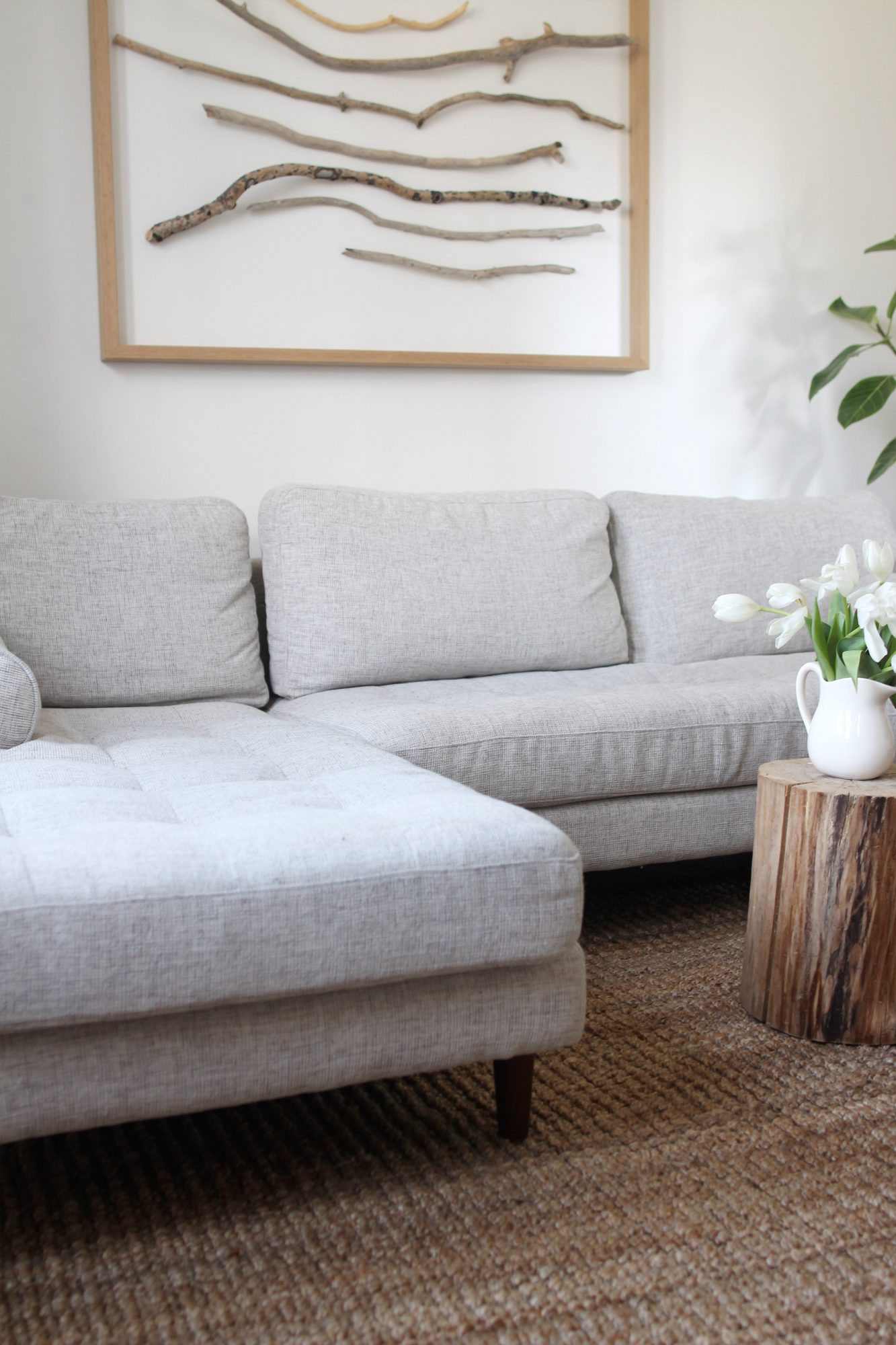 ---
HOW I KEEP OUR SVEN LOOKING GOOD
---
When I'm giving the living room a deep-ish clean, about once every month or so, I like to clean up any pills that have developed on the fabric and spot clean wherever a stain may have appeared.
I must say for a light fabric, the Ivory Birch is very good at camouflaging pet fur, dirt, lint and small everyday types of stains. My husband Dave is a contractor and a particularly spilly fellow so he had some valid concerns about such a light colour couch. Happy to report that we've both been really pleased with how well it's held up.
The fabric is a synthetic blend of 73% Polyester / Acrylic 27% and has a Martindale score of 100,000 rubs, which is more than sufficient for domestic use.
As I noted above, this fabric does tend to pill in high friction areas, primarily on the seat cushions, and this has also been noted in some of the reviews. Below you'll see a close up image of the pills that develop over a month or so of daily use. Good news though, they're easy to get rid of!
---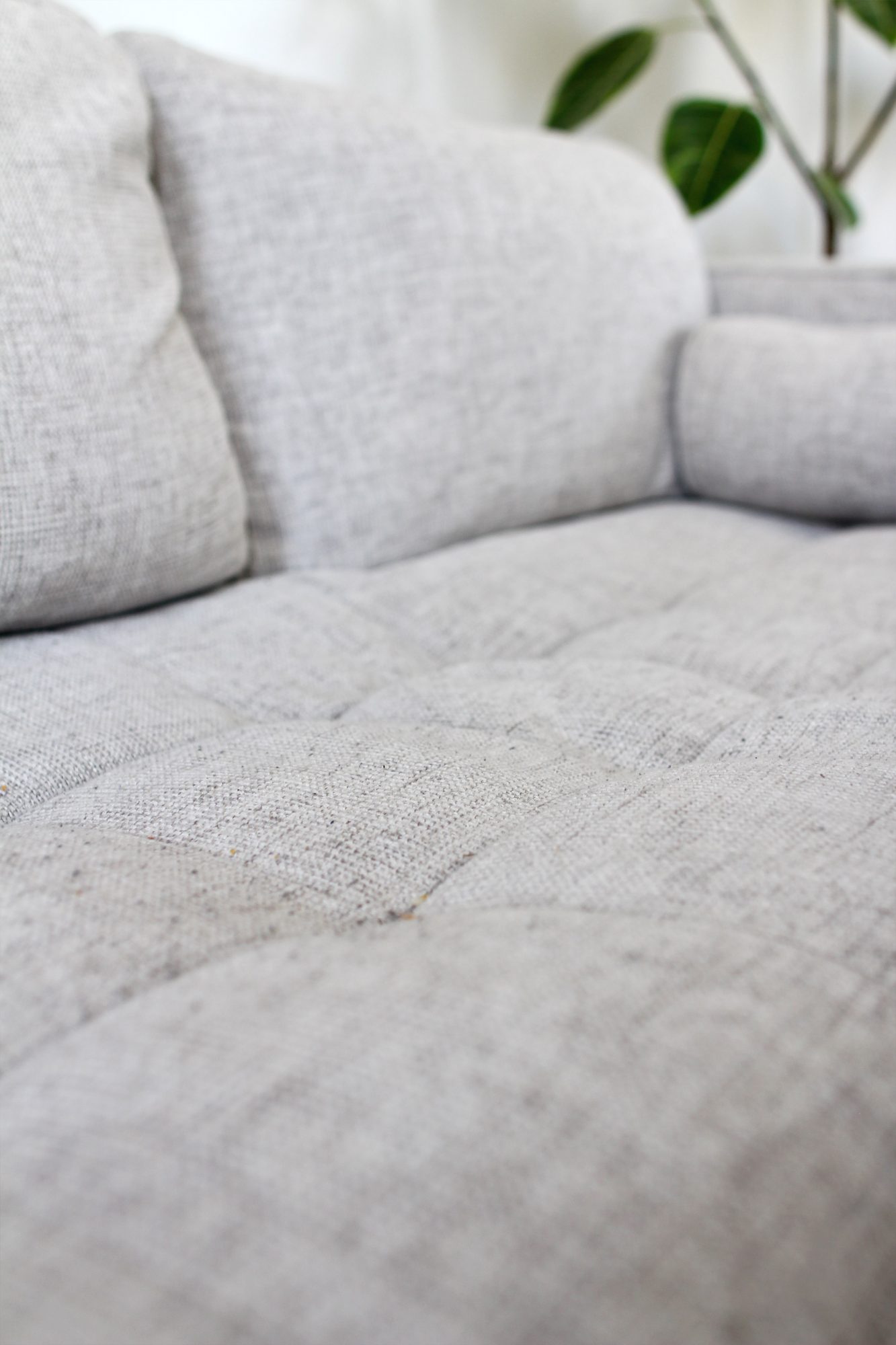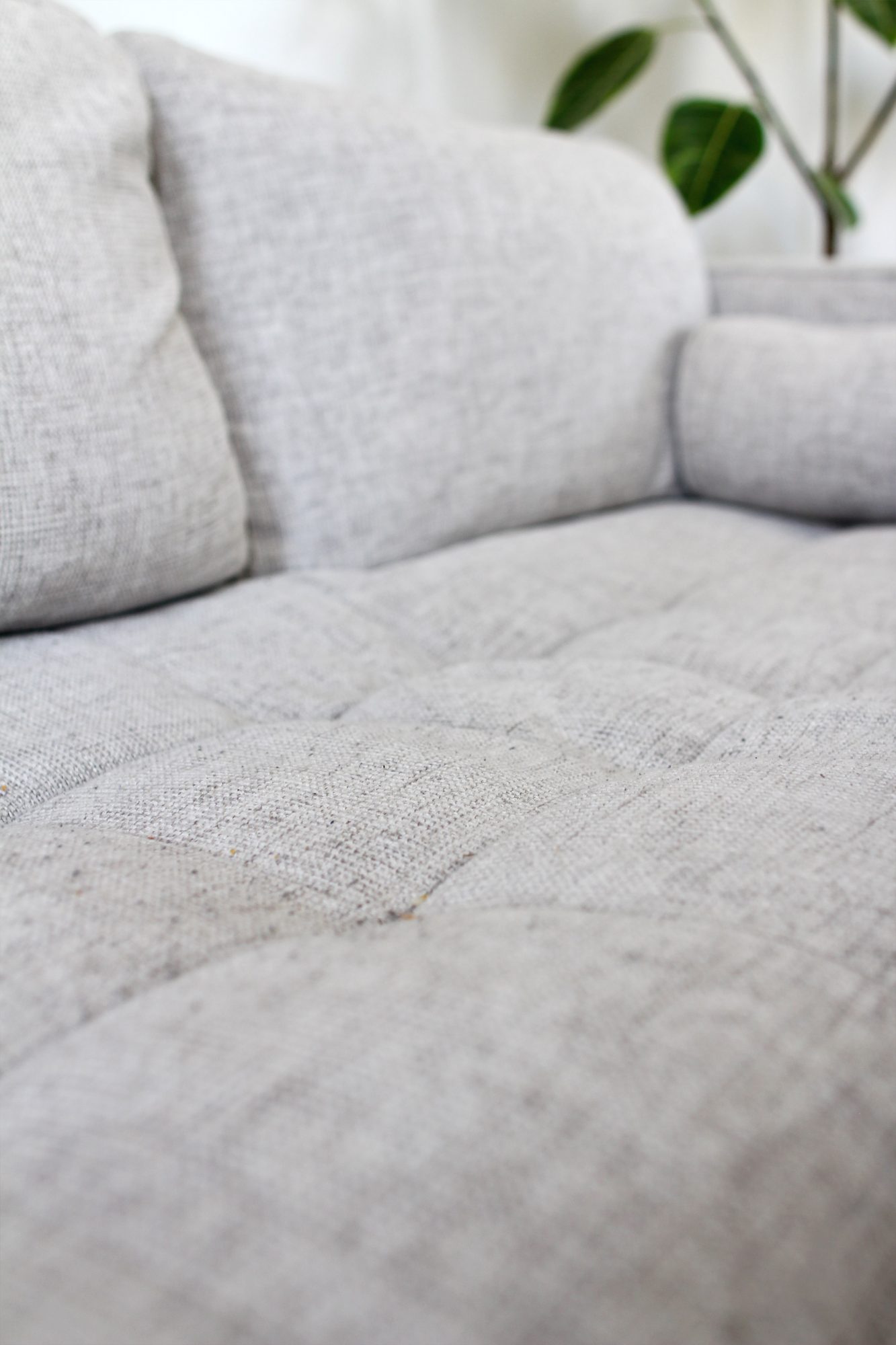 ---
To get rid of the pills and return the fabric to it's original look and feel I simply use a sweater stone or sweater comb. You could also consider using a fabric shaver or an electric defuzzer as well.
I gently brush the seat cushions from back to front (going with the grain of the fabric) collecting the fluff that comes off on the stone. It doesn't take more than a few minutes to sweep them off and you're left with a brighter, softer, new looking cushion.
---
---
Once the pills are removed, I run my Miele vacuum over the cushions and in between to pick up any bits of grit that may collect in the tufted areas and corners.
I give the back and bolster pillows a good beating to get them into shape (a truly therapeutic exercise lol) and once they're set back in their spot, our Sven is looking pretty much as good as new!
For stains, I will spot clean with some clear hand or dish soap and use a clean white towel to rub out the mark and absorb any wetness. So far no issues with this method but if you get a darker colour you may want to test on an inconspicuous spot first.
I haven't felt the need to have the cushion covers dry cleaned yet but it's something I might consider if I find there are any stains I can't get out myself.
The images below show the cushions and fabric after this quick (10 minute or less) maintenance routine.
---
---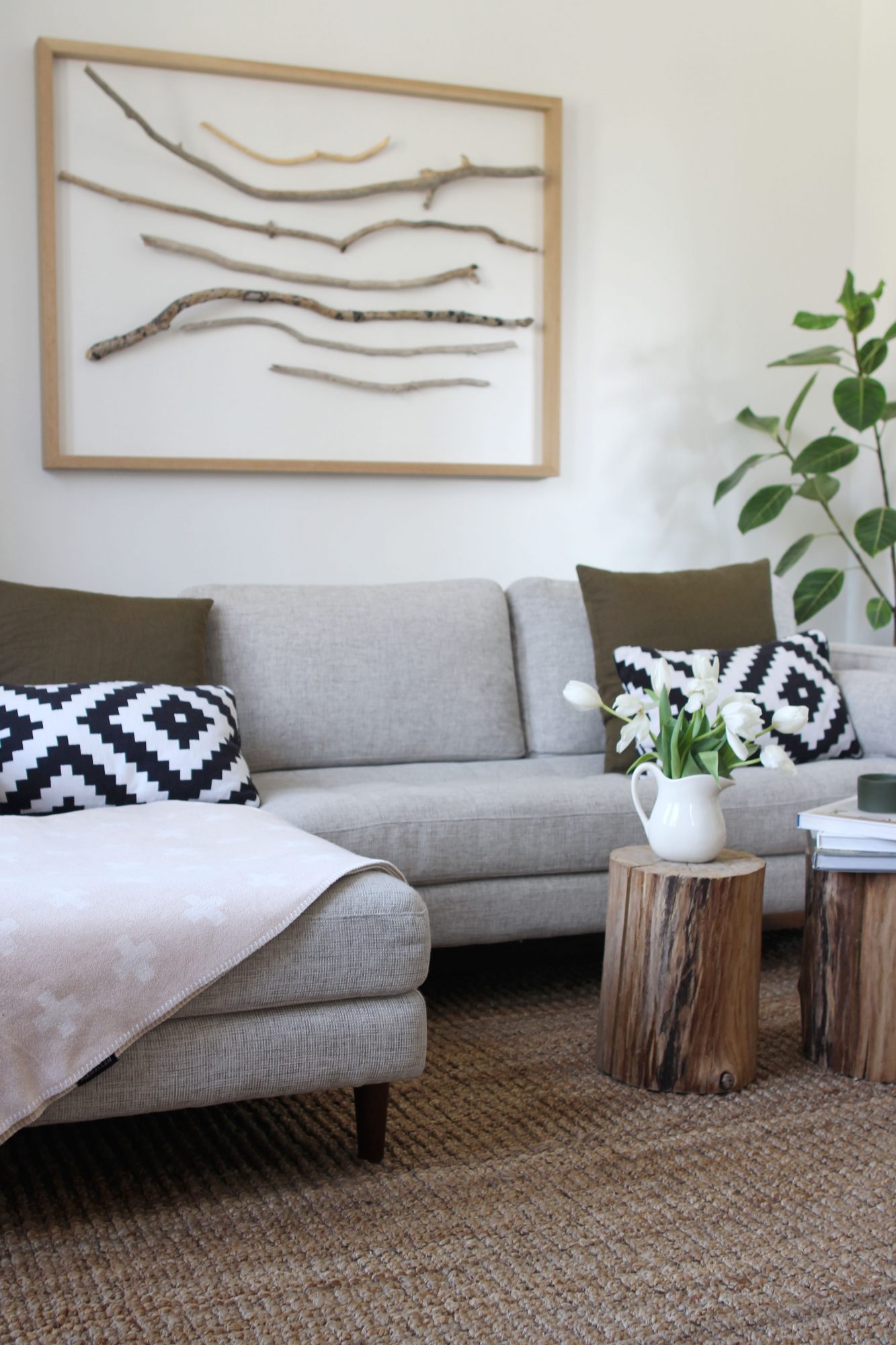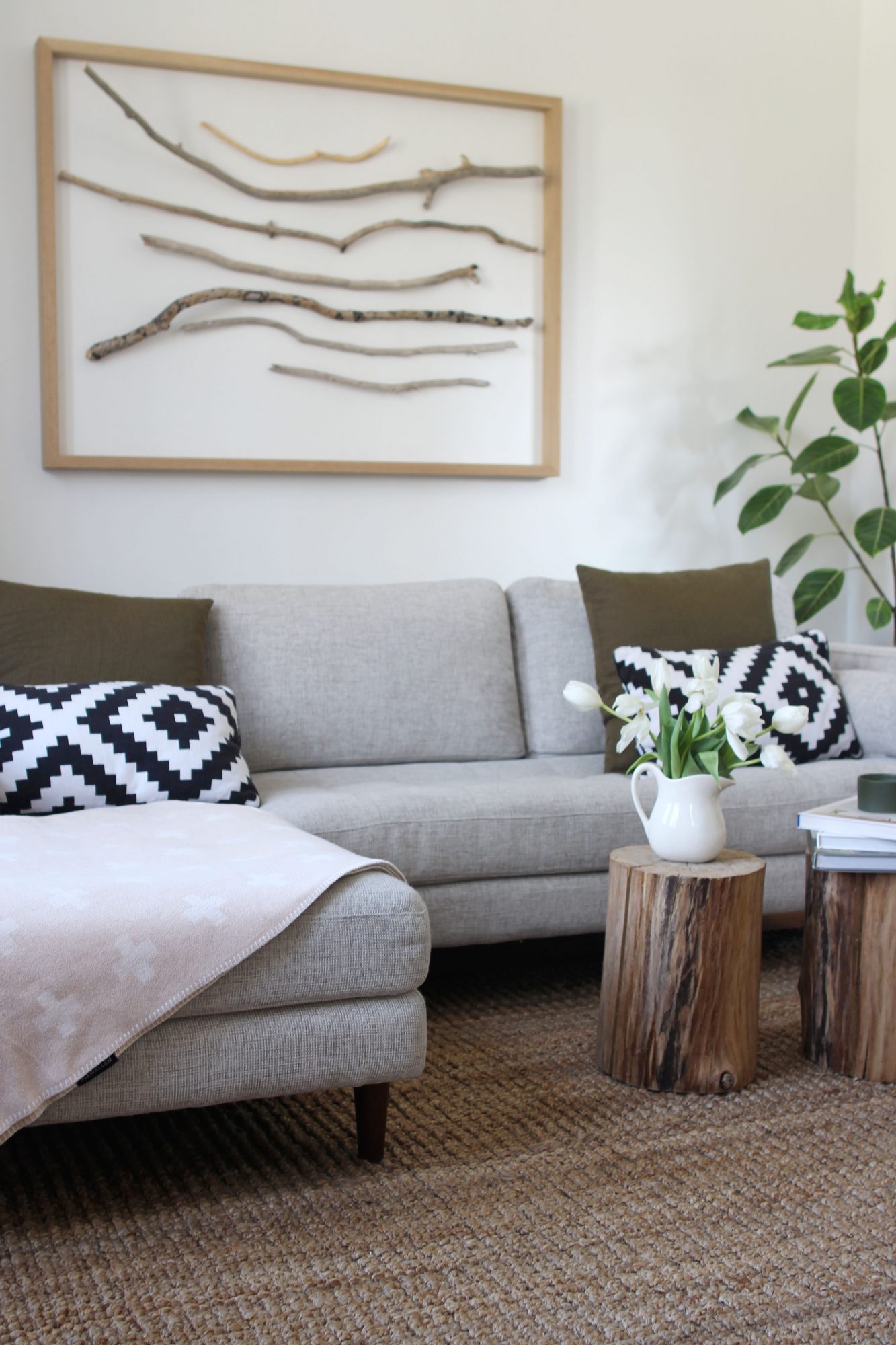 ---
To keep the couch feeling fresh I like to occasionally change up the toss cushions and I'll light a scented candles to make the room smell great. I put a washable throw blanket on the chaise where Dobby snoozes to keep that section protected.
---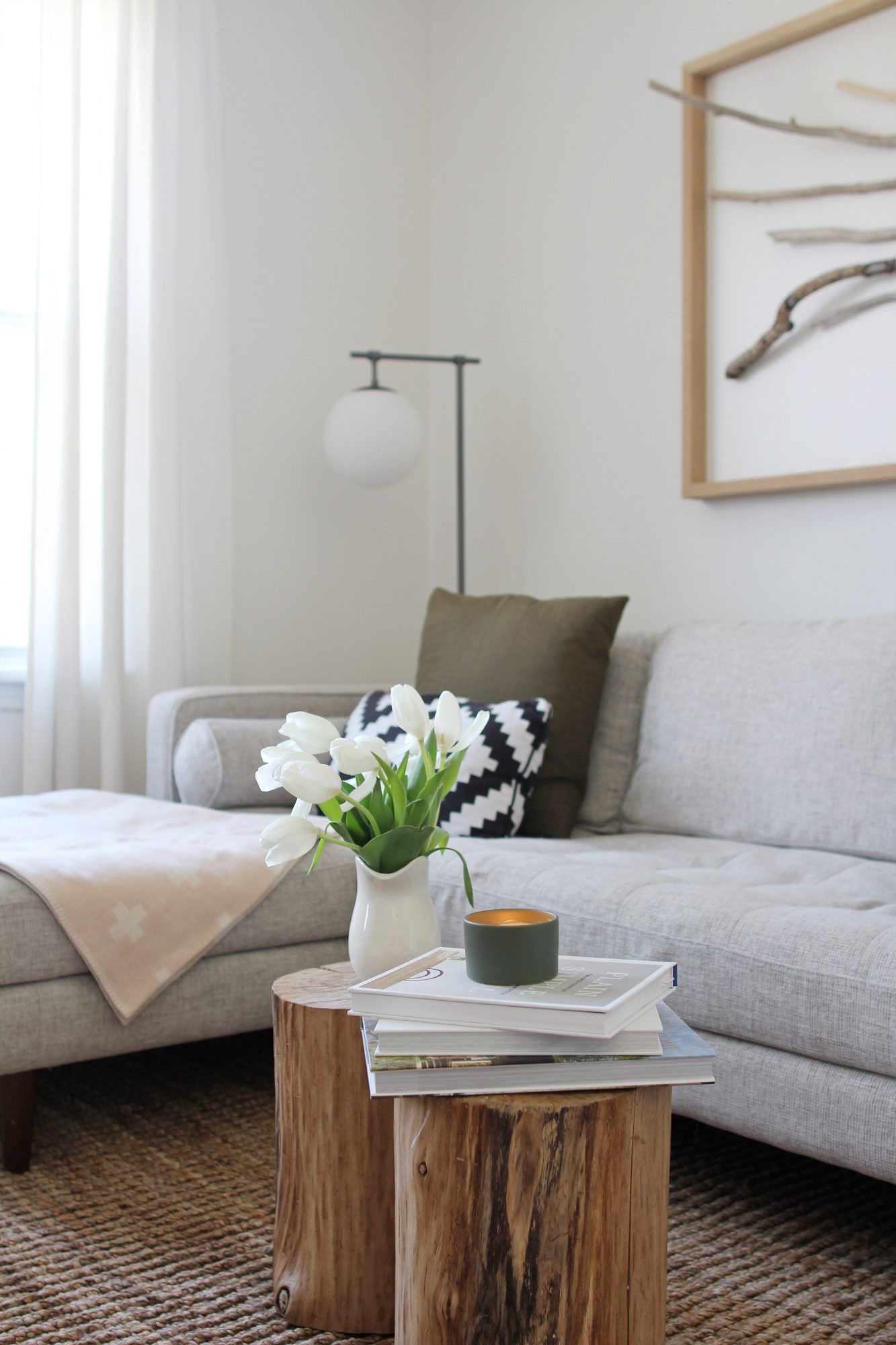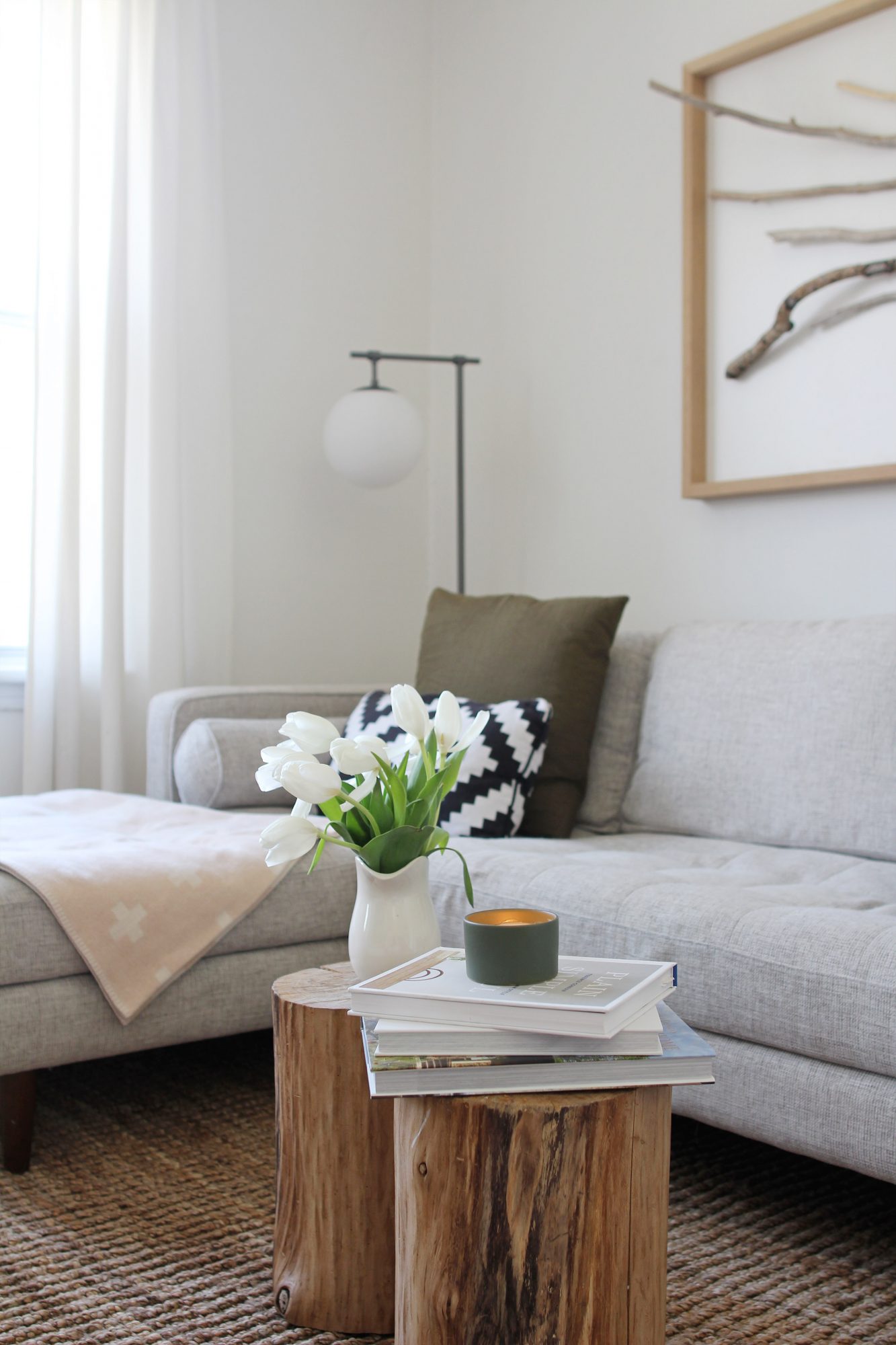 ---
SO WOULD I GET ANOTHER SVEN?
---
Yes, I still love our Sven and I believe this couch is great value for the price. At $2629 CAD you'll be hard pressed to find such an elegant design that's also been constructed well. Overall, the frame has held up great with no bowing or any signs of structural weakness. I think it cleans up great, especially for a light fabric and, of course, we also find it very comfortable to sit and lounge on.
Will it be our forever couch? No. We'd love to have a bit more space one day and at that point we'll be looking into something more luxurious in size with cushions covered in a high quality natural fabric or leather. Until then though, we'll be thoroughly enjoying our Sven sectional!
---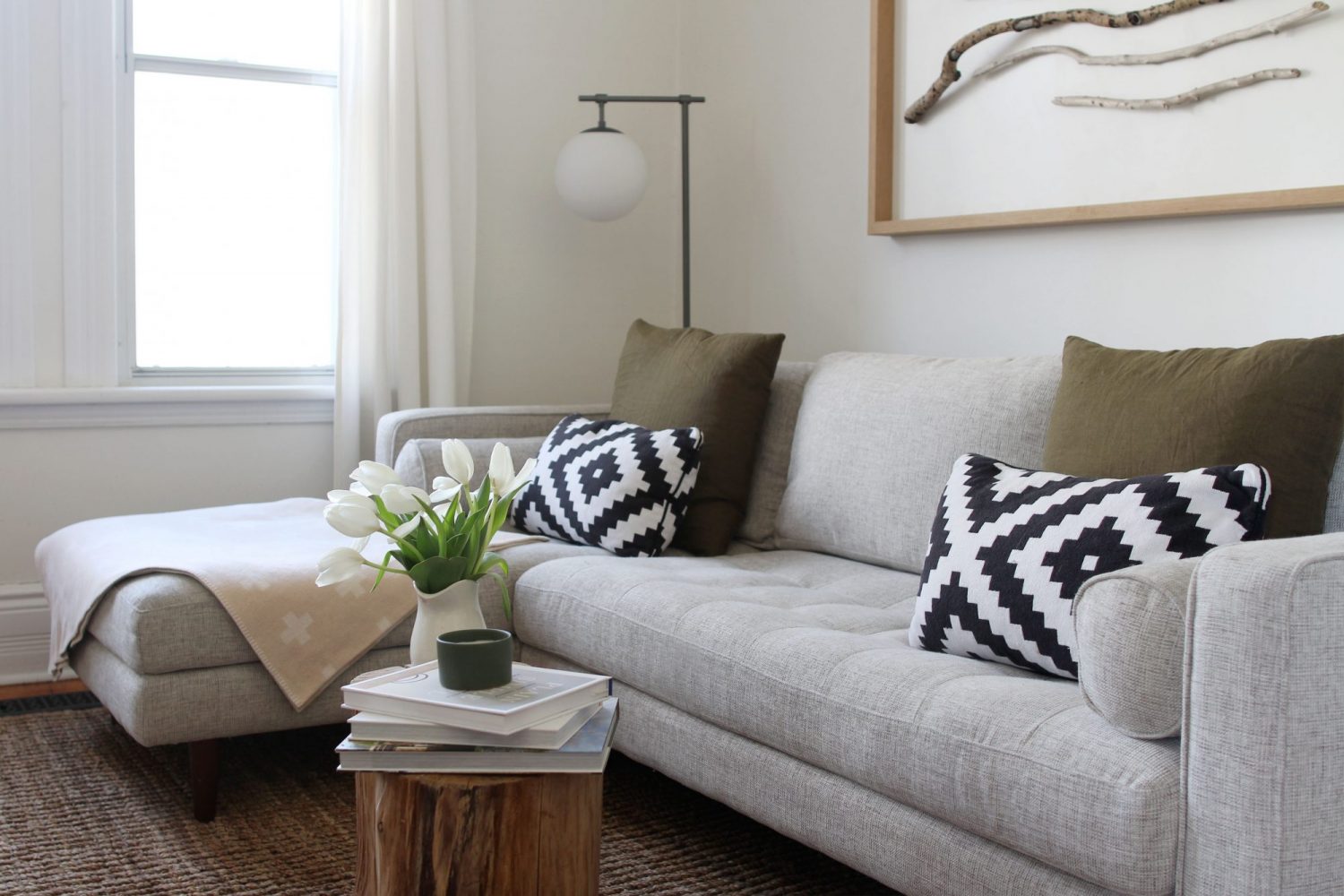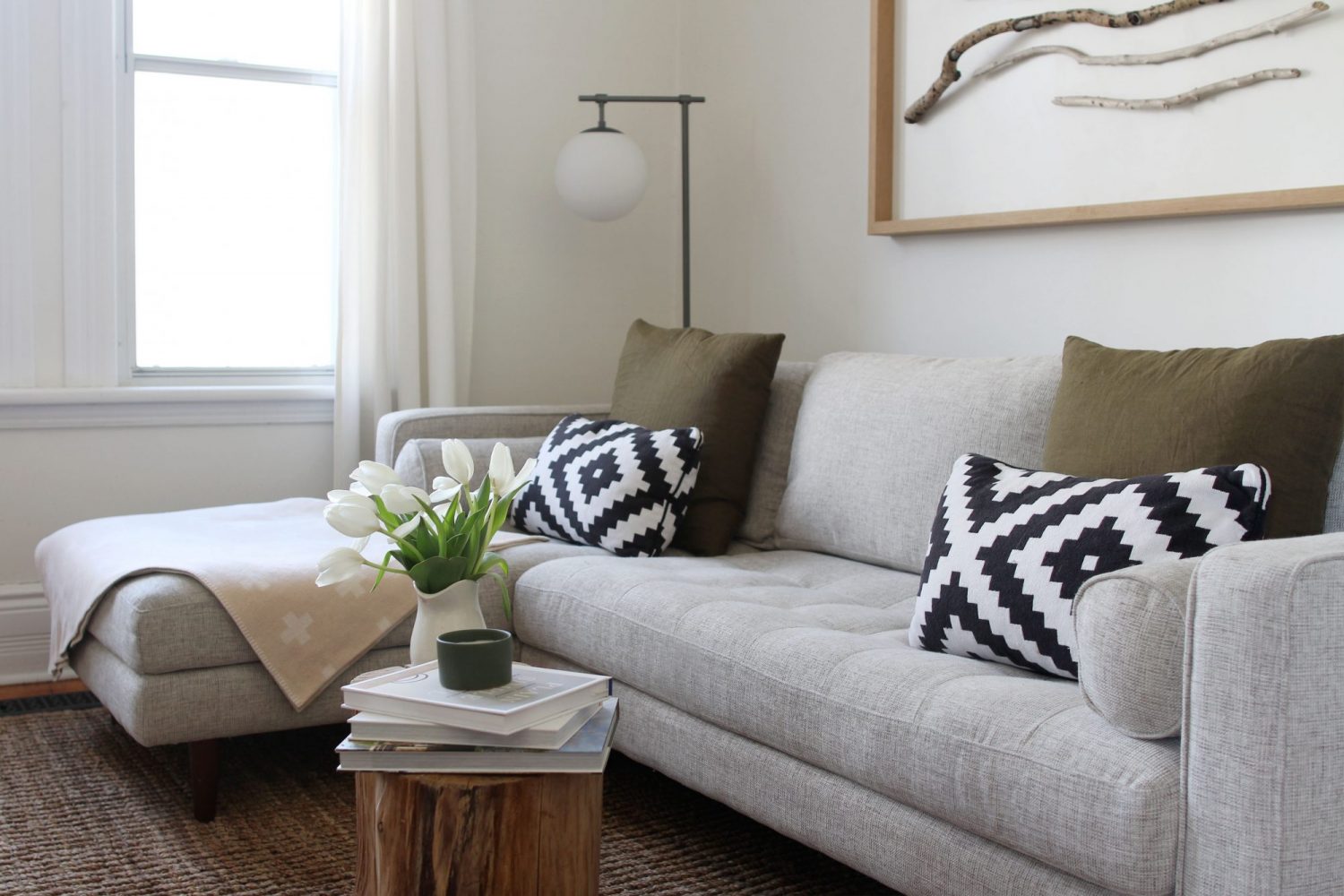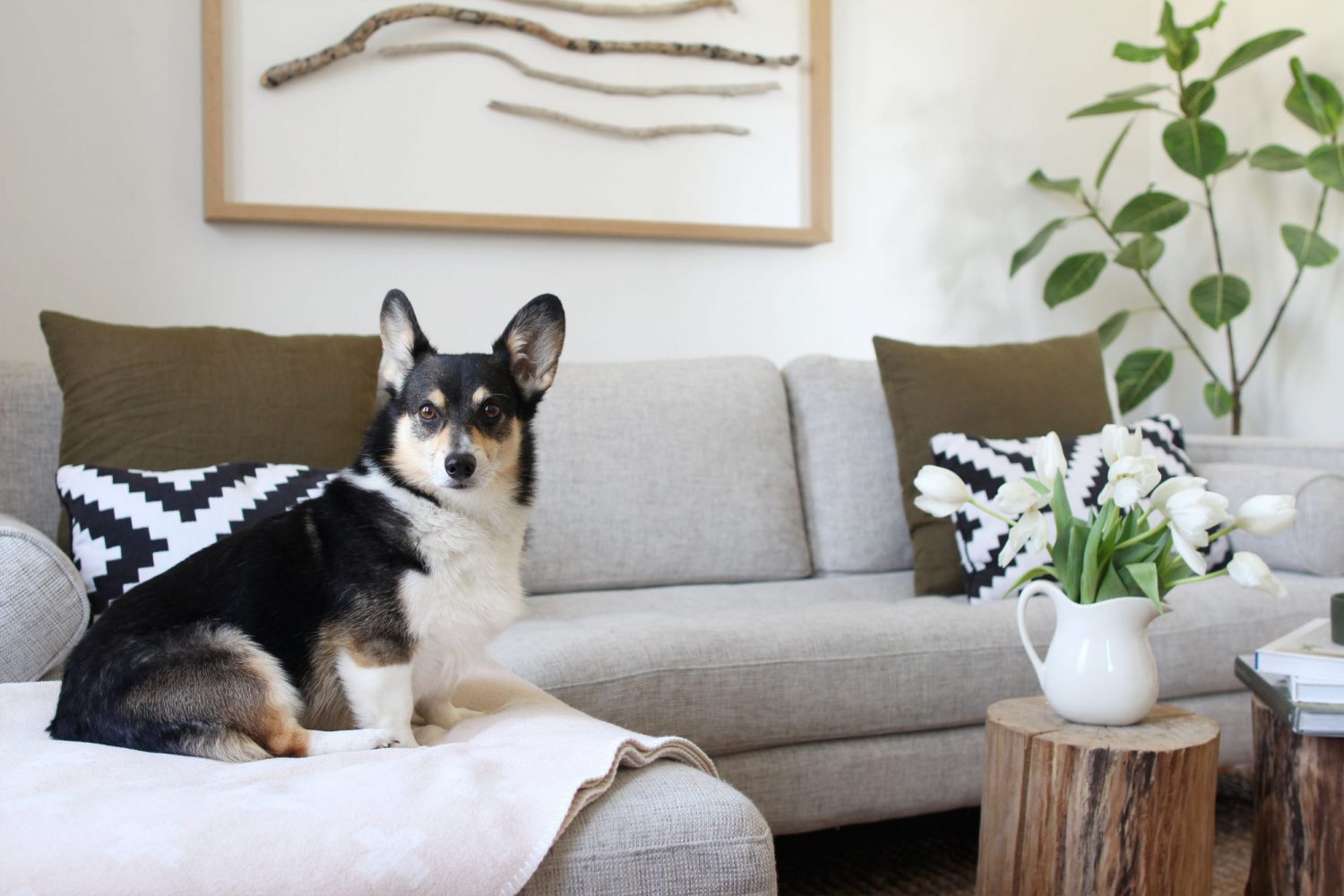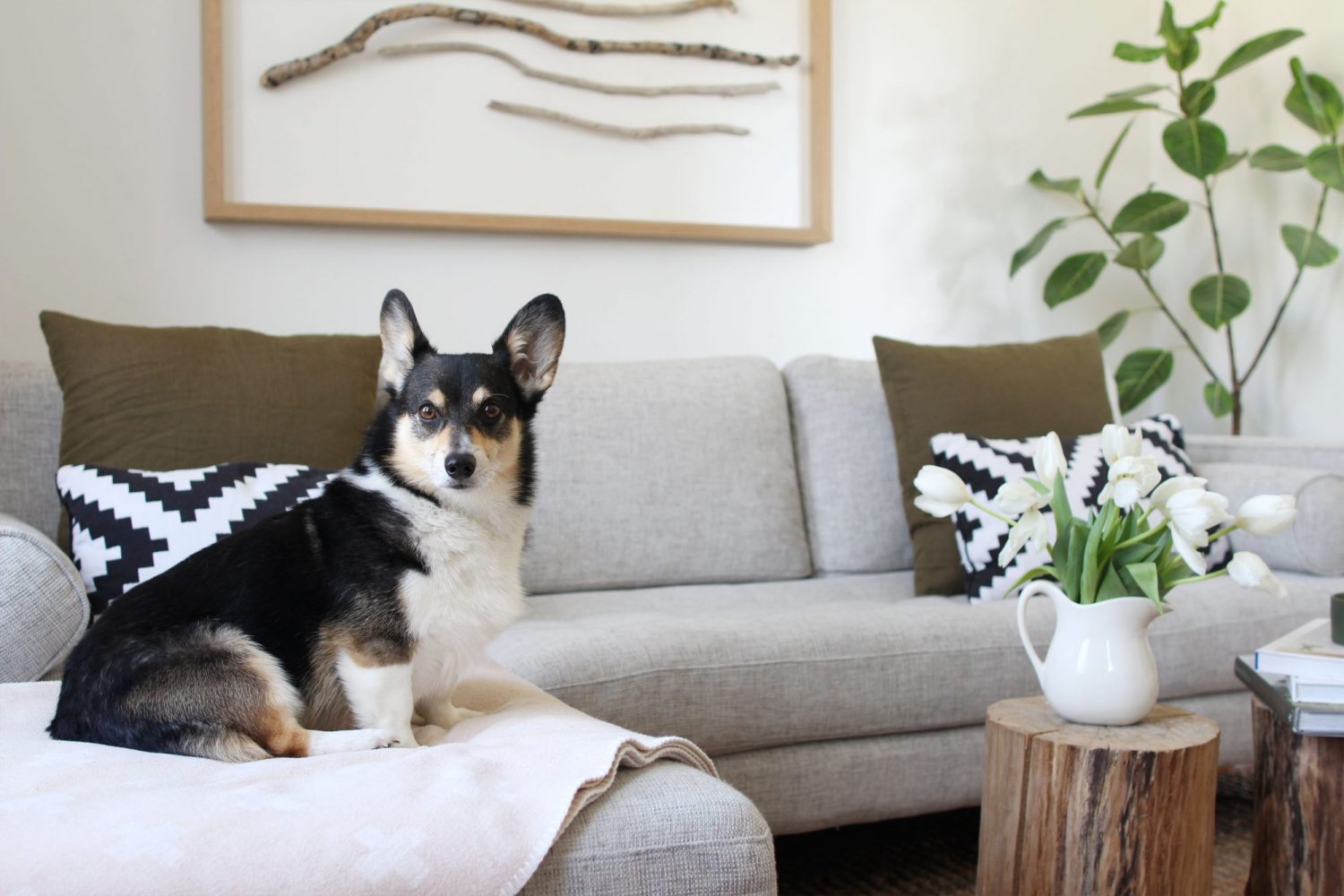 ---
Thanks for tuning in, I hope this update is helpful for anyone considering a Sven Sectional.
Have any additional questions? Let me know if the comments!