I'm back with another roundup of outfits!
Over the weekend I had a Zoom call with my bestie and the topic of "getting ready" came up. We both agreed that just the simple act of getting dressed and feeling presentable for the day has been helping our mental health. It always has a positive impact on my mood, my productivity and my general outlook on the day.
Of course, we're all trying to juggle a lot of things (Moms you're beyond amazing!) and some days a real outfit just isn't going to happen. That's okay! I've simply come to realize that for me, it can be a slippery slope to give into the sweatpants all day everyday mentality and just because I don't have to get ready doesn't necessarily mean I shouldn't bother.
All this is to say that I hope these outfit compilations can serve as a gentle motivation for you to keep playing with style, even if it just means colour coordinating you workout gear so it feels more put-together. Now on to 7 days of style!
---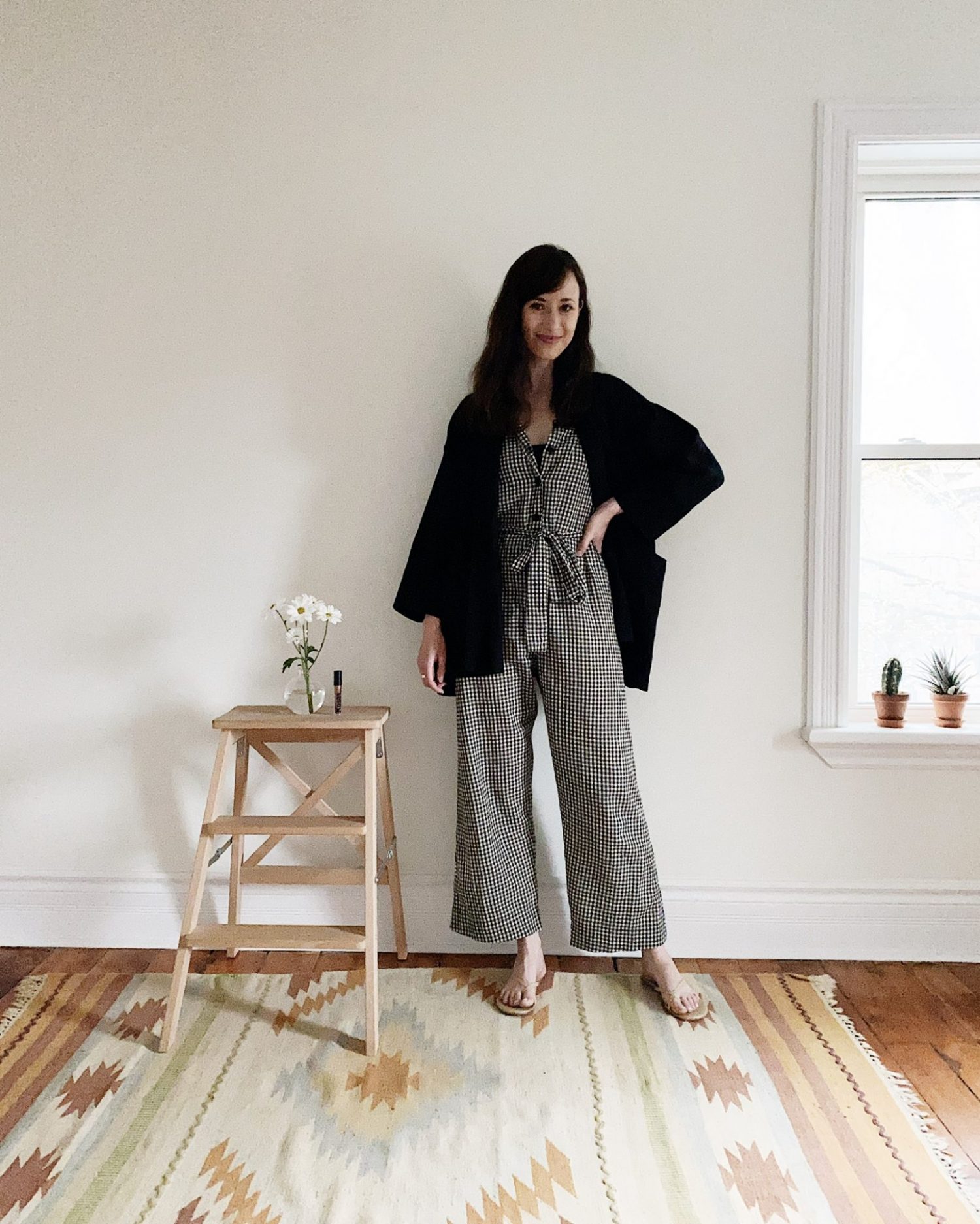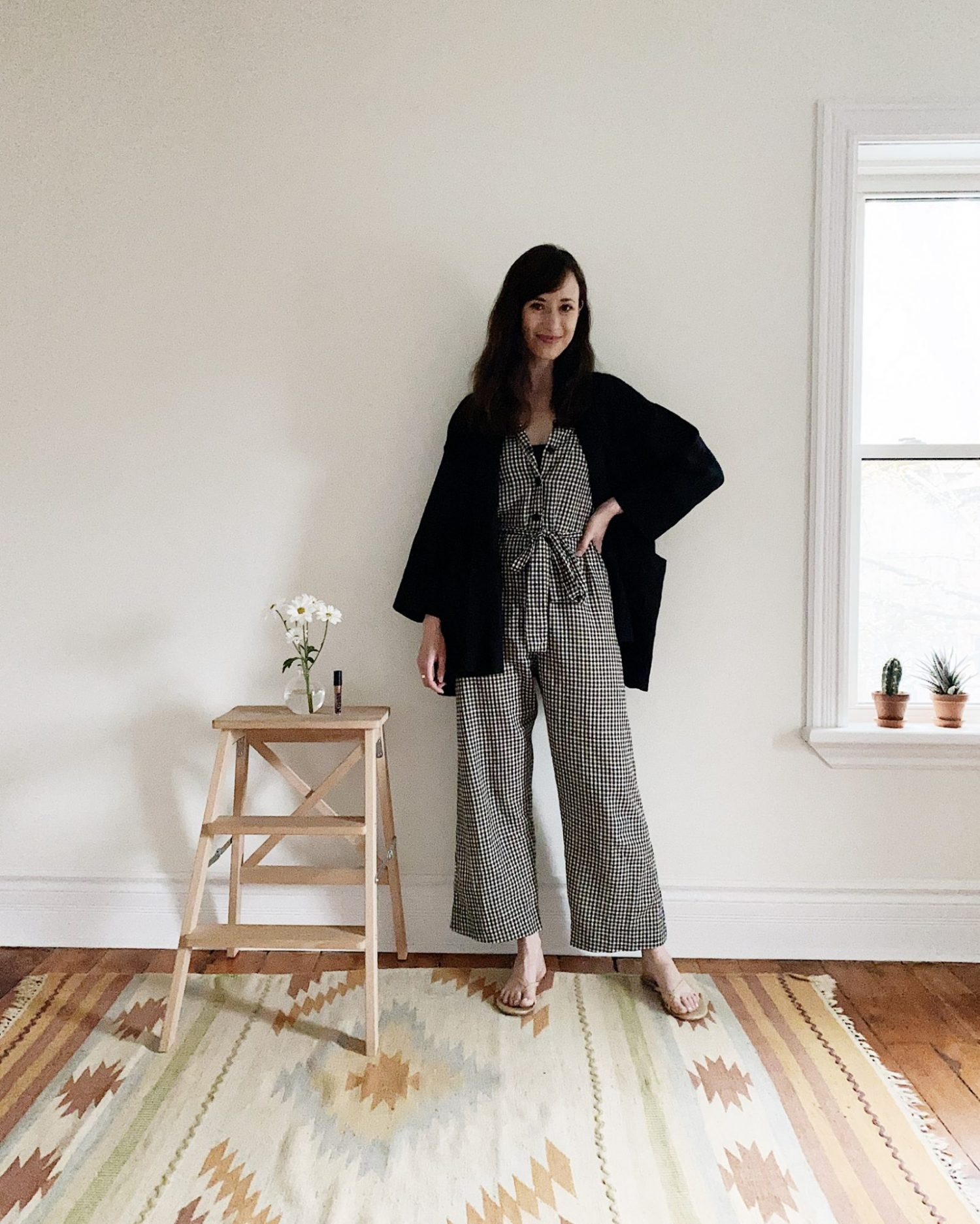 ---
MONDAY – 5/18
---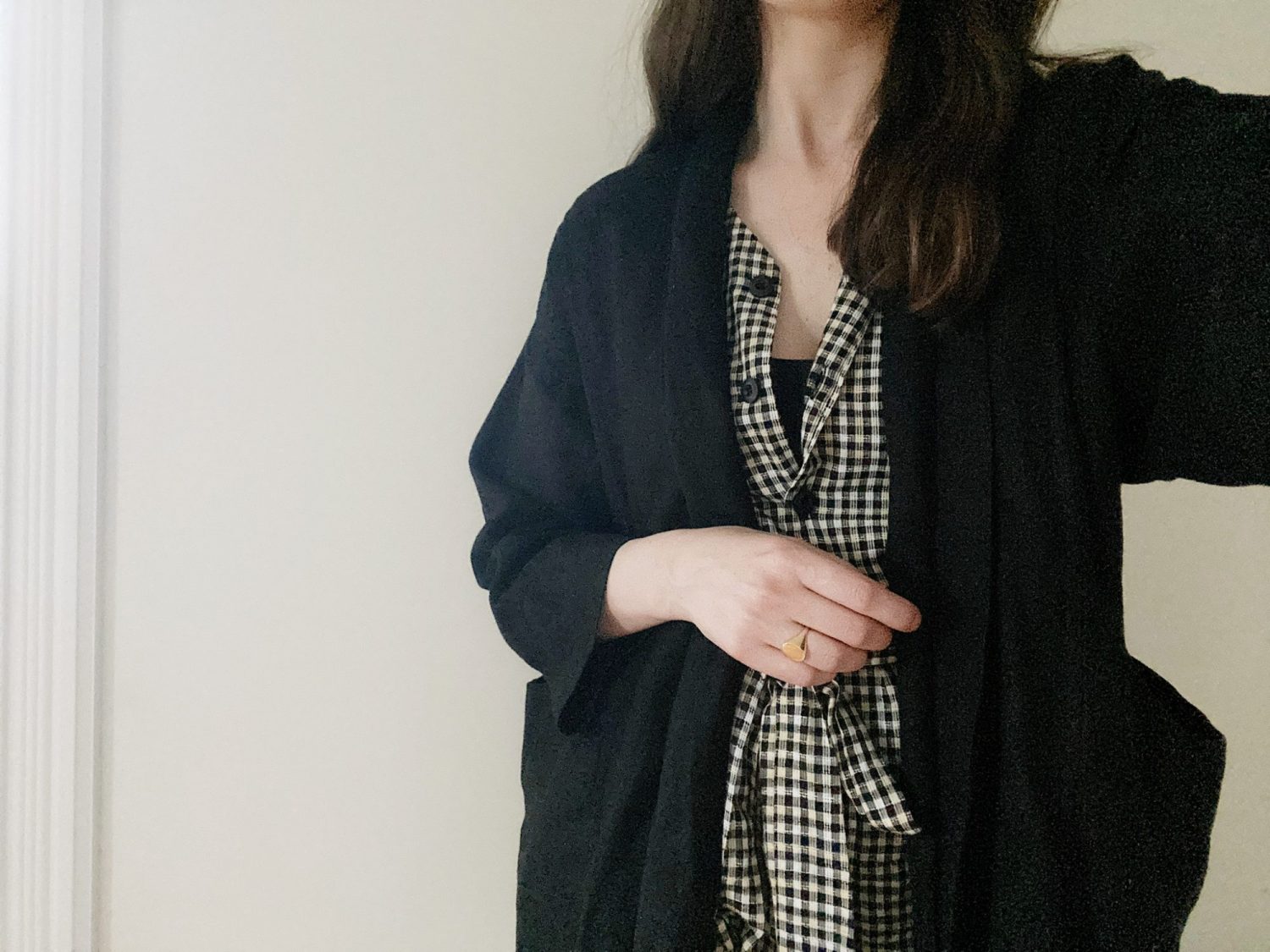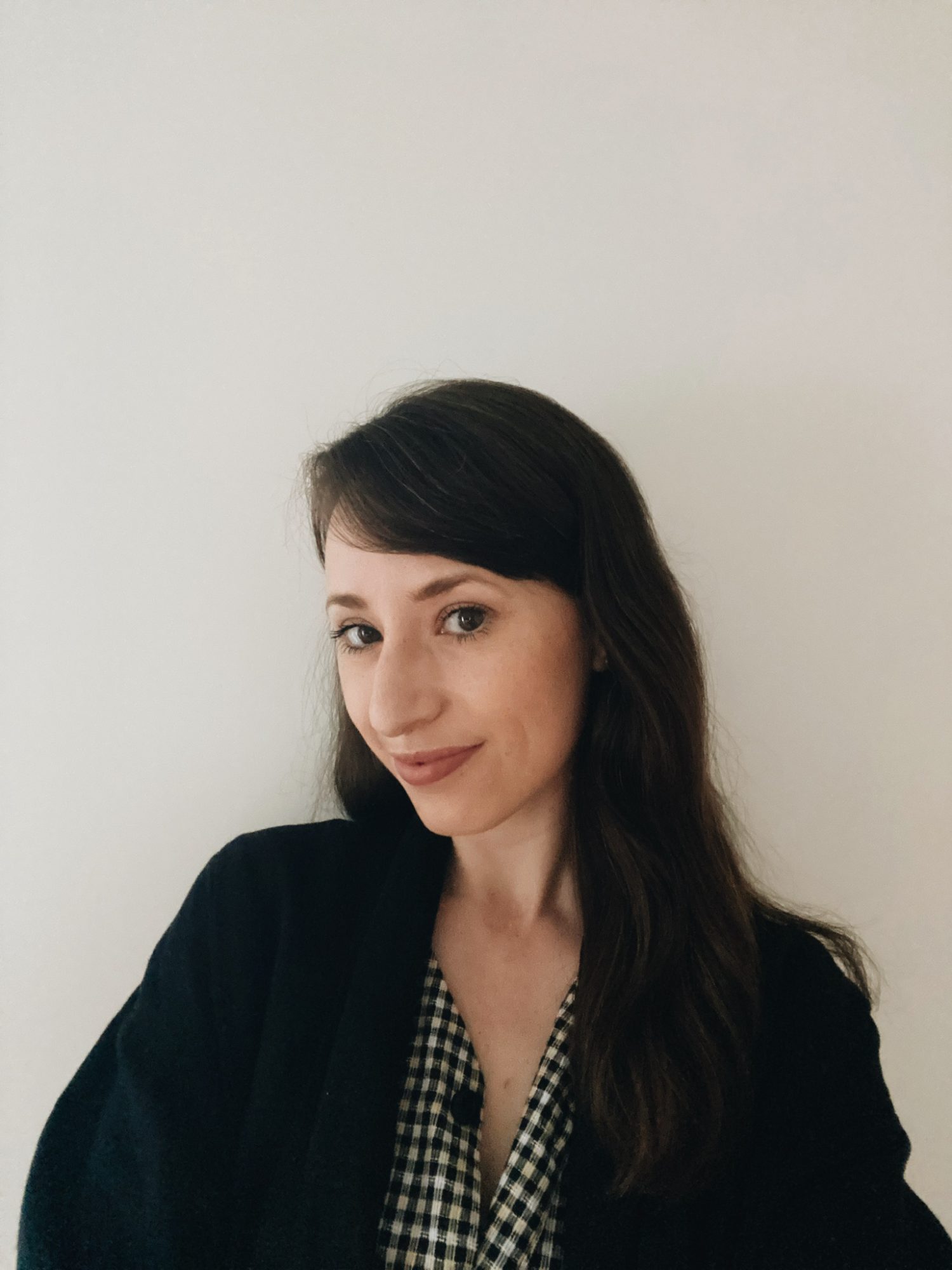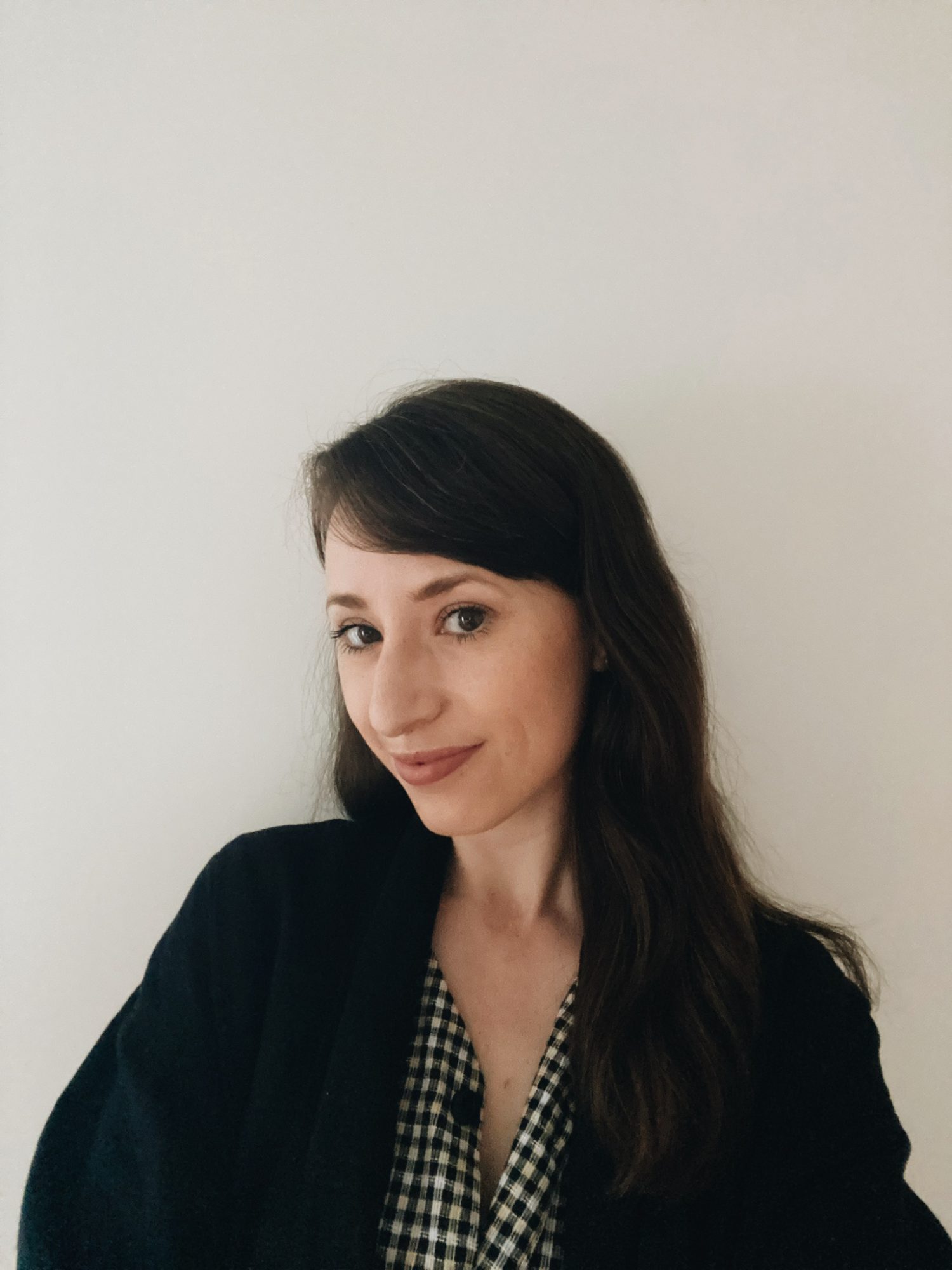 ---
Mondays are tough even when it isn't grey and gloomy (which as these photos confirm, it most certainly was) so I like to plan a cute outfit the night before. My new Benji Jumpsuit (a gift from Ace & Jig) has been my favourite piece to wear when I want to boost my mood. It's light as a feather, super soft and such a fun pattern.
This time I left the top buttons undone to show off my tank bra and layered my Clyde Jacket on top for extra warmth. I painted my toes for the first time ALL YEAR with a new minty green from Sundays (one of my favourite polish brands). I even added a little sparkle to my lids with the KOSÅS 10-second shadow. Safe to say this outfit helped me beat the Monday blues.
---
---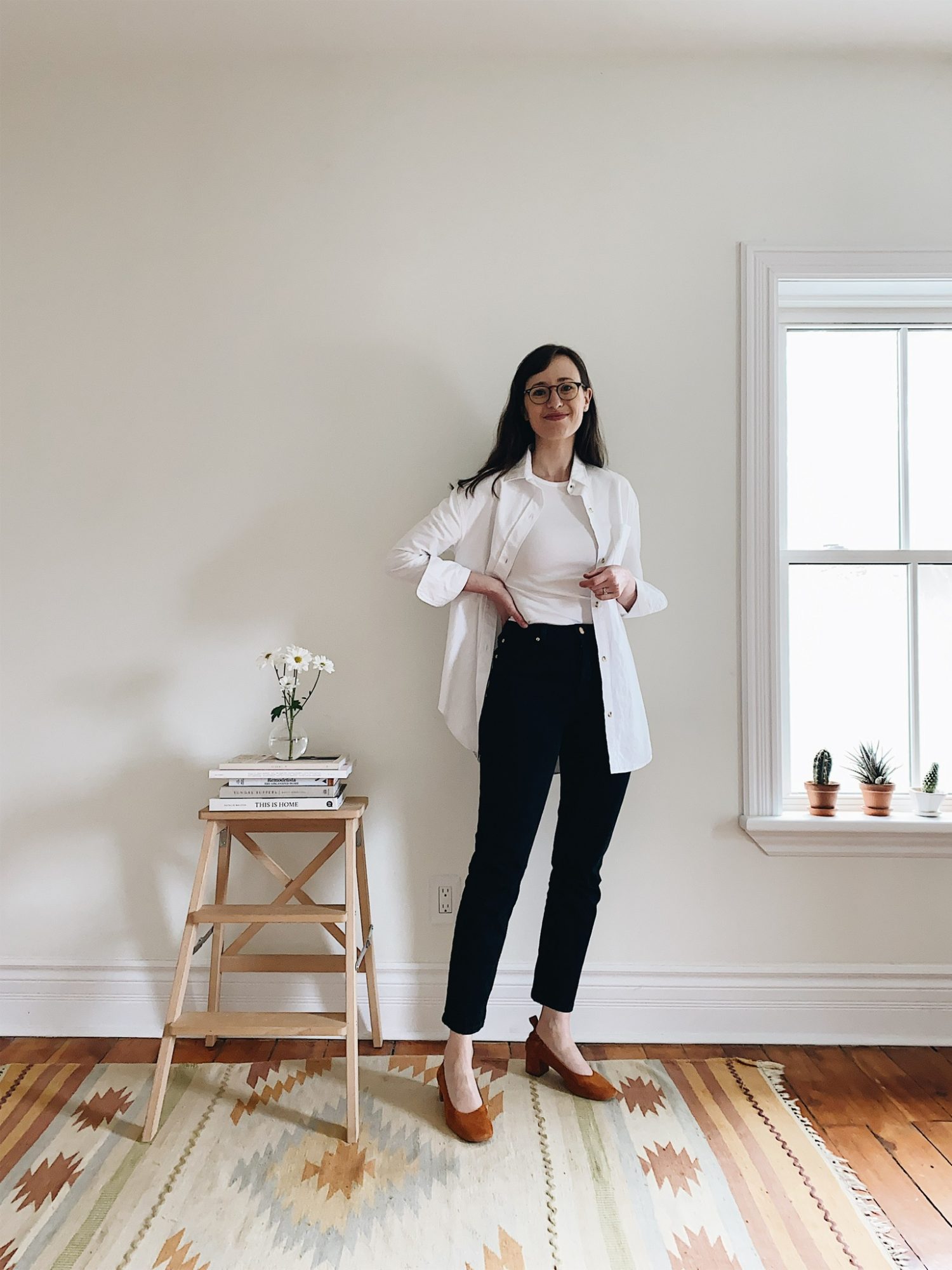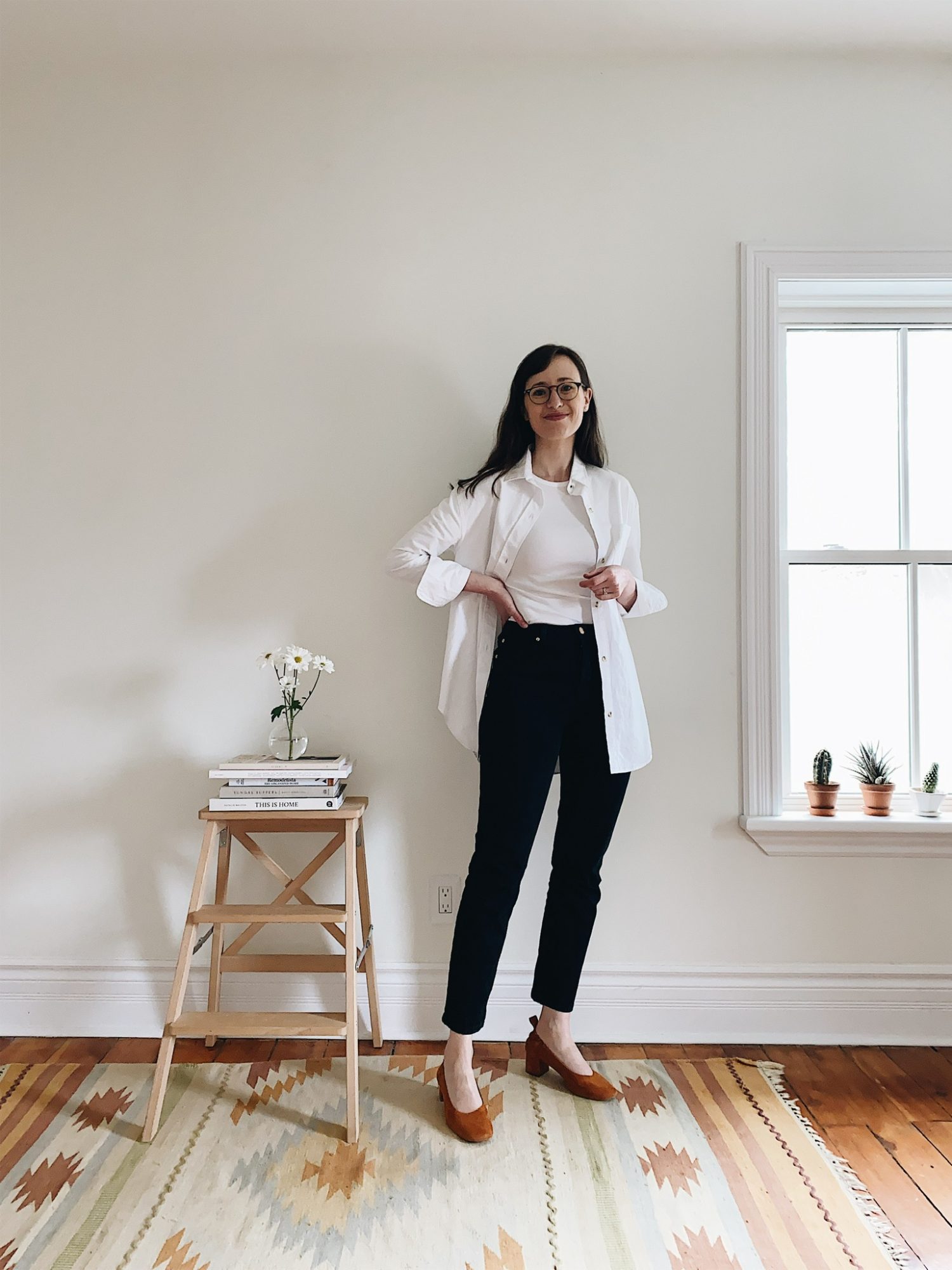 ---
TUESDAY – 5/19
---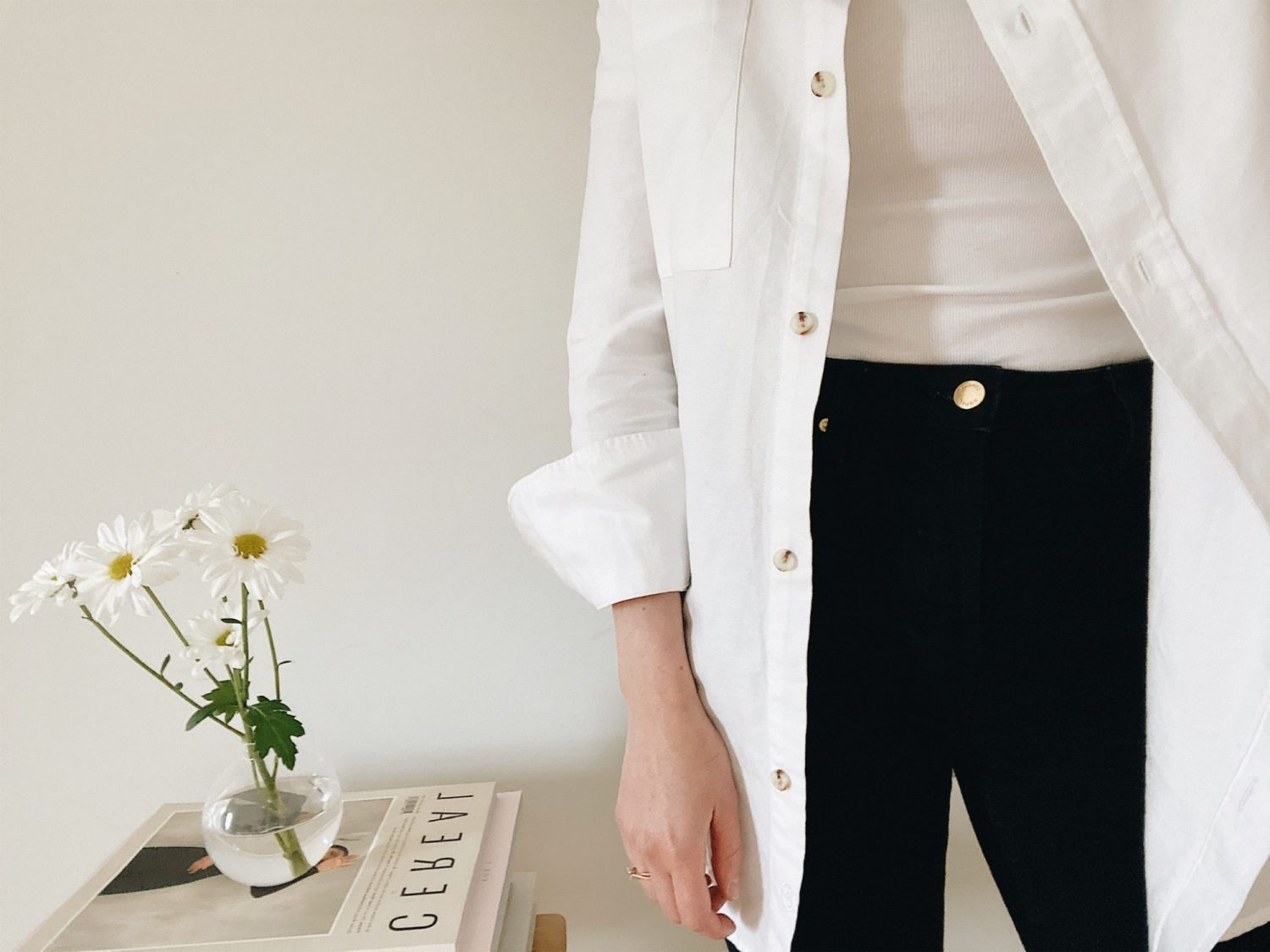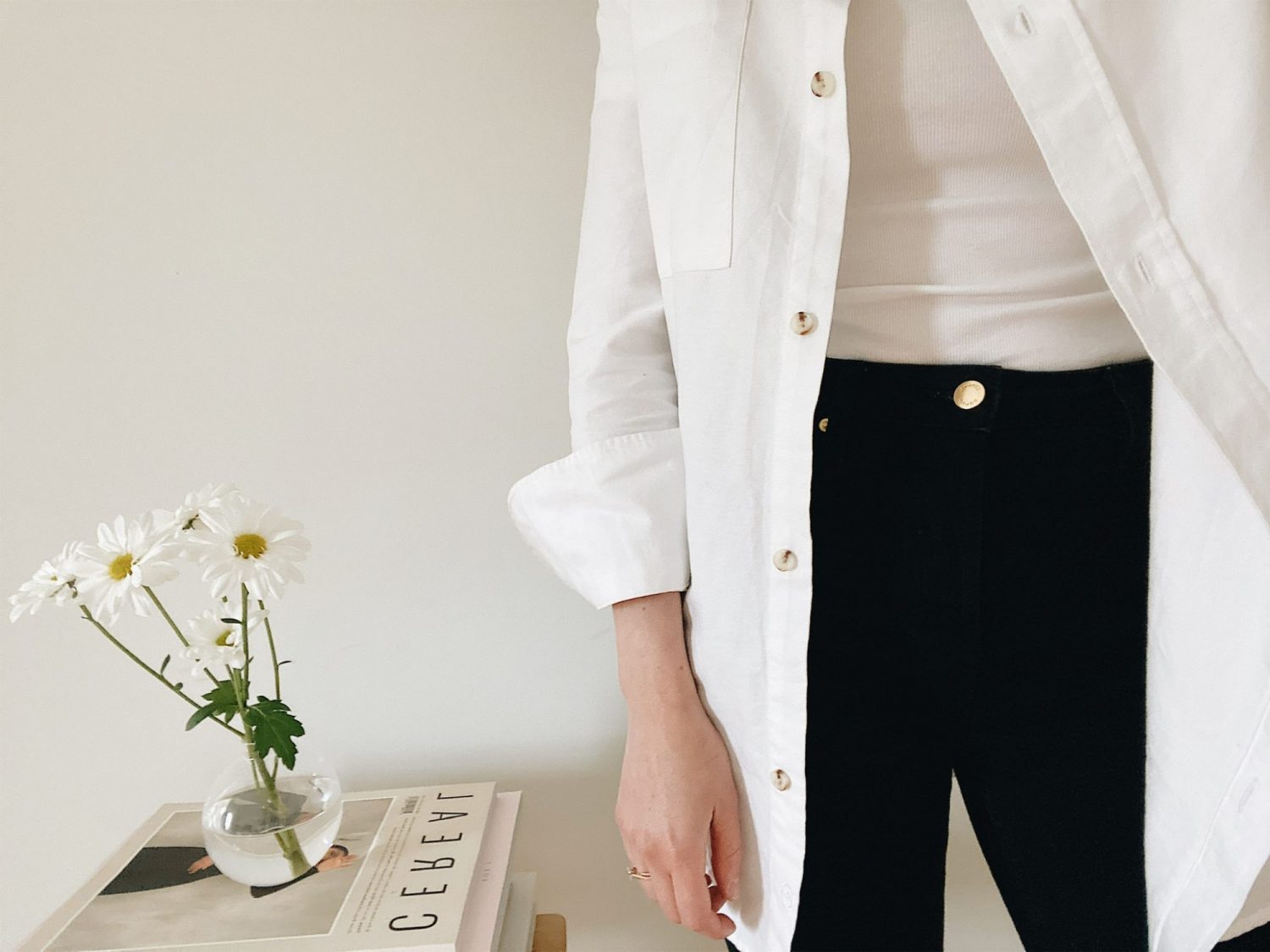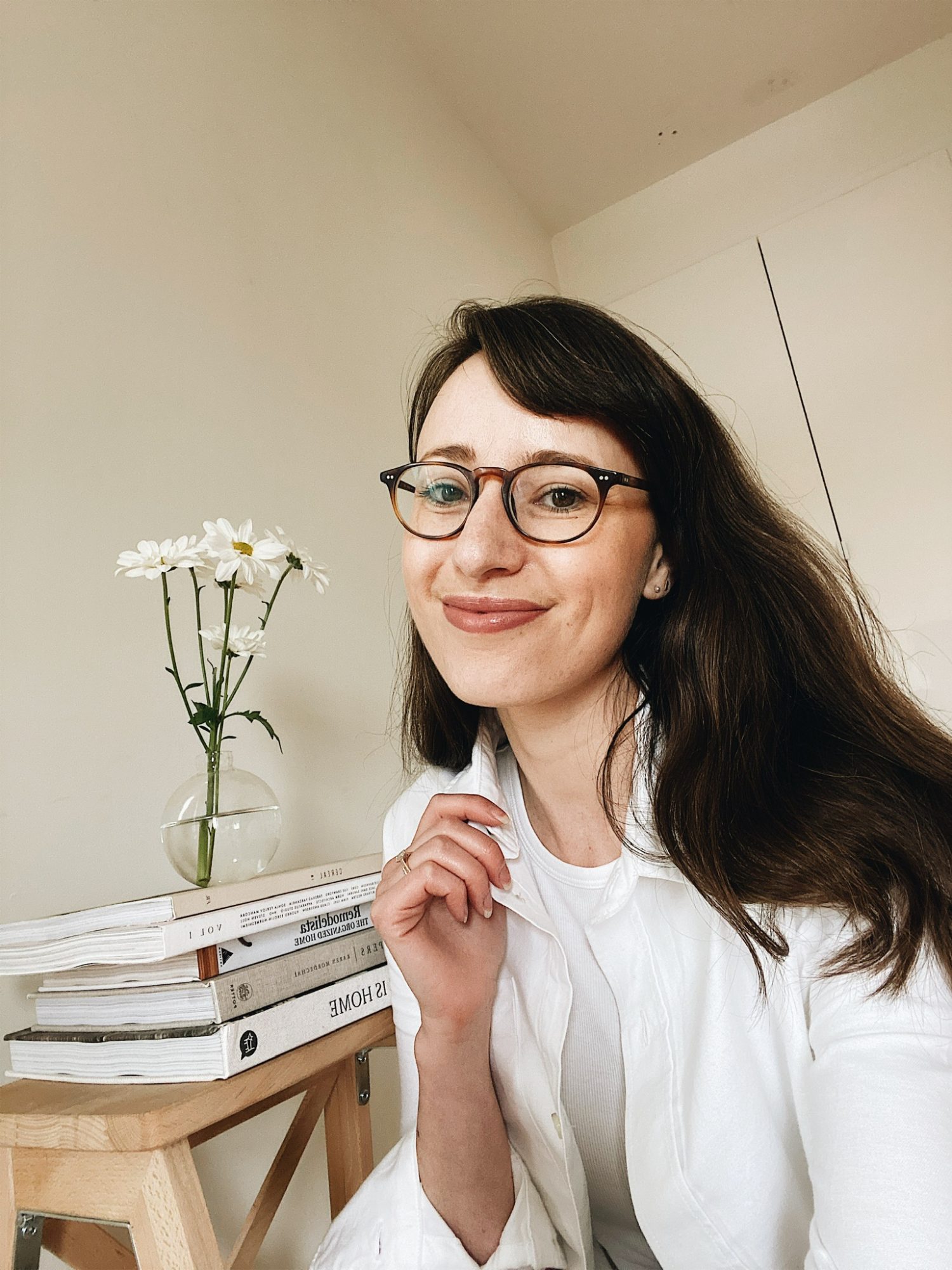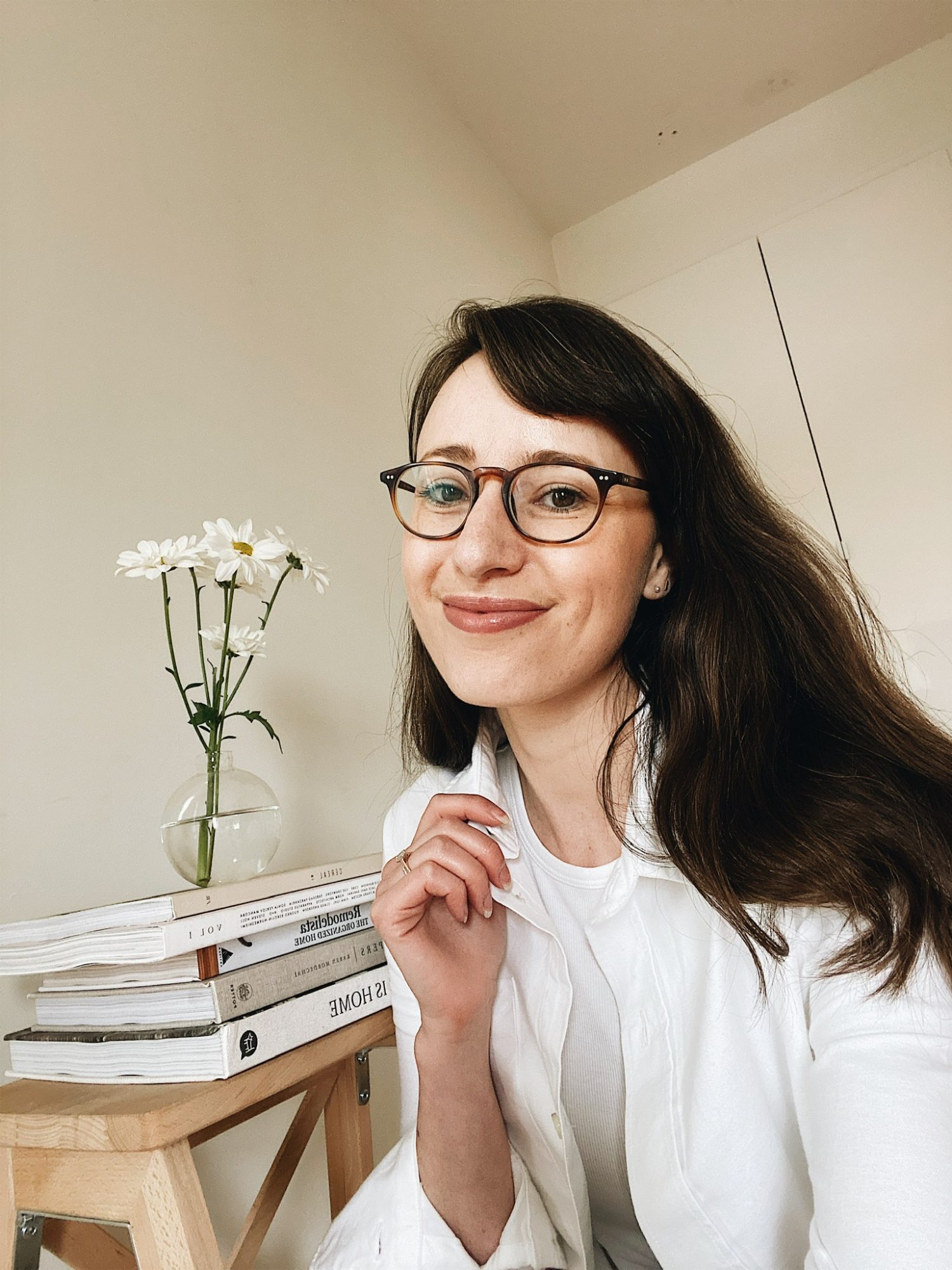 ---
This look caused quite a stir in my DMs and I've noticed that this oversize oxford has that effect every time I share it. It's no longer in stock but KOTN offers the same on in two other colours.
Tuesdays are often the busiest day of the week for me. I'm usually catching up on overflow from Monday, prepping content for later in the week and doing my best to get on top of emails and logistical planning. This outfit definitely put me into a productive boss babe headspace to kick my to-do list's ass!
---
---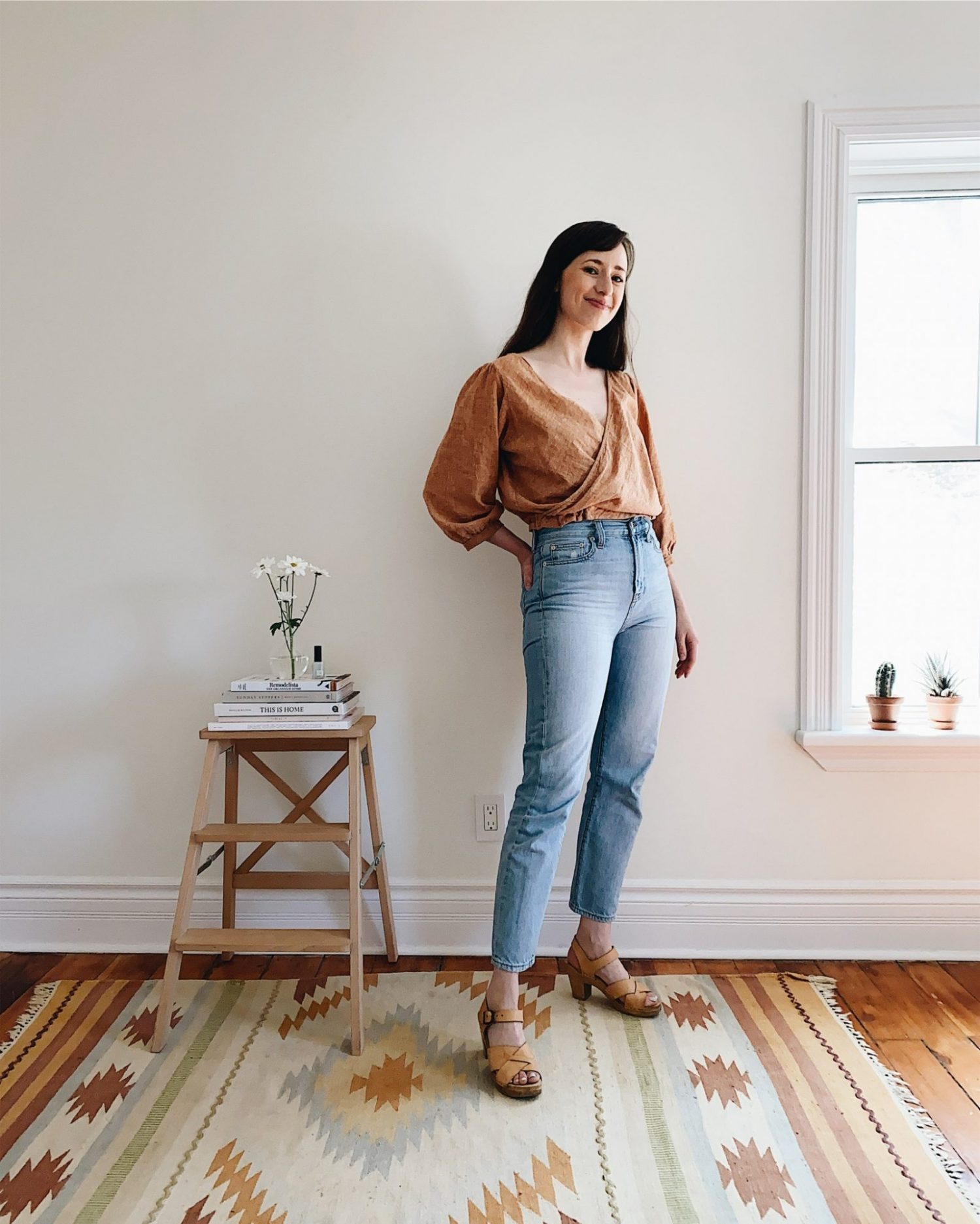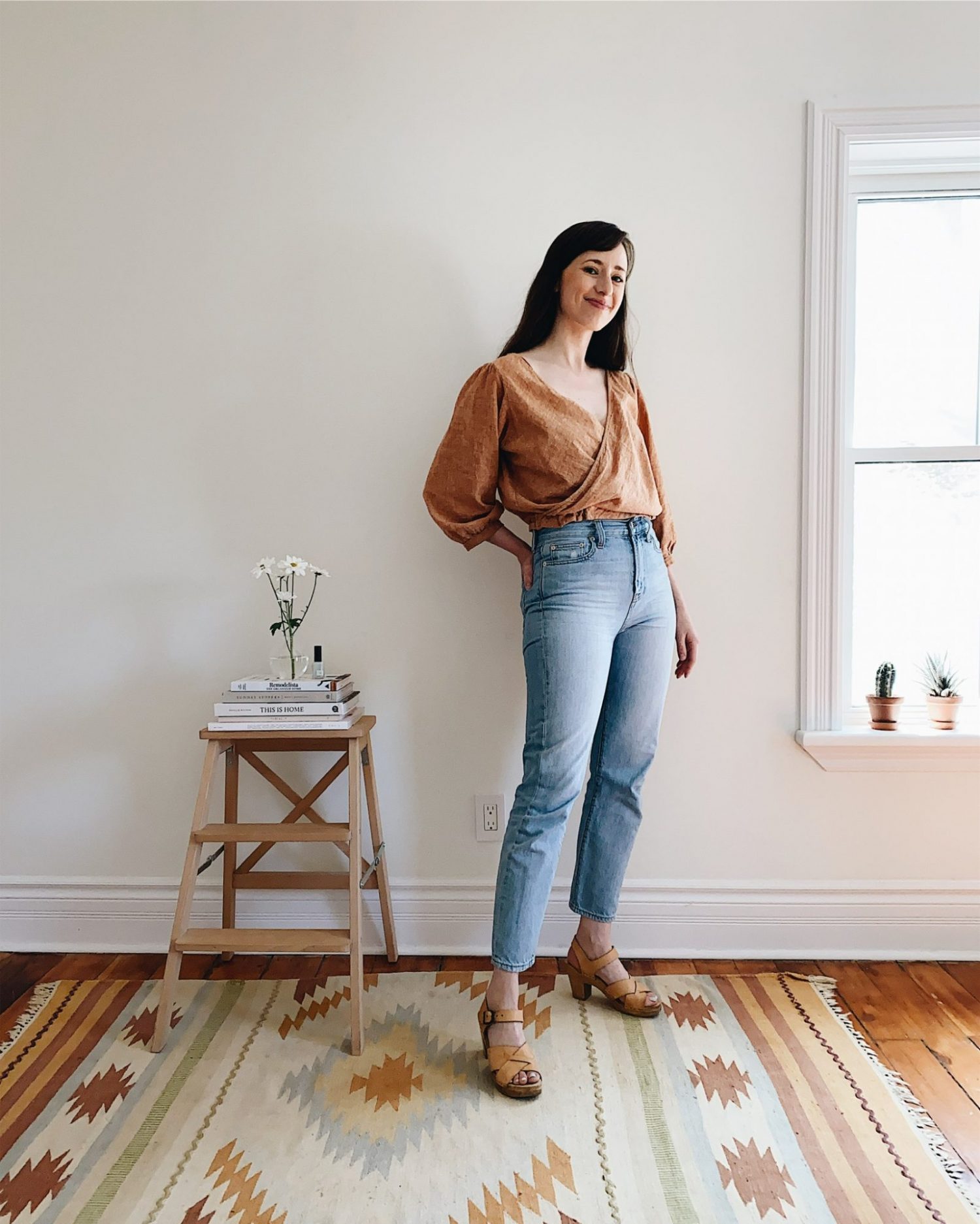 ---
WEDNESDAY – 5/20
---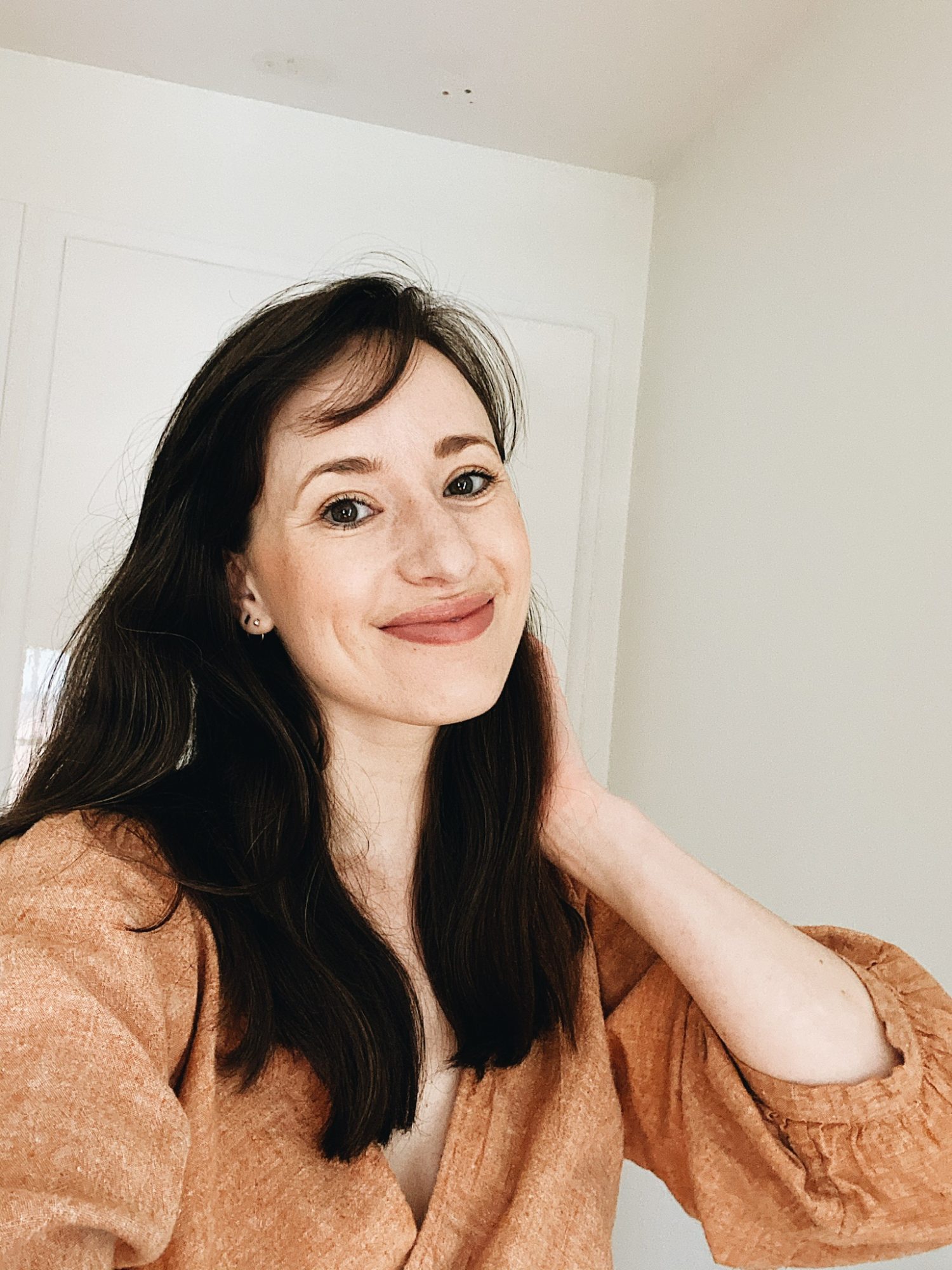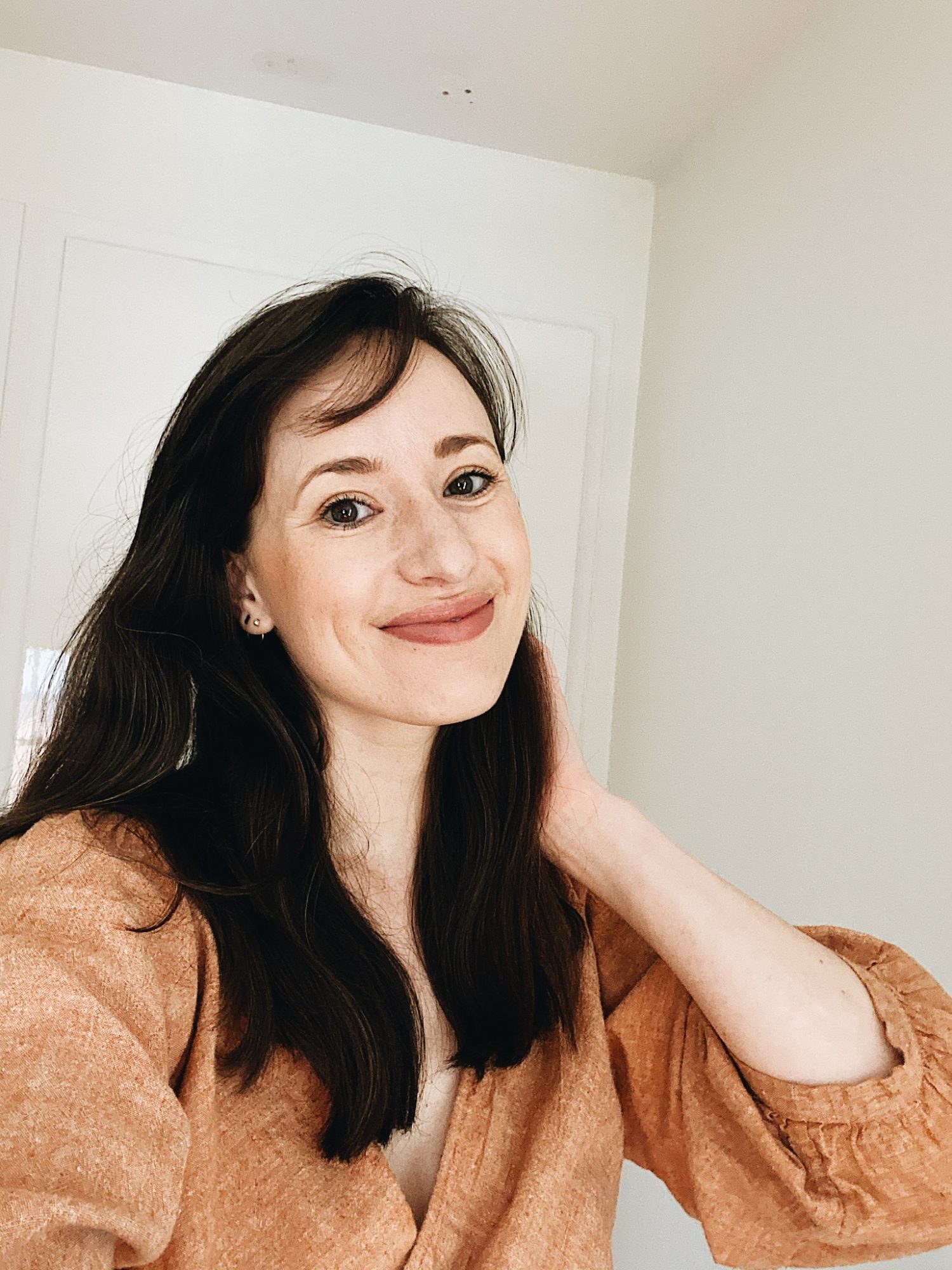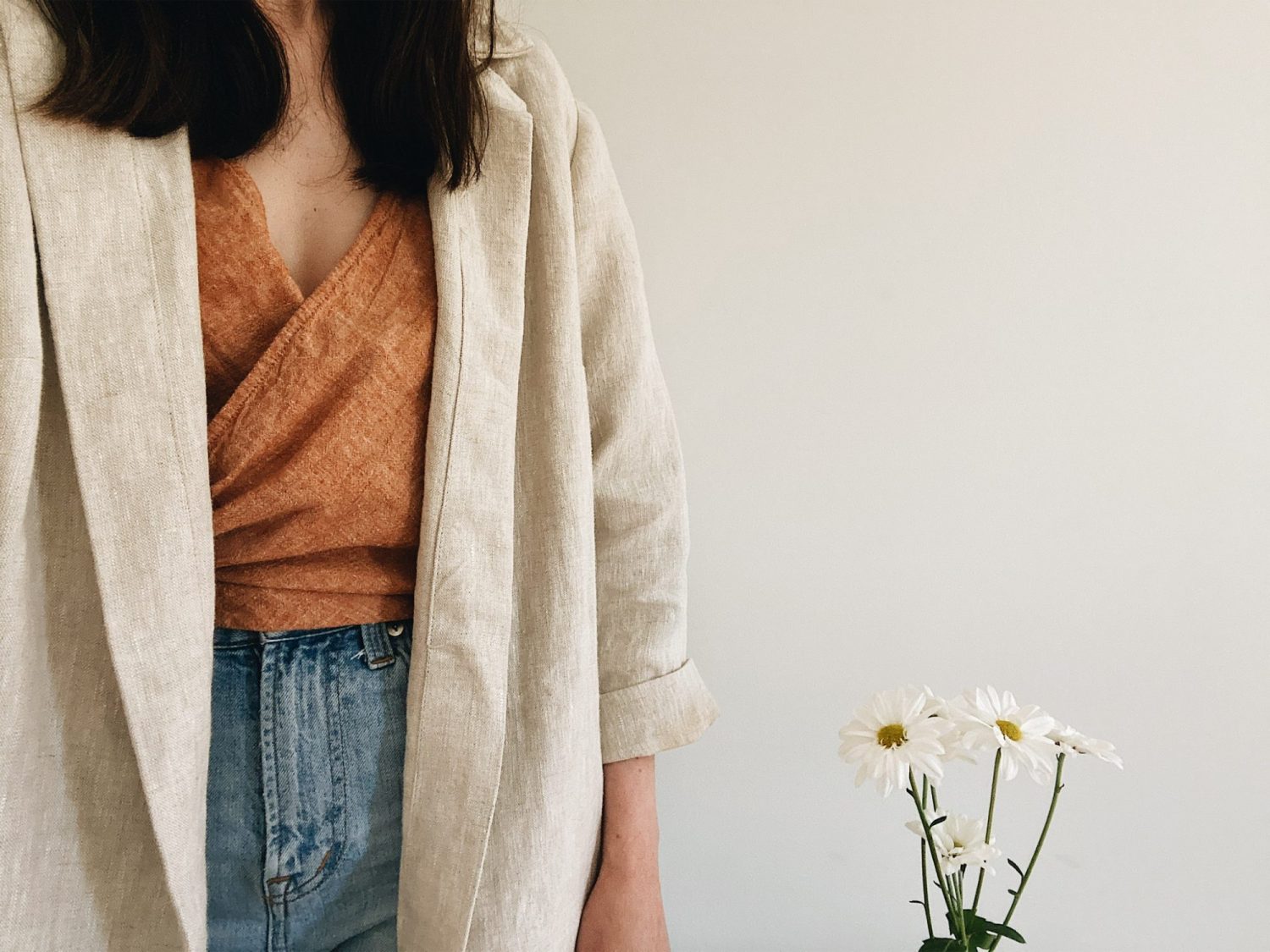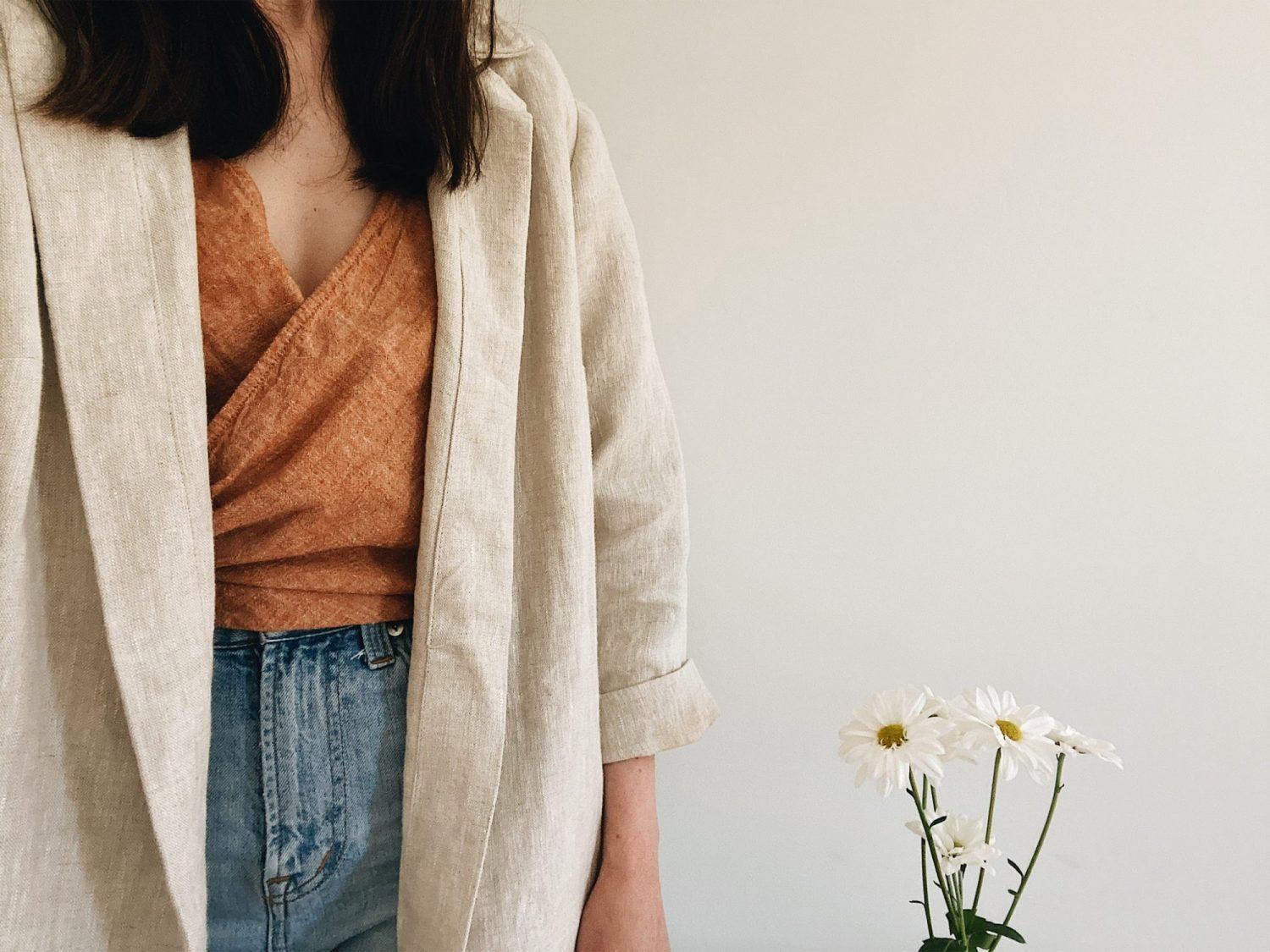 ---
By mid-week it seems I'm usually craving some colour and this brick-red Marie Top has been the ideal dose of spring energy. This was the first time I tried it with jeans and I loved the combo so much.
I even pulled out my summer clogs and added my new Fern Trench for a floaty outer layer. This outfit wins favourite of the week for sure!
---
---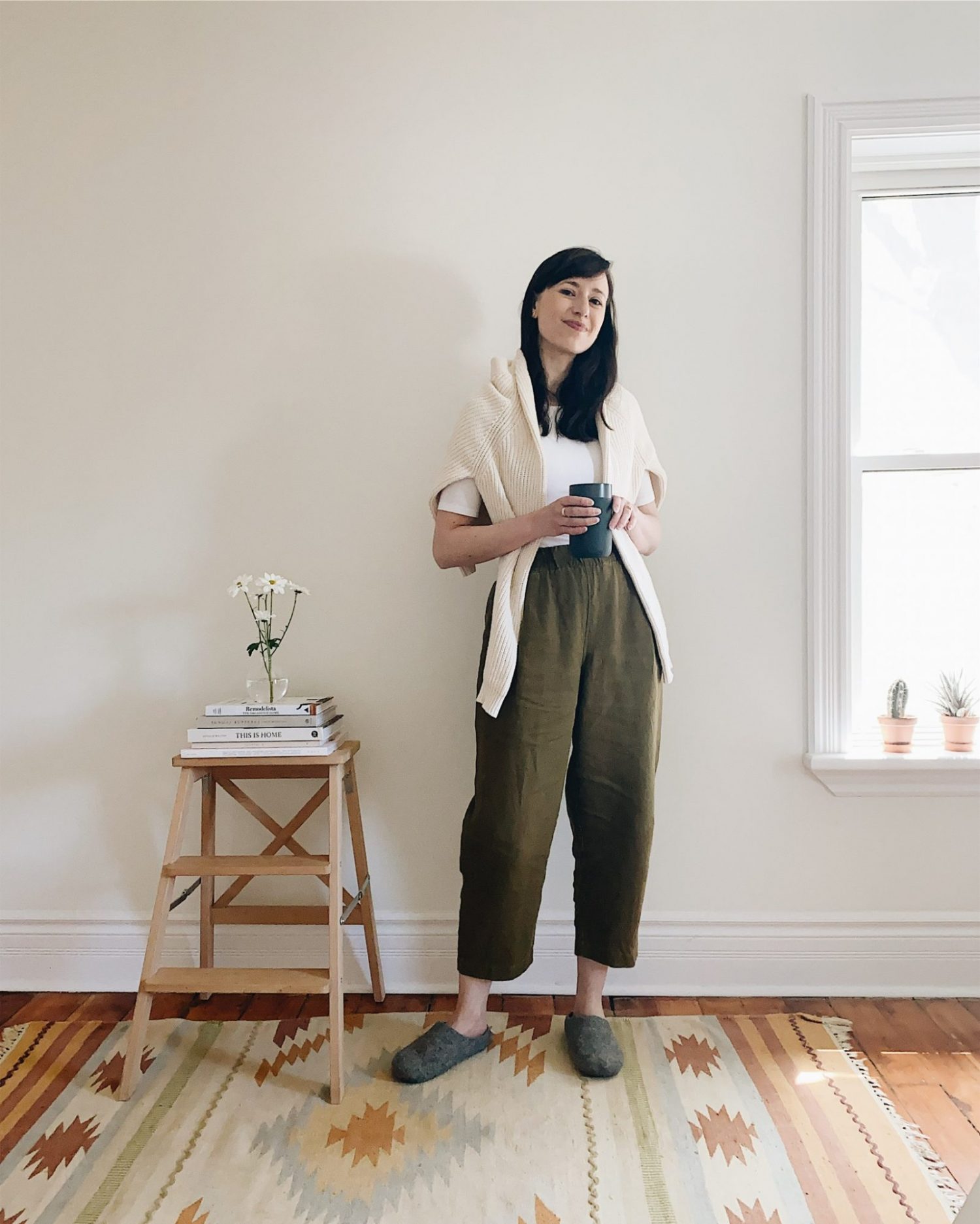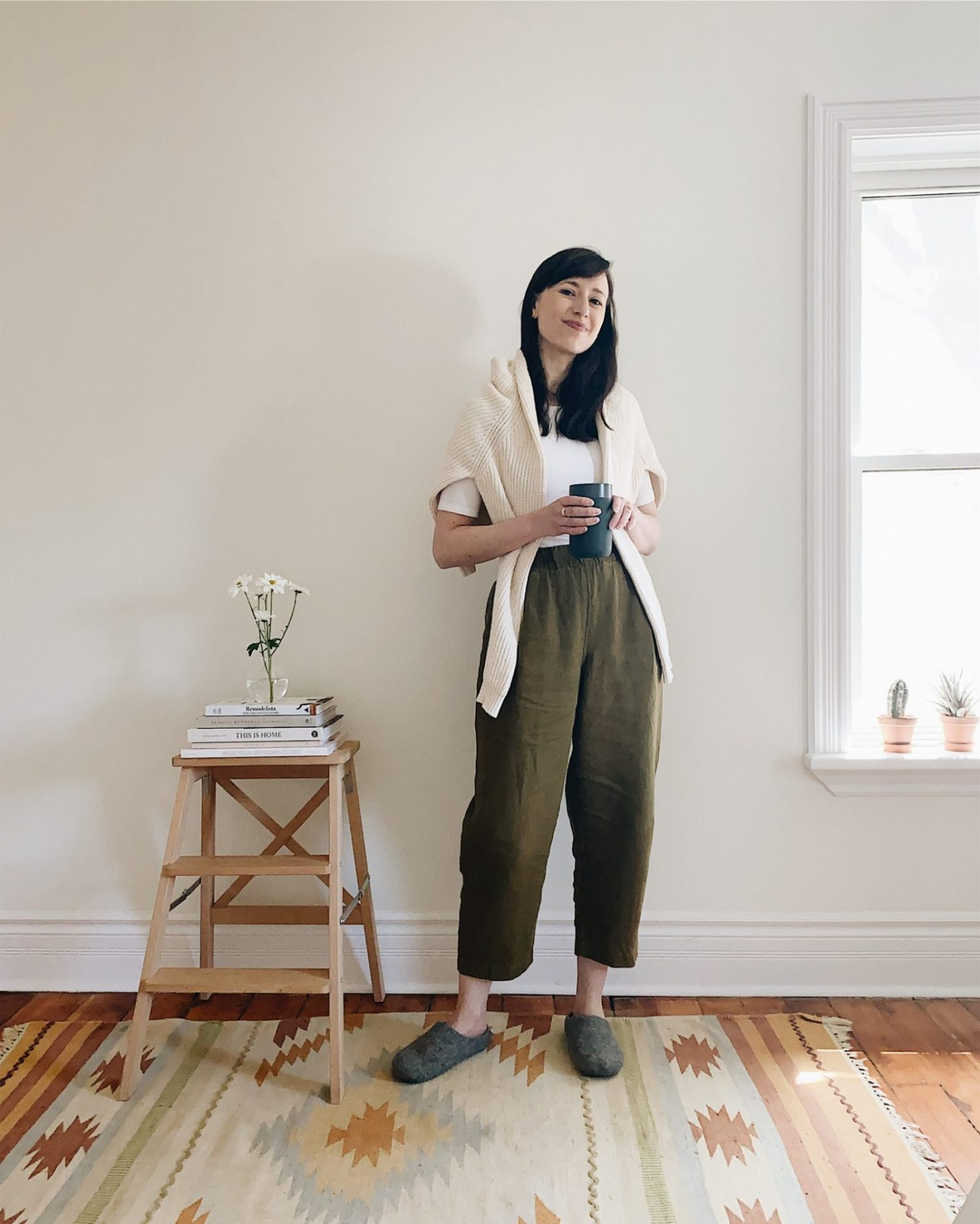 ---
THURSDAY – 5/21
---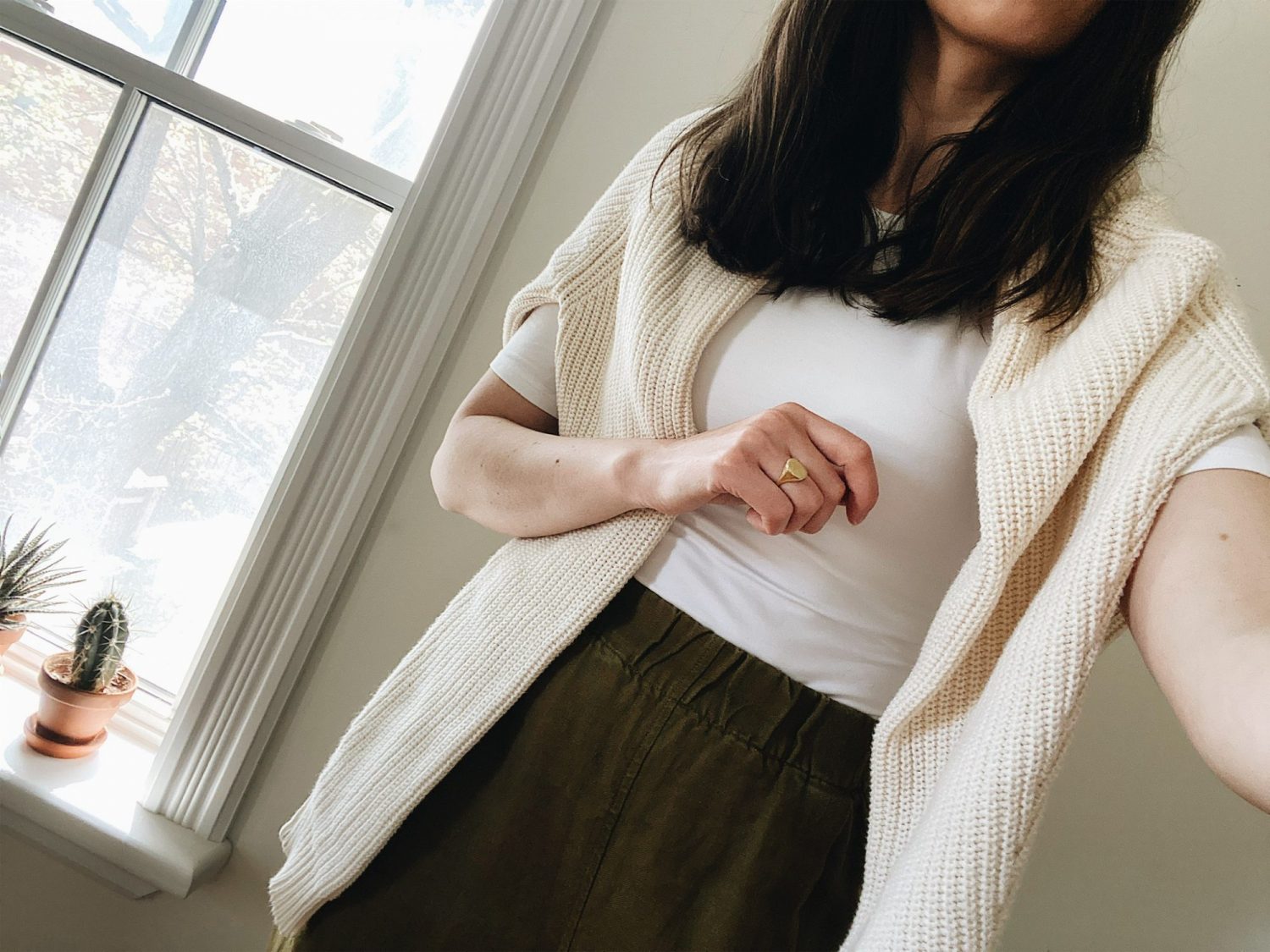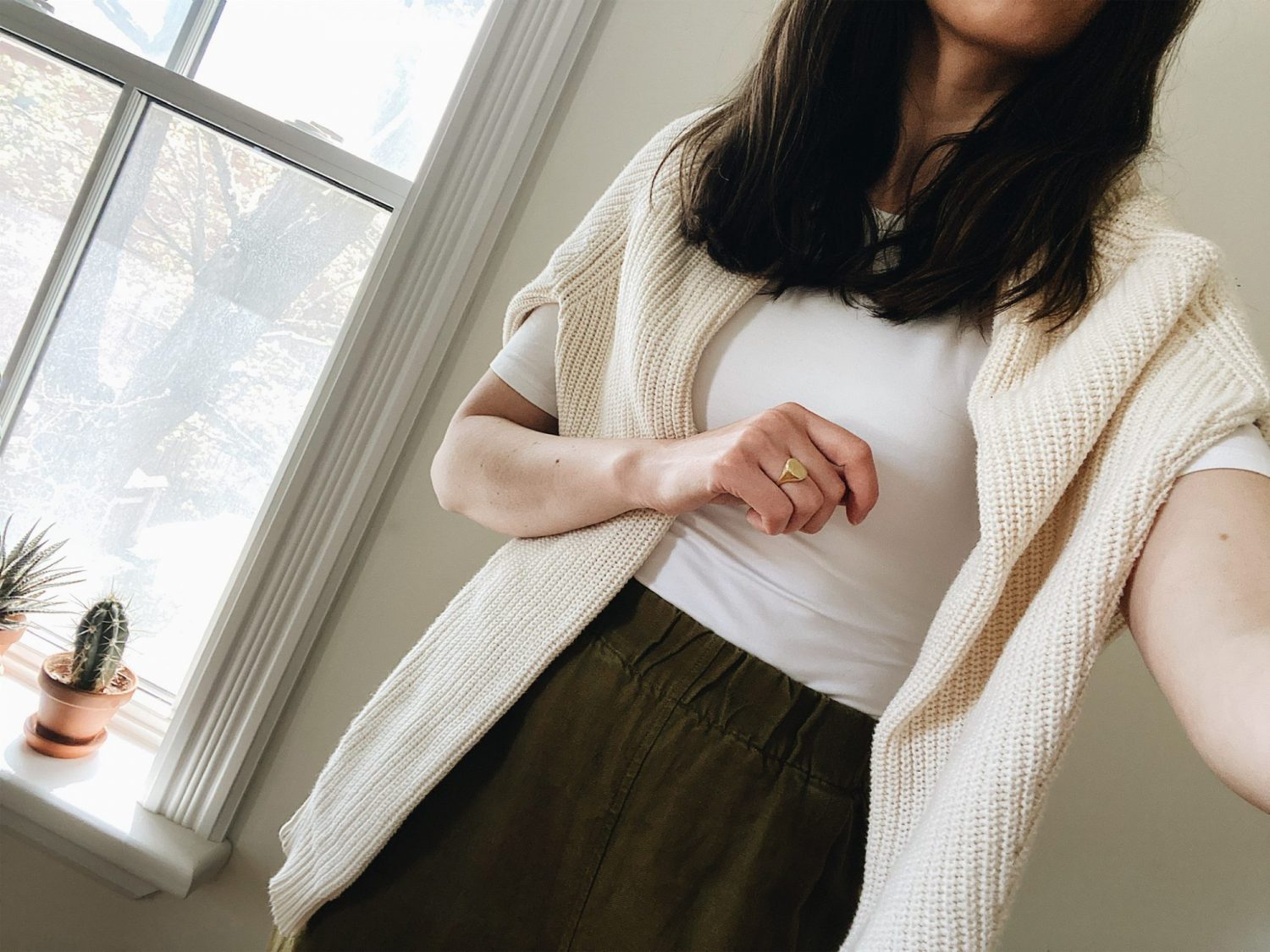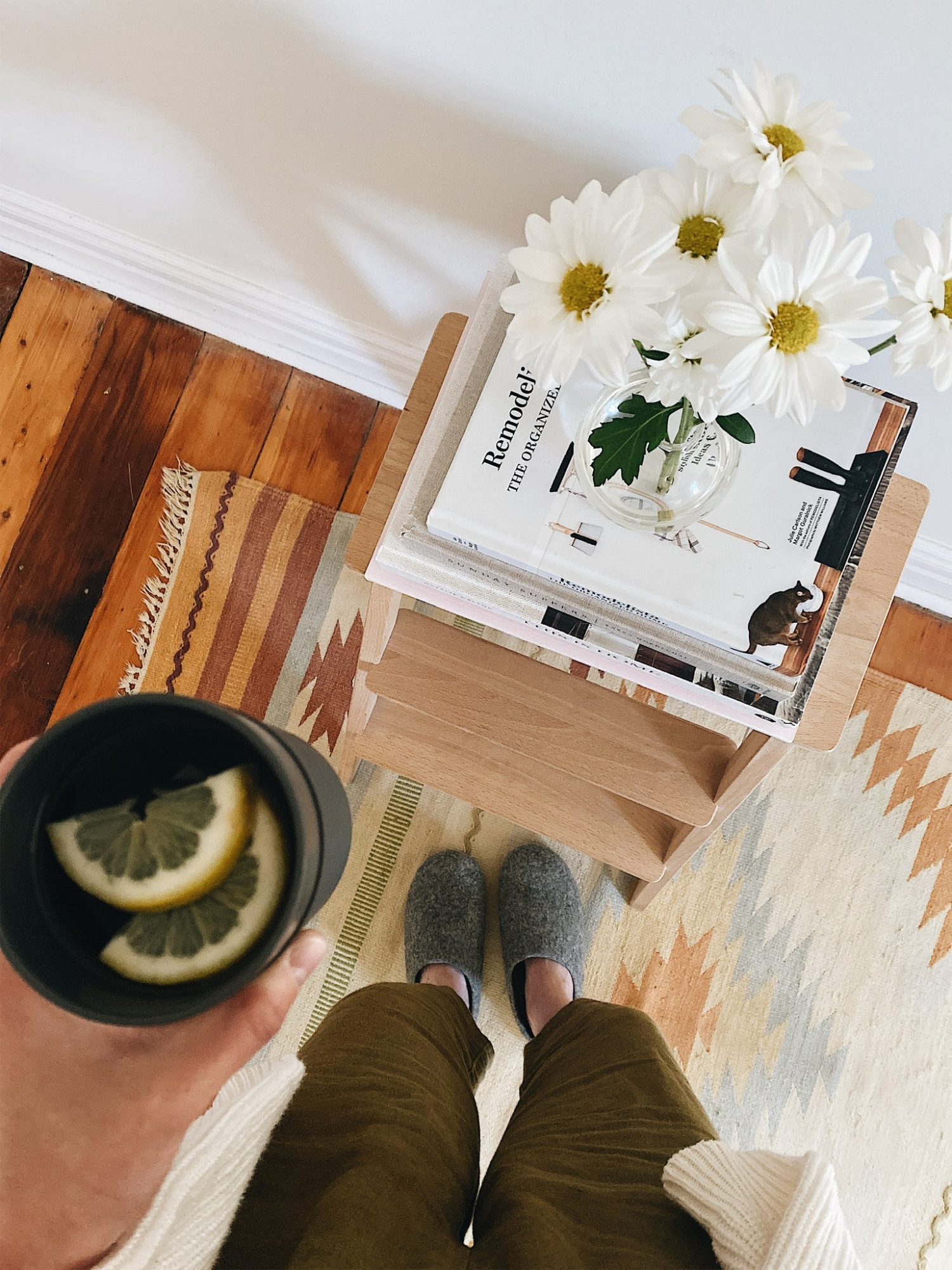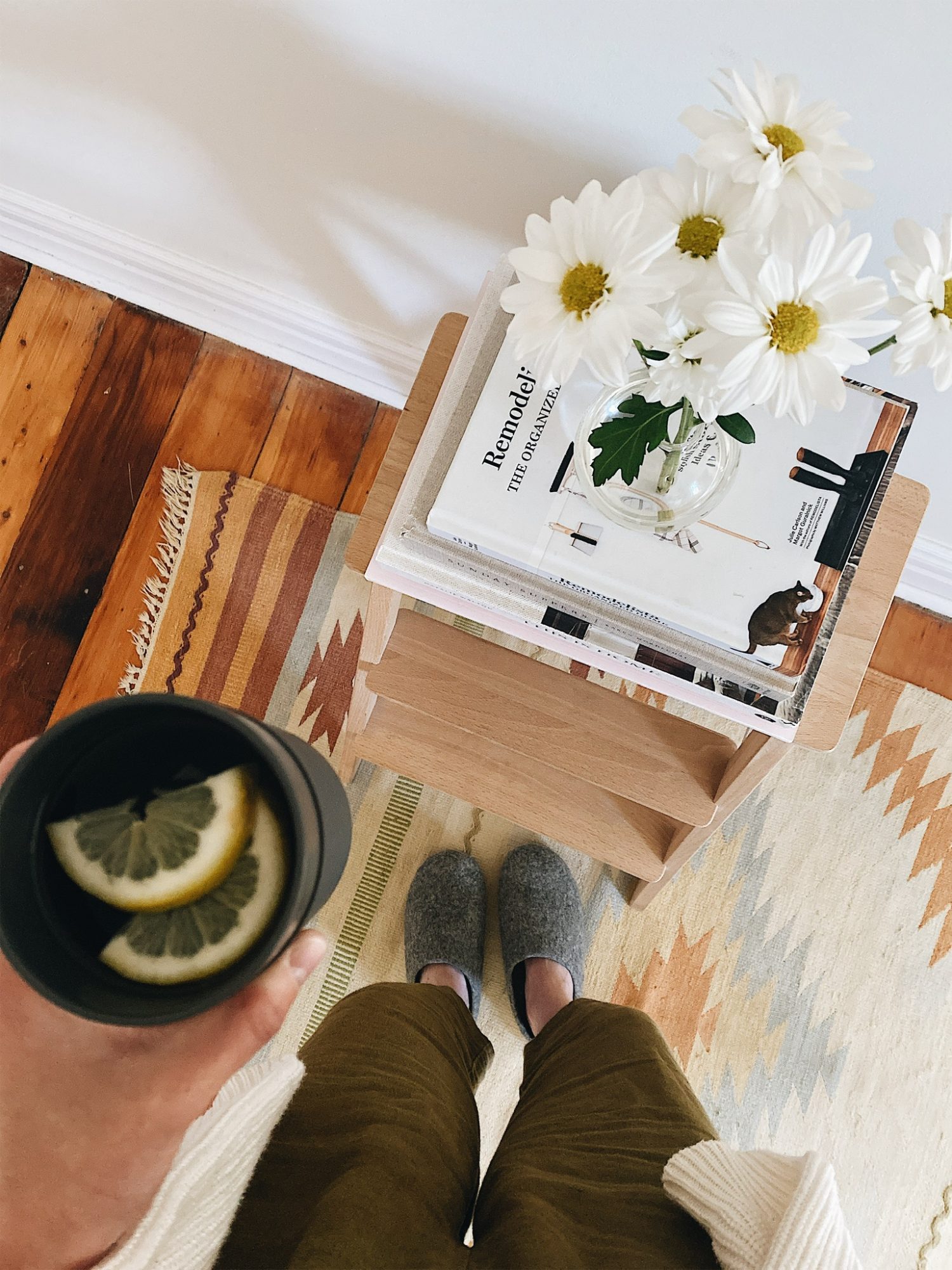 ---
On Thursday I was hunkered down at my desk all day so I stuck to my go-to comfy-chic formula, which is:
FITTED TEE (or bodysuit) + LINEN PANT + SWEATER OVER THE SHOULDERS + SLIPPERS
I've also been guzzling lemon water like it's my job lately and it's been giving me a much needed boost of hydration.
---
---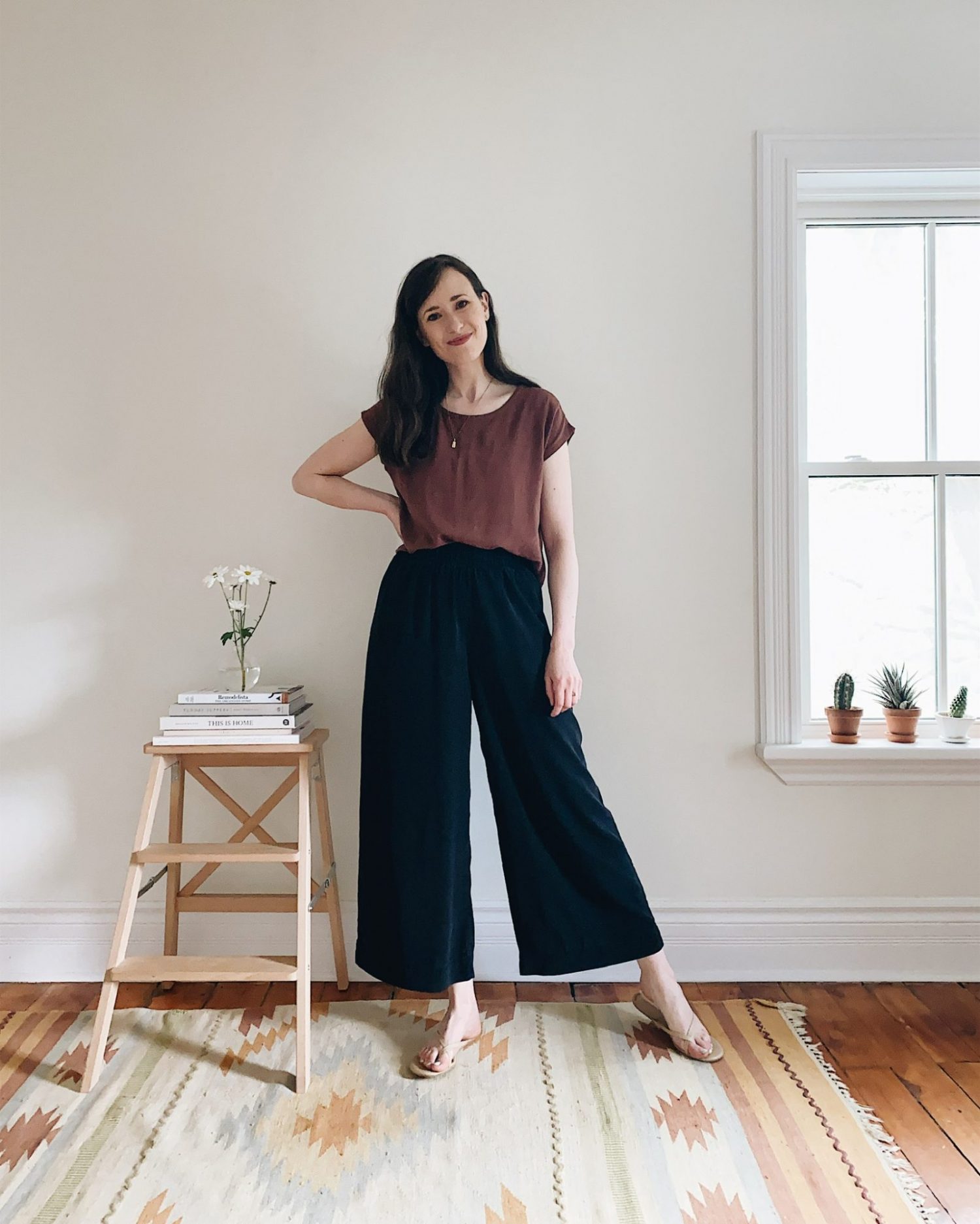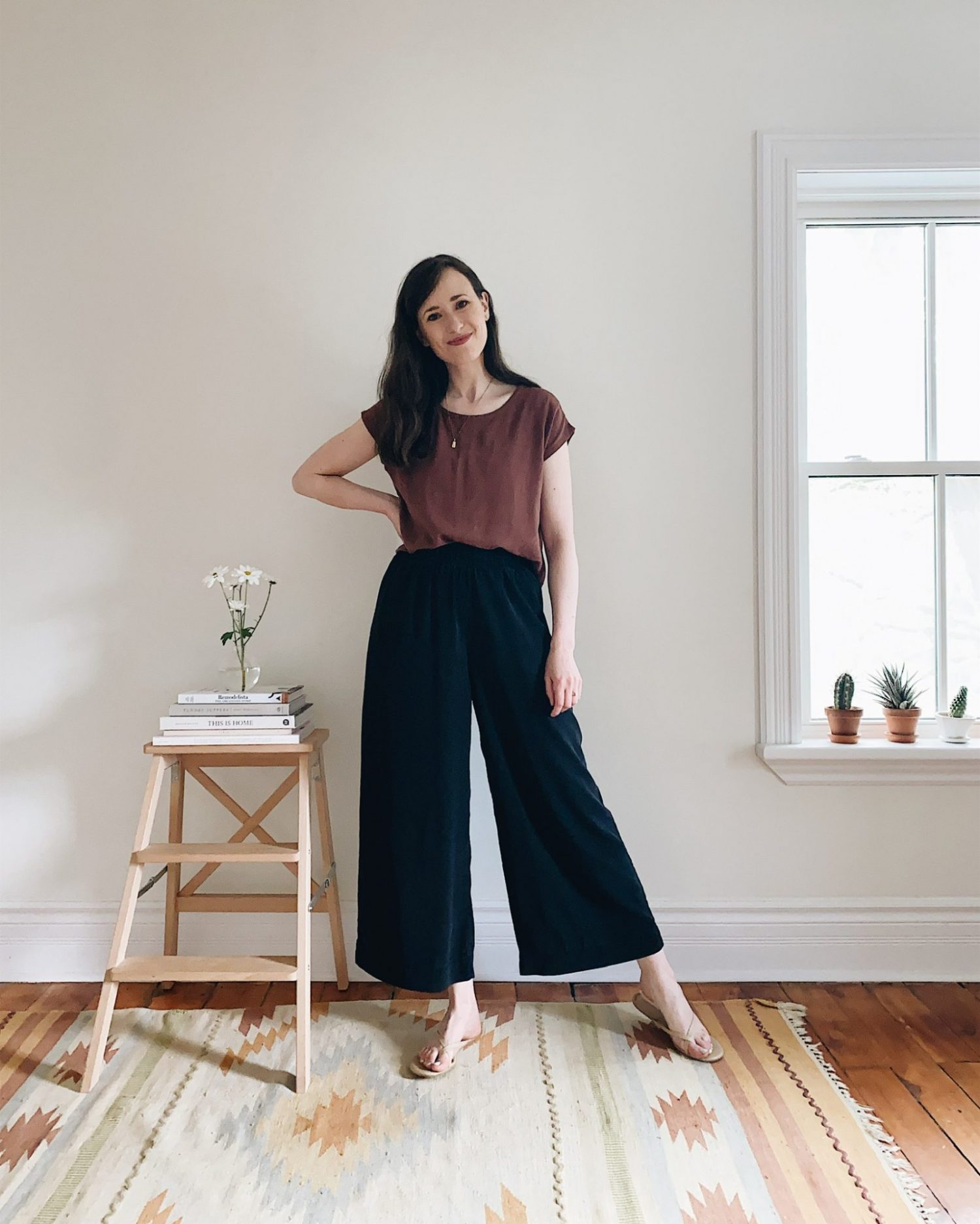 ---
FRIDAY – 5/22
---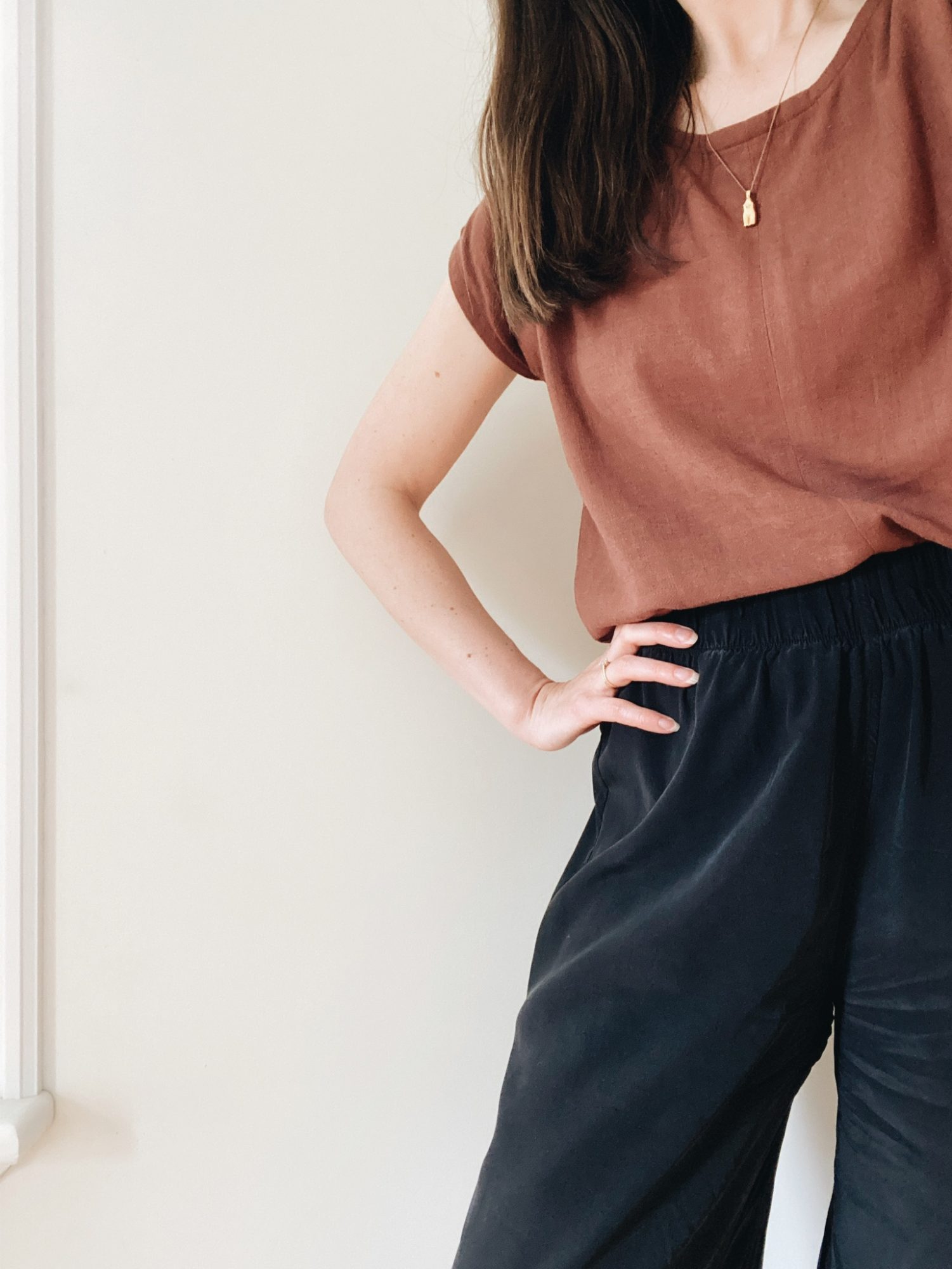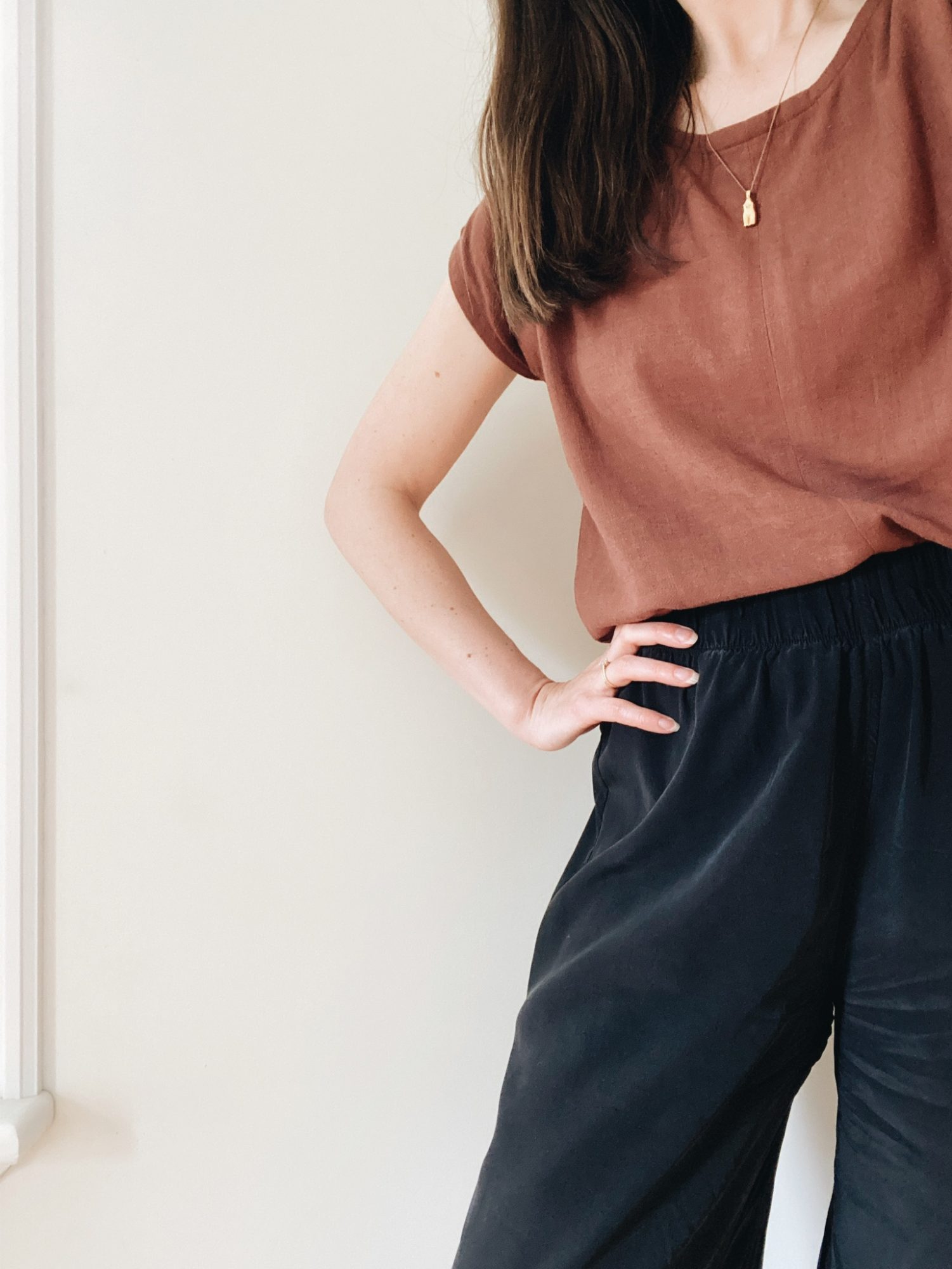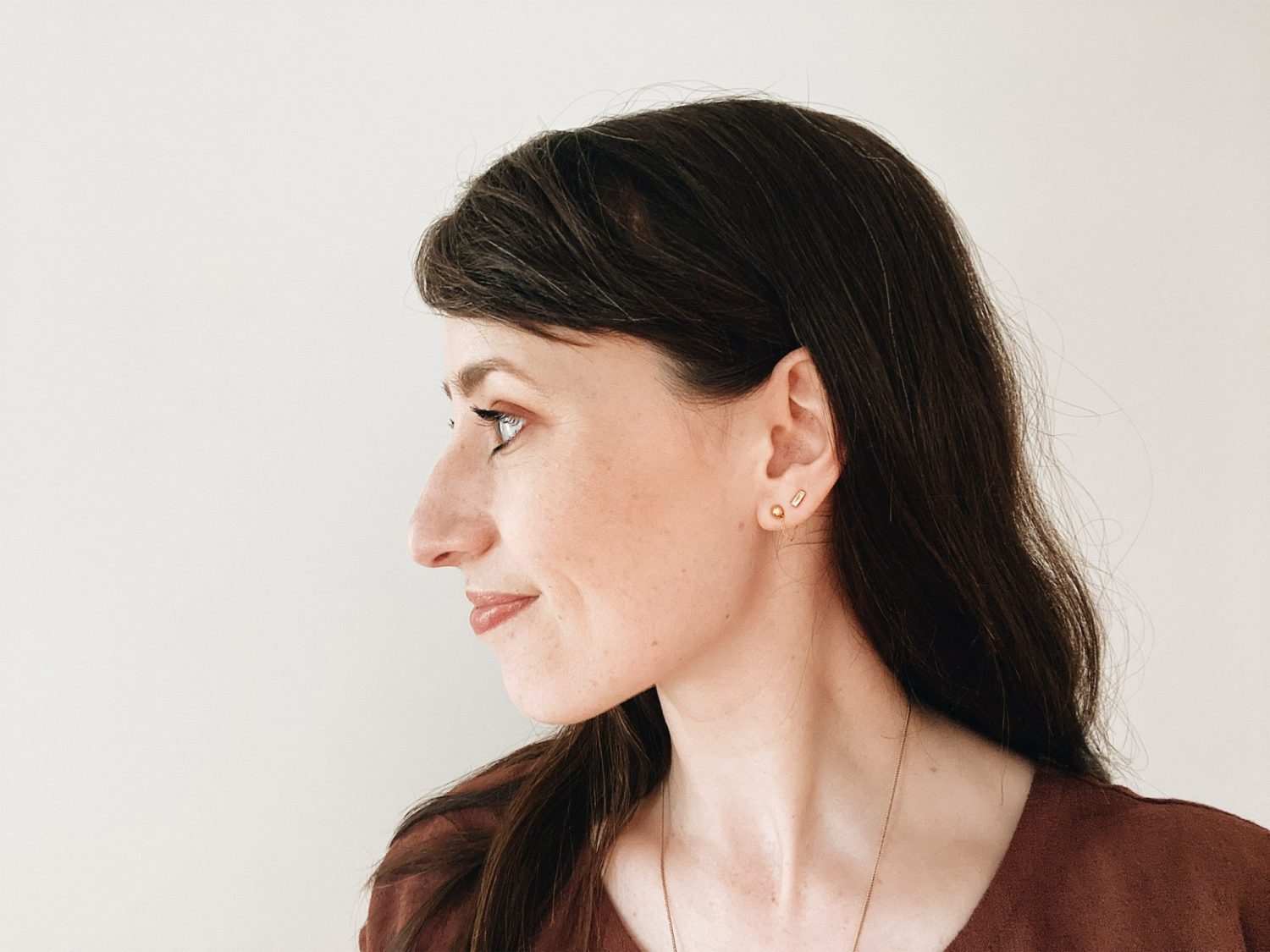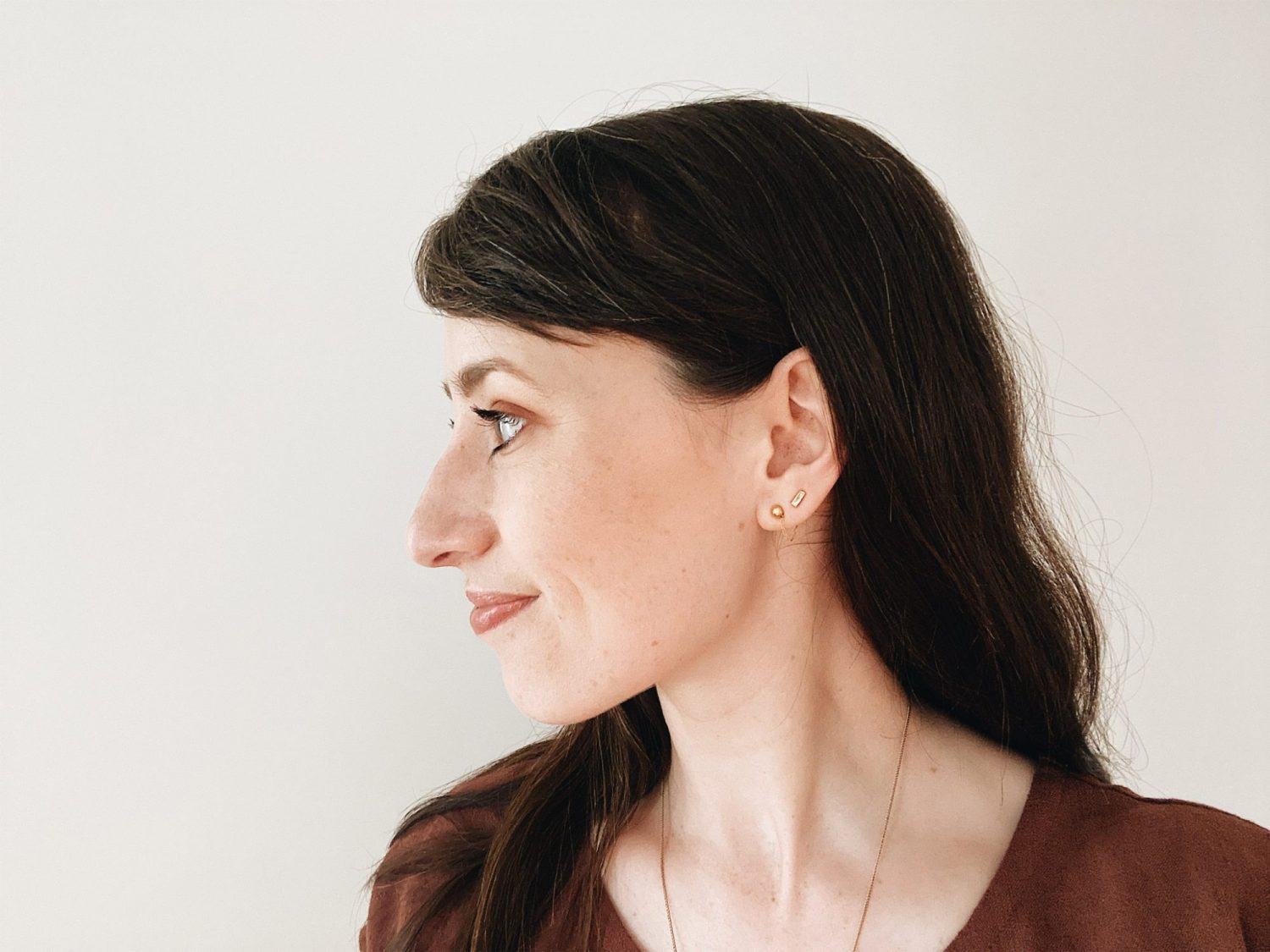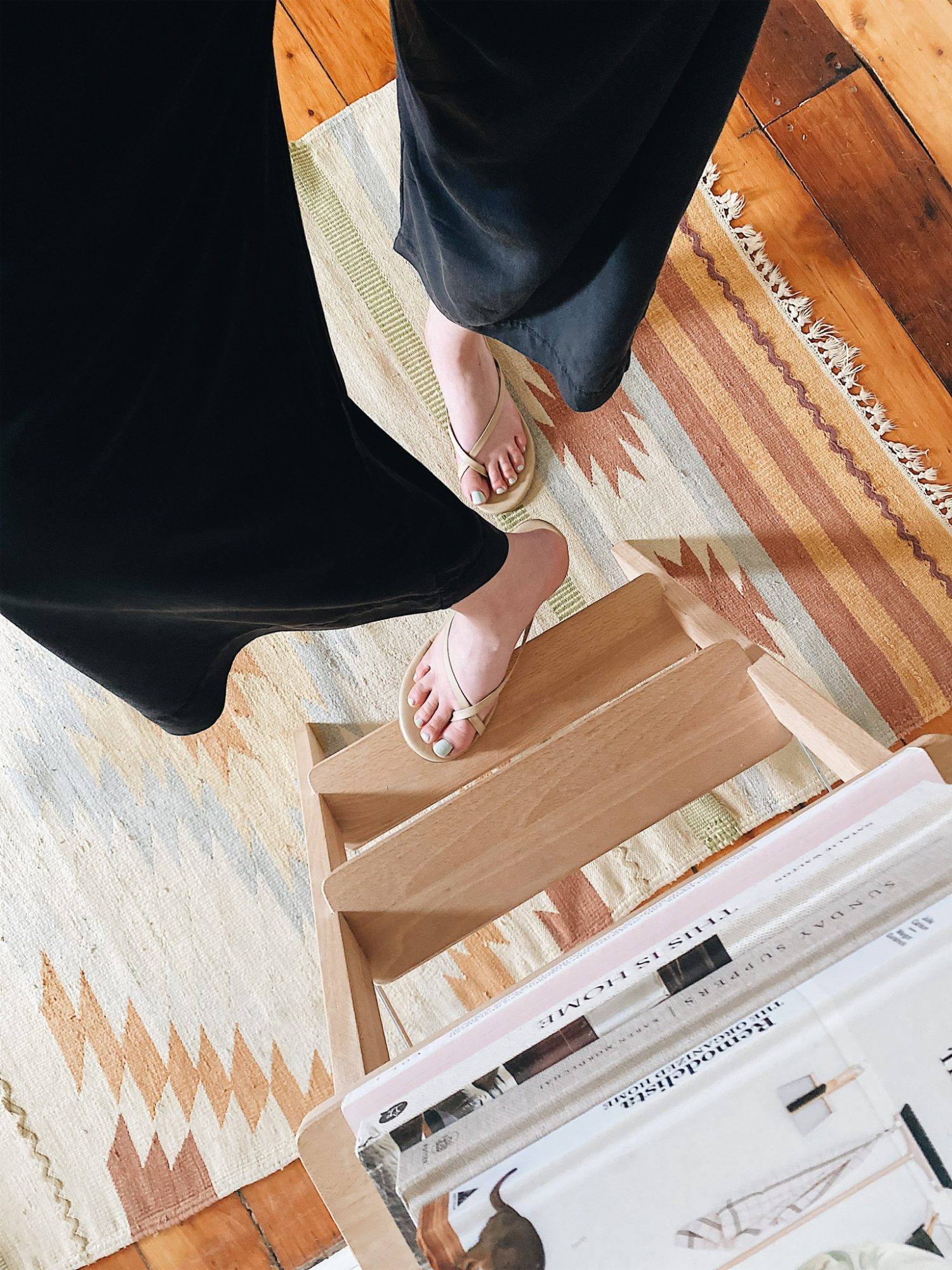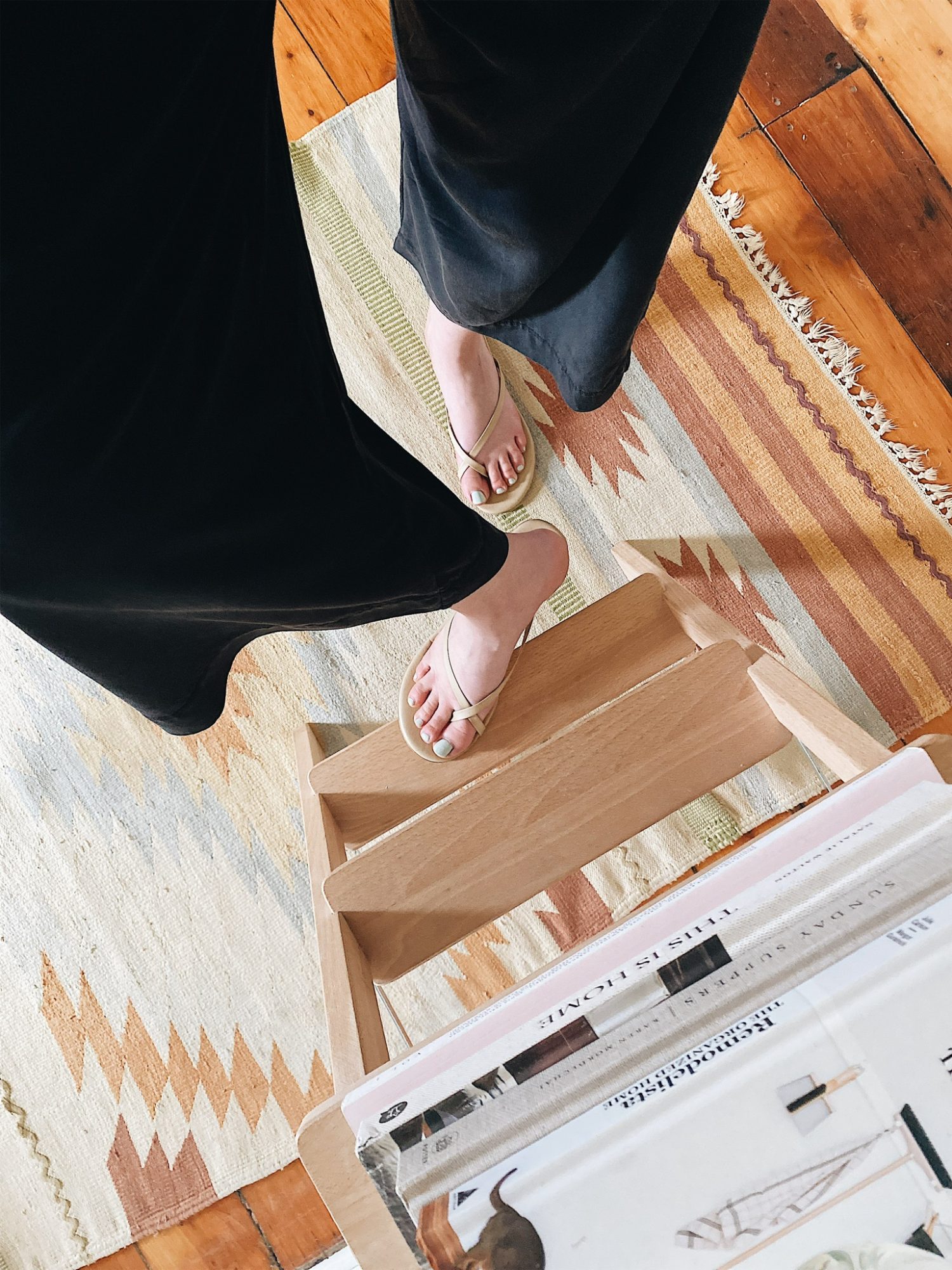 ---
Friday was a busy but exciting day as my latest partnership with Only Child was published (see it here). I ended up wearing a slightly relaxed version of one of the outfits from the post and I know it won't be the last time that happens!
I'm only completely obsessed with the Dusk colour of my Luzon Tie Top and love how it gives my favourite neutral staples, like these silk wide leg pants, a whole new energy.
---
---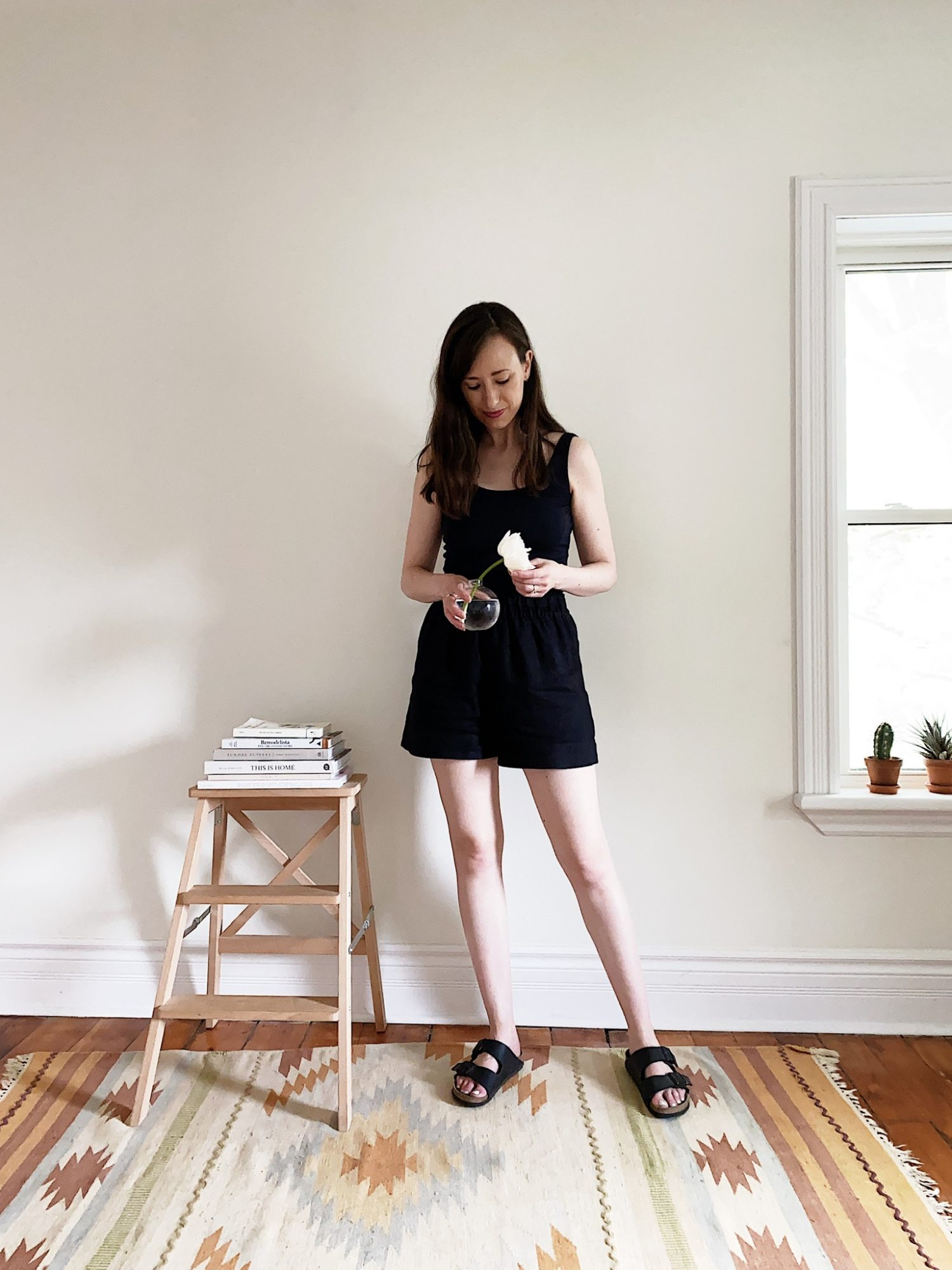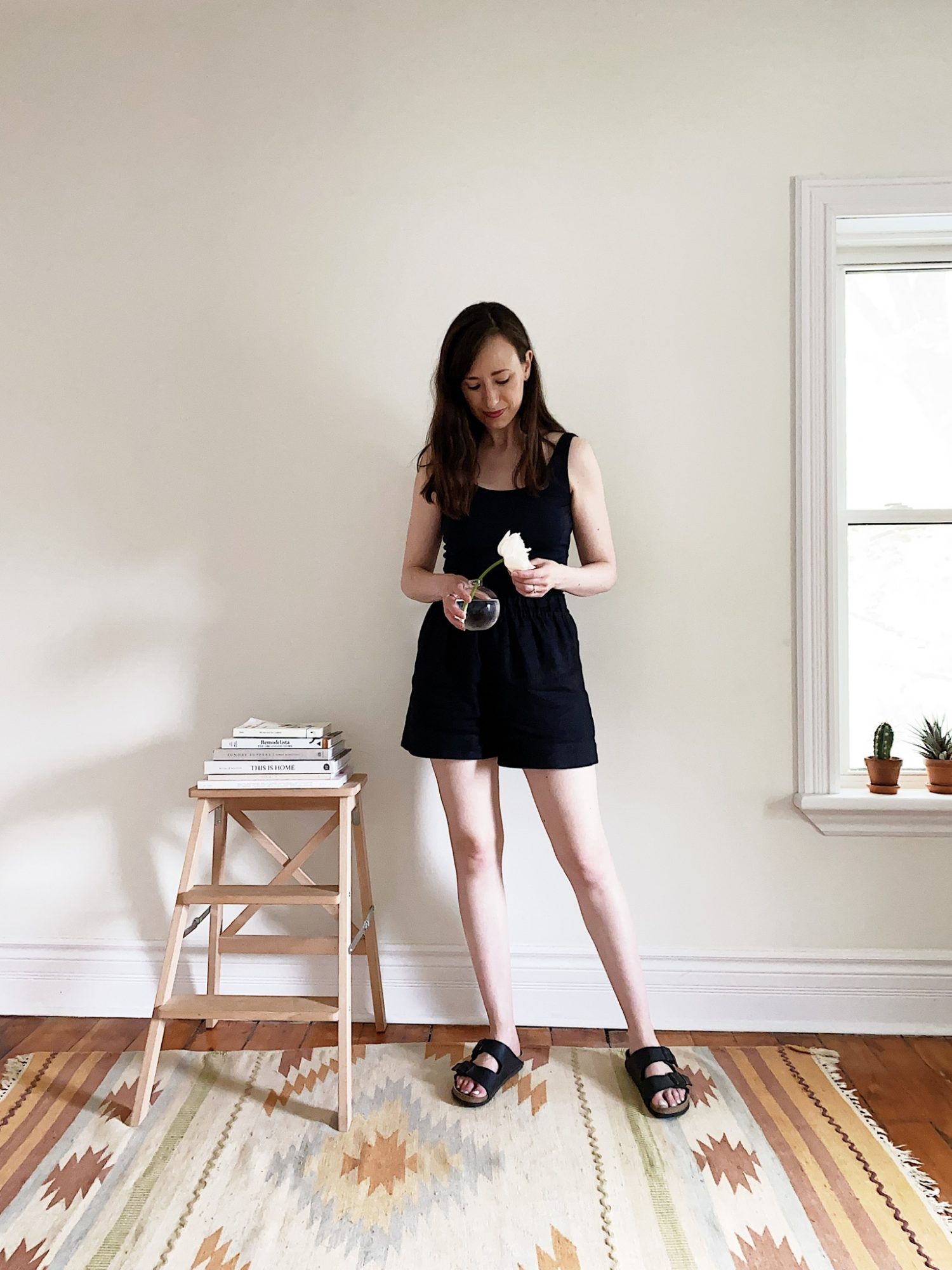 ---
SATURDAY – 5/23
---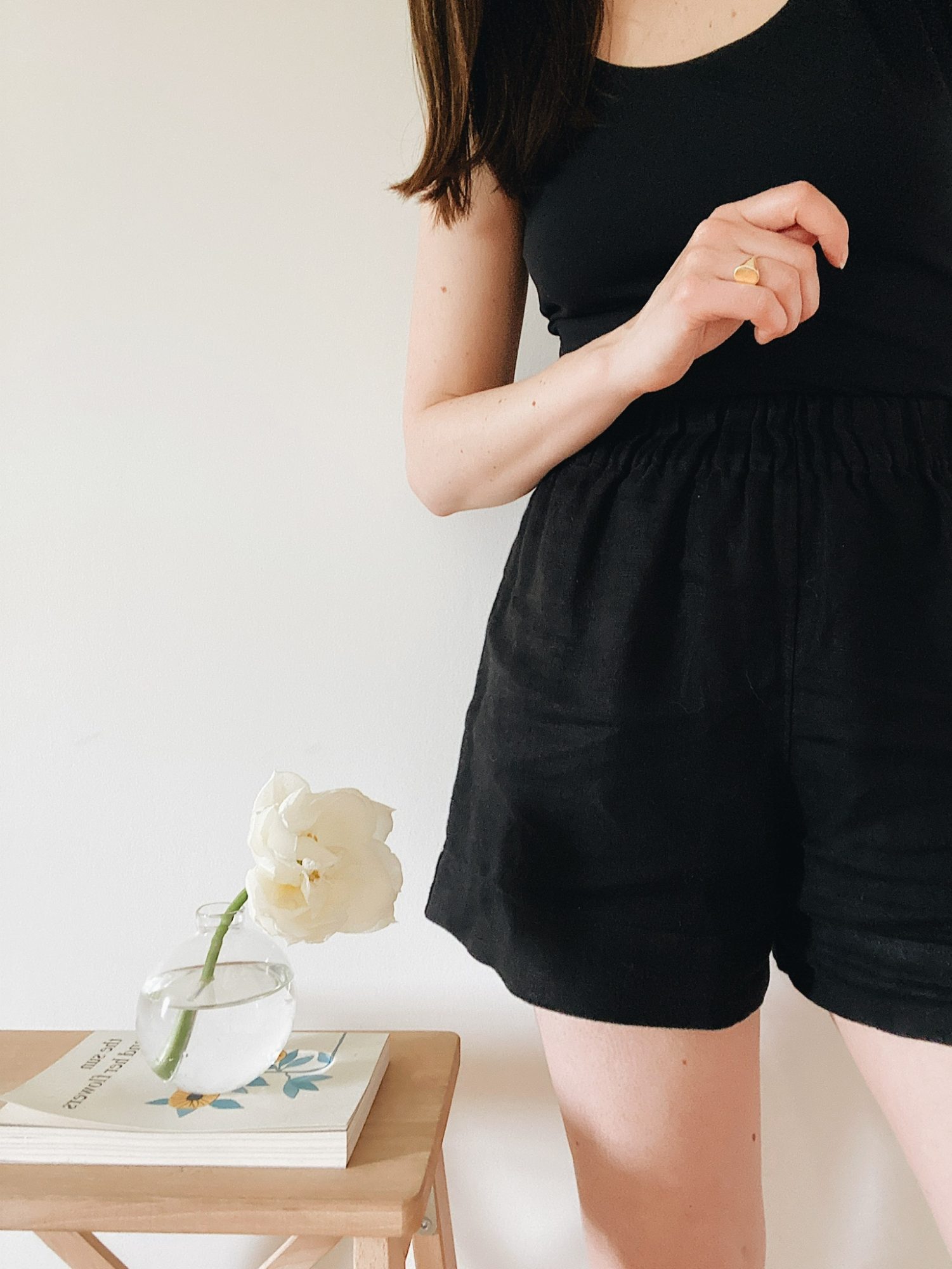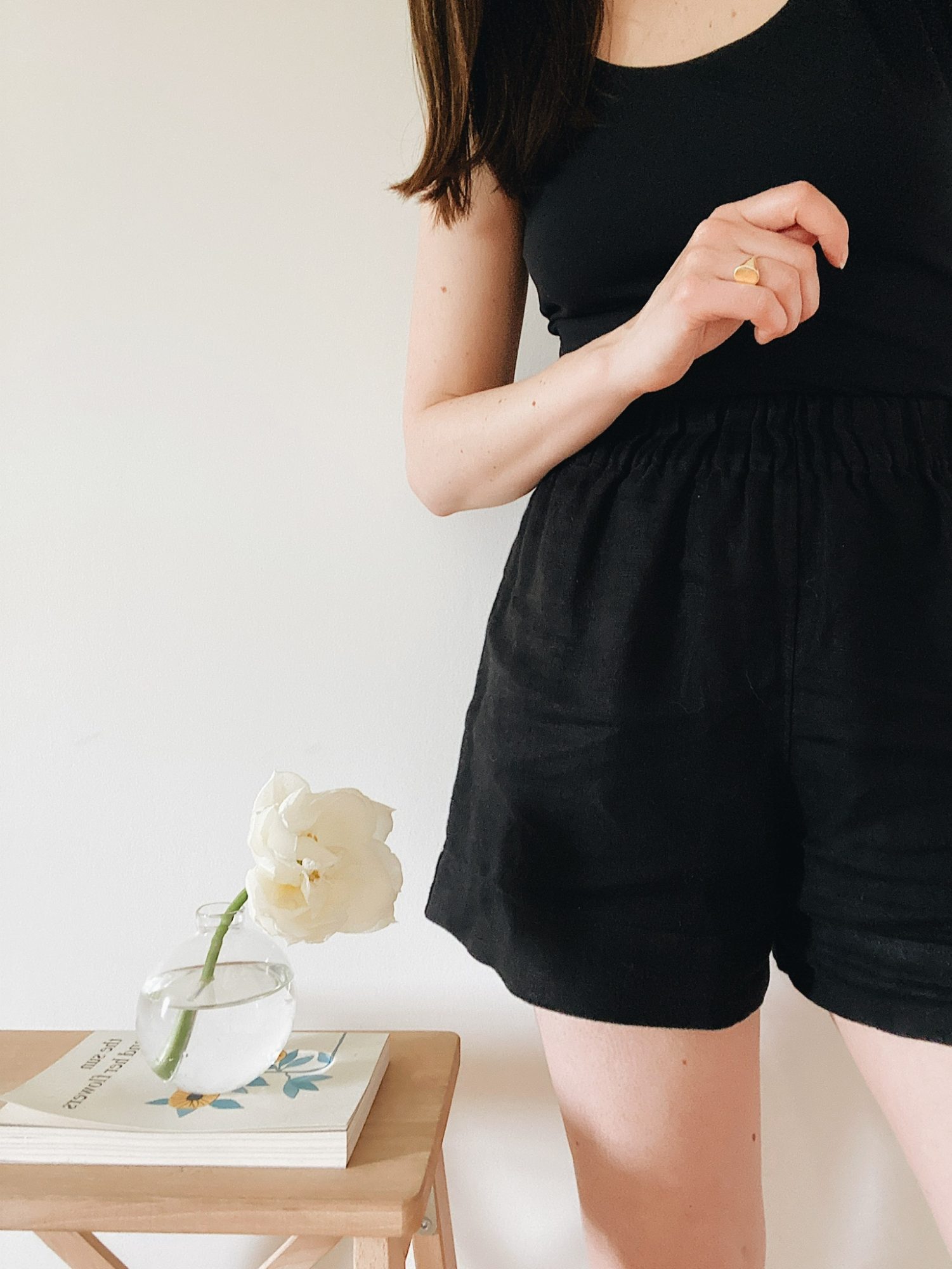 ---
We got our first taste of summer heat on Saturday and it was a very welcome change from the chilly spring we've had. While my legs may not have seen daylight for 8 months, that didn't stop me from busting out some shorts!
Dave was off doing some yard work for his mum so I took Dobby on a shady walk by the river and around the neighbourhood to scope out some blossoms and get a change of scene. We were both melting by the time we got home but I'll be sharing some of the beautiful flower photos I snapped in my stories today!
---
---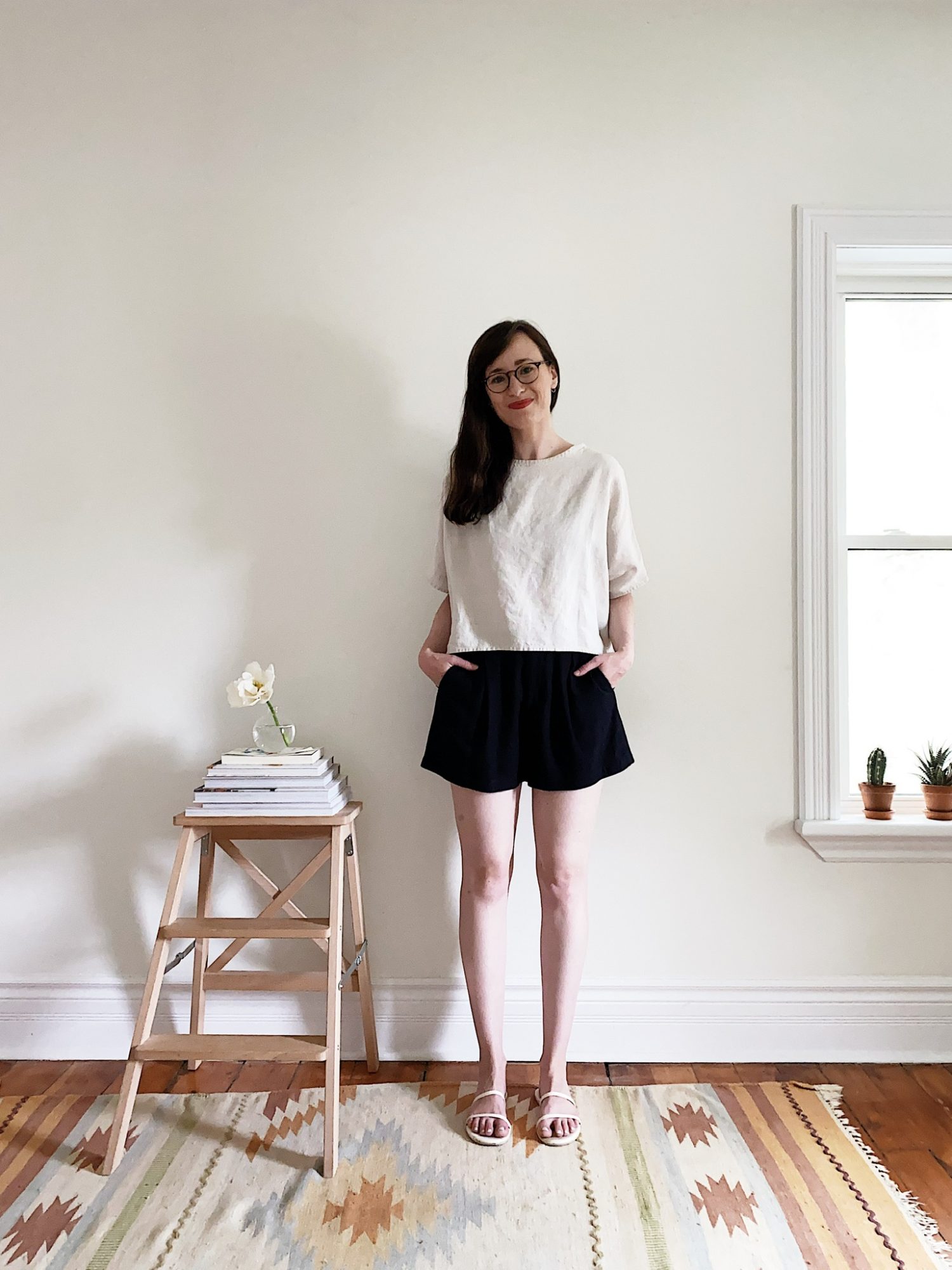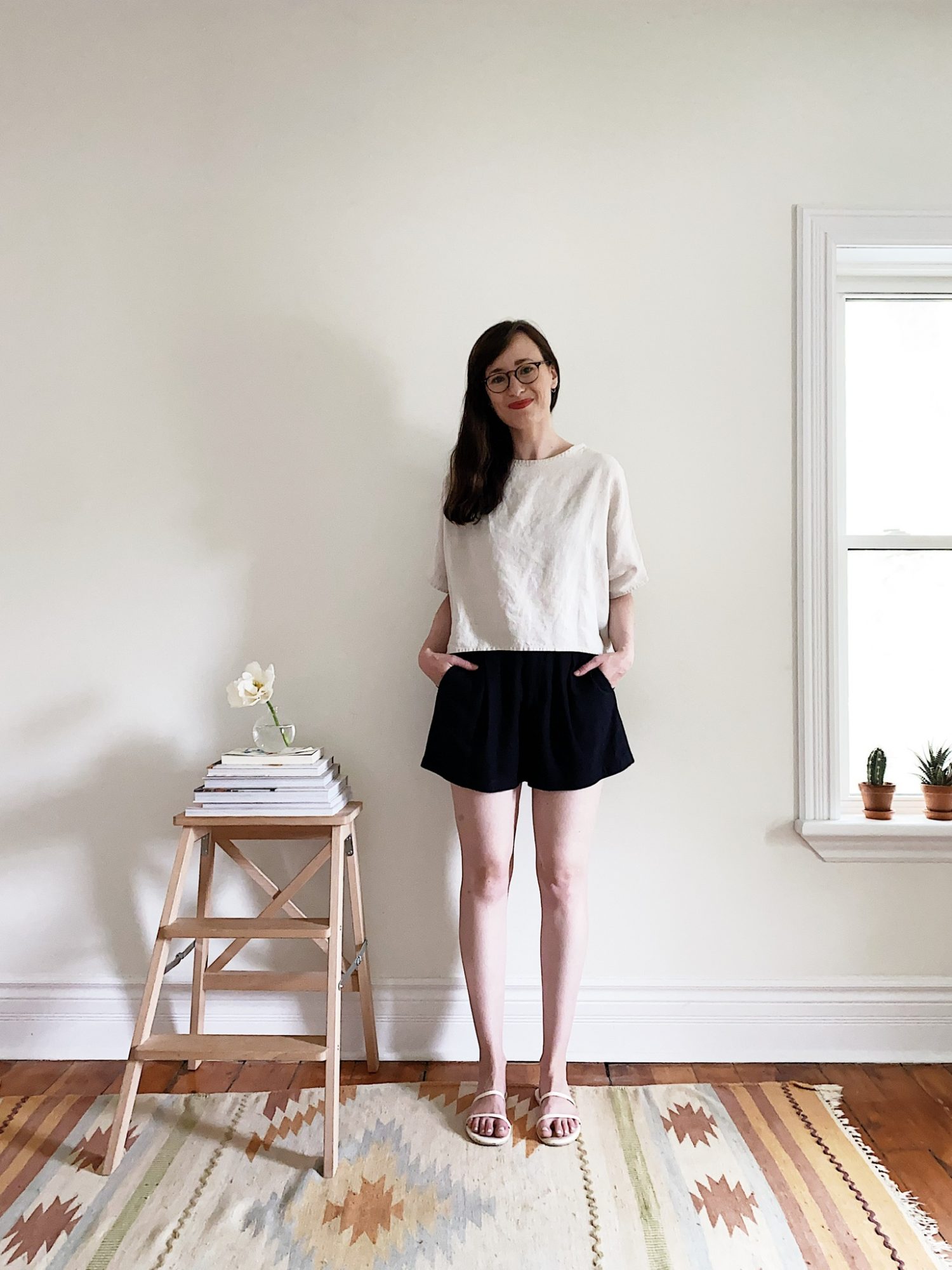 ---
SUNDAY – 5/24
---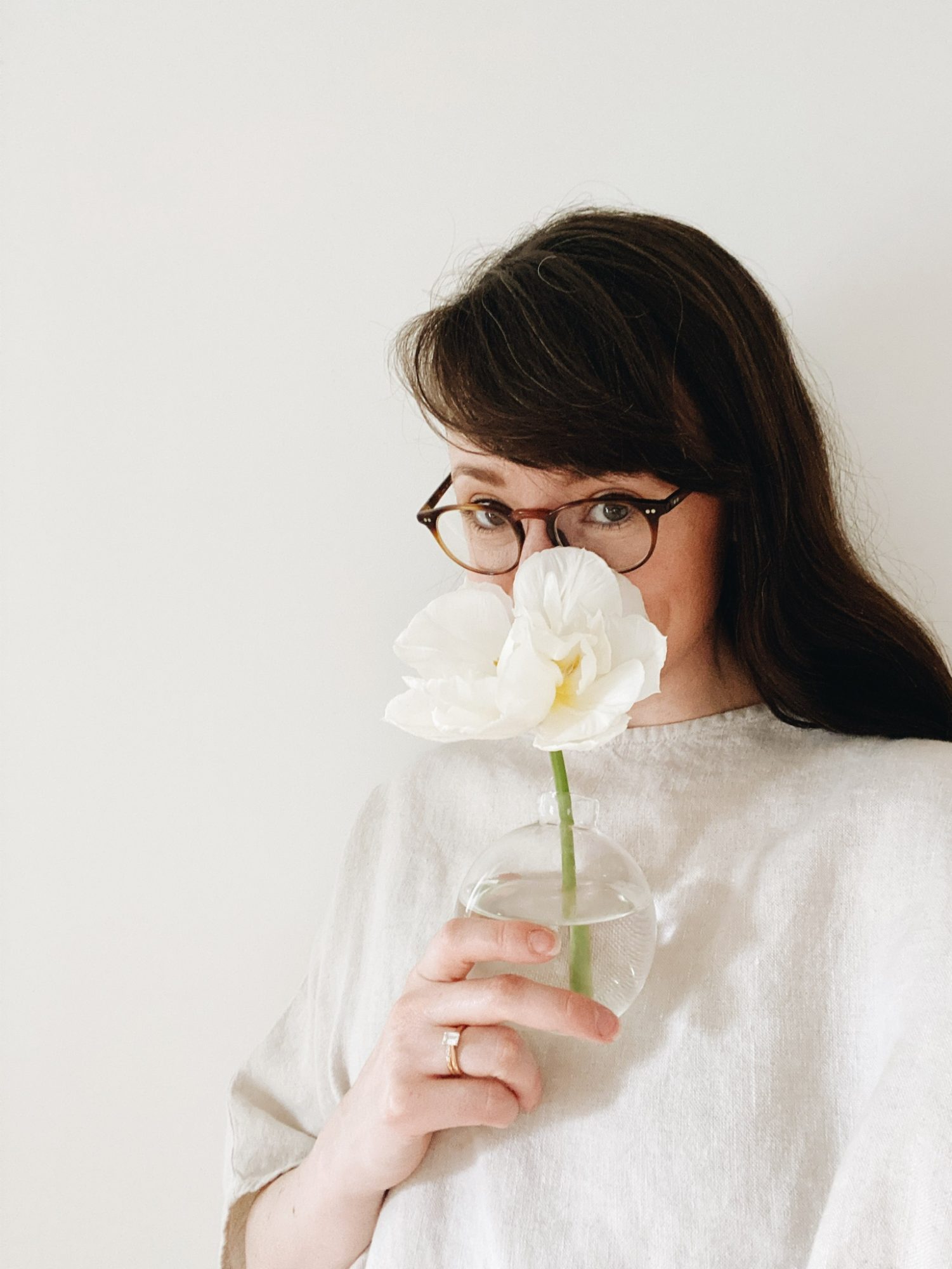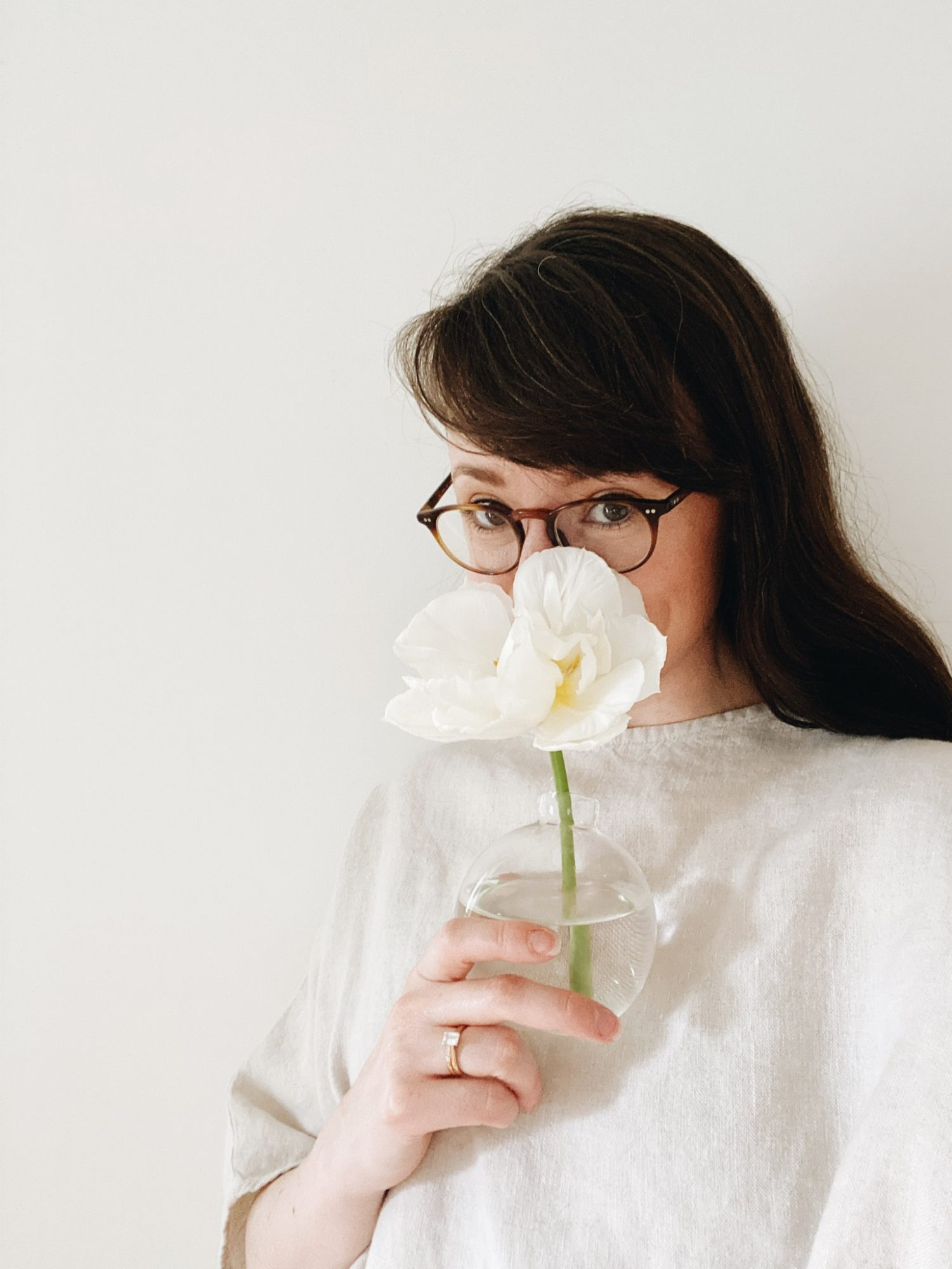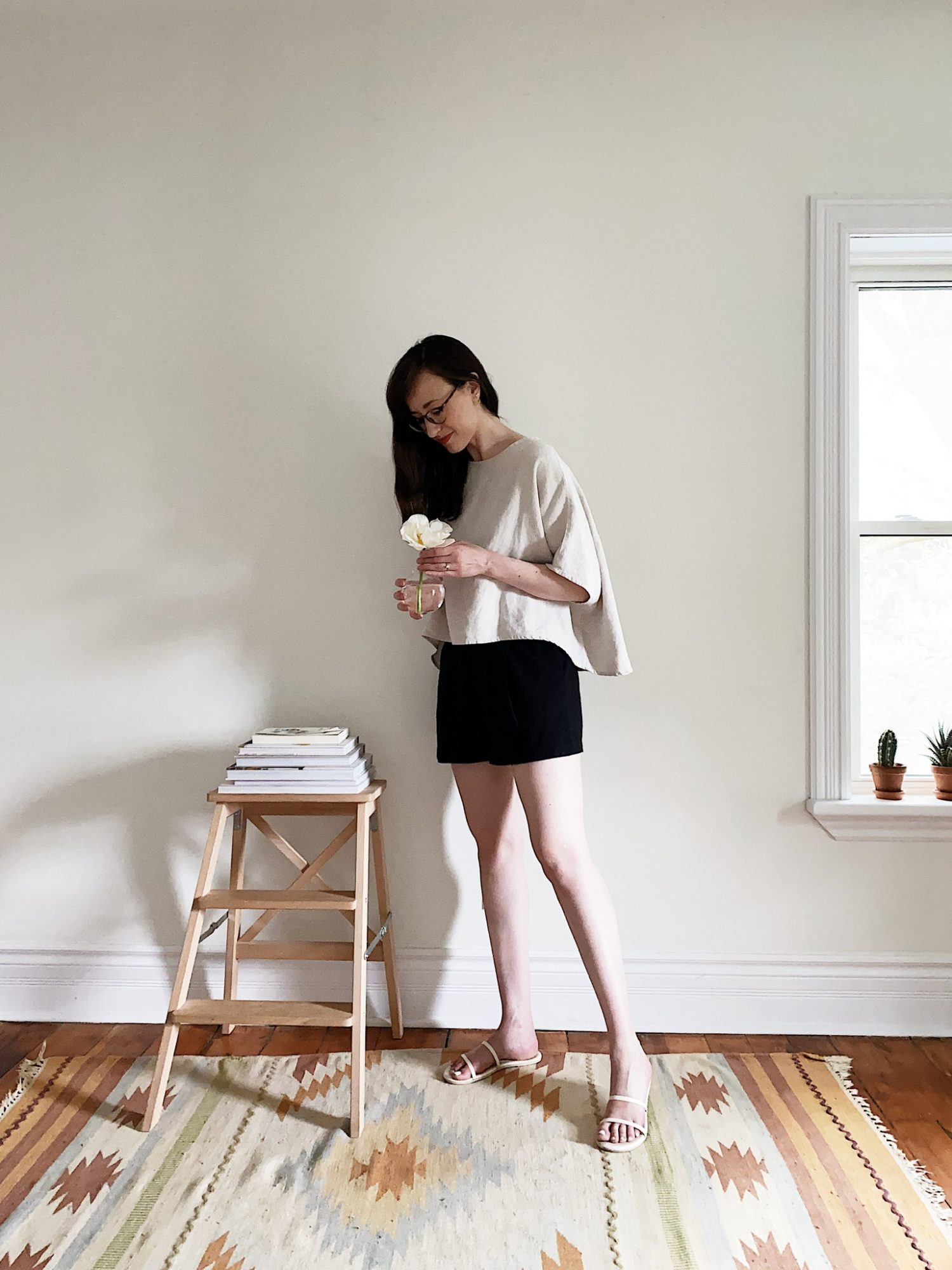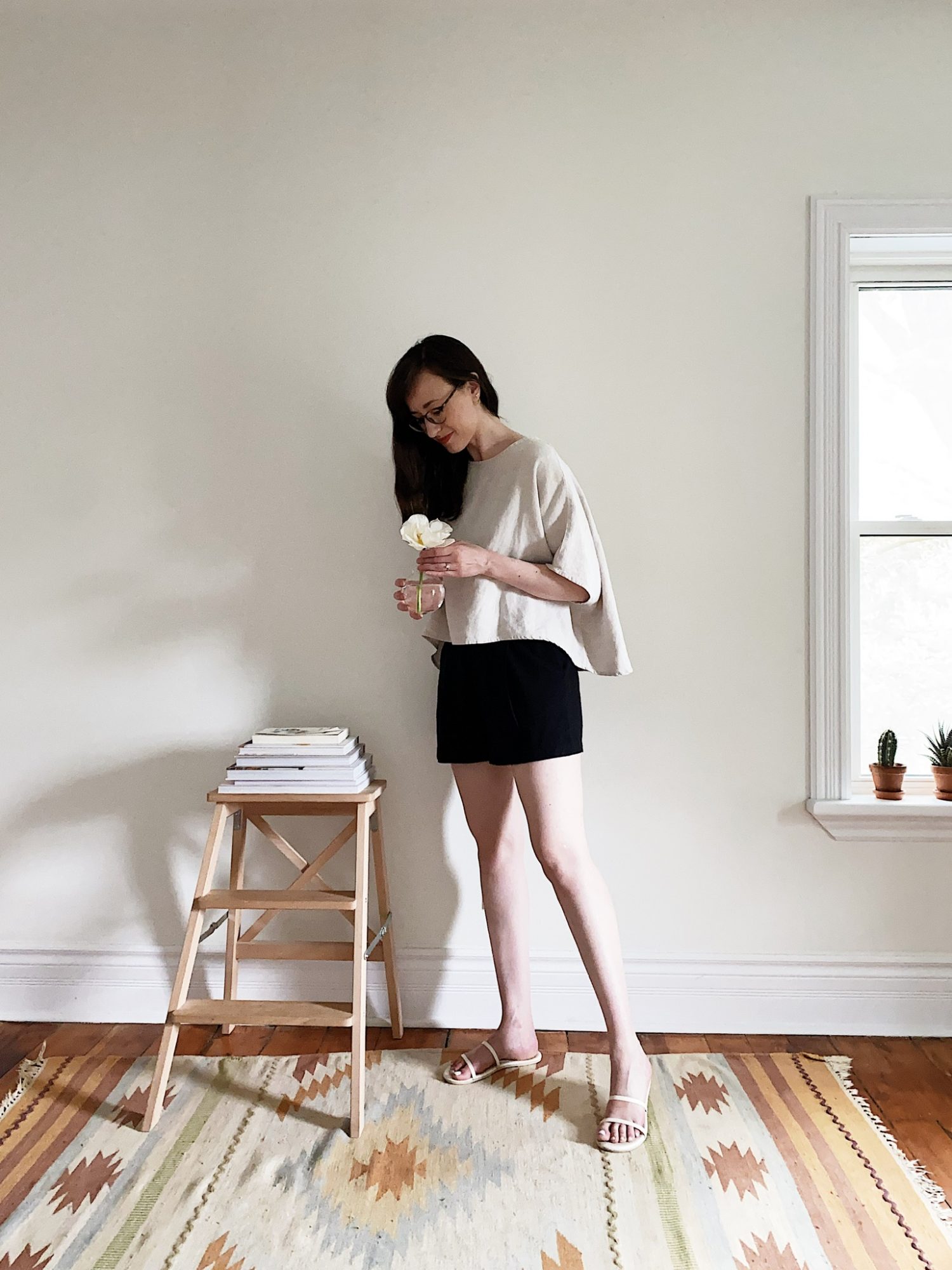 ---
Sunday was another hot & sunny day so we took Dobby for a lazy stroll through the park, had a virtual cocktail hour with a couple of friends and made tacos for dinner on the paito. An ideal Sunday if you ask me!
The one lonely tulip that survived the wrath of the squirrels last fall finally bloomed and it turned out to be a beauty! As you can see I couldn't help but snip it for a little office eye candy.
---
---
FAVOURITE SHOT OF THE WEEK
Dobby & me on our neighbourhood walk, taken by our favourite fella, Dave.
---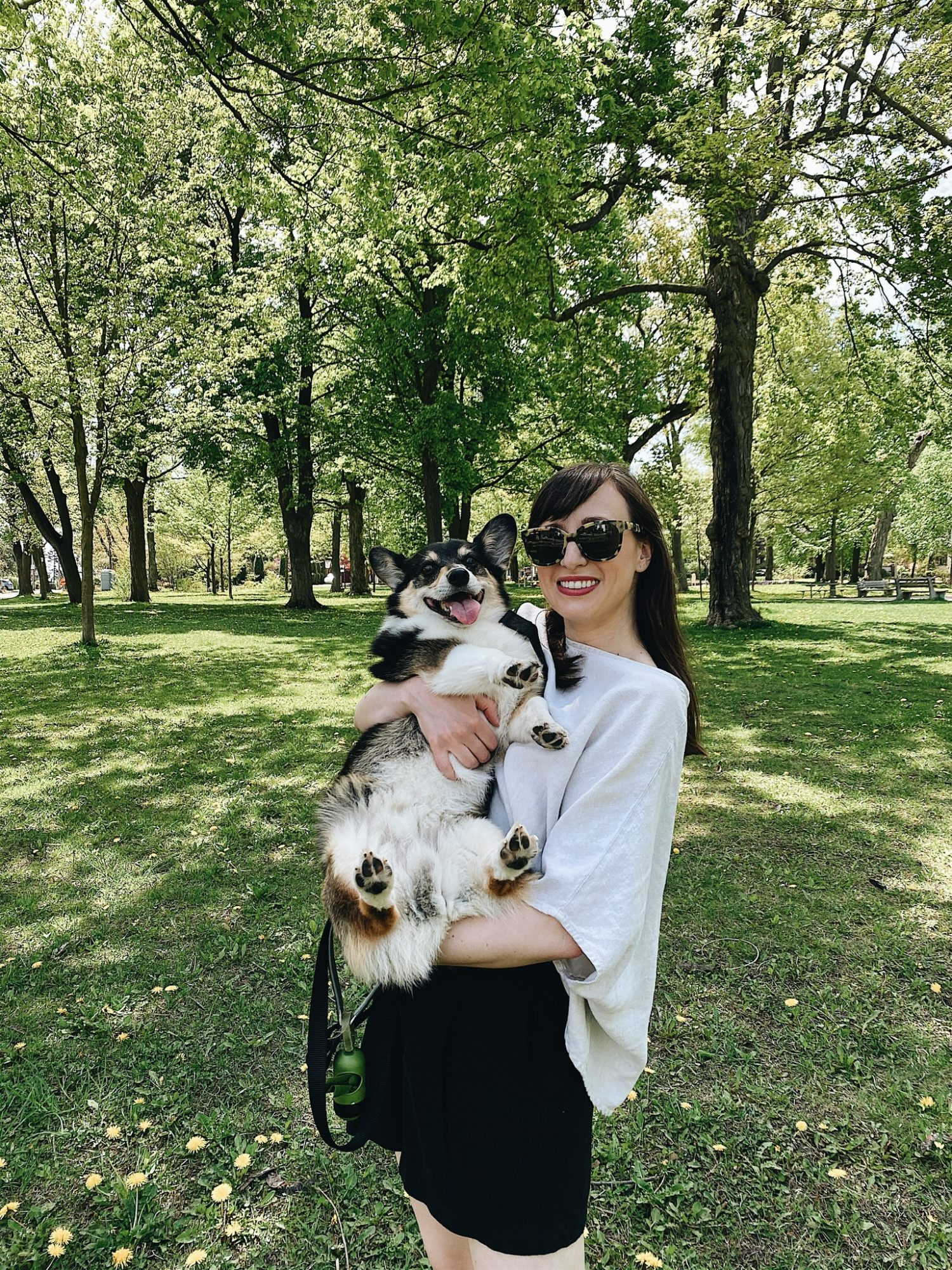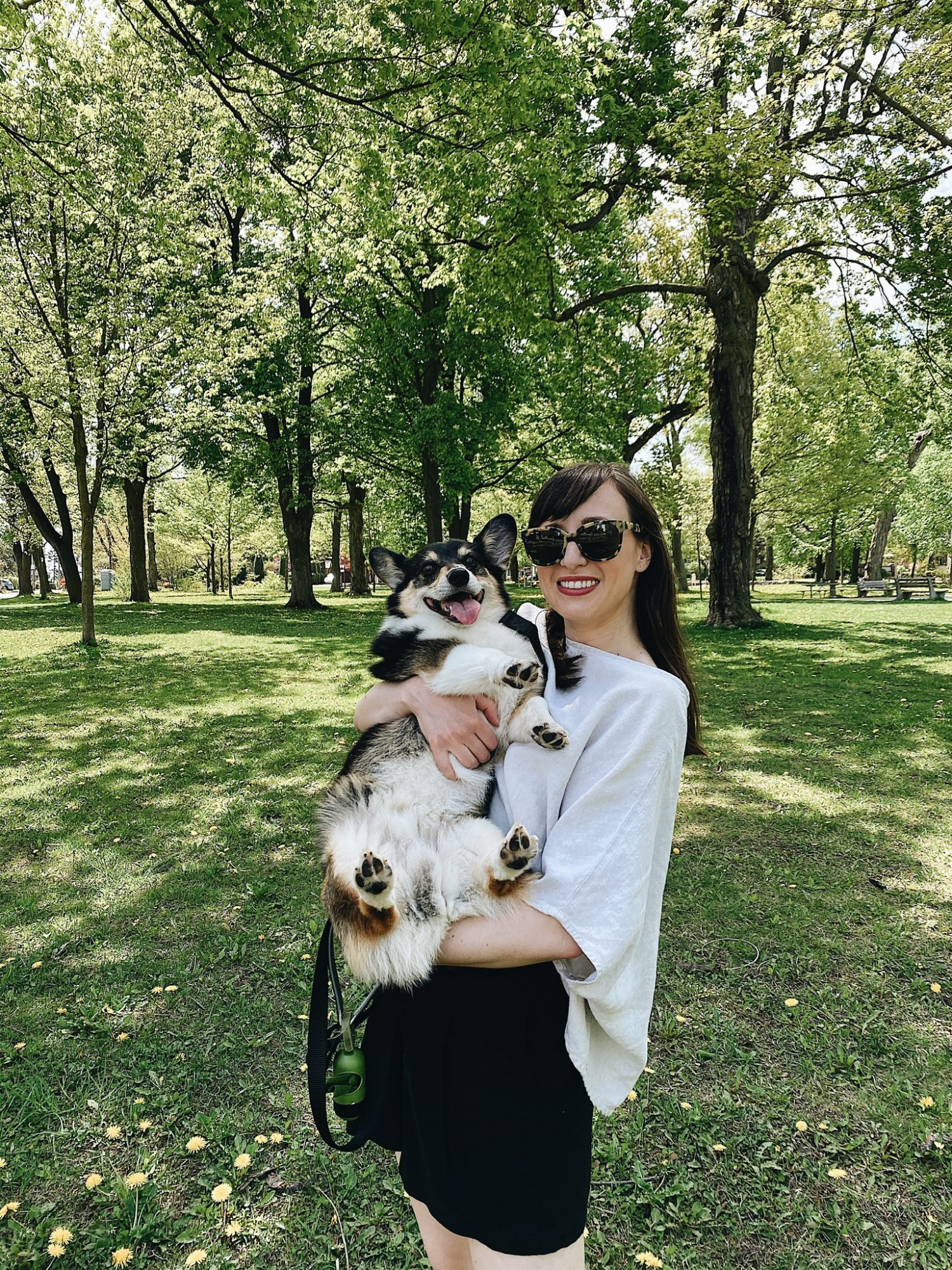 ---
Thanks for tuning folks!
I hope your week is off to a good start and you're taking time to look after yourself. Sending my love to you all!