For many recovering over-shoppers (hi, that is I), the term 'sale' alone is enough to set off some unwelcome feelings. If this is where you're at, or you're just not in a position to shop right now, feel free to skip this one as there's nothing in this post or sale that you can't miss.
I'm still wary of the false sense of urgency that comes with sales and debated covering this one at all, however, I ended up having a lot of fun exploring the preview and pulling together my thoughts and recommendations. Consider me your virtual personal shopper, if you're looking for one!
Today I'm sharing some notes on how to go about the Nordstrom Anniversary Sale thoughtfully and pragmatically. It's one of very few big store sales that I personally shop and in the past it's led to some of my most worn and treasured closet items. Even if you're not shopping right now, I think this post may offer some helpful tips for when the time comes.
In this post I'll be covering:
3 Things I always do for before sale shopping.
5 categories that I think make sense to invest in.
My picks from the sale within those categories.
How it works for Canadian-based folks.
---
This post is not sponsored or produced in partnership with Nordstrom. The links included below are affiliated, which means I earn a small commission on the sales made through those links. It doesn't have to be the exact product, it can be any item. Nordstrom is a top converting brand for Style Bee, and the income I earn from affiliate links helps to support my work and keep this space advertisement free. Whether you shop or not, I'm grateful for your readership and always strive to point you to pieces that you'll love for years to come, not just the season ahead.
---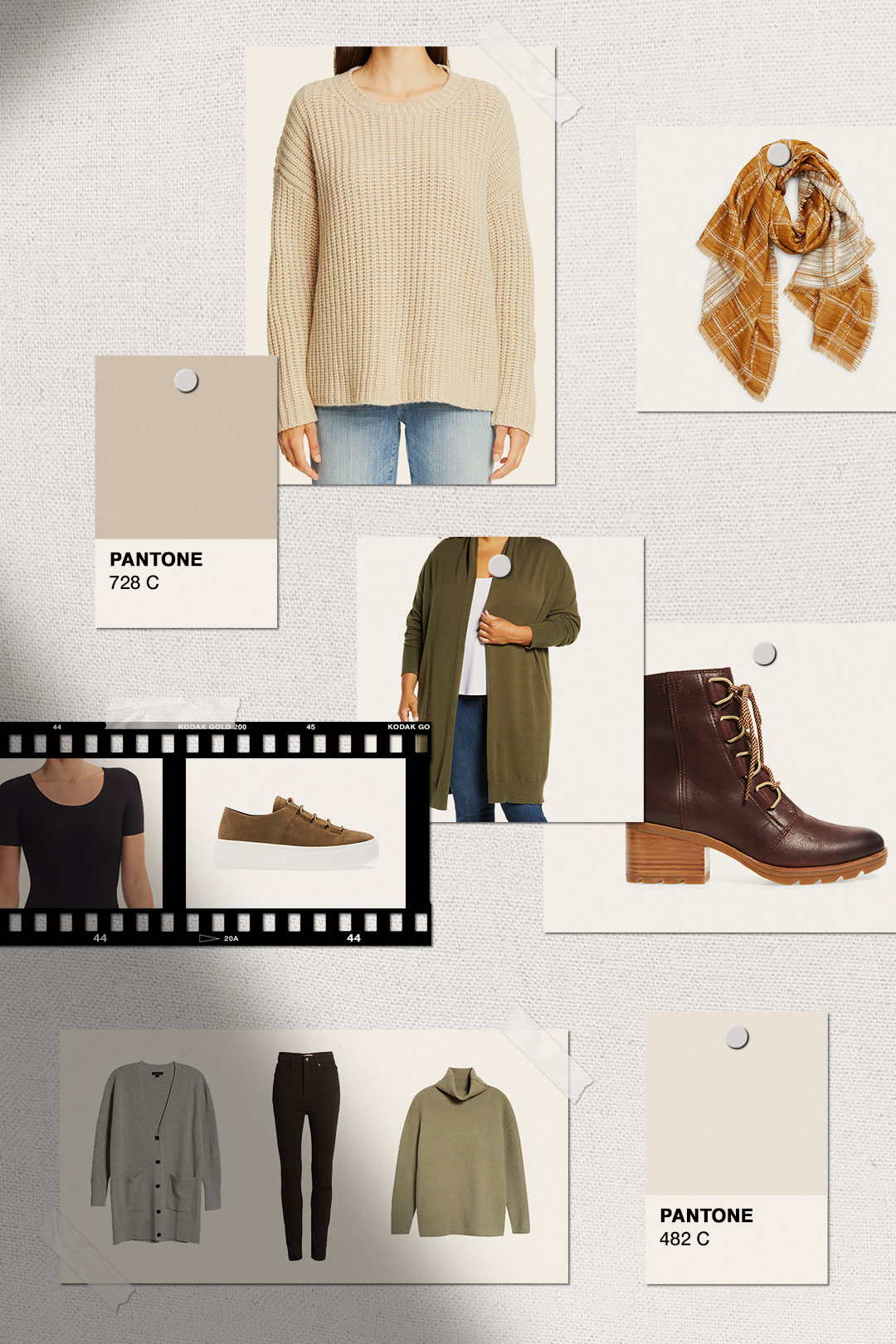 ---
3 THINGS TO DO BEFORE SALE SHOPPING
---
1 – Don't look before you list.
If you haven't explored the sale preview yet, don't. At least not until you've assessed your closet for what you might need. Think about what was missing in your fall or winter closet last year and determine where there are any gaps you'd really like to remedy.
Need some help assessing your closet? Check out this post. (Includes free downloadable worksheet.)
2 – Make a list, get specific and stick to it.
Dang this one is hard but it helps immensely to curb buyers remorse, keeps you on budget, and helps ensure you'll feel really good about the items you do decide to get.
Make a list of what you would love to add and get specific about it. Don't just write "black sweater", write, "black turtleneck, relaxed fit, merino wool, hand wash optional" if that's what you are really looking for. The more specific the better because if you leave it vague you may be inclined to sub something that's not quite right.
Consider making note of what you don't need too. We tend to gravitate to what we already know we like but this can lead to redundancy when it comes to having several items in your closet that serve the same purpose.
Need some help creating a concise wish list? Check out this post. (Same as above and includes free downloadable wish list.)
3 – Sleep on it.
The great thing about the Nordstrom Sale this year is that you can see everything that's part of it in the preview. If something in the sale fills the need of one of your wish list items, that's great. Add it to your wish list so it's easy to find and add to your cart when you have access to the sale. Public access is on August 19th but you may have earlier access (login to your account to find out).
Once you've selected the pieces you'd like to order, sleep on it, or at least step away for a bit. Then, when you review your cart before checking out, if there is anything you forgot about or aren't outright excited to get, it's probably not essential. Save for later and let it go.
Remember: There is nothing in a clothing sale that you can't live without. A cute dress won't make you a better friend, a more loveable partner or better at your job. If something you really like sells out or it's not in your budget, that just means you'll find something even better when the time is right.
---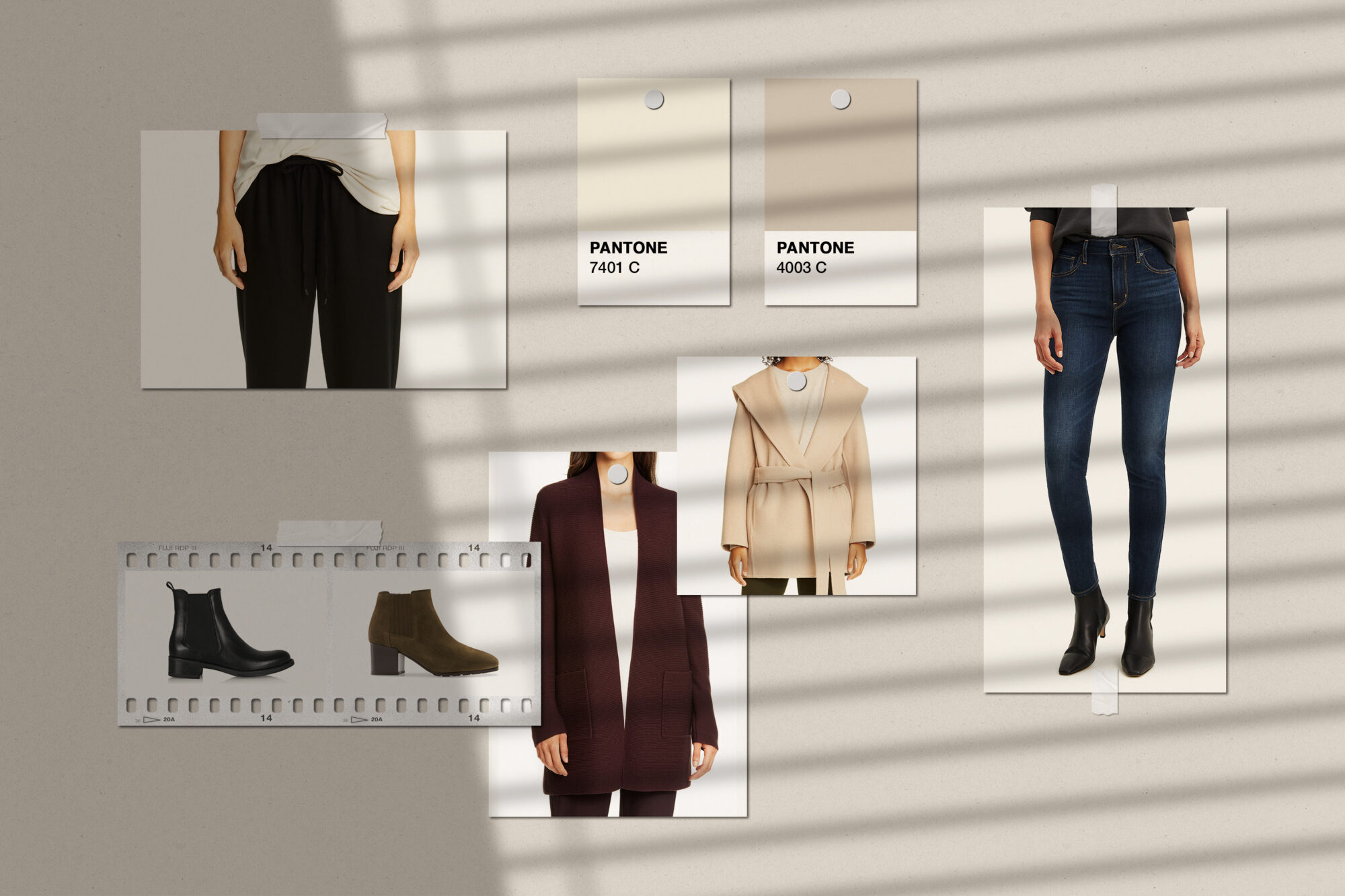 ---
5 CLOSET CATEGORIES TO INVEST IN
---
1. ESSENTIAL BASICS & LOUNGEWEAR
Think t-shirts, underwear, bras, leggings, button-downs & socks. These are pieces that you wear several times a week, if not daily. I personally love the brand Commando for base layers (like camisoles & bodysuits) because they're super stretchy and fitted so they don't add bulk and keep your knits fresh for longer.
With the state of the world being what it is, we're all likely to be spending more time at home this fall and winter. Soft, cozy, comfy pieces are going to be in heavy rotation so maybe pick up one or two that you may need. A pair of chic wool joggers and a fitted long sleeve is my weekend uniform.
---

---
2. KNITWEAR
Quality knitwear can take a good chunk out of any budget so when there's an opportunity to save it's a good time to invest. When cared for properly, knitwear can last for many, many years, so check out my knitwear care post to see what I do.
I personally like Eileen Fisher for knits because I know they're made to last. I've had good luck with Madewell knits in the past and still think of a couple that I let go of too hastily. I've also included a few options with more approachable price points in timeless styles that can work with any closet.
---

---
3. OUTERWEAR
Similar to knitwear, coats and jackets are good closet items to shop during sales. I've been on the lookout for a Patagonia fleece and jacket for a long time now so I'm hoping they're not all sold out by the time I have access (in Canada that's on August 20th). I recommend going for pieces that are classic styles and made of good quality fibres like wool & cashmere that are going to keep you warm.
---

---
4. FOOTWEAR
You know I'm a shoe girl at heart and much of my footwear collection was purchased during sales. In fact, my very well-loved Aquatalia boots were bought during the Nordstrom Anniversary sale a couple of years ago. I've pulled together a range of boots that are weather-ready and functional because no matter how much we deny it, cold days & winter will be back!
Now you may think, "If I'm not going out that much why buy nice boots?", which is a fair question. If you're happy with your cold weather options, great! However, if you've been looking to invest in new boots or footwear, this could be a good time to test some out. You may find more options still available with many shoppers opting for indoor items.
---

---
5. DENIM
---
Jeans are always in heavy rotation during the fall and winter for me and this year I'm looking to add a couple of new options. I'd love a pair of black high waisted skinny jeans and maybe a fun pair of flares too. Madewell does really great denim, in my experience, and some of the oldest pairs in my closet are from them.
With Nordstrom's easy/free return policy, one other suggestion I have when online shopping, is to order a couple of sizes. This way you can try them on at home and send back the one(s) that don't work out.
---

---
CANADA-BASED SHOPPERS
---
Those of us based in Canada are not able to shop the Nordstrom.com sale via Borderfree anymore, instead we have our own site to explore. This means our selection is limited to Nordstrom.ca and, unfortunately, there is no preview available. My suggestion is to add the items you're interested in to your cart now and see what ends up on sale.
Currently in my cart: Patagonia fleece, Madewell jeans, 2 basic bodysuits & Commando opaque tights.
Dates to note:
Thursday, August 20th, everyone gets online sale access.
Nordy Club Ambassadors or Nordstrom Visa cardholders can shop in-store early from August 16th-18th.
Everyone else can shop in-store a day early August 19th, but that would not be my preference even if there wasn't a pandemic.
FREE standard shipping & returns.
---
That's it for my thoughts on the Nordstrom Anniversary Sale!
I know it's a strange and uncertain time in the world and talking about shopping may seem trivial. That said, I think it's important to keep engaging in the things we love to do. For me that's exploring style, helping Style Bee readers build a closet they love and creating helpful content!
I'll be back on Friday with a new Life Lately post to share a bit more about what's been happening behind the scenes.