At the end of 2019 I sat down with Dobby to write out my words for the year ahead and I decided to do this again for 2021. Not because 2020 worked out so well, ha!, more so because the exercise itself offered some helpful reflection opportunities throughout the year.
These words (some folks choose only one) are simply an intention of sorts. A way to communicate my heart with the universe or perhaps just my own subconscious mind. It's not about goals or manifesting per se, it's more about making space deliberately as we start a new chapter.
If you're interested in this type of thing, find a comfy seat with a pad of paper and a pencil as we take a moment to release the year behind us and welcome the year ahead.
If you're not in a headspace for this type of exercise that's okay! There's a cute corgi, a Canadian-made lounge set and some slightly huge news, that may be worth your stay too.
---
The Prose Lounge Set shown in the photos below was gifted by Vestige Story, a size inclusive, Canadian-made line of elegant & versatile loungewear. I've share a few key details below and I'll be taking a closer look at these pieces in the new year. They're available for pre-order now and you can use 'STYLEBEE10' for 10% Off your order. Thanks for your interest in the awesome Canadian brands that support this space.
---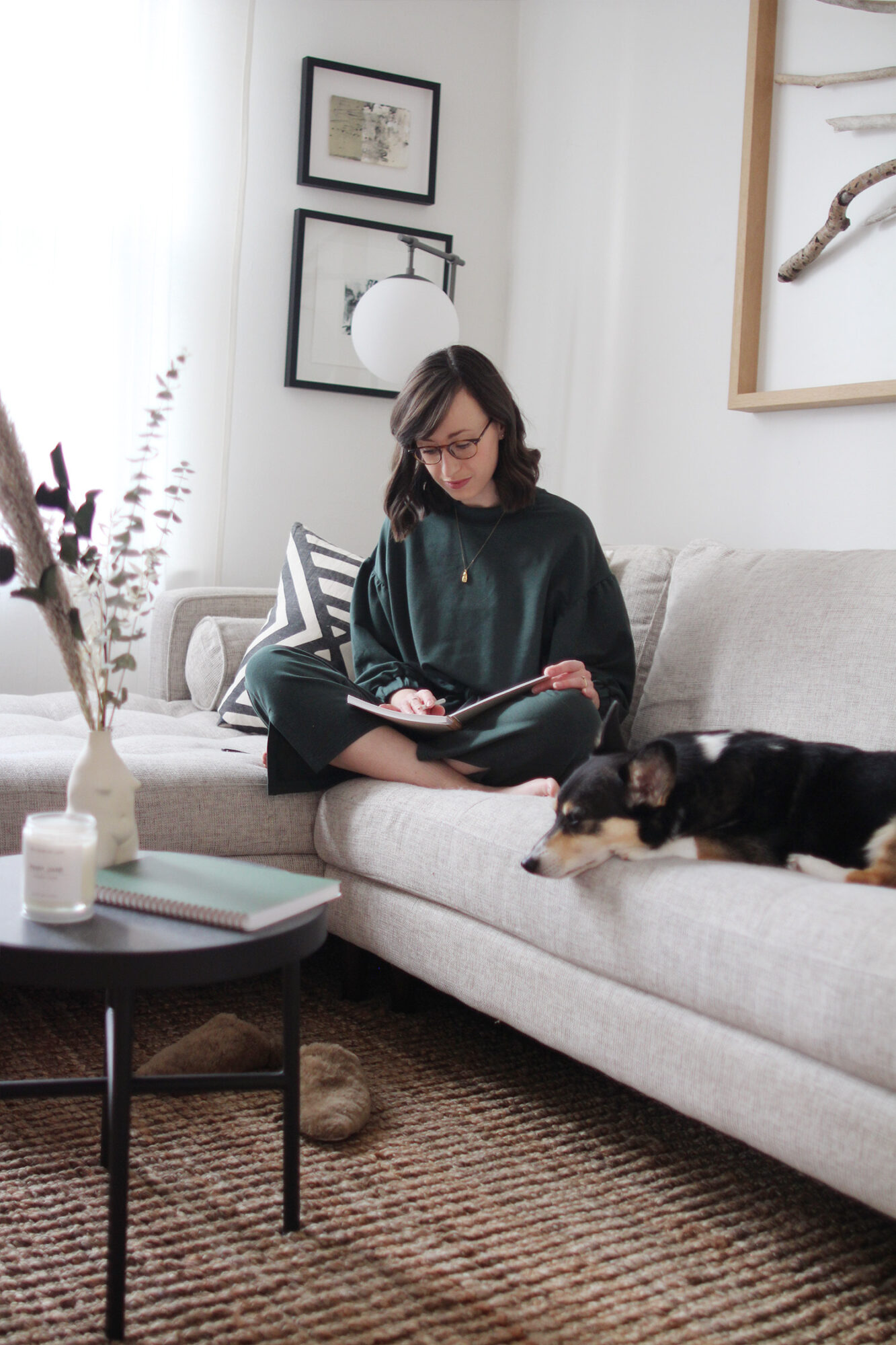 ---
MY WORDS FROM 2020
These are the words I set out with at the start of 2020 & this is how they're resonating now.
---
GRATITUDE – I know this one puts some people off with it's overuse but hear me out. My intention for this word evolved into a habit more than anything and I've found my gratitude practice immensely helpful this year. It's been particularly good for my mood and outlook on life, to the point that I notice a shift every time I fall off track. My practice simply involves thinking about 3-5 things I'm grateful for each day. There are loads of prompts all over the web but something like these (from @selfcarespotlight) are what I use:
A person I'm glad to have in my life – My amazing partner, Dave.
A future event I'm excited for – The first spring swim in the lake.
Some positive news I received recently – A project I've been working on will be ready soon!
A memory that makes me smile – Sitting around the campfire with friends.
Something that made my laugh today – Dobby tucking himself into a couch corner.
My favourite part about the holidays – The food and sipping bubbly!
Here are a whole bunch more to get you going if this is something you're interested in. I didn't have the discipline for a full-on gratitude journal this year but it's something I'm going to try for next year.
CREATE – I'll admit, this one was rough and definitely didn't pan out as I'd envisioned but I'm learning from it and releasing any expectations. Inspiration to create came in short and fleeting bursts this year. As any content creator, artist, creative etc. can attest, productivity in the form of putting out visible work can be very hard (read: impossible) to maintain. Despite my best intentions to follow-through on a slew of projects the motivation just wasn't there. I went through more burnout this year than ever before and it sucked.
I think the lesson I learned in this area of my work/life is that you can't rush or force creativity. There are periods of growth, inspiration building and idea formation that require space. That's what this year was.
FOCUS – Even just a couple of months ago I would have said this was another missed attempt for the year but it seems that my vision has cleared A LOT in recent weeks. It's honestly kind of wild how the stars can suddenly align, revealing a path you'd never thought would clear. All this is essentially to say, keep leaning into the life and goals you hold in your heart. This actually ties nicely into the next word…
TRUST – I know I'm not alone in feeling lost this year. Many plans I'd started the year with were swiftly chucked out the window and some tough decisions had to be made. However, some of the circumstances I found myself in begrudgingly actually forced me out of a repetitive cycle that I'd been fighting. For this I'm really grateful. Whenever I'd bring my words to mind this year, "trust" was the one that would sit with me the longest. From a short term moment of anxiety, to a huge, life-altering decision (more on that below), "trust" kept repeating and I'm so glad I listened.
NATURE – Without time in nature this year would have been very difficult for me. I really feel for folks who've been stuck in cities without a park or green space nearby. The feeling of grass between my toes, seeing a canopy of leaves above or just closing my eyes to hear birds chirping was never more appreciated than this year. Like gratitude, nature is a word that will remain a constant underlying theme in my life.
---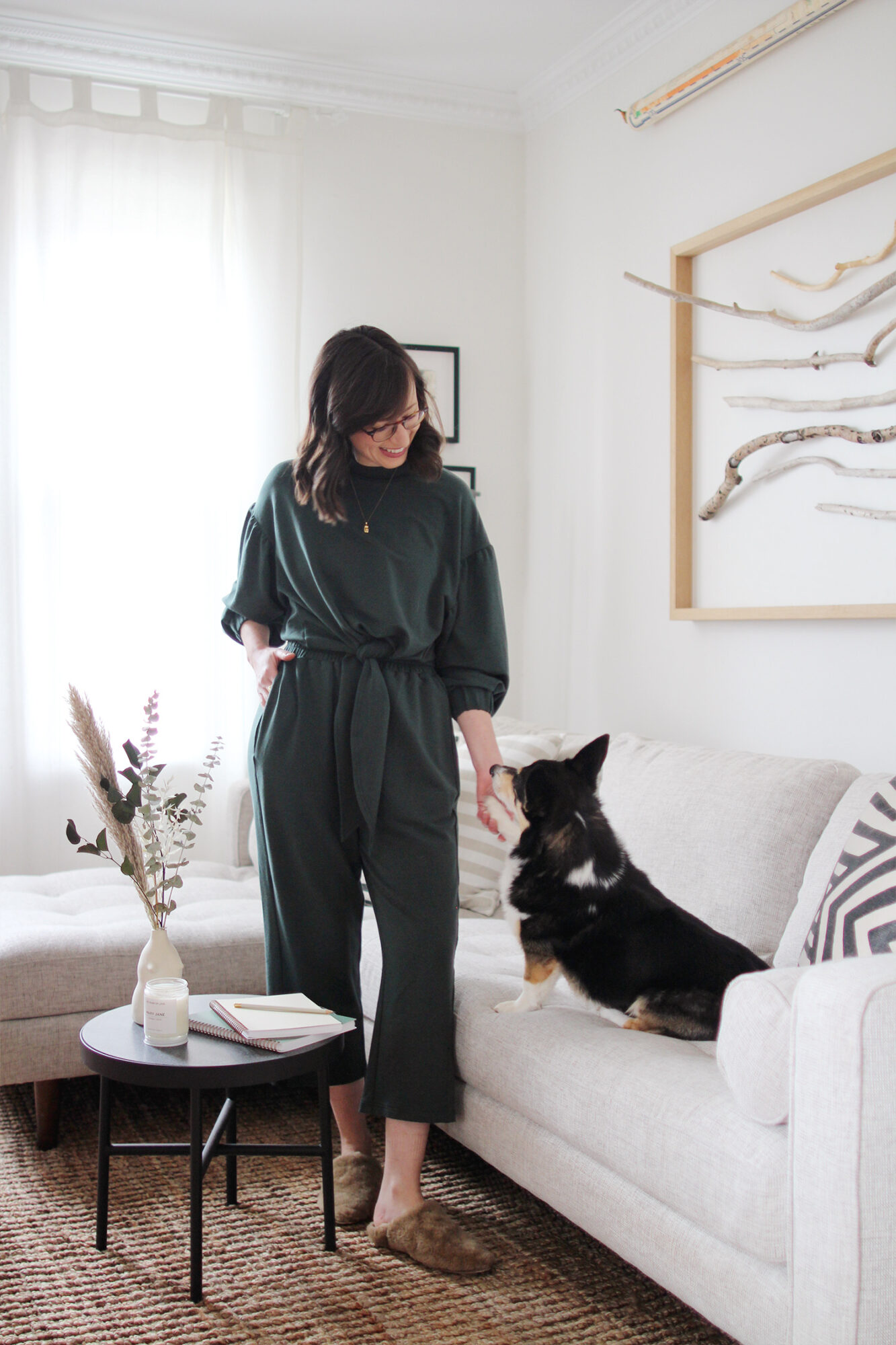 ---
PROSE LOUNGE SET
(AKA. my holiday uniform.)
Quick details: Dialogue Sweatshirt (wearing a small) / Edit Pants (wearing a M) – Sizing from XS-4X available with 5 colour ways (shown here in Hunter Green). Designed and sewn in Canada. Two-piece set is $230.40 CAD with the discount below. Stay tuned for a detailed look at these pieces to come in January.
Use "STYLEBEE10" for 10% Off the PROSE COLLECTION.
(Code is valid through January 2021.)
---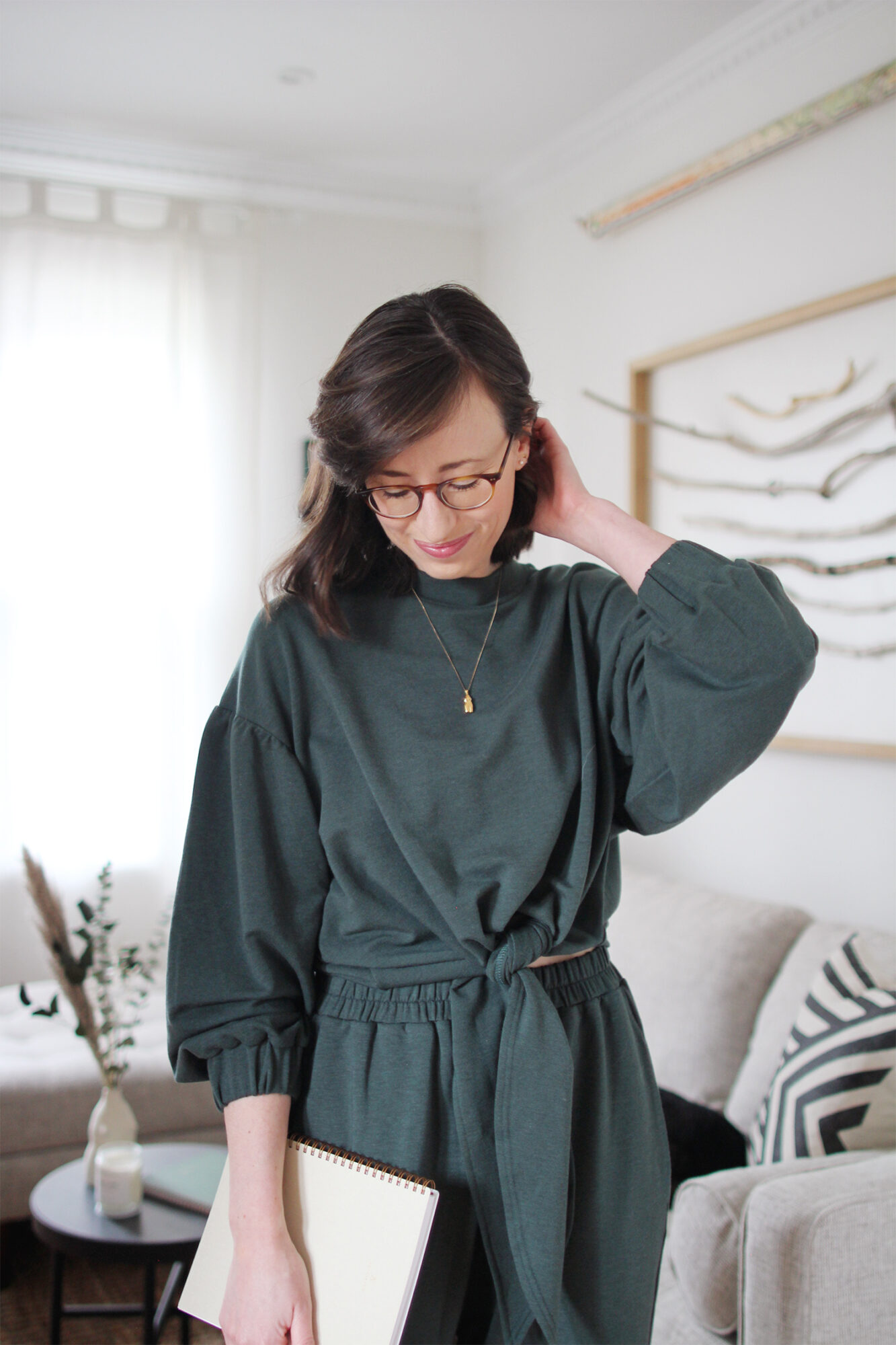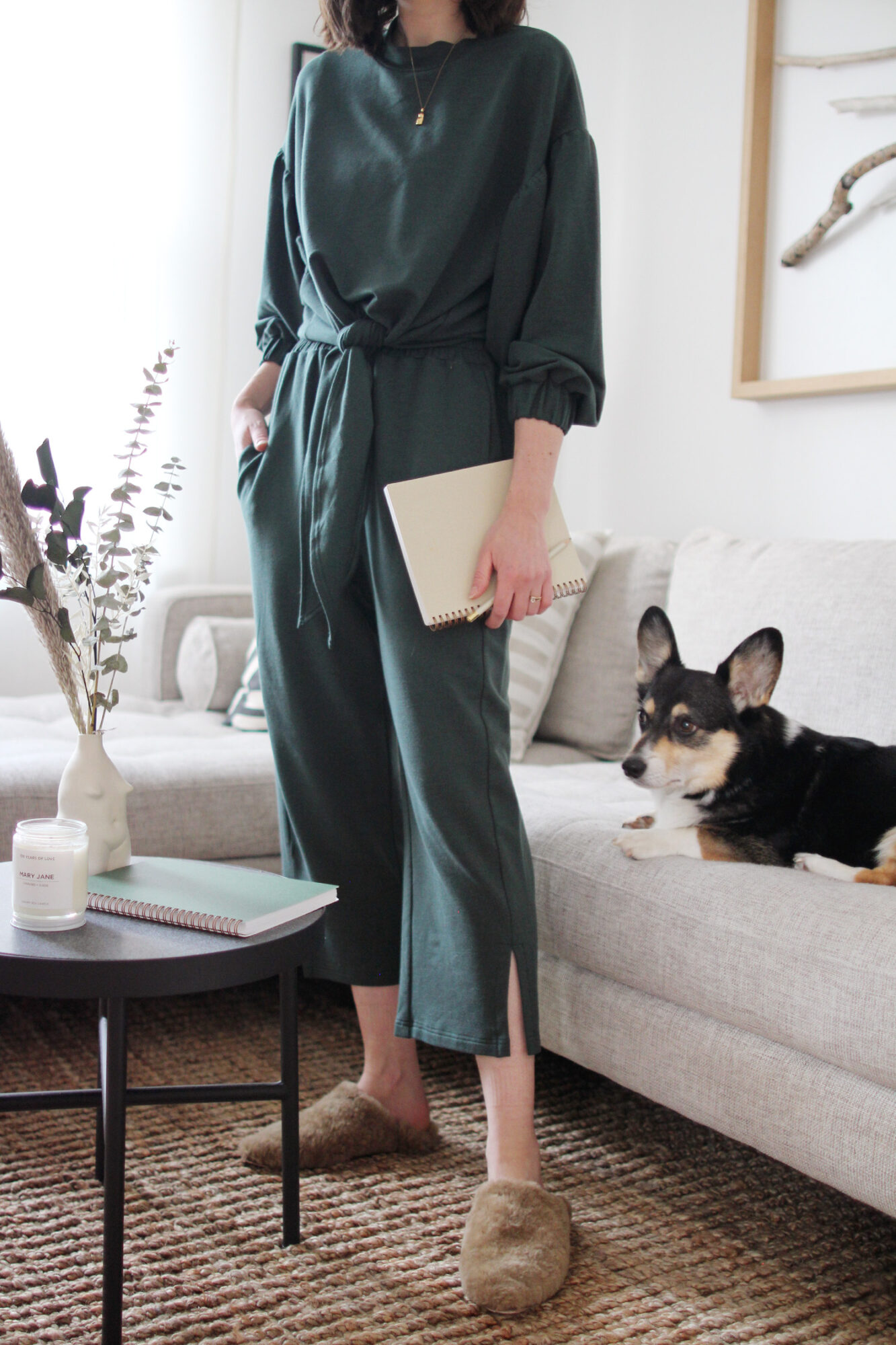 Slippers by A Bronze Age, another Canadian small business I love!
---
MY WORDS FOR 2021
I haven't fully explored why these words are resonating with me for the year ahead but I'm excited to dig deeper and find out as the year unfolds.
---
JOY
My intention behind this word involves embracing the parts of my work and life that bring me joy without letting guilt or obligation cloud the experience. The quote that resonated most with me all year was:
"FIND WHAT BRINGS YOU JOY AND GO THERE."
– Jan Phillips
COURAGE
This is an evolution of "focus" and "create" from this year. I'm opening up space for the courage to build the life and the business I truly want. This will involve letting go of things, habits & opinions that I've allowed to hold me back. I feel it in my bones that 2021 is going to be the start of a whole new adventure!
PURPOSE
From the time I spend online, to the work I produce, to the relationships I nurture, I want to approach each one with a clear purpose. I've been cultivating an ability to trust my instincts and now it's time to go a step further by asking "why".
---
I'd love to know which words you're holding close in 2021!
---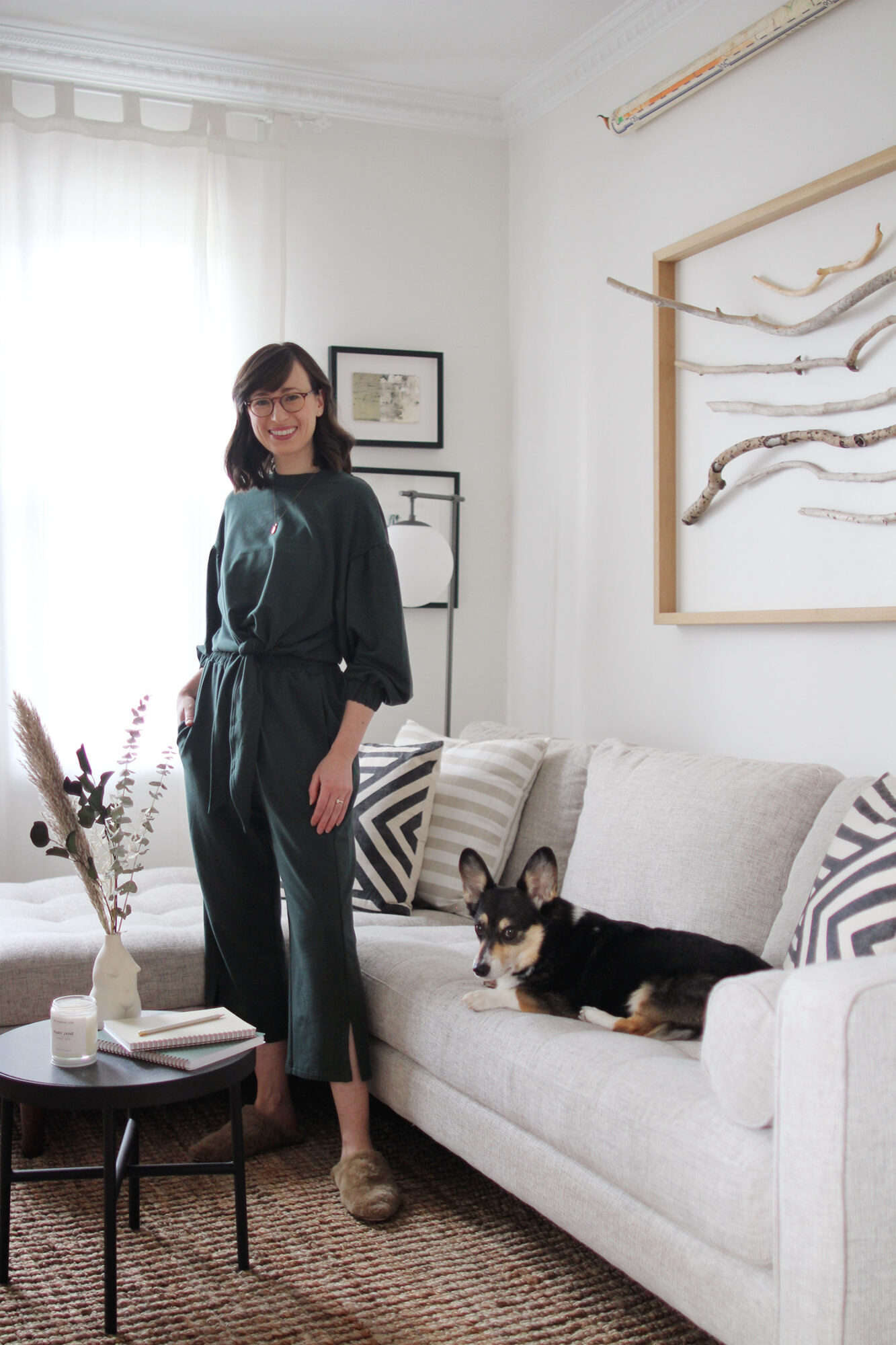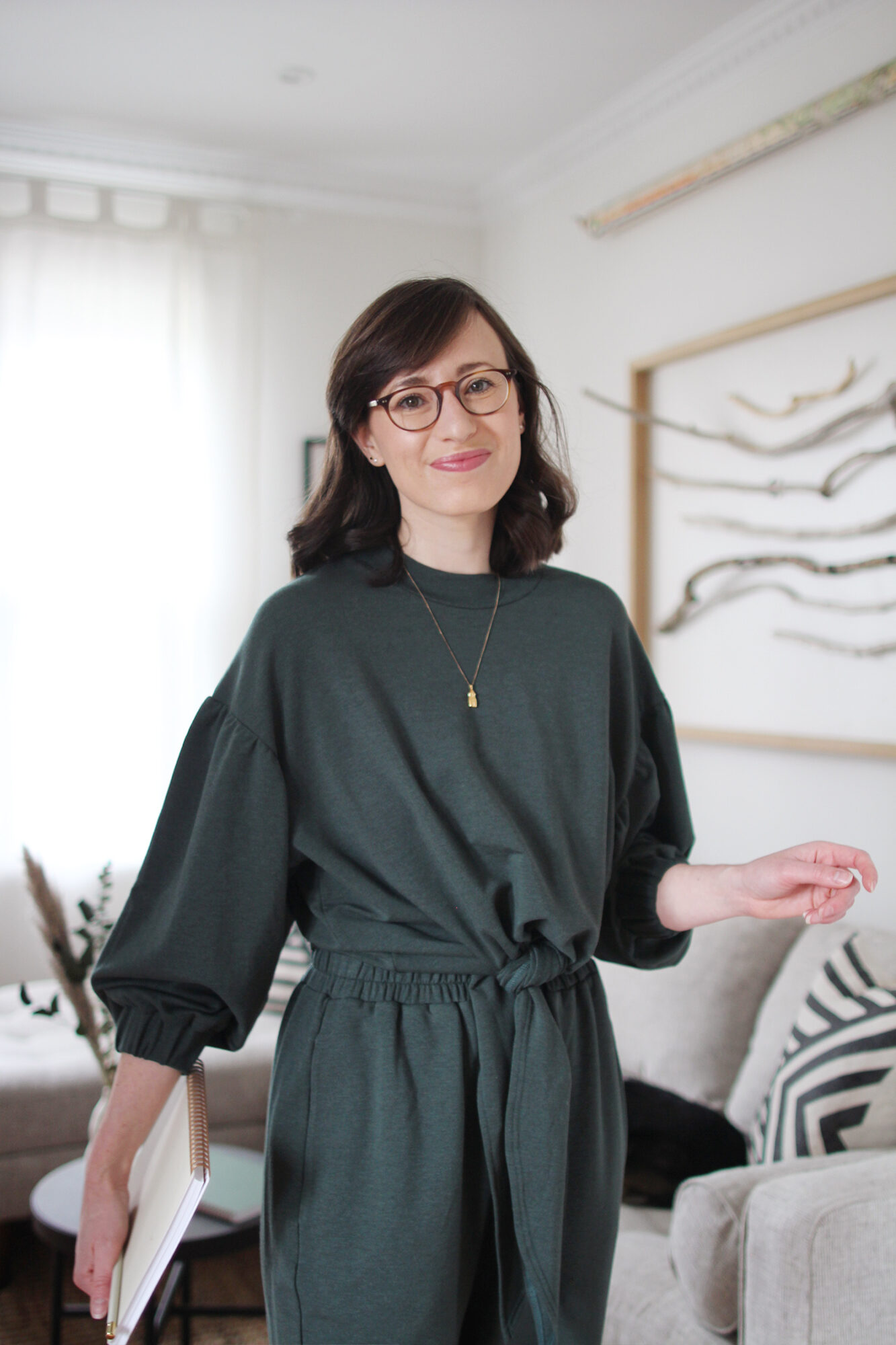 ---
A note to my dear readers
(That's you!)
---
Thank you for sticking with me during this year of survival. In many ways I've felt as though I've been holding my breath this whole time. As I sat down to write this post, an overwhelming feeling of appreciation welled up in my chest. It is, in no small part, because of you that I was able to keep going this year. Knowing that my work here offers something to those who visit is what drove me to push forward when it felt like nothing mattered. Please know that every moment you spend here means something.
Going into 2021, I'm feeling more connected to the little space that is Style Bee than I have in a long time. I've been investing in an exciting new feature that I think a lot of you will enjoy and giving myself permission to revisit the original purpose of this space. I can't wait to share it all with each of you!
---
& finally, that slightly huge news…
---
If you've been following along on my stories lately, you'll have noticed some new scenery that includes lake and wilderness views. Well, that's because Dave and I bought a cottage!
---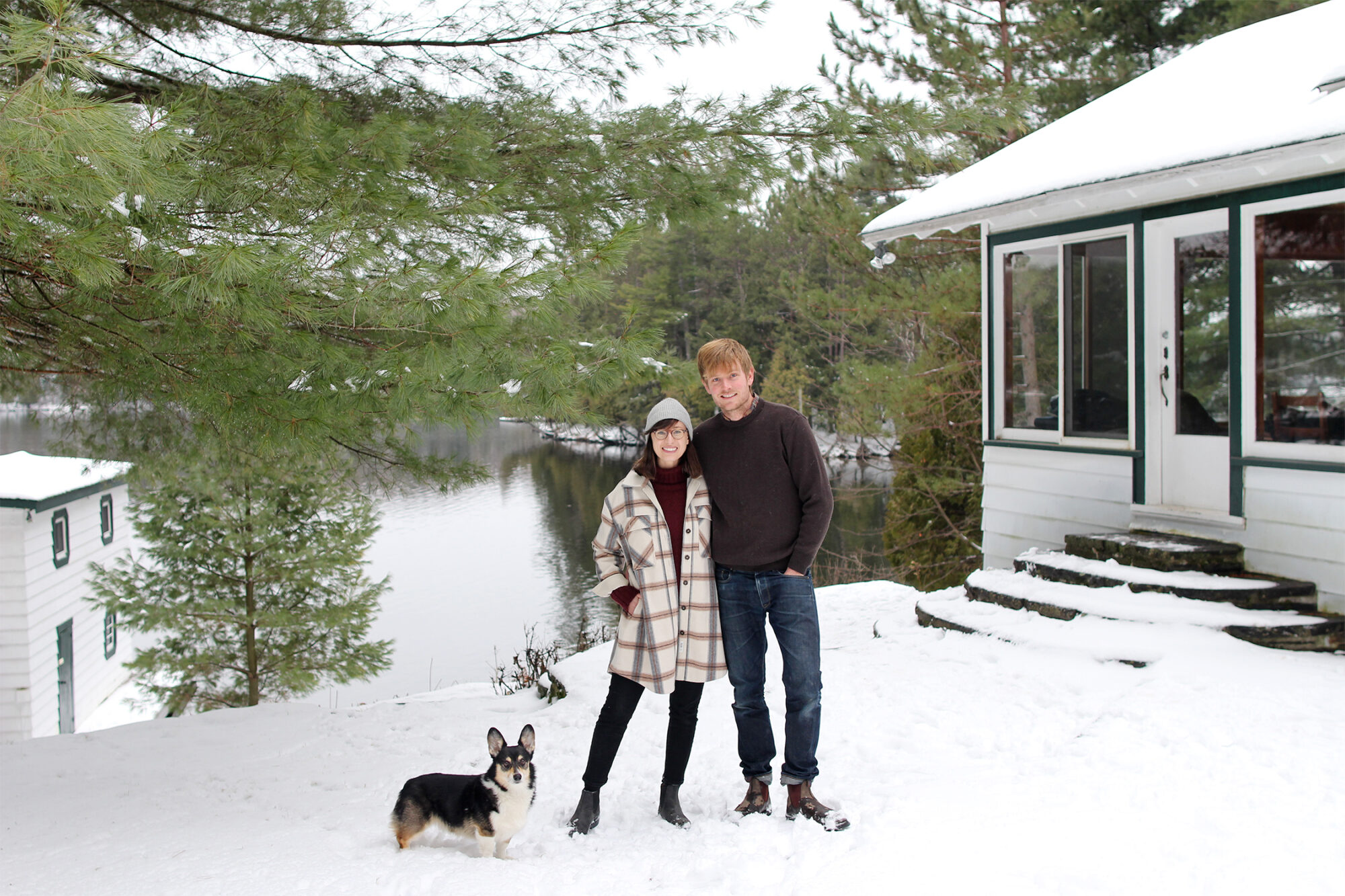 ---
A cottage of our own is something we've always dreamed of but barely dared to believe was possible. That is, until this fall, when the perfect little gem revealed herself to us. We both felt in our bones that we had to try everything possible to make it happen.
The month of October involved a lot of sleepless nights, phone calls with banks and emotional peaks and valleys. Low and behold, the stars aligned for us and at the end of November we got the keys to our little piece of paradise.
I'll be sharing a proper introduction to the place in the new year but we're thrilled to start this life-long project!
---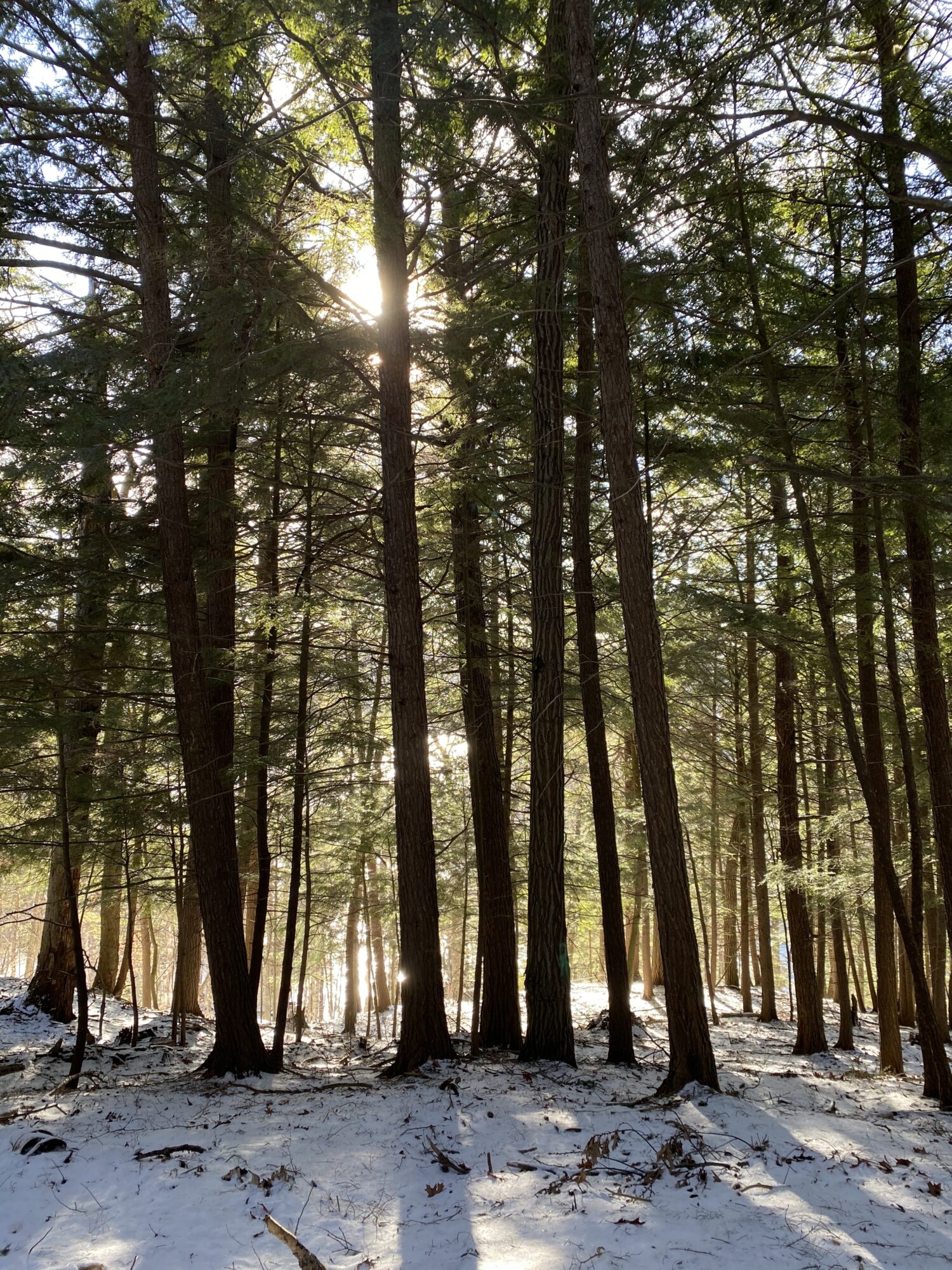 ---
Sending my love to you and yours over the holidays. Stay safe, stay cozy & cheers to 2021 folks!