Last night I was perusing the Frank & Oak spring sale (25% Off using SPRING25) and I thought I'd share my top picks with you! I made a little graphic to show the 9 items I think would be great for any spring closet.
The sale is a good one with free shipping/returns on all orders so it's pretty low stress if something doesn't work out. I've purchased a few pieces from Frank & Oak (a Canadian brand!) over the last year and have been really happy with the ones I've kept (I've only sent back a pair of jeans). The sale ends on Tuesday, April 6th at 9 am ET so you've got a bit of time to consider any purchases.
If you're not shopping, all good! Perhaps these pieces will spark an idea for your current closet or go on your list for future.
---
This post is not sponsored or produced in partnership with any brands mentioned but does contain affiliate links. If you see something you like and decide to shop through the links included, I may earn commission on a sale at no additional cost to you. All opinions are always my own and I only share items I love and think you might too. Thanks for supporting Style Bee!
---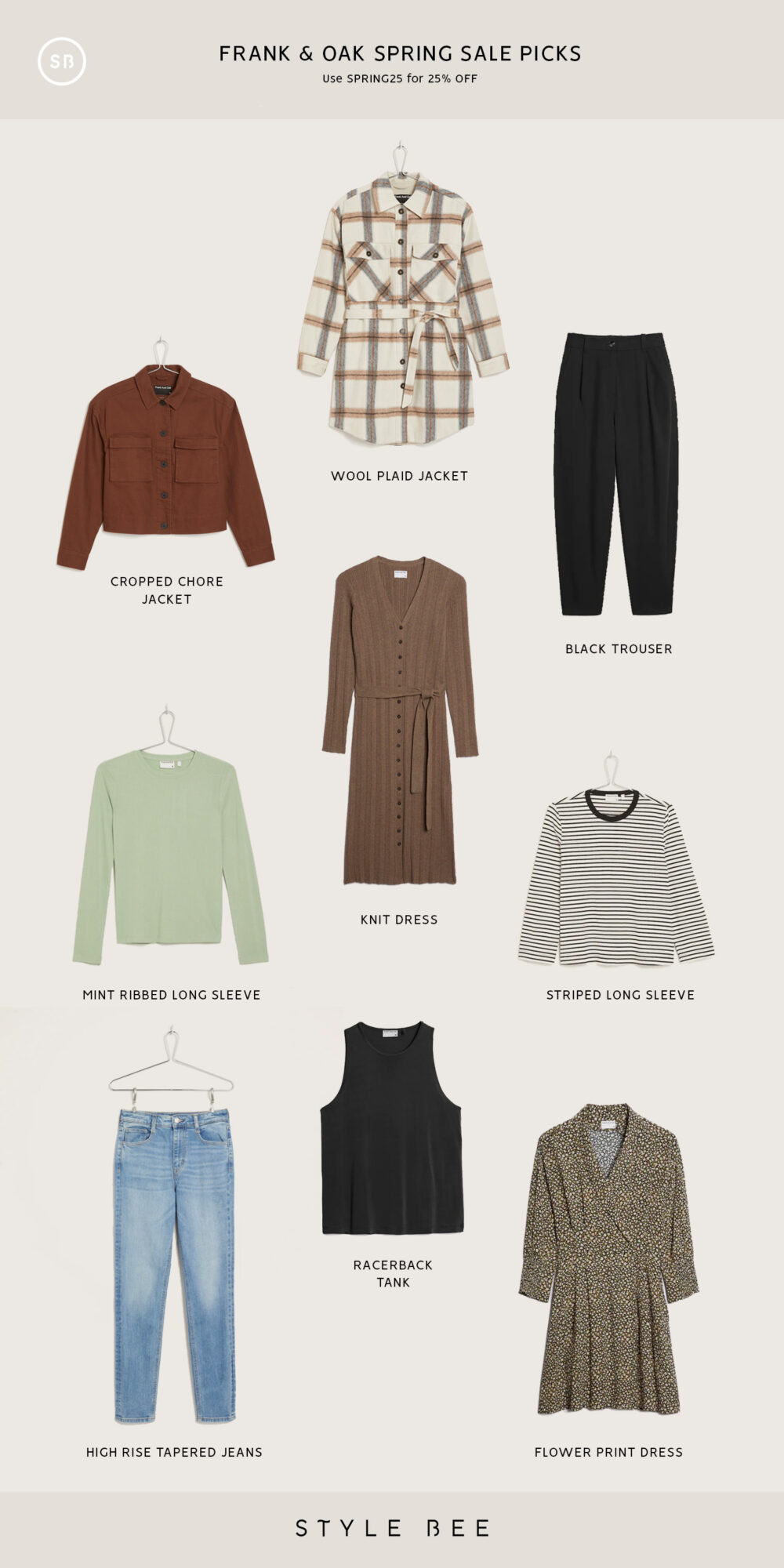 ---

---
1 | WOOL PLAID JACKET | My favourite jacket (you might even see me on the product page lol) was just fully restocked and it's part of the sale in case you've had your eye on it. It's a great spring or autumn layer over a t-shirt with jeans.
2 | CROPPED CHORE JACKET | If you're looking for something more cropped in length this one looks like a great option. I love the rich rust colour for its season-less feel.
3 | BLACK TROUSER | A black pleated trouser is a forever classic. I like that the hem on these is clean and there's no cuff.
4 | KNIT DRESS | This looks so lovely in a rare taupe tone. I can see this with white sneakers and a denim jacket now or with tights, boots and a cozy coat come fall.
5 | MINT RIBBED LONG-SLEEVE | I have this top in another colour and love the fluid feel of it. This mint green is so springy and fun!
6 | STRIPED LONG SLEEVE | I love the black crewneck band on this thin black and white striped tee. Another forever staple.
7 | RACERBACK TANK| This type of cut is having a major moment this spring and I like that this one has straps that are wide enough to conceal a bra strap and the relaxed fit.
8 | KIM COMFORT HIGH RISE JEANS | You may know I love my Kim Comfort jeans in grey and this wash is currently in my cart. They're TTS for a relaxed fit but consider a size down if you want a more fitted look.
9 | FLOWER PRINT DRESS | I have something similar to this piece in my closet and it's one of my favourite pieces to wear in the late spring and summer. It's the perfect amount of dressy but you can still ride a bike and feel comfortable.
---
FOR 25% OFF
Free shipping/returns on all orders.
---
Frank & Oak is a Canadian brand and a certified B Corp, which means that they meet the highest standards of social and environmental performance, public transparency, and legal accountability in the industry. You can learn more here.
THANKS FOR TUNING IN!
Have a great Sunday folks!