Sephora's semi-annual spring sale started today (details below) and it's one I always hold out for to stock up on some of my go-to products. I've been meaning to create a resource for my Sephora skin care and makeup go-to's so this seemed like a good opportunity to do just that!
If you're in the market for some new skin care and makeup suggestions do read on. Most of the products below are recommended for a wide range of skin types and could be just what you're looking for. I've shared a bit more about my skin type and how I approach testing product from Sephora too.
Sephora Spring Sale Details:
ROUGE members have access now through and save 20%.
VIB members get access on April 13th and save 15%.
INSIDERS get access on April 15th and save 10%.
Signup to be an Insider for 10% Off before the 15th and you're set.
Use code: OMGSPRING at checkout.
Sale ends for everyone on April 19th, 2021
Let's take a look at my favourite products by category!
---
This post is not sponsored or produced in partnership with Sehphora but does contain affiliate links. If you see something you like and decide to shop through the links included, I may earn commission on a sale at no additional cost to you. All opinions are always my own and I only share items I love and think you might too. Thanks for supporting Style Bee!
---
Know what you need and don't require my two-cents? Go forth and glow my friend!
---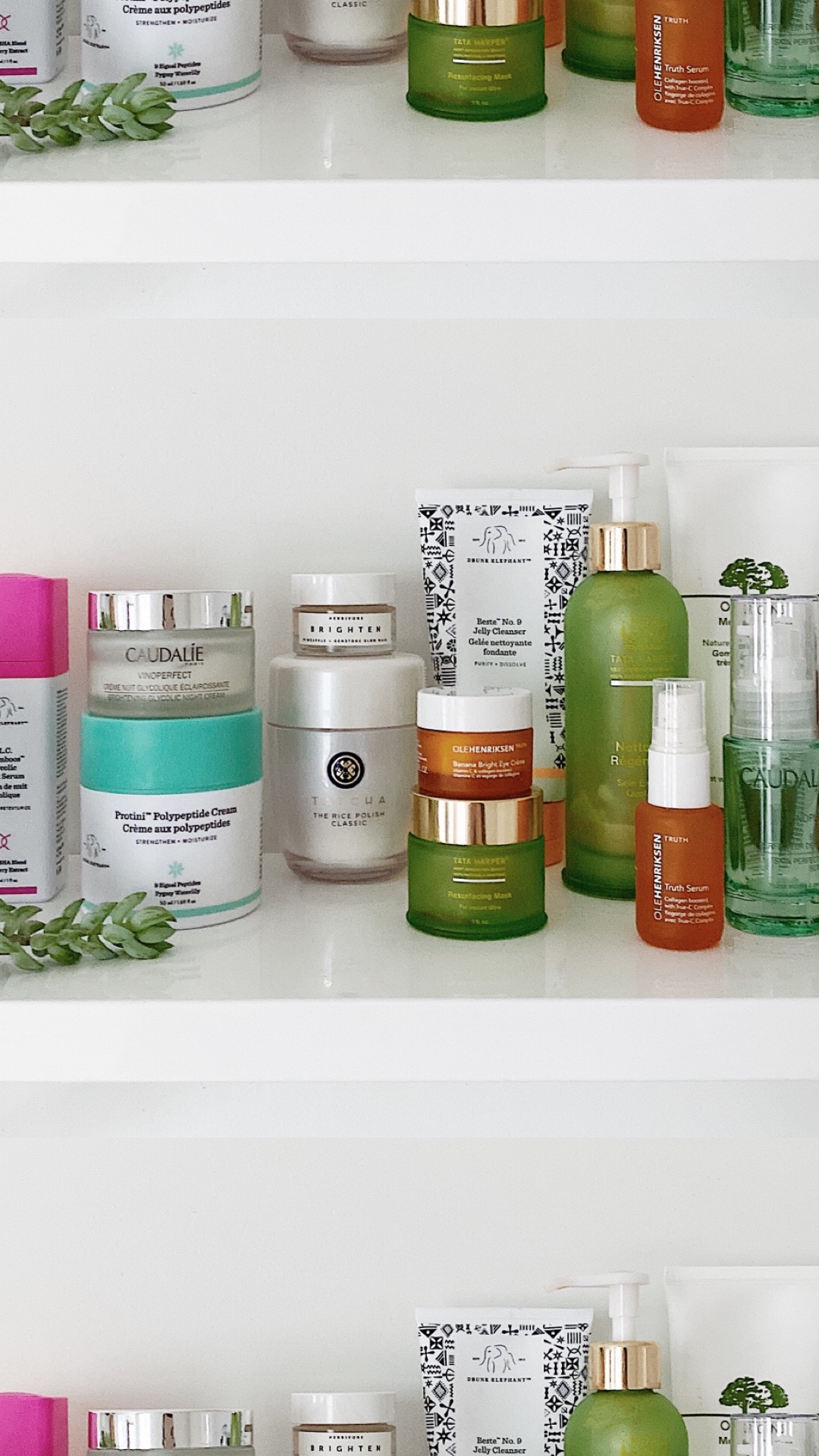 ---
My primary objective for skincare is efficacy and thoughtful ingredients so you'll find almost all of my picks fall under the "Clean at Sephora" banner. However, take that designation with a grain of salt, as "clean" means something different depending on who you talk to. Always check the ingredients and product information to ensure a product adheres to any stipulations you may have.
When it comes to reviews, I take those with a grain of salt as well. I usually find the better way to judge a products is by seeing what the best sellers in a category or from a specific brand are. Reviews can be misleading and since skin care is so individual you can't always go by what a stranger on the internet loves or hates.
To determine if a product is effective I usually give it at least 2-4 weeks of consistent use. I realize people are often after an instant improvement, and sometimes that happens, but typically products need more time. That's why all the products recommended below have been in my regimen for at least 6 months if not several years.
---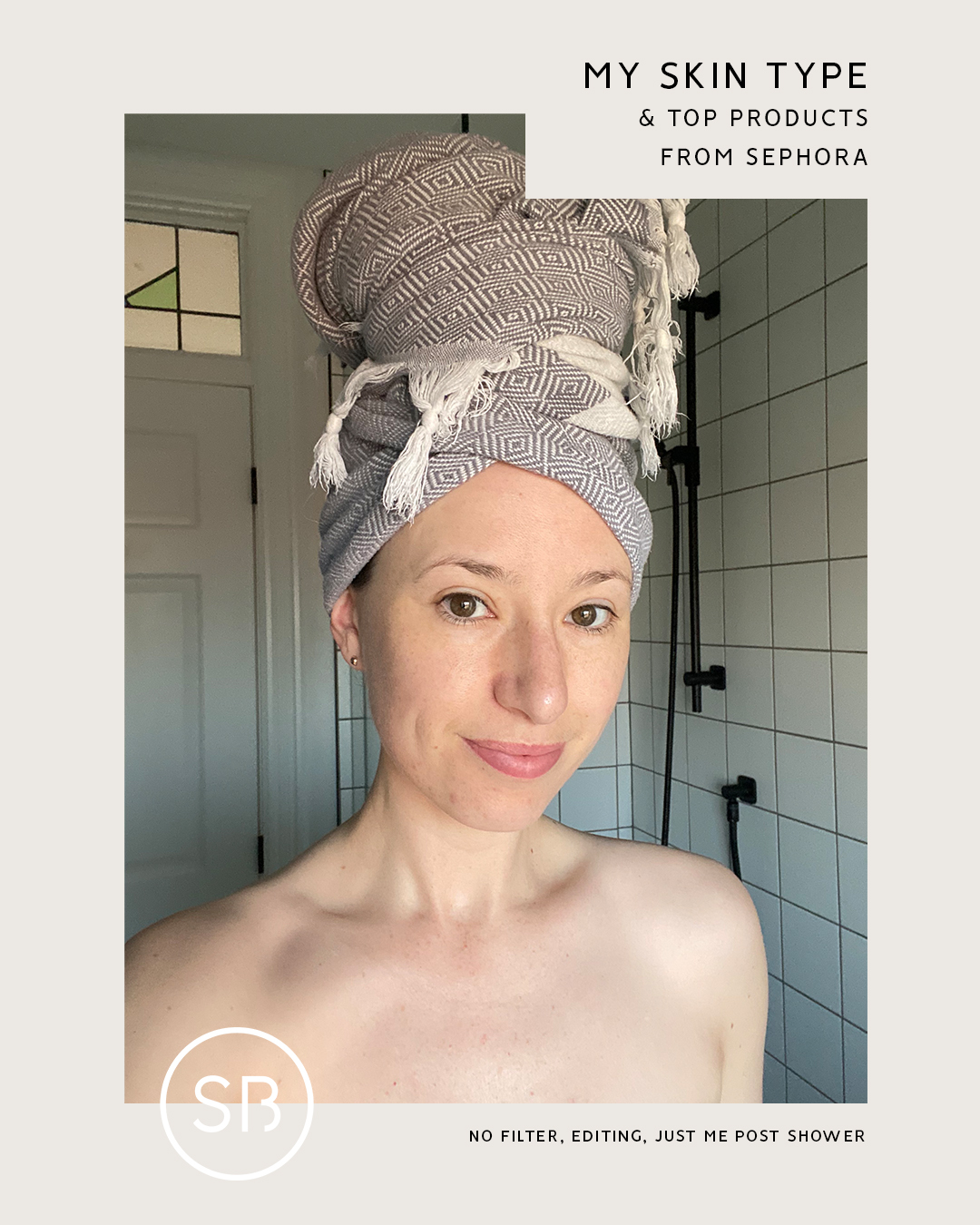 ---
MY SKIN TYPE:
I have combination skin with an oil-prone t-zone and dryness prone cheeks, jaw, and forehead. My skin also runs fairly sensitive so I don't like to switch up my products too often. I get blackheads on my my nose and hormonal breakouts on my chin and jawline. I'll also get occasional congestion breakouts on my cheek if I wear a mask for several hours at a time. Basically, I've always got a fun assortment of skin dilemmas to deal with on any given day.
MY MAIN OBJECTIVES:
Evening Skin Tone, reducing redness & smoothing texture
Overall brightening and reducing under eye circles
Diminishing Dark Spots and pigmentation from acne
Maintaining hydration to minimize fine lines (without increasing oiliness)
Clearing pores and preventing future breakouts
Reducing premature aging with SPF and antioxidant protection
---
NOW LET'S EXPLORE
MY REGULAR GO-TO PRODUCTS FROM SEPHORA
---
CLEANSERS
---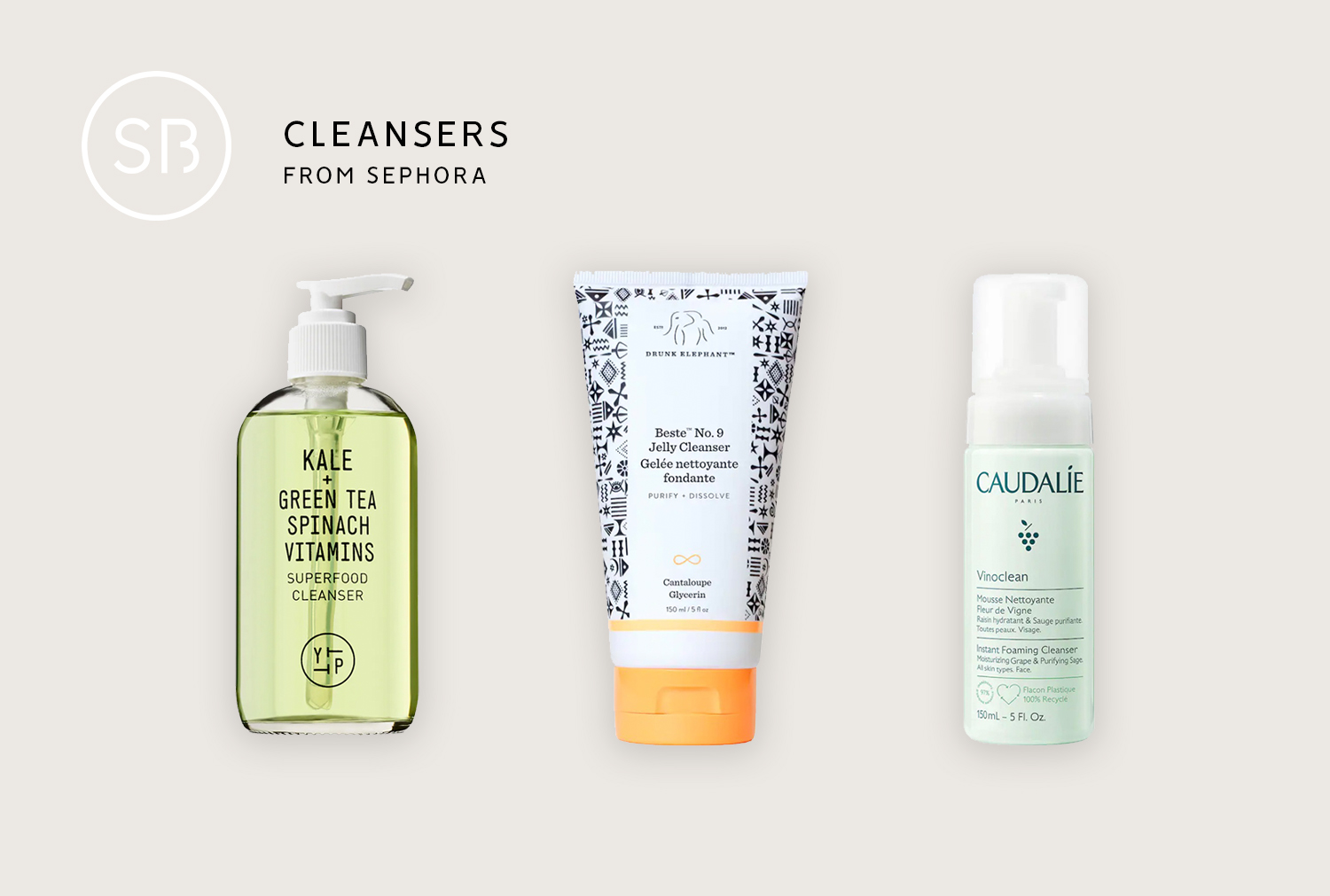 ---

---
( DAY/NIGHT )
This is a rich gel cleanser that's great for all skin types, especially those prone to minimal breakouts. I love how it lathers up and smells really fresh and natural. The formula contains cold-pressed antioxidants to remove makeup, prevent buildup in pores, and support skin's pH balance. It's vegan, cruelty-free, and gluten-free, and comes in recyclable packaging.
I like this one best for the summer when my skin isn't as dry.
Highlighted Ingredients:
Kale: Rich in skin-loving phytonutrients and vitamins C, E, and K to support skin and leave it visibly glowing.
Spinach: A lightweight skin soother with cooling properties and rich with conditioning essential fatty acids.
Green Tea: An antioxidant-rich powerhouse that fights visible signs of aging
It also comes in a mini size so you can test it first.
---
( DAY/NIGHT )
My husband and I have been using this cleanser for about a year now and we both really like it. This formula is a lighter gel but still offers a gentle lather without ever leaving your skin feeling stripped. It easily removes makeup, excess oil, pollution, and grime that rinses away without residue, leaving skin clean and soft. It's also vegan and cruelty-free.
Highlighted Ingredients:
Mild Surfactant Blend: A stack of mild cleansing agents, including coconut-based surfactants rich in fatty acids that work together to create a gentle lather that effectively dissolves even stubborn makeup, sunscreen, and oils while supporting a healthy-looking skin barrier.
Glycerin: A skin-identical humectant that replenishes hydration levels normally lost during the cleansing process.
Cantaloupe Fruit Extract: Rich in antioxidants, this extract soothes and hydrates.
This one is great year-round and one 5 oz/ 150 mL tube lasts a long time, even with two people using it daily.
---
( DAY/NIGHT )
This is my go-to cleanser for whenever I'm fighting a breakout or while I'm travelling (which always disrupts my skin). It is true to it's name and foams instantly. It leaves my skin feeling calm and visibly reduces inflammation and redness. It is vegan and comes in recyclable packaging.
Highlighted Ingredients:
Grape Water: Provides antioxidant hydration and visibly increases radiance.
Chamomile: Calms, soothes, and visibly reduces redness.
Sage Extract: Purifies, tones, and cleanses impurities.
I like this one in the winter as it doesn't leave my skin feeling too dry.
---
A NOTE ON MY CLEANSING: I like to do the whole double cleanse thing at night, especially after wearing any makeup, and typically start with this oil cleanser and follow with one of those above.
---
EXFOLIANTS
---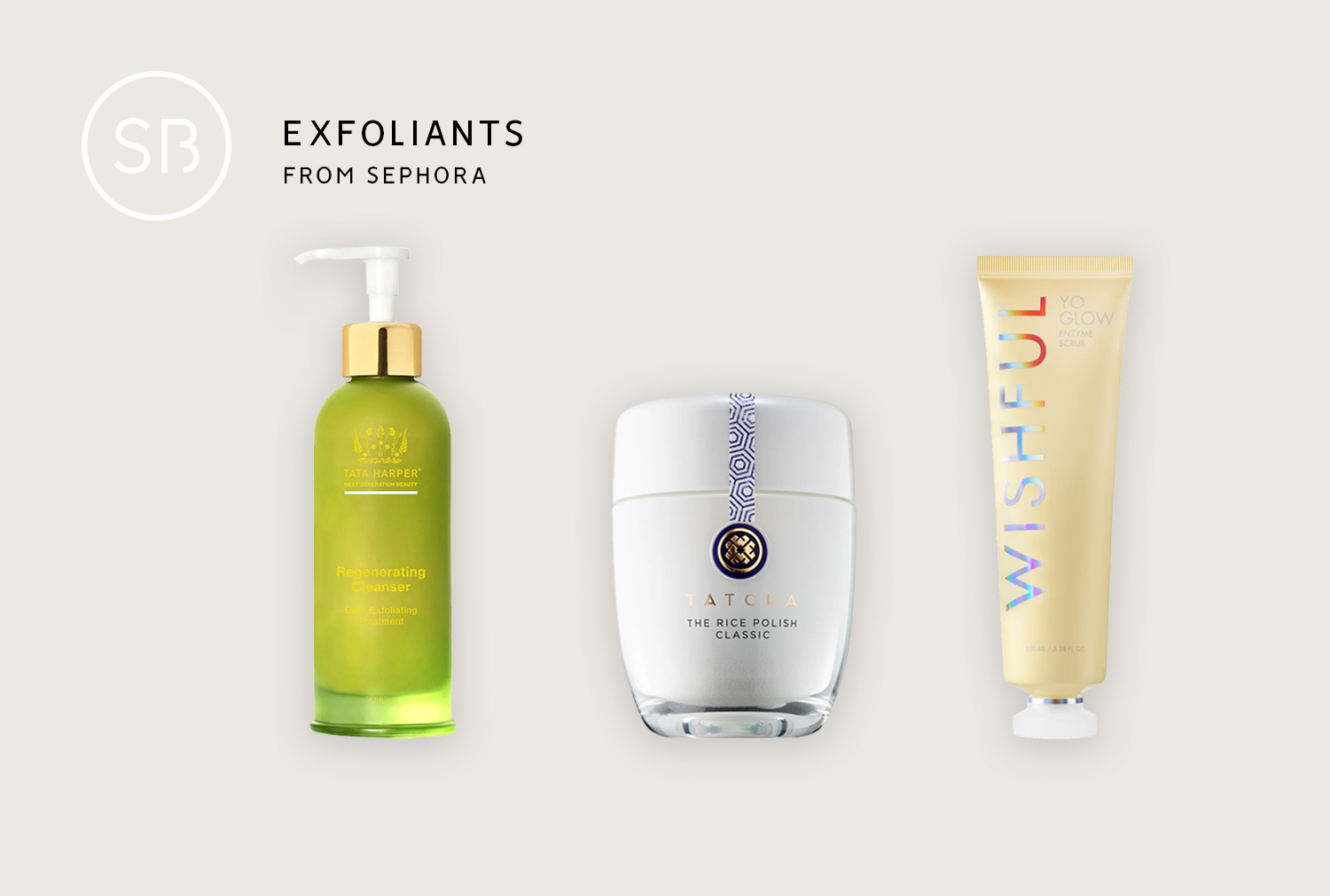 ---

---
( 3-5x WEEK )
This is another summer and travel essential in my skin care routine. It's gentle enough to use on a regular basis and always leaves my skin feeling soft, smooth and refreshed. My husband uses this too and loves it (although I have to hide it since I caught him using it as a body wash, she's too pricey for that!). It's not stripping or drying and actually leaves my skin feeling nourished.
Highlighted Ingredients:
Apricot Microspheres: Provides exfoliation to smooth texture.
Natural BHA from White Willow Bark Extract: Cleans and clears the look of pores.
Olive Oil Liquid Crystal Complex: Moisturizes and softens skin.
This also comes in a mini size, which is perfect for testing out or travel and lasts a pretty long time!
---
( 3-5x WEEK )
This is a really beautiful product for folks battling clogged pores that also have sensitive skin. It's gentle enough (I use the Classic) to use daily and the texture is such a pleasure to massage into the skin. It's a water-activated exfoliant of nourishing Japanese rice bran that transforms to a creamy foam for smooth, polished skin. It never leaves my skin feeling raw, stripped or dried out.
It's a shame they don't offer a smaller size for testing (aside from a multi-pack) however one of these jars will last you for ages as you only need a small amount to get a good lather.
---
( 2x WEEK )
The texture of this scrub is unlike anything else I've tried. I love using this on my face, neck and décolletage before hoping in the shower. It's amazing for refining skin texture and unclogging pores. I feel like it really delivers on the glow front too.
Highlighted Ingredients:
Papaya Fruit Extract: Smooths skin and increases clarity for a radiant glow.
Pineapple Fruit Extract: Gently exfoliates, reduces the look of dark spots, and soothes skin.
BHA and AHA: Exfoliates dead skin cells, reduces the look of dark spots, and smooths skin texture and complexion.
A few different sizes are available.
---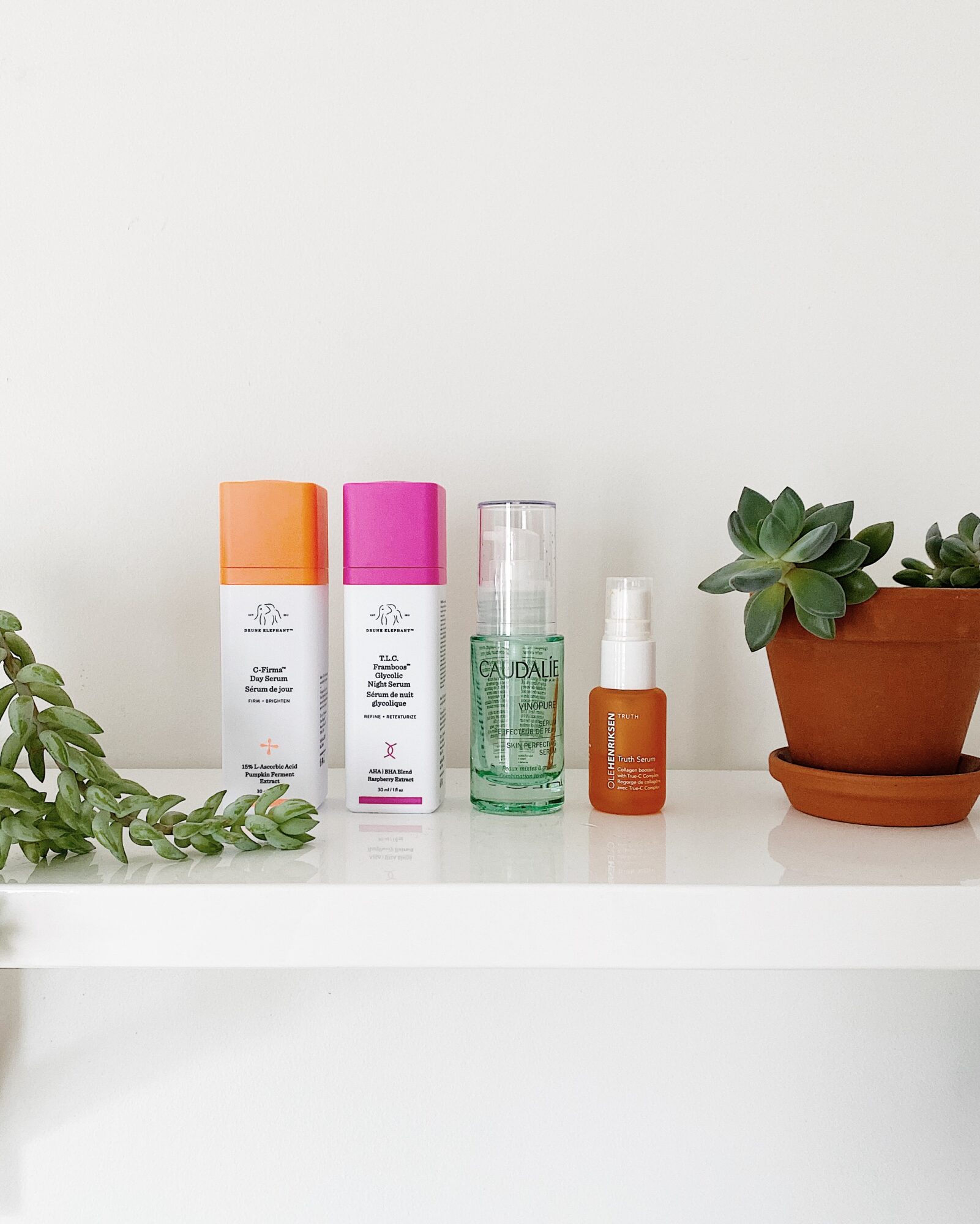 ---
TONERS & SERUMS
---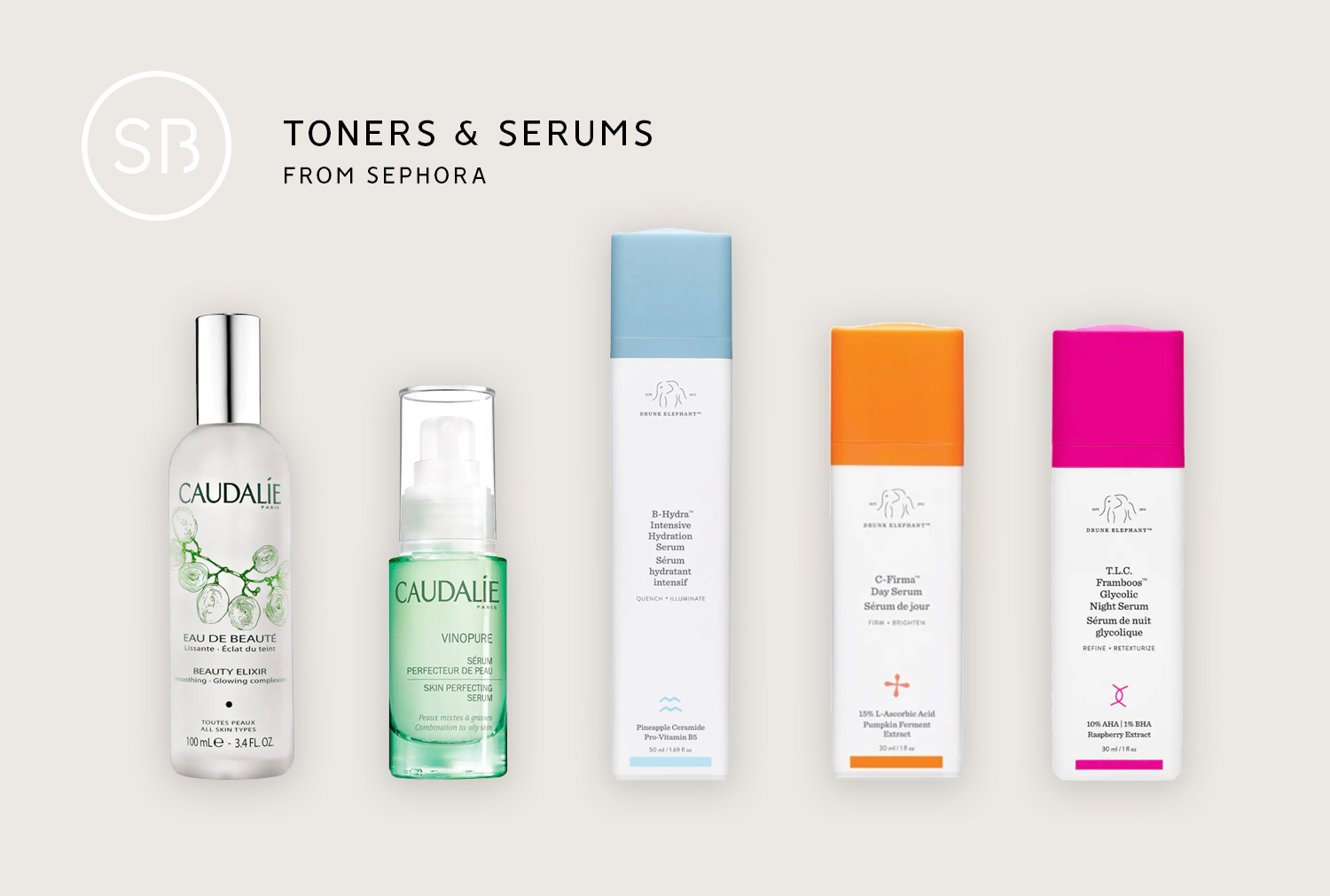 ---

---
( DAY/NIGHT )
This is one of those cult favourite products you see a lot of beauty bloggers mention and I feel that it lives up to the hype. I love how it instantly reduces my pores and brightens my skin. I like to spritz it on in the morning after cleansing, to set my makeup or during the day when I feel like I could use a boost. The scent contains mint, rose and rosemary which is therapeutic and invigorating.
Also available in a mini size in case you just want to try it.
---
( DAY/NIGHT )
This is a really great serum for folks who are working on correcting hyperpigmentation, whilst combatting breakouts. I use this in the summer season when my skin is naturally more oily and when I'm using more sunscreen throughout the day. It goes on so smooth and soaks in instantly and wears really well under makeup. This is a vegan product.
Highlighted Ingredients:
Natural Salicylic Acid (Derived from Wintergreen): Tightens clogged pores, draws out excess oil, and bacteria, and refines skin texture.
Grape Seed Polyphenols: Provide antioxidant protection and prevents blackheads.
Complex of Essential Oils Formulated with Carrier Oils (Spearmint, Geranium, Lemongrass, Lavender, Rosemary, and Lemon Balm): Provide antiseptic and calming properties to skin that will diminish the appearance of blemishes and prevent new ones from occurring. 100 percent natural, non-photo-sensitizing, noncomedogenic, and antibacterial.
---
( DAILY )
You've probably heard the term "Hyaluronic Acid" used as a "must-have" in your skin care regime and this product is a great option. I used this all winter this year and it definitely made a difference on areas of my face that tend to run dry (cheeks and forehead). It goes on super silky smooth and soaks in right away. It's essentially a cool drink of water for thirsty skin, replenishing the complexion and improving the look of skin texture and tone. This product is vegan and cruelty-free.
Highlighted Ingredients:
Pineapple Ceramide: Boosts luminosity and improves the appearance of skin's texture and tone.
Provitamin B5: As a humectant, it attracts hydration to the skin and holds it there, visibly improving skin's barrier function.
Sodium Hyaluronate: With a smaller molecular weight than hyaluronic acid, it is able to penetrate skin and deliver intense hydration to reduce the appearance of fine lines and wrinkles and promote visible firmness.
---
( GRADUALLY TO DAILY )
I keep trying out vitamin C serums to see if I can't top this and have yet to do so. It has some mixed reviews, but I've used it for several years now and I think it's amazing. It's very potent and took some time for my skin to get used to it. I added it into my routine gradually, but it has made a huge difference in the brightness, firmness and evenness of my skin overall. It also works really well to reduce dark spots.
Highlighted Ingredients:
Potent Antioxidant Complex (15% L-Ascorbic Acid and Ferulic Acid and 1% Vitamin E): Firms and brightens the look and feel of skin while minimizing the visible signs of photoaging from pollution and other environmental stressors.
Pumpkin Ferment and Pomegranate Extract: These ingredients work together to enzymatically dissolve dead surface skin cells, minimizing the appearance of pores.
Chronocyclin: A chronopeptide that mimics the antioxidant benefits of vitamin D for more youthful-looking skin.
---
One alternative Vitamin C option I'd recommend is The Truth Serum by OleHenrikson. Is has a lovely citrus scent and is more of a gel serum than an oil one. It's not as effective or potent but does brighten and plump the skin.
Another alternative worth trying is the REN Glow Daily Vitamin C Gel Cream. It's a creamy texture with a mild scent and I've found it very approachable for sensitive skin.
---
( NIGHTLY )
This is another one I've used consistently for years and really love. I put it on before my retinol and moisturizer. This is an AHA/BHA night serum that resurfaces congested skin by lifting away dead skin cells to visibly improve skin tone, texture, fine lines, wrinkles, and pores. I love that it's a two-in-one product that's both a chemical exfoliant and penetrates deep into the skin to resolve clogged pores.
Highlighted Ingredients:
T.L.C. Framboos™ AHA Blend: Resurfaces and exfoliates skin for a smoother-, more even-looking complexion.
Salicylic Acid (BHA): Loosens sebum to unclog pores while soothing skin.
Raspberry Fruit Extract: Rehydrates and soothes skin with antioxidants.
---
EYE CREAM | RETINOL
---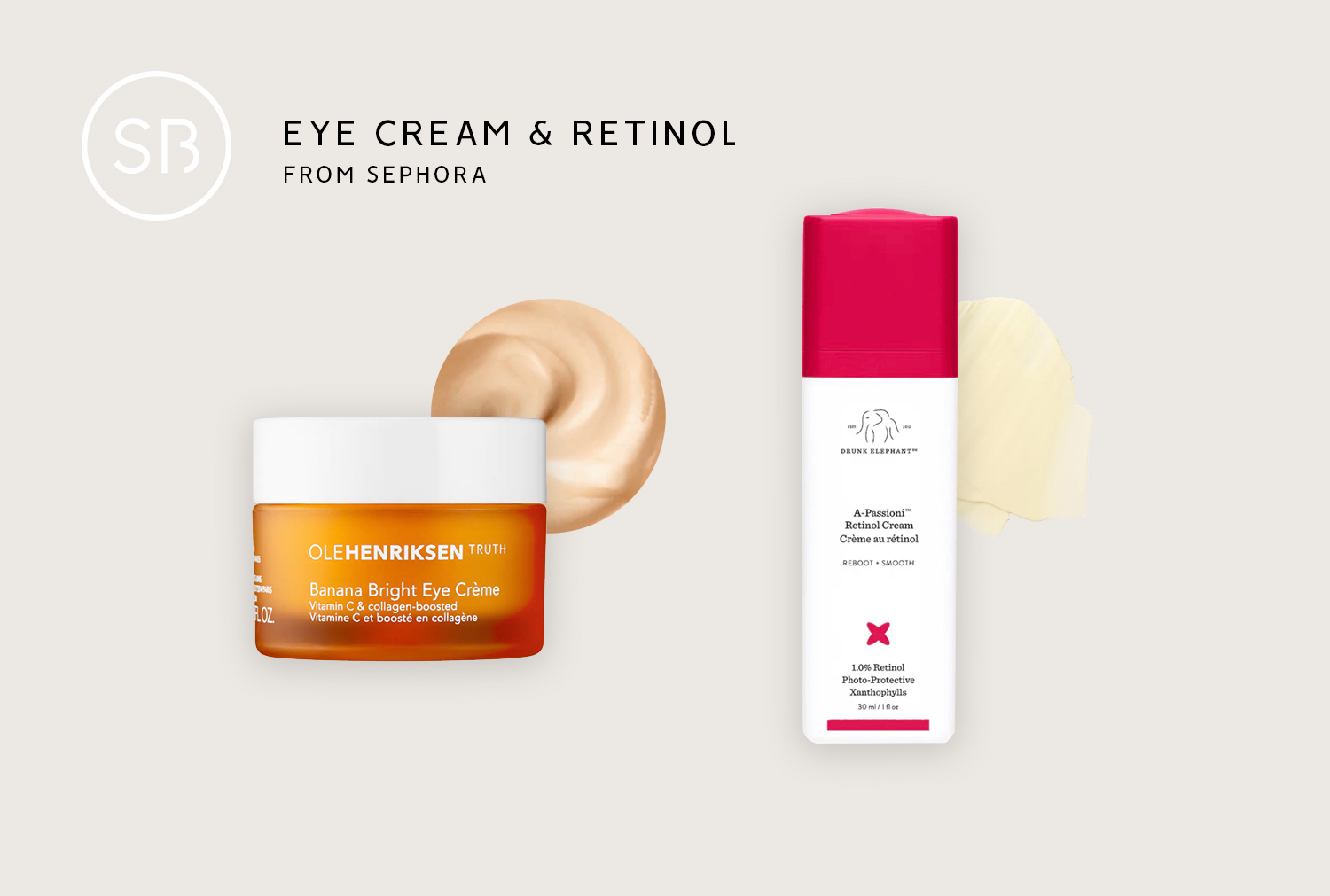 ---

---
( MORNING/NIGHT )
I've tried lots of eye creams and almost always find that they leave me with milia around my outer eyes, which drives me nuts. This is one of very few products I've found that doesn't cause that and also works effectively to reduce puffiness and decrease the darkness under my eyes. It's instantly soothing and cooling on the skin and you can feel it working right away. It also sits well under concealer as it's very lightweight.
Highlighted Ingredients:
Collagen-boosted, it firms and deeply hydrates even as it feels deliciously lightweight.
It is formulated with powerful vitamin C to help revive and illuminate the entire eye area over time.
Inspired by the makeup artist must-have—"banana powder"—this subtly sunny cream contains special pigments to instantly brighten and color-correct the eye area.
---
( NIGHT 2x WEEK )
This is the first retinol cream I'd ever tried and I definitely had to ease into it with once a week use. Once my skin adapted to more frequent use (about 2-3x times per week) I started seeing some significant differences in my sun damage and acne scarring around my jawline. I ran out of it a little while ago but have it in my cart for a restock.
Highlighted Ingredients:
1.0% Retinol: Improves the look and feel of uneven skin tone and texture while warding off damage.
Triple-Peptide Blend: Helps visibly firm and strengthen, boosting the age-fighting benefits of retinol.
Vitamin F: Fatty acids work to improve the look of texture and suppleness and help calm skin.
This product is vegan, cruelty-free, and comes in recyclable packaging.
---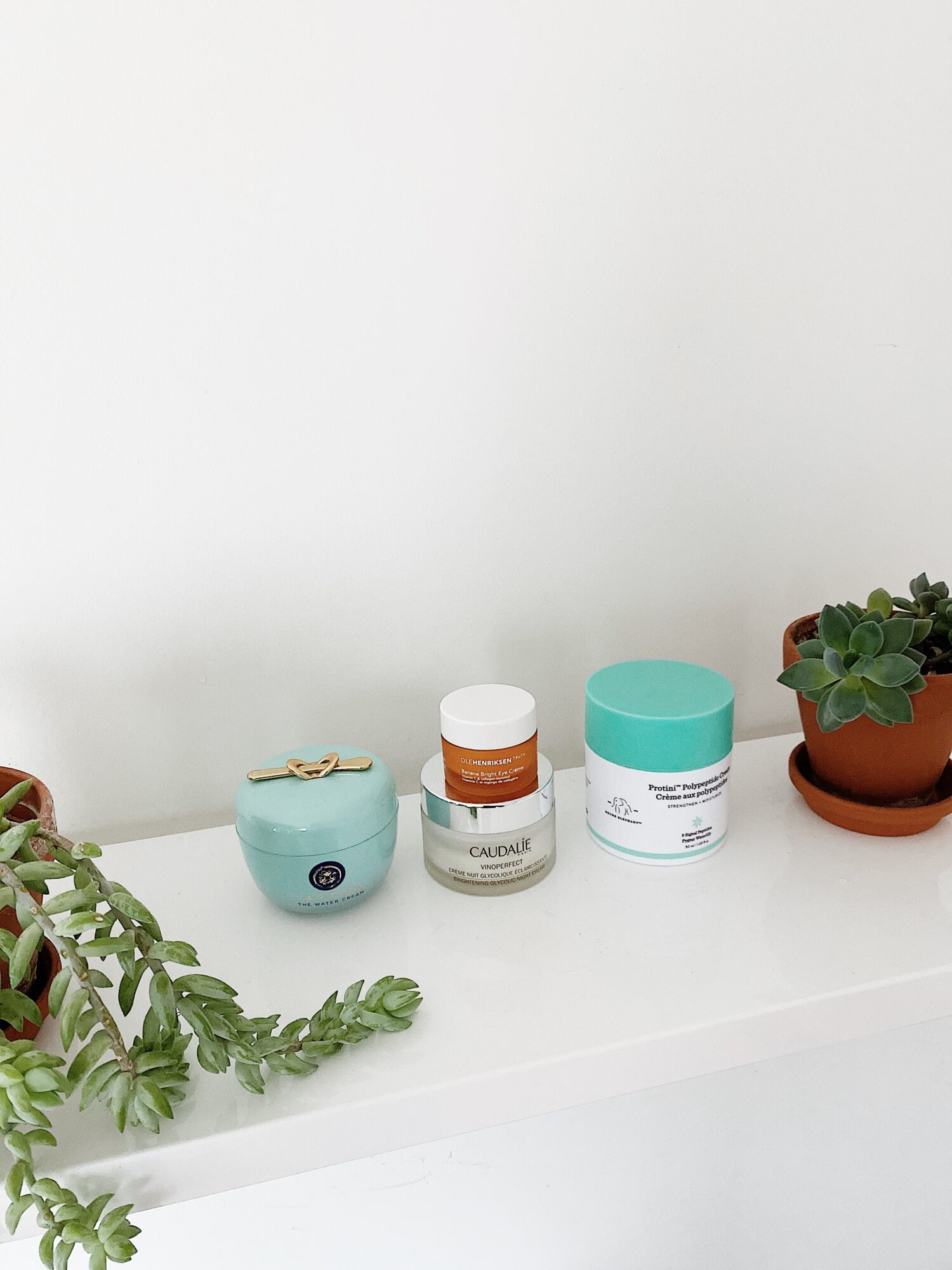 ---
MOISTURIZERS | LIP BALM
---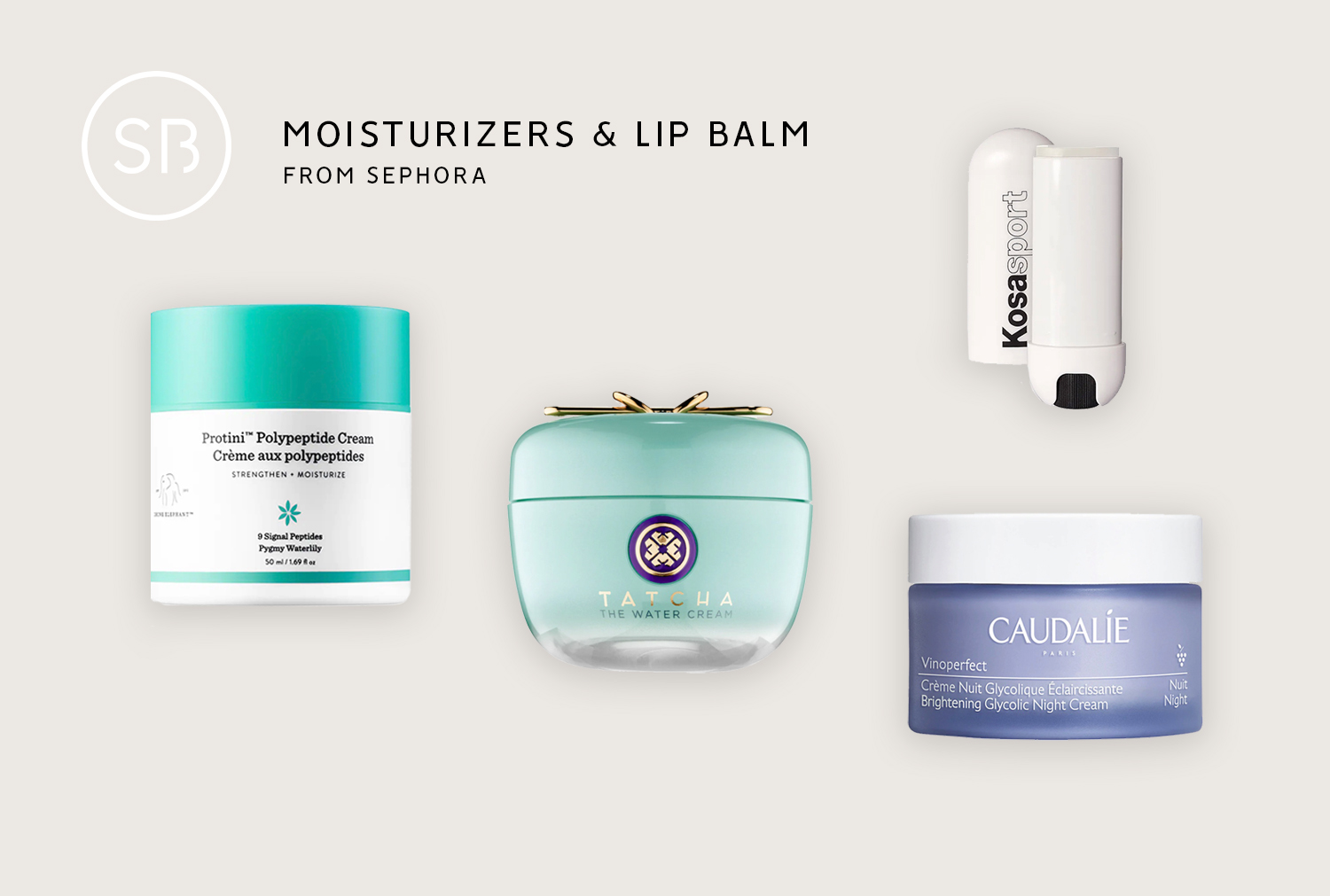 ---

---
( MORNING/NIGHT )
This is another product I share with my husband who also has sensitive skin but leans more on the dry side than I do. I adore this moisturizer and I've lost count of how many times I've ordered it. The texture is incredibly smooth and it wears beautifully under makeup. It never leaves my skin feeling greasy and simultaneously helps to balance the dry and oily parts of my skin. It's a protein moisturizer that combines signal peptides, growth factors, amino acids, and pygmy waterlily to visibly improve skin's tone, texture, and firmness.
Highlighted Ingredients:
Signal Peptide Complex (Growth Factors): Nine signal peptides (made up of amino acids, which form proteins in the skin) bind moisture to skin—visibly plumping, firming, and restoring bounce.
Pygmy Waterlily Stem Cell Extract: An excellent source of antioxidants and nutrients to replenish the skin; extremely moisturizing, soothing, and calming; and effective in supporting healthy-, youthful-looking skin.
Soybean Folic Acid Ferment Extract: This B vitamin plays a central role in maintaining youthful-, elastic-looking skin. Skin is thirsty for folic acid, especially after exposure to sun.
It comes in a few size options for testing, travel or buying in bulk (like I do!).
---
You've probably noticed I like a number of Drunk Elephant products but they're also pretty pricey. If you want to test any out I'd highly recommend starting with The Drunk Elephant Littles Collection, which includes everything I mentioned and several more. It's how I got to know the brand and fell in love.
---
( MORNING )
This is a really great lightweight moisturizer for the summer or for folks with oily skin. It soaks in beautifully and wears really well under makeup. It doesn't feel the least bit tacky or greasy. It's not hydrating enough for me in the winter but I love it in the summer months.
It clarifies and refines skin with pure, powerful Japanese botanicals:
Japanese wild rose visibly tightens pores and smooths skin texture;
Japanese leopard lily helps control excess oil and purify skin by supporting natural skin turnover
Hadasei-3—an anti-aging trinity of green tea, rice, and algae—restores healthy-looking radiance.
This product is available in different sizes so you can test them out!
---
( NIGHT )
This has been my essential night cream for a couple of years and it's truly amazing. If all you can muster is a face wipe and a swipe of this cream you'll still wake up with a bright, glowing complexion. It's definitely rich but it's so smooth and the skin absorbs it throughout the night so you wake up with a much more even tone and visibly reduced dark spots right away.
Highlighted Ingredients:
Patented Vine Sap-Derived Viniferine: An ingredient 62 times more effective than vitamin C that visibly brightens, diminishes dark spots, and evens skin tone.
Glycolic Acid: Refines the look of skin texture.
Natural Papaya Enzymes: Exfoliate and visibly brighten skin.
This product is vegan, gluten-free, cruelty-free, and comes in recyclable packaging.
---
( DAILY )
This is by far the best lip balm I've ever used. It keeps my lips feeling hydrated overnight and I wake up with a fuller pout than I went to bed with every time! I wear it under my other KOSAS lipstick and never end up with flakey, dry lips. I definitely recommend it and love the pigmented options too, although they're not as moisturizing.
Highlighted Ingredients:
Ultra-Hydrating Hyaluronic Acid: Attracts water and locks in hydration.
Energizing Wild Mint: Provides a stimulating scent known to help support energy and focus.
Protective Konjac Root: Acts as an environmental barrier.
This product is cruelty-free and gluten-free, and comes in recyclable packaging.
---
MASKS
---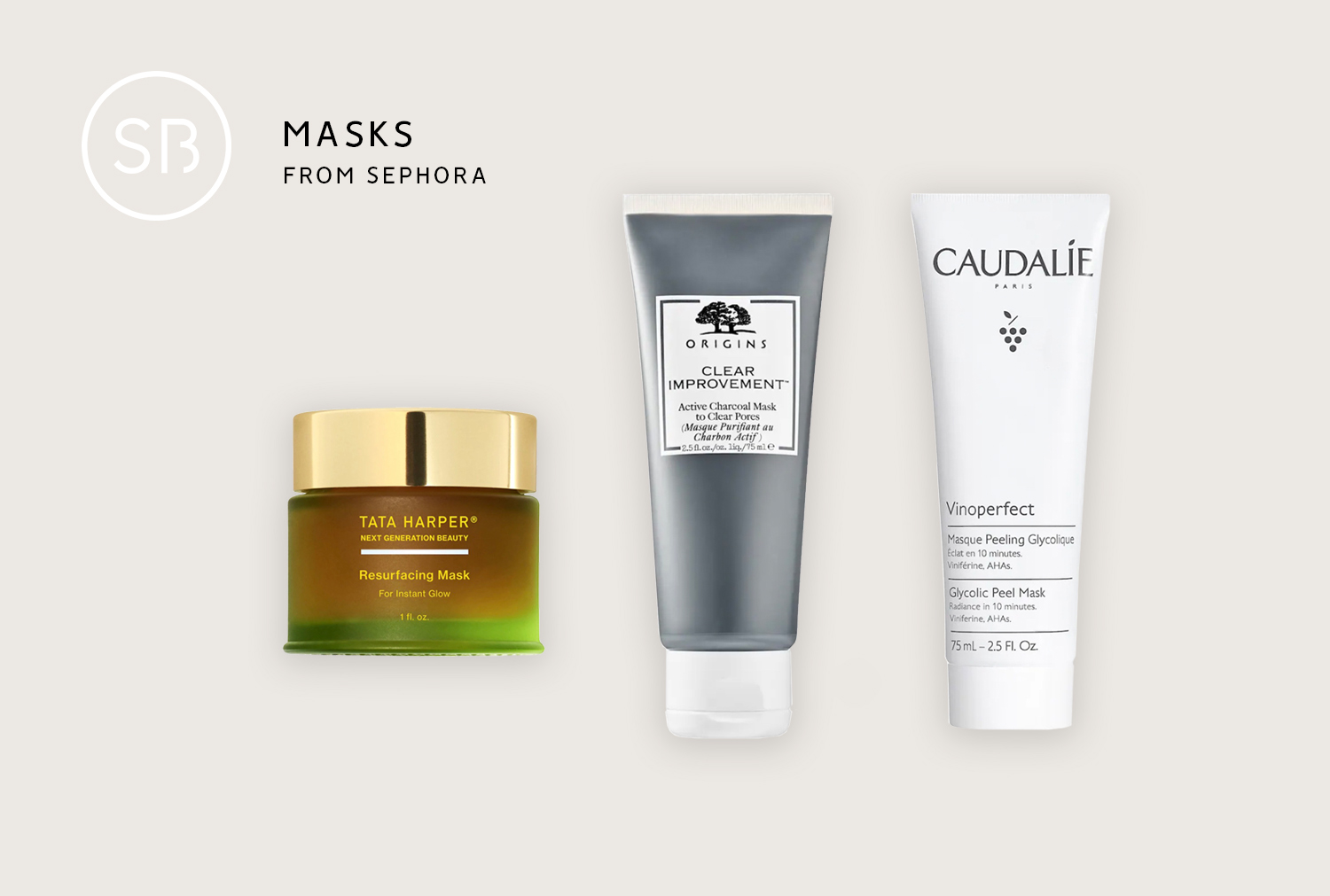 ---

---
(1x WEEK)
If there is only one thing you try from my entire list of recommendation, let it be this mask. It is the BEST mask I've ever used at home and genuinely makes a significant difference after use. I use it before any important photoshoots or when I just feel like my skin needs a good reset. It's also a great spot treatment and works wonders on dark spots if left on overnight. I cannot recommend this one enough!
Highlighted Ingredients:
Natural BHA from White Willow Bark Extract: Provides chemical exfoliation that cleans, clears, and minimizes the look of pores.
Pomegranate Enzymes: Sloughs off dead skin cells and smooths uneven skin texture.
Pink Clay: Gently absorbs oil and buildup to refines pores.
Free of toxins, fillers, artificials, synthetics, and GMOs. This product is vegan, cruelty-free, and comes in recyclable packaging.
---
( 1x WEEK )
I used this one to tackle blackheads on my nose and T-zone. It does the trick and works best if I apply it after a little steam in the shower or by laying a hot washcloth over my face for a few minutes to open the pores.
Active Charcoal helps flush out environmental toxins, dirt, and debris that can clog pores and cause skin to look dull—leaving the complexion clarified, refreshed, and healthier-looking.
Bamboo charcoal removes excess oil that could lead to blackheads, white China clay absorbs environmental toxins and lecithin dissolves impurities.
---
( 1-2x WEEK )
This is a great option if you're short on time. It's gentle but effectively brightens and evens out the skin tone. I like to use it once or twice a week in the morning before I shower on days when I'm shooting.
Highlighted Ingredients:
Patented Vine Sap-Derived Viniferine: An ingredient 62 times more effective than vitamin C that visibly brightens, minimizes dark spots, and evens skin tone.
Glycolic Acid: Visibly refines skin texture.
Natural AHA: Exfoliates dead skin cells.
---
SPF
---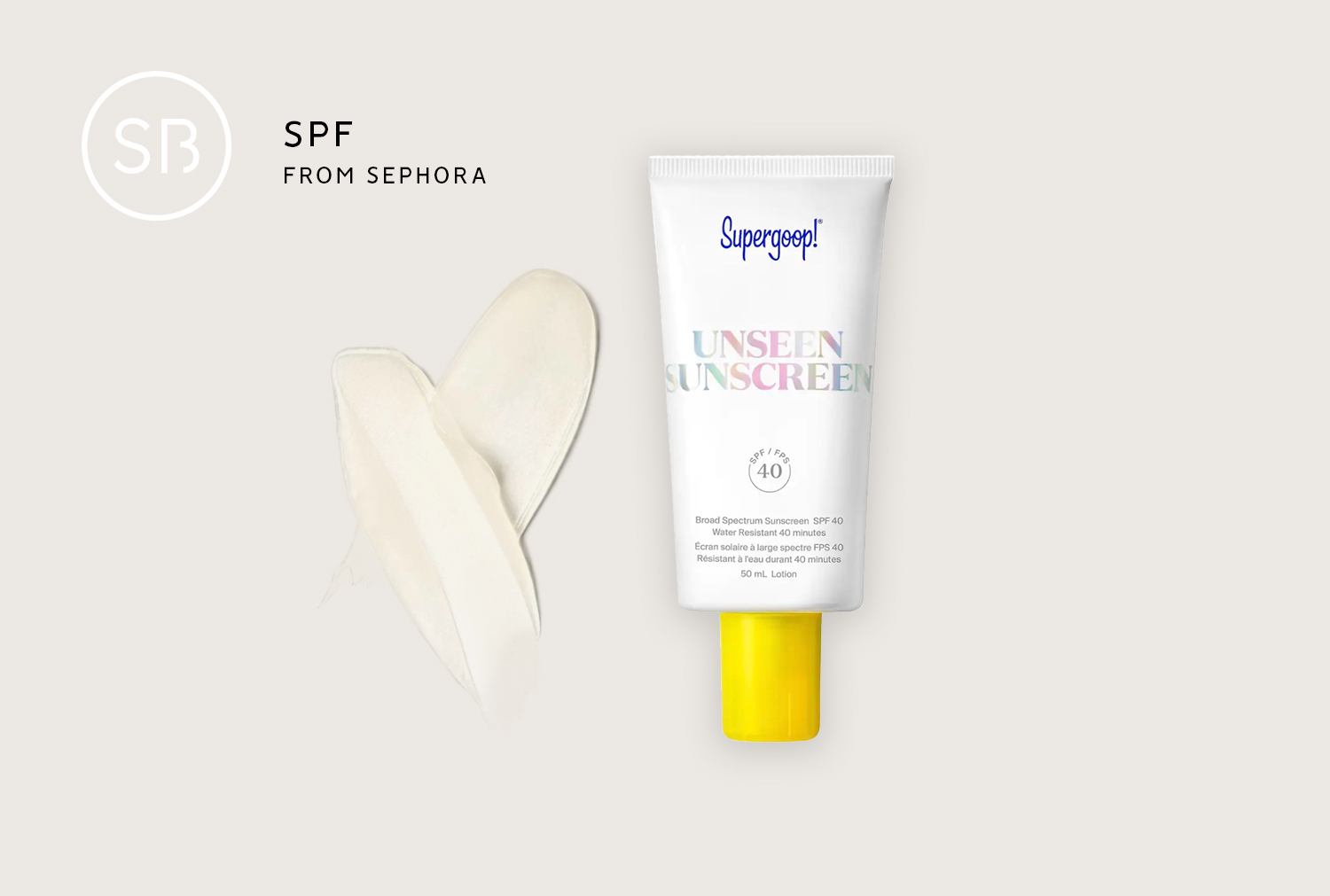 ---

---
( DAILY )
We all know the drill, SPF goes on EVERY. DAMN. DAY. So having one that you like is critical. This is another product I share with the fella (who used to have a reaction to anything he tried) and we both swear by it. The unique oil-free formula glides onto skin providing shine control and leaves a velvety, makeup-gripping finish. It goes on like a dream and doesn't leave a white cast. It feels like a make-up primer more than a sunscreen.
Highlighted Ingredients:
Complex Derived from Meadowfoam Seed: Increases hydration levels, resulting in a more even skin texture.
Red Algae: Helps protect against blue light emitted by electronic devices.
Frankincense: Provides a soothing effect.
What Else You Need to Know: This innovative, antioxidant-rich SPF primer preps skin for makeup while providing broad spectrum SPF 40 and protection from blue light, the light emitted from our phones and computers.
This product is vegan, cruelty-free, reef-safe, and gluten-free.
---
2 BRANDS I'M CONSIDERING TESTING
Straight forward ingredients at an approachable price point
High performance, nontoxic and sustainable ingredients.
---
IN CASE YOU NEED IT
---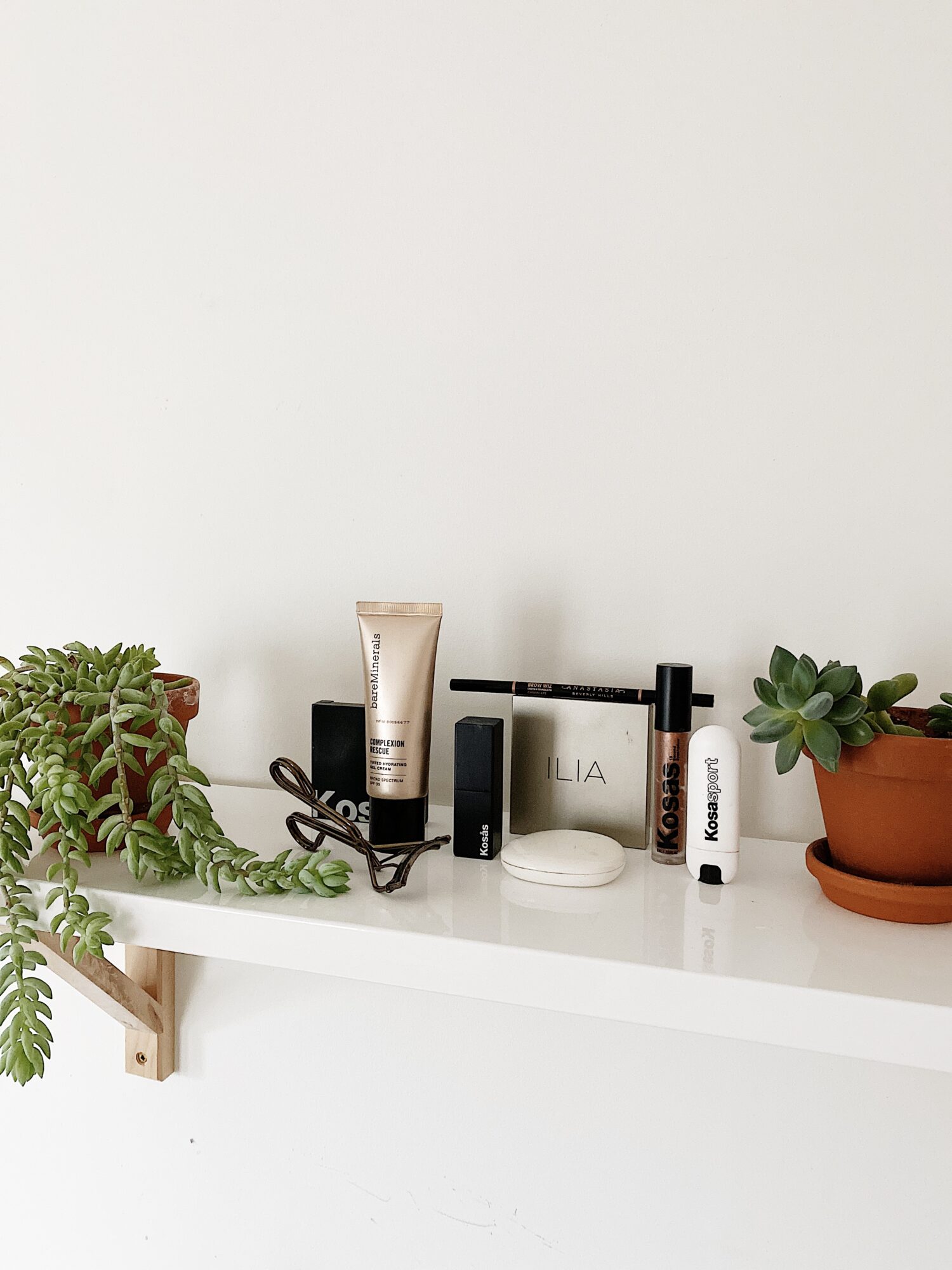 ---
MAKE UP
---
As I'm sure is the case for many of you, I haven't been buying or wearing a lot of make up throughout the last year. However, I do were make up for photoshoots and the occasional Zoom call so I've kept my essentials stocked. See my top picks below!
---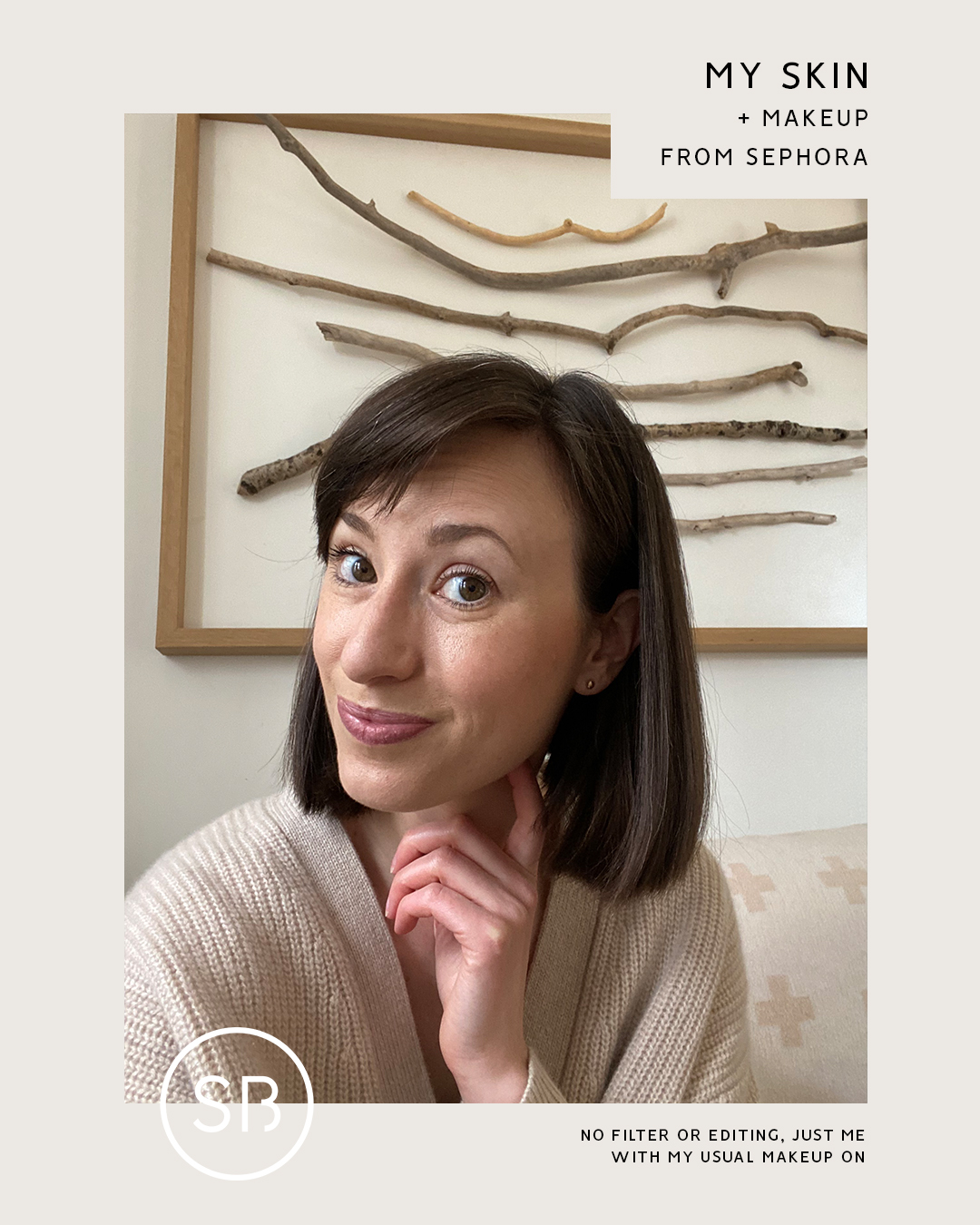 ---


---
BARE MINERALS – COMPLEXION RESCUE™ Tinted Hydrating Gel Cream
( I wear Vanilla 02 )
BARE MINERALS – BAREPRO® 16-Hr Full Coverage Concealer
( I wear FAIR/LIGHT Neutral 3 )
ILIA – Liquid Light Serum Highlighter in NOVA
RMS Beauty Tinted UN-Powder in 0-1
ILIA – Multi-Stick Cheek & Lip in Lady Bird
ILIA – Limitless Lash Lengthening Mascara
Laura Mercier – Artist Eyelash Curler
KOSÅS – 10 Second Liquid Eye Shadow in Globe
ILIA – Necessary Eye-Shadow Palette in Neutrals
KOSÅS – Lip Fuel Hyaluronic Lip Balm in Pulse
KOSÅS – Weightless Lip Colour in Undone & Rosewater
( See my in depth look at this lipstick line here. )
---
I HOPE THIS POST WAS HELPFUL IN POINTING YOU TO SOME GOOD SKIN CARE & BEAUTY OPTIONS!
If you have any questions about the products noted above, let me know in the comments and I'll do my best to answer them asap!