Today we're shifting gears a little bit with a post about making space for creative practice. I'm so excited to be chatting with my friend Alexa Mazzarello (@alexamazzarello), a talented portrait and fashion photographer based in Ottawa, who's joining us to share a thing or two about making creativity a daily habit.
I first heard about the 100 Day Project through Alexa, when she started sharing her beautiful diptychs – which, in photography, means two images combined into a single frame – and I was highly intrigued. As you'll soon see, Alexa's work is strikingly beautiful, vibrant, and rich with interest and perspective.
As we head into summer, it's the perfect time to make small shifts to help enrich our day-to-day lives, and creative projects often do just that!
Read on for:
More about the 100 Day Project
Alexa's discoveries and favourite pieces.
Tips to build a creative practice into your daily life.
PLUS: If you're local to Ottawa, Toronto or Montreal, Alexa is an incredible portrait photographer so be sure to check out her services (more below) which are guaranteed to elevate your professional presence.
---
The images throughout this post are by Alexa Mazzarello and have been used with permission. If you love Alexa's work, you can buy her latest book APART at the end of the post.
---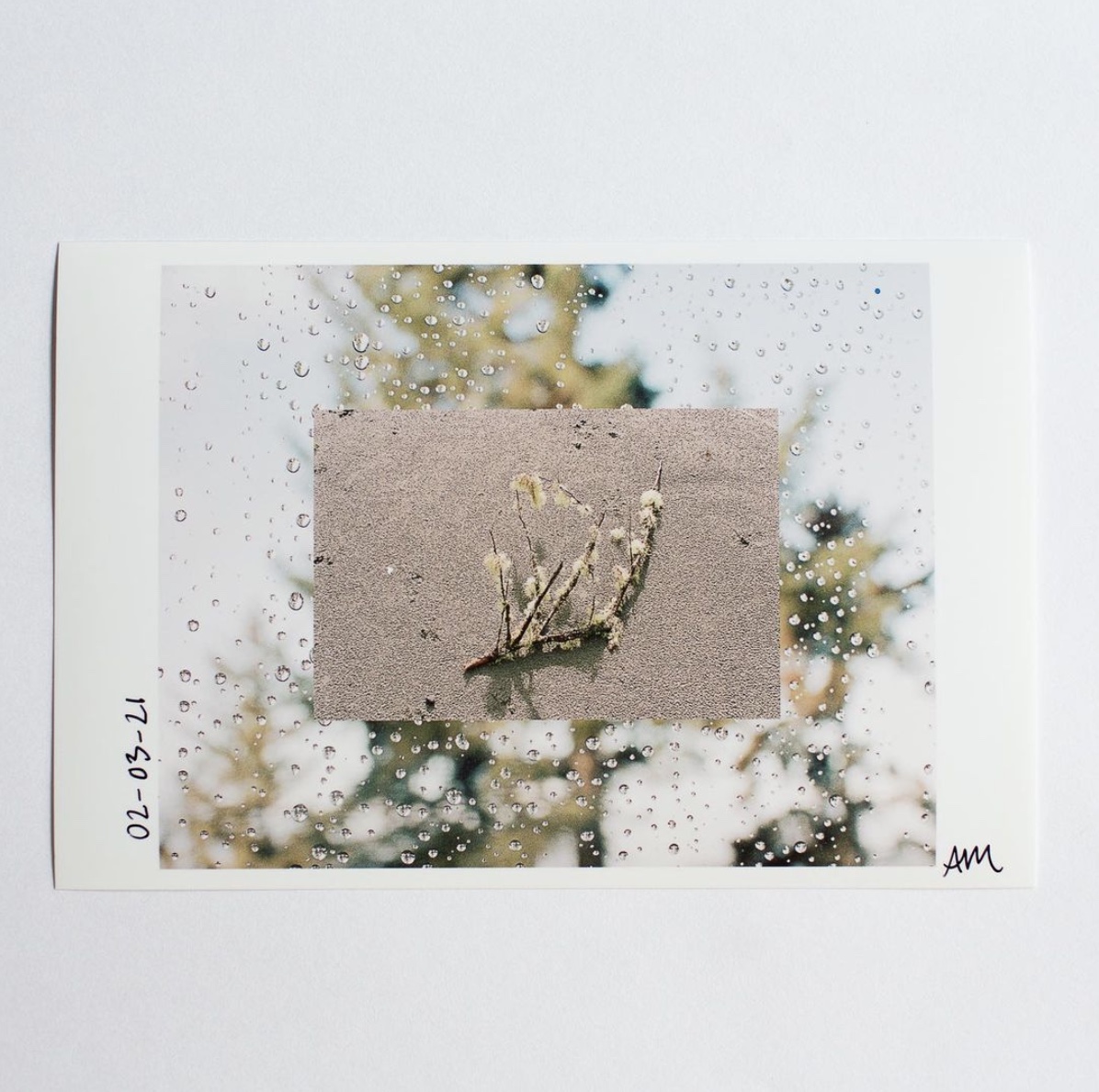 ---
Q: WHAT IS THE 100-DAY PROJECT?
---
ALEXA: The 100 Day Project is a free, global art project started by Lindsay Jean Thomson, a writer and artist.
I'd known about the 100 Day Project for a few years through a friend and fellow artist Amanda Sandlin. She has participated for a few years in a row – she's someone who is very committed to her art practice and had also pivoted from design-only to painting in recent years. This year when I saw her post about the 100 Day Project starting in a week, I felt it was a year I really wanted to join.
The idea is simple: choose a creative project, do it every day for 100 days, and share your process online. You can start any time but there are collective sessions that you can join to participate alongside other creatives from all over the world. See more @dothe100dayproject #The100DayProject
---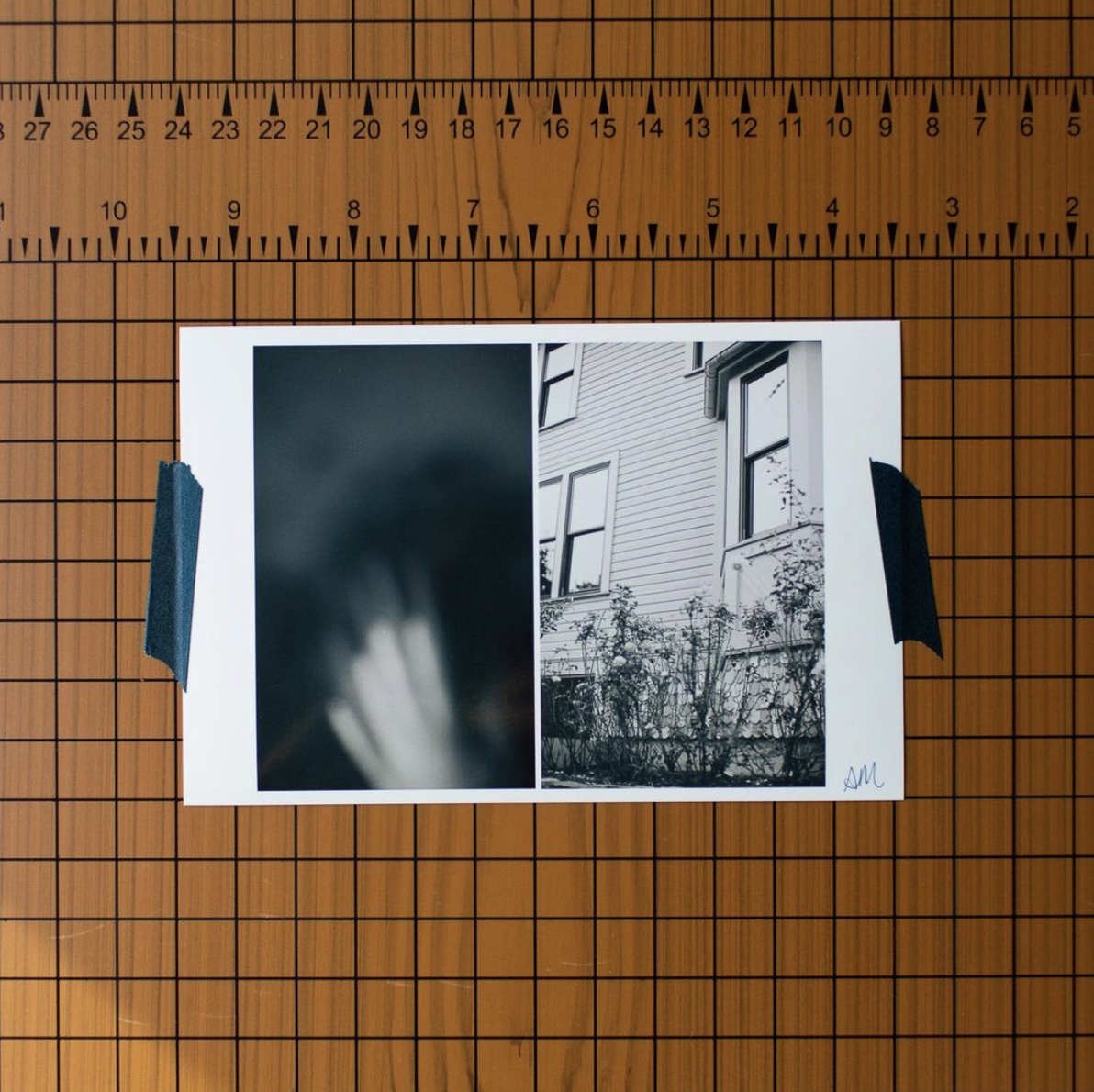 ---
Q: WHY DID YOU DECIDE TO PARTICIPATE?
---
ALEXA: The main reason is that I wanted to deepen my own art practice, especially after the 2020 year where I moved to a new city, paused commercial work entirely (because of Covid), and in September found out I was pregnant (yes, I'm due super soon!) – so many things that shifted my experience and relationship to my art and work (and where those two things overlap).
One big step during the 2020 year, because I had some time to pause other paying work, involved redesigning how I offer portrait sessions, a main source of joy and income. I developed The Fine Art Portrait Session, where I offer both digital and printed art packages to the women I work with (more on this below).
I hadn't in the past offered printed work to clients so using a printer was totally new to me. I thought the 100-Day Project was the perfect opportunity to force myself to use the printer everyday (technically I HAAAATE printers/ink/paper/etc YUCK), so it was a way to trick myself into doing something fun while learning something new.
---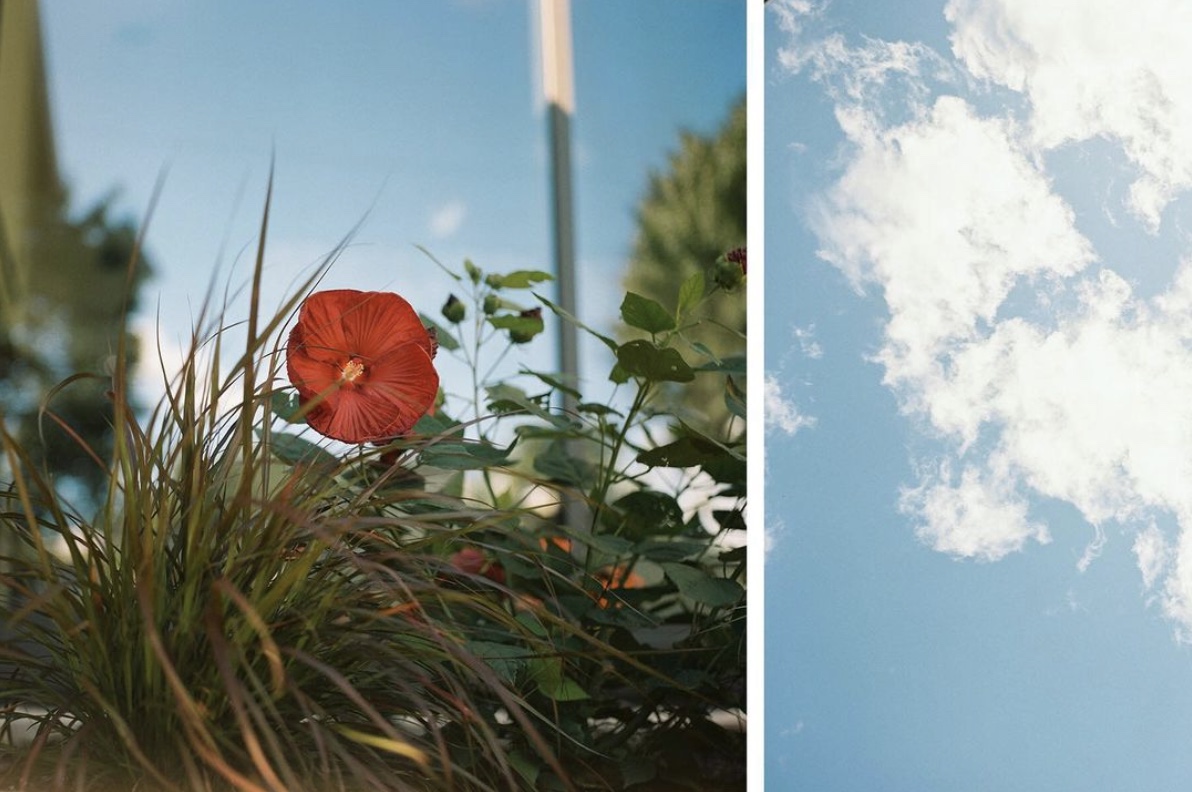 ---
Q: WHAT HAVE YOU LEARNED ABOUT YOUR WORK AND YOURSELF DURING THIS PROJECT?
---
ALEXA: Firstly and likely the least exciting part of this is I've learned the basics of my Canon Pixma Pro-100 printer. HOWEVER, this has built confidence. Learning a new thing (especially after being resistant to adding new tech into my life) feels good.
I've learned that the idea of something is often scarier than the actual thing itself, and once you start it's not as hard as anticipated. This has been my experience.
I've only scratched the surface of learning about printing and ink and papers etc, but this learning spills over to other areas where building the confidence to do something new allows me to expand in new ways that align with my bigger goals.
---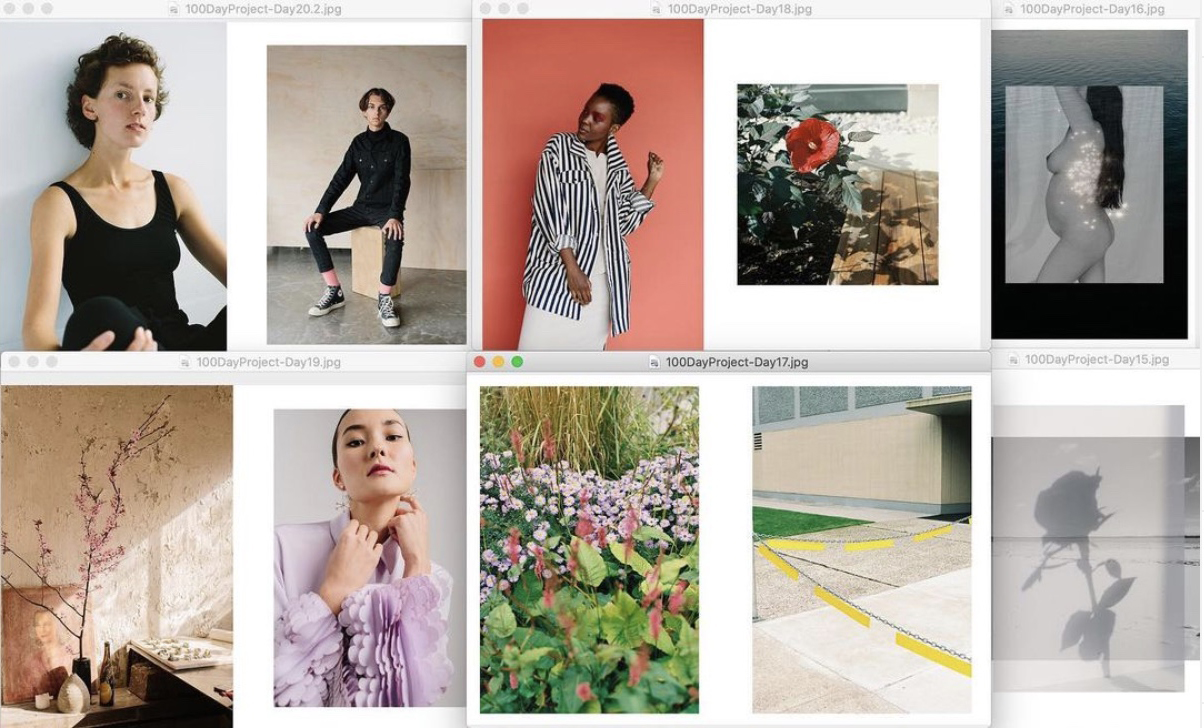 ---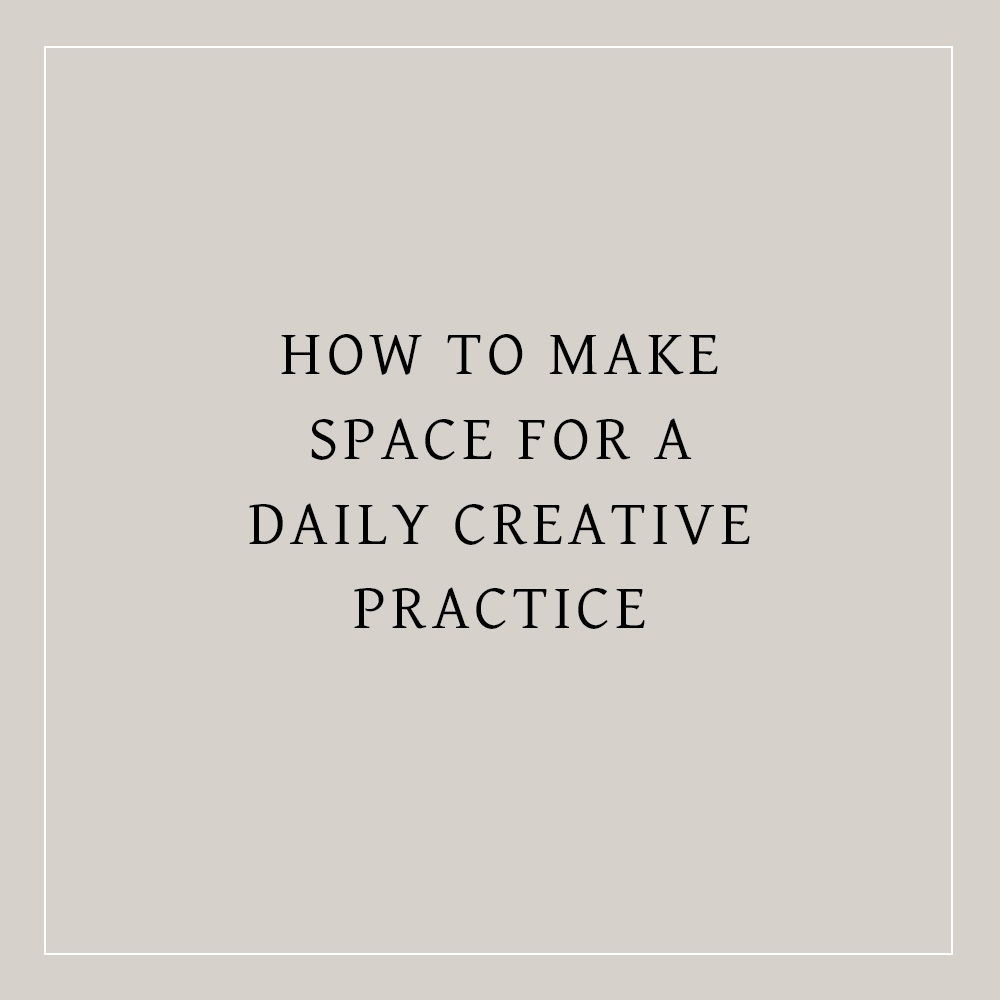 ---
Q: WHAT TIPS DO YOU HAVE FOR FOLKS INTERESTED IN STARTING A DAILY CREATIVE PRACTICE?
Alexa shared a series of IG stories, which were what originally prompted this post. Here's what she had to day:
---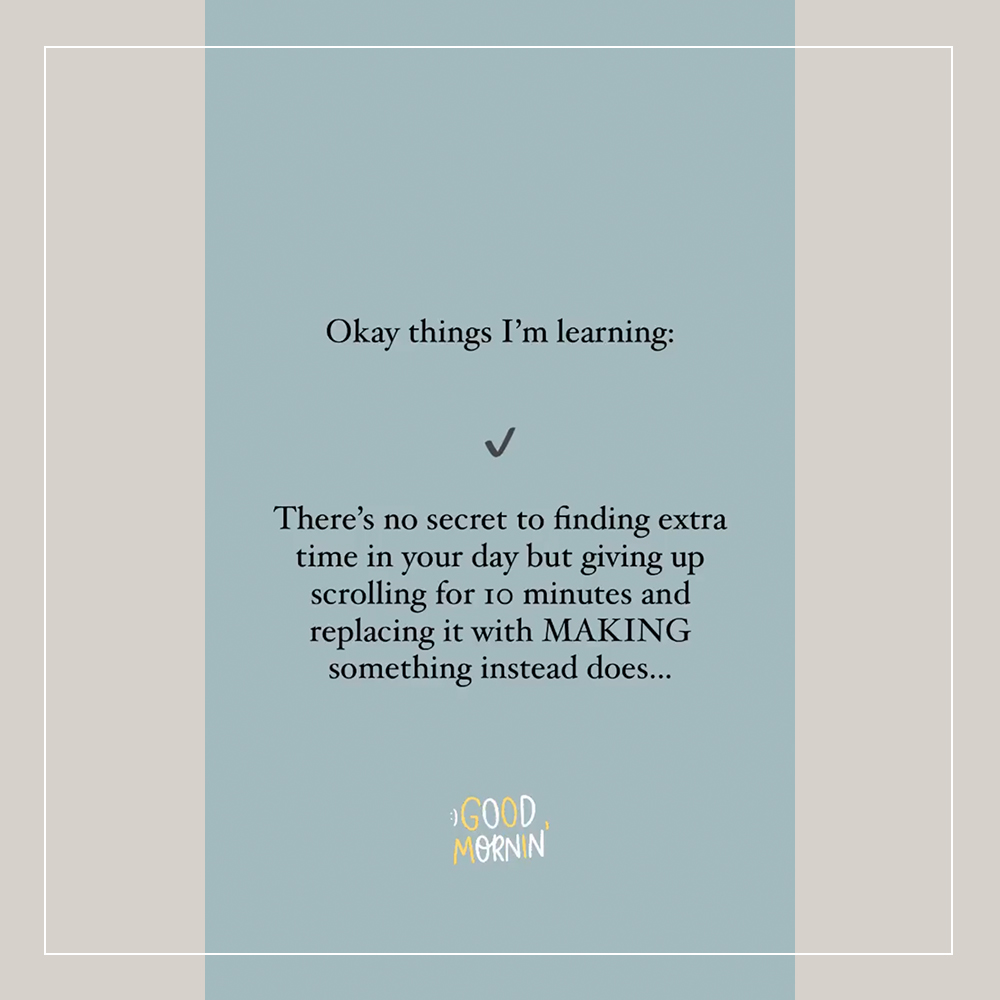 ---
TIP 1
Replace something that already exists in your day with this new thing (start with something easy to give up, like scrolling IG).
---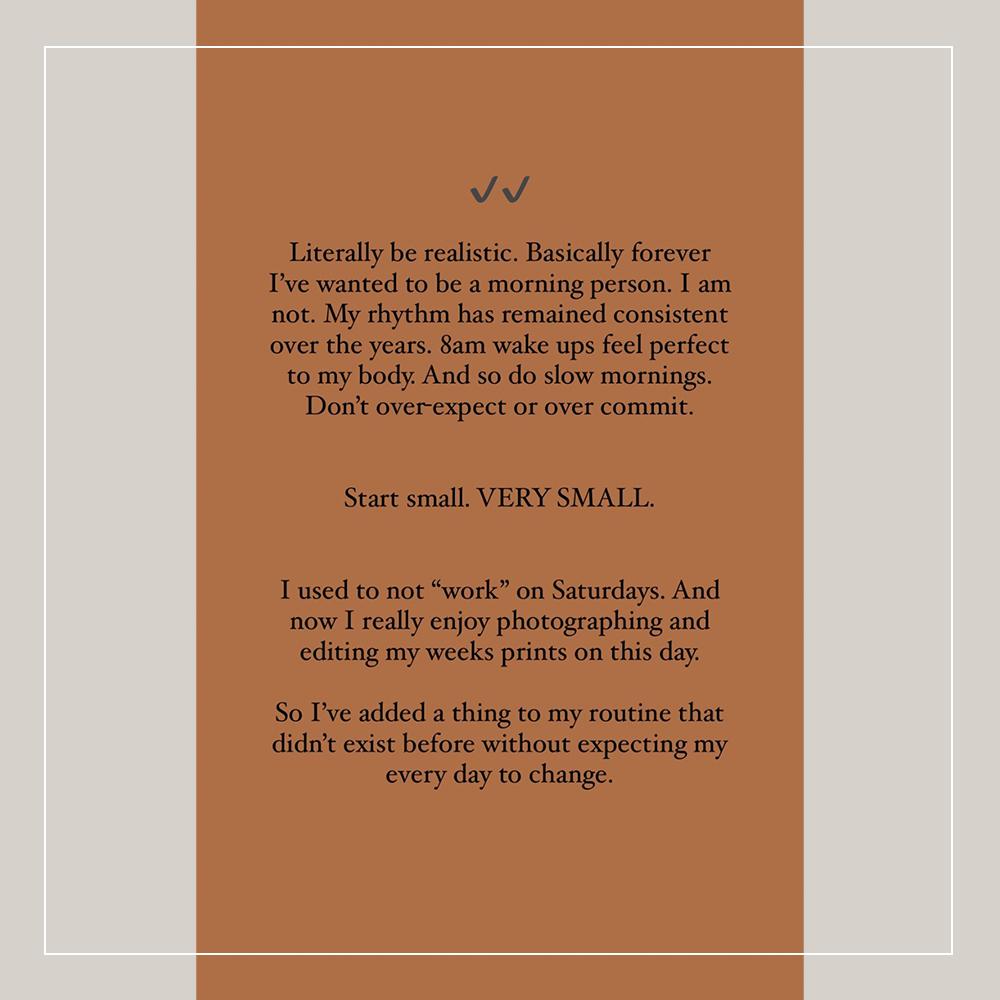 ---
TIP 2
Start small, VERY small. Even if it's just 10 minutes at a time.
Be realistic and honest about your habits without overcommitting or setting expectations too high. Pay attention to your natural rhythms and set time aside when you typically feel creatively motivated. It's easier to steer energy you already have than it is to conjure it.
For instance, don't expect yourself to wake up 30 minutes earlier every day to make time for this practice. Carve that time out where you're already doing something every day. This could be the 20 minutes you spend online shopping before getting ready for bed. You're not losing anything by replacing that activity with something else.
---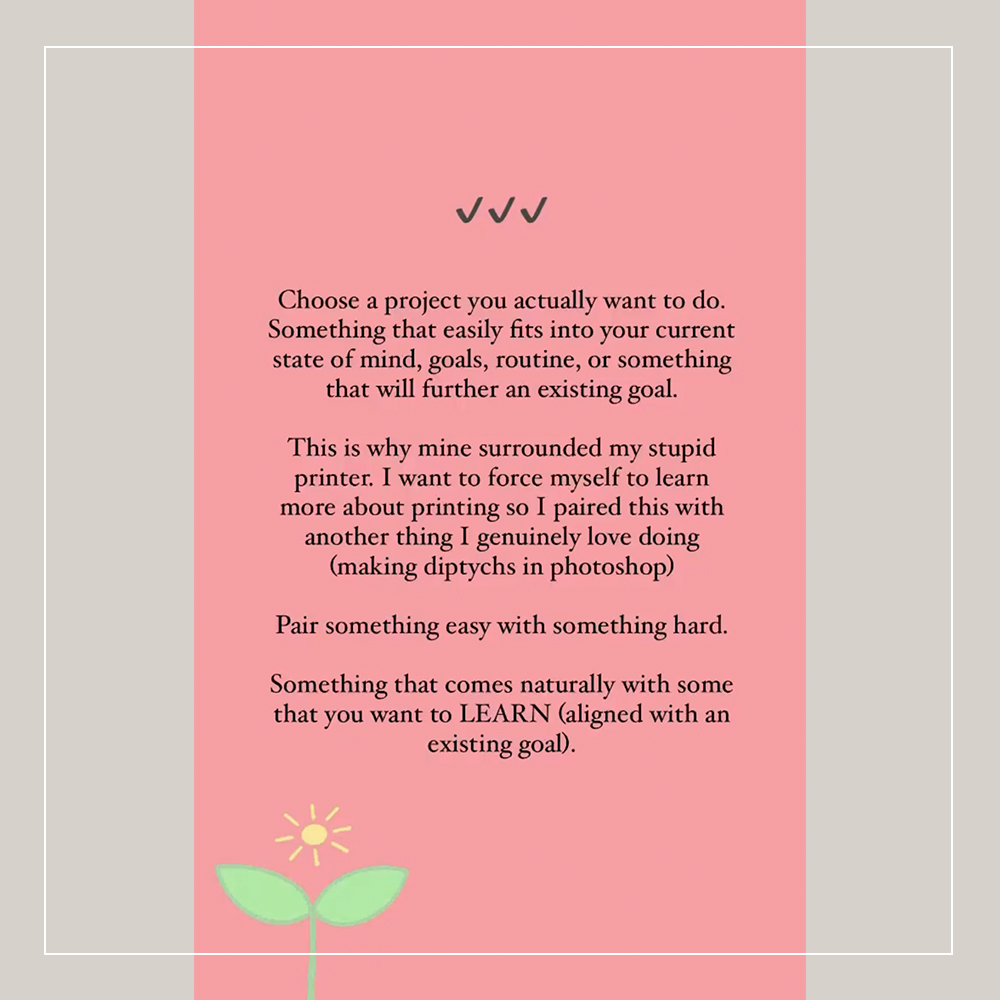 ---
TIP 3
Choose an activity that aligns with an existing goal, like getting familiar with a new camera or creating something to give someone you love.
It's easier to follow through when you're working on a project you actually want to do. Consider developing a creative practice in two parts. Something that comes easily to you already, with something you want to learn.
---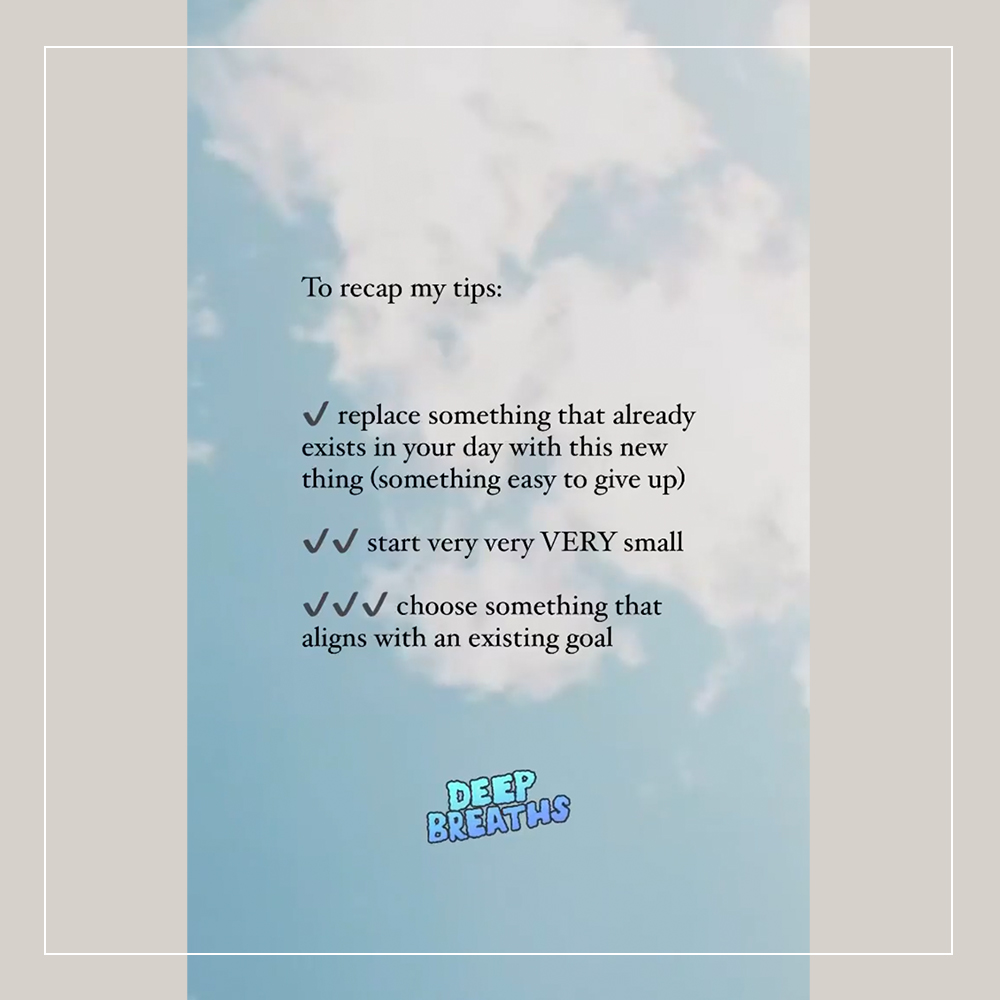 ---
Q: FROM THE IMAGES THAT YOU'VE CREATED SO FAR, WHICH ONE(S) HOLD THE MOST MEANING FOR YOU?
ALEXA: Documenting my growing belly, definitely.
---
---
MORE ABOUT
ALEXA SEES IN COLOUR PORTRAIT SESSIONS
---
I've been photographing portraits for women for many years. In 2020, with a break in work because of COVID lockdowns I used this opportunity to redesign my portrait offer to make it more encompassing from start to finish.
What I mean by this is: there's a lot that goes into making portraits work – styling (what to wear), how to prepare (should I do my nails? Get a haircut? Look at poses?), being nervous (talking this out), etc. The list goes on and on – and this is just the PREP part, then there's selecting the right imagery afterwards.
I found that I wanted my clients to select their favourite images of themselves but I also wanted to have a say – so I added in a step of a 'reveal' call with every client to show them the first look of their photos and which ones I think are best and WHY. So from start to finish it's a comprehensive service.
You can read more about the sessions and book one here.
---
---
YOU CAN ALSO ORDER ALEXA'S LATEST BOOK
A collection of work compiled in 2020 during the Covid-19 pandemic to highlight the relationship between isolation and our surrounding environments – environments we've been forced to rediscover as our "regular" routines shifted, likely forever.
---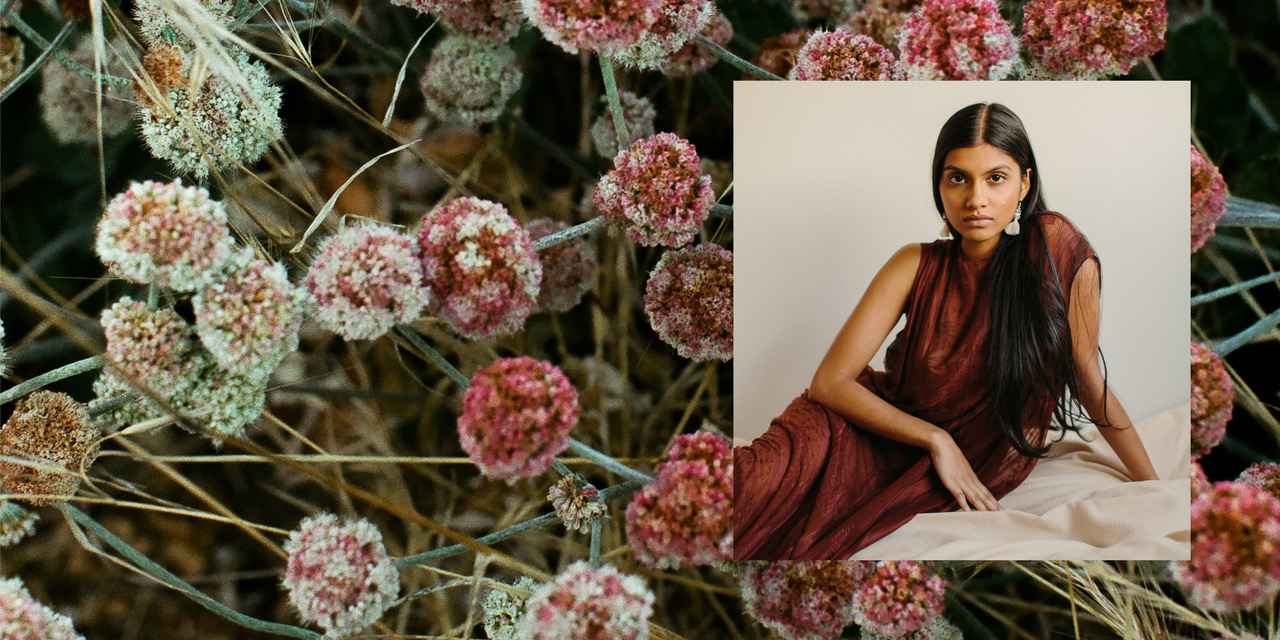 ---
BIG THANKS TO ALEXA FOR SHARING HER WORK AND CREATIVE WISDOM WITH US TODAY!
FOLLOW ALEXA'S WORK @ALEXAMAZZARELLO & @ALEXA_SEES_IN_COLOUR
I hope this post inspires you to start a creative practice that you've wanted to try or to rethink the feasibility of one that might have fallen to the wayside. I believe that creativity is essential to living a fulfilling life and it's never a waste of time.