Hello friends, I hope you're having the summer you dreamed of all winter (or at least a much better one than last year!). My dreams of mornings on the dock, sunny afternoons, sunset paddles, and lots of boat rides have all been coming true (with a few bug bites and A LOT of rain storms in between) and I've been doing my best to stay present and savour it all.
Now, here's a little look at the best of life lately this summer, including:
Small Domestic Projects
Summer Blooms & My Indoor Jungle
The Cat & the Corgi
My Current Closet Thoughts
Grab a coffee or tea and join me for a little tour around Steep Hill lately!
---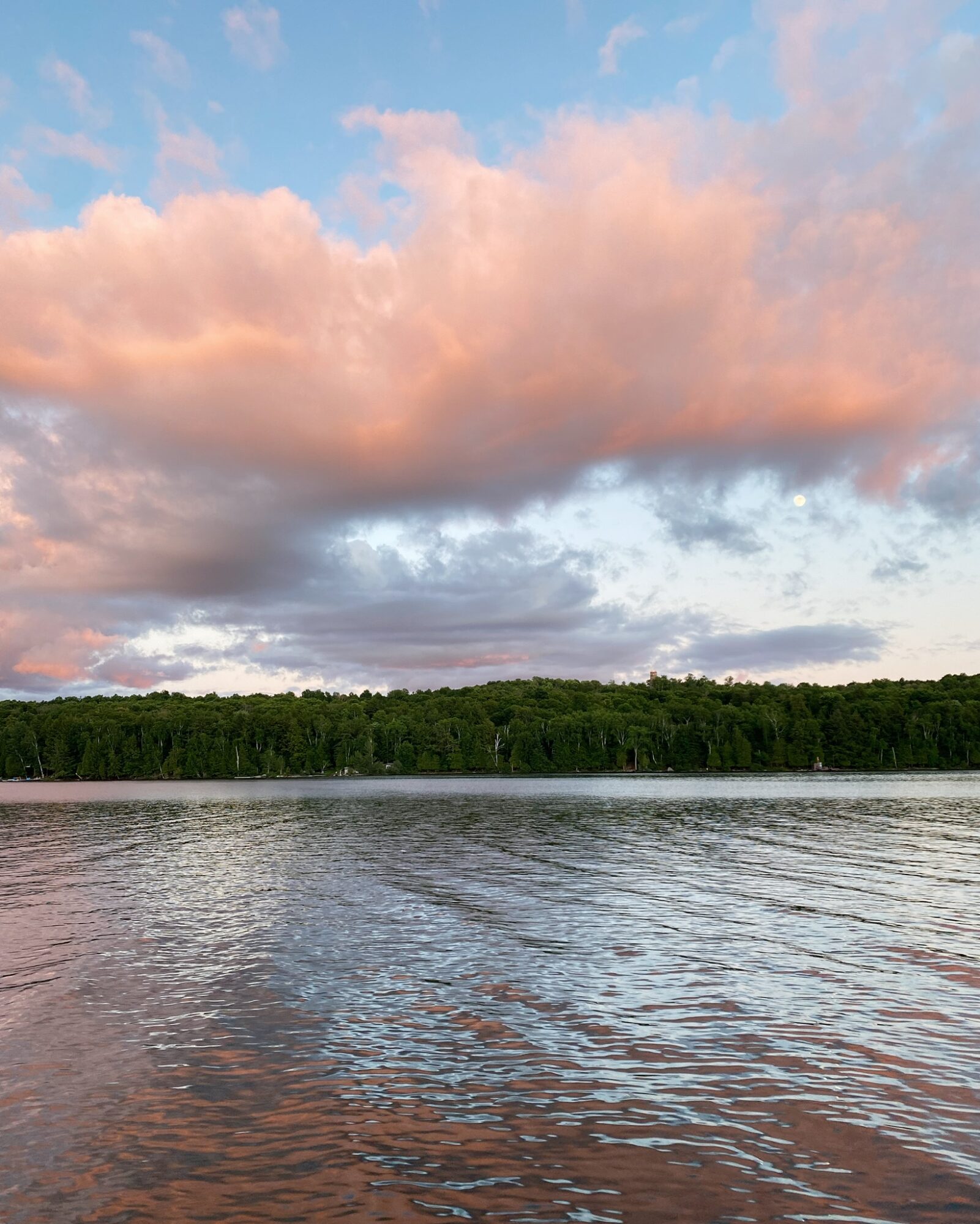 The lake seems to serves up a stunning view almost every day.
---
SMALL-ISH DOMESTIC PROJECTS
We've been busy with lots of projects around the place and it's been really fun to make some small but impactful updates to the house and property. Here's a look at a few of them.
---
KITCHEN SHELVING & DISHWASHER
---
We moved an old metal shelving unit from a hallway off of the kitchen and replaced it with a rough and ready set of plywood shelves. Not exactly Pinterest perfection but effective nonetheless.
---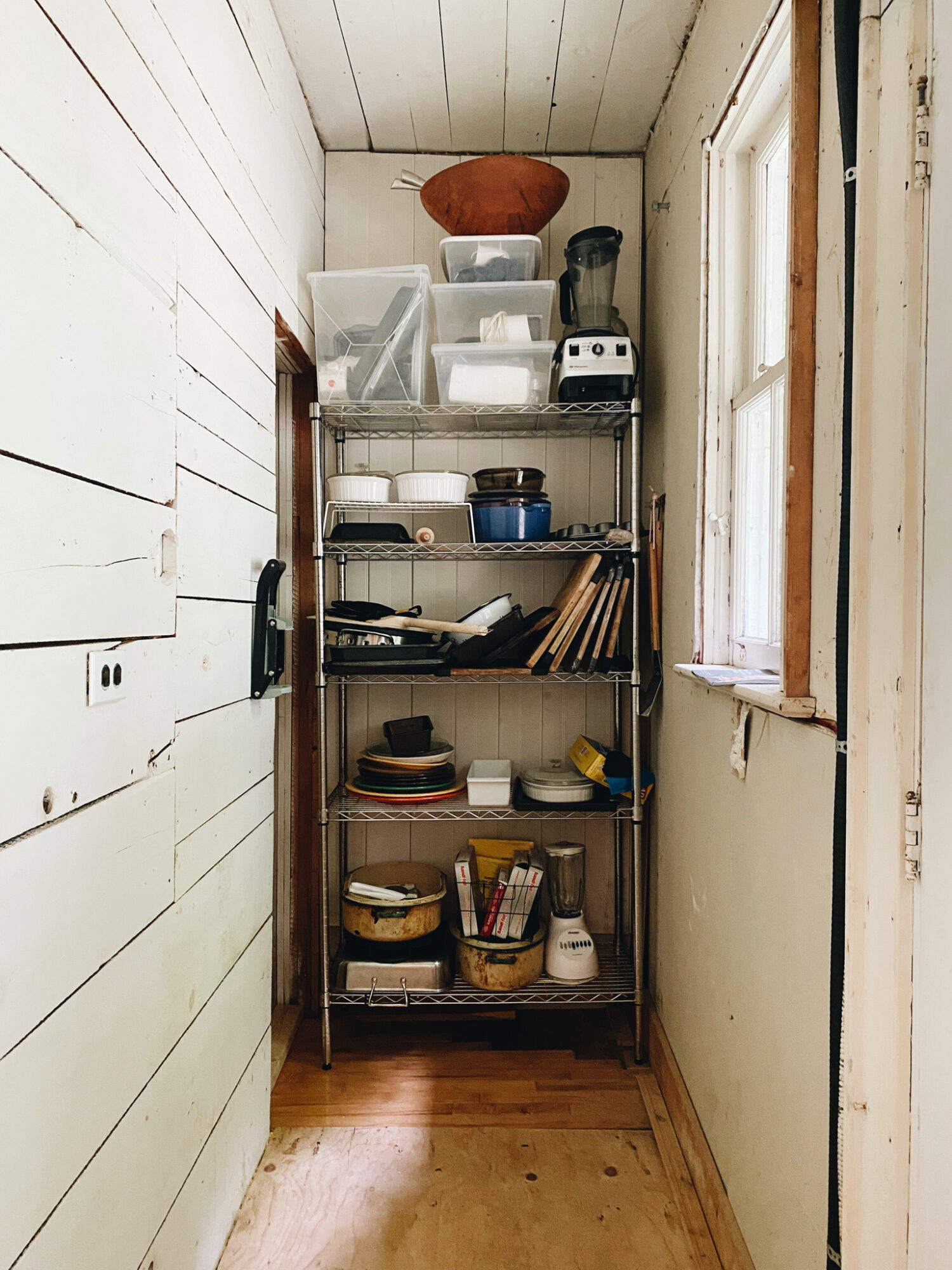 ---
The metal unit then found a new home in the kitchen where it replaced a wooden bookshelf. Dave installed our dish washer (praise the universe!), which is a panel front unit that we'll be keeping for our official renovation next year. It's all still very much a work in progress but we're doing our best to minimize work that will only be getting "undone" once our full update is underway. That said, I'm kind of obsessed with the plywood look!
---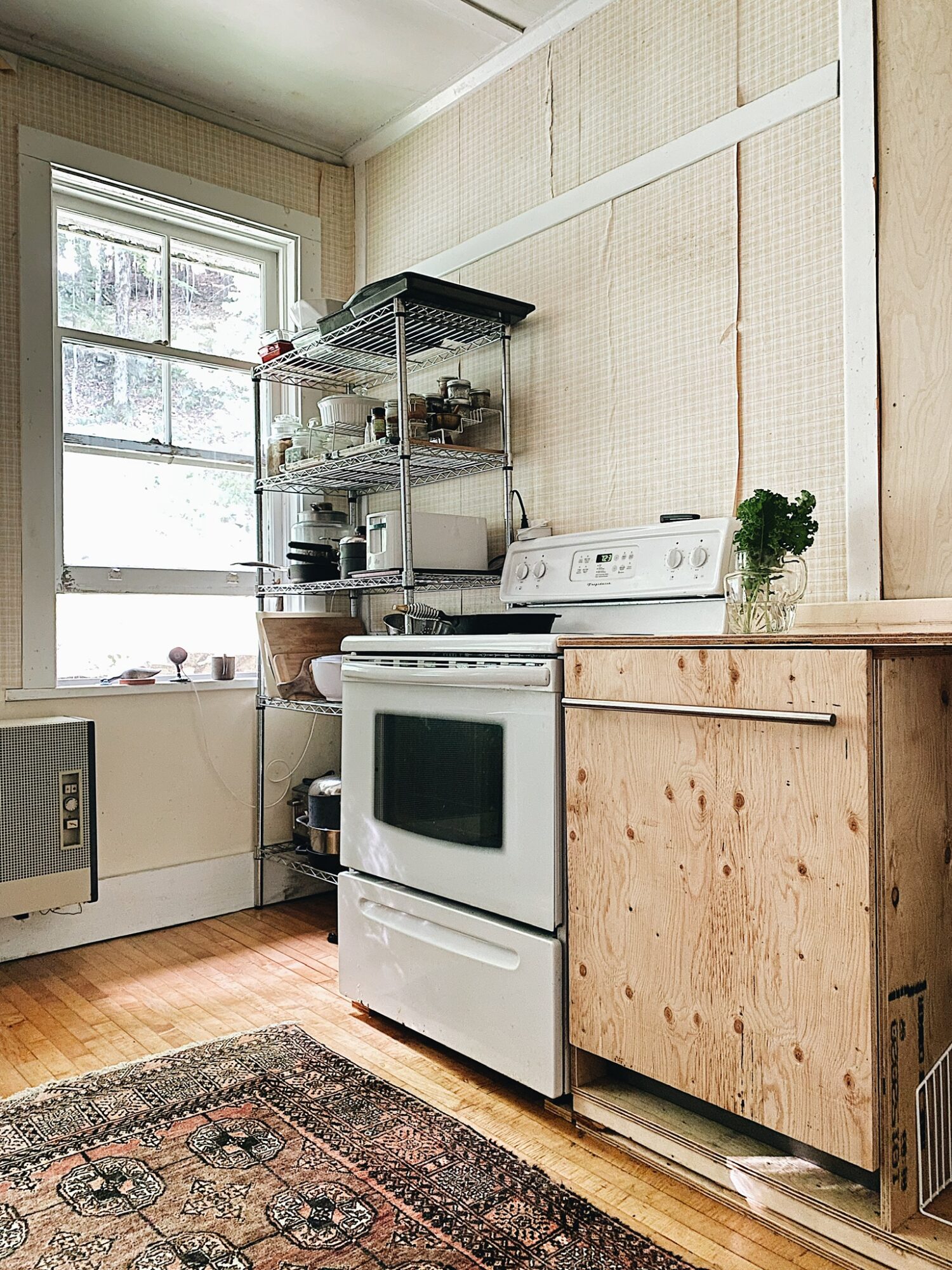 ---
BOOKSHELF
The bookshelf we removed from the corner (where the metal unit is in the photo above) then made its way over to the living room. I finally unpacked some of our books and reorganized them with a few gems that came with the cottage. I tried my hand at shelf styling and I'll admit I need some practice but I love being able to grab a book to flip through over coffee in the morning.
---
---
WASHER & DRYER
When we moved up to Steep Hill getting a washer and dryer was at the top of the list. We did some research and found that the MIELE compact duo was going to be our best bet for the space, septic and longevity. They've definitely been earning their keep and I'm really happy with them so far. While they won't be staying the front entrance permanently, they're pretty easy on the eyes as far as giant appliances go.
---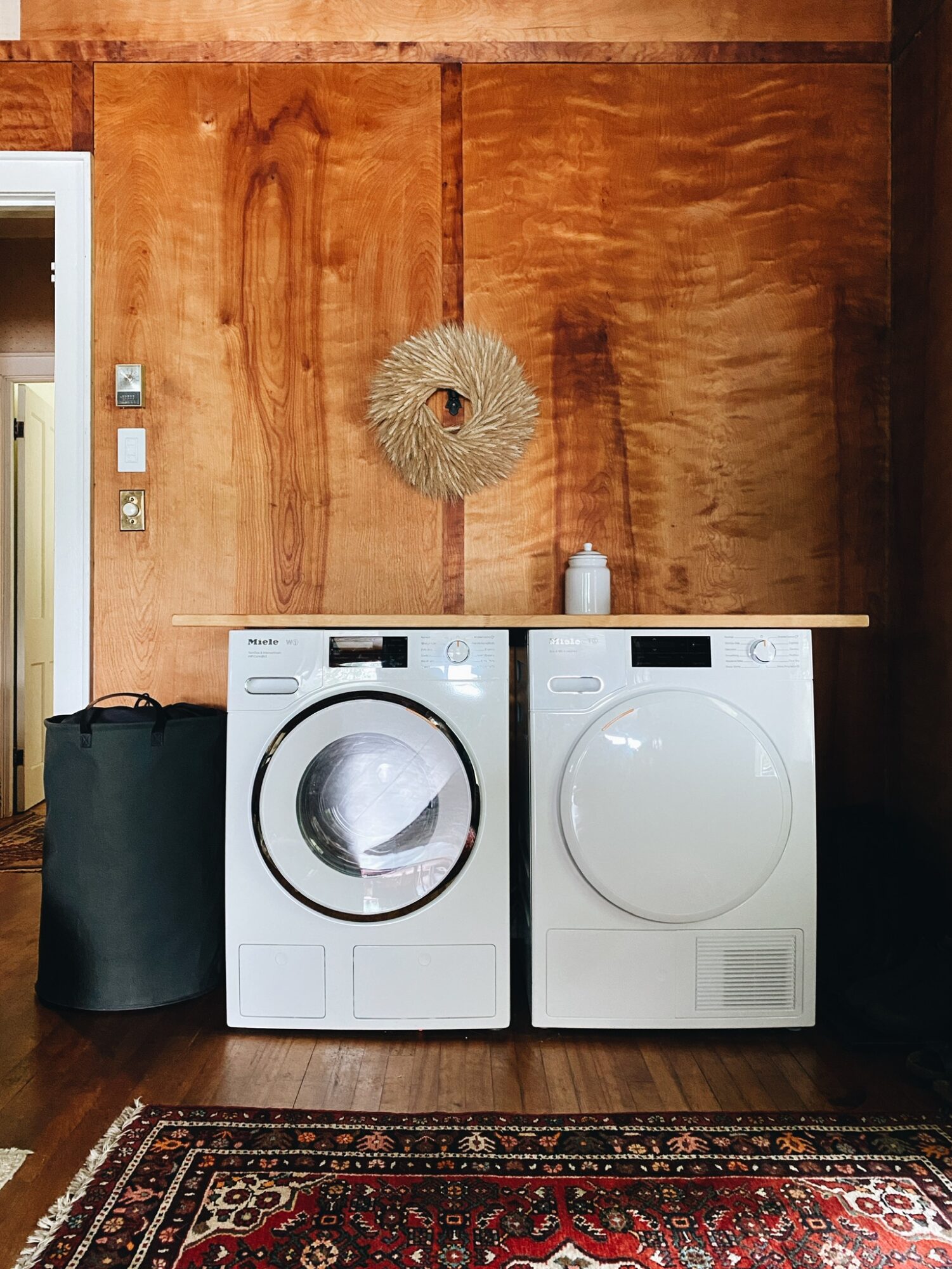 ---
THE BOATHOUSE
---
I took a stab at reorganizing the boathouse a bit so that it's a more functional multi-use space instead of a catch-all for extra boxes. It's where I work most days and serves as a spot for guests to sleep in when they're visiting. Other than being uneasy about the armless wooden bust (see who I mean below) we've had only positive feedback on the sleeping quarters so far!
---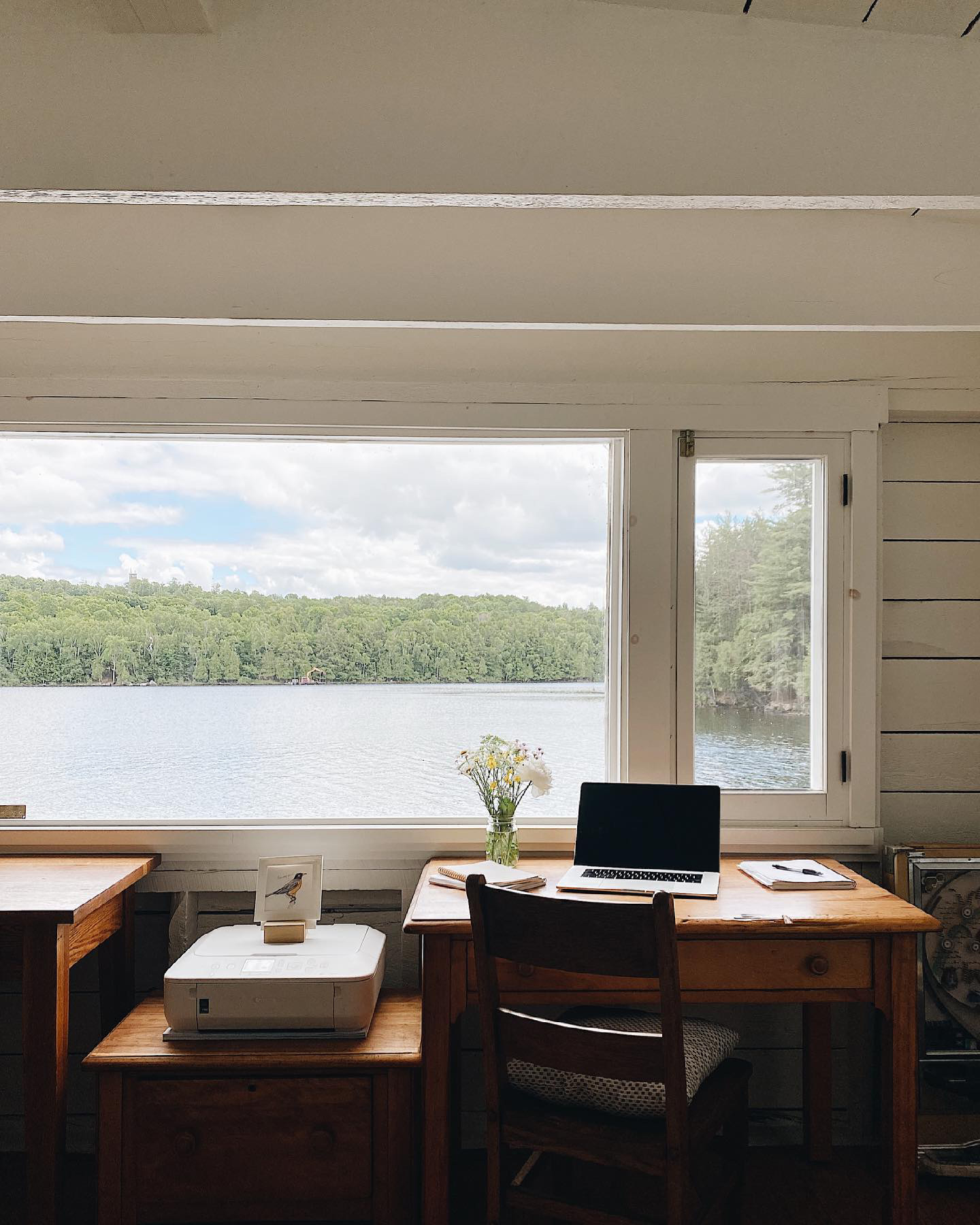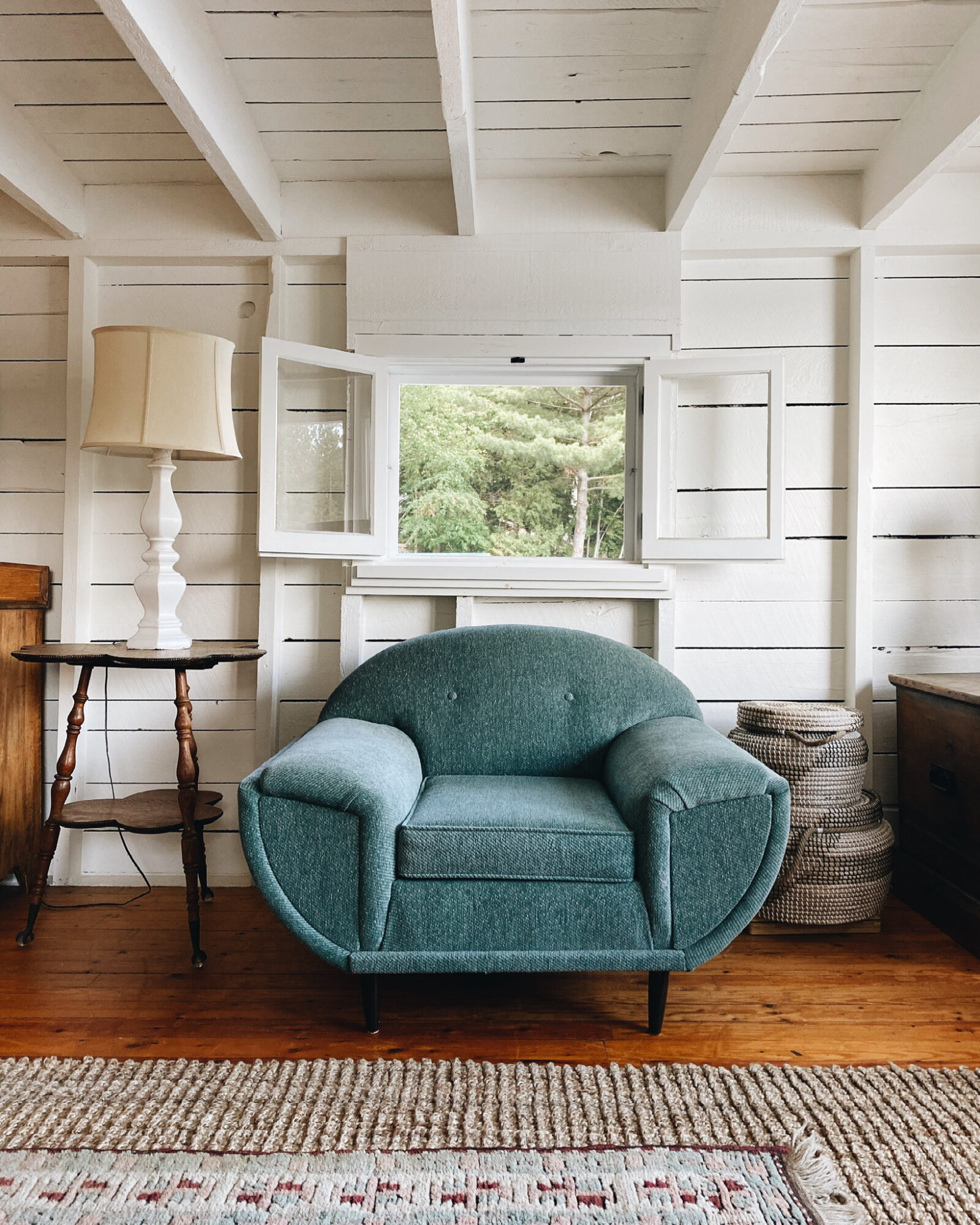 ---
WOOD SHED
---
We got a bit of wood delivered (just a few logs nbd) and spent an afternoon stacking it all to begin drying out while we build a proper woodshed near the house. Since we have a wood burning fireplace as a main source of heat (more on how that evolves in time) we go through a lot of logs in the winter and wanted to get our supply started on drying out in plenty of time (last year we missed out and it wasn't ideal). Dave (with Dobby's help of course) has been busy preparing the site for the shed we'll be building in the coming weeks.
---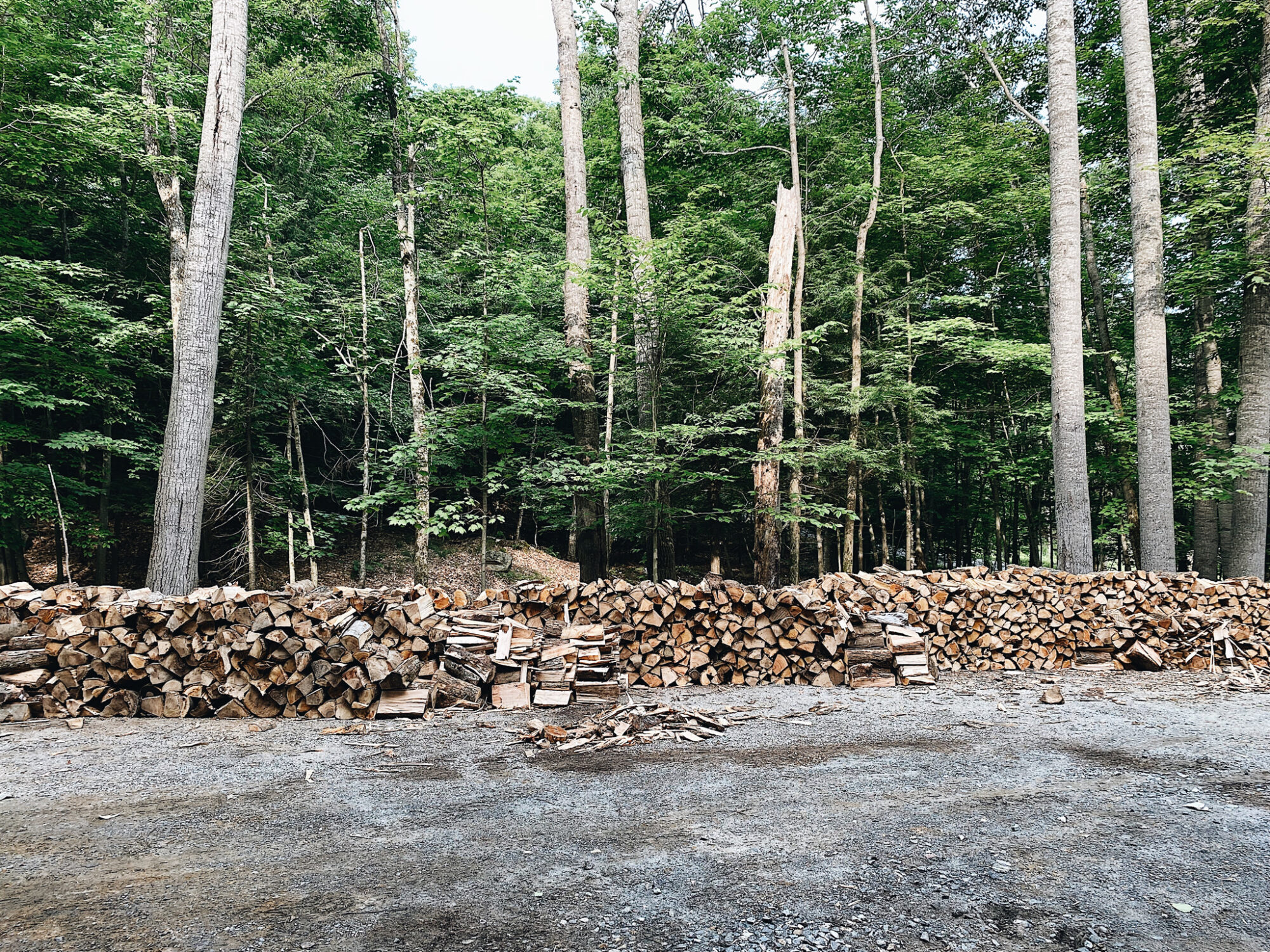 ---
VEGGIE GARDEN
---
You may recall the stainless steel planters from our house in Guelph, which we liked enough to use again here. This time we tripled the number and despite planting late in the season, the rain and sun have been working some major magic.
---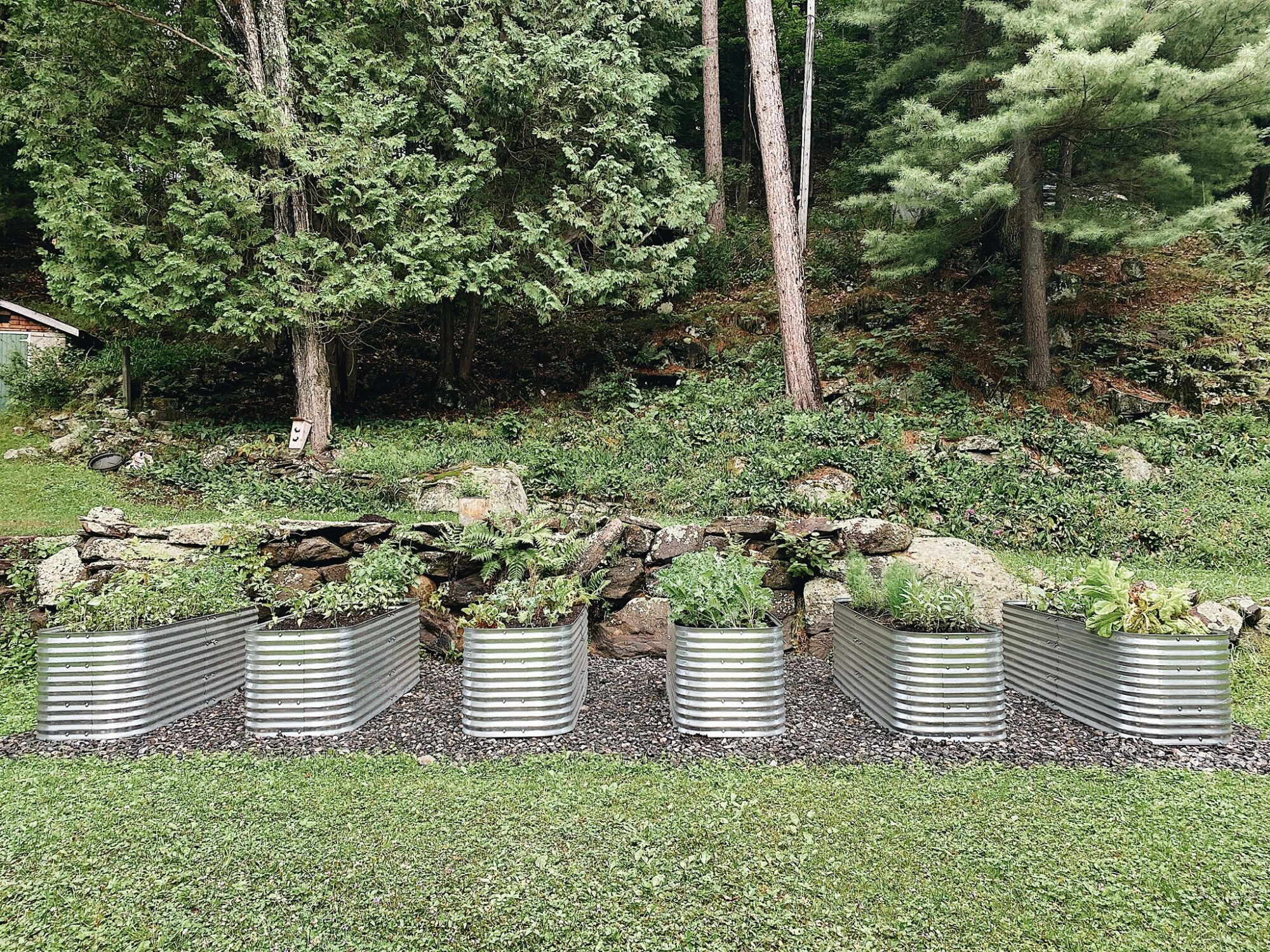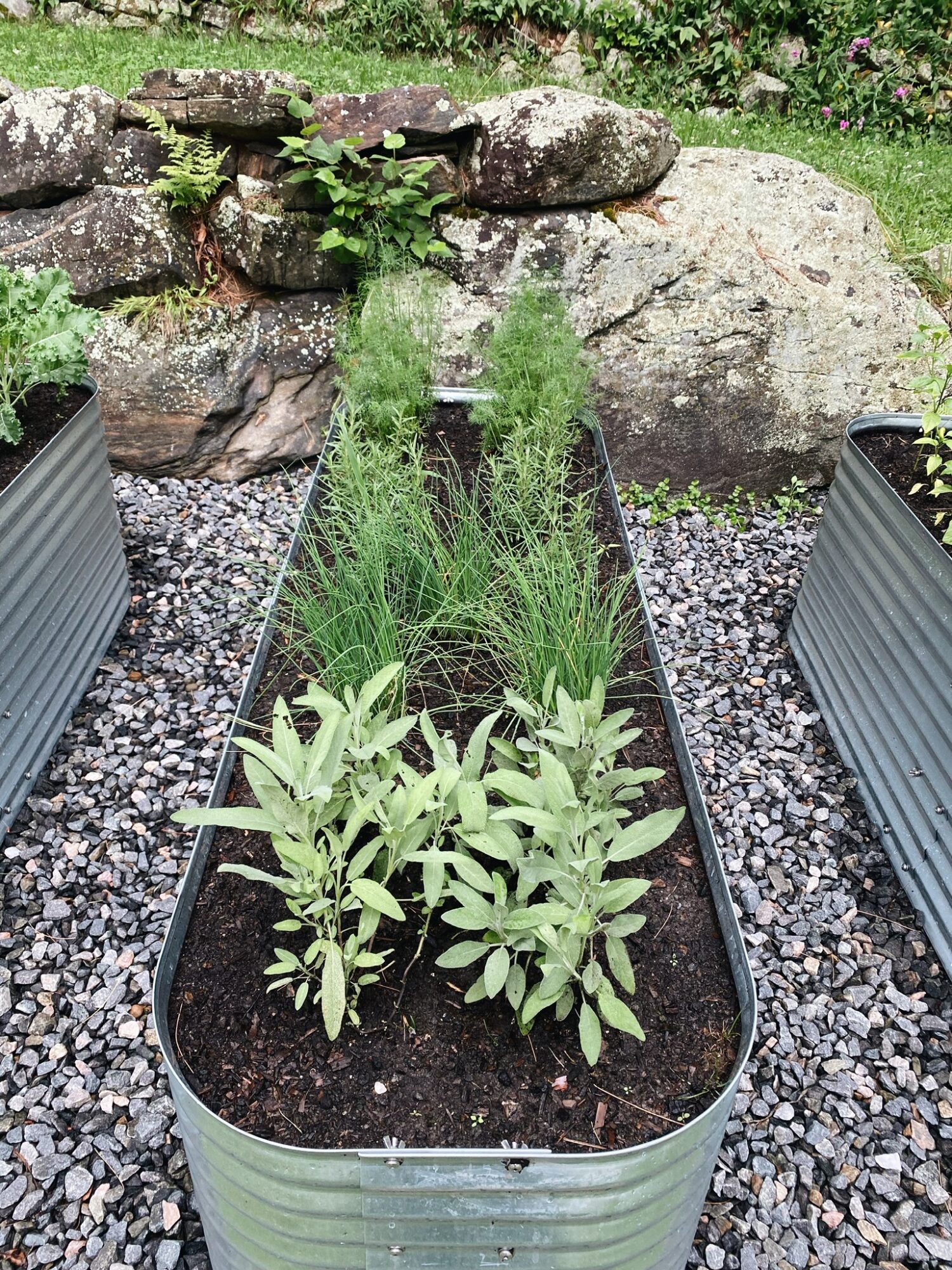 ---
SUMMER BLOOMS
---
I thought I'd be missing out on lots of summer blooms being so much further north but was I ever wrong! It's been such a treat to see what pops up and I can't wait to get into the dirt more this fall and next spring.
---
---
I even managed to forage myself a little medley of wildflowers, which was a true pinch me moment.
---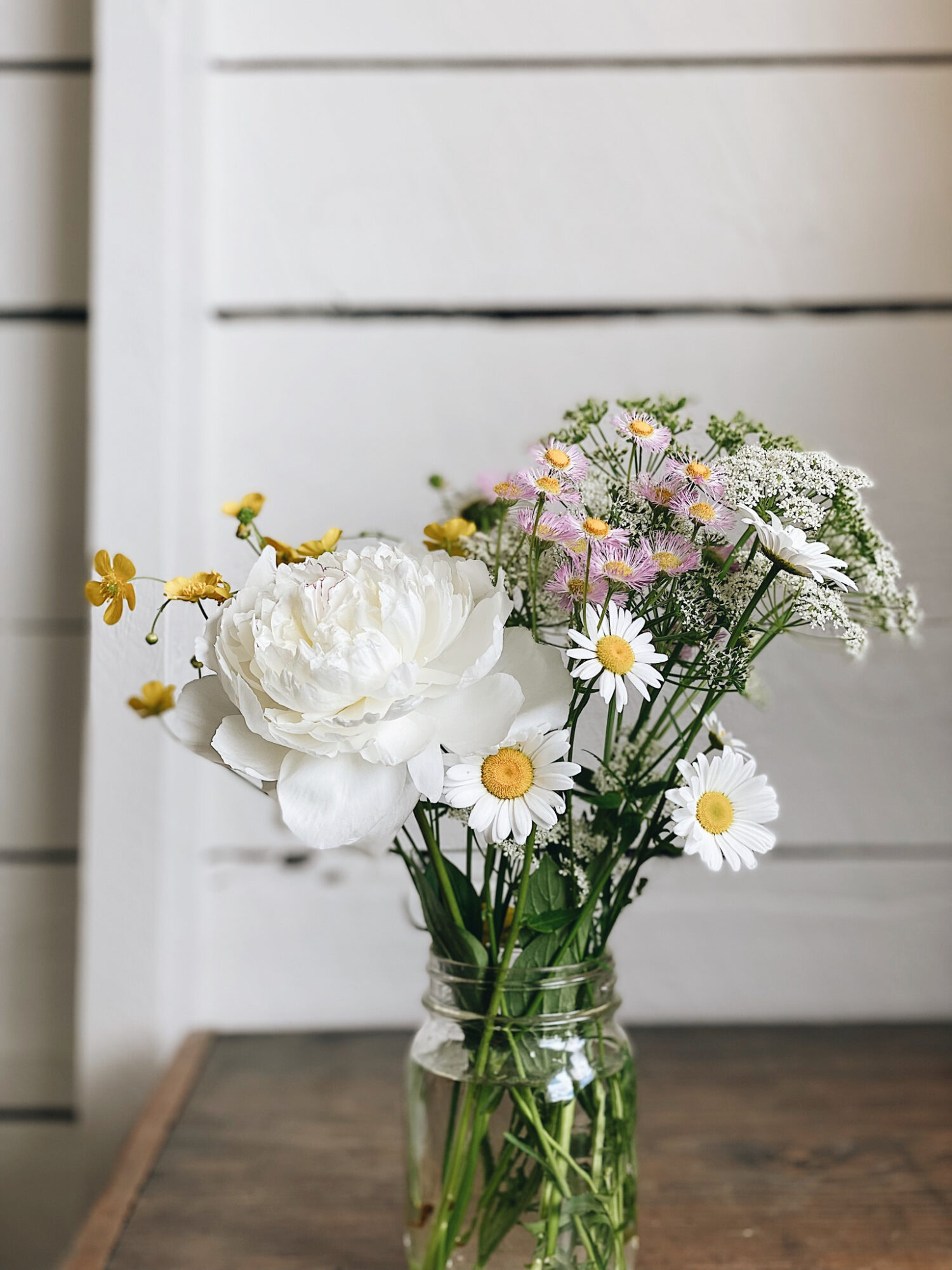 ---
THE CAT & THE CORGI
---
The dynamic duo has had no trouble settling into life by the lake. Evie's days consist of bird watching, sun beam naps, couch naps, bed naps and the occasional friendly nudge to let me know she's hungry.
---
---
Dobby has been getting braver on the dock (treats always help) and loves an evening canoe ride. He also made a new friend with our neighbours sweet angel, Cookie, and the two of them meet up for daily chasing sessions. He just turned 10 and she's only about 10 months so he comes home completely knackered.
---
---
INDOOR JUNGLE
---
Maybe no one cares but I know I get invested in other people's plants for some reason so here's an update on mine. They are all thriving here at the lake where the air is much more humid and they get lots of sunlight. They've grown so much since we moved them up about two months ago. So much so that I'm running out of pots big enough and had to split my snake plant and several succulents, propagate my fiddle leaf fig tree and my pothos, and give both my jade and cacti new homes. I've always wanted a conservatory/greenhouse and I think I may have just turned our Muskoka room into one!
---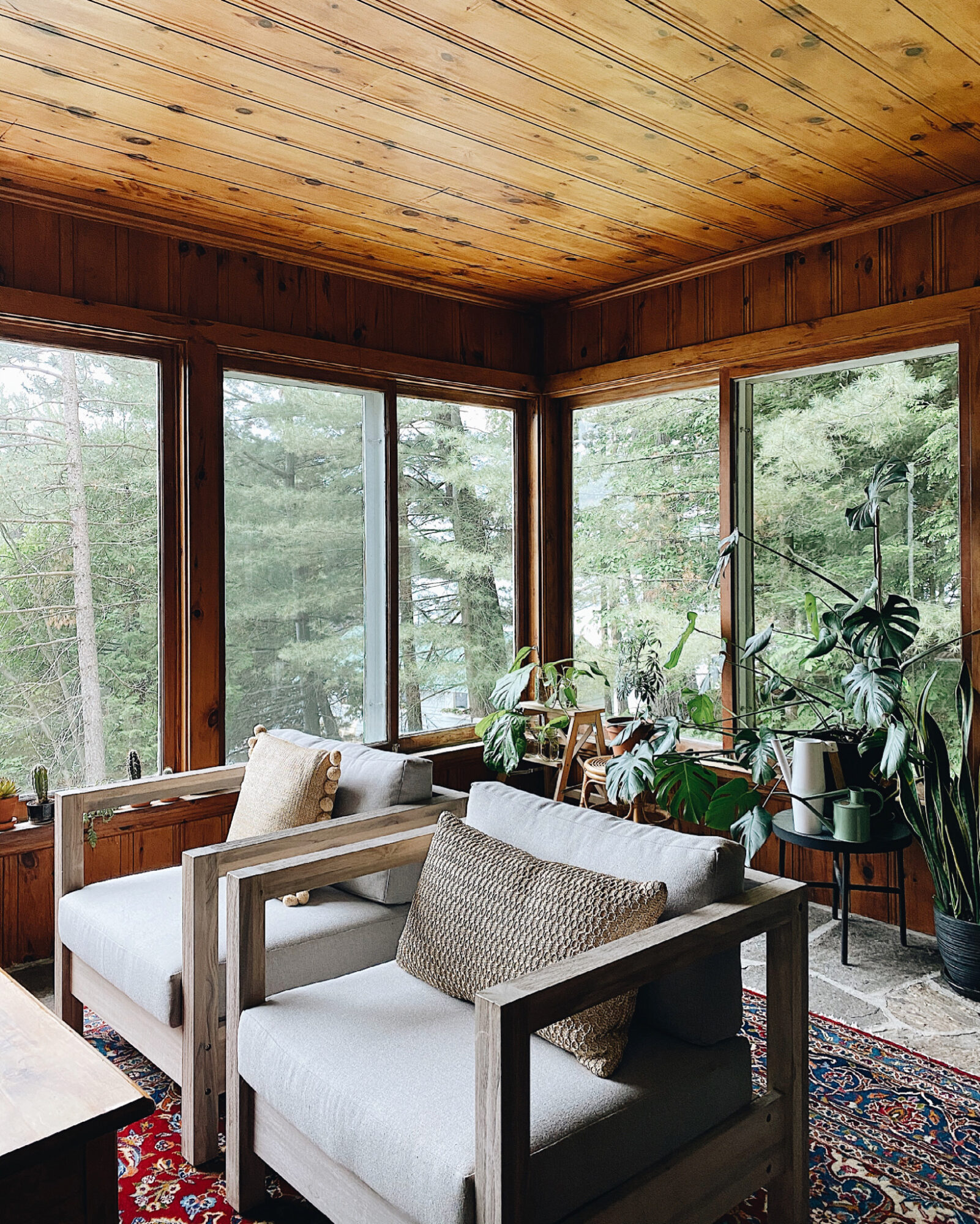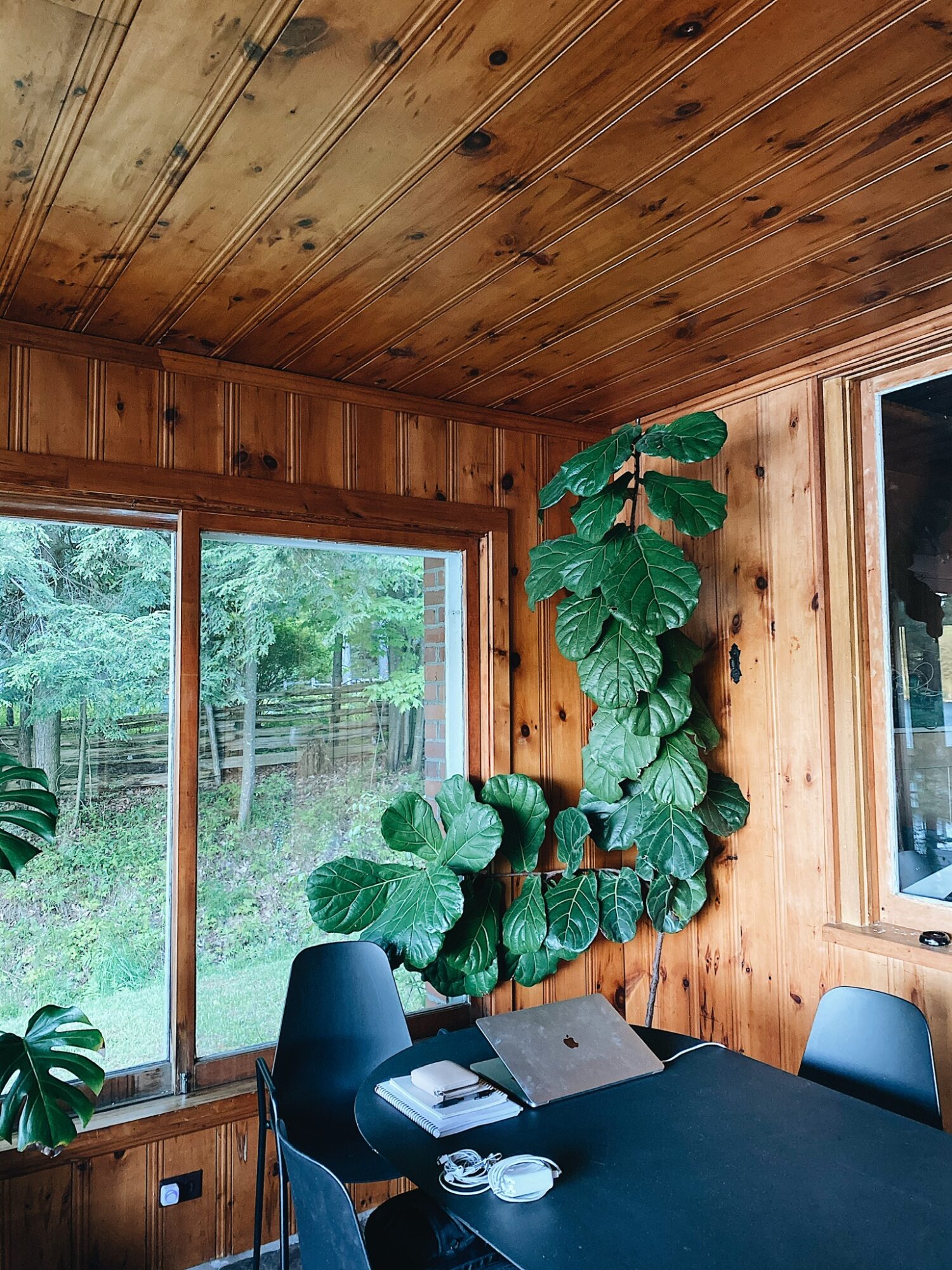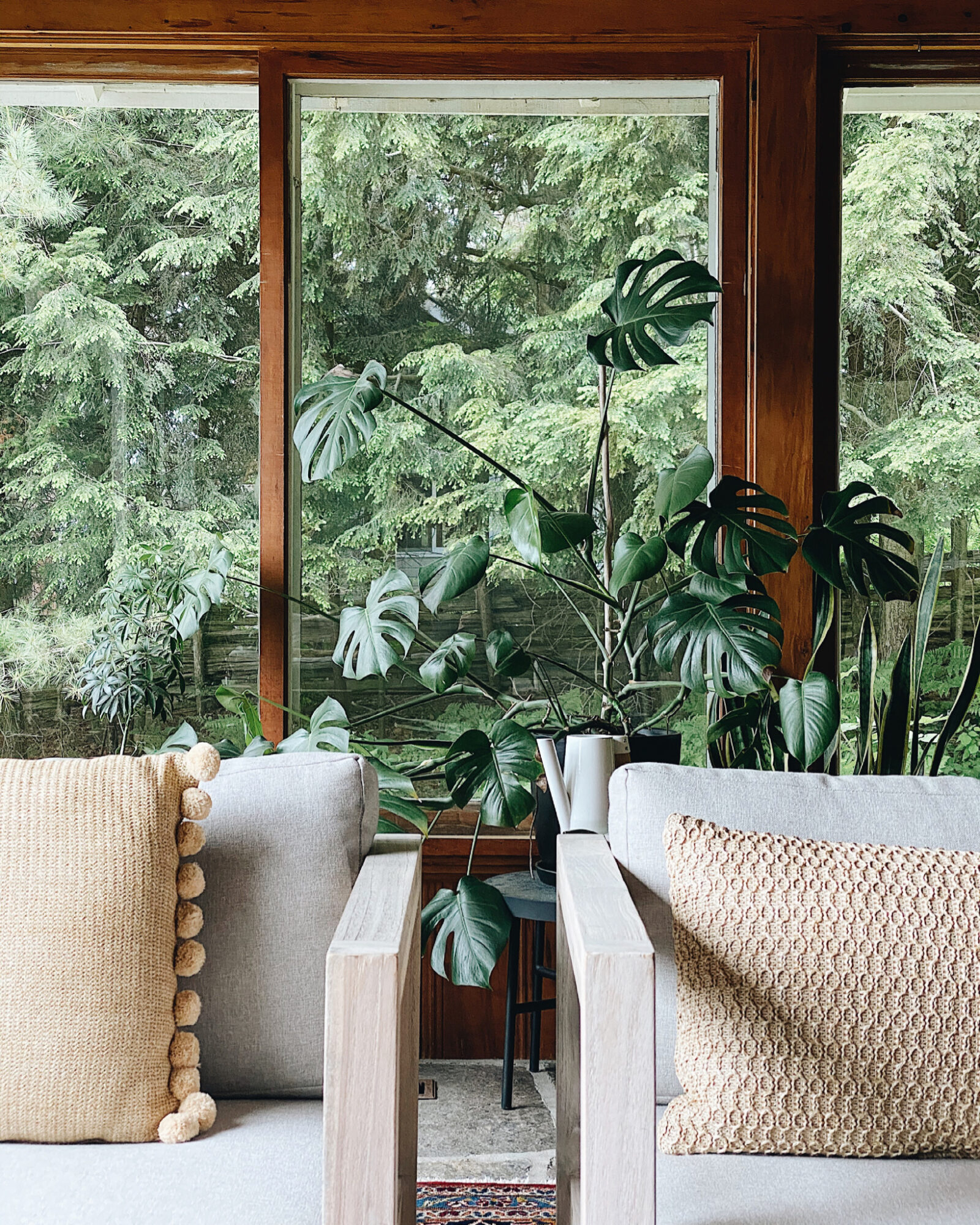 ---
MY CURRENT CLOSET THOUGHTS
---
I haven't been thinking too hard about my closet over these past few months, except for what will be the most comfortable and enjoyable to wear given the temperature and forecast. Here at the lake I've needed layers more than I did for city summers so I've had to keep my favourite cardigan handy. I've been living in my EVA Arizona Birks, my denim shorts, and this dress, which was a recent addition (more to come!).
I'm still processing what my closet and style needs are going to be in this new location. I'm also coming to terms with the fact that a good portion of my closet may very well be ready for a new life elsewhere. I'll do a closet sale eventually, I promise!
It's interesting how our clothes can hold memories. In a way, garments are portals to times in our lives. To versions of ourselves that we may have since outgrown.
One thing remains for sure though, which is that I still love clothes and I still love a good outfit. They'll be a little more casual for the foreseeable future but I'm dreaming up my "city travel" capsule to keep handy for visits with friends downtown. Stay tuned for a handful of summer outfits I've been wearing coming to the blog soon!
---
---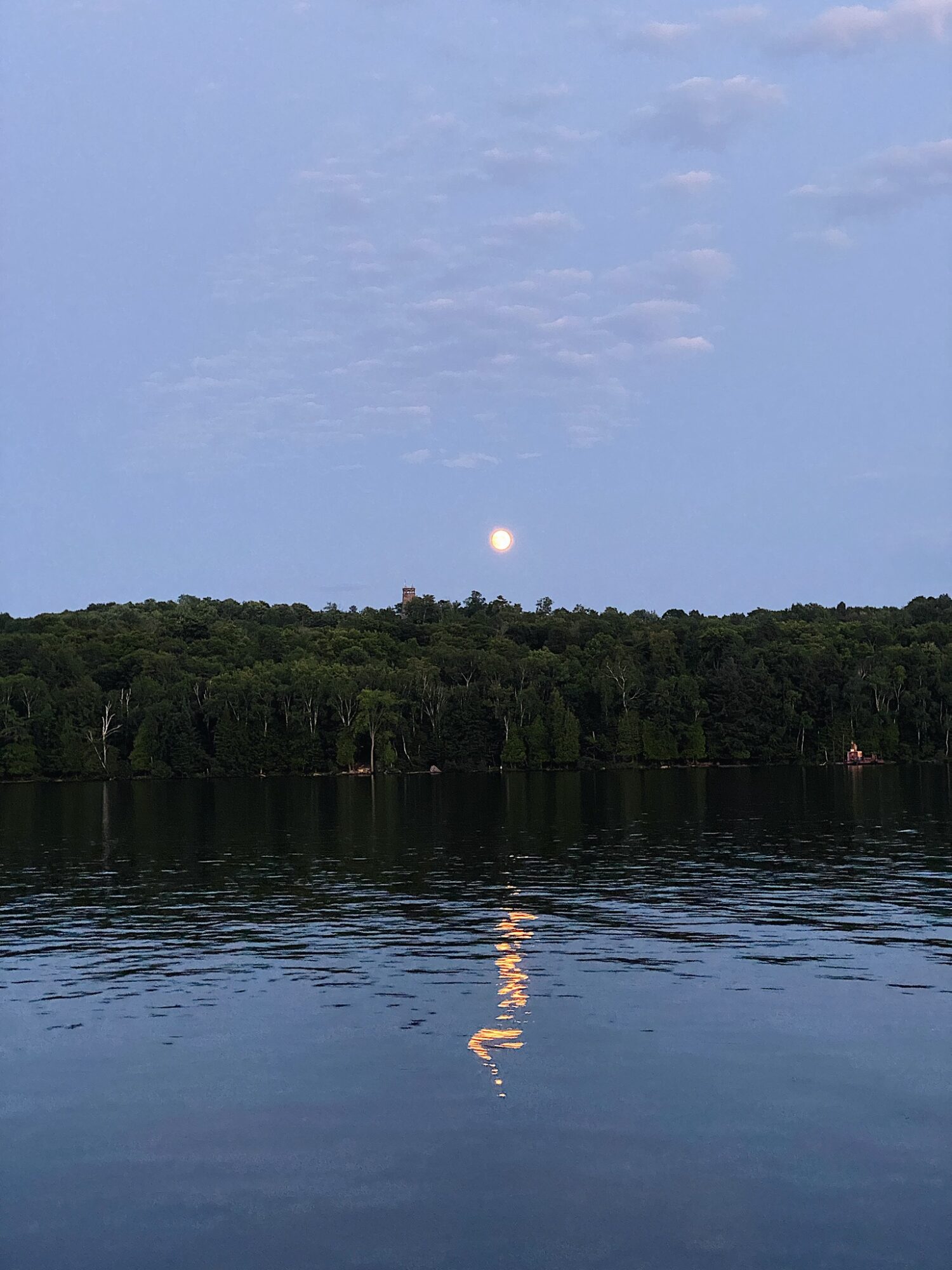 ---
Thanks for tuning in today. I'm so excited for what's to come from life at Steep Hill and look forward to sharing it with you all along the way. Be sure to follow @steephillcottage if you're keen on more regular updates.
If you've been working on any projects or have some summer goodness to share, I'd love to hear about it in the comments!