Do you remember about 4 months back, when I mentioned that I was testing out some VERSED products on my instagram stories? Well today I'm finally sharing my two cents on 8 products I've tried thus far. At the time I received over a dozen DMs from folks who were either already fans of the brand or were excited to discover it, so I hope this post is helpful, albeit slow to arrive.
VERSED is an accessibly priced, vegan-friendly and cruelty-free skin care line that aims to deliver results without the typical mark-up. They're also focused on sustainable packaging and fairly sourced ingredients. Not to mention the line's aesthetically pleasing factor, which for a design geek like myself, is a major plus. You can find VERSED through their site directly, on REVOLVE and at Shopper's Drug Mart in Canada (woohoo!).
The brand sent me some of these products and I bought a few for myself as well. This review is not at all sponsored by the brand but I am an affiliate, which means if you order through the links below, I'll earn a small commission.
Without giving too much away, I'll tell you that quite a few of my long standing favourites have been replaced with VERSED alternatives, and both my skin and my bank account are looking better for it!
---
Save 10% on any order from VERSED with 'LEEVOSBURGH10'
Enter code at checkout anytime!
---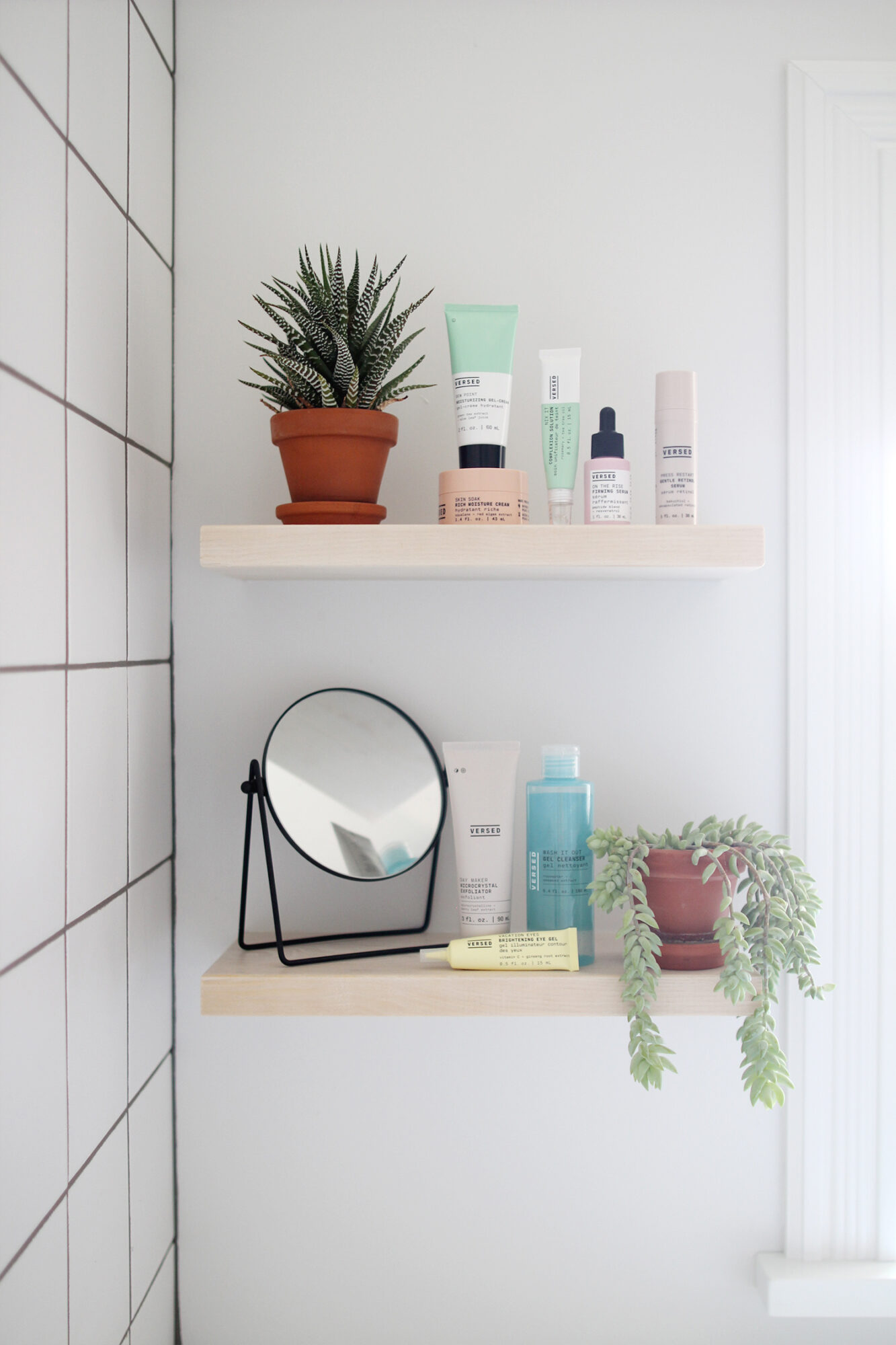 ---
My skin type: Sensitive / Combination
I have an oily T-zone and more normal-dry cheeks, temples and upper forehead. I get hormonal breakouts around my jawline and have fine lines around my eyes, which I don't mind but don't encourage (if you know what I mean) and I'm working on reducing the visibility of some past acne scars. My skin is relatively sensitive so I try to introduce products slowly and carefully.
I've also decided that I don't like the term "problem skin" (which VERSED uses on some products). I spent over 15 years fighting "problem skin" (including cystic and body acne) and as soon as I stopped putting so much negativity into my relationship with my skin, I started seeing positive changes. I still get hormonal break outs but they no longer impact my self-worth in the way that they used to. Just something I felt was worth noting as we're on the topic.
---
NO MAKE-UP + FILTER FREE ME
---
---
MY TOP THREE FAVOURITES
---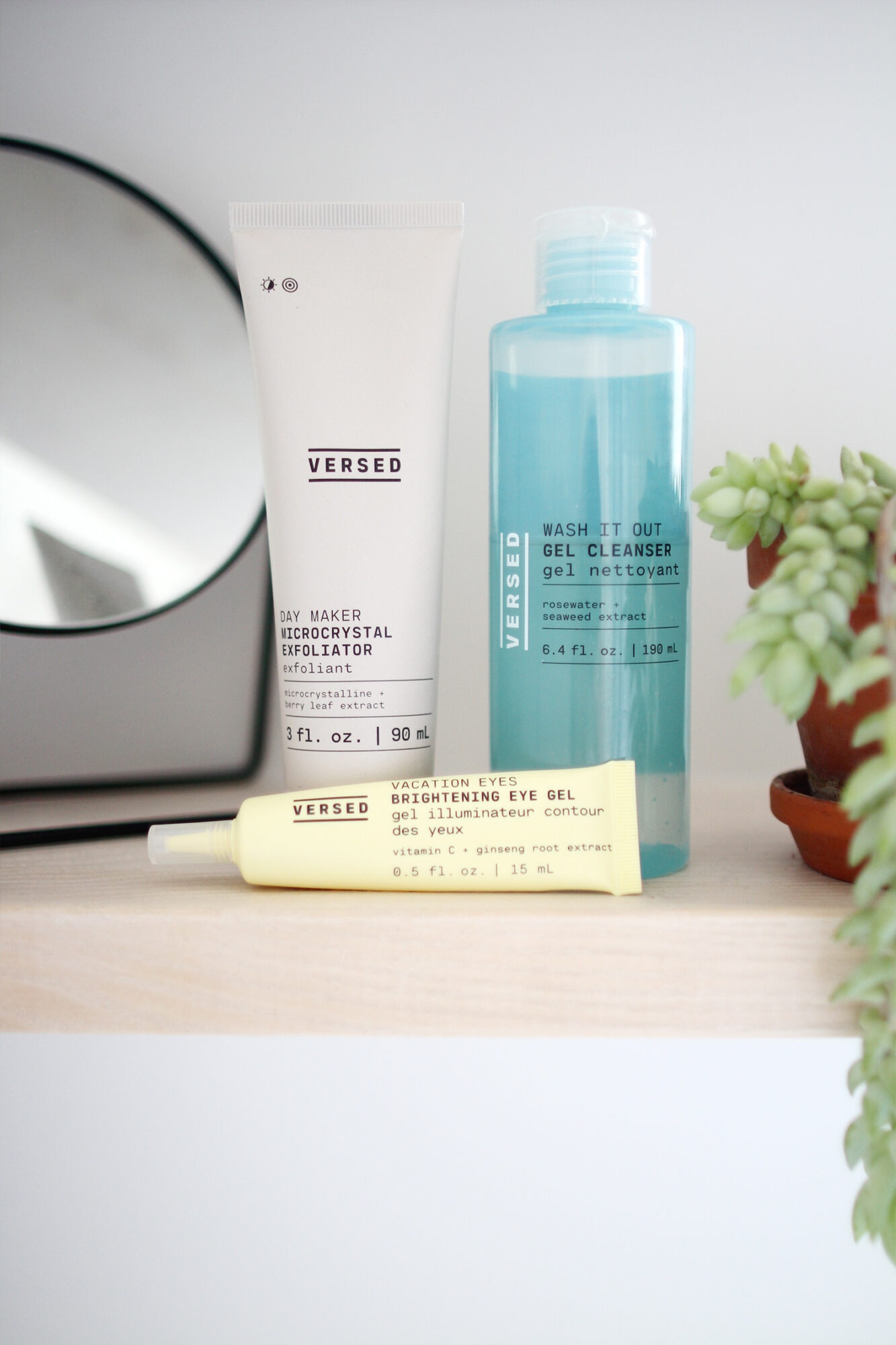 ---
Brightening Eye Gel – Vitamin C and Ginseng Root Extract – $17.99 USD / $23.99 CAD
This is the best brightening eye gel I've tried to date. I find it's super gentle and I love the cooling sensation it creates as it soaks into the skin. It never causes milia, which many other eye creams have for me and visibly brightens my under-eye circles. I almost never feel the need to add under eye concealer anymore thanks to this product.
This product has officially replaced the Banana Bright Eye Cream in my regimen.
Noteworthy Ingredients:
VITAMIN C sodium ascorbyl phosphate | 0.5% (combats lingering red and dark spots)
COFFEE EXTRACT coffea arabica seed extract | 0.02% (supports circulation)
GINSENG ROOT EXTRACT panax ginseng root extract | 0.001% (helps brighten skin)
NIACINAMIDE niacinamide | 0.25% (also helps brighten skin)
---
Gel Cleanser – Rosewater + Seaweed Extract – $12.99 USD / $16.99 CAD
I've been using this cleanser everyday for months now and really like how gentle it feels and refreshing it smells (without being overtly fragrant). Unlike most foaming cleansers, it never leaves my skin feeling tight or dry. It effectively removes any sunscreen or makeup, although sometimes I'll need to repeat around the eyes if I've worn mascara. My partner, Dave, also uses this one and it's been great on his highly sensitive skin too. One bottle last for ages as well, making this the most cost-effective item in my skin care regimen.
This cleanser has replaced my previous favourite the Beste No.9 Jelly Cleanser.
Noteworthy Ingredients:
ROSEWATER rosa centifolia flower water (calming and nourishing)
MINT mentha piperita oil (tightens, tones and smells great)
APPLE AMINO ACIDS apple amino acids (helps to retain moisture and creates foam)
SEAWEED EXTRACT fucus vesiculosus extract (helps to retain moisture)
---
Microcrystal Exfoliator – Microcrystalline + Berry Leaf Extract – $16.99 USD / $22.99 CAD
I ordered this product on a whim when my previous go-to exfoliator ran out and I doubt I'll ever go back. This product has a texture unlike anything I've ever used before. The nearest sensation I can compare it to is an impossibly fine sand, that's also, somehow, creamy and super gentle. I use this a couple of times a week when I feel like my skin needs a slightly deeper clean (especially after long days of repeat sunscreen application or when perhaps I haven't been as diligent about my routine as I should be). It leaves my skin feeling instantly smoother and super soft, especially when I commit to the 60-second circular message as recommended by VERSED.
Noteworthy Ingredients:
MICROCRYSTALLINE microcrystalline cellulose (uniform in shape – no gritty, rough, harsh seeds or shells)
RASPBERRY LEAF EXTRACT rubus idaeus leaf extract (reduces inflammation and oil production)
BLACK CURRANT LEAF EXTRACT ribes nigrum leaf extract (reduces inflammation and oil production)
JOJOBA OIL simmondsia chinensis (jojoba) seed oil (non-comedogenic and soothing)
---

---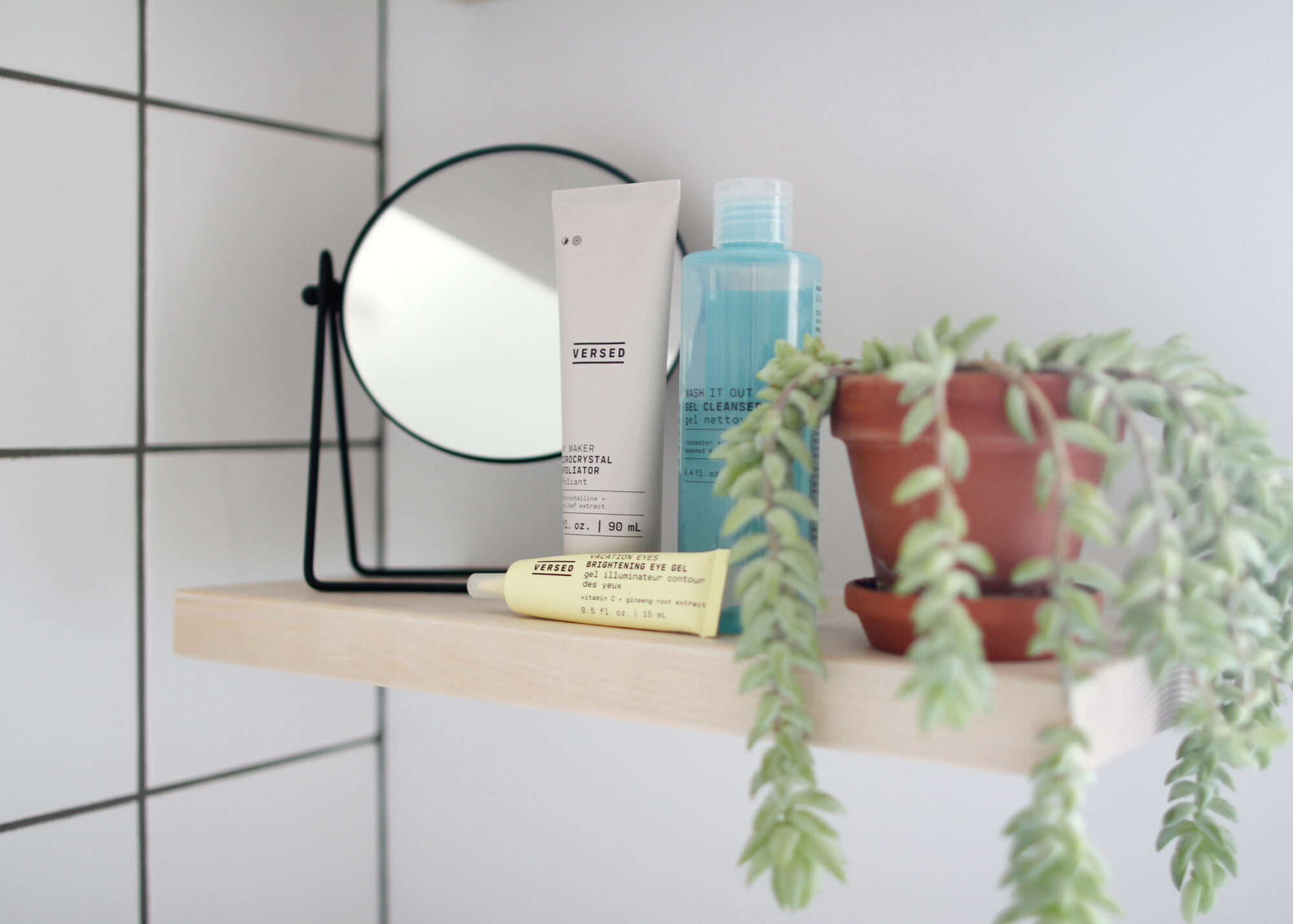 ---
OTHER VERSED PRODUCTS I'VE BEEN USING
---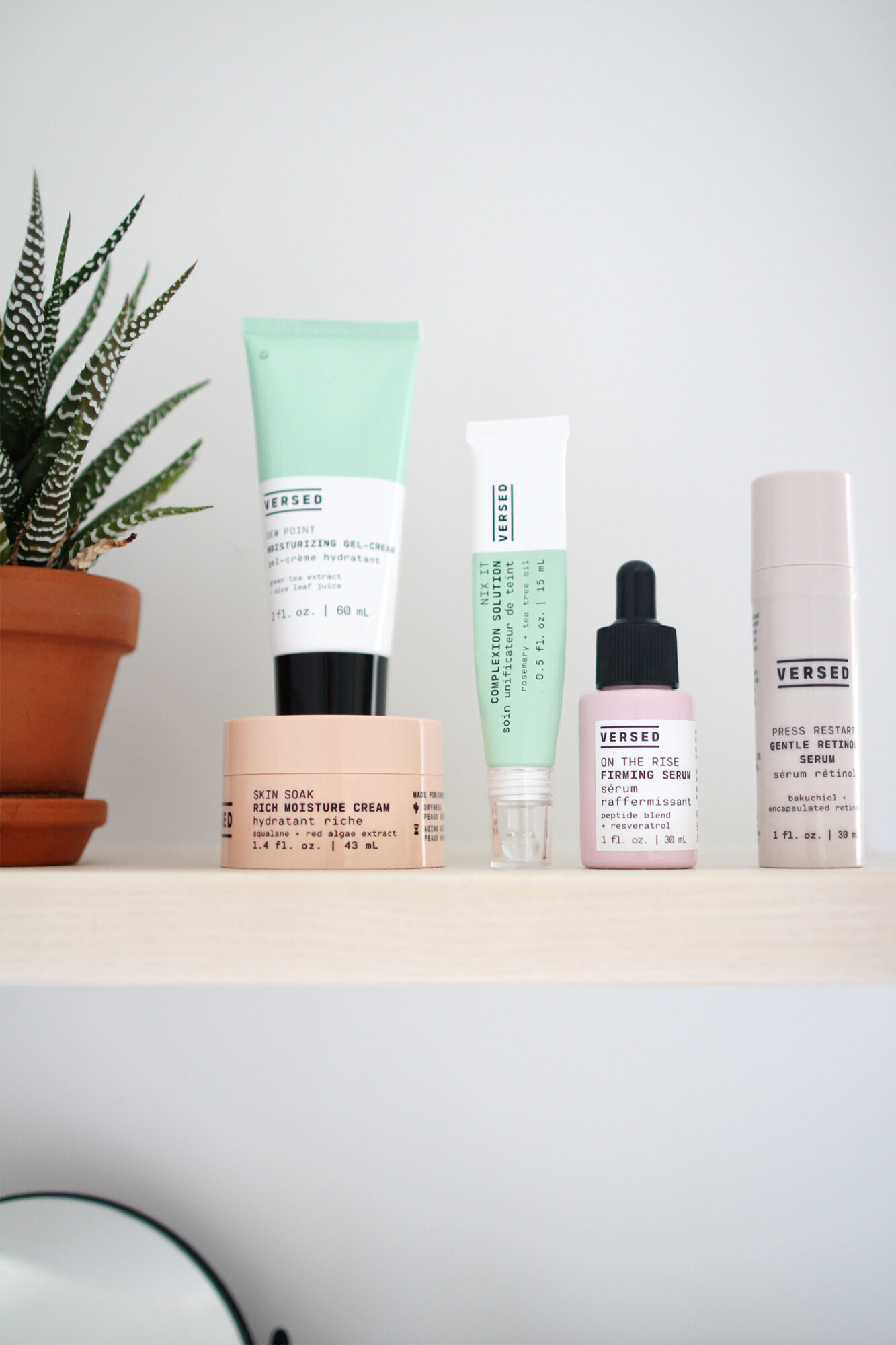 ---
Moisturizing Gel-Cream – Green Tea Extract + Aloe Leaf Juice – $14.99 USD / $19.99 CAD
I ordered this product out of curiosity to compare with my DE Protini Peptide moisturizer, which I've used for years now. The texture is super smooth and "gel-cream" is an accurate description. I found that it wasn't hydrating enough until the summer arrived and brought some humidity with it. It does have a slightly tacky feel to it until it's completely soaked in. I think this is a great option for oily skin that doesn't need too much extra moisture. I prefer the DE Protini Peptide moisturizer, however, I sub this in on humid days when I'll be in and out of the water and don't want to waste the very pricey Protini!
Noteworthy Ingredients:
GREEN TEA LEAF EXTRACT camellia sinensis leaf extract (fights damaging free radicals quiets inflammation)
ALOE LEAF JUICE aloe barbadensis leaf juice (soothes and hydrates)
SODIUM HYALURONATE sodium hyaluronate (similar to hyaluronic acid, helps to draw in + retain moisture)
---
Rich Moisture Cream – Squalane + Red Algae Extract – $17.99 USD / $24.99 CAD
I ordered this product out of curiosity to compare with my go-to night moisturizer, Caudalie VinoPerfect Glycolic Night Cream. While it doesn't deliver on brightening so much (I didn't expect it to) it does deliver on the moisture and hydration. This is a great option for dry or sensitive combo skin because it's packed with replenishing ingredients that are still gentle. I think this is a great night-cream option for folks looking to get an extra injection of hydration without any greasiness, and at a great price point.
Noteworthy Ingredients:
SQUALANE squalane (hydrates and replenishes the moisture your skin once had)
HYALURONIC ACID hydrolyzed hyaluronic acid (helps to draw in + retain moisture)
SODIUM HYALURONATE sodium hyaluronate (similar to hyaluronic acid, helps to draw in + retain moisture)
RED ALGAE EXTRACT palmaria palmata extract (restorative)
---
Complexion Solution – Rosemary + Tea Tree Oil – $9.99 USD (only available directly)
Given the chance I always like to test out spot treatments and this one is pretty darn good. I like that it's clear, non-drying, and it actually does work to calm, heal and evaporate break-outs. A little goes a long way and I've used it on pimples at all stages. It makes a notable difference without causing flakiness as the skin restores. I also really like the natural smell of the lavender, lemon and rosemary oils.
The package is a bit of a fail, as the product is tricky to get out. Hopefully they'll fix that and release a new version.
Noteworthy Ingredients:
TEA TREE OIL melaleuca alternifolia leaf oil | 0.3% (helps control excess oil, soothe redness, fight bacteria, and prevent pimples from forming)
SALICYLIC ACID salicylic acid | 0.45% (exfoliates pore-clogging dead skin cells)
---
Firming Serum – Peptide blend + resveratrol – $17.99 USD / $24.99 CAD
I wanted to give this one a try to compare it with another of my regulars, DE C-Firma. The texture is beautifully smooth and not at all greasy, which I've found some serums can be. I've found it works best if you press it into freshly cleansed skin and let it soak in for a minute or two before adding anything on top. I noticed a difference in just a couple of weeks and while it doesn't give quite the same "lit from within" glow that the C-Firma does, it's a fraction of the price (1/5th) and offers many of the same benefits.
I may try adding the Found the Light Powder or using the Stroke of Brilliance (both vitamin C) products to get that extra boost of glow.
Noteworthy Ingredients:
VITAMIN C sodium ascorbyl phosphate (great for combating lingering red and dark spots)
RESVERATROL resveratrol (a powerful anti-aging antioxidant that strengthens skin's defences)
PEPTIDE BLEND palmitoyl tripeptide-1, palmitoyl tetrapeptide-7 (helps to retain moisture)
---
Gentle Retinol Serum – Bakuchiol + Encapsulated Retinol – $17.99 USD / $24.99 CAD
Okay, time for the heavy hitter that everyone is obsessed with these days, which is of course, the retinol. I was skeptical about this products "gentle" claims as I'd had bad reactions to retinol previously (like face covered in hives bad) and used this one on my wrist to start. It didn't cause any trouble so I kept going with it, using only once a week for a while and gradually moving up to 3+ times a week. I've go to say, it does what it claims to and my skin is softer, more evenly toned and some fine lines seem less obvious since I've been using this one regularly for a month or so now.
Just don't forget to wear sunscreen or your skin may burn more easily!
Noteworthy Ingredients:
BAKUCHIOL bakuchiol | 0.05% (A compound used as an antimicrobial, prevents free radical damage and retain moisture)
AROPHIRA crithmum maritimum extract, caprylic/capric triglyceride, hydrogenated vegetable oil | 1% (An extract used as an astringent that helps to retain moisture)
ENCAPSULATED RETINOL retinol | 0.03% (Vitamin A in its whole molecule form used to retain moisture).
CHLOROPHYLL chlorophyll | 0.08% (Promotes blood cell production (bringing oxygen to skin) and has many antioxidants (A, C, E, and K) which fight cell damage)
---

---
HERE'S A LOOK AT EACH PRODUCT'S TEXTURE
---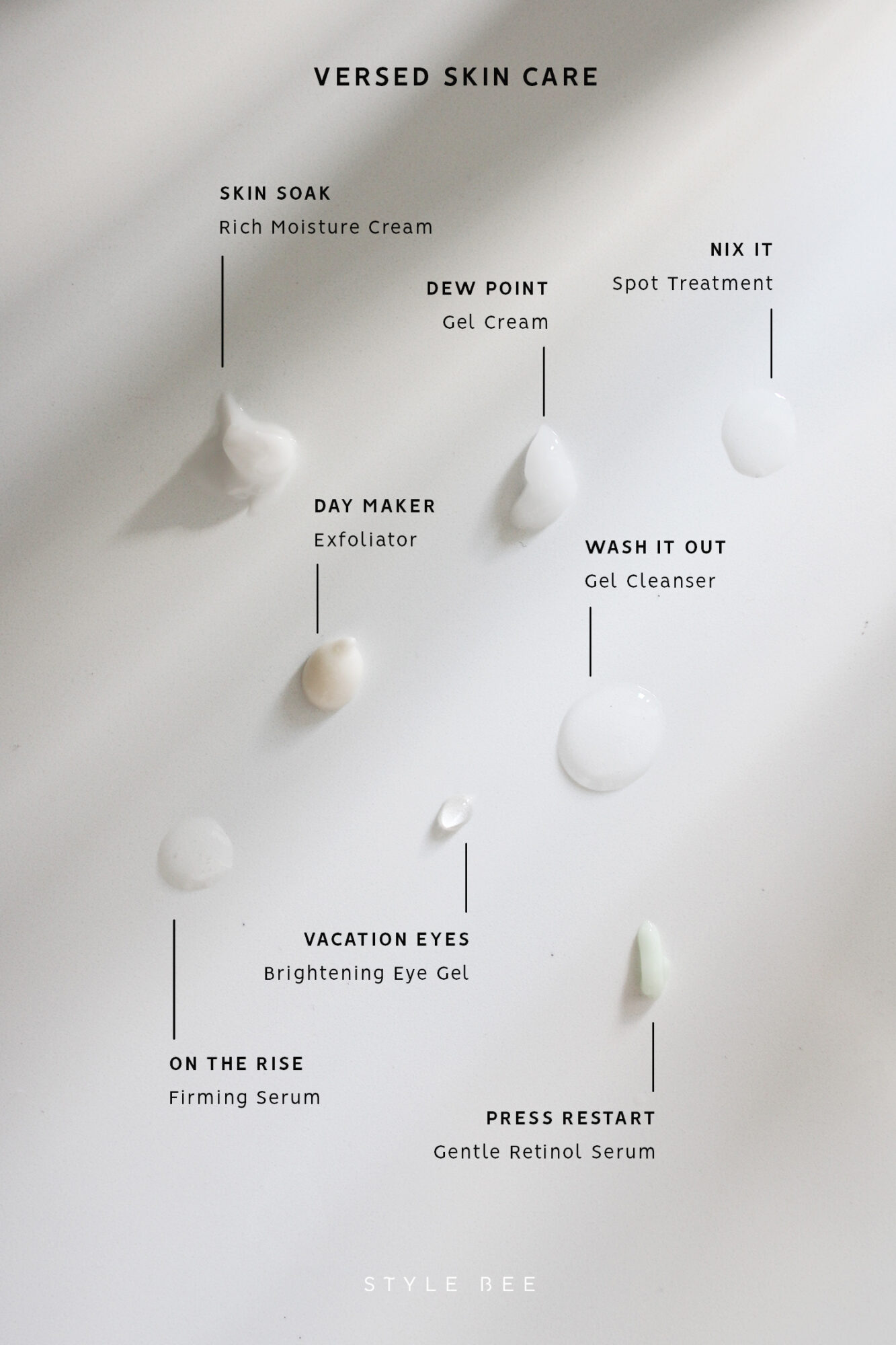 ---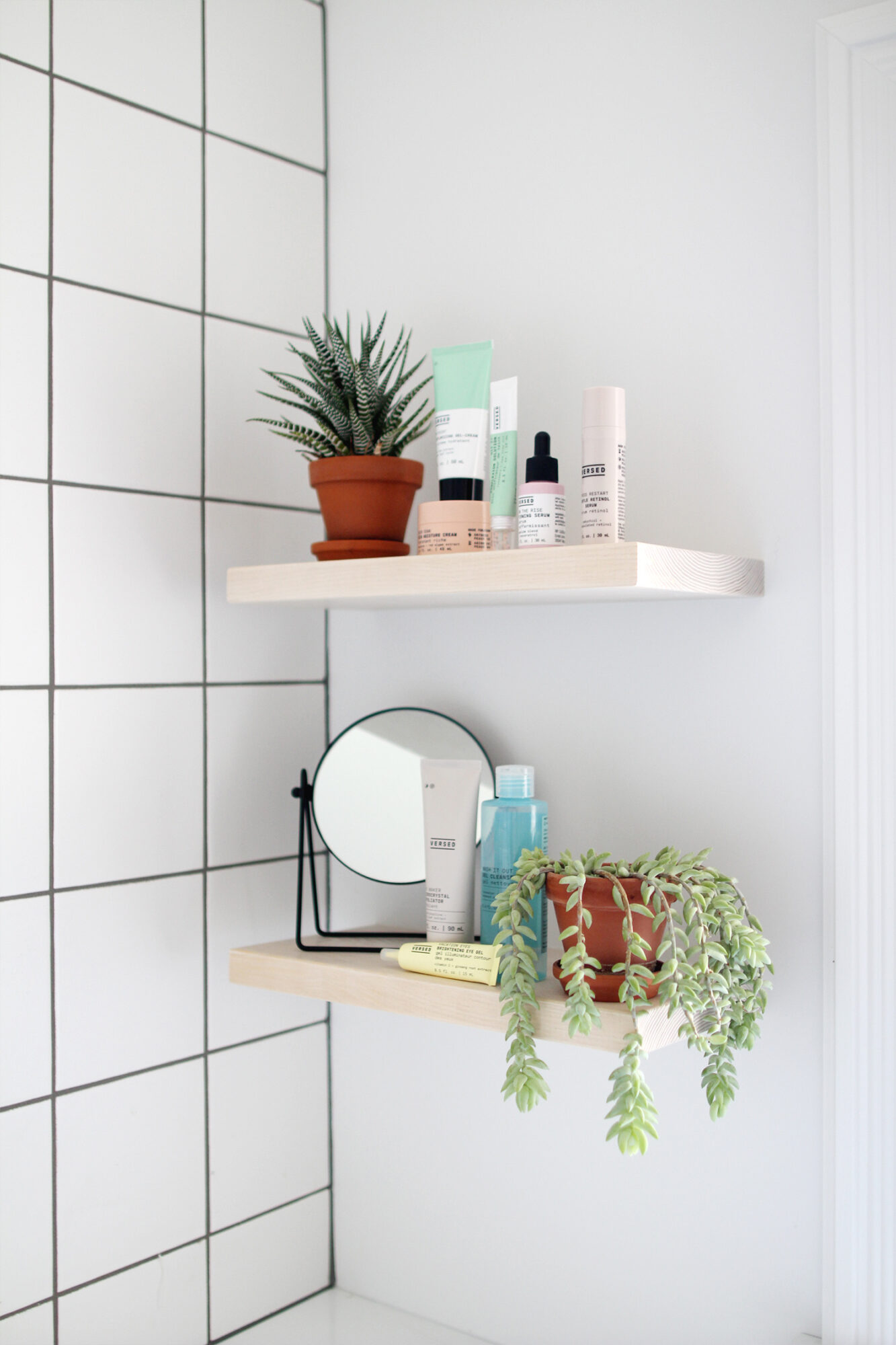 ---
Save 10% on any order from VERSED with 'LEEVOSBURGH10'
Enter code at checkout anytime!
---

---
So there you have my notes on the VERSED products that I've tried so far. I think this line is well worth a shot. The products work without breaking the bank and I appreciate the brands ongoing efforts to maintain transparency and increase sustainability.
If you've got any thoughts on products you've tried or would like to know about (I'm about to restock and order a few new ones), please let me know!