Go ahead and call me "cheugy", and maybe I am just a painfully basic millennial, but you won't find me ditching my skinny jeans anytime soon. Especially not after years of searching for them! They're just way too classic, too practical and too versatile to part with based on some arbitrary nonsense.
On that note! In today's post I'm sharing some thoughts on my go-to pair of black skinny jeans, so if you're in the market read on to learn about:
Now let's get into why I believe skinny jeans will stand that test of both time and internet mockery.
---
This post is not sponsored or produced in partnership with any brands mentioned but does contain affiliate links and some gifted items. The product highlighted was purchased by me, not sent by the brand for review. If you see something you like and decide to shop through the links included, I may earn commission on a sale at no additional cost to you. All opinions are always my own and I only share items I love and think you might too. Thanks for supporting Style Bee!
---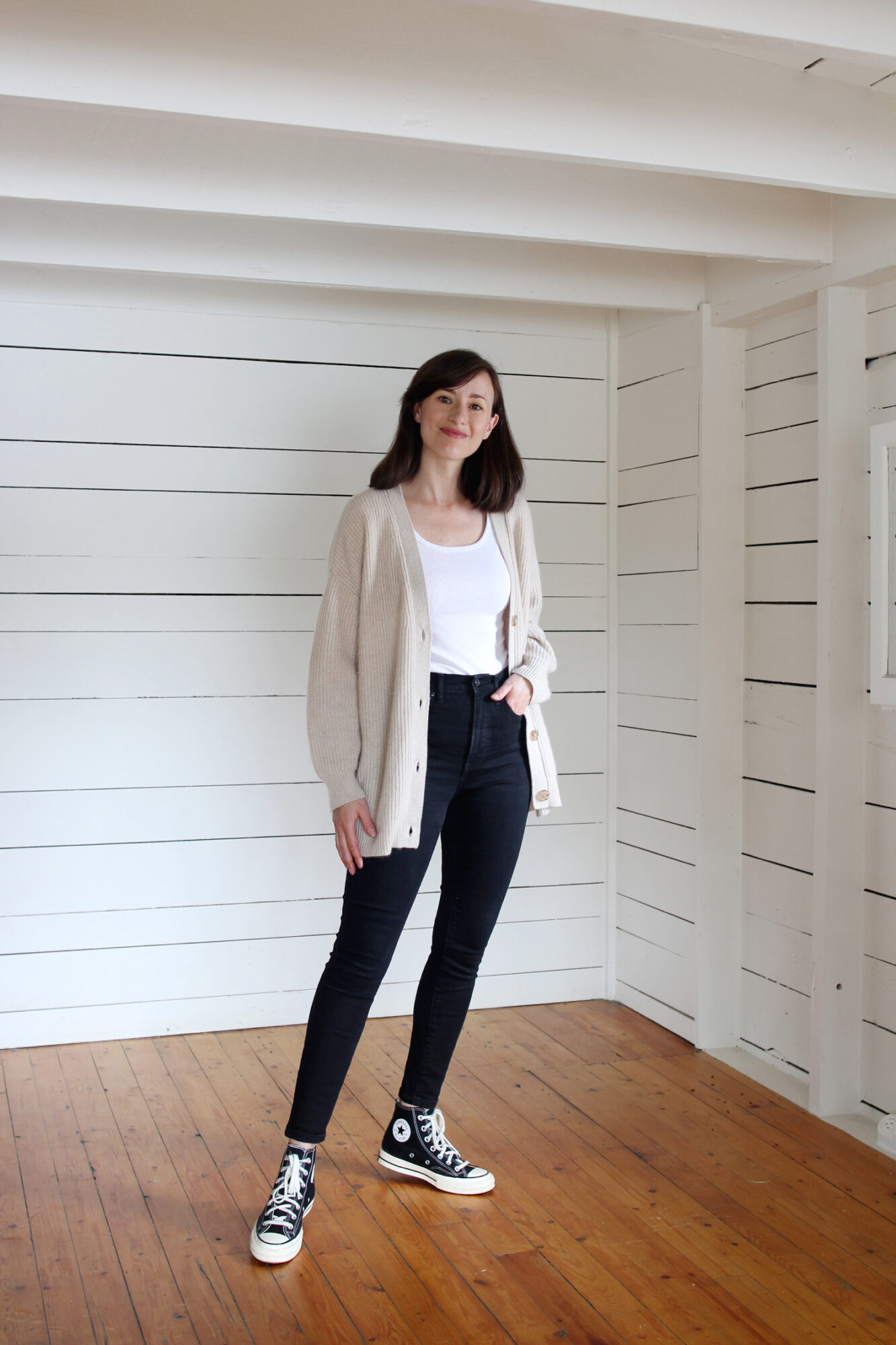 ---
Cocoon Cardigan Jenni Kayne (full review here & use LEE15 for 15% Off) | Authentic Stretch High-Rise Skinny Jeans Everlane | Scoop Neck Pima Micro Rib Everlane | All Star 70's High Top Converse

---
QUICK FACTS
---
The Authentic Stretch High-Rise Skinny comes in:
Two fits: A Standard Version (which I have) or a Curvy Version, great for anyone who typically finds their jeans gape at the waist in order to fit their hips/butt comfortably.
13 Sizes: 23 / 24 / 25 / 26 / 27 / 28 / 29 / 30 / 32 / 33 / 34 / 35
3 lengths: Ankle / Regular / Tall
4 Washes: BLACK / MID BLUE / DEEP INDIGO / VINTAGE BLUE / WHITE

Price point: $76 USD
For INTL customers, all duties and taxes are included at checkout so there are no surprises, which is definitely my preference when shopping online.
Made of: 77% cotton, 17% modal, 2% elastane, 4% polyester
This fabric isn't a true denim, however, it's one of the few pairs of jeans that I've found doesn't stretch out, at all, feels thick enough to be a "real" jean (not a jegging), and is still comfortable enough to move around in.
---
---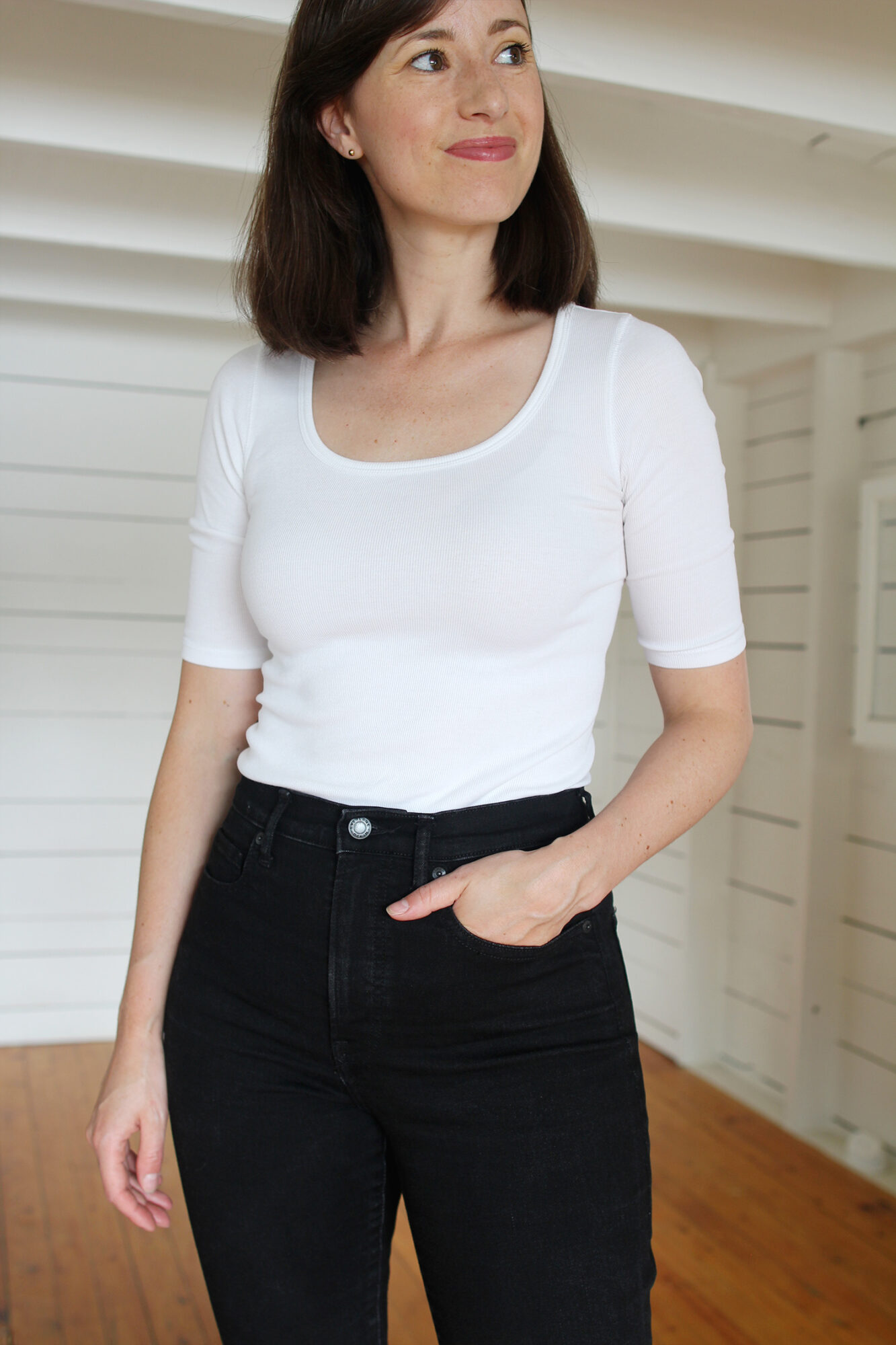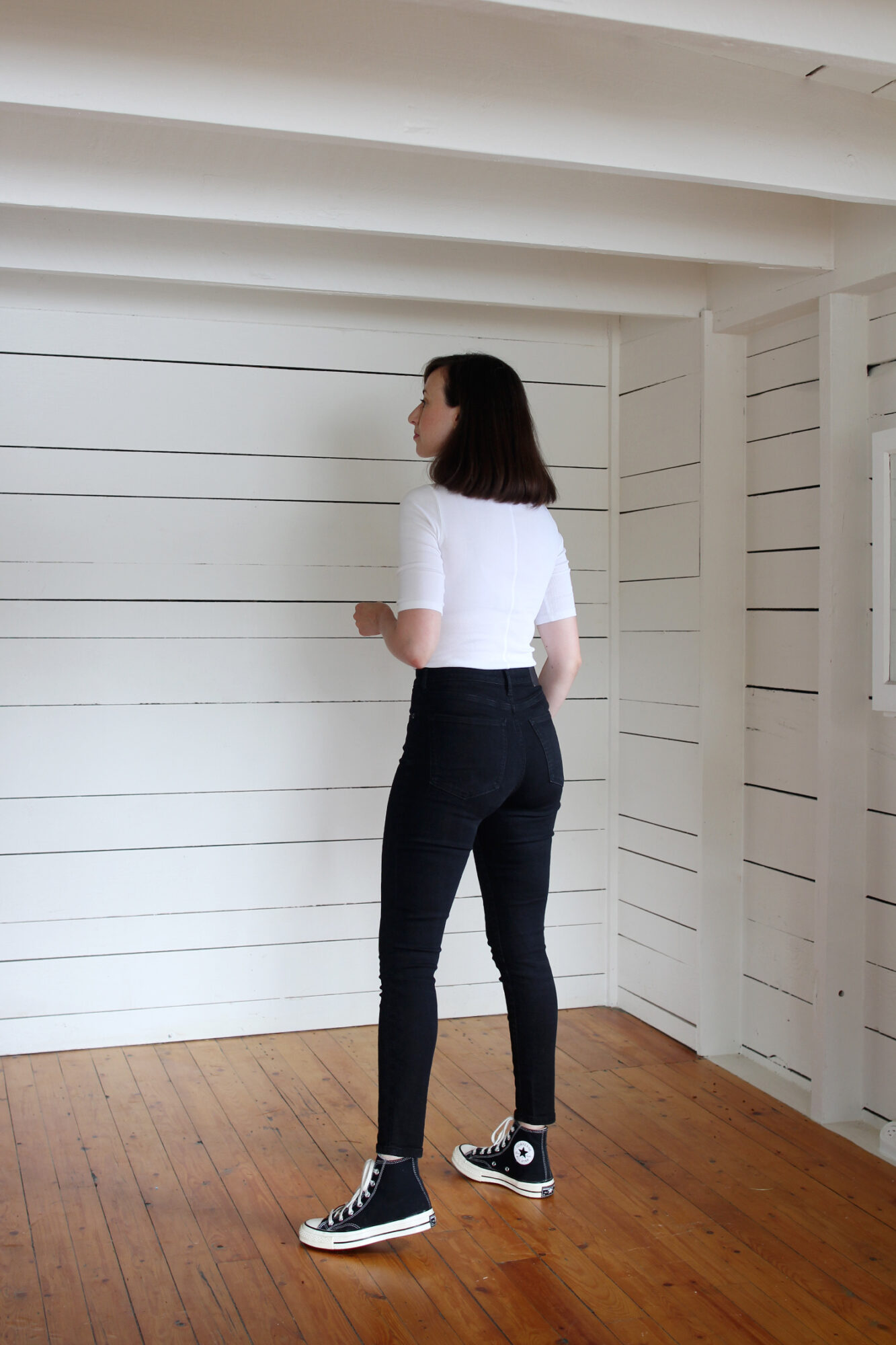 ---
FIT NOTES
---
I'm wearing the Authentic Stretch High Rise Skinny Jeans in my usual denim size, regular length. No alterations needed.
My size information for reference: I'm typically either a 26 or 27 in denim and went for the 27 based on previous experience with fitted denim from Everlane. My measurements are approximately: 26-27 in Waist / 37-38 in Hip. I'm about 5'7 and 130 lbs. I don't weigh myself or take measurements much anymore but if my jeans fit the way I'm used to I figure that not much has changed.
---
DETAILS THAT MAKE THESE A PERSONAL FAVOURITE
---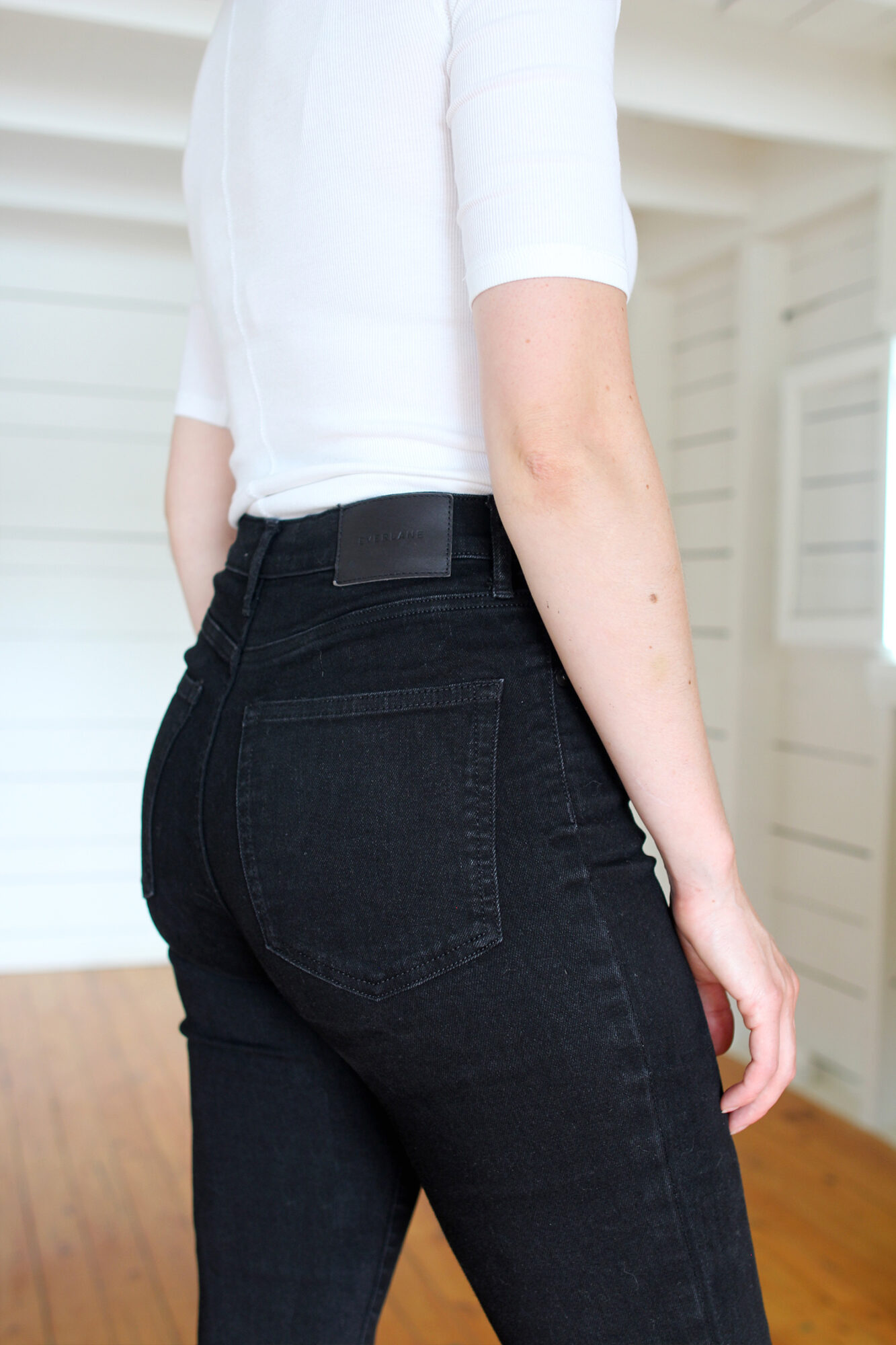 TRUE BLACK – ALL OVER
These jeans are a true, deep black, from the rear patch to the rivets, everything is black. This is an important detail to me, as it gives them an extra bit of sophistication.
---
Washing note: I've found that they've held their colour well. I wash my jeans as infrequently as possible. When I do wash them I turn them inside out, wash in cold water, on either a delicate or denim cycle and always air dry.
Fading: These have been in my closet since the beginning of the year and I've washed them a handful of times. They are starting to show a bit of fading in the front zipper area, back pockets, and seams around the hip. All areas that tend to get the most wear.
Lint & pet fur: In the past I've had some jeans that really attract lint and pet fur but these aren't bad at all. Occasionally I'll need to run a lint roller over them but I haven't found it to be an issue at all.
---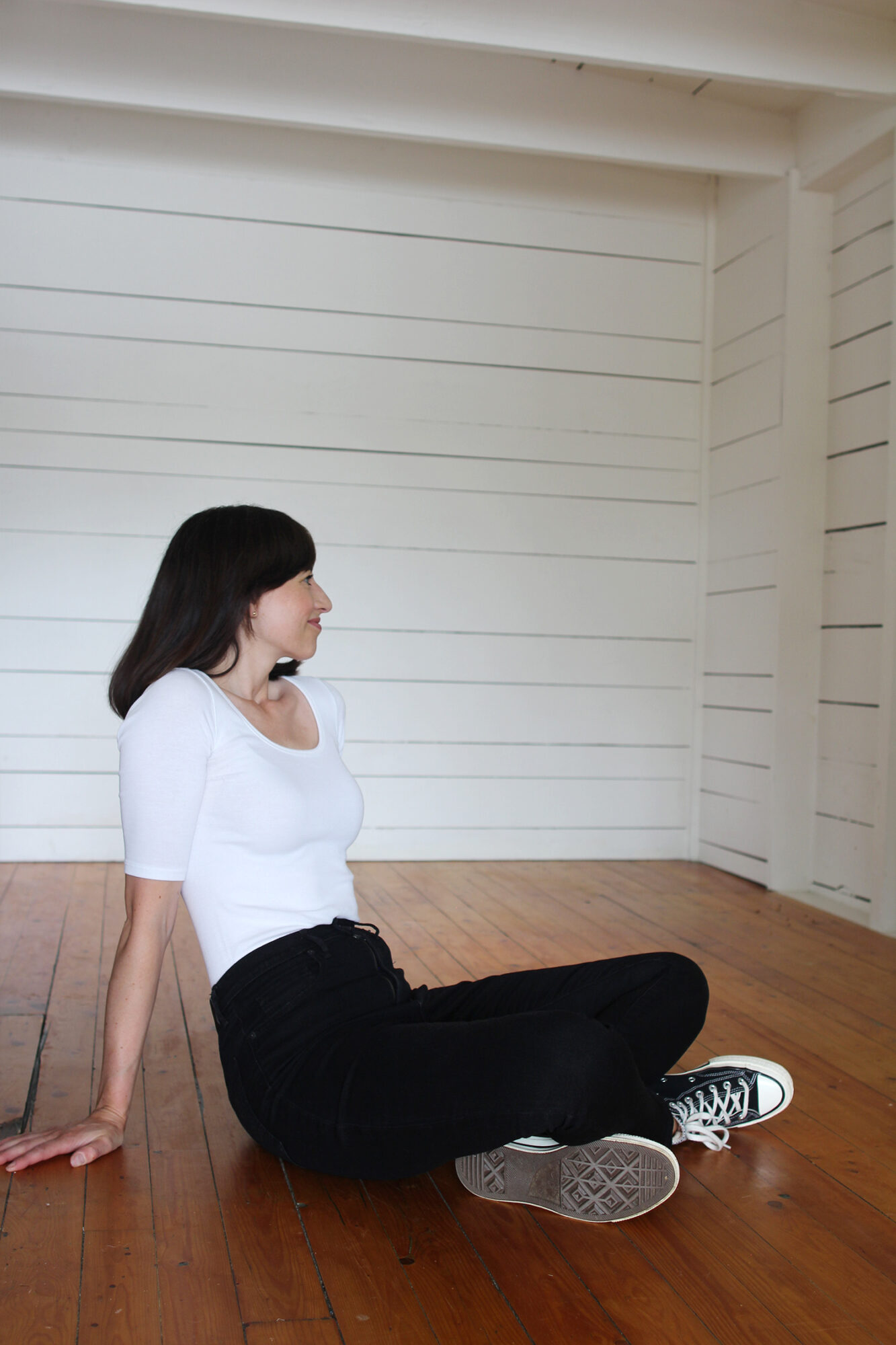 EASY TO MOVE & SIT IN
These jeans feel like denim but still have plenty of stretch so it's easy to bend and move and do whatever you need to in them comfortably.
---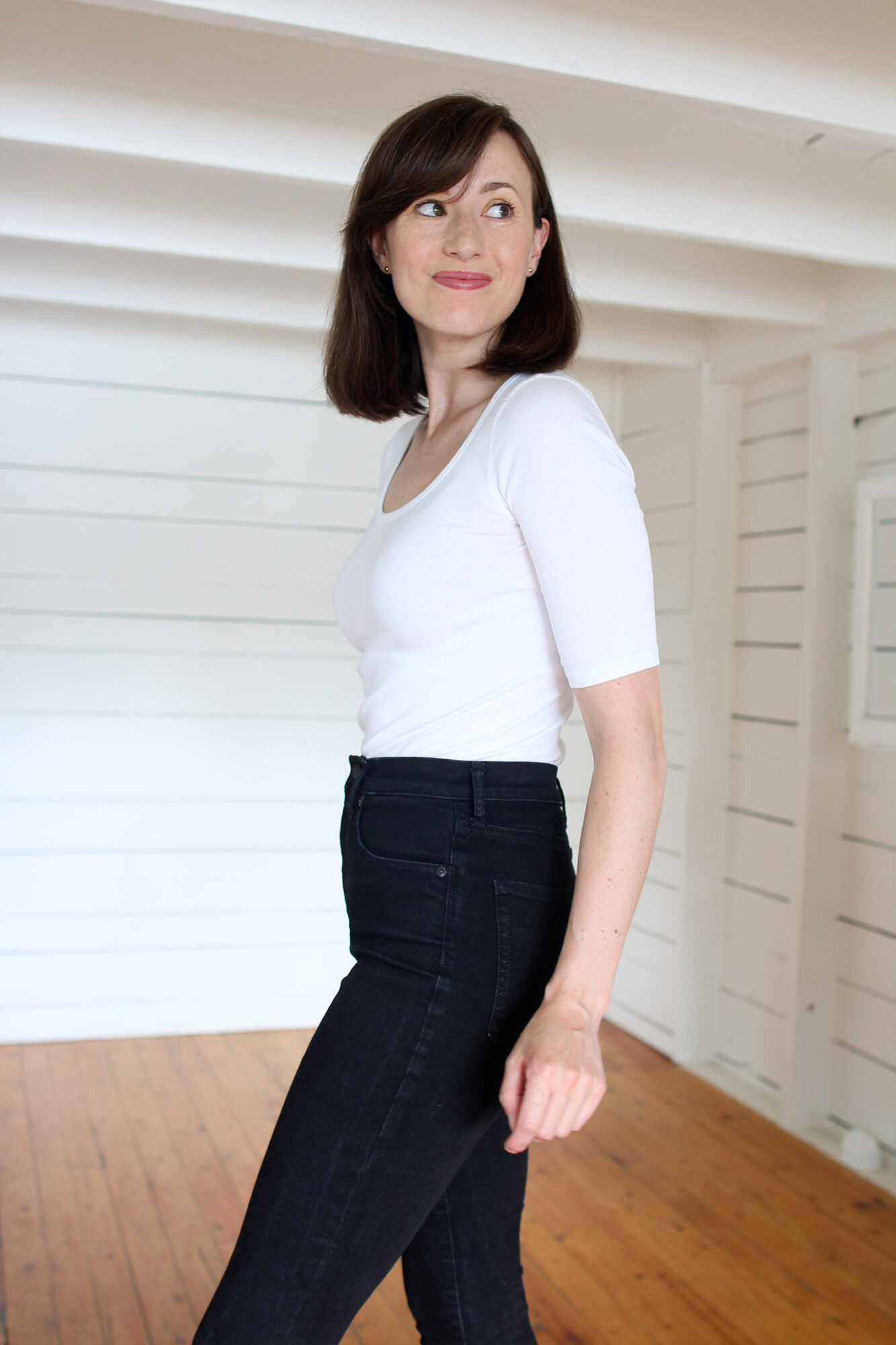 NO GAPING
The design team really nailed the fit on these through the waist and lower torso. There is no gaping at the waist and the front zipper panel holds its shape very well. None of the usual "dome" effect that is so common with high-rise pants.
---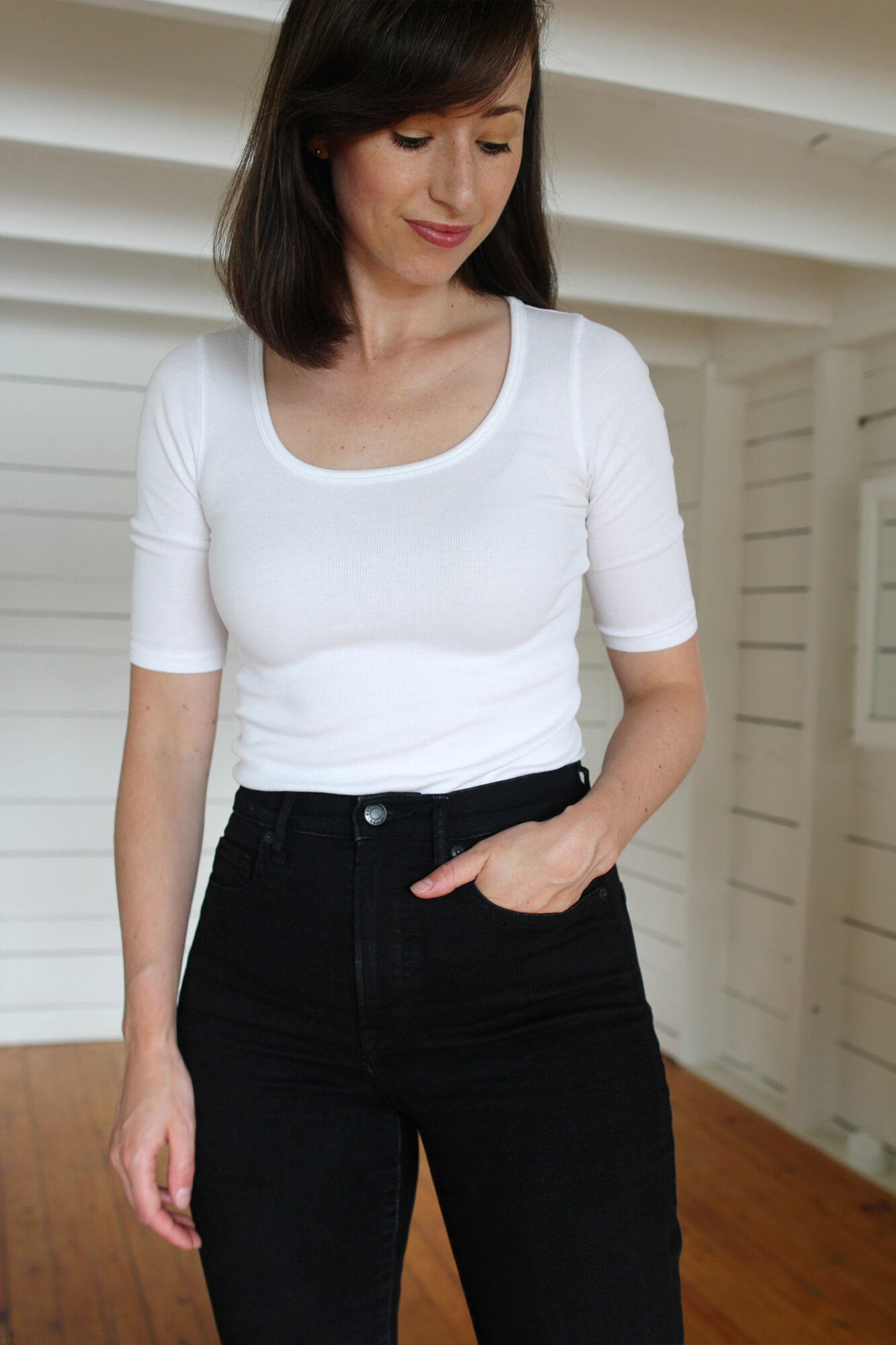 IDEAL RISE
I've tried a lot of different high rises and 11 inches seems to be the sweet spot for my frame. It hits me just above the belly button but isn't too high to sit in and pairs perfectly with cropped tops and tuck-able tees alike.
---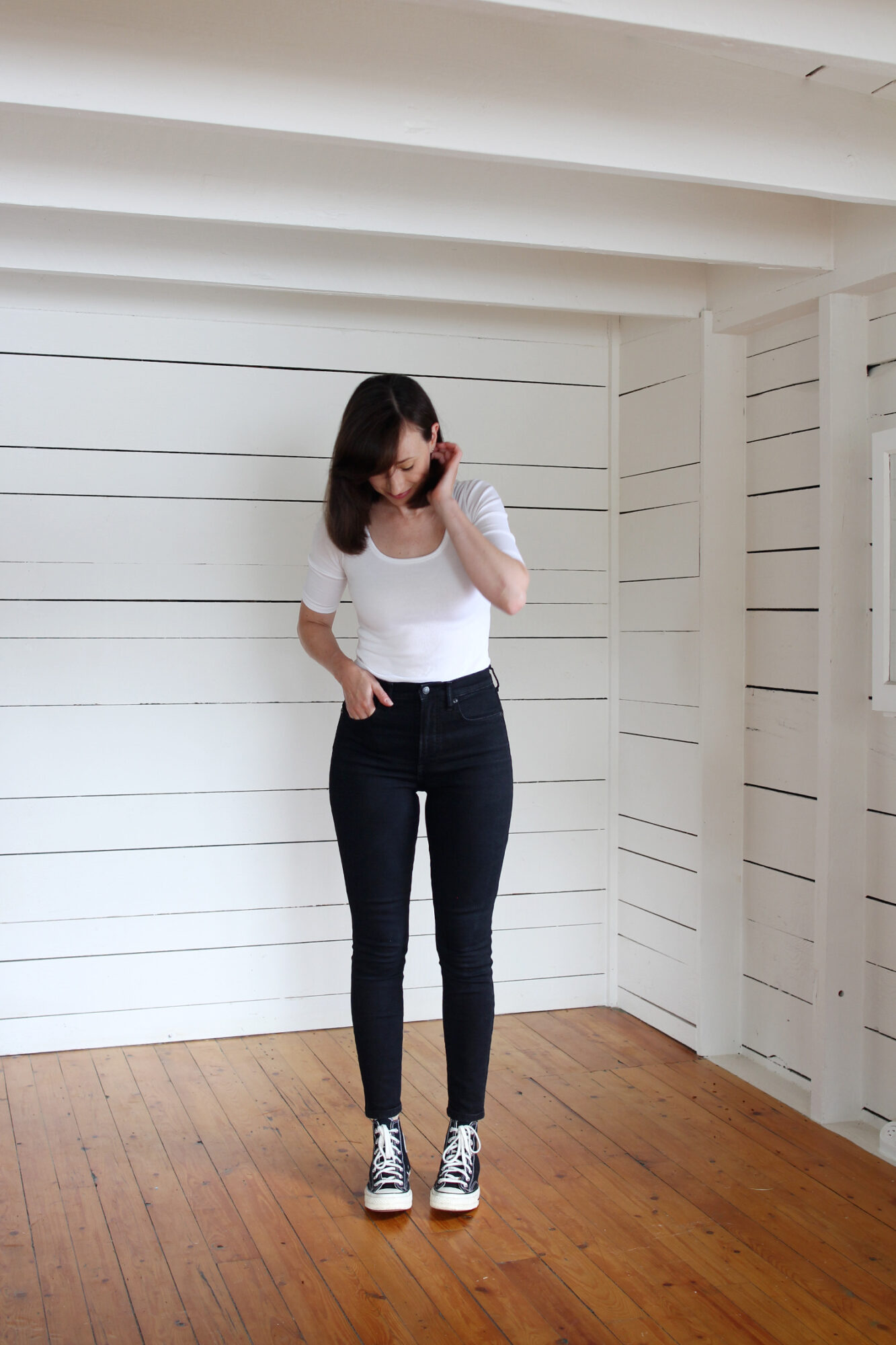 SPOT ON INSEAM LENGTH
For my height, 5'7, a 28.5 inch inseam is just long enough to hit above my ankle with no bunching or alterations needed. This makes them easy to pair with all different types of footwear.
Ps. They come in three length options depending on what you need!
---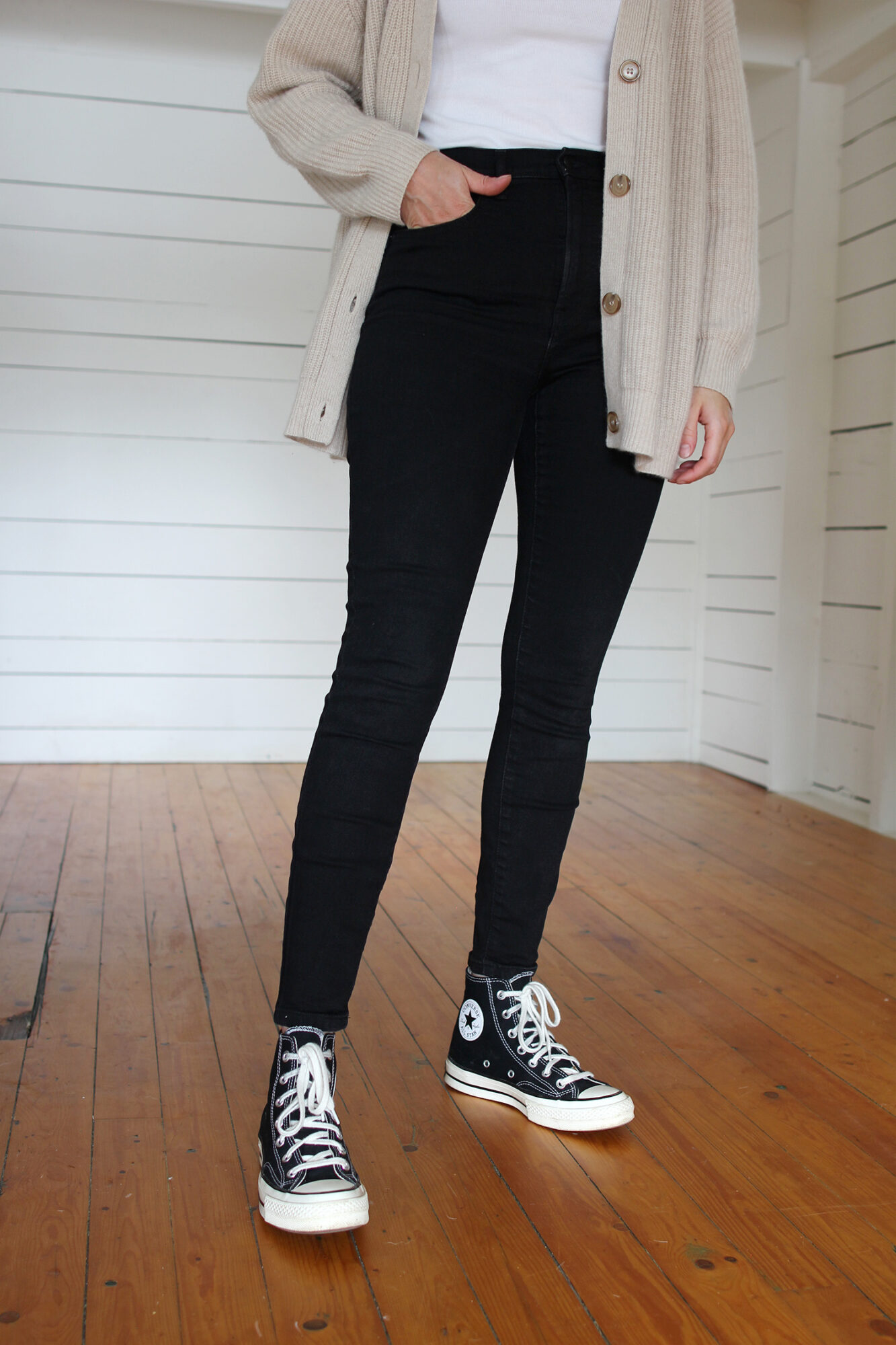 SNUG BUT NOT TOO TIGHT
These are a true "skinny" jean as they fit snug throughout. Unlike other skinnies that can feel glued on, these are just right, with enough stretch to hold their shape without making you feel confined.
---
WHY I STILL THINK SKINNY JEANS ARE A TIMELESS STAPLE
---
Sure, they may not be be the hottest denim trend at the moment but black skinny jeans aren't leaving my style repertoire anytime soon. Would I wear them to fashion week? No, probably not, but the more I focus on dressing for me and what best suits my personal taste and lifestyle, the better I feel about my closet. So, skinnies, you're safe.
Black slim fitting jeans are probably one of the most timeless staples in any closet. They look great on everyone, fit into any personal style definition and can work with an infinite number of outfit variables. They can range from ultra laid-back, to casual, to utilitarian, to dressy, and can even look professional if they need to. A wardrobe workhorse indeed!
Here's how I like to style them throughout the seasons:
In the spring and on not-too-hot summer days, I wear these jeans with mules, a trench coat, and button up or with my Birkenstocks and a flowy printed top.
In the early fall I love wearing them with sneakers, a fitted tee, with an oversize blazer or a cardigan over top.
When it's a bit colder they're great with a tall leather boot or suede ankle boot, a lightweight knit turtleneck and a camel coat.
In the rain I always pull them on with a long sleeve layer under my raincoat and slide into my rubber boots. I swap my rubber boots for Blundstones when I'm hitting a trail or doing work outdoors.
In the winter skinny jeans are an essential part of my day-to-day uniform. I wear them with a cozy knit, a chunky suede boot and a puffer coat.
Black skinny jeans are ideal for travel too. I wear them with a white t-shirt, sneakers and a jacket on the plane and they transition seamlessly into a daytime or dinner out look once I've reached my destination.
---
HOW I'VE STYLED THEM THIS YEAR ALREADY
---
---
So what do you think, are you team skinny jeans, or happy to part ways with this style?
---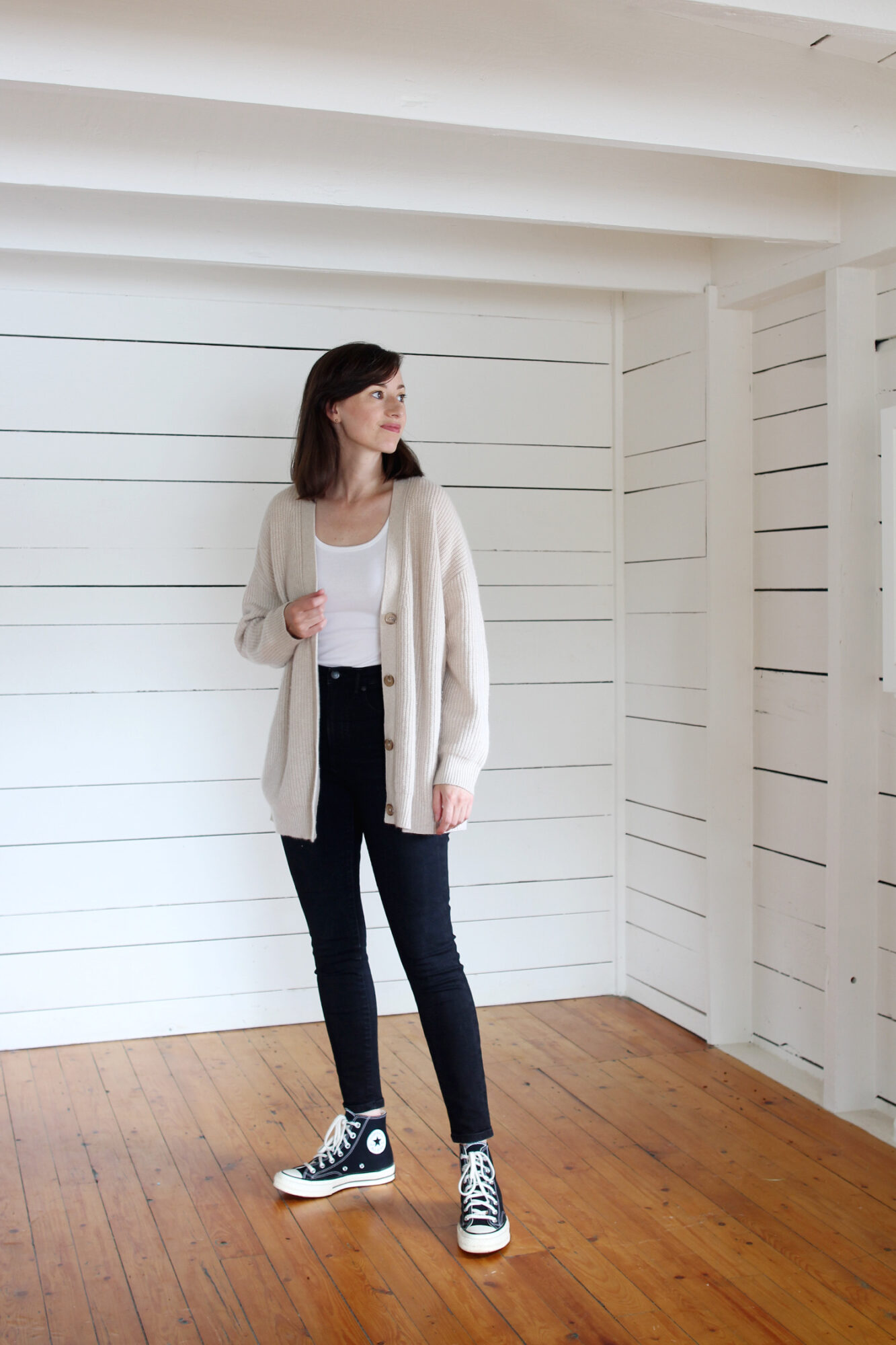 ---
Cocoon Cardigan Jenni Kayne (full review here & use LEE15 for 15% Off) | Authentic Stretch High-Rise Skinny Jeans Everlane | Scoop Neck Pima Micro Rib Everlane | All Star 70's High Top Converse

---
THANKS FOR TUNING IN!
I hope this post was helpful if you've been seeking a great high-rise skinny jean option. With over 6K reviews, you don't really need to take my word for it but if you've got any additional questions please feel free to share those in the comments and I'll be sure to reply asap!