It's no secret that one of my favourite brands of 2021 is Jenni Kayne. Everything this designer creates has a Californian nonchalance to it, and what's not to love about everyday essentials designed with functionality, quality, and effortless wearability infused into every detail?
I've had the opportunity to collaborate with the brand on a couple of occasions this year, which has given me a chance to try out a wide range of the different styles offered. You've likely noticed from the Style Journal and lots of other posts, that they're some of my favourite pieces in my closet. With a rare site-wide sale happening now through this weekend, I thought it may be helpful to quickly cover the styles I've tried and loved, and share a few that are on my radar.
If you're not shopping right now, no worries, you can always use LEE15 for 15% Off at any time. So no stress, just savings, whenever you're ready.
---
*Sale runs through September 6th, 2021. This post is not sponsored or produced in partnership with any brands mentioned but does contain affiliate links. If you see something you like and decide to shop through the links included, I may earn commission on a sale at no additional cost to you. All opinions are always my own and I only share items I love and think you might too. Thanks for supporting Style Bee!
---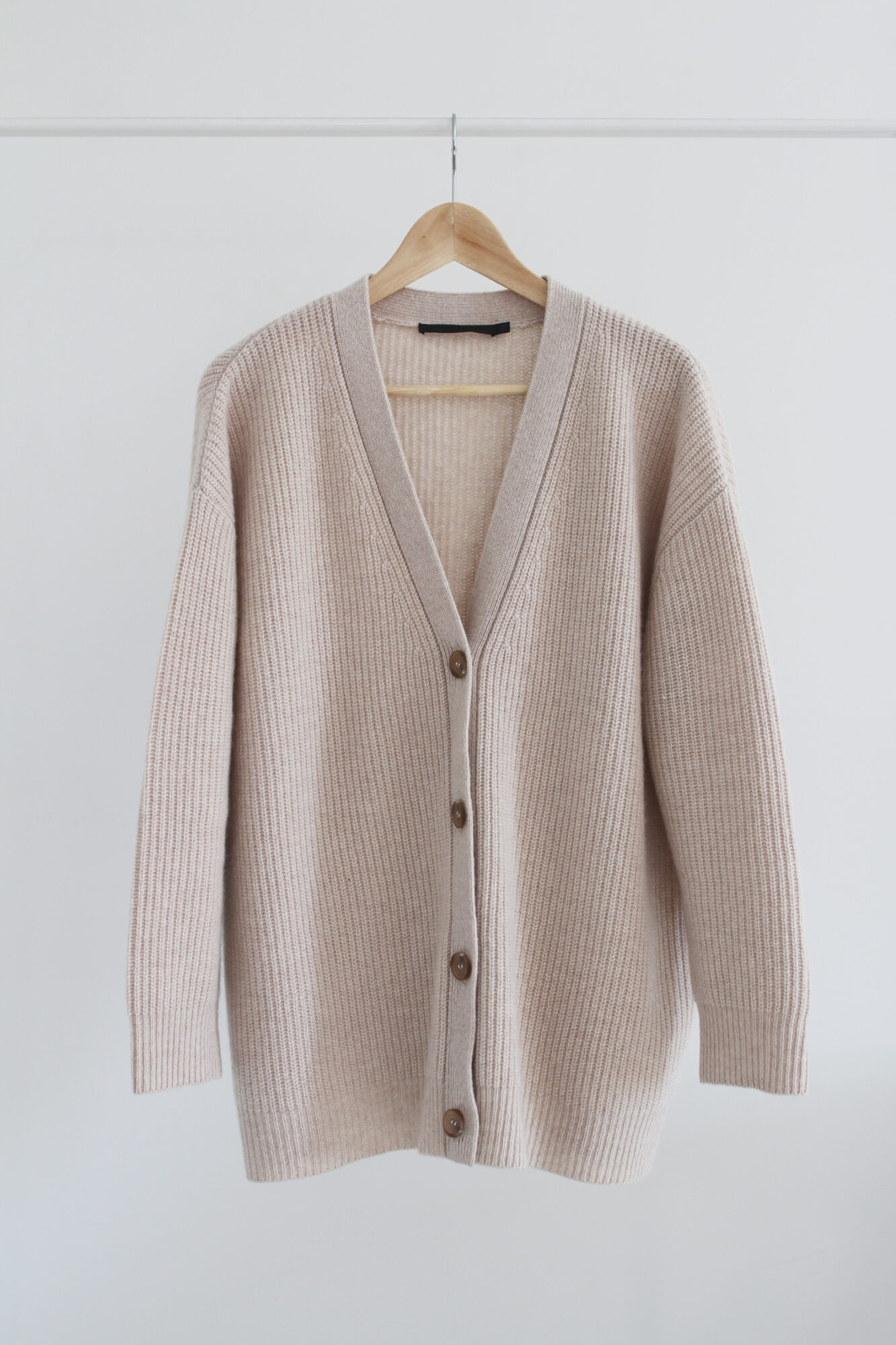 ---
(Use FRESHSTART for 20% OFF through 9/6 or LEE15 for 15% OFF any time)
---
#1 on my list has to be the cult favourite Cocoon Cardigan. It's a fan favourite for a reason and until you've tried it, it's hard to fully appreciate its magic. I'm wearing one as I type this!
I covered all the details about this piece in my Cocoon Cardigan Review and have since had several readers share their love for it too. One reader wrote:
"Just wanted to say a quick thanks for your thorough review of the Jenni Kayne cocoon cardigan—it was so helpful! My charcoal version arrived yesterday (I used your code) and I'm obsessed! Like you said, it eclipses all other sweaters and I'm planning to live in it this fall."
I have this style in three colours and I wear one at some point every single day.
Oatmeal Cashmere – Perfect light neutral that goes with everything.
Charcoal Cashmere – Beautiful deep grey, that's almost black, but flecks of lighter grey soften it (and help hide lint and pet fur). – Currently sold out, Carbon is very similar.
Ivory Alpaca – So chunky, so cozy, so light! This one is definitely more on the voluminous side as the yarn is inherently fluffy compared to cashmere.
SIZE NOTE: This cardigan has been designed with a very generous fit. I typically wear a small or medium in knitwear and I sized down to an XS in all the Cocoon Cardigans I have. They still have that gorgeous slouchiness, with lots of room to layer. The size range on the Cashmere Cocoon is from XXS through to 3X.
ON MY RADAR – The Cable Knit in Blush and The Cotton Cocoon in Sage Green.
---

---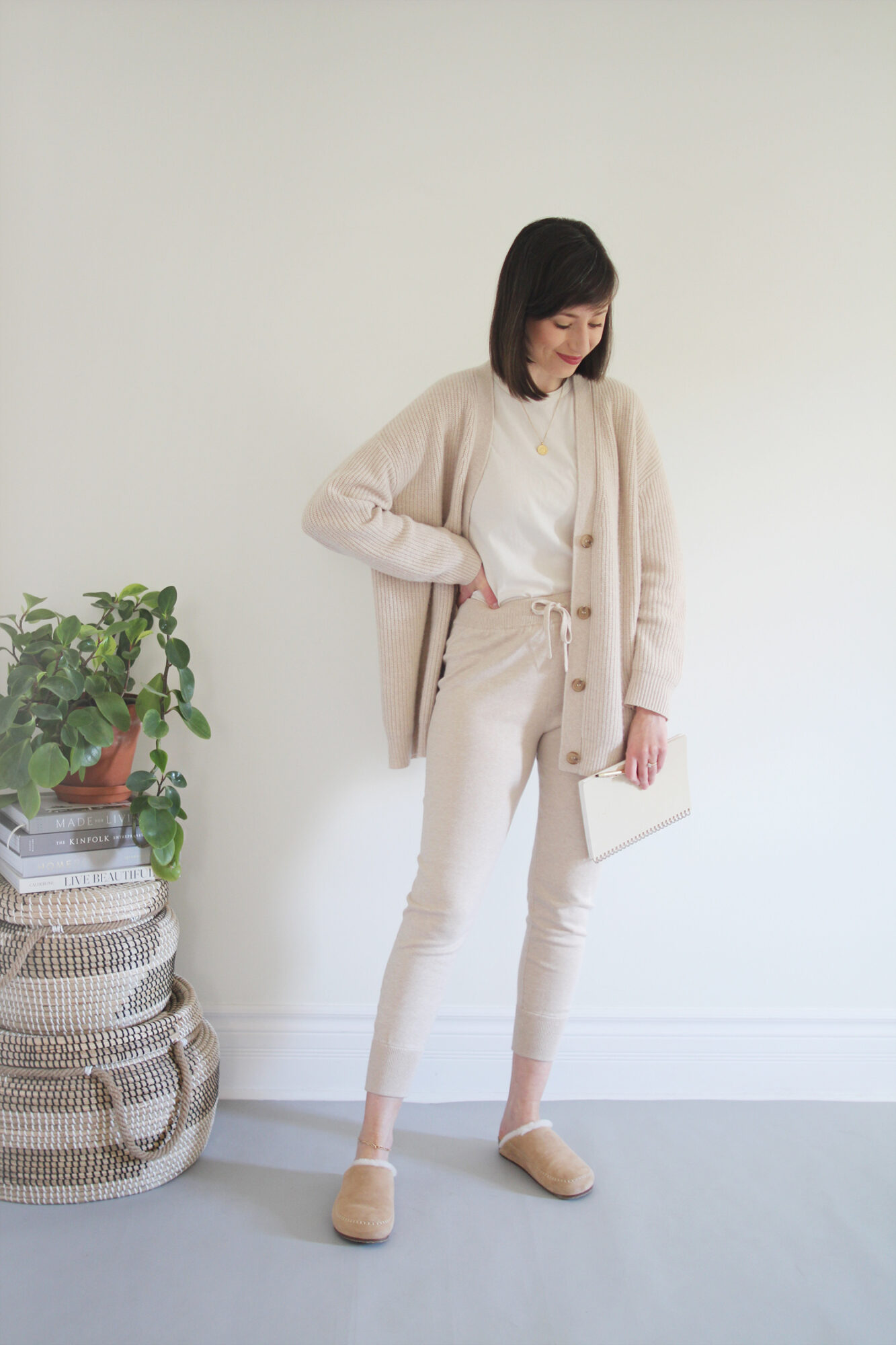 ---
(Use FRESHSTART for 20% OFF through 9/6 or LEE15 for 15% OFF any time)
---
This next favourite, The Lounge Jogger, has been a surprise hero all summer long. I reach for these soft, cozy joggers whenever the temps dip and they're truly the perfect weekend pant. I pair mine with a cotton tee, the oatmeal cocoon cardigan and shearling clogs for a super luxurious lounge set.
FIT NOTE: I have the size Small. For a more relaxed fit, you may consider going a size up if you want a more slouchy look. If I was ordering again, I'd order up.
CARE NOTE: It says Dry Clean Only on the website but I took a chance and washed mine on delicate with cold water and air dry and they come out just fine every time. They did shrink a tiny bit but I'm okay with it!
COLOUR NOTE: The oatmeal pants I have are no longer available but I really like the Camel and the Olive Alpaca version, which are both more forgiving as well!
---

---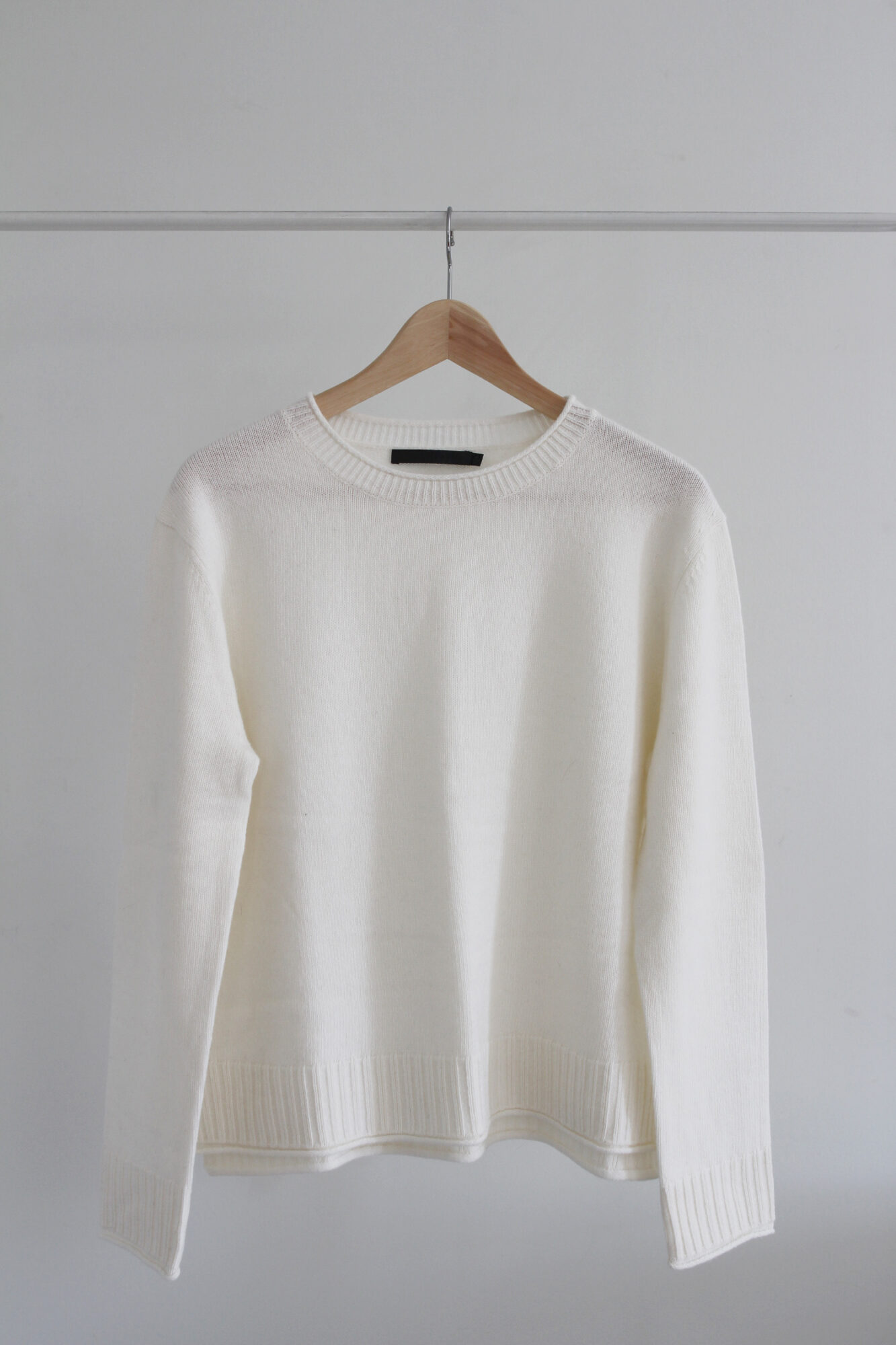 ---
(Use FRESHSTART for 20% OFF through 9/6 or LEE15 for 15% OFF any time)
---
This classic crewneck is budget-friendly and true to it's name. I like to layer the Everyday Sweater over a fitted tee or bodysuit with comfy jeans and a pair of slides or sneakers now but I'll pair it with chunky boots and a wool coat when it gets chillier.
I love the slightly longer back detail and the rolled and ribbed cuffs, neckline and hem give it just enough interest to feel elevated.
I have it in Ivory but it comes in lots of beautiful neutrals (all shown below). Taupe is a beauty!
---

---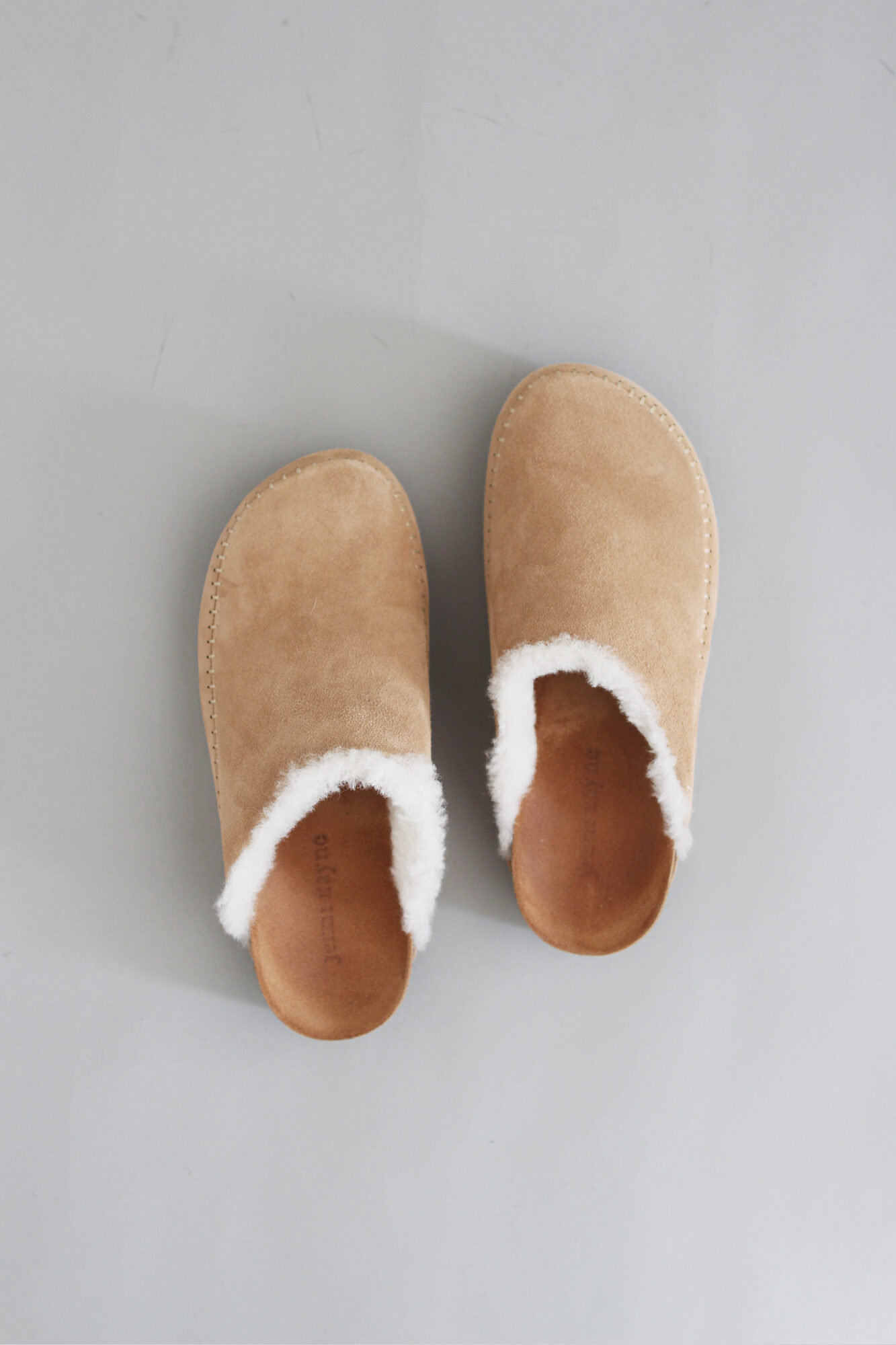 ---
(Use FRESHSTART for 20% OFF through 9/6 or LEE15 for 15% OFF any time)
---
Jenni Kayne is well known for her quintessential footwear staple, The Suede Mule, which I just recently reviewed here. They're truly timeless and versatile enough to go with just about anything from a tailored suit, to flouncy dress, to a sweat set.
All summer long I've been wearing The Leather Strap Sandal, an ultra minimal option that goes with everything and feels a little more polished than a flip flop. Note: The saddke brown colour I have is sold out but Taupe and Black are still available.
As the weather cools you'll find me sliding into the coziest pair of shoes I own, which are none other than The Shearling Lined Moc Clog. These are the ultimate loungewear capsule indulgence but every bit as amazing as I'd imagined. The Lodge Outdoor Slipper has a similar feel for a slightly lower price point.
SIZE NOTE: I wear a US7 and have the 37 in the mules and slides but went for a 38 in the clogs so I can wear a sock in the winter. I have a narrow foot and find that JK footwear fits my foot very well.
ON MY RADAR: Brooklyn Lug Boot.
---

---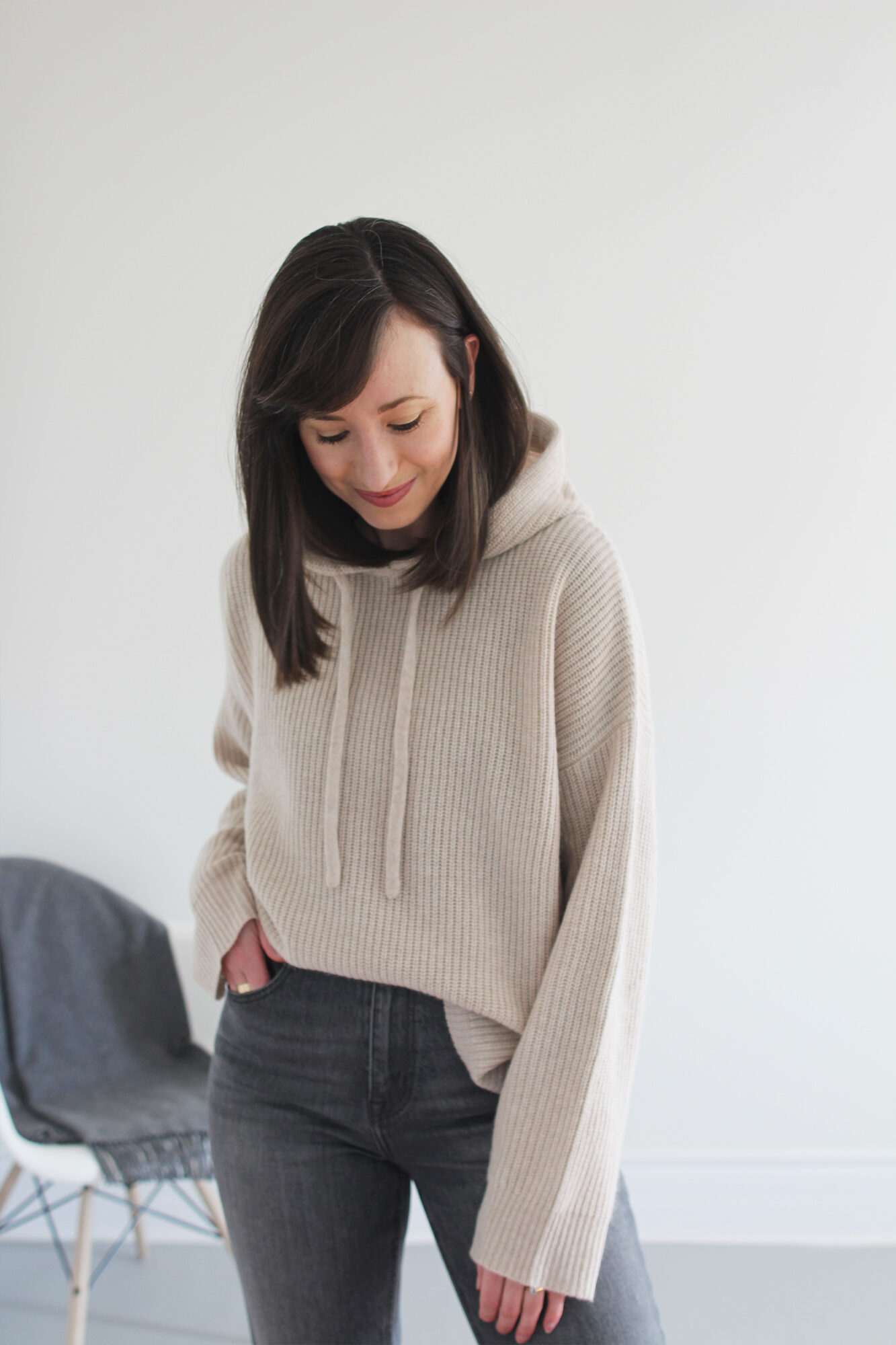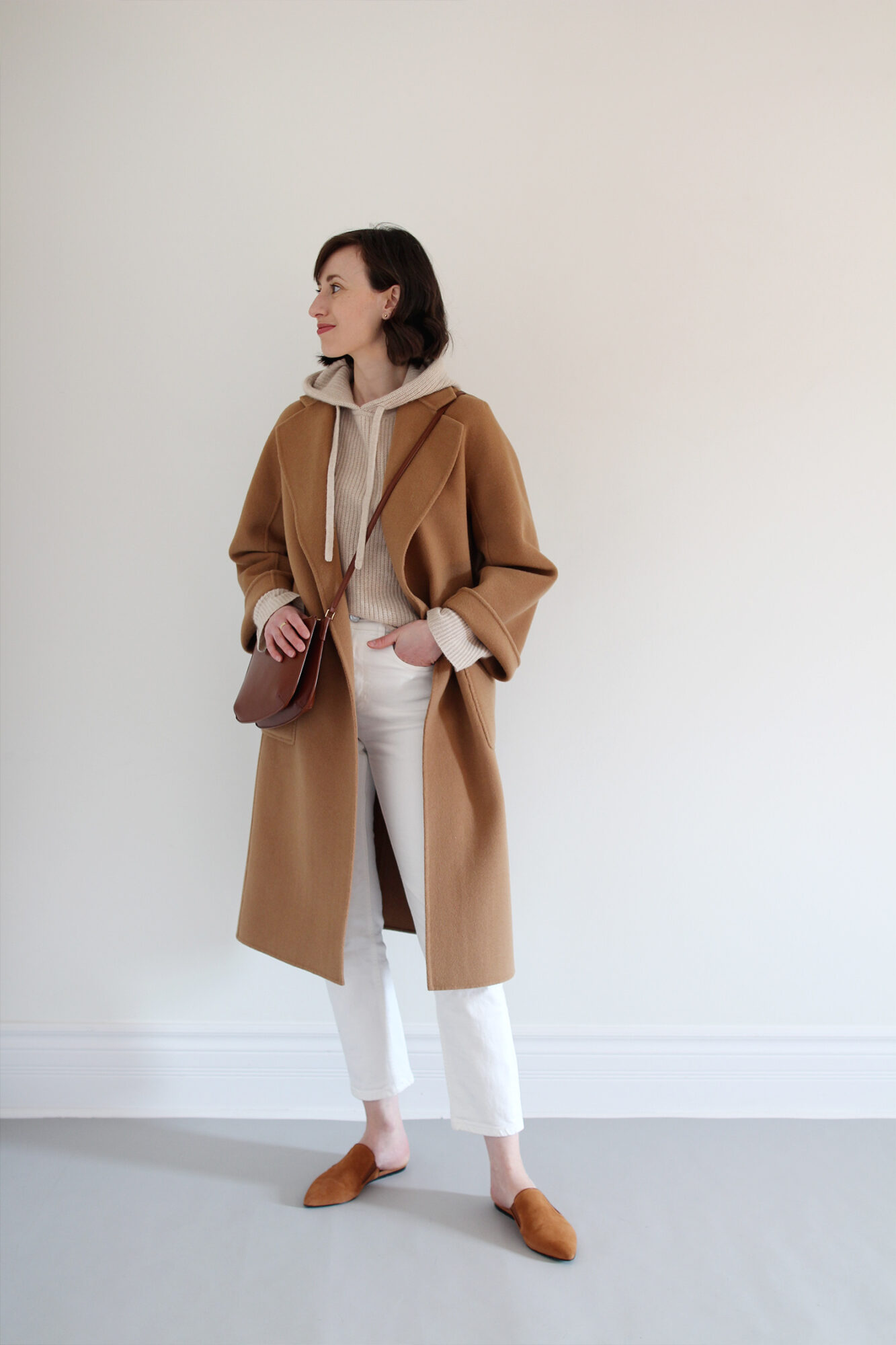 ---
---
The Fisherman Hoodie has been a Style Bee reader favourite (and personal favourite) ever since I shared it as part of my Timeless Comfy 10×10 in February. Paired with jeans or joggers it's the ideal answer to a sophisticated sweatshirt. I love wearing it front tucked into high rise denim, loose over a slip dress or side tucked into my joggers.
FIT NOTE: I took my usual size in this style and it has a generous fit, which makes it super easy to wear as a layer over long sleeves.

---
---
(Use FRESHSTART for 20% OFF through 9/6 or LEE15 for 15% OFF any time)
---
Whenever I'm given the chance to test out a brands signature basic tees I can't help but give them a go. The Basic Tee and Slim Tee are two that I've been wearing over the summer and they both have a vintage feel with a contemporary shape.
The Cotton Basic Tee – I love the easy fit of this tee and the generous short sleeves, which give it a borrowed-from-the-boys feel. I have the Sage Green, which is currently sold out but black, white and cream are in stock. Runs large, so opt for a size down unless you're going for a very relaxed fit.
The Cotton Slim Tee – I have it in Cream (shown above with the joggers), which is a lovely tone that adds a bit of dimension to a light neutral look. Runs true to size.
Other basics on my radar – Hudson Crewneck.

---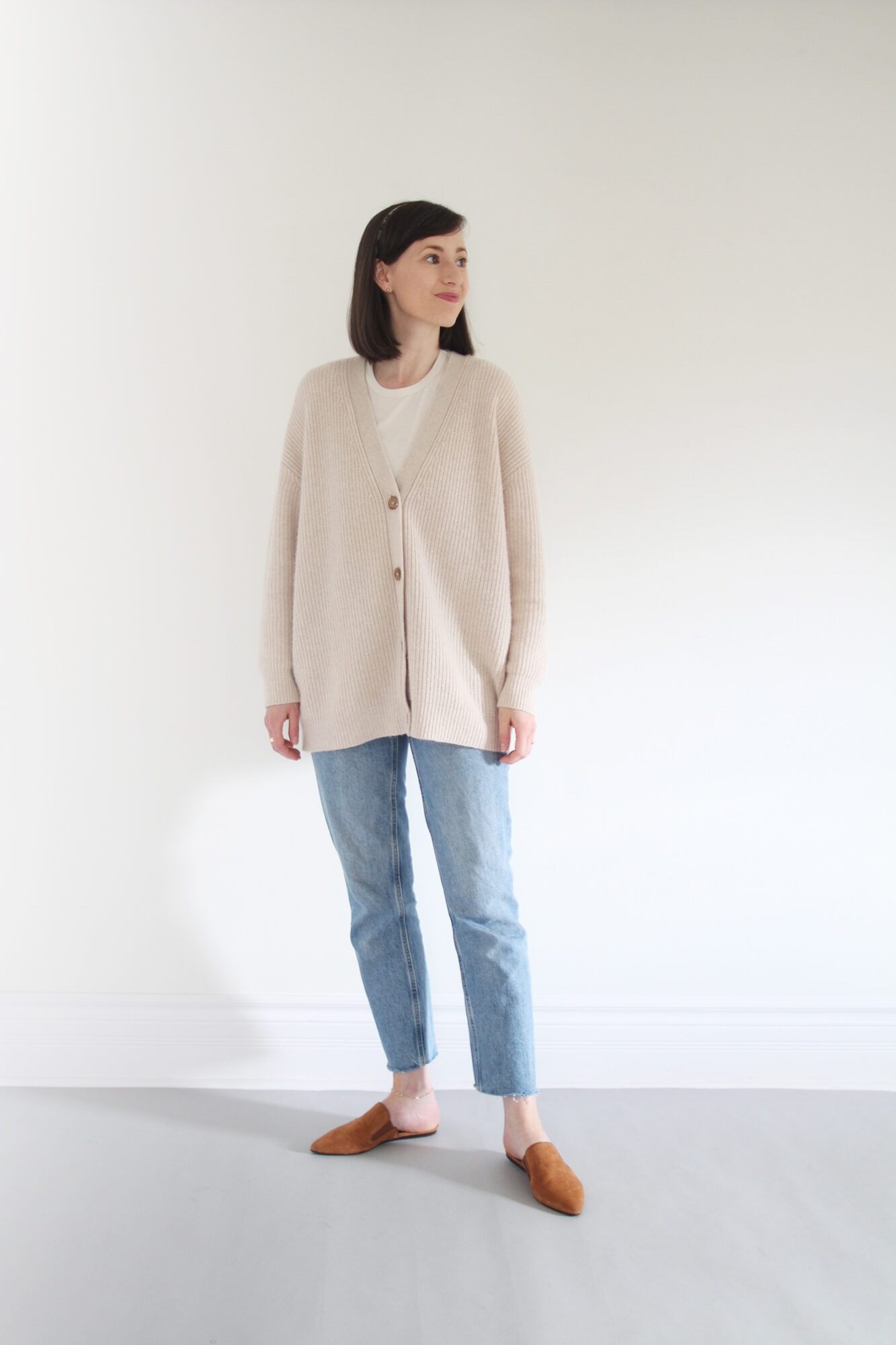 IN THIS LOOK: COCOON CARDIGAN | COTTON SLIM TEE | SUEDE MULE
---
Hopefully, this post will be helpful if you've been considering adding any Jenni Kayne pieces to your closet. I'm so thrilled to have been able to add some JK to my closet and can attest that they're the caliber of forever staples that will easily carry you through many different seasons in life.
---
*Ends 9/6. If you're not shopping right now, no worries, you can always use LEE15 for 15% Off at any time. So no stress, just savings, whenever you're ready.