This seems to be the style question of the season and I'm happy to share what works for me. Throughout the years of living in a very cold climate, I've gathered a few layering tricks and today I'll be walking you through the simple steps I take to build a chic winter look that's entirely warm from top to bottom.
If you've been curious about how I stay toasty in the winter and the staples I rely on to do so, this post is the one for you!
---
This post is not produced in partnership with any brands mentioned but does contain affiliate links. If you see something you like and decide to shop through the links included, I may earn commission on a sale at no additional cost to you. All opinions are always my own and I only share items I love and think you might too. Thanks for supporting Style Bee!
---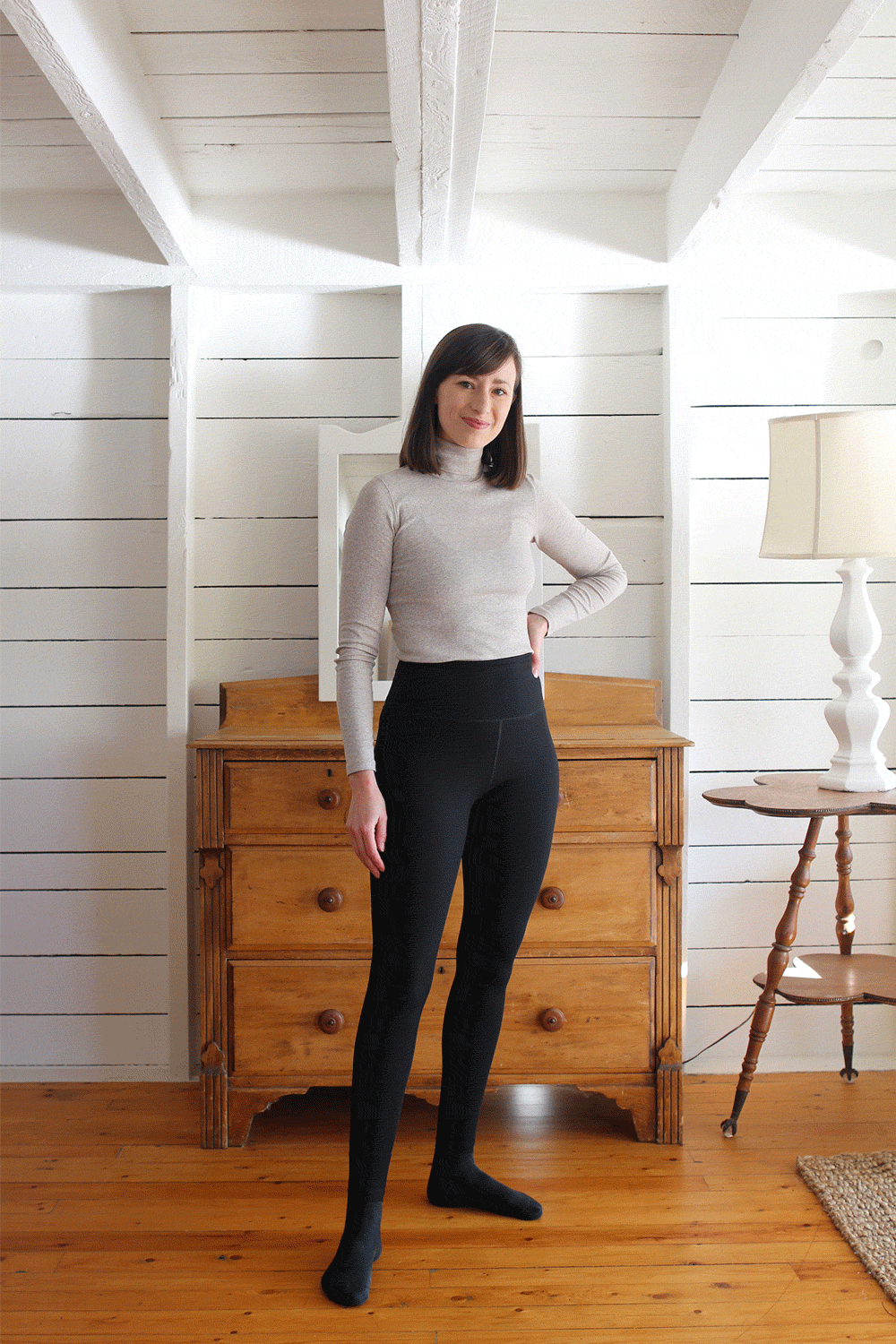 ---
STEP 1
THE BASE
---
For me, winter dressing is as much about keeping the warmth in as it is about keeping the cold out. I do this by creating a fitted, streamlined, base layer that keeps me covered from just below my chin. A second skin or thermal layer, if you will. This is made up of three simple items, which are:
FITTED TURTLENECK + LEGGINGS + SOCKS
---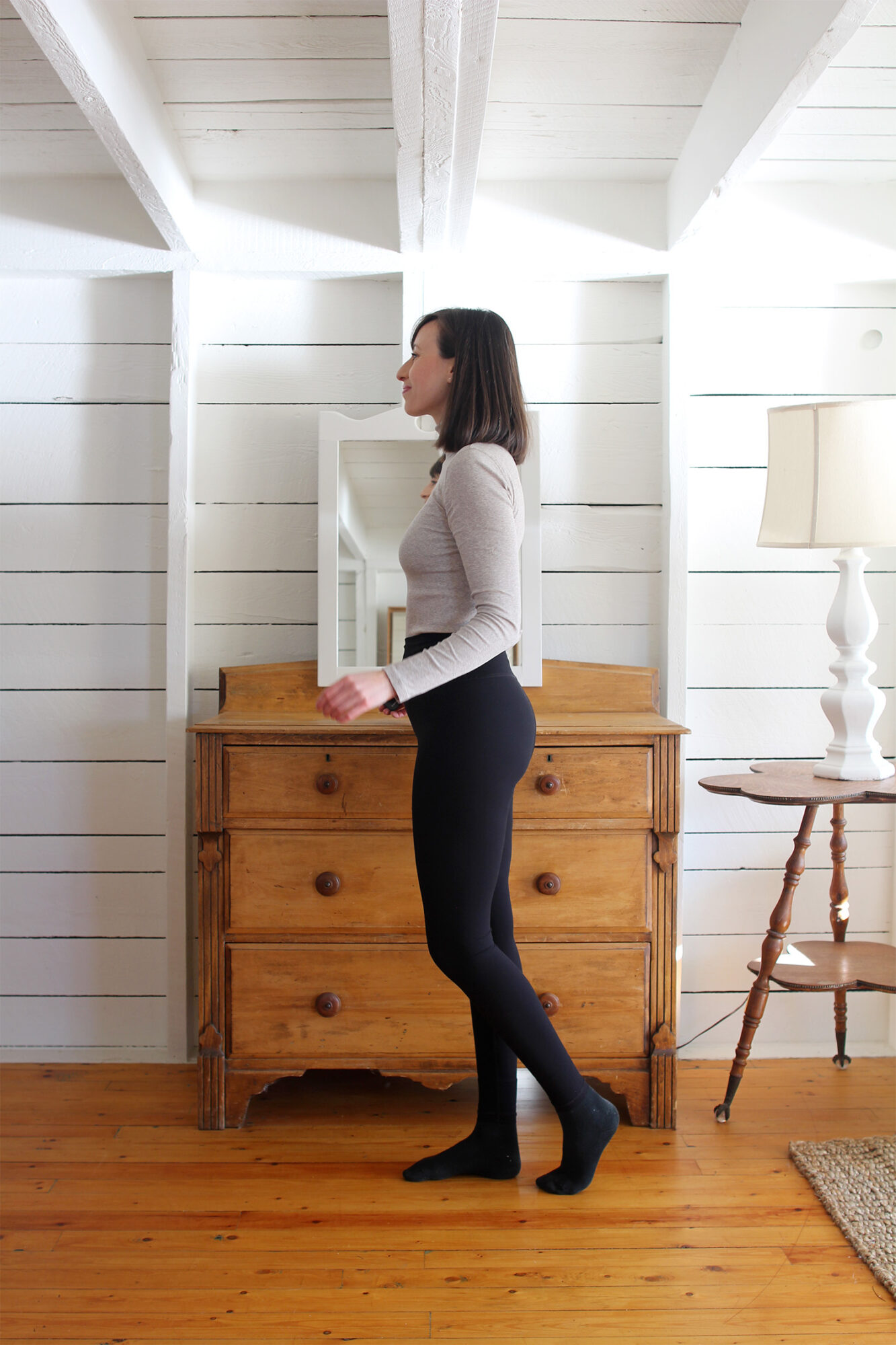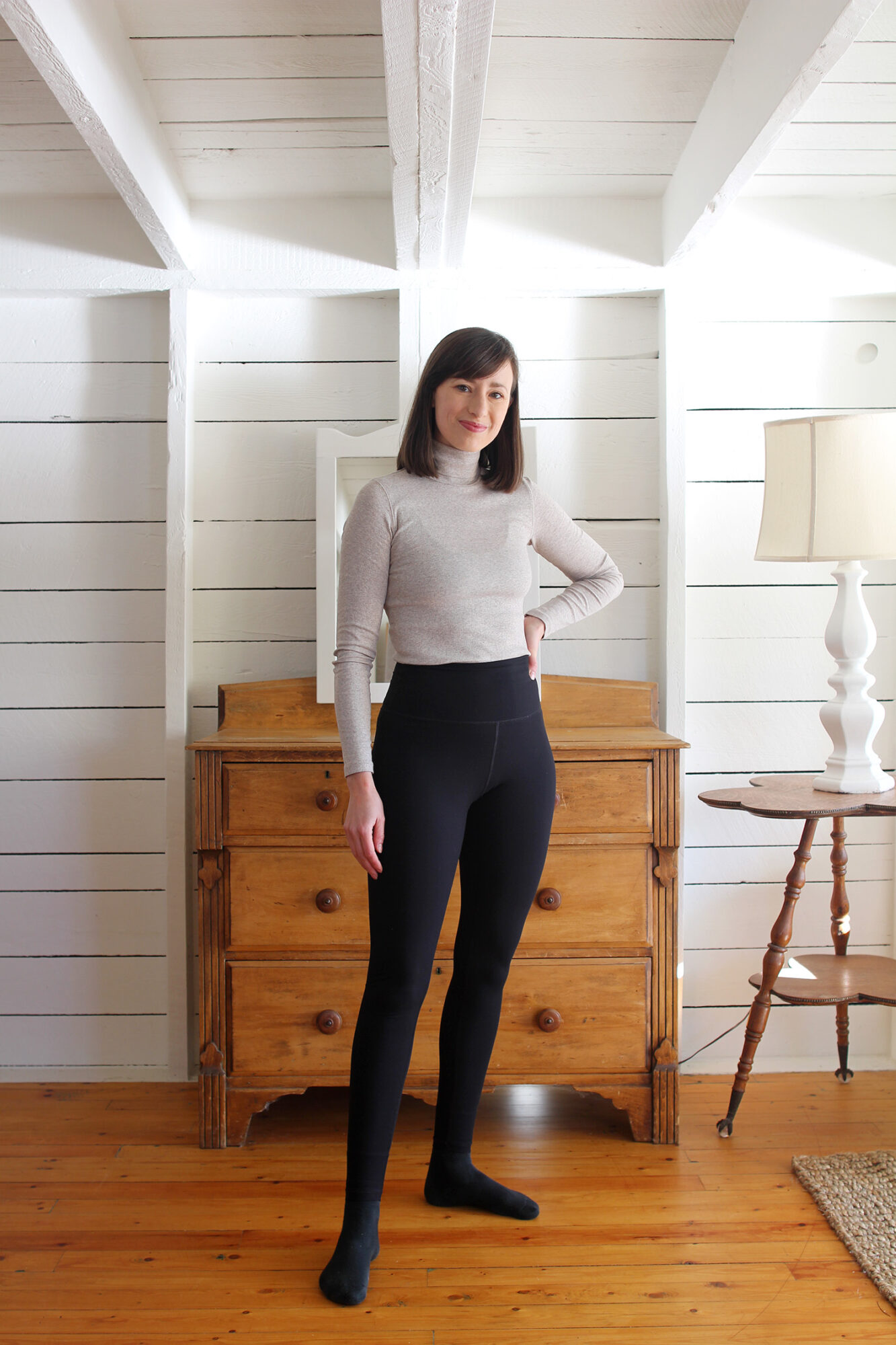 ---
TURTLENECK: My go-to fitted turtlenecks are The Pima Micro Rib Turtleneck from Everlane. I have 6 colours and enough for a fresh one every day of the week. They fit true to size and wash up really well. I line dry them so the spandex doesn't break down in the dryer and I've had several for many winters now.
Another option for fitted turtlenecks is KOTN (use this link for 10% Off any first order). I have several of these and they're great. I find them a little bit tighter and shorter in length and they'll shrink if you're not careful about line drying. With that in mind I would consider sizing up if you have the option.
LEGGINGS: The best base leggings I've found for layering are The Perform Legging. The main reason being their lean fit and streamlined design, which helps them fit under jeans and other pants without adding any bulk or extra seams. I wear them comfortably under any pants that aren't my skinny jeans (I just wear knee socks under those). They're also great because they have a sleek hand feel that reduced any added friction. I honestly forget I have them on sometimes, they're just that comfy!
I wear a size Small and the fit is snug but with lots of stretch, so I'd say they run true to size. I wash them on cold and air dry and they're still a deep rich black after countless washes.
SOCKS: As for socks, I have a few favourites but I prefer when they're not super thick and leave enough room in my boots for good circulation.
My go to brands are: KOTN (for thick cotton that's stretchy) | SMARTWOOL | DARN TOUGH (Altitude Sports carries both and loads of options) | I've had some old J. Crew Camp socks forever and I'm also intrigued by Everlane's options, FÜTZ and Province of Canada.

---
STEP 2
THE OUTFIT
---
Next comes the "outfit" portion of the look, which typically includes:
KNITWEAR + JEANS + BOOTS
---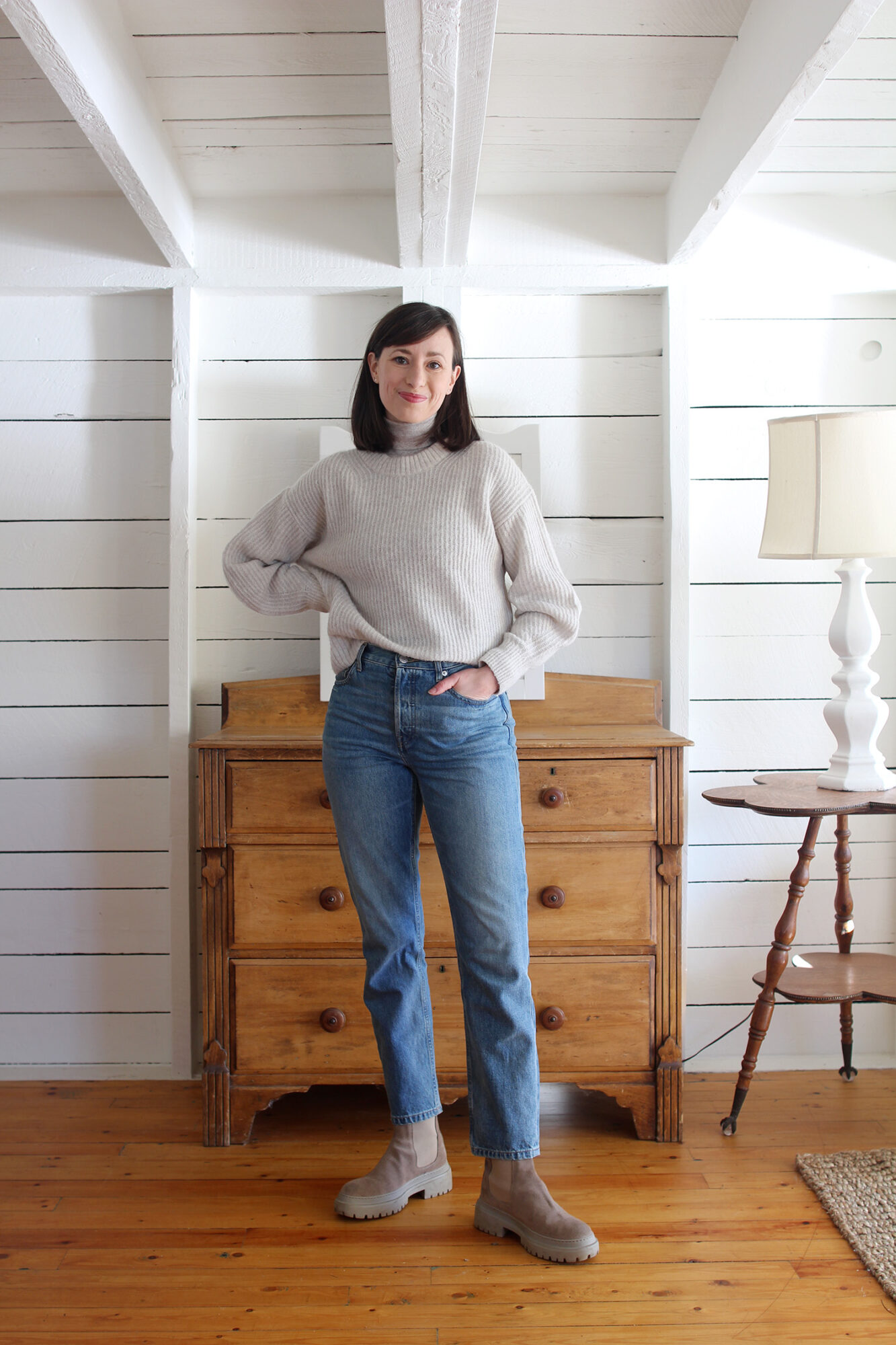 ---
KNITWEAR: A simple crewneck or cardigan in a soft, cozy fibre like alpaca, cashmere or chunky cotton, is my go-to for winter. It's easy to throw on over a fitted turtleneck and adds a robust layer of insulation.
My favourites are The Oversize Alpaca Crew (review here, I have three colours!), The Classic Cashmere Crew, The Cashmere Cocoon Cardigan (review here, use LEE15 for 15% Off, I have 3 colours!) and most recently the Chunky Cropped Cardigan.
Worth a read: HOW I CARE FOR MY KNITWEAR

---
STYLE TIP: I will often match my base layer to my knitwear to keep the palette simple cohesive.
---
JEANS: I really like the 90's Cheeky or the Original Cheeky jeans for winter layering because they're just relaxed enough to wear over leggings without feeling like a sausage. The straight leg is also perfect for layering over the shaft of an ankle boot.

---
BOOTS: I remain totally smitten with my Corticella Boots from Maguire, which have a shearling insole. I also love an older pair of boots I have from the brand, which are similar to the Bellagio (fully lined with shearling). Of course, you can't go wrong with a classic pair of Dress Blundstones (full review here).
Worth a read: HOW I CARE FOR MY SUEDE FOOTWEAR
---
STEP 3
OUTERWEAR
---
Now that I've covered off the elements that keep the heat in, it's time for the layers that keep the cold out. Those are:
LIGHTWEIGHT LINER + OVERSIZED COAT
---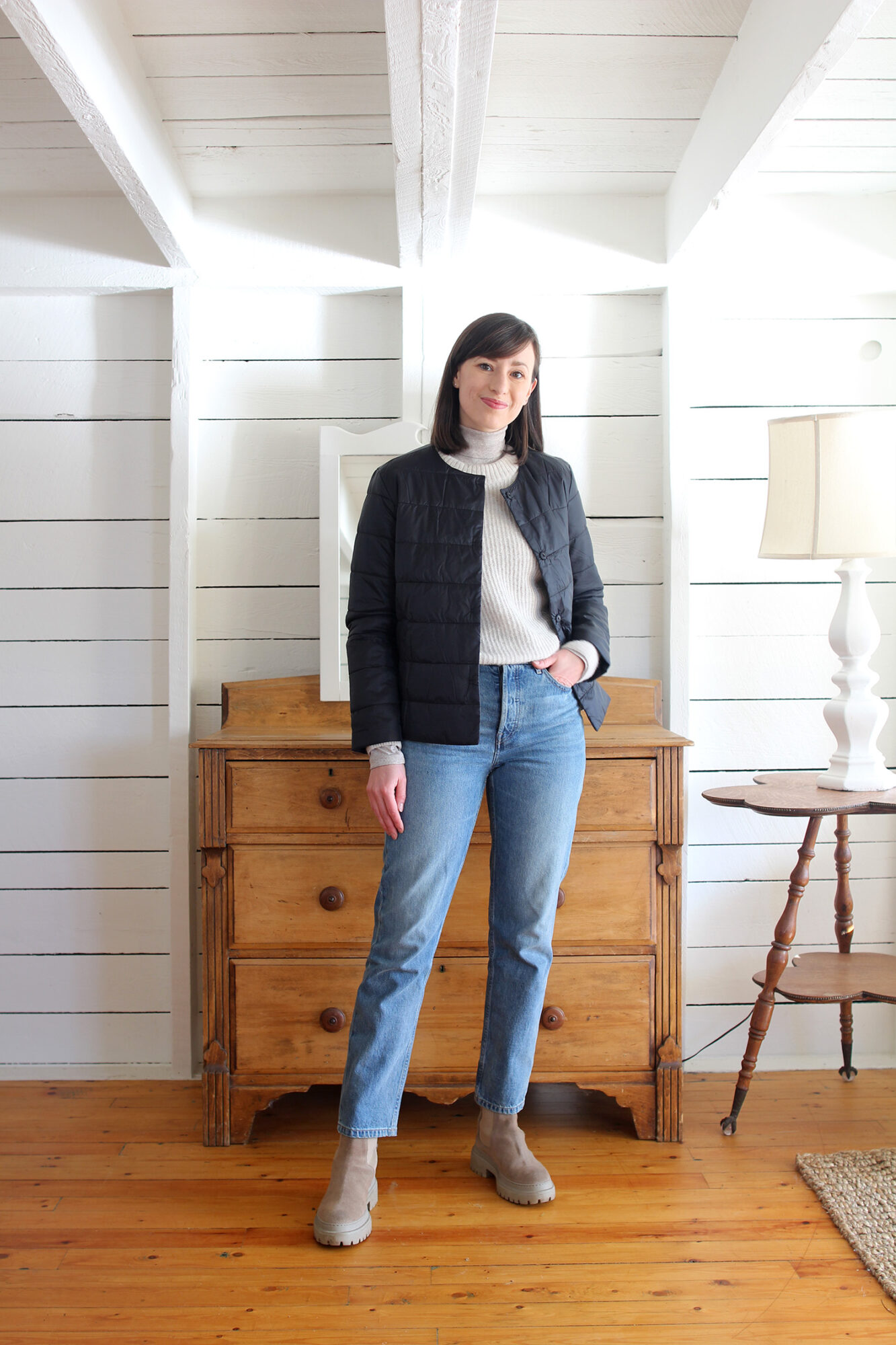 ---
I'd been on the hunt for the perfect liner to wear over sweaters and under coats for many winters. Earlier this season I had the serendipitous opportunity to test out an option from Eileen Fisher, a brand partner I love, and I'm happy to report that it fits the bill perfectly.
LIGHTWEIGHT LINER: I recently shared some thoughts on the Eggshell Recycled Nylon Puffer Jacket in my IG Stories but essentially it serves as the perfect insulating layer under a wool coat or rain shell. It's super simple, collarless design doesn't complicate the aesthetic of an outfit (in fact you likely won't even see it after accessorizing) and it's relaxed enough to fit over a voluminous knit (within reason) and still glide into a coat without a struggle. I wear my usual size in Eileen Fisher, XS, which is one size down from my usual size in most other brands.
If the price point or any other factors are prohibitive with that option, I'd check out the ultra light down jacket from UNIQLO. If you're after something longer for leg coverage, the Renew Long Liner would be my pick.
THE OVERSIZED COAT: Once my dream wool coat, The London Coat gifted by The Curated, arrived I knew I had to find ways to wear it for as many winter months as possible. In the past I've had great luck with the Cocoon Coat from Aritzia, The Daylina Coat by Club Monaco, and the Averdon Coat by Madewell and the Stadium Cloth Cocoon by J.Crew are both cult favourites. (All of these coats are around or well under the $500 CAD price point).
---

---
STYLE TIP: Coats with an oversized fit and silk lining are the easiest to layer over sweaters, puffy liners, wool vests and just about anything I have on underneath. I always consider sizing up with winter coats too as I'd rather have extra room than not enough. Something to keep in mind as you consider options.
---
STEP 4
ACCESSORIES
---
Winter would be way less fun without some key accessories. The best part is that if you choose wisely, you can wear the same ones with every look! Here are some of my personal favourites:
GLOVES + SCARF + EARMUFFS
---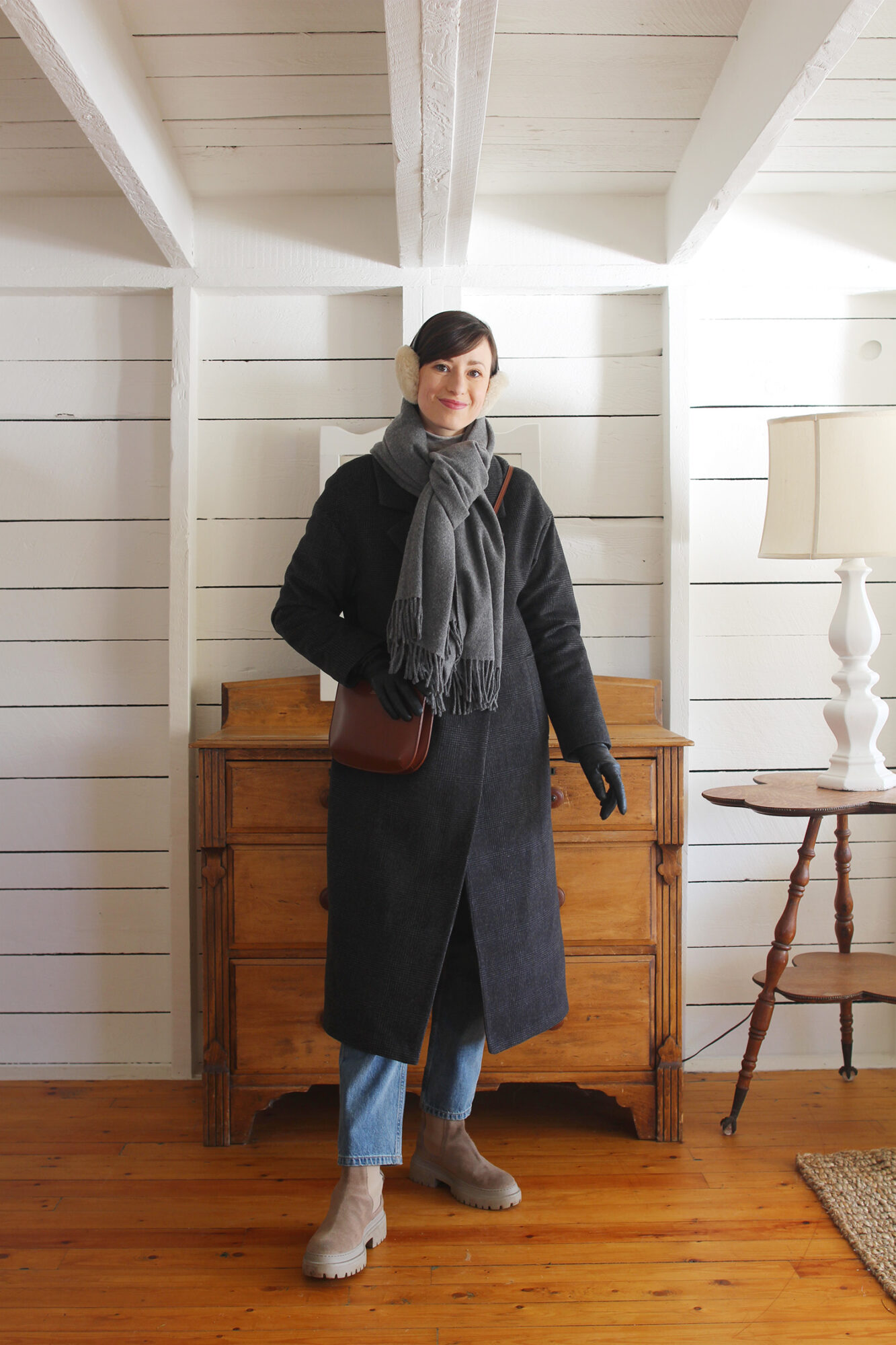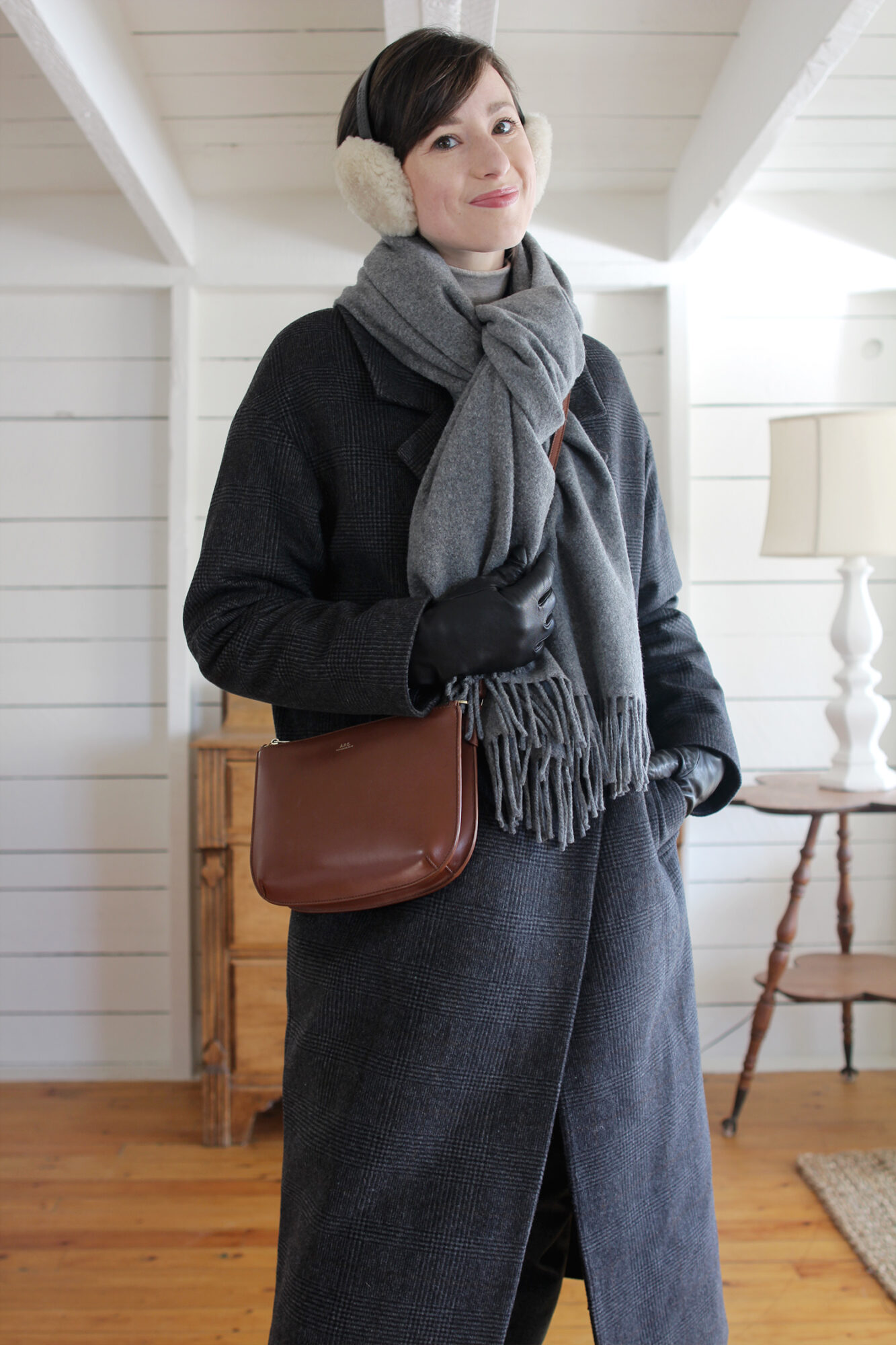 ---
GLOVES: My favourite type of gloves are fitted and either knitted or leather with long enough wrists so that my coat sleeves can overlap them. I have a couple of old pairs from Club Monaco and love the looks of these touch screen friendly ones from Smartwool and J.Crew.
SCARF: I'm a HUGE fan of the Canada Scarf from Acne Studios. It's been in my winter closet for many many years now and is incredibly versatile. When I'm not wearing it around my neck, it makes for a toasty shawl while I type away at my desk. If you don't want something quite so voluminous I'd go for this option instead.
EARMUFFS: I had a pair of earmuffs for years until Dobby decided they were better off shredded. This year I finally decided to reinvest in a pair and I'm SO happy that I did. I love them because protect my ears from the cold without flattening my hair out. This reclaimed shearling pair is made in Canada and I've been loving them so far.
BEANIES: If I'm not worried about my hair (which is most of the time) or it's just too cold to forego a hat, I love a beanie (or toque as we call them in Canada). My favourites are the Andes Beanie from Bare Knitwear, the Cashmere Beanie from Everlane and I really like the looks of the Merino Hat from Colorful Standard (use STYLEBEECS10 for 10% Off your first order).
---

---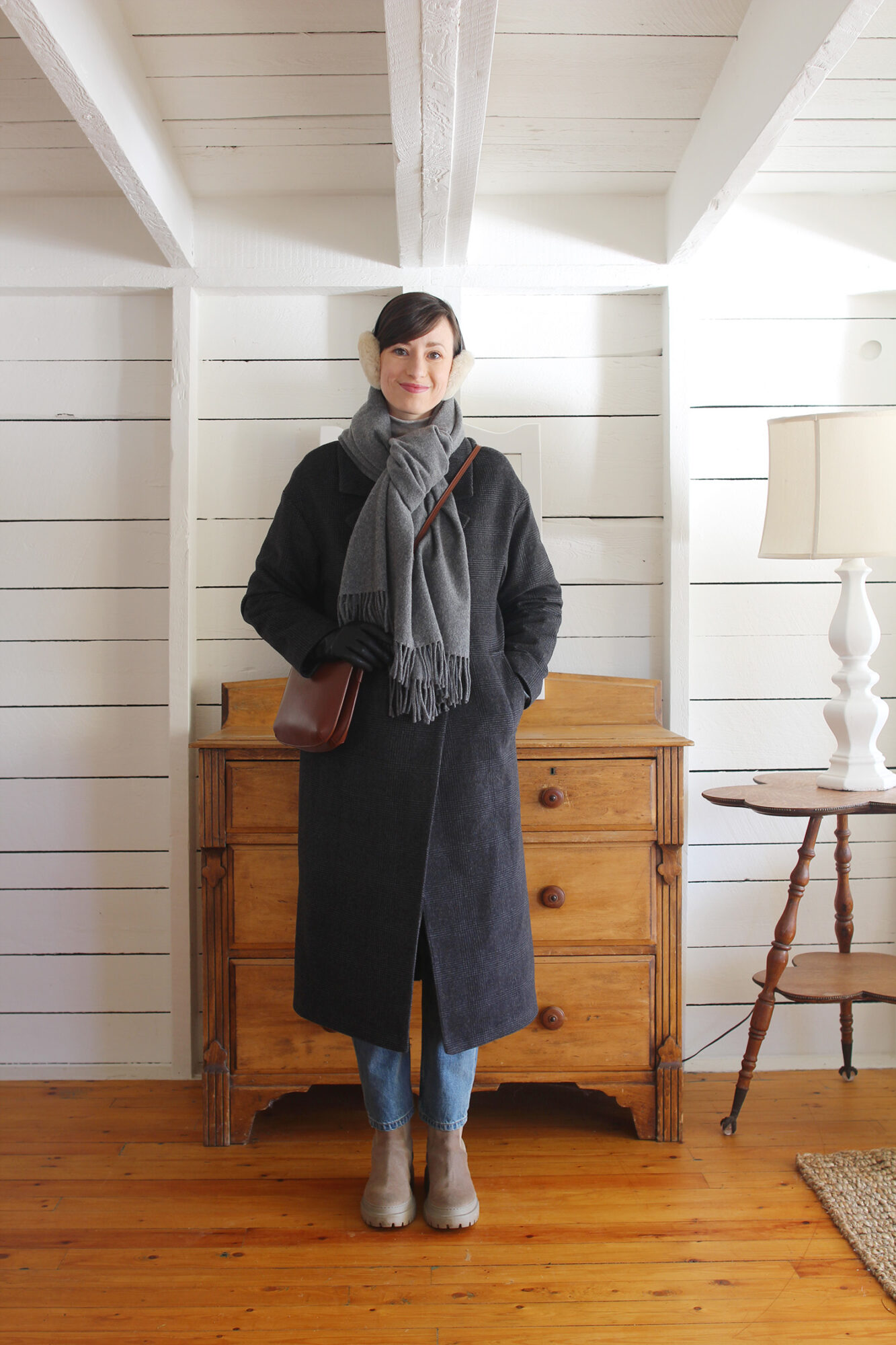 ---
& there you have my layering tips and staple pieces for staying warm and chic this winter!
Do any of these ideas spark an idea for you? Got any extra chic and cozy tips you'd care to share?