Time for another recap of Reader Favourites!
Lots of repeat favourites this time and some very springy picks to enjoy as well! It looks like the Casual Spring Travel 10×10 gave readers some ideas for their own style because there were several items from that capsule that made the list.
You'll notice there are only 9 highlighted in this roundup because I accidentally included 11 last time so I wanted to even it out. Read on for April's most shopped and clicked items to see what other readers have been loving lately and how they factor into my own style!
---
This post is not produced in partnership with any brands mentioned but does contain affiliate links. If you see something you like and decide to shop through the links included, I may earn commission on a sale at no additional cost to you. All opinions are always my own and I only share items I love and think you might too. Thanks for supporting Style Bee!
---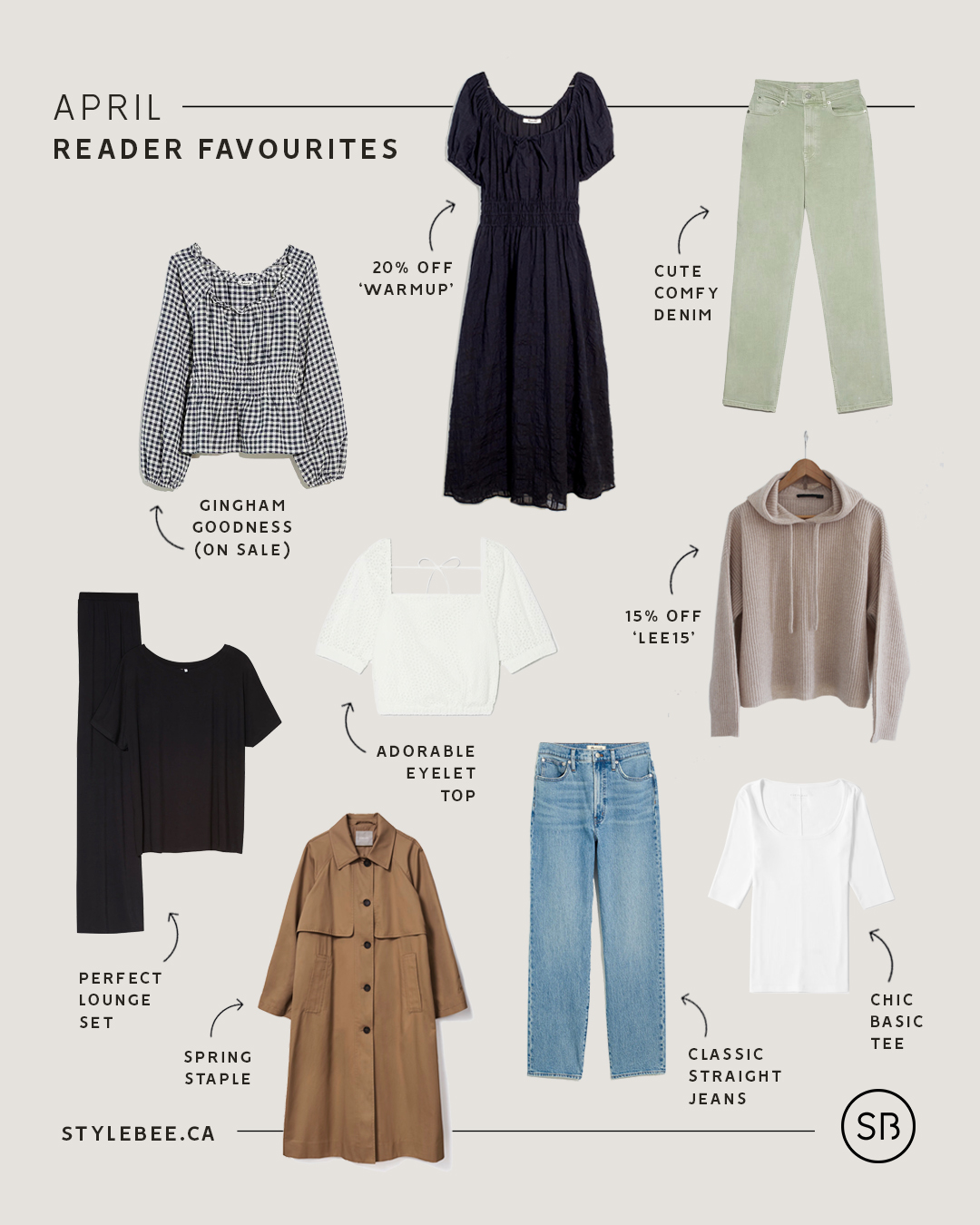 ---
SOPHIA GINGHAM TOP: in Deep Shadow | MADEWELL | Currently on sale!
I shared this top as an alternative option to my Ivy Blouse, which is such a beautiful top but not necessarily in everyone's budget. My love for gingham knows no bounds and this is definitely the season to embrace it whenever possible!
EYELET PUFF SLEEVE TOP: White | EVERLANE | pr product | True to size.
I'll admit this top was an optimistic addition but the weather has suddenly proven that it wasn't a hopeless choice. I wore this on my birthday last Monday and felt it was the perfect top to welcome in some fresh energy. See it on here.
SOPHIA MIDI DRESS: comes in black and white | MADEWELL | Currently 20% Off with WARMUP
I shared this one in the March reader favourites, as a machine washable alternative to another favourite. It's so cute and perfectly flirty while still entirely practical. It's currently in my cart!
WAY HIGH JEAN: Archroma Aqua Grey | EVERLANE | pr product | If between sizes take the smaller size. I'm 5'7 and wear the Long inseam.
These have been a really fun addition to my spring closet. The colour brings so much levity to an outfit and it's been a welcome substitute for the usual denim I wear.
MOONLIGHT EASY LOUNGE SET: sold out in Canada, US link below. | NORDSTROM CANADA | True to size for a relaxed fit. | The black set is sold out at Nordstrom Canada but there are more sizes colour options available at Nordstrom US. Also available in plus sizing.
This set was part of my latest Casual Spring Travel 10×10 Capsule. I loved it so much that I also bought the grey version. I wear one set every evening and to bed at night. I've washed both several times now and they come out like new with no fading even after a tumble dry!
NOTE: These are great for taller folks. I'm 5'7 and the pants are floor grazing.

---
LONG MAC COAT: Toasted Coconut | Everlane | True to size.
As predicted, this coat has been a huge player in my spring style and wardrobe. See how I styled it a whole bunch of ways in my latest Casual Spring Travel 10×10 capsule.
THE PERFECT VINTAGE STRAIGHT LEG JEANS: HOYE wash | Madewell | True to size, if between size down.
If you're not into the colourful jean trend and still on the lookout for a great straight leg in a timeless wash, these have my recommendation. I've worn these jeans a ton this spring and I'm so happy with them. See them on in this post.
CASHMERE FISHERMAN HOODIE : Oatmeal, more colours available. | JENNI KAYNE | LEE15 for 15% Off | True to size for a relaxed fit.
This is one of my all-time favourite spring knits. I love how the hoodie gives it a slightly sporty vibe but the fit and beautiful cashmere make it luxe and elegant. | See it styled lots of ways in my Comfy Timeless 10×10 Capsule.
SCOOP NECK FITTED TEE: white, more colours available | EVERLANE | True to size.
This is another favourite from my Casual Spring Travel 10×10 capsule. It's been a longtime favourite in my closet and I love how the 1/3 sleeves and exaggerated scoop neck take a basic tee and elevate it to something special.

---
REPEAT FAVOURITES
---
(The Pink & Ivory colourway is sold out but there are a few other options available.)
(Easily my most-worn jeans, see them styled lots of ways here and size down if you're between sizes.)
(Full unsponsored review of this staple here.)
(Full unsponsored review of this cult favourite here. Use LEE15 for 15% Off anytime.)
(If I was still in the market for a great spring jacket, this one would be on my short list.)

---
THANKS FOR TUNING IN!
Catch up on Reader Favourites from MARCH / FEBRUARY / JANUARY if you're interested!