It will come as no surprise to regular readers, that one of my favourite pairs of jeans are the 90's Cheeky Jeans from Everlane. They're as close as I've found to a classic vintage jean, with a slightly modern fit that feels just right.
I've worn the Standard Fit for several years now but I've long been curious about the Curvy Fit. I thought this might be something other folks are curious about too so I decided to do a little experiment!
Today I'll be walking you through a comparison of both fits in the same wash and same size to show how they differ. Read on to find out what the key differences are and which one I ultimately prefer.
---
The Standard 90's Cheeky Jean was bought by me and the Curvy fit was gifted as part of my ongoing ambassadorship with the brand. This post is not produced in partnership with any brands mentioned but does contain affiliate links. If you see something you like and decide to shop through the links included, I may earn commission on a sale at no additional cost to you. All opinions are always my own and I only share items I love and think you might too. Thanks for supporting Style Bee!
---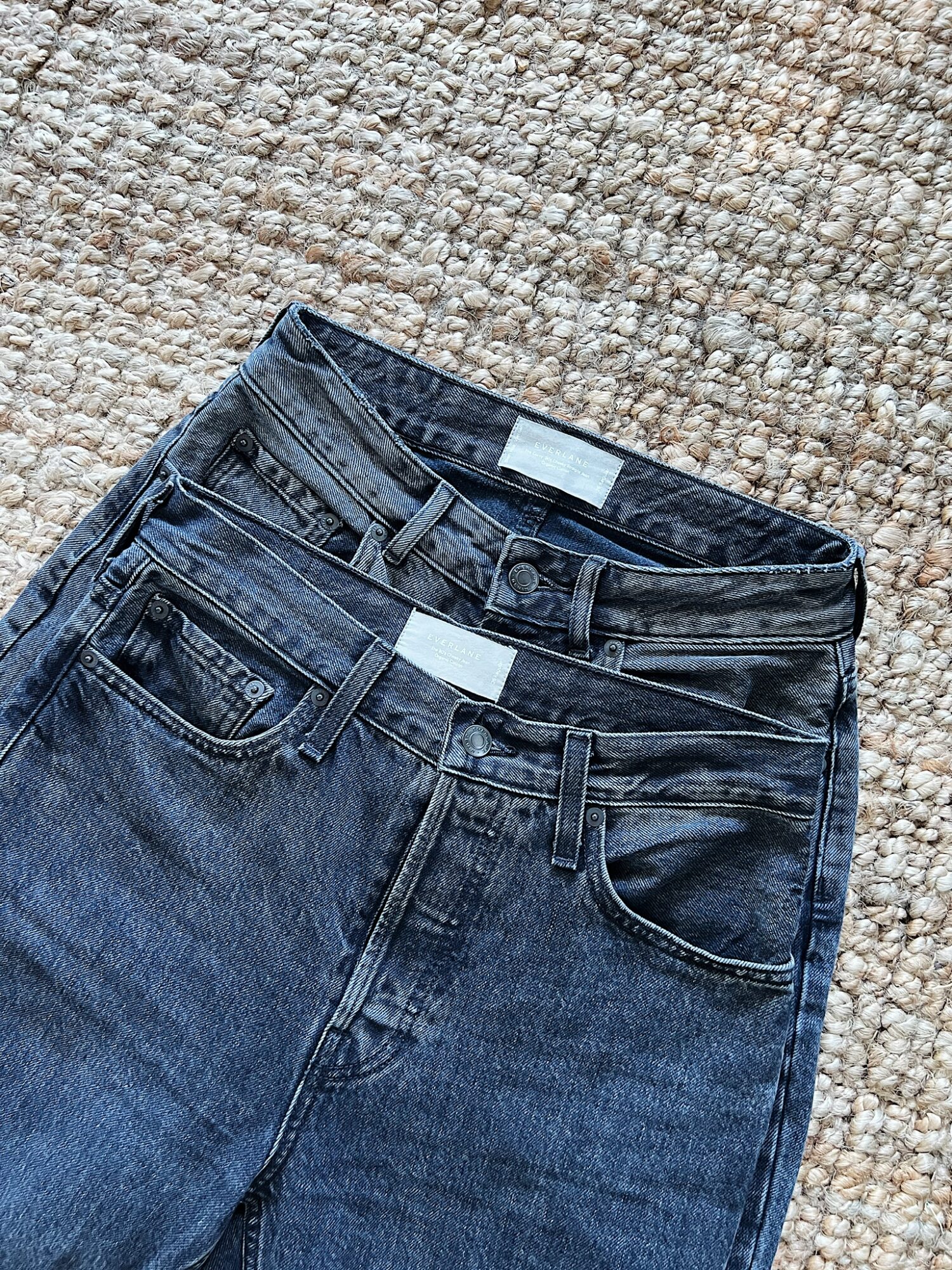 SHOP THE 90'S CHEEKY IN WASHED BLACK:
---
TECHNICAL FIT INFO
---
READER NOTE: This section of the post discusses measurements and sizes. I tried to focus on shape and fit more than anything too specific but I understand these topics can trigger unwelcome feelings of comparison and body image. Please read on with that in mind or skip to the fit walk through for a visual side by side of the different fits look on.
---
GENERAL DENIM FIT NOTES: In general, I think denim is a tricky category to shop for. I've adjusted my expectations over the years because every wash, every composition, every style, and every brand will fit a bit different. I've had several experiences where I'll buy the same denim style in two washes from the same brand and end up needing two completely different sizes. It can be a slog to find jeans you love, but once you do, the quest will feel worthwhile!
MY SHAPE: I would categorize my shape as somewhere between pear and hourglass with my fullest area being through the hip. I regularly have the waist tailored on my jeans and pants to reduce the waist band gaping that occurs when I find pants that fit my hips well.
If you've ever struggled with a gaping waistband or needed to have the waist taken in on a pair of pants, there is a good chance you may be a similar shape.
MY SIZE FOR REFERENCE*: I typically wear a 26 or 27 in denim. I'm just over 5'7 and around 130 lbs. My measurements are about 27-28 in waist and 38-39 in hip.
*I don't weigh or measure myself regularly anymore but simply based on the fact that most of my clothes from the last several years still fit I can assume the numbers haven't changed a lot.
THE SIZE I HAVE IN THE 90'S CHEEKY JEANS: 26 Regular Inseam (28.5 in) in all washes.
HOW DOES THE 90'S CHEEKY JEANS COMPARE TO OTHER BRANDS?: In my experience the 90's Cheeky runs a bit big if you want them to hug your frame. If you want a more relaxed fit then they run more true to size. I wear a 27 in Everlane's Skinny Jeans and a 26 in the 90's Cheeky. I always note that if you're between sizes on the chart, opt for the one below if you'd like a slimmer fit.
For reference I wear a 26 in Madewell and a 27 in AGOLDE, ANINE BING, JBRAND, and ABLE.
COMPOSITION: The 90's Cheeky is made of 100% Organic Cotton, which means zero stretch. They should feel snug to start but will relax with your body heat and movement. I like 100% Cotton denim because it holds its shape better than denim with elastane in it, even if it's not as comfy right away it ends up being better long term.
DO DIFFERENT WASHES FIT DIFFERENTLY?: Yes. My Vintage Mid Blue in the Standard Fit feel softer and slightly lighter weight than the Washed Black. I have those in a 26 Standard and found that they fit me very well and don't gape at the waist. They have relaxed in the areas I needed more room, through the hip and thigh, but they haven't loosened too much through the waist. I wish the sizing was more dependable but as I mentioned above denim is fickle that way!
---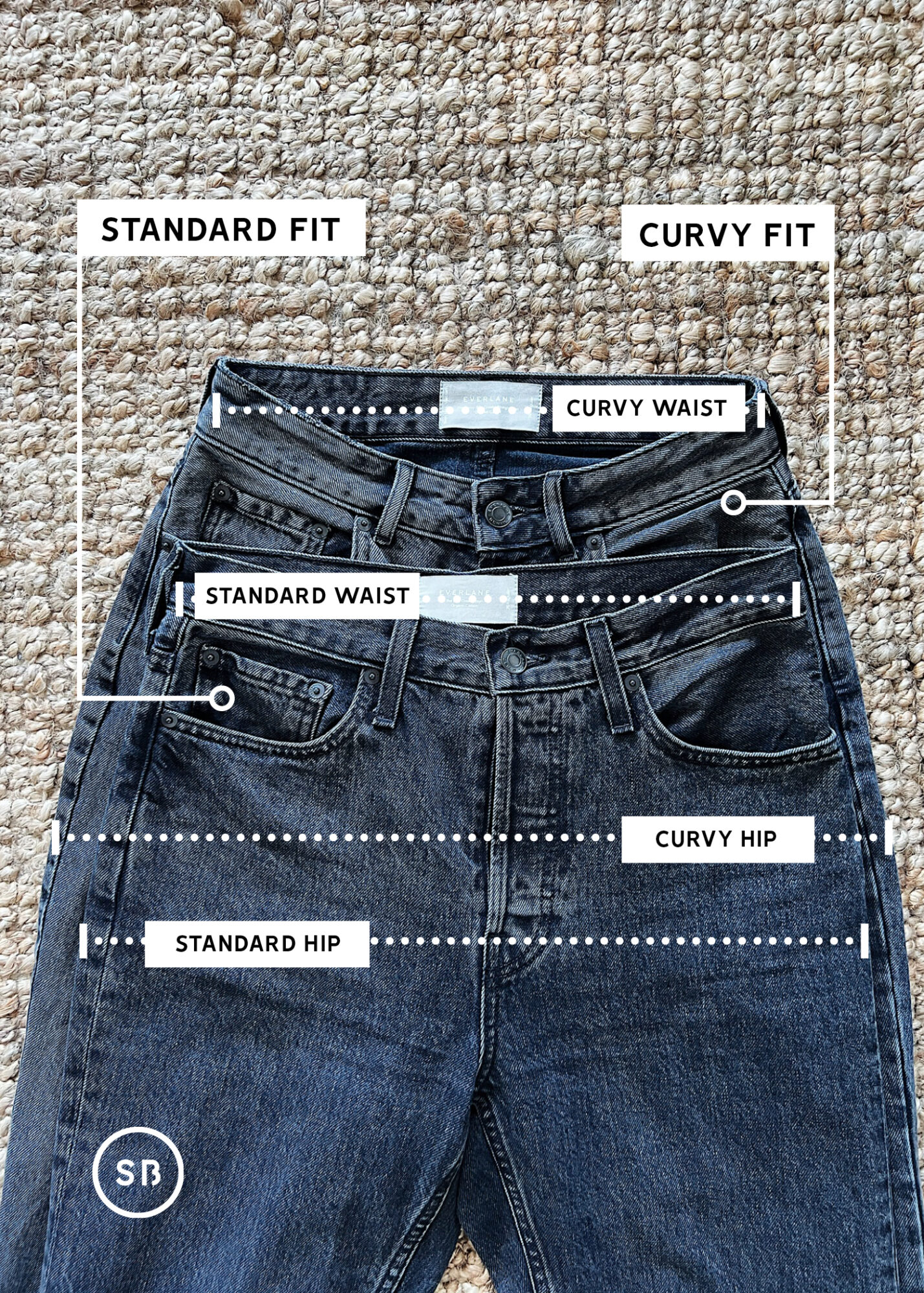 ---
THE ACTUAL GARMENT SIZES
These are taken directly from Everlane's garment sizing chart, which I always use when choosing my size in different styles). You can find the measurements for all sizes on the respective product pages. They're very useful when you want to compare the fit of a garment you already own to get a better sense of how a new piece might fit.
SIZE 26 STANDARD GARMENT MEASUREMENTS
| | | | | | |
| --- | --- | --- | --- | --- | --- |
| Waist | Low hip | Thigh | Leg opening | Inseam: ankle | Inseam: regular |
| 28.5 | 38 | 23 | 13.25 | 26.5 | 28.5 |
SIZE 26 CURVY GARMENT MEASUREMENTS
| | | | | | |
| --- | --- | --- | --- | --- | --- |
| Waist | Low hip | Thigh | Leg opening | Inseam: ankle | Inseam: regular |
| 26 | 39.25 | 24.5 | 13.25 | 26.5 | 28.5 |
As you can see there is about 2.5 inches more room in the waist on the Standard Fit, whereas there is 1.25 inches more through the low hip and 1.5 inches more through the thigh on the Curvy Fit.
---
NOW I'll WALK YOU THROUGH HOW THOSE FIT DIFFERENCES TRANSLATE ON ME
---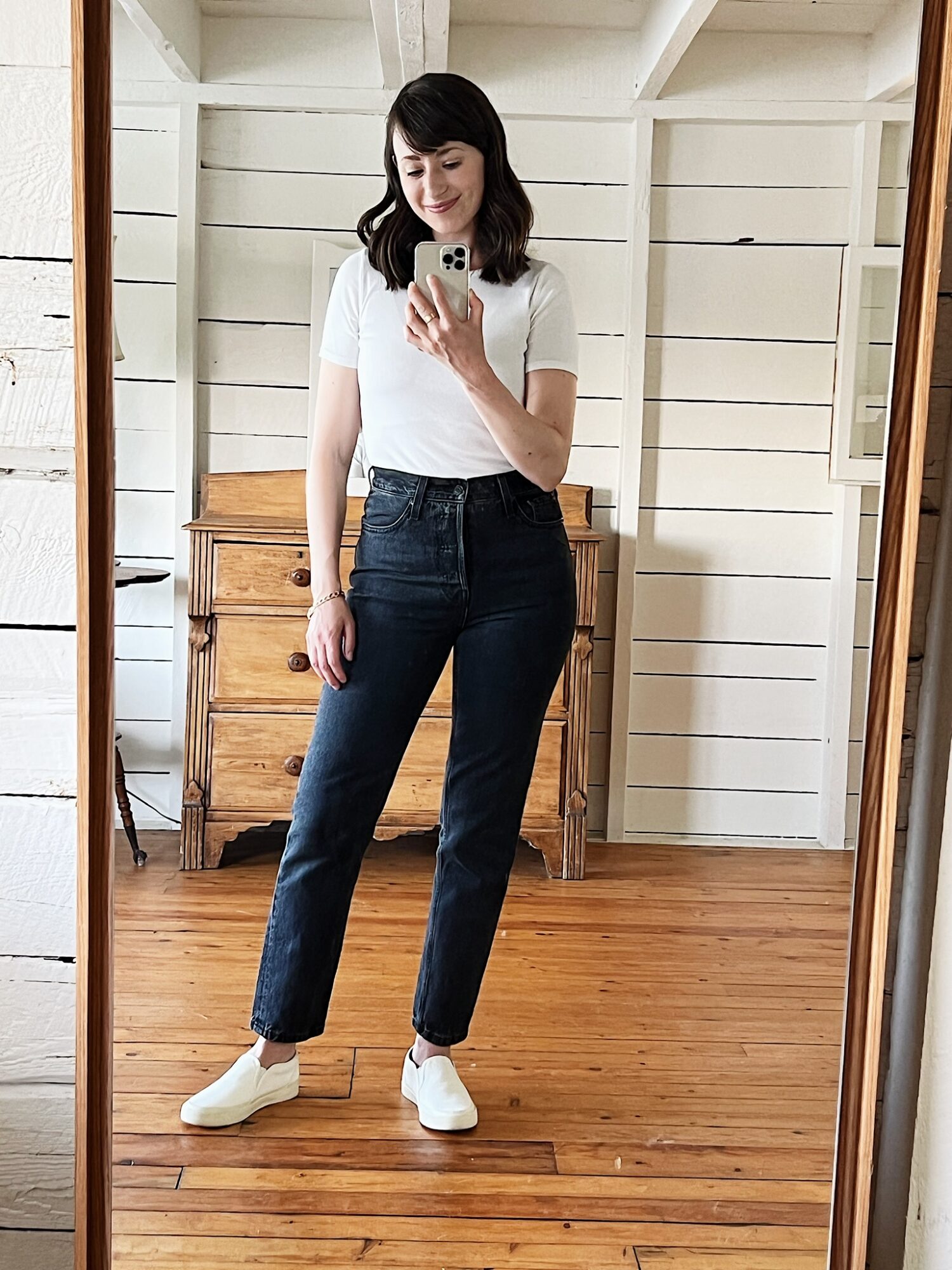 Right away you can see that the Standard Fit is tighter through the hip and the Curvy Fit is a little more roomy through the hip and thigh.
---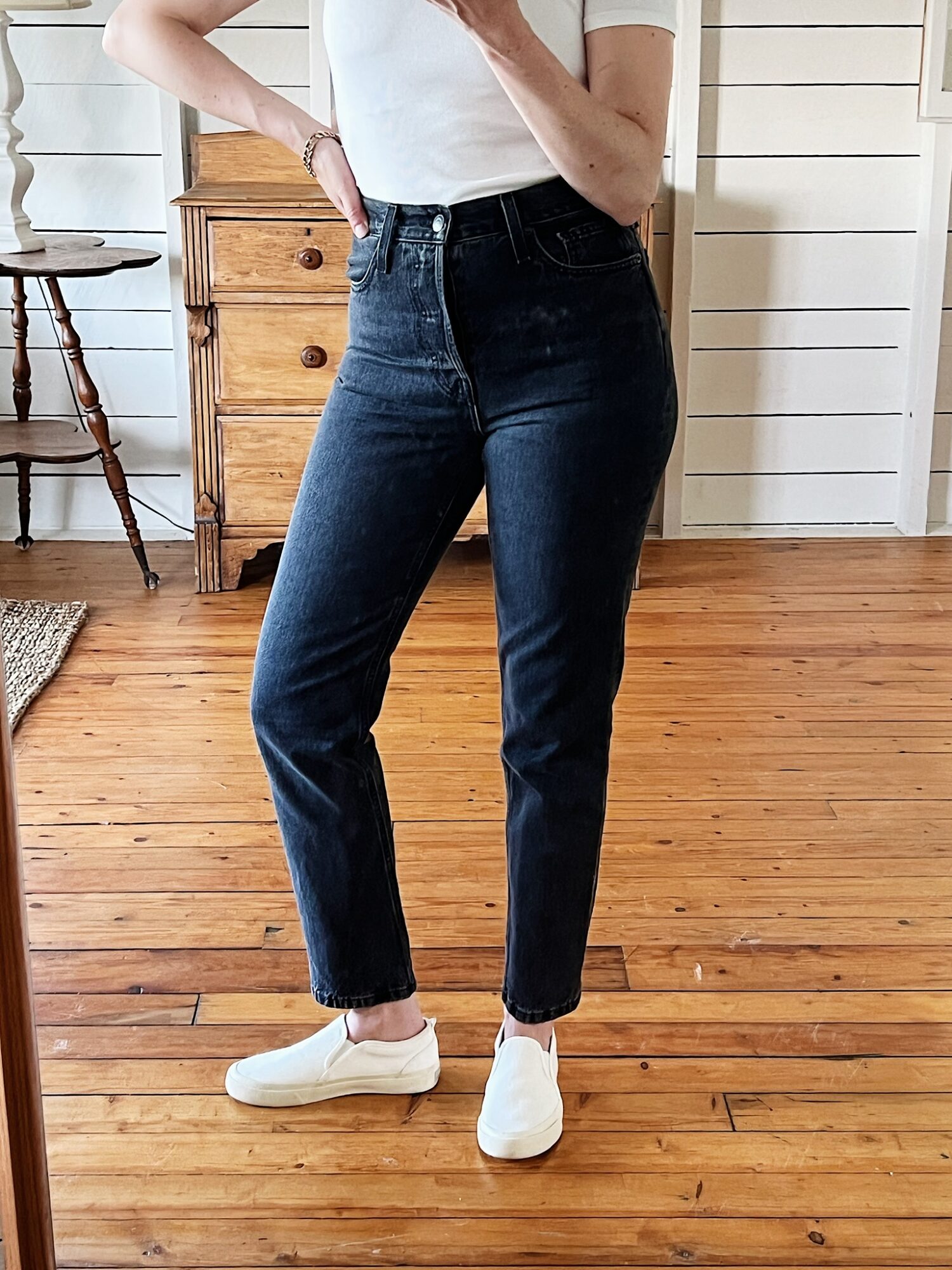 Here's a closer look at the front fit through the hip and thigh.
---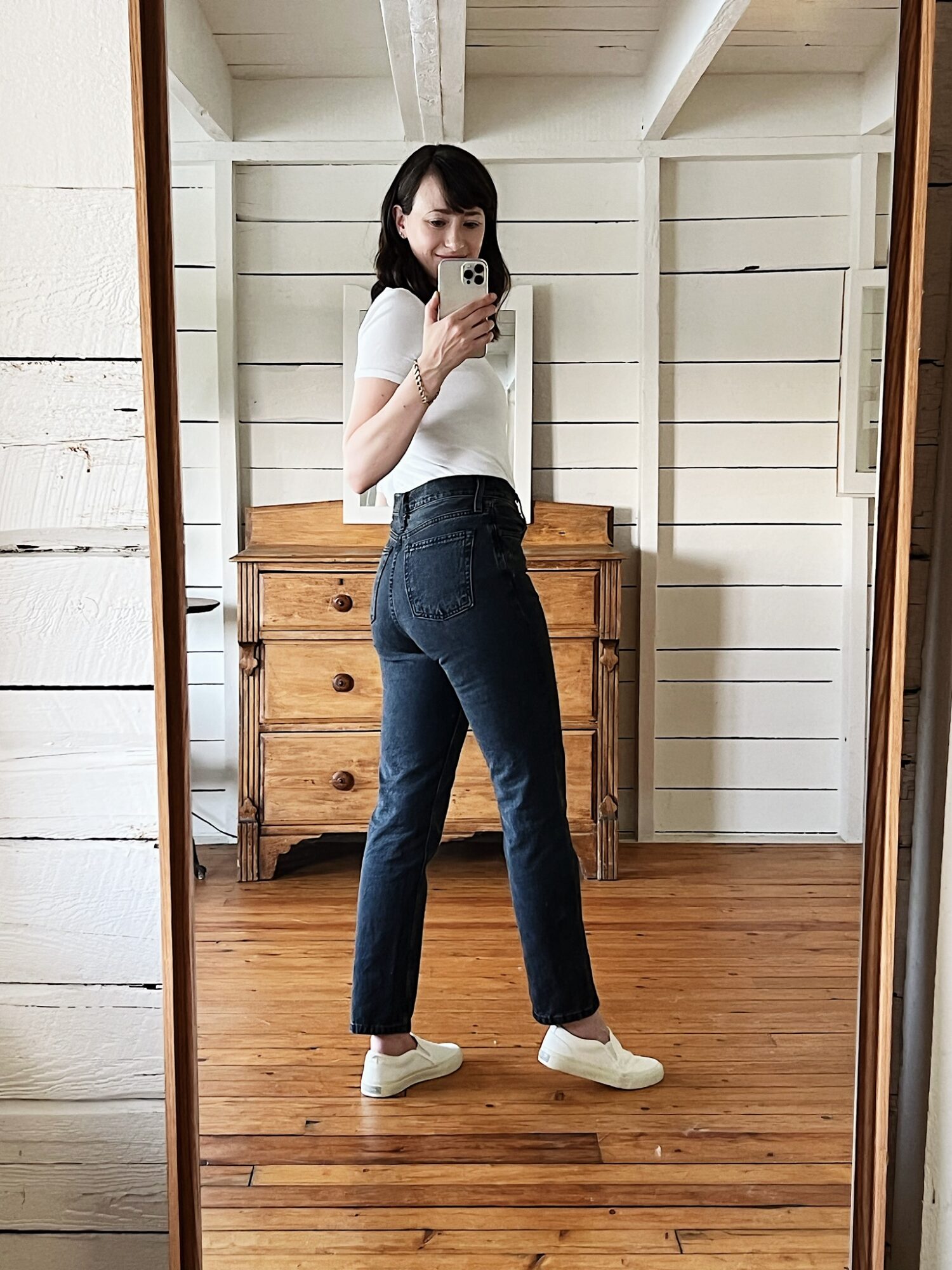 Here you can see the difference from the back through the seat and upper thigh. The Standard Fit is very fitted, whereas the Curvy Fit has a bit of room. The Standard Fit compresses my butt a little bit, while the Curvy contours with my shape a bit more.
See a side shot of the Curvy Fit below.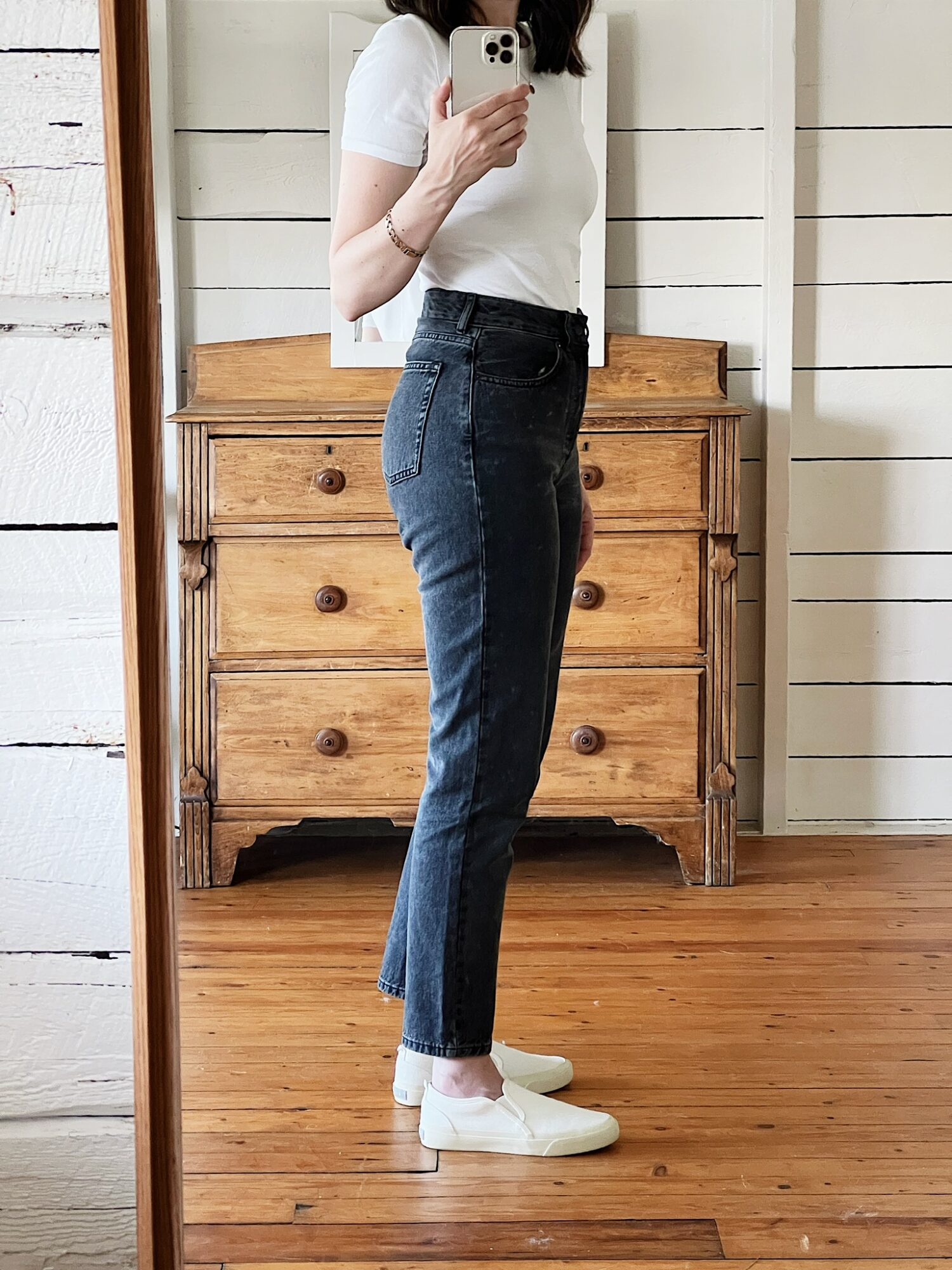 ---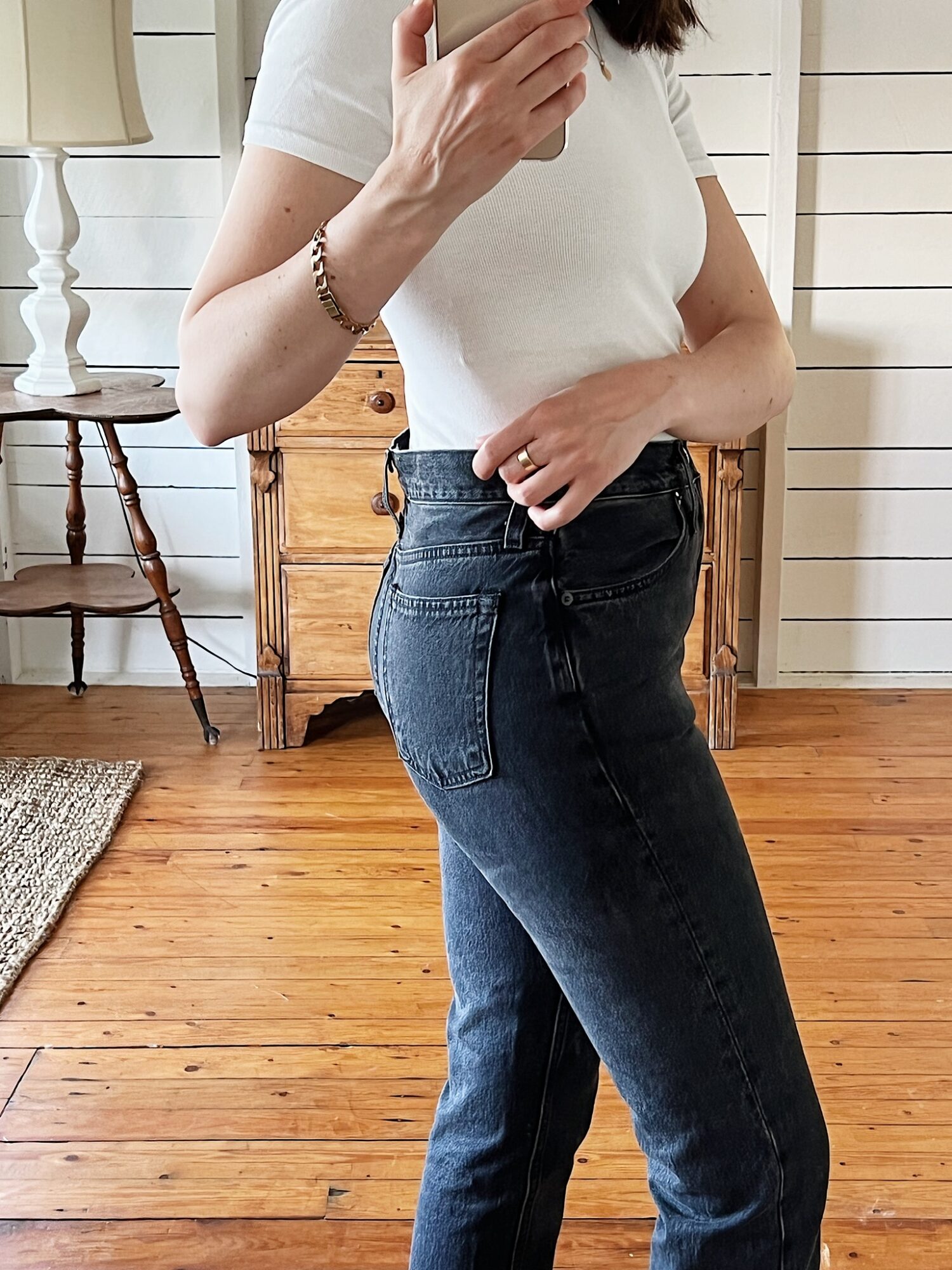 In these shots you can see the difference in the waist. The Standard Fit has a considerable gap at the back, whereas the Curvy Fit hugs my natural waist. I also find that it comes up a bit higher at the back, which I really like.
---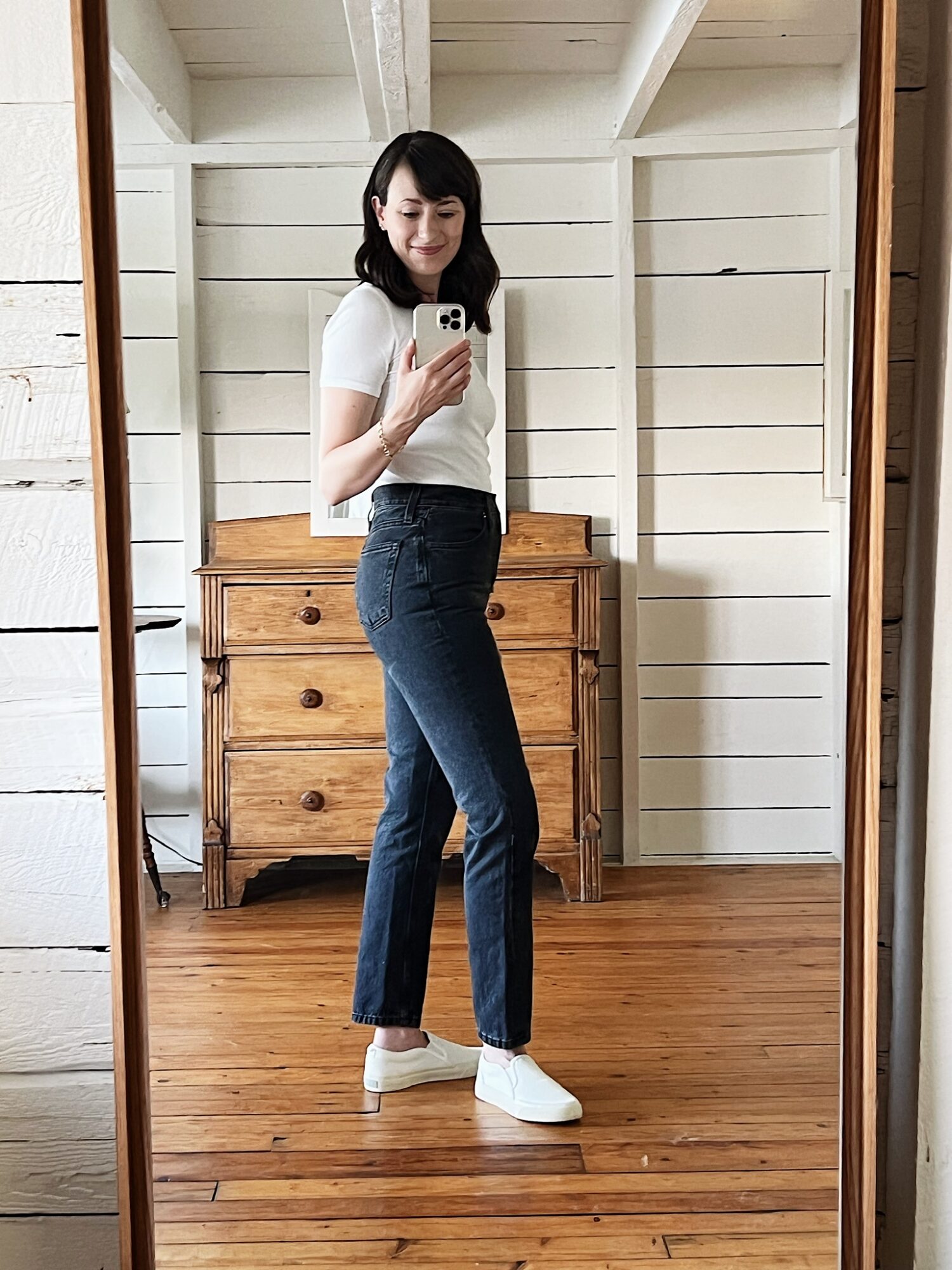 ---
SO WHICH FIT DO I FEEL IS ULTIMATELY BEST FOR ME?
Ultimately, both styles are workable and if I hadn't tried the Curvy Fit I would still be happy with the Standard Fit (although I'd probably have the waist tailored). However, now that I have tried them, the Curvy Fit is definitely my preference. They're more comfortable for all-day wear and I definitely prefer how the waist fits and sits on my frame. I don't mind the extra room through the hip and thigh at all, although, in a lighter wash it may be more noticeable.
Will I always get the Curvy Fit going forward? Time will tell. I'll likely try both options in any new washes and just return the one that isn't my preference.
---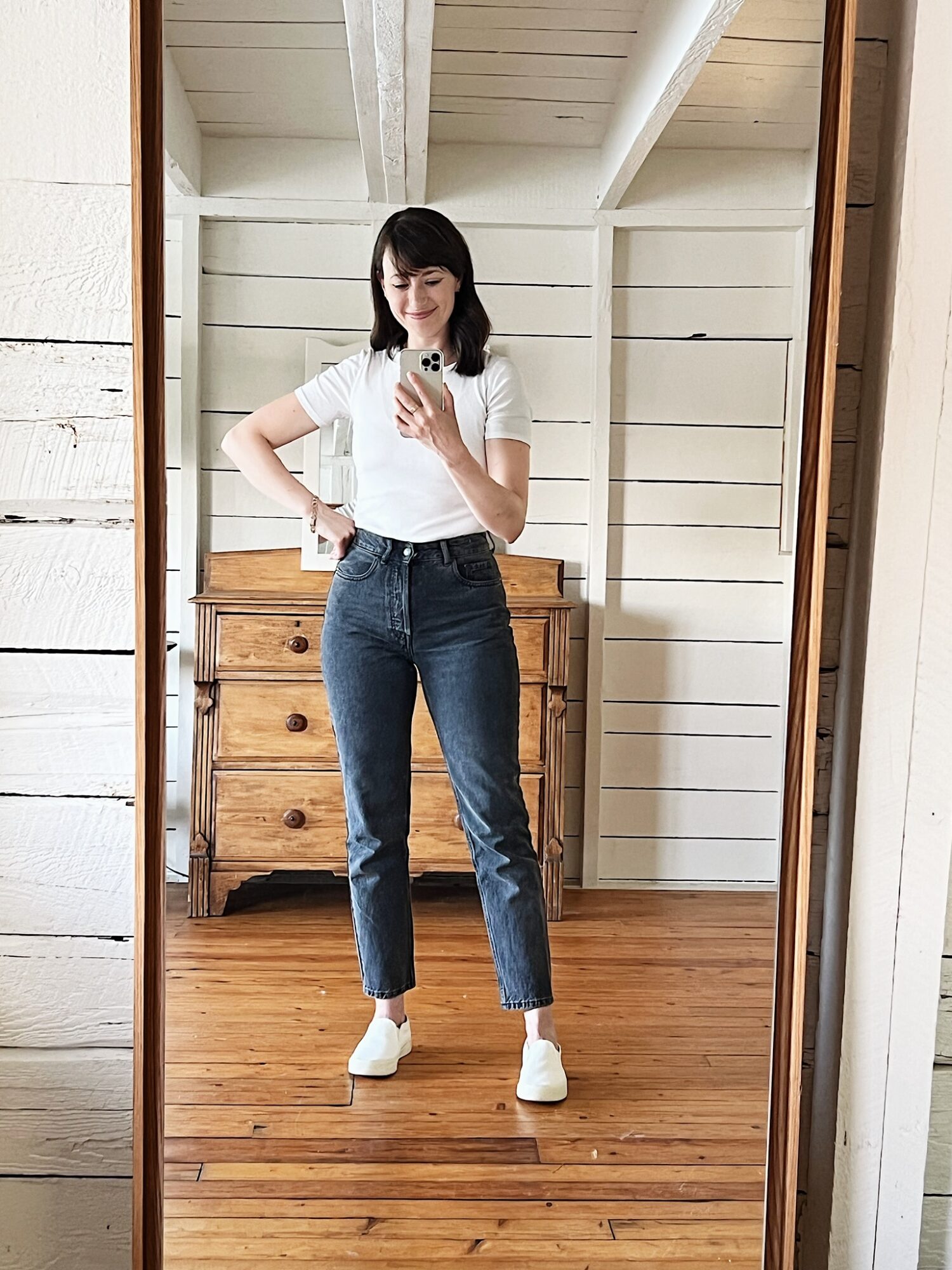 SHOP THIS LOOK: PIMA MICRO RIB TEE | 90'S CHEEKY JEANS CURVY FIT (28.5″ inseam) | THE FOREVER SLIP ON
---
A FEW WAYS I'VE STYLED THE WASHED BLACK 90'S CHEEKY JEANS
---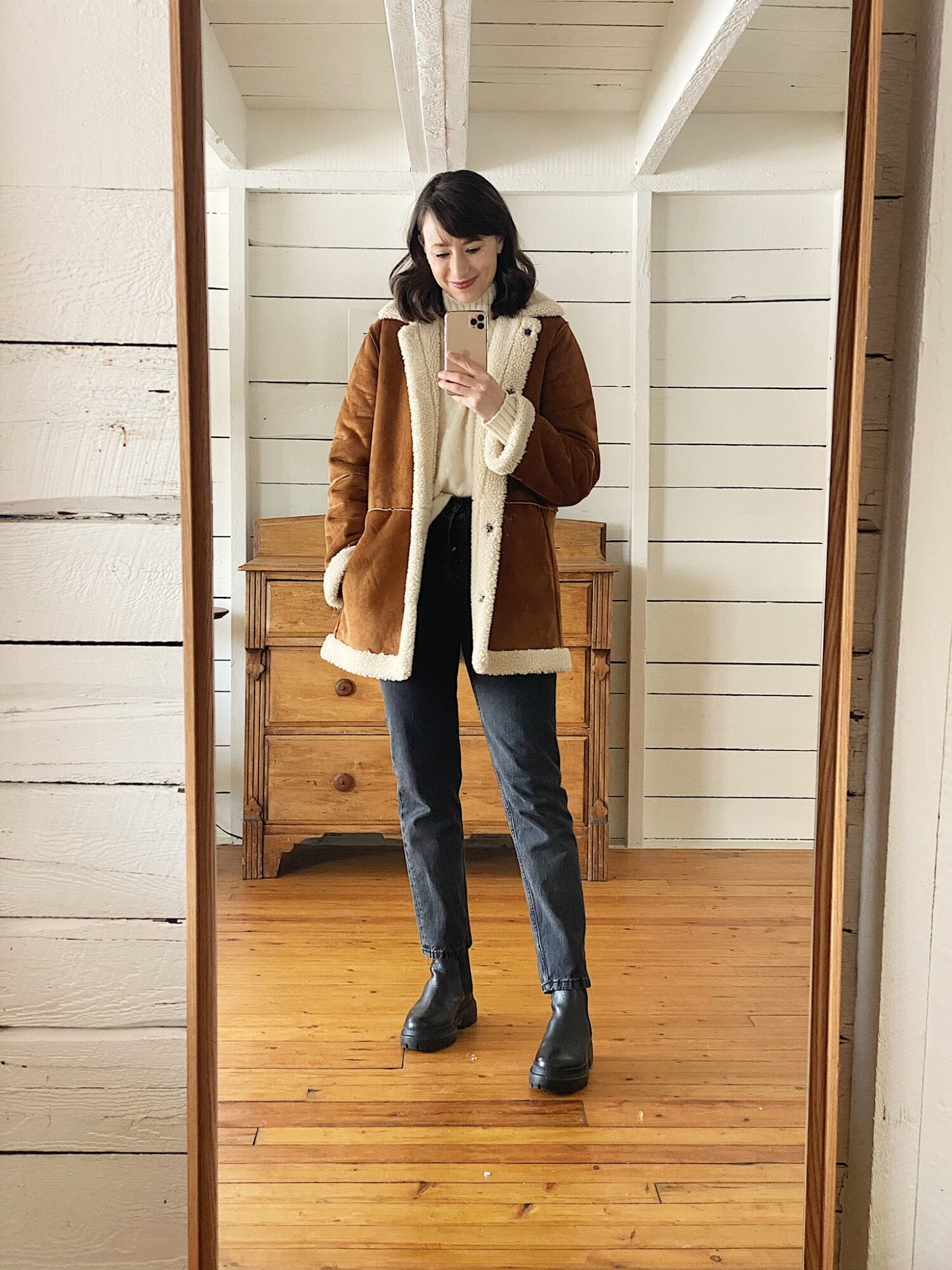 OUTFIT SOURCES: LOOK 1 // LOOK 2 // LOOK 3 // LOOK 4 // LOOK 5
---
Thanks for tuning in!
I hope this little comparison was helpful for anyone who's been considering these jeans or perhaps just had some interest in this topic.