I used to struggle a bit with the super casual part of my style but have since found that the right lounge set can be a serious workhorse for common closet gaps.
Lately those gaps have been what to wear in the evening between the workday ending and going to bed or in the morning between getting up and getting ready for the day. You know those times when you want to send some emails or do some planning before committing to an outfit for the day. A lounge set is also great for traveling and I wore this one when visiting my parents a couple of weeks ago. It was the perfect thing to put on for morning coffee in the backyard.
I've tried quite a few options over the years and today I'm sharing a closer look at the Saturday Sweatshirt and Saturday Sweatpant Set from Jenni Kayne. For me this set is perfect for the shoulder seasons when you don't want anything too heavy but you still need some coziness.
Read on for more if you're in need of a minimally designed, super soft, and elevated take on the quintessential cozy lounge set.
---
---
This post is not produced in partnership with any brands mentioned but does contain affiliate links and gifted product. If you see something you like and decide to shop through the links included, I may earn commission on a sale at no additional cost to you. All opinions are always my own and I only share items I love and think you might too. Thanks for supporting Style Bee!
---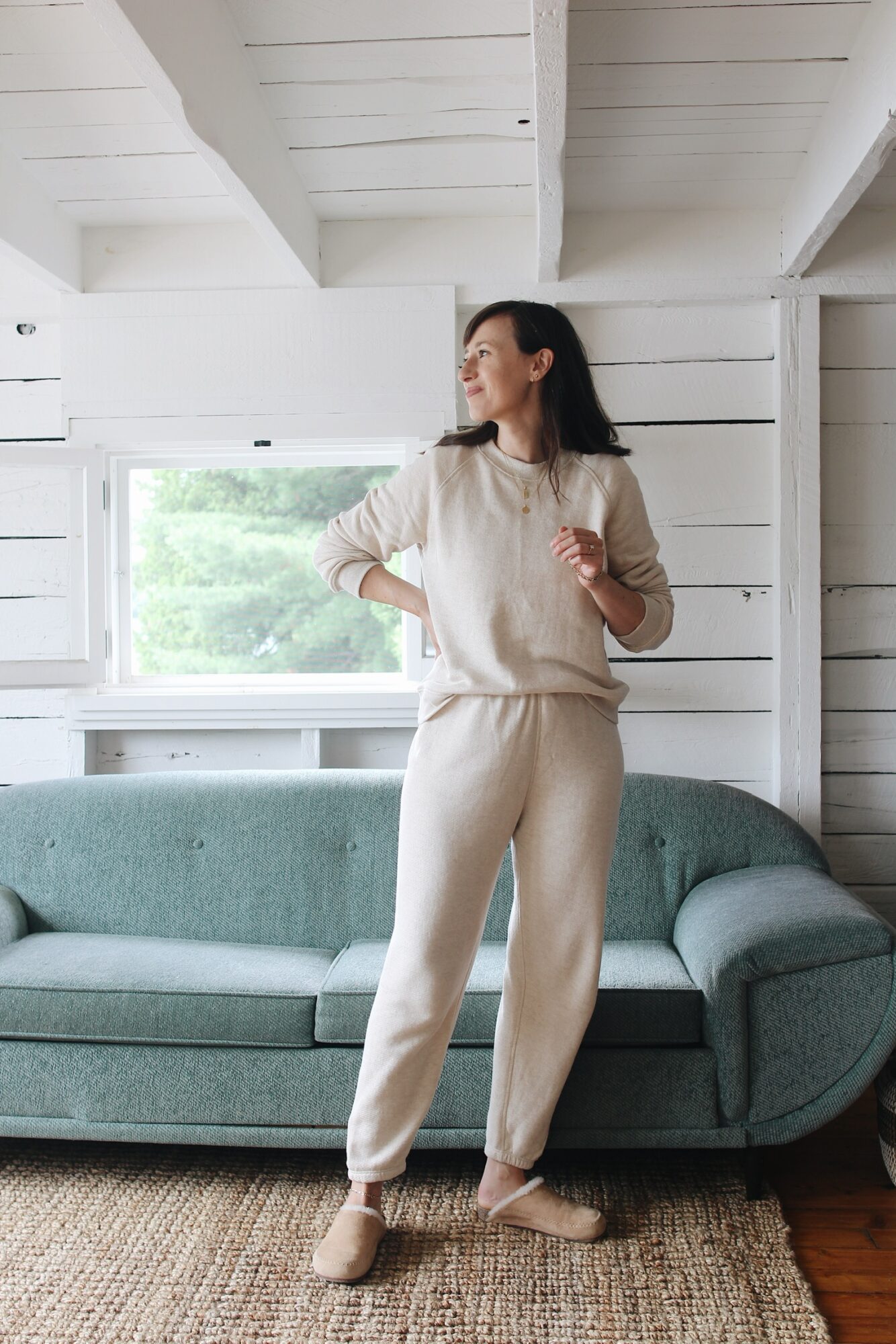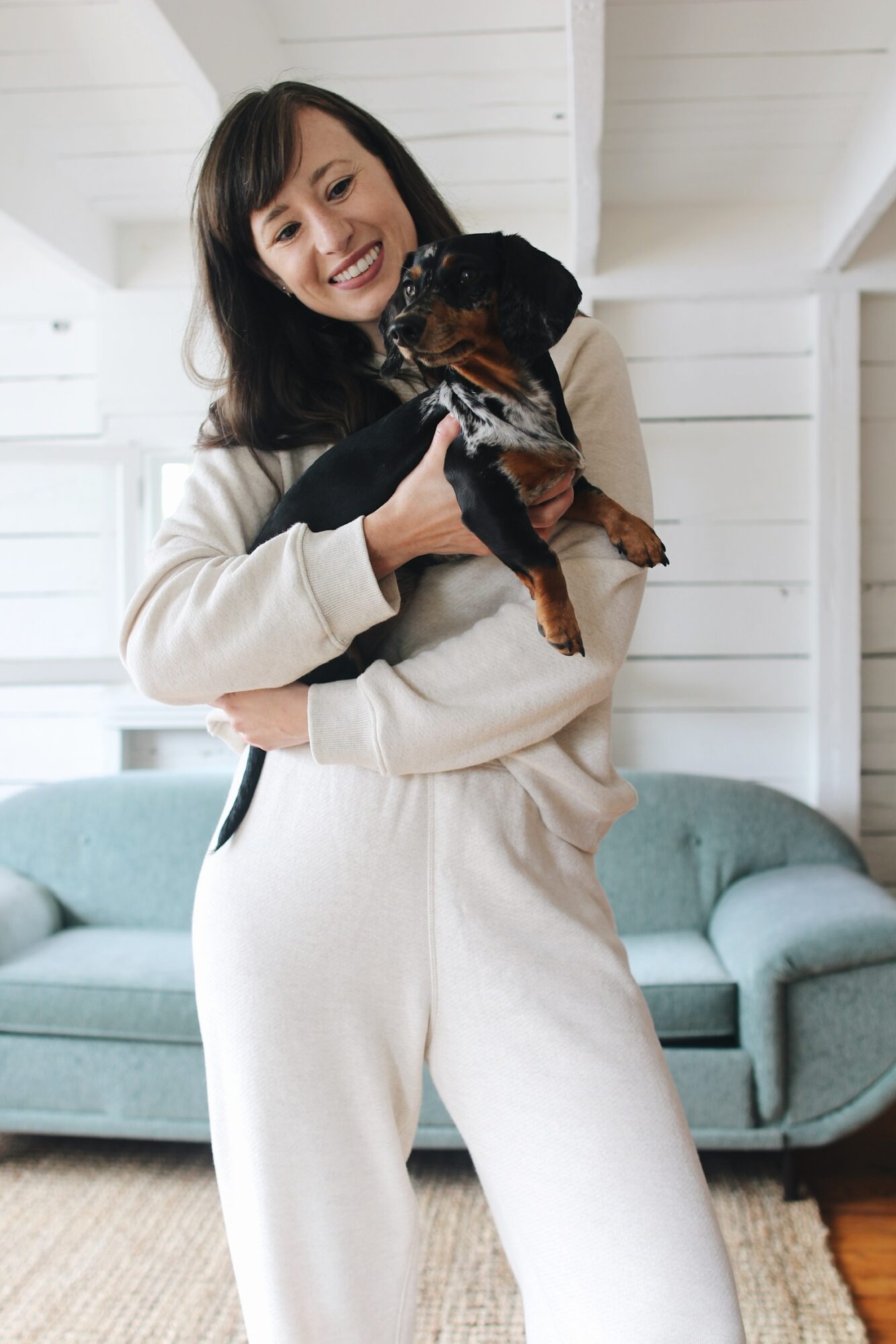 SATURDAY SWEATSHIRT | SATURDAY SWEATPANT | SHEARLING LINED CLOG
USE LEE15 for 15% OFF

---
A FEW QUICK FACTS ABOUT THE
---
PRICE POINT: $145 USD $123.75 each with LEE15 for a total of $290.00 $246.50 USD for the set.
FIT: Both pieces have a fit that's relaxed but not oversized. I'm wearing a Small in the sweatshirt and a Medium in the sweatpants and feel as though they have the perfect amount of slouch. I wanted to be able to easily layer and wash them without being worried about a touch of shrinkage. More on care below.
SIZING: Both styles come in XS | S | M | L | XL | XXL
MATERIAL: Cotton blend French terry, which is very soft and cozy. It has a beautiful inner texture thanks to it's looser knitting (photo of what I mean below). 78% cotton, 22% viscose.
MADE IN THE USA
CARE: Hand wash cold and line dry or dry clean. I have washed my set twice already and it comes out looking great. No shrinkage or stiffness, which I find can happen with air drying. I just wash the set with like colours on cold and air dry.
COLOURS: I'm wearing the Oatmeal, which is slightly heathered and really lovely. For a light colour it hides marks and fur very well. It also comes in: CREAM | PETROL | LIGHT GREY | DARK SAGE | NAVY | CHARCOAL | TAUPE
---

---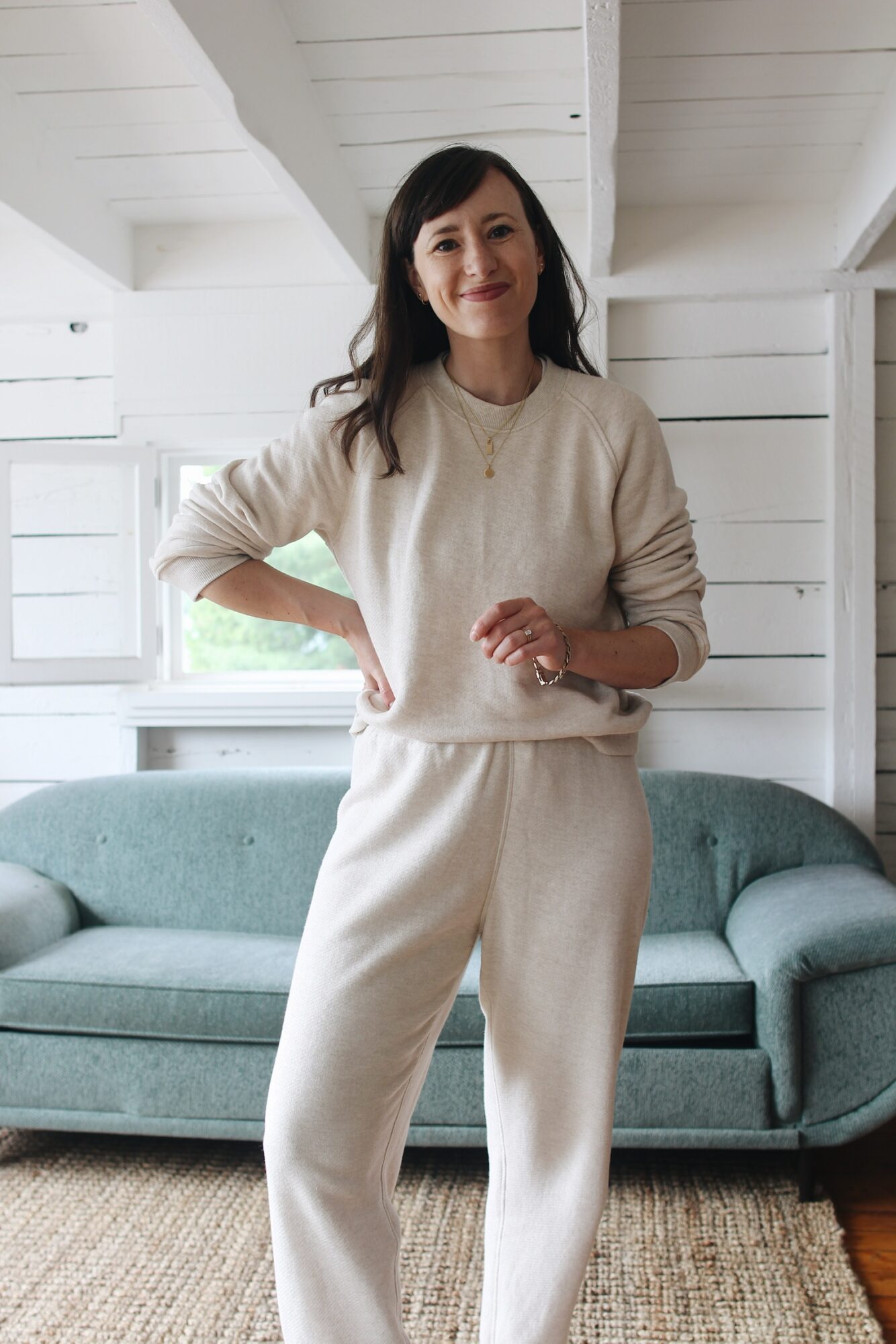 ---
DETAILS WORTH NOTING
---
Hidden Drawstring Waistband
I think this little detail is so key because I don't really love the look of a drawstring on lounge pants. With it being hidden the waistband, the front of the pants have a much cleaner look.
---
Loose Knit French Terry
This is the beautiful texture I mentioned in the quick facts section. It feels like the softest towel you've ever felt, but it's actually an outfit!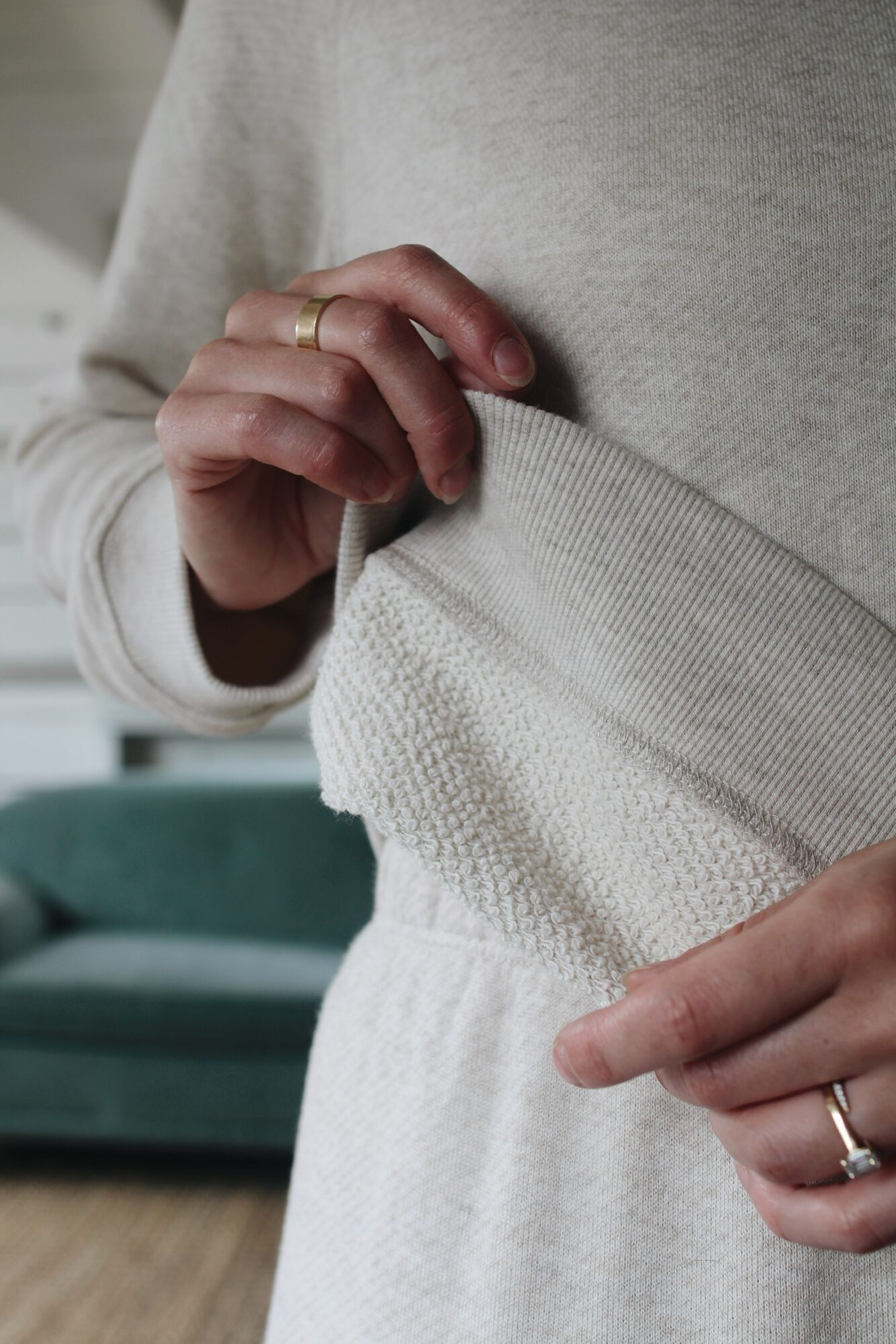 ---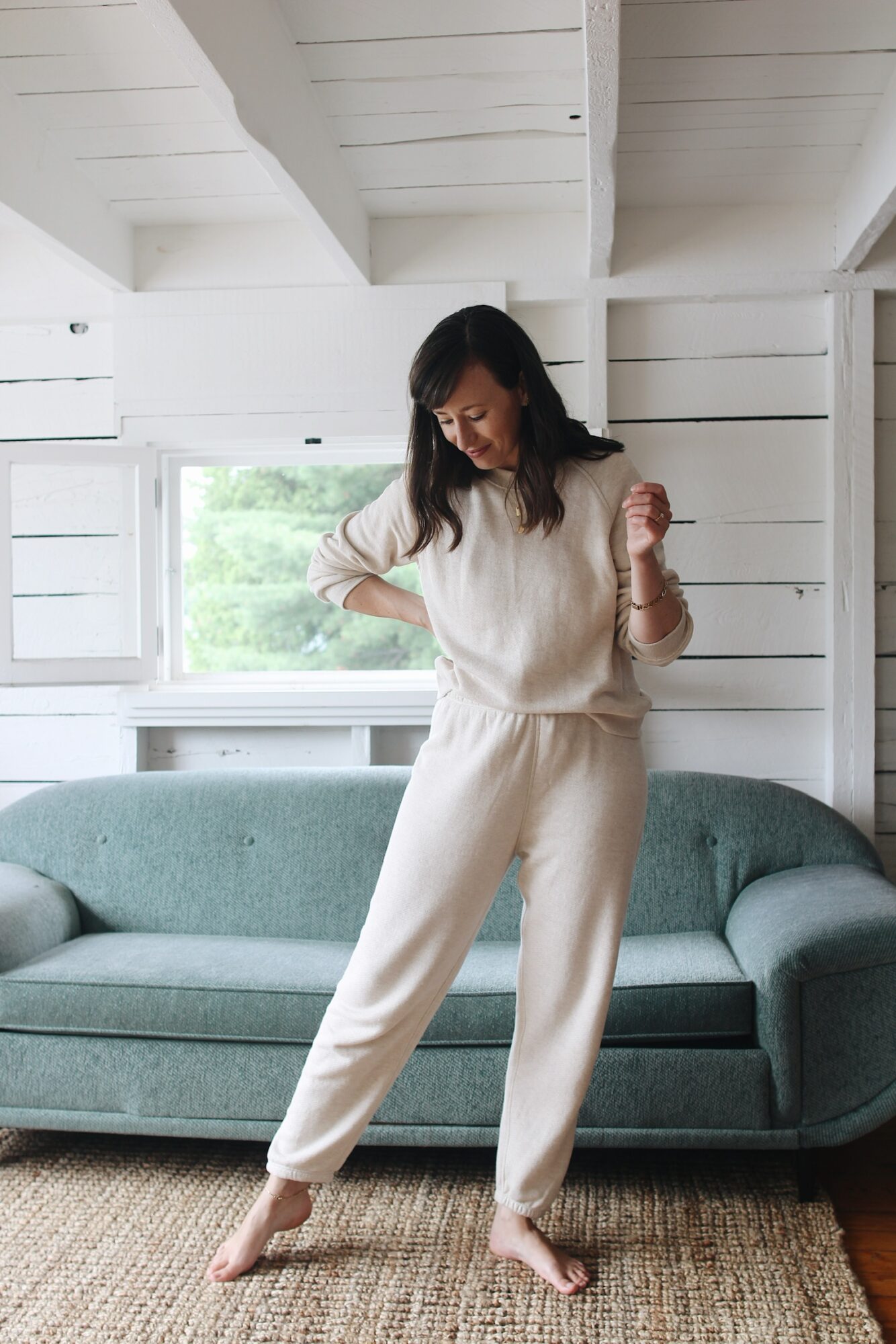 Classic Wrapped Elastic Waist & Cuffs
This is a quintessential loungewear detail done in a classic way. I really like having the elastic ankles and cuffs because then I can pull up the pants or push up my sleeves as needed. No hems or cuffs dragging where they shhouldn't!
---
Raglan Sleeves
I love the look and ever-so-slightly sporty feel of a raglan sleeve. I also find that they're super easy to layer over a classic t-shirt because the shoulder seams don't overlap.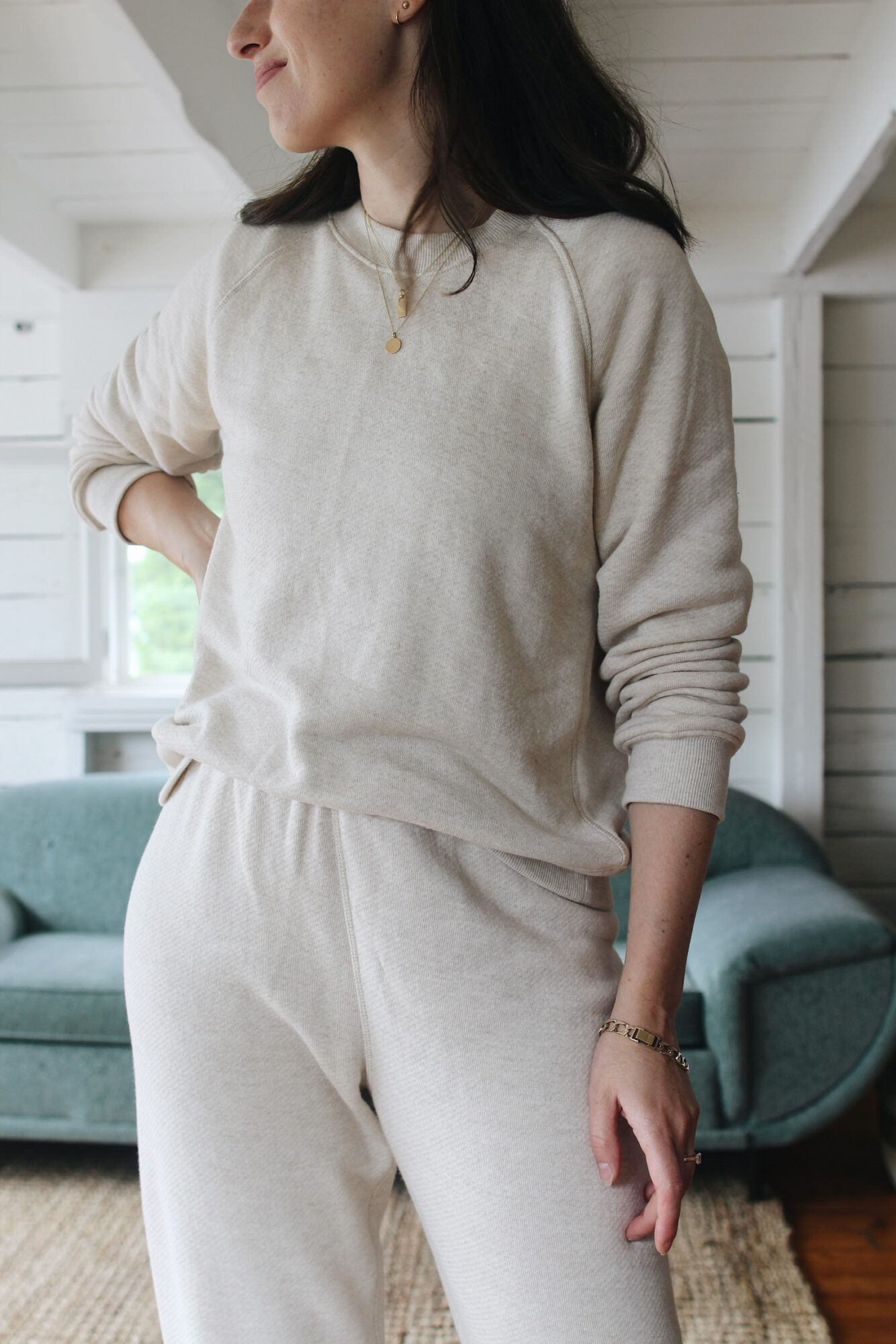 ---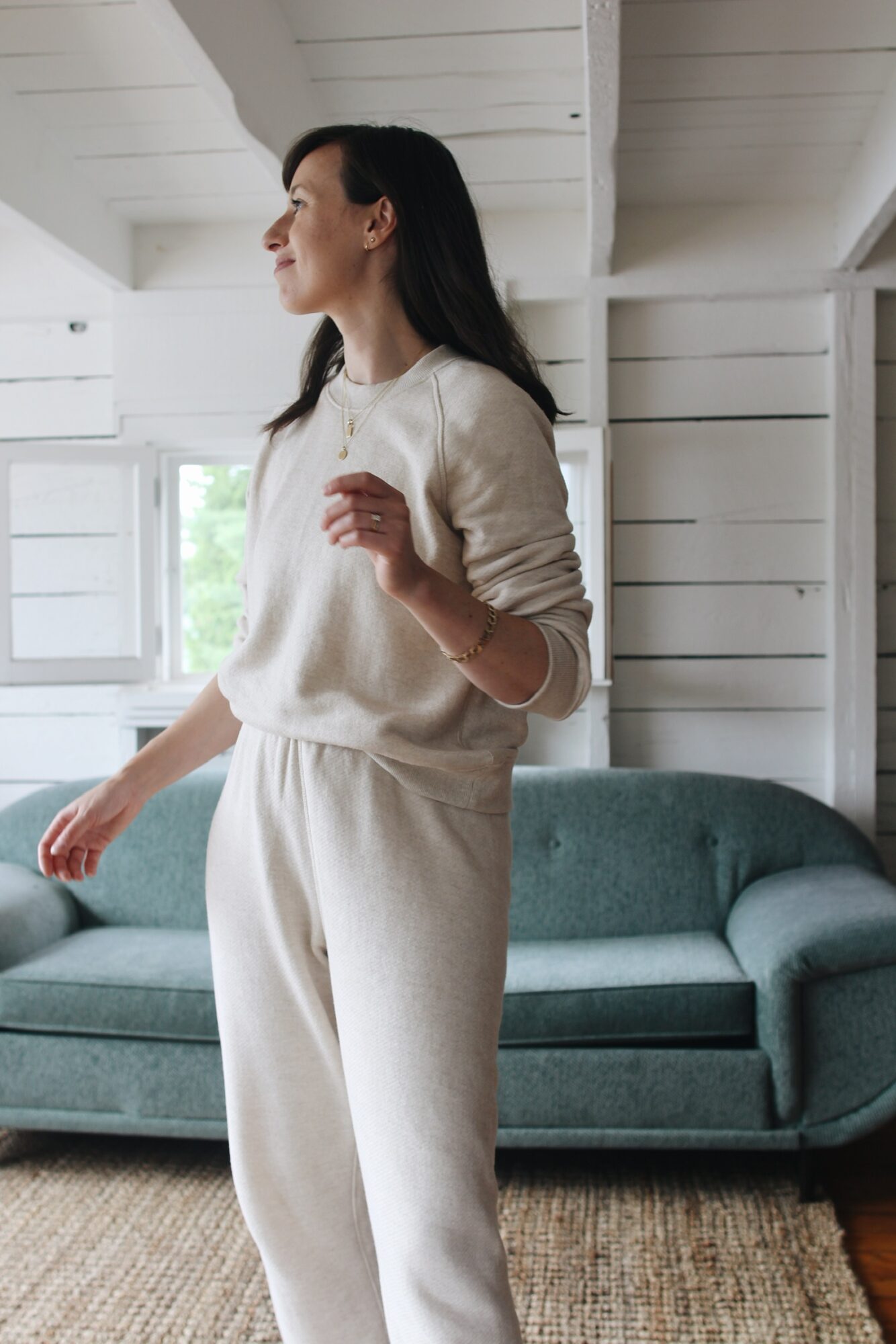 ---
I like to wear the Saturday Sweatshirt over a fitted tee, like this one, and front tuck the hem into the waistband of the pants for just enough of a styled feel. It looks great left out too though.
This set is goes perfectly with a super cozy slipper and I still love my Shearling Clogs after over a year and a half of wearing them.
---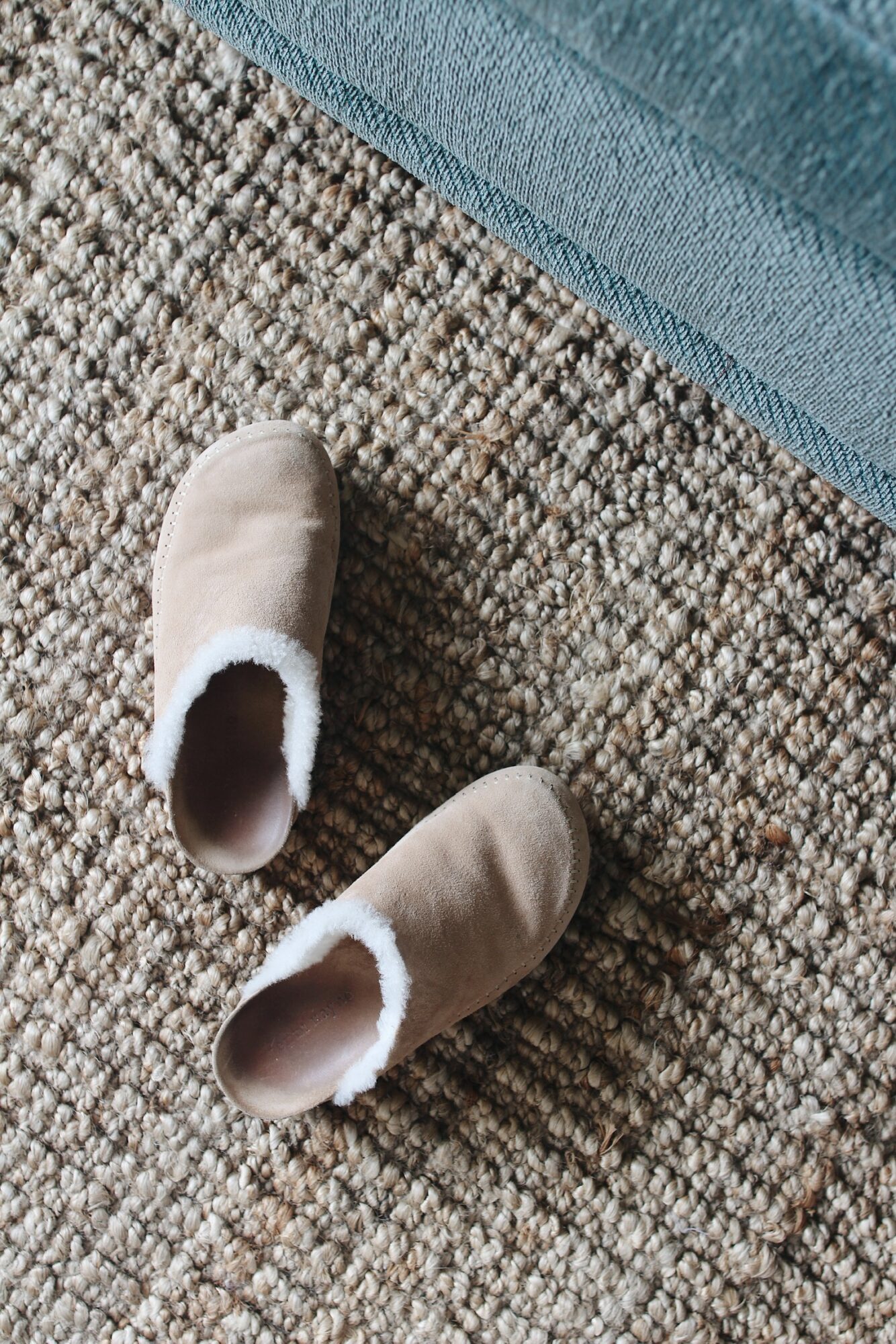 ---
HOW DO THESE COMPARE TO OTHER LOUNGE SETS I'VE TRIED?
I've tried and enjoyed wearing lounge sets from VETTA, Colorful Standard, Eileen Fisher, Vestige Story, and NORDSTROM (although these are more of a pj).
The Saturday Set is my top choice of them all. They just feel like a lounge set should feel, which to me is: very comfortable, cozy, unfussy, functional, low maintenance and just sophisticated enough to feel put-together.
ANYTHING I WOULD CHANGE?
These don't have pockets and it would be great if they did. Even just a small one on the inside of the waistband. That said, no pockets is not a deal breaker for me and it keeps the fit a bit more streamlined.
---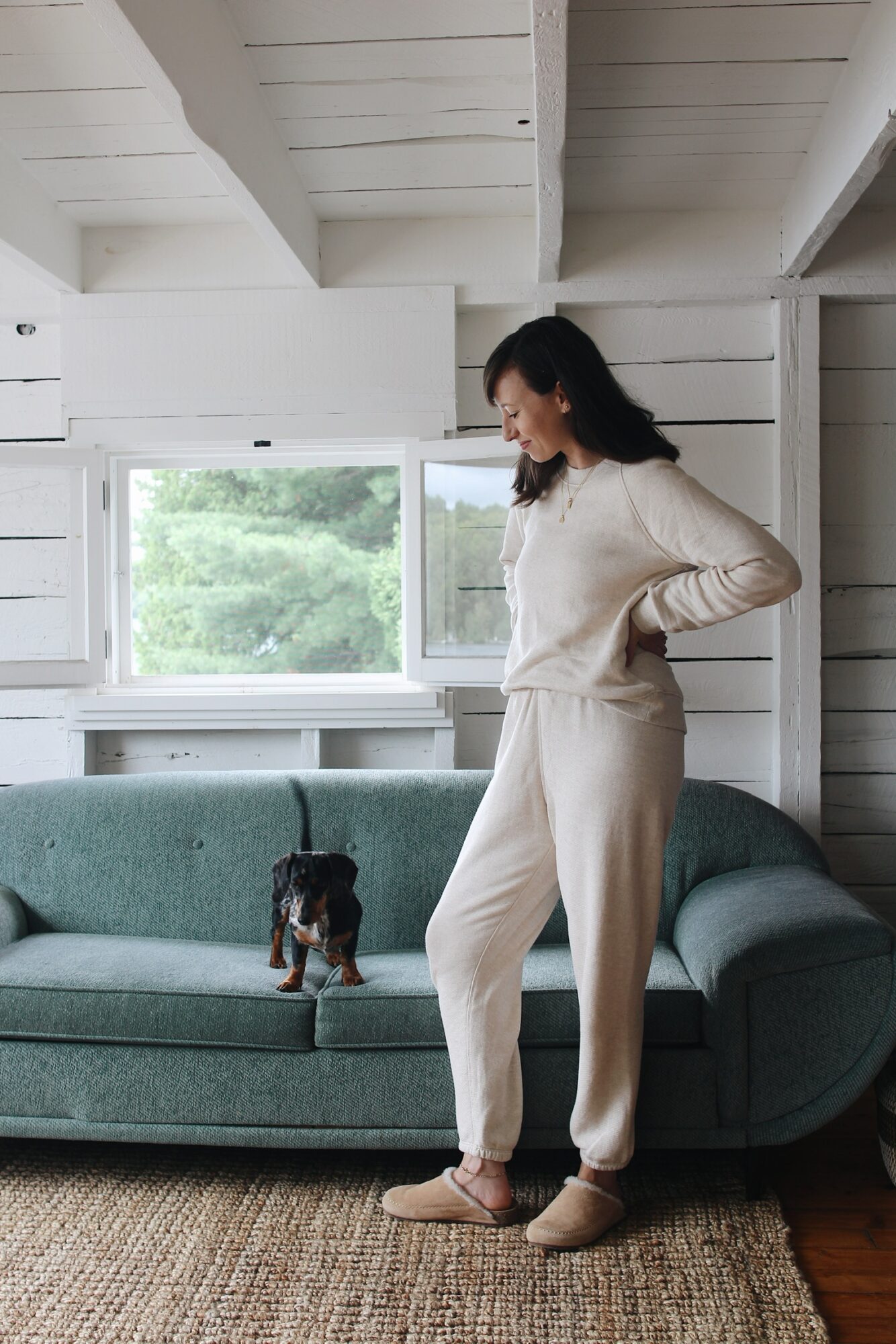 SATURDAY SWEATSHIRT | SATURDAY SWEATPANT | SHEARLING LINED CLOG
USE LEE15 for 15% OFF

---
THANKS FOR TUNING IN!
In case you're curious like me, the couch shown in this post came with our cottage and lives in the boathouse (where I shoot for the blog). It's definitely a fun piece and I have plans to eventually repair and recover it. It has a matching chair too!