Since moving to the lake I've been letting my style needs to adjust accordingly. This has mostly meant a shift towards more of what I like to call "function-forward-chic", which tends to involve terrain-ready footwear and weather-friendly outerwear.
I've been doing my best to make my existing closet work for these new conditions. Turns out this has been more doable and much easier than I expected, especially when I focus on simplicity and wearability.
I thought it might be helpful to share the three basic approaches I use to put together outfits that are highly practical but still have an elevated feel to them.
Read on to see what I mean!
---
This post contains affiliate links. This means if you decide to shop through the links included, I may earn commission on a sale at no additional cost to you. All opinions are always my own and I only share items I love and think you might too. Thanks for supporting Style Bee!
---
APPROACH #1
GO ALL DARK (OR ALMOST)
This is the easiest and most effective way to create an outfit that's equal parts sophisticated and practical. At least that I've found anyway. To keep it from feeling flat or perhaps a little too off-duty CIA agent, I like to start with a black and grey base, then add a black hat and jacket. From there you could totally continue with black shoes and accessories but I caved and opted for a hint of cream tones to brighten things up just a touch.
---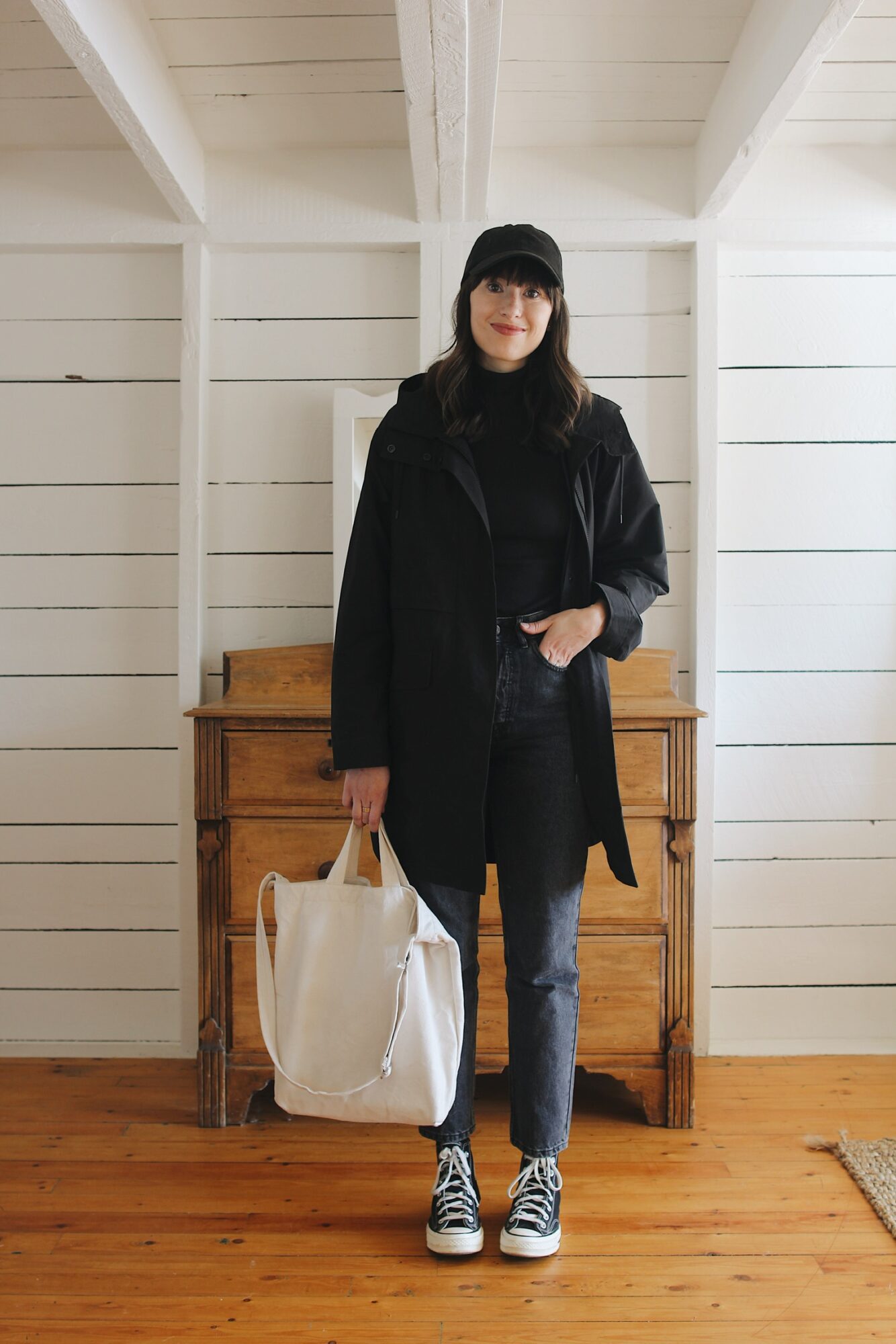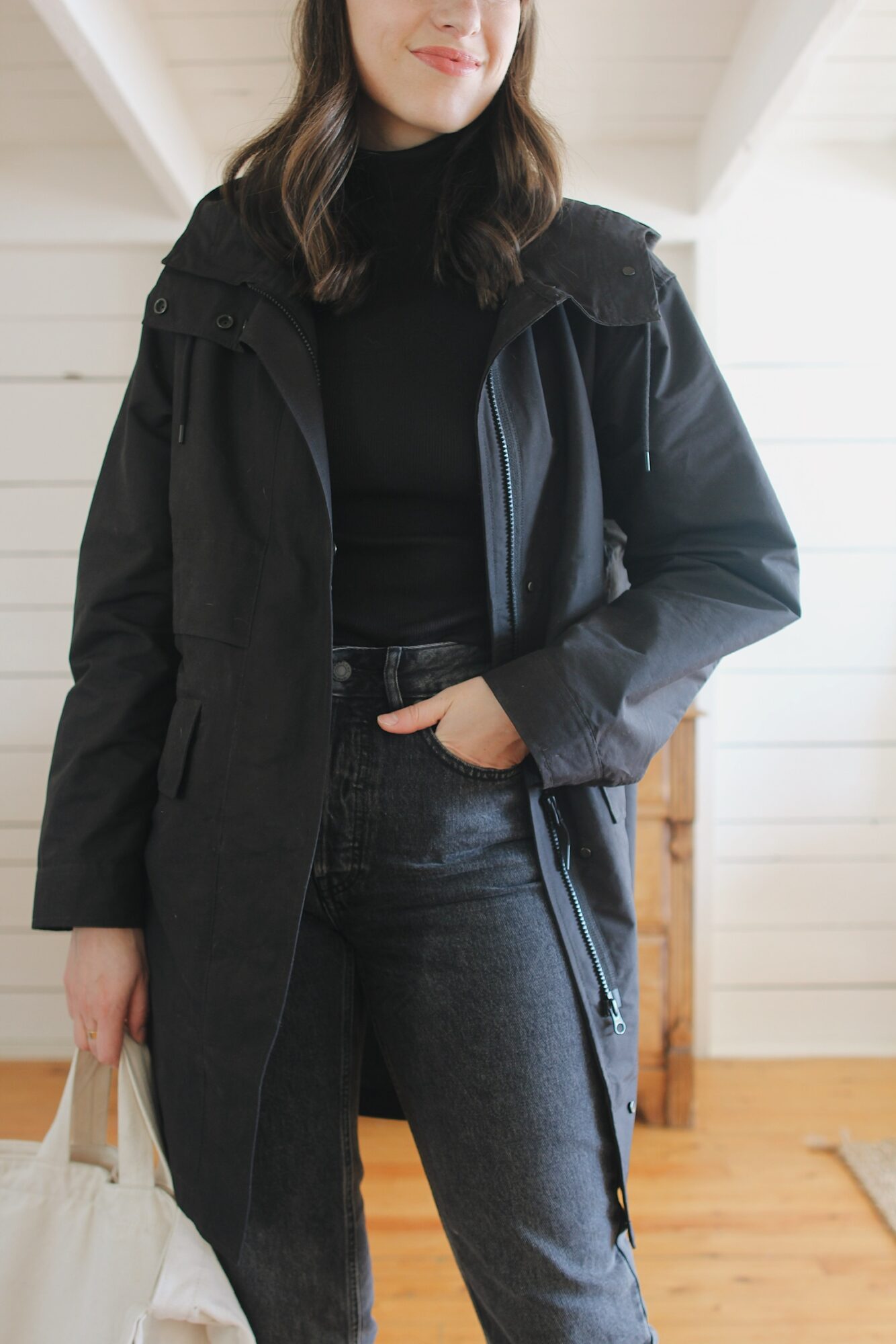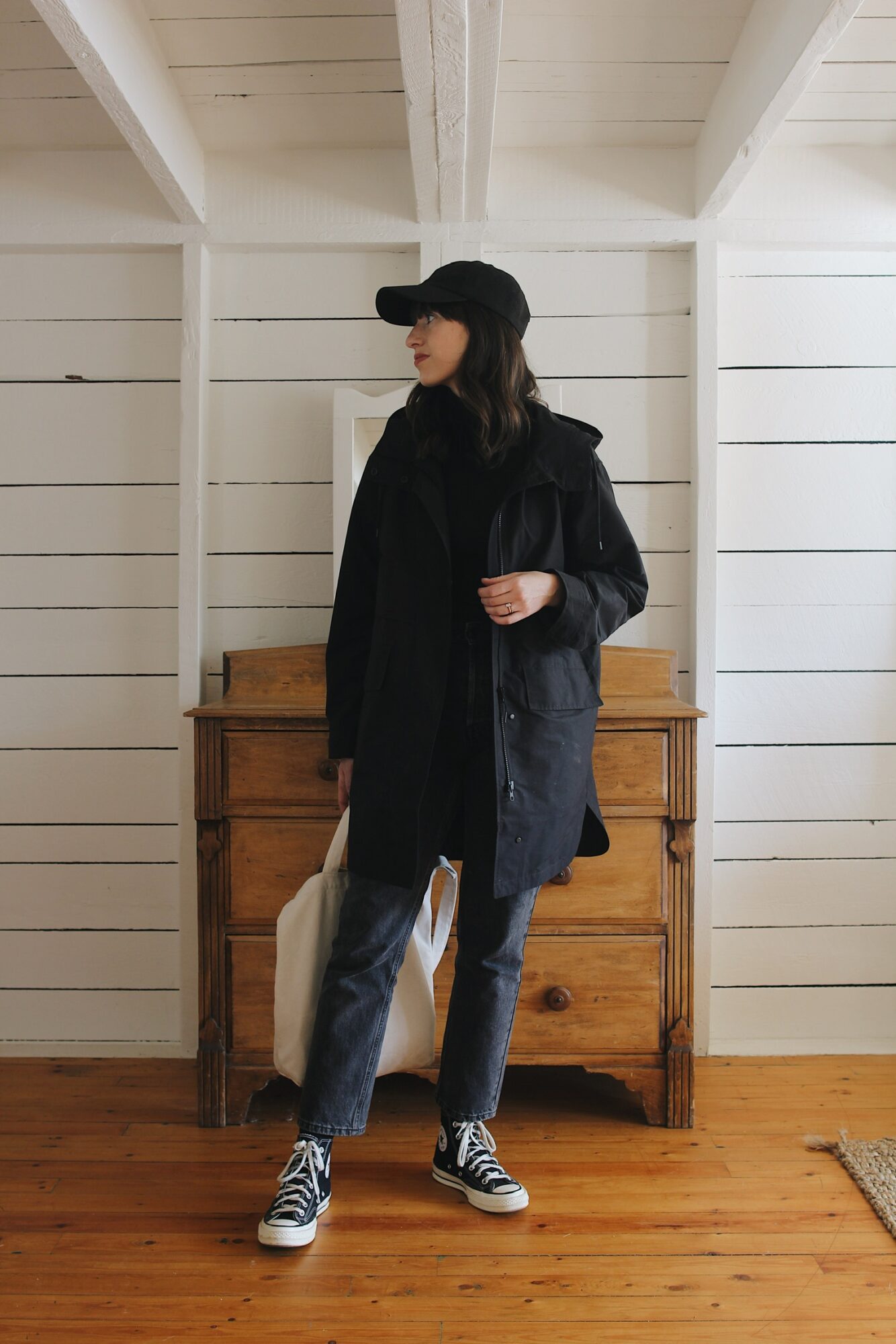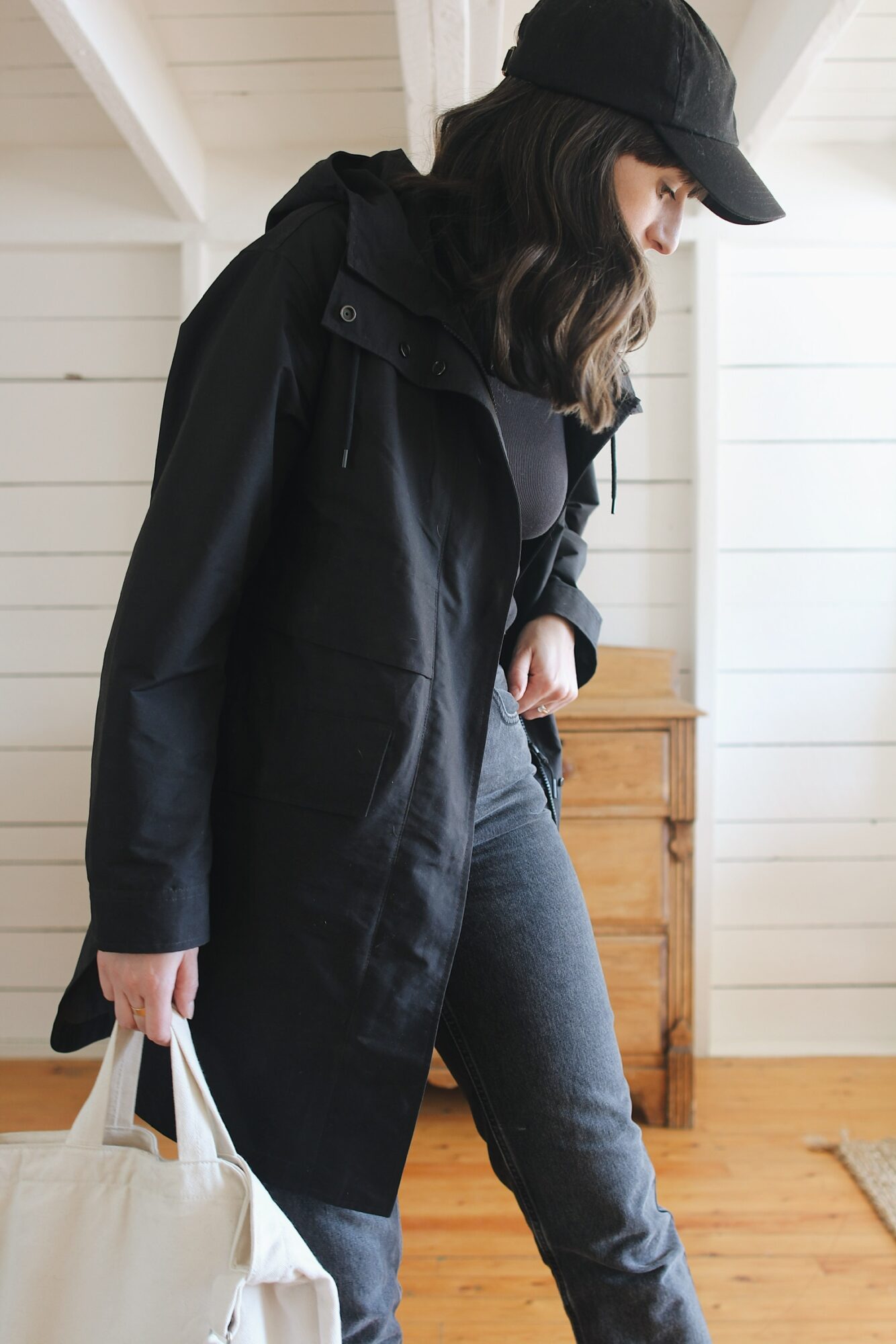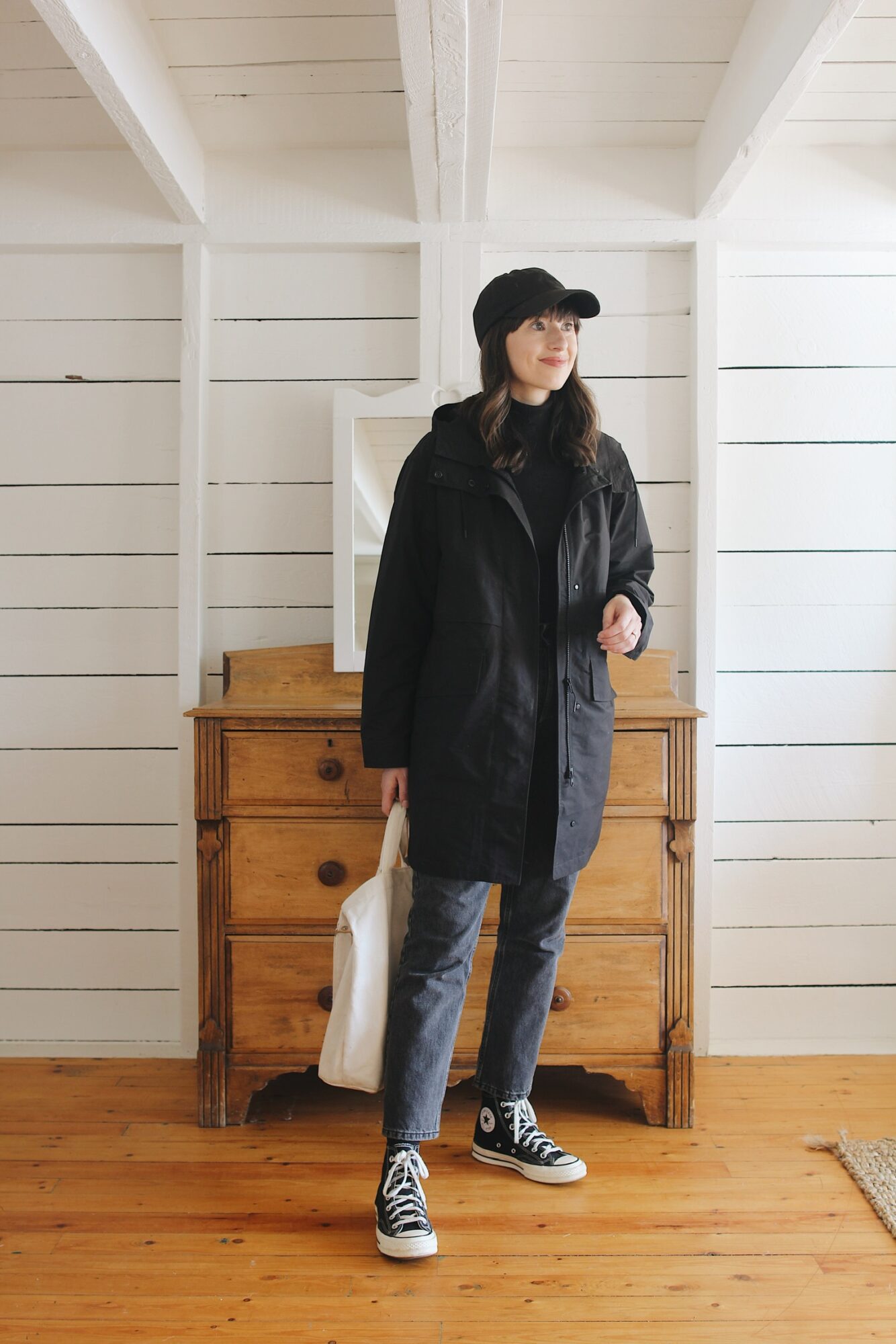 ---
SHOP LOOK 1
BLACK ANORAK JACKET (True to size for easy layering. On sale. More water-proof than water resistant.) | BASEBALL CAP | MICRO RIB TURTLENECK (On sale.) | 90'S CURVY CHEEKY JEANS (Fit comparison here. On sale.) | ALL STAR 70'S HIGH TOP | CANVAS TOTE
---
APPROACH #2
CHOOSE ONE STANDOUT ELEMENT
For me this is usually a jacket or an element that won't be hidden. Patterns always pack a visual punch and then you can pull from the colours within to keep the look cohesive and simplistic. I tend to stick with neutrals so the pattern remains the focal point. In this case that's a taupe long sleeve and boots with charcoal jeans and a canvas bag.
---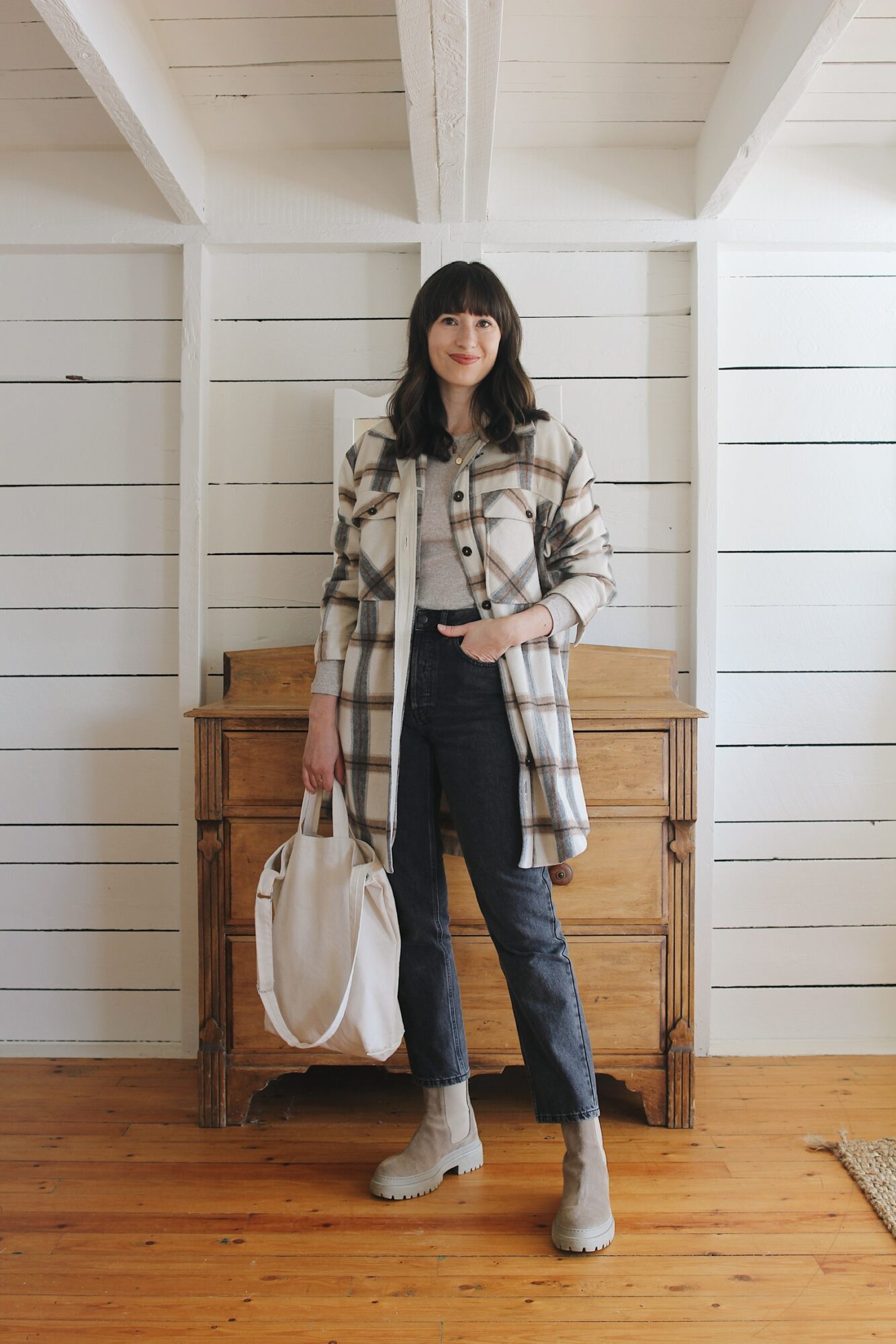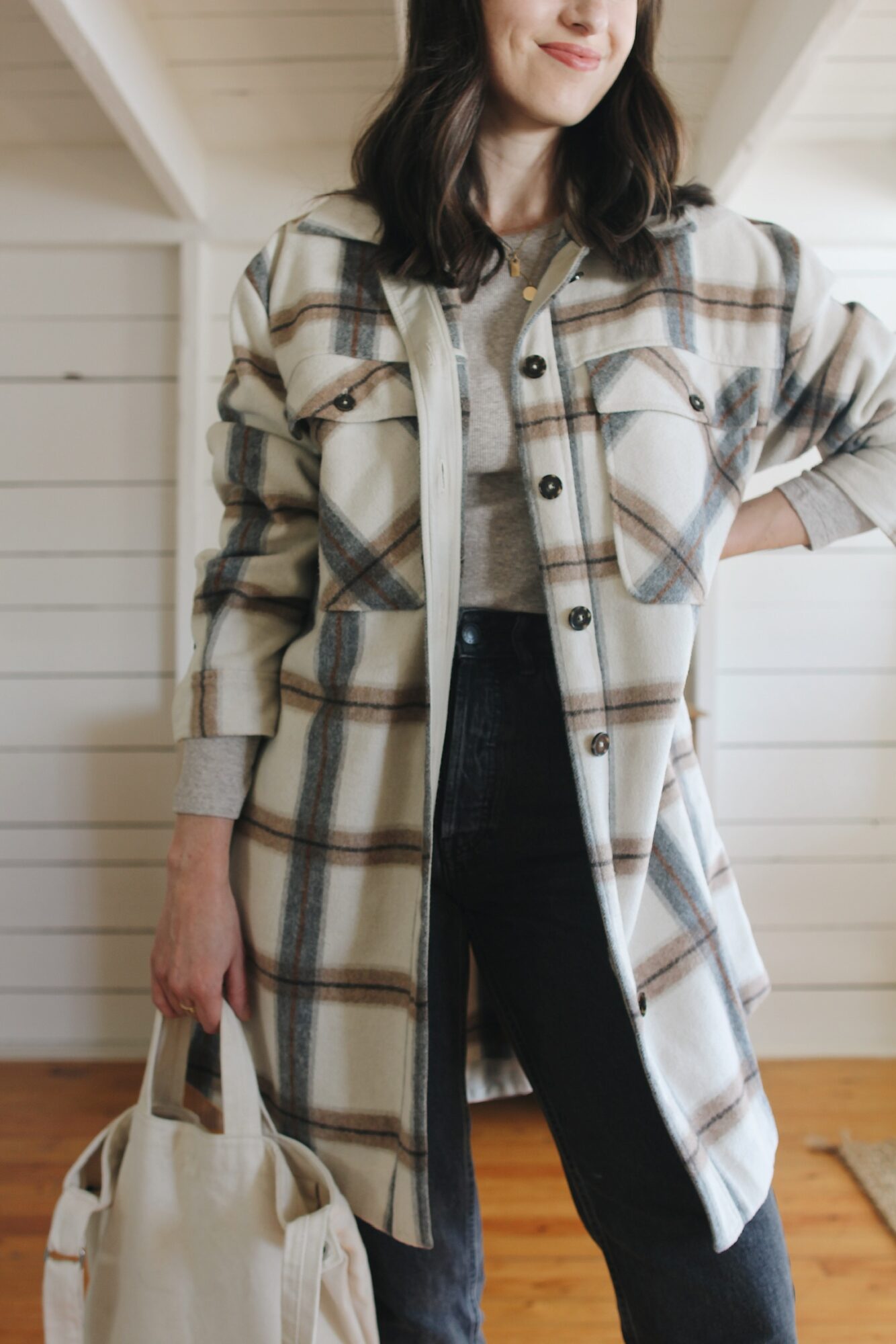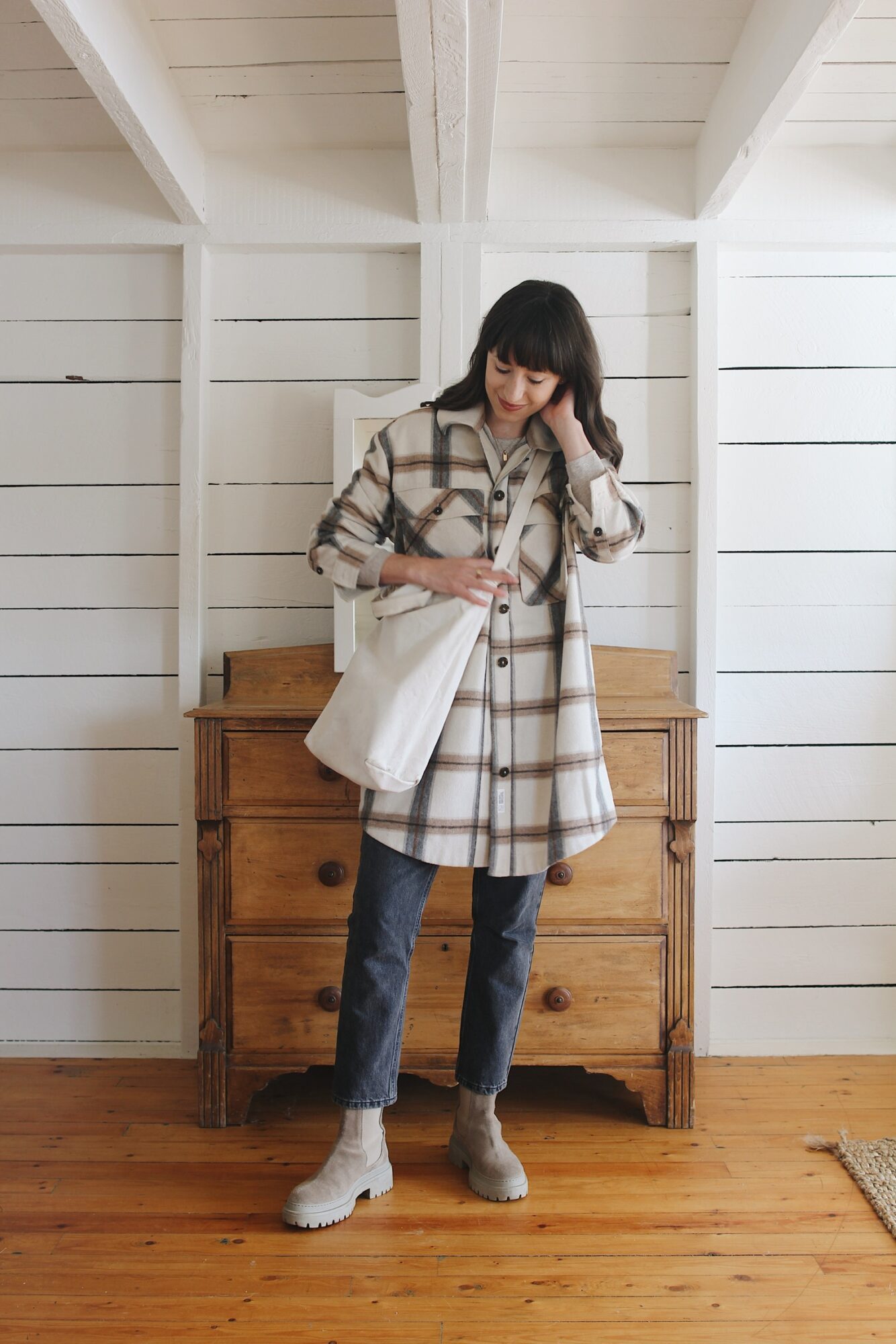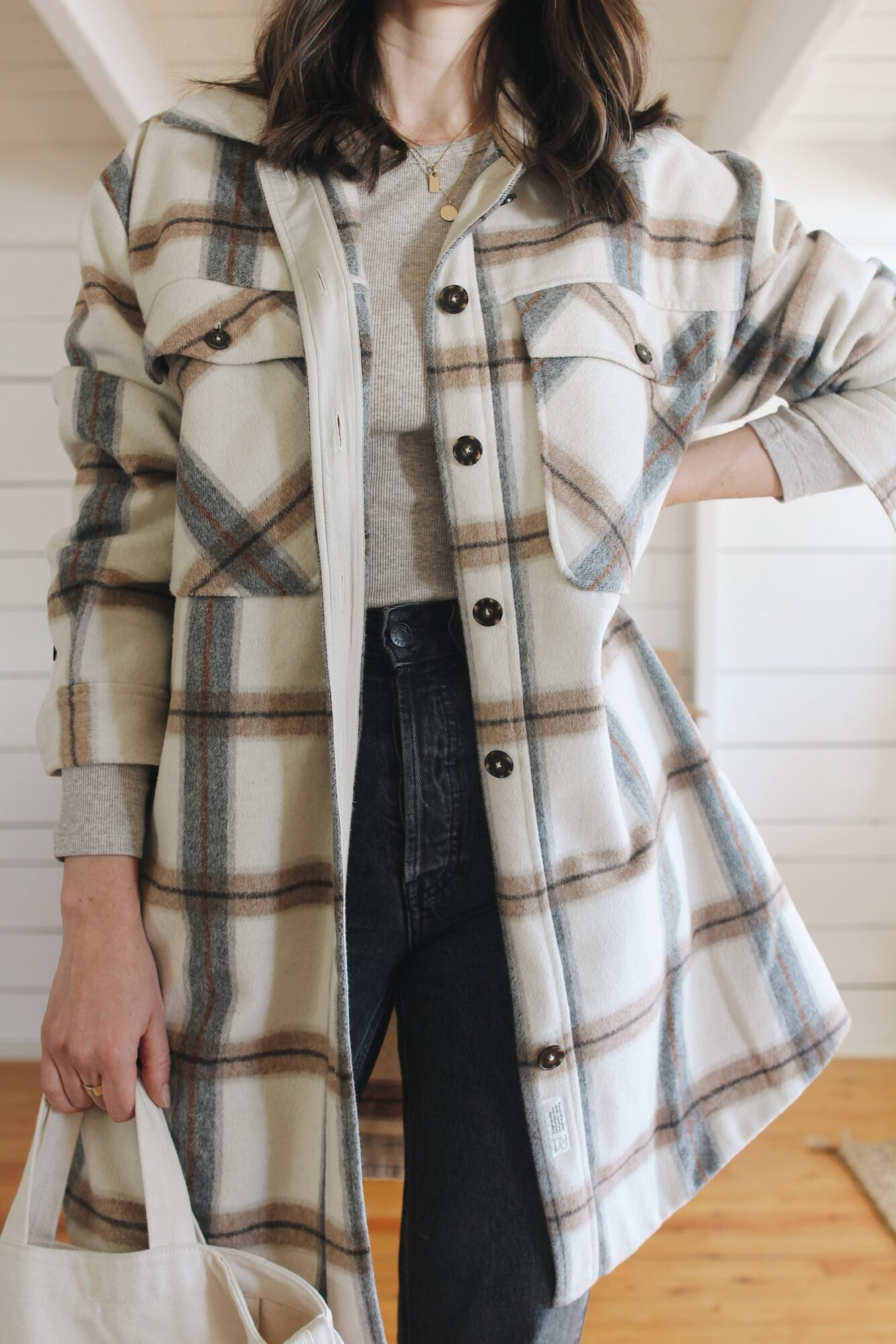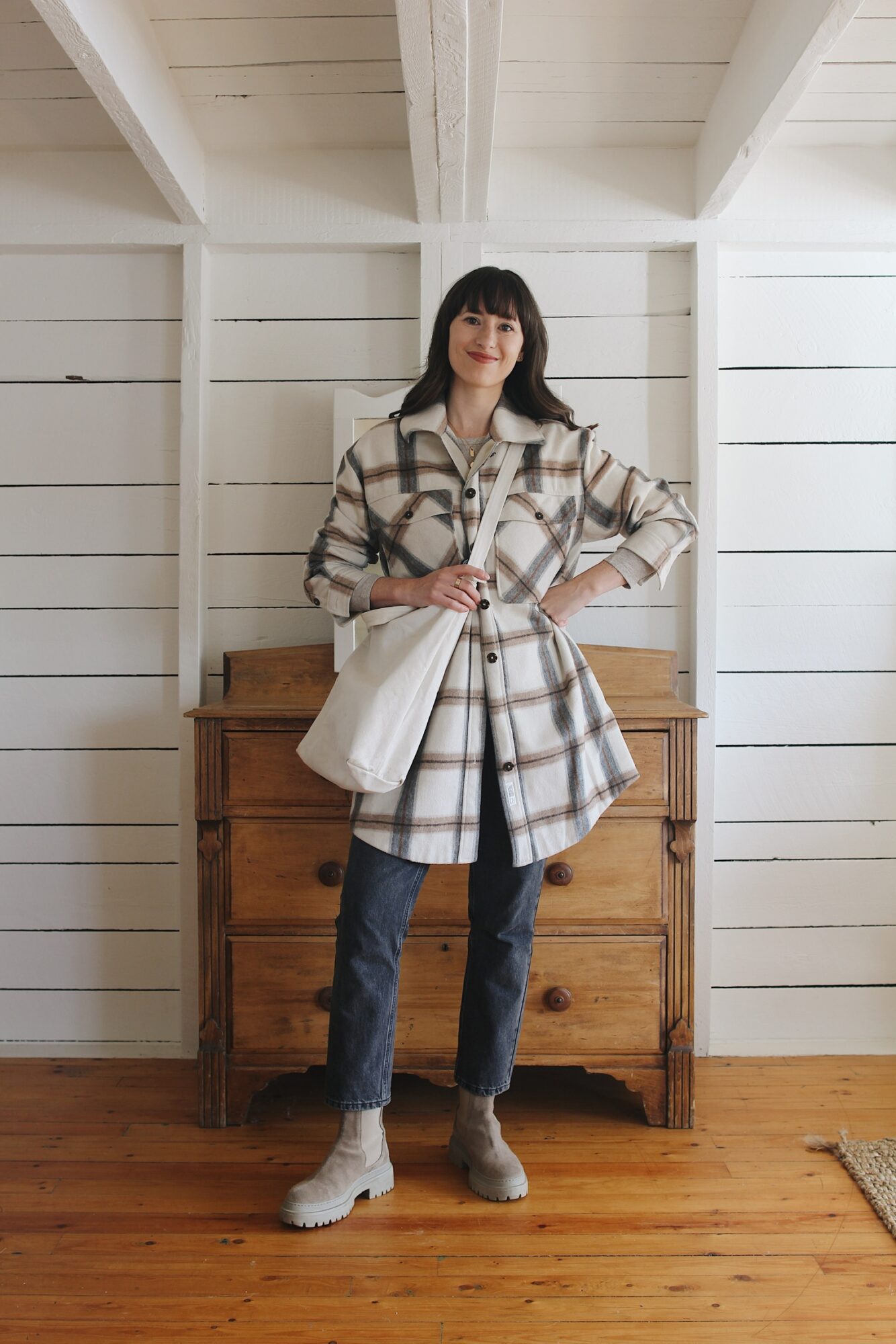 ---
SHOP LOOK 2
PLAID JACKET (old, other options here and here. On sale.) | MICRO RIB LONG SLEEVE (On sale.) | 90'S CURVY CHEEKY JEANS (Fit comparison here. On sale.) | CORTINA LUG SOLE BOOT (Similar here and here) | CANVAS TOTE
---
APPROACH #3
TRY CREATIVE MONOCHROME LAYERING
If cold weather means one thing here, it's layers. For a sunny day, I like to pile on lots of the same tones like a chunky knit, under a puffer vest with a beanie (aka toque). Of course an all cream outfit isn't exactly the definition of practical so I pair this light and textural upper half with a darker base to balance it out. In this case I find the closer the tones are to each other the better, as lots of layers can get a bit complicated.
---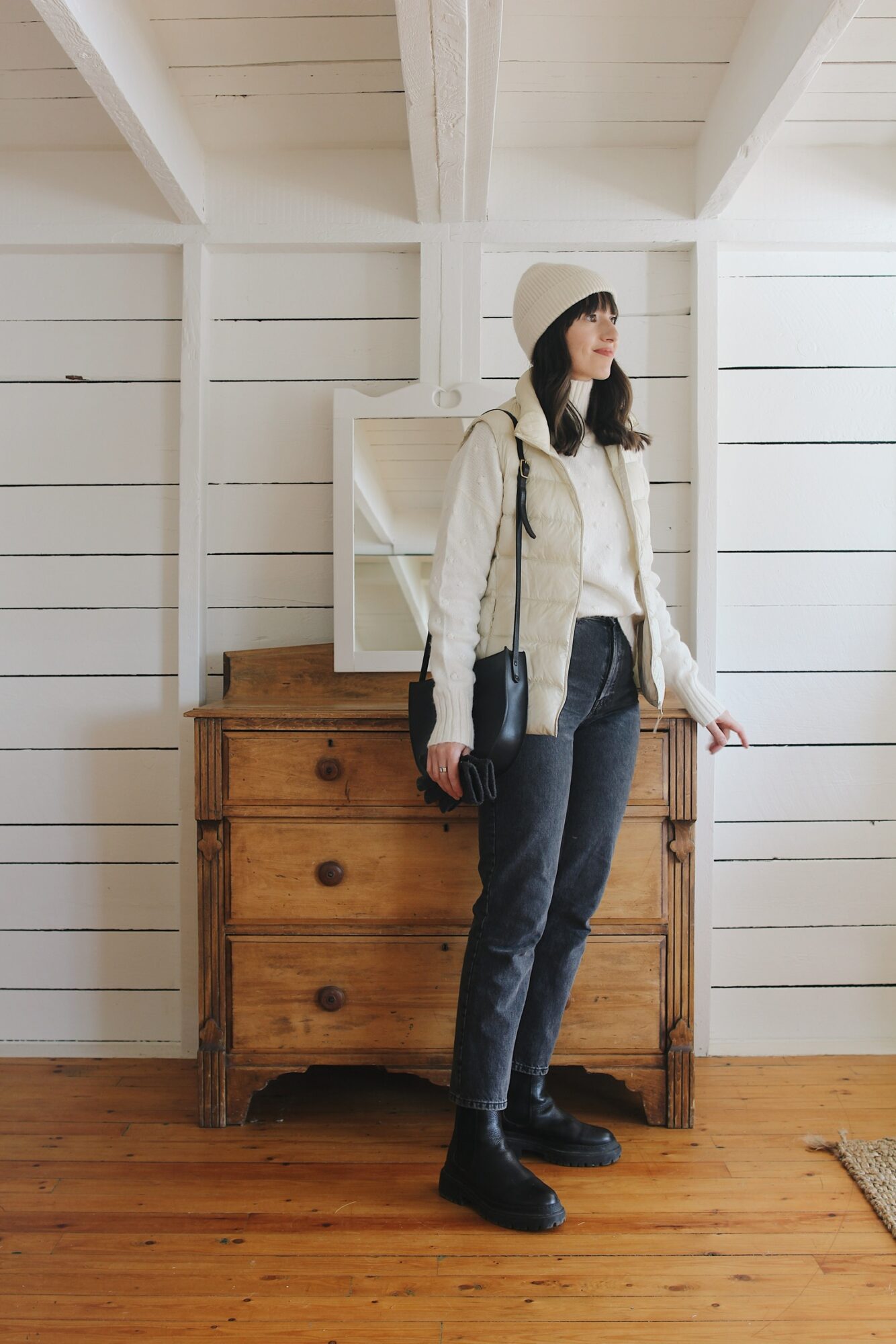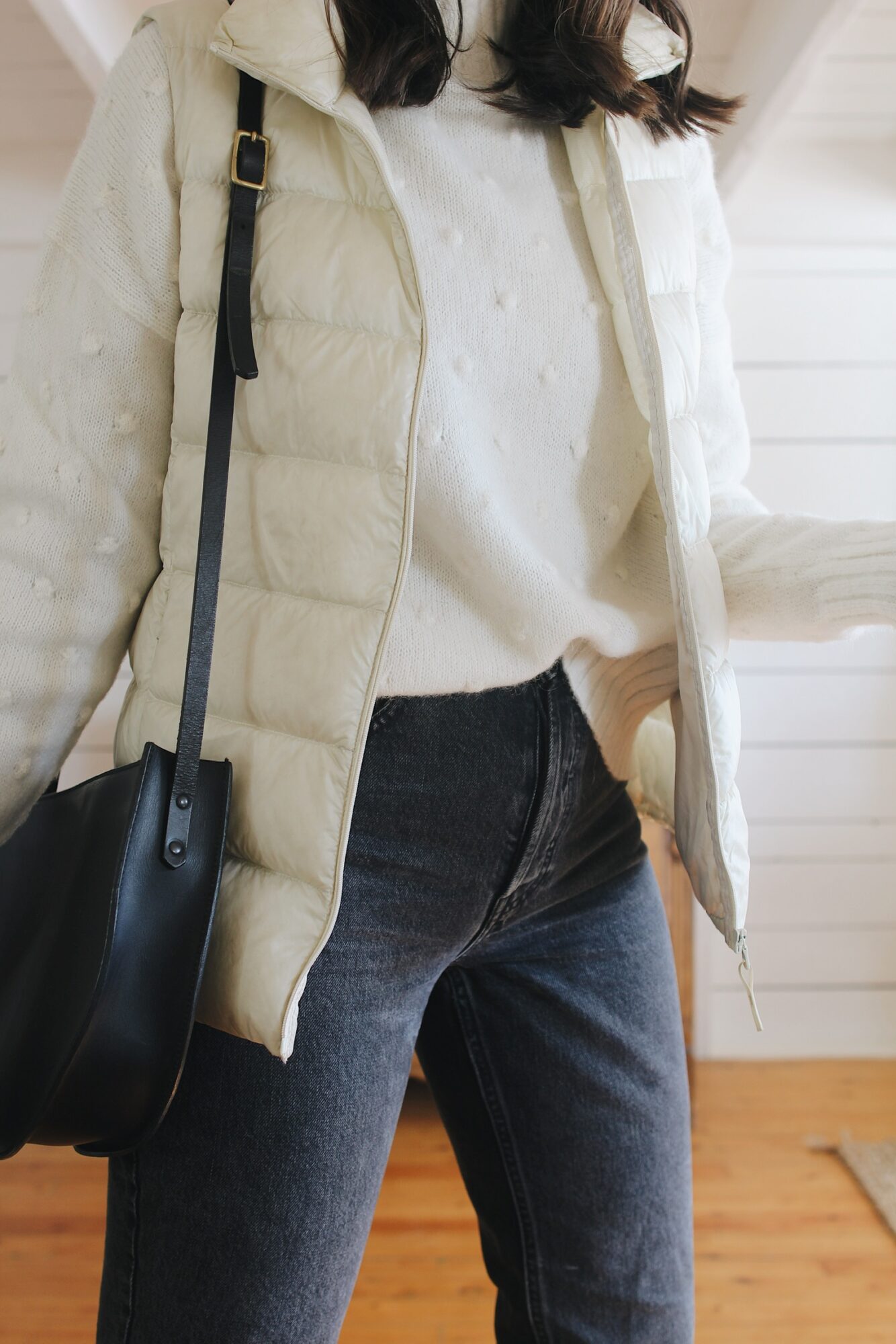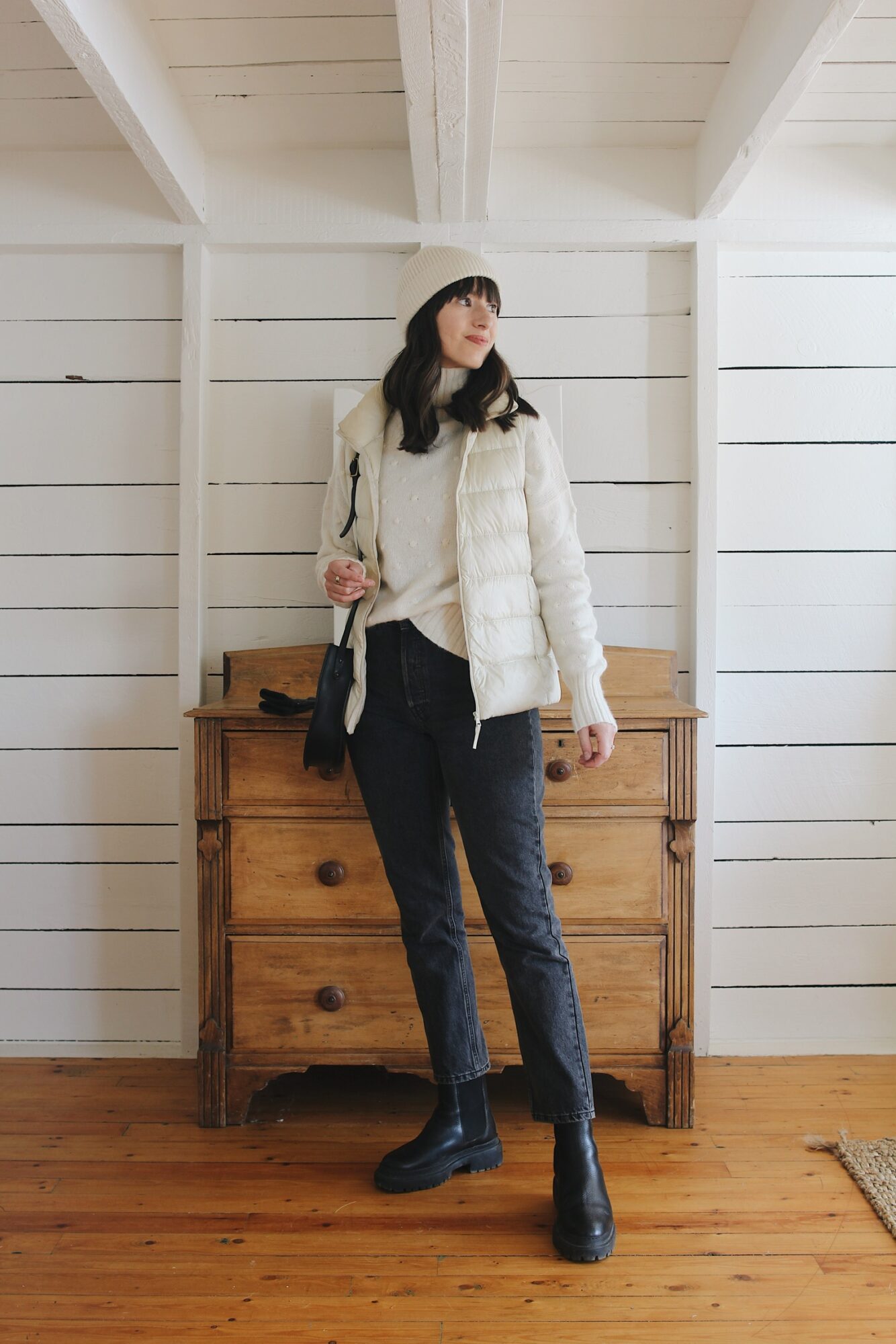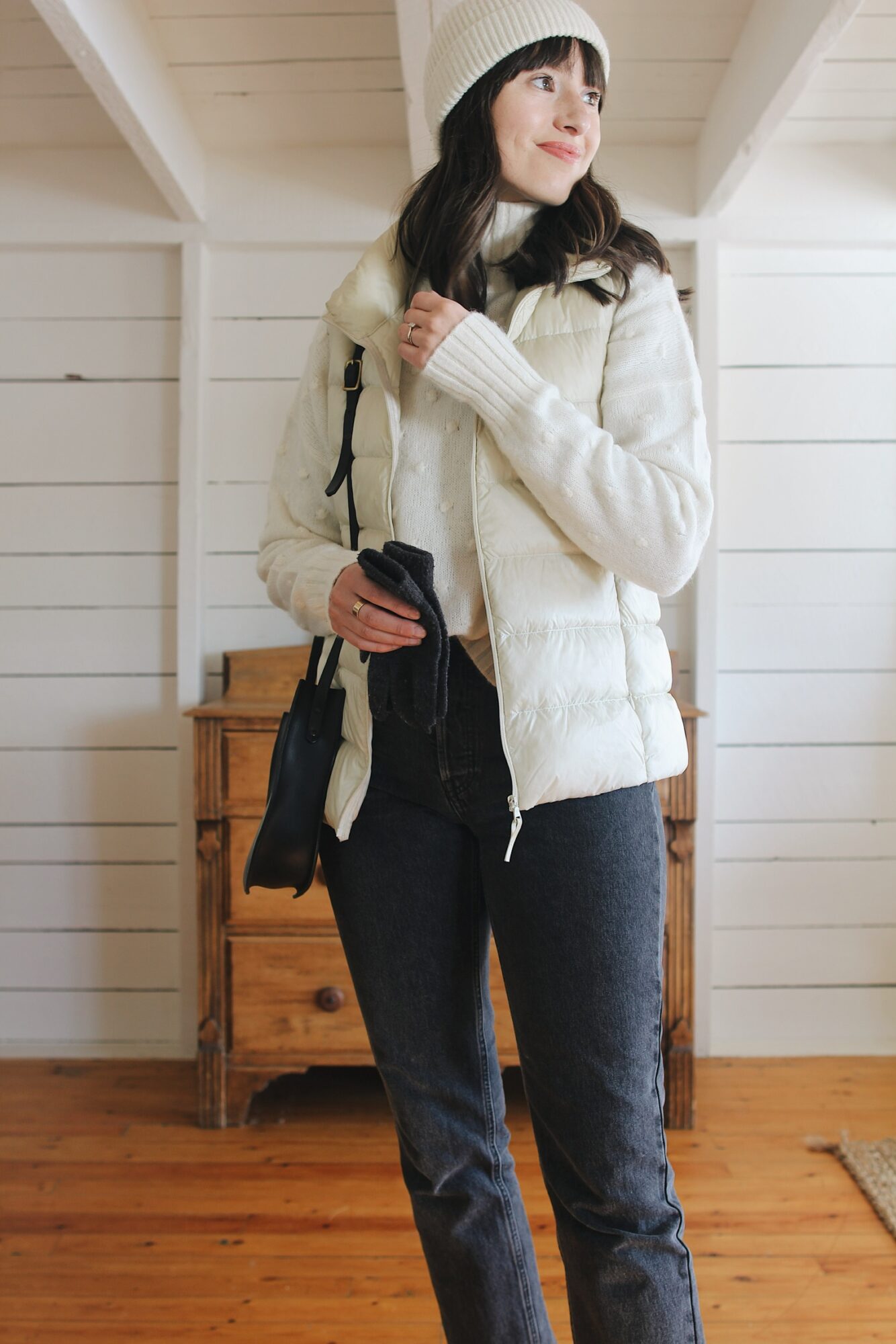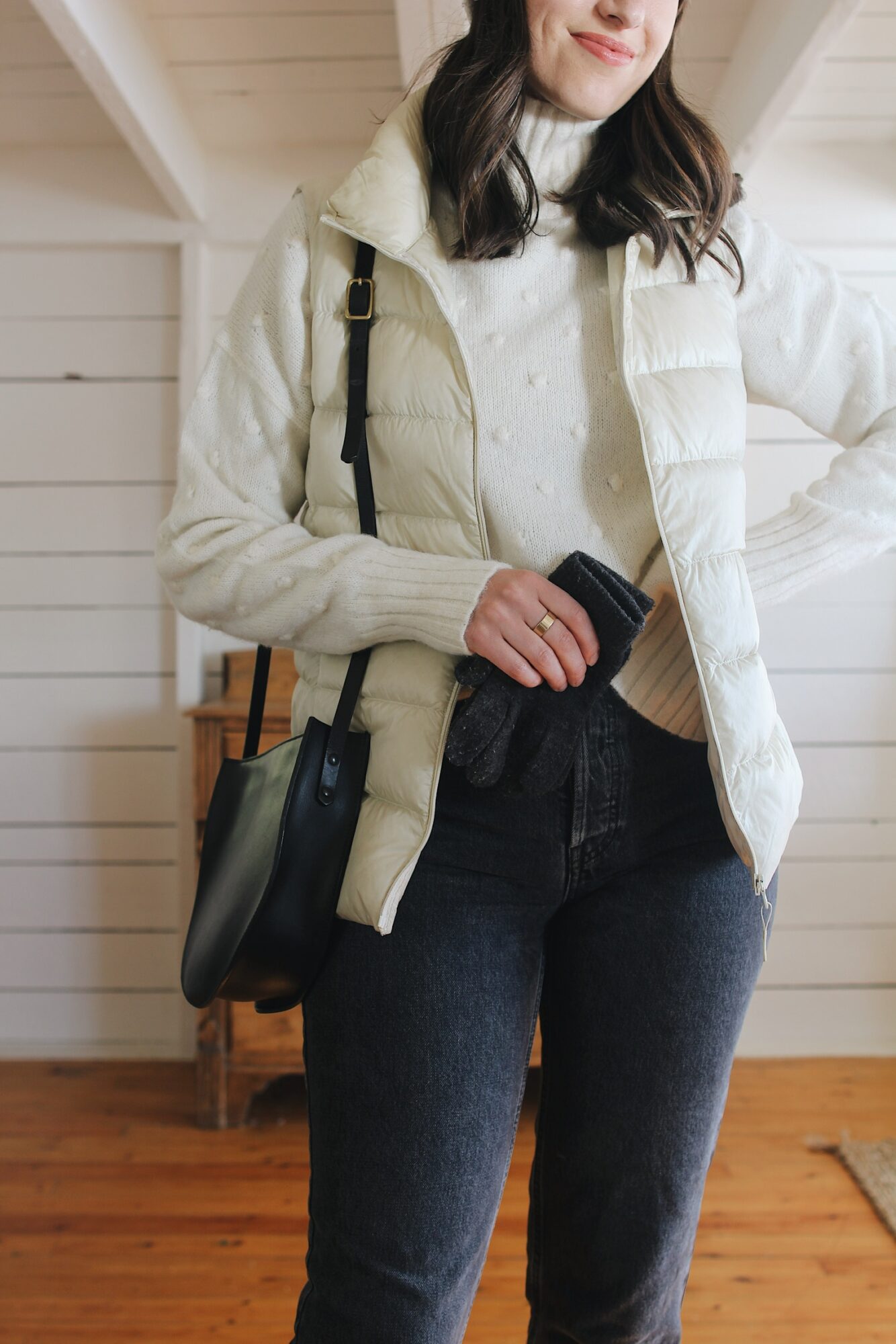 ---
SHOP LOOK 3
PUFFER VEST (I sized up for easier layering.) | POM POM ALPACA TURTLENECK (old, I love this one that's on sale) | 90'S CURVY CHEEKY JEANS (Fit comparison here. On sale.) | CORTINA LUG SOLE BOOT (also stocked via Madewell) | BLACK HALF MOON CROSSBODY (old, linked to the option I'd buy now.)
---
THANKS FOR TUNING IN!
So tell me, which of these three approached would you try?