It might seem a bit odd to make a wish list for a season that will be ending soon but hear me out. Over the TEN years I've been blogging about intentional style, I've learned a thing or two and this is one of the most impactful tips I can offer when it comes to wardrobe planning.
Create your wish lists at the end of a season, not the start.
"But why, oh wise Bee, would I do such a thing?" you might ask.
Well, a few reasons are:
1 / Your ACTUAL closet needs will be much fresher when you've just lived through a season than they are before it starts. So you'll have a much better sense of what you'll really wear.
2 / The temptation of newness won't override the PRACTICAL requirements of your style. The marketing machine behind new collections is a force to reckon with so this tips the scales in your favour.
3 / Planning several seasons ahead will give you time to set a realistic BUDGET and make sure that any purchases you do make will fit within it. Alternatively, if you're keen to shop now, it's likely that what you're looking for will even be on sale.
---
So do yourself a favour, open a new page in the Notes App or just grab a piece of paper that you can slide into your planner for the start of next winter. Write down any pieces you've found yourself wishing you had to work with.
You're also welcome to download this Free Wish List template (tap the image below to get the pdf). The form is editable so you can fill in the fields right now and save it somewhere you'll be able to access it easily. It also includes 5 questions to ask yourself before you buy something.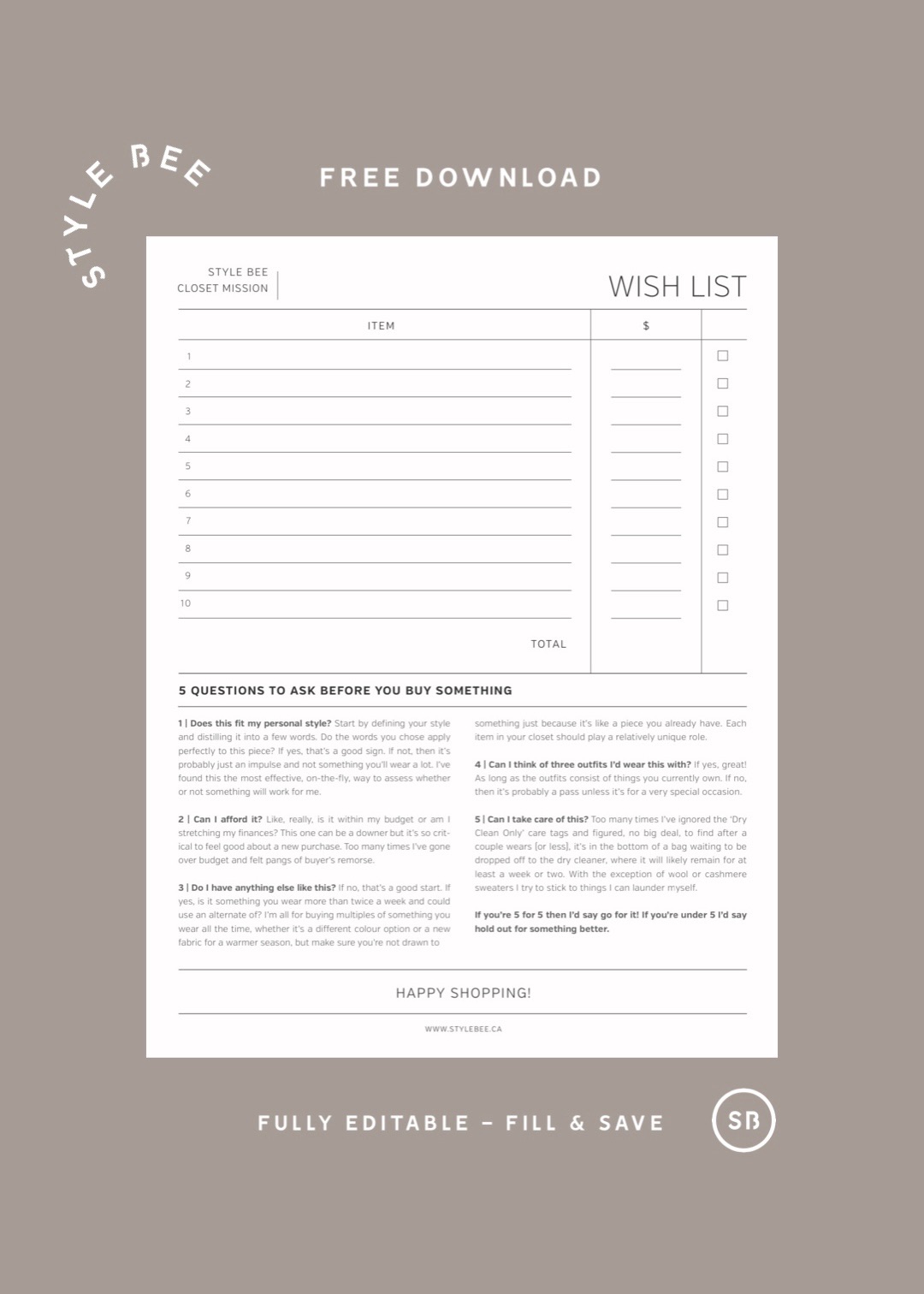 ---
Now I'll share the 4 items on
MY WINTER WISH LIST FOR NEXT YEAR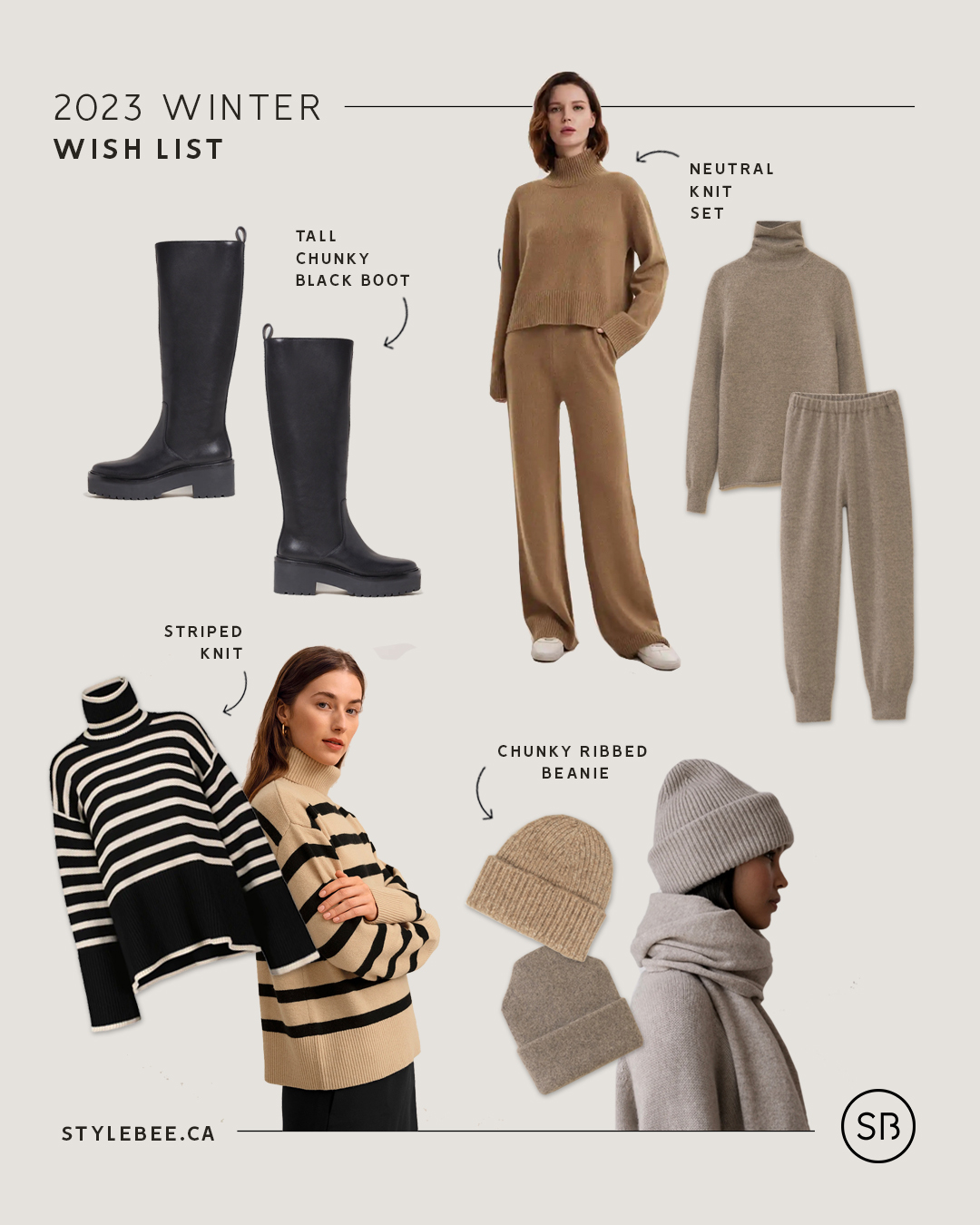 SHOP THE GRAPHIC: TALL CHUNKY BLACK BOOTS | NEUTRAL KNIT SET (on model) | STRIPED KNIT (black and white) | TAN STRIPED KNIT | CAMEL KNIT BEANIE | TAUPE KNIT BEANIE | BEANIE ON MODEL
---
1 / A CASHMERE OR MERINO WOOL KNIT SET
I've been on the lookout for the perfect knit set for a few winters now and after a couple of misses I'm still not giving up. I love my Saturday Set (sweatshirt and sweatpants – use lee15 for 15% off) but it is definitely a more casual vibe. I'd love something that feels a bit more refined and elevated.
On my short list right now are the:
LouLou Knit Trouser and Jacob Jumper set by Sézane
The Marin Rib Top & Jude Alpaca Rib Pant set in Wheat by BARE Knitwear
The Sweater & Pant Cashmere Set from Gentle Herd (which is currently 30% Off with FORHER)
The Base Turtleneck and Base Pant by Lauren Manoogian.
I tried this set from Gillian Stevens but the pants just didn't work for me. I think they're best for a frame with a narrower hip to waist ratio than mine. The colour and material were both gorgeous so if you're in the market do check it out.
---
2 / CHUNKY BEANIE
I love my earmuffs and more fitted beanies but this winter I've been craving a big, chunky knit option to keep ma tête extra cozy on cold mornings, long walks and afternoons outdoors.
I've been looking at:
The Harbour Rib Beanie by Bare Knitwear
The Carpenter Beanie by Lauren Manoogian
I also love the look of all the winter accessories by ALMADA LABEL
---
3 / TALL BLACK LUG SOLE BOOT
I wear leggings and black skinny jeans A LOT throughout the winter months and instead of fighting them for fear of Gen Z judgement, I'm thinking about ways to help them feel more contemporary. My favourite ways to wear them are with a tall boot or a mid-calf snow boot. I like my block heeled knee high boots a lot but they're not terribly practical for winter.
I've been eying something like:
The Carlee Boot by Loeffler Randall
The Monza Boot by Maguire
Rune Slouch Leather Knee Boot by Vince
---
4 / STRIPED KNIT
This winter I really missed having some pattern in my rotation so I've added a striped knit to my list for next year. Stripes are such a staple in my style throughout the rest of the year so it's no wonder I feel their absence. I'm looking for a very simple, classic, black and white striped knit that can easily pair with skinnies, trousers or leggings as needed.
On my radar right now are:
The Iconic Striped Turtleneck by TOTÊME
The Cotton Wool Striped Jumper from ARKET
The Tarra Stripe Turtleneck from Lily Silk (love the black and toffee colour way)
The Chloe Crewneck by Jenni Kayne (lee15 for 15% off)
I know I don't need more base layers but my favourite style now comes in a stripe.
---
MY OTHER WINTER CLOSET PLANS INCLUDE:
1 / Consolidating my puffer coat options.
2 / Editing my knitwear collection.
3 / Streamlining my boot options.
---
THANKS FOR READING!
I hope this post inspires you to get a head start on your planning for next winter so you're set up for a successful and stylish season!