There's one question I've been getting almost daily this winter which is, "How do you protect suede boots?", and today I'm answering just that!
As you may know, I'm a shoe girl at heart and despite living in a highly variable climate I have a particular weakness for beautiful textures like suede and nubuck. Over many winters in Canada, with the help of my local shoe repair expert, I've learned how to keep my boots looking great season after season.
Let's dig right in with a look at:
The simple steps I take to prep my boots for protection
The tools and protectant products I use
A few tips for removing oil-based and salt stains
Of course, these care tips are applicable to any suede or nubuck footwear you may have!
---
This post was not sponsored or produced in partnership with any brands mentioned but does contain affiliate links and previously gifted items. If you see something you like and decide to shop through the links included, I may earn commission on a sale at no additional cost to you. All opinions are always my own and I only share items I love. Thanks for supporting Style Bee!
---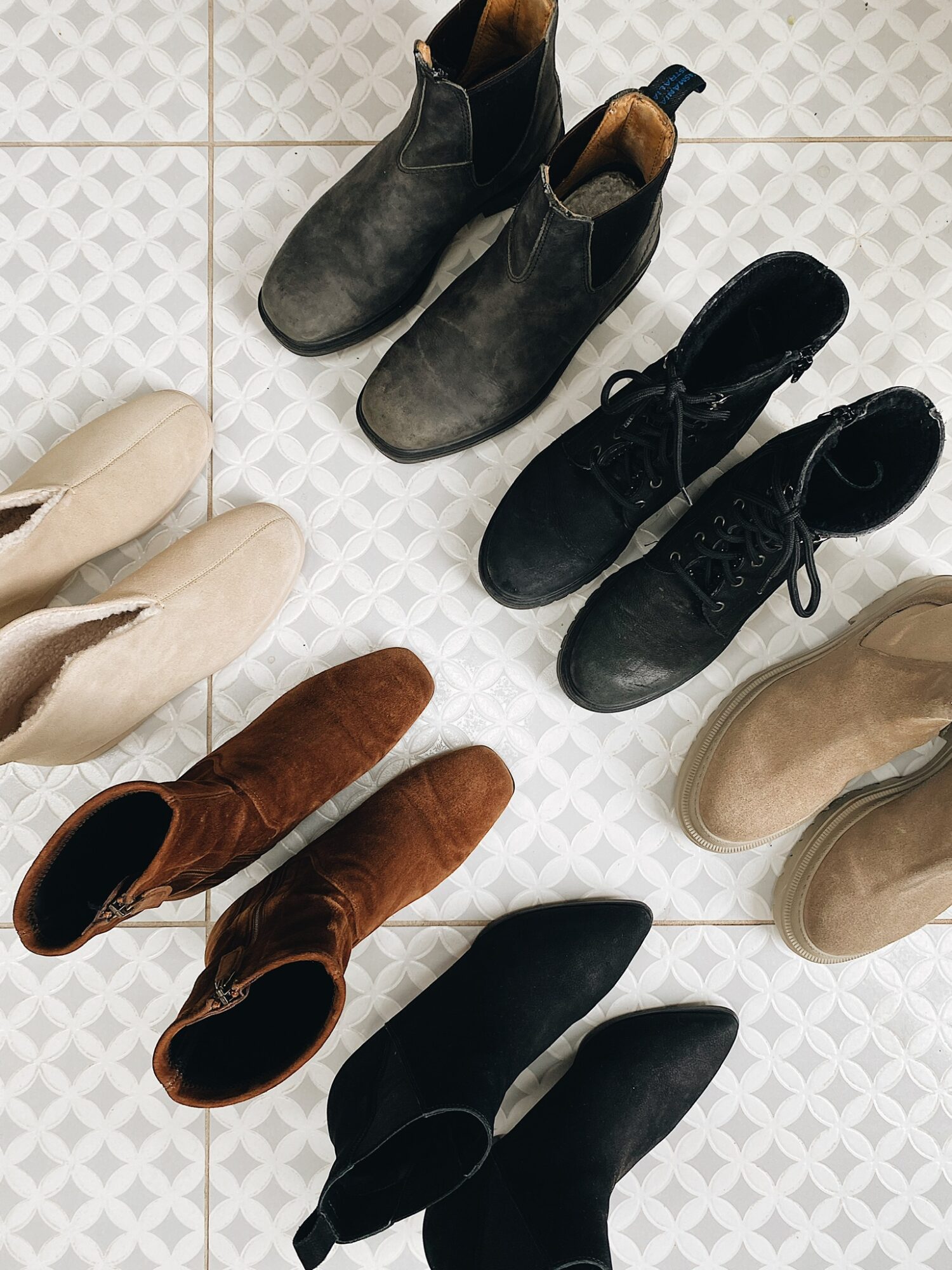 ---
BOOTS IN THIS POST
TOP ROW: Blundstone 1392 (Full review here) | RIMA (old similar here and here) | CORTINA gifted (low stock with a waitlist)
BOTTOM ROW: Slipper Boot (colour sold out) | Aquatalia Carie Boot (old linked to a similar style) | Tori Boot gifted, use LEEV20 for 20% Off anytime!
---

---
BOOT PREP
---
If your boots are brand new you can skip to Step #3 since you won't need to clean them off.
---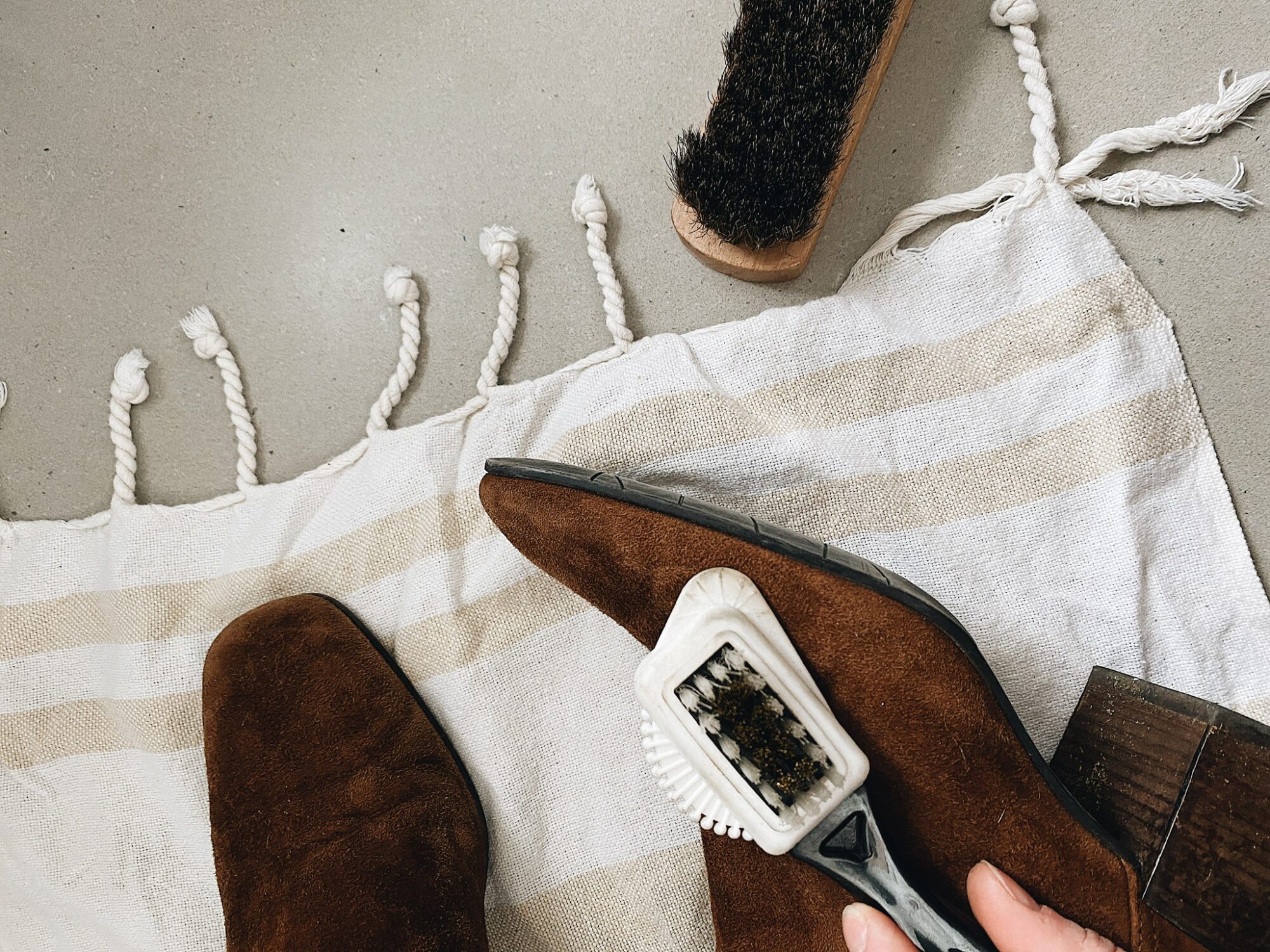 ---
STEP #1 – REMOVE ANY DIRT
---
I prefer to keep my suede or nubuck boots dry in preparation to spraying. Partly because it's best to remove dirt while suede is dry and partly because I usually don't have time to wait for them to dry. Nubuck can tolerate wet cleaning better but it's best to do the entire shoe (rather than spot cleaning) and will need time (24 hrs) to dry out.
There are tricks to remove tough stains, like oil or salt from suede, which I'll cover later in the post.
I use this suede brush (shown above and below) to get all dirt out of the grooves, creases, seams and corners of the boot. Paying special attention to where the boot connects to the sole as this is where moisture can become trapped and cause long-term damage.
---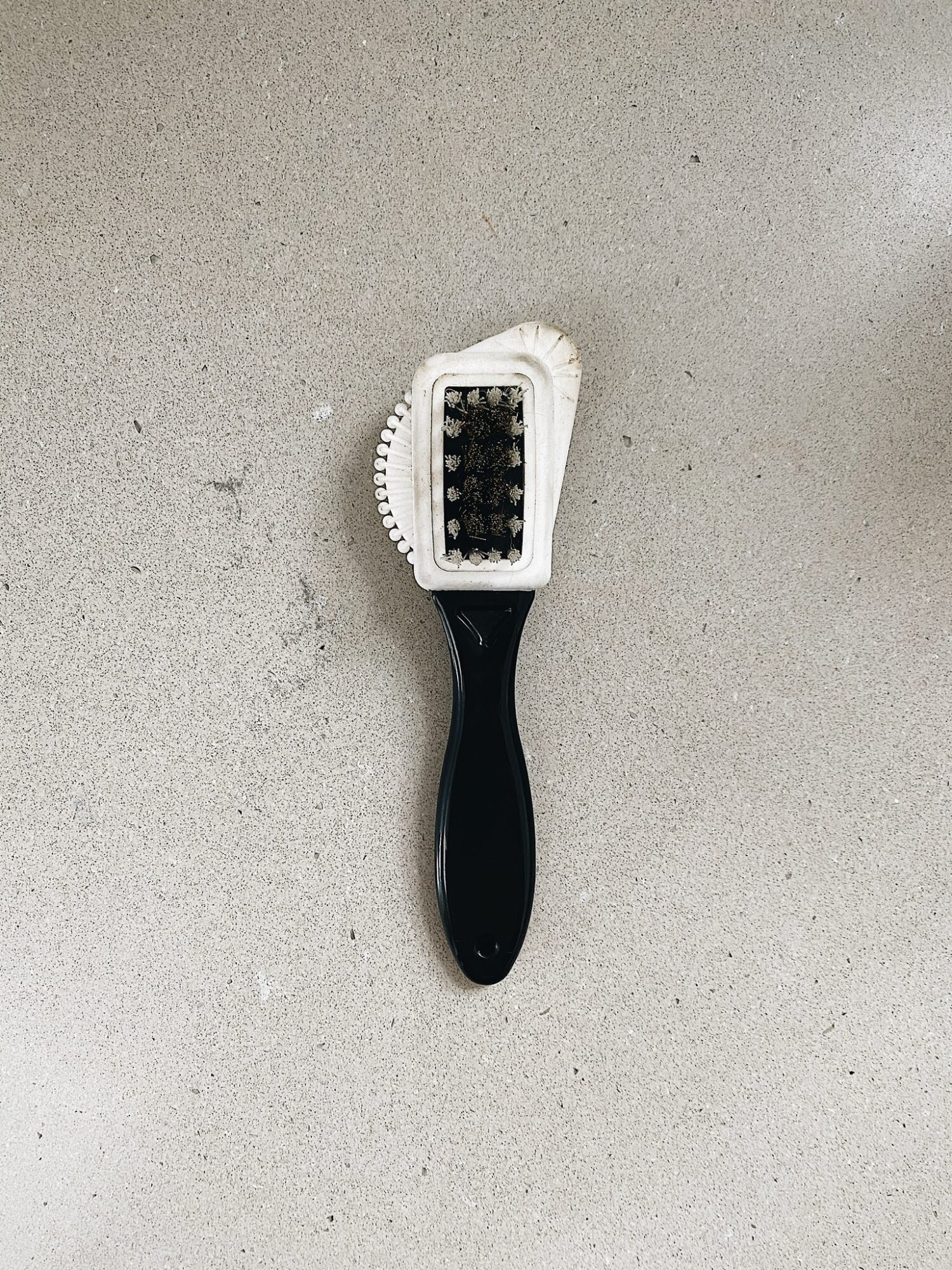 ---
STEP #2 – FLUFF UP THE TEXTURE & BRUSH OFF DIRT
---
Once I've taken care of any significant dirt, I'll use the wire bristled side of the suede brush, in a back and forth motion, to brush out any areas that have been flattened down or hardened by scuffing, moisture or just general use. Don't be too precious with it, really give it a good go over.
---
I follow this with a soft bristled brush and give the boot a full sweep, bringing the nap of the suede or nubuck back to full volume. The nap is what gives suede/nubuck a dark or light look depending on whether the fibres are fluffed up or flattened down.
Use the soft brush to make sure there is no dirt or lint remaining on the boots.
---
BOOT CARE TOOLS

---
STEP #3 – SPRAY WITH PROTECTANT
---
Using a protector spray is essential to prolonging the look of your suede or nubuck footwear. Even in the mildest climates, there are always those times you get caught in a surprise rainfall or on a slushier than expected snow day. Even just general spills and splashes on indoor slippers can ruin them.
You may want to test your protectant on an inconspicuous spot if you're using it for the first time. When you're confident it won't discolour your boots, spray thoroughly and ensure you get all seams and nooks.
There are many options available for suede and nubuck protectant. It's important to use something that will create a physical barrier while still allowing the leather to breathe, otherwise it may dry out. Here are a few that I currently use with more linked below.
---
---
1 | I typically use NIKWAX on all my dark suede and soft nubuck boots. It essentially creates a bonded barrier between the leather and anything it comes into contact with. This was specifically recommended by my local leather repair shop.
NOTE: I have found that it will make light suedes look a little darker so keep that in mind.
2 | On lighter suede boots, I will use a nano barrier spray that doesn't soak into or darken the fibres, such as the SAPHIR NANO INVULNER. This was specifically recommended by my local leather repair shop.
3 | For my Blundstone's and other more rough and tumble nubuck boots I use either the Blundstone Waterproof Spray or the Moneysworth & Best Waterproof Spray. These are both good all-purpose protectants which can be used for smooth grain leathers too.
Ideally you can spray outdoors but if not, spray in a very well ventilated area.
---
PROTECTANTS TO CONSIDER

---
HOW OFTEN SHOULD I SPRAY MY BOOTS? It depends on how often you're wearing them but for those in regular rotation (more than once a week) I'd say every 3 weeks / once a month is sufficient.
You'll typically start to see the wear on your boots and will want to give them a brush and spray when that happens.
HOW LONG WILL A SPRAY CAN LAST ME? Again, depends on the frequency of use but I'd expect a canister to last at least a year or so of regular use.
---
BEFORE & AFTER
---
My Aquatalia suede boots, after brushing and then after spraying.
These are my favourite suede boots, and a big investment. They've been worm A LOT over the last few years and with seasonal upkeep they've survived many a wet and salty street.
---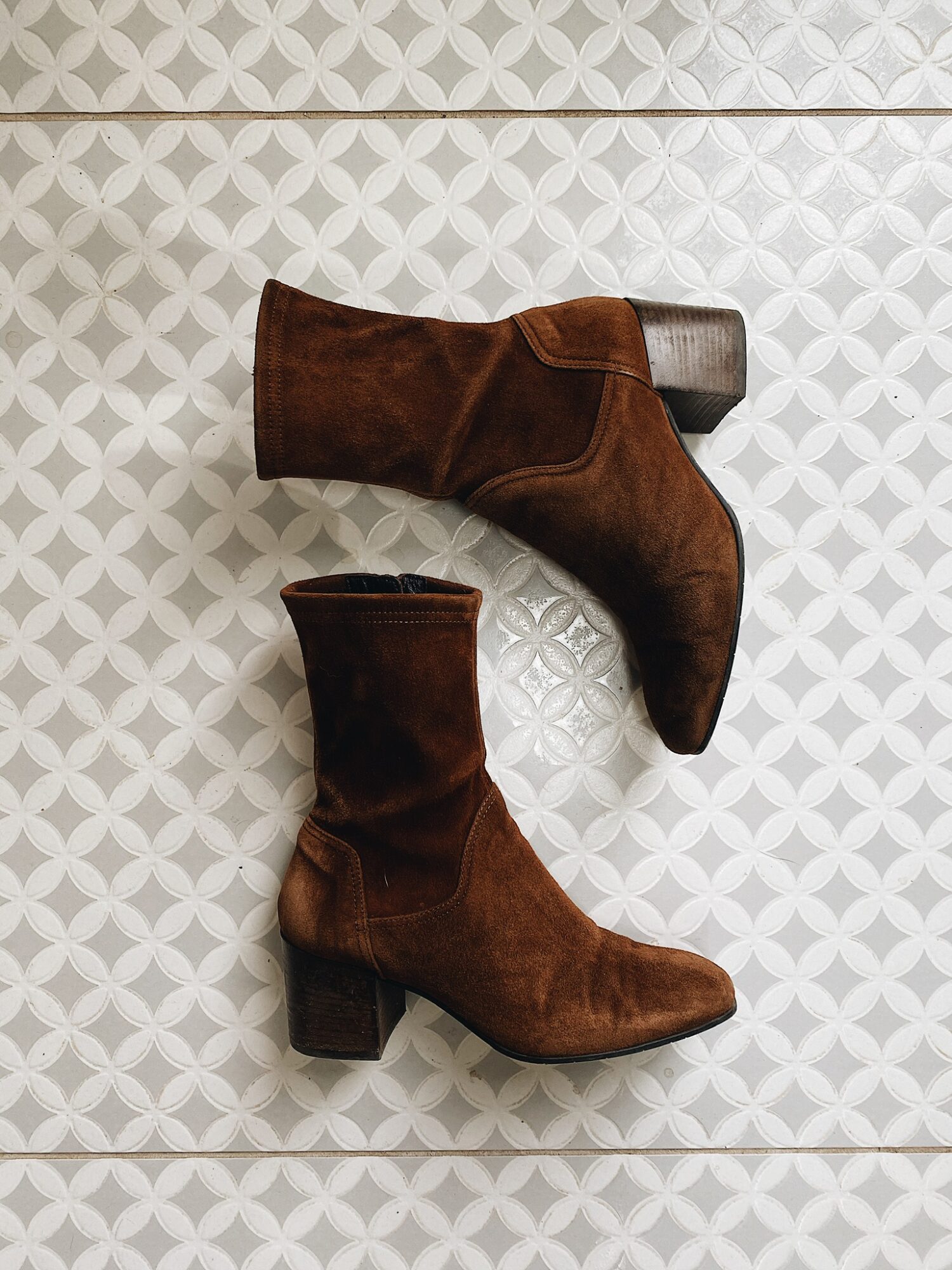 ---
BEFORE & AFTER OF ALL MY SUEDE & NUBUCK BOOTS
---
I should have kept them in the same positions but I think you can still see the difference.
---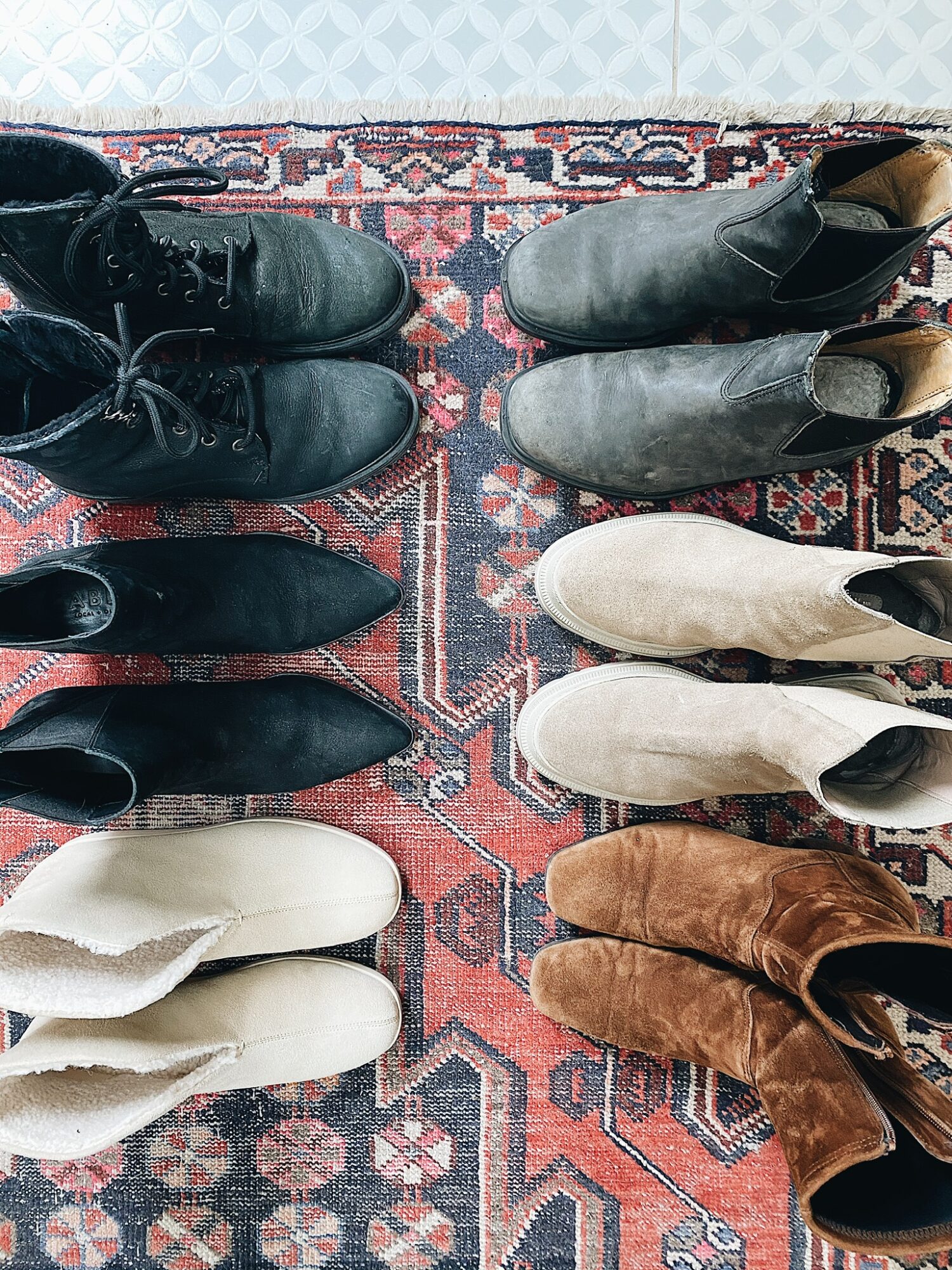 ---
TIPS FOR OIL/GREASE STAINS ON SUEDE/NUBUCK
---
First, don't panic. I've done this and tried to wipe it off or use soap to get rid of it and it only makes things worse. Instead:
Gently pat talcum powder, baby powder or cornstarch onto the grease stain and let it sit overnight.
The powder you use will absorb the oils.
Brush or vacuum (this is the best way to suck as much up as possible) the powder off on the next day.
Use a suede eraser to remove any remaining traces of the stain.
---
Most suede brushes have an eraser side or you can buy one separately.

---
TIP FOR REMOVING SALT STAINS
---
I haven't had to worry about salt stains for many years now that I have a protection method, however, this is one way to handle them.
Start by brushing off any loose dirt with a suede brush or an old clean toothbrush.
Mix equal parts white vinegar and water in a small bowl. The acidity in the vinegar helps remove the efflorescence and calcium deposits by breaking down mineral crystals.
Dip a clean cloth into the solution and use it to blot out the salt stains on your shoes/boots. You want to get it just damp enough to wash off the salt but not soak the suede.
---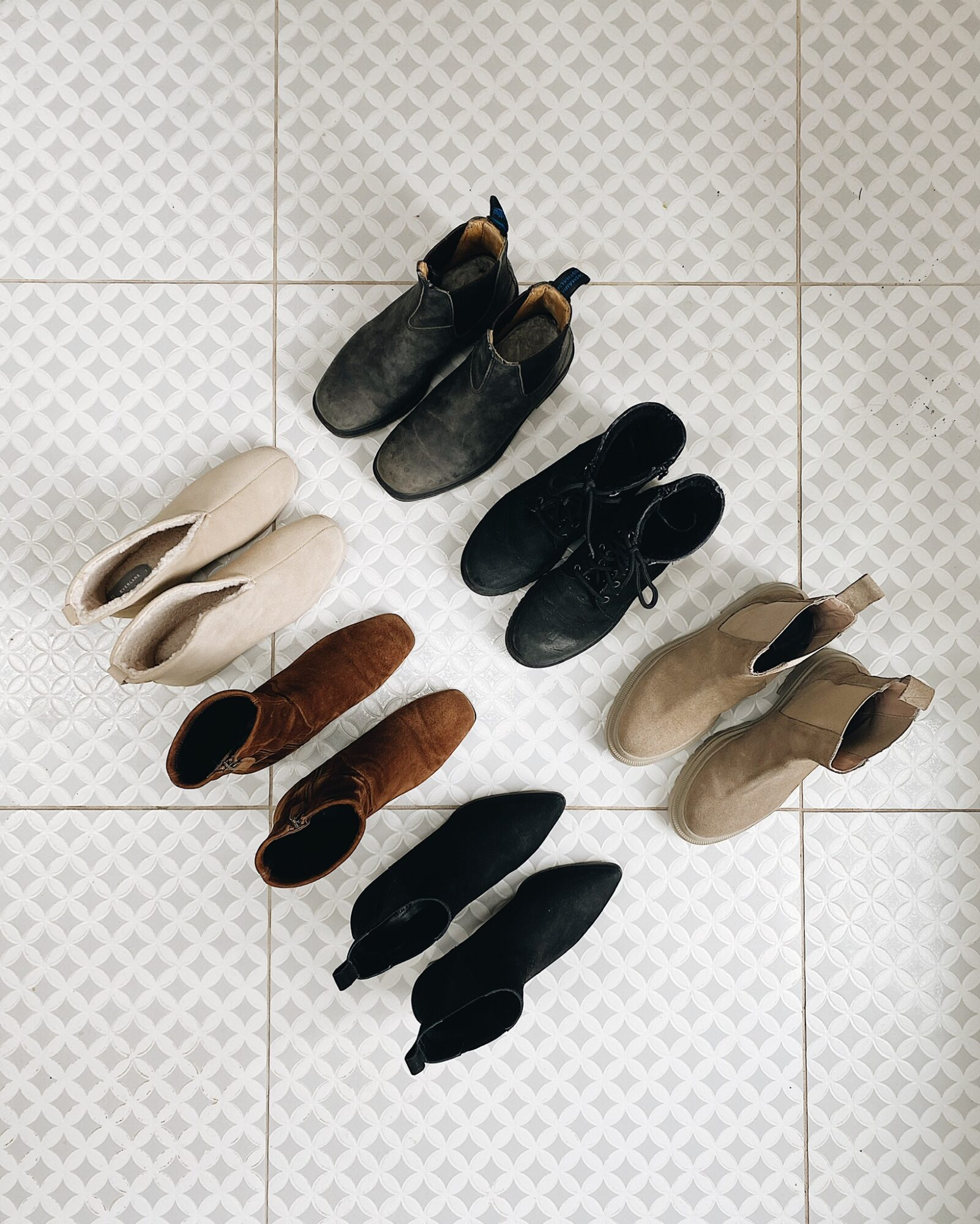 ---
There you go folks! I hope this post helps you keep your favourite suede footwear looking great for longer!
As always, if you've got a question, tip or product recommendation for this topic, please feel free to share those in the comments!