The dog days of summer may be ending soon but I'm nowhere near ready to wave farewell to the season.
To hang onto that summer feeling for a little while longer, I thought it would be fun to pull together some of my go-to pieces and create a breezy late summer 10×10 capsule to share with you. I love doing 10×10 challenges at the end of a season as a way to boost my creativity and increase my interest in the pieces I've been wearing for a few months.
Read on for a look at the items I've included in this capsule. I'll be sharing the looks I create on the Style Journal starting on Monday so tune in there to see how I'm styling this simple summer capsule!
---
This post is not produced in partnership with any brands mentioned but does contain affiliate links and previously gifted items. If you see something you like and decide to shop through the links included, I may earn commission on a sale at no additional cost to you. All opinions are always my own and I only share items I love and think you might too. Thanks for supporting Style Bee!
---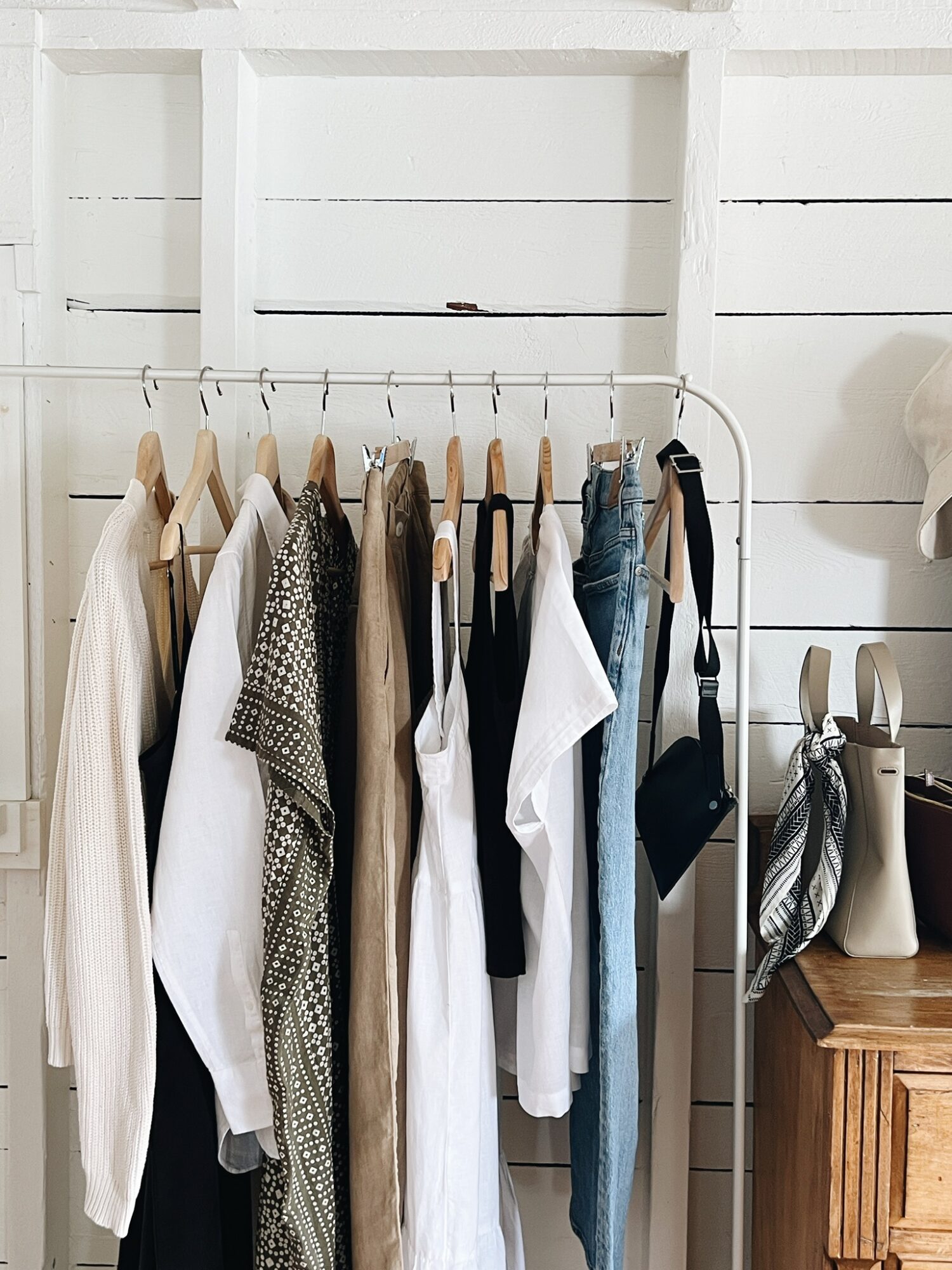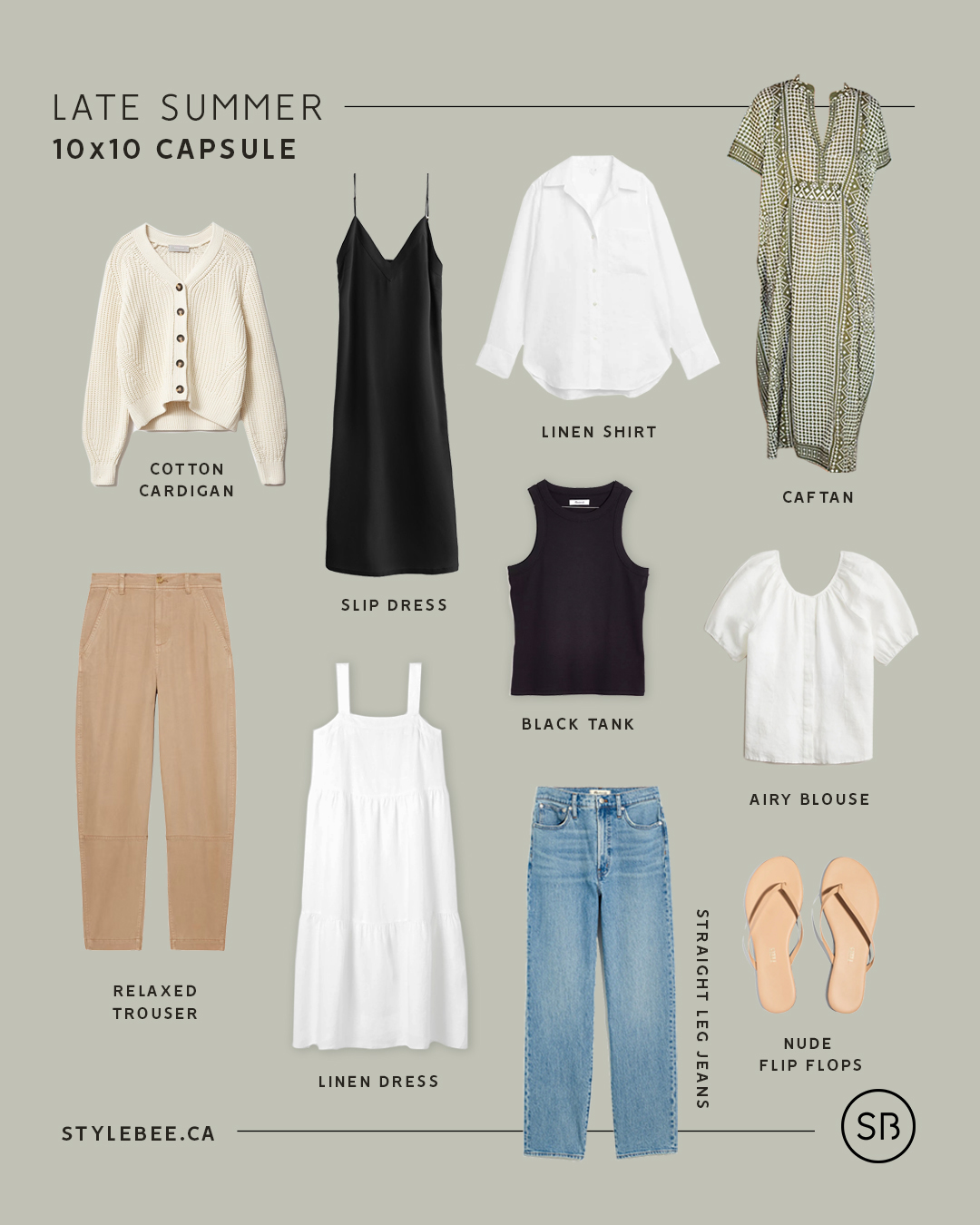 ---
MY BREEZY LATE SUMMER 10×10 CAPSULE
This one is a mix of old and new favourites with an emphasis on light and airy fabrics like cotton and linen.
For the palette I included a bit of green print, some neutrals, lots of white, a couple of black items, and denim.
I waffled over including shorts but with the forecast I decided jeans were a better choice.
I opted for just a single pair of nude leather flip flops as my shoes since they're as close as it gets to being barefoot, and that's pretty much how I plan to spend the rest of the summer.
Now here's a quick look at each item!
---
---
L'ENVERS | gifted years ago | True to size, full review here. | Similar option for less here.
Jenni Kayne | gifted | Fit is true to size. Straps are adjustable. | Use LEE15 for 15% Off anytime.
---
---
EVERLANE | True to size for a relaxed fit.
EMERSON FRY | One size.
---
---
SHAINA MOTE | gifted | Fit is generous, if between sizes go for the lower one. | Similar option here for less.
EILEEN FISHER | gifted | Runs big, I sized down a size from my usual EF dress size.
---
---
REFORMATION | True to size for a snug fit.
JENNI KAYNE | gifted | True to size. | Use LEE15 for 15% Off anytime.
---
---
PERFECT VINTAGE STRAIGHT JEAN IN HOYE
MADEWELL | True to size. If between, size down. | Shown in "HOYE", which is only available via Nordstrom. Monteville is very similar and lots of other washes are available here.
TKEES | True to size. | Shown in "Sunkissed" with many colours available.
---

---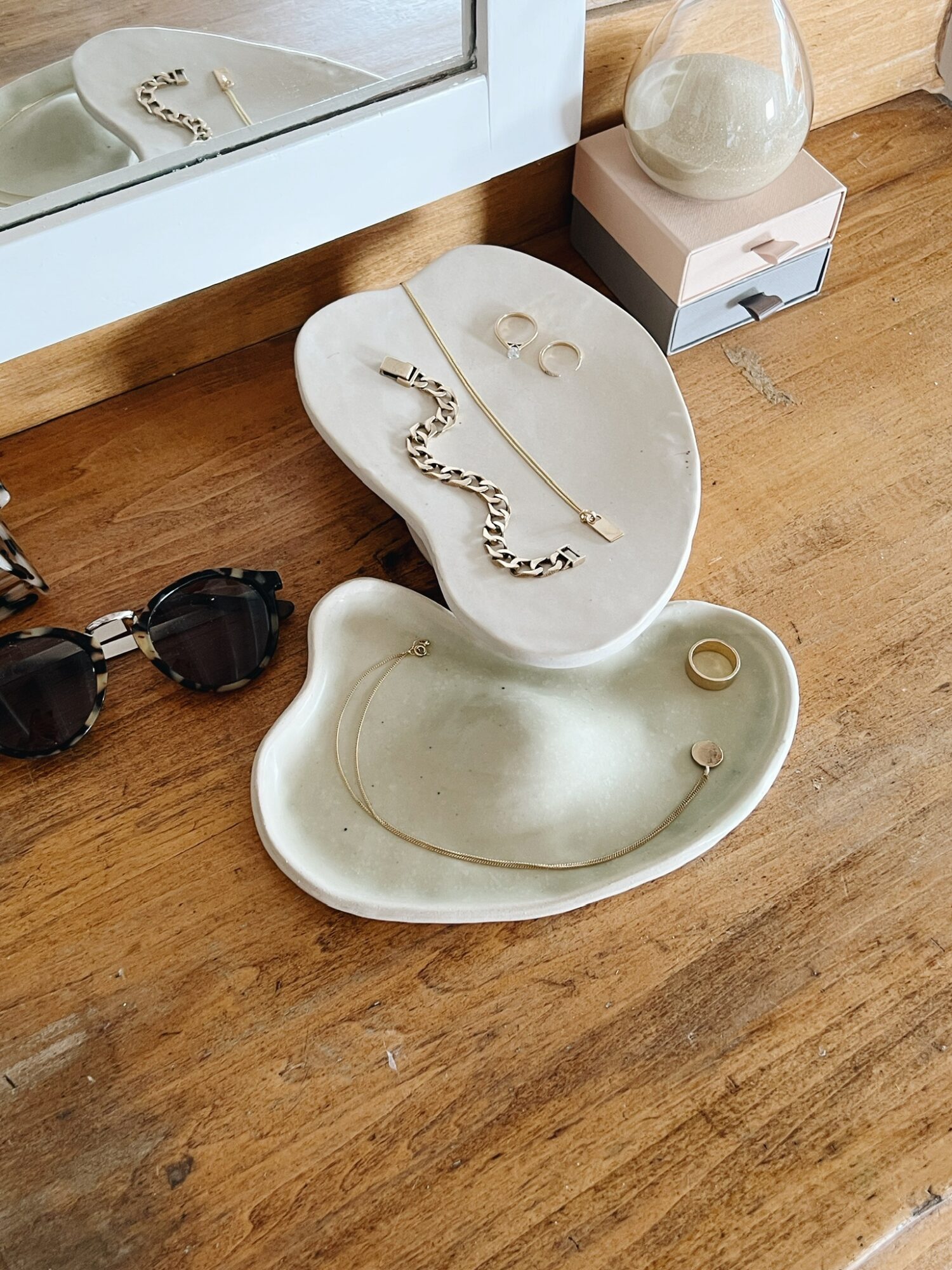 ---
As usual, accessories are not included in my capsule count. I'll be wearing my Minimal Gold Jewelry Capsule throughout the 10×10, along with my favourite bags, hats, belts, hair accessories, and sunnies to round out each look.
---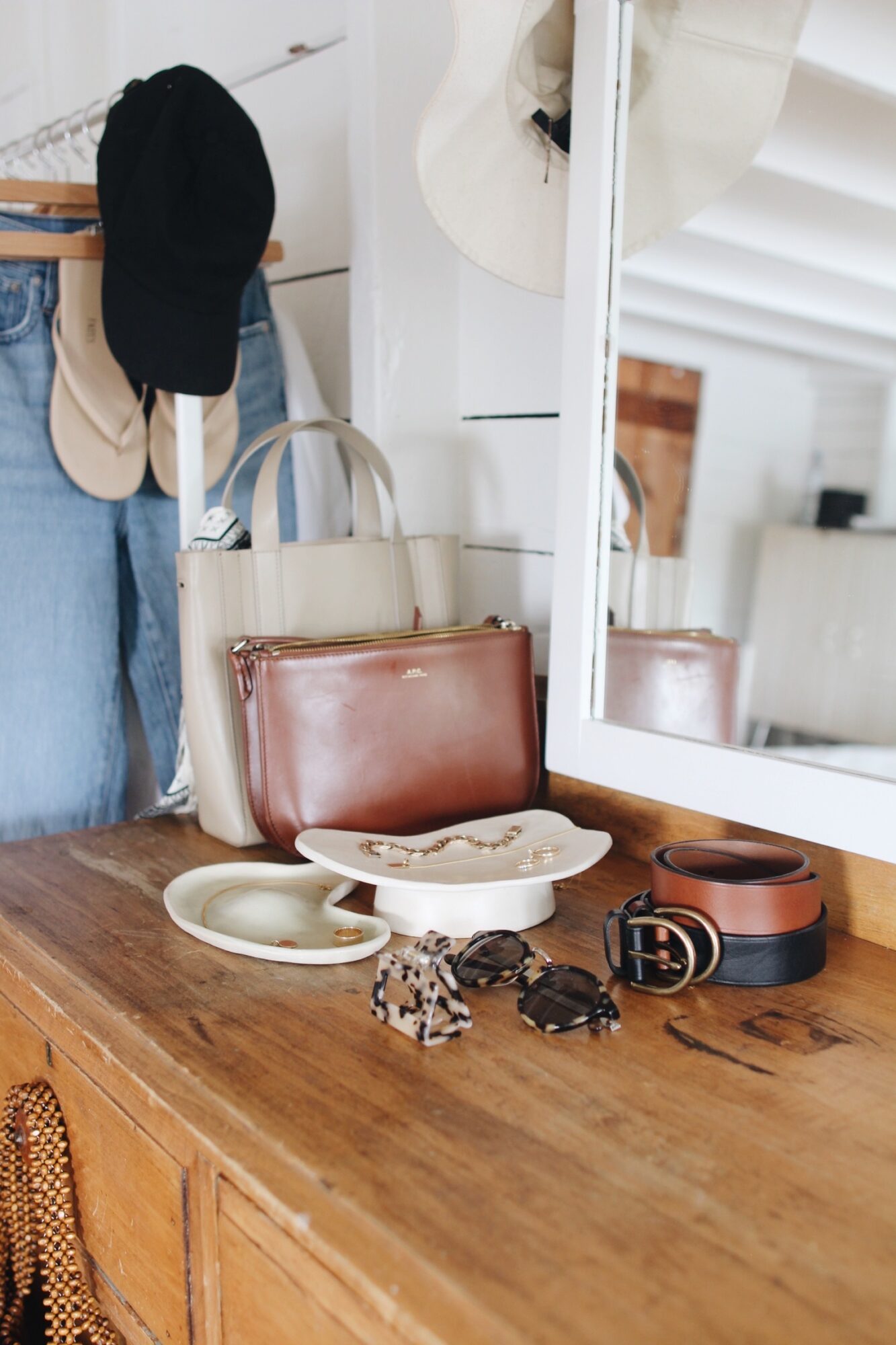 ---
THANKS FOR TUNING IN!
I hope this 10×10 capsule will spur on some ideas within your own closet and maybe help you see some new potential in pieces you've been loving all summer.
You can see how my Casual Spring Travel 10×10 Capsule went to give you an idea of how this one will unfold. If you'd like to try out your own 10×10 capsule I've got all the details and how to get started outlined here.