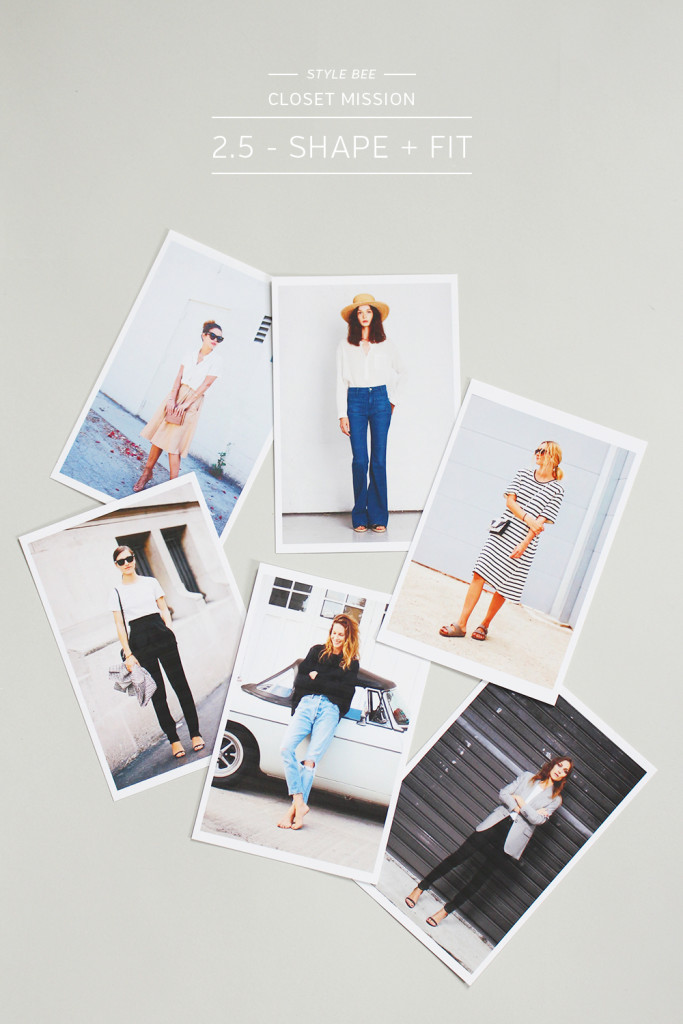 SHAPE + FIT
So far in the closet mission we've talked about colour, pattern, print and fabric but now it's time to talk about shape and fit. When I refer to 'shape' I mean the actual structure of the garment (a-line, pencil, flared etc.) and when I refer to 'fit' I'm thinking about how it wears on the body (fitted, oversized etc.). It's taken me a long time to wrap my head around this leg of the mission because it's a topic I personally find tough to approach objectively. How our clothes fit profoundly impacts how we feel about our bodies and, in turn, ourselves as a whole. Choosing shapes and silhouettes that we feel good in makes a major difference when it comes to achieving lean closet contentment.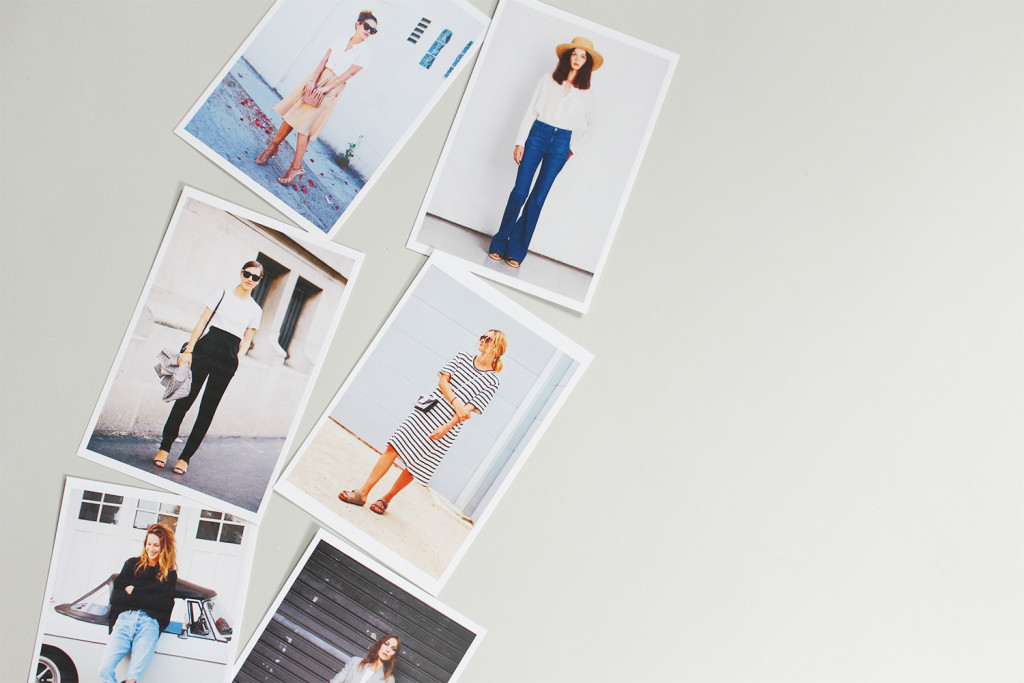 FIT WOES
Recently I had a bit of a meltdown while I was going through some older spring clothes. I tried on a pair of pants I hadn't worn in a long while and they fit A LOT smaller than I remembered. I immediately felt a wave of insecurity engulf me. A fury of self deprecating thoughts and questions flew through my mind and I'll admit I let myself wallow in it for a bit. Finally I snapped out of it and with slightly regained composure I realized how quickly I'd turned on myself and sided with a meaningless piece of clothing. I let a crappy pair of out of season pants completely derail my self confidence. So not okay!
This was a pivotal moment in the Closet Mission for me. It was astounding how quickly I digressed from the style savvy, empowered woman this process has helped me become. But I'm actually glad I hit a low point this far along, and I'm really glad I realized it. Even just a year ago I probably would have stopped trying on old clothes, and gone shopping to feel better. Vicious cycle much?
Of course we all have our insecurities and body image hang ups but our closets shouldn't be adding to them. We are the ones in control of our wardrobe and it shouldn't be the other way around. I'm healthy, happy and generally quite content with my figure, once I managed to remind myself of that, those pants went straight in the donation bag.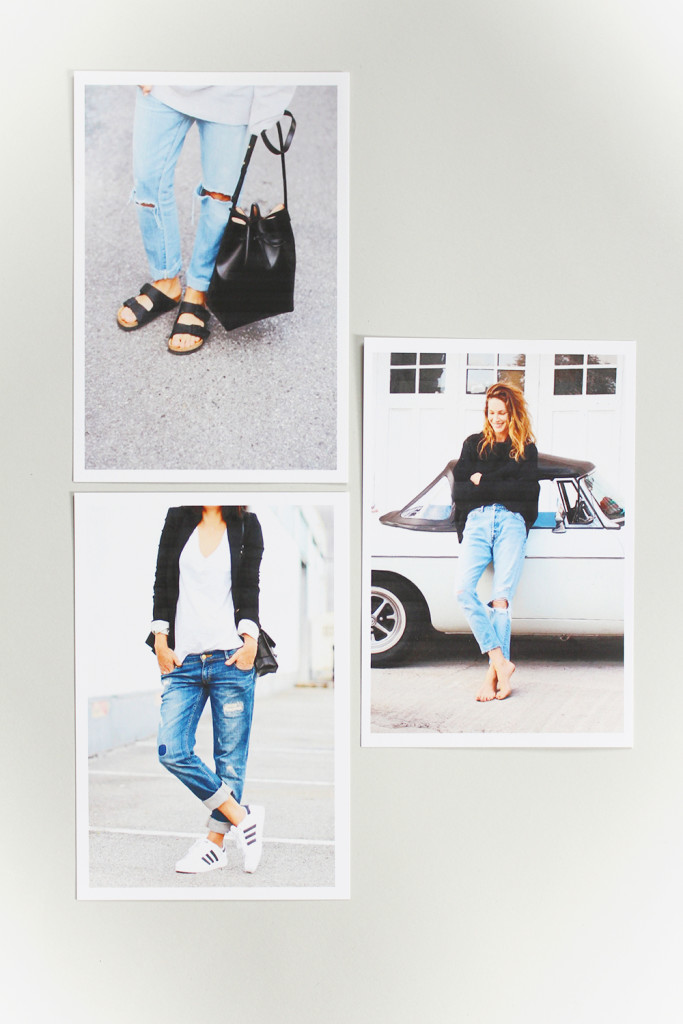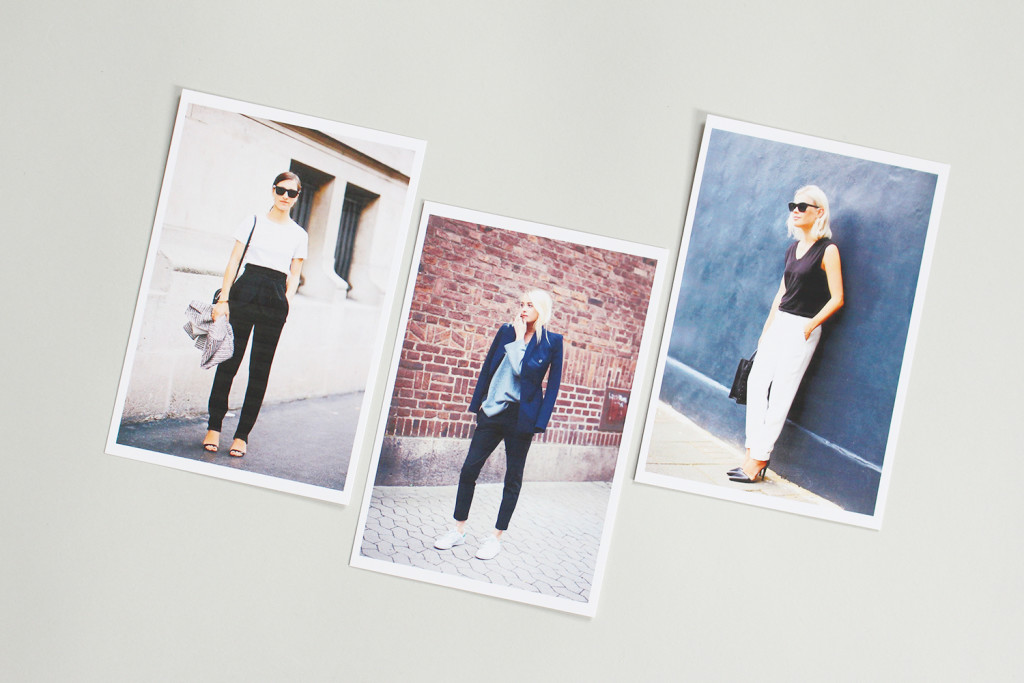 WORKBOOK
Since this little episode, I've taken some time to refocus on the mission and remind myself of it's purpose. Which is to build a lean closet filled with pieces that make me feel good and support the version of myself I most want to share with the world. Sometimes that might mean wearing a great dress with a fitted waist and full skirt that brings out my feminine side, other times it might be an oversized shirt and slouchy pants that make me feel free and ready for anything.
It's surprising how different fits and shapes from one outfit to the next can empower us in different ways. I began asking myself why certain silhouettes satisfy while others don't and suddenly I'd pulled together the Shape workbook. The workbook is simple, but it requires some thought and honesty.
---
Download the Printable version here or the Editable PDF here.
---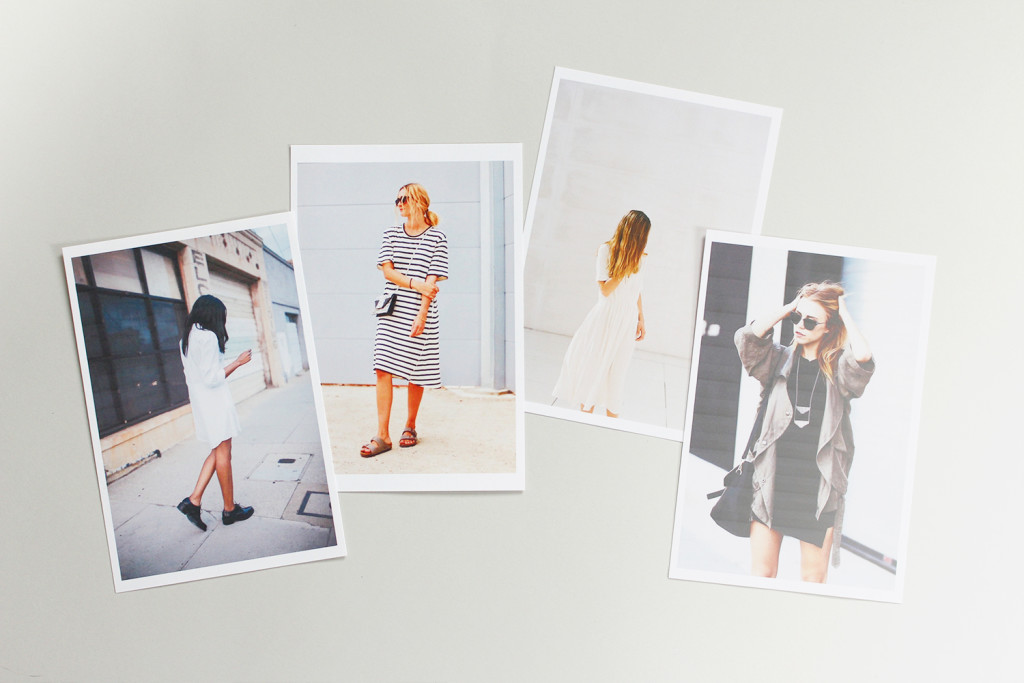 To get you started I've shared my answers and a couple great resources below:
1. Let's get the negativity out of the way first. What clothes make you feel uncomfortable or self conscious?
Anything that's too tight anywhere (mainly in the leg or midsection) and on the other hand anything that's too boxy. Not crazy about super low cut tops or super short hemlines.
2. What clothes do you feel most*:
Great jeans and a loose shirt. Big knits and giant cardigans are my jam.
Silky tops, high waists, long skirts and flowy dresses.
My black jumpsuit or my two piece black pants and crop top combo.
Classic pumps and a blazer. Or anything menswear inspired like trousers and a pair of loafers.
*Feel free to exchange the adjectives, maybe you want to feel Stylish over Elegant or Cool instead of Confident. Totally up to you!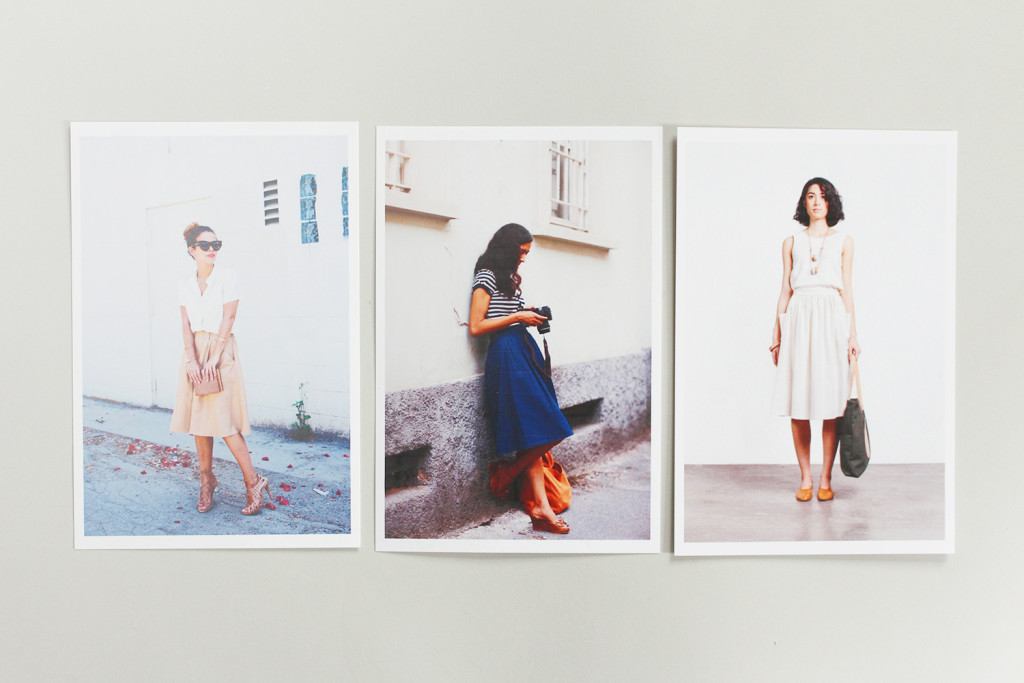 3. List the different shapes (garment structure) and fits (how it wears) of the pieces you mentioned above:
Comfy – Skinny jeans (slim fit, high waist)
Comfy – Boyfriend jeans (lower rise, loose fit, slightly tapered/cropped leg)
Comfy – Slightly oversized t-shirts with either a high/low or a cropped hem, crew or u-necklines
Comfy – Long (past hips) sweaters/cardigans with an oversized fit
Elegant – Classic, slinky fit button down silk shirts, not too long OR simple silk tanks for layering
Elegant – high waisted a-line skirt, maxi skirts OR loose fitting trousers
Elegant – Lady like cinch waists on flowy/loose fitting dresses
Elegant – Long coats (mid thigh and longer)
Sultry – Unique pieces like a wide leg jumpsuit or an oversized cropped sweater
Sultry – Two piece set with a high waist and crop top, structured and sculptural
Confident – Blazers (slightly long slim but not too fitted)
Confident – Boyshirt style button downs, loose but not too oversized
Confident – Classic style/fit leather or denim jackets
5. Considering the pieces above, what are 5 -10 key silhouettes you enjoy wearing?
Tee + Trouser combo
Midi skirts
Flares + flowy blouses
Boyfriend jeans + tee
Blazers and skinnies 
Loose, simple dresses
6. Pull a few photos of those silhouettes. Make note of the key elements in each and what activities they're best suited for.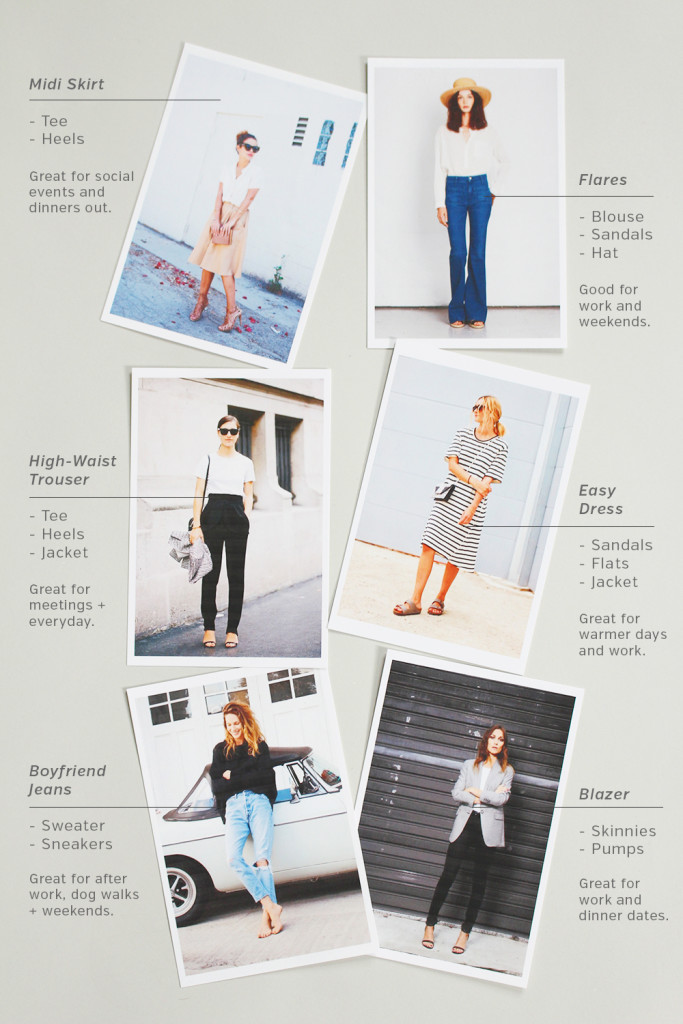 RESOURCES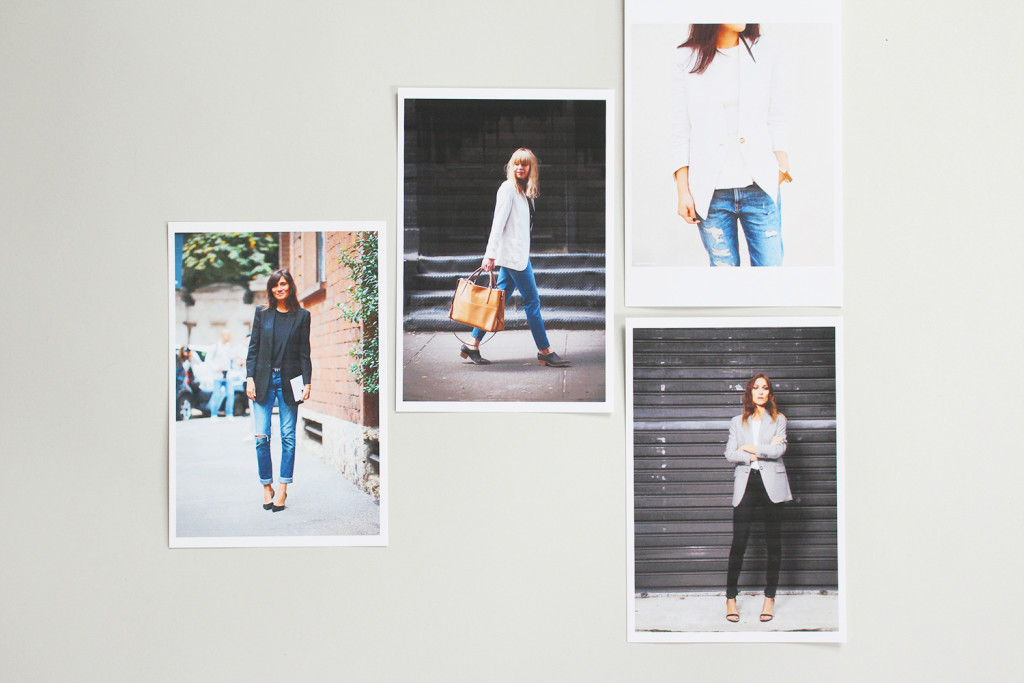 So there you have my take on Shape + Fit! Once I worked my way through the questions I felt much better about my grasp on how it applies to my closet. Of course, just because I've identified the silhouettes I like, doesn't mean I can't try other ones. It just means I have a solid baseline to work from!
Up next in the Closet Mission, we're talking accessories and how to use them to your lean closet advantage! 
---
On a slightly unrelated note, you need to watch the new Dove 'Choose Beautiful' campaign video. Then go tell a friend that she's beautiful because we all need a reminder sometimes.