At the start of a new season (looking at you summer) I often find myself getting a bit antsy and unsettled with my style. It's easy to get swept up in all the new collections and trends flooding our feeds but the truth is that it requires a considerable amount of restraint to maintain a personal style that's consistent, unique and well defined. Luckily, if that's something you'd like to achieve, there are ways to make it happen!
I always try to remember that whenever I add pieces on a whim they usually end up clouding my sense of personal style. It's the intentional additions that I acquire slowly and thoughtfully each season that really help to steer my style and support my goal for closet contentment. So whether it's a personal purchase or a brand partnership, I do my best to keep the big picture in mind over short term gratification.
For today's post I'm sharing some thoughts on how I maintain my style and a few of the simple tools I use to do so. Let's take a look!
---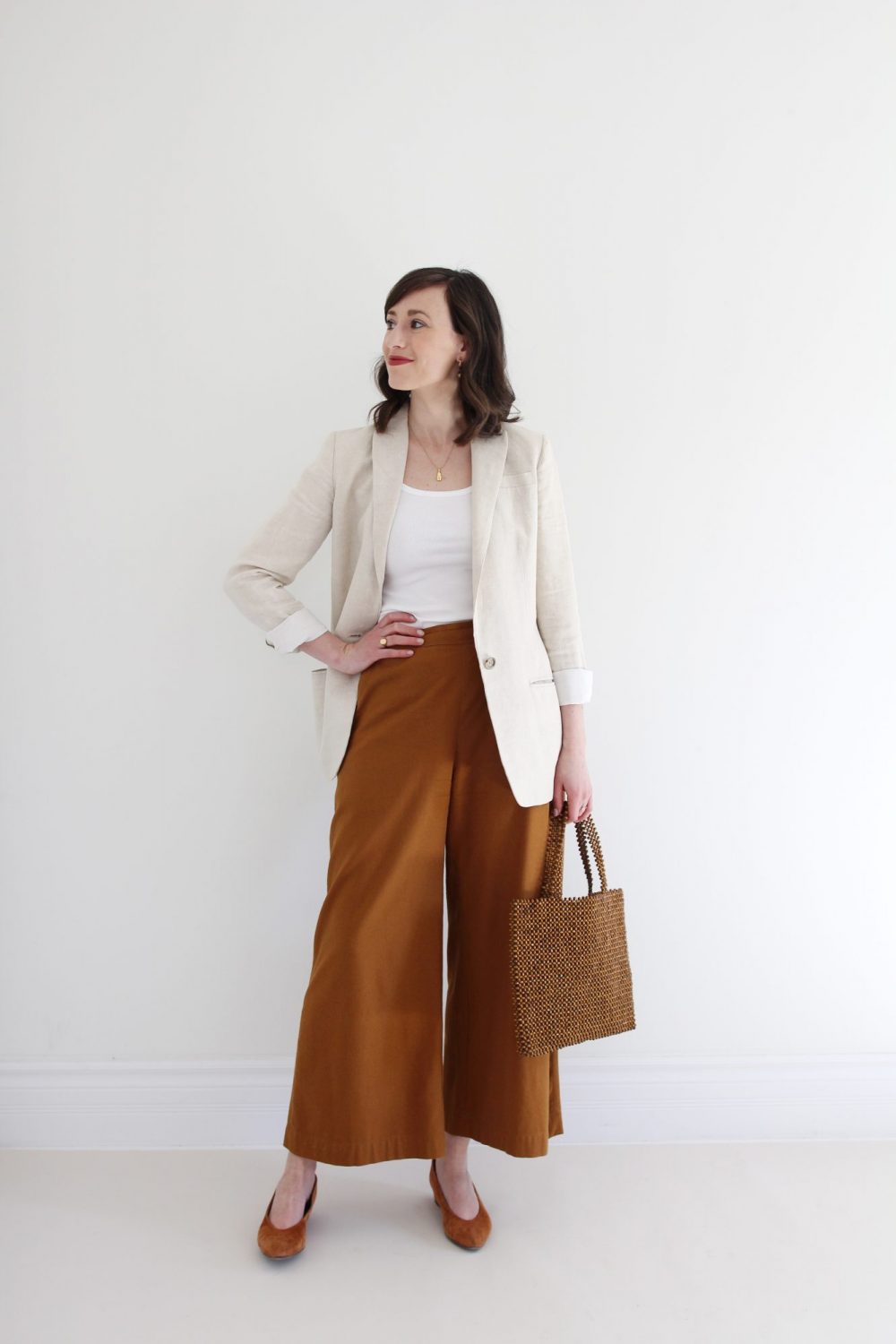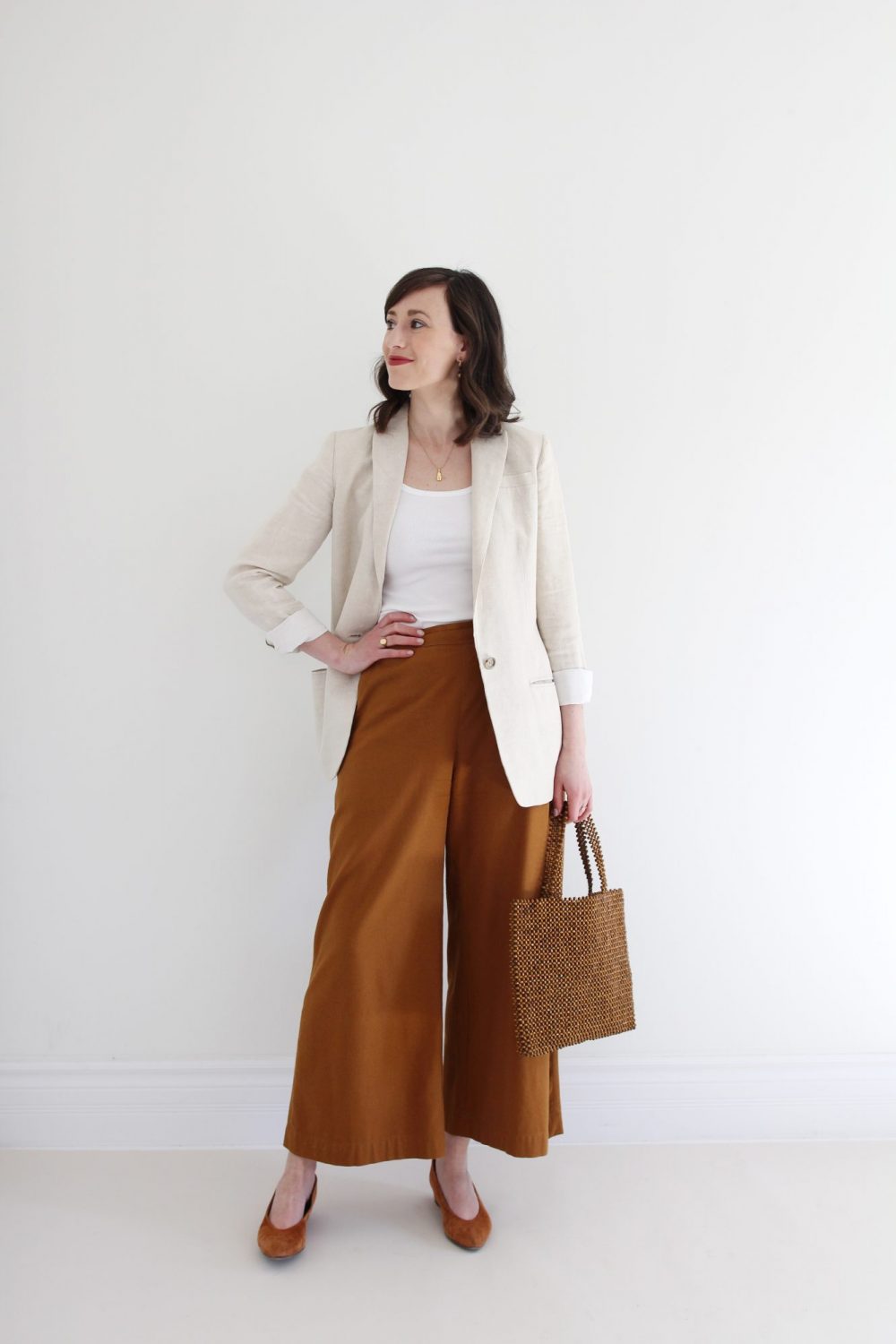 ---
1 | REMEMBER MY PERSONAL STYLE DEFINITION
---
I've come to realize that my personal style definition acts just like any other intention I might set for myself. Similar to the words I start the day with, a personal style definition serves as a guiding thought through which I bring clothing and other elements into my life. Whenever I'm considering a new addition I think about the words I've chosen to represent my style and ask myself whether or not the item fits. Usually, if it's not 100% yes, then it's a pass.
My style definition is not set in stone and while it may change and evolve slightly over time, it generally remains quite consistent. For me, each word holds more than just it's literal meaning and right now the words I'm using as a style intention are:
CLEAN | CONSIDERED | VERSATILE
Clean: This word evokes the concept of minimalist design, simplicity and no unnecessary extras. It alludes to timelessness, refinement and simplicity.
Considered: To me this word represents a wide variety of sentiments like thoughtful production and material choices, careful tailoring, uniqueness and attention to detail.
Versatile: This one I use fairly literally, meaning, able to adapt or be adapted to many different functions or activities, which is just how I like my style and clothing to be.
I find that using words like these to guide my wardrobe choices really helps to maintain my sense of style and eliminates a lot of potential missteps.
---
---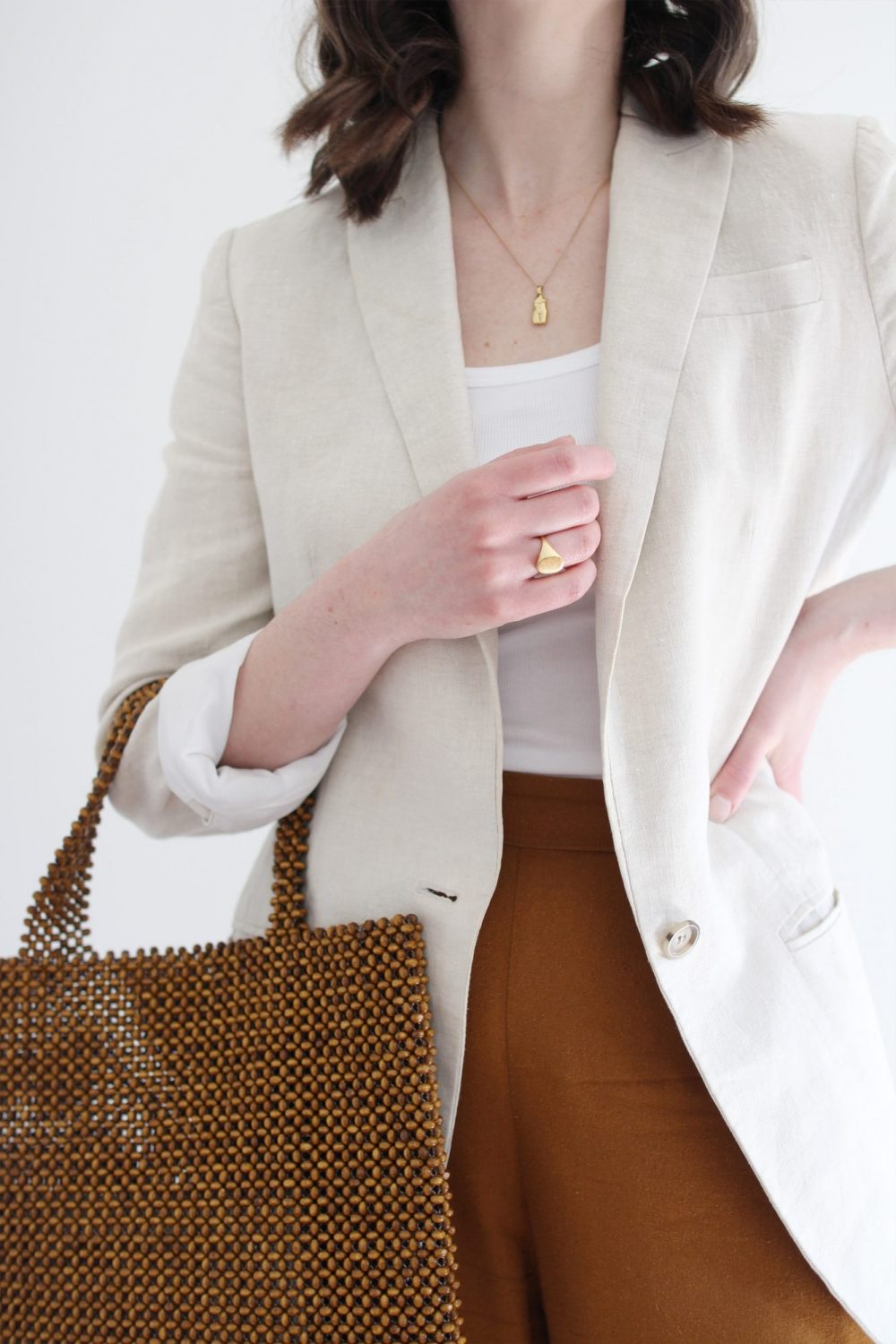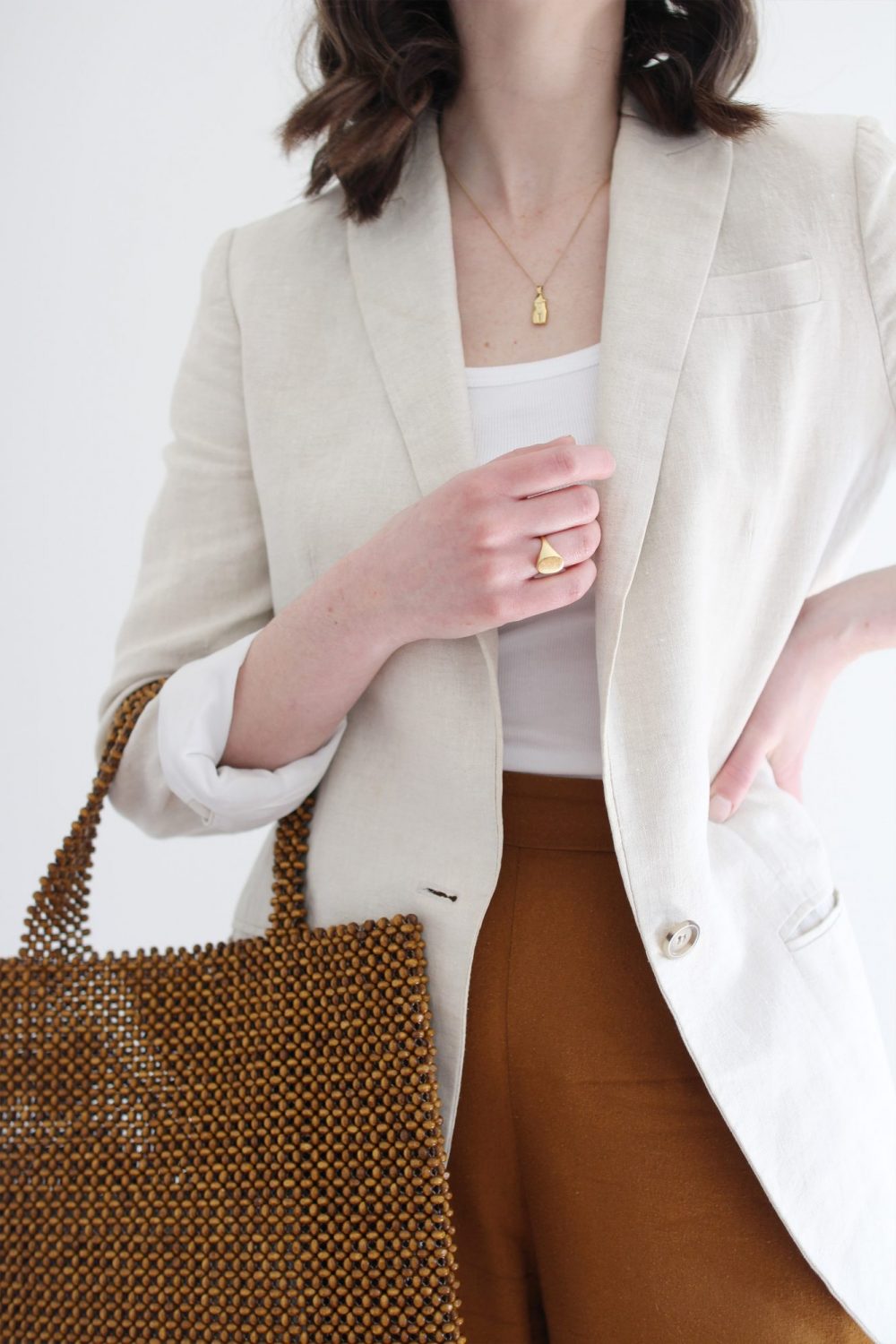 ---
2 | REFER TO MY STYLE MUSES
---
I will often refer to the women whose styles I've admired for a long time and look for themes in how they maintain consistency. This might be through colour palettes, silhouettes, staple pieces, signature materials and even go-to patterns.
Personally, I find myself drawn to individuals who wear pieces that fit really well, have thoughtful details, calming tones, classic patterns and a generally timeless aesthetic. They don't need to have the same style as mine or even wear a lot of the same items I'm drawn to. In fact, I'm often drawn to a more exaggerated execution of what I might wear. I pull inspiration from seeing how they repeat pieces and choose styles that work well within their closet and apply those concepts to my own.
It's also fun to shop vicariously through my style muses. Seeing how they choose certain trends and style pieces I might never consider always gives me new inspiration.
At the moment a few of my style muses are:
Sarah Crampton – One of the OG minimalist bloggers, known best by her blog name, Harper & Harley, manages to always make neutrals feel fresh and inviting.
Sylvie Mus – A stylist by trade and nothing short of a genius when it comes to menswear inspired pieces and proportions.
Mirjam Flatau – Mirjam has an incredible eye for shapes, colour and detail. I've so enjoyed following along as her style and creative work evolve but always maintain a top tier level of editorial excellence.
---
---
3 | STAY IN MY STYLE LANE
---
One thing I've found to be consistent across all my style muses, is that they remain steadfast in their own taste and visual expression. I think this is a critical part of maintaining a clear sense of your own style.
The community element of Instagram is awesome and has led to some incredible connections for many, yet at the same time, it can occasionally seem like everyone is wearing the same things and adopting a similar style. Sometimes this is just the result of certain trends, sometimes it's the timing of marketing campaigns and sometimes it's who you're following. Usually, it's a combination of all three.
When I start to feel like my feed is getting overrun new product or a lot of the same styles, I typically do two things. The first is take some time away from IG. It's amazing what a week or two away from the app can do to ground your sense of self and renew your perspective. I always find my desire to shop decreases, my sense of style settles and my closet contentment creeps back into a healthy zone.
The second is to unfollow the accounts that are distracting my sense of style or feeling monotonous and seek out creatives outside of my usual IG communities. These might be a floral designer, interior stylist, beauty guru, artist or a new brand that's showing their collection in a unique way. I usually visit the explore page for some ideas, which almost always leads me to some incredible creators.
It's no surprise that the less my feed is filled with new clothes, the less I think about them! Which brings me to my final approach to maintaining my style.
---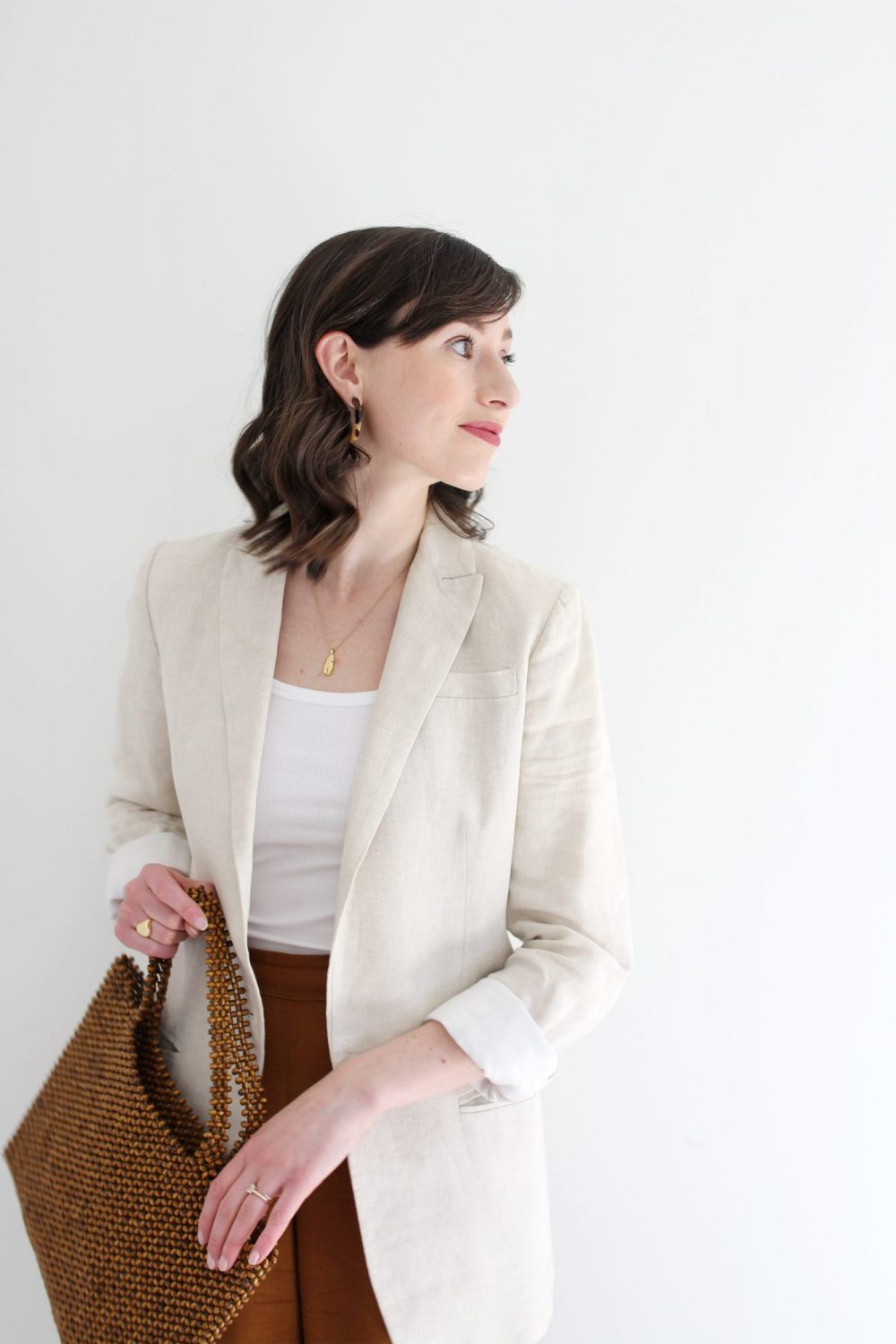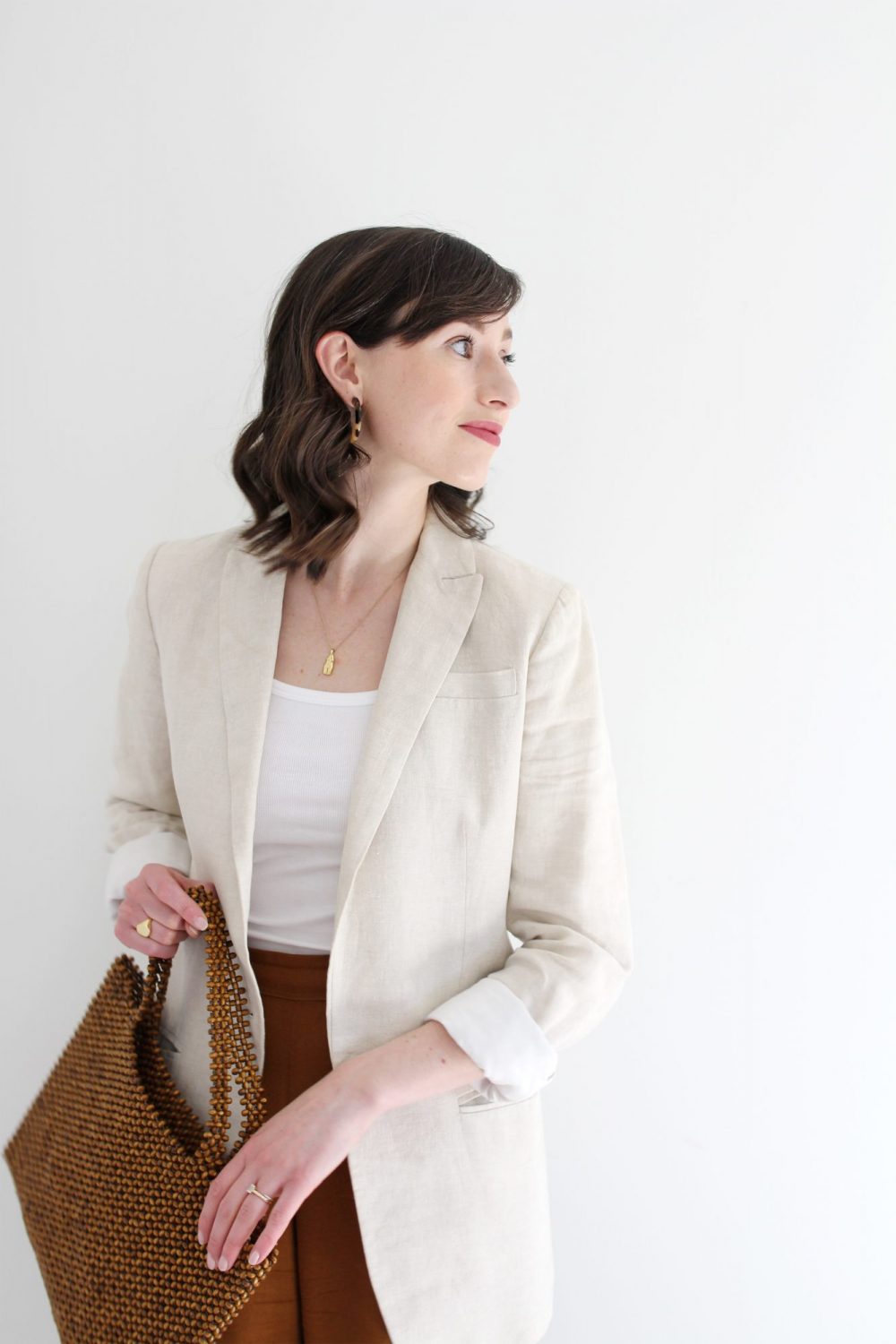 ---
4 | REVISIT MY FAVOURITES & WEAR THEM A LOT
---
Perhaps the most straight forward approach is simply to shop less and where what you have and love! Using this outfit as an example, I'll walk through the items and explain how each element fits within my personal style longterm.
I've had this linen blazer for the better part of a decade now and it was a style defining investment for sure. It spurred on my love for menswear inspired looks, gave me an appreciation for thoughtful tailoring and has been a staple in my closet ever since. I'd consider oversize blazers to be a key element in my closet that I'll enjoy wearing for decades to come.
I'd been considering a pair of wide leg pants in a rich neutral tone like these ochre raw silk pants for several seasons before this pair made their way into my closet. They were part of a collaboration with the brand but I didn't add them simply for the sake of the partnership, I knew they'd be something I wanted to wear for years to follow and would fit well within the 'considered' and 'versatile' elements of my style definition.
Even though these suede flats might not seem like a timeless piece, I felt that they were just trendy enough to be stylish but simple enough to be wearable for several years. I've had them since the spring of 2017 and still find that they work really well within my closet.
I committed to wearing gold jewellery exclusively a few years ago and haven't looked back. This way all my jewellery works together and by choosing thoughtfully designed styles like small pendants, signet rings, simple studs and other versatile classics I know I'll be able to wear them longterm. I will add in the occasional tortoise statement piece like my Kate Hoops to keep things interesting too.
Since I keep my outfits fairly minimal, I like to have fun with bags and accessories. I love to find styles that are both practical and add some interest to a look. This wooden beaded tote is a great example of a clean design, versatile colour with a unique texture that makes it special.
Great basics like a fitted white tee are the foundation of my wardrobe and style. I've found these pieces are in constant rotation, no matter the season, and when I find an option that works for me I stock up! You can never go wrong with a fresh white tee as the start of an outfit.
---
---
OUTFIT SOURCES
BLAZER | old CLUB MONACO but a new version is available. | Similar here, here and here for less.
SCOOP NECK TEE | EVERLANE | $30 USD | TTS | Made in Lima, Peru – See the factory
WIDE LEG PANT | JAMIE & THE JONES | $245 USD | Relaxed TTS | Made in Nashville, TN | Similar here and here for less.
LUMEN NECKLACE | WOLF CIRCUS // BEADED BAG | ABACA // TORTOISE EARRINGS | MACHETE // SUEDE SHOES | old L'INTERVALLE | Similar here and here.
---

---
So those are a few different ways I maintain my personal style!
I think it all comes down to a combination of remaining in touch with myself, avoiding distractions/temptation and choosing thoughtfully.
WHAT HELPS YOU MAINTAIN YOUR PERSONAL STYLE?
I'd love to know!
---
This post contains affiliate links. When you shop via the links above I may make commission on a sale at no additional cost to you. Thanks for supporting Style Bee! All opinions are always my own.