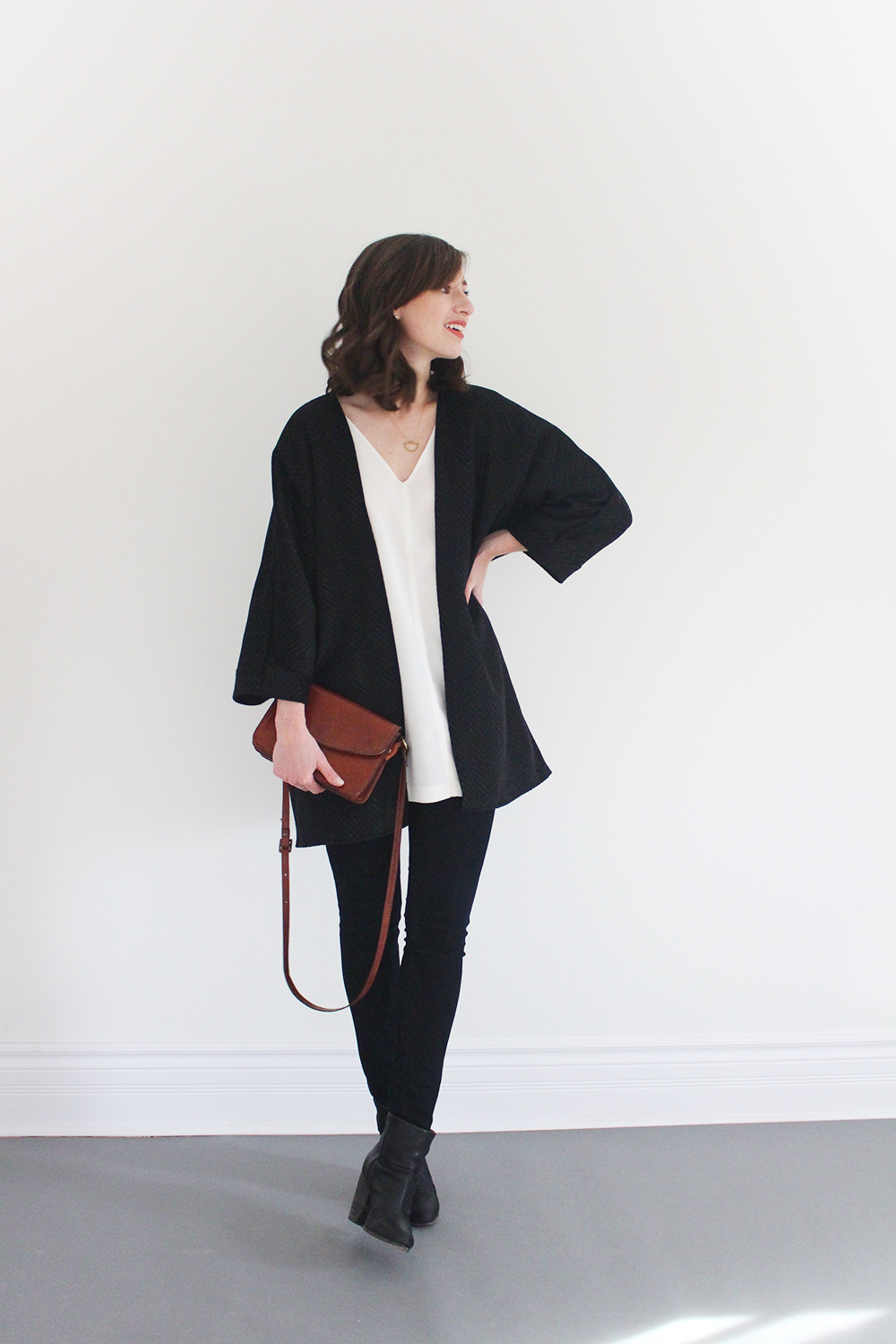 I can't quite believe it but this is going to be the final outfit post of 2015. I was going to wait until the new year to begin a new series on the blog but I just couldn't wait to share this look or this new designer with you. The new series doesn't have an official name yet (forgive me!) but it's going to be about 'Meeting the Makers' behind the clothes, boutiques and goods that make their way onto my radar.
The first designer I'll be introducing is Haley Tucker, founder of the California based, limited run clothing line, Only Child. I discovered Only Child via Instagram, as is so often the case with me and new design crushes, and I immediately knew I'd found a gem. I love Haley's minimalist take on classic closet staples like an ivory tunic, a black shift dress or a wool coat, and that her collection is comprised of beautifully made and totally interchangeable items. All things that completely jive with my style mantra, 'Buy less, choose well.'. We chatted over Instagram and much to my delight Haley was up for a collab.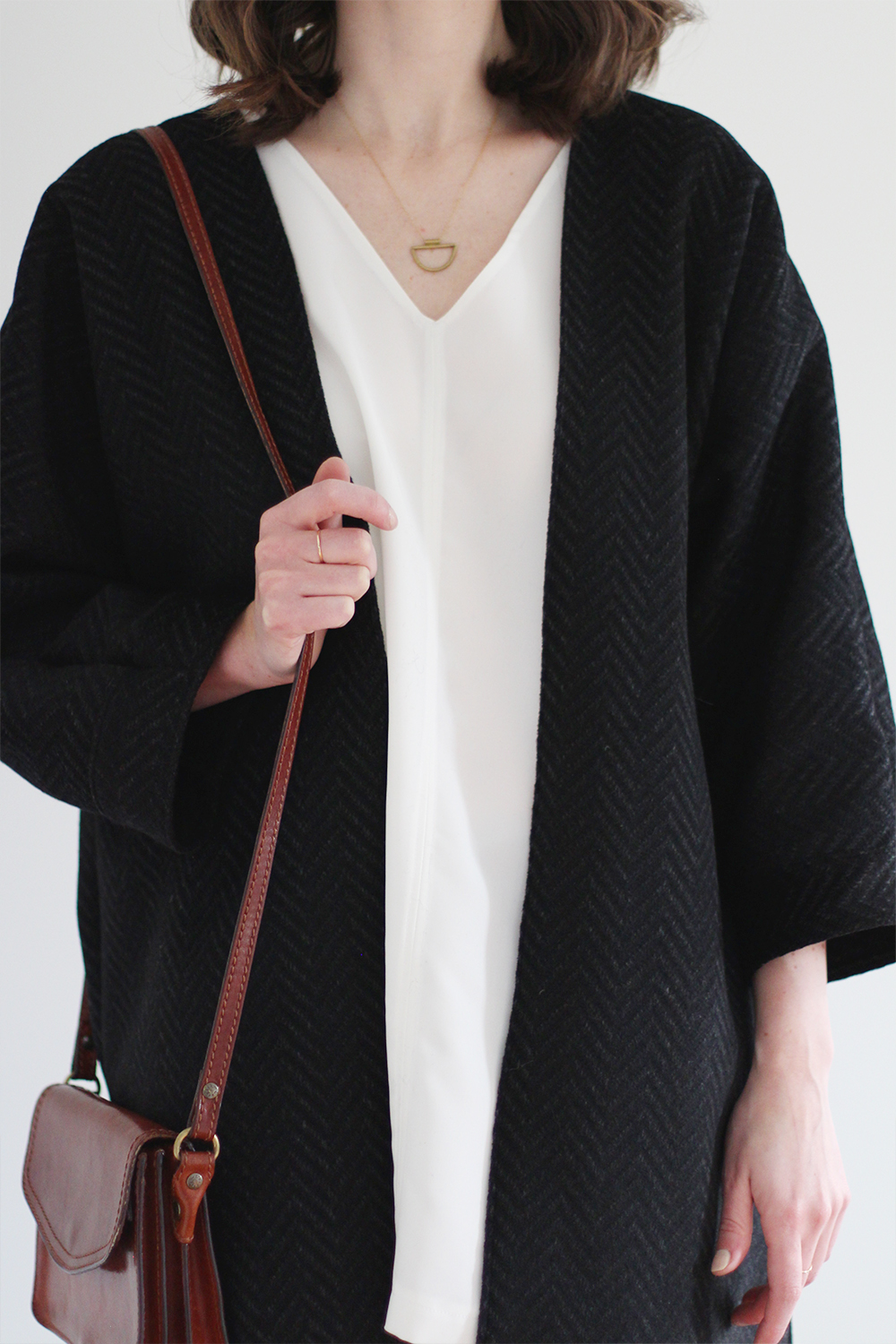 ONLY CHILD
Instead of simply styling some items in a look, I wanted to share a bit more about Only Child and the real person behind the collection to give the clothes more meaning than just being a beautiful coat and top. So without further adieu this is what I asked Haley, and here's what she said:
SB – I myself am an Only Child, which made me wonder where the name of your line came from? 
HT – I really wanted a name for my line that was personal to me and all of the different paths that I've taken to get here. Being an only child left me with more time on my hands growing up and I filled that time exploring drawing, painting, photography, and pretty much any creative outlet you can imagine!  I kept this trend going all the way through college and feel that designing and creating clothes has become a sort of final destination for all of the things I've learned.  At the time it felt like I just couldn't settle on one medium, but now I'm really thankful to be able to apply all of my knowledge from those different areas to making clothes.
SB – What inspires a new piece for you? 
HT – So many things!  I keep a notebook with me at all times so I'm always ready to write down an idea.  For Fall I kept looking to this artist named Serrah Russell, she makes incredible collages with found materials and the color palettes are so amazing.  I'm also really inspired by looks I see by chance out on the street.  With so many creative people living in Oakland and San Francisco, it's almost impossible to not pass by someone every day who has amazing style.  I love seeing how people wear things in real life instead of in a magazine or advertisement.
SB – Do you have a muse or a style icon that influence your personal taste or design sensibilities?
HT – I absolutely love Gretchen Jones's style, she has this way of layering and mixing patterns that looks put together but not overdone.  I've definitely pulled inspiration from her instagram when I'm feeling stuck in the same routine.
SB – Describe the Only Child philosophy in 5 words or less. (I know this is a tough one!)
HT – Handmade, minimalist designs that last.
SB – Who's on your studio playlist right now?
HT – I usually have a tv show on in the background while I'm working (a bad, distracting habit that I'm trying to break….but Jessica Jones and Scream Queens were just too good!).  But lately when I do have music on its been a lot of Hot Chip, Social Studies, and Pell.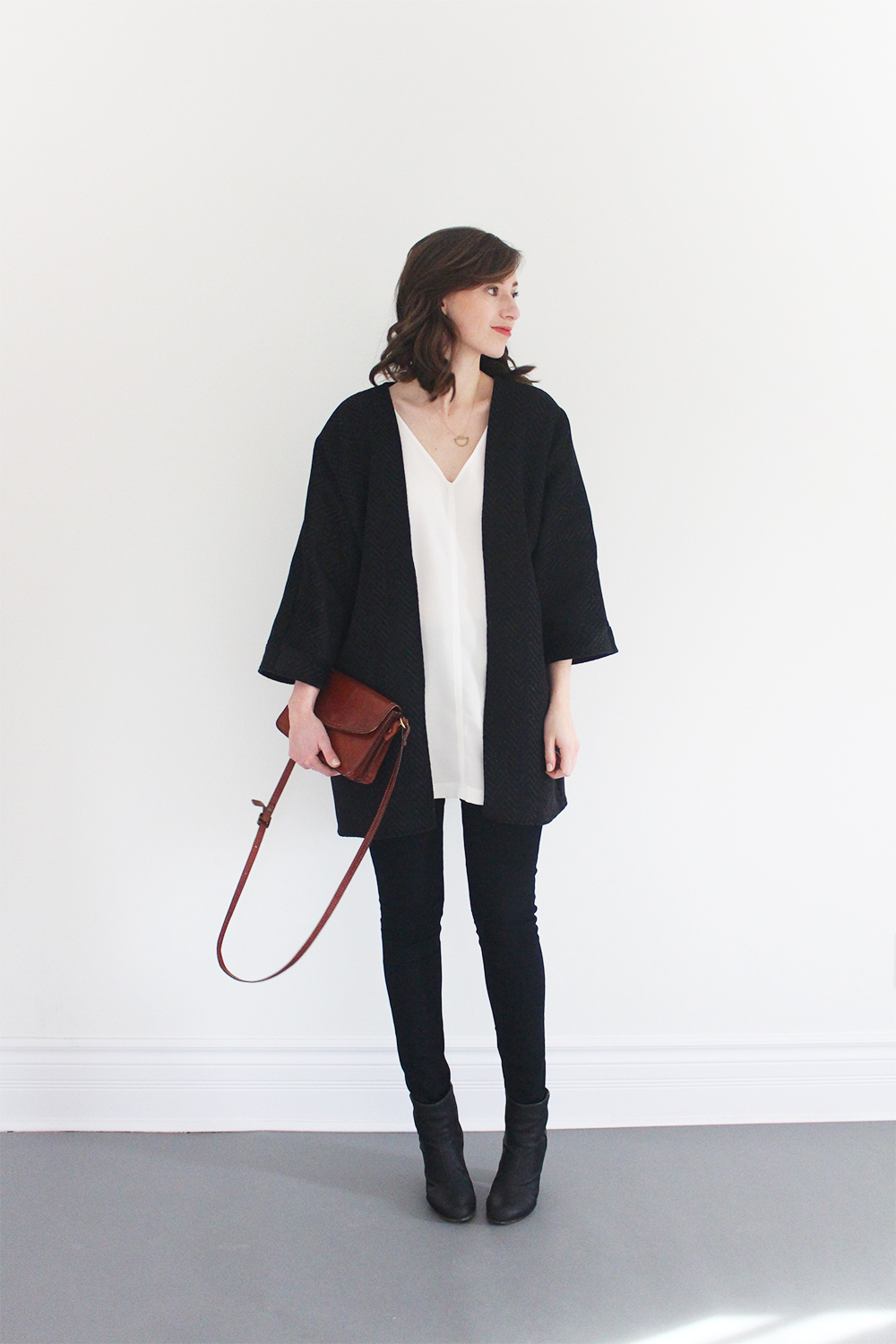 As soon as I felt this silky tunic I loved it, but when I tried it on, it was on a whole other level. The heavyweight silk blend, the centre seam and the long length are what make this a closet hero for me. It's perfect for winter, over skinnies or leather leggings under a cardigan or loose sweater but will also be great in the spring with my Cecilia pants, clogs and a wide brim hat. The fabric is magically wrinkle resistant and drapes beautifully to keep it from being boxy. It's a minimalist dream!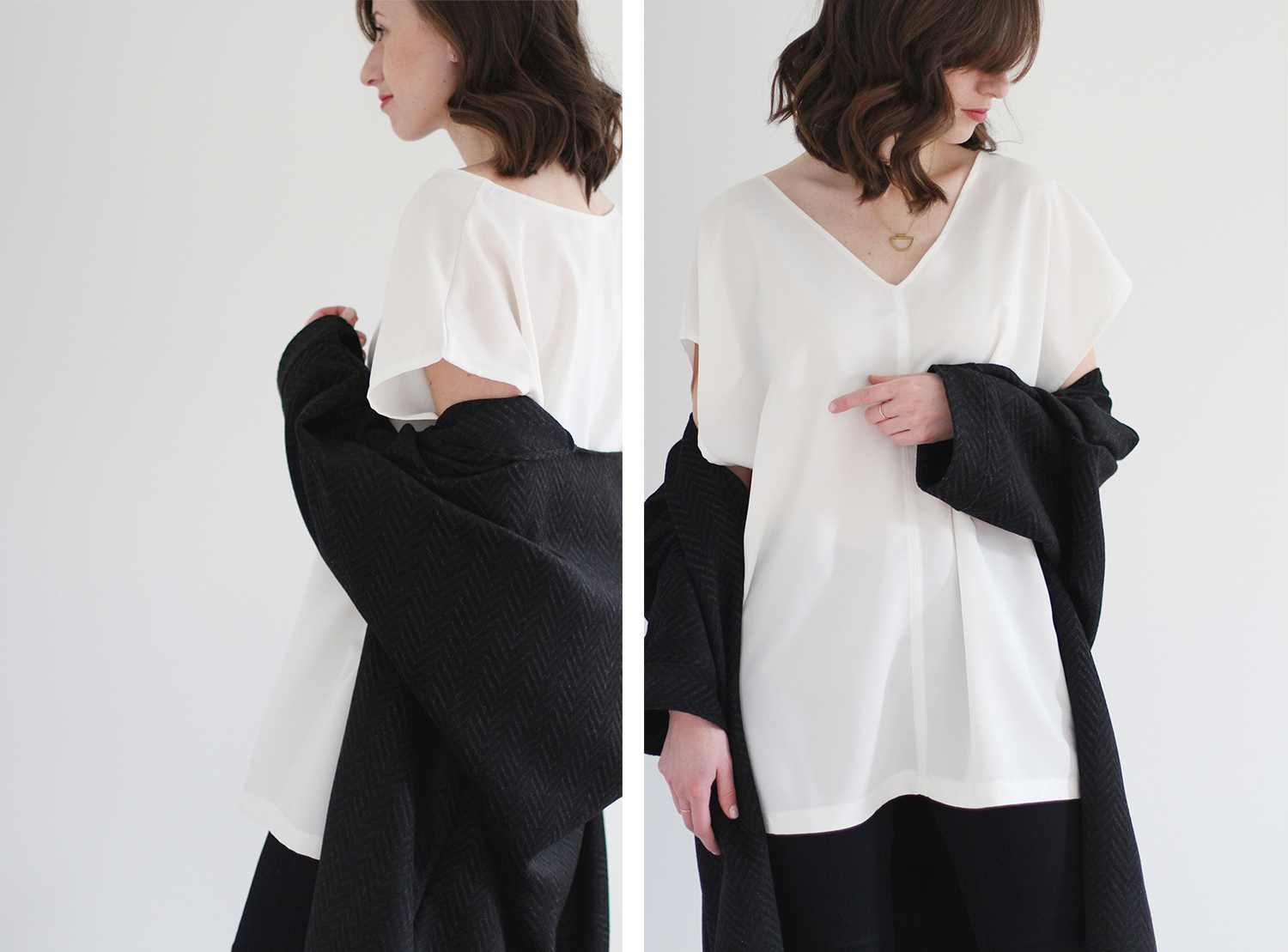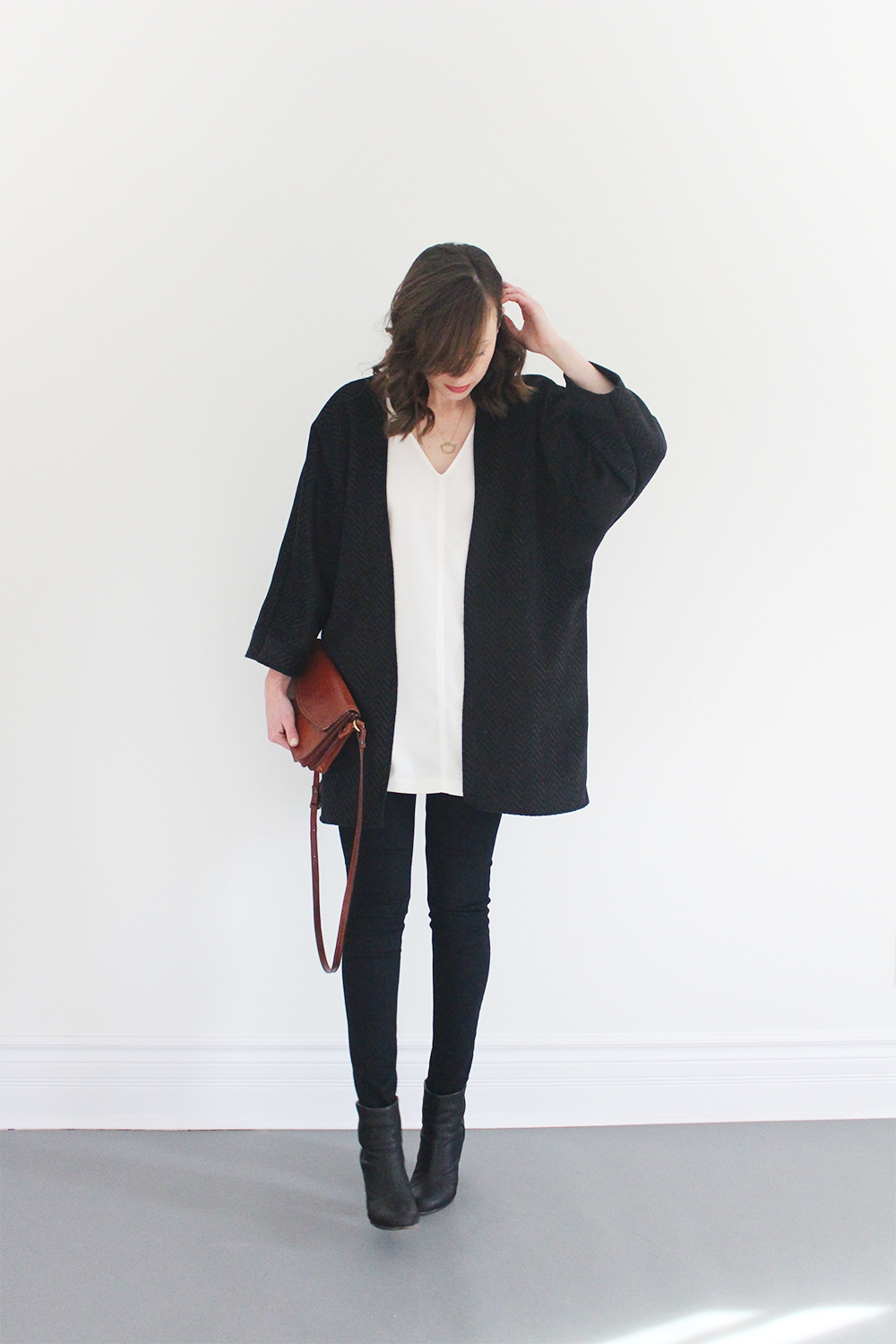 If you've been reading this blog for any length of time you might already know how much I love an oversize wool coat. It's basically my favourite winter closet staple. This one is extra special for a few reasons though! For one, this 100% wool chevron fabric is dense and substantial without being overwhelming. I love that it hits right about mid thigh for a super flattering silhouette. And the sleeves, THE SLEEVES! These are my favourite part because they are cut to end above the wrist and the wool helps them hold this delicious bell shape for some majorly sophistication and understated elegance. I also appreciate that the dolman sleeves are roomy but not at all bulky. I've been wearing it over the Mara tunic but also over a long sleeve tee with light denim and ankle boots for the perfect casual but pulled together everyday look.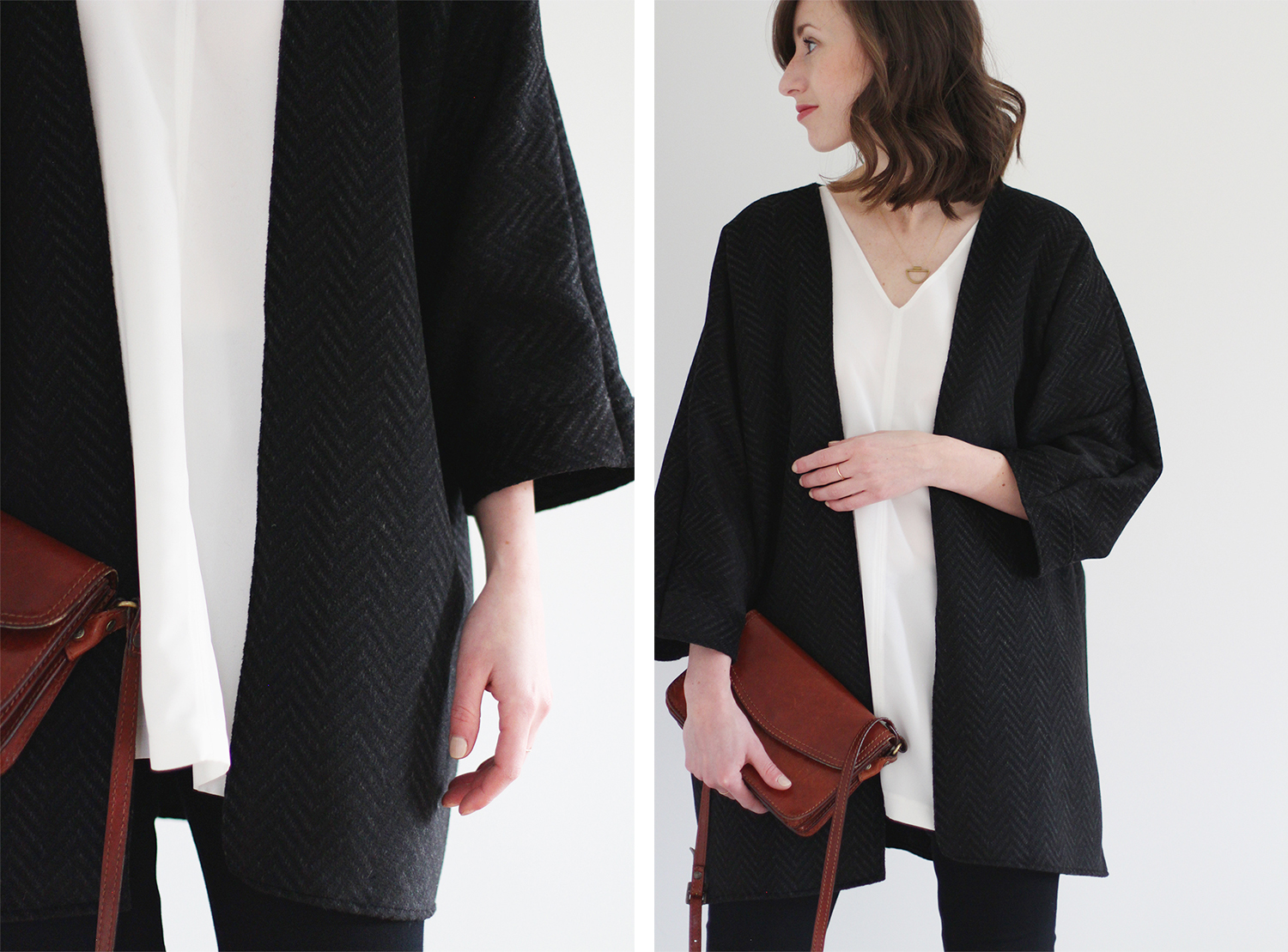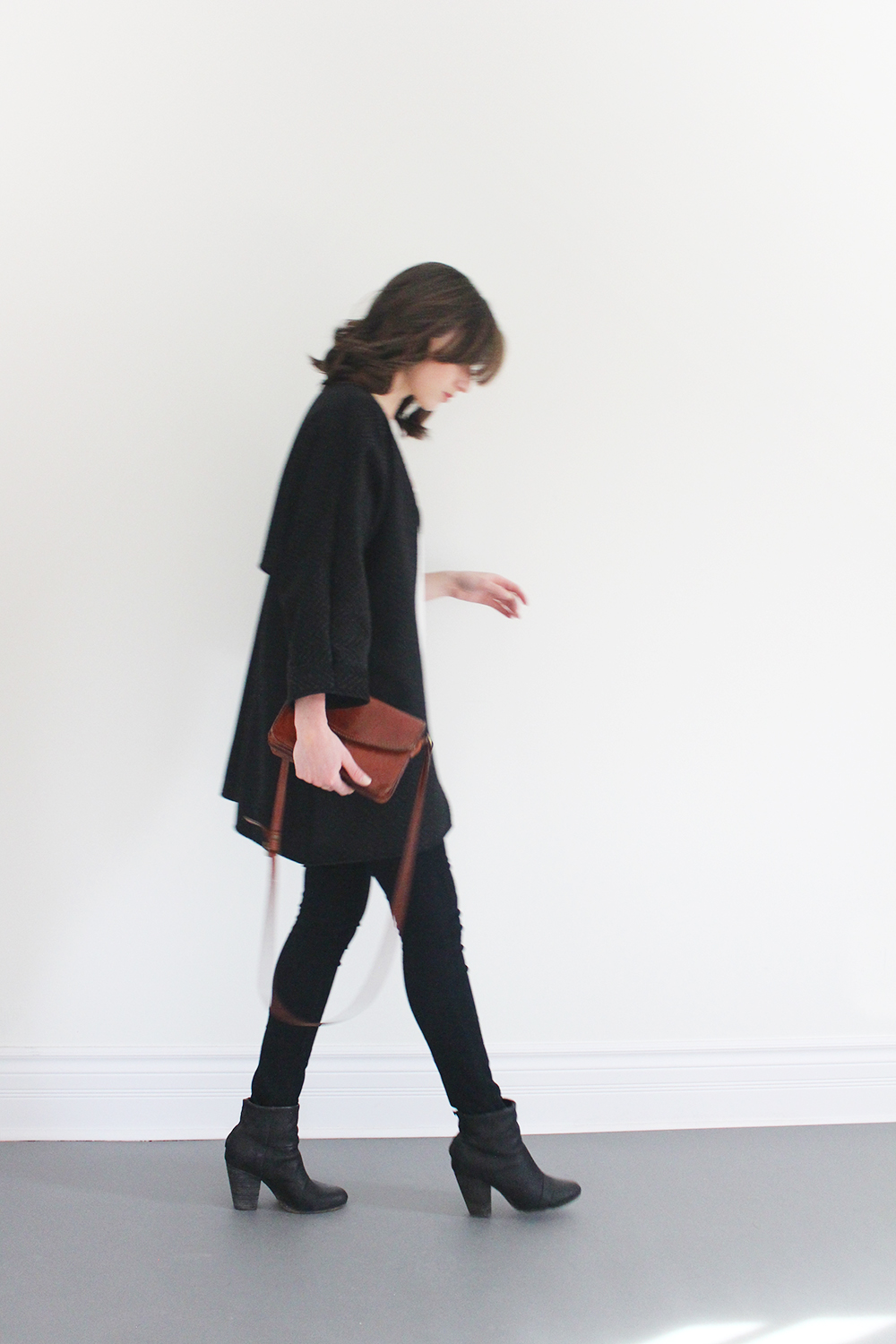 I hope you liked the final outfit post for the year and that it's stirred up some interest for what's to come in 2016! Discovering new designers is a major passion of mine and I'm so lucky that this blog gives me an opportunity to share my discoveries with you. Thanks for reading!
---
Madelyn Wool Coat Only Child | Mara Silk Tunic Only Child | Bow Necklace Another Feather | Jeans Rag & Bone | Bag vintage (very similar option here and here) | Boots Rag & Bone | Rings by Laite Atelier
---
Thanks so much to Only Child for partnering on this post. As always, all opinions are my own.