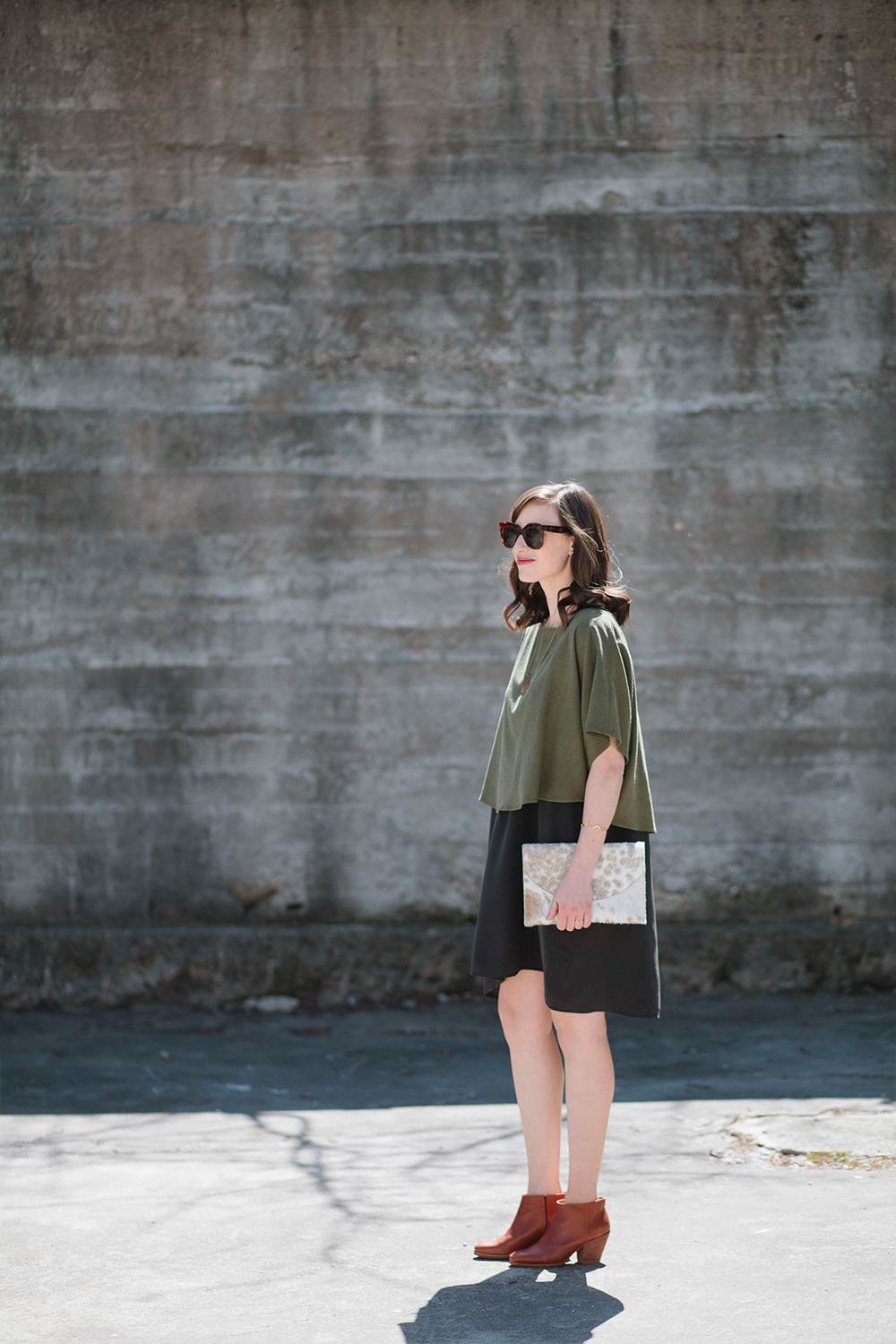 Some days the words for a post come together so easily and other days it seems near impossible to complete a coherent sentence. Last night when I was writing this it was definitely the latter scenario. But then I got to thinking, some days a great outfit just comes together and other days it feels like you have nothing to wear. This outfit is one I hope to remember for those days. The ones when I'm low on creativity, I can't be bothered to think about it, I just want to be super comfortable and still somehow manage to look like I've got it together (at least from a distance). So note to self: loose layers!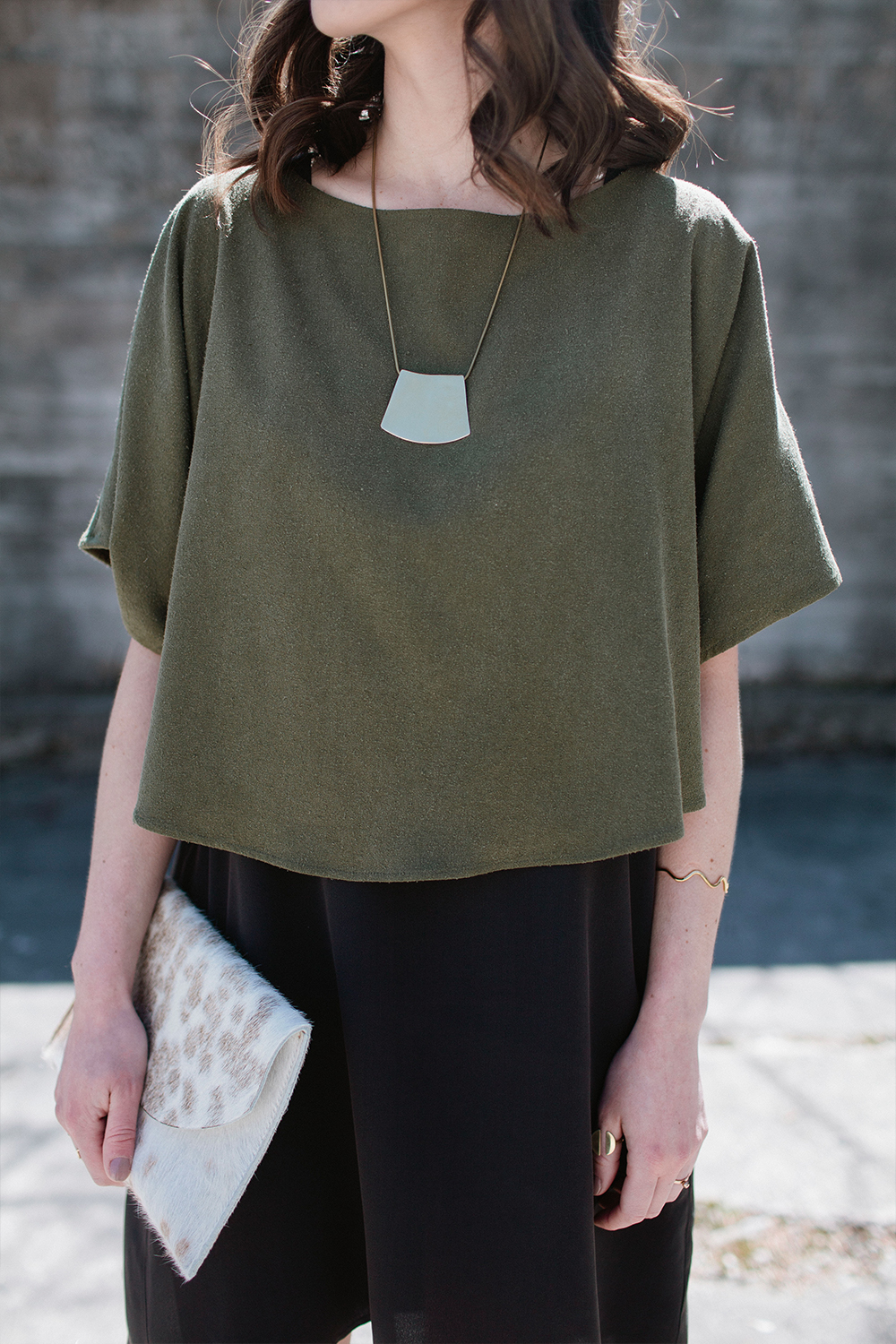 This little olive green raw silk crop top is one of my favourite additions this year (sorry it's since sold out but there are 5 other colour options!). The colour is my absolute favourite shade of mossy, muted green and the shape is equally pleasing. Obviously, I kind of have a thing for this type of top seeing as yesterday's look featured a very similar cut.
I rarely wear a crop top with the intent of any skin being exposed, it's much more for the proportions that it creates. I love the illusion of length that they give the lower half of an outfit. Layering a top or sweater like this over another simple piece makes for a very wearable outfit that has lots of interest and elegance without any fuss. I'll be wearing this look for all different occasion this season whether it's a boozy birthday dinner or a morning spent strolling the antique market.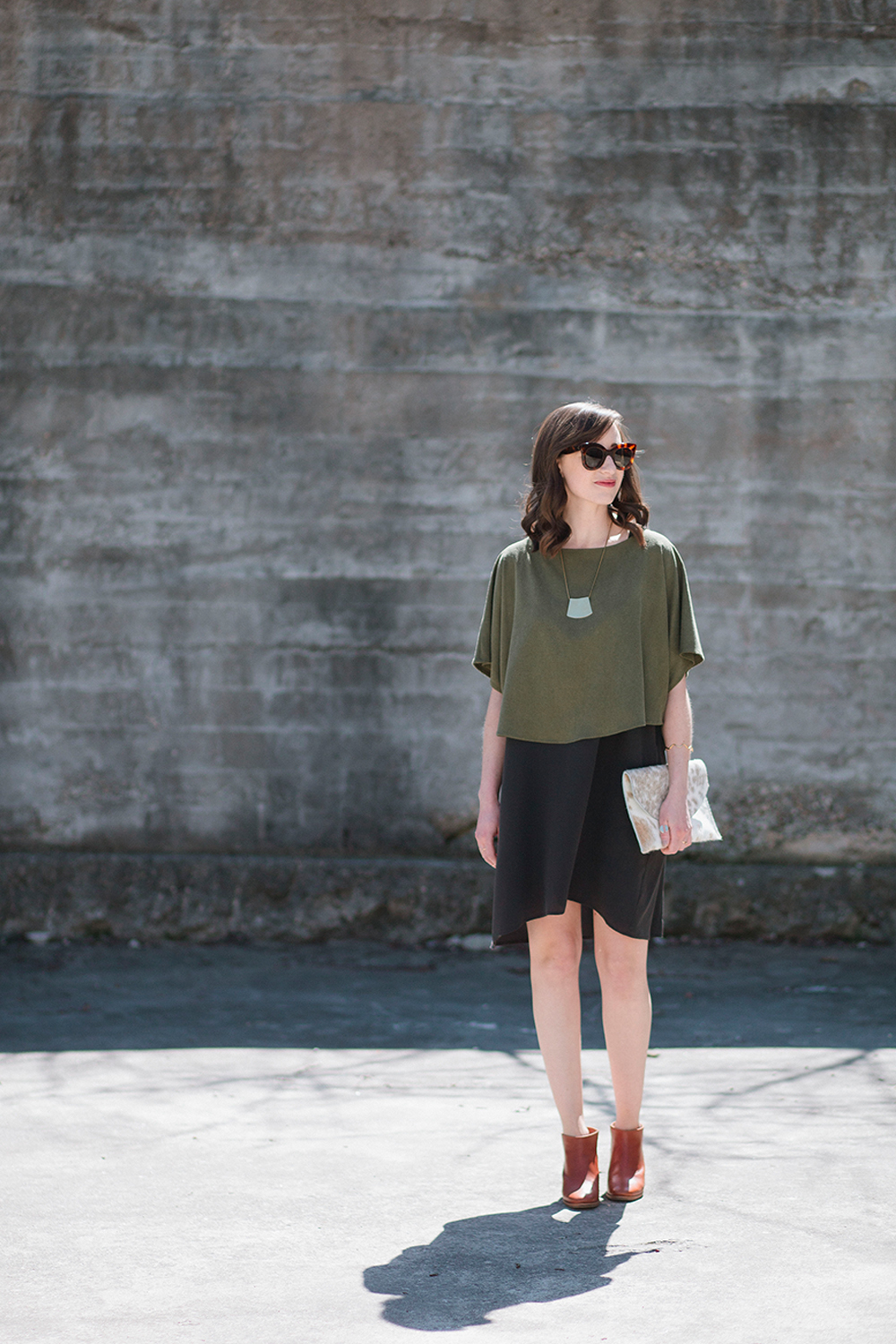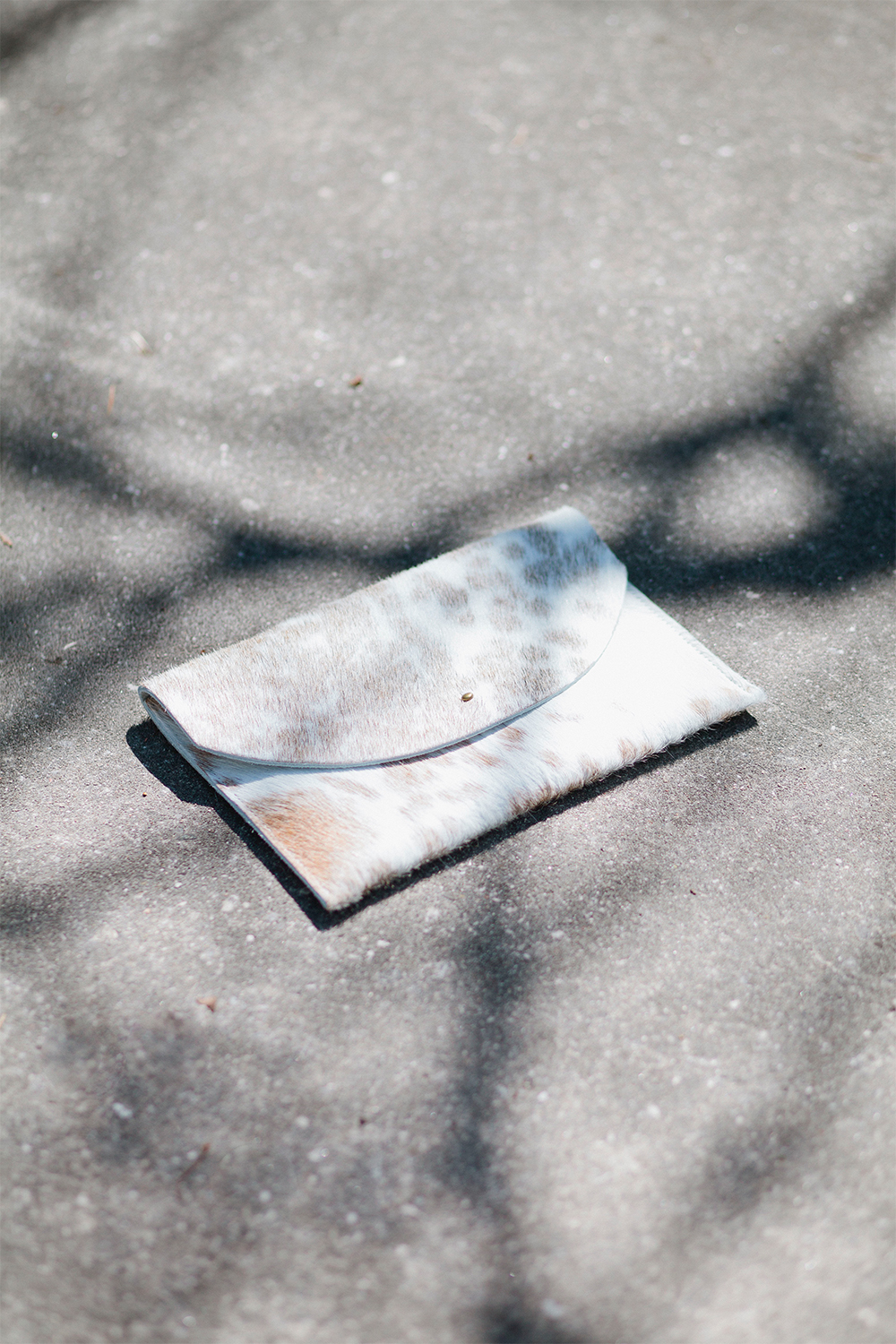 You've probably come to know that I'm obsessed with my salt + pepper clutch by Primecut, so given the opportunity to test out one of Lizzie's new envelope clutches I was all over it! I'd actively been looking for a lighter, slightly more compact option and this is officially my favourite clutch to date. It's the perfect size to hold all the essentials (phone, credit cards, cash, keys and lip colour) and adds the perfect pop of pattern to an otherwise simple look. Plus the super minimal shape and tiny touch of brass hardware is freaking genius.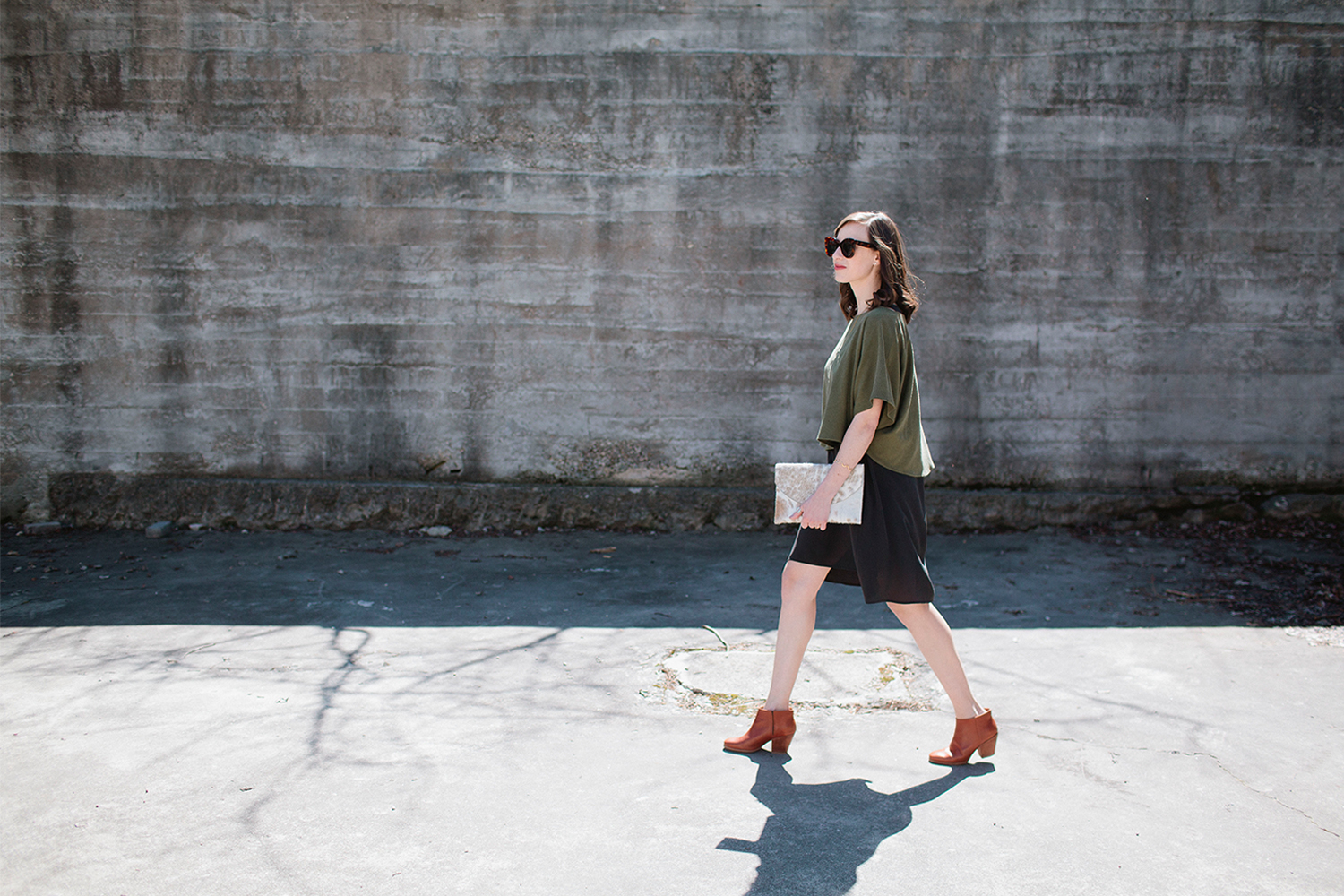 And last but not least I'll touch on the Silk Tank Dress, which happens to be one of those rare staples that you don't realize you've been missing until you have it. I love how it's been designed with an elegant, flattering shape that helps the fabric fall loosely and away from the body. Even as such, it's pretty darn wind proof, meaning, it doesn't fly up and reveal your unmentionables at the slightest provocation from the breeze (and trust me it was windy when we shot these!). Not to mention the fact it has pockets and is machine washable (say what?). If you're in the market for something slinky but not as sparing as a slip dress this is definitely a great option.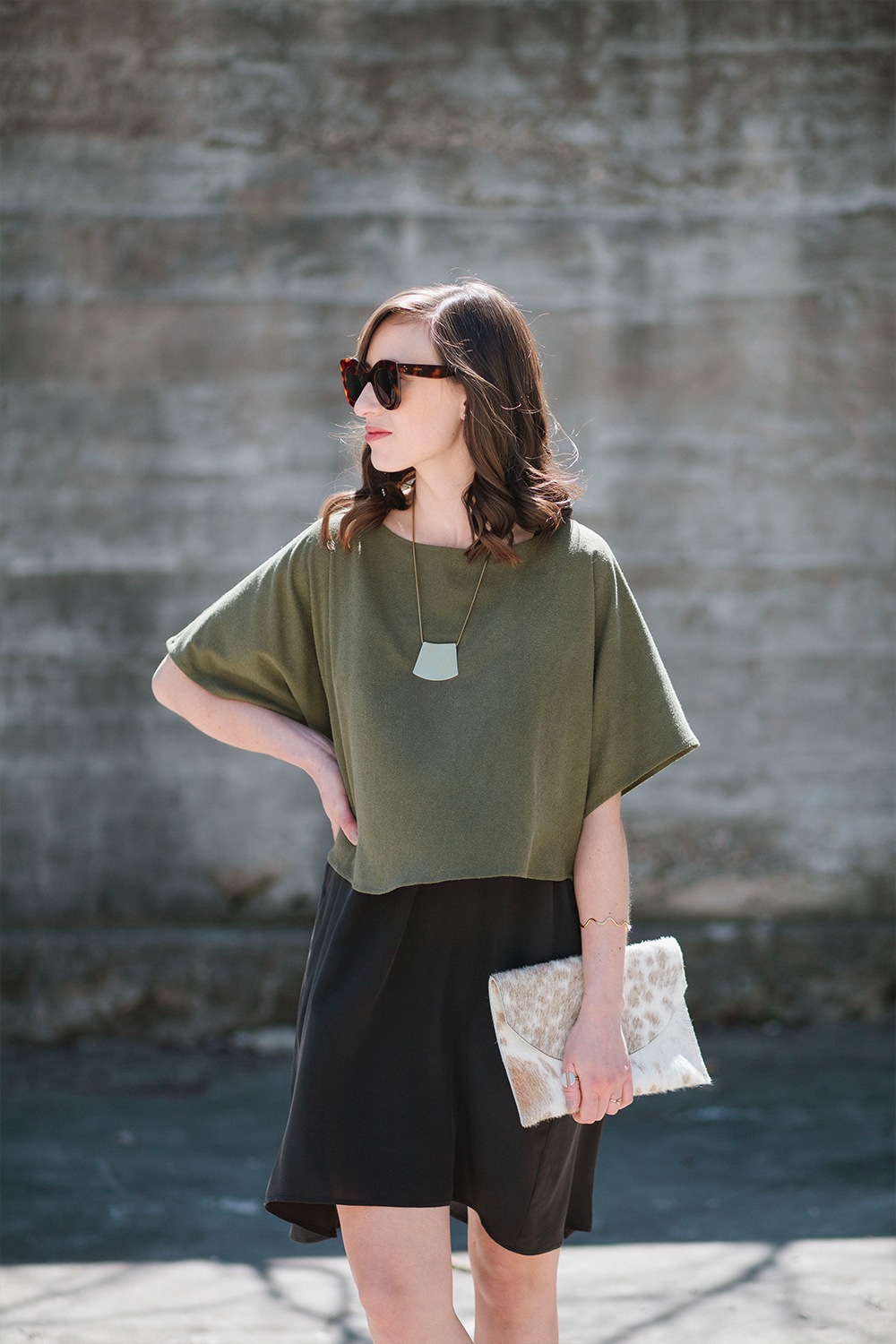 I'm so excited to see a few of you joining me in this little 10 x 10 Challenge! Andrea of Seasons + Salt and Paige of Style This Life are a couple of truly lovely ladies and happen to also be fellow lean closet bloggers doing their own versions! Be sure to check out their blogs for tons of inspiration and styling ideas.
---
Blank Canvas Top Olive c/o Jamie + The Jones (5 other colours avail. + a similar option in olive) | Silk Tank Dress Everlane | Mars Boots Rachel Comey | Envelope Clutch c/o Primecut | Celine Sunglasses c/o SmartBuyGlasses | Plate Necklace + Wave Cuff c/o Young Frankk | Split Ring c/o Claus | Stacked Rings c/o Everli
---

---
Photography by Jacklyn Barber.