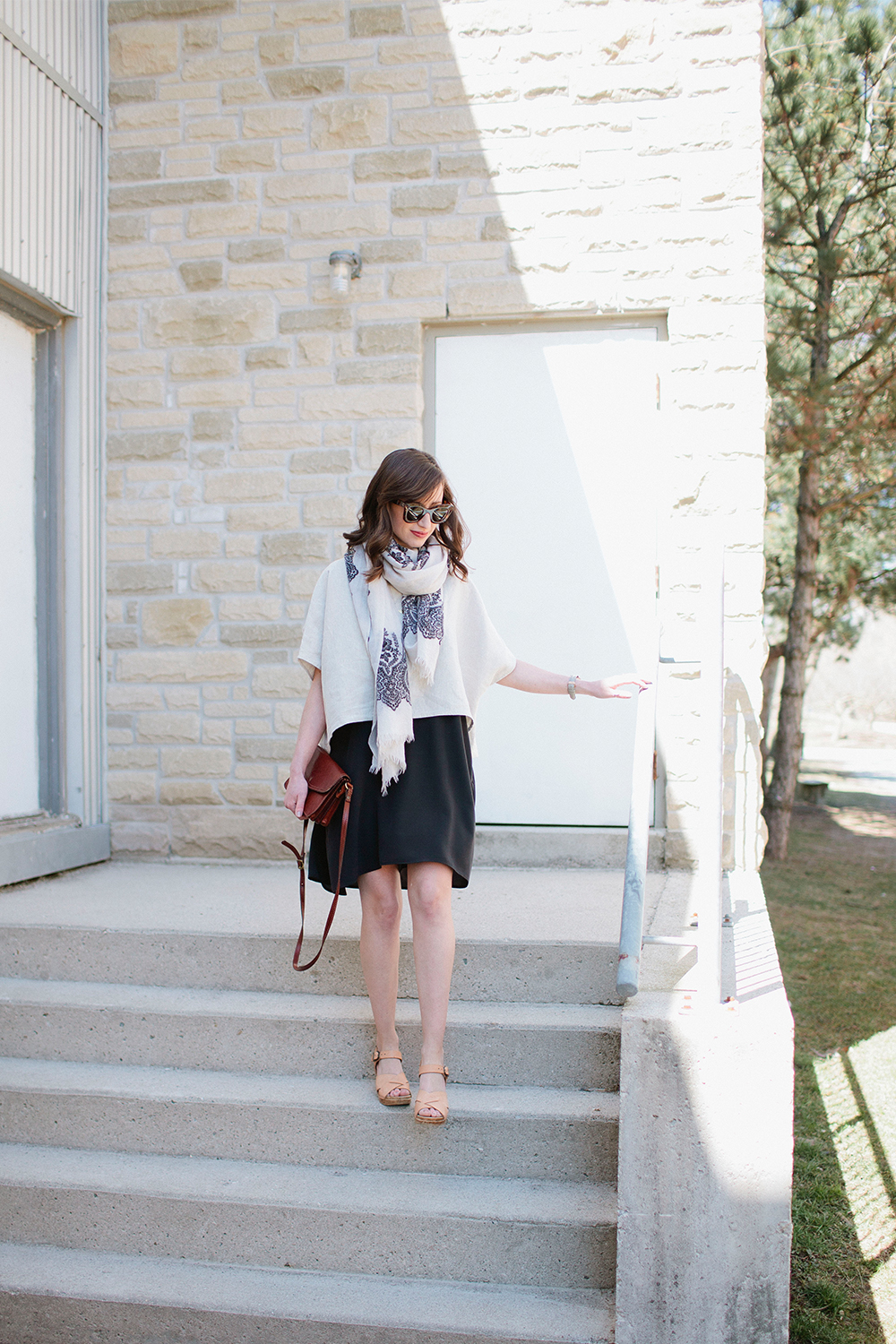 Looks like I'm already up to my old tricks again with this one! Layering loose crop tops over simple dresses is one of my Spring obsessions this year (see a recent look here). It's just such an easy way to make a light-weight little dress a bit more appropriate for early Spring weather and it gives a whole new life to both items. As I've mentioned before I love the way a cropped top gives the illusion of longer legs and by hitting at the natural waist it helps a loose look feel less baggy and more intentionally oversized (but that might just be me). Ultimately, what makes this top and dress combo work so well is the way they both have a slightly curved hi-lo hem detail so they mimmic each other in a subtle way.
Since I've already made my case for both the Linn tee and the Silk Tank dress I thought I'd take a moment today to mention a few of my favourite accessories and why they are each so essential to a functional lean closet.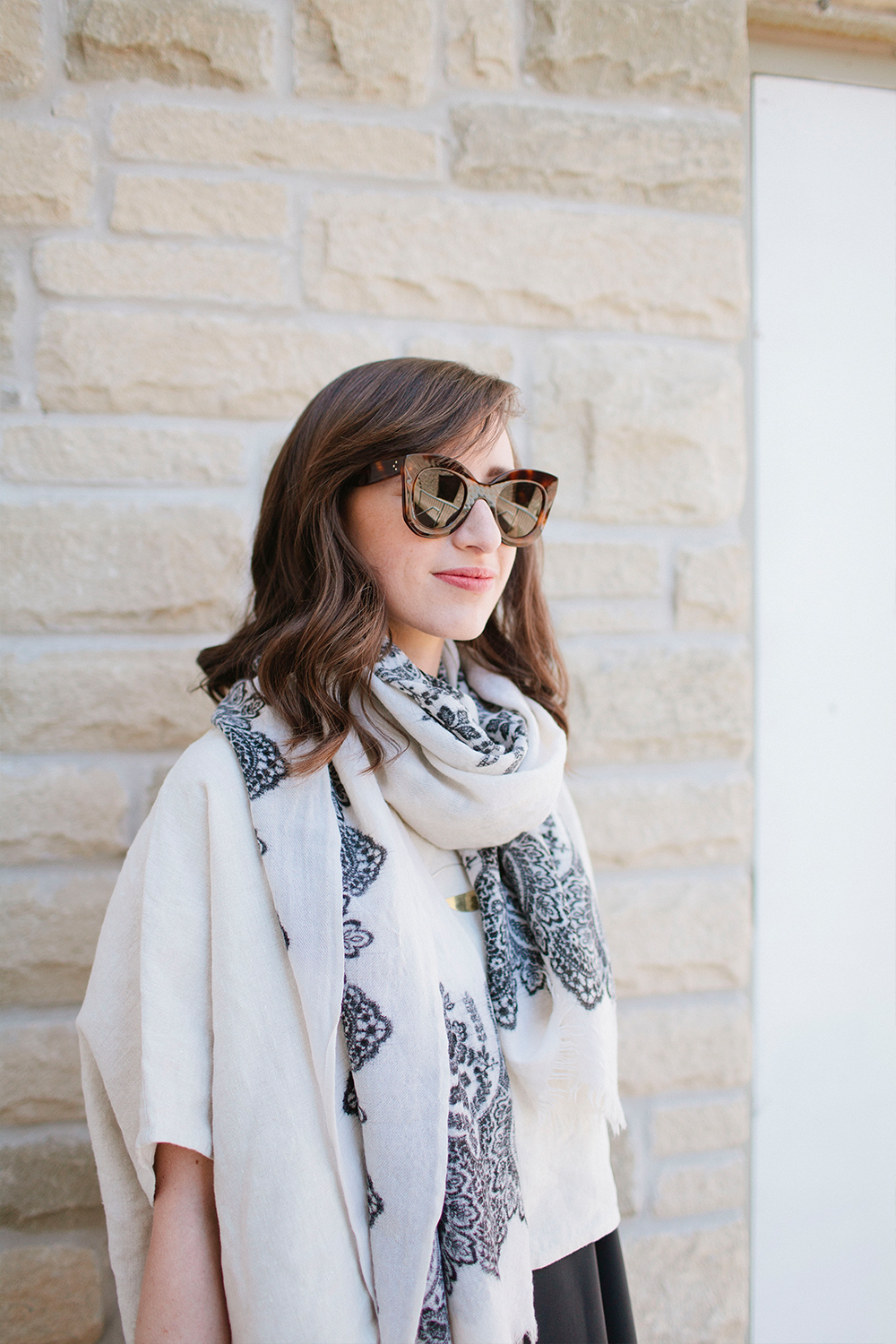 1 | Big Neutral Scarf
This scarf is one of the most used accessories I've ever had. It's some kind of cotton/linen/merino blend and has an incredible way of being cozy warm when it's winter and just enough of a lightweight layer when it's spring. It's already seen the blog tons of times but the classic black and white paisley print is timeless and totally versatile with everything in my closet. I've had this one since university, which was over 6 years ago now, gah! It was a splurge when I bought it but it's been worth every penny. I wash it once a season to keep it fresh and it seems to just keep getting better with age. Here are a few responsibly made options that are very similar:
---

---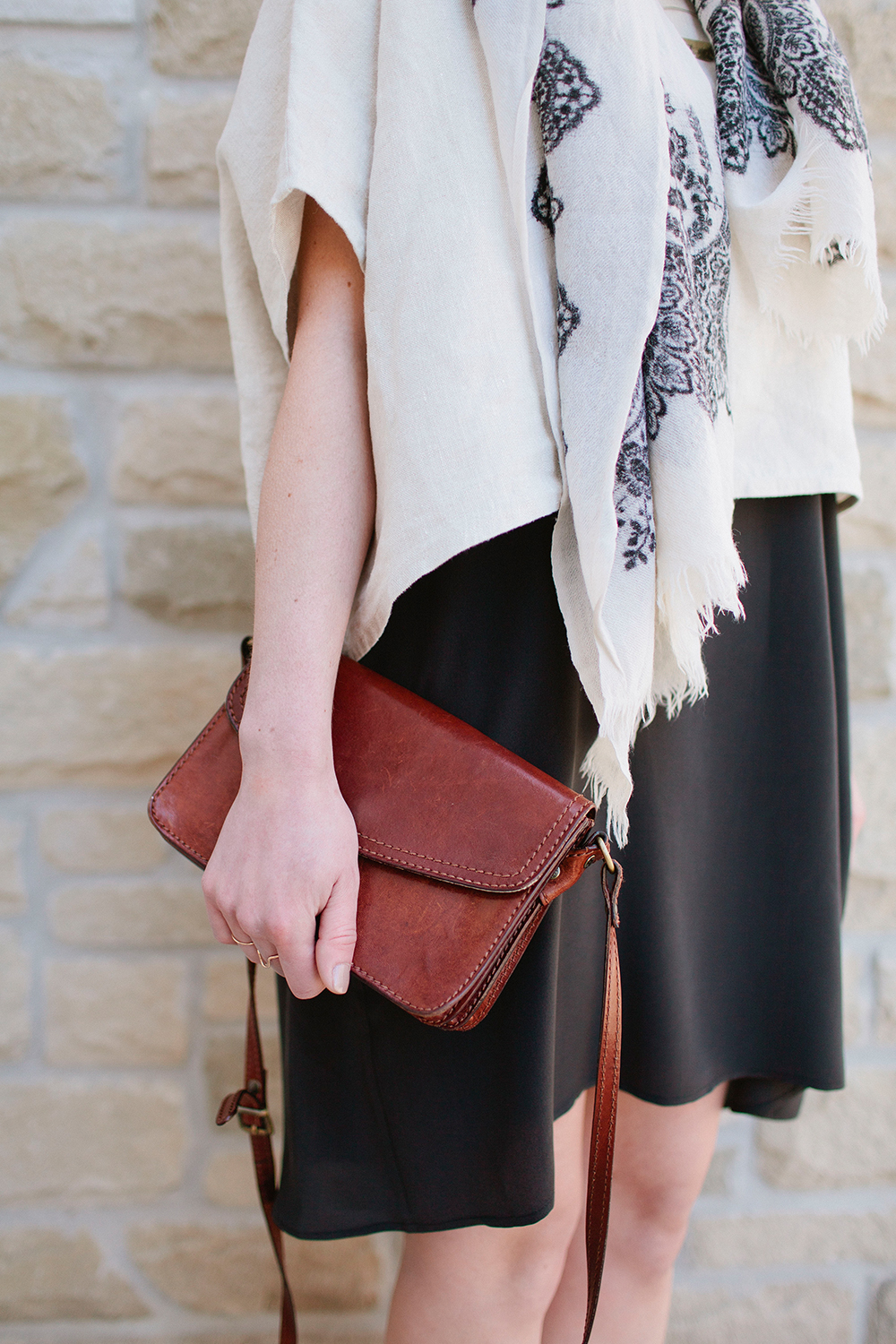 2 | Brown Cross-Body 
Sorry if you're sick of seeing this little oxblood cross body bag all the time but I'm afraid that won't be changing anytime soon. I fell in love with this bag the moment I saw it on the lovely Millay Vintage shop a couple years ago (Mary finds the most incredible vintage gems). It's an Italian made vintage leather satchel from the 1960s and I just love it so much. It adds the perfect touch of warmth and colour to any look and goes well with all my earth tones and neutrals alike. It has three interior sections so all my stuff stays organized and the long strap makes it perfect for throwing over my shoulder with ease. I've looked everywhere for an exact replica but it seems to be one of a kind. Here are a few very similar options that I love:
---

---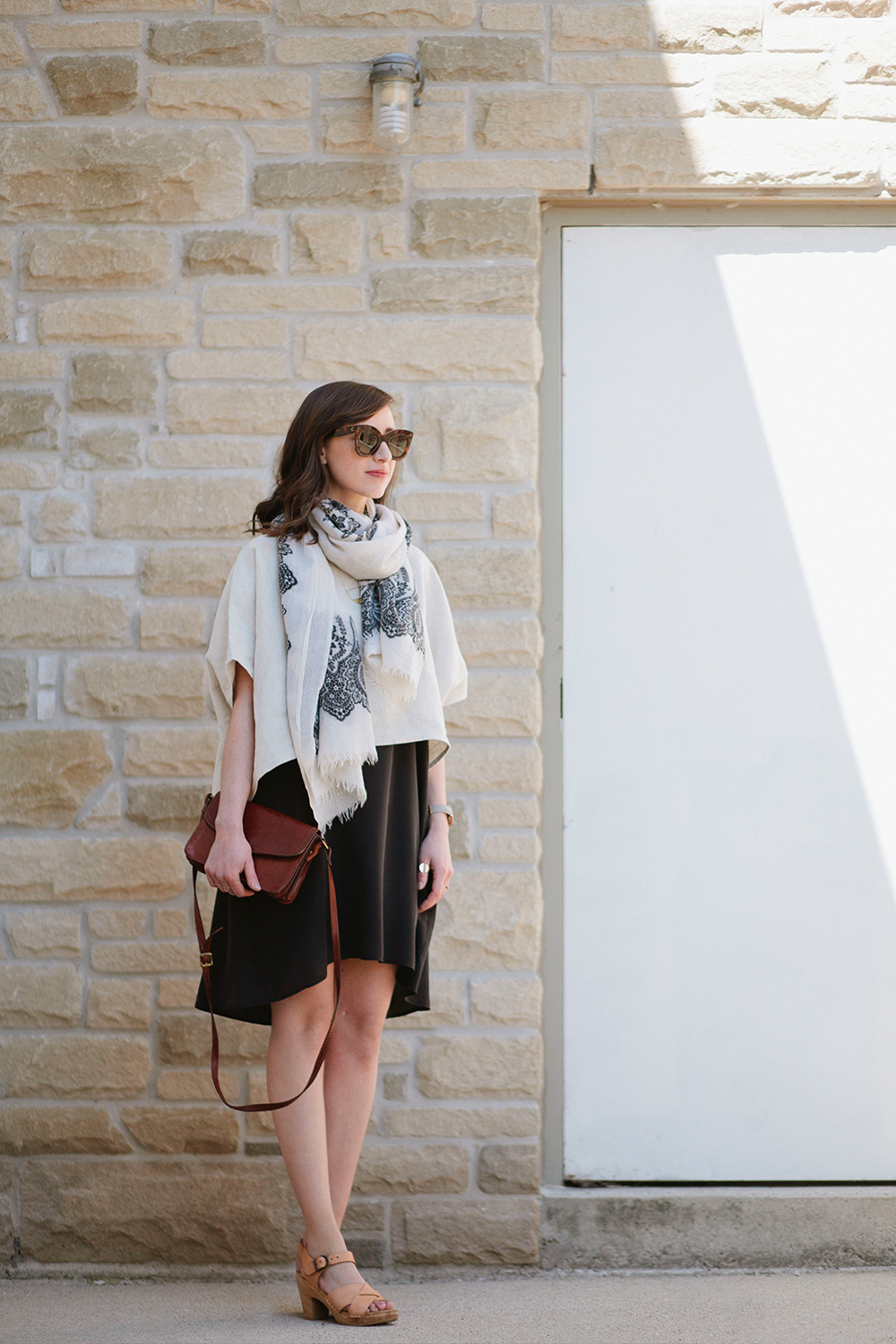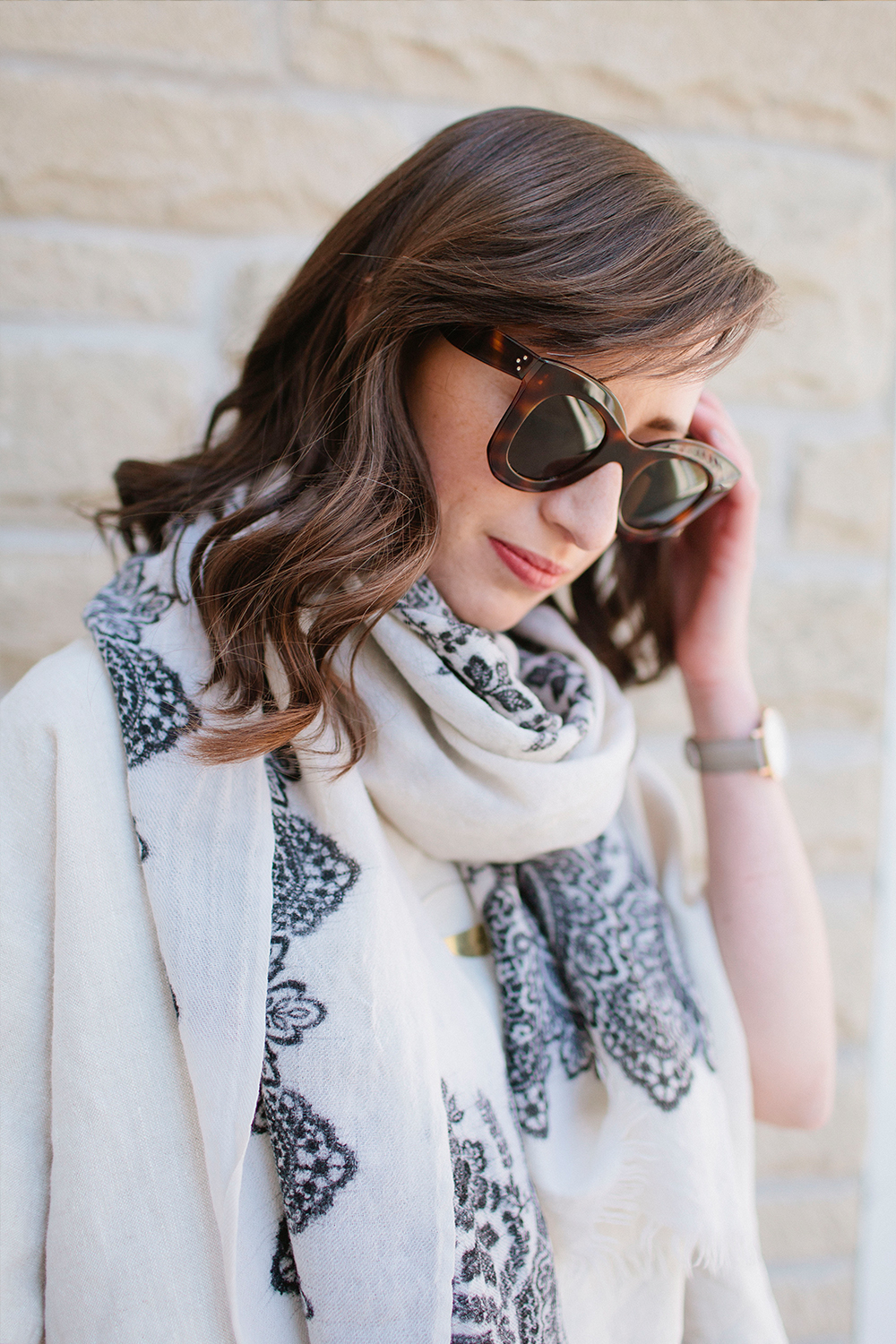 3 | Classic Sunglasses
Now I'm pretty sure we can all agree that a pair of classic sunglasses is a lean closet must-have, right? I was lucky enough to land these Celine Marta beauties through a collab but they were already on my wish list for sure. They're quite a statement and take up half my face but that's sort of why they're great, especially since my style is fairly minimalistic (and I hate doing eye make-up). They're so comfortable and I often forget I'm even wearing them, until I can't see what I'm doing and wonder why I need to turn the lights on. A great pair of shades can make all the difference to a simple look, plus they instantly add a little boost of confidence to the wearer. And you know that when you feel good, you look good! I used to buy cheap sunnies all the time and subsequently leave them somewhere so I worried I'd loose these but because I actually care about them I'm pretty good about keeping tabs on them at all times (famous last words!). Here are a few great classic options:
---

---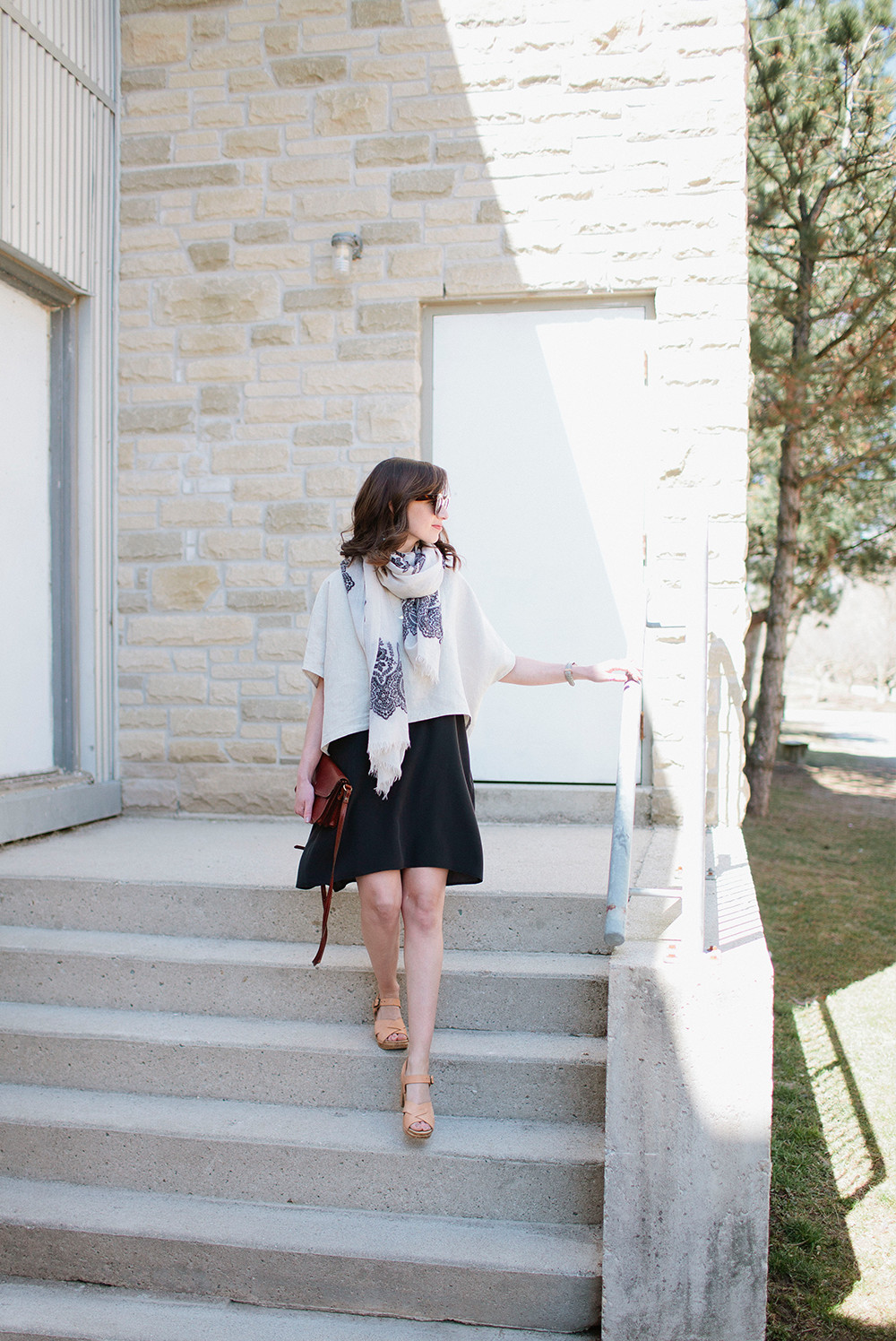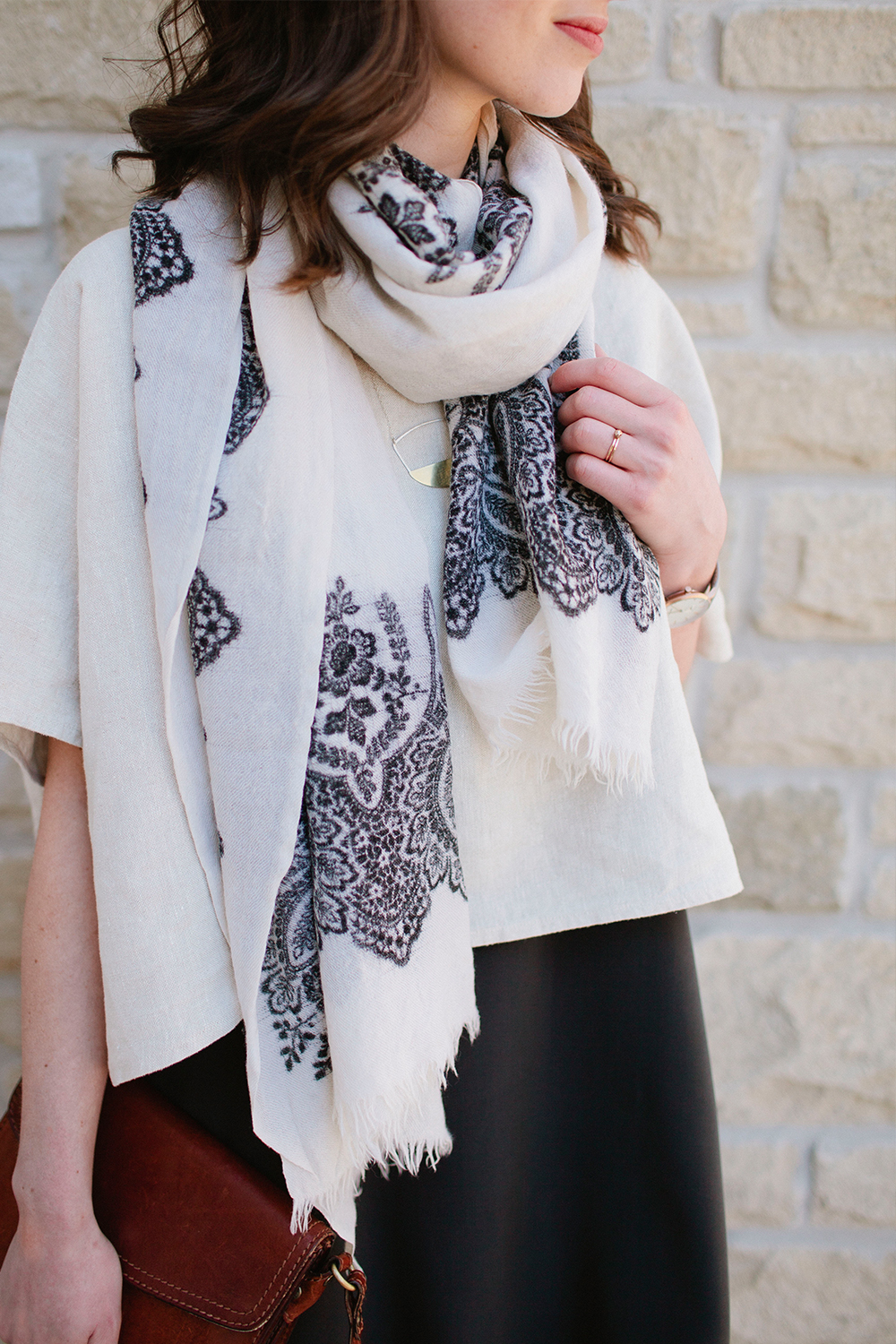 Thanks so much for joining me this weekend! It's been so fun I might have to keep up this whole weekend posting thing. Tomorrow I'm sharing a sneak peek at a really exciting project that will be launching in May. Enjoy the rest of your Sunday! 
---
Scarf (old) Club Monaco (similar even better option) | Linn Tee c/o Elizabeth Suzann | Silk Tank Dress Everlane | Bag vintage from Millay Vintage (very similar here and here) | Clogs custom No.6 (very similar) | Sunglasses Celine c/o Smart Buy Glasses | Similar Watch by Cluse | Necklace c/o CLAUS
---

---
Photography by Jacklyn Barber.