I hope you've had a great first week of June! We've been lucky to have some of the nicest spring weather here in Guelph. Lots of sun, a few clouds, double digit temps and even the rain storms have been super considerate, stopping by in the night and disappearing by morning. The garden is growing like mad and every bush, tree and stalk seems to expand by the hour. It's safe to say I'm into really it!
I'm also still very much into the #June30x30 challenge that I'm doing with my lean closet ladies Andrea (Seasons + Salt) and Paige (Style This Life). This simple style experiment has already made a huge difference in my morning routine by eliminating one of the first decisions I usually have to spend time on, which is what to wear. Because I shoot my outfits for the blog ahead of time, I have to plan what I'm going to wear for the week ahead, which means every day I wake up and already know what to reach for. Even though it might be a miniscule difference, I know I hit my to-do list every morning feeling a little fresher and a little sharper for having saved my energy from that one task.
Not to mention that, except for during the 10×10 Challenge, I've never felt this put-together for so many days in a row! Tomorrow I'll plan my looks for next week, shoot them and reboot this positive daily style cycle. Of course, time will tell if this attitude persists throughout the next 3 weeks!
But before I sign off, let's have a look at what I did decide to wear this week. 
---
LOOK 5 – MONDAY JUNE 5
---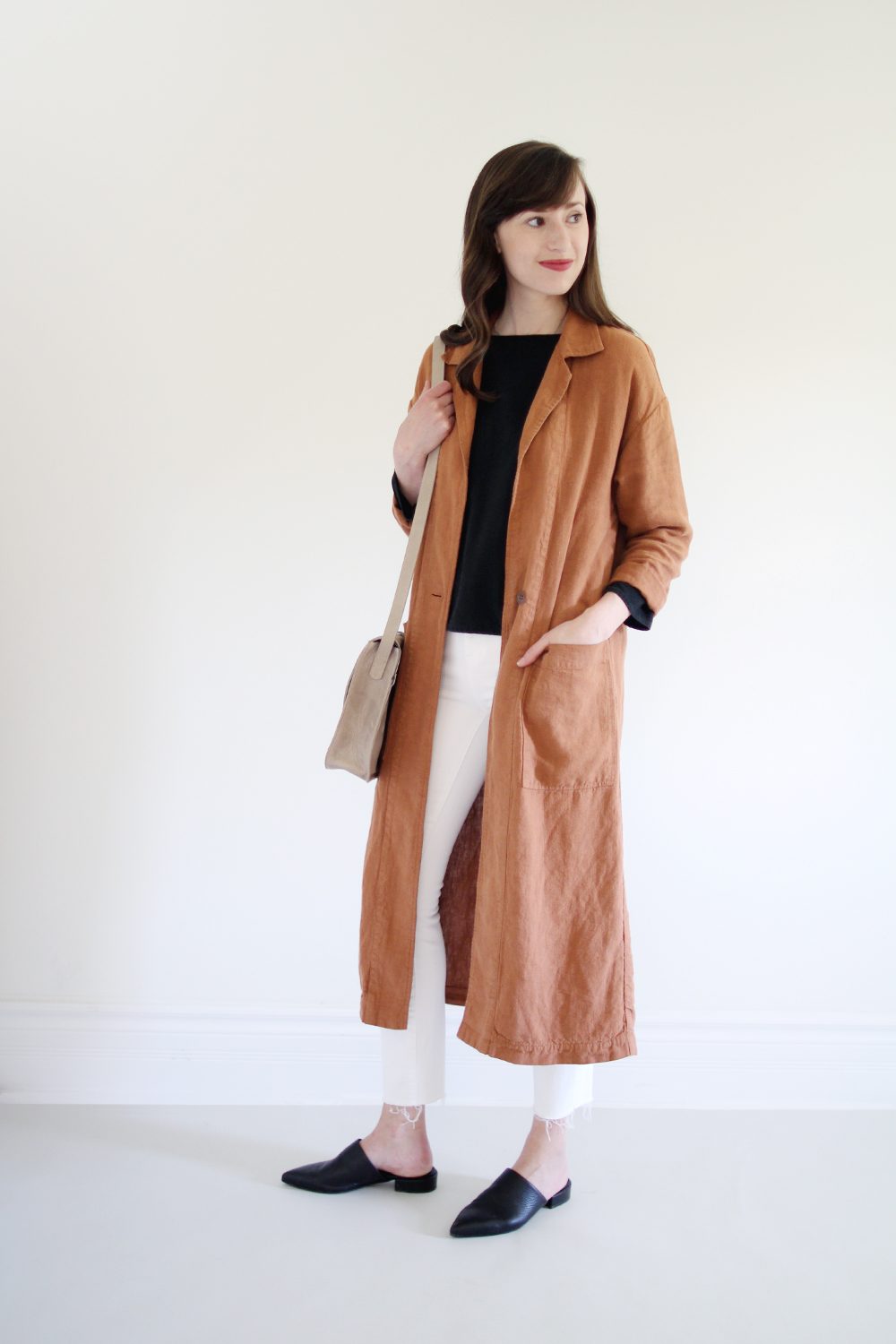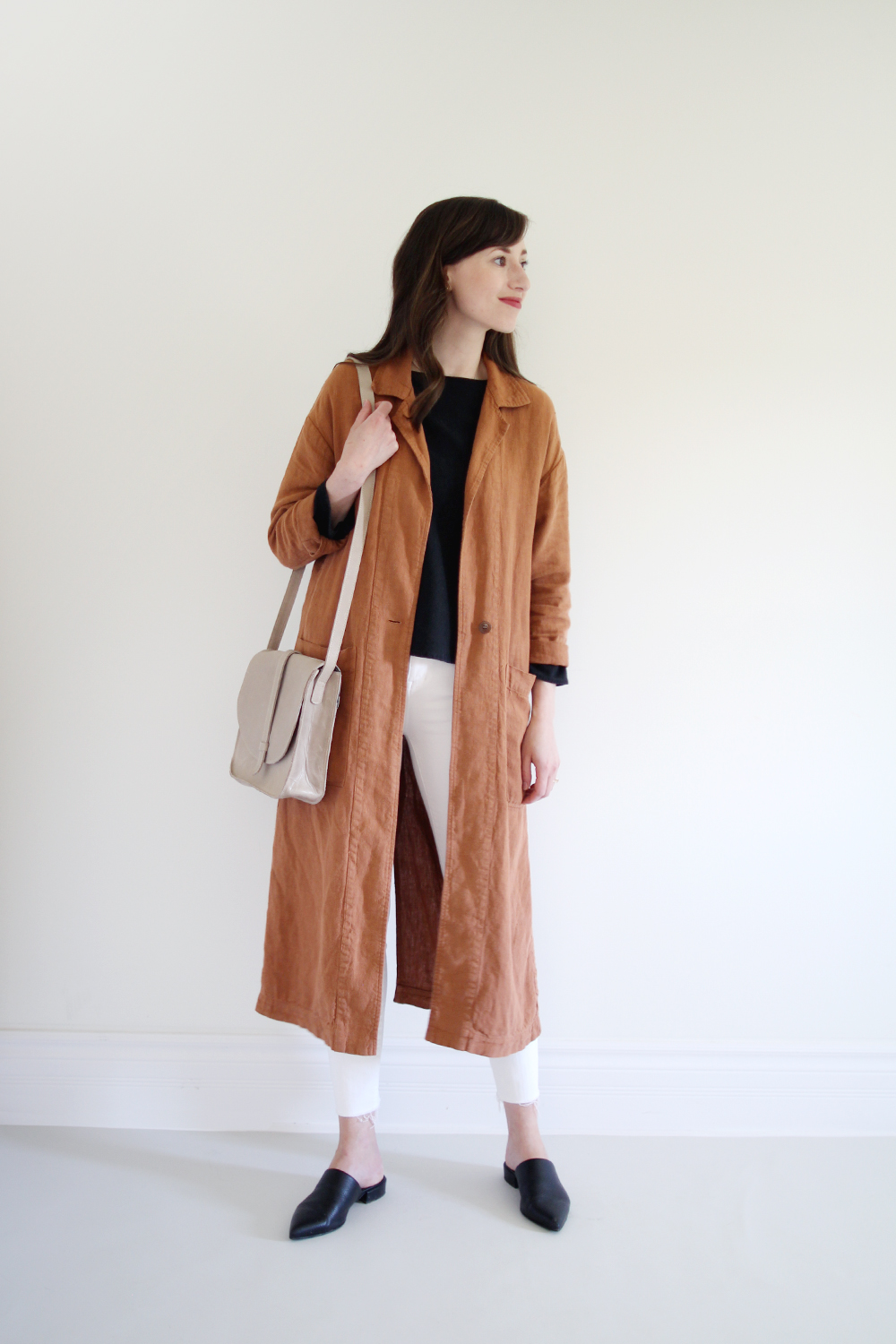 ---
TEMPERATURE – High of 17º C and cloudy. This coat was the perfect topper for the post rain chill in the air all day.
ACTIVITIES – I spent the day working in the office at home but got out for a couple of nice long walks with Dobby.
ITEM PERFORMANCE – I was super comfy all day. These white skinnies have long been one of the comfiest pairs in my pant collection and have miraculously managed to stay white for a couple of years now. Any time I've spilled on them I simply use Resolve stain remover and they're good as new! I'm also loving the raw edge on them since I snipped the hem and the slightly cropped length feels more contemporary.
As usual my black T-Top was the perfect soft and cozy layer and the shape is still a personal favourite. I love that it can front tuck easily but looks great left out too. Topping this simple base with a bold colour and adding a sharp contemporary shoe make this look great for any casual workplace or activity I might have during the week.
STYLE TIPS: 
Try adding a statement coat to a simple black and white base. It's guaranteed to take the look to a whole new level!
If you're not loving a pair of skinnies try chopping off the hem for a cropped length and wash them to get a bit of fraying for a vintage vibe. Chances are you'll want to wear them way more!
Rolling the cuffs on my coats to show the sleeves of my base top is one of my go-to styling moves. It adds a subtle hint of interest and creates a more dynamic layering story.
I love the colour palette in this look but my favourite pop of colour is actually the black top and pointed mules. This subtle repetition grounds the look and gives it a simple but significant presence. When in doubt, repeat black through different elements!
---
---
LOOK 6 – TUESDAY JUNE 6
---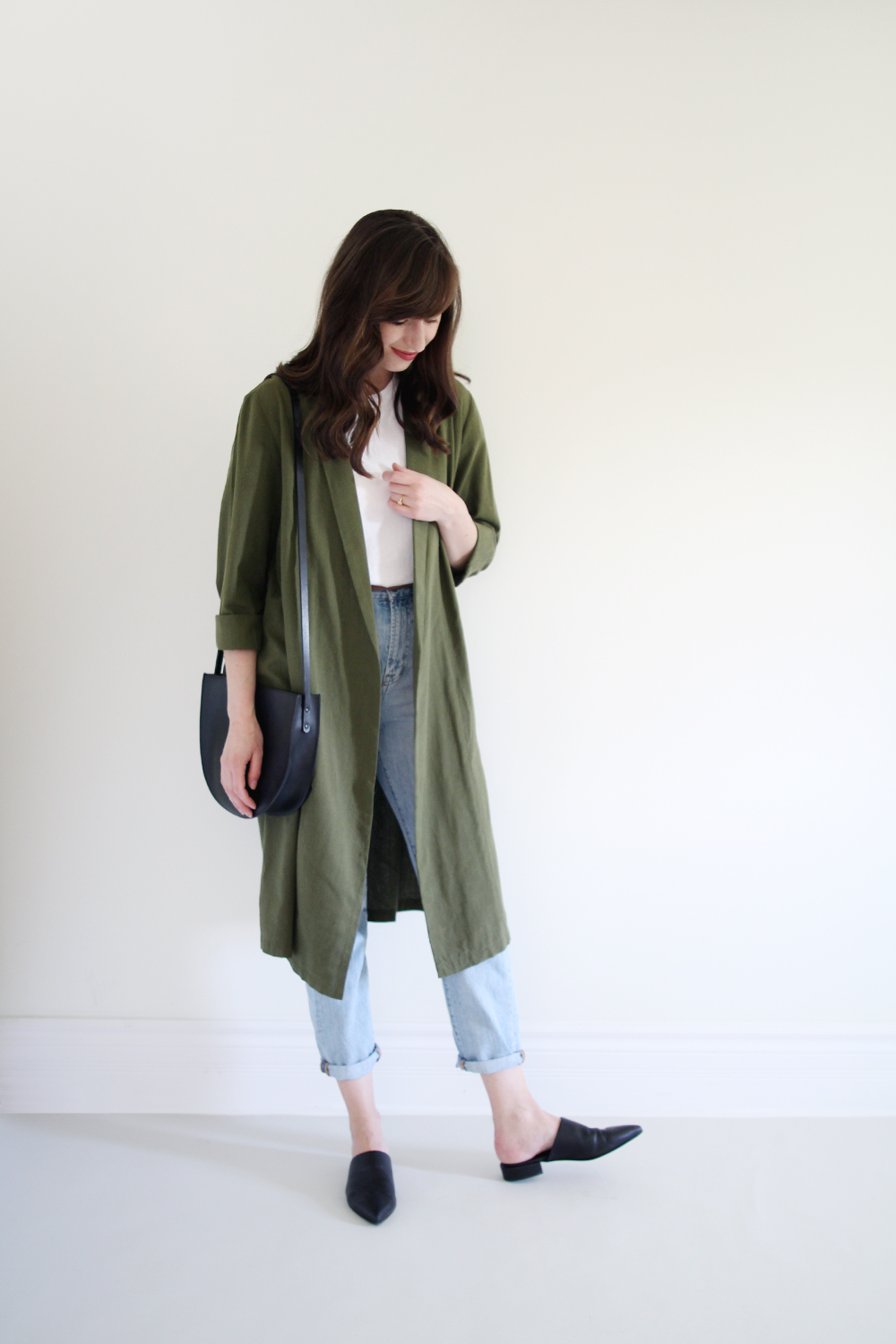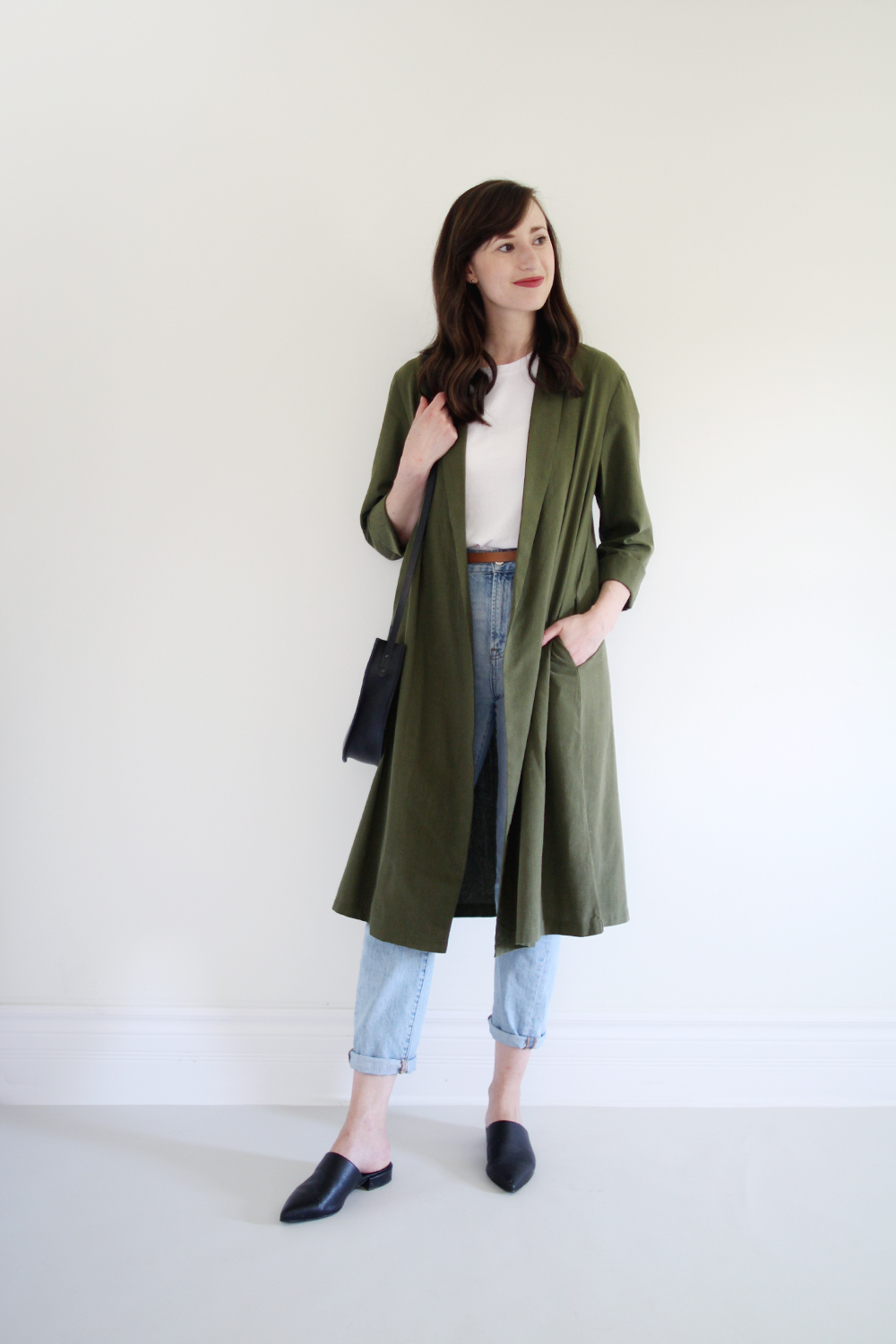 ---
TEMPERATURE – High of 17º C and cloudy. Pretty much the exact same as yesterday and this outfit isn't far off either. My spring uniform has been high-rise pants, relaxed tops, duster coats and slides with a cross body bag. Hasn't failed me yet!
ACTIVITIES – I was working in the office most of the day but then Dave and I went to pick out our wedding ring bands at ATTIC (eep!) and out for dinner to celebrate.
ITEM PERFORMANCE – It doesn't get much better than worn in jeans and a cotton tee! I added a belt and slipped on my black mules for a casual chic urban look. Then added the green duster for some interest and an easy way to stay a cozy.
I haven't talk about this tee much yet but I asked Tradlands if I could test it out and I LOVE it. It's basically like a classic favourite from fruit of the loom shirt but cut for a contemporary fit. Plus, it's a medium weight cotton, so it's thick but not too stiff and the best part about the weight is that it's not see-through at all. This tee is also perfect for tucking in because it's not super long or boxy. I'm pretty sure I'll end up with all four colours before the summer ends!
STYLE TIPS: 
You can easily add polish to a jeans and tee look with some sleek black additions like a pointed mule and a minimal bag in an interesting shape. 
Give your go-to jeans a summery vibe by rolling the hem up a couple of times for a cropped length.
Adding a belt helps give a basic look more structure and when worn on high-rise pants it draws the eye up to your natural waist which has a flattering effect. 
---
---
LOOK 7 – WEDNESDAY JUNE 7
---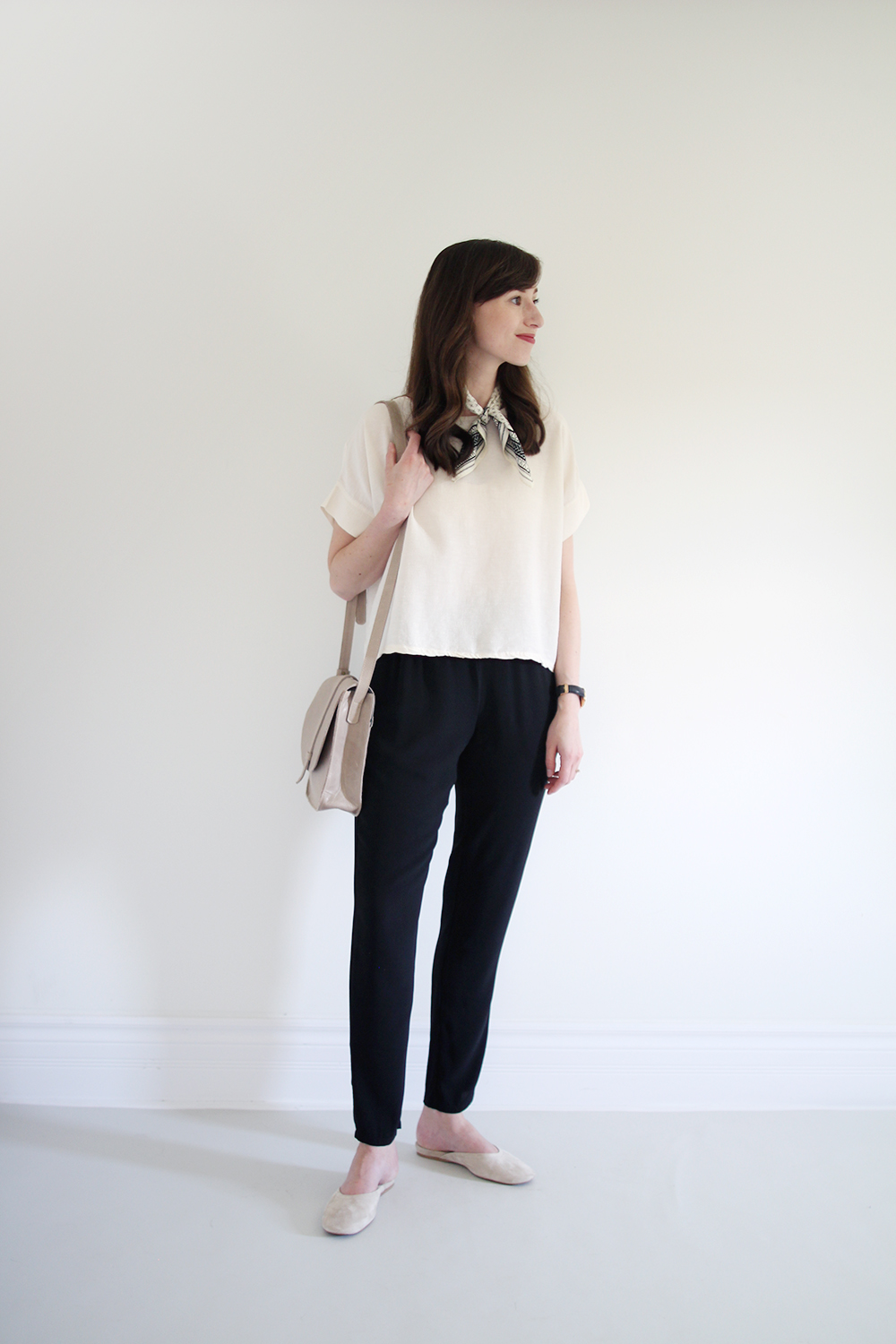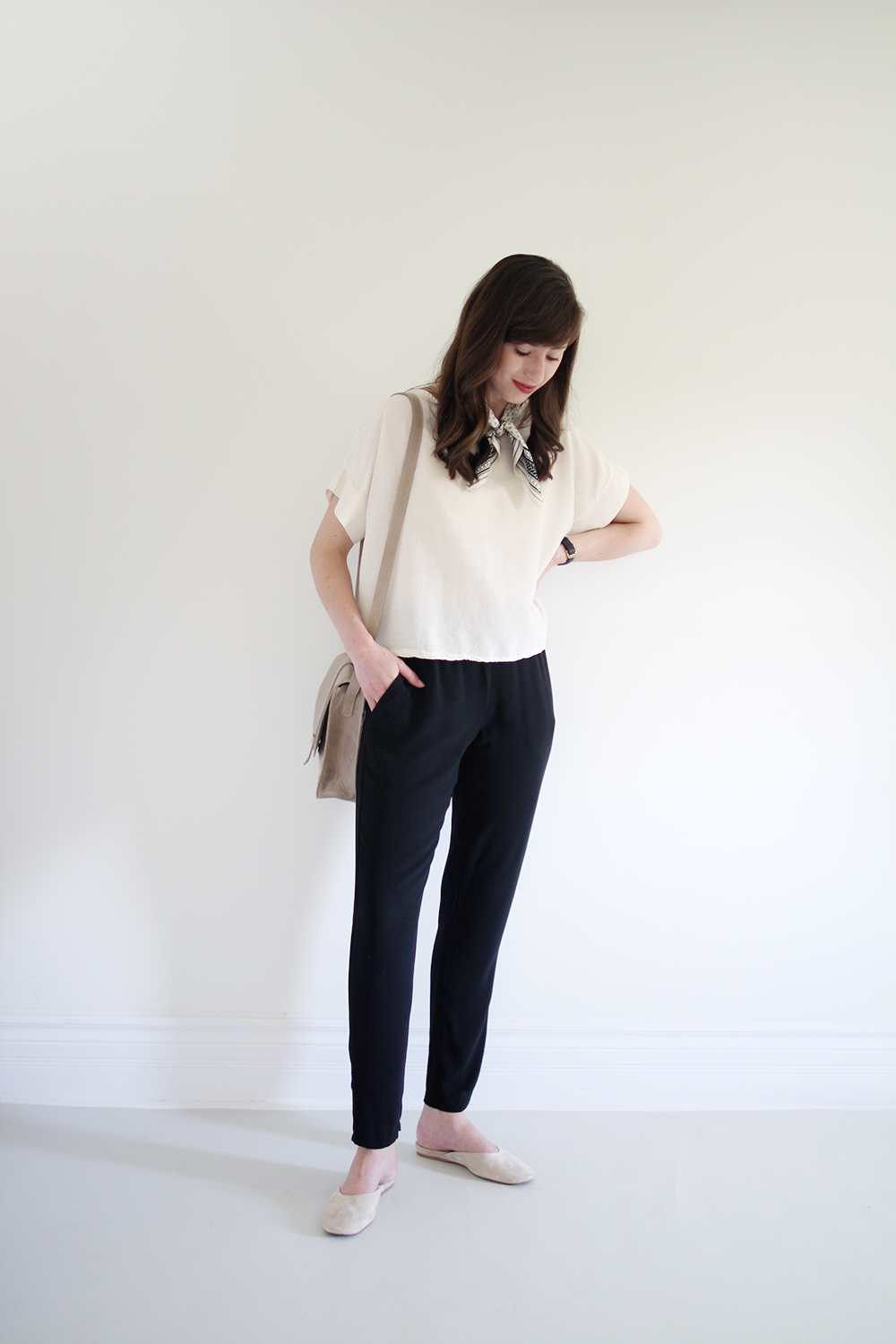 ---
TEMPERATURE – High of 22º C and sunny. This set was the perfect for the afternoon but I wore my linen blazer for the morning and out to lunch.
ACTIVITIES – I was working in the office but had a lunch meeting and went for a dinner and a drive with Dave in the evening.
ITEM PERFORMANCE – I've worn this top more times than I can count and it's always a pleasure. I bought it way back in the early Elizabeth Suzann days and it's held up great. Paired with these slouchy silk pants I basically felt like I was secretly wearing pjs! I tied on a little scarf to give it some interest and added my softest stone-grey accessories to polish it off gently. I love the colour palette and all the soft shapes and textures in this look.
I added my linen blazer for the morning, lunch and again in the eve and love how it worked with this base. I also ended up front tucking the tee for a slightly more styled result.
STYLE TIPS: 
A silk bandana is the perfect way to add interest to a look this Spring. To keep it low-key choose one with a neutral, classic pattern and pair it with a look that features the same colours. 
Pair slinky pieces like a crepe pant and a silk tee together for an easy but luxe look. 
Mimic soft shapes through soft colours in your accessories to keep an outfit feeling light. 
---
---
LOOK 8 – THURSDAY JUNE 8
---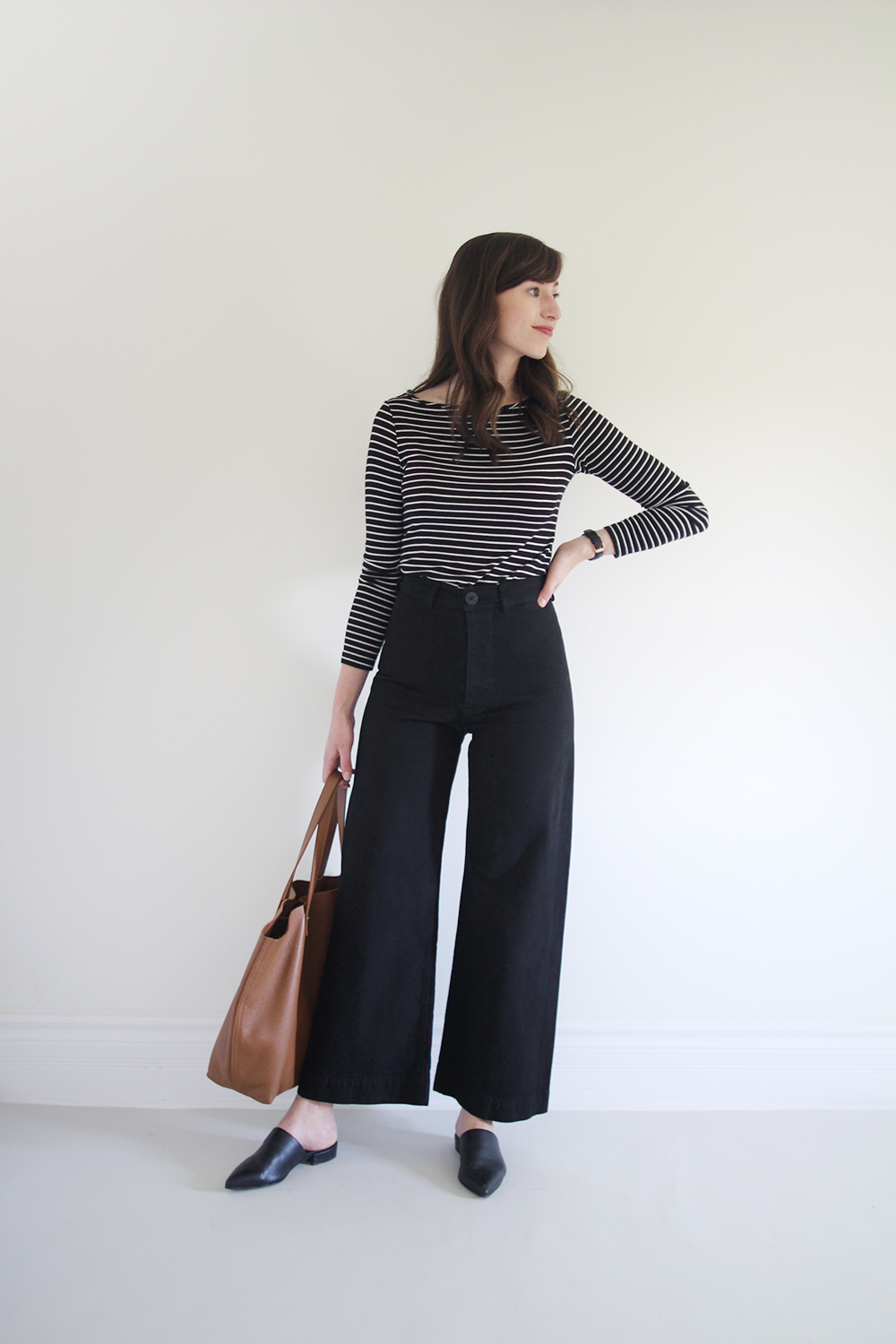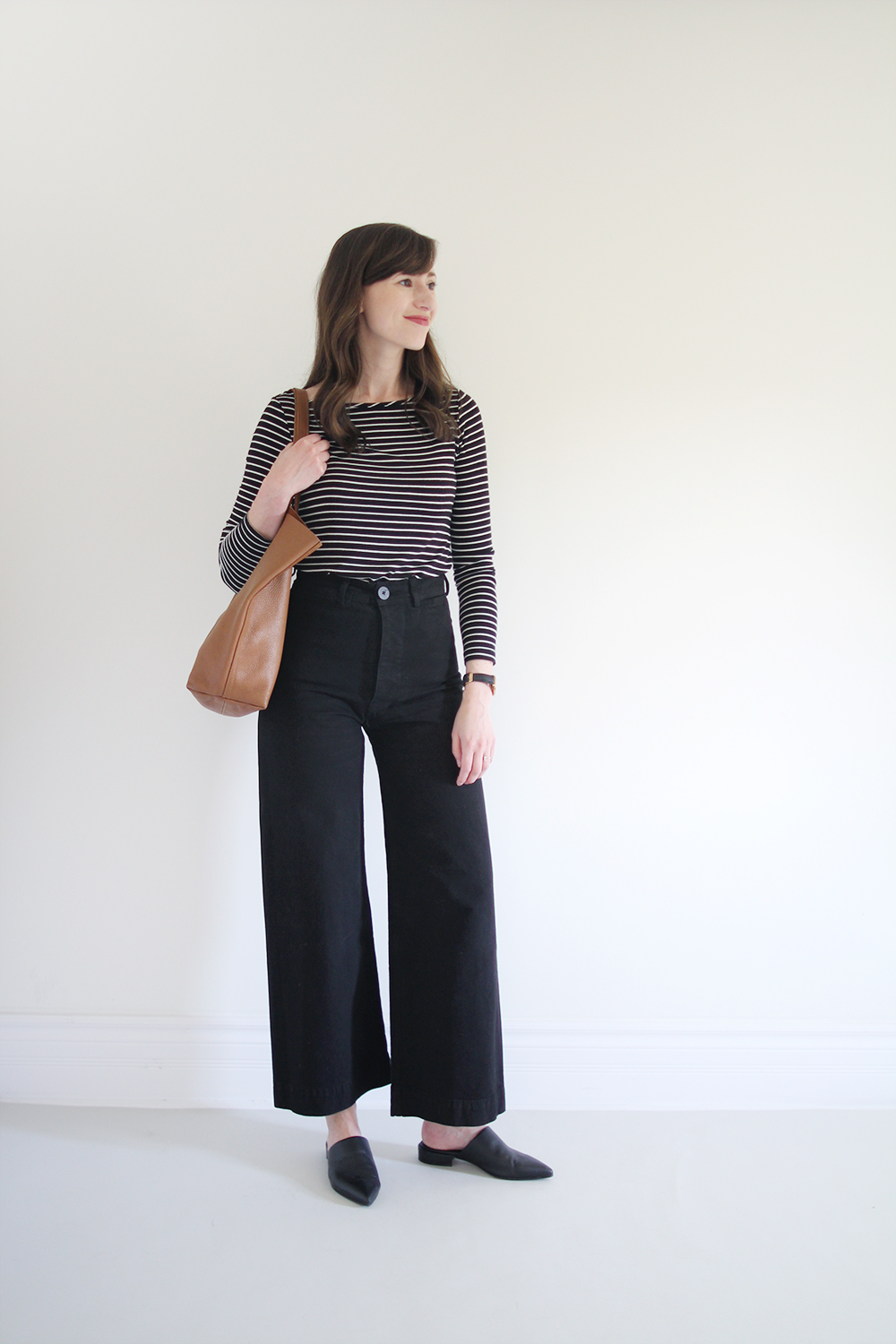 ---
TEMPERATURE – High of 22º C and sunny. This look was great in the afternoon (almost too warm!) but I topped it with my clay duster for the morning.
ACTIVITIES – I spent the day working in the office at home but got out for a couple of nice long walks with Dobby. It was very comfortable but by the end of the walk I was ready for a t-shirt and shorts!
ITEM PERFORMANCE – I've worn all these pieces many times now but never in this combination and I love it. I could wear this for any number of activities right now from casual client meetings to dinner dates, out for drinks, backyard BBQs, you name it, it works! Swap out the mules for boots and grab a duster and I'm set for Fall too but gah! let's not go there yet.
One thing I should note is that I switched my Kamm pants from a size 4 to a size 2. Reason being that the 4 fit perfect out of the box but after wearing them for several weeks, almost daily, they ended up stretching out to the point where I felt they were too loose through the hip and thigh (I could fit my whole arm down the side!). Plus, they ended up getting a spontaneous tear near the button fly, which was a fabric flaw so I had an opportunity to switch them out. After a few wears, this pair is fitting more like the size 4 out of the box and I didn't need them taken in at the waist which is great. I don't know if it's the black canvas specifically but my salt white pair didn't stretch this much so guess it just depends!
If you have a pair of Kamms, how have you found them after many wears?
STYLE TIPS: 
Add a pop of cognac or caramel to a black and white look to soften things up but still keep it sophisticated.
Wide, cropped pants are best paired with a shoe that flatters the ankle. I love how Kamm pants look with a mule or slide in the Spring and Summer and either a low ankle boot like a Mars or a tall slim ankle boot like a Chelsea in the Fall and Winter. 
A classic black and white stripe is hard to find but once you do you'll never want to let it go. IMHO it's the most timeless, ageless and flattering pattern out there! 
---
---
1 WEEK DOWN, 3 TO GO!
ARE YOU TRYING OUT THE #JUNE30x30? IF SO, HOW WAS YOUR FIRST WEEK?
---
WISHING EVERYONE A WONDERFUL WEEKEND!
SEE YOU ON MONDAY WITH LOOKS 9, 10 + 11!
---
This post is not sponsored but contains affiliate links. When you shop via the links above I may make a small commission from a sale. This income helps limit the amount of sponsored content that appears on Style Bee. Thanks a lot for your support!