Fall in Guelph has been anything but predictable this year. One day it's hot and I'm busting out all my linen favourites. Then the next day it's chilly and I'm reaching for boots, jeans and a beanie. It's made outfit planning basically impossible but it's been fun to mix things up and, well, you know how much I love to mix things up, especially for Fall!
So naturally, when my friend Kelsey, a fellow responsible style enthusiast and founder of Bare Knitwear, asked if I'd be interested in styling the Sweater Coat from the Classics Collection, I was ALL over it. If you're not familiar with the brand, Bare Knitwear is a Canadian line of impeccably designed, sustainably sourced and ethically produced cold weather essentials. I've been a fan for years now and both pieces I've added, the classic beanie and now the sweater coat, have proven instant closet heroes. They're investment pieces for sure but they're made by the best and intended to last. That's partly why there is only one collection a year and there are simply 6 styles in the whole line. It's about slowly adding pieces you love and plan to live in. Bare Knitwear also supports the employment of 150 female artisans in Peru each year, keeping traditional Andean techniques in use and giving skilled craftswomen an opportunity to earn a livelihood. All pretty awesome in my books!
For today's post (produced in collaboration with Bare Knitwear) I wanted to share the work Kelsey is doing in a way that applies to everyday life for me. Which is through highly versatile pieces that are responsibly made and practical for everyday wear yet still embody the style and person I aim to present to the world. The sweater coat fits the bill perfectly in that it's a simple, statement piece that makes an outfit, without overdoing it. At the same time it's warm (but breathable), functional (hey pockets!), washable (yeah cotton!) and totally timeless in its design. So here's a look at two ways I'm styling this piece these days!
---
LOOK 1
---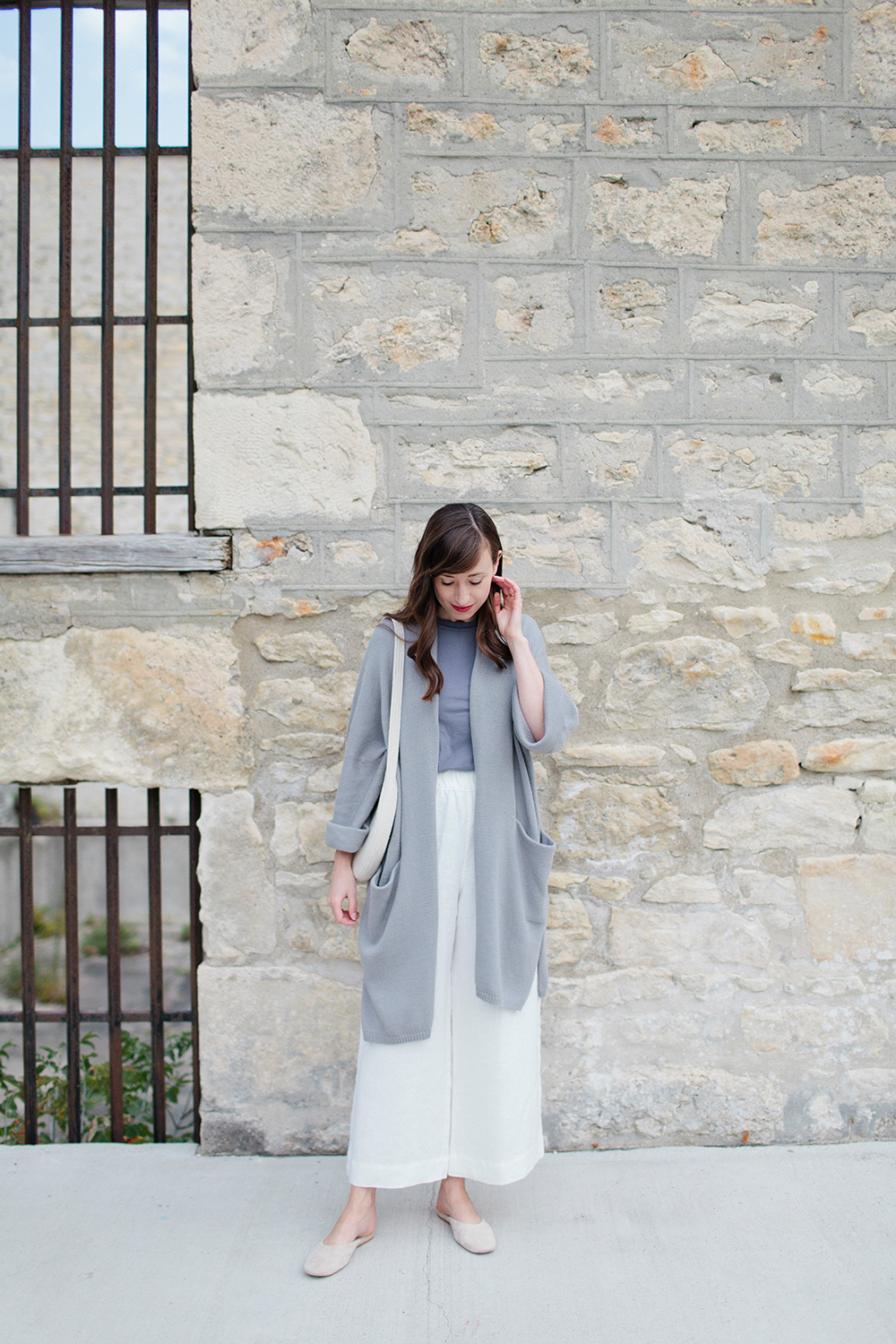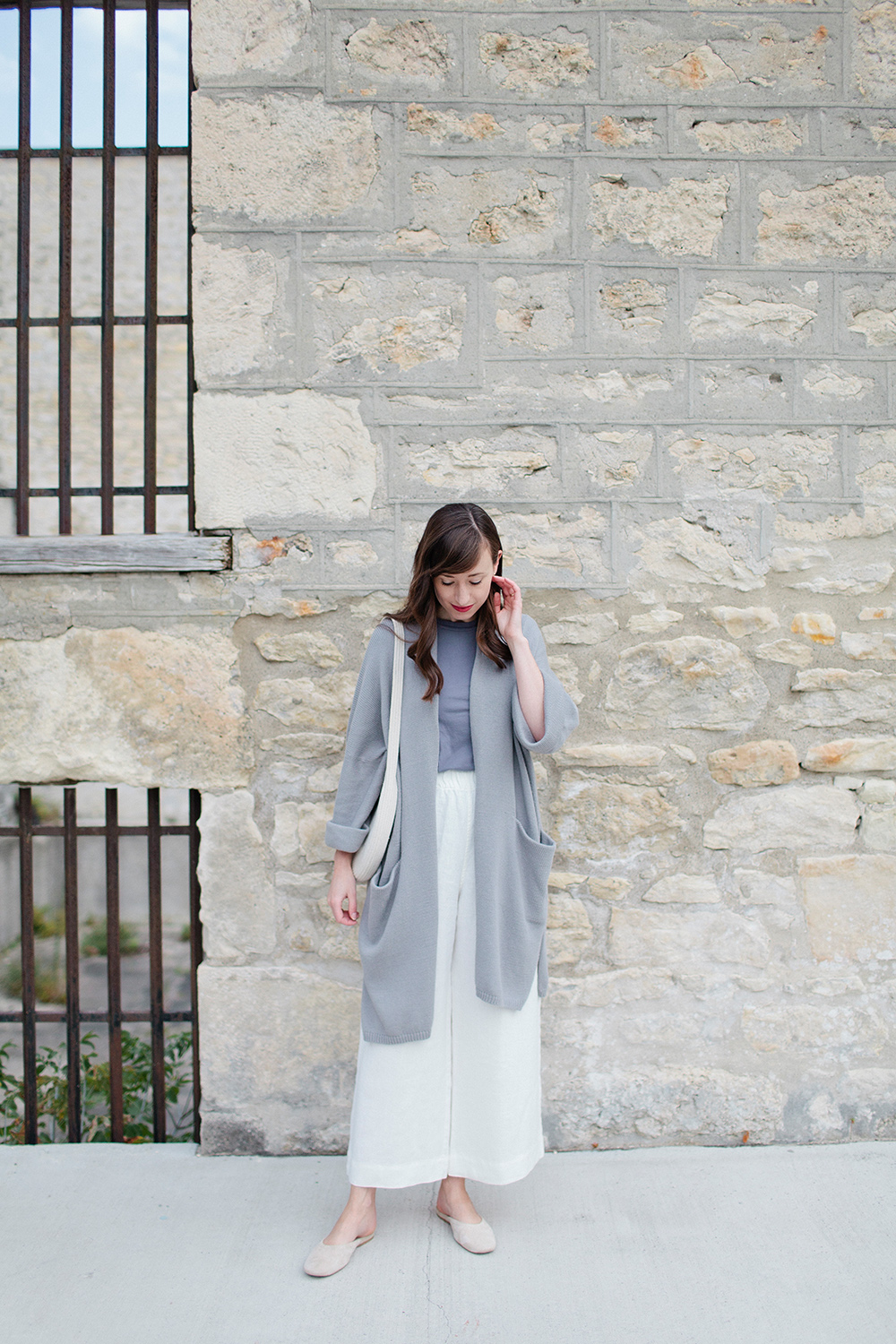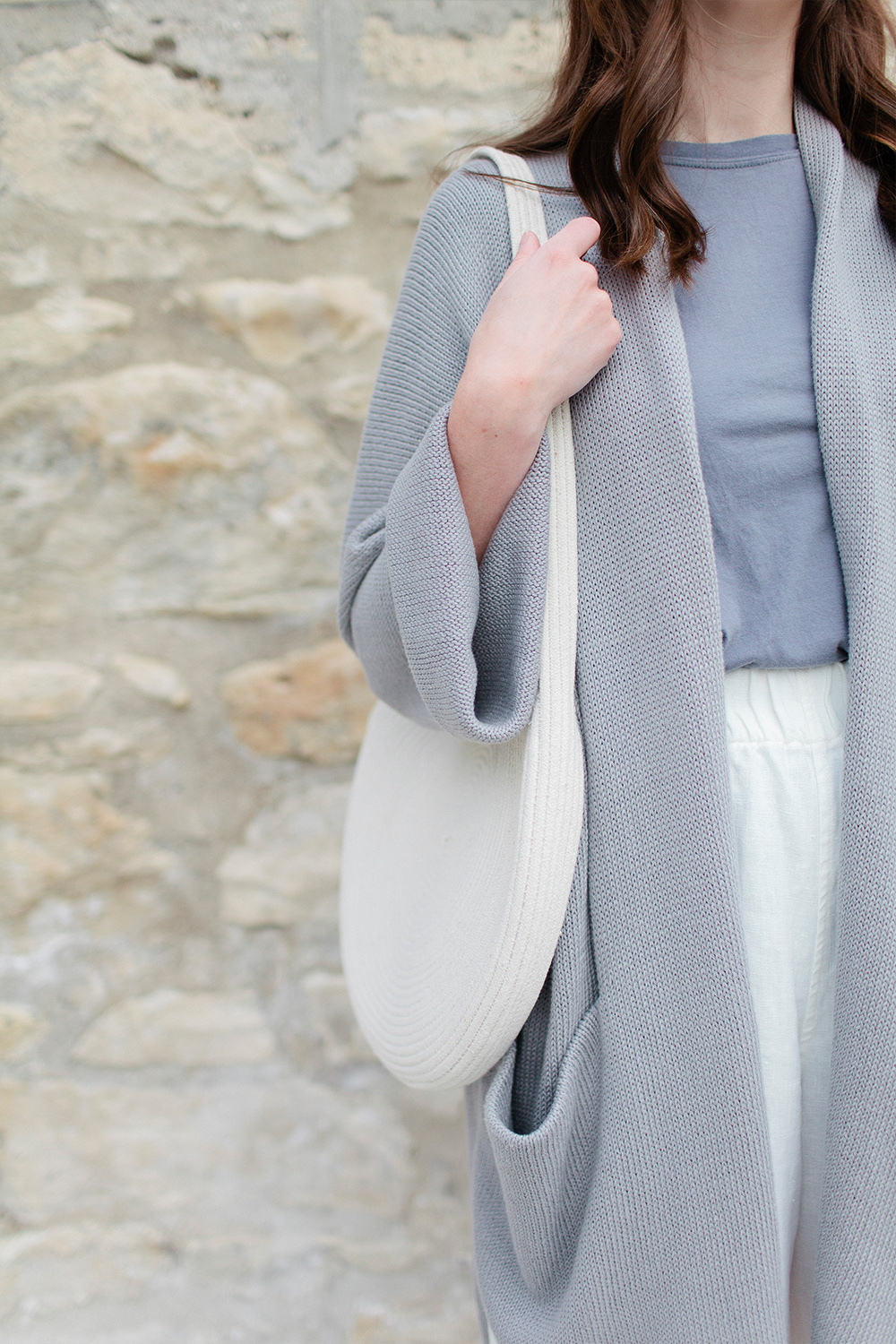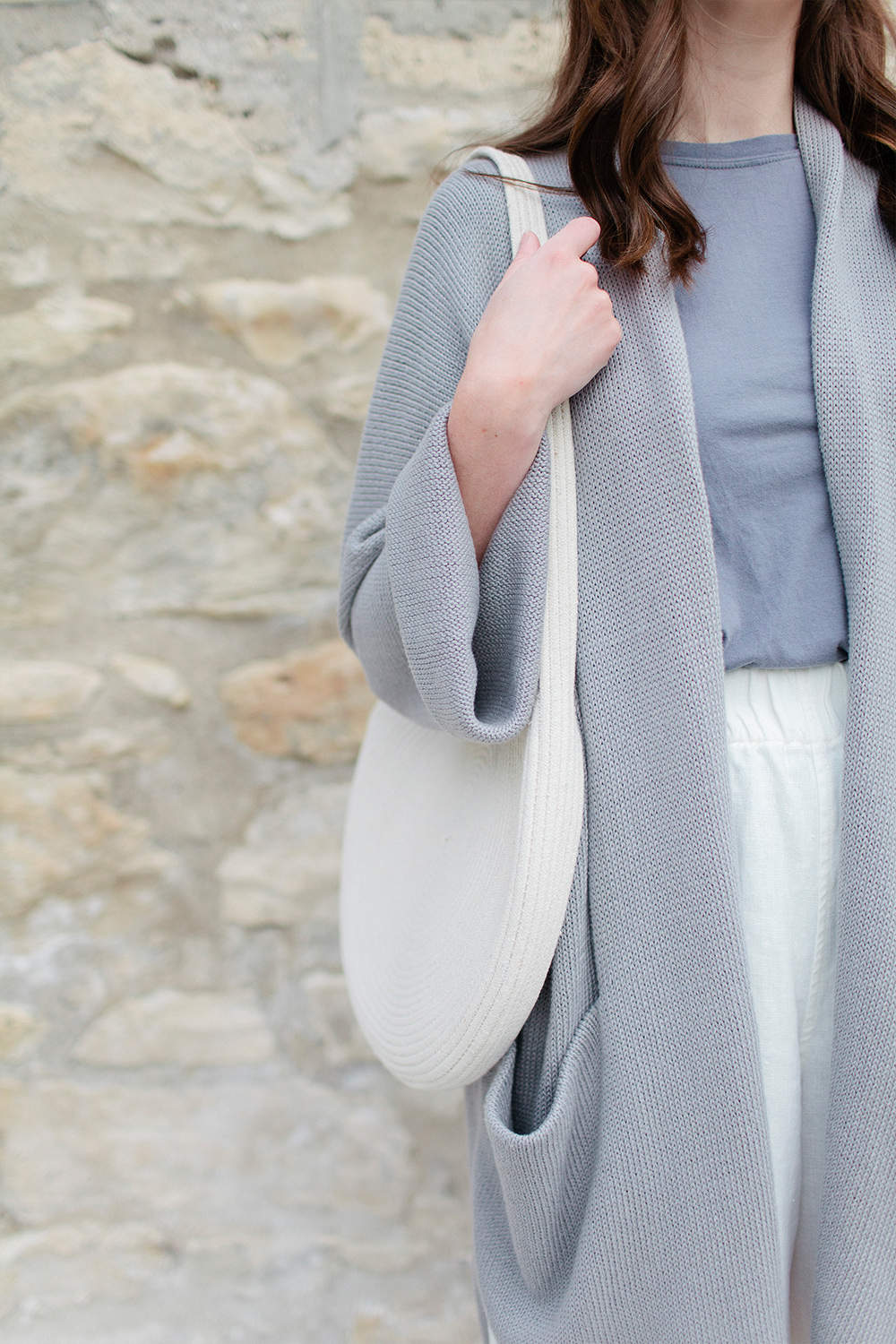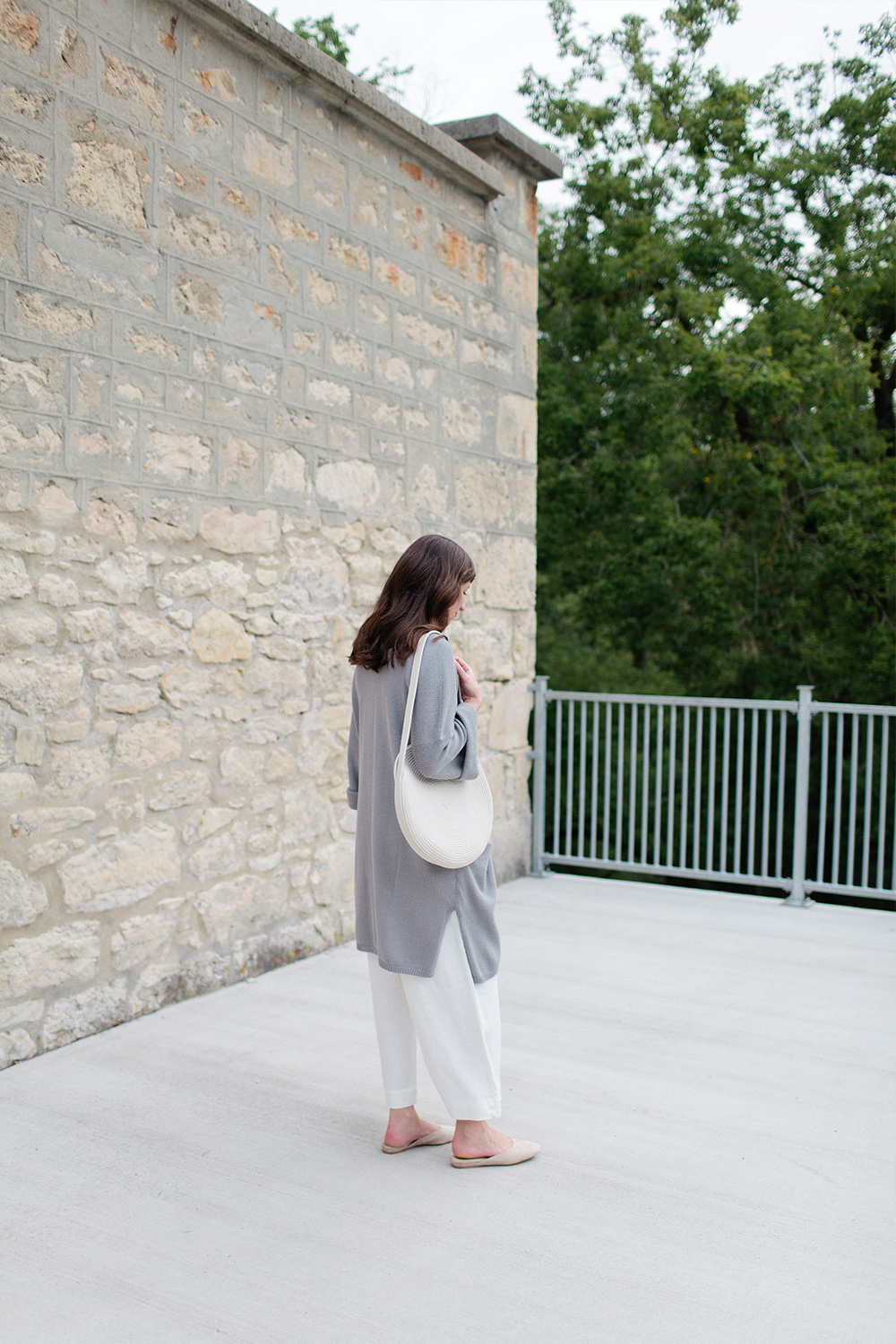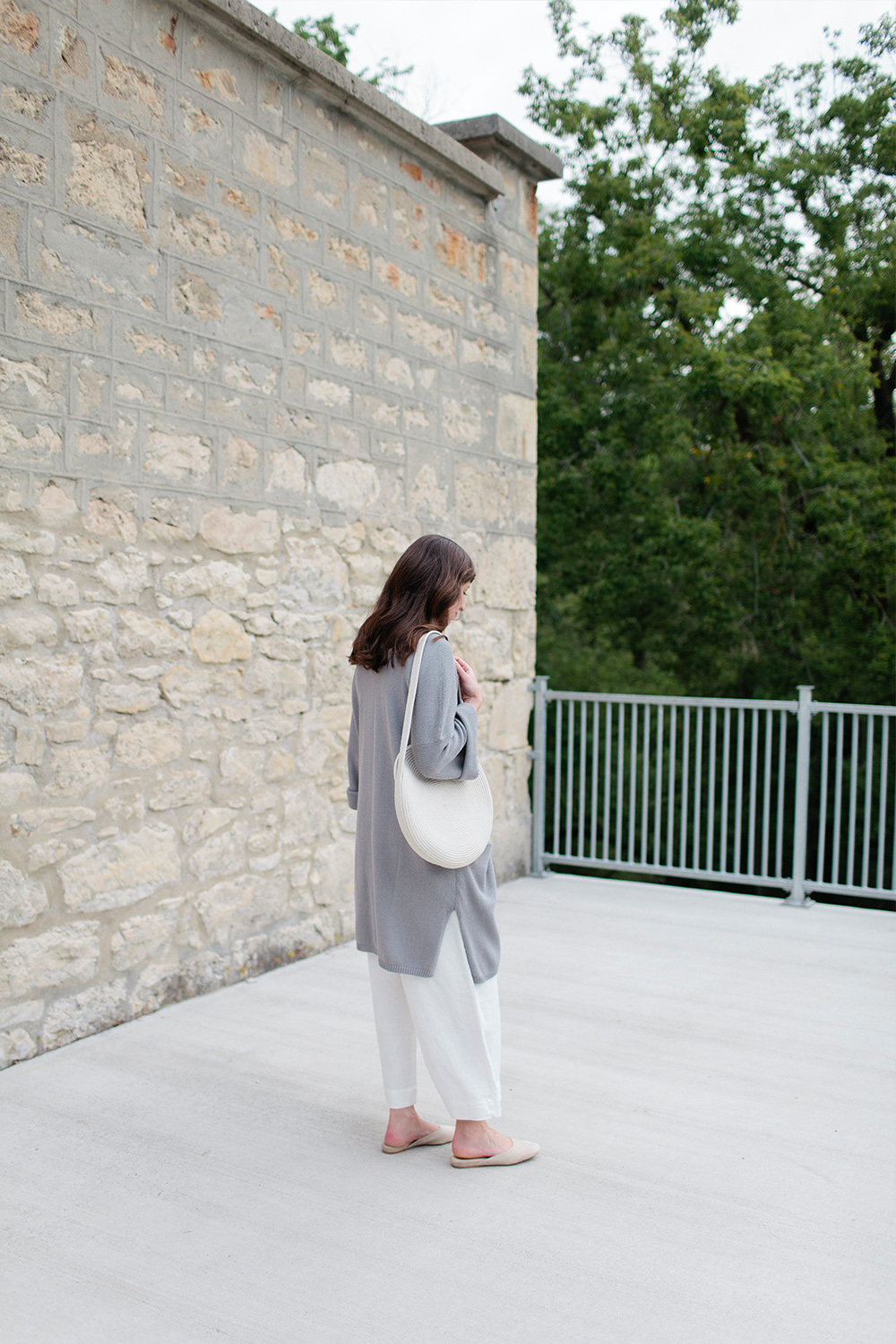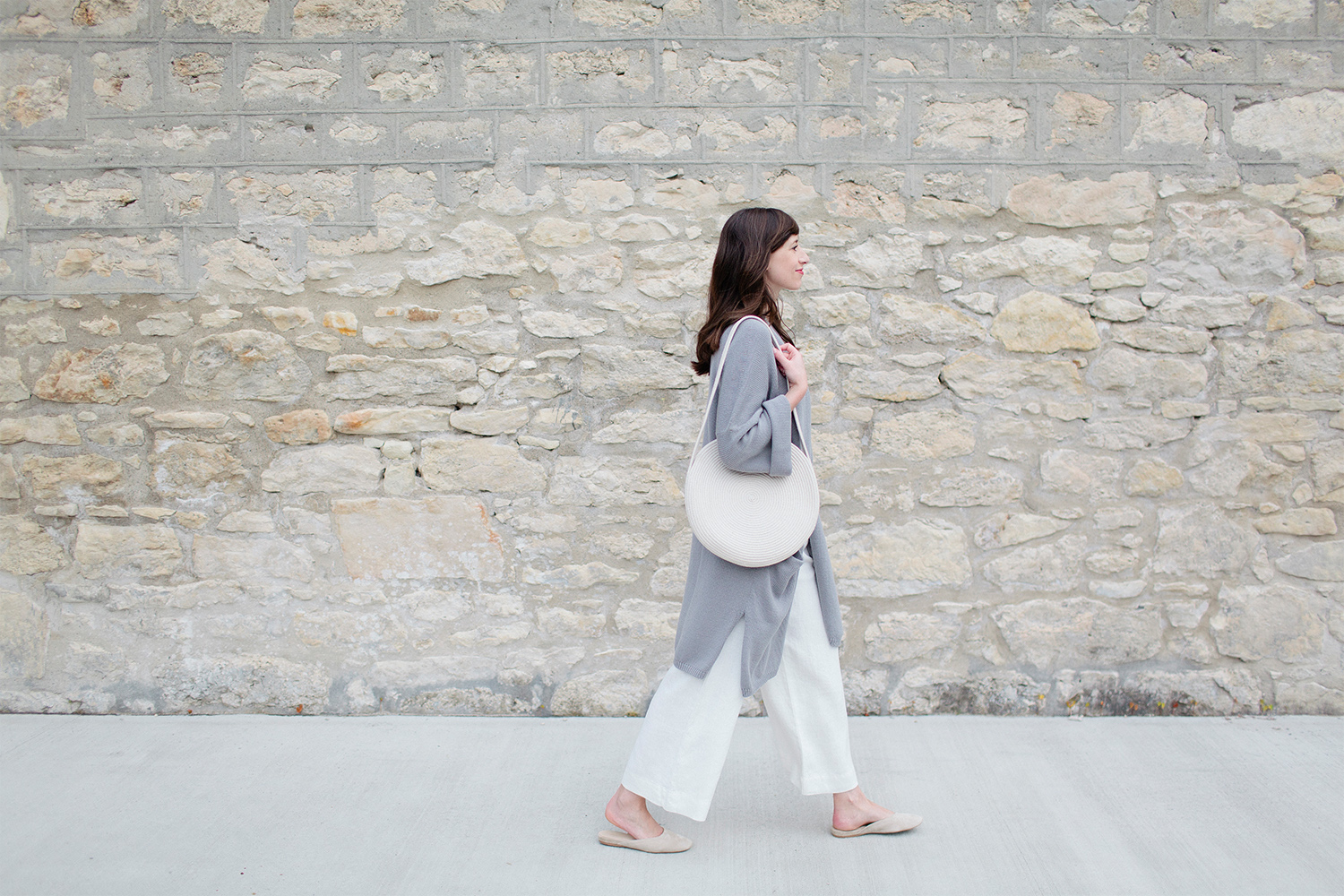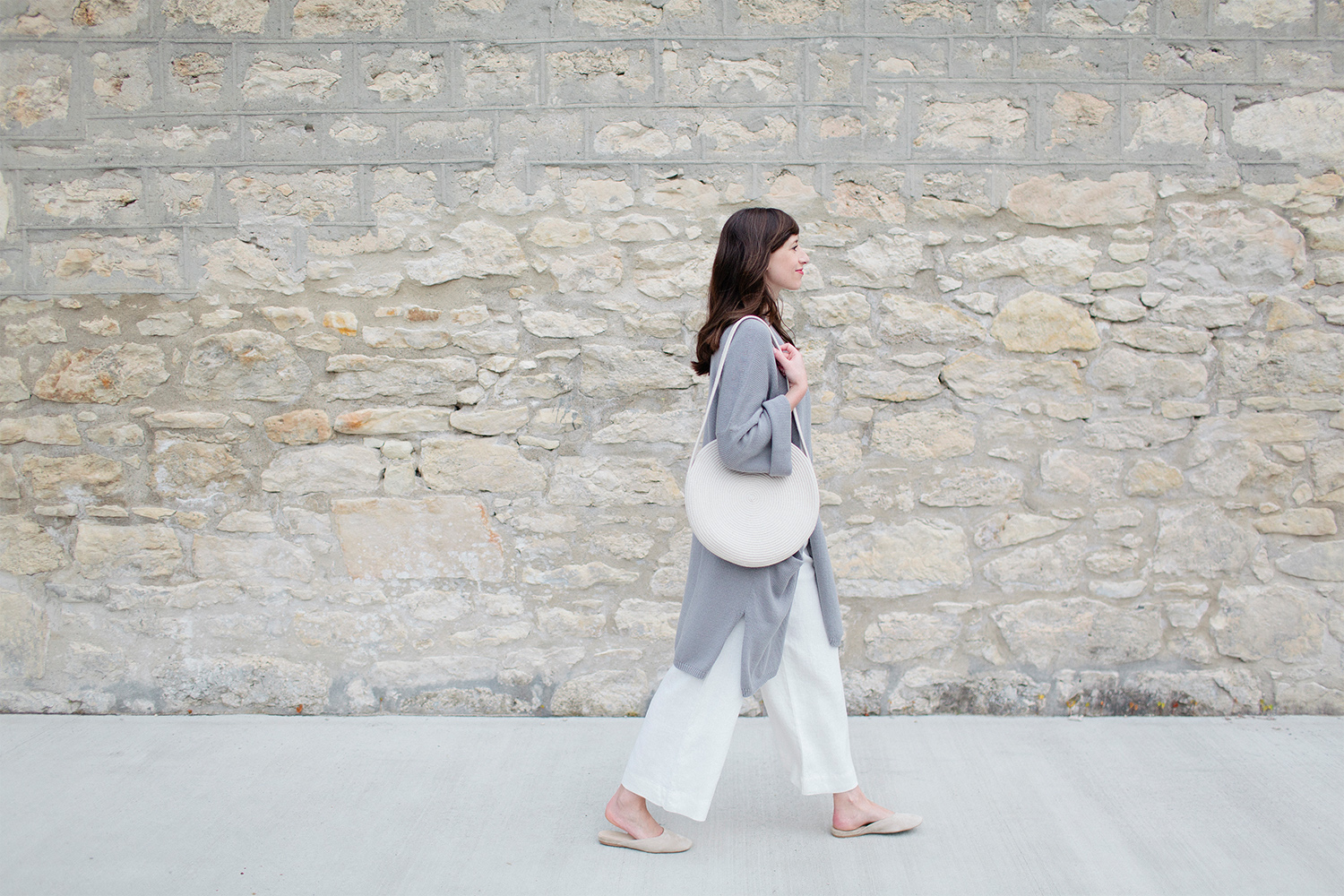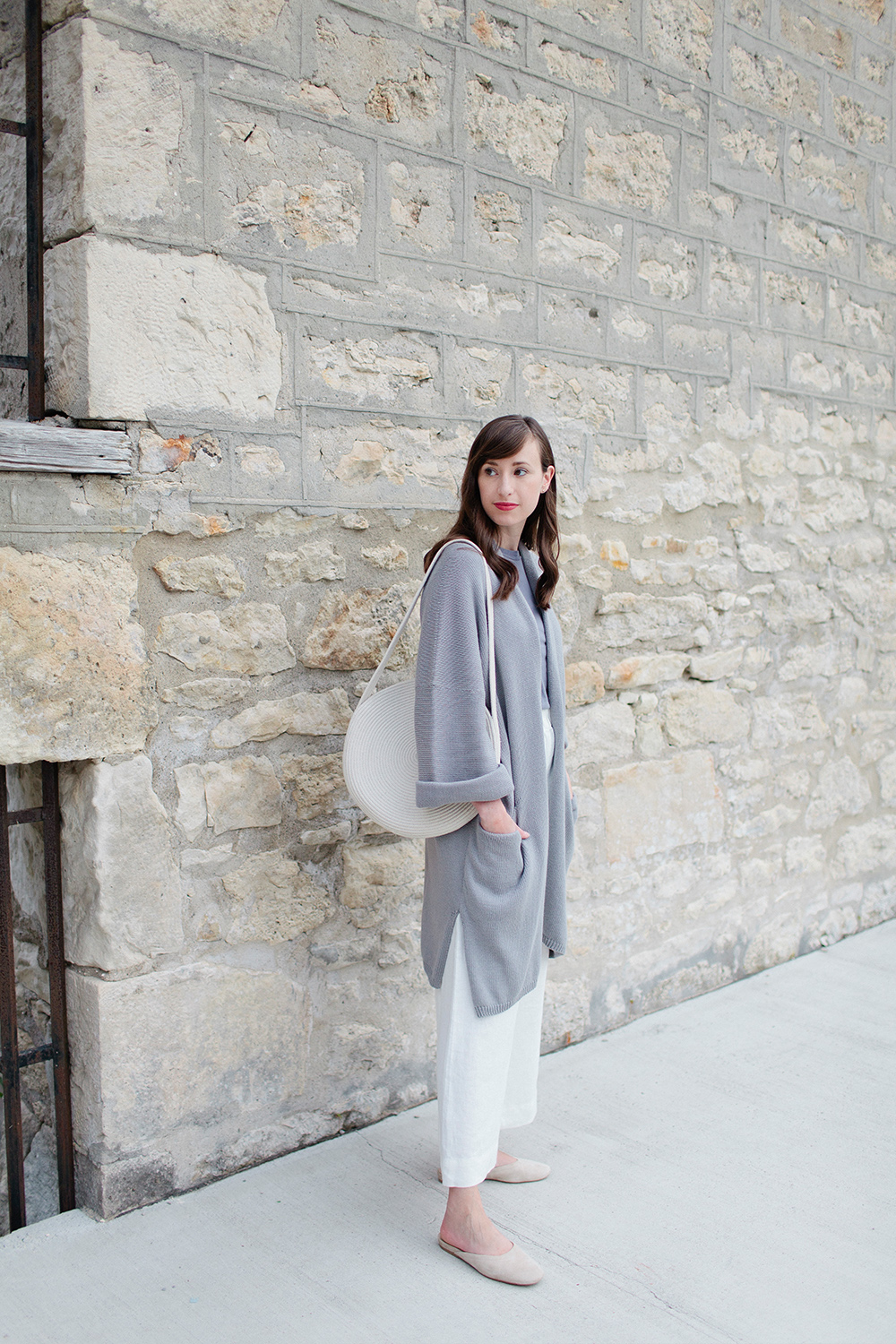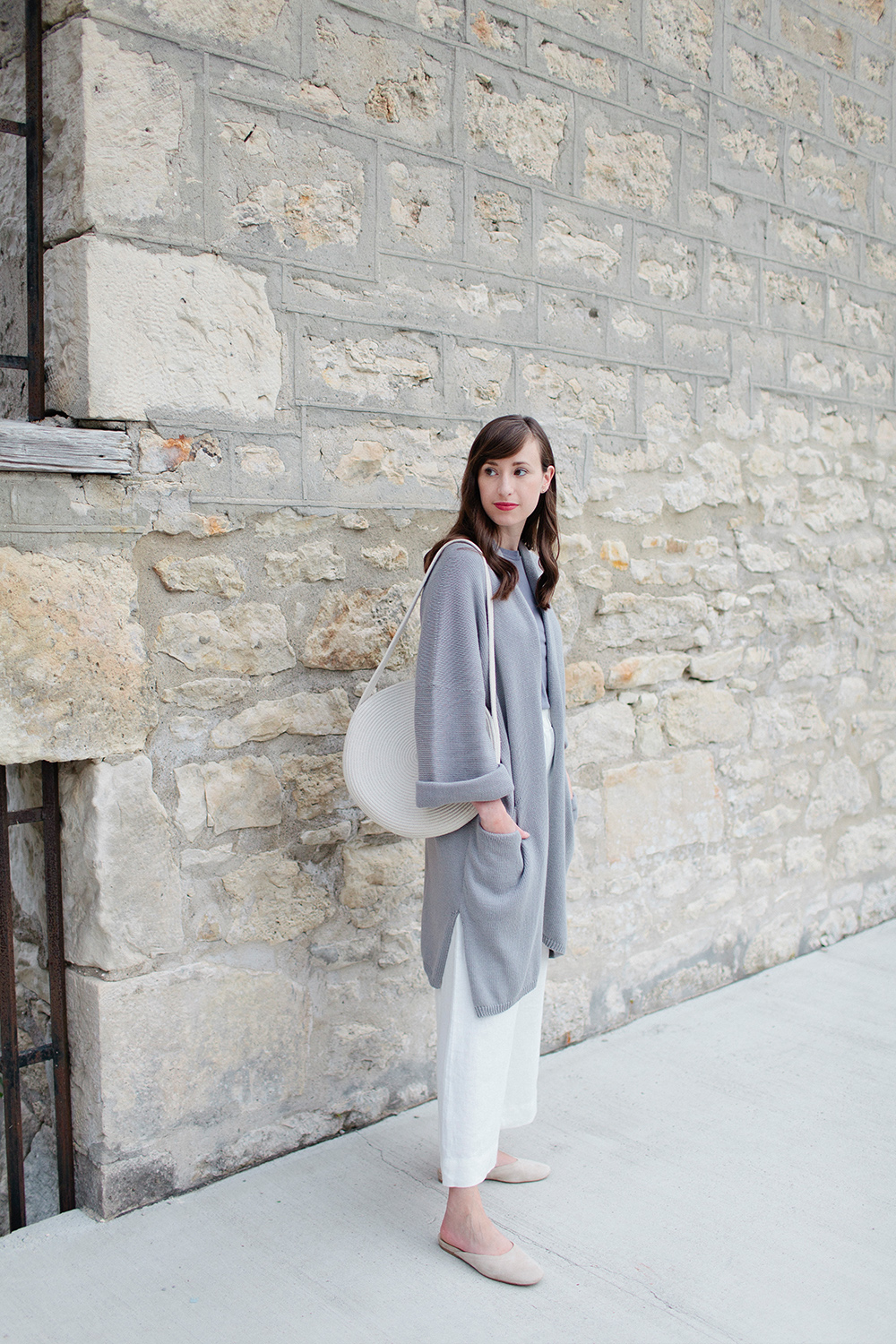 ---
This is one of my favourite looks that I've put together in a long time. It's just SO comfortable, the palette is super simple but feels fresh and it surprised me for a couple of reasons:
1 – The first being that I actually liked how the two blue/grey tones worked together. Usually I prefer a bit more contrast or variance in tone but once I had them on I knew it was a combo worth keeping.
2 – The second surprise was that I loved these wide leg pants with this oversized sweater. Usually, again, I would opt for more contrast in shape/fit to balance it out. In this case though, the oversize silhouette works because both fabrics have beautiful movement and a lightness about them which keeps it from feeling heavy. The sweater is a beautiful soft cotton and the pants are a midweight linen. So yum!
In fact, I loved the softness of this look so much that I knew I couldn't weigh it down with dark accessories and opted for two of my lightest ones. This circle bag was a summer addition and it's been AWESOME and these mules have been a weekly go-to shoe for ages. They're basically like a slipper you can wear out of the house. Win!
I love this look for pretty much anything I typically do in a day. Walking the pup (those pockets have already seen many a treat), working in the office, meeting for a casual lunch, running errands, grabbing dinner with Dave and just about anything in between.
I'm almost sad that the weather won't be warm enough for this one much longer. Almost.
---
Sweater Coat | c/o Bare Knitwear | $382 CAD | Also available in Black | Made ethically in Peru.
Tee | c/o Tradlands | $49 USD | Available in 6 colours. | Ethically Sourced and Sewn in the United States.
Linen Pant | Elizabeth Suzann | $205 USD | Available in 4 colours. (Favourite pants ever!) | Made responsibly in Nashville.
Flats | c/o Everlane | $120 USD | Colour sold out. Available in Black and Navy leather. | Made in Italy.
Rope Bag | c/o APPRVL | $82 USD | Available in Indigo Dip and Rose Clay and they're washable (!). | Handmade to order in the USA.
---
LOOK 2
---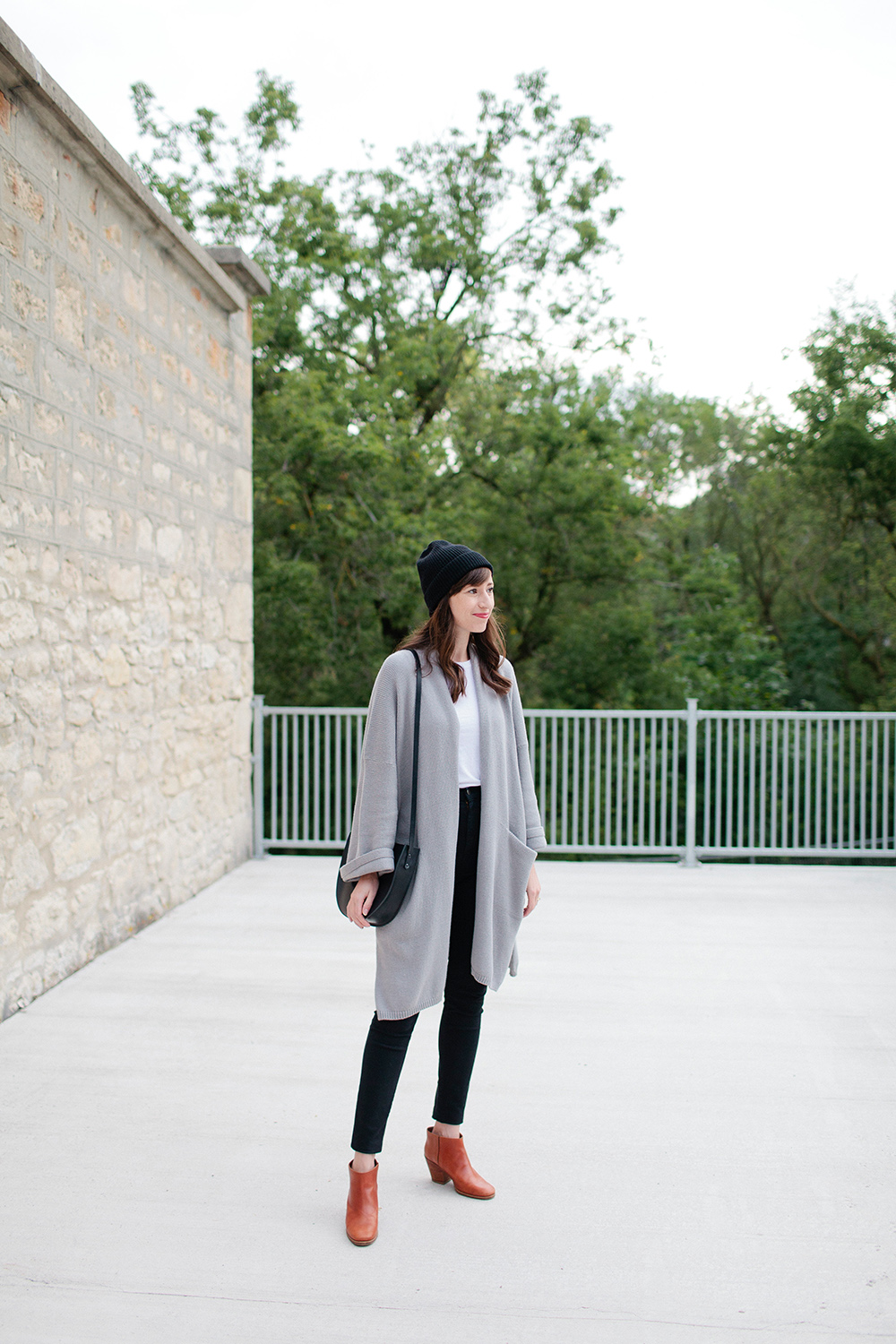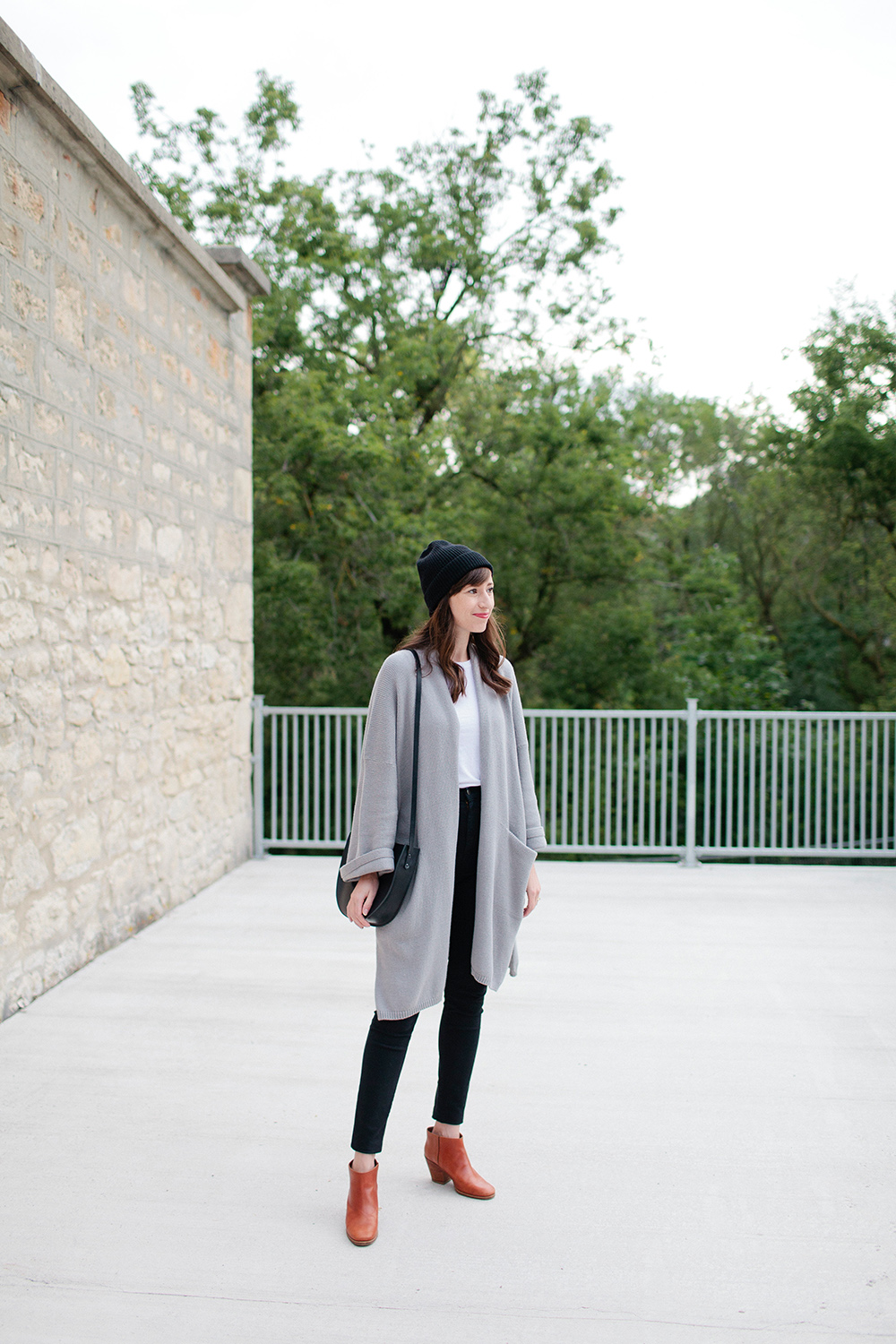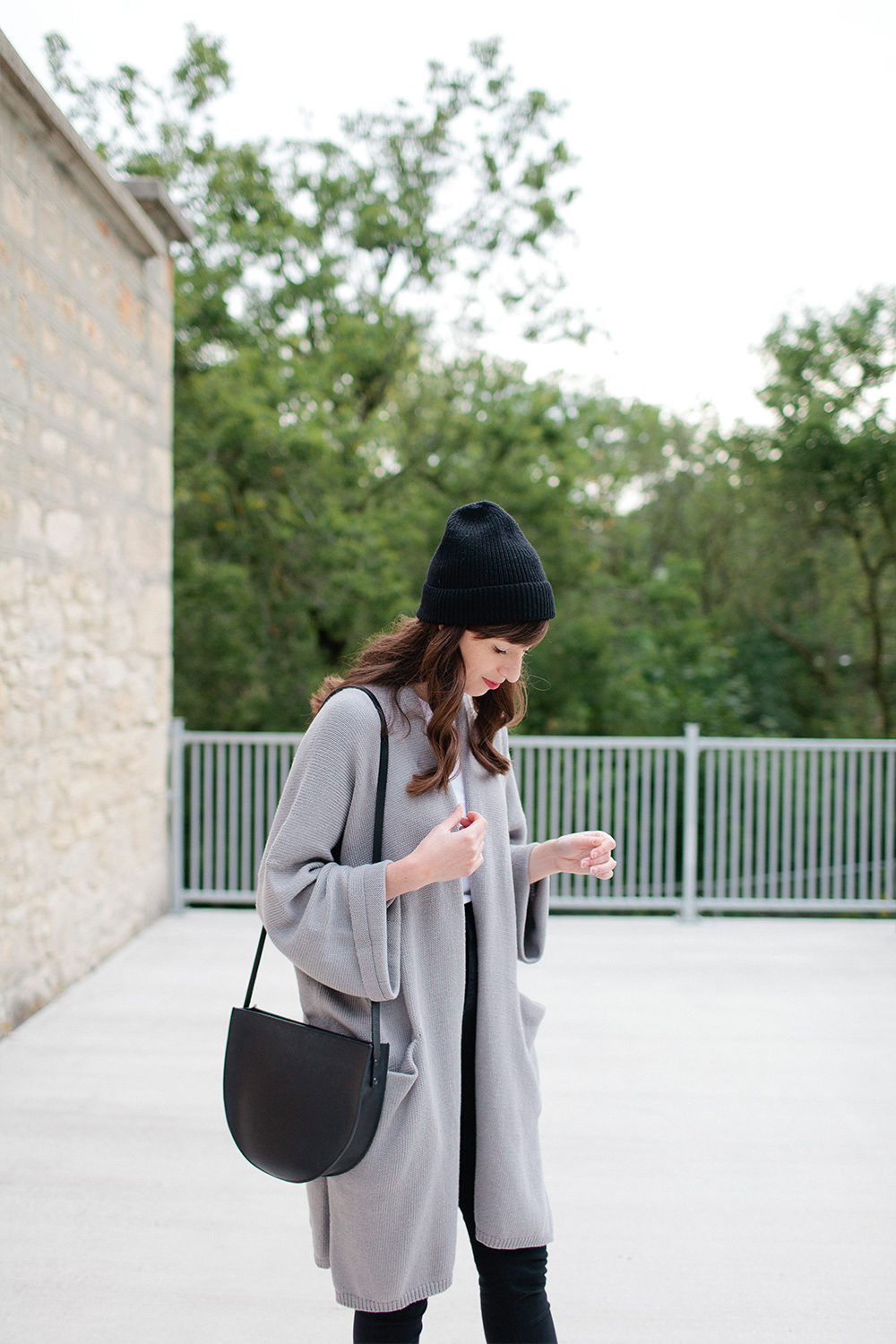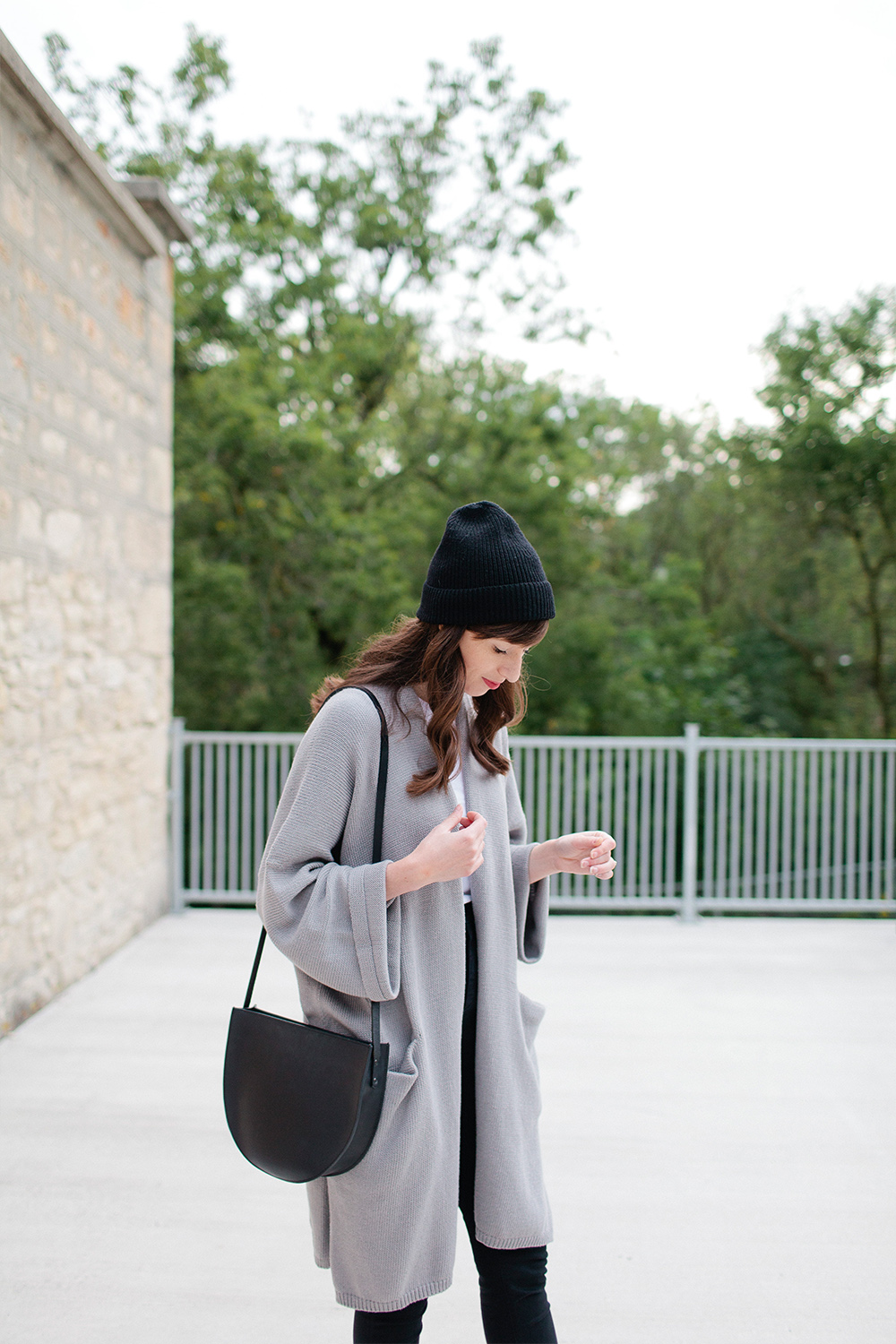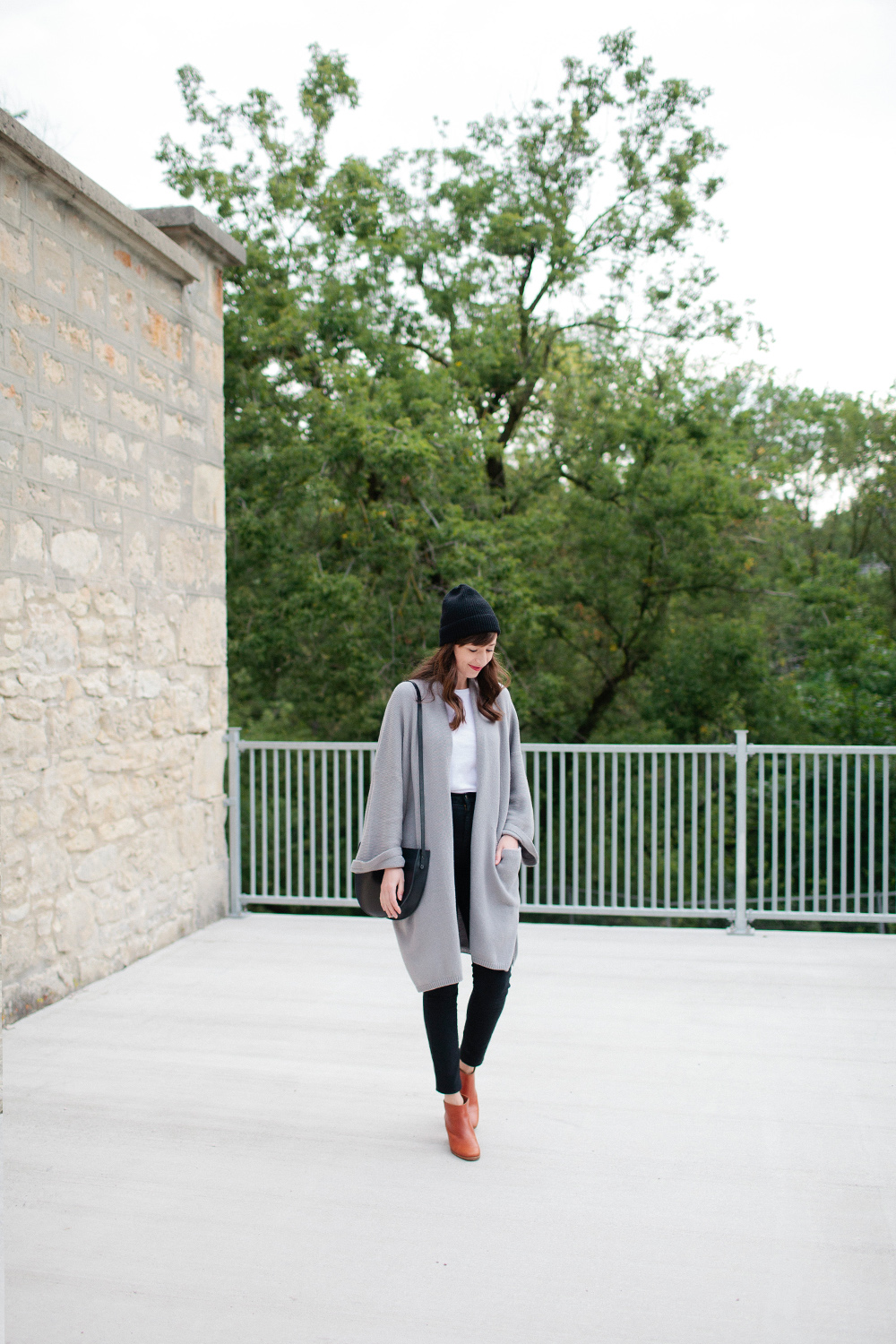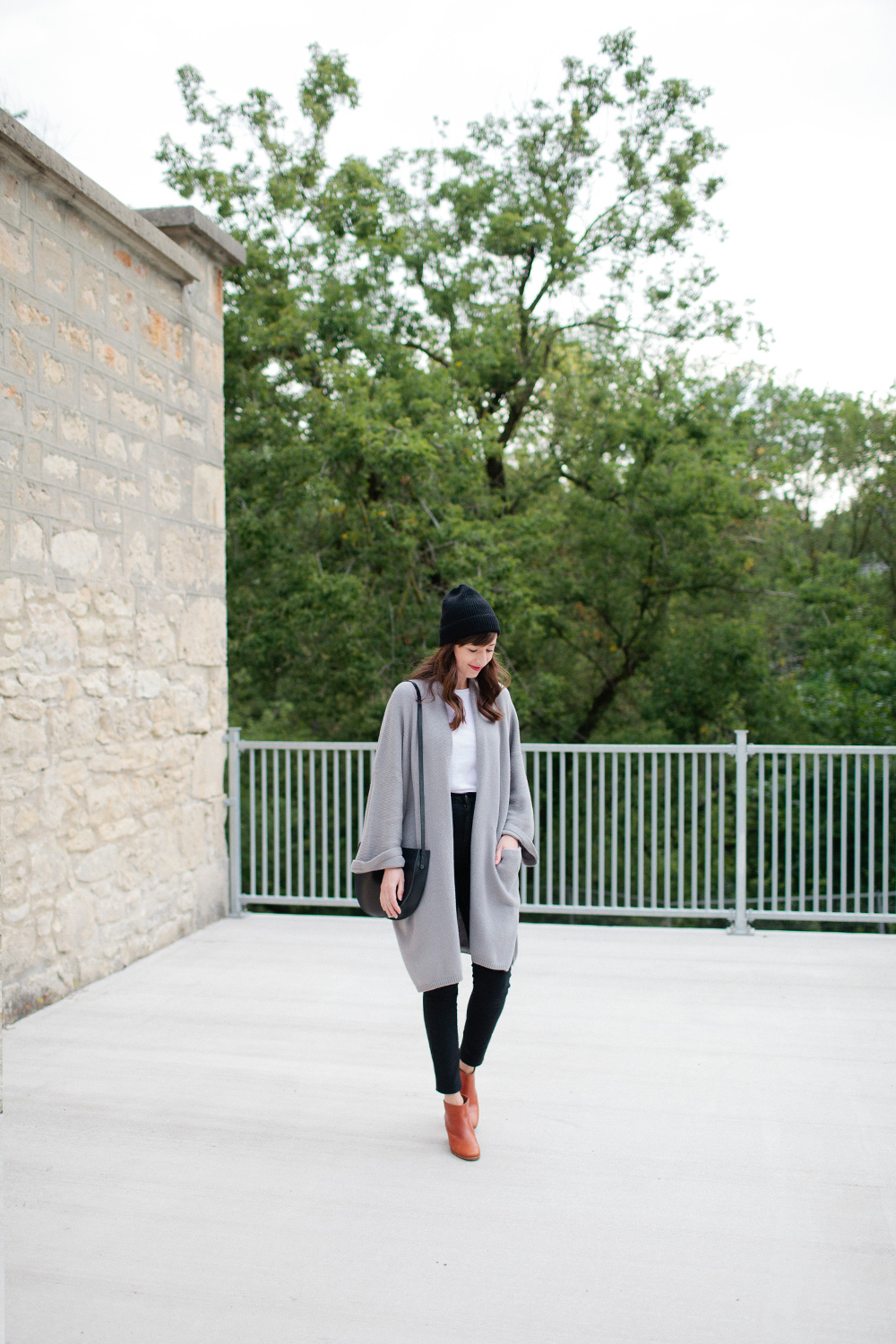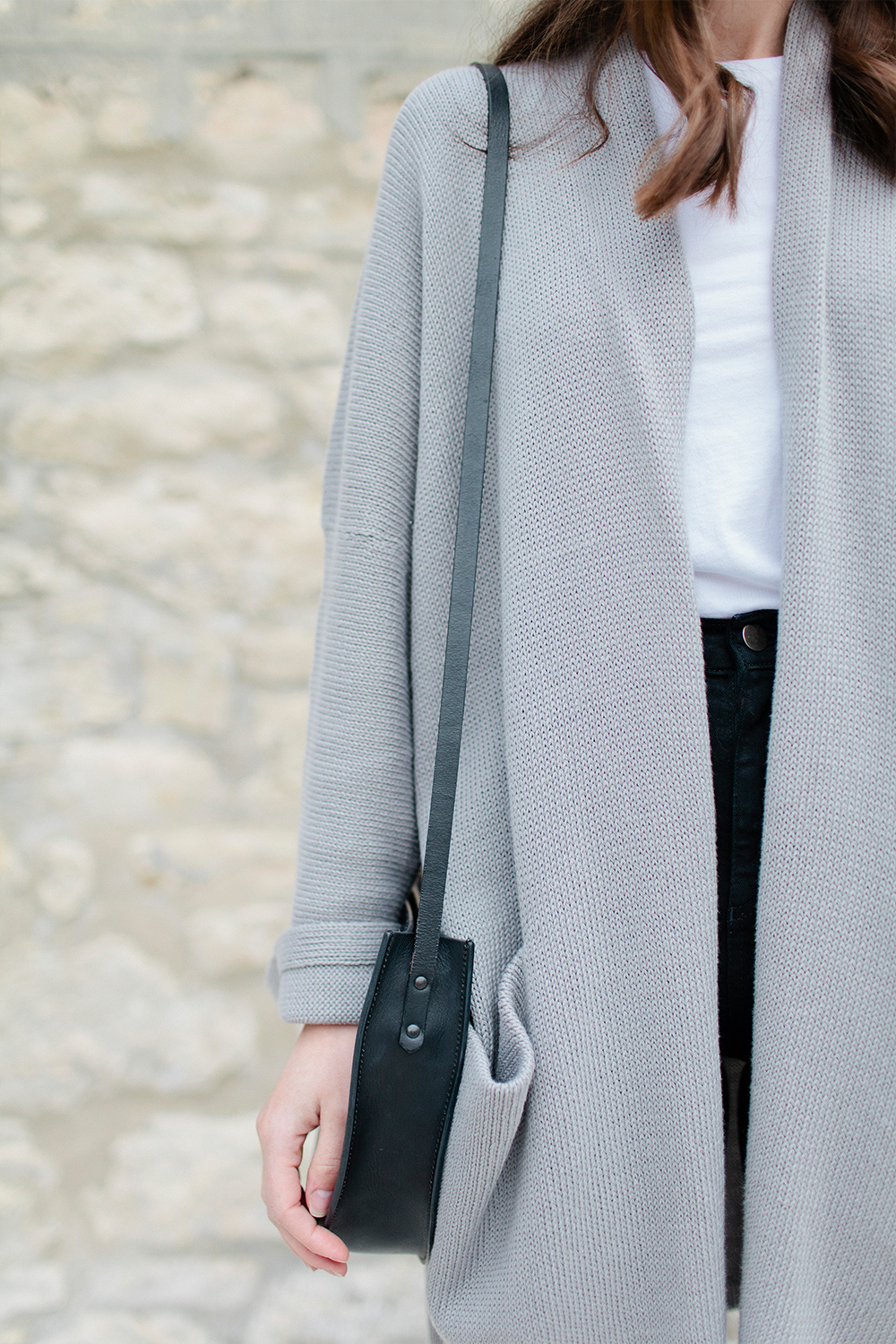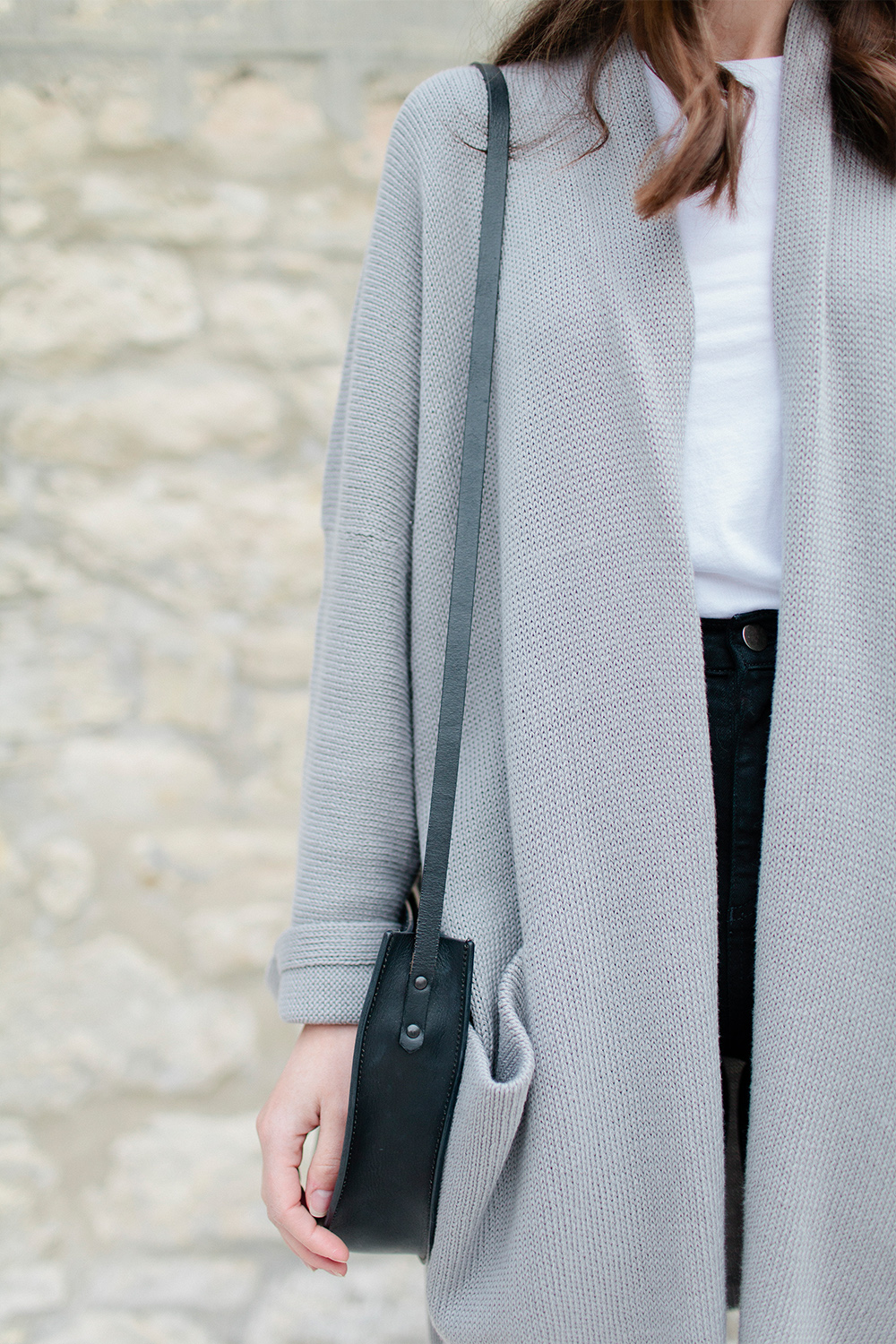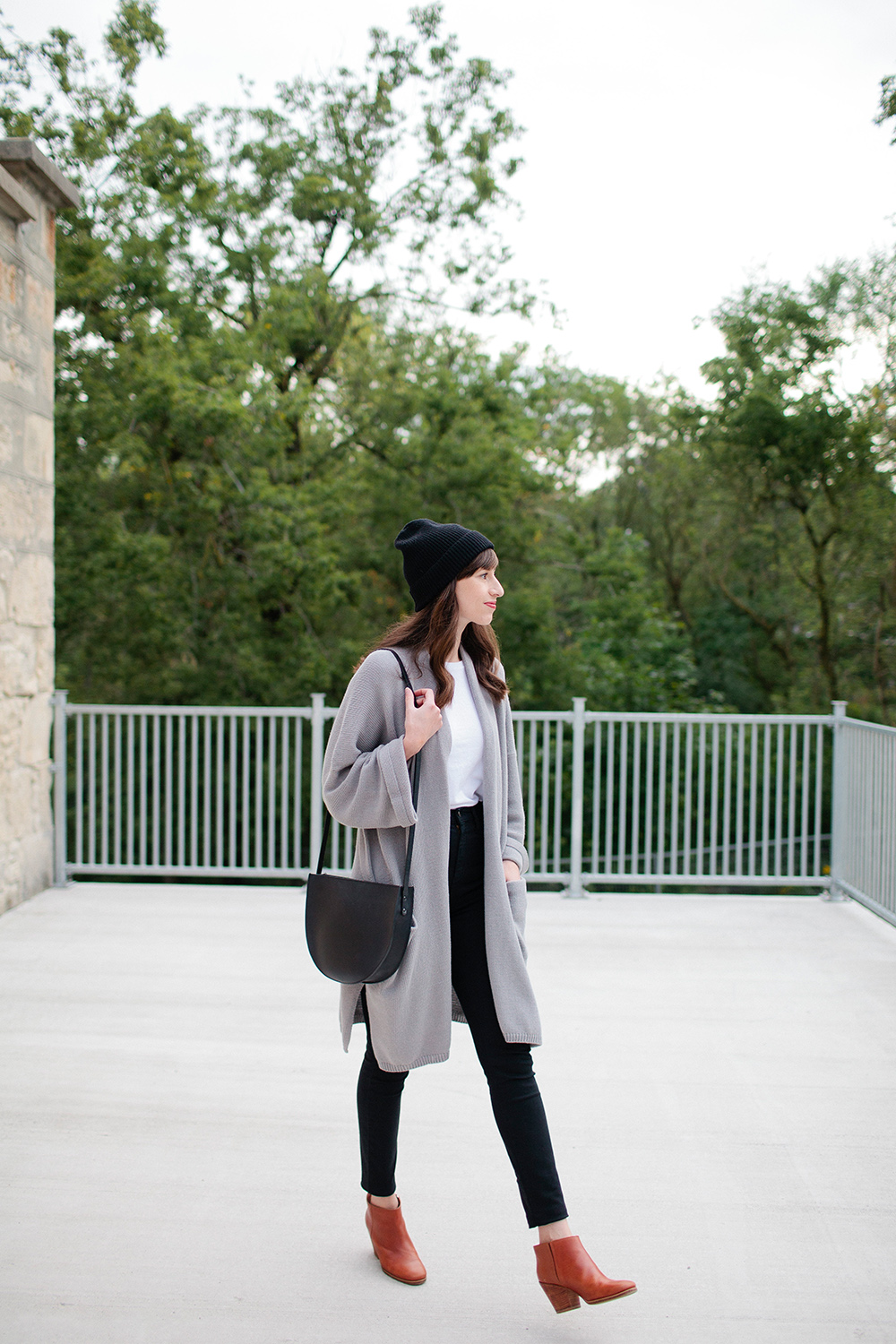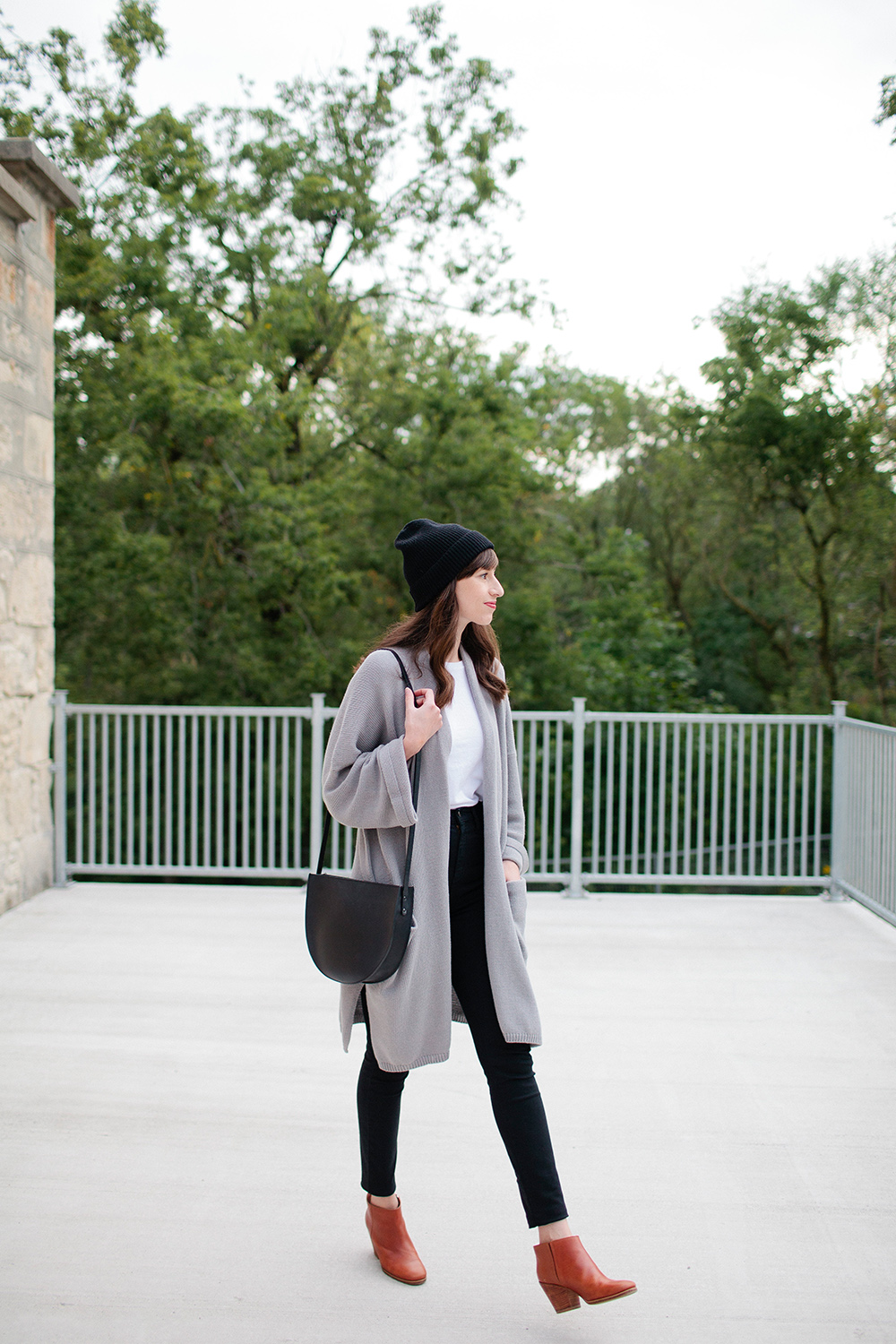 ---
Then we have a more traditional Fall friendly look that's been a go-to over the last couple of weeks when the temps are dipping. It doesn't get a whole lot more basic than a pair of black skinnies, a white long-sleeve tee and a long sweater but in this scenario it still feels contemporary thanks to a few things:
1 – The proportions are updated. This coat has some really well thought-out elements like straight front pockets (ergo easy access and minimal hip bulk), wide but not ginormous sleeves (which love to be rolled!), a knee-skimming length and flattering side vents that reveal the base layer below. Plus, my skinnies are high-waisted and my cuffs are cropped to that oh-so-hot-right-now ankle length.
2 – A minimal geometric bag helps to keep things feeling streamlined. Imagine something with more bulk or slouch, it just wouldn't feel as refined.
3 – I was surprised (yet again) but how much impact a pop of cognac had on this look and I love the result. I had my black Mars boots on first but it felt predictable, whereas the warm 'whiskey' tone really brought things to life.
4 – Finally, I topped things off with a knitted beanie (which Bare Knitwear also does really well, check out the Andes) to keep the cozy levels mighty high.
This is another wear anywhere outfit that's been great for this busy time in life and at work.
---
Beanie | Everlane | $58 USD | Made responsibly in China.
Sweater Coat | c/o Bare Knitwear | $382 CAD | Also available in Black | Made responsibly in Peru.
White Tee | Everlane | $28 USD | Made responsibly in Peru.
Jeans | IRIS Denim | $210 CAD | Made in Toronto.
Boots | Rachel Comey | $426 USD | Made in Peru. | Save $20 on your first order when you sign up here. | Similar for less here.
---
So tell me, is the weather as unpredictable where you are right now?
What pieces are getting you through this transitional Fall season?
Do you have a favourite from the Bare Knitwear line? 
---
This post was produced in partnership with Bare Knitwear and I received product in exchange for producing this content and sharing my honest opinions. I chose to work with this responsible brand because they're producing high-quality, timeless pieces that are made ethically and intended to stand the test of time, which is what Style Bee is all about. Thanks for reading this post and for supporting the brands that support Style Bee! All opinions are as always, entirely my own. 
---
Photography by my talented friend Jacklyn Barber.
---