Earlier this week Dave and I escaped to Vancouver Island for a mini-getaway and a bit of downtime before what's sure to be a whirlwind conclusion to our time out west. We made our way to Point-No-Point, a secluded cabin resort on the coast of the island, just north of Sooke. Even though our stay was short we still managed to get a much-needed dose of nature and an equally necessary break from cell service. We had great weather for exploring the trails, taking in the sights, savoured the panoramic coastal views from our private hot tub, zoned out in front of crackling fires and fell asleep to the sound of the ocean. So yes, it was pure bliss!
As a special bonus, my friends at Tradlands kindly sent me a couple of comfy pieces to test out on the adventure. Not so surprisingly the Varsity Sweatshirt and Girlfriend Tee make great additions to a closet ready for hiking, beach exploring, road side restaurants, corgi cuddles and everything in between. I took the opportunity to wear test the items and also to shoot a couple of looks inspired by the coastal colours we were surrounded by.
Read on to see our little getaway, the looks I put together and a special Tradlands discount for Style Bee readers!
---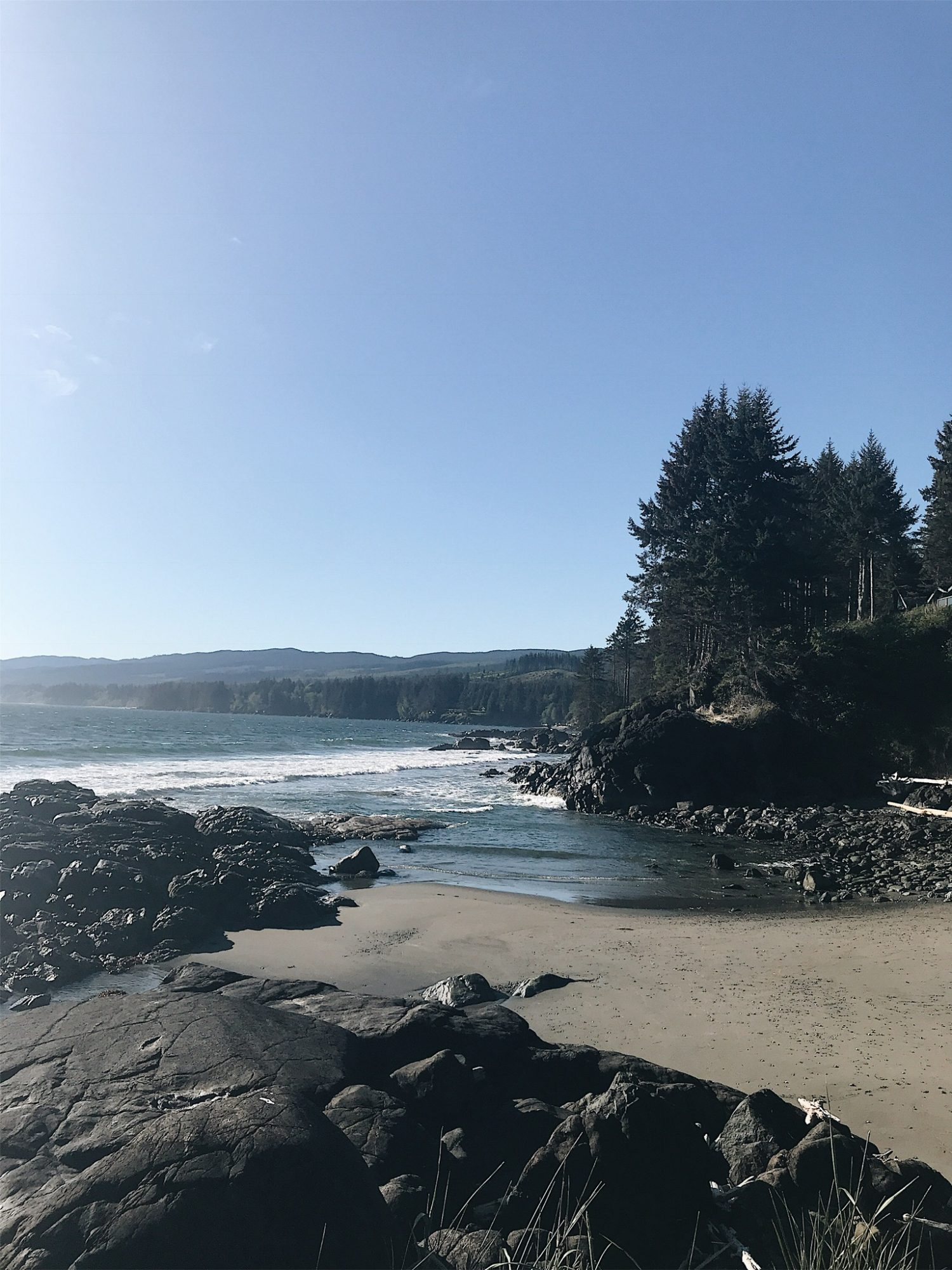 ---
---
If you were heading up HWY 14 on Vancouver Island you might drive right past this resort as it's perfectly nestled into the trees and landscape. Point-No-Point was originally established in 1952 by Evelyn Packham, RN, after she retired from nursing and bought the recently clear-cut crown land, determined to nurture it back to its natural state and establish a haven for travellers on the remote West Coast Road. Well, she certainly managed to do just that!
It has since been expanded from 7 to about 20 cabins (some have lofts or a duplex) each with stunning views of the ocean and shoreline along with private balconies and hot tubs to soak in the sunset from. The resort also has access to private winding trails and beaches, lookouts (bring binoculars for whale watching), a spa and a restaurant that was highly recommended but sadly closed during our visit. It's also close to tons of fabulous hikes, beaches and a few great restaurants like Shirley Delicious, Sooke Harbour House and Wild Mountain.
The promise of wild life sightings is no joke either. During just the two days we were there we saw, bears, bald eagles, sea otters, sea lions, deer and hummingbirds. It's definitely a great place to check out from stress and check in with nature. My only regret is that we couldn't stay longer! Here's a peek at our lovely rustic cabin.
---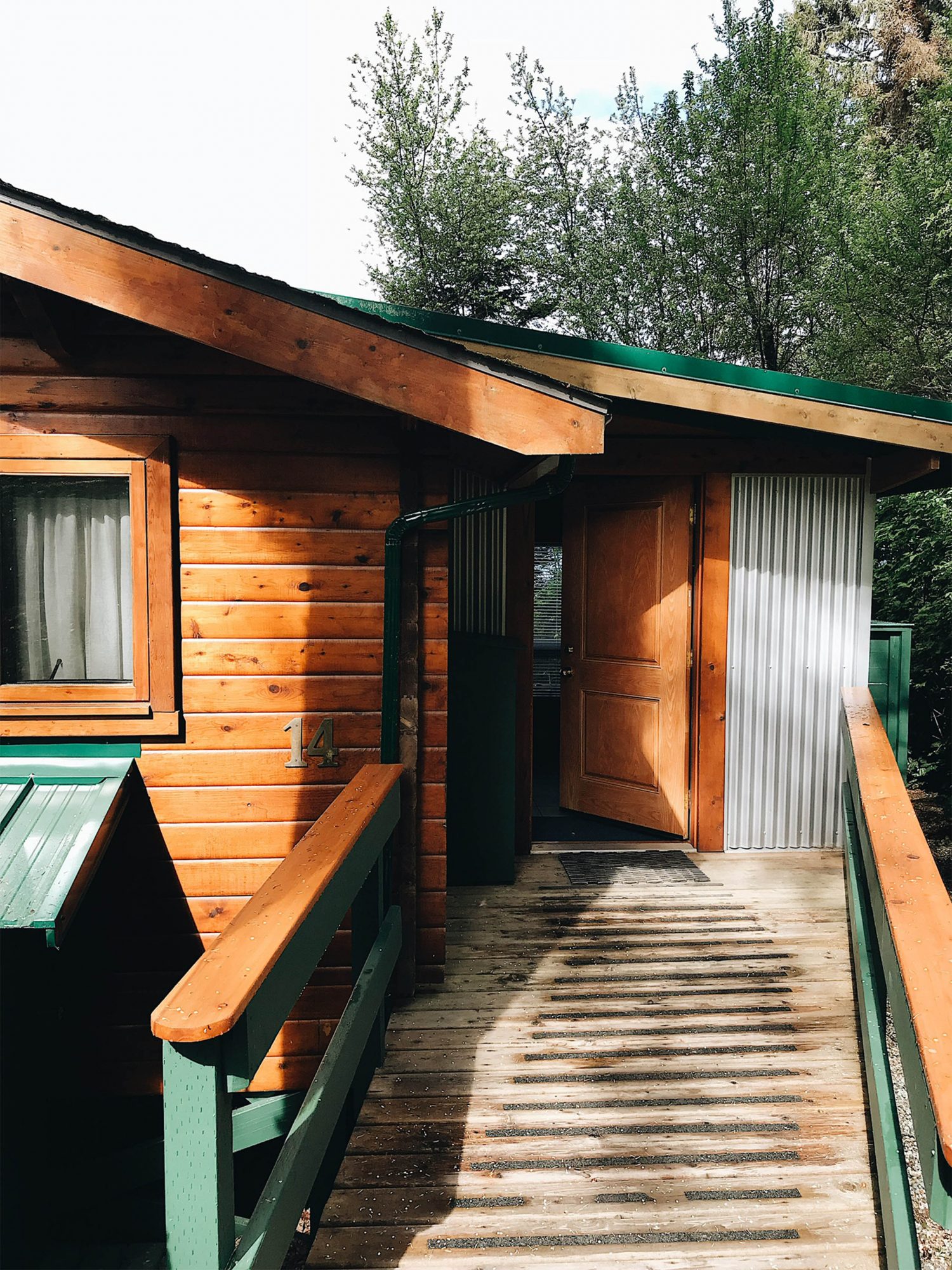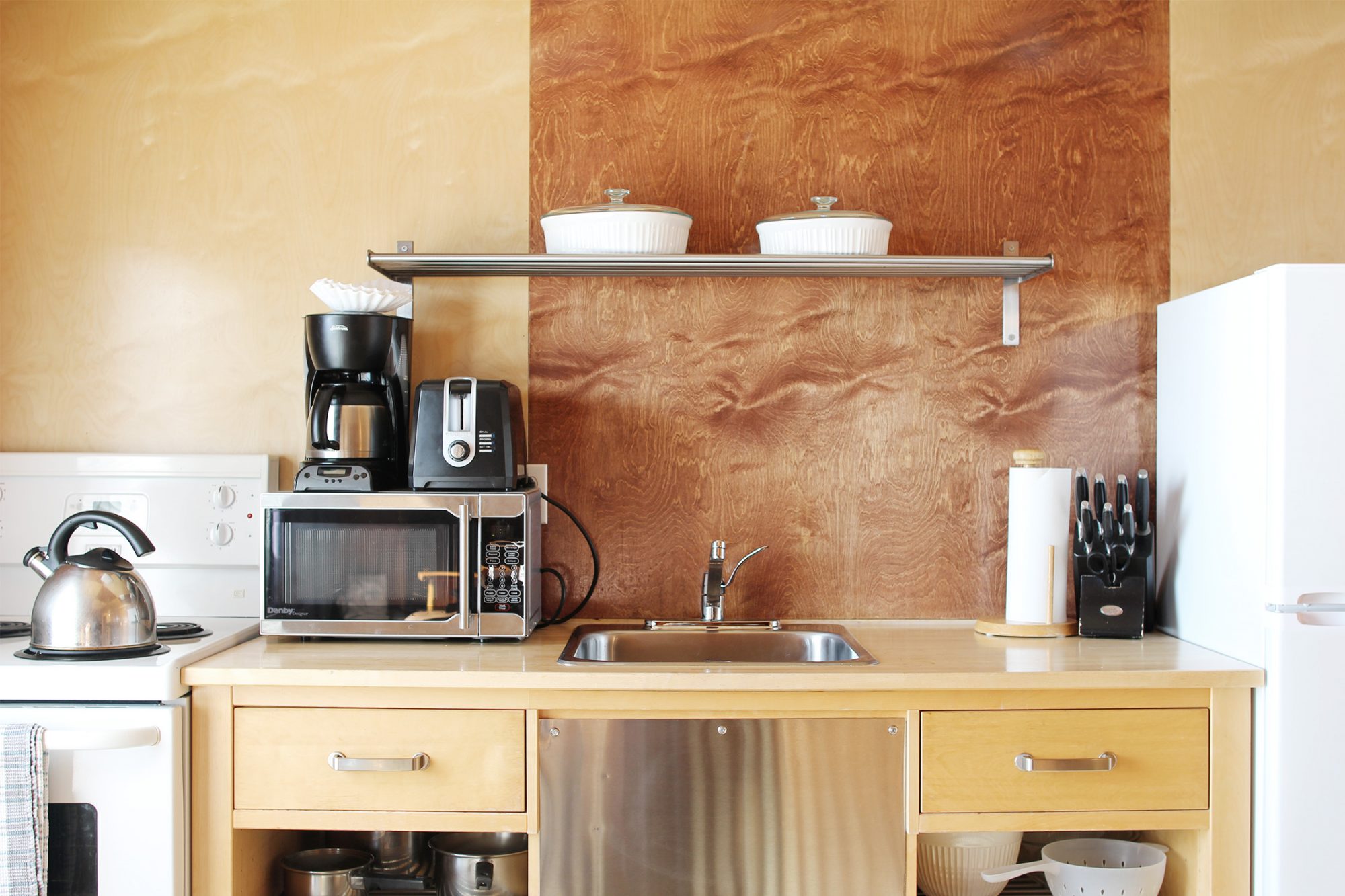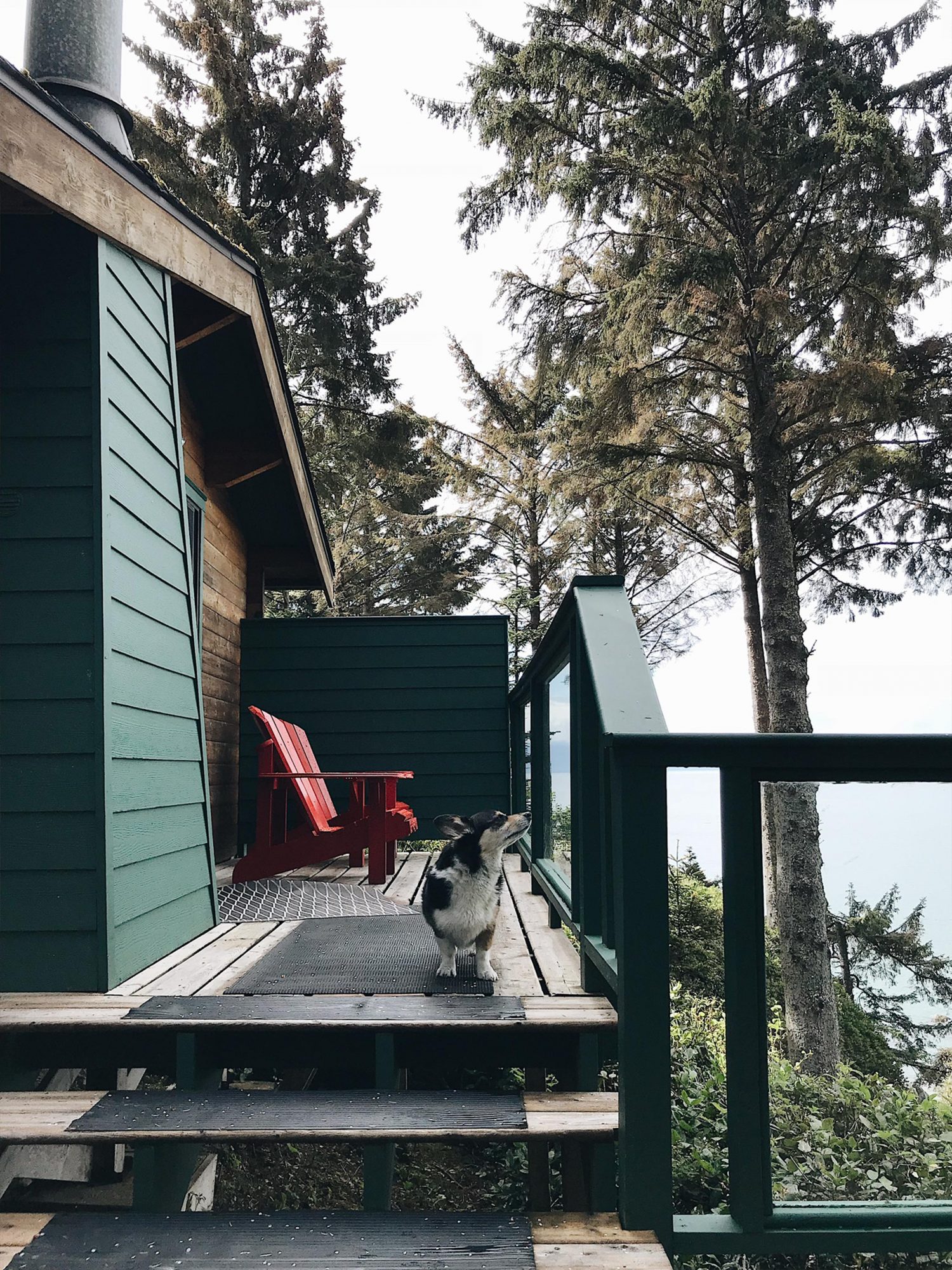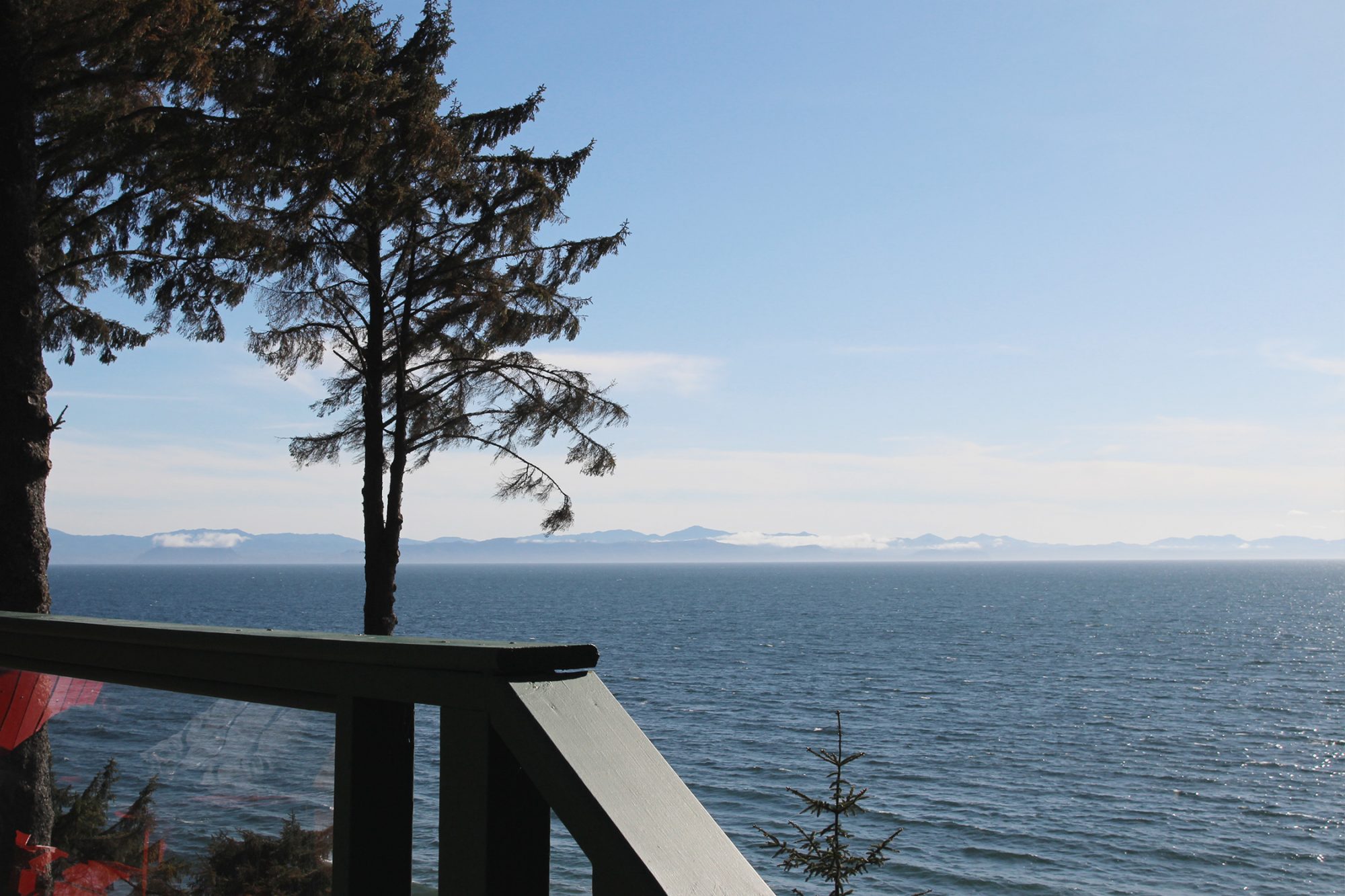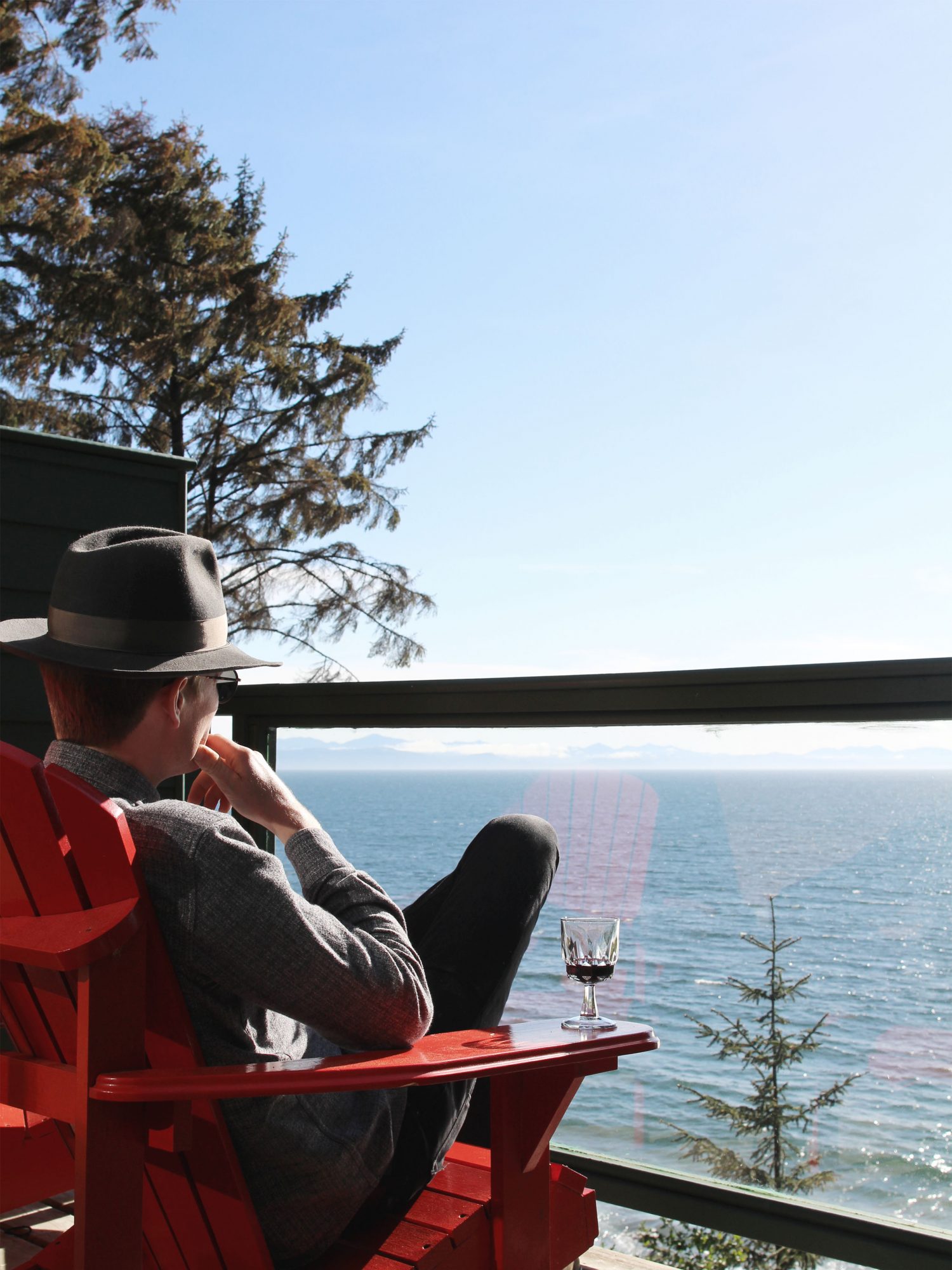 ---
HIKING
---
Our first of the two night getaway was about as relaxing as it gets, complete with a charcuterie board, red wine, hot tub time, crackling wood fires, sunsets and nothing but the sound of the ocean. Well-rested and ready for adventure, we started our Tuesday with a hearty breakfast at the most delightful restaurant on our way up the coast called Shirley Delicious. We'd stopped in here once before and thoroughly enjoyed ourselves so we couldn't wait to go back. The staff are some of the friendliest folks we've encountered out here and the food is truly top-notch. Do yourself a favour and get a pesto twist and a fresh muffin for an afternoon snack as well!
Once we were fuelled up and ready for the day we headed towards Port Renfrew to check out the town and see where the West Coast Trail begins for many avid hikers. From there we headed back down to the Juan de Fuca Marine Trail to take in the rainforest sights and visit a few beautiful beaches along the way. It's a 47 km trail but needless to say we did not take on the whole thing.
---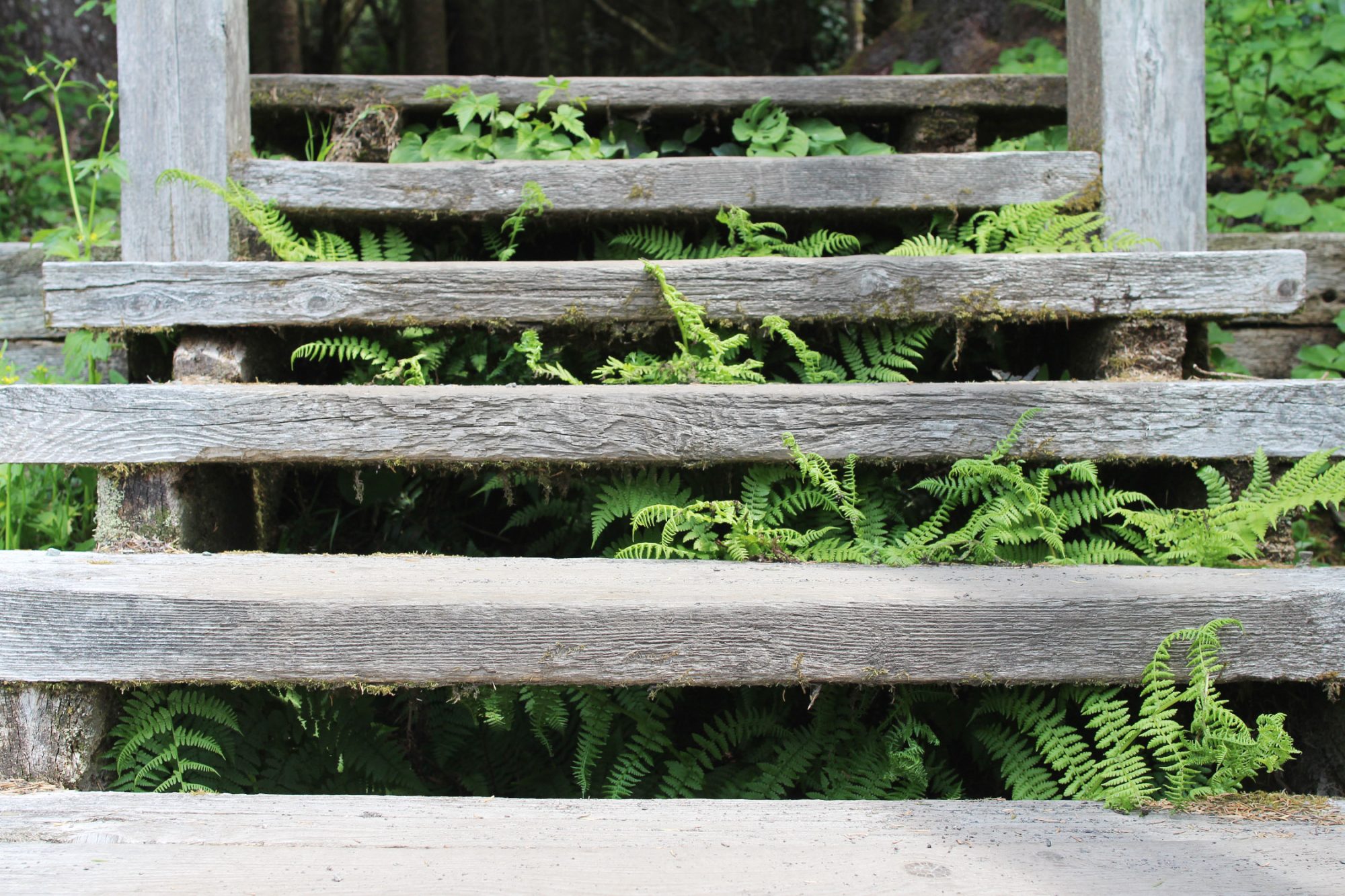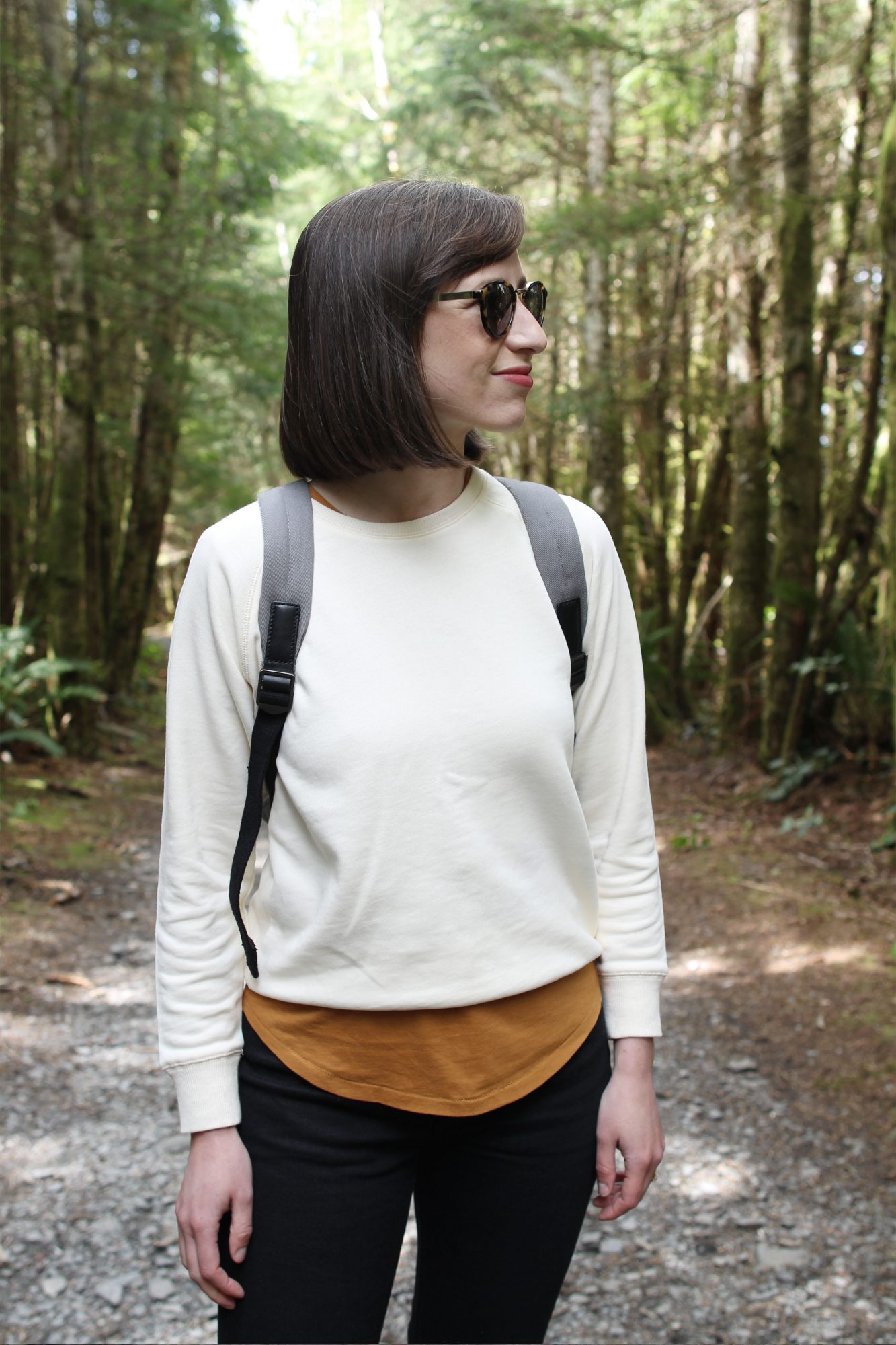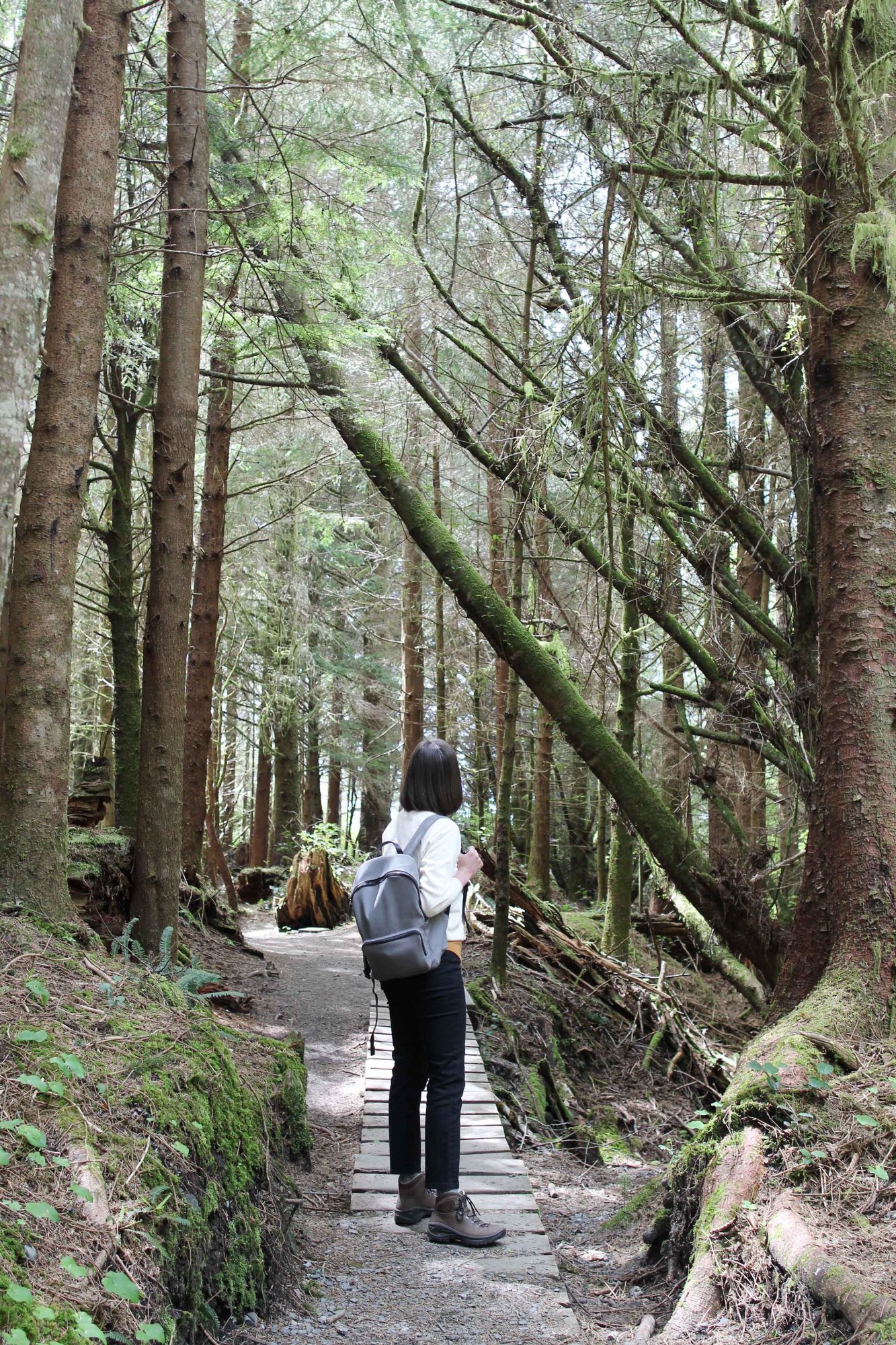 ---
For this leg of the journey I wanted to be comfy, warm (but not too warm!) and ready for lots of different terrain. I layered the super soft 116 Varsity Sweatshirt over the light 103 Girlfriend Tee to start cozy with the option to cool off as needed. I wore my black cropped jeans, hiking boots and filled my backpack with a water bottle, raincoat, snacks and a few extras for the shoot. I felt totally comfortable and ready for the adventure with my boys!
This turned out to be the perfect outfit for the day and I stayed just cool enough that I could keep the sweatshirt on. Aside from one other beat-up old camping sweatshirt this is the only one I have in my closet and I can tell it's going to come in very handy for the seasons ahead. It's lightweight but the french terry keeps it feeling cozy, super soft for wearing on its own and perfect for layering over a light t-shirt or base layer. Personally, I love the creamy shell colour, and didn't find it got dirty (I wore it for two days after this too!) but there are three other colour options. I'm wearing the size S and it fits great but a M would have been good if I'd planned to wear over heavier base layers.
---
TRADLANDS IS OFFERING STYLE BEE READERS 20% OFF ANY ORDER WITH 'SPRINGSTYLEBEE'
(Valid through May 31st)
---

---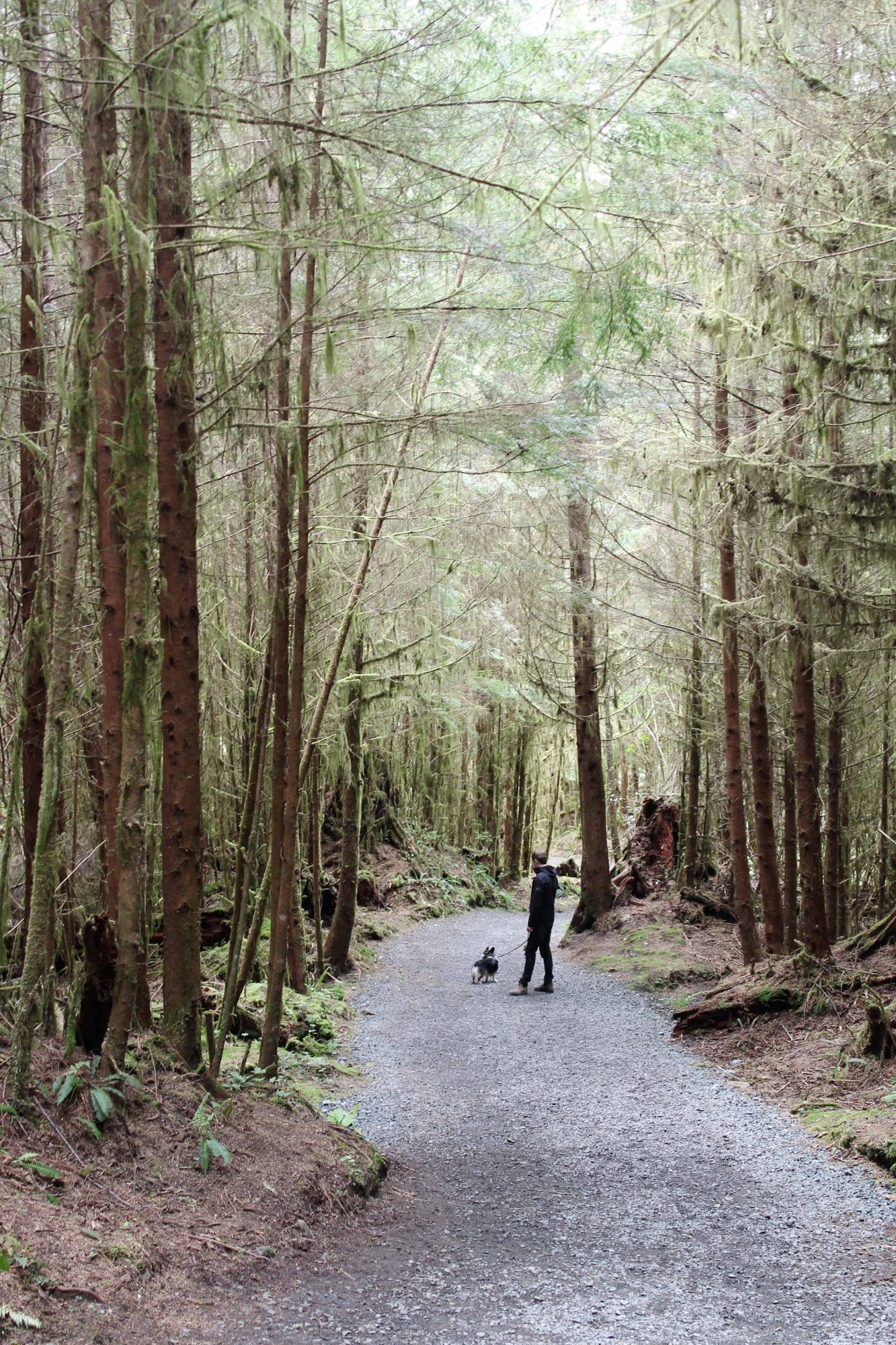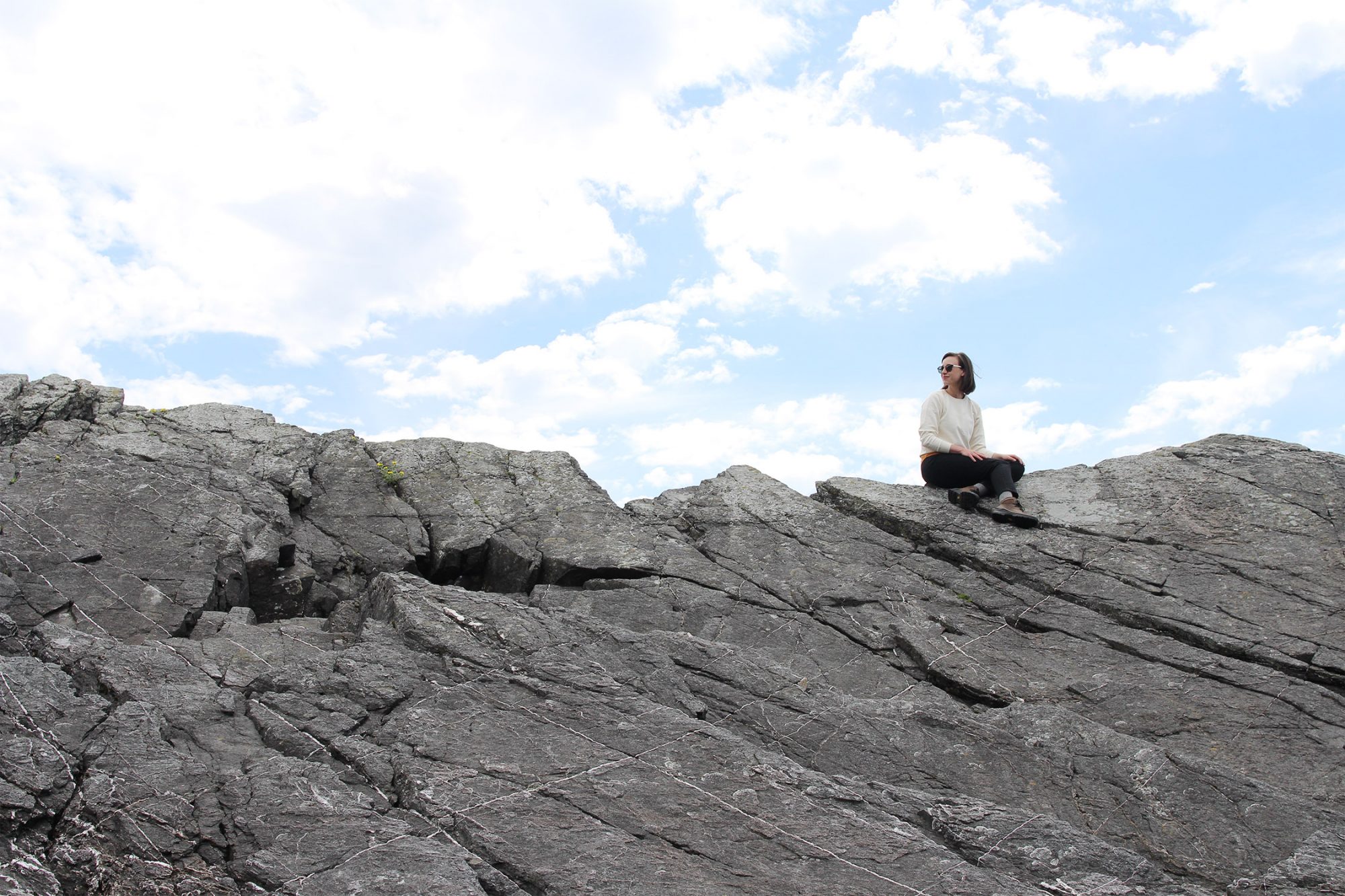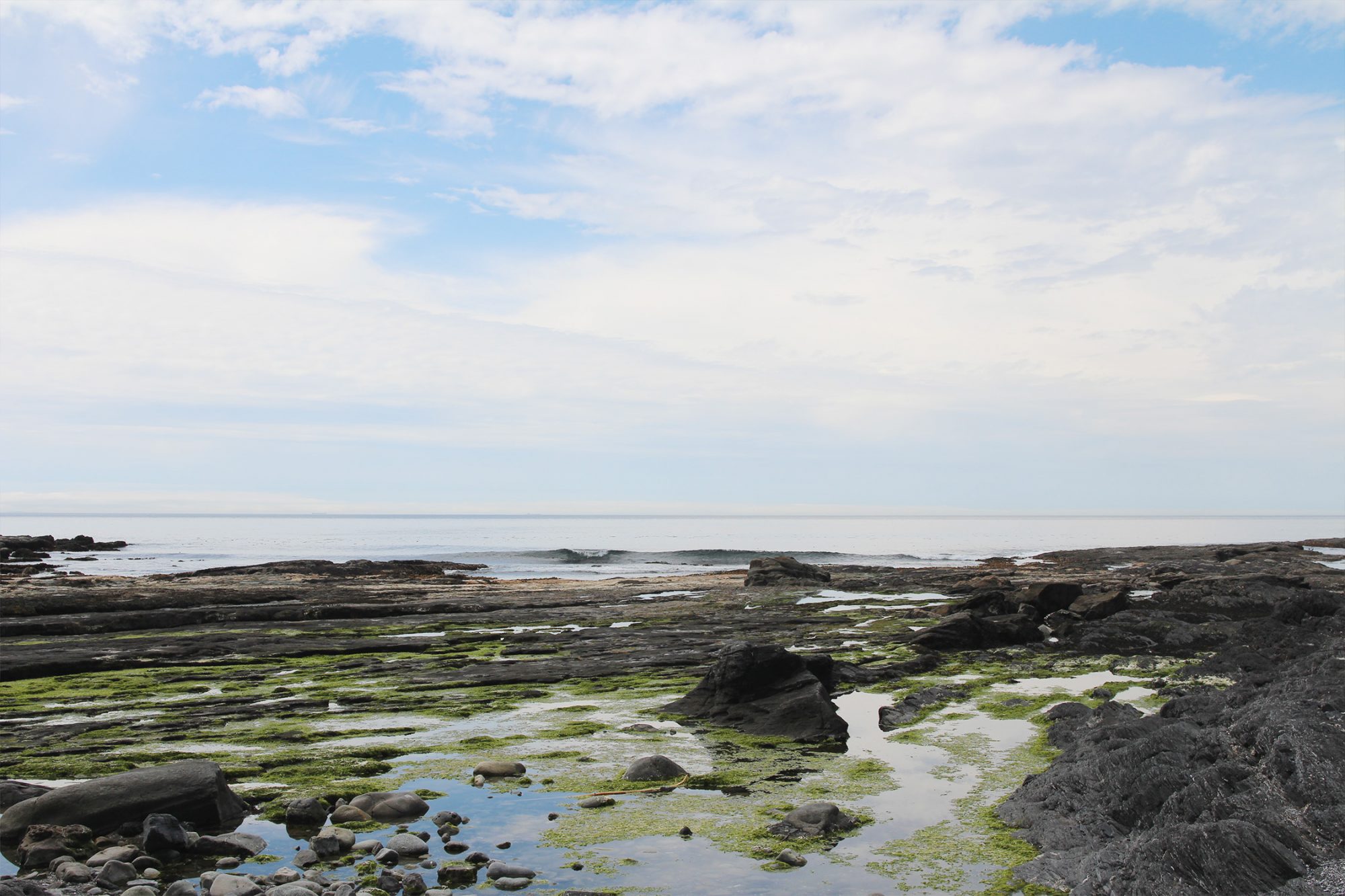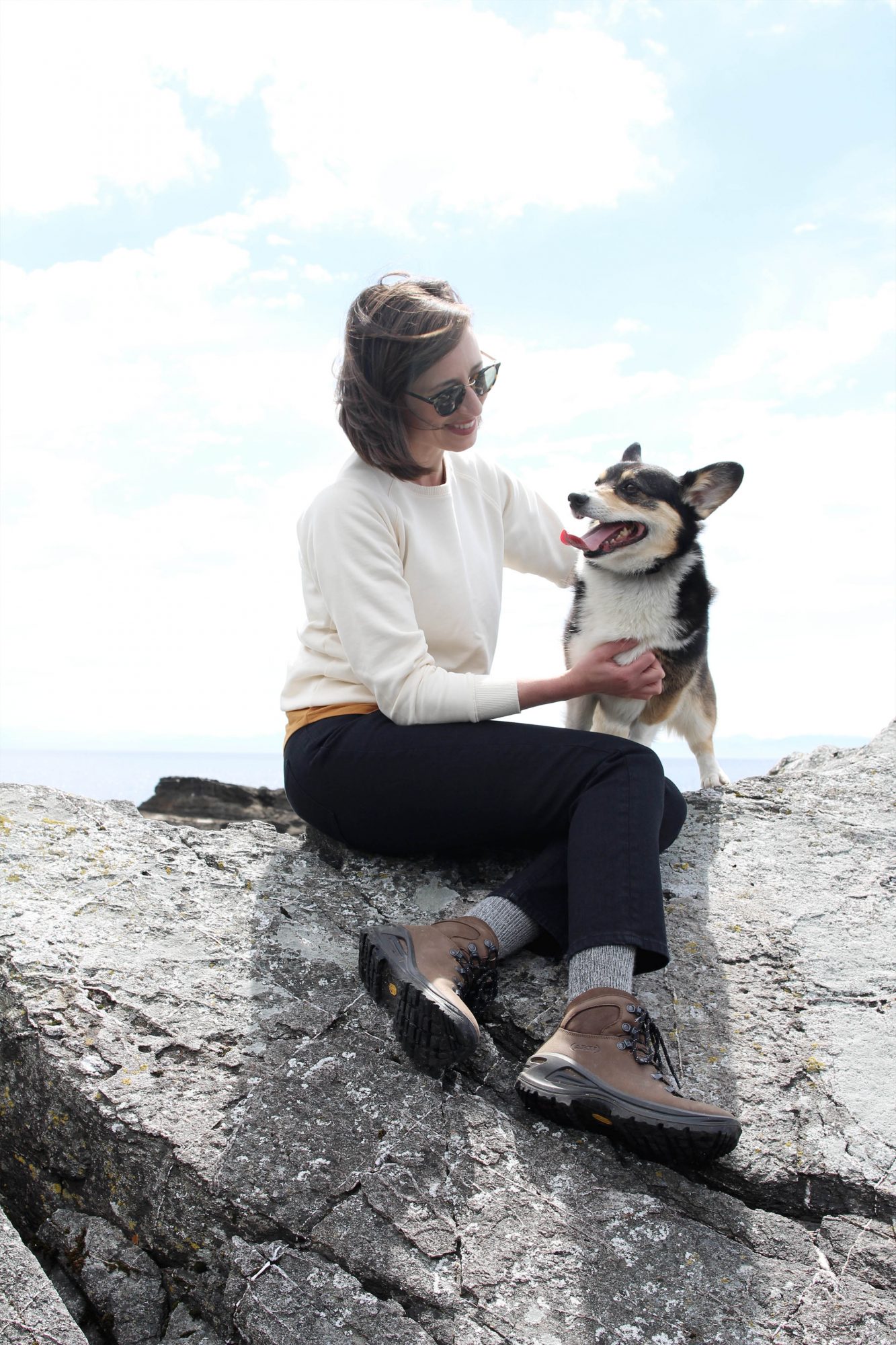 ---
BOTANICAL BEACH
(LOOK 1)
---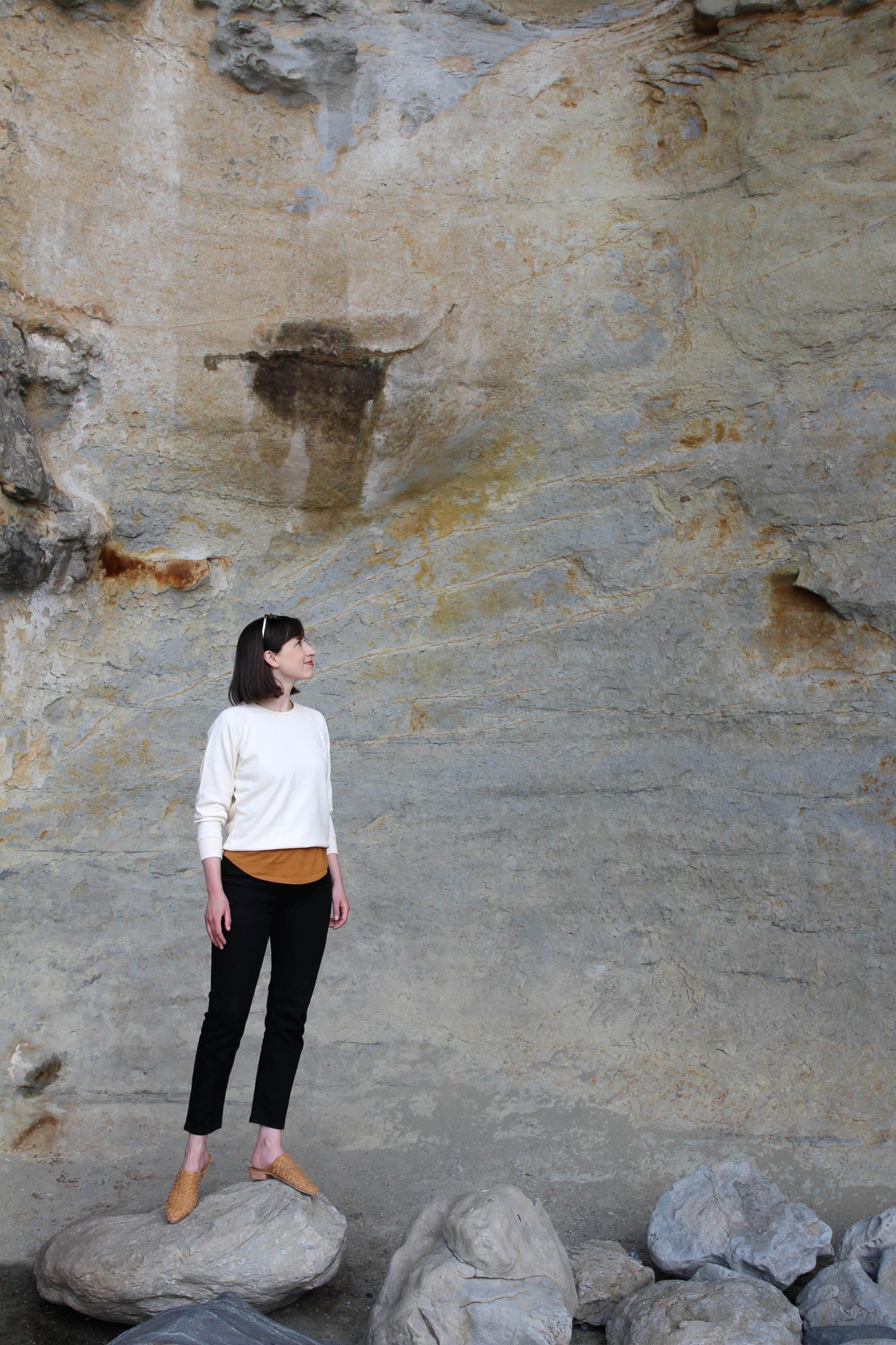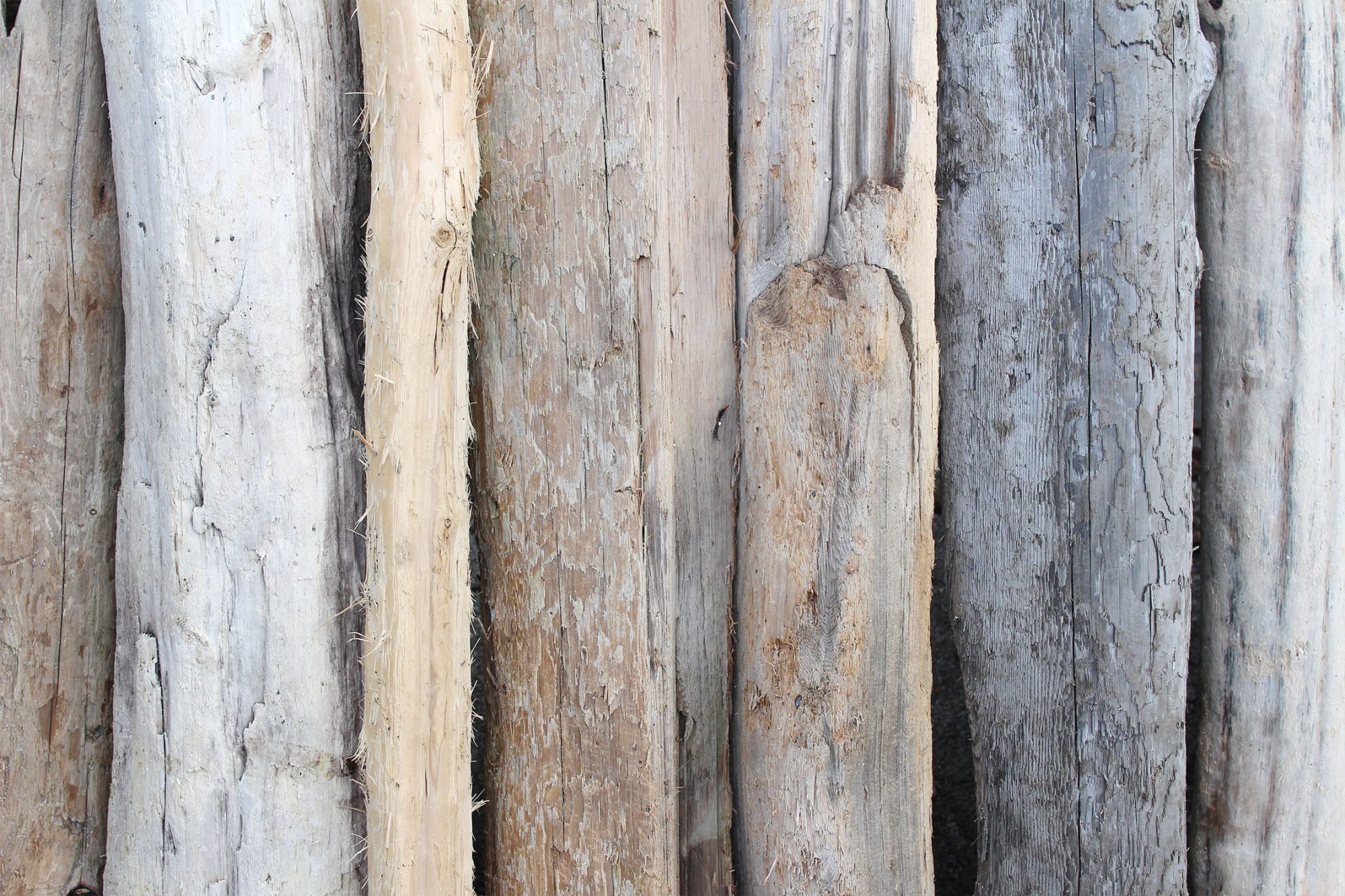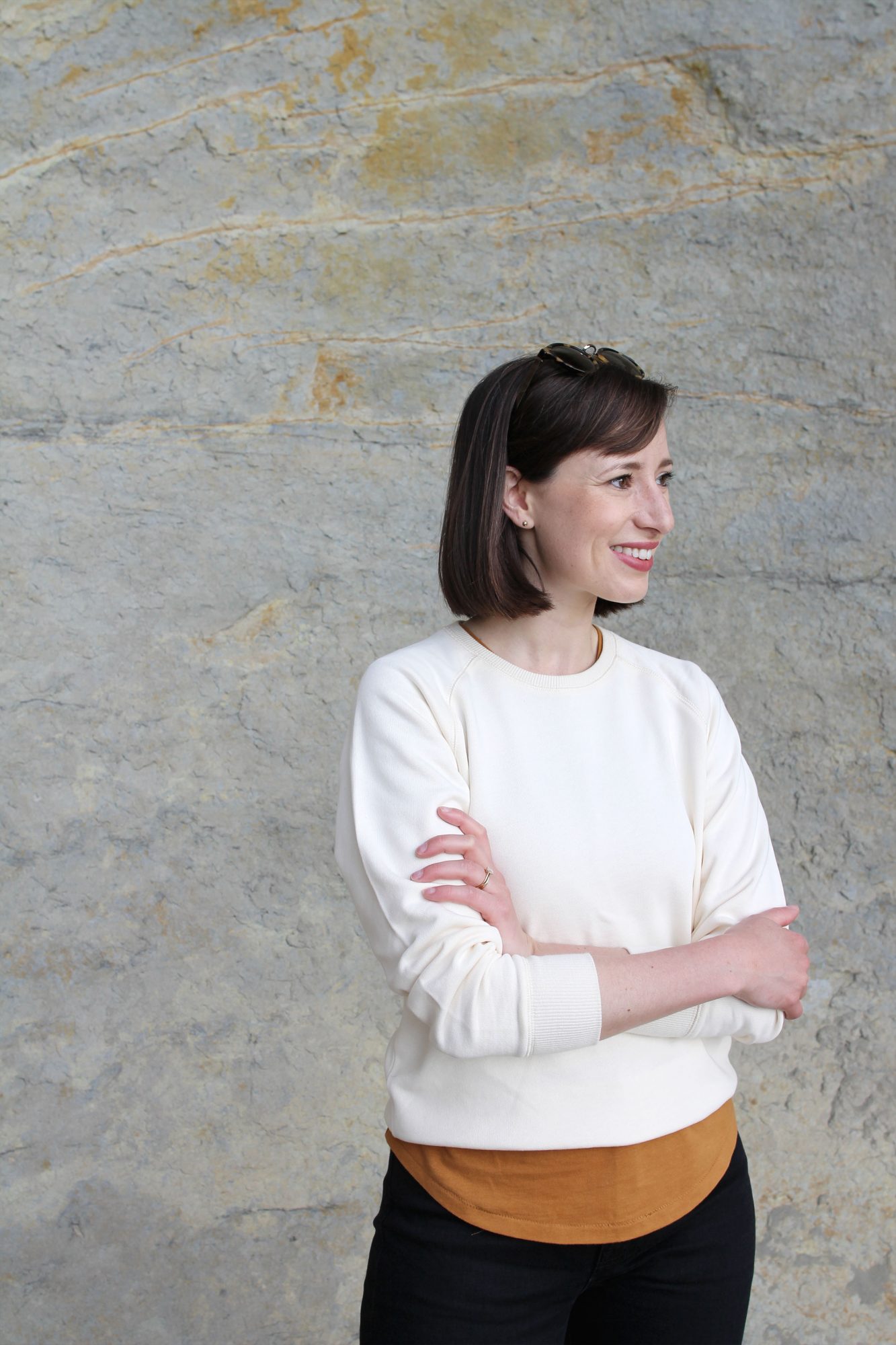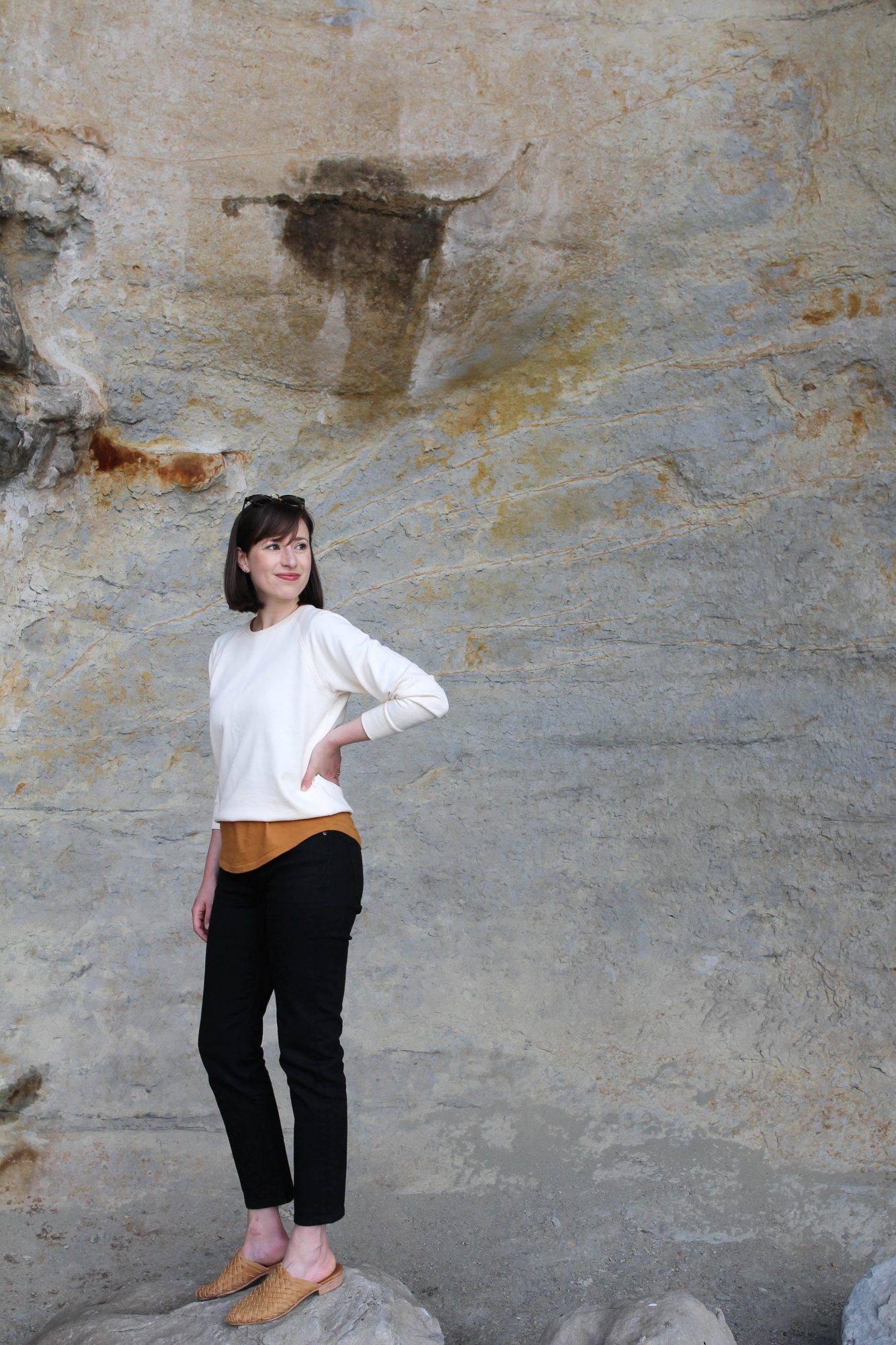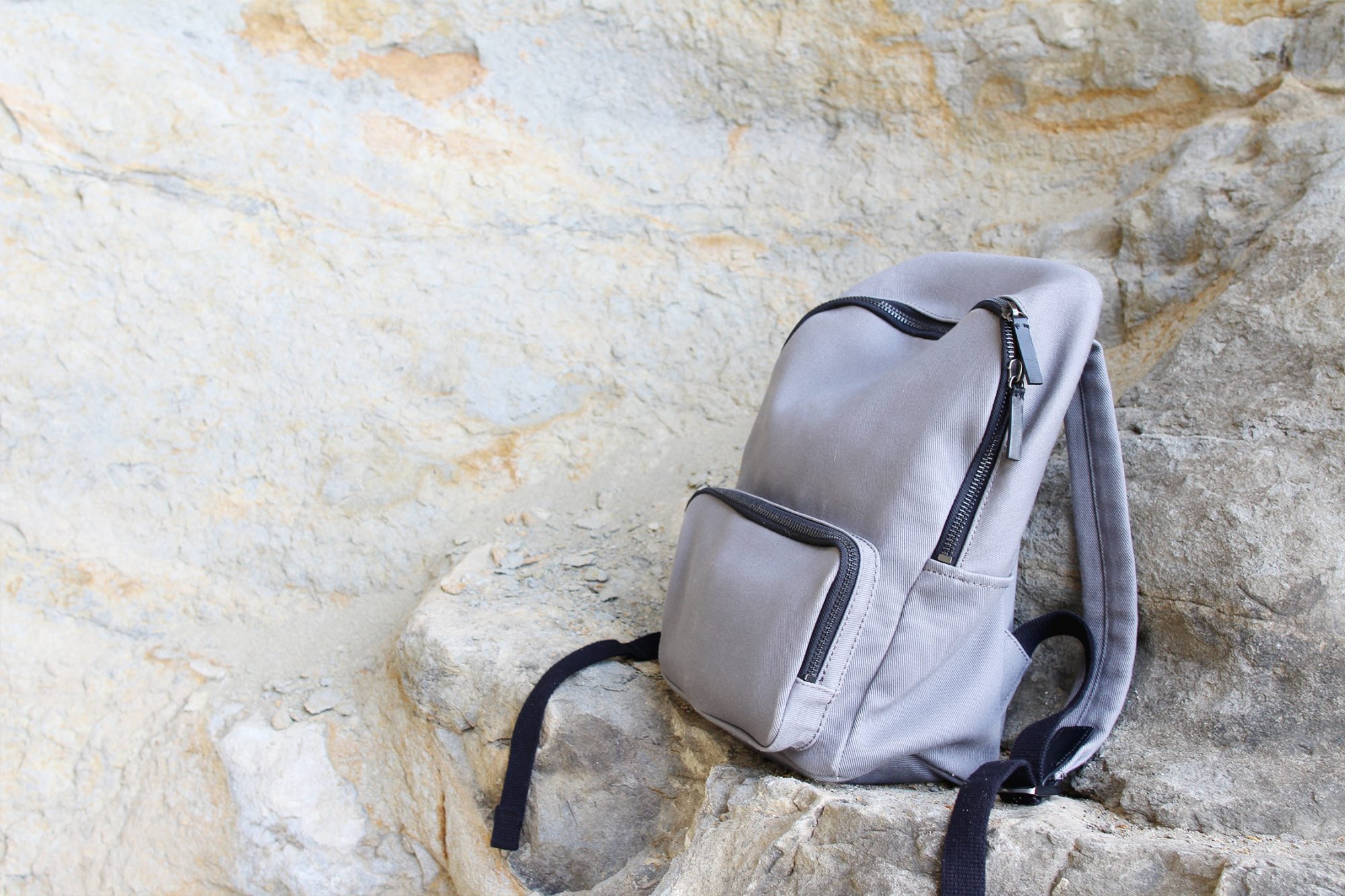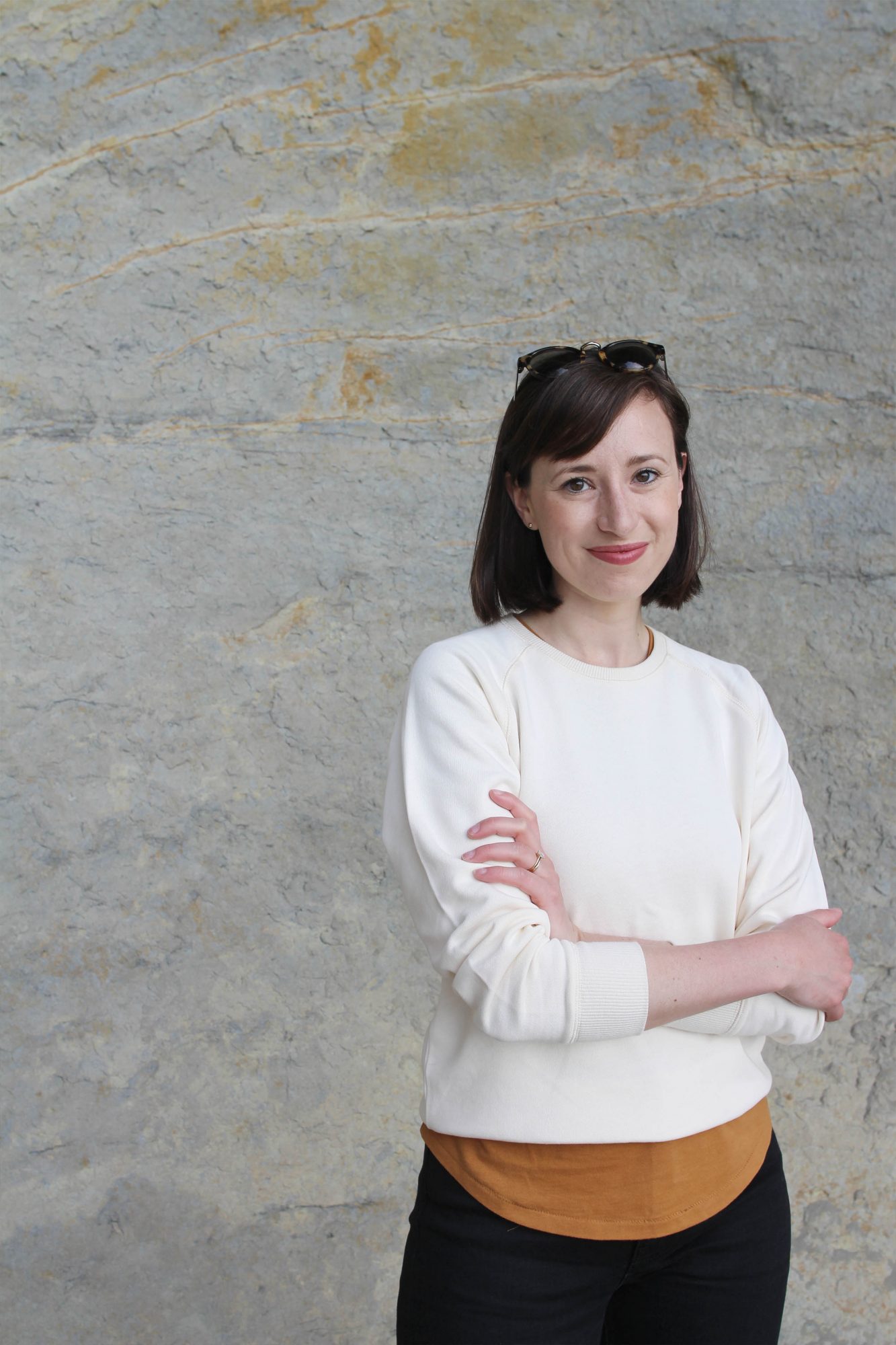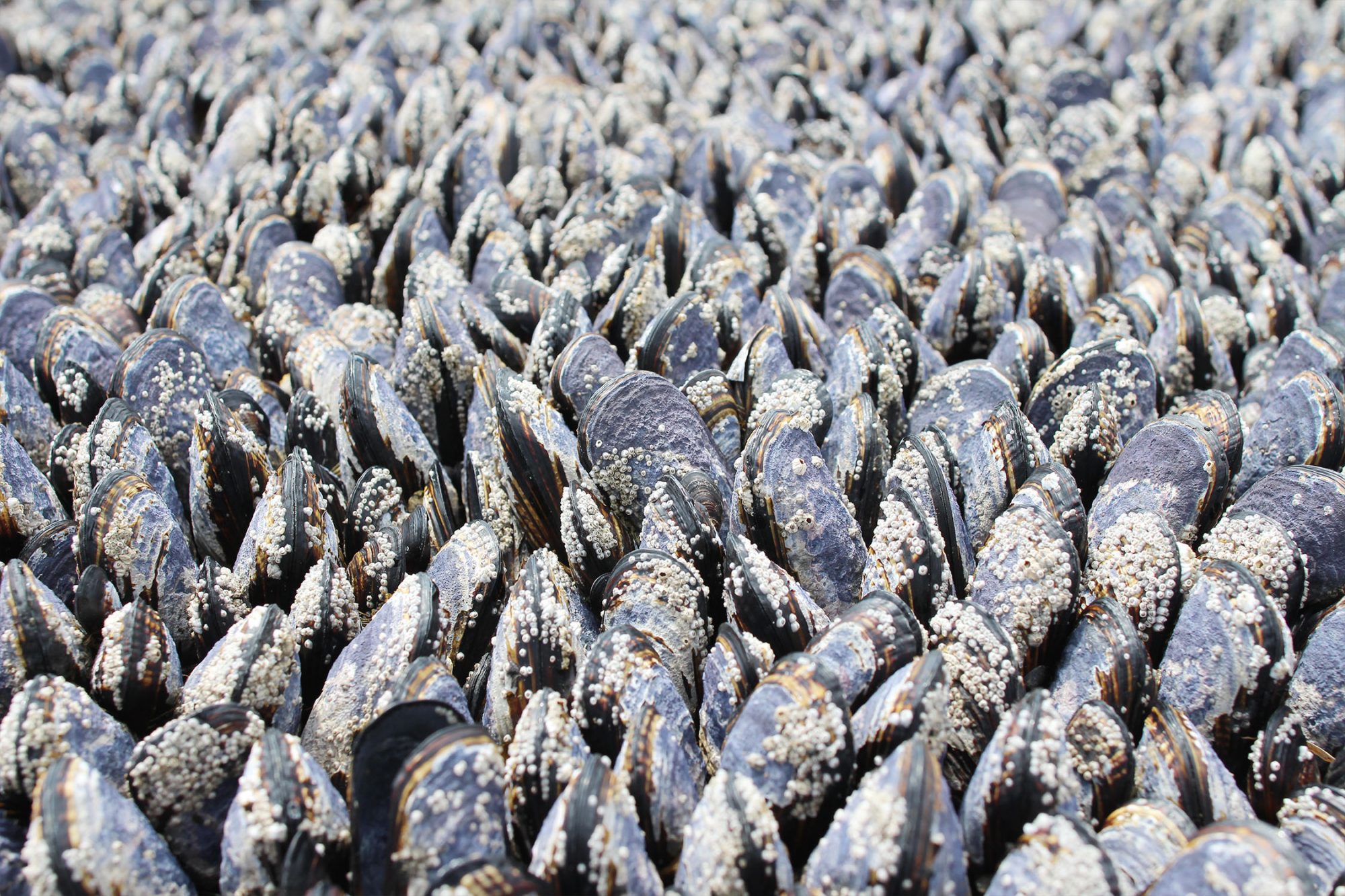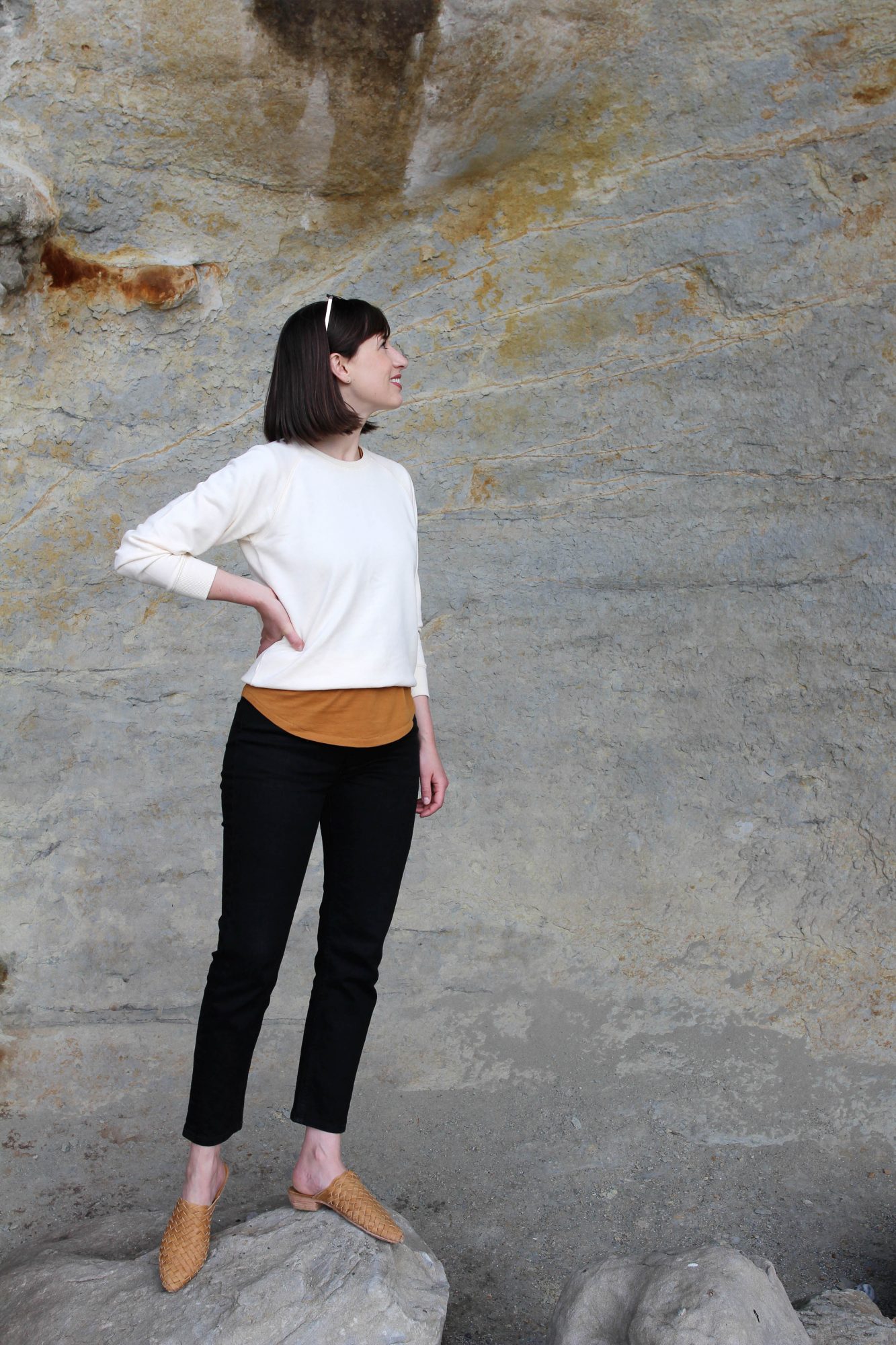 ---
When we made it down into Botanical Beach I was excited to kick off my hiking boots, feel the sand on my toes and take in the scene in all its glory. Botanical beach is special not just because of the densely foliated trail in but because of how the main tidepools and sculptured formations have been formed out of soft sandstone. Some of the parks tidepools are formed by wave-tossed boulders grinding out pockets in the sandstone. Purple sea urchins (which were everywhere!) further modify these tidepools by grinding out small pockets. Ridges of shale and quartz jut up through black basalt to give the rock face its unique, marbled effect and mix of rough and smooth surfaces.
It's funny how well the colours in this outfit worked with the palette on this beach. Blacks, creams and rust tones were everywhere from the rocks to the drift wood to the sea life itself! We hung out here for a little while and let Dobby explore but when the park ranger alerted us to a mama black bear and her cub we thought it best to move on. We did manage to catch a glimpse of her in the distance and it was awesome!
---
TRADLANDS IS OFFERING STYLE BEE READERS 20% OFF ANY ORDER WITH 'SPRINGSTYLEBEE'
(Valid through May 31st)
---
---

---

---
SOMBRIO BEACH
(LOOK 2)
---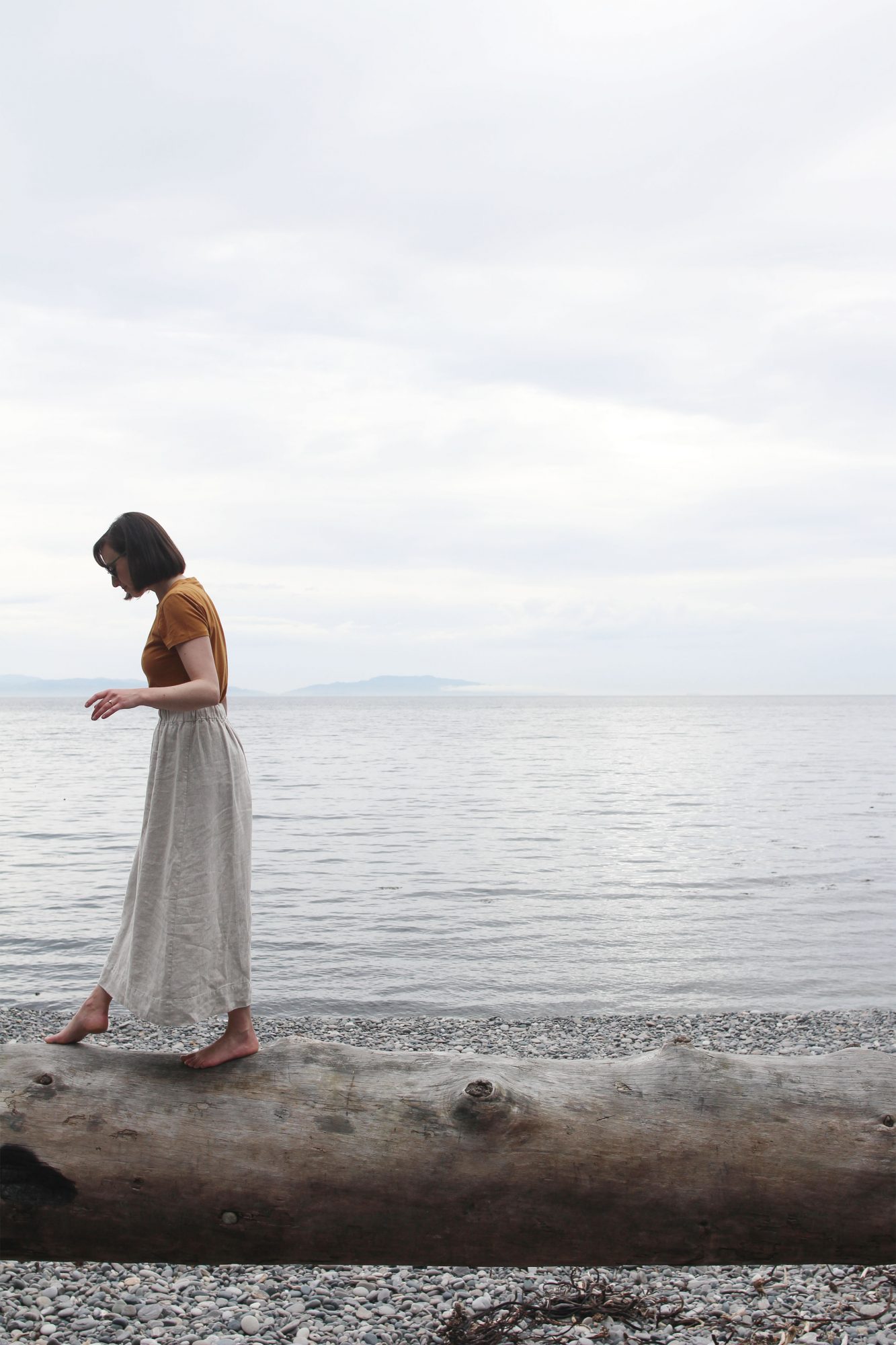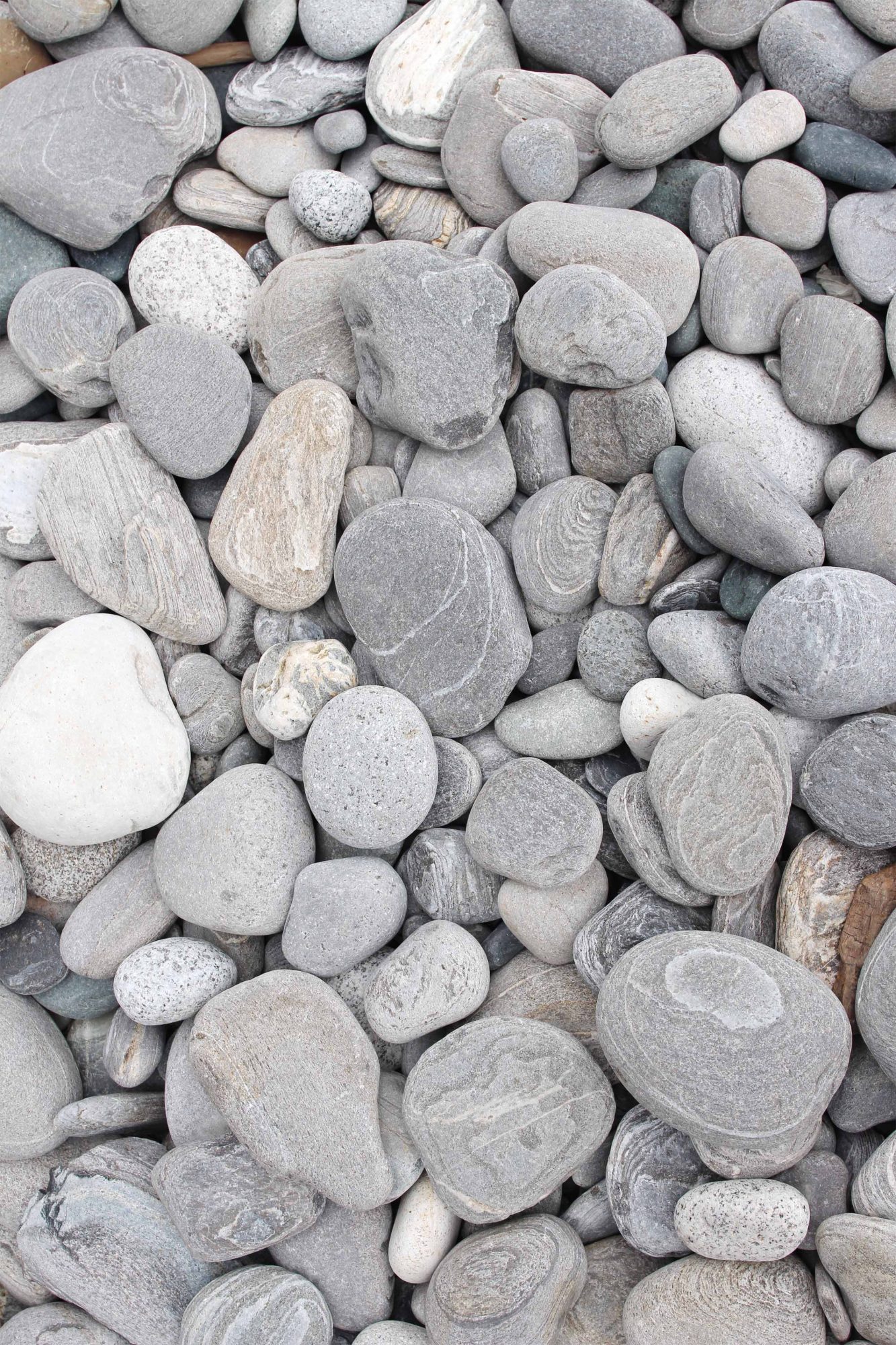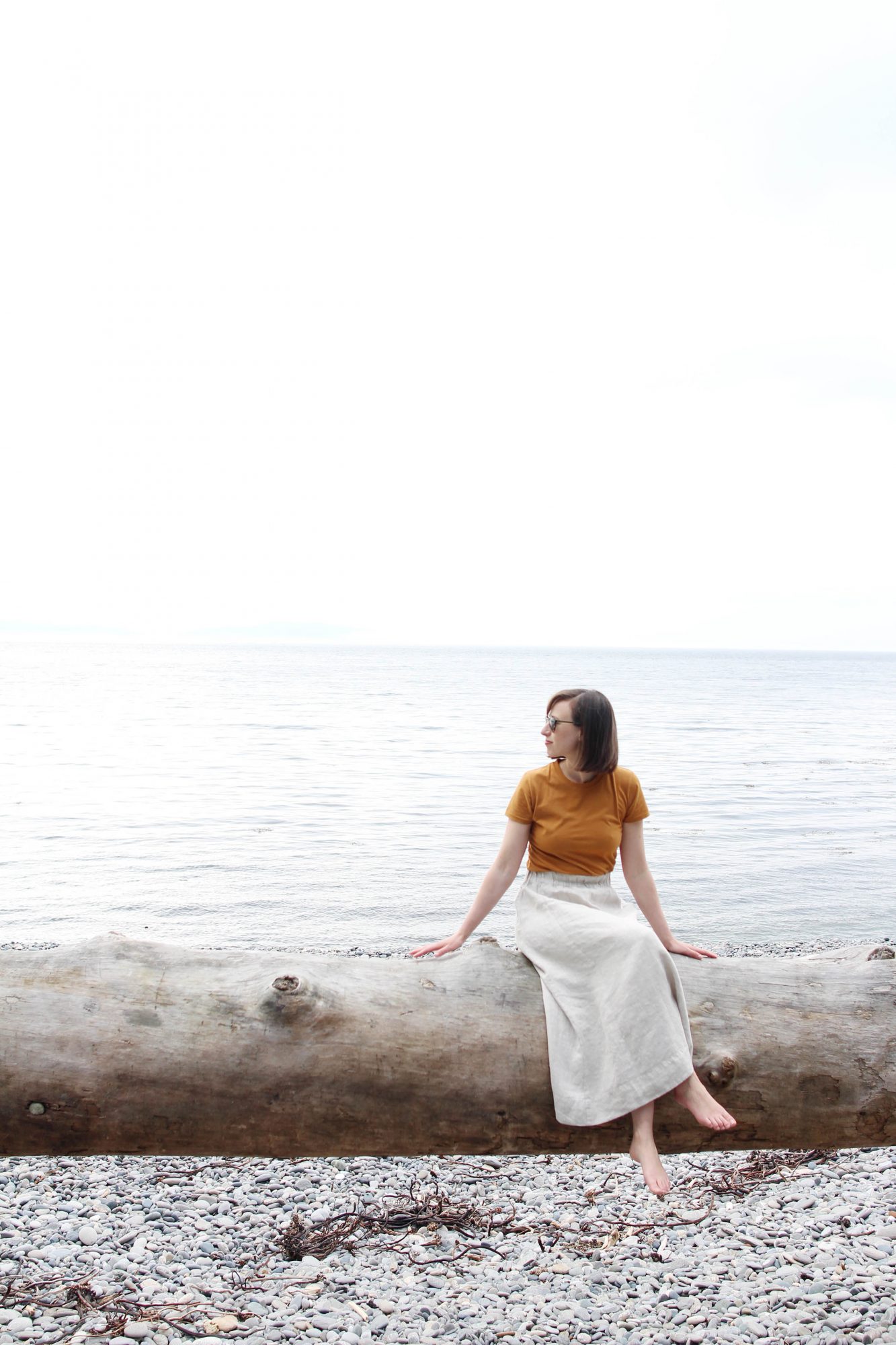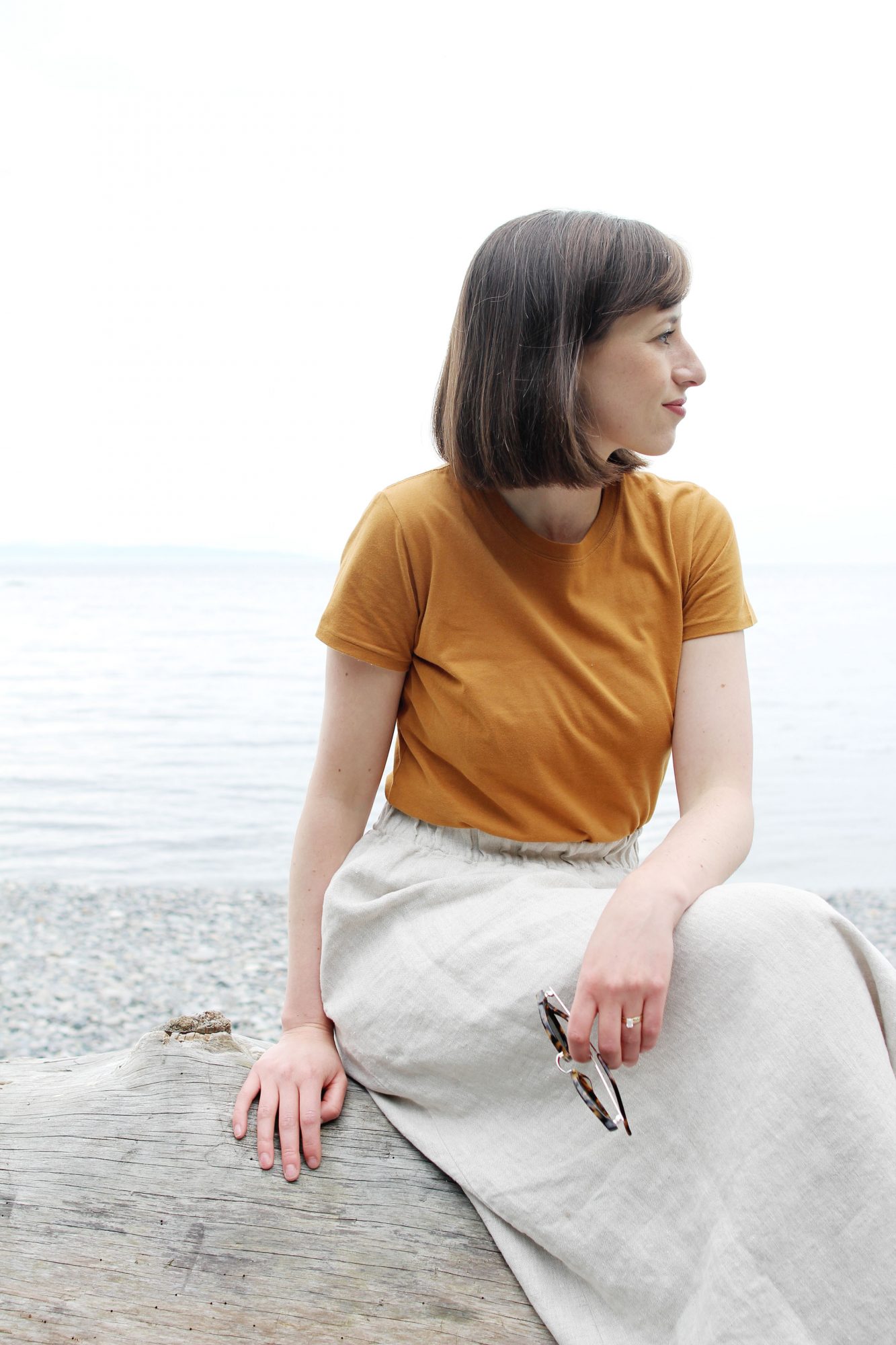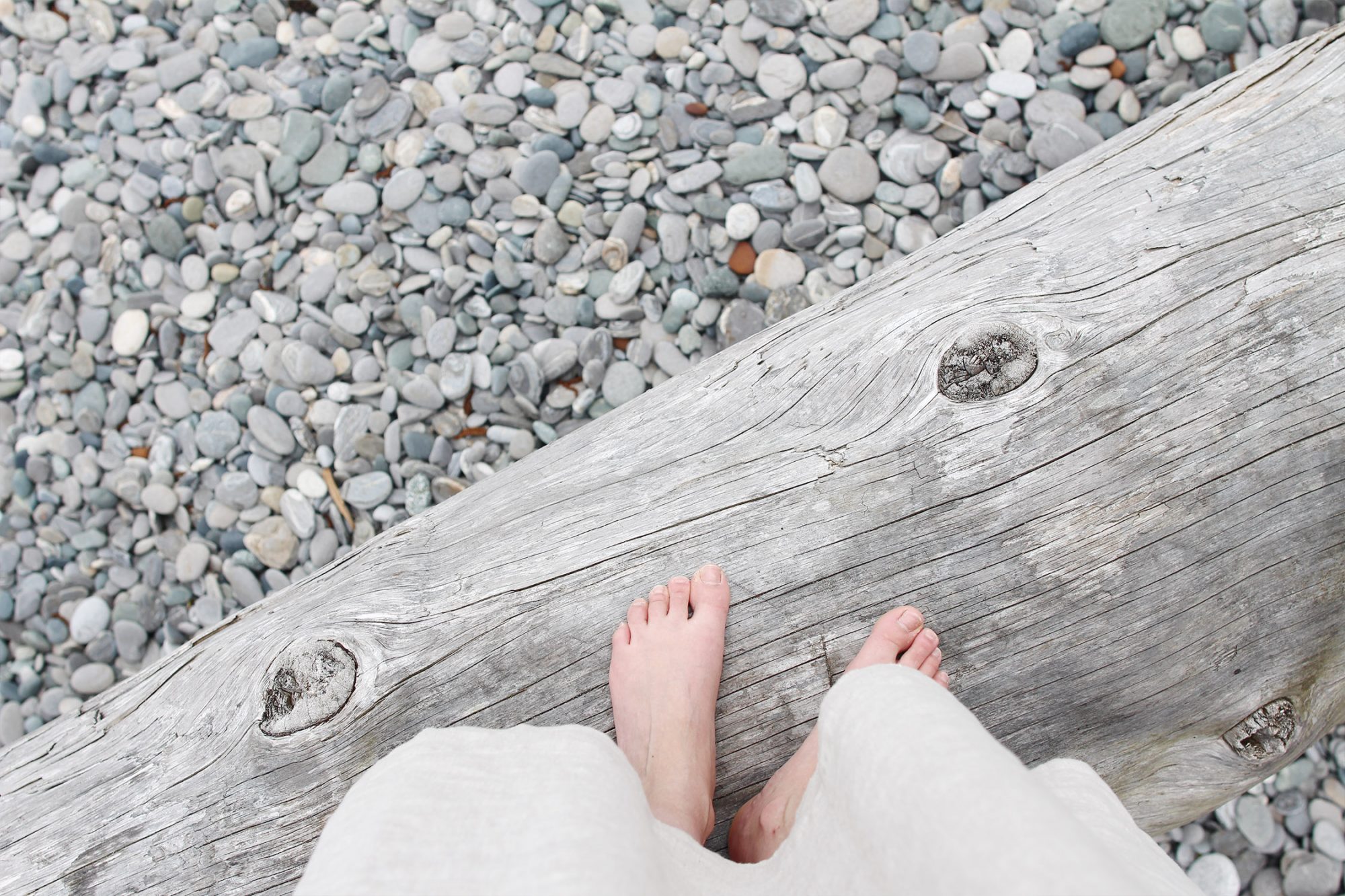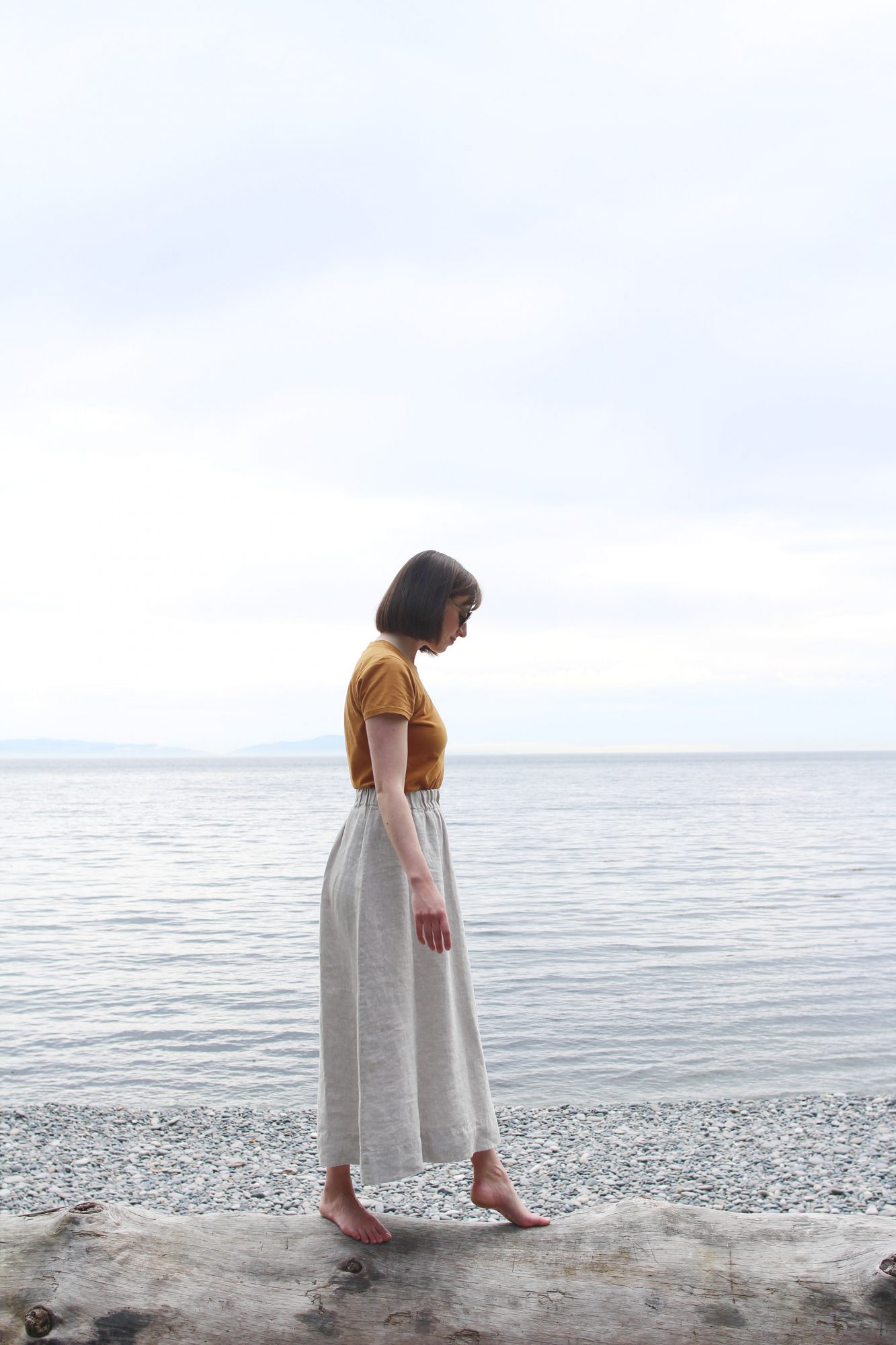 ---
Sombrio beach was our next stop and one that Dave had visited as a kid. It was so beautiful and seemed to go on and on for miles. The sky was soft and cloud covered but still quite warm and the beautiful grey tones in the smooth flat rocks inspired me to swap my jeans for my flax skirt. There were lots of giant old fallen trees, dried out and smooth from seasons of weathering so I hopped up onto one and we caught a few of my favourite shots to date. I ended up wearing this right out of the park (since the hike in was easy) and straight into dinner!
I fell in love with the Sienna colour of the Girlfriend Tee right away and was excited to try out the shape and cut too. I rarely ever wear my t-shirts un-tucked but I love how the curved hem peeks out under the sweatshirt. Of course, it's just as easy to wear tucked into a skirt or wide-leg pants though because it's lightweight and feels super smooth on the skin. I wasn't sure how the Sienna colour would pair with my flax skirt but it turned out to be a great palette, especially for a beachy afternoon and evening. I'm wearing a size S which is just relaxed enough but not too loose.
I should mention that one hike + beach we didn't do on this trip was Juan de Fuca to China Beach but I would highly recommend that one. We went there on our last visit to the island so we skipped it but it's probably my favourite out of the three we've been to off HWY 14.
BTS secret: Now I know the shots above are all serene and dreamy but I'll let you in on a little BTS secret, there were a lot of rock spiders. Like an absurd amount. Luckily, I'm not terribly frightened of them and it was clear that they didn't want to cause trouble, but yeah, nothing gets me moving to higher ground like a lot of eight legged black specks darting around my feet.
---
TRADLANDS IS OFFERING STYLE BEE READERS 20% OFF ANY ORDER WITH 'SPRINGSTYLEBEE'
(Valid through May 31st)
---
Girlfriend Tee | gifted Trandlands | $49 USD (or $39.20 with code 'SPRINGSTYLEBEE') | Wearing a size S and I love the relaxed but slim fit) | Made ethically in China (more on that here)
Bel Skirt | gifted Elizabeth Suzann | $205 USD | Wearing a S Regular in Flax Linen | Made responsibly in Nashville, TN.
Sunglasses | old Madewell | $55 USD | Made in China
---

---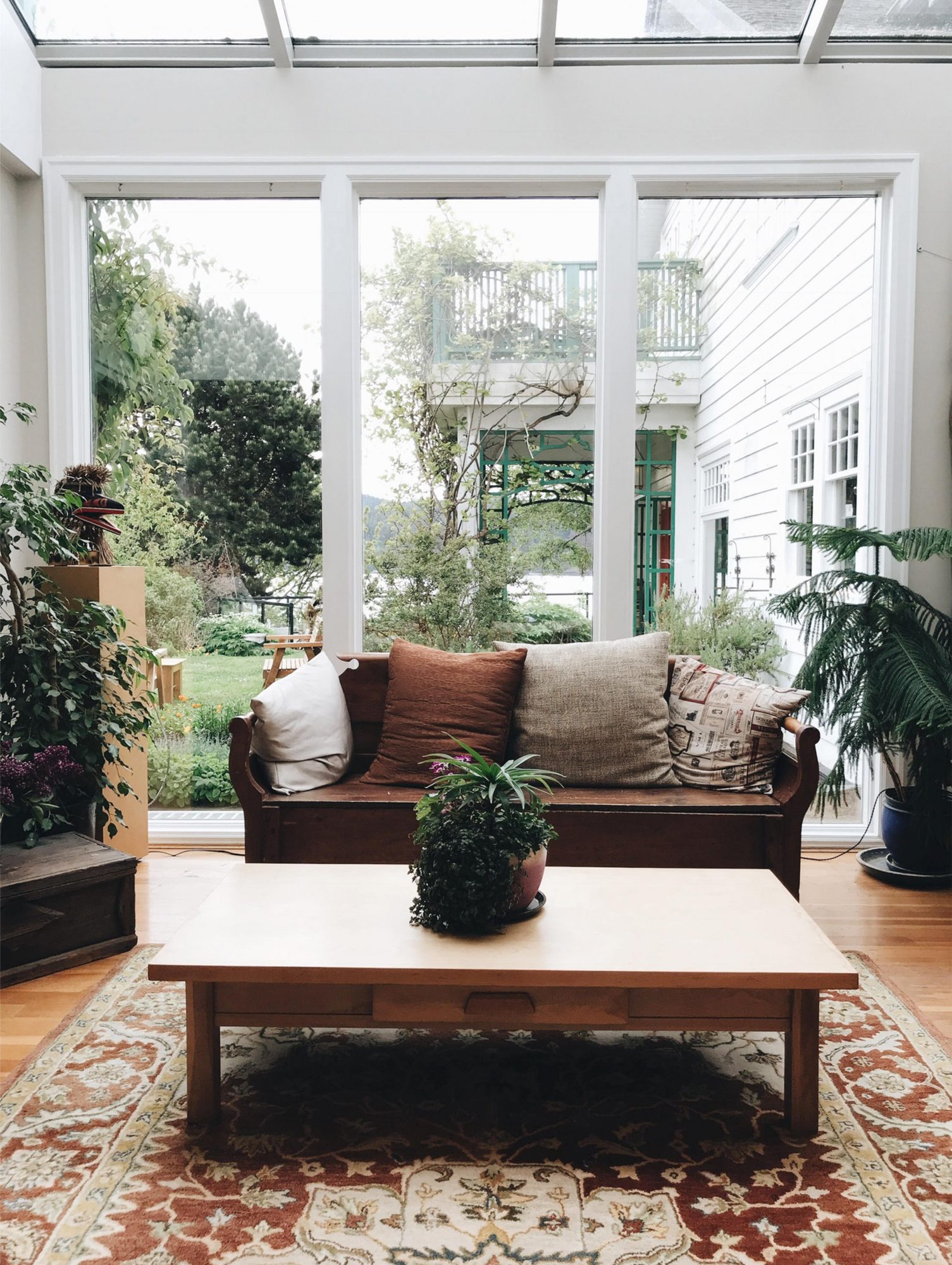 ---
DINNER – SOOKE HARBER HOUSE
---
We finished a long day of hiking, shooting and exploring with a fabulous dinner at Sooke Harbour House. While we were waiting for dinner we spotted deer, otters and humming birds all right from our table. We had the chef's tasting menu and it was one of our favourite meals yet! We highly recommend eating here if you go and the B&B looks lovely too!
---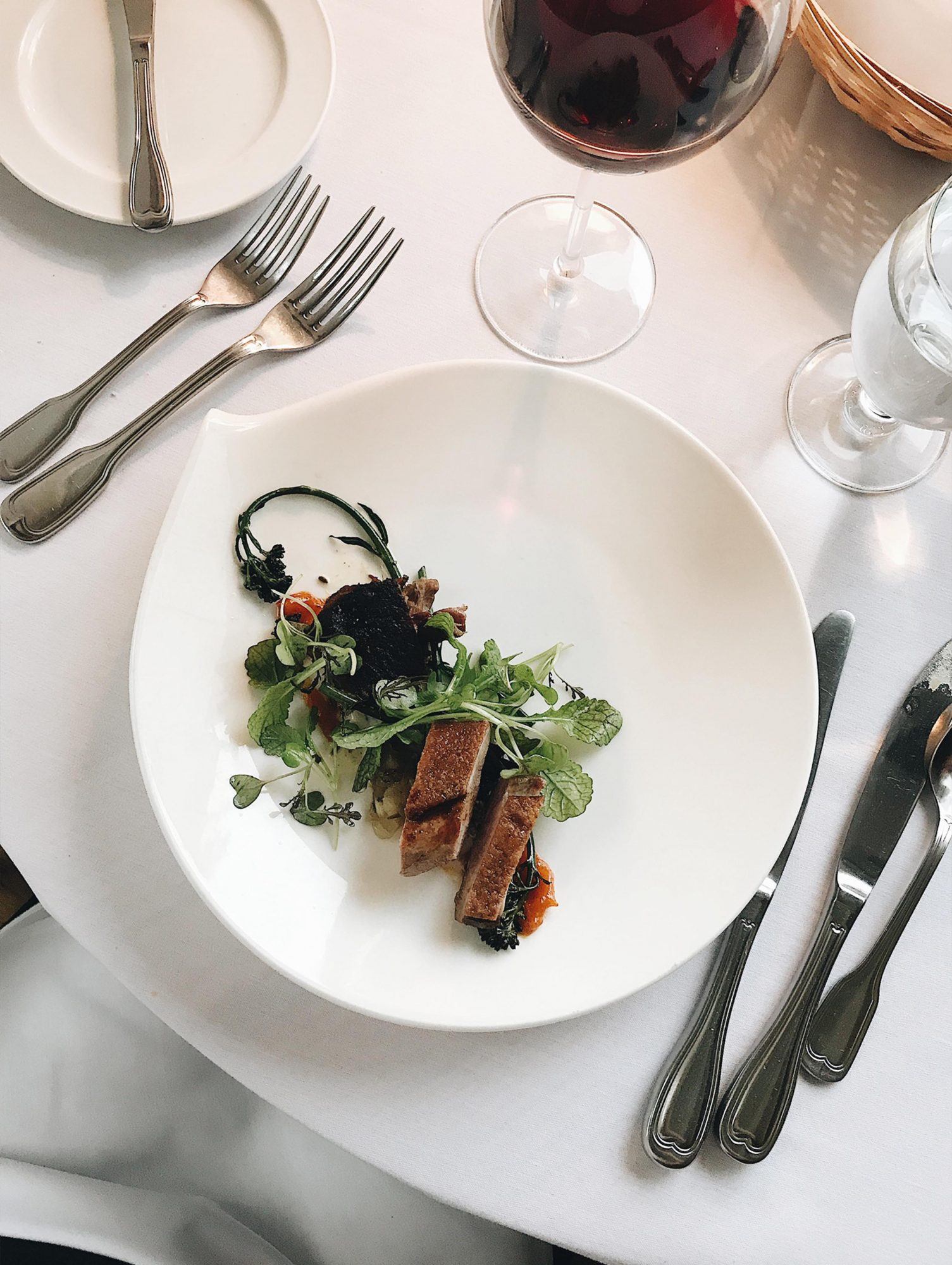 ---
THE DRIVE HOME
---
On Wednesday we woke up lazily from another deep sleep and after a morning hot tub session and walk through the Point-No-Point trails with Dobby we reluctantly began to pack up for the ride home. We stopped in at Michell's Farm in Saanich for a bite at Harvest Road and it was delicious! Their garden centre was looking amazing too and had us dreaming about all the things we'll plant when we get back to Ontario. As we boarded the ferry back to Vancouver we came to terms with the fact that two days in Point-No-Point was nowhere near long enough!
If you're ever able to get out there, GO!
---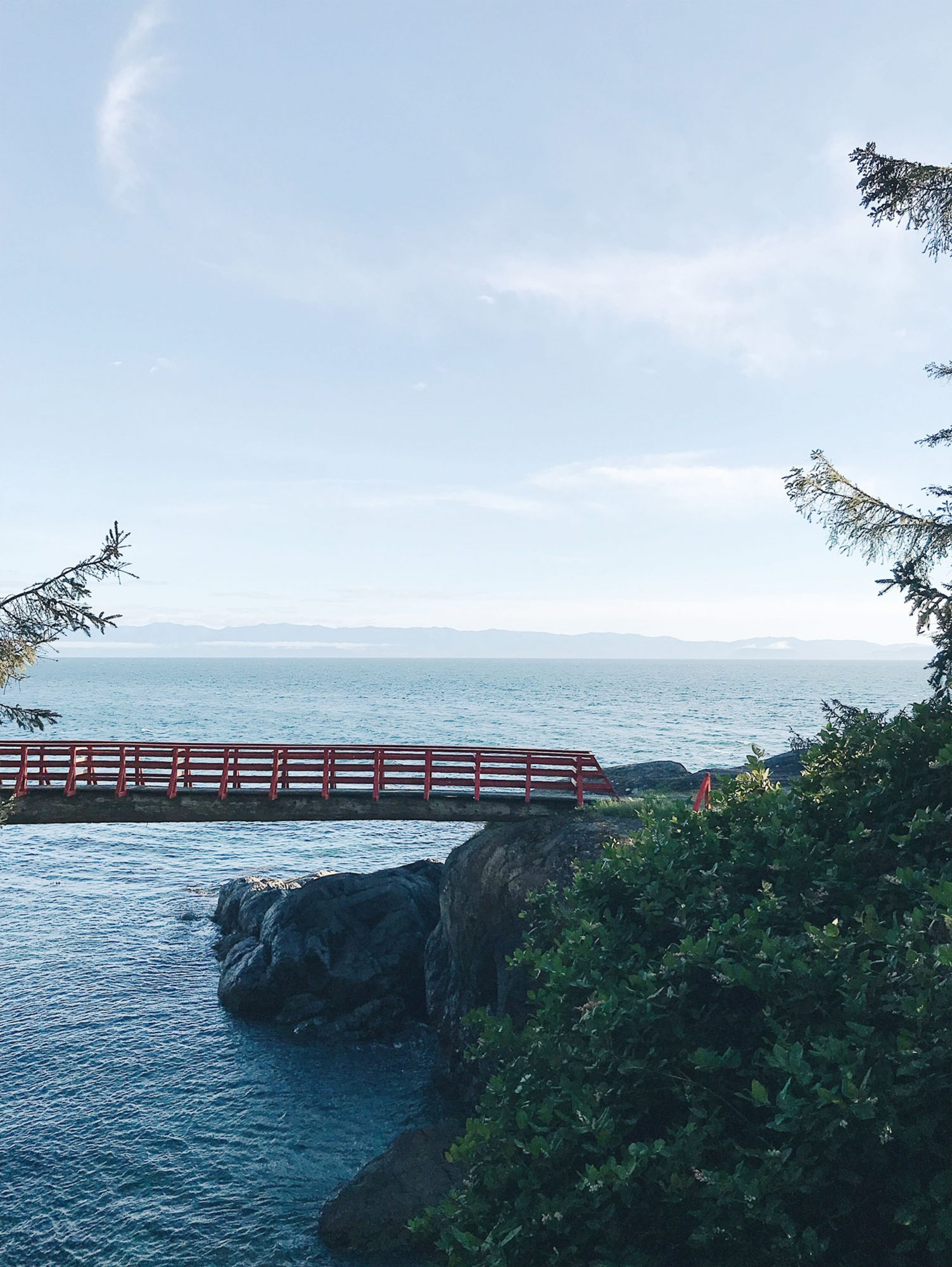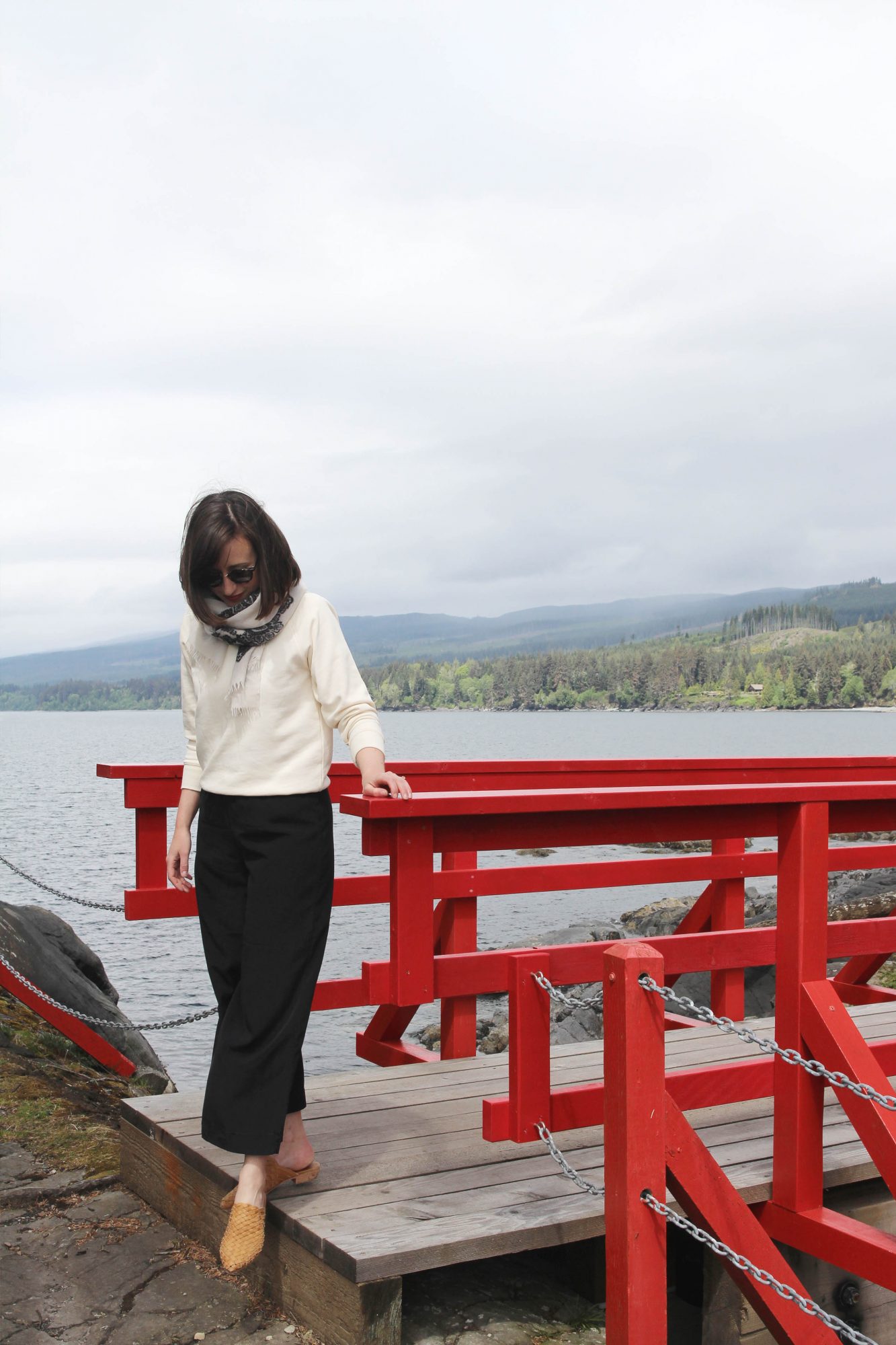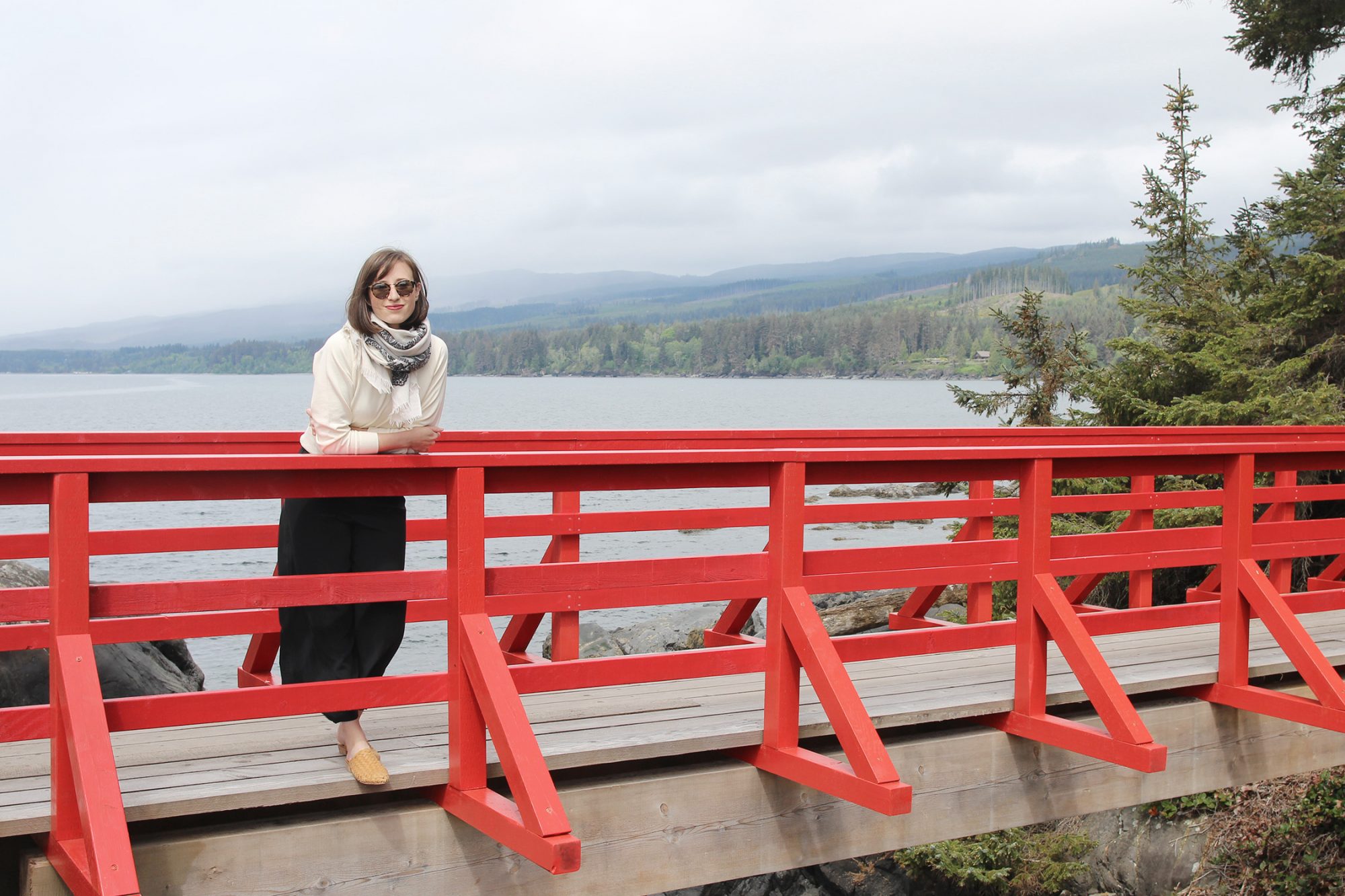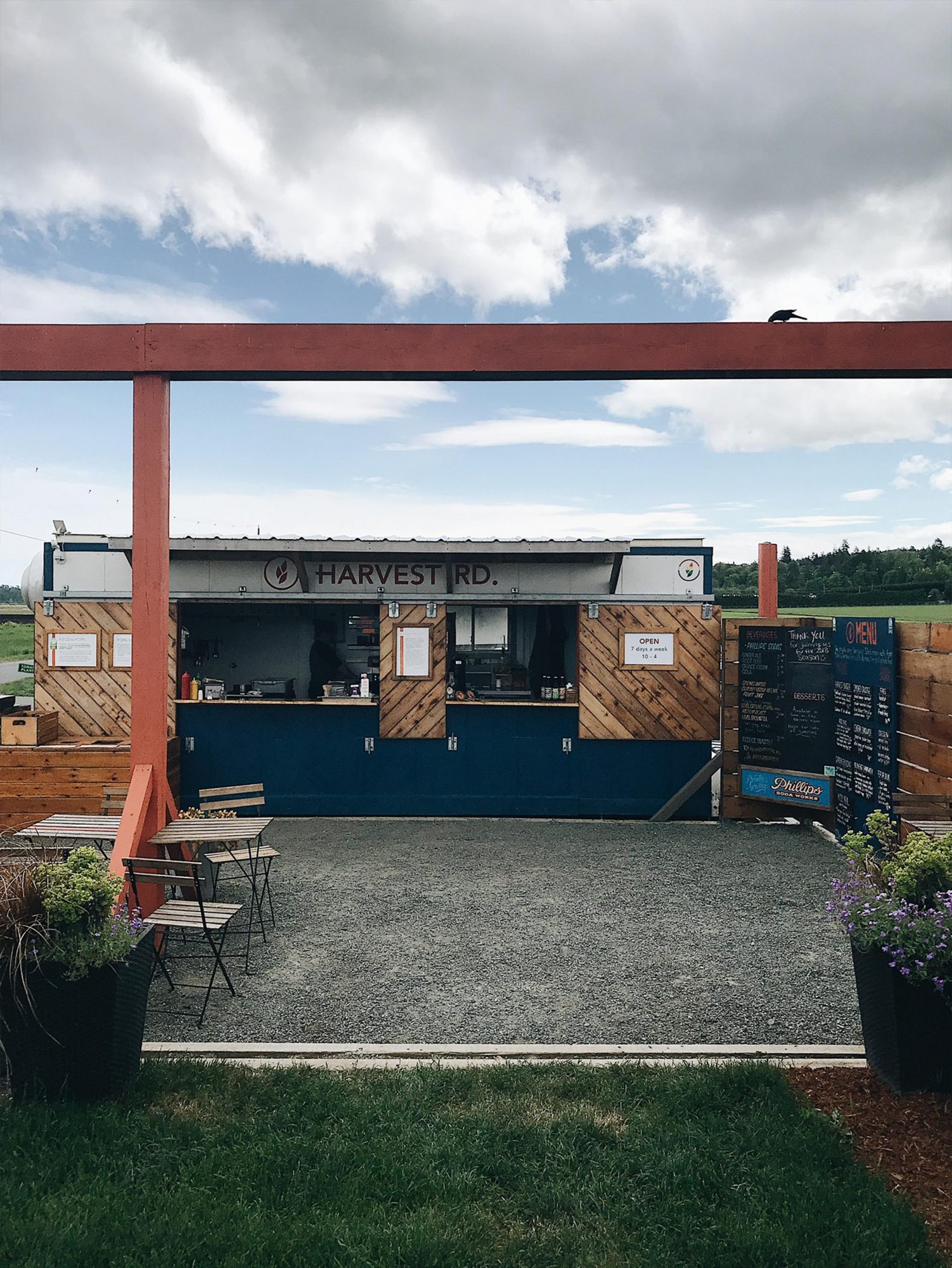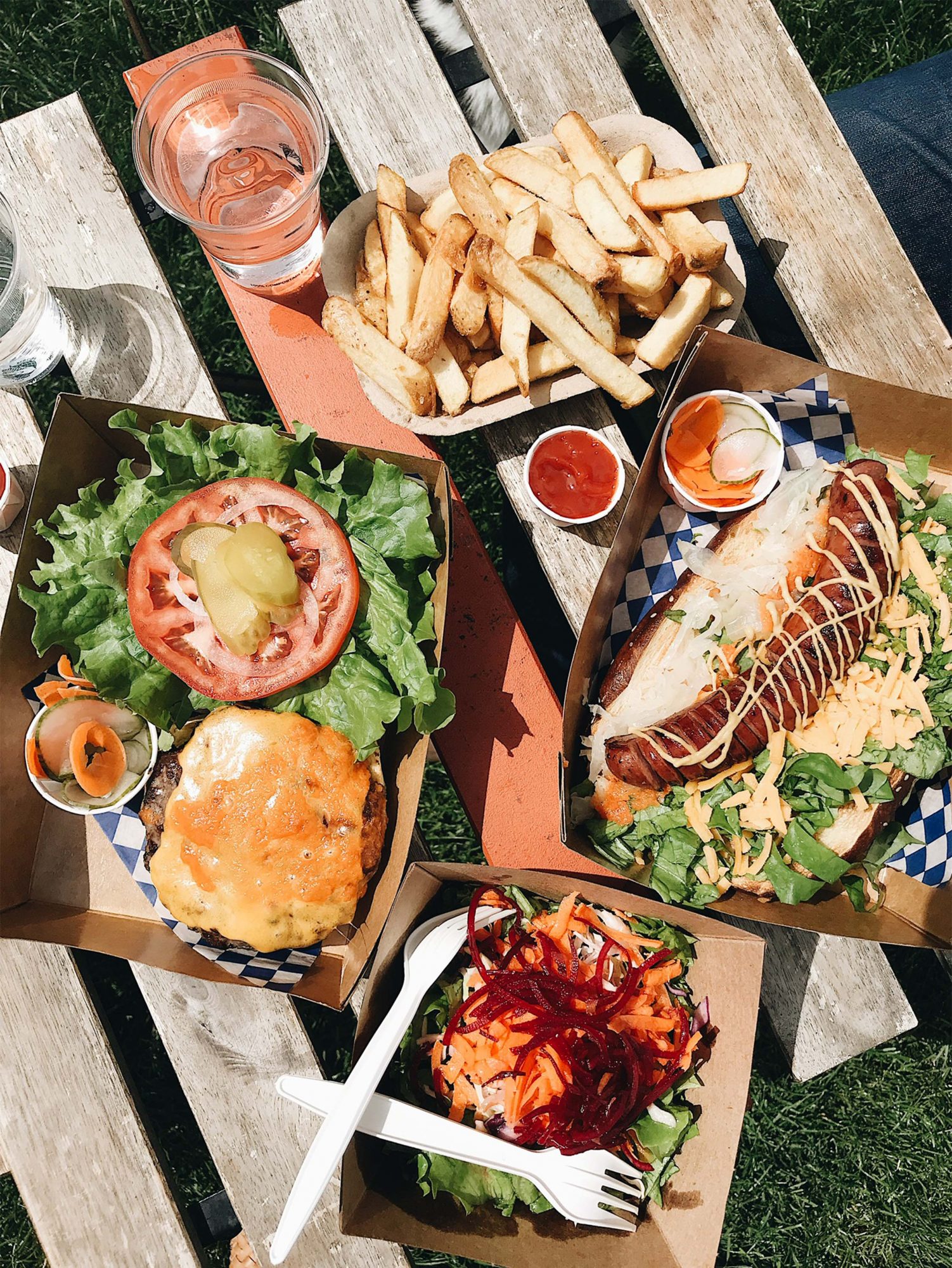 ---
That's it for our mini-break post but tell me, what are your favourite hidden gem getaway spots?
---
THANKS FOR READING!
WISHING YOU ALL A WONDERFUL WEEKEND! 
---
DISCLOSURE: This post was produced partly in partnership with Tradlands. Our trip was not part of the collaboration but a happy coincidence and all opinions are entirely my own, as always! When you shop via the links above or use the Style Bee discount code, I make a commission on the sale. Thanks for supporting the responsible brands that support Style Bee!