Hope you had a good weekend! They always seem to zip by way too fast don't they? C'est la vie I suppose!
Today I thought it would be a good time to try out another 1 Formula – 3 Ways post. I love this series because it really forces me to play with my existing options and look for themes throughout my closet. It also makes outfit planning super easy and I always end up discovering at least one look I hadn't considered before. If you haven't checked out any of these posts yet have a look at NOVEMBER, JANUARY + MARCH if you're interested.
This installment of the series is a little different than previous ones in that I used colours (ie: ivory and black) instead of the type of item (ie: skinny jeans, fitted top) to create my base. I actually love how this method worked out and found it even easier to pull together looks than with the previous approach. It'd be a great way to pack for a trip or plan looks for a work week and as usual with this 'formula' method all the items are interchangeable so you could simply swap pants, tops or shoes around for a totally different look!
Lately, I've been reaching for the same uniform a lot, which happens to be:
LIGHT COAT + IVORY TOP + BLACK PANTS + FLATS 
So let's take a look at this simple formula in action! 
---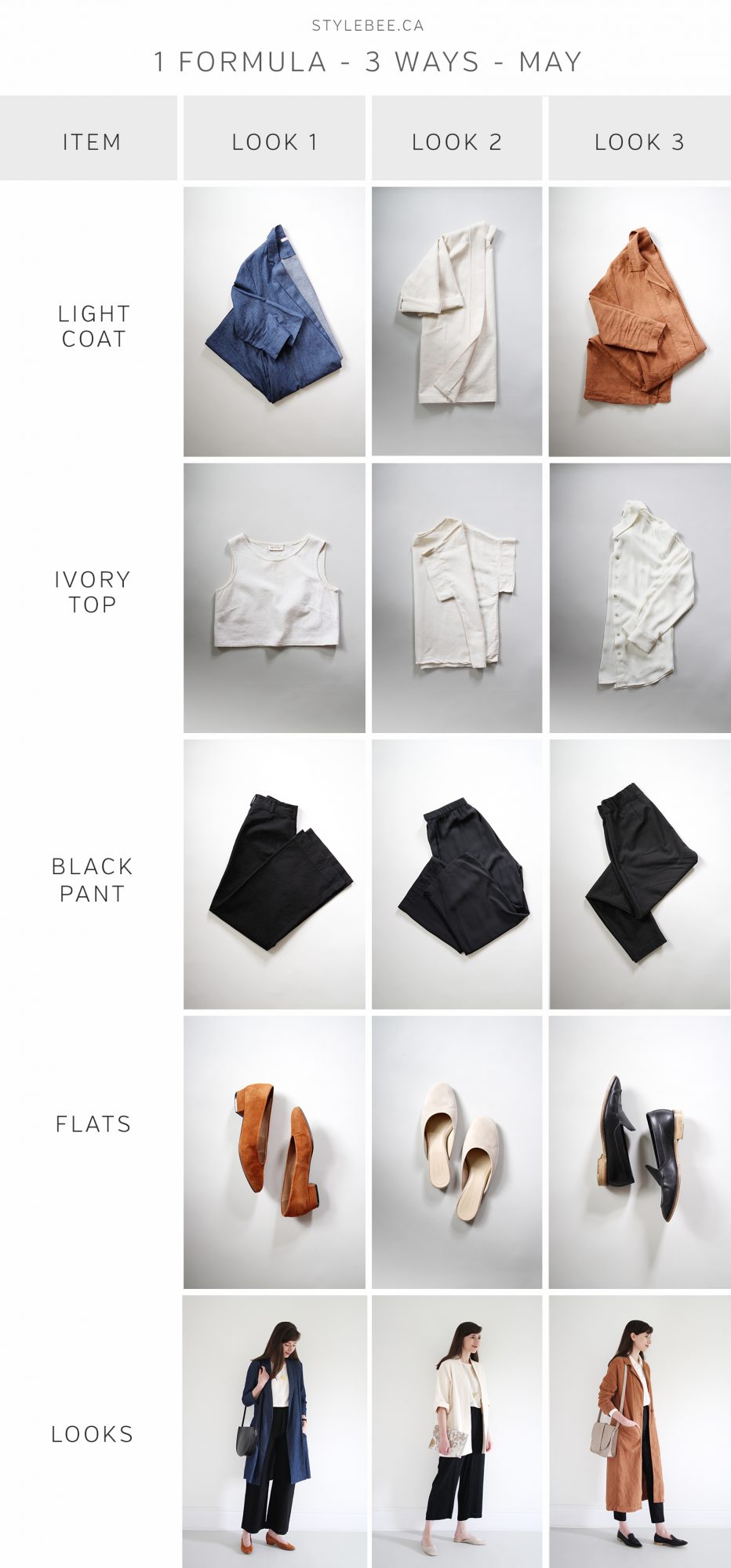 ---
LOOK 1
---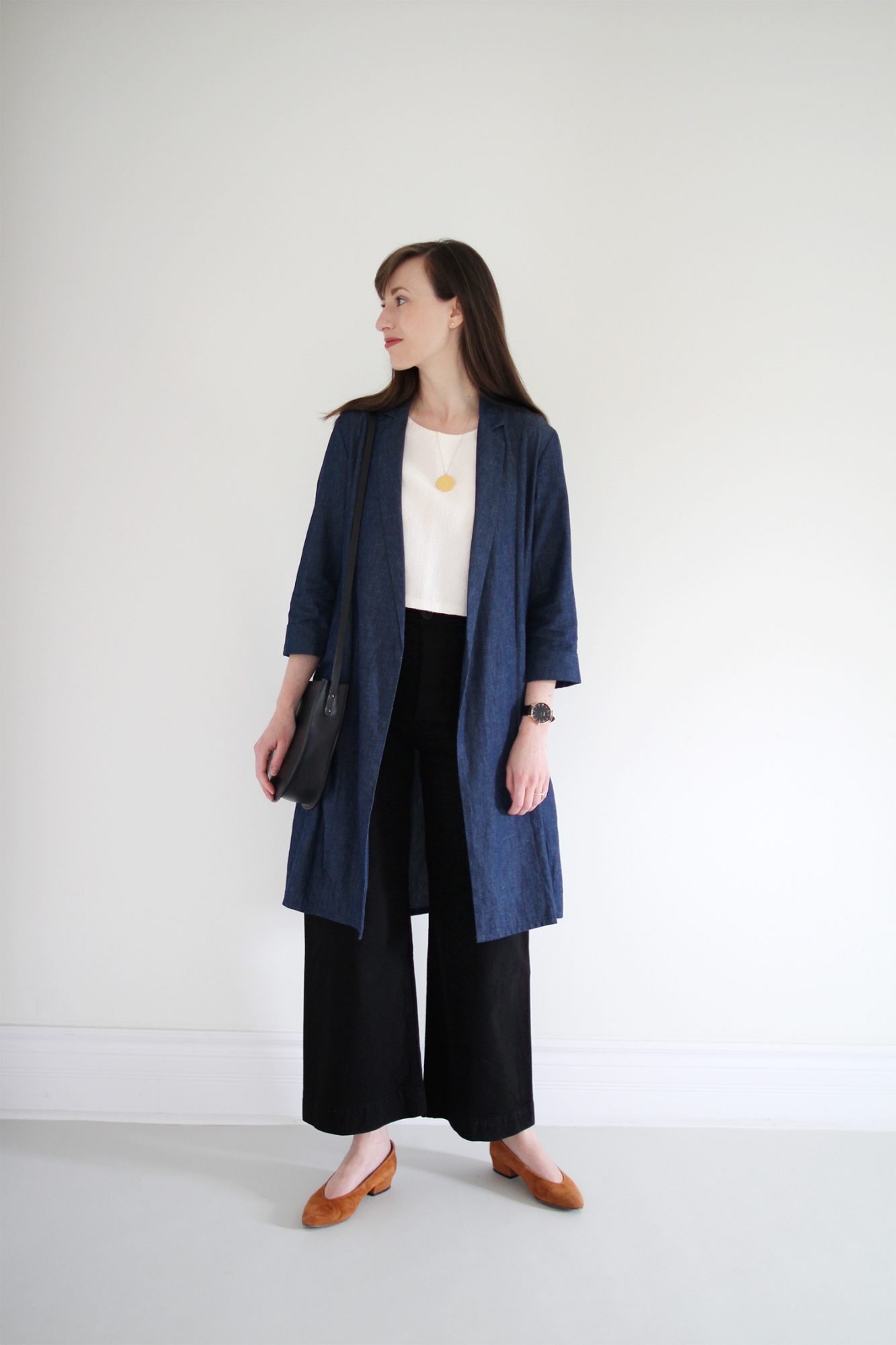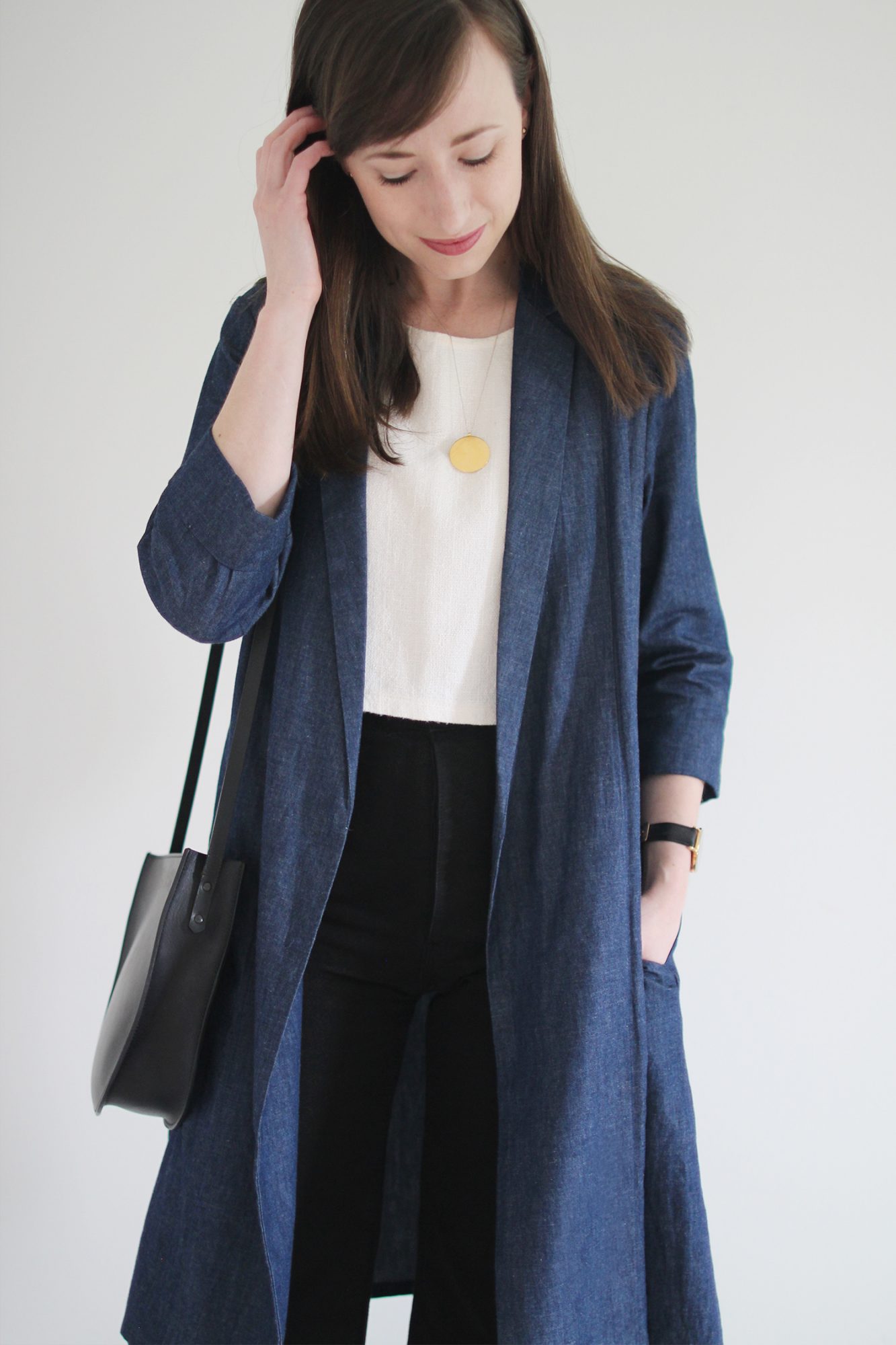 ---
THOUGHTS ON LOOK 1
---
I'm sure this look will be familiar. Even though I haven't worn this exact one on the blog it's a personal favourite and one I've worn a variation of many times. I love the unique shapes, proportions and palette. It feels sophisticated and put together but still very simple and comfortable.
These pants are probably my favourite item in my closet, I just can't help out feel great every time I button then up. This cropped tank is the first item I bought from Elizabeth Suzann and still my go-to crop for the Spring and Summer. I love these two together because they overlap just the right amount to conceal any mid-drift while still achieving the ultra high-rise, cropped look.
This denim duster has yet to fail me in being the ideal topper for any simple look. With a few simple accessories in unique shapes and a pop of cognac suede thanks to my flats, I'm all set for just about anything! I love this look for evenings, weekends and just about any chance I get to dress-up a little more than usual.
---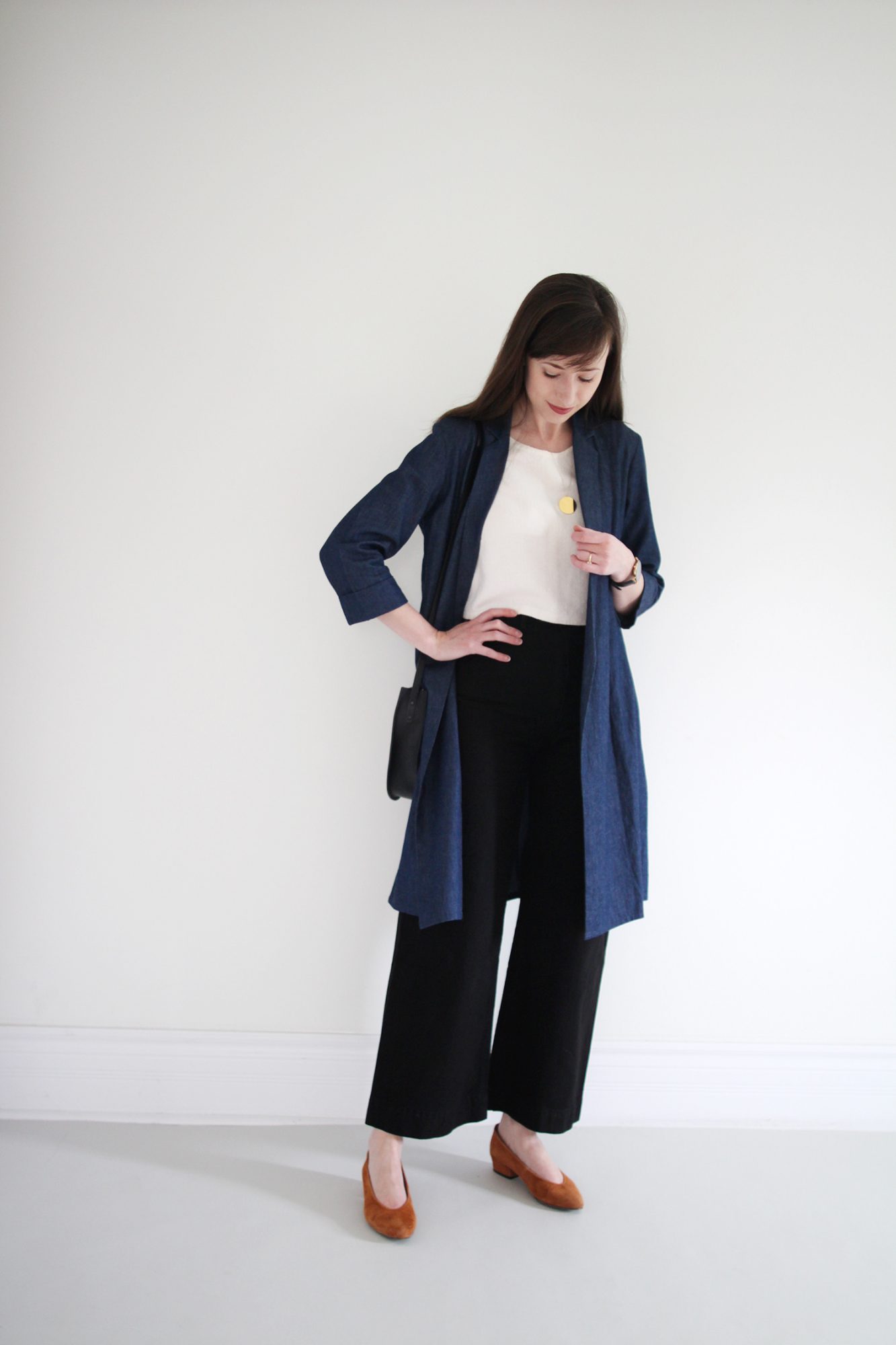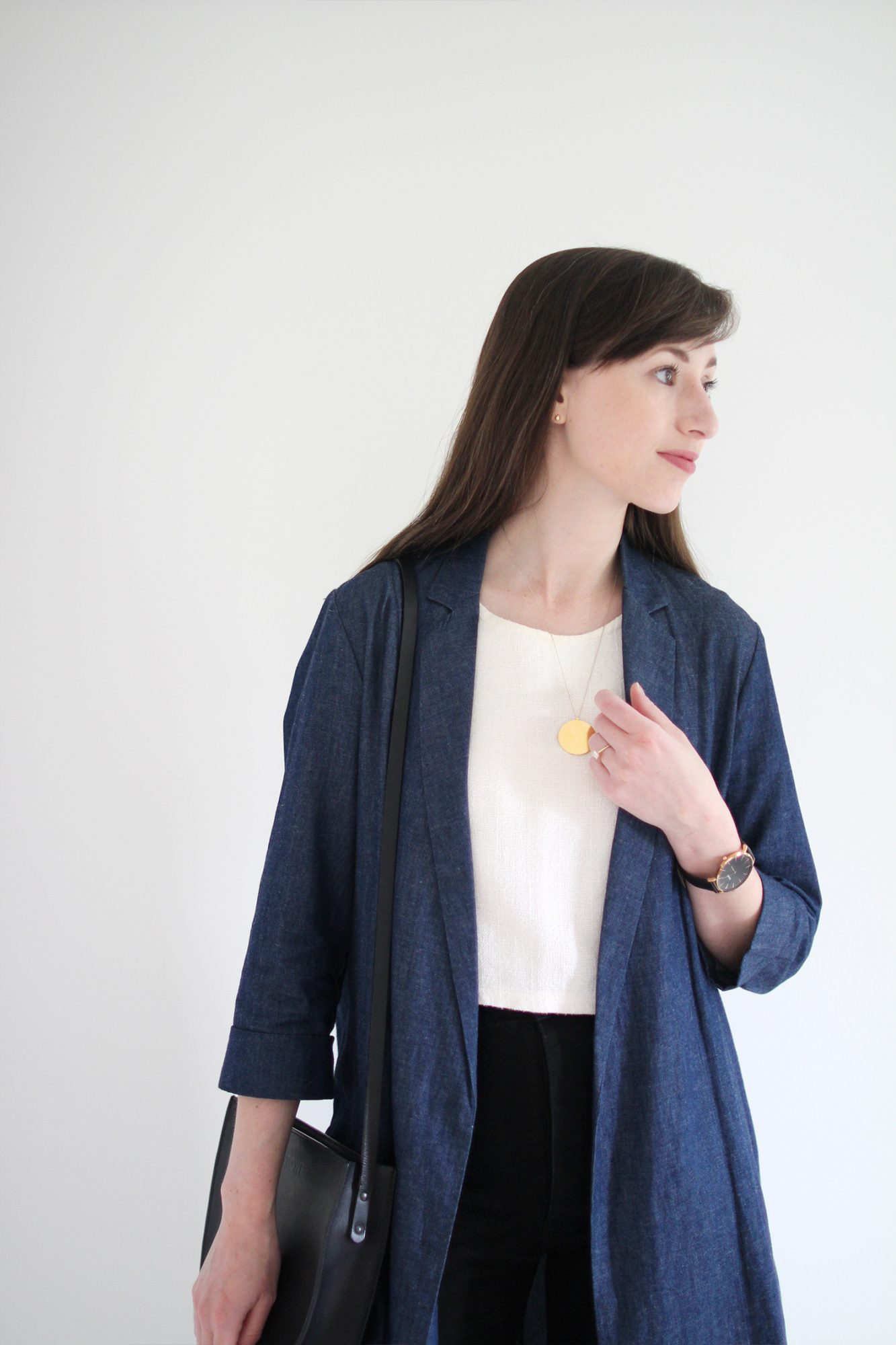 ---
STYLE + FIT DETAILS
---
1 | HIGH RISE SHORT CROP | It's no secret that this is one of my go to combos and even after a couple of years I still love it. As soon as I realized that crops tops need not be scandalous or revealing I fell in the with the silhouette they create. They always create a high visual mid-point which makes you look taller and your legs longer.
The best way to feel comfortable in a high-rise pant and crop top combo is to pick a set or two pieces that overlap at the waist by at least an inch or more. Then you don't have to fret about any mid drift showing. 

Go for a rise that hits above your belly button and a crop that falls just below for the more flattering effect. 
2 | ROUND-ABOUT | I'm all about simple looks with round or geometric accessories. I don't know what it is about circles but I'm really drawn to them and love mixing different ones up in an outfit. In this case I've got my half circle bag, circle pendant and dome studs, plus a round watch face. It's not overtly matchy-matchy but it adds a subtle amount of continuity.
Look for similar shapes when you're choosing accessories and repeat certain ones throughout an outfit.
3 | POP OF COGNAC | Black, white, dark denim and cognac is a new favourite palette of mine lately. It's one of those Spring palettes that feels strong but not too heavy.
Don't shy away from dark colours for Spring. Just add one or too light ones to the mix (in this case my top and shoes) and used cropped lengths and cuffed sleeves add the spring-time vibe.
---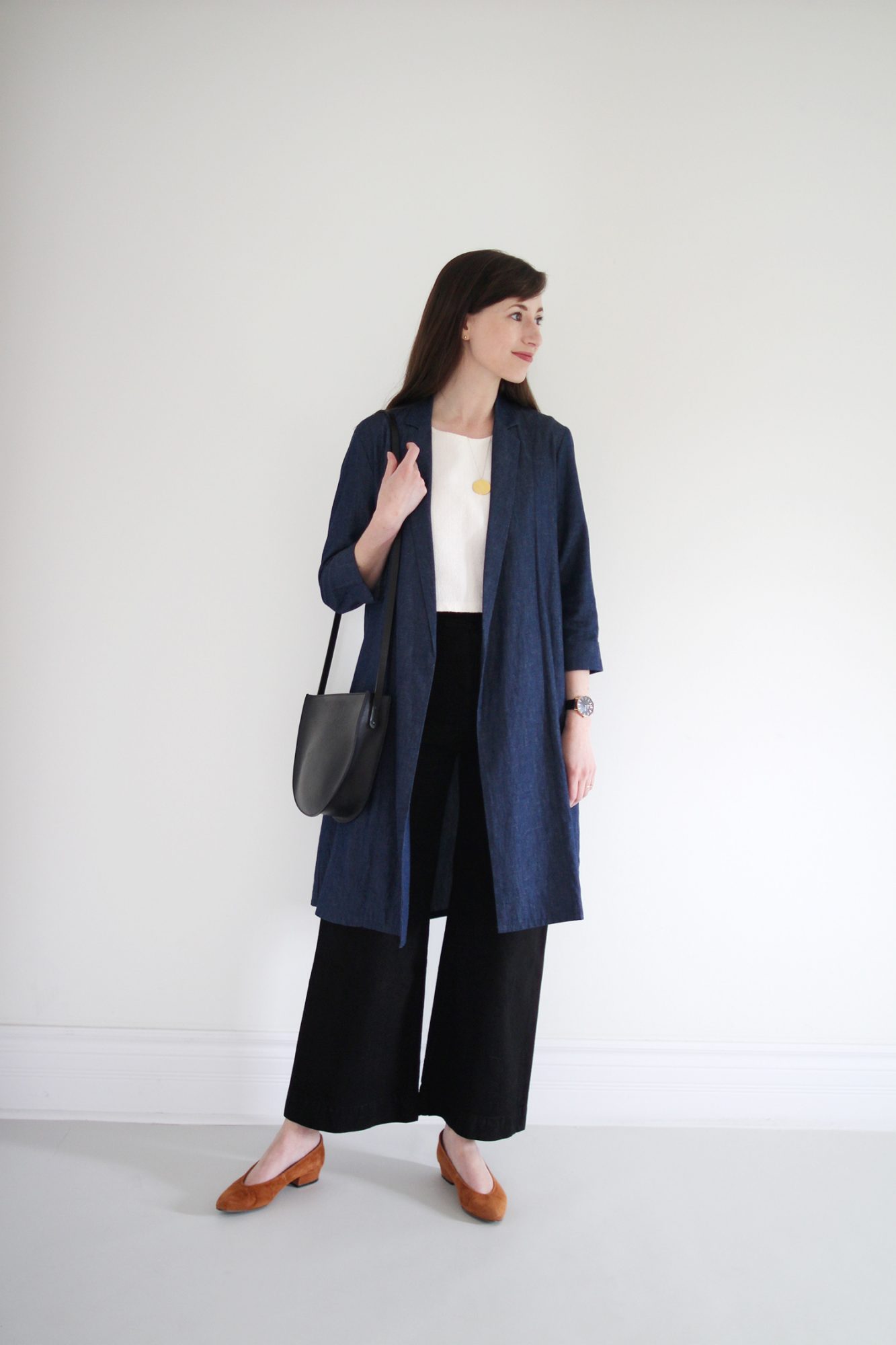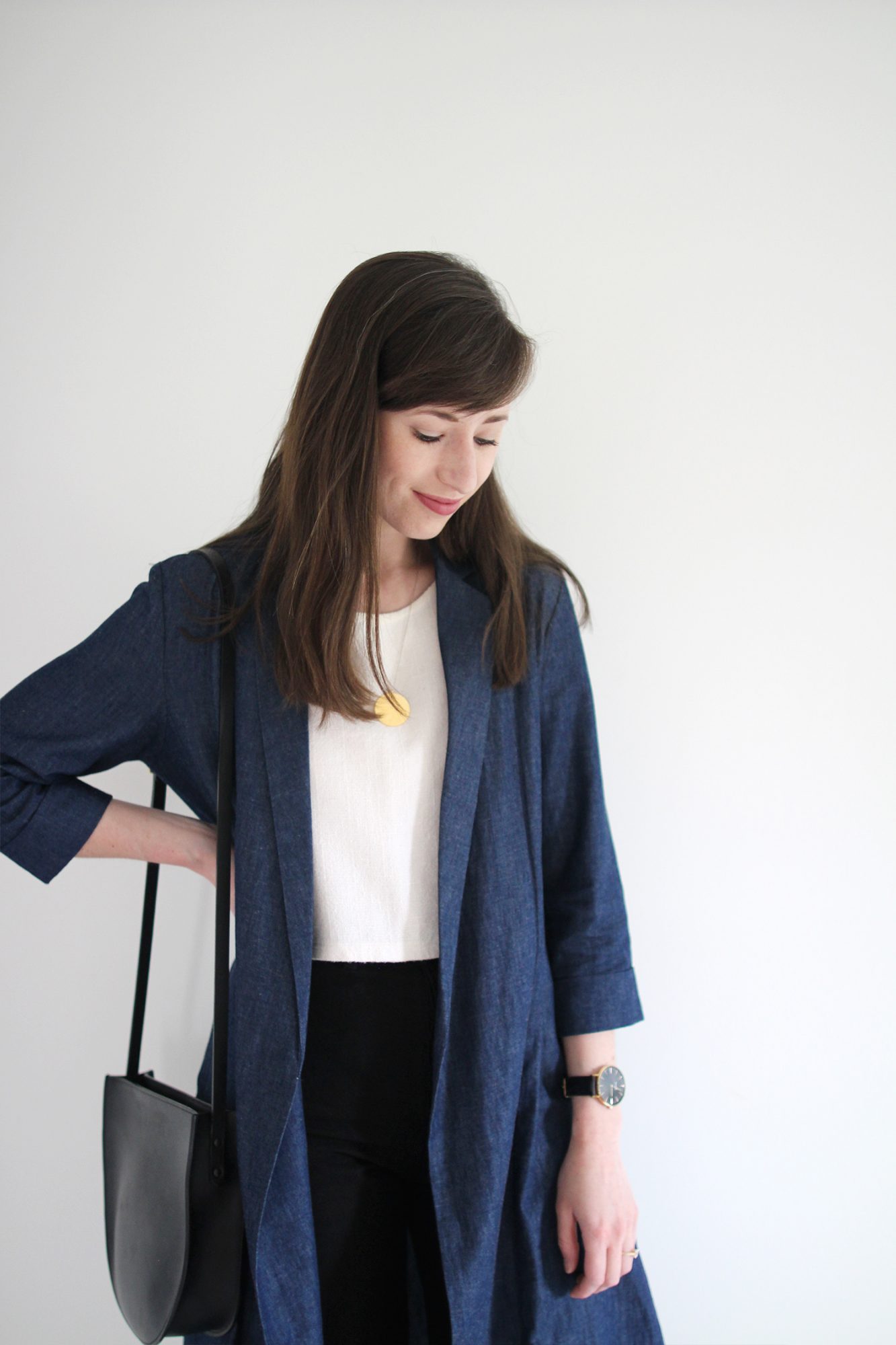 ---
1 | DENIM DUSTER | old Ali Golden | Very similar option available here.
2 | CROP TOP | Elizabeth Suzann | $125 USD Linked to current option.
3 | SAILOR PANT | Jesse Kamm | $395 USD | SIZE UPDATE: After my original pair in a US 4 was sent back due to a canvas flaw, I opted to size down to a US 2 as the black canvas stretches out with wear and I prefer a snug fit. | Similar for $68 by Everlane.
4 | TAN FLATS | L'Intervalle (s/0) | $138 CAD | More colours available here.
5 | CIRCLE PENDANT | old Young Frankk | Linked to current option. Save $20 when you sign up here.
6 | ELOISE BAG | The Stowe | Made in Canada | $375 USD
7 | WATCH | c/o CLUSE  | $99 USD
8 | DOME STUDS | ATTIC | $290 CAD | Made in Canada
---
LOOK 2
---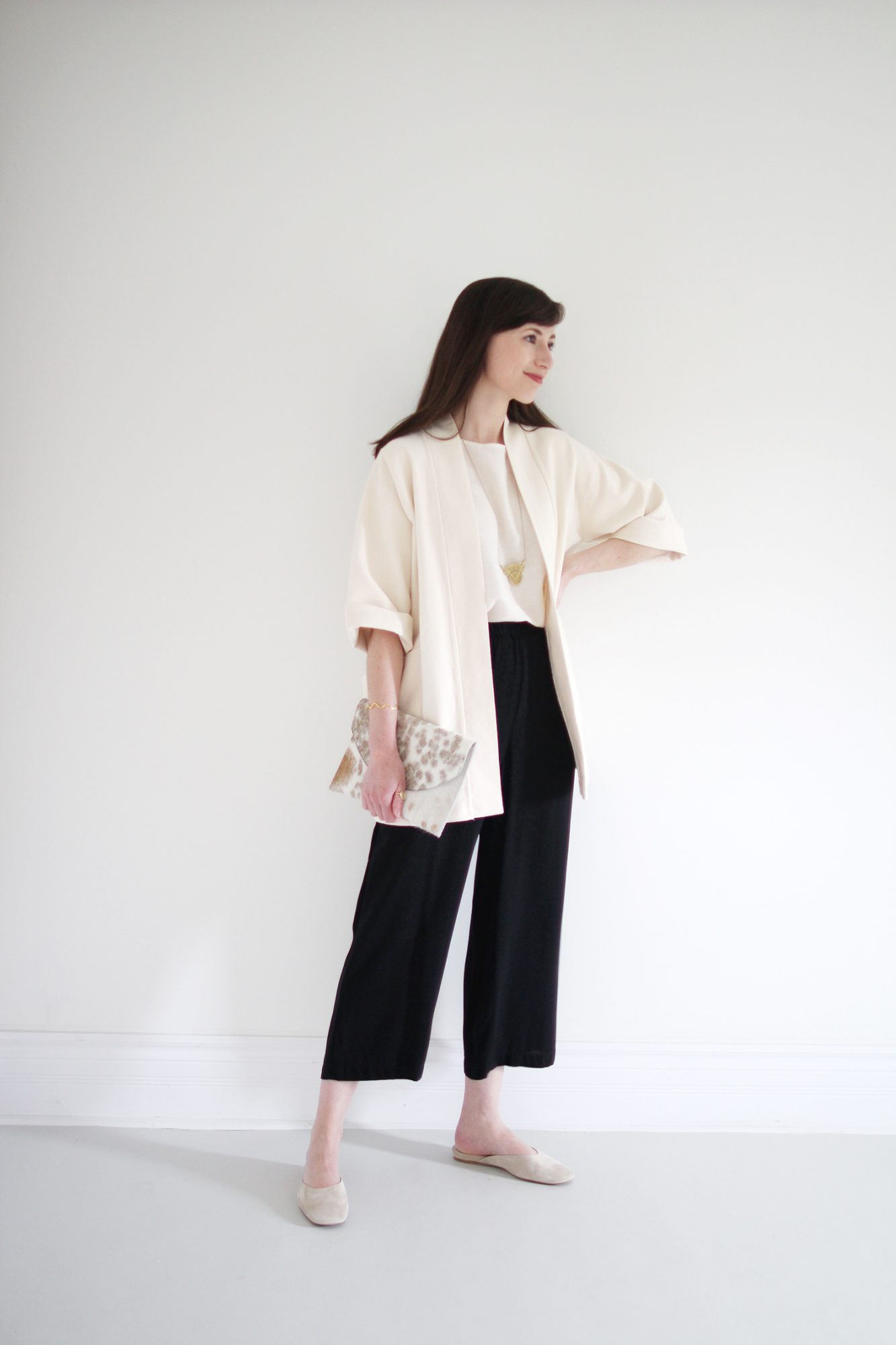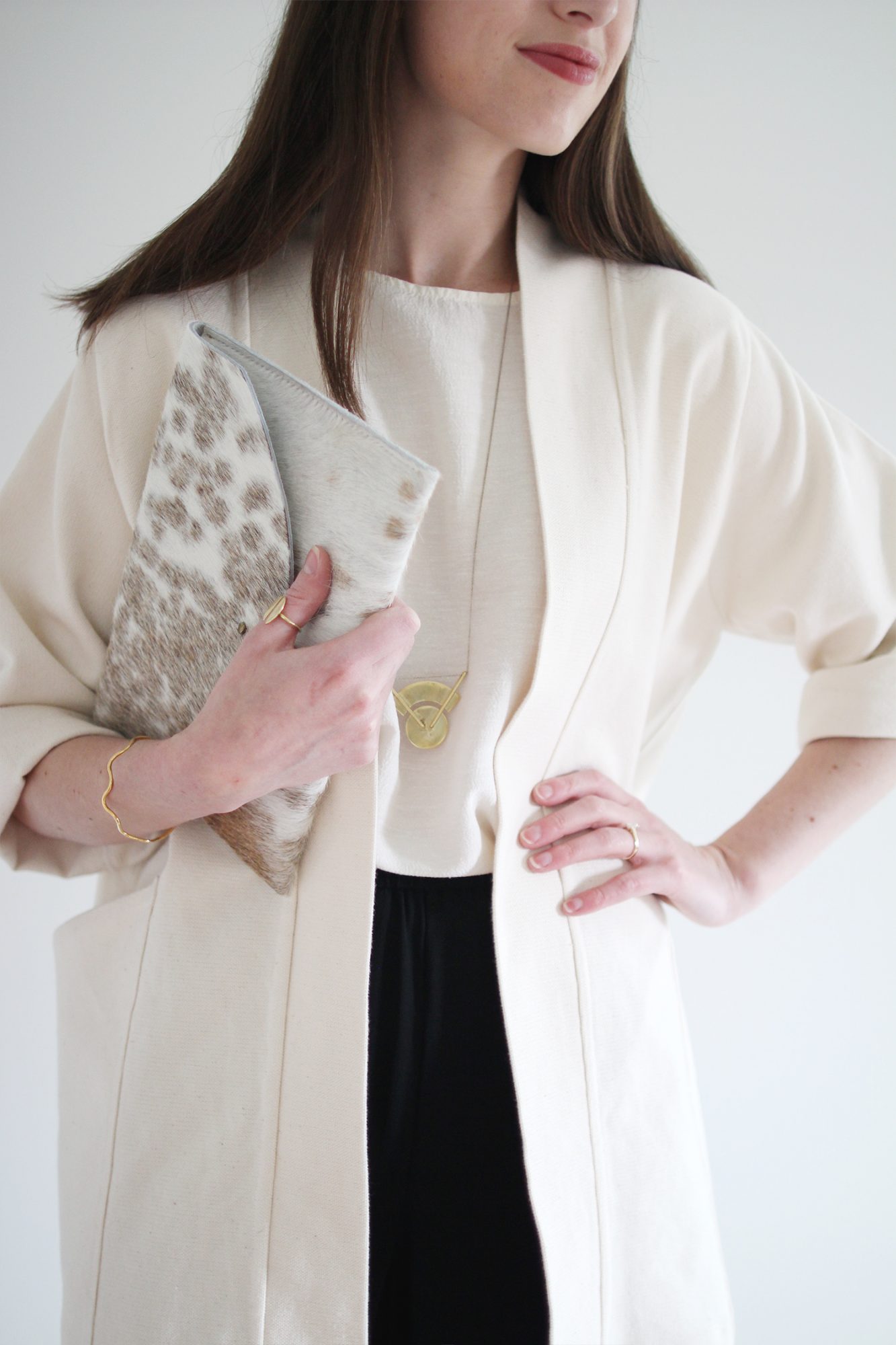 ---
THOUGHTS ON LOOK 2
---
Despite the fact that I feel like I'm wearing PJs this look is so comfy, I actually think it's totally appropriate for work (just trade the clutch for a tote), events (theatre, dinner out, family get-together) and just about anything in between. Something about a neutral look like this is very elegant and doubling up on ivory makes it feel airy and fresh but not as stark as white.
I really like how this hemp/silk tee and cotton coat combine for a super simple set that would work over any bottoms. Definitely repeating that combo soon!
I really love these pants in real life but for some reason they've been tricky to photograph well on the blog. Anyway, I really like them because they're not super wide, they have a nice cropped length and the fabric feels great on. It's silk crepe so it moves very nicely and has a beautiful drape to it.
I opted for very neutral flats with some texture and let my other accessories be the 'interesting' elements throughout the look. A pop of pattern in the clutch gives it some energy and 3 very sculptural pieces of jewelry amp things up and make it comes together in a more deliberate way.
---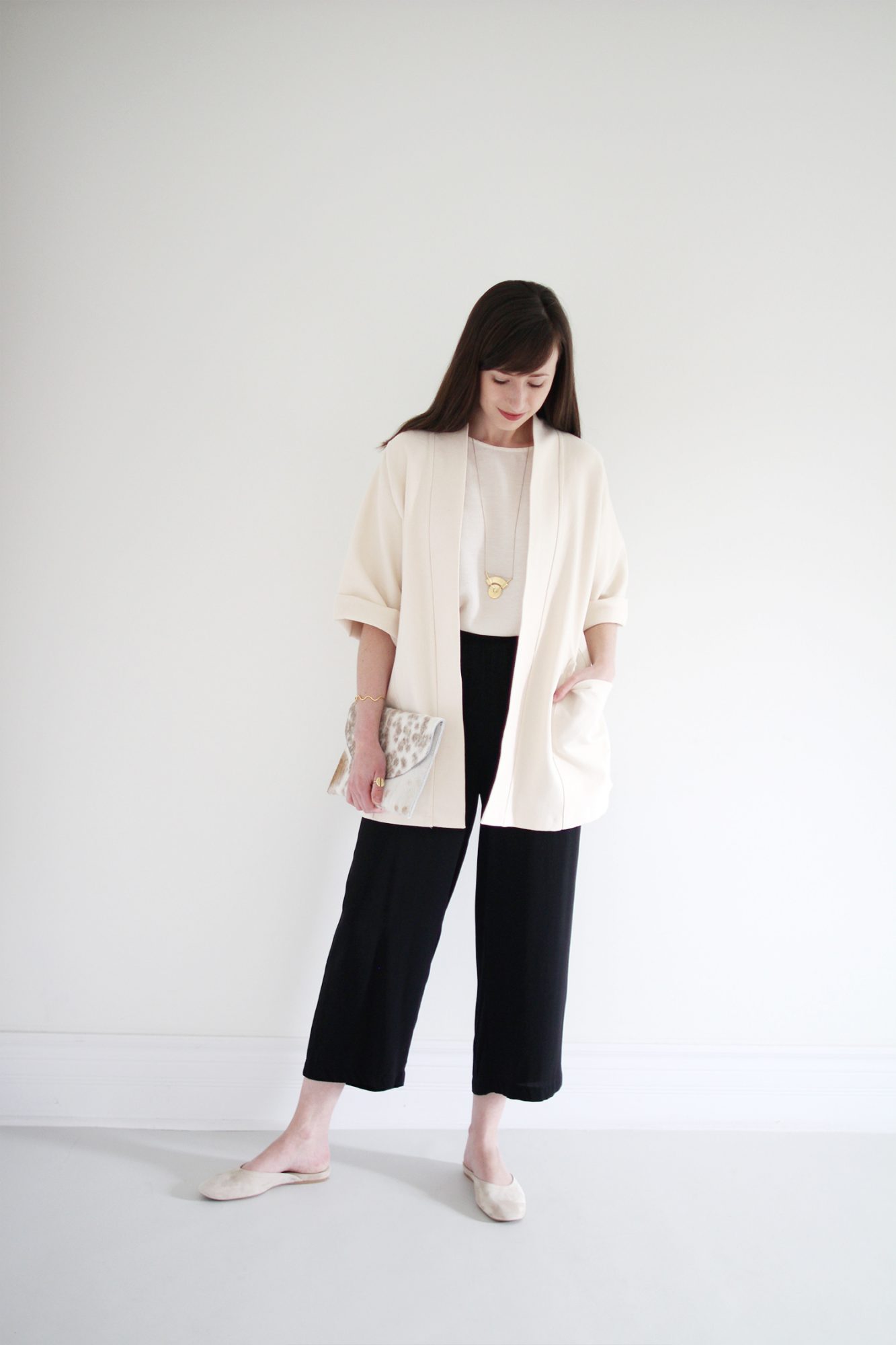 ---
STYLE + FIT NOTES
---
1 | CREME SUR LA CREME | Like I mentioned above I'm loving this top and jacket combo. Something about matching tops and jackets is hitting home right now. Maybe it's because I'm 30 now and suddenly my brain thinks matching separates are the bee's knees. Hard to say why but I'm not questioning it!
A really easy way to create a simple, sophisticated look is to match two elements. Whether it's your top and jacket, top and bottom or bottoms and jacket it's a fool-proof way to look instantly put together within any colour palette.
2 | MINI SCULPTURES | When I'm not wearing circular jewelry, I'm reaching for sculptural shapes like my long geometric pendant, wave cuff and large split thumb ring. By wearing all the same metal (these are brass) they work really nicely together and on a simple base like this they're just enough added interest to make the look seem polished.
Take a basic black and ivory look from simple to stand-out by combining a few statement accessories.
3 | POP OF PATTERN | I love the like pop of pattern this clutch adds to the look without being an overt focal point. By keeping the colours very neutral it adds interest through its texture rather than via colour.
When you want to inject some life into a simple look without adding colour, reach for a bag or an accessory in a neutral colour that has some pattern or texture to it (bonus points if it has both!).  
4 | DEEP CROP | I usually like a little bit of ankle and a bit of wrist showing lately but for this look I took the crops up a notch by wearing my pants higher on my hips to show some lower calf and rolling my sleeves all the way to the elbow. This helps the look feel more summery and easy-going. This trick also reveals more of the figure, creating slim elements to balance out the volume.
---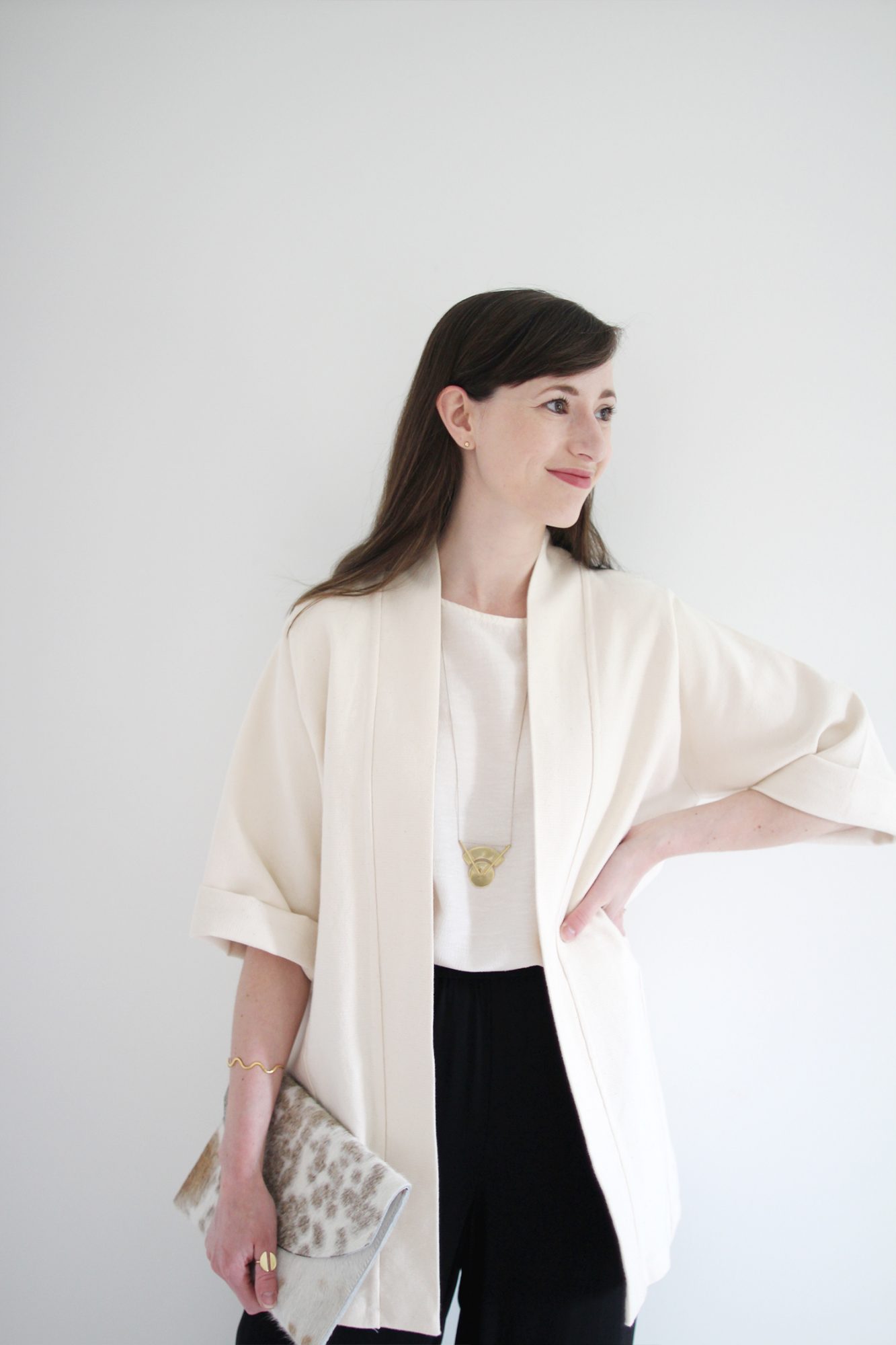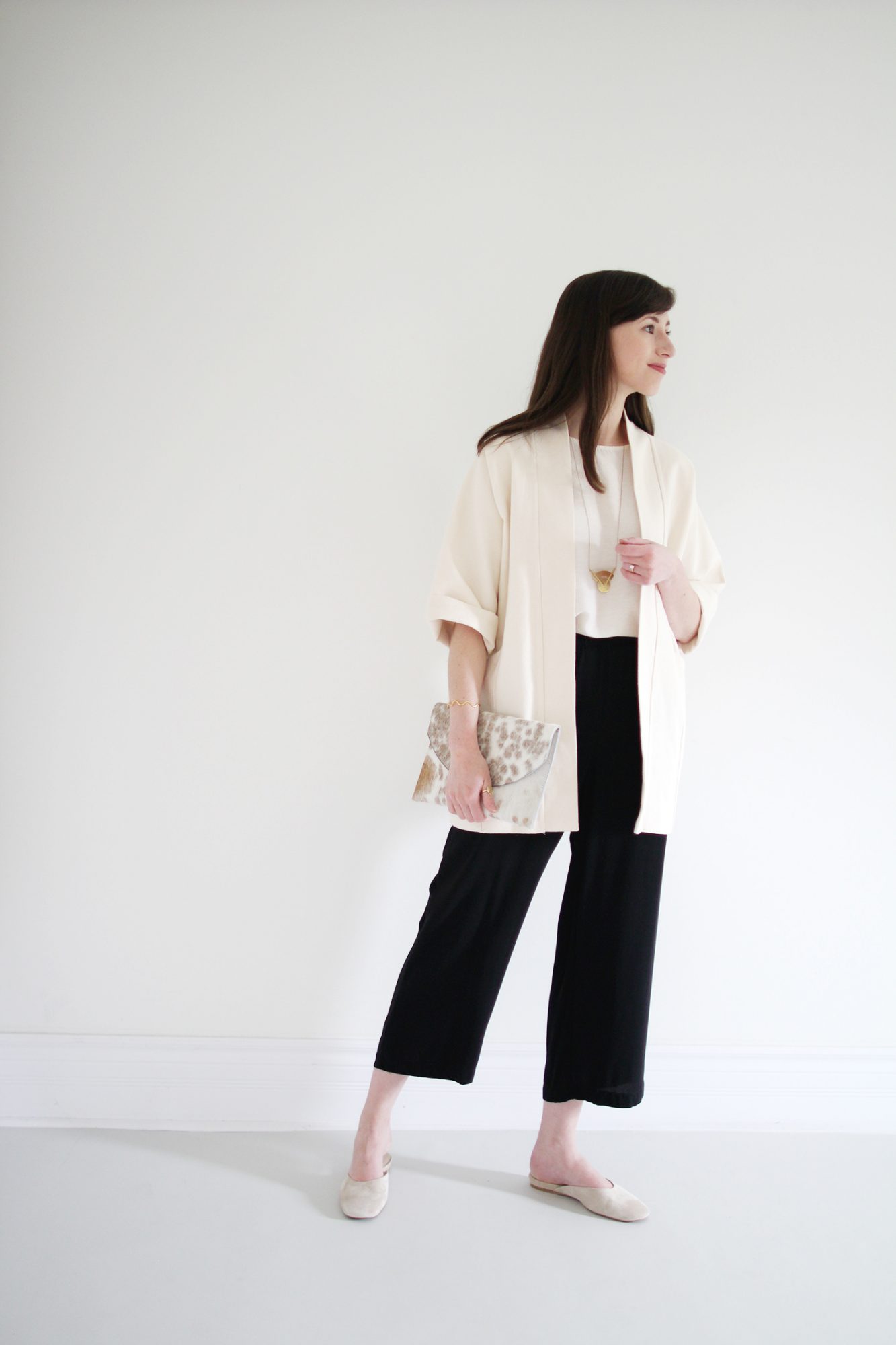 ---
---
LOOK 3
---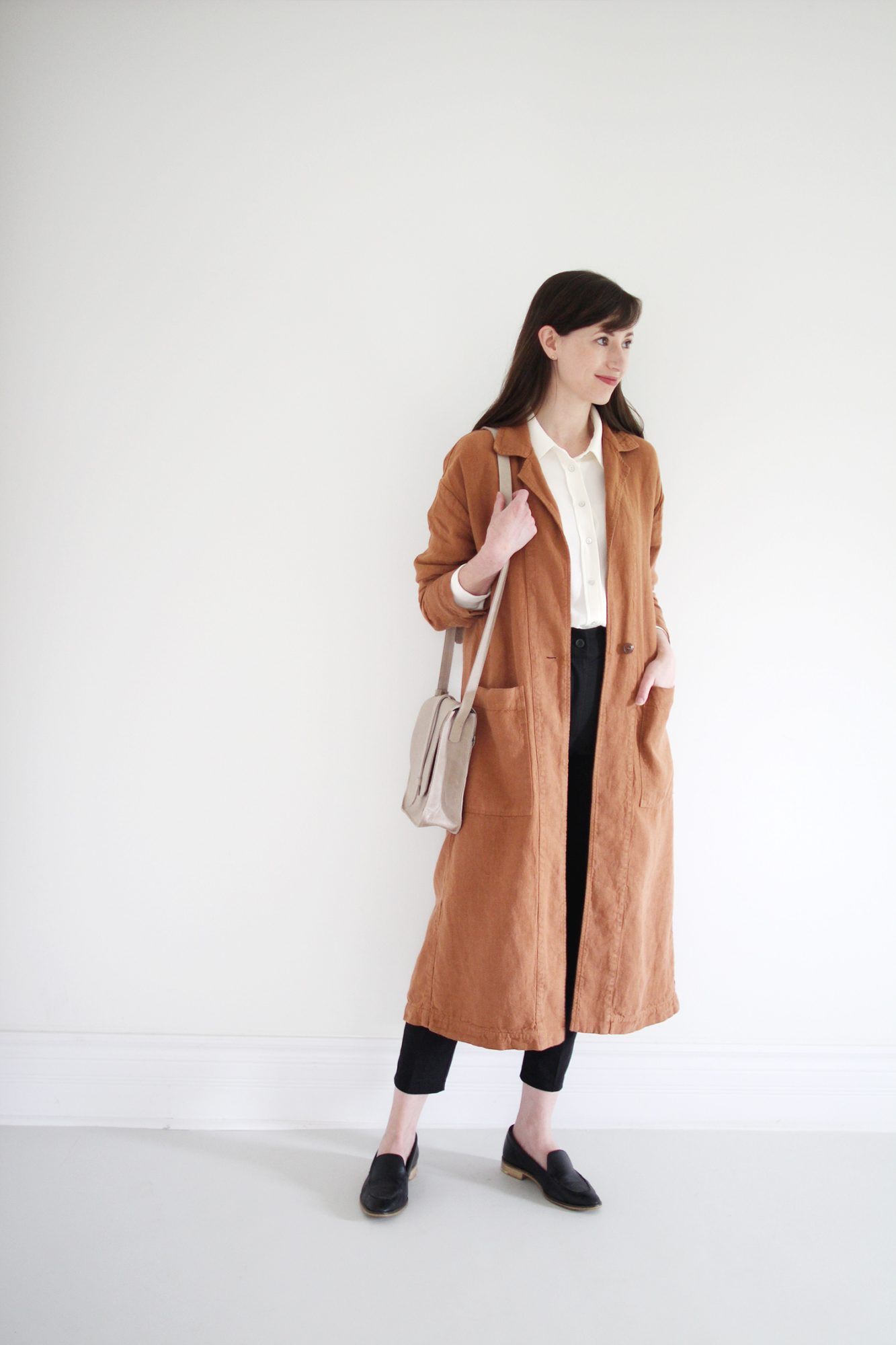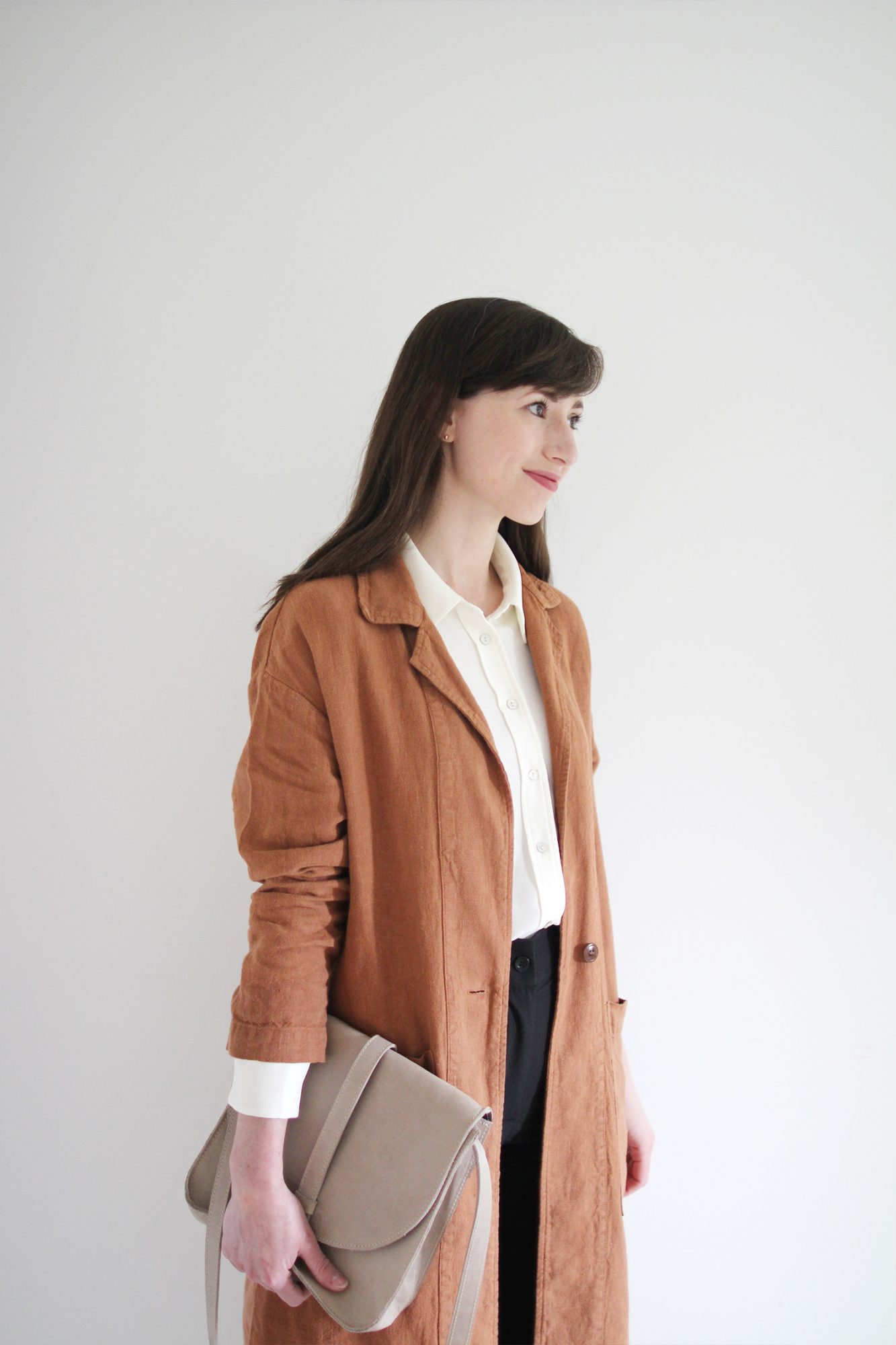 ---
THOUGHTS ON LOOK 3
---
This look a definitely a great every day option for me. It's very comfortable, perfect for any type of meeting I might have on the agenda and ideal for a day in the studio. Ever since I included these pants in my Spring 10×10 I've been wearing them a lot and love that they have a slim fit with a high-rise and a slightly more 'business' vibe to them.
I wanted to try tucking a shirt into them because I wasn't sure it would work but with this ivory button down it was super easy. I think a slinky fabric or silk top is best for tucking in these pants so I'll be keeping that in mind when combining them in other ways too.
I really like the palette happening here and honestly I've been surprised by just how well this clay duster colour has integrated into my closet. It seems to worth with everything and for a tone teetering dangerously close to orange I'm impressed by how at home I feel in it.
To me this look is a nice medley of corporate (button down, pants, loafers) and casual pieces (linen duster, grey bag, scrunched cuffs and an unstyled 'do) that makes for an unexpectedly chic outfit.
---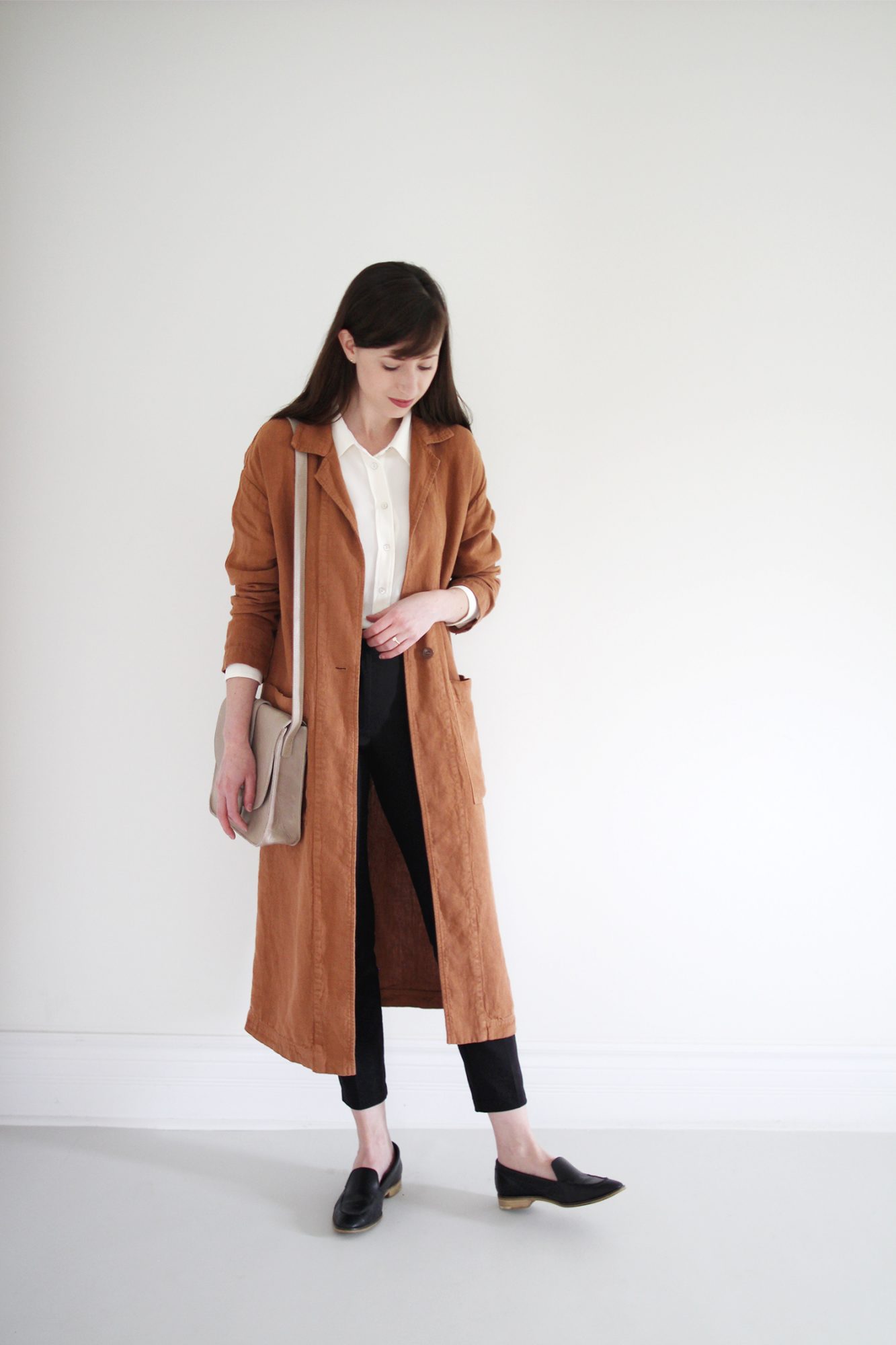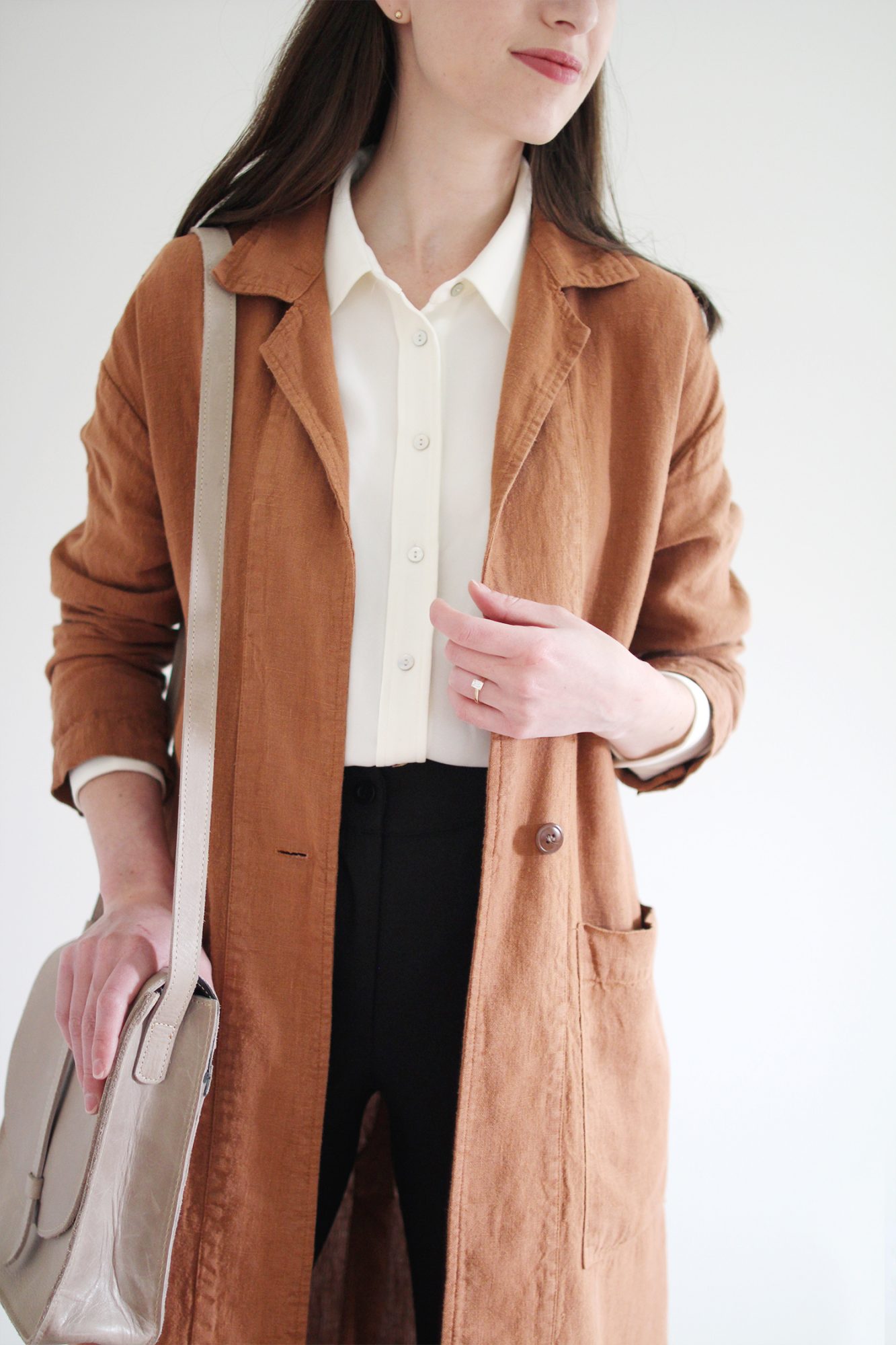 ---
STYLE + FIT NOTES
---
1 | DOUBLE BLACK | Sometimes I find these black loafers can look a bit harsh against my super pale ankles but when wearing black pants I find they work really well. In this case they help to anchor the look in a subtle way and serves as an element of visual continuity, which elongates the leg in a flattering way.
Try pairing a black cropped pant with a black flat for a chic and timeless look that's always flattering. 
2 | COLLARS IN | I always struggle with what to do when I'm wearing two collars at once. Do you pop them both? Overlap them? Nah, neither option feels right so now I'm going to stick to the bottom collar in method and just roll with it.
Next time you're battling with a double collar situation. Simply tuck the lower layer under the top one.
3 | FULL TUCK | At first I had this top loose over these pants but because of the cropped length of the pant (and the long duster), my legs looked super short so I tucked it in and suddenly the look came together in a much more flattering way. It created that high visual midpoint that I love so much and helped to balance out the long length of the coat.
When you're wearing a cropped pant, create the illusion of a longer leg by tucking your top in. This is especially helpful when you're wearing a long top layer.  
4 | SCRUNCHED | This look was feeling a little blah before I scrunched my sleeves up and then suddenly it felt styled. I guess you can never underestimate the power of a little styling, right? I think this trick is working especially well in this case thanks to the double cuff and the bit of ivory peeking out.
When in doubt, push up those sleeves for an instantly styled look!
---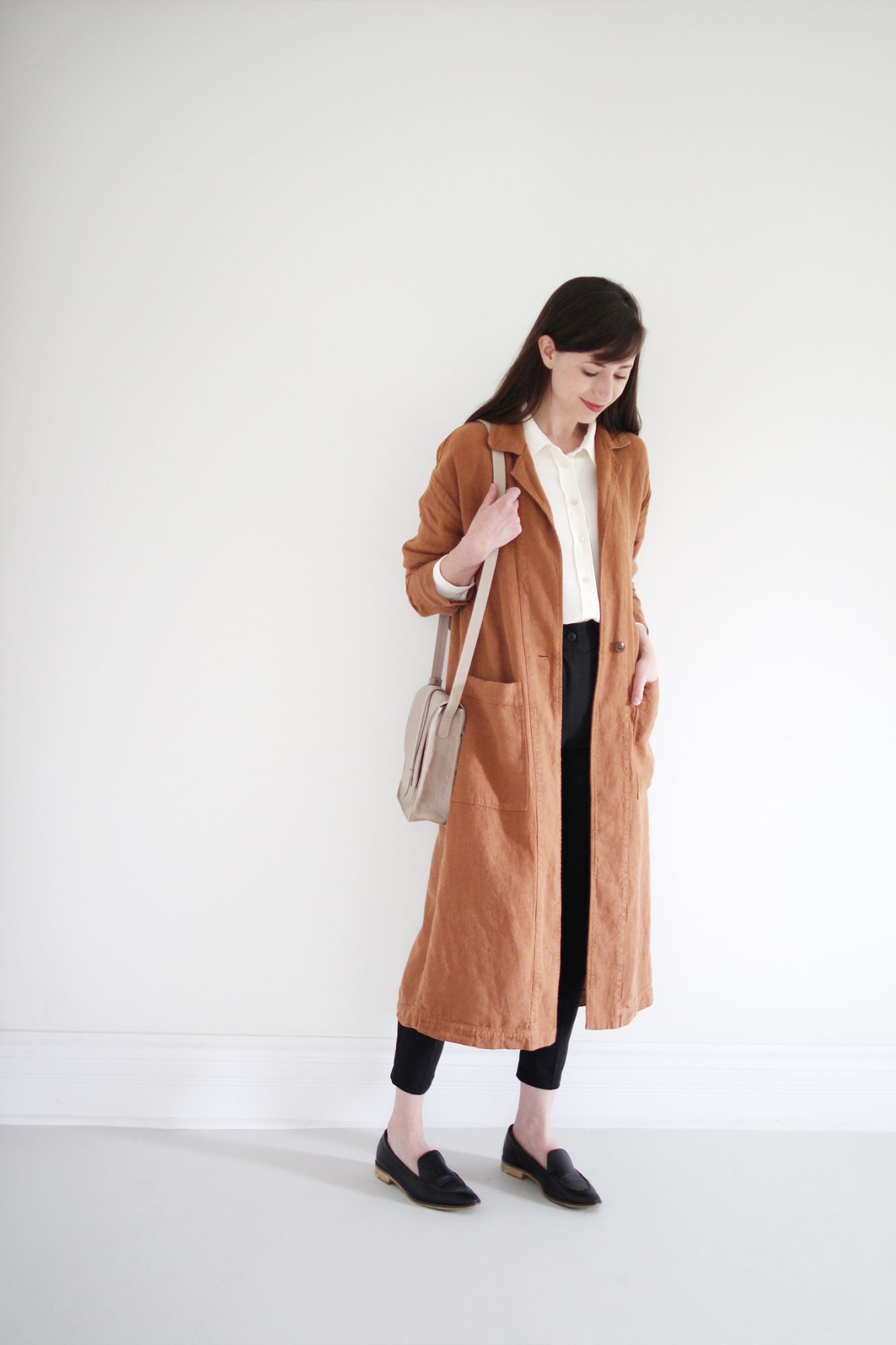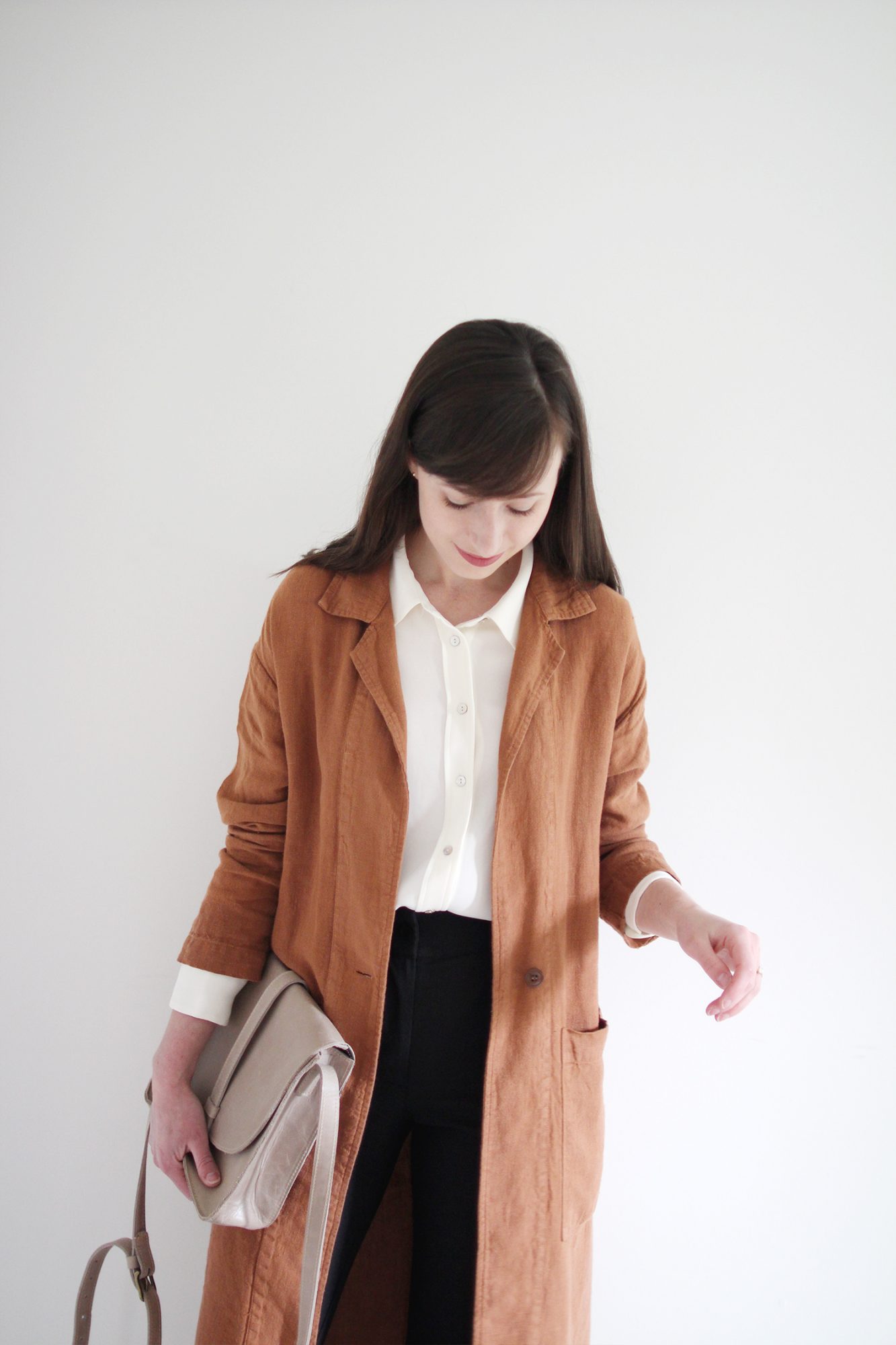 ---
---
WHICH LOOK IS YOUR FAVOURITE? 
WOULD YOU GIVE THIS FORMULA A TRY?
---
HAVE A GREAT WEEK!
See you on Wednesday with two ways I style a couple of my loungewear faves to go out!
---
This post is not sponsored but contains affiliate links. When you shop via the links above I may make a small commission from a sale. This income helps limit the amount of sponsored content that appears on Style Bee. Thanks a lot for your support!