These days one of the most frequent DM's I get on Instagram is, 'What lip colour are you wearing?', so I figured it was about time to put together a post on my favourite lip colours. The good news is that they're all from the same clean beauty brand, KOSÅS, made in Los Angeles, and available in both the US and Canada (from various boutiques).
I love this lipstick line because they make it SO easy to wear lip colour without feeling like that's all anyone will notice on your face. They're all very approachable hues and universally flattering on all skin tones. They're lightweight, creamy and go on super smooth without ever drying out your pout. The colours also last very well, but at the same time you can easily wipe them off. So no waking up the next day with permanently stained lips.
This post is not sponsored (although, I wish!) but honestly, these have totally transformed my approach to wearing lipstick and have helped me appreciate the variety and interest a bold lip can add to a simple look. I even wore one of these on my wedding day!
So let's take a look at the 4 lip colours by KOSÅS that I wear all the time!  
---
MY 4 FAVOURITE LIP COLOURS BY KOSÅS
---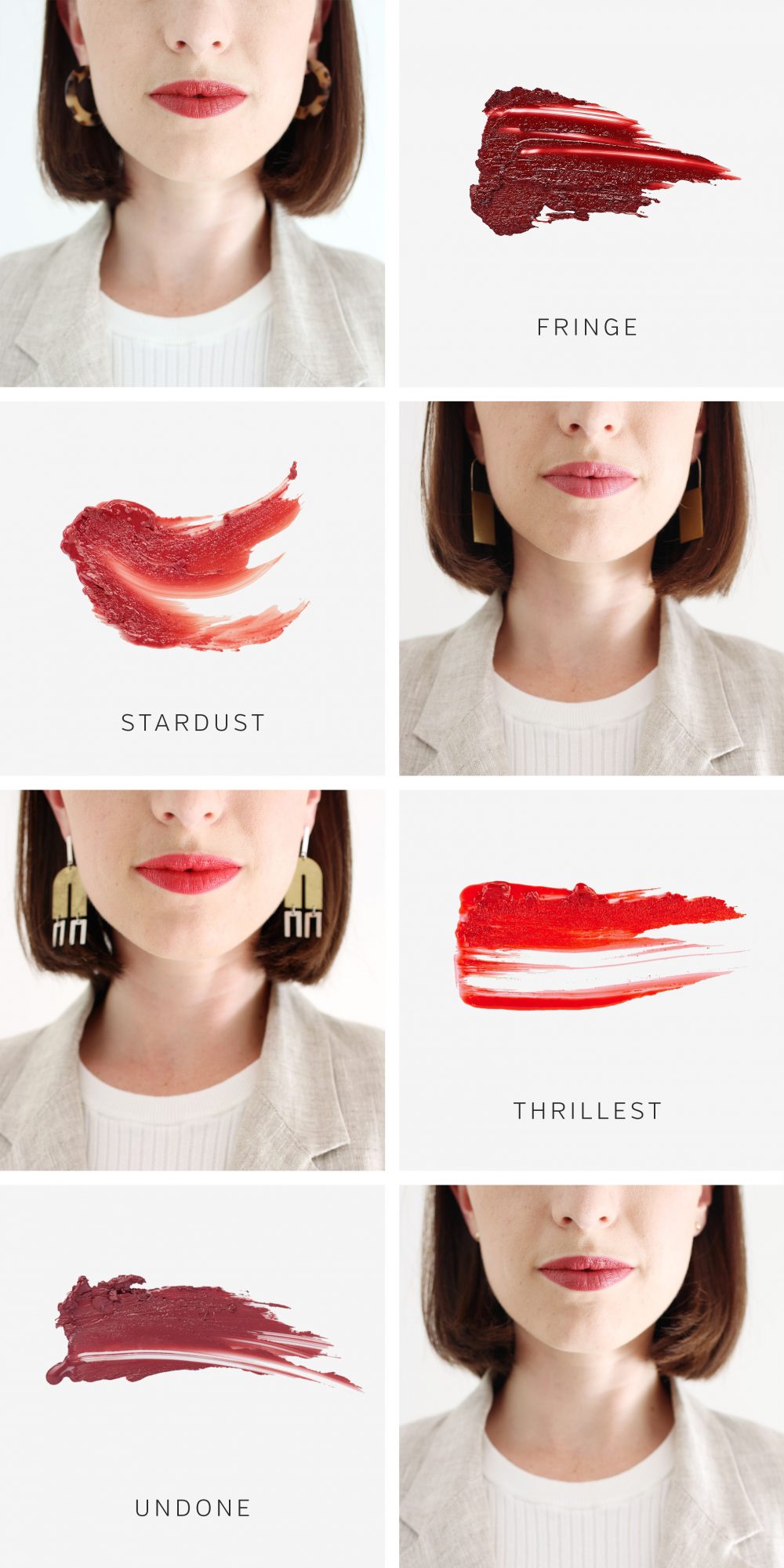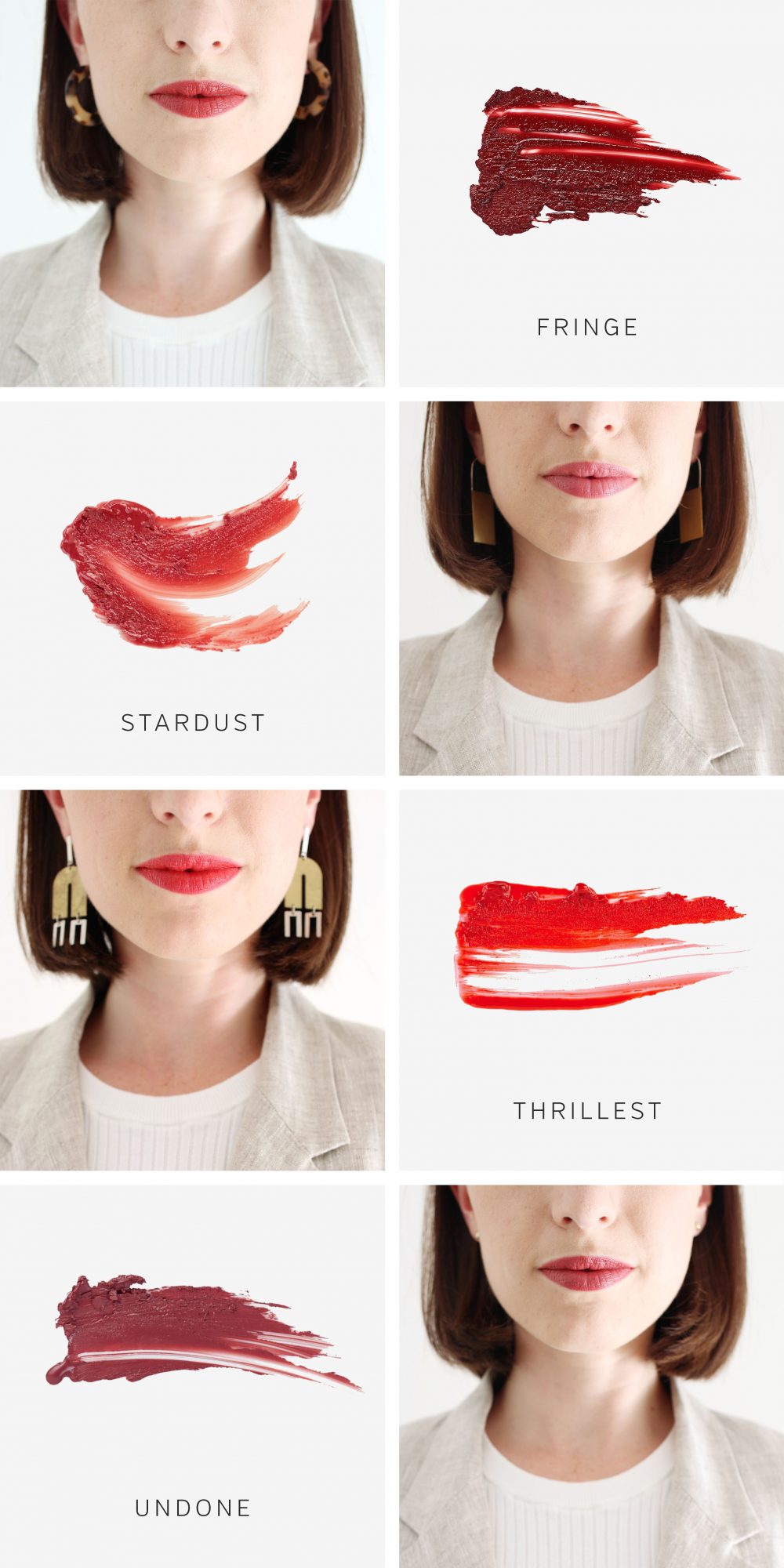 ---
A FEW QUICK FACTS ABOUT KOSÅS LIP STICK
---
KOSÅS founder Sheena Yaitanes, a Los Angeles-based painter with a background in organic chemistry, used her knowledge of colour to create shades that compliment virtually any skin tone. Her artistic/scientific approach resulted in a line of lipstick shades that are incredibly easy to wear and because the molecular weight of the natural oils allows them to seep easily into skin, KOSÅS lipsticks are naturally long-lasting.
KOSÅS Weightless Lip Colours are hydrating, everyday-wearable lipsticks, made with organic oils and botanical extracts (antioxidant green tea, rose hip, grape-seed, and collagen-boosting sweet orange), plus deeply hydrating mango and shea butters, which means no drying out. The line has eight universally flattering shades that range from full-on dramatic to subtle and natural. No matter which one you choose, it'll instantly complement and brighten your complexion.
PRICE: $28 USD or $34-37 CAD depending where you shop. See stockists at the end of the post.
MADE IN: Los Angeles, CA
8 COLOURS: 
NEUTRALS: Stardust, Royal, Rosewater
RICH REDS: Undone, Fringe, Darkroom
BRIGHTS: Thrillest, Electra
Camellia Sinensis (Green Tea) Seed Oil – heals cells, excellent antioxidant, fights free radical damage
Vitis Vinifera (Grape) Seed Oil – anti-inflammatory, antioxidant, moisturizing
Rosa Muschata (Rosehip) Seed Oil – powerful antioxidant, reverses environmental damage, heals cells
Mangifera Indica (Mango) Seed Butter – healing and moisturizing
Butyrospermum Parkii (Shea) Butter – soothing and conditioning moisturizer
Citrus Aurantium Dulcis (Orange) Oil – collagen booster with luxurious, uplifting scent
Full ingredient list available here.
---
Kosås Does Not Contain
Parabens
Pthalates
BHA/BHT
Mineral Oil
Propylene Glycol
Polyethylene Glycol
Phenoxyethanol
"Fragrance"
Petrolatum
Vitamin A, retinoids, or retinoid derivatives
*All products are gluten, egg, nut, soy and cruelty free.
---
HOW I APPLY THEM: I always apply a layer of lip balm after my morning face wash/teeth brush routine and before I start doing my hair or make-up for the day. This usually soaks in during my 5-10 minute routine and then it's the perfect base to apply these lipsticks to. No lip liners or extra steps needed! I don't make a point of exfoliating my lips but I'll give them a good rub with a clean dry towel after washing my face.
The lipstick would probably last longer and give better coverage without the balm but my lips dry too easily to risk it! Then I'll rub the first pass of lip colour in with my finger and decide if another is needed (it usually is). From there I do the finger pop test and I'm good to go!
I'll occasionally reapply in the afternoon or evening as needed but I don't mind when it wears off throughout the day.
Now, onto the colours! 
---
FRINGE
---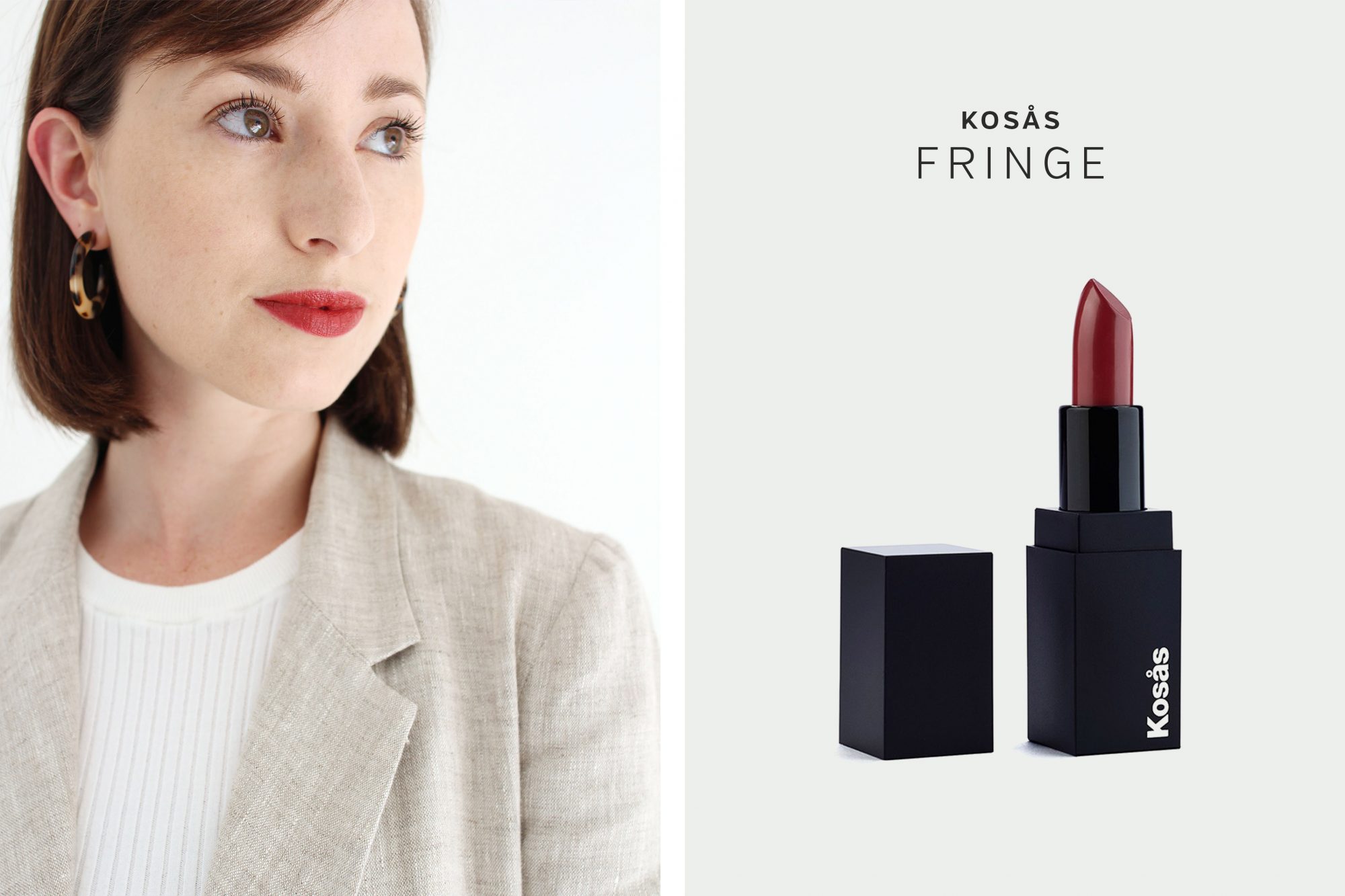 ---
Fringe is a red lip with earthy undertones to keep it casual and complimentary on all skin tones. Semi-matte, no sparkle, full-coverage colour with lived-in finish.
KOSÅS says: The alternative red lipstick. Fierce and feminine, this buildable brick shade captures effortless confidence and unapologetic sexiness.
Fringe was the first colour I tried by KOSÅS and totally changed how I felt about wearing a deep red lip colour. It's also the one I wore on my wedding day! It is to me, the perfect red. It's timeless and bold at the same time but still practical enough for every day wear. I love that it has a hint of glossiness to it, which keeps it from feeling too heavy or intense. It goes great with both warm and cool palettes in terms of clothing and looks stunning on fair, tan and deeper skin tones.
---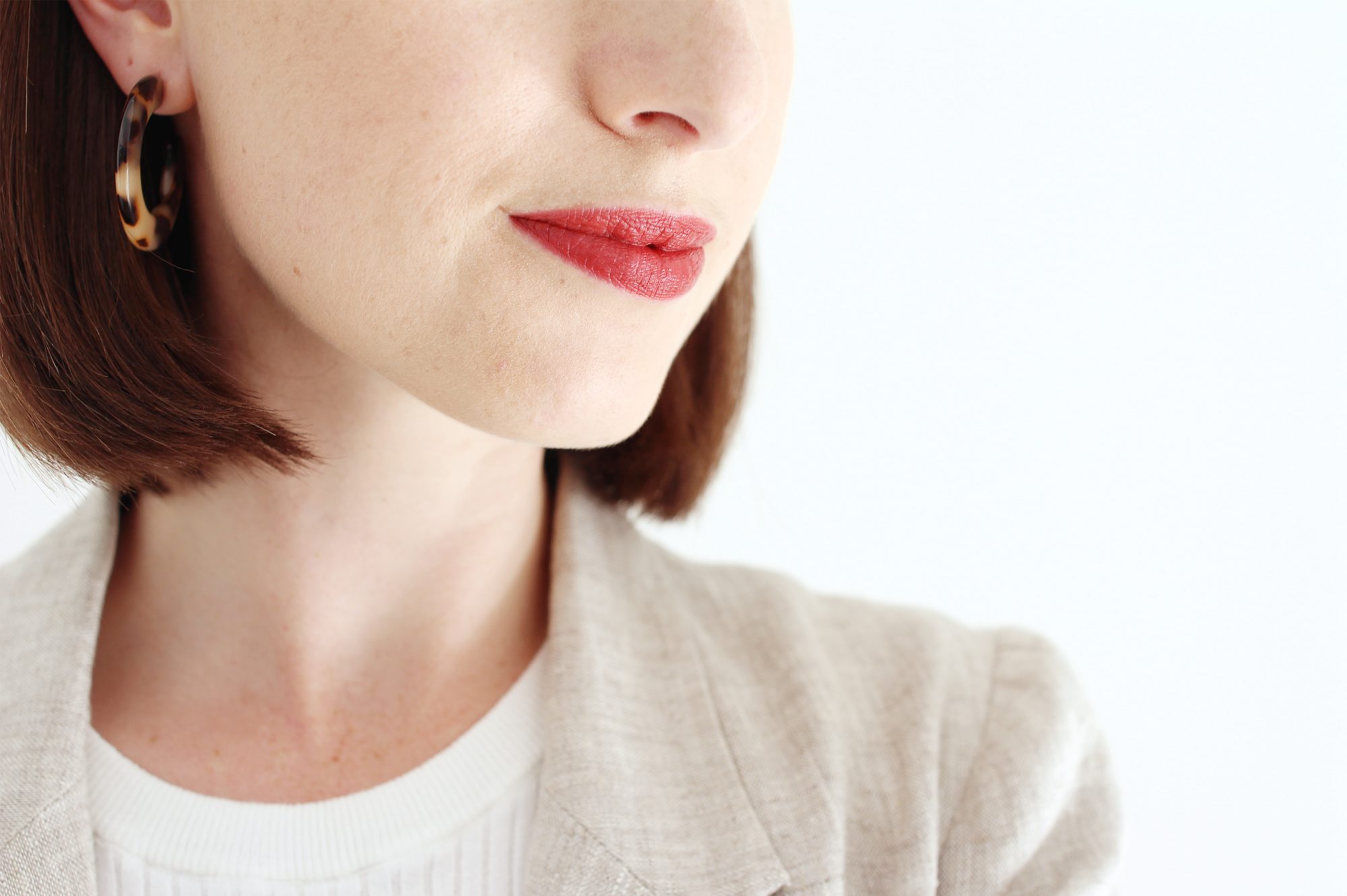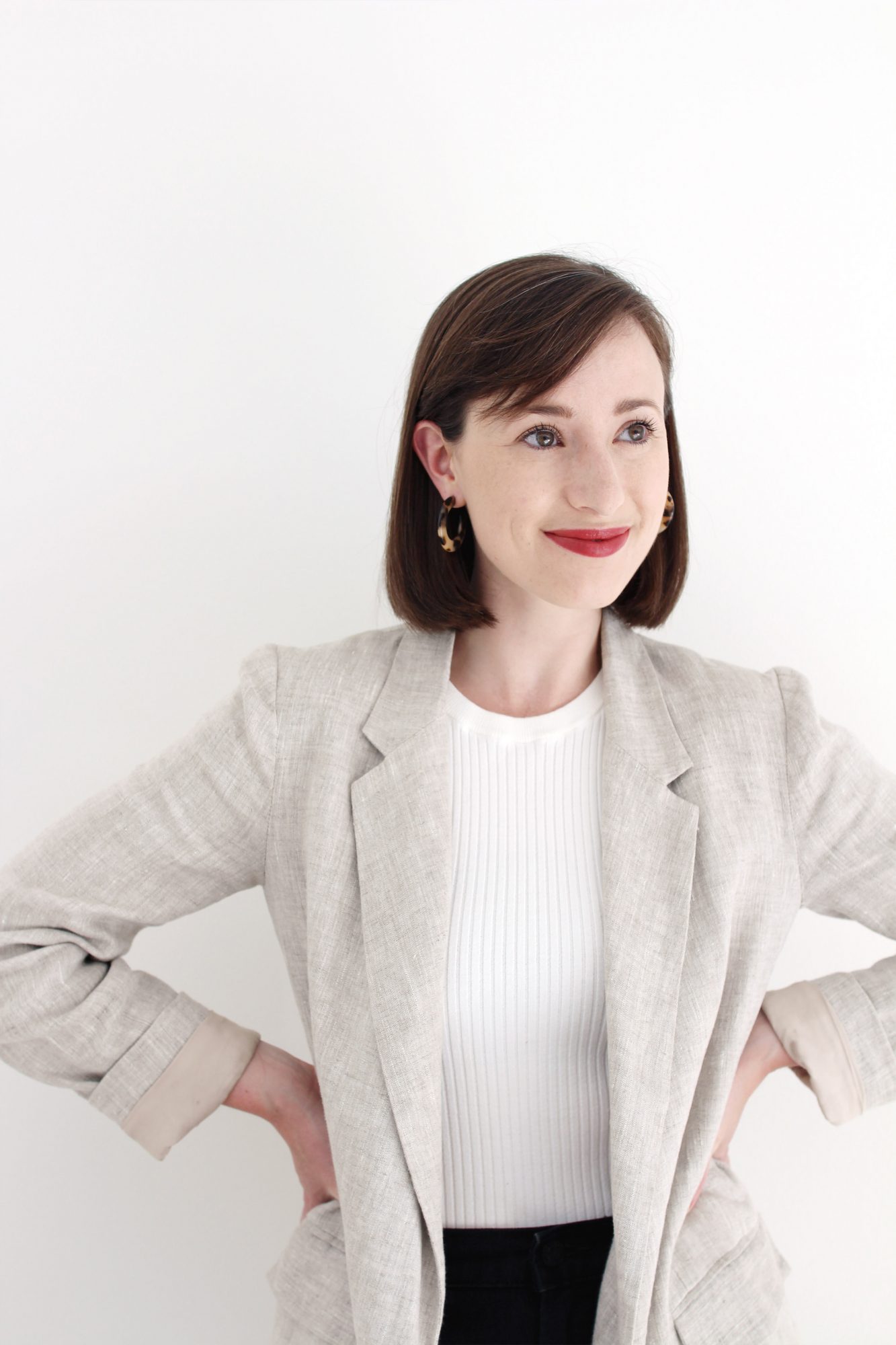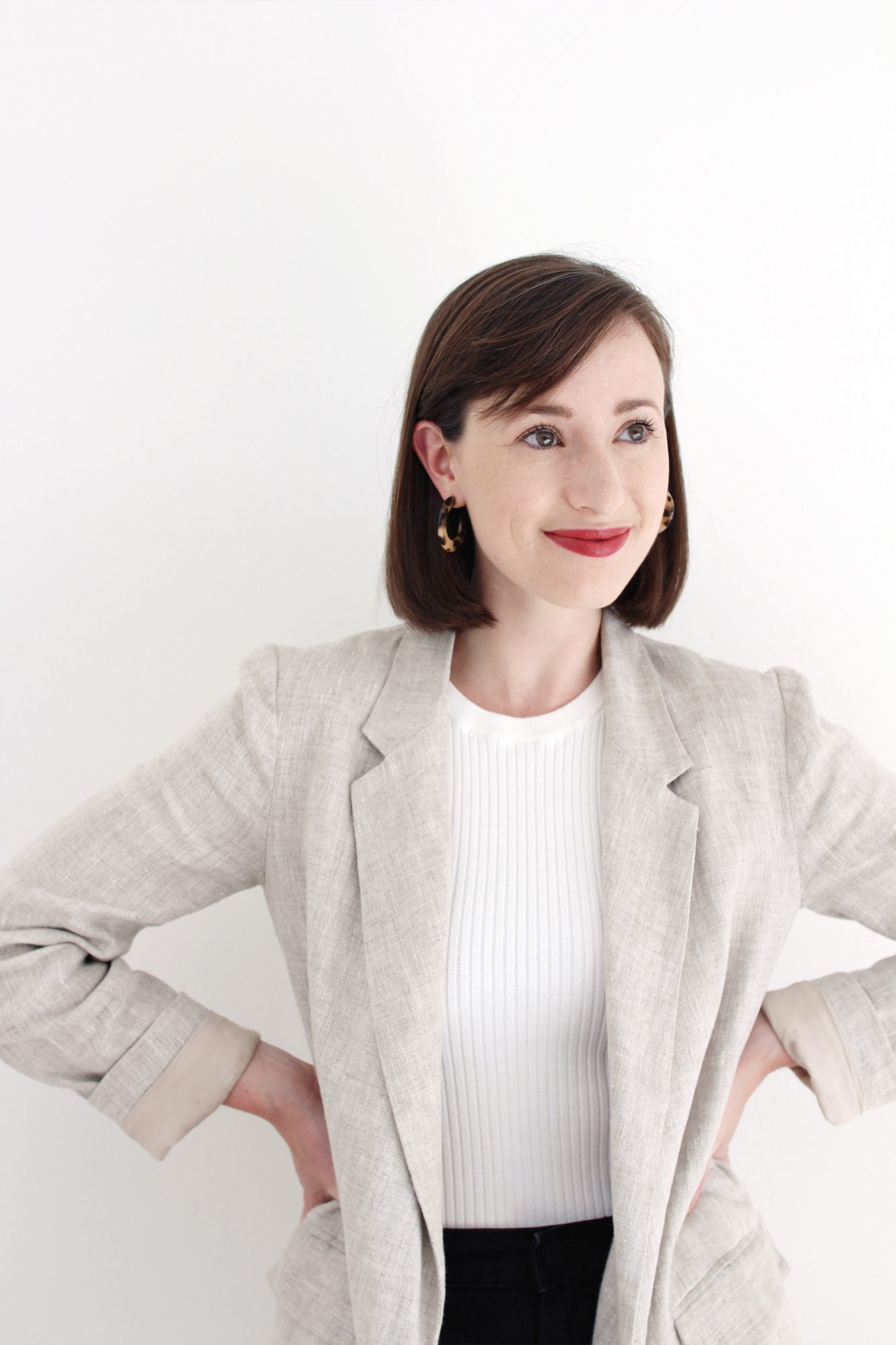 ---
STARDUST
---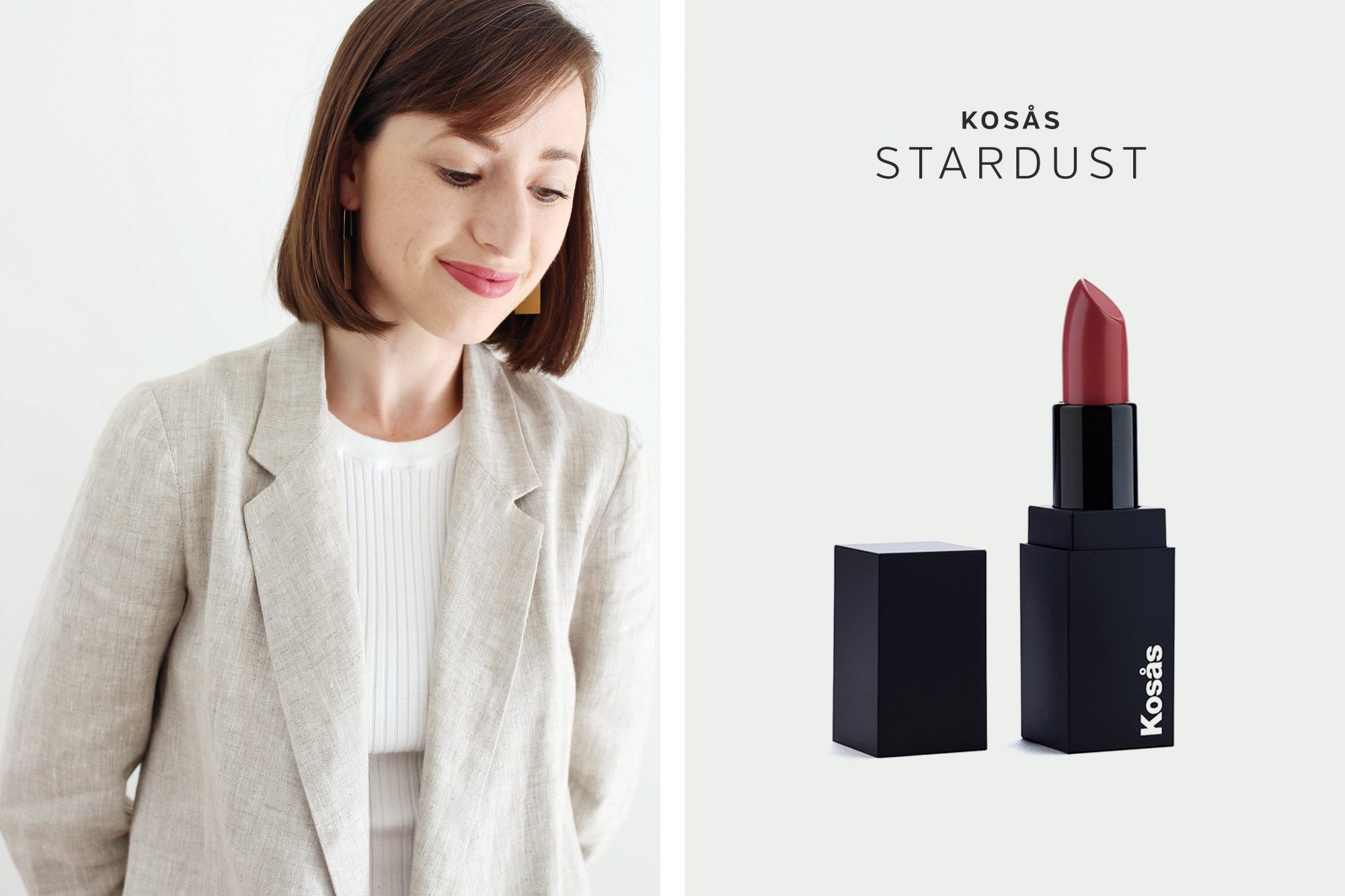 ---
Stardust is a sheer neutral nude with pink and brown undertones that gives a summery glow, with a hydrated finish. It's translucent with buildable coverage.
KOSÅS says: The prismatic sheer. As easy to wear as lip balm and equally kissable, a hint of dreamy lavender makes this dynamic neutral infinitely more magical.
This shade is probably about as close to my natural lip colour as I'm going to get but it adds just that extra touch of colour and opacity. This is my 'no lipstick' lipstick for when I want to keep the look super natural but still polished. I also love mixing this one with Fringe or Thrillest to tone down the rich pigment when I want a more low-key look. I find this one looks almost the same as Undone in the applicator but it's much more sheer. I like to call it 'car application friendly' because it's light enough that you won't notice any imperfect lines.
---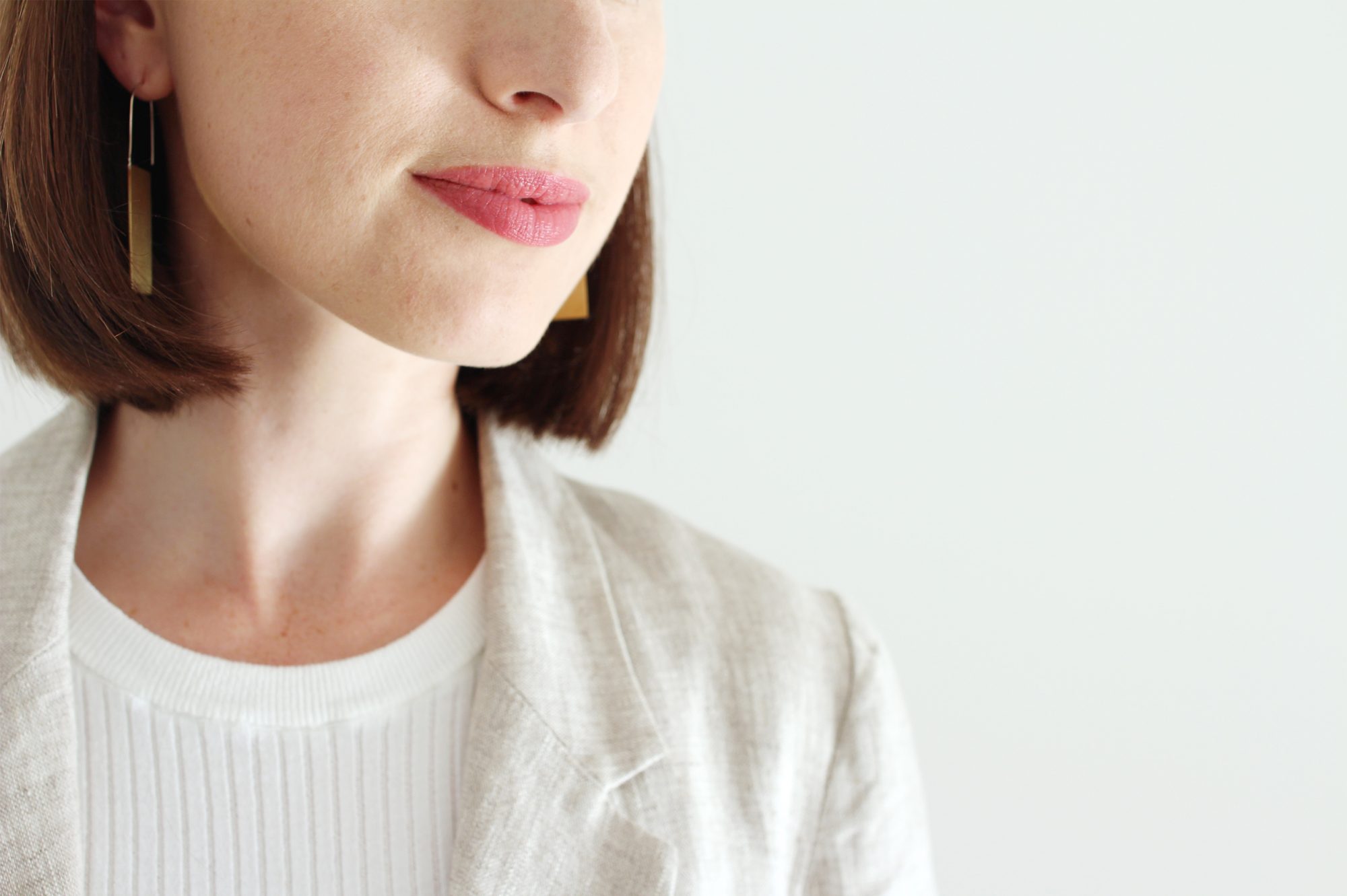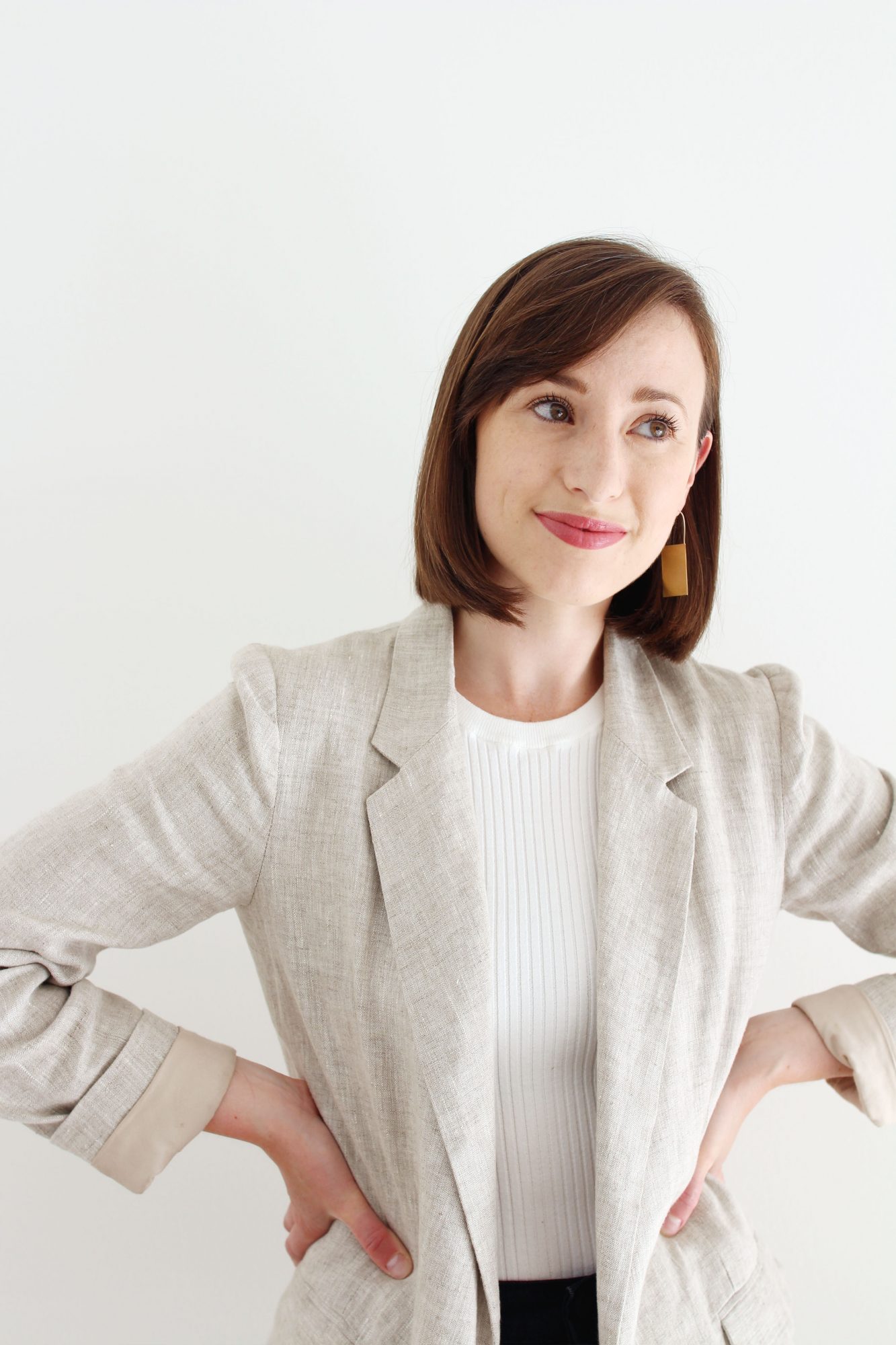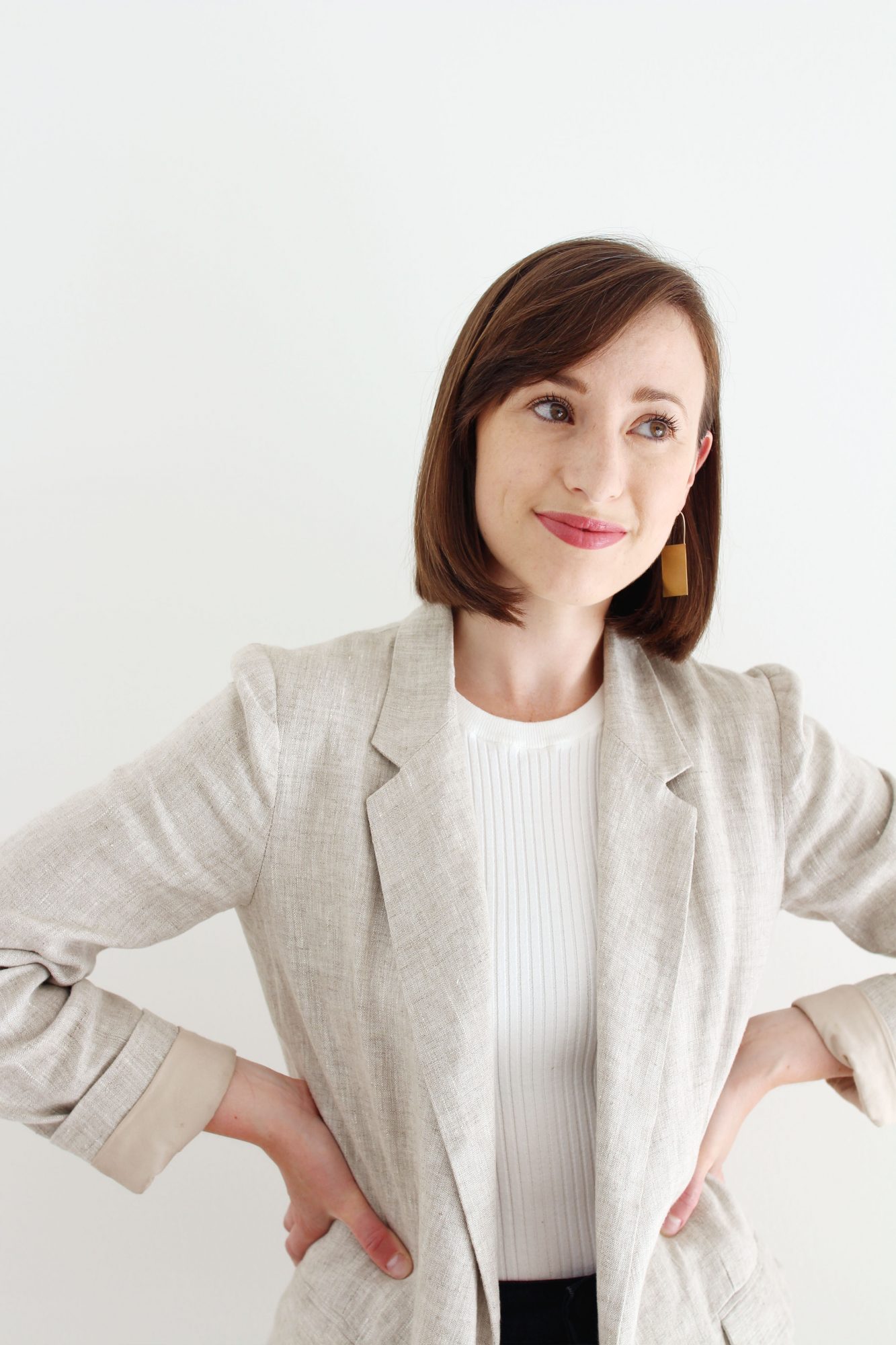 ---
THRILLEST
---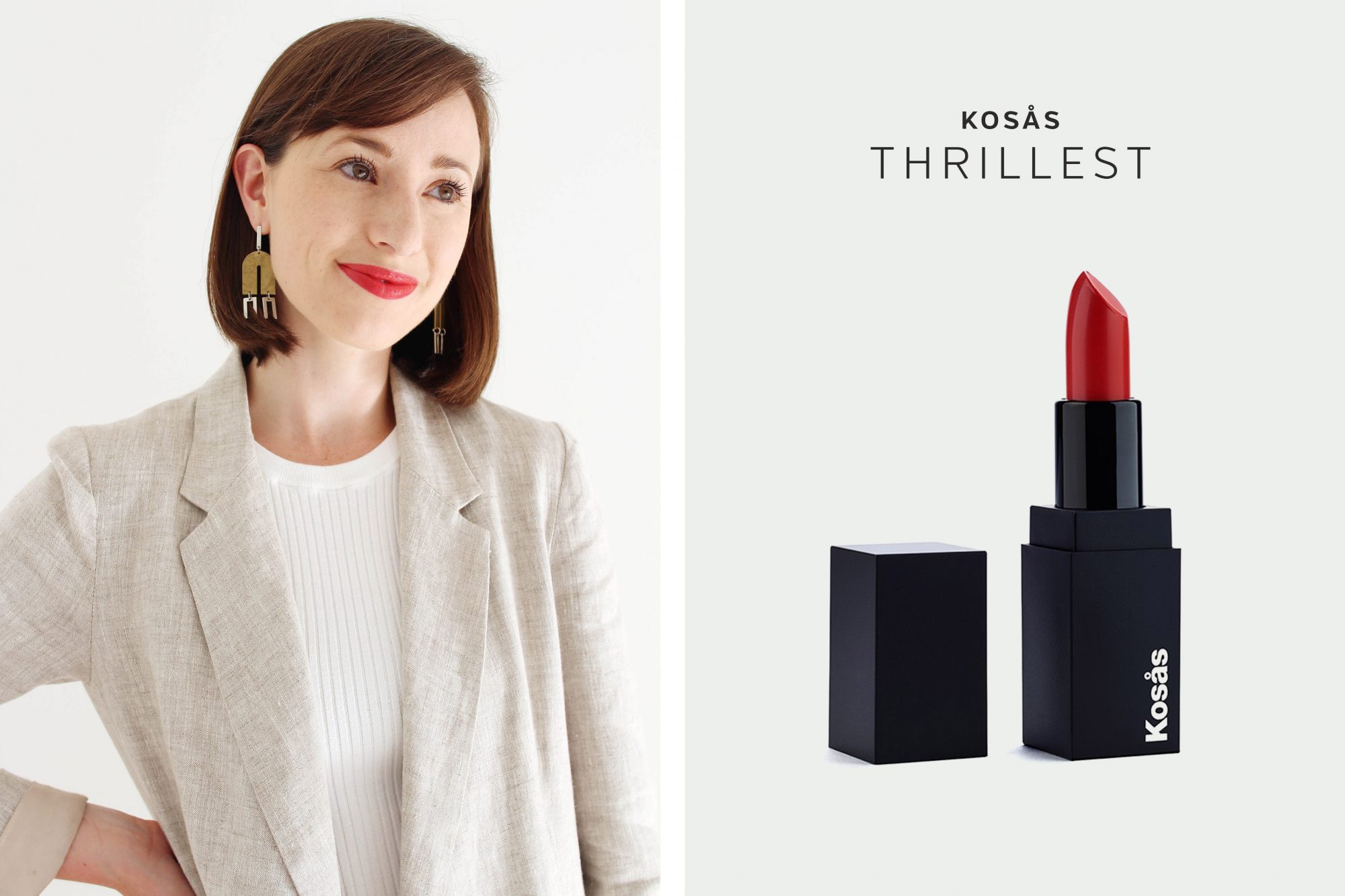 ---
Thrillest is a vibrant poppy red with a hint of bright orange lean with a full-coverage, semi-matte finish.
KOSÅS says: The adventurous poppy. Wake up to the possibilities with this bold, energizing orange-red. For the risk-takers and statement-makers.
I picked up Thrillest for the summer and I've been loving it! I had searched so long for a bright red that suited my skin tone and this one did the trick. A reader recently mentioned how she felt it was the perfect Parisienne red and I couldn't agree more. It's SO GOOD with a striped top, vintage jeans and block heels for a fun night out. At the same time it's perfect with linen pants and a wrap top for a holiday. They say it's for risk-takers but honestly this one is a safe bet for anyone looking for the ideal summer colour that's flirty and fresh!
---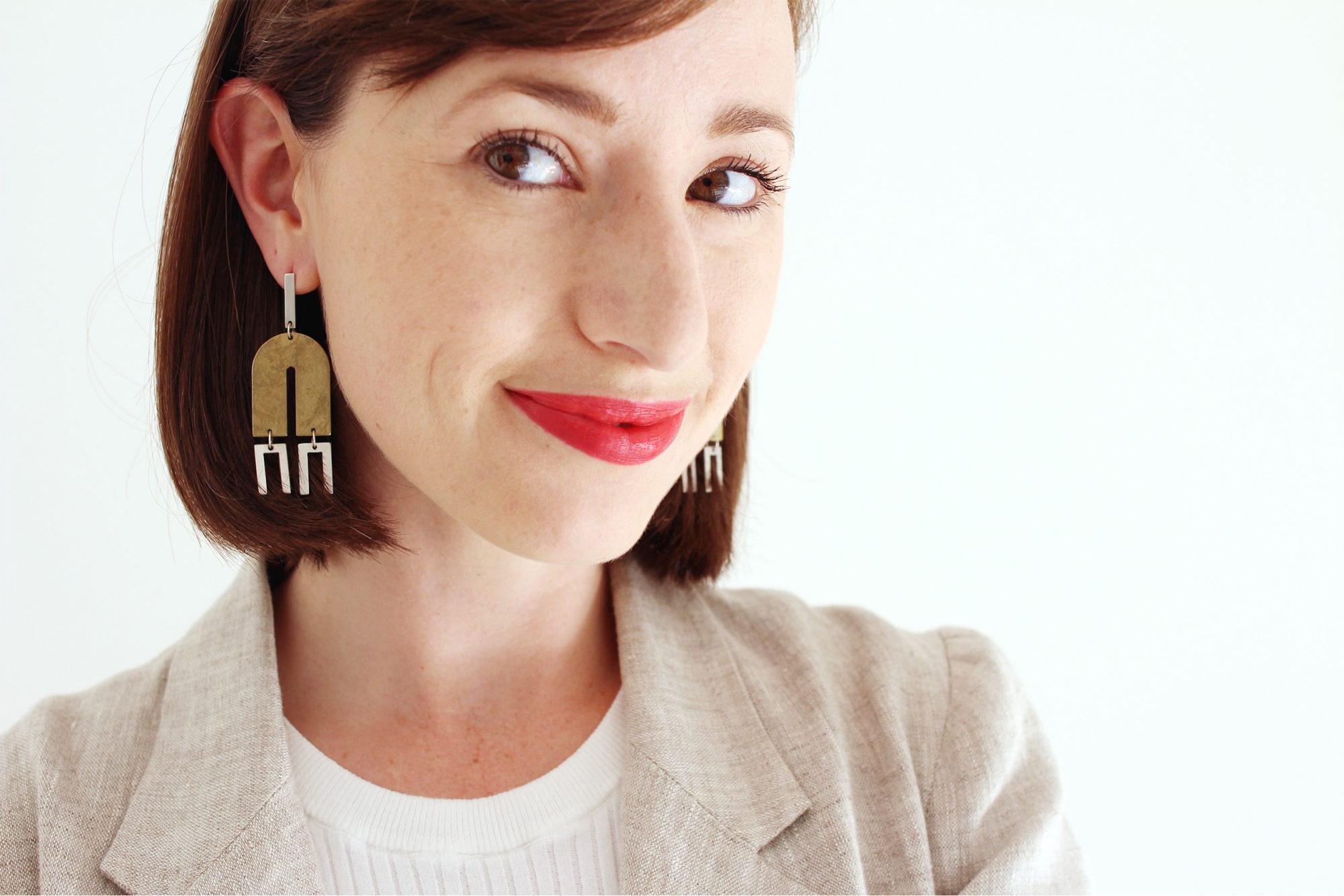 ---
UNDONE
---
---
Undone is a strong nude and a warm, neutral take on a red lip, this blend of pinks, plums and browns is long-wearing, semi-matte and full-coverage.
This colour is my latest obsession. I've worn it so many times this Spring and it never fails to work with whatever I'm wearing. It's very similar to Stardust but much more richly pigmented so it goes on stronger and adds more impact. It's also a bit more matte than the other colours I have and I really like that about it too.
---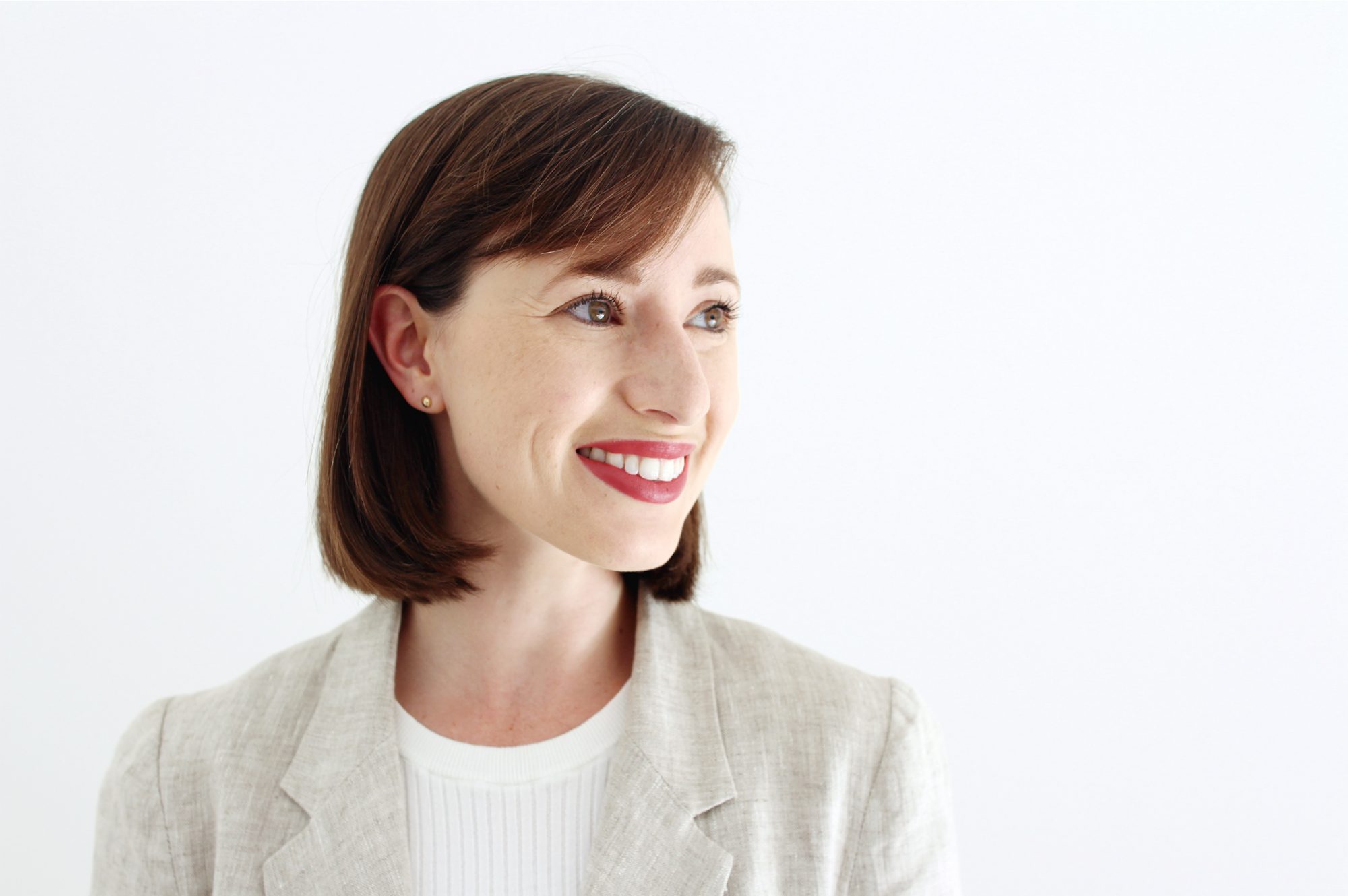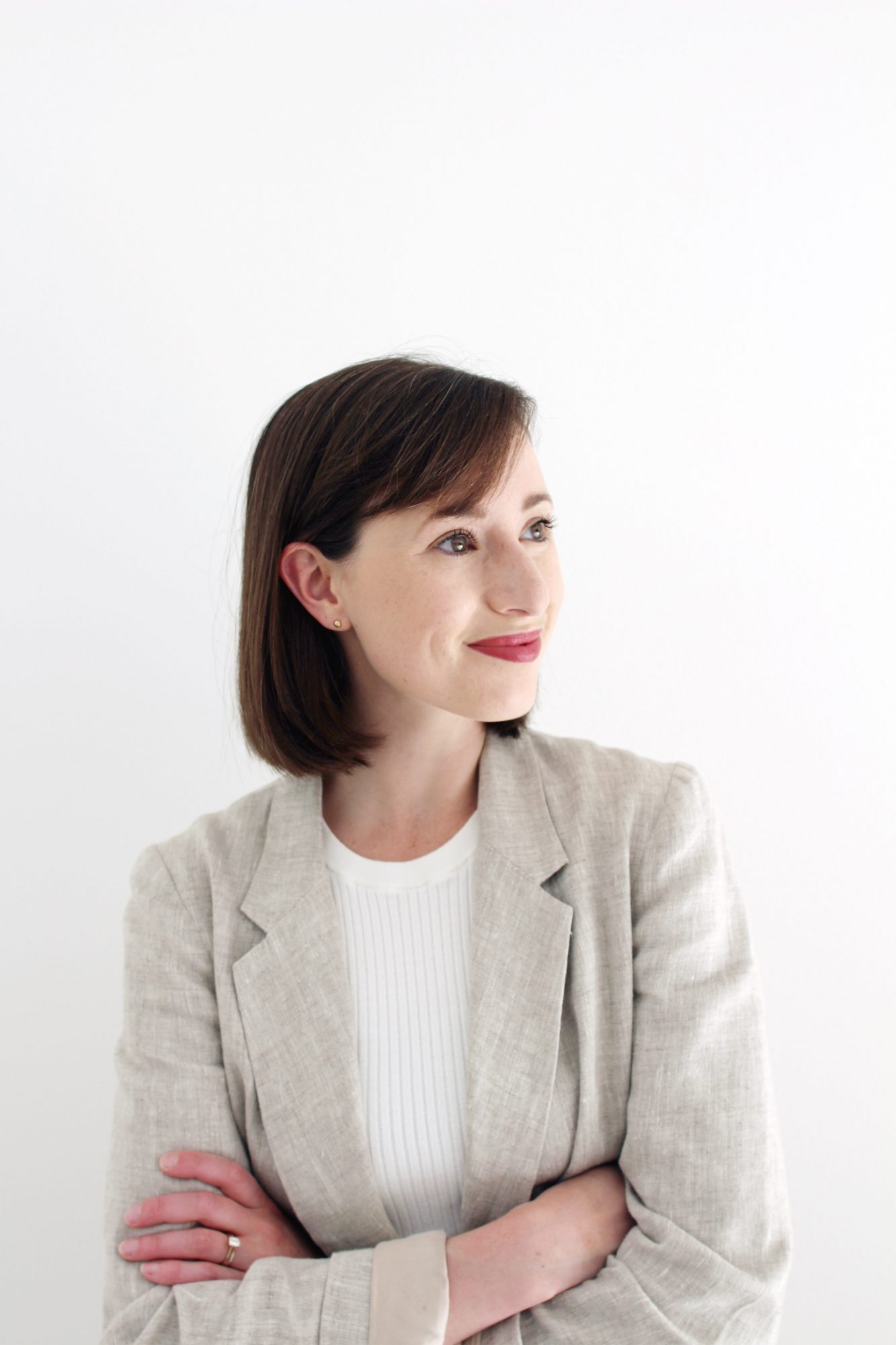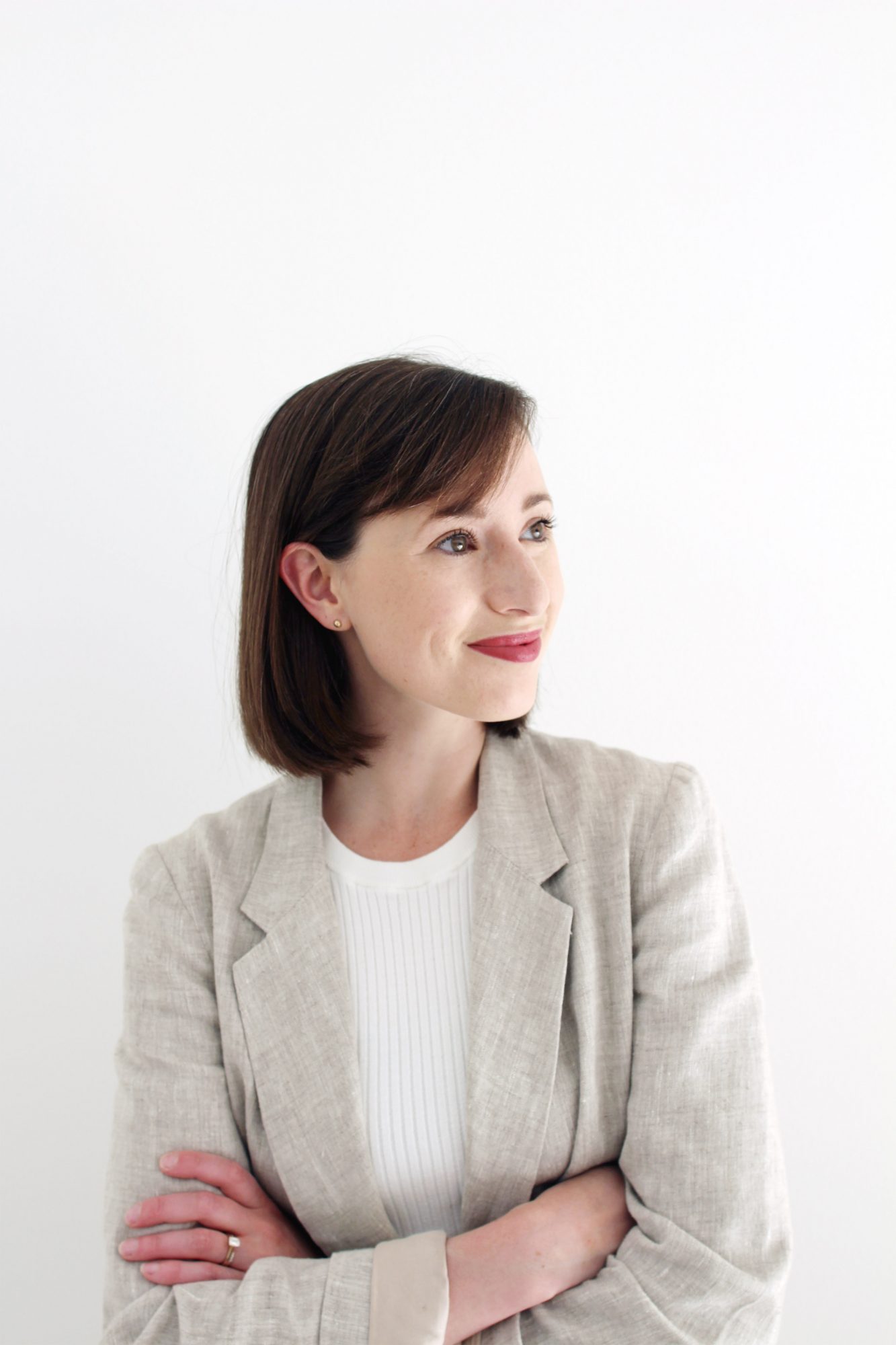 ---
WHERE TO FIND KOSÅS
---
($28 USD – US + INTL)
($34 CAD – Canada + INTL – Free shipping on all orders over $100 CAD)
($35.95 CAD – Canada + US – Free shipping on all orders over $75 CAD)
($37 CAD – Canada Only – Free shipping on all orders over $100 CAD)
($28 USD – US + INTL – Free shipping on all orders over $100 USD + Free Returns to Canada)
($28 USD – US + INTL)
($28 USD – US + Canada)
($28 USD – US only)
---

---
Looking for a budget friendlier option? Try BURT'S BEES LIP CRAYON for a similar range of tones and coverage. They don't deliver in nearly the same way that KOSÅS does but for $6 USD you can get a feel for playing with colours until you're ready for the real deal.
---
Well, there you have it! My 4 favourite lipstick colours! I'm excited to try the rest of the this collection over time as well.
Have you tried any of these or other colours? I'd love to hear your thoughts.
If you like this type of post or have other beauty post requests, please let me know!
---
DISCLOSURE: This post is not sponsored or produced in partnership with any of the aforementioned brands but it contains affiliate links. When you shop using the links above I may make a small portion of the sale. Thanks for supporting the brands that support Style Bee.